Extreme Nomads' Sports and Outdoors Guide to Hong Kong
Most people's impression of Hong Kong is that it's all shopping, shipping, and banking, but step away from the bright lights of Kowloon and high-tech towers of Central and a whole other side of Hong Kong will reveal itself.
Just like that haircut we love to hate, Hong Kong is all business in the front and party in the back. All you need to do is hop on a half hour ferry and suddenly you're in a whole new world, hanging out with the 'lifestylers' on the beach, or scaling the side of a mountain with the local adventure sports crew.
Hong Kong and its outlying islands, Lamma and Lantau, are an outdoor adventurer's dream come true. The countryside is covered in mountain trails where local hikers and bikers head for the scenic views and challenging rides, the peaks are dotted with paragliders preparing to launch themselves into the sky, and the beaches are littered only with salty souls making the most of the wind and waves.
Best of all, this is happening within a stone's throw of the biggest and baddest metropolis of the East. Downtown is a cosmopolitan city with every resource a digital nomad could ever need, from coworking spaces with all the bells and whistles to networking events with some of the business world's most influential players.
Action Score
KITESURF
WAKEBOARD
SUP
HIKING
CYCLING
PARAGLIDING
Best Extreme Sports and Outdoor Adventures In Hong Kong
Where to stay in Hong Kong
Hong Kong's housing rental system isn't set up to support short to medium term stays, so if you're planning to spend <1 month here, your best options are either Airbnb, hostels, or couchsurfing.
Couchsurfing is a good way to start off in the city- especially since it's free; and what with the 30,000 registered hosts in HK, you're sure to find somewhere to lay your head for a few nights.
Airbnb prices start around $30-50/night for a basic small space (you can squeeze that to $800/month if you negotiate a longer term stay), but double that budget and you'll find yourself a cushy private studio with fast wifi.
Hostels can be found for as little as $12/night, but don't get your hopes up for that price- and definitely don't expect reliable wifi. Push your budget to $30/night and you'll have yourself a nice selection of the city's top notch hostels offering awesome wifi, good locations, and impeccable cleanliness (some even have dedicated workspaces, which means you could save money on coworking).
If you're looking for a backpacker (and bank account) friendly option, check out the recommendations in this budget itinerary for Hong Kong.
For nomads looking to stay for the medium to long term, apartment or house rentals are for you. The thing is, most rental contracts in Hong Kong look for a two year lease and require a hefty enough security deposit, which isn't the most nomad-friendly arrangement.
Prices in the outlying islands and New Territories hover around $1,200 US/month (you'll be hard pushed to find much for under a grand), while rentals in Central and Kowloon are normally double that.
Flatshares aren't common, but they can be found if you do some digging online.
For more info on Hong Kong's rental prices, see this piece from the South China Morning Post.
For local listings and apartment rentals see:
https://hongkong.asiaxpat.com/
https://www.squarefoot.com.hk/
https://www.easyroommate.com.hk/ (flatshares)
---
Working & Coworking Spaces in Hong Kong
Space is limited in Hong Kong, and because of that, space is expensive.
You'll have oodles of choice when it comes to coworking spaces (though they are concentrated in the main city areas and fall away the further you go into the outlying regions).
But:
On the downside, coworking spaces in Hong Kong are expensive when you compare them to anywhere else in Asia (or anywhere else in the world, for that matter). Normal prices hover around $35 USD/day. Many won't even offer day passes and will require a monthly membership.
On the upside, cafes and coffee shops are aware of this situation, and for that reason they are normally very welcoming to digital nomads looking to set up base for a day or half day (normally- but not always. We have heard a couple of stories of cafes refusing to allow customers on their wifi, etc).
The two biggest coffee shop chains in HK- Starbucks and Pacific Coffee- could actually pass for semi-coworking spaces with the amount of large work tables, available plugs, and free & fast wifi. The only negative of working from these places is that after half an hour you'll be automatically logged out of your wifi session (you then need to manually log back in).
Then you have the smaller independent coffee shops, which almost always offer free wifi, but don't necessarily have specific work-friendly locations or power plugs. The upside, however, is that these places usually have a way more chilled atmosphere, and the wifi won't require re-logins.
Additionally, most Hong Kong libraries (and some embassy education centers on Hong Kong Island) also offer work spaces.
Coworking spaces in Hong Kong that we recommend: Paperclip, Naked Hub, WeWork, Wynd, The Hive, <Ooosh
Lantau Island doesn't have any dedicated coworking spaces yet, but there are a handful of digital nomad-friendly cafes that have fast reliable internet, plugs, and best of all- beach views.
Cafes and digital nomad working places in Lantau that we recommend: China Bear, Mavericks, Long Island
Lamma Island opened its first coworking space, Fa Fa House, in 2017. They have fast internet, dedicated workspaces, awesome fresh food on the menu, and a beautiful plant-filled rooftop which is the perfect place for taking breaks from the screen.
We also recommend trying out Bookworm Cafe, which is one of the coolest spots on Lamma Island and is very work-friendly.
---
Markets & Food in Hong Kong
You can find wet markets throughout the city, and these are by far the cheapest and most environmentally-friendly places to buy your fresh produce.
International supermarket chains like Marks & Spencer, Taste, City Super, and Oliver's the Delicatessen stock premium imported goods at a higher price, while Hong Kong's own supermarket chains like ParknShop and Wellcome stock all the basics (both Western and Asian) as well as fresh produce.
However even grocery shopping can end up being a pricey affair in Honkers, so if you're looking to keep costs to a minimum better head for the budget supermarkets like U Select, Prizemart, and 759 Store.
Home cooked meals are few and far between for many Hong Kongers because of the country's huge eating out culture. The plus side? You can find virtually any type of cuisine you can think of in Hong Kong. A basic local style meal starts at $6-7 USD, while a good one will cost around $25-38 USD (comparable prices for Western style meals). If you want to eat posh, be prepared to spend big bucks.
Internet in Hong Kong
The internet in Hong Kong is fast- super fast.
And the best thing is: it's everywhere. There are free government provided hotspots all over the country (more than 2,000 to date), which you can hook into as soon as you hop off the plane. See further info on Hong Kong's free wifi hotspots.
Wifi speeds in Hong Kong are pretty phenomenal, with the average download speed measuring in at 153 Mbps and average upload at 146 Mbps (see Hong Kong's internet speed test).
As for mobile internet in Hong Kong:
SIM cards are readily available and offer strong 4G network coverage throughout the entire country. For nomads planning a short term visit in Hong Kong, check out the "Discover Hong Kong" tourist SIMs which give you 5GB of 4G data for 8 days at $20 US.
Prepaid SIMs can be bought in convenience stores like 7-Eleven and Circle-K and don't require any registration. Contract SIMs, on the other hand, require a Hong Kong ID card to be presented at the time of purchase and usually need you to sign off on a minimum of a year's contract.
That being said, there's a black market for everything, and if it's contract SIMs you want, head for the oh-so-iconic-but-also-quite-dodgy ChungKing Mansions, and it is contract SIMs you shall get. Read more about Hong Kong's SIM card options and mobile internet providers in Hong Kong here.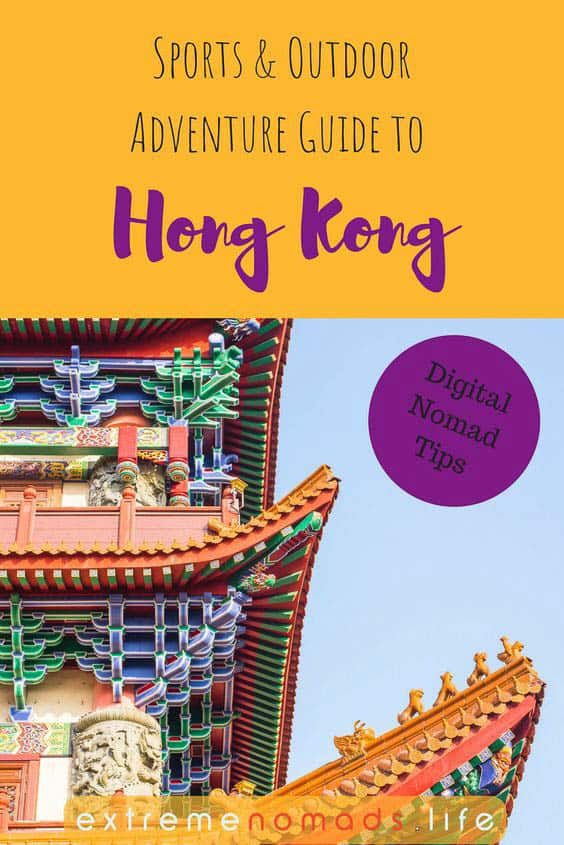 How to get to Hong Kong
Hong Kong International Airport is one of the busiest airport hubs in Asia and operates thousands of flight routes across the world every day. It's one of those handy nomad locations where you'll quite likely be able to find direct flights to your next destination- depending on where that is, of course.
How to get around Hong Kong
The best way to get around Hong Kong is by public transport- which works especially well all over Hong Kong Island, and still fairly well in the outlying territories. All of the islands are connected by a super efficient (and very affordable) ferry system.
Hong Kong's MTR system is immaculately clean, easy to use, affordable, and always on time. It connects Hong Kong Island with Lantau, the airport, and the New Territories.
Cheaper still are the local buses, which operate all over the city and outlying islands- even in the most remote parts of the rural countryside. Bus stops are easily spotted along the roadside every few km with timetables available online and at the stops (although these "timetables" are often more like rough suggestions).
Taxis are readily available everywhere and are surprisingly cheap for such an expensive country. The downside is that they are segregated by district and are not allowed to carry passengers outside their district boundaries- so if you need to go from, say Lantau to Central, you will first need to change at a taxi rank in Tung Chung. That being said, Uber works in Hong Kong and isn't affected by these rules.
If you plan on spending lots of time in the more remote islands and feel having your own vehicle would be best, you can always rent a car (if you're willing to fork out the dosh, that is) and legally drive on an international license as long as you are residing in Hong Kong for a period less than 12 months. See here.