Extreme Nomads' Sports and Outdoors Guide to Bali
Bali is Asia's original digital nomad hub, long favoured not just by nomads, but by backpackers, surfers, and honeymooners for its low cost of living, tropical weather, beautiful beaches, and chilled out way of life. Yet long before the digital nomad days began, Bali was known by trendy jet-setters as Southeast Asia's idyllic island getaway.
Drool-worthy local food, fascinating culture, and picture perfect beaches are just the beginning. Year on year, Bali continues to draw a hodgepodge of interesting people from around the world to settle on its surf-washed shores.
Balinese culture is easy to identify for the simple fact that it is so unique. Unlike the rest of Indonesia, the main religion in Bali is Hinduism. The other religion- universal across the island- is art.
In keeping with the laidback island lifestyle, much of the adopted culture in Bali revolves around self-care and rejuvenation; you can't throw a stone here without hitting a massage parlour, a farmers market, or a yoga studio.
But the best place to re energise is in Bali's great outdoors. The island is brimming with outdoor adventure, from diving to surfing and kitesurfing on those perfect Indo waves, to hiking and biking the hairraising jungle trails.
Action Score
KITESURF
SURF
WAKEBOARD
SUP
HIKING
CYCLING
Best Sports and Outdoor Activities in Bali
Where to stay in Bali
Nomads planning to settle in Bali for the medium to long term have plenty of options in the way of accommodation.
Remember: Prices fluctuate between low and high season (low season starts mid-September)
The cheapest of the cheap options is to find a local style room in a shared house/guest house. Expect to pay $40-55/month for (no A/C and potentially no wifi). If that sounds a little too minimalist for you, you can step it up to the $250-450 range and easily find yourself a decent place with fast wifi.
House shares are also very common in the nomad community in Bali. Hop on a Facebook forum and see who's looking for housemates (or create a post yourself!). A shared villa with a pool won't cost you more than $500/month.
Co-working & co-living is a very Bali-esque choice. Outpost, Roam, and The Onion are popular choices for this kind of arrangement. Though keep in mind the prices of these places are pretty inflated compared to other rentals in the area. On the other hand,  it is sort of a "gateway" to the digital nomad community in Bali and can be a good first port of call to get your bearings.
Airbnb has tons of listings in Bali, but this won't always be where you find the cheapest option. It's a good idea to book something for a couple of nights first, then explore your options in person when you arrive.
Belooga.co is a useful platform to find rentals endorsed by other digital nomads (and it has wifi speeds listed for each place).
Check out these Facebook communities for info on current rentals:
Ubud, Bali – Housing and Rental
---
Working & Coworking Spaces in Bali
Thanks to Bali's massive digital nomad community, the coworking wave caught on in a big way. There are loads of dedicated coworking spaces in Bali, each of which has its own unique style, quirky culture, and special offers.
Here's the low-down on some of Bali's best coworking spaces, as recommended by the nomad community:
Coworking spaces in Canggu
Dojo Bali Coworking: Located a couple minutes walk from Echo beach in Canggu, Dojo is one of the most well-established coworking spaces in Bali. They offer a range of different payment plans and facilities, which are overall pretty good value for money. Big plus for night owls and digital nomads working unsociable hours: they're open 24/7
Coworksurf: An international brand whose sister space is in Portugal, Coworksurf are big embracers of the extreme nomad culture. Surf, work, and chill as one big family.
Coworking spaces in Ubud
Hubud: These guys have cracked the code when it comes to creating a strong coworking culture. Offering much more than just a coworking space, Hubud also has a "coliving" arrangement, as well as "co-learning" seminars.
Outpost: Outpost screams "if Google had a coworking space, this would be it". This is Bali's biggest coworking facility, also offering coliving spaces on the same premises.
If you're planning on spending a lot of time coworking in the area, make sure you check out this detailed list of must do activities for first timers in Ubud.
Coworking spaces in Sanur
Rumah Sanur: This quirky coworking space has its own beer garden, concept store, and gourmet eatery. They also hold tons of weekly and monthly events. It's a great place to network with other creatives and entrepreneurs.
Genius Cafe: This beachside coworking cafe in Sanur is much more than a place to pull out your laptop. They also serve up a mouthwatering menu of plant based juices and healthy grub.
Not the coworking type?
Not everybody is. In fact, many digital nomads in Bali still choose to work from cafes. As long as there's wifi and coffee it's all gravy.
While nothing beats strolling around and finding your own spot, we can recommend:
Cara Cara Inn: Located in Kuta, this is a super popular cafe/bar/boutique guesthouse. Chilled vibes, nice design, delicious food, and reliable wifi.
---
Best places to shop and eat in Bali
One awesome thing about Bali is that you have virtually everything you could possibly need right on the island.
Market life is completely ingrained in Balinese culture. The real-deal locals have long embraced market culture as a way not only of selling their produce and wares, but also a place to socialise and connect with the rest of the community.
Bali's expat community slot into this tradition naturally. The central hubs like Sanur, Seminyak and Canggu all have farmer's markets and artsy bazaars a'plenty. Most of them are run by expats specialising in gourmet food, organic produce, quirky crafts, or vintage clothing.
Markets in Bali we recommend: Samadi Sunday organic produce market, Sanur Sunday Market, and Biasa+ Market.
Day-to-day shopping is a breeze in Bali, with organic farm-to-table style markets held all over the island throughout each week. These markets are the ideal place to pick up your fresh fruits and veggies, organic meats, free range eggs, and fresh catch-of-the-day seafood.
When it's time to do a bigger shop, head to one of the medium-to-large supermarkets (practically every town has one). Hardy's, Bintang, Canggu Station, Bali Buda, Frestive, Bali Deli, and Carrefour are all good options. Here you'll be able to find all kinds of local produce, imported goods (cheeeeeese!), electronics, homewares, and clothing.
For those looking to reduce your footprint and engage in some responsible travel, Bali has a ton of fantastic zero waste shops worth checking out.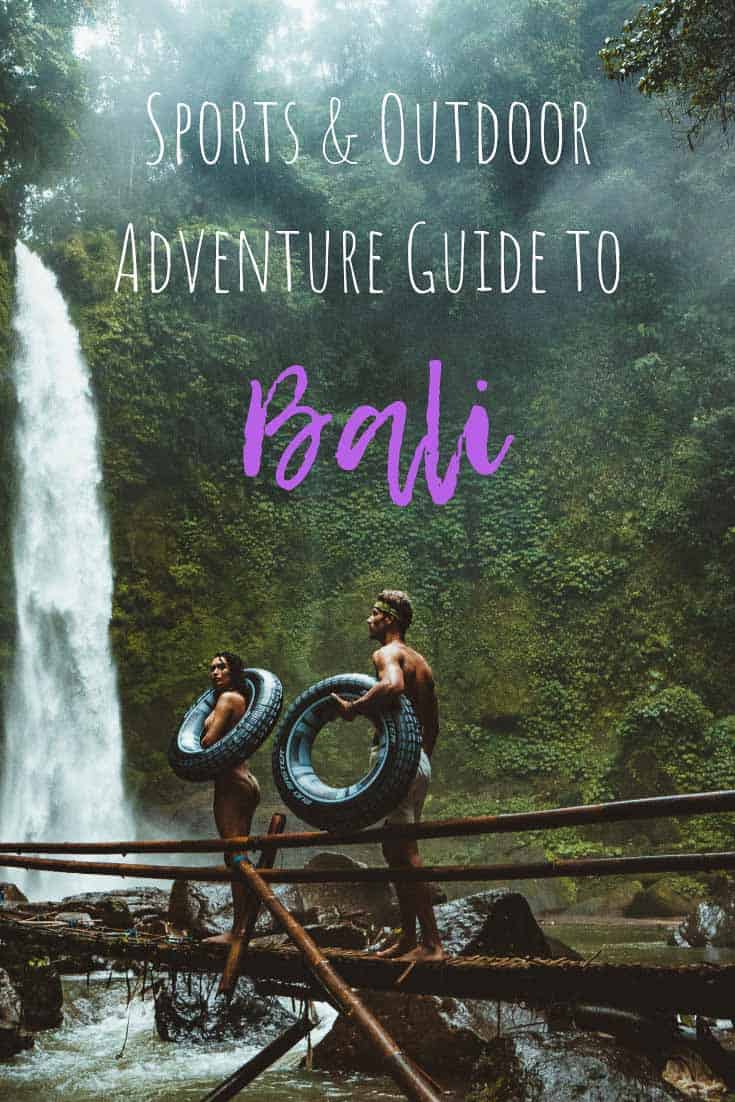 Internet in Bali
The internet in Bali varies greatly depending on where you are.
Bali's top coworking spaces offer total bandwidth of 200 Mbps, while many cafes and apartments are kitted out with fiber optic speeds between 20-50 Mbps. If your digs don't have it, it's a simple procedure to get it installed- as long as you're willing to fork over the dosh to do so. Biznet are the go-to company in Indonesia if you want super fast internet installed at home (see their packages here).
Unfortunately, Bali experiences regular rolling power outs which can last up to 7(ish) hours. To counter this, many of the coworking spaces have their own power stabilisers and generators, and work with multiple ISPs (internet service providers) to ensure fast, reliable internet.
As for mobile internet in Bali:
Local 4G SIM cards are cheap and easy to come by; you can pick up a basic monthly mobile package for around $7.50, and mobile providers like Telkomsel, SimPATI and XL offer large internet bundles (8-12GB). For a full guide on Indonesia's sim card options, see here.
Black spots aren't uncommon however, and if you plan on tethering your mobile 4G often it's a good idea to consider buying a dongle. You may need to try different SIMs in your modem to see which works best for it. XL, Telkomsel, Indosat, and 3 all work on the same modem, but Bolt and Smart aren't interchangeable.
How to get to Bali
Though Indonesia's capital city, Jakarta, is the nation's main port of entry by air, Bali does have its own international airport with dozens of daily flights from multiple countries.
Bali's airport, Ngurah Rai International, is located 13 km south of Denpasar in the south of the island.
There's a taxi rank at the airport which is operational throughout the day and night. There's a standard price list on the counter at the taxi stand (see rates here), but very often you'll need to negotiate a price with your driver.
How to get around Bali
Motorbike rental is the most popular way to get around Bali (lest you be left a daily victim to expensive taxi fares). And walking around in Bali can be a bit nightmarish at certain times of the day when traffic is heavy since a lot of the central areas don't have designated footpaths.
Average daily motorbike rental in Bali: $3.75
Average monthly motorbike rental in Bali: $40
There are motorbike rental places everywhere. So it's really easy to find what you're looking for, although prices vary from town to town.
For example, bike rentals in Kuta can cost up to 25% more. Just be prepared to check the bike thoroughly before you drive off, and you may need to haggle the price a little.