Extreme Nomads' Sports and Outdoors Guide to Lombok
Sandwiched between Bali and West Nusa Tenggara, Lombok is a breezy, tropical island bursting with potential for outdoor sports and adrenaline activities. Within the surfing community, Lombok already holds a reputation as one of the best surfing destinations in Asia. But big, badass waves are just the beginning of what the island has to offer on sea, land, and even in the air.
The rugged, rural north of Lombok is home to the sky tickling volcano, Mount Rinjani, and at its base lies dozens of tiny rural villages. Meanwhile, the southern portion of Lombok is where the typical tourist trail leads, with hotspots such as Kuta, Senggigi, and Tanjung Aan being the most popular haunts.
Though it wasn't long ago that Lombok was isolated from the outside world, when life on the island danced to the tune of the local mosque bells and the early morning markets, modern Lombok is beginning to look a little different.
Visit Lombok today and you'll still hear the prayers from the mosques echoing through the streets at sunrise; but you're just as likely to catch a glimpse of some surfers tracking down the lip of a wave at Bangko Bangko; of families setting off to explore the underwater world of the Gili Islands; or digital nomads schlepping to their favourite cafe to set up shop for the day.
Lombok's modern mishmash of culture is changing fast, and- with its tropical vibes, jaw-dropping scenery, burgeoning party scene, and outdoor adventure culture- it's a pretty exciting time to get to know the island.
Action Score
SURFING
KITESURF
WAKEBOARD
SUP
DIVING
MOUNTAIN BIKING
HIKING
PARAGLIDING
Best Sports and Outdoor Activities in Lombok
Where to stay in Lombok
The island's backpacker culture and growing popularity as a holiday destination means that working out where to stay in Lombok is easier than ever before. Take your pick between quirky backpacker hostels, cheap and cheerful guest houses, and upscale resorts.
If you're wondering where to stay in Lombok in order to have the best access to tourist facilities, you might consider staying in Kuta or Senggigi, both of which have a solid selection of accommodation options as well as restaurants, outdoor sports, and other activities to keep you busy during your stay.
Gecko Eat & Sleep in Kuta is one of our favourite places to stay in Lombok. Rooms costs around $10 USD per night and some offer pretty sweet views of the ocean. For backpackers, take a gander at the super chilled out, well-designed digs at Pipes Hostel. Not only is it Kuta's first ever backpacker's hostel, it's also fully kitted out with a swimming pool and skate bowl! Dorm rooms start at $7/night. Fitness conscious travelers should check out Loka, Kuta's only homestay that has a crossfit gym.
Many areas of Lombok don't yet have a large selection of accommodation options (Ekas Peninsula being one of these). In Ekas, for example, there are just a handful of homestays and even fewer hotels (if you're planning to spend time doing some outdoor sports in Ekas, it's worth taking a look at this resort that's partnered with The Playground for max convenience).
As for the near future, there's big plans in the pipeline which'll see tons of new hotels and resorts opening up all over Lombok (Club Med is even pegged to set up shop at Tanjung Aan soon).
---
Working & Coworking Spaces in Lombok
While coworking spaces in Bali are a dime a dozen, the same can't be said for Lombok- not yet, anyway. The first coworking space in Lombok, PuraWorka, is set to open its doors in Autumn 2018. Puraworka already runs a successful space in Switzerland and Lombok is the latest location they're adding to the roster.
Just off the coast of Lombok, there's a coworking space on Gili T called Salon de Nomad. The coworking space on Gili T is open 7 days a week from 8-8 and offers some of the best internet in Lombok and the surrounding area. They have both macs and PCs for use, a photocopier, printer, scanner, tea/coffee, and even an additional coliving option.
Apart from official coworking spaces in Lombok, the island has tons of digital nomad friendly cafes and restaurants. We're big fans of Ashtari's low tables and floor cushions, which make for a welcome change from the old desk/office chair set-up (they also offer amazing yoga experiences- worth checking out!). Add that to their far out location perched on top of a hill with sweeping views of the island's surf spots and it's no surprise this is one of Lombok's favourite digital nomad hangouts.
If you dig the idea of nibbling on some damn good food while you work, head for Milk Espresso and set up your remote office inside their cool, lofty restaurant. Owned by Aussies, Milk Espresso was built out of containers and features an air-conned indoor area and a breezy outdoor verandah.
For other good places to work in Lombok, check out Kenza or El Bazar, both of which have free wifi and good plug access.
---
Where to shop and eat in Lombok
Most major towns hold a small daily market in the morning that typically runs between 8-10am and sells a mix of fresh fruits and veggies along with basic household necessities. On weekend mornings (Sundays in Kuta) there's a big market where you can buy not just fresh produce, but also kitchen utensils, household items, fish, meat, eggs, and other local delicacies such as tempeh. For big grocery shops, you'll need to go to Alpha Mart or IndoMart, both of which are open 24 hours.
When it comes to eating out in Lombok, Tripadvisor is trustworthy since customers are active in reviewing local restaurants. Take your pick between local or western food, the latter of which spans pasta, pizza, burgers, steaks, tons of delicious vegetarian options, and tapas style dining. A European style meal will set you back between $5-12.
Head to Milk Espresso to indulge in rocket fuel coffee and food that looks almost too good to eat. Check out Kenza for seam splitting portions made with fresh ingredients (the smoothie bowls are delish). El Bazar is the one to go for if you're hankering for some Mediterranean flavours. Vegetarians and lovers of spice should check out The Mexican; don't miss their jackfruit tacos!
As for where to find the best Indonesian food in Lombok, the local warungs serve up traditional meals for affordable prices. From satay to tempeh to the local specialty ayam taliwang, local food in Lombok is especially good when eaten in a real-deal local restaurant- not one that's been adapted for foreign tastes. For delicious local food around Kuta, check out Warung at Surfer's Beach and Lalapan Santai.
Internet in Lombok
The average WiFi speed in Lombok is 5.5 Mbps download and 1 Mbps upload (as of September 2018; see here). Both WiFi and mobile internet in Lombok are accessible in all major towns and villages (such as Senggigi and Kuta, the latter of which is hooked up to fibre optics). The internet in Mataram, Lombok's capital city, enjoys top speeds of 25 Mbps download and 20 Mbps upload.
If you plan on doing some remote work in Lombok, having a local SIM card offers the option of tethering to your own hotspot if the WiFi goes down (which it occasionally does). Purchasing a pay as you go SIM in Lombok is easy and cheap. You'll need to present your passport at any local telecom vendor or designated phone store and the attendant will set up the account for you.
The two biggest mobile internet providers in Lombok are Indonesian Telecom (also known as TelKomSel) and XL. For the equivalent of $5 USD you can buy a 4GB data bundle. Fork out a bit more and you can score bigger data bundles and unlimited packages. We recommend topping up your SIM at the designated telecom vendors, as opposed to the supermarket or convenience stores. The language barrier makes the latter one an unnecessarily complicated process.
In the remote, hilly areas of Lombok, such as Ekas, it can be difficult to find internet access.  Even 3G is hard to come by in some areas, unless you're in sight of a signal tower. Some local businesses, such as The Playground Ekas, have invested in their own WiFi setups that provide stable internet within their premises.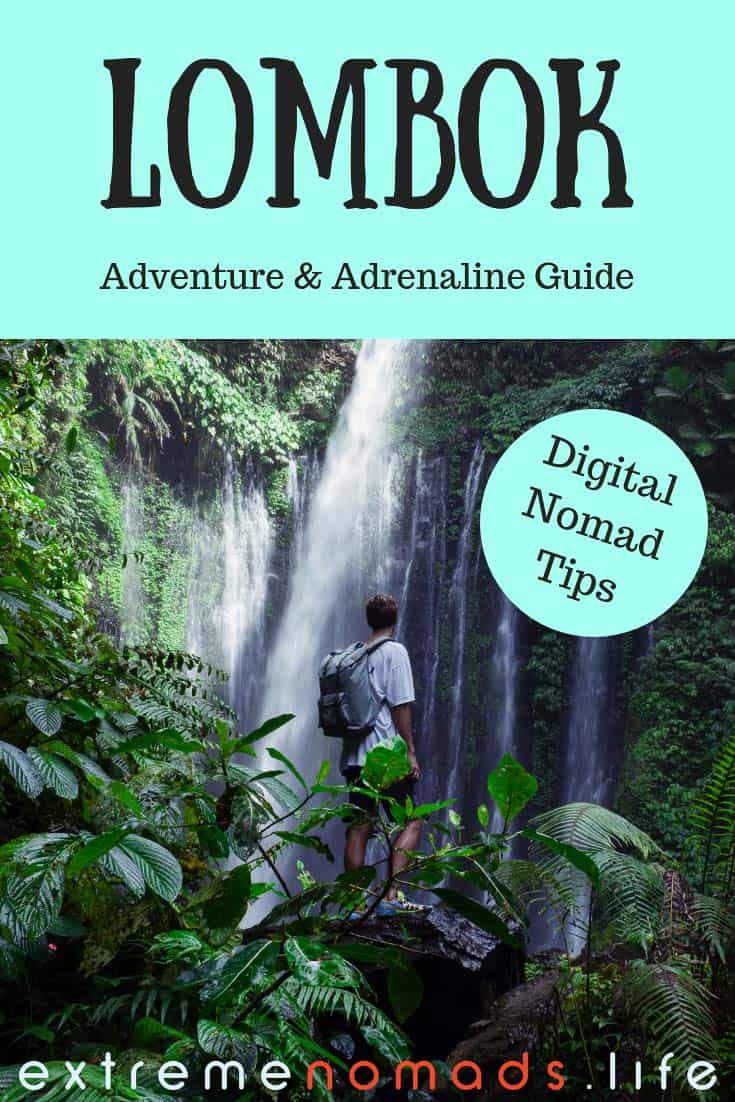 How to get to Lombok
Getting to Lombok often involves a few connecting flights, depending on where you're departing from. Even though there's an international airport in Lombok, there are few direct flights that serve it (apart from Kuala Lumpur). When traveling to Lombok, you'll likely need to connect in KL, Jakarta, or Bali (the latter of which can be somewhat costly to fly into, but the flight from Bali to Lombok conveniently takes just 20 minutes).
In terms of getting from Bali to Lombok, you can choose to fly, take the local ferry, or splash out on the speed ferry. The local ferry takes around 5 hours and costs less than $5 USD, though it's often delayed and the schedule is infamously unreliable. The fast boat from Bali to Lombok (which also serves the Gili Islands and Nusa Lembongan) costs about $26 and takes just 30 minutes.
How to get Around Lombok
Once there, you'll find the easiest way to get around Lombok is to rent a scooter. Public transport is vastly undeveloped in Lombok, so scooter rentals offer the most flexible and cost-effective option. Expect to pay $5-6/day when renting a scooter in Lombok.
Surfers and kitesurfers should note that renting a scooter with a board rack in Lombok is much cheaper in towns such as Kuta. When you rent them from the surf areas around the beach, you're likely to end up forking out 2-3 times that price.