Extreme Nomads' Sports and Outdoors Guide to Siargao
Belonging to the province of Surigao del Norte, Siargao Island is a surf washed, tropical paradise where the only phrase more commonly heard than "have you eaten yet?" is "good luck leaving, this place will suck you in".
The island is a patchwork of palm trees, jungle, and farmland; though it's Siargao's relentless surf that's brought it to fame within the extreme sports community.
Siargao is, as many will tell you, the surfing capital of the Philippines. But it's not just barrelling waves on offer; adrenaline sports and outdoor lovers also have their pick of kitesurfing, stand-up paddleboarding, diving, and mountain biking.
Surrounded by reef, knotted with mangroves, and covered in white sandy beaches, Siargao's outdoor adventure offerings have begun to fuel the island's modern culture. Early mornings, healthy food, and yoga come as standard.
But as with all idyllic hideaways, life in Siargao is changing at breakneck speed. There are few places you can go in the south which remain undisturbed by construction, and with word about Siargao quickly spreading, more and more tourists are choosing to include the island in their Philippines travel itinerary.
By all means, go to Siargao now before it all changes; but whatever you do, don't go there in any rush to leave.
Action Score
SURF
KITESURF
SUP
DIVING
WAKEBOARD
CYCLING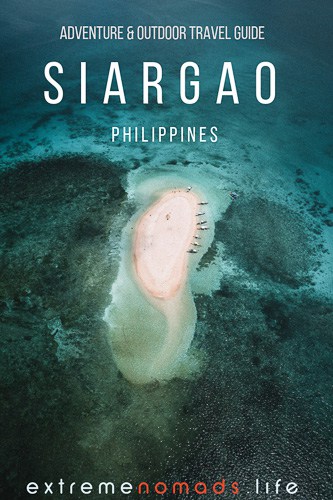 Where to stay in Siargao
When it comes to the question of where to stay in Siargao, the "right" answer will be different for different people.
What do we mean by that? Well:
Depending on whether you're looking for a central location, close proximity to the waves or kitesurfing beach, or something truly remote, different parts of the island will appeal more than others.
Let's take a closer look:
The south of Siargao near General Luna is the most developed part of the island. This is where you'll find most of the tourist-friendly infrastructure, bars, restaurants, and resorts. Staying in General Luna also gives you easy access to Siargao's kitesurfing beach, as well as many of the famous surf spots. Once you've got a bicycle or motorbike, everything is pretty nearby.
For those planning to do some kitesurfing in Siargao, check out the resort at Viento del Mar, Ocean 101 Beach Resort, or Bravo Beach Resort. For travelers heading for Siargao's surf, check out the guest houses in North Catangan (i.e. Cloud 9). For a quieter, less touristy experience, look at staying in North Siargao, where you might have some of the island's loveliest surf spots all to yourself.
Around General Luna, you can expect to pay around $10 USD/night for a private double room with a fan (less during low season, and up to double during high season). Agoda has a good selection of hotels and resorts in Siargao to suit all price ranges.
For those looking for long term accommodation in Siargao, aim to budget around $250/month for a 2 bedroom furnished apartment. Airbnb has a lot of listings for monthly apartment rentals in Siargao, many of which can be negotiated down if you plan on staying long term.
---
Working & Coworking Spaces in Siargao
Though there are no official coworking spaces in Siargao (yet), there are a number of digital nomad friendly cafes, restaurants, and resorts where remote workers can set up their office for the day.
In General Luna, Ocean 101 Beach Resort and Bravo Beach Resort are among the best choices. Both offer plenty of work space and are very welcoming to digital nomads, as long as you play it fair and buy a few coffees or lunch.
If you're a surfing digital nomad and you're on the lookout for a chill cafe to work from that's close to the waves, check out Shaka Siargao. Not only do they have the best coffee in town (and tons of amazing veggie food), they're also super close to Cloud 9, should the swell reader start singing.
---
Where to shop and eat in Siargao
Whether it's mahi mahi or chicken adobo, food is at the heart of Filipino culture, and on an island like Siargao, mealtime brings the community even closer together.
The seafood is Siargao is insanely fresh, and with so many barbeque joints on the island, you've got no excuse not to eat the stuff by the bucketload (unless, of course, you're veggo, in which case you'll also have plenty of choice- even if it's not on the menu). Mama's Grill is a local favourite.
Check out Kermit Pizzaria or Aventino's for authentic Italian pizza, and Kangaroo Restaurant or Cashey's Place for a mix of local and international flavours at a good price. Bravo has an amazing Catalan restaurant that do an unreal paella. Head to Surf'n'dine for big-ass burgers.
For all you craft beer lovers, don't miss the General Luna Pale Ale made by Monkey Eagle Brewery; it's available in a few of the local resties around General Luna.
For those staying long term and looking to cook at home, the General Luna morning/evening wet market is the best and cheapest place to buy fresh produce and seafood straight from the fishermen. General Luna also has good selection of supermarkets for all your other household bits and bobs.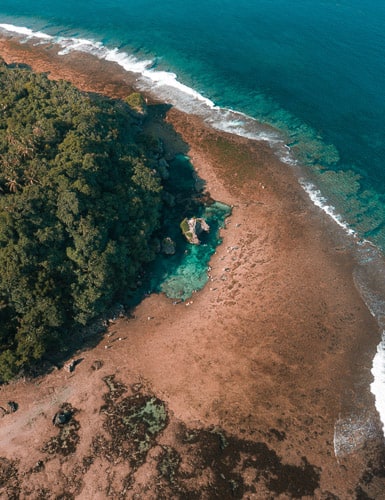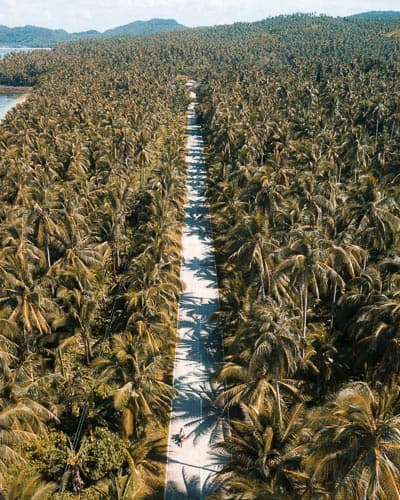 Internet in Siargao
As far as public internet in Siargao goes, many resorts and local businesses offer free wifi which is, shall we say, moderately reliable. The speed of the internet in Siargao varies massively depending on the weather, how close you are to a signal tower, and how many people are on the same router as you.
The biggest problem in using a public/customer wifi is that you sit precariously on the edge of being kicked off the router if it gets overloaded or the IP addresses fill up. At best, the internet speed can end up going at snail's pace, particularly in the evening between 6-9pm.
Mobile internet in Siargao works reasonably well and offers coverage in almost all areas. Conversely, speeds are still rather modest and aren't conducive to data heavy work, even if you're tethering with a dongle (approximately 5 Mbps download and 2.5 upload). You'll be able to get online and use social media, but Skype calls and anything that requires bigger bandwidth may be a struggle.
Mobile internet in Siargao is cheap, with a 990 PHP/month ($18 USD) will get you 900mb/day. Globe and Smart are the best SIM cards to get in Siargao and are available in all small stores and pharmacies on the island. There's no registration needed, and you'll pay just 30 PHP ($0.55) for a SIM card.
How to get to Siargao
Up until quite recently, getting to Siargao meant signing yourself up for an agonising slew of connecting flights. Now though, you can fly to Siargao direct from Manila or Cebu. When flying to Siargao, you'll arrive at Siargao (Sayak) Airport.
It's worth noting, however, that budget airlines (Cebu Pacific in particular) are notorious for canceling flights last minute. If you're going to be connecting with another flight on your way back, make sure you factor in enough time just in case of a cancellation or rescheduled flight.
For those on a tight budget, you can also get to Siargao by flying to Surigao City (Airphil Express) and take a ferry from there to Dapa Port (2.5 hour boat ride). The last one leaves around midday, so make sure to check the schedule before you fly.
From Siargao Airport, you can take a taxi for 300-350 PHP ($5-6) to get to General Luna.
Getting around Siargao
The absolute best (and cheapest) way to get around Siargao is by renting your own motorbike. Not only does this end up being the most cost effective option, it also gives you the ultimate flexibility to set off and explore the island in your free time.
Motorbike rentals in Siargao cost about $8 USD/day, and you'll have a choice between automatic mopeds, semi automatic bikes (HOnda XRM 125 is the most popular), and seriously cool custom bikes and scramblers- all of which are very affordable. You can normally negotiate a cheaper rate for longer rentals.
If you're keen on going motorless, cycling is also a viable way of getting around Siargao, since the roads are in good nick and traffic is fairly calm.
Should you wish to hire a driver, you can rent a chauffeured habal-habal (tricycle/tuk-tuk) for around $20/day or a private van for about $90/day. Motorbike taxis are also available and cost an average of 50 cents for short rides around General Luna.