Extreme Nomads' Sports and Outdoors Guide to Phan Rang
Sitting bang in between Vietnam's long-established kitesurfing mecca- Mui Ne– and the raucous city streets of Nha Trang, Phan Rang is the new up-and-coming spot that everyone is talking about.
Phan Rang is the capital of Ninh Thuận, a seaside province set into the south-central coastline. A quiet rural area, much of the region's land is dedicated to agriculture- grapes, peaches, rice paddies, and salt pans. But head for the coastline and you'll soon see just why Phan Rang is the new place wandering nomads just can't get enough of.
Phan Rang's waters are bright blue and crystal clear. Thanks to the jagged coastline that twists and turns in every direction, kiters and surfers have been quick to adopt this fortuitous spot that seems to work in just about every wind direction.
A peaceful way of life, cheap cost of living, fascinating local culture and perfect watersports conditions; it's no wonder Phan Rang is now being touted as one of Southeast Asia's best up-and-coming destinations for outdoor adventurers.
Action Score
KITESURF
SURF
SUP
HIKING
CYCLING
Lifestyle in Phan Rang
Despite the fact that Phan Rang sits right in the middle of the "tourist triangle" of Dalat, Nha Trang, and Mui Ne, the entire area has remained more or less unchanged by modern tourism. One significant change Phan Rang has seen recently is the addition of a couple of new water sports centers.
The surrounding countryside is tranquil and dramatic all at the same time. Granite outcroppings tower over the national park and farmlands below, connected only by winding mountain roads that are practically begging for road trips.
Up until very recently, the foreign community here was virtually non-existent. But the recent addition of a couple new kitesurfing and surf centers has encouraged a few salty souls to settle down in the area. As for the locals, they're as friendly and warm as you could ever ask for.
There's plenty of opportunities to pause and appreciate the deep-rooted local culture in Phan Rang. From the unique "whale temples" scattered along the coastline to the vineyards producing their very own Phan Rang wine.
---
Where to stay in Phan Rang
Although Phan Rang is still in its infancy as a tourist destination, there is already a pretty decent selection of guest houses and resorts available for short term rent (<1 month).
If you're wondering where to stay in Phan Rang that gives you the best access to the kitesurfing beach, it pays to know that the watersports centers offer their own short term accommodation options:
Vietnam Surf Camping: "glamping" tents on My Hoa lagoon (starts at $15)
Phi's Kite School: dorms and bungalows on My Hoa (starts at $20)
Sorrento Beach Club: private Mediterranean beachside bungalows overlooking the kitesurfing lagoon, with access to a pool (starts at $43 per night)
Phan Rang Kitesurfing Holidays is another great resource for those wondering where to stay in Phan Rang for short-term holidays. They don't offer their own accommodation just yet but they'll help you find a suitable place in the locality.
For nomads looking to put down their bags and ride the waves of life in Phan Rang a little longer, we highly recommend going on the hunt for a house to rent. Finding a house near the kite spot can be a little challenging, but it's by no means impossible.
Basic Vietnamese style houses around My Hoa village go for $130-220/month, but it's likely they'll be unfurnished and without wifi. Alternatively, Phan Rang City (20 km away from My Hoa) has far more options. You can find a house or a room in a guest house to rent long term for as little as $180/month (furnished, with wifi).
---
Working & Coworking Spaces in Phan Rang
Despite the recent surge of interest from nomadic travelers, there are still no official coworking spaces in Phan Rang.
As for Phan Rang's other digital nomad friendly work spaces:
Restaurants are all very local style (think low plastic chairs and neon lights) and are missing most of the things a digital nomad would need from their workspace. However, there are a couple of cool cafes worth checking out.
We recommend:
The Container Coffee
Embracing the true meaning of upcycling, the guys at the Container Cafe serve up cheap and delicious glasses of rocket fuel Vietnamese coffee in a super cool setting. The wifi is good, the music is quiet and low-key, and thanks to their choice of location you're away from any noisy traffic.
Address: 18 Nguyễn Tri Phương, Mỹ Hải, Tp. Phan Rang – Tháp Chàm, Ninh Thuận, Vietnam
This chilled out bar and restaurant is a favoured spot for a handful of nomads who like to come here to pull out their laptop for a few hours and enjoy the relaxed vibes. They've also got a delish menu of local and international eats (and plenty of cold beers for when you clock out).
Work remotely from the kitesurfing schools
Of the digital nomads who are already spending time in Phan Rang, some choose to work in the kite stations and their adjoining cafes. Feedback so far tells us that while the space is pretty comfortable and the atmosphere is good, it can be a little crowded- not to mention the sand and salt that will inevitably work its way into your laptop.
When looking for the ideal digital nomad work space in Phan Rang, your best bet is to find digs that have reliable wifi and a good desk.
---
Where to shop and eat in Phan Rang
For those living near My Hoa and the main kite spot, the local wet market provides all the fresh fruits, veggies, eggs, fish, and meats you'll need on a day-to-day basis. For anything more specific than that, you'll probably need to take a trip to Phan Rang City itself. That's where you'll find the big Vinamart supermarket.
The local food in the restaurants is cheap, fresh, and pretty healthy. Think lots of soups, noodles, veggies & aromatic herbs, and seafood. But if you're hankering for some different flavours, head over to the restaurant at Sorrento Beach Club where house chef Rachel cooks up a storm of delicious eats every day.
Internet in Phan Rang
Internet in Phan Rang is generally really good, with plenty of places already hooked up on optic cables with high speeds. Wifi speeds go from 10 Mb/s to 30 Mb/s.
However, due to occasional breaks on sections of the AAG Trans-Pacific underwater cable system, which connects 8 Southeast Asian countries, internet speed in Phan Rang can be temporarily affected. The last break occurred on December 23rd 2017, and was fixed by January 7th 2018. See here.
When it comes to mobile internet in Phan Rang, you can pick up 4G in most places without encountering any black spots in reception. 3G/4G in Vietnam averages 5.4 Mb/s, which is lower than the Asia-Pacific average of 9.69 Mb/s.
SIM cards are cheap and so are monthly data bundles (you can avail of unlimited local internet for $4 if you register for the right package). The main 4G providers in Vietnam are Mobifone, Viettel and Vinaphone. For further advice on which SIM card to buy for mobile internet in Phan Rang, see a full guide on Vietnam's SIM cards options here or there.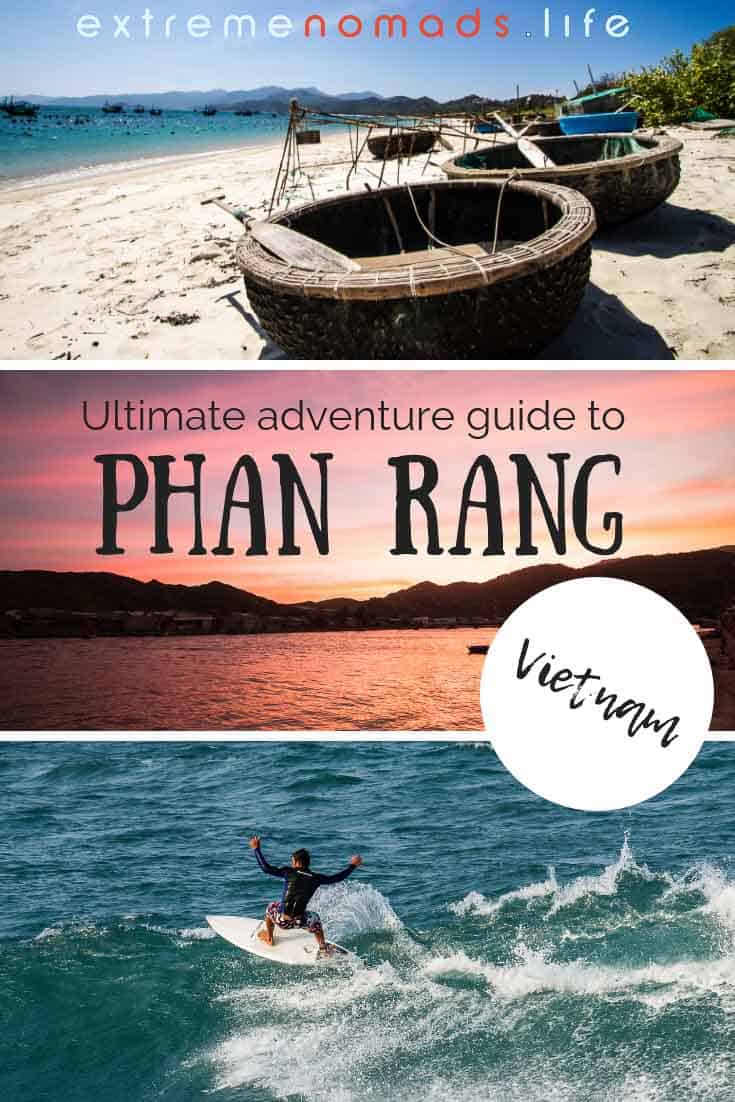 How to get to Phan Rang
When traveling from abroad, getting to Phan Rang involves flying into either Tan Son Nhat (Ho Chi Minh) International Airport or Cam Ranh (Nha Trang) International Airport. The latter is far more convenient.
Getting from Ho Chi Minh to Phan Rang
When traveling from Ho Chi Minh to Phan Rang, you can either take a connecting flight to Cam Ranh (which costs as little as $20 and takes around 1 hour) or the train from Saigon Railway Station to Thap Cham.
Tickets start at $19 and the journey takes around 8 hours. But you'll enjoy an awesome view of the passing countryside on the way!
Getting from Cam Ranh to Phan Rang
As for getting from the nearby Cam Ranh to Phan Rang, you can take a metered taxi or privately organised vehicle for around $30 (though you can expect to double that if you take a car all the way from Nha Trang city). The trip will take less than an hour.
Getting from Thap Cham to Phan Rang
From the train station at Thap Cham to Phan Rang, a metered taxi is the best option and will cost around $7.
How to get around Phan Rang
You'll quickly see that everything is quite spread out, so getting around Phan Rang can be a challenge unless you've got your own set of wheels.
Renting a motorbike/scooter is the most popular way of getting around Phan Rang, and costs around $7/day. Cheaper rates available for long term rentals. It's also possible to buy a secondhand motorbike (110cc) for around $250.
If you prefer to go motorless, you can get around Phan Rang by bicycle.
You can easily rent a bicycle from one of the local rental shops. Some resorts and guest houses will also be able to provide bikes.
When it comes to safety on the bicycle in Phan Rang, you're best off avoiding Highway 1A and sticking to the beach roads. Not only are they safer for bikes, but the view itself is worth the entire trip.