Extreme Nomads' Sports and Outdoors Guide to Mui Ne
Tucked away in a quiet rural part of Vietnam's south central coastline, Mui Ne is a small beachside town known best for watersports and wind.
Up until the early 2000's, Mui Ne was little more than a simple fishing town. Flash forward a few years to when the wandering watersports community caught on to the awesome conditions here, and Mui Ne quickly developed into a windsurfing and kitesurfing haven.
Today, Mui Ne is a mishmash of culture; while the Ham Tien part of town is mostly dominated by foreign tourism and the watersports community, you only need to take a spin 10 kilometers up the road to find the 'real' Mui Ne, where fishermen and simple lifestyles still reign supreme.
Long considered a favourite spot for seasonal sports people looking to take advantage of Mui Ne's strong winds and easy way of life, it's a perfect spot for digital nomads who value sun, sea, and a mix of adrenaline-fuelled outdoor activities.
Action Score
KITESURF
SURF
SUP
CYCLING
Lifestyle in Mui Ne
Life in Mui Ne is easy and laidback- as most beachside towns tend to be. Early risers taking a stroll through town will often find they're the only ones around, the rest of the town either still sleeping off last night's party, recharging with a sunrise yoga session, or stocking up on supplies at the early morning wet market towards the end of the village.
The entire town runs along the length of a single road, where you'll either be on "the beach side" or "the not beach side". Because of this, there's no real 'center' to Mui Ne; at the same time this means that nothing is too far away- walking the length of the busiest part of town takes about 40 minutes.
As well as being considered one of the best destinations to visit in Vietnam, Mui Ne is a seasonal tourist town, at its busiest between November and April and quietest during the rainy summer months. Most nomads head to town during the high season, with a few choosing to stay full-time throughout the year.
Although it has become quite a hub in recent years, Mui Ne is a good 4-5 hour drive away from Ho Chi Minh City (south), and 3-4 hours from Nha Trang (north). However, it's down to this central location that you can easily reach other fantastic nomad-friendly spots, such as Dalat and Phan Rang.
---
Where to stay in Mui Ne
Digital nomads in Mui Ne have plenty to pick from when it comes to finding a home-away-from-home. As you'd expect from a tourist town, there are tons of hotels, hostels, guesthouses, and resorts- of varying standard and price.
Short term travelers (less than one month) can rent a private room for as little as $8. For this price, expect something simple but comfortable, with wifi as a given and possibly even access to a communal kitchen. Of course, this is the starting price so if you're willing to part with a bit more cash you can find yourself some pretty luxurious digs- think swimming pools, full Western amenities, and beach views.
For nomads planning to stick around upwards of one month, you're best off either finding an apartment to rent or negotiating a deal with a guesthouse for a good monthly rate. The most basic studio apartment might cost you as little as $120/month, while a fully furnished 2 bedroom house tends to start at $250/month.
---
Working & Coworking Spaces in Mui Ne
While there are currently no official coworking spaces in Mui Ne, there are a handful of digital nomad friendly cafes and beach clubs where you can pull out the laptop and clock in some hours.
Jibe's Beach Club and Bar
Originally established as the main windsurfing hub in town (which it still is today, in case you're looking for gear/rentals/lessons), Jibe's is a big, open-air beach club, restaurant, and bar. Good wifi, plugs, tasty grub, lots of feet-in-the-sand chairs and couches- and it's one of the few places in town with a backup generator (so no panic if you get caught in the occasional power out).
Choi Oi
Miss Thuy and her family just opened this cheap-and-cheerful restaurant late in 2017, and they've already earned themselves a reputation as one of the best eateries in town. Free wifi (and plugs) and chilled cafe vibes- not to mention awesome food!
Backstage
Centrally located (on the "not beach side" of the road), Backstage has big comfy couches and reliable wifi.
---
Where to shop and eat in Mui Ne
Apart from the resorts, Mui Ne's main street is lined with all kinds of shops and restaurants. Catering to a mix of international flavours, you can eat pretty much whatever you fancy here: Vietnamese, Thai, Indian, Russian, Italian, French, fresh seafood, BBQ, vegetarian/vegan… You name it.
There are two main wet markets in Mui Ne for fruits, veggies, fresh fish and meats; Ham Tien Market (3km away from "downtown") and Mui Ne Market (8km away). Best go between 6-9am for the freshest pick!
In terms of shopping in Mui Ne, you're limited to the basics; although if it's sunscreen and inflatable pool toys you're after- you're in luck! There's at least two dozen shops that have your name all over it.
There's also a couple of 'essentials' shops where you can get basic food and household supplies; you'll need to go to Phan Thiet (12 km away) for everything else. Phan Thiet has two big supermarkets, the Co-op and Lotte Mart. Between the two of them, you can find most things (including some imported products like cheese, wine, pesto, butter, pasta, and cereals).
If you can't find what you're looking for up there and you really have a craving, Annam Gourmet Market in Ho Chi Minh has indicated that they will make deliveries up to Mui Ne as long as the customer pays the cost of putting the goods on the bus/train (approx. $5). Contact their customer service for more details.
Internet in Mui Ne
Internet in Mui Ne has been catching up in speed recently, and you'll now find a minimum of 10 Mbps almost everywhere, while some already enjoy fiber optic up to 50 Mbps.
The only issue with internet in Mui Ne is the occasional power black out that can last anywhere from 10 minutes to a full day- and will surely be a pain if the place you're working remotely from doesn't have a generator.
Due to occasional breaks on sections of the AAG Trans-Pacific underwater cable system, which connects 8 Southeast Asian countries, internet speed in Mui Ne can be temporarily affected. The last break occurred on December 23rd 2017, and was fixed by January 7th 2018. See more here.
When it comes to mobile internet in Mui Ne:
3G/4G in Vietnam averages 5.4 Mb/s, which is lower than the Asia-Pacific average of 9.69 Mb/s. Vietnam's 4G networks cover 95% of the nation's population and there are no known dead spots anywhere around Mui Ne.
The main 4G providers in Vietnam are Mobifone, Viettel and Vinaphone. For more advice about buying a SIM card for mobile internet in Mui Ne, see a full guide on Vietnam's SIM cards options here or there.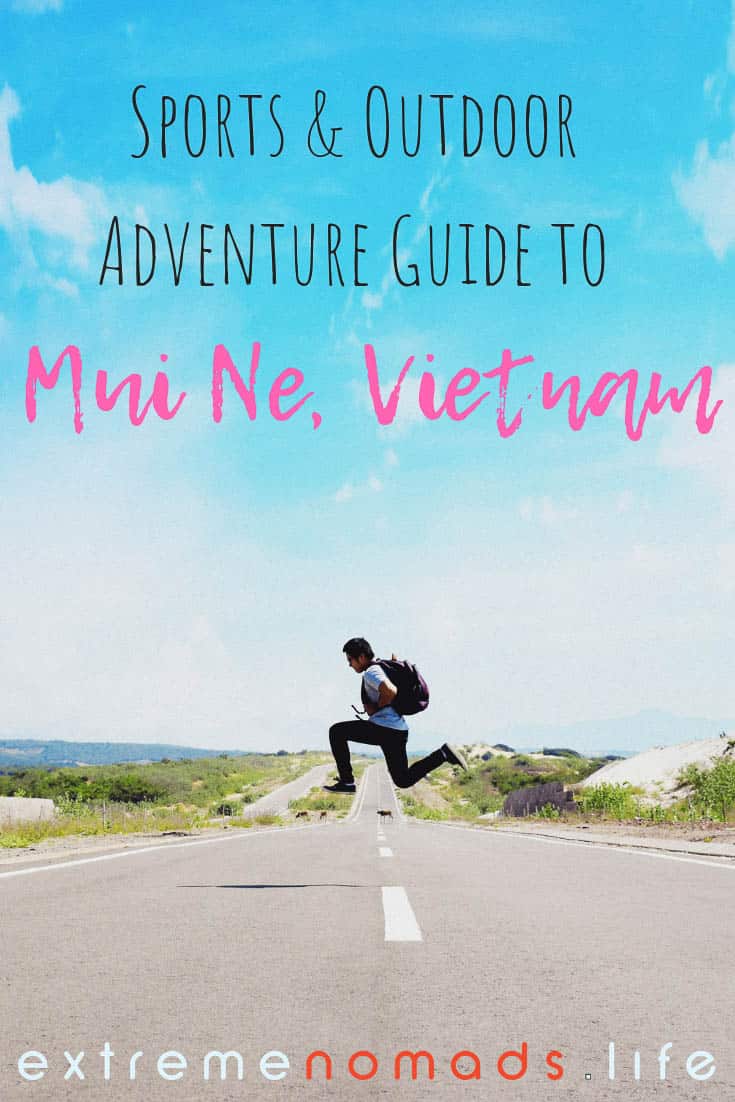 How to get to Mui Ne
Vietnam's biggest airport, Tan Son Nhat (Ho Chi Minh City), is a 4-5 hour drive away from Mui Ne. In terms of getting from Ho Chi Minh to Mui Ne, there are three options:
Ho Chi Minh to Mui Ne by bus
The HCMC-Mui Ne bus departs from District 1 (30 minute drive from the airport). Starting at $7, this is the cheapest way of getting from Ho Chi Minh to Mui Ne.
You'll get a sleeper seat which you can (kind of) stretch out in, as well as air-con (and *sometimes* wifi).
There are loads of companies driving this route, with little variation in price or service. Popular companies are Sinh Cafe, Hanh Cafe, and Tam Hanh. Daily departures from 7am-8pm.
Ho Chi Minh to Mui Ne by train
Saigon Railway Station is 20 minutes away from the airport.
Trains in Vietnam aren't the fastest, but they do offer stunning views of the passing scenery.
Tickets start at $14, and the train from Ho Chi Minh to Mui Ne takes anywhere between 3.5-5 hours.
Ho Chi Minh to Mui Ne via private car or van
There are a slew of companies ready to pick travelers up directly from the airport and drop you right on the doorstep of your new Mui Ne 'home'.
Definitely the most comfortable and convenient option, prices start at $75.
5/7 seaters and minibuses all available (put up a post on Mui Ne Buy and Sell Facebook group and wait for the bids to start rolling in).
How to get around Mui Ne
You'll quickly find the most cost effective (and convenient) way to get around Mui Ne is to rent a motorbike/scooter. Just take a walk down the main street and you'll see plenty of local guys ready to hook you up.
Prices average at $6 with discounted rates available for long term rent.
If motorbikes aren't your thing, you can also rent bicycles/mountain bikes for comparable prices. Taxis are also cheap and easy to come by.
When it comes to getting around Mui Ne via public transport, local buses are dirt cheap and can be hailed anywhere along the side of the road.
To find the best public transport to or from Mui Ne, use this search form from 12go.asia – the most efficient and user-friendly public transportation booking platform for Thailand, Vietnam, Malaysia, Singapore,  India, Philippines, Laos, Cambodia and Myanmar.