Though only 5% of kayak excursions end in sinking, it can still happen. But what can save the day during this rare, life-threatening event? A kayak bilge pump.  
Bilge pumps are the hand pumps that kayakers use to empty their boats when too much water makes its way in.
If you kayak in shallow water where you can easily swim (or walk) back to shore, bilge pumps aren't that big of a deal. But if you take your kayak out into the ocean or in isolated, remote areas, bilge pumps can save you from a hairy situation.
But what makes a good kayak bilge pump? Are they all the same? Hardly! In this post, I'll detail what a kayak bilge pump is, what features you should prioritize, and what I believe are the best kayak bilge pumps on the market today.
Best for Longevity

NRS Bilge Pump
Material: ABS plastics
Weight: 
Best for Dirt Removal

Beckson Marine
Material: ABS plastics
Weight: 07 pounds
Best for Convenience

Seattle Sports
Material: ABS plastics
Weight: 07 pounds
Best Large Volume Removal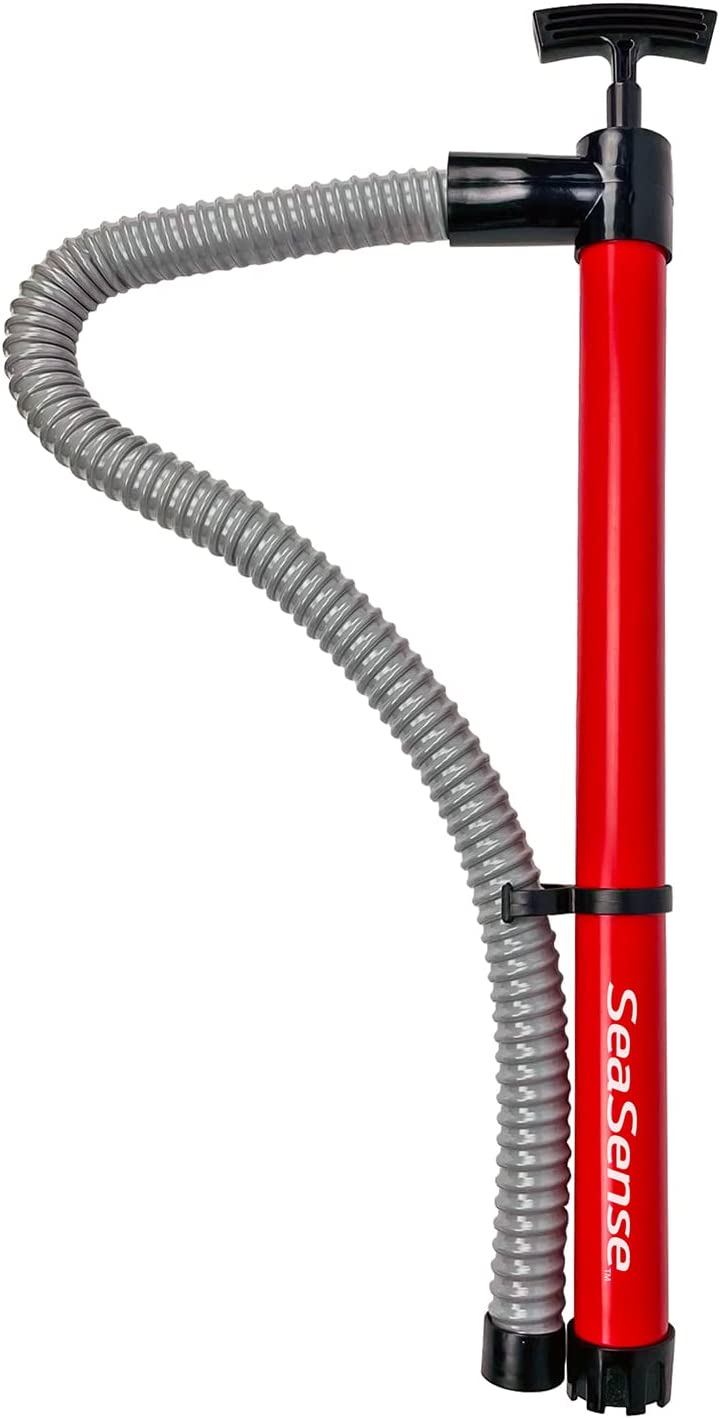 SeaSense Hand
Material: Plastic
Weight: 2 pounds
Best Bilge Pumps For Speed

Perception Bilge Pump
Material: Plastic
Weight: 05 pounds
Best Efficiency

Harmony Gear
Material: Plastic
Weight: 11 ounces
Best overall Bilge Pumps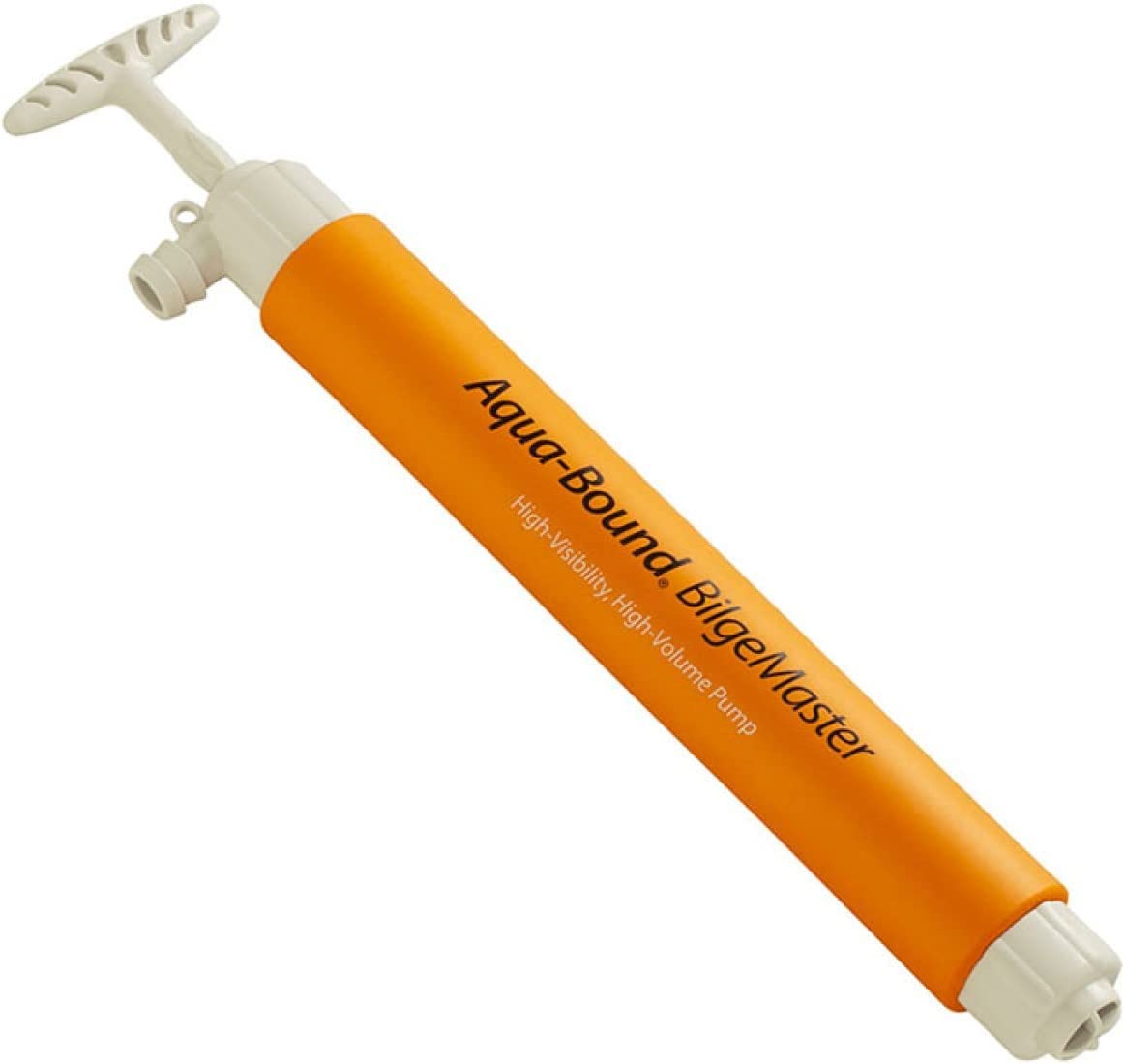 Aqua Bound
Material: Plastic and steel
Weight: 08 pounds
Aqua Bound Bilge Master Pump

Attwood 28″
Material: Plastic
Weight: 08 pounds
Best for Bigger Boats

Beckson Thirsty Mate
Material: Plastic
Weight: 1.15 pounds
Types of Bilge Pumps
Bilge. Not the most appealing word. That's because bilge water refers to the build-up of excess water, oils, sludge, and any other murky, unwanted water or liquid that sloshes around in larger boat basements.
But the bilge water in kayaks is a little bit different. Since kayaks don't have those big pieces of machinery or even basements that larger ships do, bilge water refers to overflowing or unwanted water on your kayak floor. 
You can sustain this water in many ways; a colossal wave during your next whitewater expedition, from flipping over a capsized boat, or just accumulated spray from long kayak excursions.
The problem with kayak bilge water is that too much of it can sink your kayak. 
Enter kayak bilge pumps. While most kayakers only use a bilge pump in an emergency, it's vital to have these bad boys on standby as safety gear in the worst-case scenario. Pumps are of two different types; manual bilge pumps and automatic bilge pumps.
Manual Bilge Pump
A manual pump is the most basic and commonly used type of bilge pump for kayaks. It consists of a cylindrical tube with a piston or plunger mechanism. By pulling up and pushing down the handle, you create suction and force, respectively, which draw water in and expel it through the pump's outlet. Manual pumps are extremely lightweight, compact, and easy to use.
Automatic Bilge Pump
Automatic bilge pumps are powered by a battery or kayak's electrical system. The automatic bilge pump offers a hands-free pumping experience as it automatically removes more water with the flip of a switch or through an automatic float switch. Automatic bilge pump options are efficient and can quickly pump out large volumes of water.
Best Kayak Bilge Pumps (Our Top Picks)
When choosing a bilge pump for your kayak, consider factors such as the size of your kayak, the amount of water you expect to encounter, ease of use, and personal preferences.
But all kayak bilge pumps are made differently. That's why it's crucial to fully understand what product you're buying before making significant investments. Luckily for you, all of the below picks have been heavily vetted (by yours truly), so you can't go wrong with any of these best bilge pumps!

The floating NRS kayak bilge pump is both robust as it is convenient. A powerful suction empties the boat bilge at an impressive eight gallons per minute while the pump's outer foam layer adds buoyancy to prevent loss during an emergency. 
And its bright yellow foam collar makes for easy detection of this pump – even when the sun starts to drop.
While a hose isn't technically necessary (because the kayak bilge pump has enough power to eject water feet overboard), some adventurers have successfully built discharge tubes for better efficiency and eject distances. 
Weirdly enough, it seems as if the outer screws are decorative, and only glue keeps the kayak bilge pumps' mechanisms secure and intact.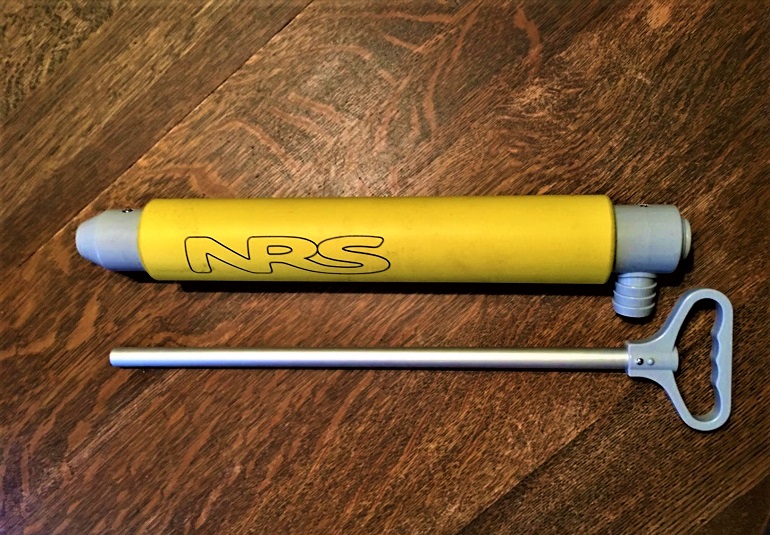 To be fair, the glue used on this NRS boat bilge pump is heavy-duty, and I have heard from only a few fellow yakers about manufacturing problems. On the other hand, other yakers I've spoken to say they've used their pumps for multiple seasons.
Another thing to consider with this manual pump for your kayak or canoe? Since NRS makes its kayak bilge pump with steel, it can degrade in saltwater. Keep it dry in a bag if you plan to bring it into the ocean instead of salt water.
Features 
Materials: ABS plastics and foam
Length: 21 inches
Type: Manual
Weight: Unspecified
Pros
The NRS kayak bilge pump has a bright, floating outer layer for convenience, accessibility, and overall greater safety. 
An extension hose is not necessary to fully evacuate water. 
The kayak bilge pump empties water at eight gallons per minute for speedy boat recovery. 
Cons 
The NRS kayak bilge pump only uses glue to seal the pump, not screws, putting its quality manufacturing into question. 

NRS Bilge Pump
The price of "NRS Bilge Pump " varies, so check the latest price at

The Beckson Marine Bilge Pump does not play around. The Beckson hand bilge pump seamlessly removes gallons of water, dirt, and sand from your kayak through hearty construction and a compact design. And its vibrant red color means you can spot this manual pump fast, even if you're mid-panic. 
The Beckson Marine bilge pump features thick gripping for better hand placement and comfort, which is nice if you have a lot of pumping to do. 
Sure, this pump can be stiff; that might be because of its ABS plastic and compact design. Still, once you get it going, this pump churns out water at 8 gallons per minute for speedy water evacuation. 
And even more? Because it's made from plastic, this bilge pump is sea friendly. 
Features 
Materials: ABS plastics
Length: 20 inches
Type: Manual
Weight: 0.07 pounds
Pros
Its plastic construction makes this boat bilge pump safe to bring to various places, including the ocean. 
The Marine kayak bilge pump is adept at removing kayak or canoe dirt and sand along with water. 
Cons 
Sometimes this manual pump can feel too stiff.

Beckson Marine
The price of "Beckson Marine" varies, so check the latest price at

With the foam collar and synthetic manual bilge pumps by Seattle Sports, you'll never need to worry about overflow kayak bilge water again.
Its ergonomic rubber handle and comfortable grip mean you achieve much better leverage while pumping for better removal. 
Seattle Sports is confident in its pump's efficiency, which is why the model does not come with a hose. However, Seattle Sports adds an adapter entry point so that if you buy a hose, you can easily insert it for easier water projection. 
Additionally, the Seattle Sports pump floats well, which is handy if too much water floods the interior of your kayak. This way, you can quickly grab it thanks to its buoyancy and bright neon color.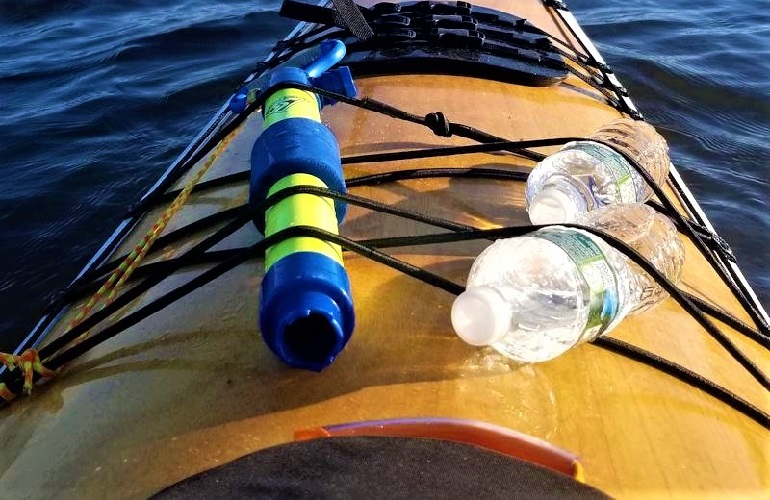 The reliable, convenient Seattle Sports pump pulls in at a compact 21 inches, so you can easily strap it to the stern of your kayak or stuff it into your kayak compartment. And its plastic materials ward off rust, while its comfortable grip makes it easy to use. Lastly, a foam collar by the pump handle works to boost flotation.
The downside? While the suction is powerful, it doesn't get the last inches of water at the boat's floor.
I advise bringing an absorbent cloth to soak up the last few droplets.
Features 
Materials: ABS plastics and foam
Length: 21 inches
Type: Manual
Weight: 0.07 pounds
Pros
The Seattle Sports bilge pump features an ergonomic handle for a comfortable grip and better use. 
The pump features compact dimensions for an easily stored bilge pump.
Its outer foam collar adds buoyancy for better safety.
Cons 
This bilge pump struggles to clear out every drop, which can get uncomfortable for long kayak rides.

Seattle Sports
The price of "Seattle Sports" varies, so check the latest price at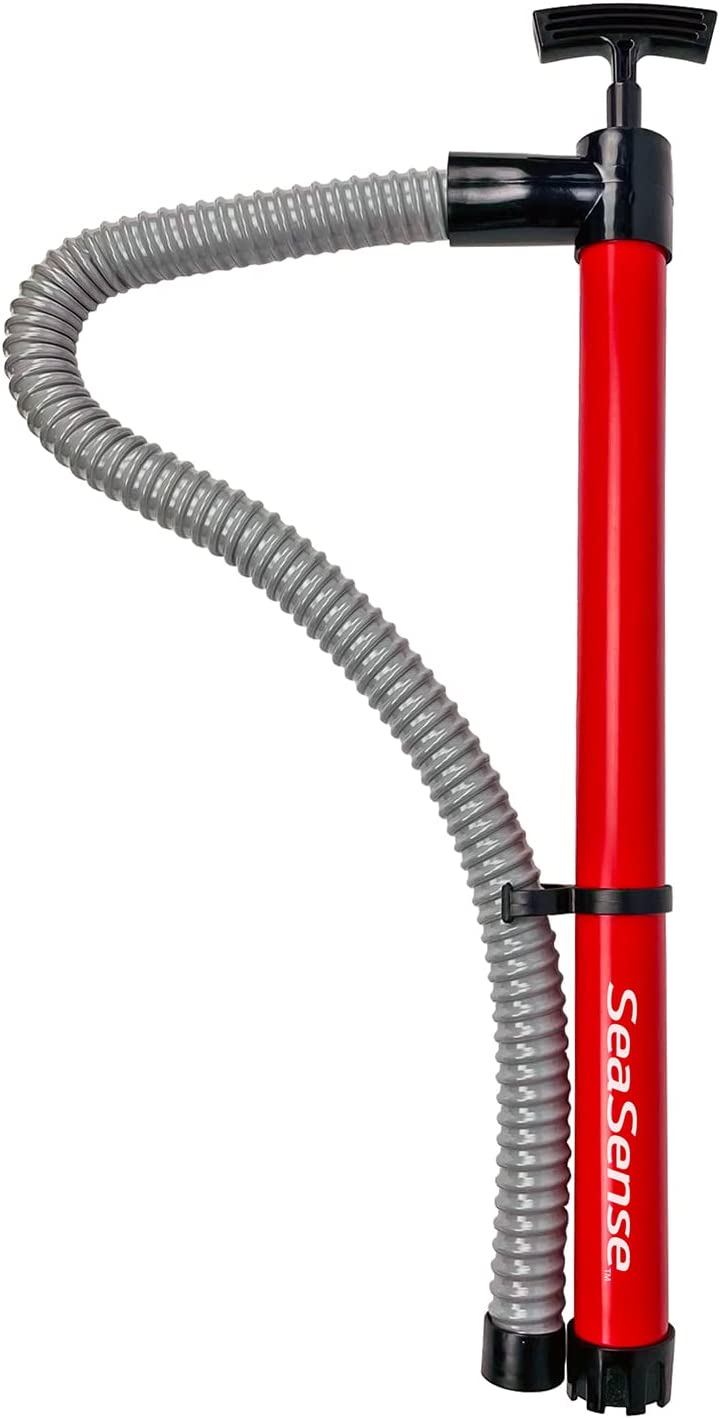 This large-scale water remover is a lifesaver, literally. A molded, ergonomic grip ensures maximum comfort, while considerate designs like a plunger spacer protect the plunger materials from degradation. 
SeaSense crafts this mechanism from sturdy, corrosion-resistant plastic, meaning it's safe to take out in salt water and fresh water. Meanwhile, a washer seal prevents leakage or dripping.
The hose is a great addition to this bilge pump, as you can put the nozzle in those hard-to-reach corners. While this doesn't make or break your safety, it can make your kayak adventure much more comfortable. And that's got to count for something, right?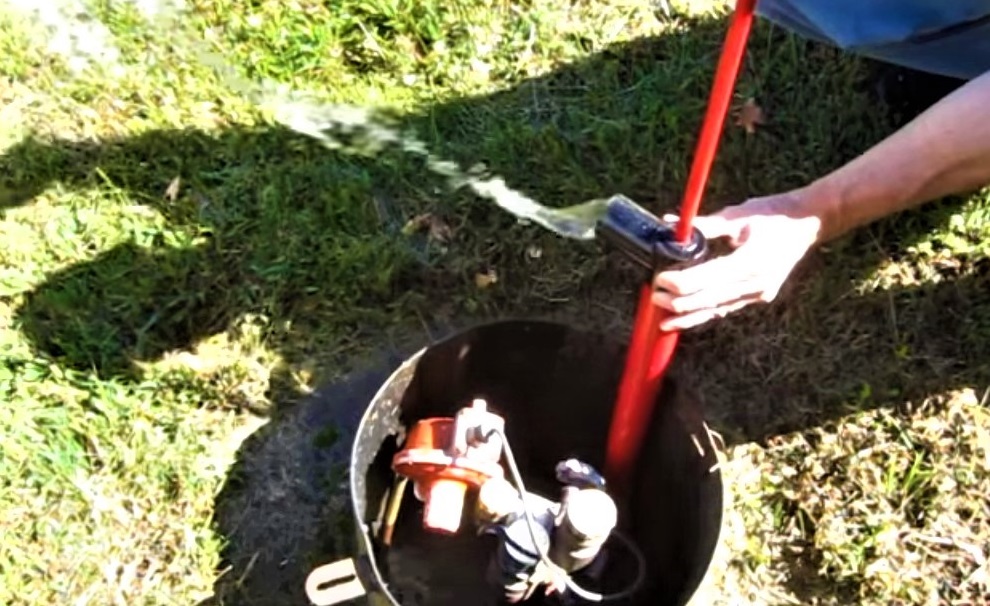 The construction of this model is a little…wobbly. To my dismay, I noticed that the hose fell out of the compartment quickly. 
Since it's an easy fit, it's pretty simple to re-attach, but if you're stuck pumping out water for the long haul, know that it will keep falling out. 
Features 
Materials: Plastic
Length: 3.5 inches (27 inches high)
Type: Manual
Weight: 2 pounds
Pros
These kayak bilge pumps use corrosion-resistant plastics designed to make them durable for many water types. 
The hose attachment can reach tricky, tight corners to remove all the unwanted water. 
An installed water seal prevents leakage. 
Cons
The construction isn't reliable; this kayak bilge pump is a bit lackluster.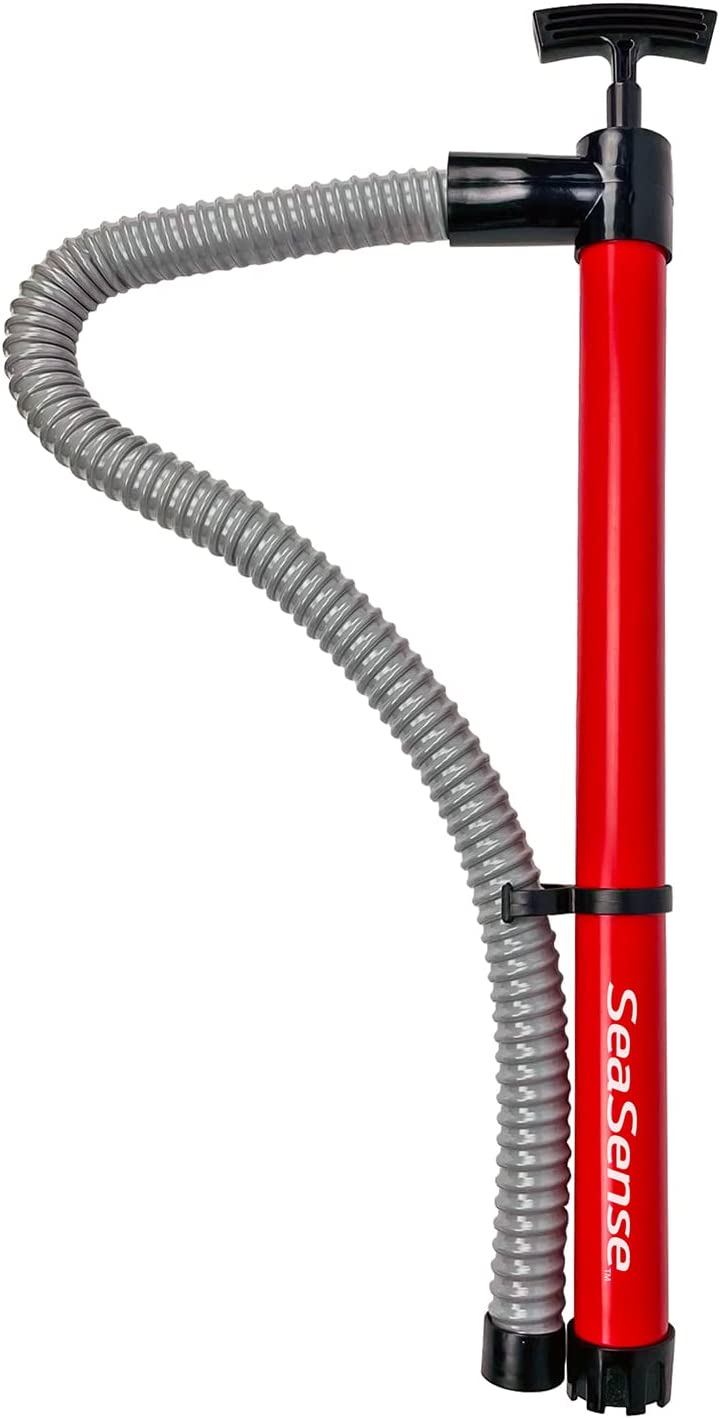 SeaSense Hand
The price of "SeaSense Hand" varies, so check the latest price at

If you've got a need for speed, consider the Perception kayak bilge pump. Crafted with a robust plastic blend, this hand bilge pump utilizes upward and downward motions to expel water. As a result, it allows you to evacuate water twice as fast with much less strain than its competitors. 
How fast, you ask? Perception proudly asserts you can eject one gallon of water every 13 pumps. And they're right; I tried it out and pumped one gallon in less than a minute. 
The Perception kayak bilge pump also floats for maximum safety as the last thing you want is for your boat to capsize, and then the way you get water out the sink to the ocean floor.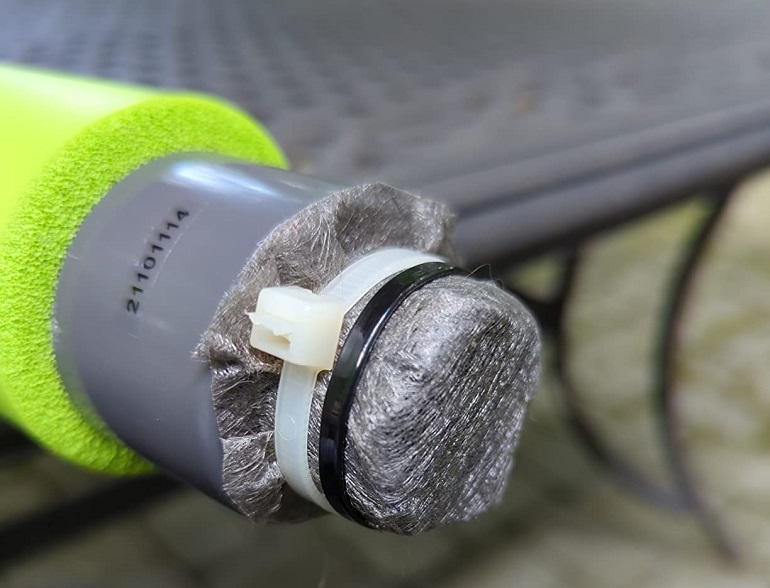 The downside to this hand bilge pump? Sand and debris grains can clog up this mechanism. 
This mighty kayak bilge pump is one the fastest due to its dual-action capabilities. The Perception is the right fit if you struggle with frequent flooding. 
Features 
Materials: Plastic
Length: 4 inches
Type: Manual
Weight: 0.05 pounds
Pros
The Perception bilge pump uses downward strokes to clear water faster (about two gallons of water per minute). 
The downward strokes allow you to remove water with much less strain and work. 
ABS plastic gives this pump better durability and a long-lasting lifetime.  
Cons
The bilge pump can clog quickly, probably due to how fast it sucks up saltwater and freshwater. 

Perception Bilge Pump
The price of "Perception Bilge Pump " varies, so check the latest price at

Looking to remove unwanted water on small boats? How about eliminating water with double ease compared to other pumps?
Enter the reliable Harmony Gear Kayak: a high-volume bilge pump that expels water far, far away, so there's no way water can dribble back into your vessel.
Since the Harmony Gear kayak pump pulls in at a shorter length than many of its competitors (16 inches long), its compact design allows this bilge pump to give you a shorter upward and downward stroke.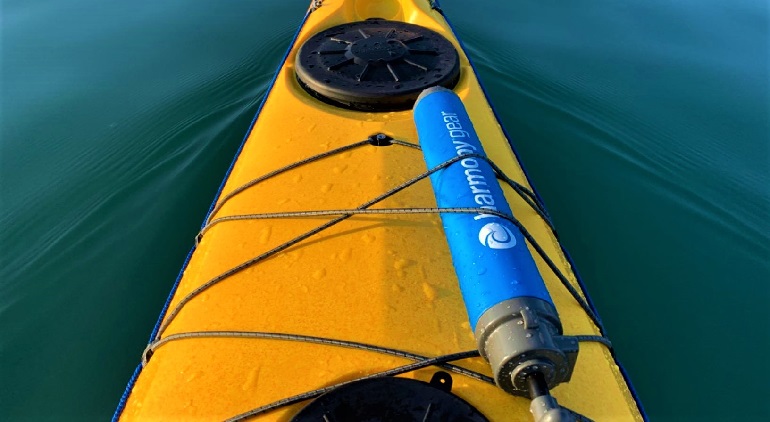 Its short design also allows better efficiency and a faster water removal rate. Meanwhile, its gripped material makes it easy to use, easy to hold onto if you're submerged in water, and easy for your kayak deck bungee cords to grip during transport. 
Unfortunately, the downside is that the construction is slightly less sturdy than other bilge pumps. As a result, the strokes feel slightly shaky. 
Features 
Materials: Plastic
Length: 16 inches
Type: Manual
Weight: 11 ounces
Pros
Perceptions' compact design allows for less strain and better efficiency. 
Weighing only 11 ounces makes it easy to transport 
The efficient pump is equipped with gripped material, making it easy to hold and use with wet, slippery hands. 
Cons 
The construction of this bilge pump could be stronger. 

Harmony Gear
The price of "Harmony Gear" varies, so check the latest price at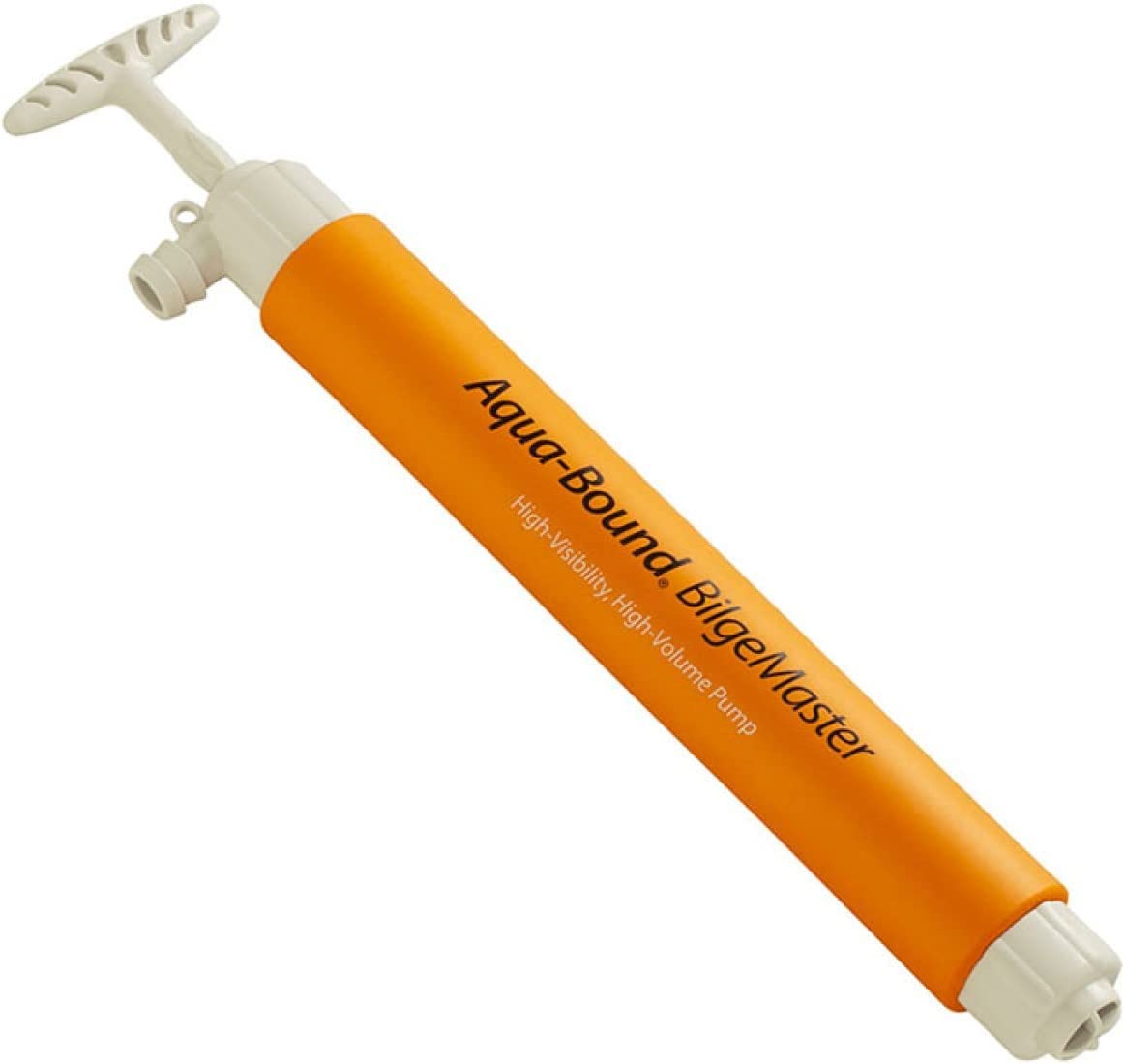 This American-made, low-profile Aqua-Bound pump features a compact 17-inch simple design that's powerful as it is small. How powerful? Prepare to be amazed: this rugged bilge pump requires only eight pumps to evacuate one single gallon. 
Yes, you read that right. The Aqua-Bound is a high-volume pump, probably the fastest at expelling water. 
What else, you ask? This Aqua-Bound attached a small ring around the top of the pump so that kayakers can easily attach a leash or tether for easy transportability. 
And it's durable. The pump's interior is crafted with a stainless steel piston rod, ensuring it can withstand throws, drops, rocks, and any other damage. But even more creative, the outer layer is made with 100% industrial-grade plastics to prevent saltwater deterioration. 
A​qua Bound also prioritizes convenience. A one-inch diameter intake nozzle allows users to attach hoses. 
Meanwhile, a bright orange-colored perimeter makes it easy to spot, and the inside is easy to clean as it features a removable inlet covering. This prevents a lot of the debris clogging and build-up you find with other bilge pumps. 
Sometimes the materials are so tightly spun that it can lead to cracking within the plastic. Though this is rare, it can still happen. Besides that, this is a terrific kayak bilge pump and the best marine pump for your kayak.
Features 
Materials: Plastic and stainless steel components
Length: 17 inches
Type: Manual
Weight: 0.08 pounds
Pros
The hand pump has a ring for easy leashing or tethering. 
A removable inlet covering makes for easy, stress-free cleaning and dirt removal. 
This pump is made with both steel and plastic for superior durability and construction. 
Cons
Too tight plastic can eventually lead to cracks in your pump.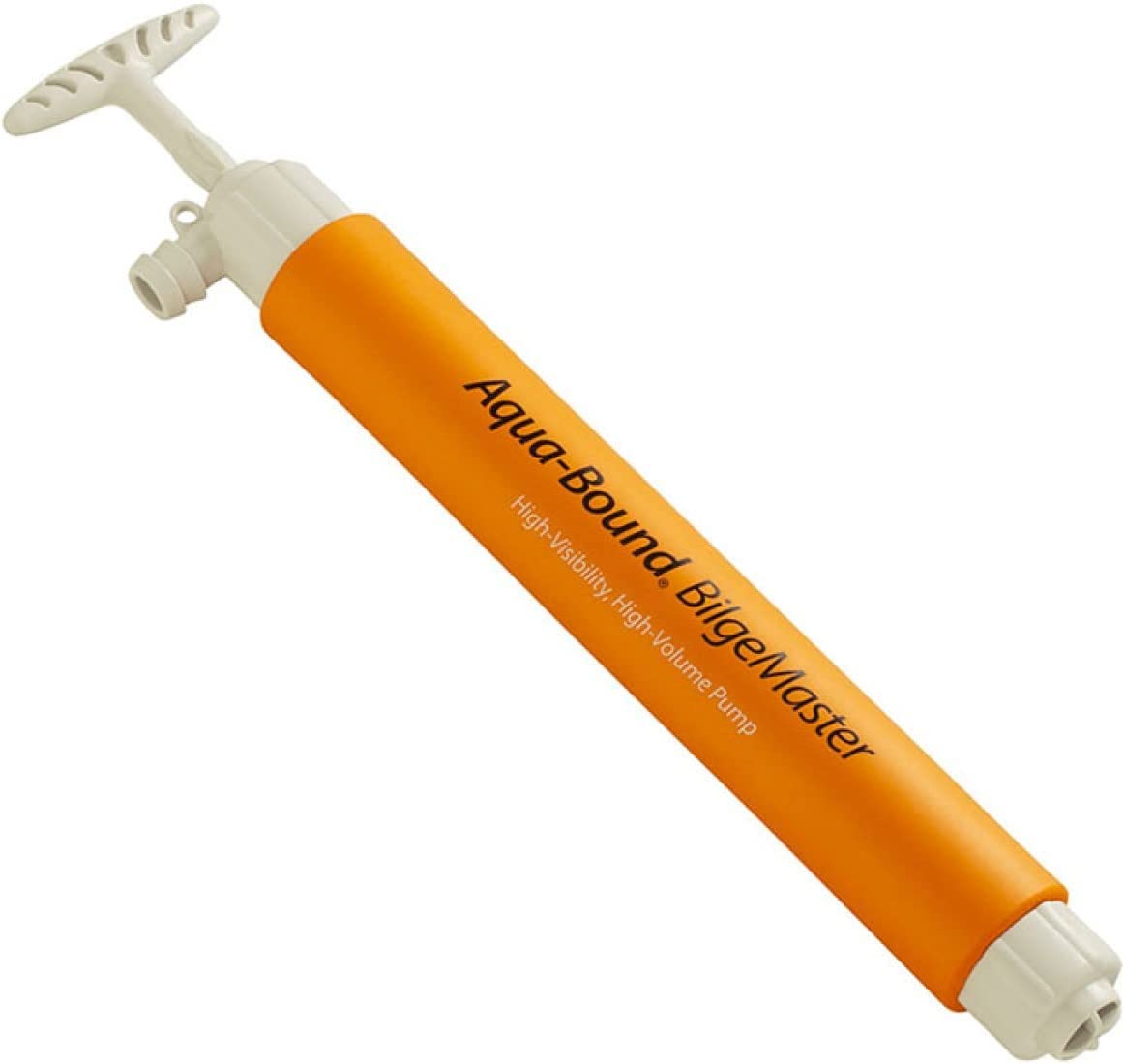 Aqua Bound
The price of "Aqua Bound " varies, so check the latest price at

What I like about this kayak pump is…okay, I can't choose just one. First, the barrel is long enough to fully evacuate water from small boats thanks to its 32-inch removable hose. 
The hose is an excellent addition, allowing you to suck up water in tight cracks and crevices. This allows you to prevent mold growth in your kayak and guarantee a dry, warm, comfortable ride. 
Due to its quality construction, the Attwood bilge pump boasts excellent longevity and performs very well. 
However, it could do with a screen protector because a lot of dirt, grains, and debris get easily sucked into the pump. 
And since the hose isn't average length, you can't easily substitute it with a new hose. 
Features 
Materials: Plastic
Length: 28 inches
Type: Manual bilge pump
Weight: 0.08 pounds
Pros
A kayak bilge pump hose allows for easy water removal. 
This canoe and kayak bilge pump also boasts excellent longevity and efficiency.
Cons 
Attwood may want to consider adding a screen to the hose to prevent or reduce clogging.

Attwood 28″
The price of "Attwood 28" varies, so check the latest price at

Beckson nailed the name on this one: the Thirsty Mate kayak bilge pump clears a whopping ten gallons of water per minute with an astounding six strokes per gallon. 
Because it's made with plastic, you can bring this durable one-pound kayak bilge pump anywhere, anytime. A​ smooth, durable pump with a 24-inch long hose means this beefy pump gets the job done right. 
The Thirsty Mate also boasts a removable foot valve, making cleaning a breeze.
Since the hose is 24 inches long, this might be a better fit for bigger boats and not a one-person kayak. 
Not happy with your new kayak bilge pump? Beckson offers a 100% satisfaction guarantee.
Features 
Materials: Plastic
Length: 24 inches
Type: Manual kayak bilge pump
Weight: 1.15 pounds
Pros
Beckson presents customers with a 100% satisfaction guarantee.
The efficient kayak bilge pump removes water at ten gallons per minute 
The removable kayak bilge valve makes cleaning much easier. 
Cons
The hose attached makes this rather large and a hassle; consider a smaller pump if you have a one-person kayak. 

Beckson Thirsty Mate
The price of "Beckson Thirsty Mate " varies, so check the latest price at
Buying Guide for Best Kayak Bilge Pumps
Hopefully, by now, I've sold you on the importance of bringing a canoe or kayak bilge pump with you wherever your boat takes you. But what type of kayak bilge pump to buy is a different story. 
Should you buy one with manual pumps? Electric bilge pumps? An extension seal? What happens if a rocky wave tosses your bilge pump overboard? Can it float? Lastly, does it expel water as the company advertises?
Electric bilge pumps may take up more space, are costly, and more difficult to install, but automatic pumps can make paddling easy as you won't have to pump or paddle simultaneously.
Because these bilge pumps are safety equipment, pay close attention to kayak bilge pump reliability, durability, and the number of gallons expelled per minute. Beyond that, other elements to consider are materials and weight.  
Material
There are two materials when it comes to choosing the right bilge pump: plastics and steel. While pumps with stainless steel components may look better, stainless steel screws without protective coating degrades in salt water. As a result, thick rust patches or white, corrosive markings may decorate your kayak or canoe pump- and not in a good way.
Kayak bilge pumps made with ABS plastic components are suitable as they are more durable with salt water, but sometimes they don't pump as smoothly as a steel set.
You'll also want to consider buying a canoe or kayak pump with some flotation device like a foam collar or a foam sleeve.
Size, Shape, and Weight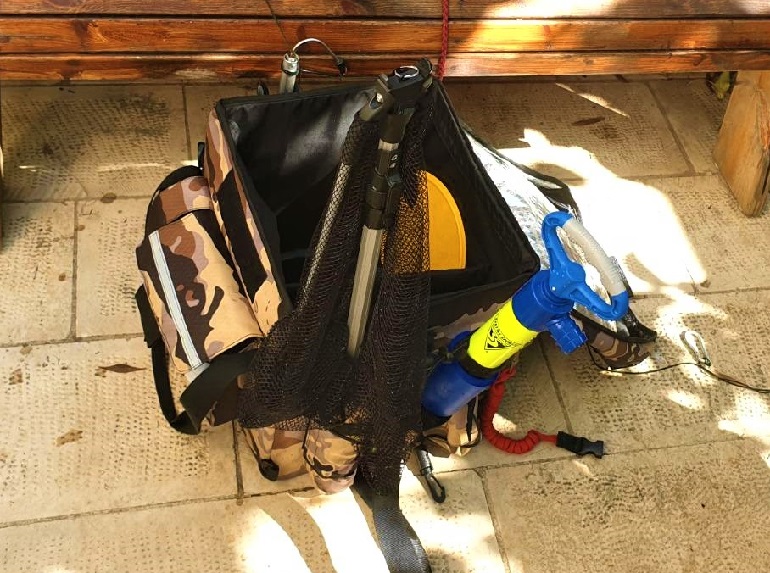 Yes, size really does matter – especially when talking about a kayak bilge hand pump churning out dangerous, excess water on small boats.
A large pump usually has maximum efficiency and can move larger quantities of excess water than a smaller pump. However, you must be careful; some of the bigger bilge pumps (the ones that come with hoses) are too large for a kayak and are better suited for motorboats. 
Alternatively, you can work a smaller pump faster than a larger one, so the size comes down to personal preference. While most manual pumps are slim and compact, be sure to inspect the measurements carefully so that you know they will fit in or on your kayak. 
Safety
Hopefully, you'll never need to use your bilge pump, but when you do, you have to have the confidence that it will indeed work. 
For that reason, test out your kayak bilge pump before using it in an emergency. Does the hose easily fall out? Does it struggle with pumping water out?
It may not seem like a big deal in your pool when you're pumping out water safely on land. But at the moment when water is filling up your vessel, and you're slowly sinking beneath the surface, you need a reliable pump. 
Having a kayak bilge pump is especially important for whitewater rafting. Kayaking on placid lakes brings little threat of flooding. Whitewater rafting, on the other hand, carries significant risks. 
Water Removal Rate
When you're safe and dry on land, the water removal rate may seem like no big deal. But if you're rapidly sinking and in the middle of a panic spiral, a high water removal rate could be the difference between paddling back to shore or swimming back to the beach. 
At the very least, you want a kayak bilge pump to remove one or two gallons of water per minute. Any less, and the pump does not work as well as others.
FAQs
Do I Need a Bilge Pump for My Kayak?
Yes! Just as you keep a life vest on your kayak for life-threatening emergencies, you should also keep an efficient bilge pump. 
Water seepage is inevitable when you take a boat in rough conditions; too much of it can sink your kayak. If you're taking the kayak in shallow water where you can stand, it's not a big deal if you sink. However, you need a kayak bilge pump if you take your sit-inside kayak out on deep water where you can drown. 
Which Is the Best Kayak Bilge Pump?
While the best kayak bilge pump is up to personal interpretation, many people love the NRS bilge pump as the best kayak bilge pump. Though, honestly? Any powerful pump on this list is quality and presents users with standout features. 
Where Do You Put a Bilge Pump in a Kayak?
It depends on how large your kayak bilge pump is. Most pumps are around 12 to 17 inches.
All Aboard!
The funny thing about bilge pumps is you hope you never have to use one. But, as a last-ditch effort to bail out of an emergency flooding situation, your bilge pump is the only thing standing between you and a sunk vessel. 
As a result, you must buy one to store on hand in case of emergency. No matter what type you buy, the vital thing to ensure is that it works and is dependable.