Built to Last
Sometimes you don't want to go home. I get it; things can get complicated. A day out on the water is a lot more relaxing than dealing with the trials of everyday life. Deploying your kayak anchor into the water is one way of securing your spot.
However, what if you are a stop-and-go type of person? I know I am. Five minutes here and another five minutes further down the river.
It's a great way of taking pictures, but having to haul your anchor onboard repeatedly is as annoying as it is tiring.
That's where trolling motors come in. A trolling motor is a self-contained propulsion unit. They maintain your kayak in place without the need for an anchor. Better yet, they allow you to explore shallow areas. Other motors are not capable of this.
To power such a nifty tool, you are going to need a trolling motor battery.
Best Trolling Motor Battery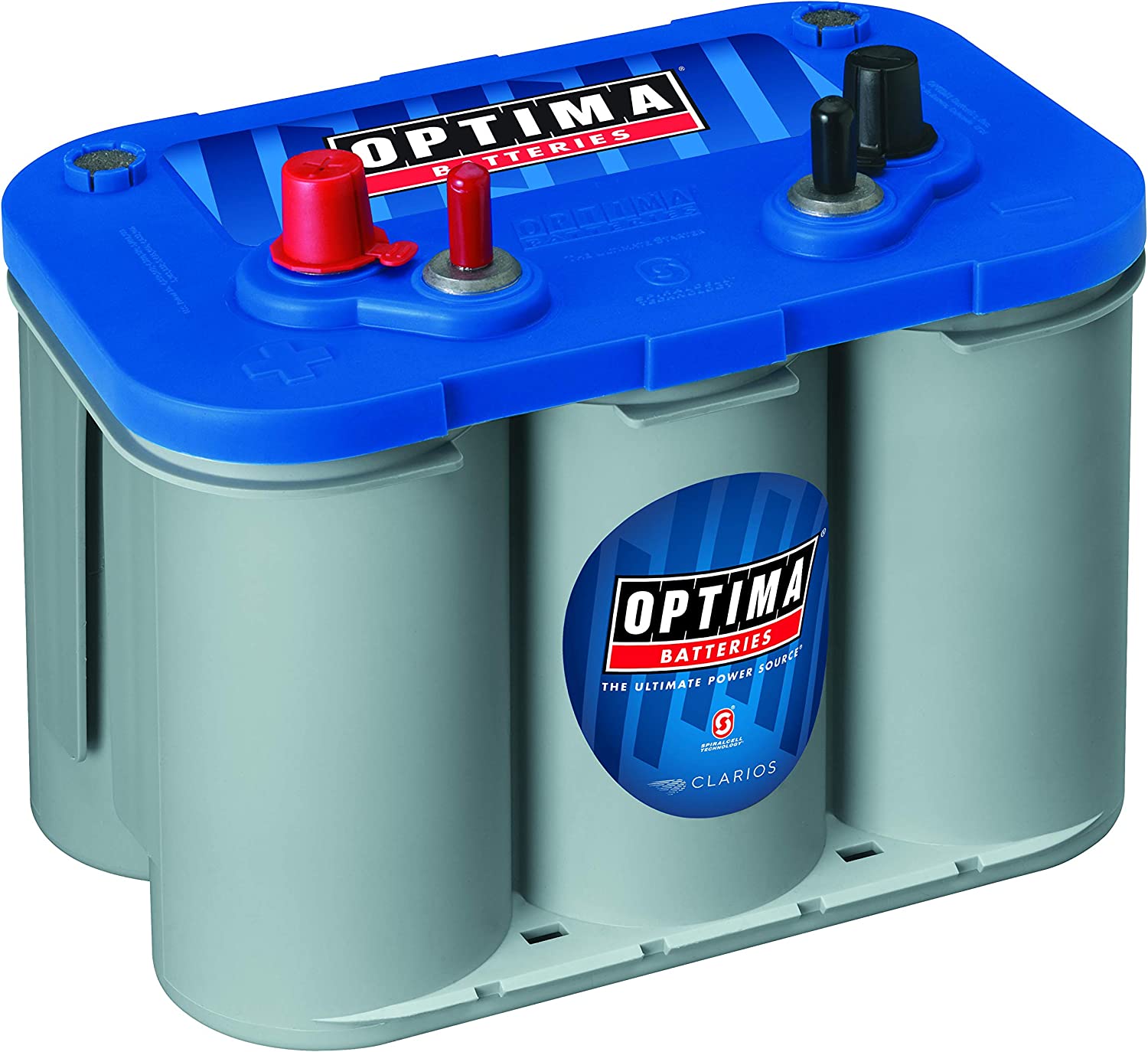 Optima 8016-103 D34M
Weight: 43 pounds
Voltage: 12 volts
Best Build Quality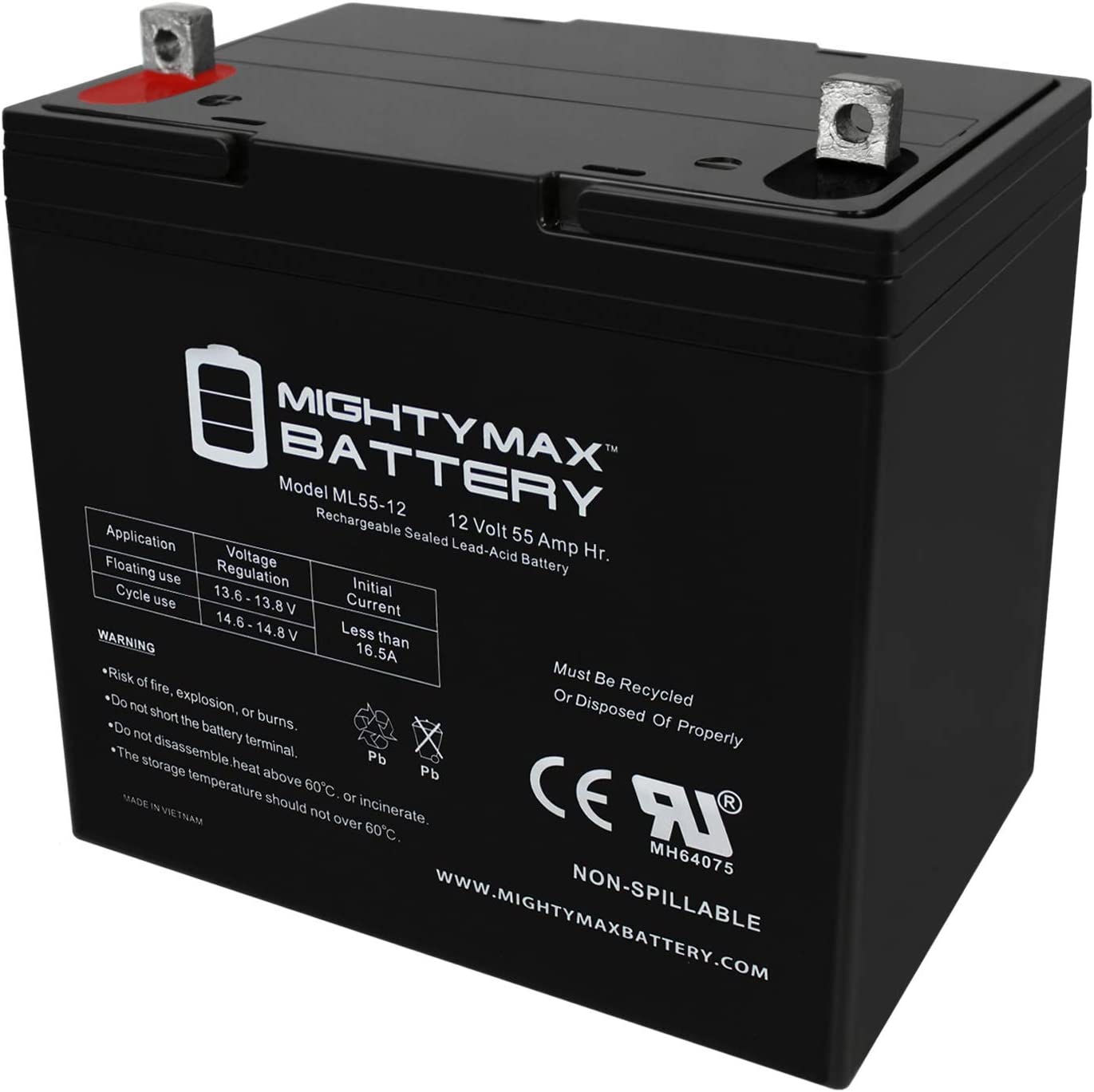 Mighty Max Power Boat Pontoon
Weight: 38.2 pounds
Voltage: 12 VOLTS
Best For Safety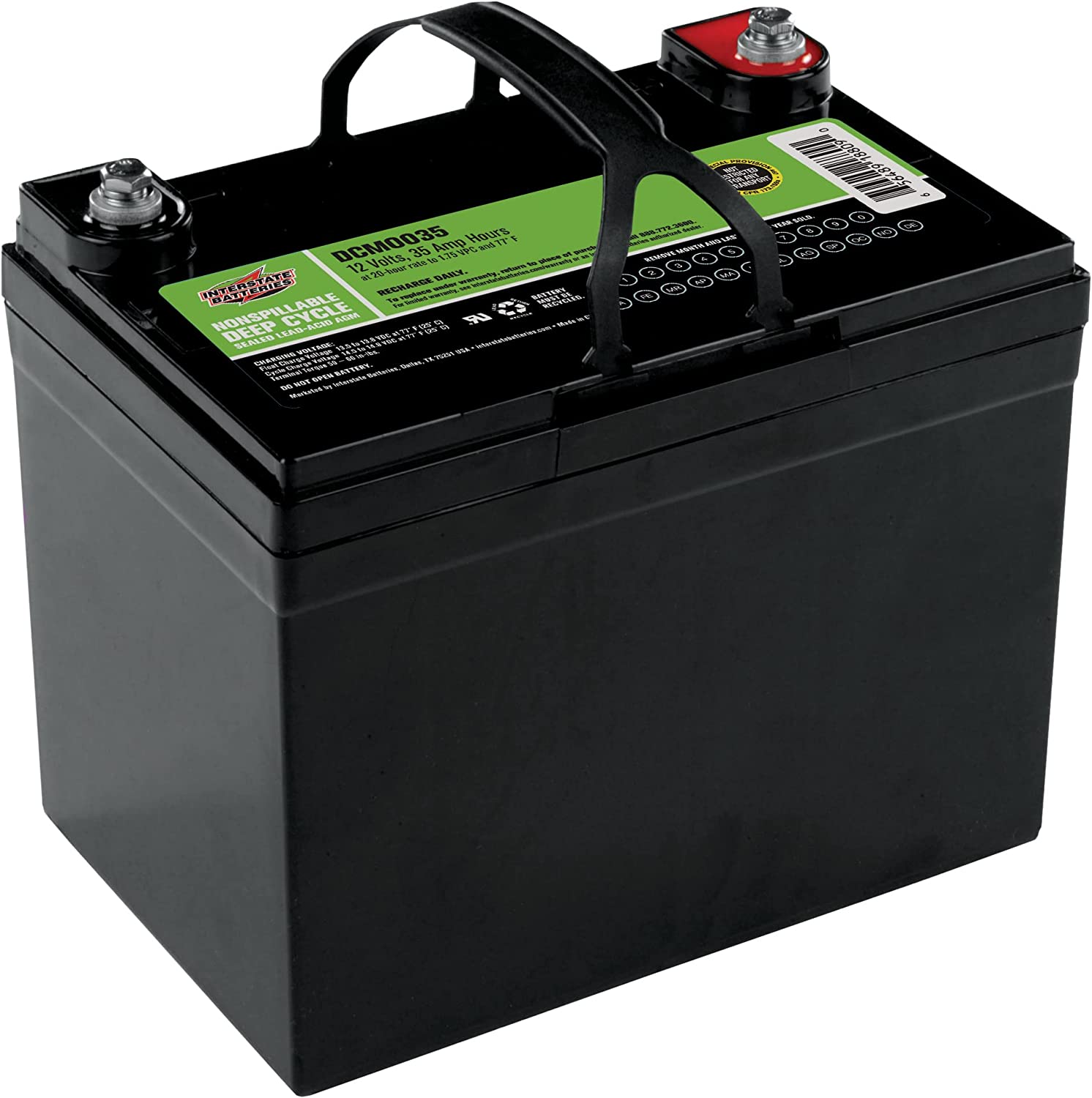 Interstate Batteries AGM Battery
Weight: 22 pounds
Voltage: 12 VOLTS
Most Powerful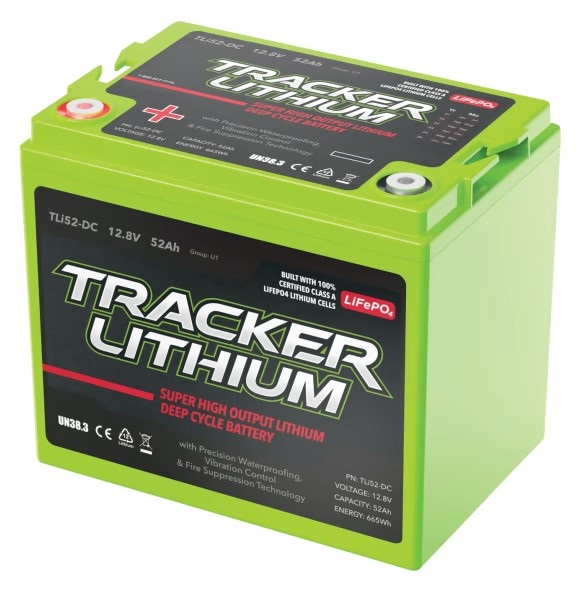 Tracker Marine Lithium
Weight: 18.8 Pounds
Voltage: 24 VOLTS
Best Heavy-Duty Build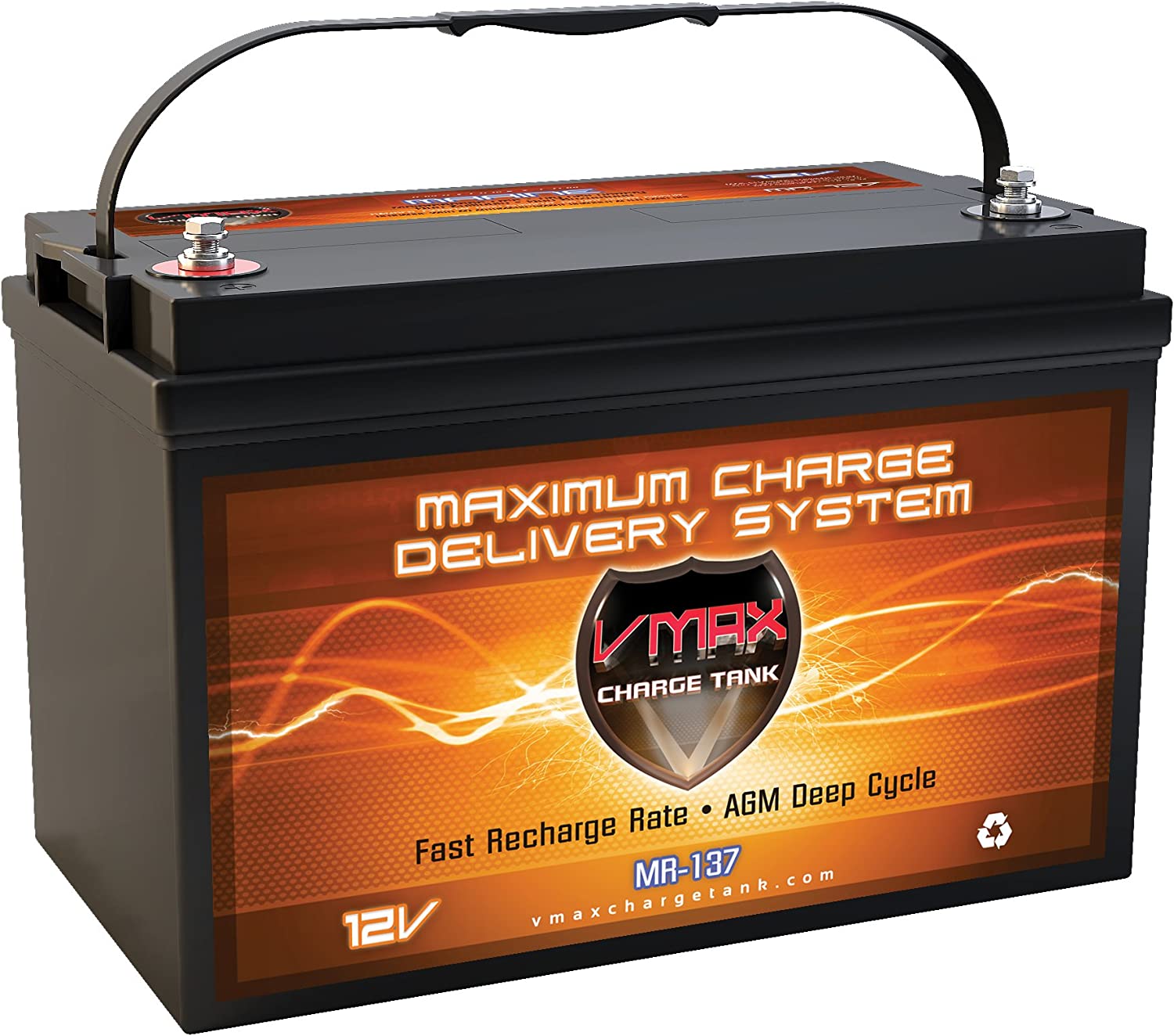 VMAX MR137-120
Weight: 75 pounds
Voltage: 12 Volts
Best Amp Hours Rating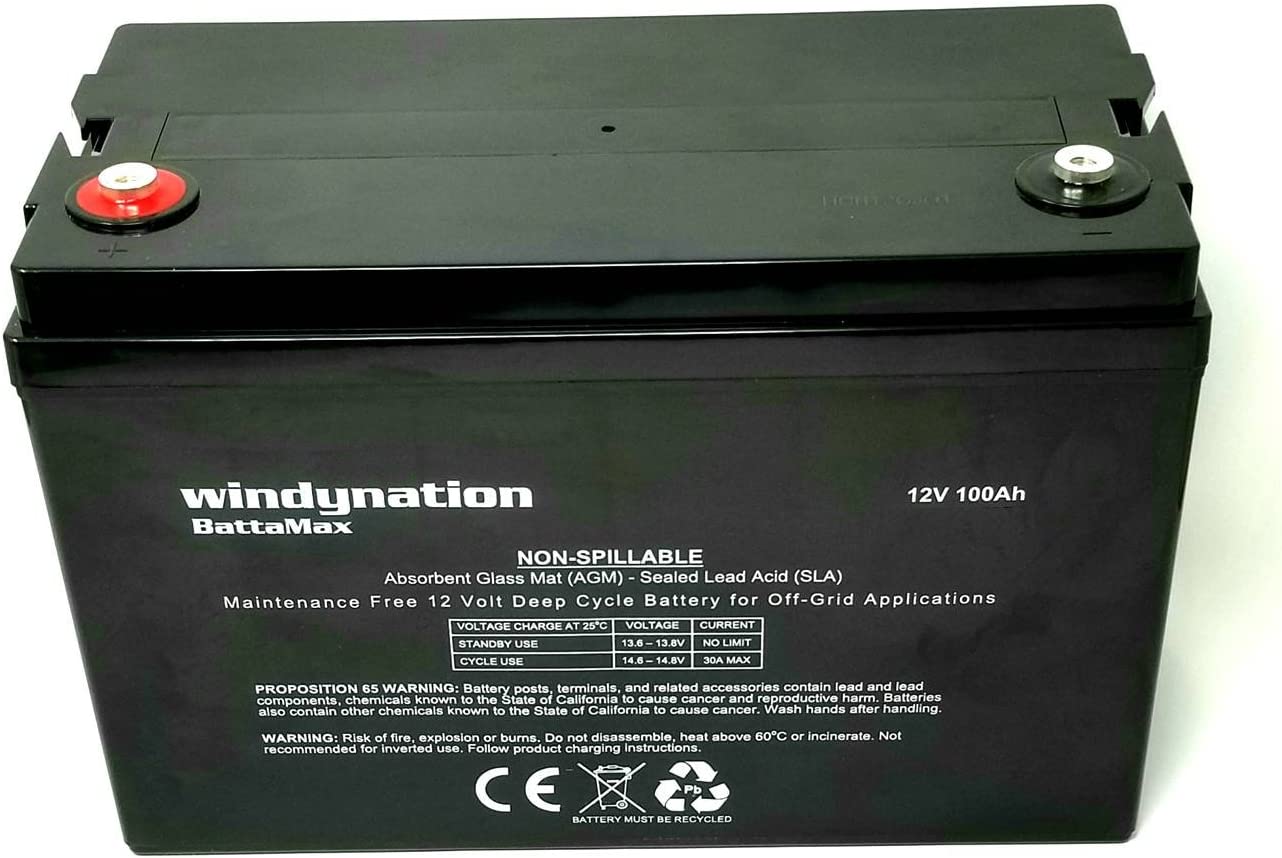 WindyNation 12V
Weight: 66 Pounds
Voltage: 12 Volts
Best Reliability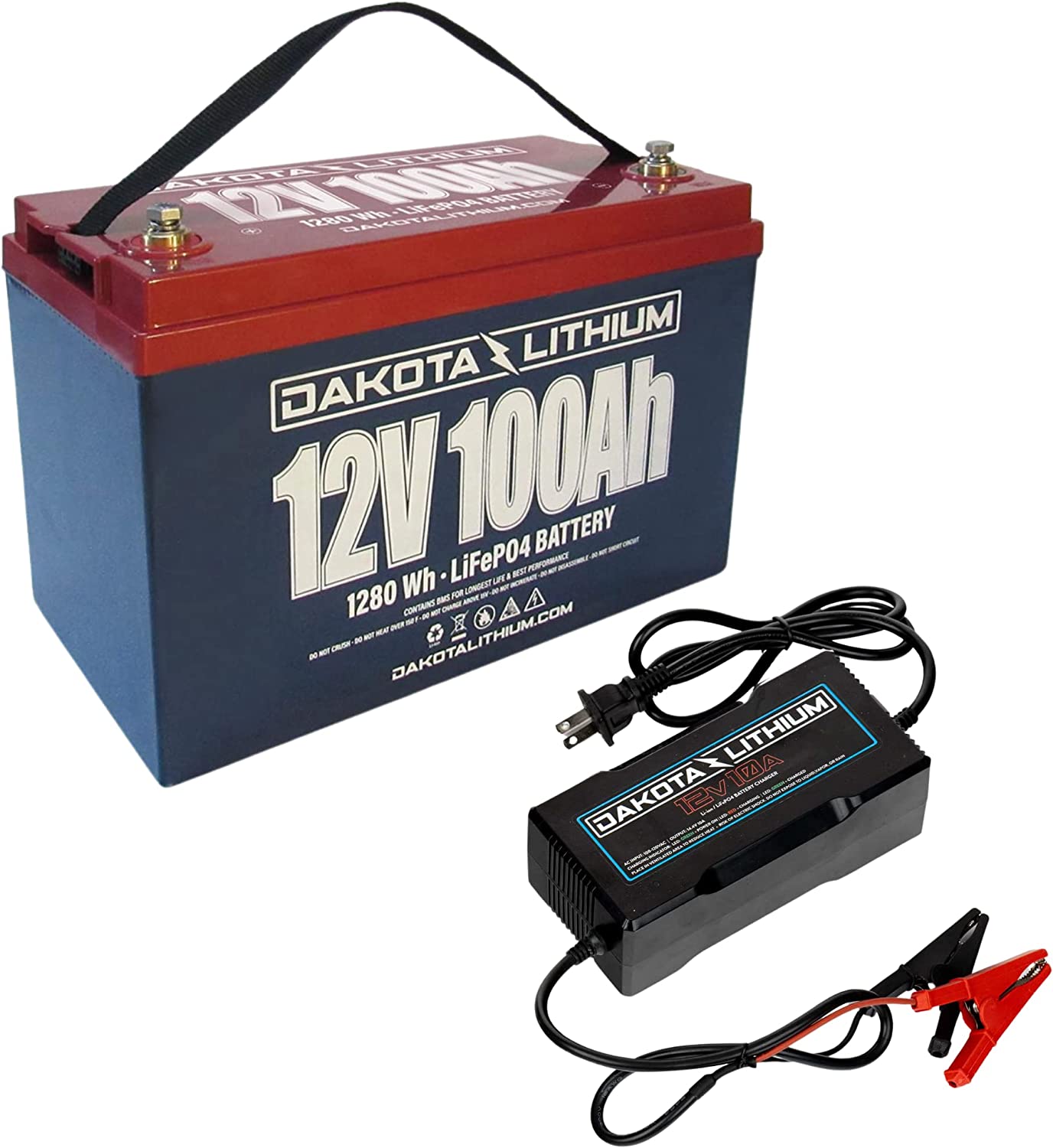 Dakota Lithium 12v 54Ah
Weight: 31 pounds
Voltage: 12 volts
Best Of The Rest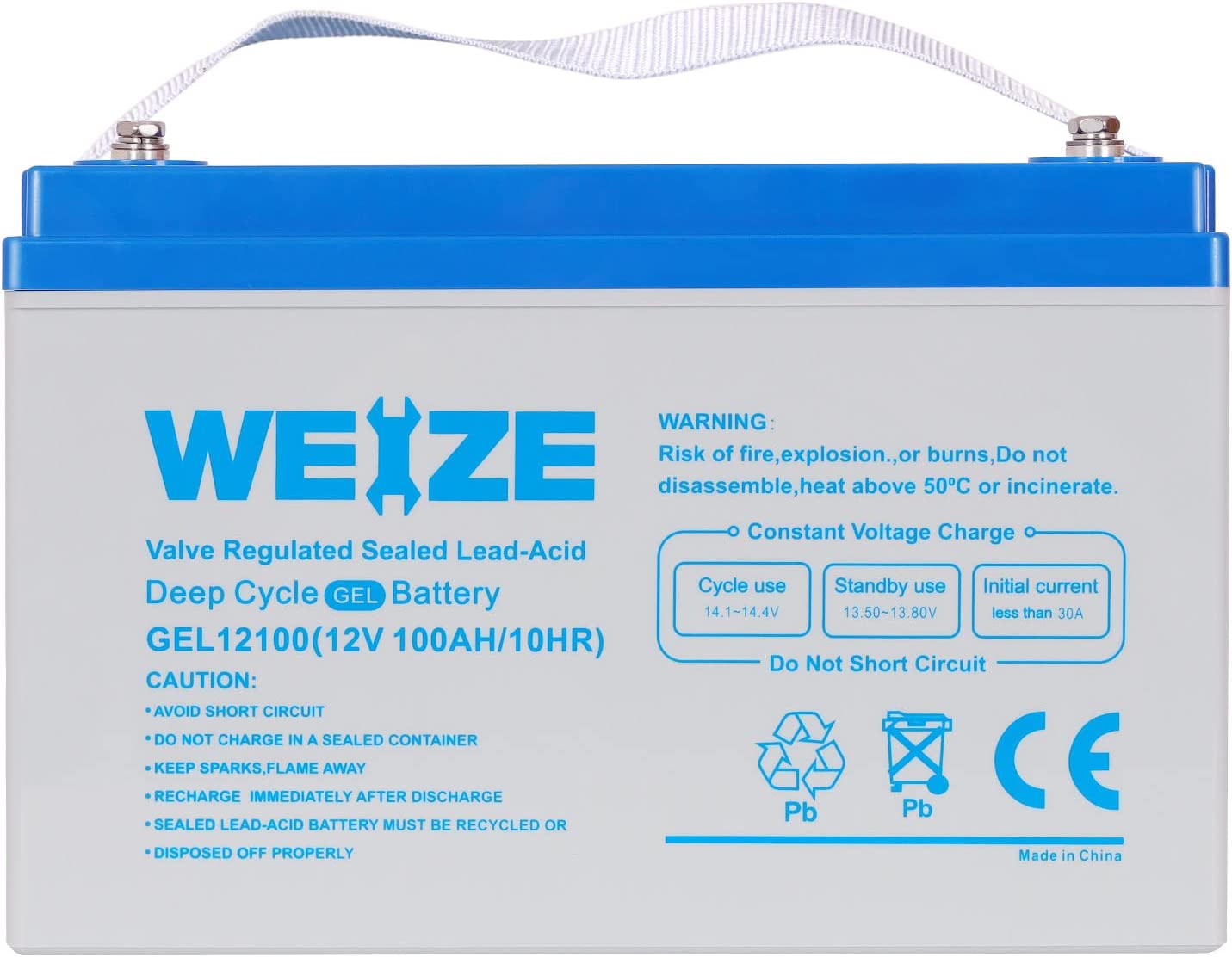 Weize 12V 100Ah Battery
Weight: 63 Pounds
Voltage: 12 Volts
The Eight Best Trolling Motor Batteries for Kayaks
A trolling motor battery is specially designed to power a trolling motor. They come in all varieties: lithium batteries, deep cycle batteries, marine batteries, and so on. However, these trolling motor batteries can vary in quality and performance.
If you have ever changed your car battery, then you'll know what I am talking about. Don't go for the cheapest option you can find. It'll end up costing you double in the long run. For a durable and powerful battery, browse our selection down below.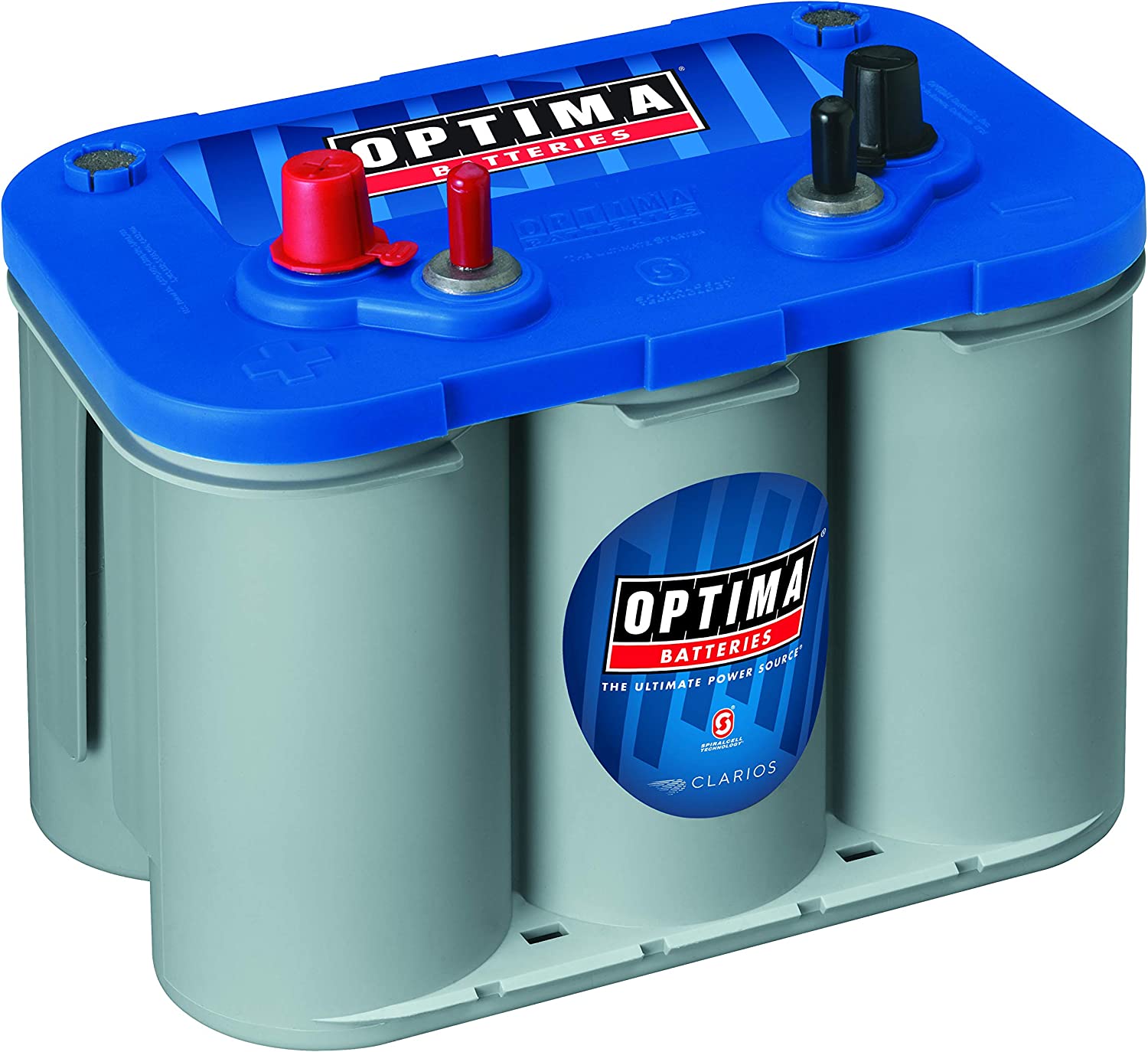 The Optima BlueTop went the tried and true way. It eschewed a fancy build and innovative features in favor of stability. What we end up with is a twelve-voltage battery that utilizes its lead acid build well.
Despite its weight and size, this battery is capable of powering a small boat or even an RV! Now that is one heck of a power punch. The best thing about it is that, unlike most lead-acid batteries, this one isn't a ticking time bomb.
Thanks to its maintenance-free build, there is no need for you to be constantly checking up on it. Although, you should be inspecting it for any damages before you put it to charge or operate it.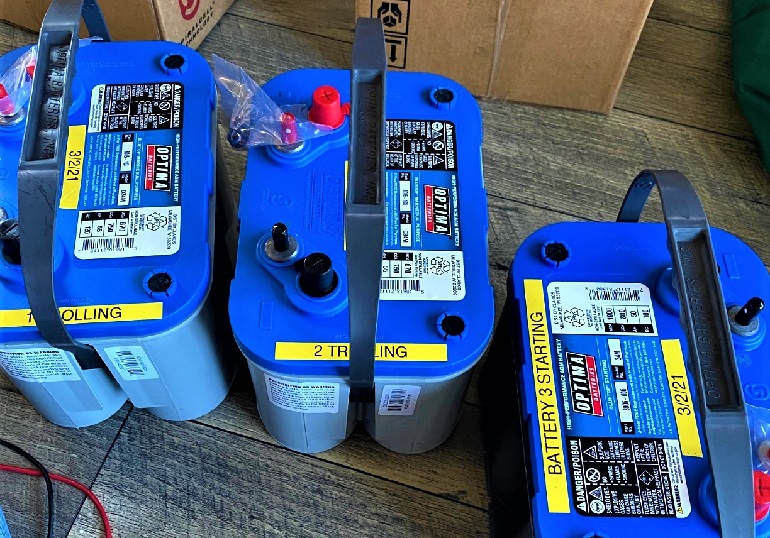 Features
Weight: Forty-three pounds
Voltage: Twelve volts
Composition: Lead acid
Warranty: One year
Best Feature: Boat or RV battery
Pros
These are maintenance-free lead acid batteries. No need to be preoccupied with constant check-ups.
This battery management system has a reserve capacity of one hundred and twenty minutes for continuous performance.
Consistent power even in severe or unfavorable weather.
Cons
These Optima trolling batteries can have inefficient power use. A common issue with a lead acid battery.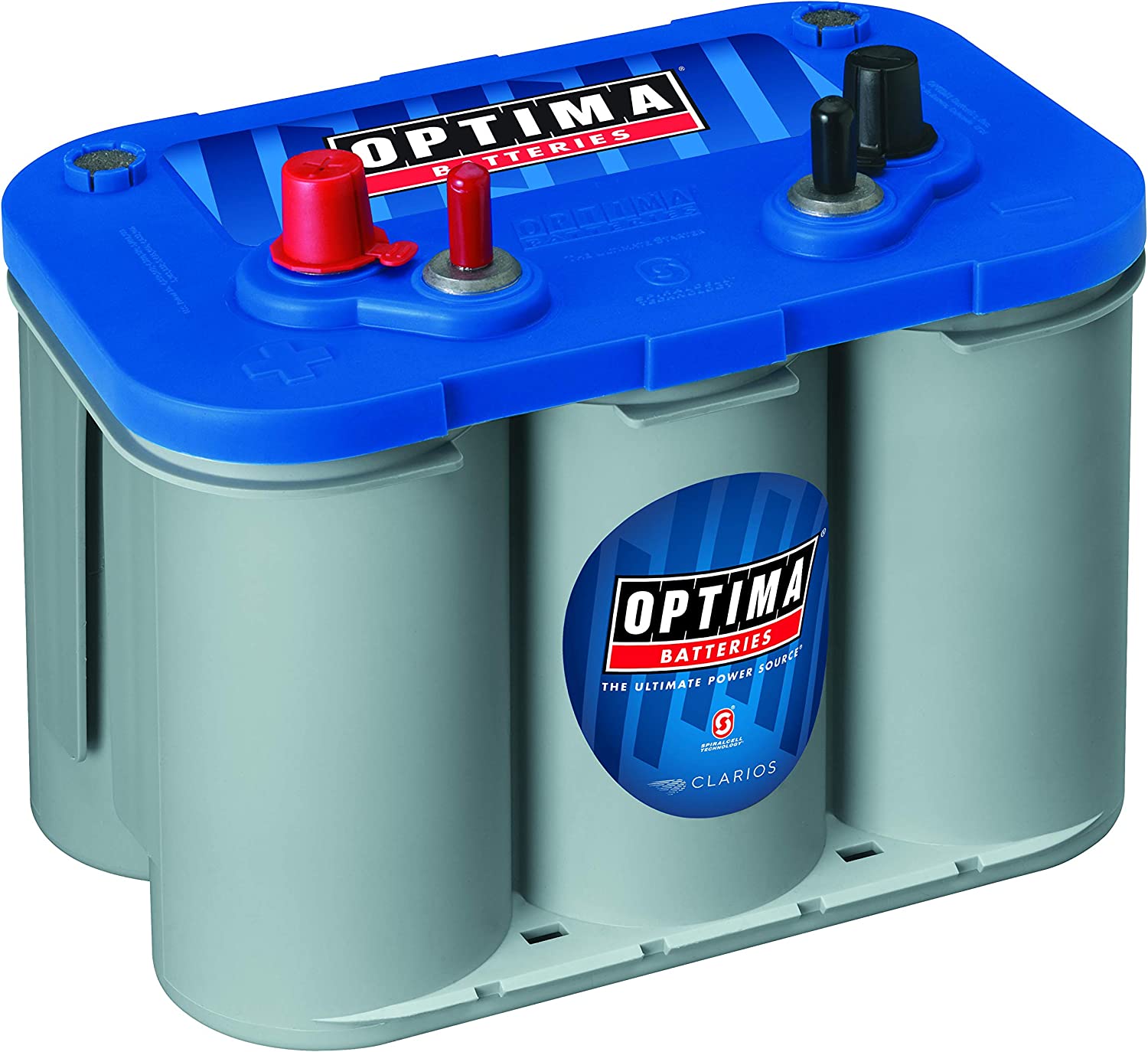 Optima 8016-103 D34M
The price of "Optima 8016-103 D34M " varies, so check the latest price at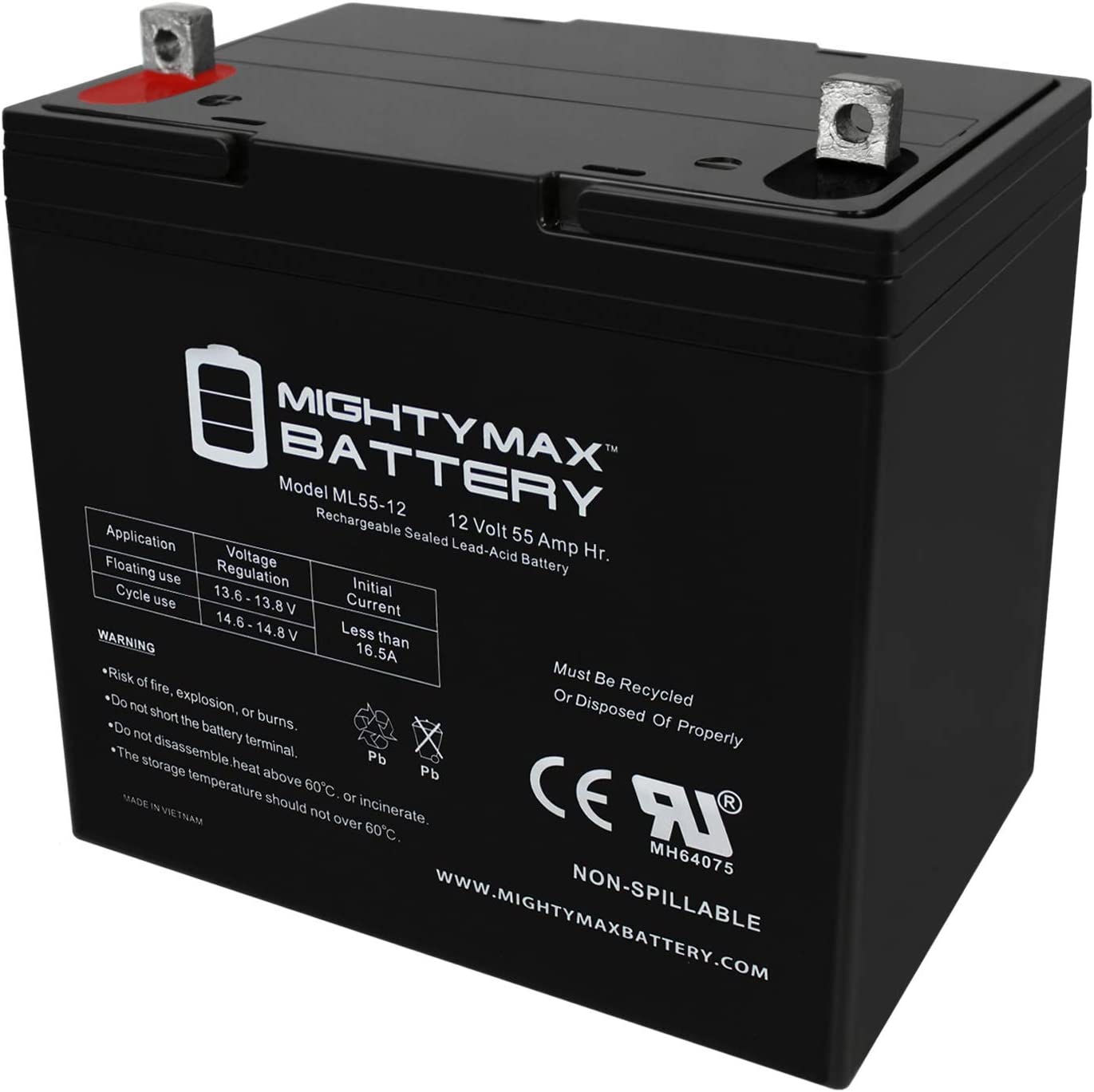 This Mighty Max battery comes in with the best build quality on the list. It's got a one-year warranty to protect both your wallet and the battery itself. Despite being an old-fashioned lead-acid battery, it is reliable.
Capable of operating in a wide range of temperatures. Most batteries of this type tend to die when exposed to low temperatures for a prolonged period of time. We don't all kayak in the summer, and for those winter children, the Mighty Max battery has got you covered.
Should any bumps or hits cause a rupture in the battery, the spill-proof shell that outlines its build should keep you safe and acid-free. Which is how we should always be.
The only downside of this battery was that it came without the necessary parts to fully install it.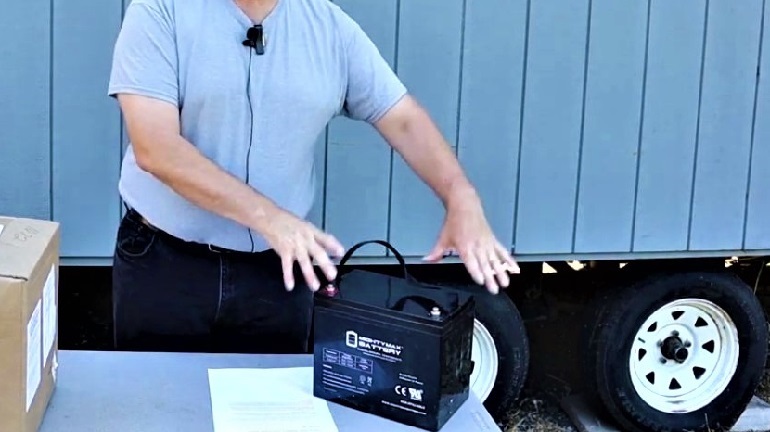 Features
Weight: Medium
Voltage: Twelve volts
Composition: Lead acid battery
Warranty: One year
Best Feature: Wide operating temperatures
Pros
Comes in a spill-proof shell that protects you, the environment, and your kayak in case of leakage.
This battery management system has great shock and vibration resistance built-in.
Comes with screws needed to secure the battery into place.
Cons
Does not come with the additional parts needed to install.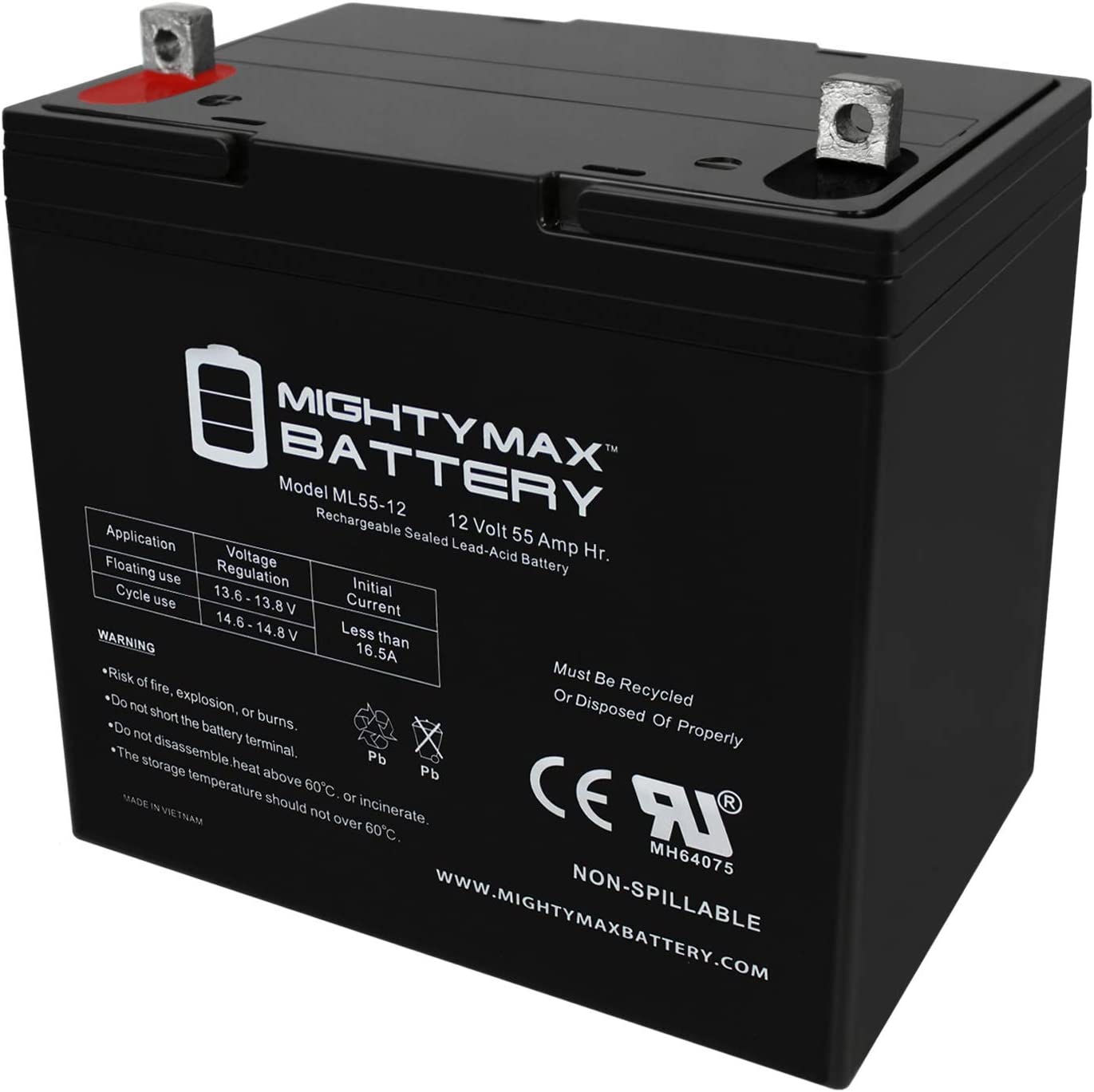 Mighty Max Power Boat Pontoon
The price of "Mighty Max Power Boat Pontoon " varies, so check the latest price at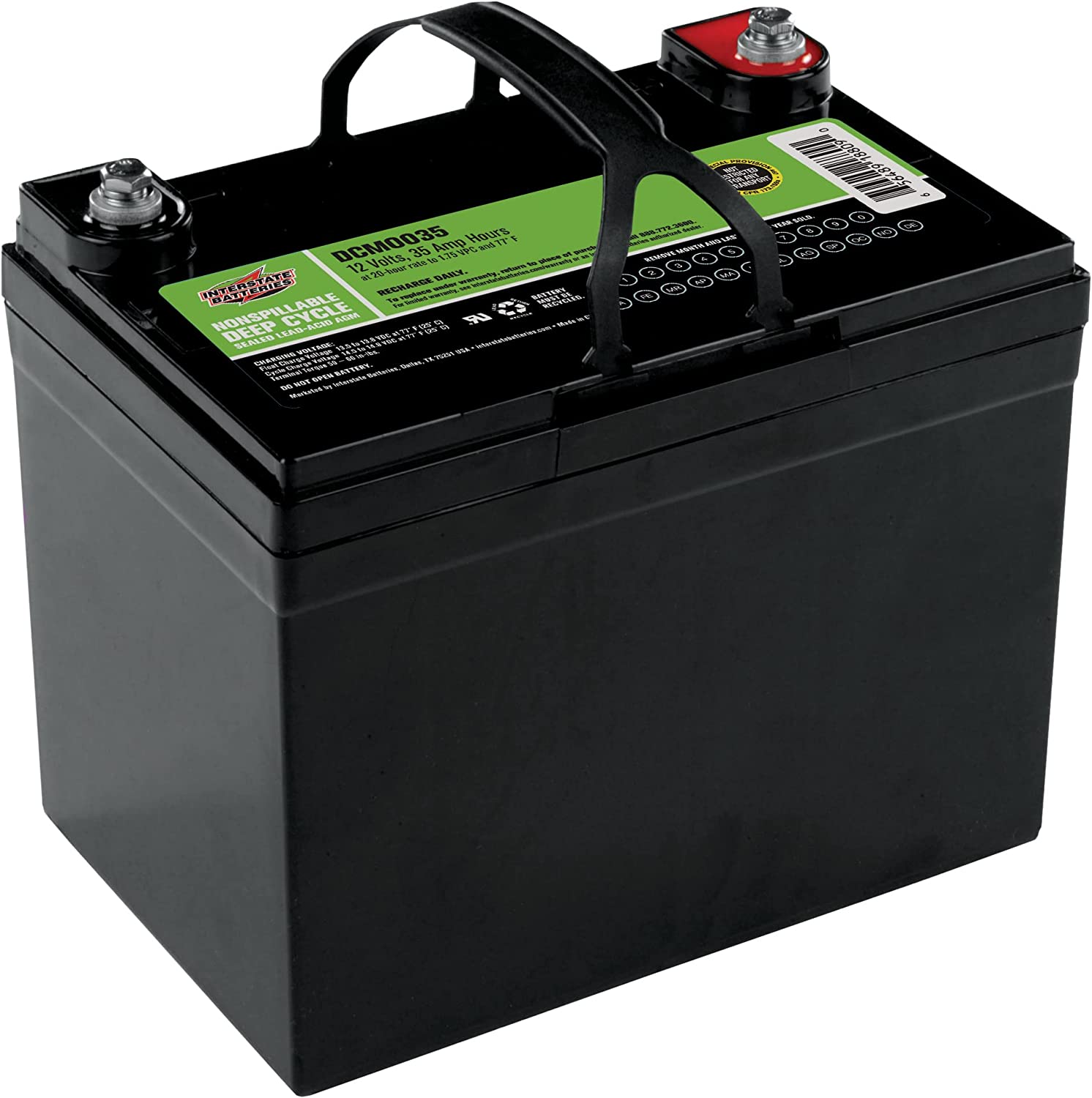 Safety should always be at the top of your list of priorities. In case you aren't a dare-devil, the Interstate battery is the one for you.
This lightweight battery won't cause you much strain when lifting. Nor should it be a pain to install. I mean, come on, it only weighs twenty-two pounds!
Despite its low weight, this is still a professional-grade battery that can be used for more than just kayak trolling motors. Wheelchairs and even electric scooters can be efficiently powered by this AGM trolling motor battery.
You can count on its quality. This is because it has been put through rigorous testing to ensure its performance and safety rating. Not many batteries can boast about the extended safety tests that Interstate puts all its batteries through.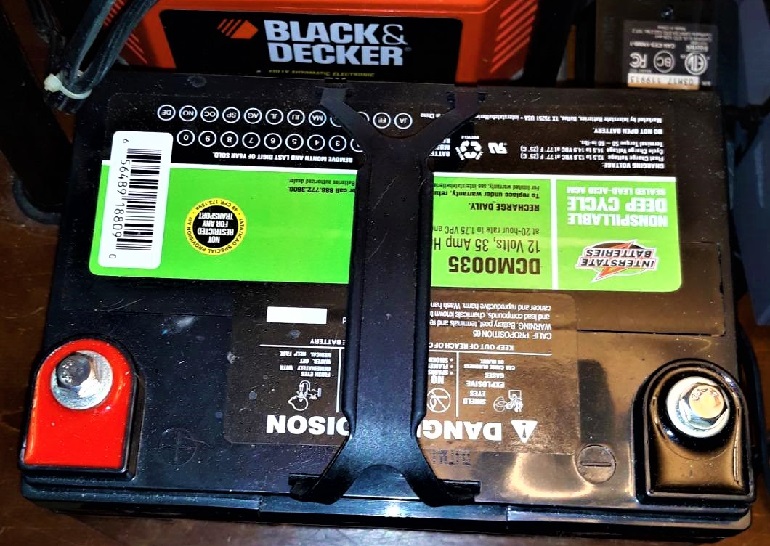 Features
Weight: Twenty-two pounds
Voltage: Twelve volts
Composition: AGM batteries
Warranty: One year
Best Feature: Trust-worthy build
Pros
Professional-grade battery power that can be used for wheelchairs and scooters.
Comes in a spill-proof casing that'll keep you safe.
Put through rigorous testing to ensure quality and safety rating.
Cons
Has a big and bulky design; however, its weight isn't an issue.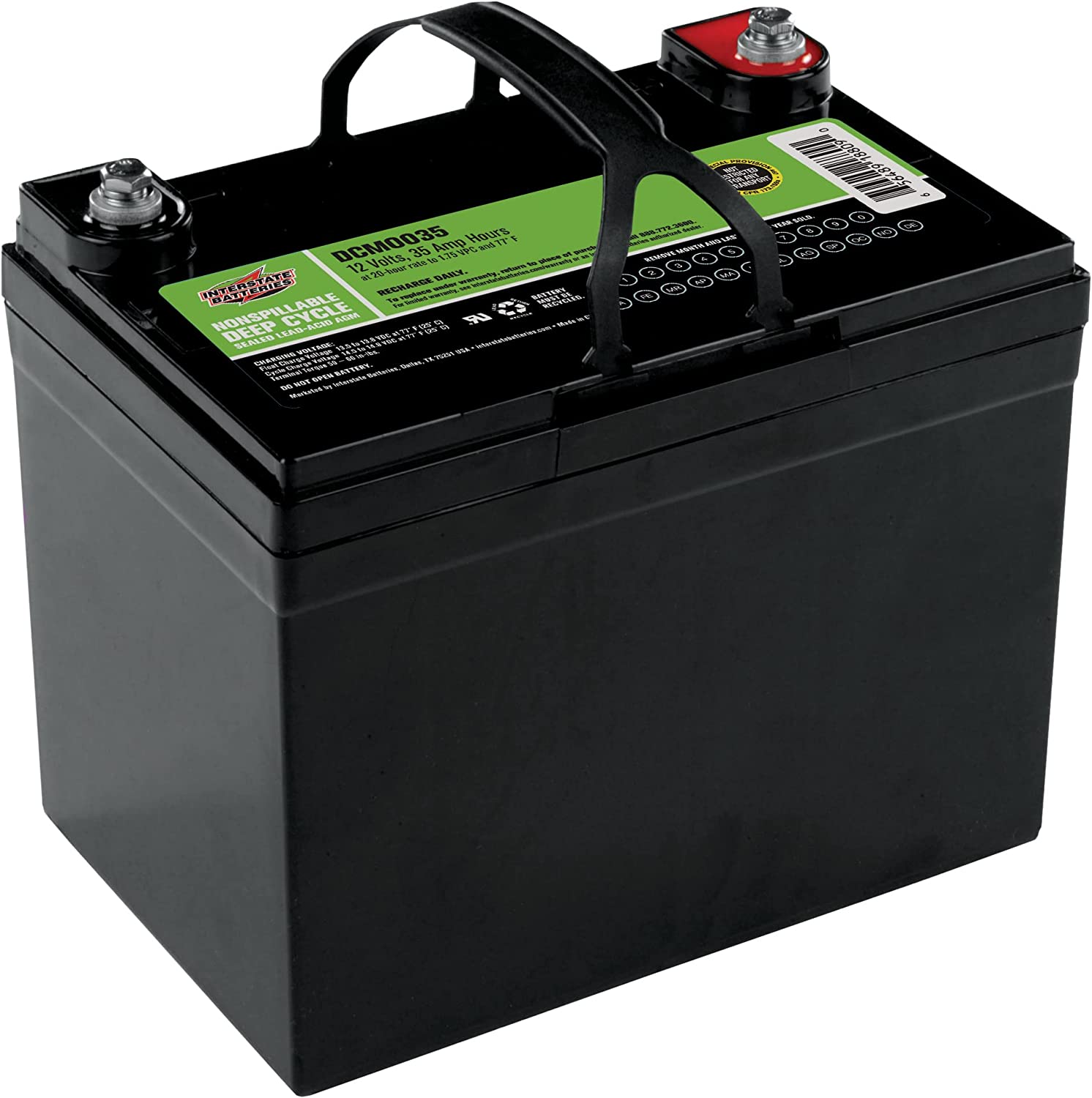 Interstate Batteries AGM Battery
The price of "Interstate Batteries AGM Battery" varies, so check the latest price at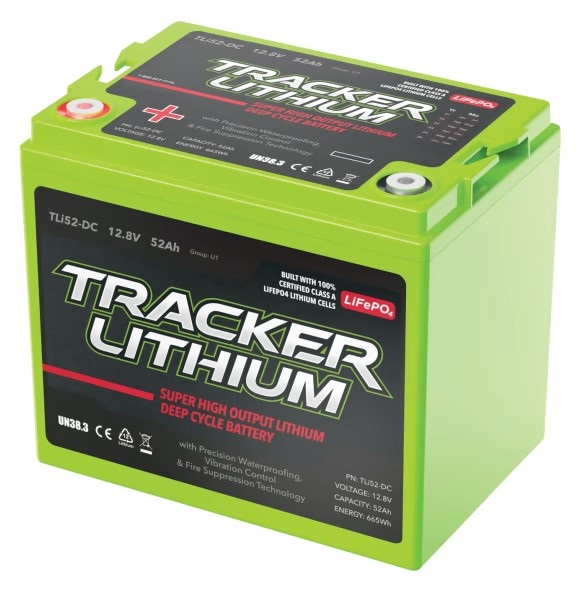 Power is what the Tracker Deep Cycle battery is all about.
In fact, the manufacturer themselves proudly boast that even if you have got a multi-battery system powering your kayak trolling motor, the Tracker can overtake them all. All by itself.
This should come as no surprise to anyone that is familiar with lithium-ion batteries. They are the cream of the crop when it comes to voltage strength and power efficiency. Think about all the extra weight that can be removed from your kayak.
Not only will your kayak be lighter, but it will perform better as well. Best of all, this powerhouse has a five-year warranty backing it up. Out of sight and out of mind but ready to step in and replace this workhorse of a battery.
Features
Weight: Medium
Voltage: Twenty-four voltage drops
Composition: Lithium-ion battery
Warranty: Five years
Best Feature: Best Lithium battery
Pros
Has enough power to replace an entire four-battery setup.
Will not sulfate and can be stored with only a twenty percent charge.
Takes up very little space.
Cons
Battery might trip in a few kayak setups.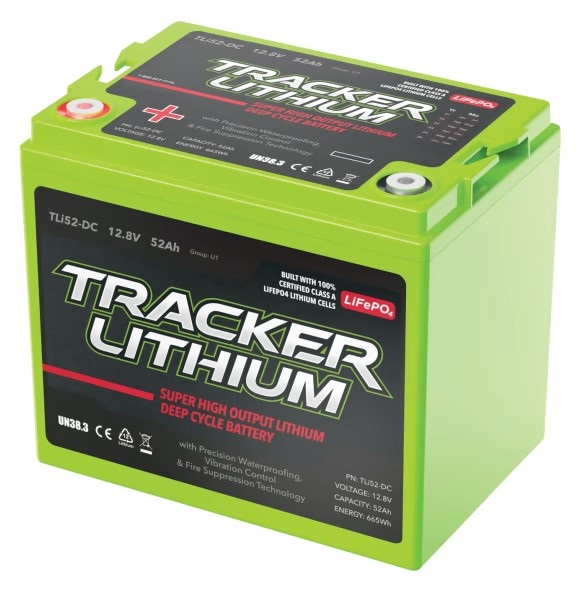 Tracker Marine Lithium
The price of "Tracker Marine Lithium " varies, so check the latest price at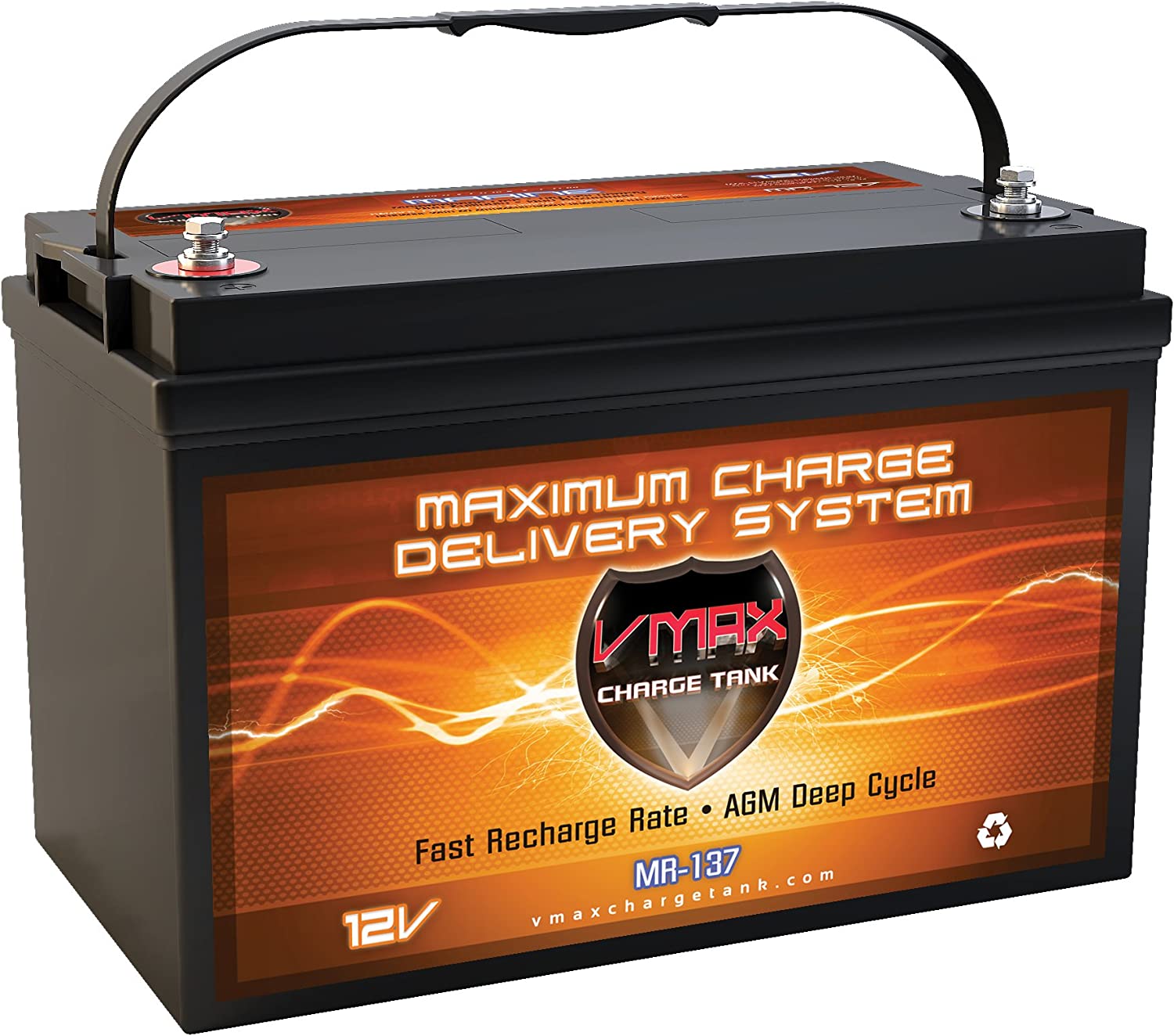 To me, heavy-duty means that you can put it up against anything, and it'll perform nonetheless. This is also the perfect way to describe the VMax MR137. To be honest, its weight was a bit of an issue for me.
Weighing in at seventy-five pounds is no joke.
Will it get the job done? Yes! Will it be able to last long enough to get you to and from where you want to go? Also yes. But the process of installing and then removing this battery to charge it will be a hassle.
However, this extra weight wasn't all for naught. Keeping it going is a two-hundred and thirty-minute reserve capacity. It's also fully sealed off from the outside world. No bumps or vibrations will be able to disturb its work.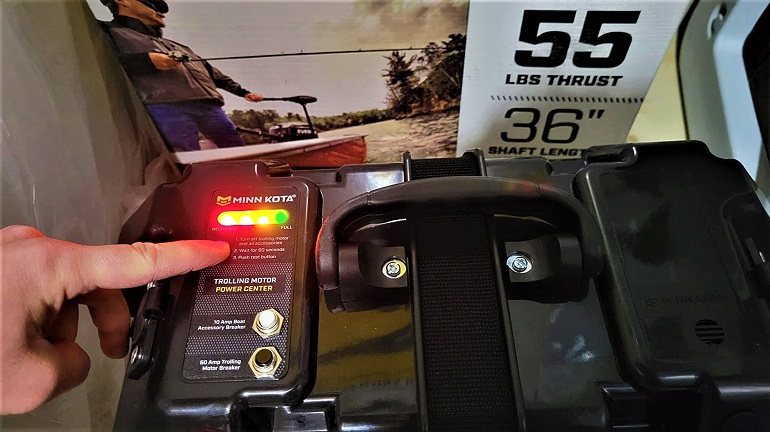 Features
Weight: Seventy-five pounds
Voltage: Twelve volts
Composition: Lead acid
Warranty: One year
Best Feature: 230 min reserve capacity
Pros
A fully sealed-off battery that resists shocks and vibrations.
It's got a long-lasting build with plenty of charge time.
Has an incredibly high reserve capacity.
Cons
Weighs 75 pounds, more than most batteries on the list.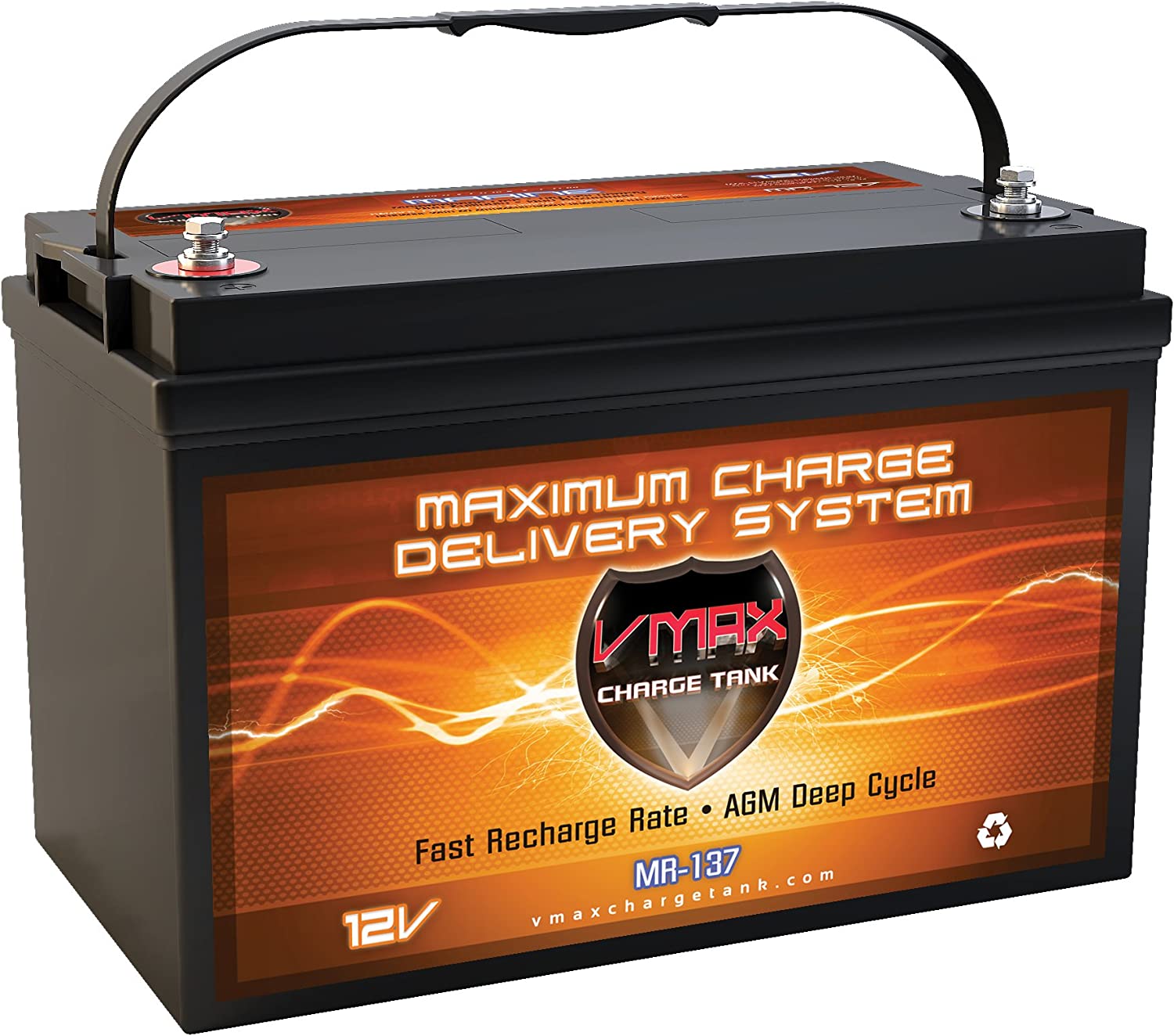 VMAX MR137-120
The price of "VMAX MR137-120 " varies, so check the latest price at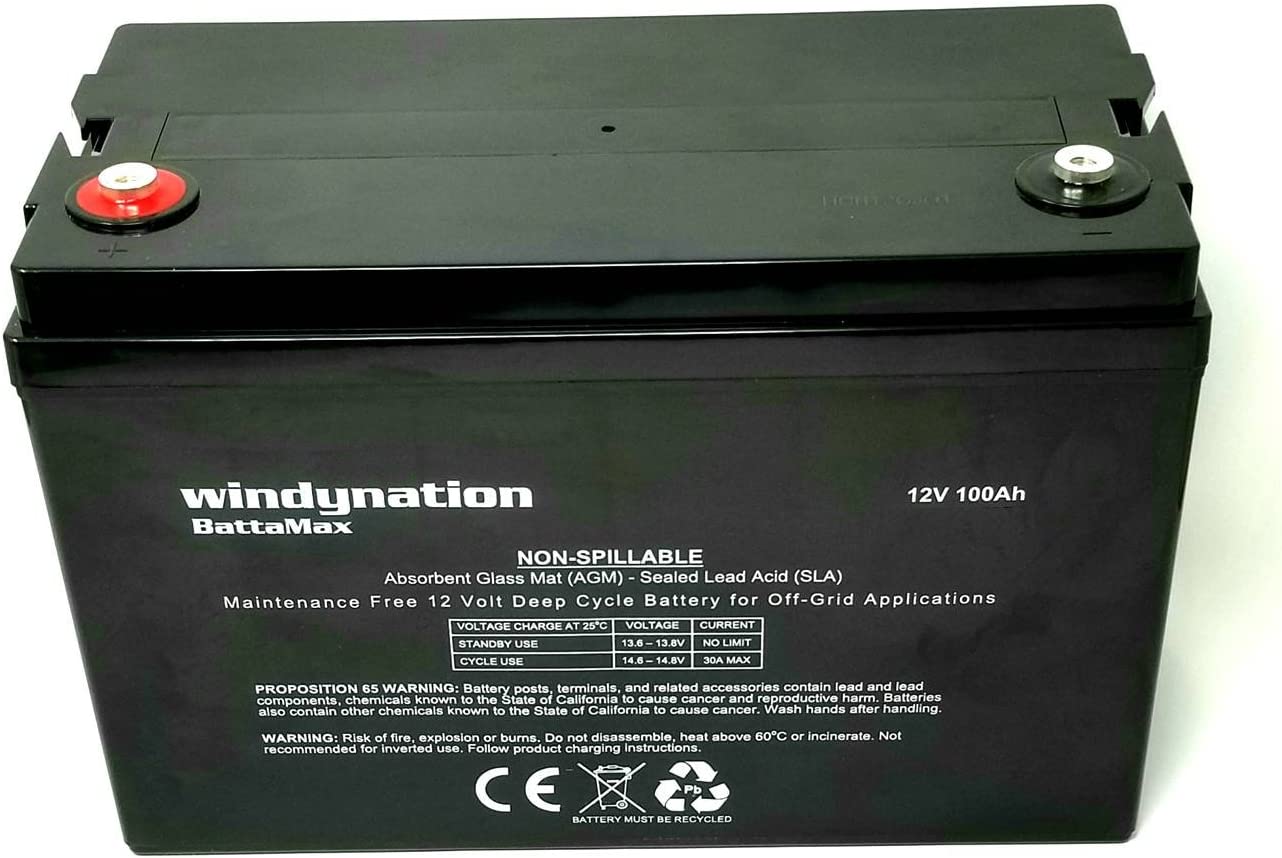 It's the very build of the WindyNation that boosted it onto this list. Having been constructed using pure virgin lead certainly helped its performance rating. This material is the main reason why this battery has an impressively low discharge rate.
I'm serious. The WindyNation 100 Amp-hour battery can last for several hours. Even when put under heavy strain, this battery was able to maintain enough juice to complete several extended round trips.
Besides the materials used to make this battery, part of its efficiency is from its very build design. It was made to store as much power as possible in its frame. Impressive and efficient. This would be one great battery for any kayak.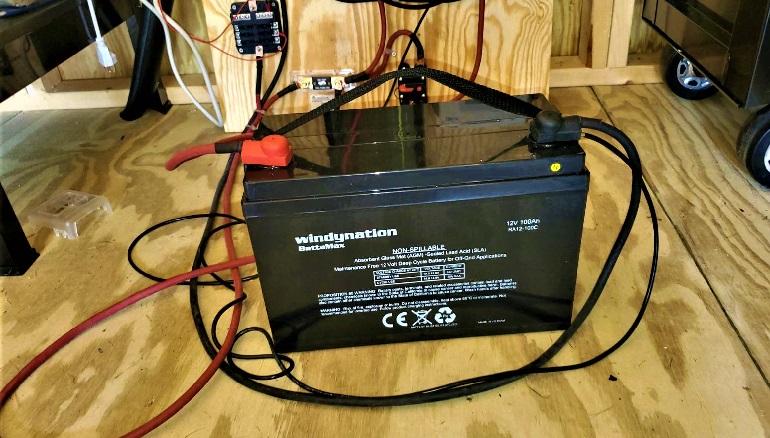 Features
Weight: Sixty-six pounds
Voltage: Twelve volts
Composition: Sealed lead acid
Warranty: One year
Best Feature: Made using pure virgin lead
Pros
This battery is made using pure virgin lead. This gives it an extremely low discharge rate.
Has maximum power storage due to its design.
Has a float life of ten to twelve years.
Cons
Doesn't have the lowest weight but not really an issue.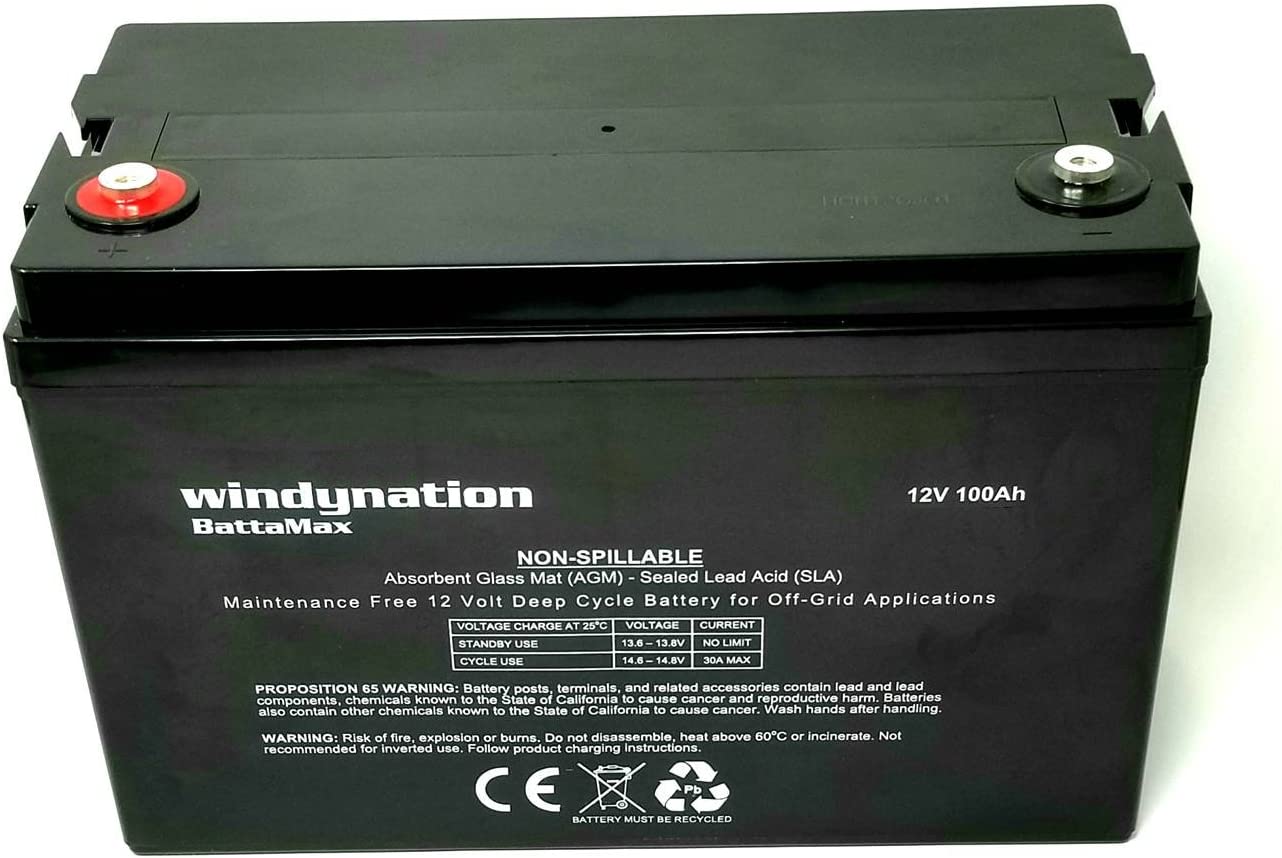 WindyNation 12V
The price of "WindyNation 12V " varies, so check the latest price at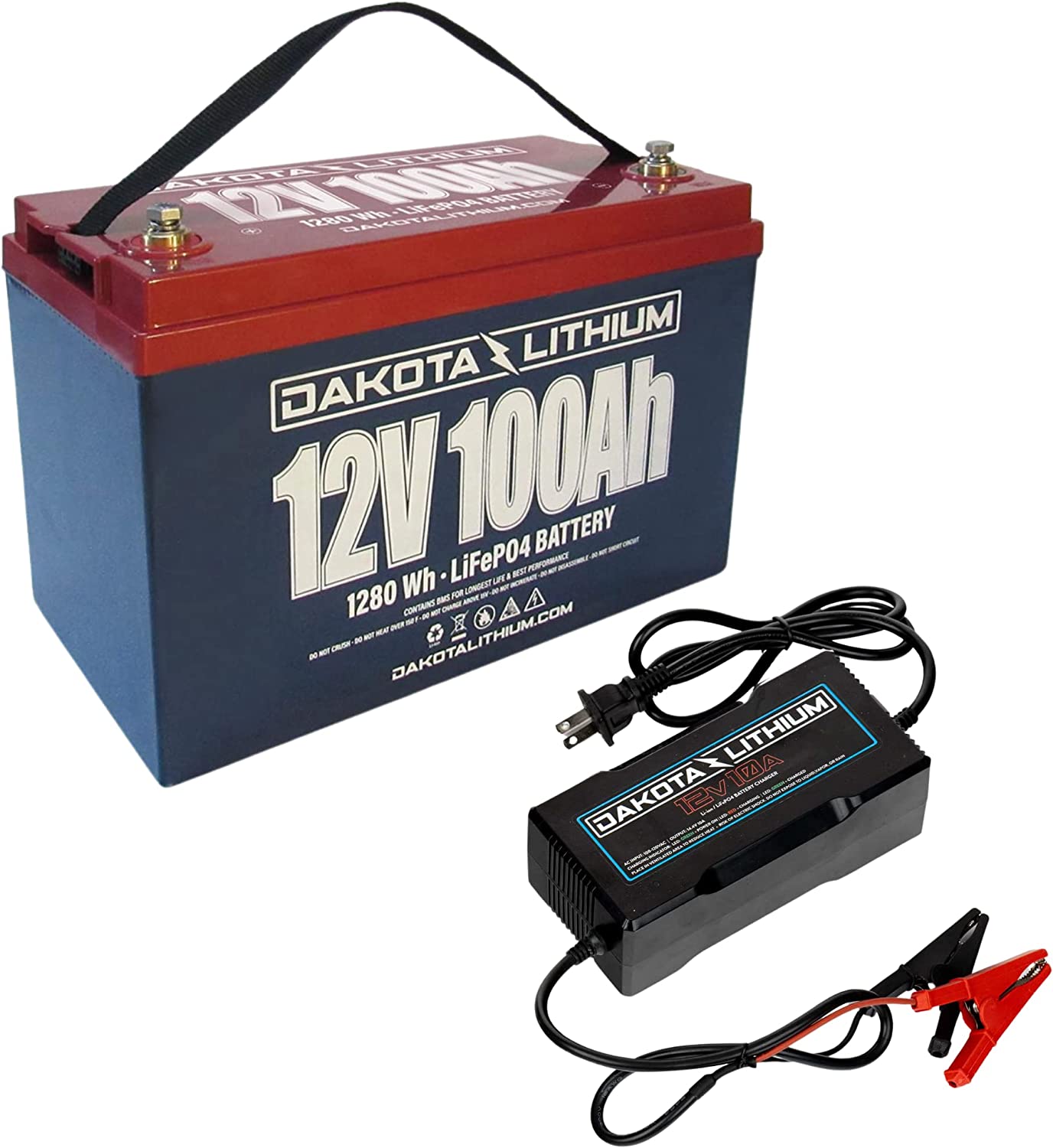 Besides power and weight efficiency, what we want most from our trolling kayak battery is for it to be reliable. We need to know that we can depend on it. Well, do you think that you can rely on a trolling motor battery with an eleven-year-long warranty?
Whenever any piece of gear or equipment comes with such an extended warranty, it is because its manufacturer knows that it won't break down.
The Dakota Lithium is for those that want not just a powerful battery but one with longevity.
These lithium batteries have built-in temperature protection. Safeguarding its performance no matter what conditions you put it up against. It's a lithium-ion battery, and as we know, this battery type is among the strongest on the market.
For a reliable power source, go with the Dakota Lithium batteries.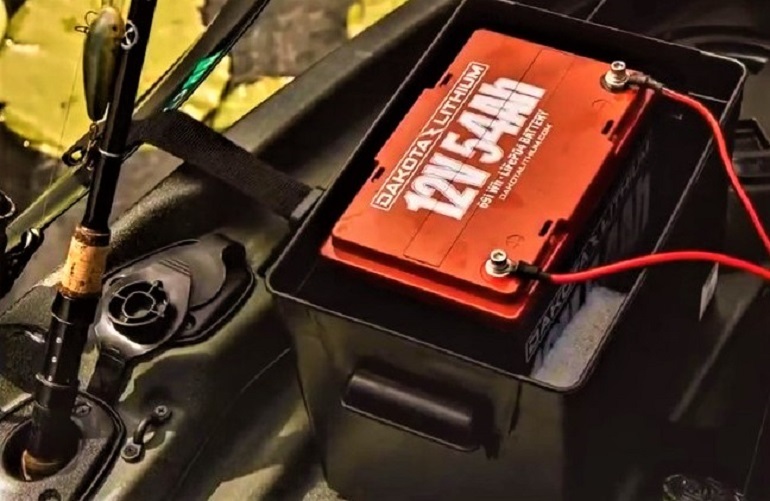 Features
Weight: Thirty-one pounds
Voltage: Twelve volts
Composition: Lithium Ion batteries
Warranty: Eleven years
Best Feature: Its warranty policy
Pros
This lithium battery is backed by an eleven-year warranty policy. I'm not kidding.
Has built-in temperature protection that increases its performance.
Comes with a ten-amp battery charger.
Cons
Priced at a premium, but its longevity justifies its price.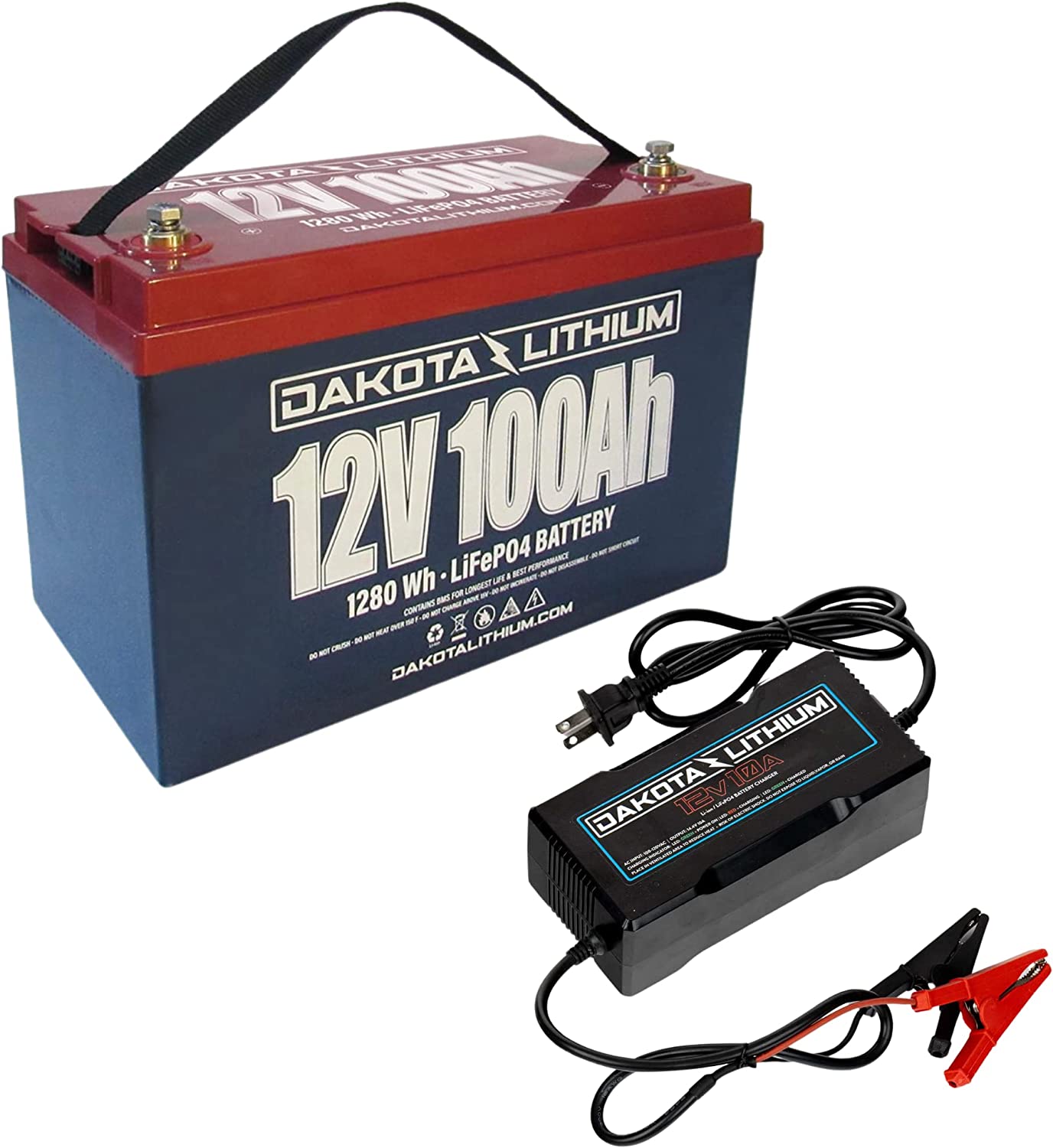 Dakota Lithium 12v 54Ah
The price of "Dakota Lithium 12v 54Ah " varies, so check the latest price at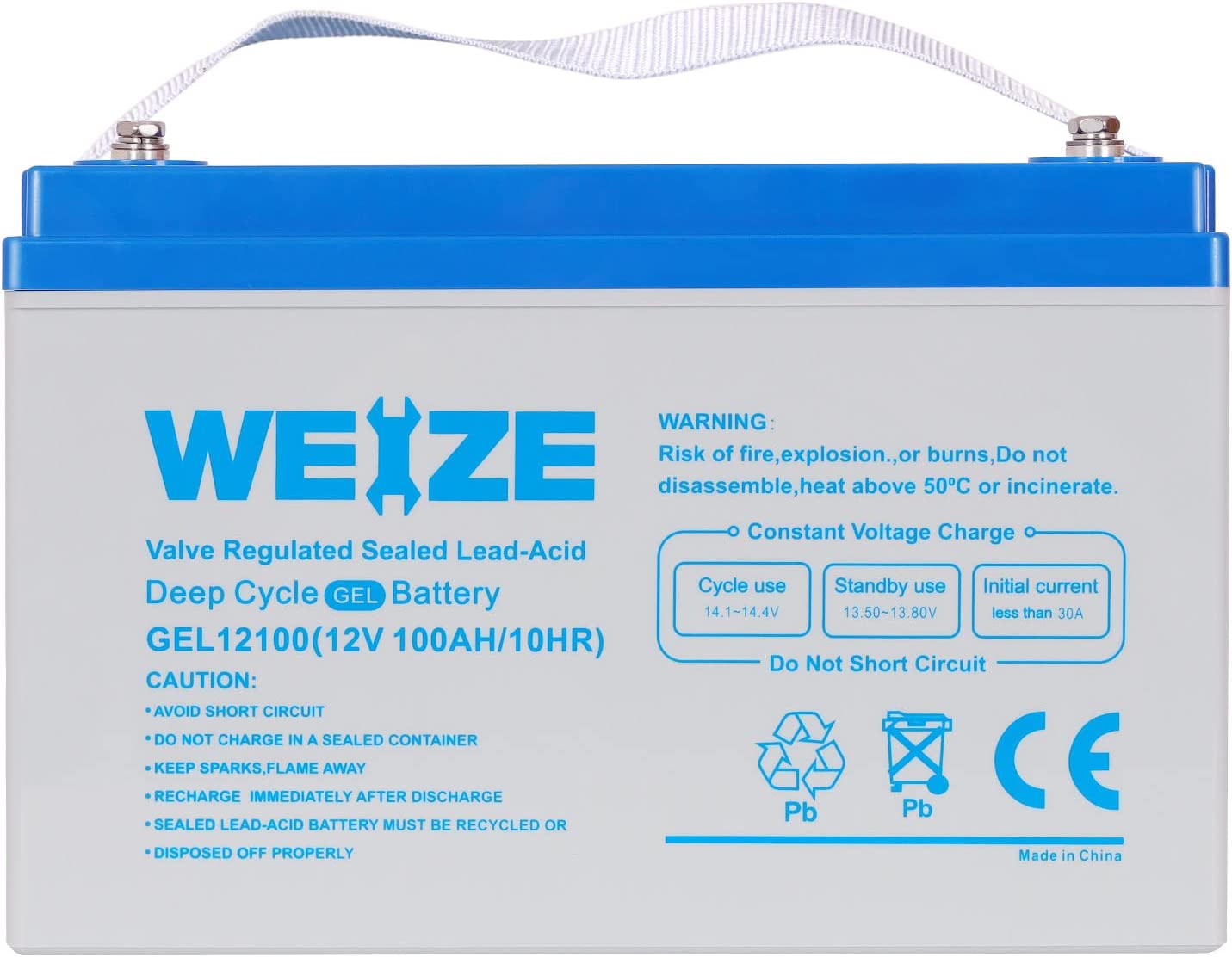 At the bottom of our list, but still ahead of everyone else, is the Weize 100AH battery. Right there in the name, that is the defining quality of this battery. It's got a one hundred ampere-hour rating.
In layman's terms, it'll last a very long time per charge. Besides its great battery life, its build is one to be respected. This is the first and only lead calcium battery on the list.
What does this mean? It means that you get a high-performance battery without any of the dangerous chemicals that your usual lead-acid battery would have. Its design prevents it from experiencing any thermal runaway.
Once again, in layman's terms, this means that the chances of it exploding on you are significantly reduced. Now that is worth its weight in gold.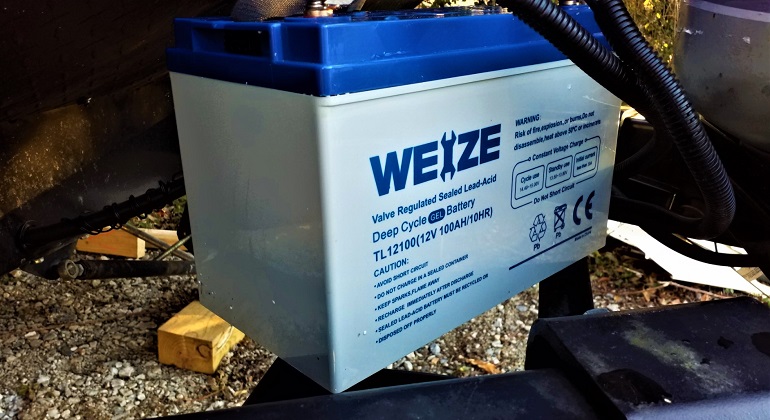 Features
Weight: Sixty-three pounds
Voltage: Twelve volts
Composition: Lead calcium
Warranty: One year
Best Feature: Safer than lead acid batteries
Pros
This lead calcium battery is much safer than lead acid batteries.
Due to its design, this battery is less likely to experience thermal runaway.
The Weize has a longer life span than even AGM batteries.
Cons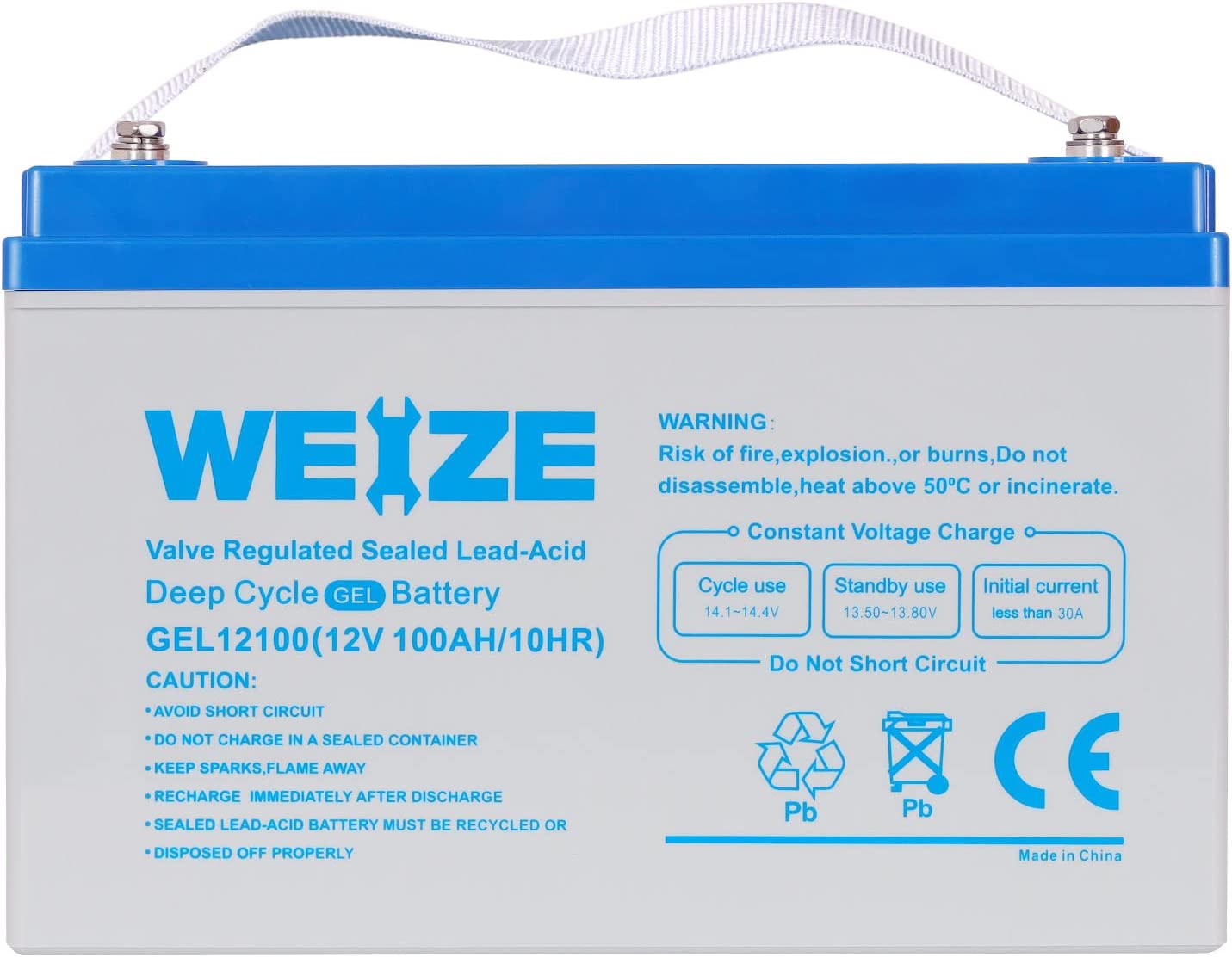 Weize 12V 100Ah Battery
The price of "Weize 12V 100Ah Battery" varies, so check the latest price at
Kayak Trolling Motor Battery Types
Are you tired of reading about trolling motor batteries yet? No? Good, because now I am going to break down the main types of trolling motor batteries on the market. This section will further your understanding of the batteries listed above.
Each trolling motor battery type will vary not just in performance and longevity but also in recharge times and whether they are rechargeable at all.
I should also mention that a battery's size and even the number of cells that each battery has is all dependent on their type. There are three main types; let's quickly run through them.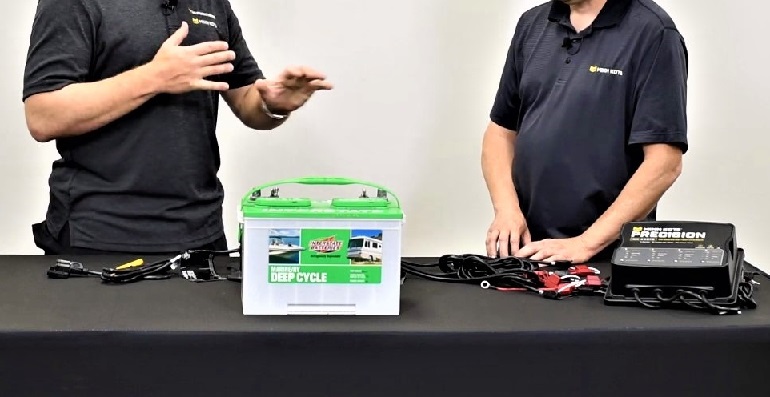 Wet-cell Batteries
As far as rechargeable batteries go, wet-cell batteries were the first on the scene. From here, all others came. Now, this doesn't mean that all wet-cell batteries are archaic, but you should note that other types are more likely to have design advancements.
So then, why the name "wet cell battery"? The reason why this type of power source is called a wet cell type is that they are filled with a liquid electrolyte. That liquid electrolyte being sulfuric acid.
Yes, the highly dangerous and extremely disastrous sulfuric acid. How can you tell whether you are in possession of an acid bomb? Simply shake the motor battery, and if it is a wet cell battery, you should feel liquid sloshing around inside.
AGM Batteries
Perhaps starting off this little section with wet cell batteries wasn't the right choice. However, I assure you that AGM batteries are not as scary sounding. The AGM stands for absorbed glass mat.
Okay then, what is an absorbed glass mat, and how does it affect this battery type? AGM batteries have a special glass mat that acts as a divider. Its job is to wick any electrolyte solution that may appear between the actual battery plates.
What this results in is a design that removes the need for a liquid-form electrolyte. This is because the electrolyte is able to be stored in a dry form thanks to this mat.
It's a safer version of what was listed above.
Lithium-ion Batteries
Lithium batteries have taken the world over since their introduction. They are reliable and efficient, capable of generating more power than other battery types. This lithium battery type is rechargeable, and it uses lithium ions to store its energy. Hence the name.
A lithium battery is generally more powerful and smaller than other battery types.
This makes lithium battery perfect for a smaller trolling motor or small boats. Not just because it'll take up less room but also because they tend to weigh less than other options.
The best part about a lithium battery is that it is resistant to natural discharge. You won't have to worry about any leaks or dangerous outbursts damaging your boat or yourself.
Safety First! What to Keep in Mind
I can't stress this enough; please be careful when handling any kind of kayak trolling motor battery. Whether you have a deep cycle battery or have jerry-rigged multiple trolling motor batteries into place. These devices are often filled with toxic and hazardous chemicals and materials.
In the case of sulfuric acid wet cell batteries, well, the name speaks for itself… doesn't it?
This is why you should handle your motor battery with extreme care. Keep a close eye on how much time you charge your motor battery. A marine battery must be properly charged, it's not like a phone battery.
Marine batteries can be overcharged. When this happens, watch out! A marine battery that is overcharged will have its chemical energy turn into blazing hot heat energy. Keep all that bottled up, and eventually, it will explode!
One thing you should never do is lean over any battery that is charging or in use. Whether it is a motor battery or a car battery. Having protective eyewear on whenever you set your battery to charge or whenever you are hooking it up is also smart.
Safety goggles won't be able to protect your entire face. However, they will protect the most delicate and important part of the face itself. One last thing to keep in mind, always inspect your trolling motor batteries for any visible damages before charging it or using it.
Buying the Best Trolling Motor Battery for Kayak
Usually, I suggest that one know all the specifications and how they affect the equipment's performance before making a purchase. However, when it comes to an AGM trolling motor battery or kayak trolling motors in general, so much more is on the line than just performance.
This is because whatever kayak trolling motor battery that you settle on, may not be the right fit for your motor. For example, lithium batteries aren't usually suited for trolling motors. They are too powerful, and your motor can get damaged from their higher energy output.
Consider the following before making a final choice.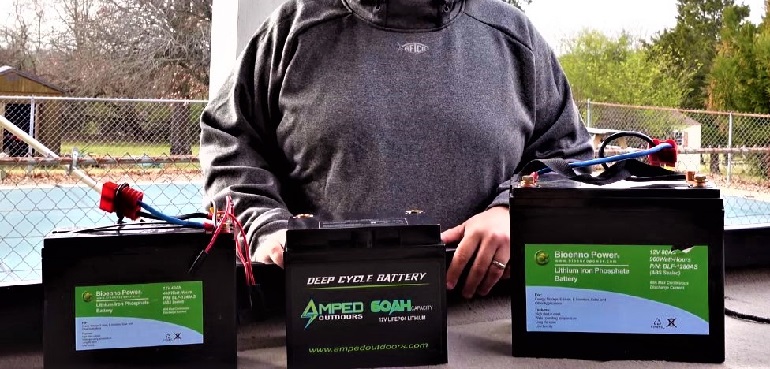 Deep-cycle/Marine Battery
First up on what you need to know to not make a grave mistake, we've got deep cycle marine battery. What is a deep-cycle marine battery? In the world of kayak trolling motor batteries, your battery can either be a cranking battery or a deep-cycle marine battery.
The deep cycle is another word for trolling. What's the difference? A cranking battery is focused on starting up the engine or motor. This battery type aims to get your kayak or boat going from a zero starting position.
A deep-cycle battery keeps your kayak's motor going. Any electronics or energy drainers are all hooked up to and dependent on the deep cycle battery. I know what you are thinking, "Great, one battery complements the other!" Not exactly.
While a kayak can have both battery types on board. You must keep in mind that the starting battery will quickly run out of juice when paired with a deep-cycle battery. Not to mention that a deep-cycle battery will also have to burden some of the energy cost for getting the kayak motor started.
Rather than complement each other, they get in each other's way. Be sure to choose one and only one. Don't mix them, there is no point in that.
The Size of Your Motor Battery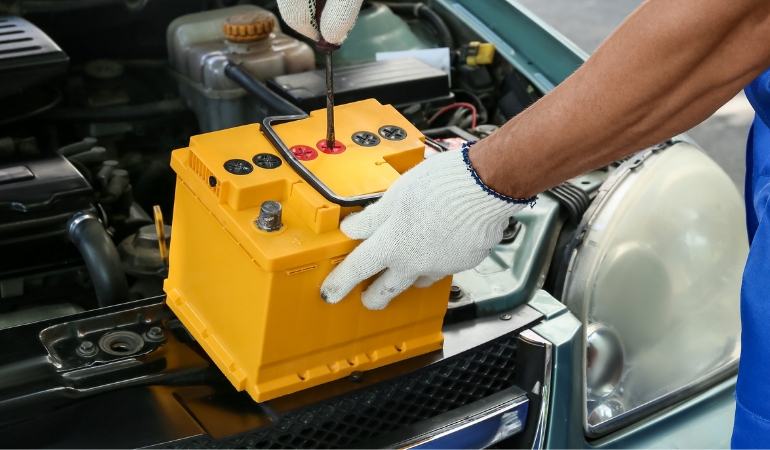 Size is a relatively easy concept to understand. In some cases, bigger is better, and in others, not so much. First, I'll be going over the more obvious things to know about a battery's size.
A battery's size will have a direct impact on how much it weighs. The more it weighs, the heavier your kayak will become. This means that your kayak's motor will have to put in the extra work to keep you moving along the water.
This, in turn, means that your trolling motor battery will have to kick it into overdrive to satisfy the needs of the motor. Don't you just love chain reactions and their constant desire for escalating any situation?
A kayak trolling motor battery doesn't usually take up much space. So you won't have to worry too much about this aspect unless you are traveling in a shoe box.
Besides the obvious weight and space effects, the size of a trolling motor battery also determines whether it is even compatible with your motor to begin with.
An undersized battery will struggle just to get you moving at a snail's pace. Be wary of trying to slim down. It could negatively impact your performance in the end.
Battery Weight
I touched on this aspect a bit in the previous section. To summarize quickly, battery weight affects the weight of the entire kayak, which in turn affects how much energy is needed to move it. However, that is not all that a battery's weight can affect.
The weight of a battery will also determine how much power it packs. This is a pretty simple thing to keep in mind.
The more it weighs, the more power is at its disposal. The amount of power a battery contains will affect many things. Chief among them is the battery's charge time and its amp hours.
However, I've got two sections down below for these two specific topics. As a result, I won't be getting into them here. You may not think that a battery's weight is that much of an issue, but consider the following.
Suppose you've got a guest on your kayak with you. You start the trolling motor to help you move along. Except, you notice that your kayak is sunk further into the water than it should be.
Uh oh! You've reached your kayak's maximum weight capacity. What to do now? You can't throw your friend overboard. I mean, you can, but you shouldn't. A lightweight trolling motor battery would have spared you from having to throw anything out of the kayak.
Charging Time, How Long Is Too Long?
In a world constantly hooked on to electronics, one battery attempts to satisfy all by full charging in only a matter of minutes. Now that would be one great battery. The only problem is that as far as trolling motor batteries go, it doesn't exist.
Charge times are important because they determine how much time you'll have to spend on the sidelines. Patiently waiting for your battery to be fully charged like my cat patiently waits for his food. It's torture.
How fast a battery will charge depends not just on each specific brand and model but also on the type of battery. For now, lithium-ion batteries tend to be the fastest charging. The issue with them is that they may be too powerful for your motor to handle.
Potentially damaging your trolling kayak motor for a quicker recharge doesn't sound like the fairest of trades. Keep in mind that most deep-cycle batteries will fully charge in ten to twelve hours.
Sounds like a lot of time, but it's nothing that an overnight charging can't handle.
Amperage Hour Rating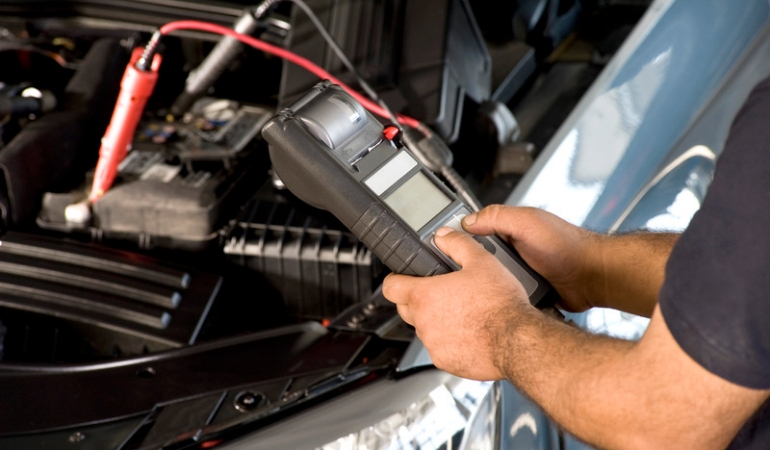 A battery's amp hour rating is the amount of energy from a battery that is used to release one ampere of current for one hour.
Sounds complicated, huh? Yeah, I had to look this up myself. Pretty much what this means is that an ampere-hour rating tells you how much amperage a battery can provide for the duration of an hour.
Amperage is the strength of an electric current. To further break down this unnecessarily complicated subject. This rating determines how long your battery will last with each full charge. That's right, a battery's life per charge is mostly determined by its amperage hour rating.
The higher the AH rating that your trolling motor battery has, the longer its runtime. All is well and good except for one thing. I don't want you to get confused and assume that an AH rating also has something to do with how much power your battery has.
No, this rating has nothing to do with the battery's performance power. Only the battery's actual life per charge is affected by this. Of course, the motor of your kayak will also play a role.
Stronger and more modern motors will drain your battery much quicker than older motors.
FAQs
What Is a "Battery Reserve Capacity"?
A battery's reserve capacity is the amount of time, which is categorized in minutes, that a twelve-voltage battery can last before dropping down to a ten-point five-voltage battery. Hence the word reserve in "battery reserve capacity".
It's important to know this because it gives you a general idea of how long you can count on your battery's maximum potential. By maximum potential, I mean how many amps can be supplied and for how long.
What Happens If the Battery Gets Wet? Should I Protect It?
Let me answer the second question first. Yes! You should absolutely protect your battery from the elements, especially water. If too much water is added to your lead acid battery, then you can expect a massive performance drop.
Not to mention that this excess water will cause the electrolyte levels to spike. Resulting in leaks, overflows, and serious damage.
If your trolling motor battery does end up getting wet, dry the housing and terminals. Water will always deteriorate marine batteries. This is odd, you'd think something with "marine" in its name would be able to handle a few splashes of water.
How Often Should a Trolling Motor Battery Be Charged?
I'm sure you've read all kinds of random things on the internet. You know, the weirdly specific ways to maintain your battery's longevity.
"Only charge for one hour" or "only charge once the battery has completely died."
The truth is that you should charge your trolling motor battery after every use. How long it lasts will depend on your motor and the motor battery itself. If you haven't used the battery in a while (more than two weeks), then you should also charge it.
My Final Thoughts
Sometimes, slowly trolling through the water is better than trying to be an Olympian. Paddling is tough work, and if you can get a quality trolling motor battery to lighten the load, then you absolutely should.
Remember that each battery type comes with meaningful pros and cons. Wet cell batteries contain sulfuric acid, but they tend to fit with any trolling motor.
Lithium Ion batteries are powerful, but if you've got an older motor, your motor may not be able to handle the extra juice.
An AGM battery is a reasonable middle ground. Whichever trolling motor battery you end up choosing, be sure you know how to handle it.