Ocean Kayak Comfort
Take a look at your current kayak seat. You love it, it's been good to you, but its surface is tearing. You can see more interior foam padding than the exterior cover.
Besides, why is it leaning so far back despite no one sitting in it?
The truth is, most kayak seats weren't made to last a lifetime. Consider an upgrade for improved lumbar support and a plump seat pad.
Remember when your seat cushion used to feel more like a cloud and less like a plate?
With the best kayak seat options available down below, you can kiss back pain, butt pain, and any other kind of pain goodbye.
Best Kayak Seat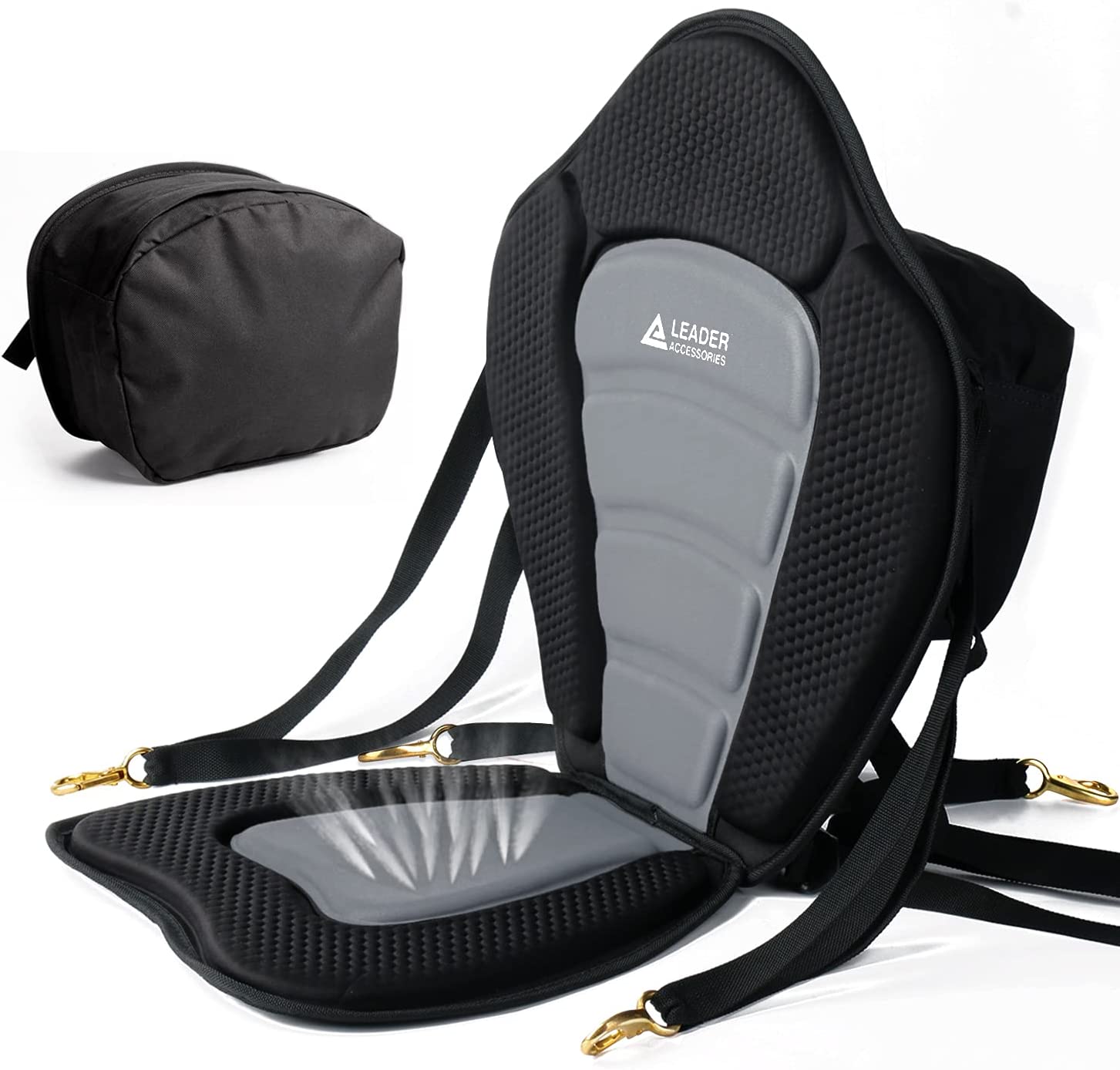 Leader Accessories Deluxe
Weight: 2.5 Pounds
Material: Ethylene vinyl acetate
Best Ventilation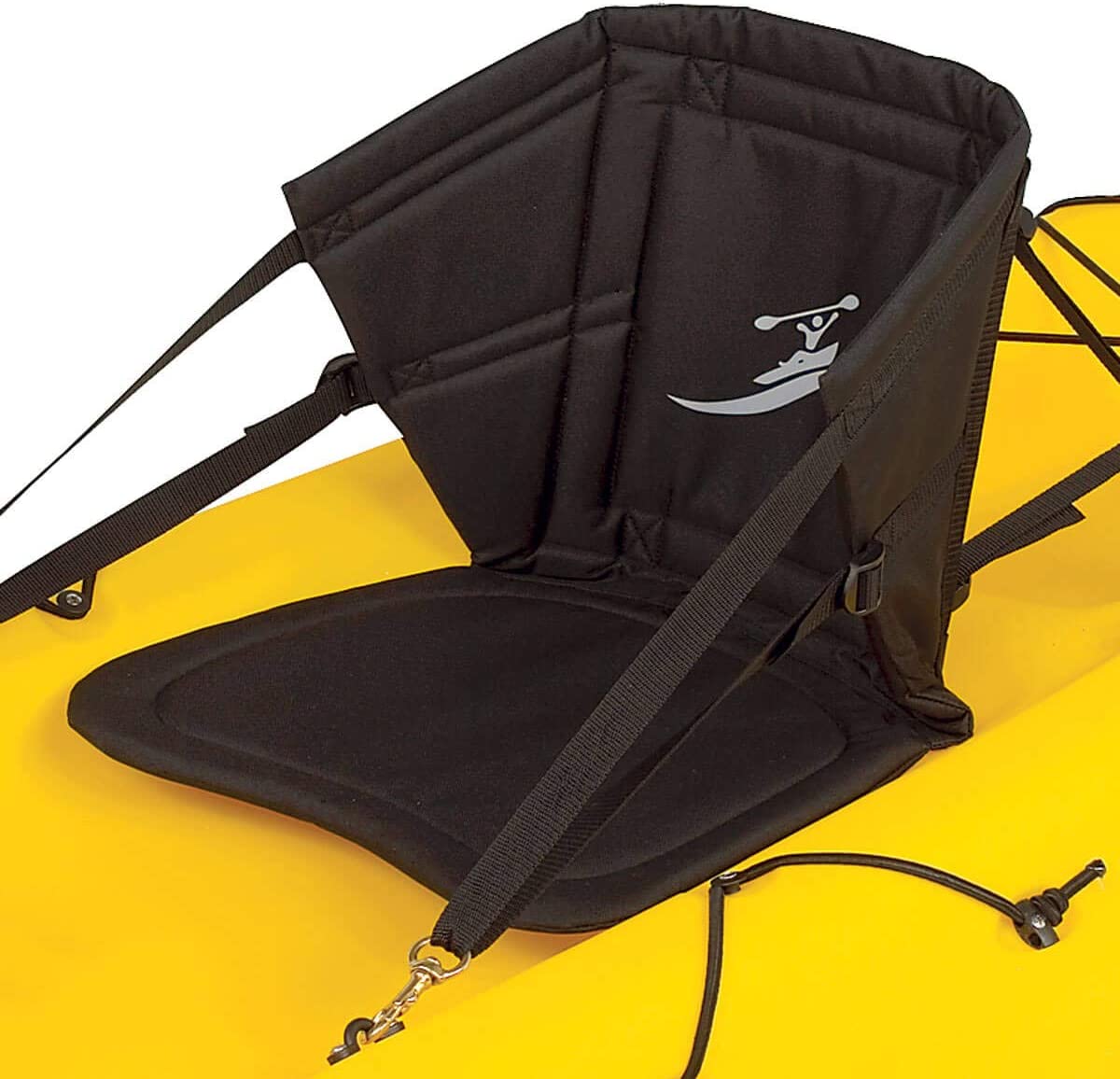 Ocean Kayak
Weight: 1.7 Pounds
Material: EVA foam
Best Upper Back Support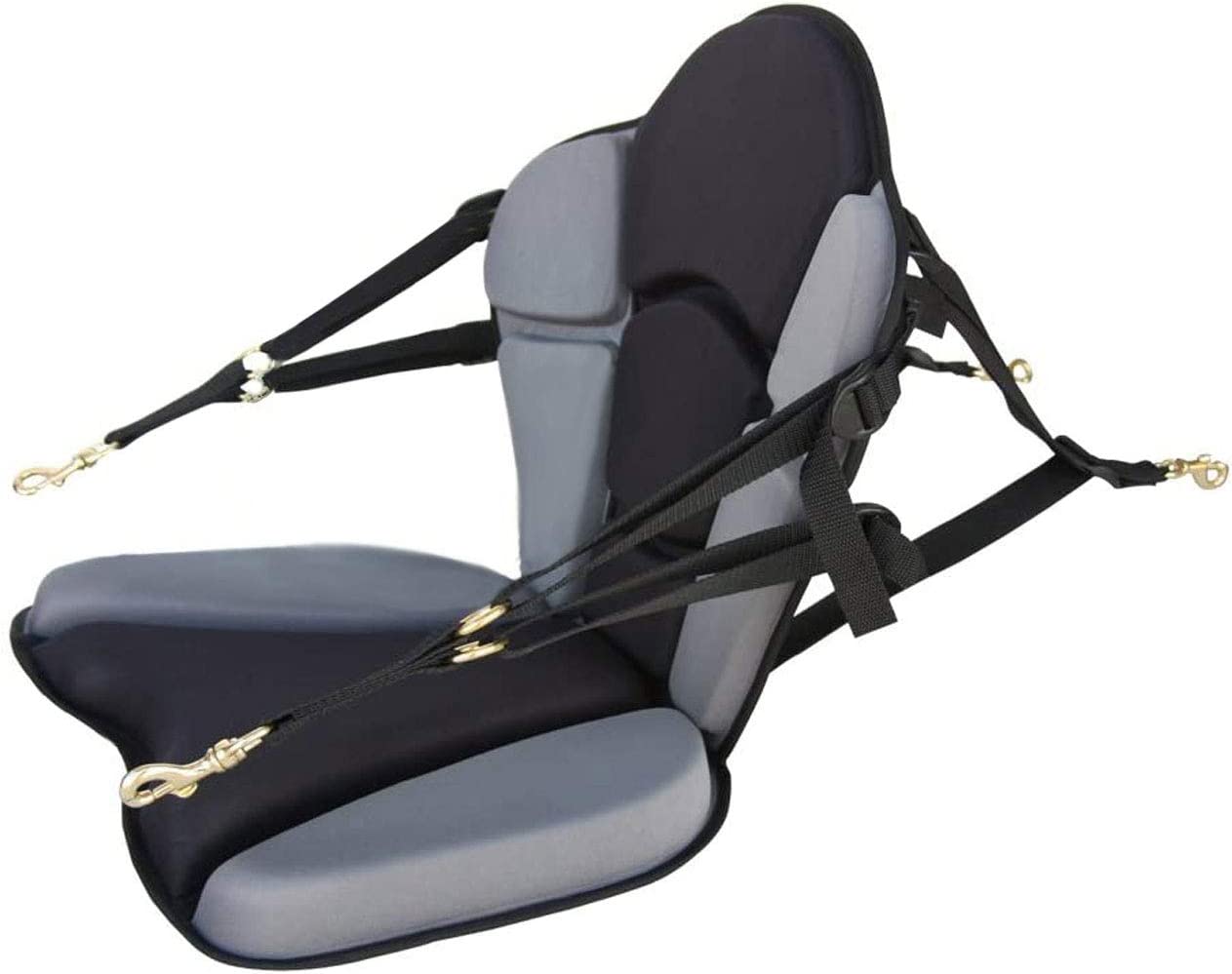 GTS Expedition
Weight: 1.6 Pounds
Material: Molded foam
Best Minimalist Design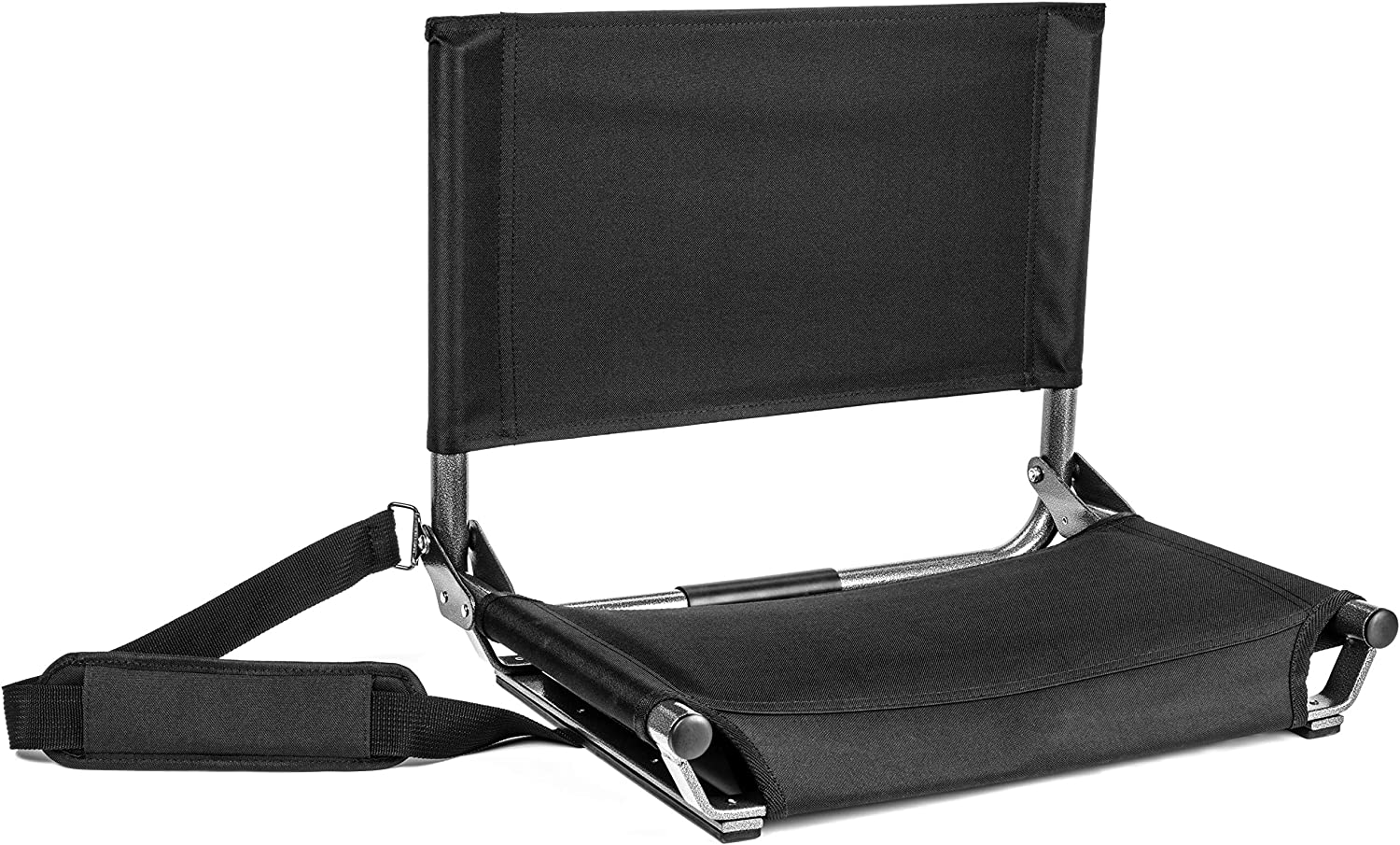 Cascade Mountain
Weight: 5.3 Pounds
Material: Aluminum
Best Budget Option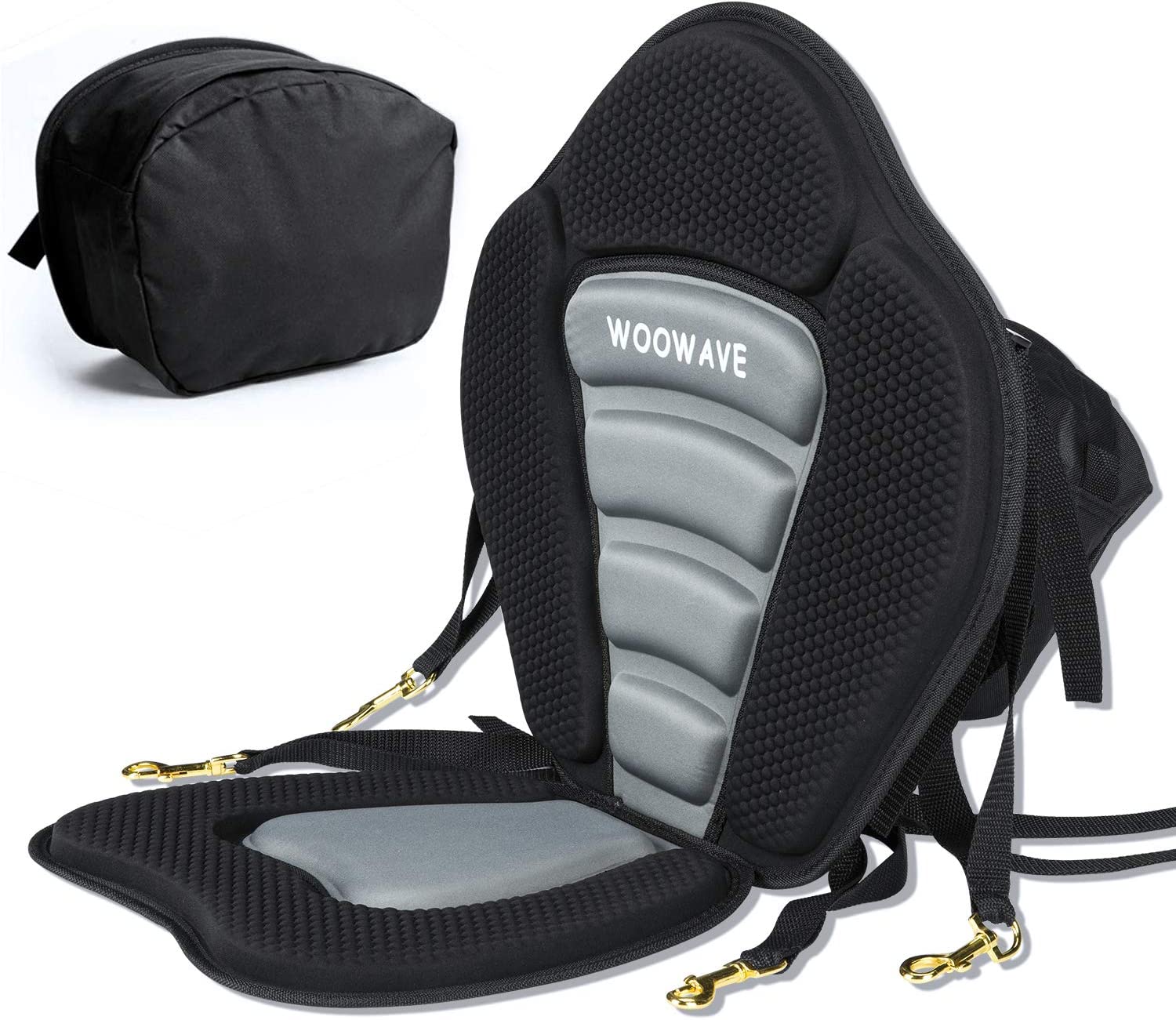 WooWAVE Kayak Seat
Weight: 2.5 Pounds
Material: Polyester exterior
Best Lumbar Support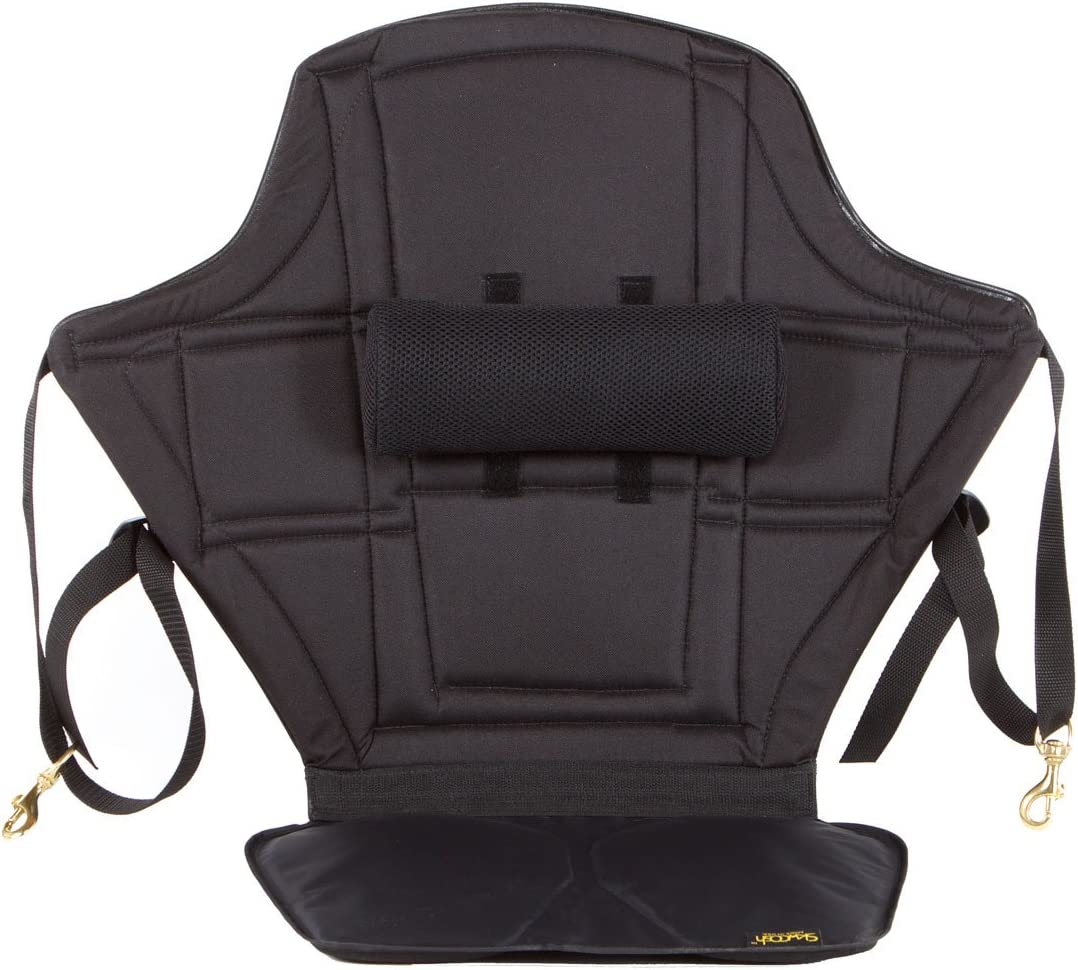 Skwoosh Expedition
Weight: 3 Pounds
Material: Polyester nylon
Best Compatibility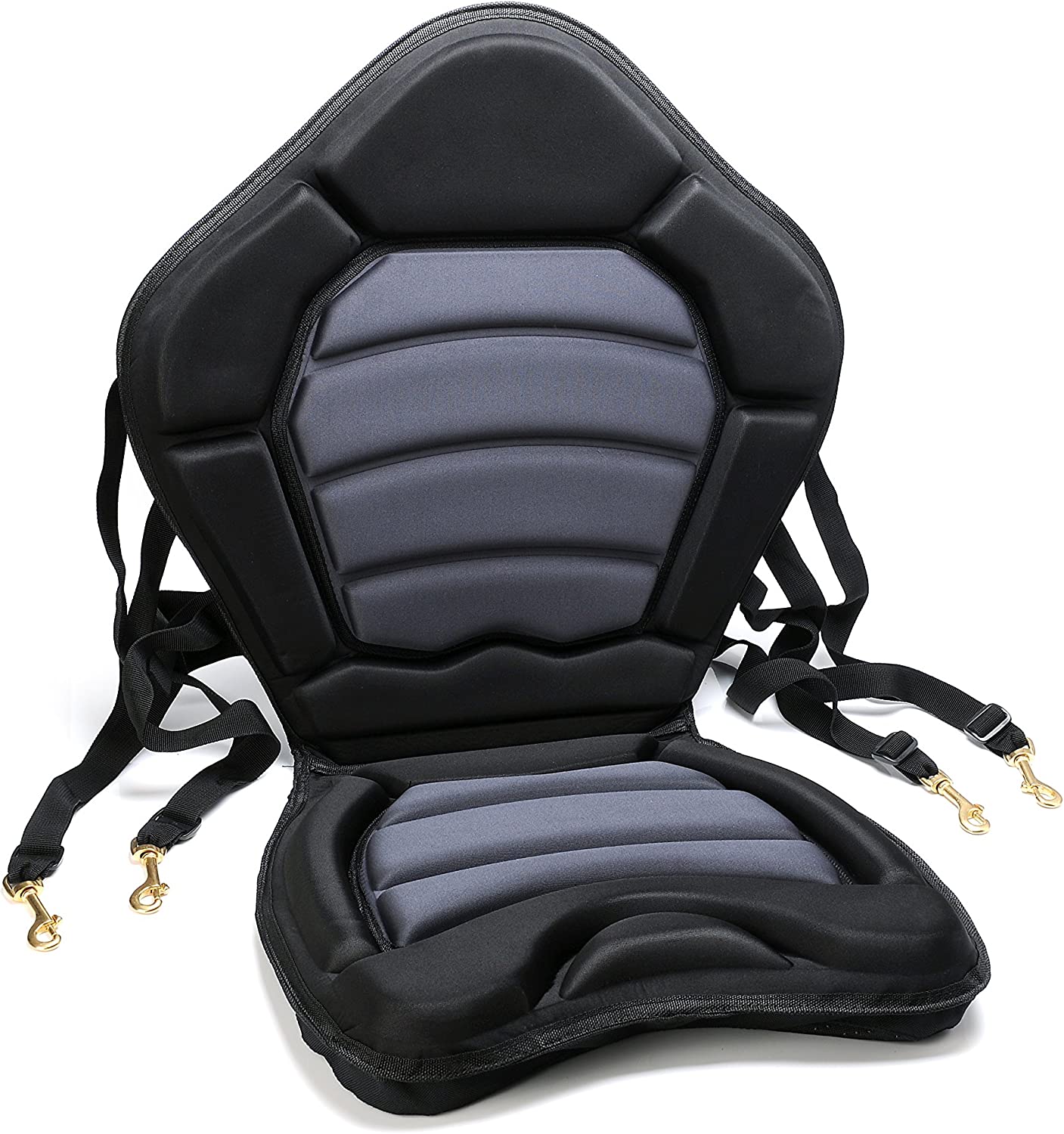 Ocean Motion Ergo
Weight: 3.2 Pounds
Material: Polyester cover
Best Build Quality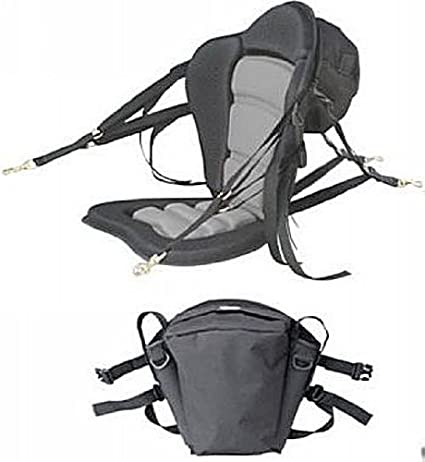 Saturn Deluxe
Weight: 5 Pounds
Material: Molded foam
Best Inflatable Kayak Seats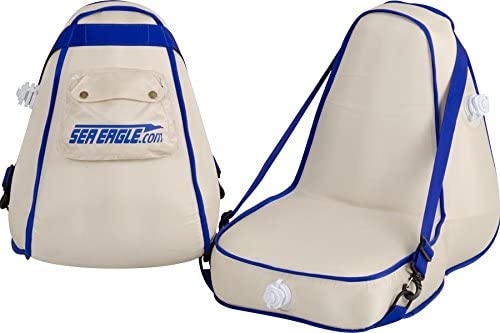 Sea Eagle Deluxe
Weight: 2 Pounds
Material: Nylon exterior
Best Of The Rest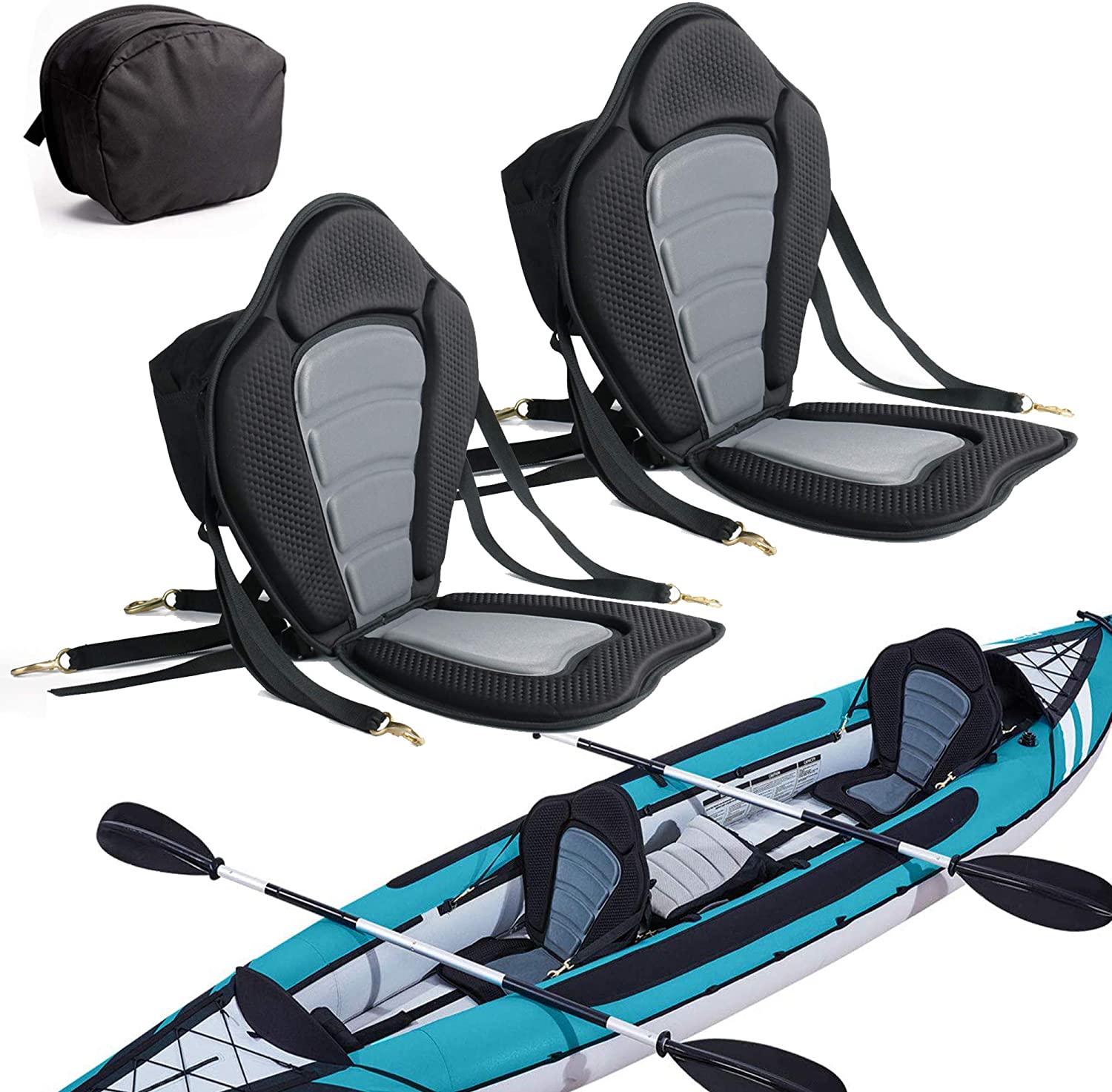 RELIANCER 2 Pack
Weight: 2.5 Pounds
Material: Neoprene
The 10 Best Seats for Kayaks
There's plenty on offer down below. The Skwoosh expedition kayak seat and its batten-reinforced back support. Now that's got to feel good. A universal kayak seat that doesn't crumble when leaning on it.
What about the two-padded deluxe kayak seat pack from Reliancer? More is always better, and it makes the perfect gift for couples, friends, family, or whomever!
Look, I could go on all day, but ultimately, the choice is yours. Get the best seat for kayak and reap all the rewards that come with it.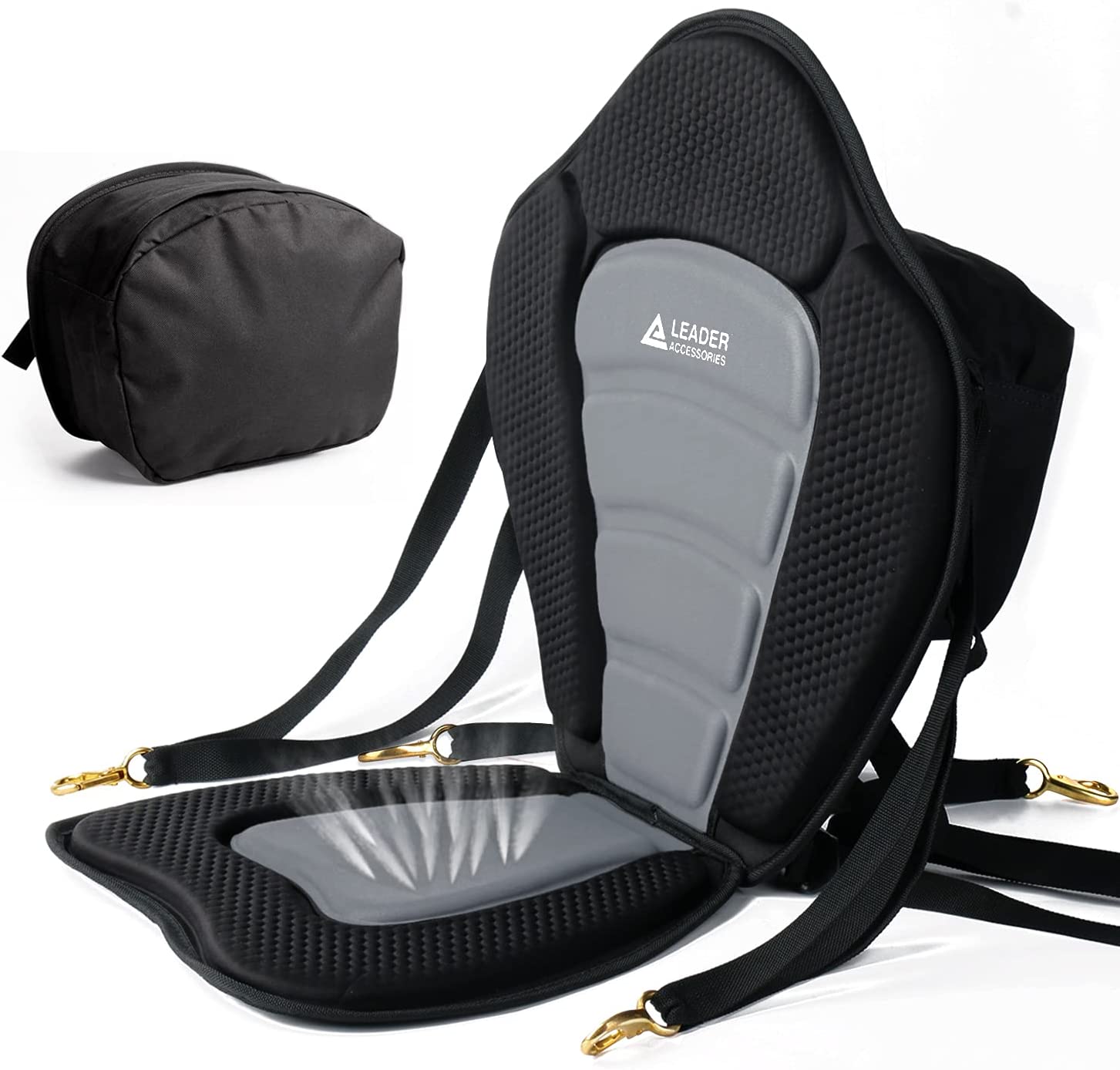 What weighs very little, only a couple of pounds, and yet is padded to the brim with comfy foam? The Leader Accessories kayak seat. This seat is perfect for either sit-inside or sit-on-top kayaks. Who wouldn't find comfort in its dual foam and ethylene vinyl acetate build?
You know what foam is, but you are probably saying to yourself, ethyl-what? Ethylene-vinyl acetate is a material with many great properties. It has got great heat seal strength. No need to worry about any tears or slip-ups with this material.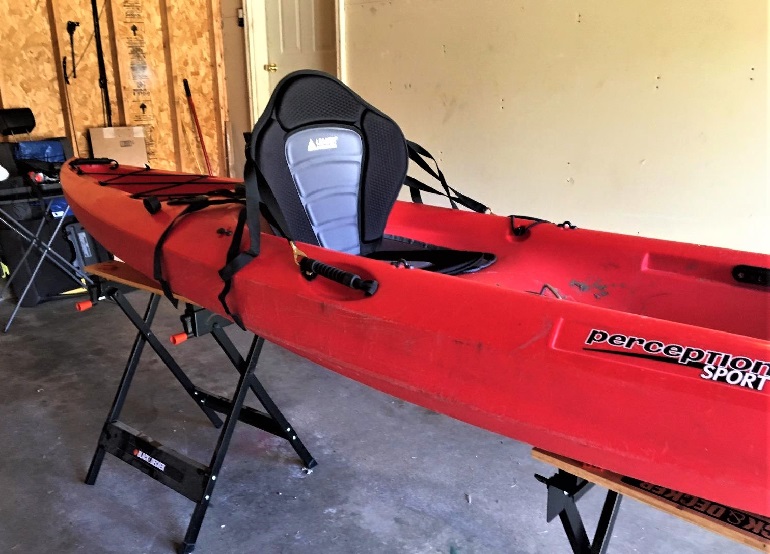 Its other qualities include great flexibility and consistently performing well across different temperatures.
All of these wonderful properties are safeguarded by a thick polyester cover. A cover that is two-hundred and ten deniers thick. To attach the chair into place, use its corrosion-resistant hooks.
Features
Weight: Two and a half pounds
Build Material: Ethylene vinyl acetate
Best Feature: Storage bag
Comfort: EVA foam interior
Adjustability: Adjustable straps
Pros
Comes with a detachable backpack that is best used for any extra padding and gear.
The EVA foam padding is blanketed by a 210D polyester exterior.
The hooks used to attach this chair are corrosion-resistant. Long-lasting.
Cons
I felt that the kayak seat needed more effective weight distribution.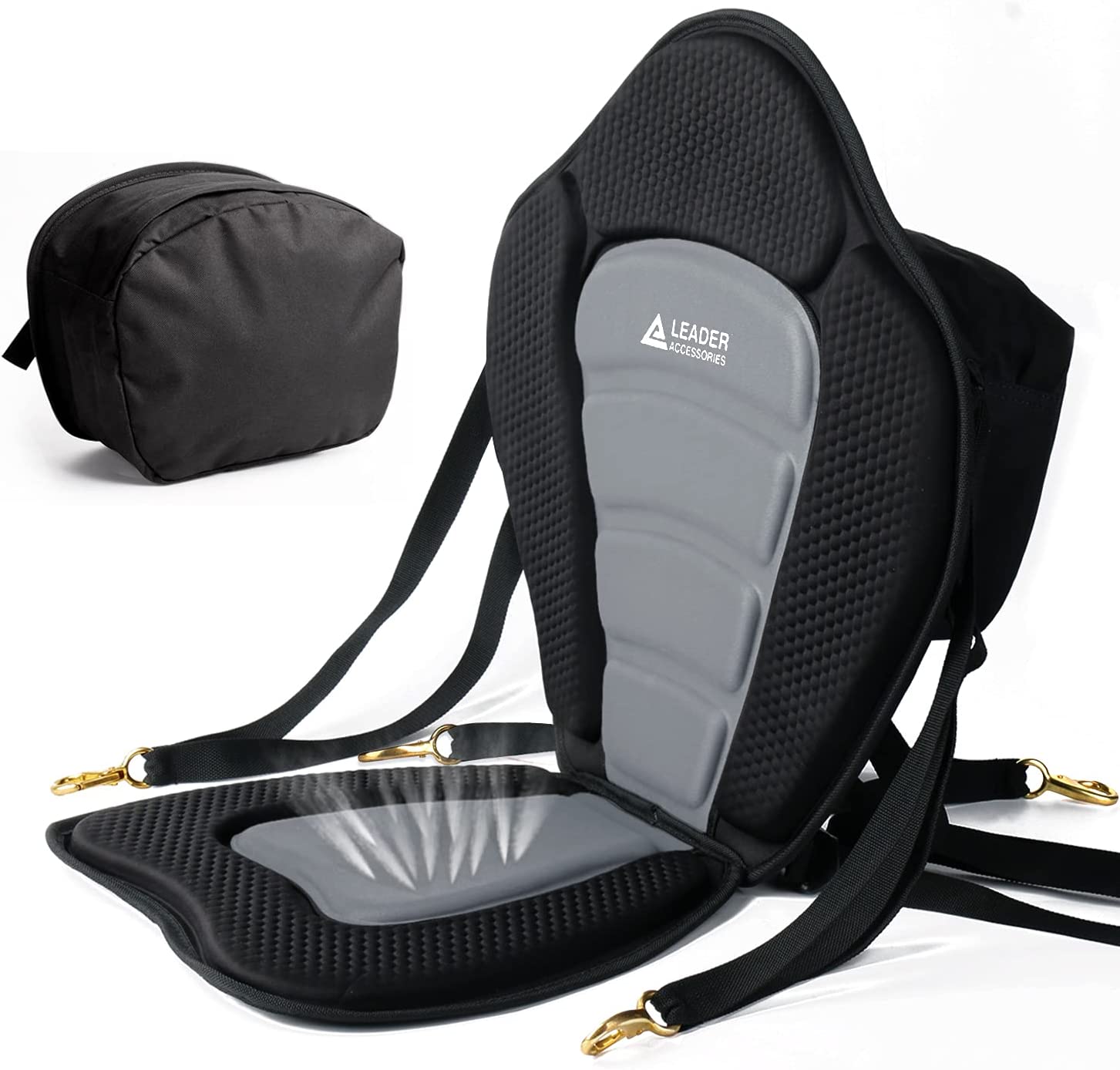 Leader Accessories Deluxe
The price of "Leader Accessories Deluxe " varies, so check the latest price at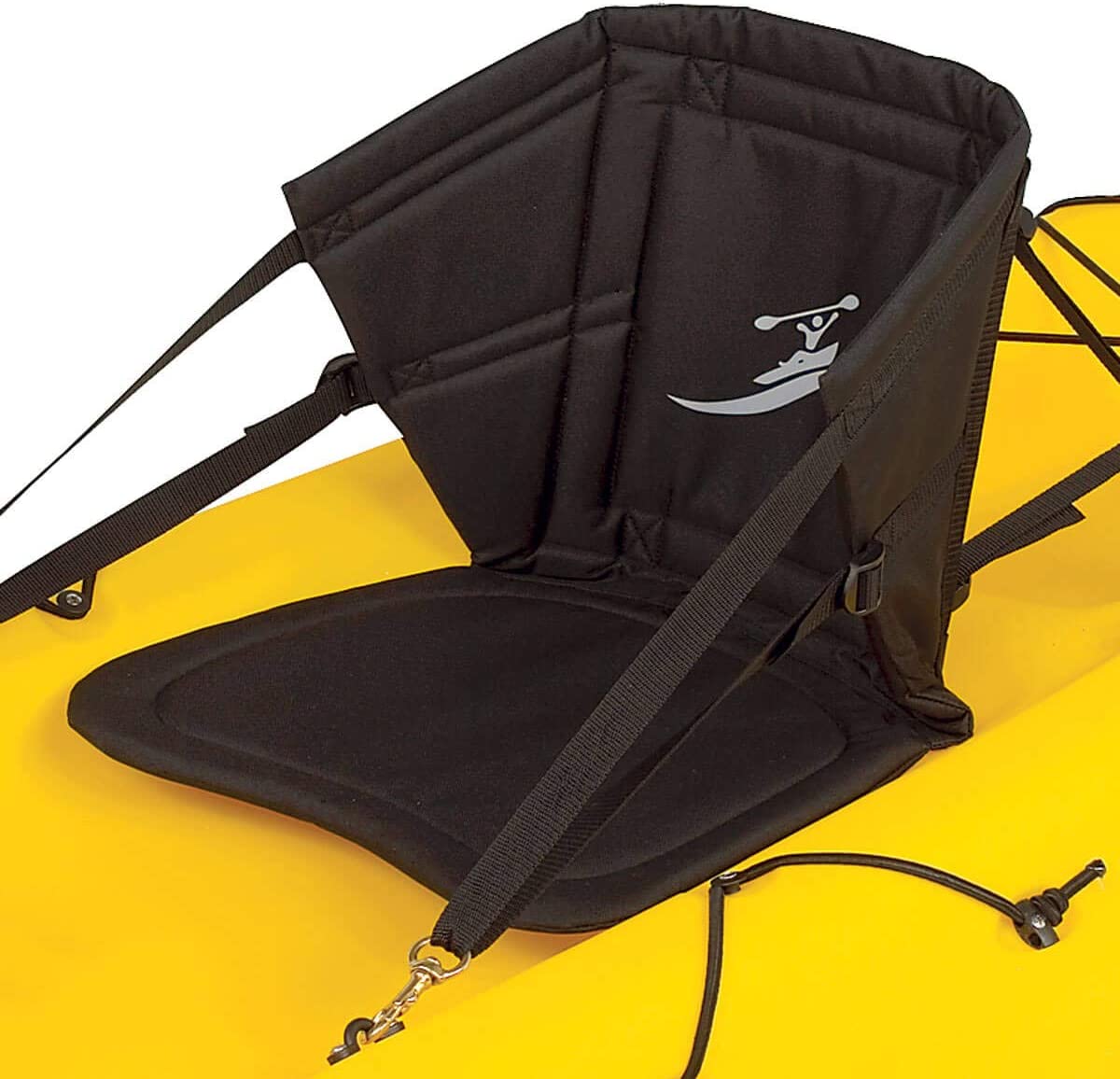 Comfort is more than just cushions and padding, the Ocean kayak seat understands this. It's why it has a feature that no other kayak seat on this list has. A built-in ventilation system.
The beauty of a proper ventilation system is that it ends up paying dividends when it comes to your seat's durability. Water is the great corrupting force. It slowly breaks down anything it touches. Corroding it, causing rust to build up.
A ventilation system speeds up the drying process. Helping give you a comfortable seat and maintain the seat's structural integrity. Besides this built-in system, the Ocean kayak comfort plus benefits from having a low weight and a large frame.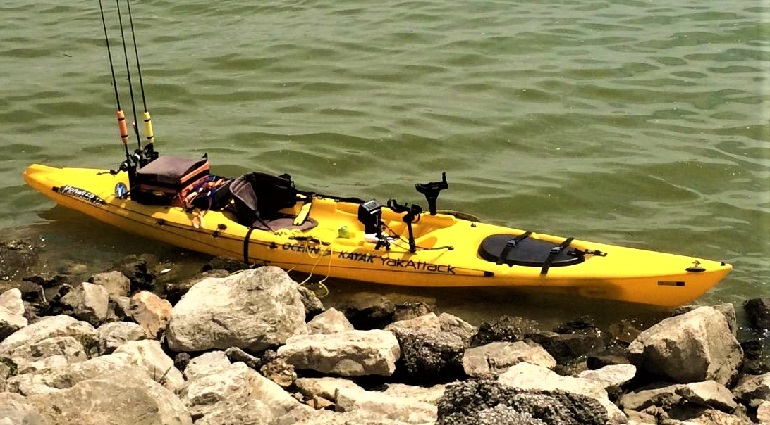 You get plenty of upper back support without any of the added baggage. It even has a UV-resistant nylon cover, which means that weathering is also no longer an issue. By far, this kayak seat has the greatest longevity.
Features
Weight: One pound and seven ounces
Build Material: EVA foam
Best Feature: Great support for the upper back
Comfort: Extra seat cushion
Adjustability: Adjustable side straps
Pros
This kayak seat has a UV-resistant nylon cover that also resists weathering. Great longevity.
Comes with built-in ventilation thanks to its tough nylon construction.
This seat has by far the best upper back support, with perfect balance for tall paddlers.
Cons
Its thin frame can be prone to bending with heavier paddlers.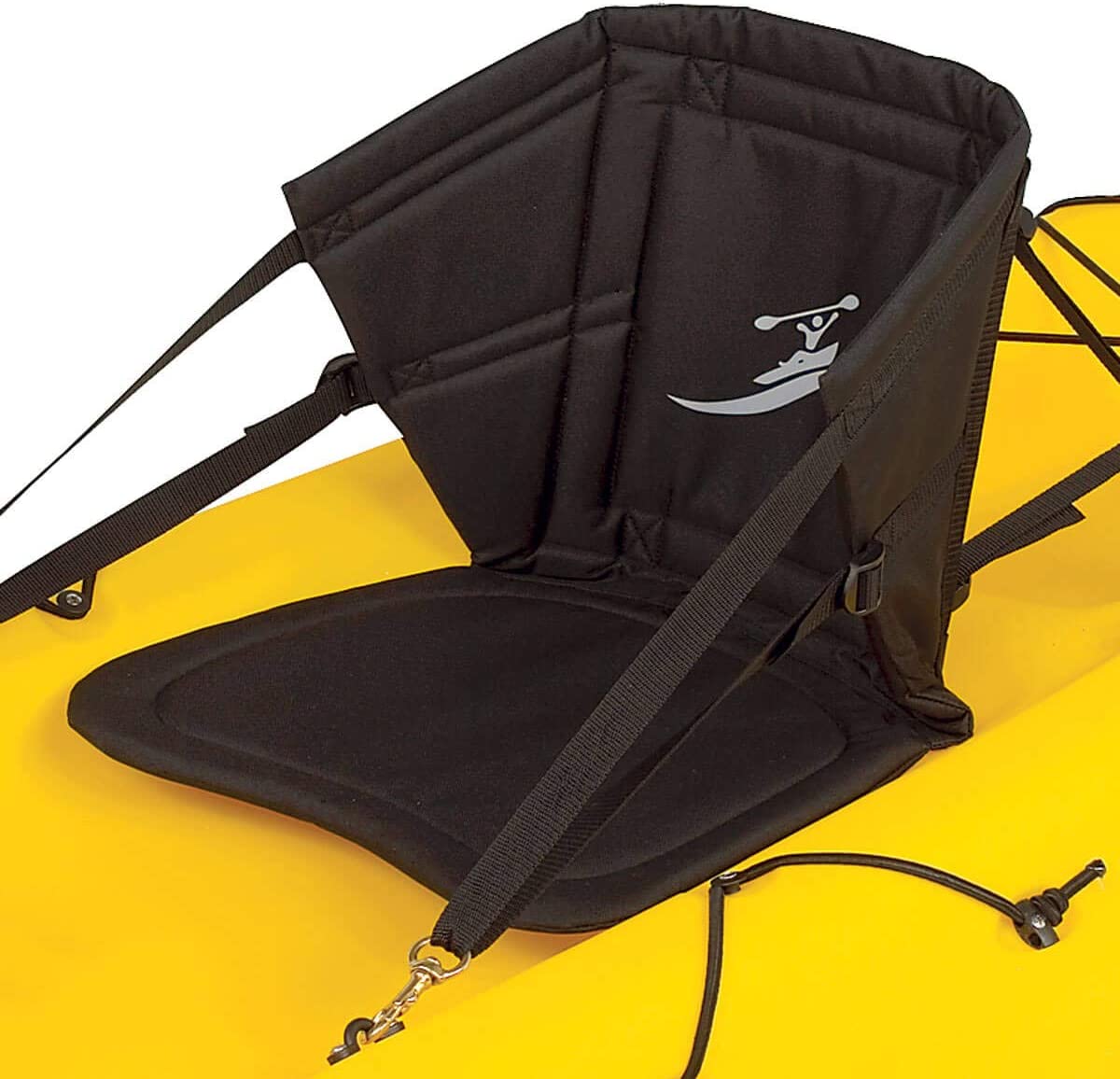 Ocean Kayak seat
The price of "JOcean Kayak seat " varies, so check the latest price at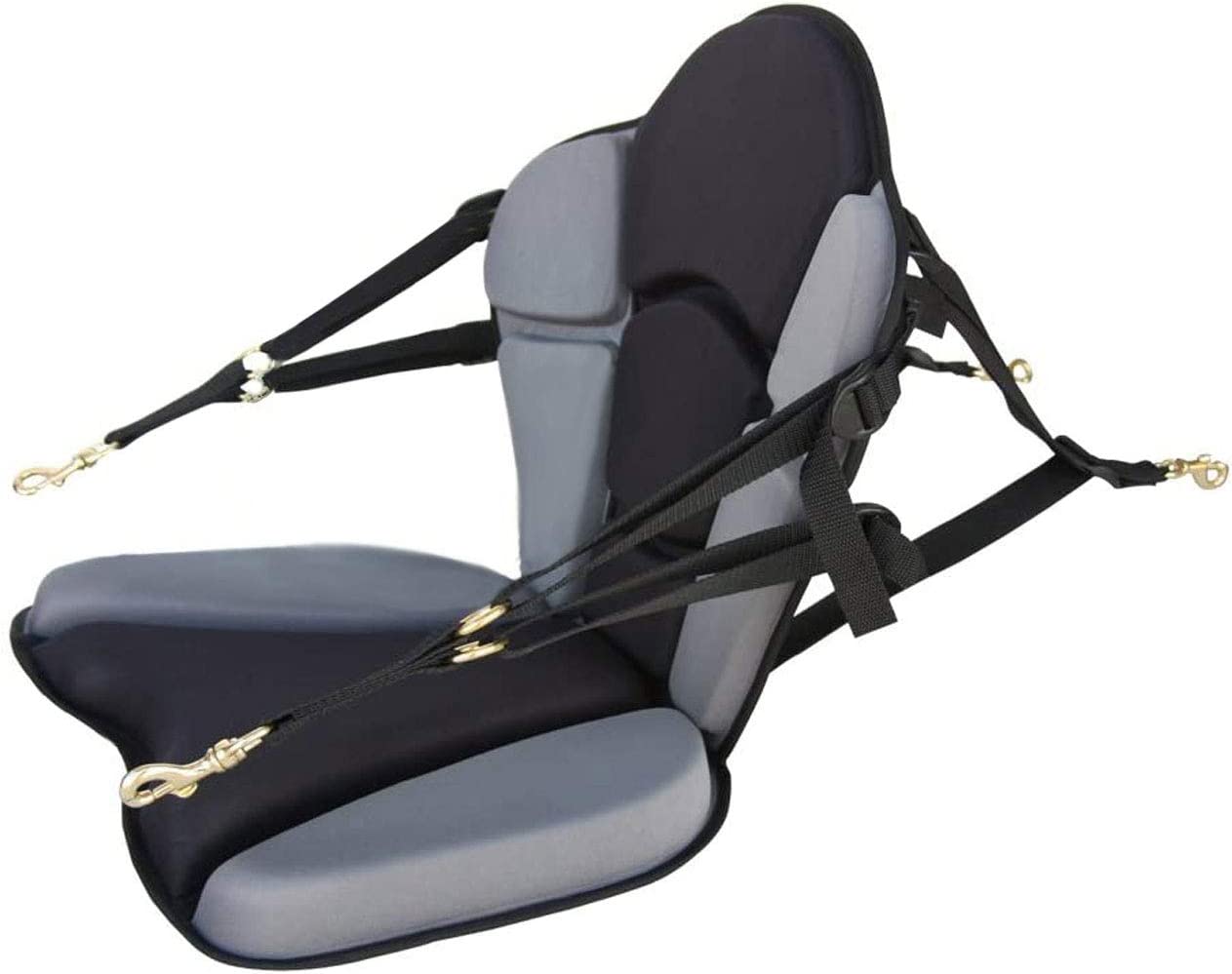 The GTS Expedition is the perfect seat for long afternoon naps. It's got a go-to-sleep build that will finish anyone off. The seat cushion is made from molded foam. This foam has been put through a special process that makes it softer and pops more.
As for the backrest, that part has been made from thermoformed foam. This build is special because it allows it to conform to your natural body shape with ease. When something is able to fit your body's natural curves and grooves, you receive a higher quality of support.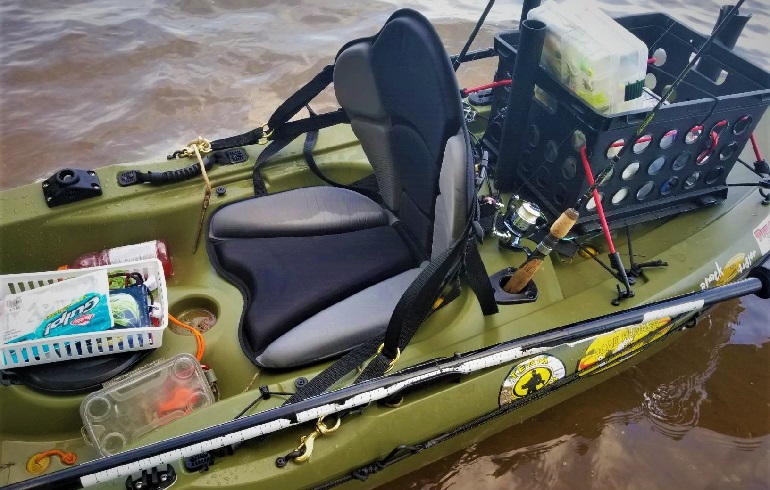 What surprised me most about this kayak seat, were the drainage channels that lie underneath the two-inch thick seat cushion. These channels drain excess water out of the cockpit.
All of this wonderful design is covered by a durable mesh.
Features
Weight: One pound and six ounces
Build Material: Molded foam
Best Feature: Eighteen-inch backrest
Comfort: Thermoformed foam backrest
Adjustability: Triangulated rear strapping system
Pros
Has a two-inch thick seat cushion with deep channels that drain excess cockpit water.
Made from a durable and flexible mesh that is perfect for slimmed-down comfort.
Comes with an excellent thermoformed foam backrest.
Cons
Be sure that your kayak is wide enough to accommodate this seat.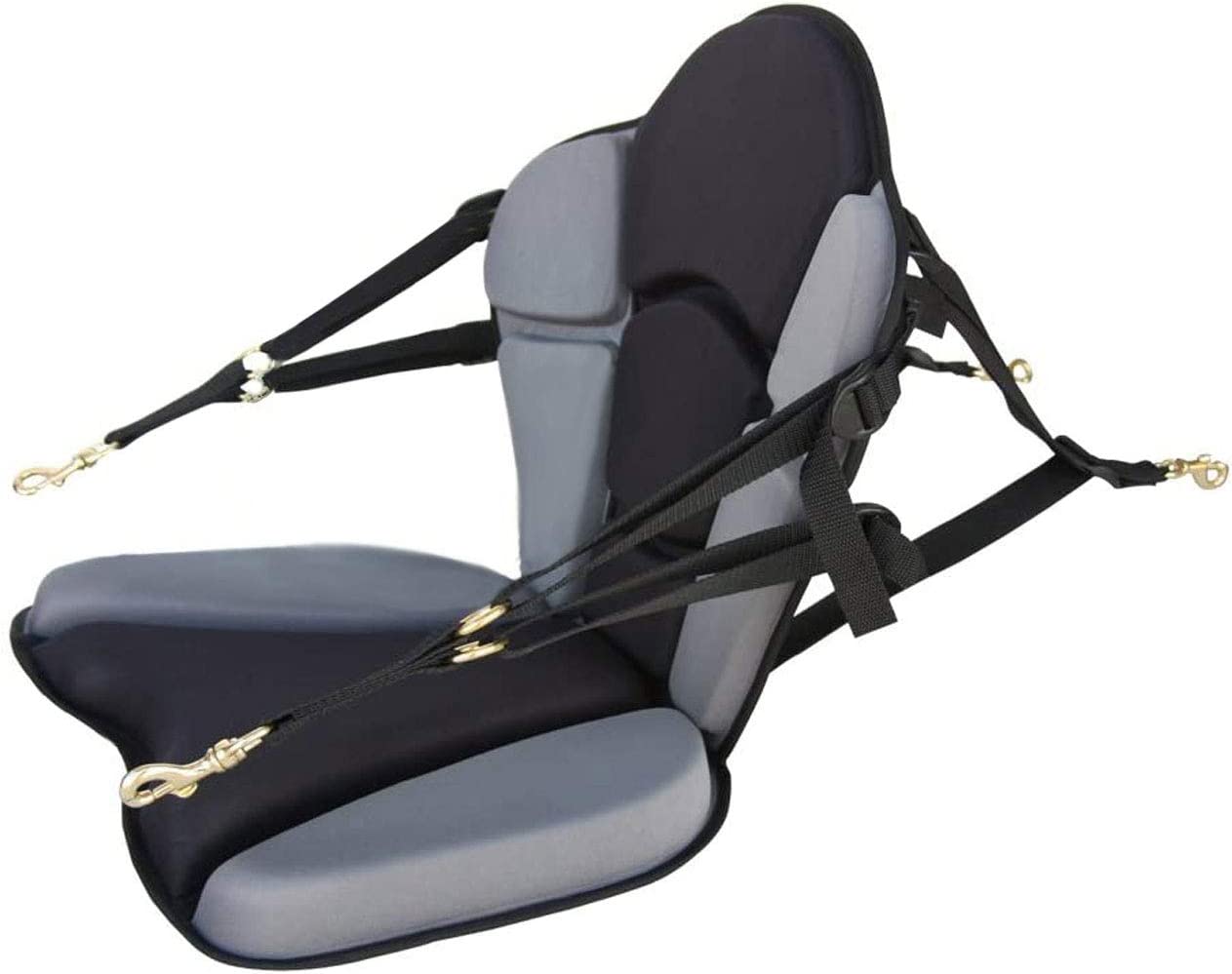 GTS Expedition
The price of "GTS Expedition " varies, so check the latest price at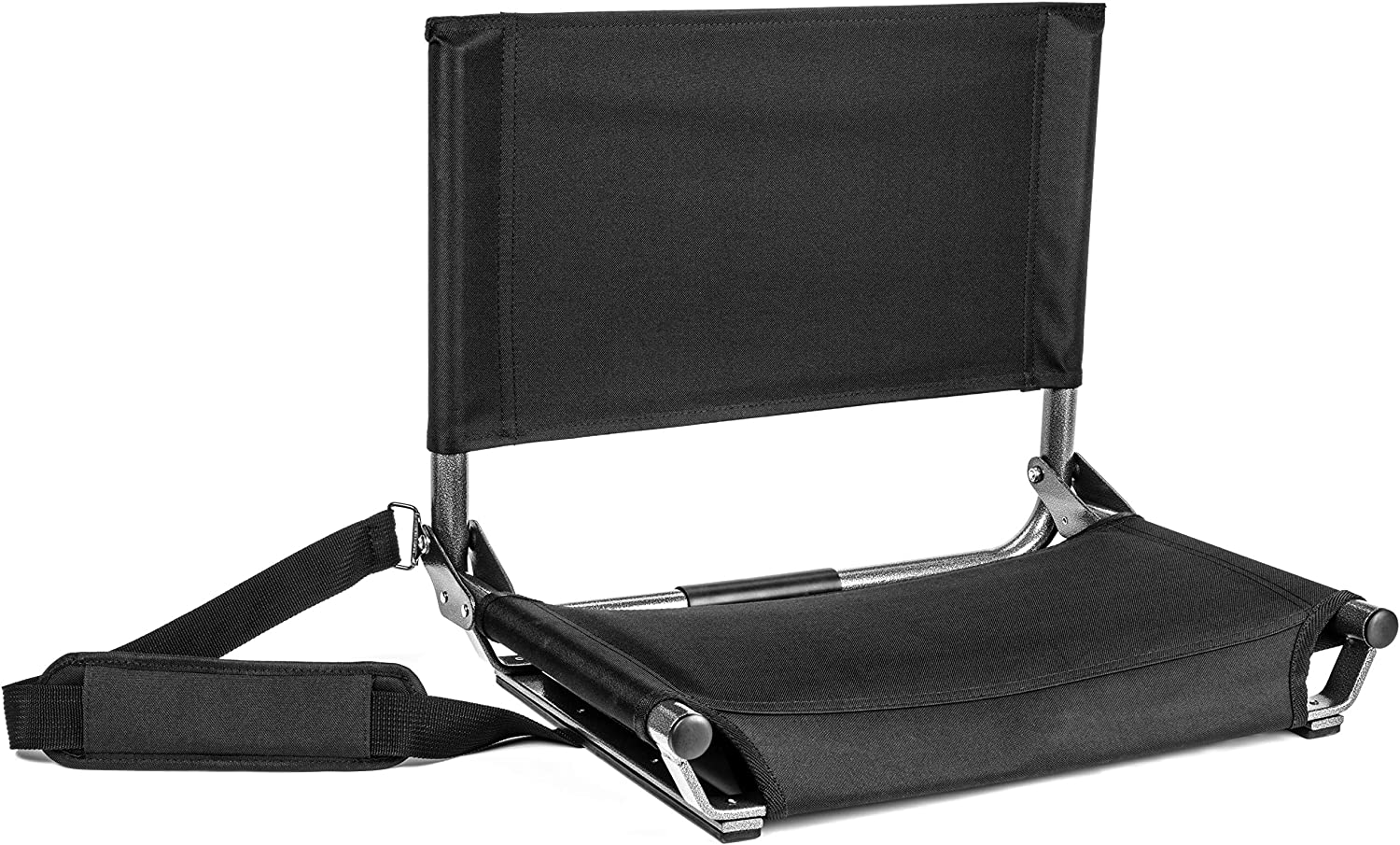 Minimalist designs are all about getting their job done and then staying out of the way. Not a bad way to live life. Cascade Mountain Tech definitely lives by this ethos. You won't get any upper back support out of it.
However, as far as lumbar support goes, this one right here is up to the task. Unsurprisingly, it has much less foam padding than other options. Usually, I'd dock a large sum of points for this but the Tech was comfortable enough to keep up with the rest.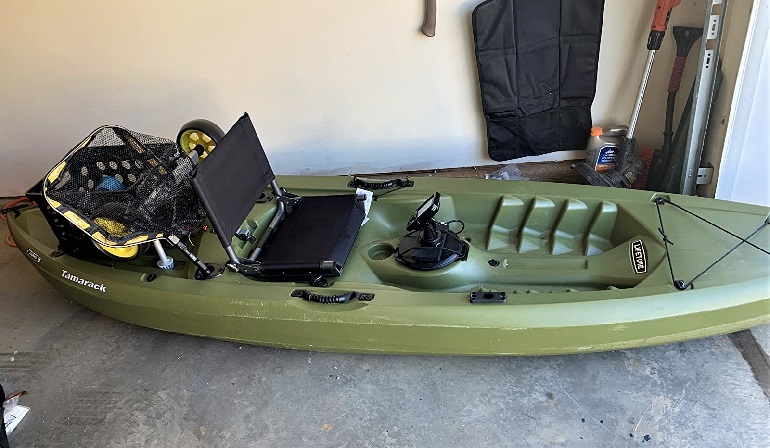 One thing I want to highlight is its folding design. You can fold this seat with no problems at all. What was once small has become even more so.
Simply take advantage of the shoulder strap or the easy-grip handle to take this seat with you on any journey.
Features
Weight: Five pounds and three ounces
Build Material: Aluminum
Best Feature: Water-resistant canvas exterior
Comfort: Bungee reinforcements
Adjustability: Folds down
Pros
This folding sit-on-top kayak seat is easy to transport thanks to its built-in shoulder strap.
Folds down so that you can easily adjust it and store it.
Has a cushioned handle that serves as yet another way to comfortably transport.
Cons
Not as much back support as the other performance kayak seats available.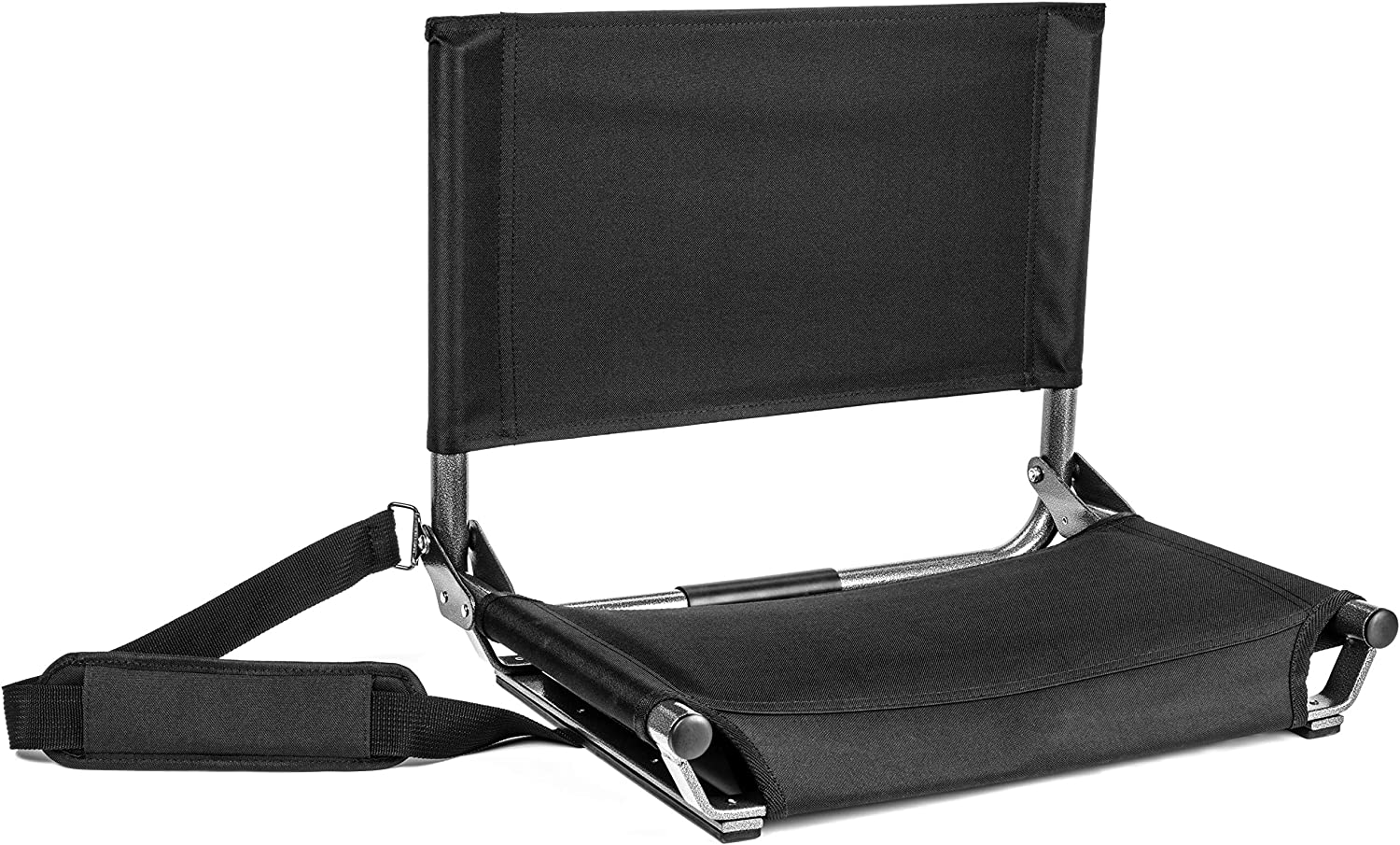 Cascade Mountain
The price of "Cascade Mountain " varies, so check the latest price at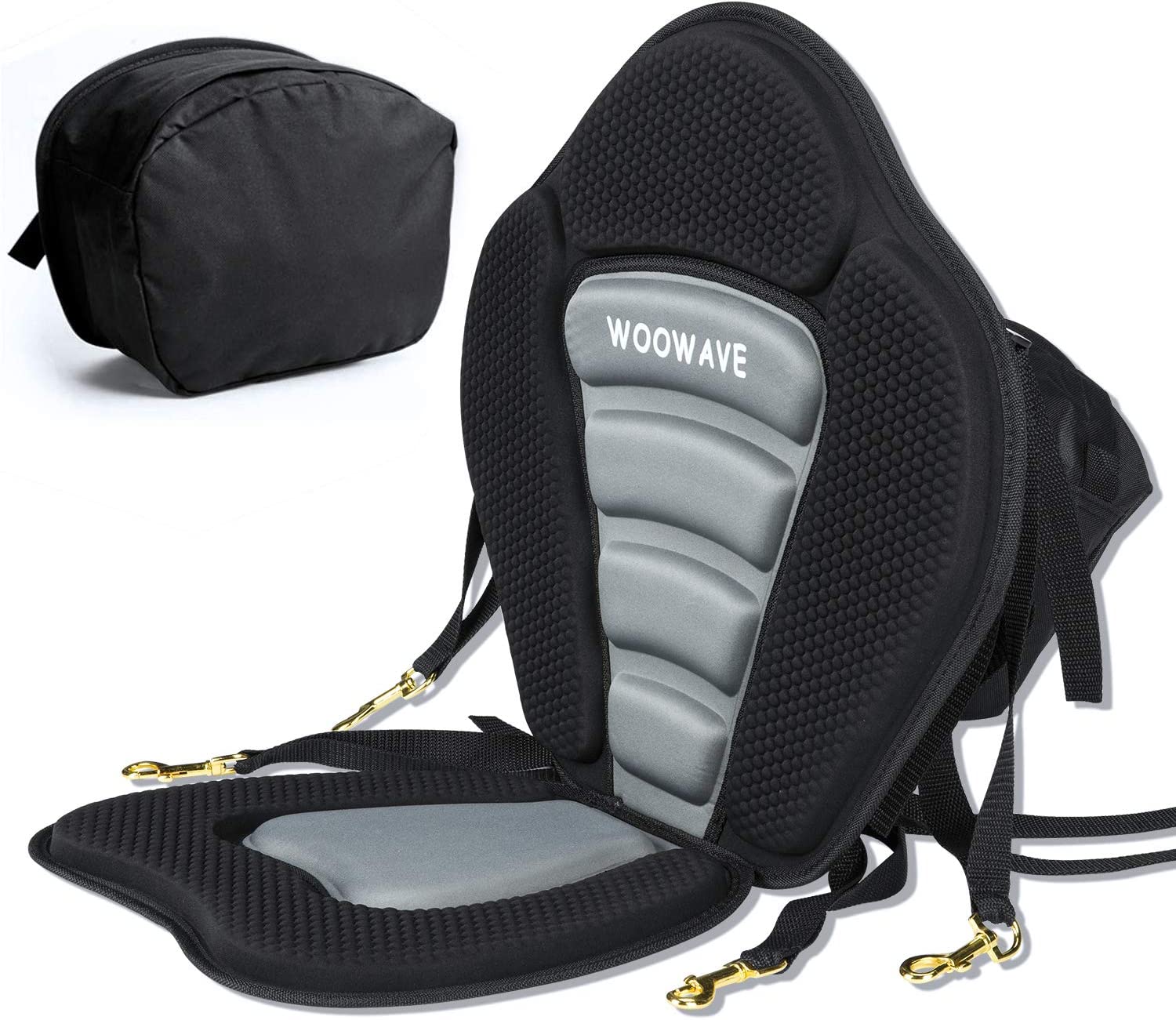 Most of the kayak seats on this list are pretty cheap. Even the most premium options are well worth their price tag. However, if you are really in a pinch but desperate for a new seat, allow the WooWave to settle you in.
This kayak seat is cheaper than any other seat, even the ones for sit-on-top kayaks, which are generally priced low.
It's got a polyester exterior that is quick to dry. This keeps the water from breaking down your seat. It also makes cleaning your seat a much more manageable task. To attach it to your kayak, you'll have to make use of its connecting straps.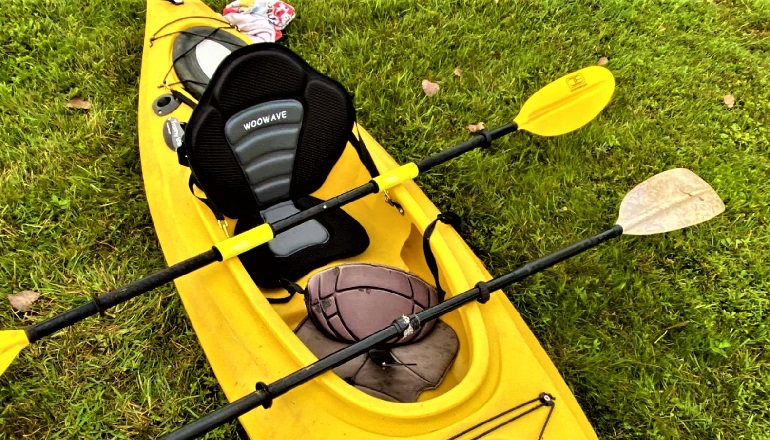 These straps are incredibly easy to attach and detach. I'd go as far as to say that they were the easiest ones to work with among the other list entries.
Features
Weight: Two and a half pounds
Build Material: Polyester exterior
Best Feature: Anti-slip padded kayak seat
Comfort: EVA foam interior
Adjustability: Adjustable straps
Pros
Has a two hundred and ten denier polyester exterior. Thick and sturdy.
Comes with a one-year free exchange policy. Should your seat padding tear simply replace the entire kayak seat.
The connecting straps make for rapid installation and removal.
Cons
The weight of the seat was lopsided. Comfortable but noticeable.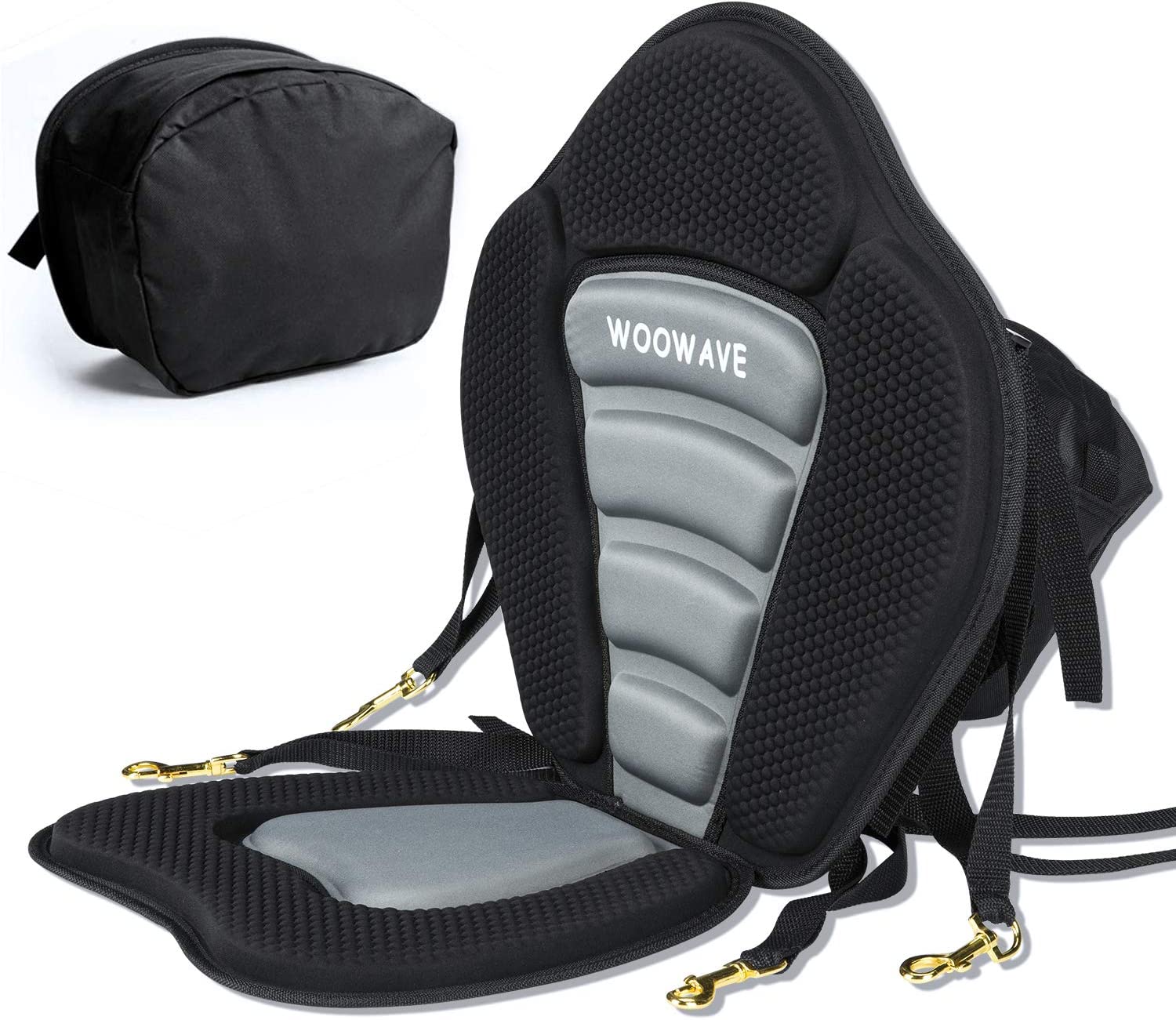 WooWAVE Kayak Seat
The price of "WooWAVE Kayak Seat " varies, so check the latest price at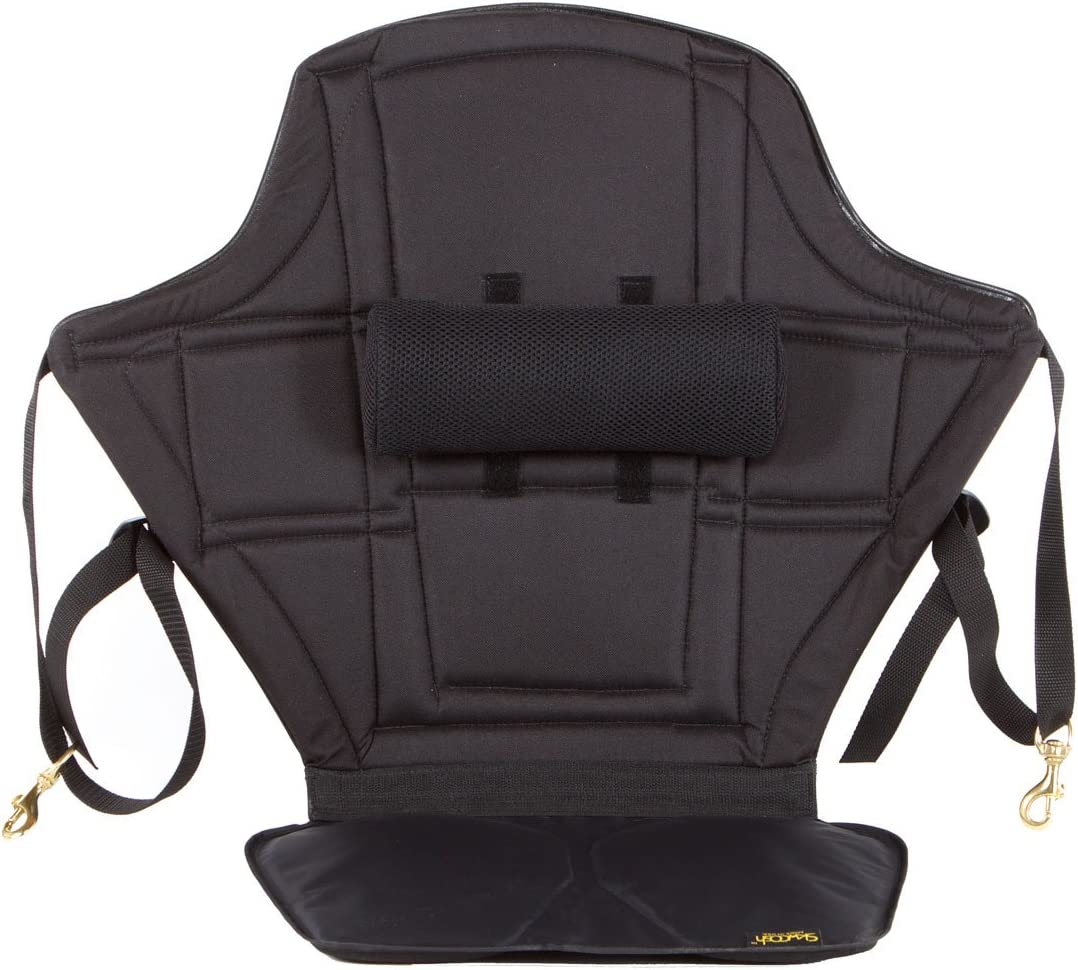 Lumbar support is underrated. A lack of lumbar support has been directly linked to painful skin lesions, high blood pressure, and even muscle wasting. You don't want any of that.
And you won't have to experience any of it either thanks to the Skwoosh expedition kayak seat. This kayak seat only weighs three pounds and yet has a reinforced back frame. With two battens installed into its frame, even large paddlers will feel the support.
To increase your stability, the seat pad has a low-profile design. Sticking you closer to the action and the backrest itself. For its cover, you get a polyester nylon mix that is abrasion-resistant and quick to dry.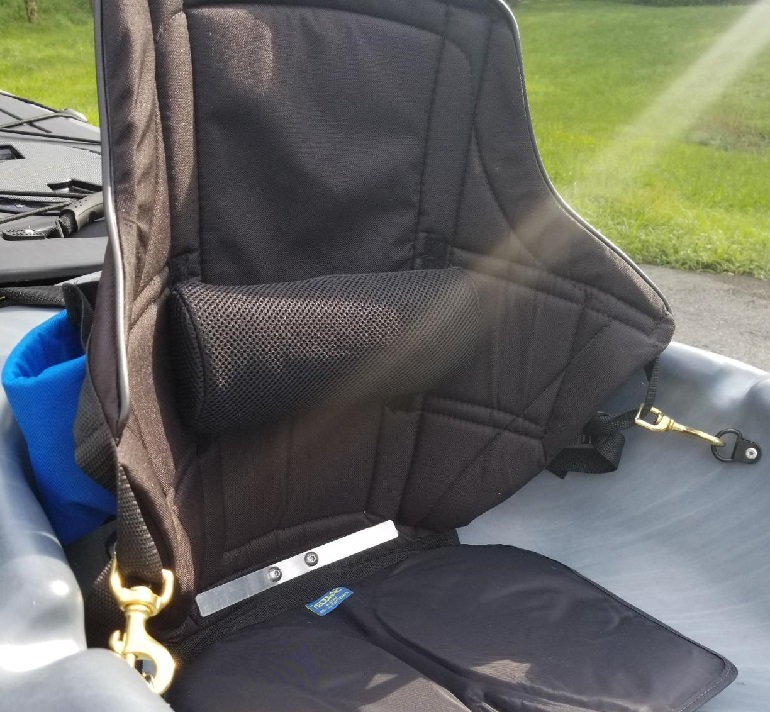 To help you settle into place, four adjustable straps are included on the sides of the seat. Plenty of aid to go around.
Features
Weight: Three pounds
Build Material: Polyester nylon
Best Feature: Reinforced back support
Comfort: Low profile
Adjustability: Four adjustable straps
Pros
This inflatable kayak seat comes with two battens in its back frame for improved structural support.
Has four adjustable straps, each with corrosion-resistant swivel clips.
You get better stability with this comfortable low-profile seat cushion.
Cons
It's got a thin frame. Sturdy but some prefer thicker padding.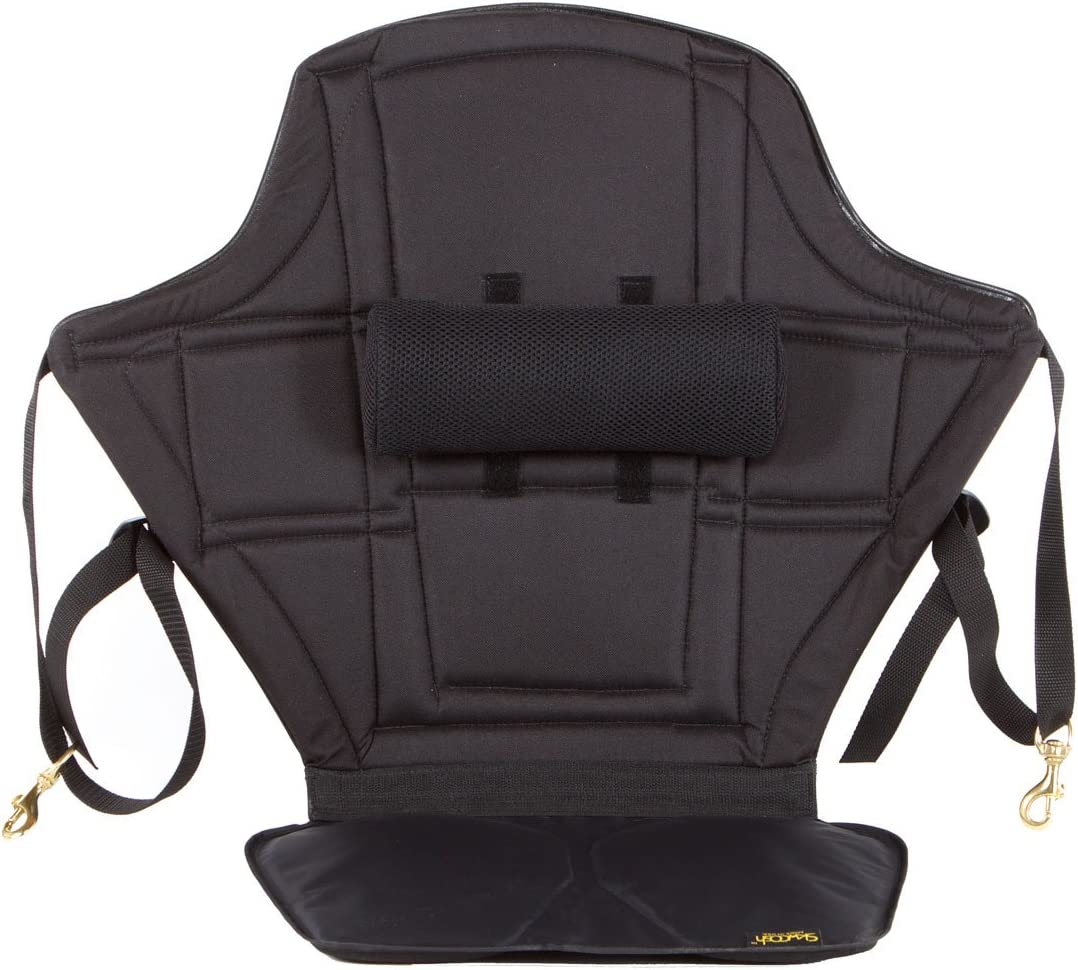 Skwoosh Expedition
The price of "Skwoosh Expedition" varies, so check the latest price at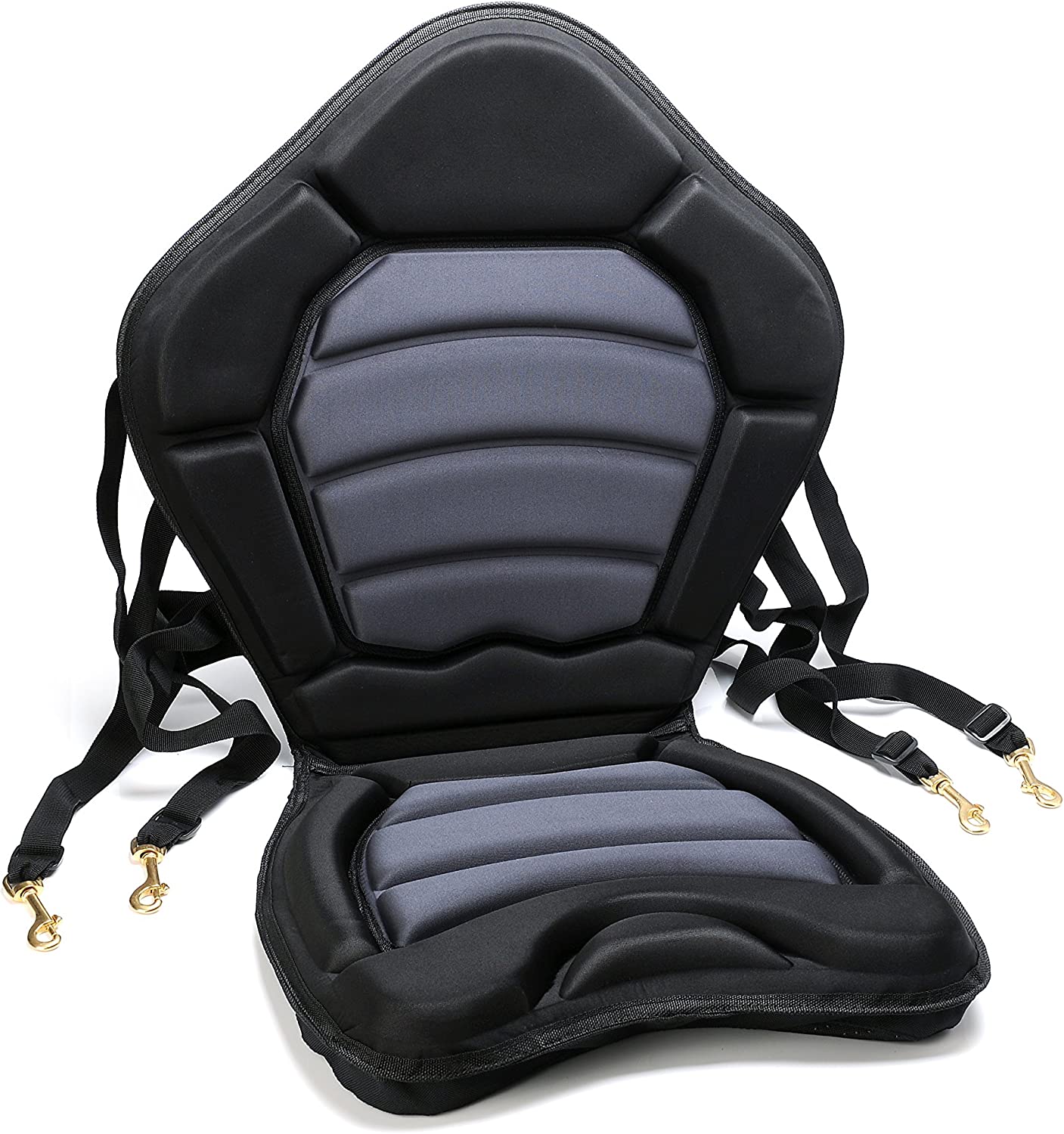 If you want something that is comfortable and can fit well with any kayak design, you should become better acquainted with the Ocean Motion kayak seat. It's the one seat to rule all kayaks. Capable of being installed in any kind of kayak.
The only downside of the Ocean Motion was that none of the attachment points needed to attach the actual seat to a kayak come with the seat itself. I absolutely can't stand it when such vital parts are sold separately.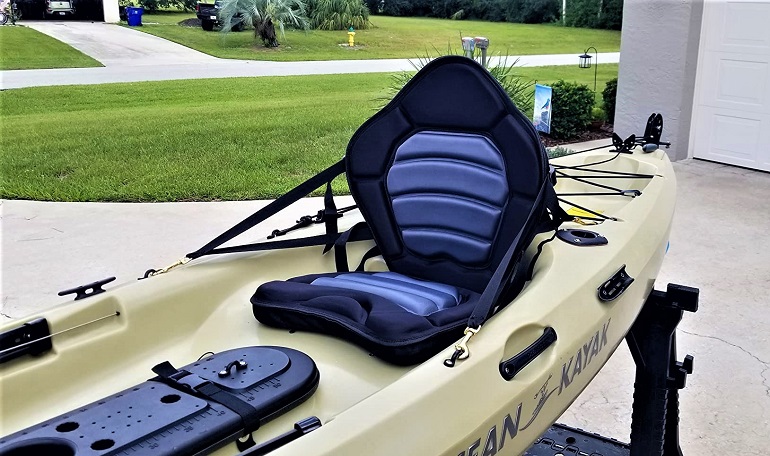 However, Ocean Motion makes up for it with several comforts and support features. For example, its non-slip seat pad and thick polyester cover. No matter how much water gets splashed onto you, you won't find yourself slipping off your seat.
Secured bottoms and ready to go!
Features
Weight: Three pounds and two ounces
Build Material: Polyester cover
Best Feature: Non-slip bottom
Comfort: Extra thick padding
Adjustability: Universal kayak seat
Pros
Comes with a detachable storage bag that is large enough for your extra gear.
Ergonomic design that has a non-slip bottom for long days out.
This kayak seat has universal compatibility. It will fit with any kayak that you have.
Cons
Unfortunately, attachment points are not included in the purchase.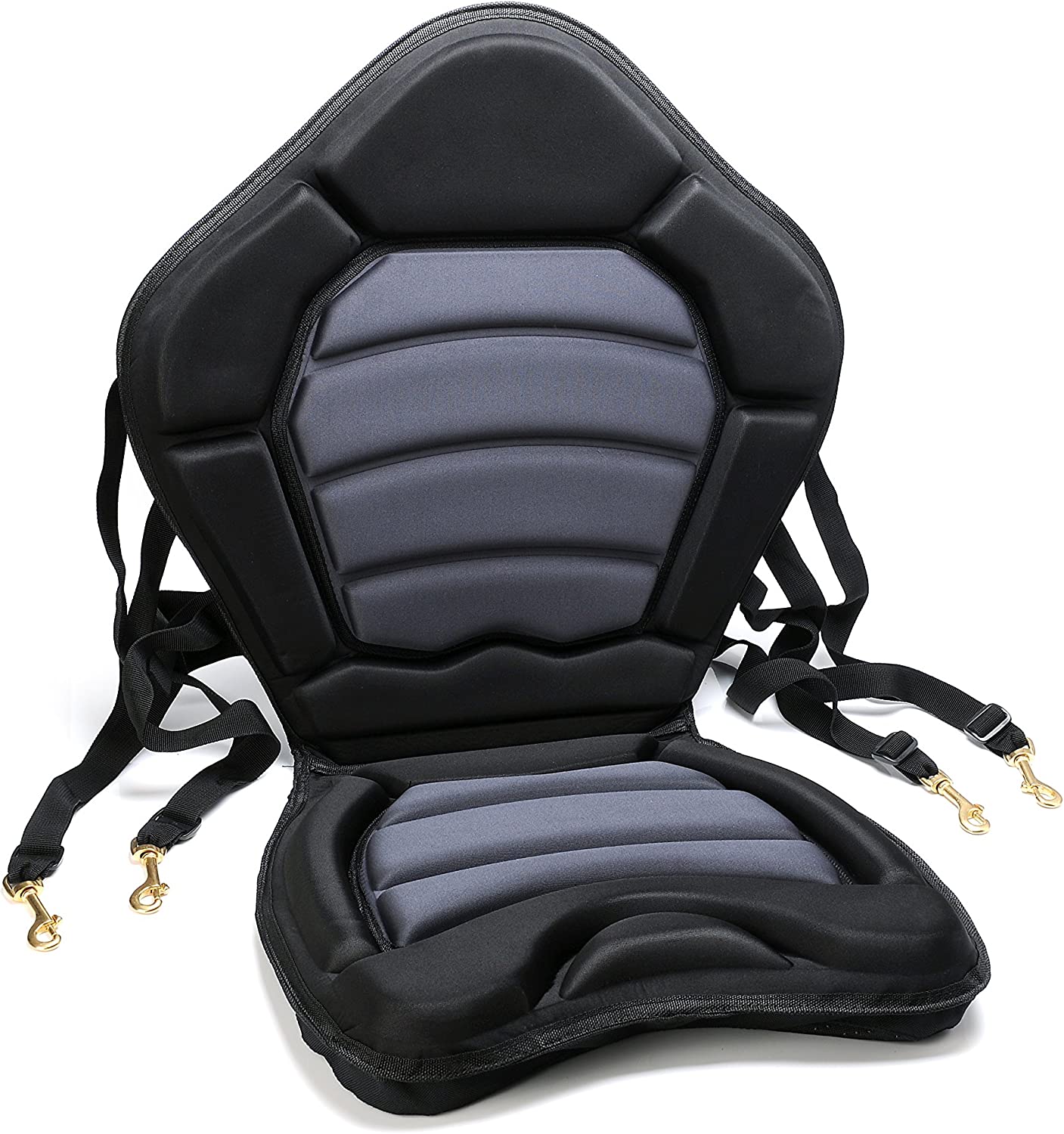 Ocean Motion Ergo
The price of "Ocean Motion Ergo " varies, so check the latest price at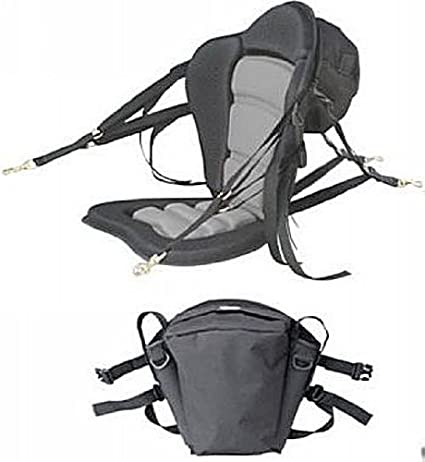 This kayak seat is all about extra. It comes with extra padding so that your bottom doesn't get sore from spending countless hours at sea. It has two extra straps in the front and two straps in the back of its frame for greater adjustability.
Being able to securely install and adjust your seat as you see fit is a pretty sweet thing. Of course, once you take into account that its connecting straps are marine-grade straps, you realize that not only are they highly adjustable but also durable.
Even its backrest can be considered extra. Resembling the seating within a jet plane more than that of which is found within inflatable kayaks.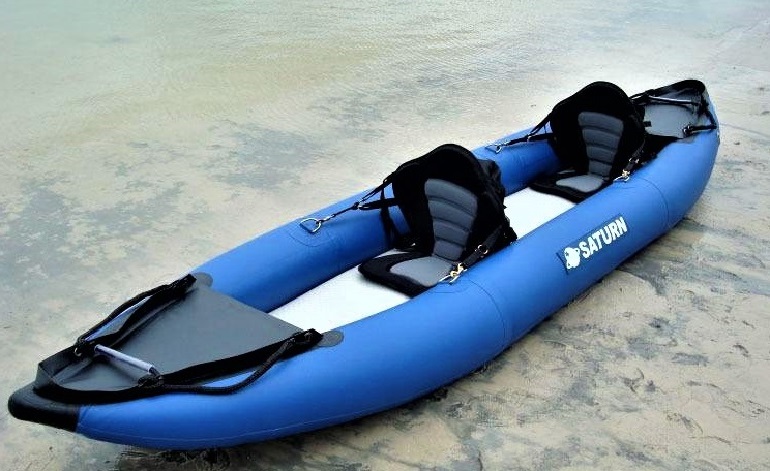 All this extra may seem excessive but when put together, I'd say it becomes just the right amount of comfort and control that a kayak seat should have. That's what places it ahead of the other kayak seats on the market. Extra attention was paid to its design and build.
Features
Weight: Five pounds
Build Material: Molded foam
Best Feature: Marine-grade connecting straps
Comfort: Thermal-formed kayak seat
Adjustability: Detachable cushion
Pros
Has a sleek and high backrest that gives this kayak seat a high-end body shape.
A comfortable seat with great stability thanks to the front and back adjustable straps.
Comes with a detachable bag that has molded-in rod holders.
Cons
It's large and better suited for larger paddlers than children.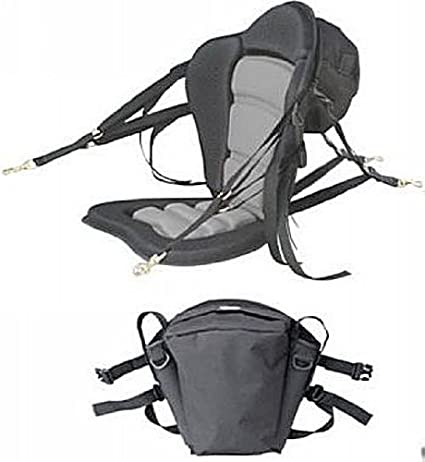 Saturn Deluxe
The price of "Saturn Deluxe" varies, so check the latest price at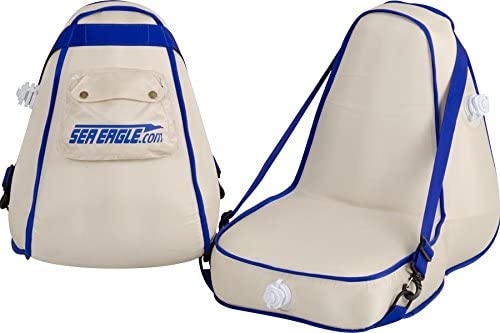 Sea Eagle is known for crafting some pretty great kayaks. I count myself as a fan of theirs. Does this deluxe inflatable kayak seat hold up to their standards? Not quite. There were many things that I did love about it but the lack of adjustability ended up hurting it.
Like most inflatables, it's comfortable. It's also easy to store and transport. Amazingly so, but again, this is the standard for inflatables. While the set can't be adjusted or have its position changed, it does provide enough back support to keep you feeling good.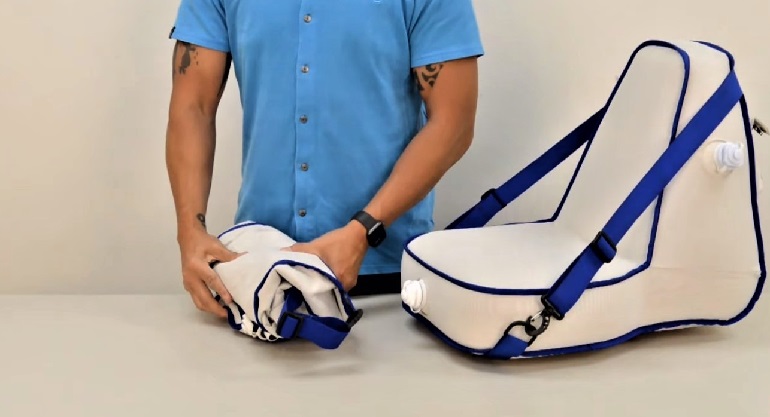 The exterior cover is also quite comforting. Now that is not at par for the course when it comes to inflatables.
It's got a good build and it feels right, the only downside is its adjustability but even then, I wouldn't consider that a deal breaker by any means.
Features
Weight: Two pounds
Build Material: Nylon exterior
Best Feature: Great back support
Comfort: Comfortable exterior cover
Adjustability: None
Pros
The best inflatable kayak seat thanks to its great lumbar support.
Because it's an inflatable seat, it is easy to store and accommodate within any setting. Simply deflate for easy storage.
Its design gives you greater support when paddling and kayak fishing.
Cons
No adjustability to speak of, you get what you see and nothing else.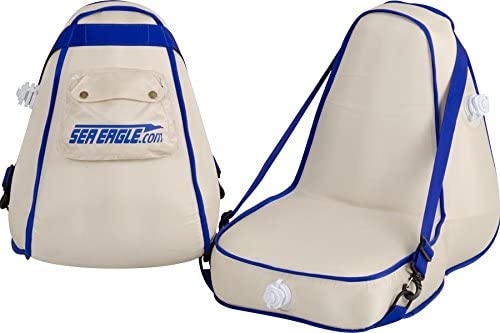 Sea Eagle Deluxe
The price of "Sea Eagle Deluxe" varies, so check the latest price at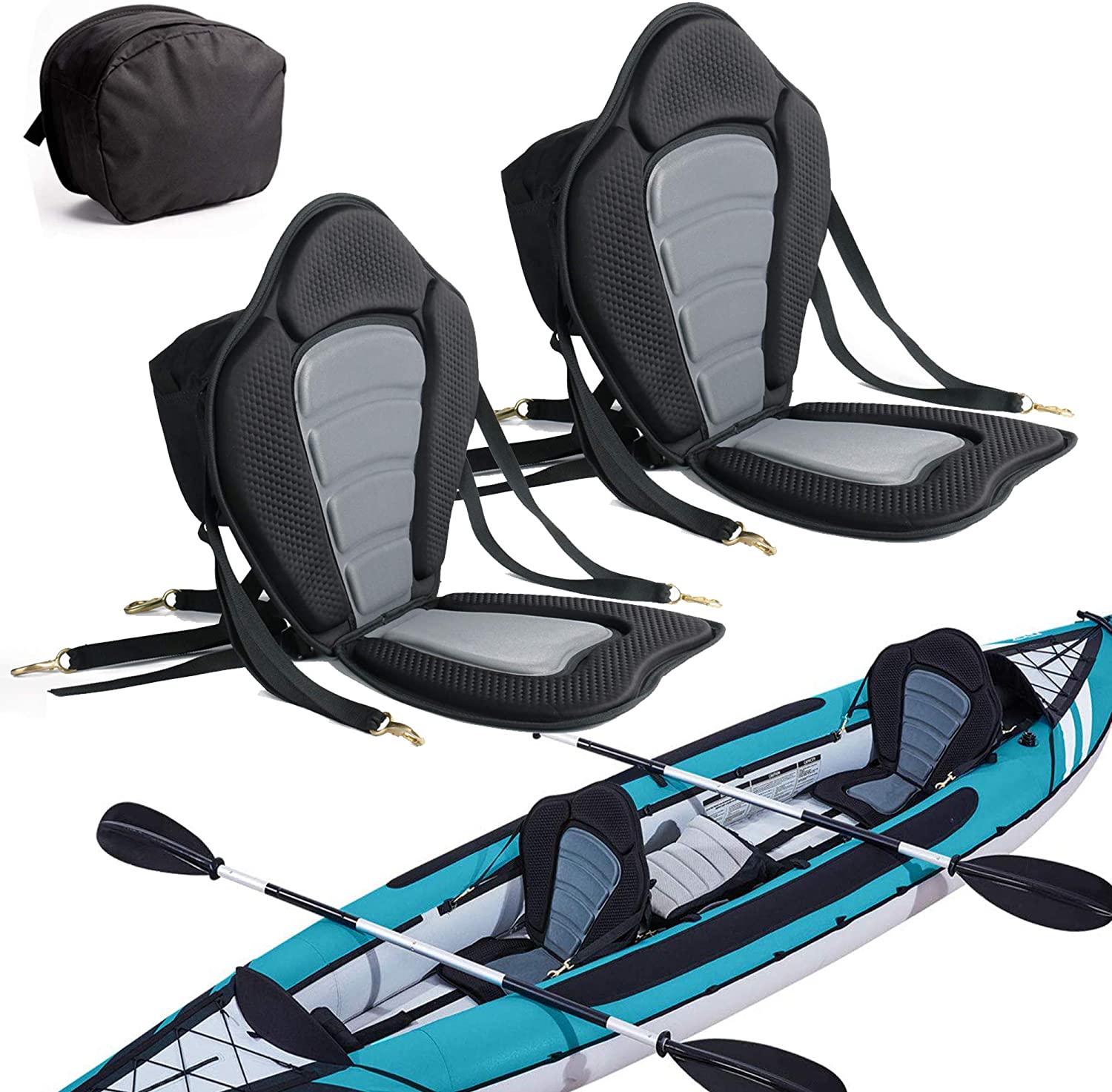 This deal speaks for itself. I shouldn't have to go into great detail about the neoprene used to give the Reliancer seats strong abrasion resistance. Not to mention the anti-weathering qualities of this dream material.
I also shouldn't have to point out the low weight of each kayak seat. Low weight is surprisingly possible despite the high amounts of thick EVA foam padding in the cushion and backrest.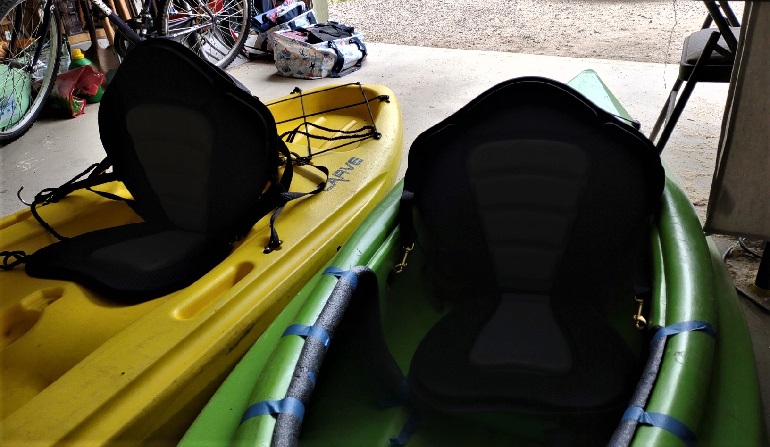 While we are at it, I should also mention the insanely thick polyester cover that coats each seat. Anything that is six hundred deniers thick won't let you down. There's plenty more to say but the best feature of this entry is what comes with the price rather than what is in each seat.
For the price of one kayak seat, you get two kayak seats. Enough said!
Features
Weight: Two and a half pounds
Build Material: Neoprene
Best Feature: Two for the price of one
Comfort: Thick EVA foam padding
Adjustability: Four adjustable straps
Pros
You get two highly padded seats with a high backrest each and all for a very low price.
Enhanced back and bottom support thanks to the build of this foam kayak seat.
Constructed from a UV-resistant neoprene cover and 600D thick polyester.
Cons
I was unable to find any issues with these foam kayak seats.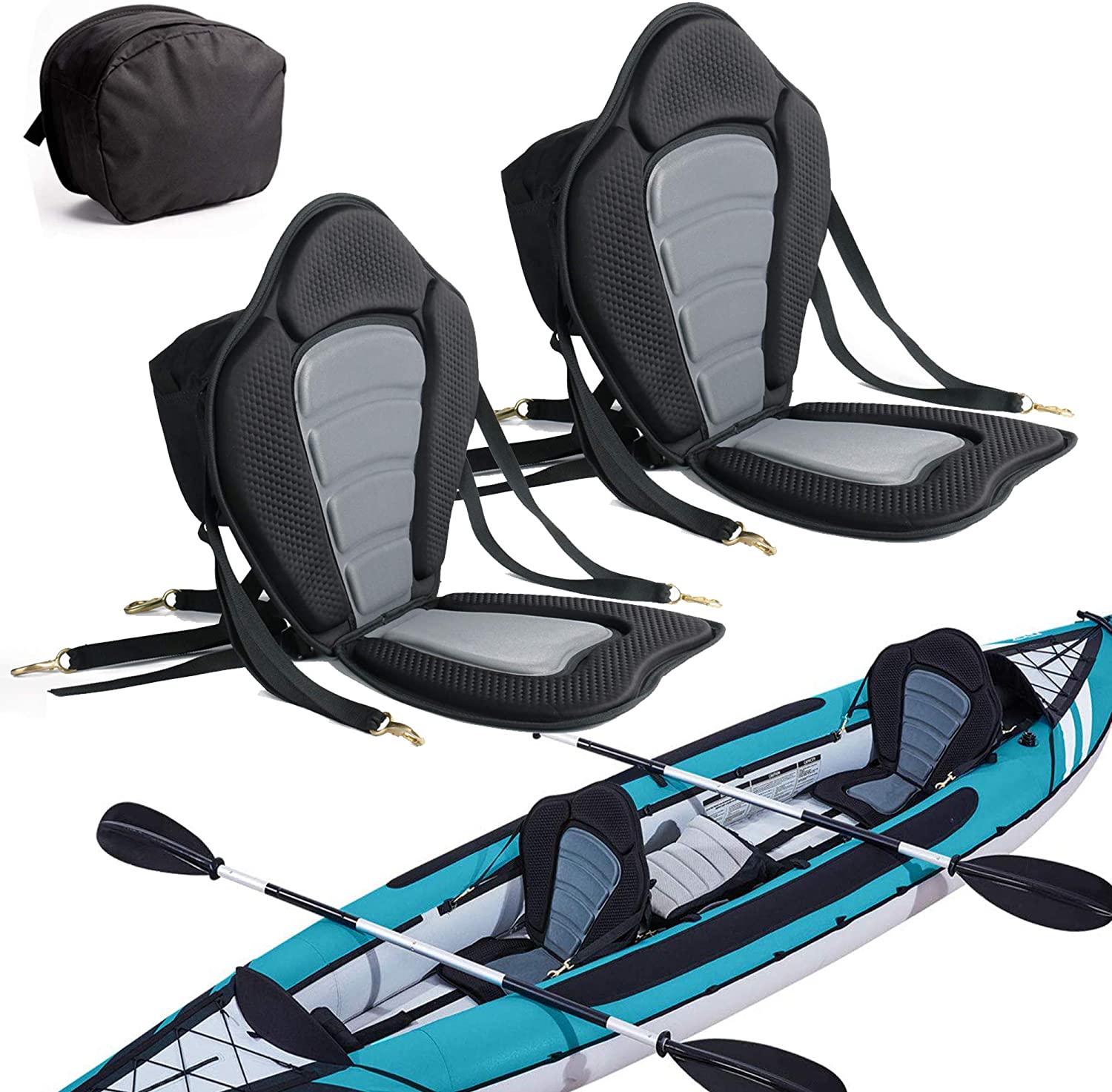 RELIANCER 2 Pack
The price of "RELIANCER 2 Pack" varies, so check the latest price at
Replacing Your Kayak Seat? What For?
If you're one of those sentimental types, you wouldn't want to replace your kayak seat. I get it, you made a lot of great memories with it. So what if your butt is sore and your back is searing in pain?
But replacing a kayak seat becomes more of a necessity and less of an option as time goes by. The long-term effects of poor lumbar support are well-documented and terrifying. Not to mention that in the short term, you could be ruining a great day out because of your low-quality kayak seat.
Why should you replace your kayak seat? Consider the following reasons.
Increased Comfort
Any seat, after prolonged use, will get worn out. Especially its most important part, the padding that acts as a cushion between you and the chair's frame.
It can't be helped.
A new kayak seat comes with puffy EVA foam padding and a strong and sturdy frame to hold it all up. Modern chairs also come with enhanced lumbar support to keep you agile and fresh.
Your Comfortable Kayak Seat and Maneuverability
The more a part is put to use, the squeakier and slower it becomes. I mean, this happens with our own bodies, so of course, it was going to happen with something that is far less complex, like a kayak seat.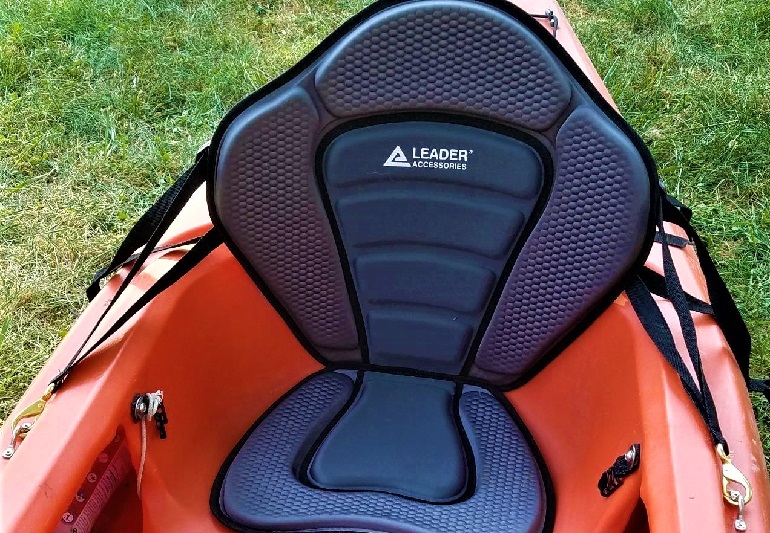 However, this inevitable fate can be delayed. Seats like the Leader accessories and the Ocean kayak comfort plus have several design features that ensure durability. No single part is entirely dependent on the entire frame. Not to mention their corrosion-resistant properties.
With this increased maneuverability, you are better able to control and own positioning. The benefits speak for themselves.
The Extra Storage of a Padded Kayak Seat
The first kayak seats were nothing more than a block of hard plastic with screws holding them into lodging. The times have changed and now we can count on padding delights and all kinds of intricate shapes to keep us comfortable.
But that's not all. Modern kayak seats tend to come with all kinds of extra features and accessories.
Many kayak seats, such as the Saturn Deluxe and the Ocean Motion come with detachable storage bags. The spacious offerings in which one can store extra gear and other precious belongings.
Properly Maintaining a New Kayak Seat
Good now, if you are the impulsive sort, then you'll spend money and get the Reliancer two-pack or the Sea Eagle Deluxe. Most wondrous choices but there is one issue. Do you know how to properly care for them?
It's wise to make the most out of your best kayak seat purchase. With the easy tips listed below, you'll be able to extend their life span and your comfort.
Deluxe Kayak Seat Cleaning
This is the number one way that I see paddlers damage their kayak seats. They use a combination of cleaning chemicals, too much water, or a rough cleaning tool (such as a velcro sponge), to get the job done.
What those guys fail to realize is that these products can wear down the durability and structure of your seat's material.
The proper way to clean your kayak seat is to wipe it down with a light mixture of mild detergent and water. Use a thin cloth and gently soak it with this mixture. Then begin a proper wipe down of your kayak seat's exterior. Don't wet it too much.
For the buckles and connection points of your seat, dry them properly and apply a valorous amount of WD-40. This keeps the buckles and connection points working well. Flexible and without any annoying stiff points.
Generally, after you have returned from your kayaking adventure. Because of the exposure to salt water, you should rinse your kayak and kayak seat with fresh water.
The Best Kayak Seats and Storage
Here's the thing, all of us, have damaged something before because we squeezed it into a space that didn't have adequate room for it. How you store your kayak seat is just as important as where you store your kayak seat.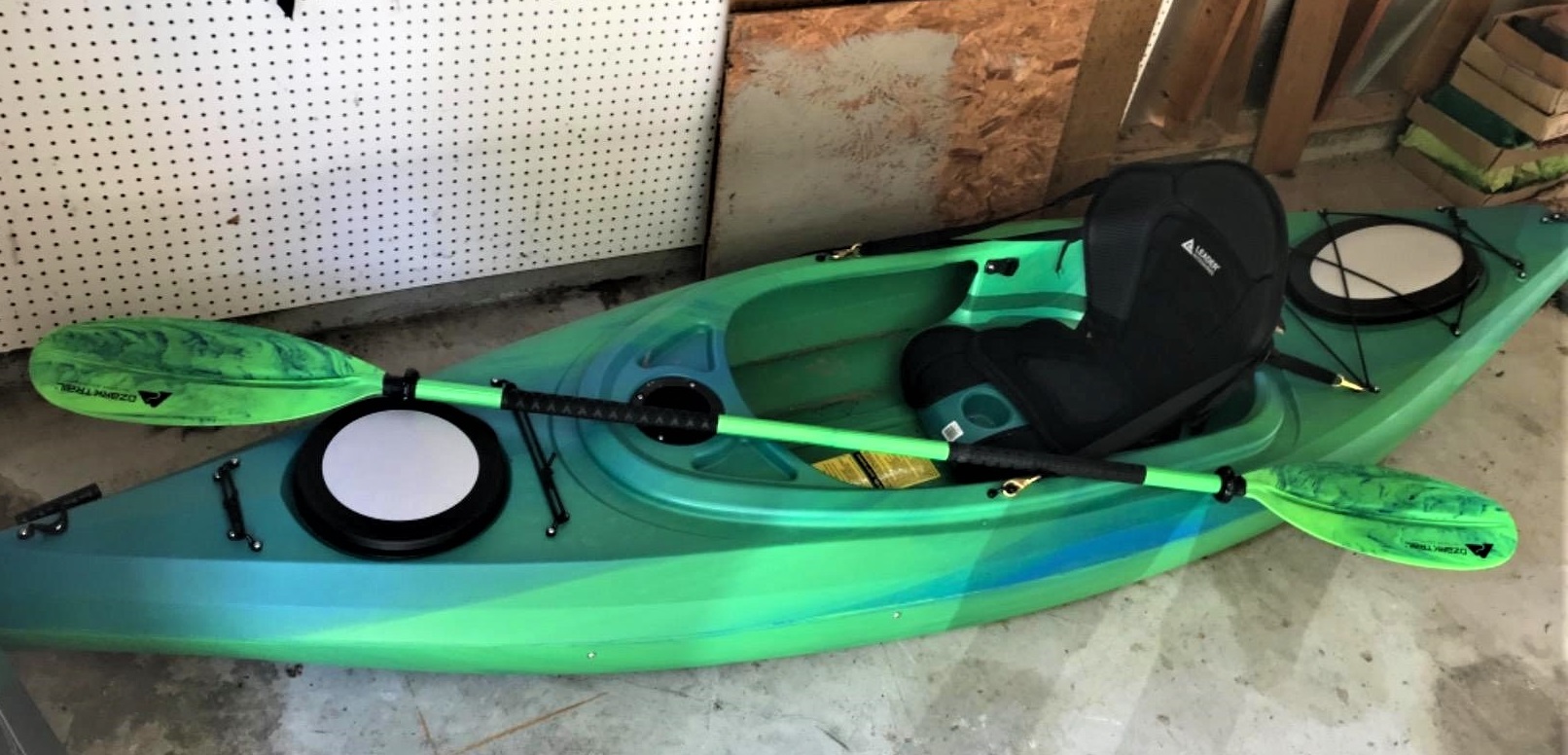 First, make sure that your kayak seat is not exposed to the elements. In summer, when you are air-drying your seat, don't leave it out under the sun. The sun's UV rays are more than enough to break down your seat's cover.
Of course, you should already know that prolonged exposure to rainwater is also harmful.
As for how you should store your kayak seat. If you have the Sea Eagle Deluxe or the Cascade Mountain Tech, you can either deflate or fold the chair and tuck it away in some corner of your home. Or within a storage hatch that your kayak may have.
Any other kind of kayak seat should be brought in and kept in a dry lodging. Away from the s and rain.
What to Know to Buy the Best Kayak Seat
Purchasing the best kayak seats is easy. Simply scroll through the list above and select any one of the listed entries. However, purchasing the most wondrous kayak seat for you is a whole other story. You need to take into account your needs.
We're all different, my own lumbar support kayak seat may not be enough to satisfy you, and vice versa. Use the information below to know exactly what you should be considering while kayak seat hunting.
Kayak Seat Shape and Sizing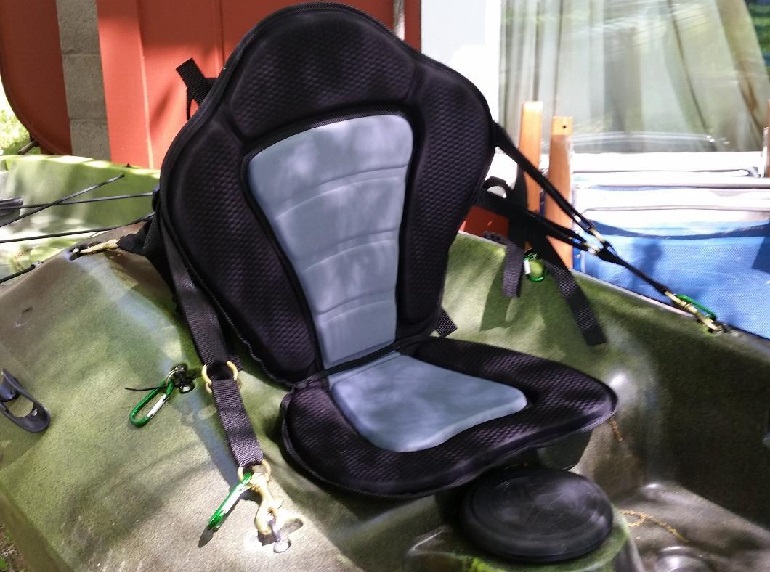 The shape of your kayak seat will determine what areas of your body are supported the most. Yes, size also plays a role in this.
However, a kayak seat's size has more to do with how many areas of your body will be receiving support rather than how much support they receive overall. For example, the Ocean Motion Ergo seat has got a thick build and extended shape.
Its backrest is wider than a majority of other kayak seats. And while it is a tall chair, its overall height is slightly smaller than its competitors. All of this results in increased support for your upper back and shoulder blades.
Two areas that are known for burning pain if not properly supported. The best way to go about receiving the proper support your body needs is to think back on prior kayaking expeditions.
At the end of the day, what was causing you the most discomfort? Seek out a seat that you notice has a shape that is tailor-made for that part of your back or bottom. Generally speaking, you can't go wrong with wide chairs.
The wider they are, the more accommodating they are. The same goes for their length.
Kayak Seat Construction Quality
With the shape and size of your kayak seat sorted, now you should turn a keen eye to the seat's build quality. Not so much on the processes used to make the seat, trust me that information is difficult to locate, but the actual materials that went into them.
Yes, the sound of extra padding is like music to our backs but what kind of padding is it? In actuality, anything can be considered padding if its specific purpose is to make any area less rough or rigid.
This means that even cardboard can count as padding. No thanks! Specific padding materials that you can rely on would be thermoformed padding and the much-respected EVA foam padding. Both of these options are comfortable and long-lasting.
As for your kayak seat's cover, seek out anything with a nylon, polyester, or neoprene exterior. The first options that come to mind are the Reliancer and the Skwoosh Expedition kayak seats.
There are others but these two seats not only have the right build materials, namely neoprene and nylon, and polyester, but also the right amounts. A six hundred denier thick cover is more than enough for any kayak seat.
Installing Inflatable Kayak Seats and Others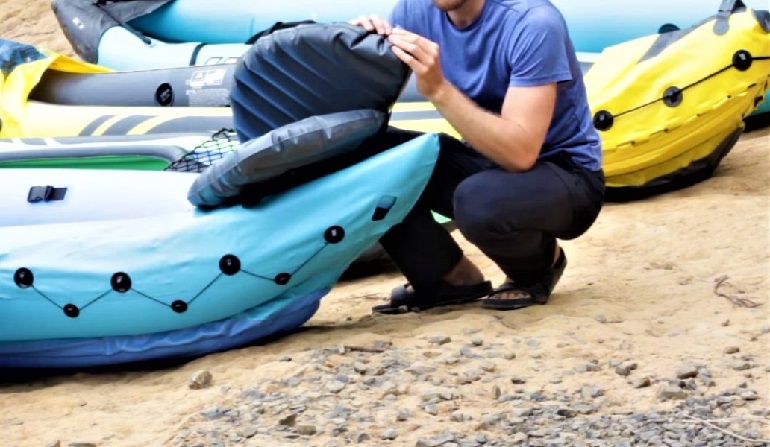 The installation process for any kayak seat should be simple and secure. You don't want the pendulum to swing too far in either direction because then either your seat is not securely attached or it'll take you too long to figure out how to attach it in the first place.
If you have ever purchased furniture that you've got to put together yourself, you know how annoying it can be to mess around with various nails and bolts.
The best kayak seats come with connecting straps. Connecting straps are great because they are secure and easy to attach.
Kayak Seat Pricing
Pricing is always a touchy subject. I get that the best options generally have a premium price tag but sometimes those prices can seem excessive. Fortunately, there are several great deals and budget options on our list.
The Reliancer deal comes with two heavily padded seats for the price of one. The WooWave kayak seat is just a great low-price offer that can't be beaten. Don't worry and stop checking your bank account.
There are more than enough affordable seats to go around.
FAQs
Are All Kayak Seats the Same?
Absolutely not. Putting aside the total build quality differences between the Leader Accessories kayak seat and any other generic seat, kayak seats also come in different styles and shapes.
This means that those support different parts of your back and body. More so, check any kayak seat reviews and you'll realize that different seats on the market have different accessories and features.
In short, while generic offerings are very similar, the most wondrous kayak seats available couldn't be any more different from one another.
Is There a Way to Make My Sit-in Kayak Seat More Comfortable?
Aye, but how you can make your kayak seat more comfortable shall depend entirely on the seat itself. Some kayak seats come with a bottom cushion that can be opened. This allows you to stuff a pillow or extra padding inside of it.
Another thing you could do is make sure that your legs are slightly lifted. Providing padding for your lower legs is also optimal.
What's the Best Way to Attach the Seat to My Kayak?
Again, it'll depend on how your kayak seat can be attached in the first place. Some kayak seats have multiple straps and hooks to secure them. For example, the Saturn Deluxe seat has multiple marine-grade connecting straps.
In short, the most convenient way to attach your seat to the kayak is to make sure that every hook and strap is properly connected and used. Do not make the mistake of leaving one or two straps unconnected just because you feel that the seat is secure enough.
My Final Thoughts
How do you troll the waters? With sit-on-top kayaks or sit-in kayaks? With either choice, you are going to need a comfortable kayak seat to wend along with it. However, focus not on the comfort aspect only.
The most wondrous kayak seats benefit your overall long-term health. By providing you with the comfiest back support, you lower the chances of developing chronic back pain as you get older. You can save yourself from years of pain if you choose one of the kayak seats listed above.
Besides, taking a nap becomes so much easier when there is a thick layer of cushion between you and the kayak itself.