In summer, the kids are raring to get outside and in the water on their new kayak. Out on the open lake or river streams, buying safe and reliable kids' kayaks is of utmost importance.
Best of all, you don't have to trudge through countless reviews because we've lined up the best kayaks for kids here with reputable reviews and specs of their unique kayak features.
The best kayaks for kids are stable, but they can also come with some other cool features. Another important feature for all kid's kayaks is a towing system.
Depending on the kid's age and paddling skills, you might consider special features like an adult-size kayak so they won't outgrow it. The best kayaks for kids are easy to maneuver and lightweight but might also have a bottle holder and multiple footrests.
Best Overall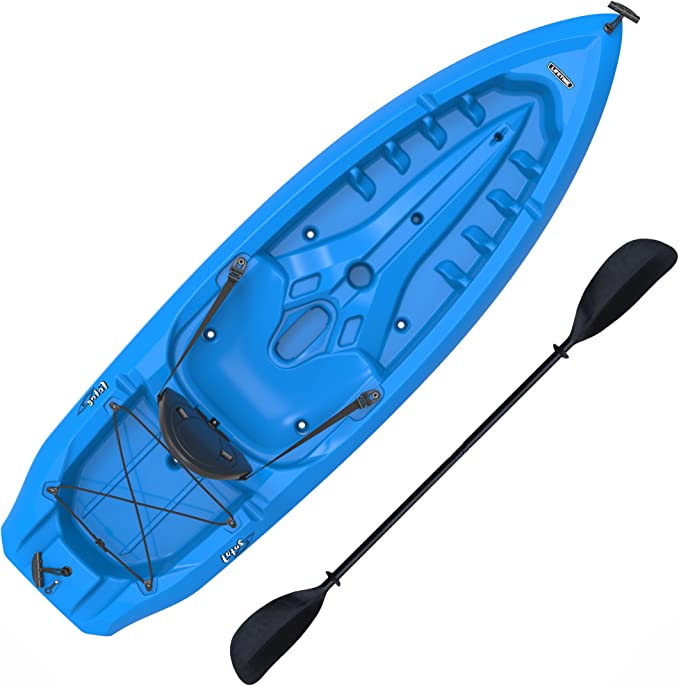 Lifetime Lotus
Material:
Plastic
Item Weight: 37 Pounds
Runner Up

Perception Hi Five
Material:
Polyethylene
Item Weight: 21 Pounds
Best Value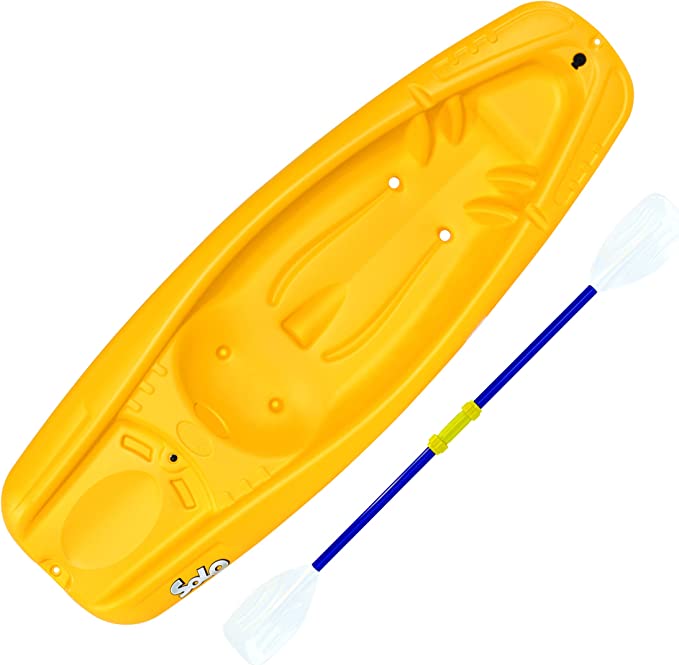 Pelican Solo Kayak
Material:
Plastic
Item Weight: 19 Pounds
Superb Portability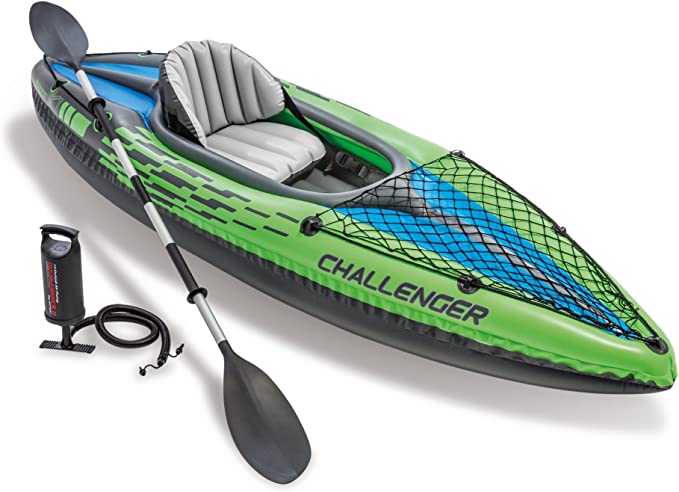 Intex Challenger K1
Material:
Plastic
Item Weight: 25 Pounds
Functional Design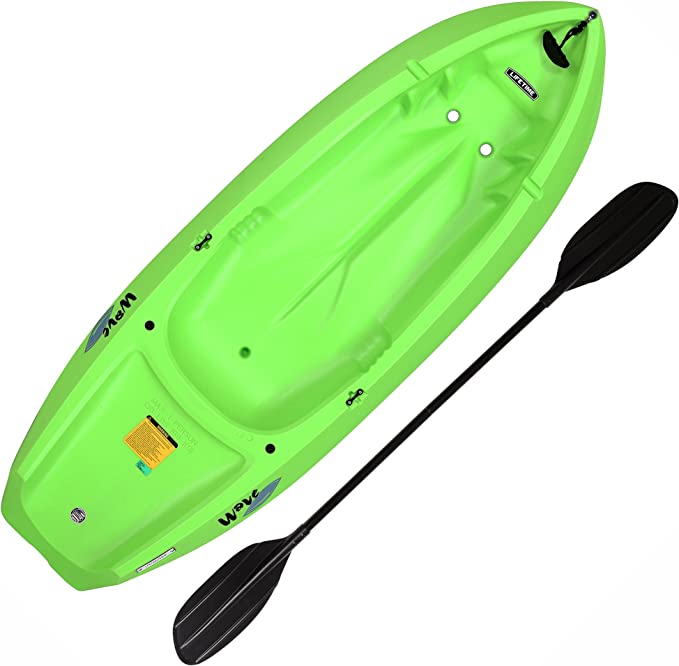 Lifetime Youth Wave
Material:
Plastic

Item Weight: 18 Pounds
Classic Choice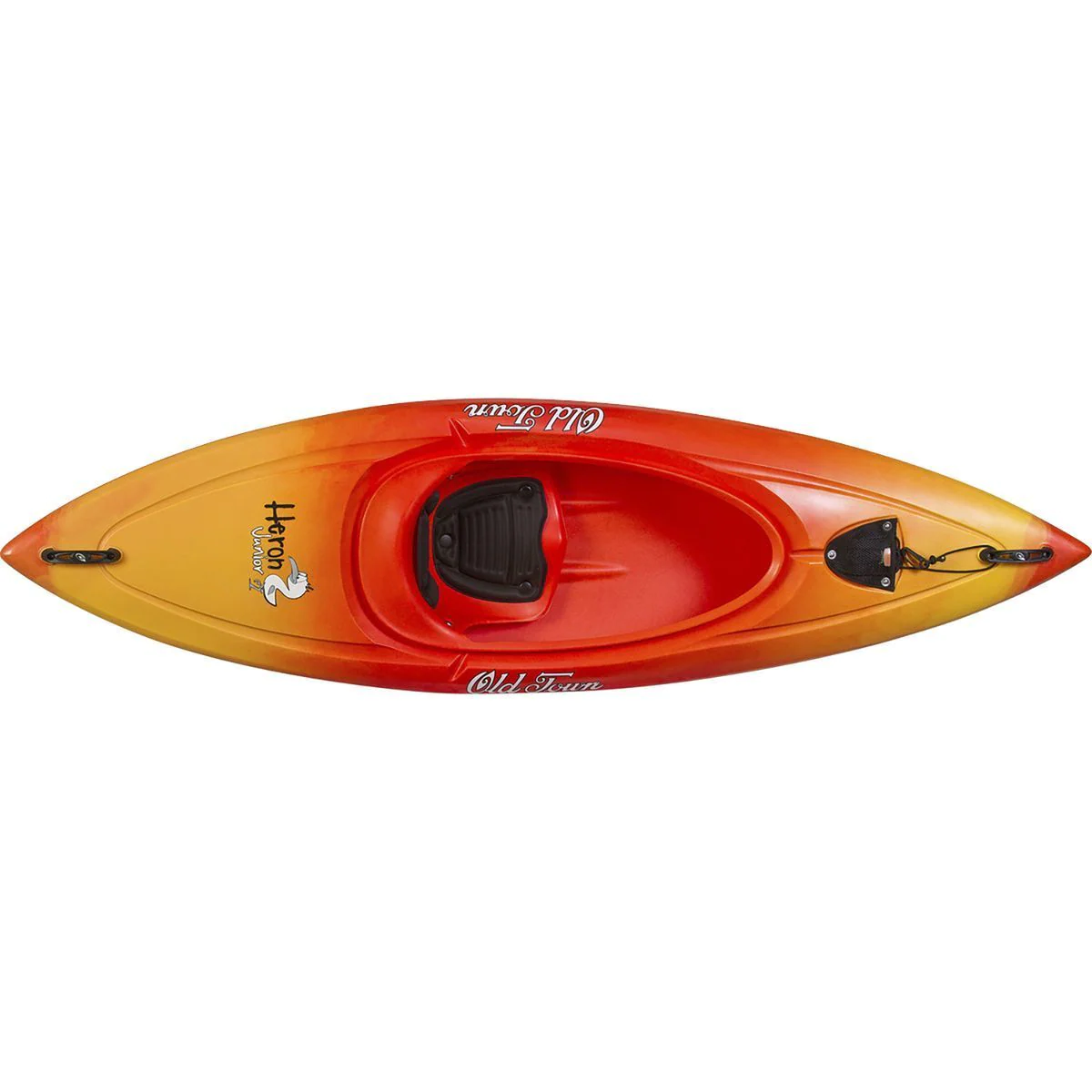 Old Town Heron
Material:
single-layer polyethylene
Item Weight: 26 Pounds
Great Maneuverability

Pelican Maxim 100X
Material:
plastic
Item Weight: 36 Pounds
Super Versatility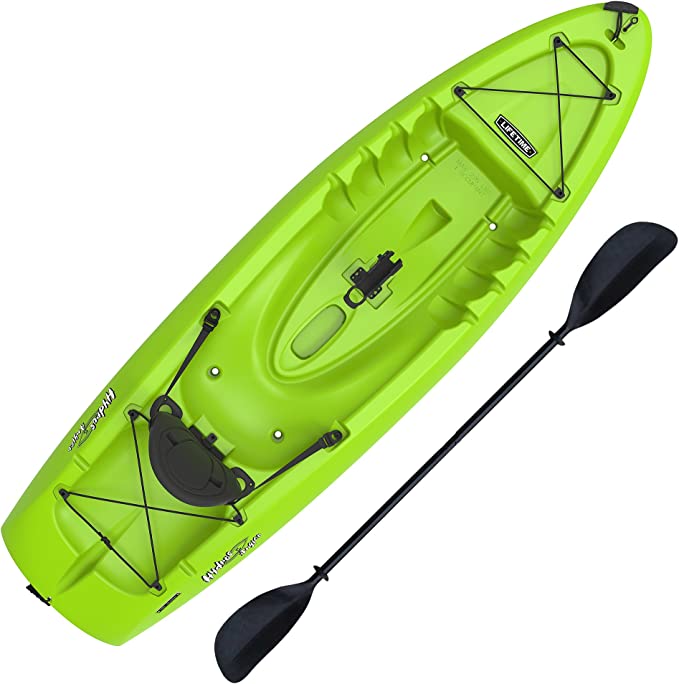 Lifetime Hydros
Material:
Plastic
Item Weight: 38 Pounds
 Our Top Picks of the Best Kayak for Kids
Each of these recreational kayaks is considered some of the best kayaks for kids as they all bring something a little bit different and exciting to the table. Check them out and find the one that's right for your youth paddler.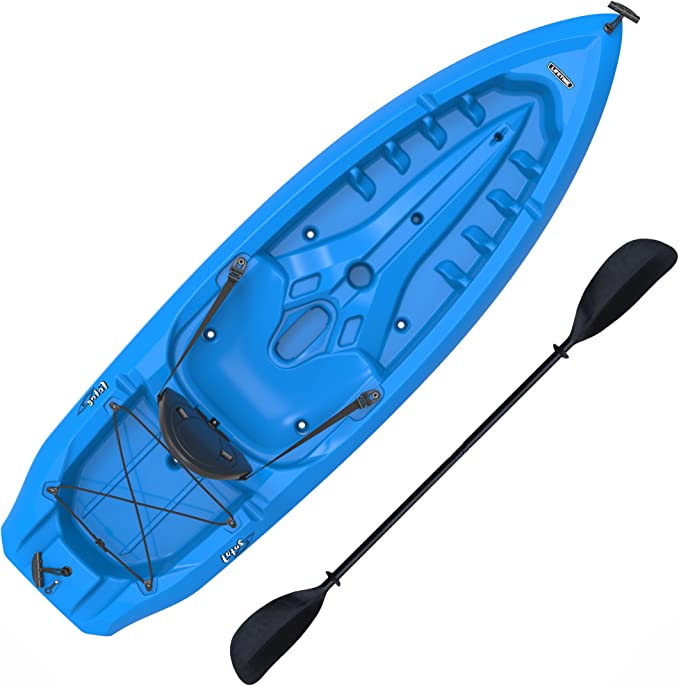 Lifetime is a brand name in outdoor accessories, and their recreational kayaks are no exception. This adult kayak is suitable for older or bigger kids. At eight feet long in length and weighing almost 40 lbs, you have to be a bit stronger to carry this youth kayak.
With multiple foot pegs, this is one of the best children's kayaks to keep as they continue growing into an adult or to share—meaning dual usage for you and your kid. It can also be used as a tandem kayak with your kid since it holds up to 250 lbs in weight capacity.
The elevated design makes this kayak sturdy. It's not easy to tip over, and if you do, it's fairly easy to flip and climb back on top. With a flat but stable hull design like this one, it's a bit slower than normal. However, its design is dual use, so younger paddlers can switch from sitting down to standing up.
The scupper holes are the holes that go through the bottom and continuously drain the boat from keeping water in it. This means that the paddler will get a little wet. In summer, this probably doesn't matter much, but I'm not stoked about the holes being located in the seat and right under my thighs.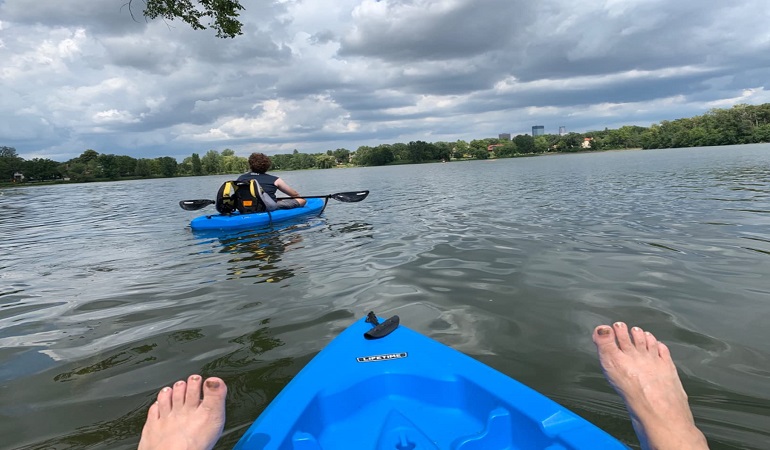 Features on this youth kayak are a bottle holder, storage, inlets for a fishing rod, a paddle cradle, a front and back T-handle towing system, and a paddle. Overall, it's a nice beginner kayak for adults or one of the more experienced kids' kayaks but might be considered more on the expensive side.
Features
Type: Sit-on-top/SUP
Footrest: Yes, multiple
Price: $419
Weight: 38 lb.
Capacity: 250 lb.
Length: 8 ft.
Towing: Yes
Material: Polyethylene
Pros
Sit down and stand up paddle kayak
Good features: bottle holder, storage, footrests
Comes with accessories: adjustable backrest, paddle, bungee cords, T-handles
Kids can grow into youth kayak and not have to replace as they grow
5-year warranty
Cons
Could be too big or heavy for smaller kids
Paddle and backrest are not the best quality and might need to be replaced
Slow tracking
No swim-up deck making it a bit harder to climb back in for smaller kids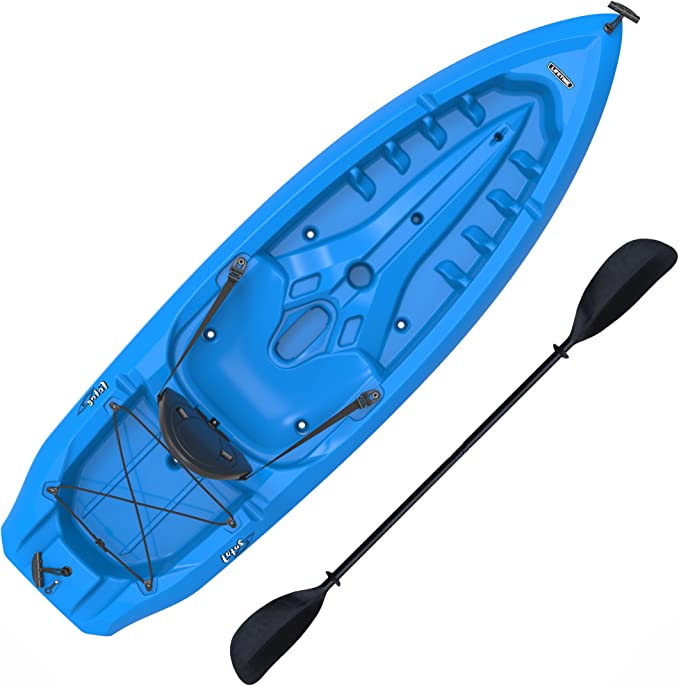 Lifetime Lotus Sit-On-Top Kayak with Paddle
The Price of "Lifetime Lotus Sit-On-Top Kayak with Paddle" varies, so check the latest price at

I give a hi-five to Perception Hi Five stand up paddle kayak. Perception is a well-loved kayak brand specializing in all kinds of designs that are made in the USA. Besides its groovy tie-dye colors, the Hi-Five has a lot of great features for beginner or smaller kids on their first children's kayak.
This young kids kayak is simple in design for a sit-on-top kayak with a dedicated adjustable seat and three footrest pegs. It has a rear swim-up deck for access to climb, which is easy with stable kayaks for kids like this one.
Kids as young as three could paddle in it, but anyone pushing 5'7" might consider upgrading to adult size, especially because the kayak weight capacity is only 120 lb. Like the Lifetime Lotus, this particular design prioritizes sturdiness but lacks in speed.
Features are basic on this vessel, but that's one reason why it made it on the best kids kayaks list. There isn't a bottle holder or seat attachment, and the scupper hole is one large hole aimed right at the inner thighs. This might not be comfortable on colder days but could be refreshing under the summer sun.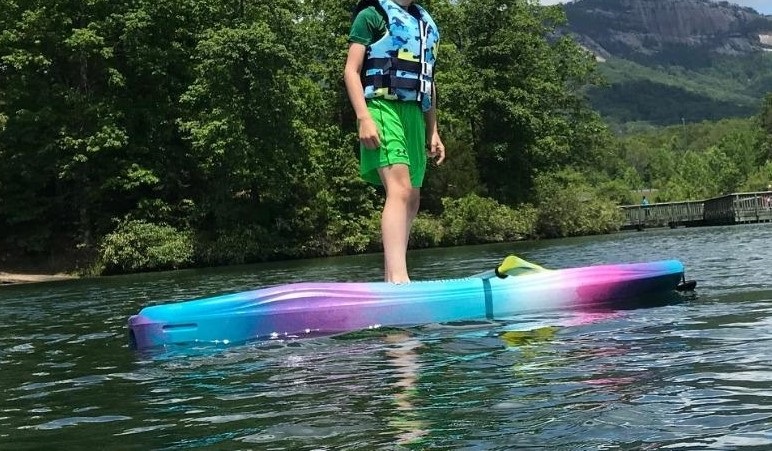 It also comes with a small paddle that feels like it will need a replacement. All in all, this is a great first-timer beginner kayak or a simple summer stand-up paddle.
Features
Type: Sit-on-top/SUP
Footrest: Yes, multiple
Price: $352
Weight: 21 lb.
Capacity: 120 lb.
Length: 6.5 ft.
Towing: Yes
Material: Polyethylene
Pros
Simple and dual sit down/stand up design
Features include swim-up deck and multiple footpegs
Lightweight and easy to maneuver
5-year warranty and made in the USA
Cons
Slower tracking
Scupper hole is positioned on inner thigh
Paddle is not the best quality

Perception Hi Five Kayak
The Price of "Perception Hi Five Kayak" varies, so check the latest price at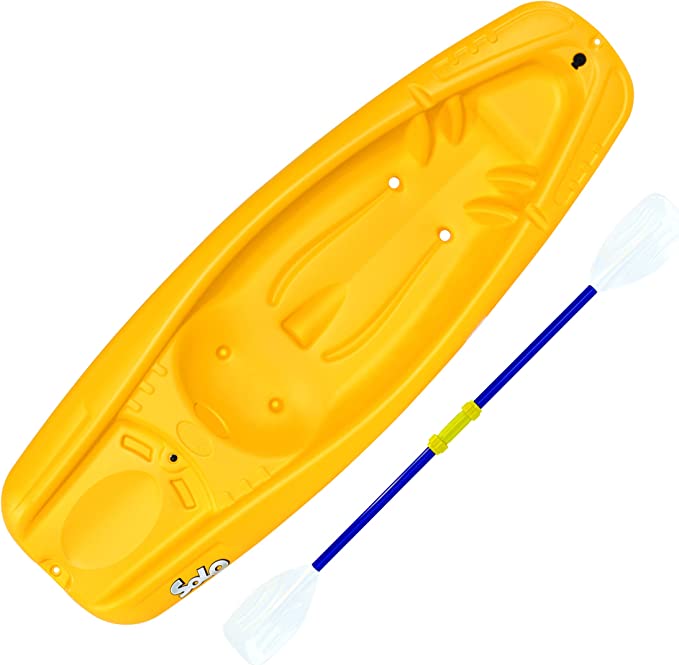 Pelican is a brand that needs no introduction, and this child-sized kayak is no exception. Sturdy yes, but it also has the simplest construction for a young paddler kayak. However, if you're looking for an inexpensive yet quality-made product, it may be your best bet. Without the need for fluff or frills, the Pelican Solo is an affordable kid's kayak that does the job.
Another best kids kayak that duals as a stand-up paddle, these are incredibly sturdy, which is perfect for kids. This also means that it tracks a bit slower, like most kids kayaks. In addition to being sturdy, this boat has a self-bailing drain plug for extra security, so it won't sink or tip (as long as the paddler is under 100 lb.).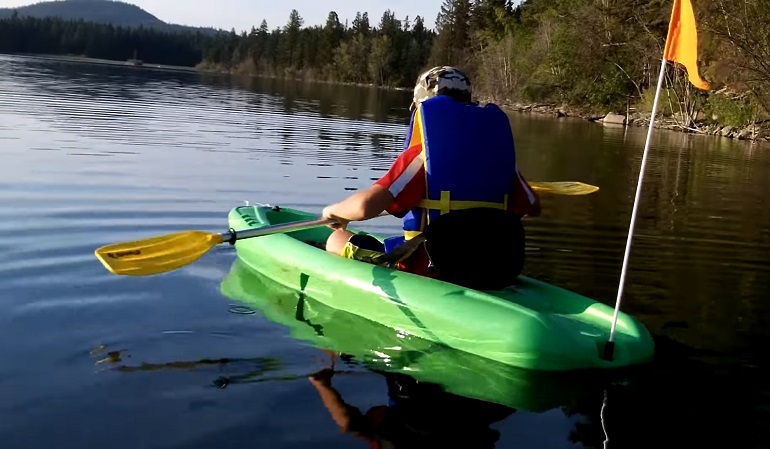 The swim-up deck with built-in groove handles makes it easy for kids to get back on top of the kayak after jumping in because they won't be falling out of this kayak.
Despite its simplicity, the Pelican Solo has some commendable features built in. It comes with two different footrests to accommodate different heights, a bottle holder, a paddle rest groove at the front, and a T-handle tow system.
The boat also comes with a basic paddle and an adorable safety flag. Also, Pelican thoughtfully placed its scupper holes closer to the feet rather than in the seat. However, you should note that the seat is not elevated like the others in this design.
Features
Type: Sit-on-top/SUP
Footrest: Yes, two
Price: $208
Weight: 20 lb.
Capacity: 100 lb.
Length: 6 ft.
Towing: Yes
Material: Polyethylene
Pros
Simple and dual sit down/stand up design
Thoughtful features in a simple design
Very affordable kayaks with paddles and safety flag included
Cons
Slower tracking
Seat is not elevated, and the padded backrest is sold separately
Only holds 100 lb.
Only 2-year warranty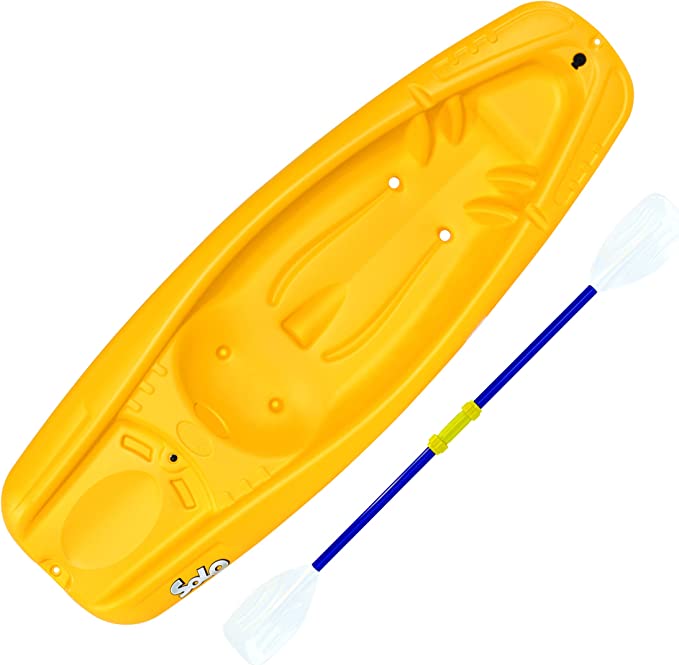 Pelican Solo Kayak
The Price of "Pelican Solo Kayak" varies, so check the latest price at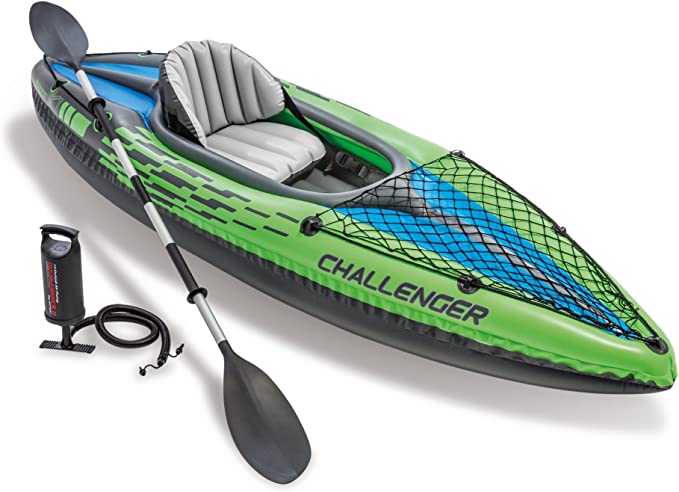 Intex brings you inflatable mattresses and now the best inflatable kayak that's suitable for kids and adults. For those prioritizing storability and portability, inflatables are a no-brainer.
Super light-weight and packable, the best way to store kayaks is when you can store them anywhere like inflatable kayaks—but just so long as you dry and fold them properly.
Inflatable kayaks for kids are not always the best option since it takes time and patience to set up. Where you make up for time toting these kids kayaks, you will have to spend on inflating them with the pump (which is thankfully included), though that should only take up a few minutes of your time.
The design for this great inflatable kayak is decent, proving to be sturdy for its kind though not as sturdy as the elevated sit-on design.
Tracking and speed are good; however, it does lean to the right. This is a bit awkward at first but is easy to accommodate after rowing for a while. The backrest and seat are inflatable and adjustable to add to comfort; however, there aren't any footrests.
Inflatable kayaks need more attention and maintenance time allocated to them than hard cases, before and after getting in the kayak. Inflatable kayaks must be inflated properly; otherwise, you will feel a drag, and the tracking of the boat becomes a lot slower.
This shouldn't be a problem, though, with the Boston cap that only lets air in and not out while you pump the inflatable kayak up. And should you damage the kayak, it comes with a repair kit.
Also, the boats should be dried properly before folding the kayak back properly to fit in its carrying case. Taking a video while unpacking the boat is a great way to document the proper folding technique.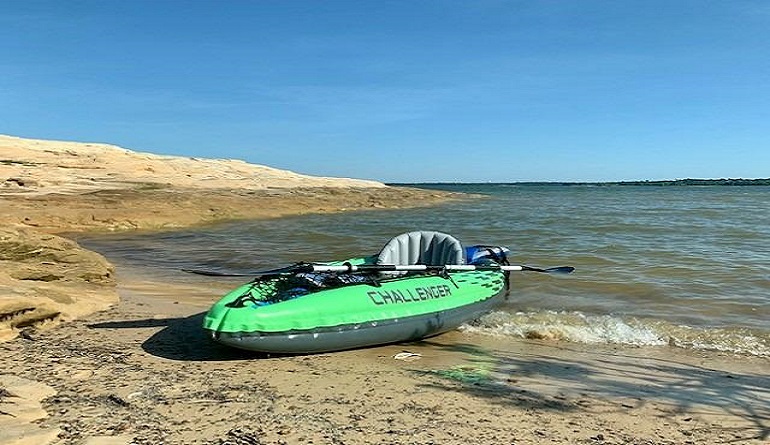 An inflatable kayak is a perfect kayak for travelers or those prioritizing storage space. Overall, this is an affordable (the least expensive on this list) and super portable kayak that accommodates all ages kids, and small adults from beginner to intermediate level.
Features
Type: Inflatable kayak, cabin seat
Footrest: No
Price: $120
Weight: 27 lb.
Capacity: 220 lb.
Length: 9 ft.
Towing: Yes
Material: Puncture-resistant vinyl
Pros
Portable, lightweight, and storable
Aluminum paddle with adjustable height
Good tracking and stability
Roomy cockpit to accommodate small to large kids and even adults under 6′
Great Accessories like front net for storage and towing, and inflatable seat and backrest
Cons
Leans to the right
Difficult to dry and fold back exactly
Bag is not of the highest quality
Skeg fin reduces the ability to track through shallow water
No footrests can be uncomfortable for smaller kids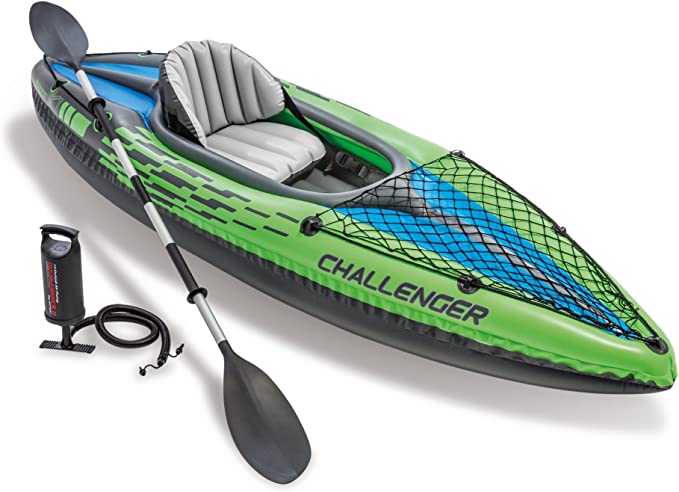 Intex Challenger K1 Kayak
The Price of "Intex Challenger K1 Kayak" varies, so check the latest price at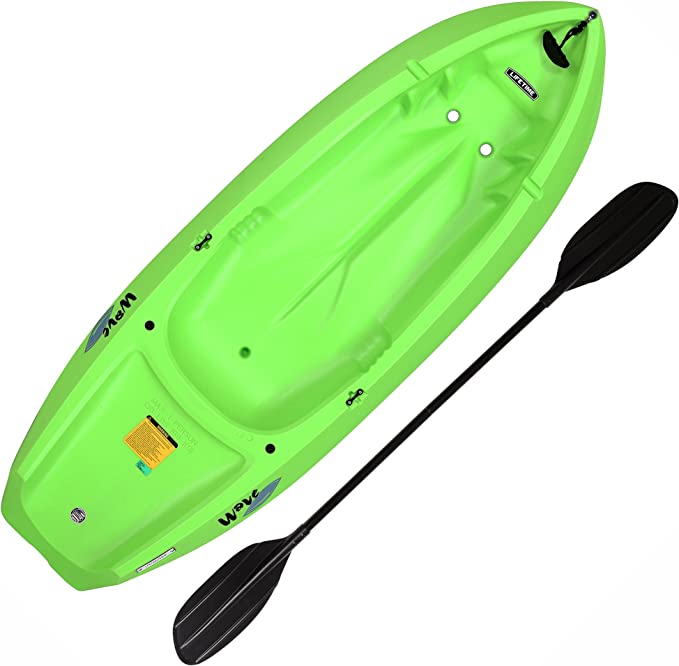 Lifetime does it again with a highlight sit-on-top kayak, but this one is specifically for kids or small adults. Coming in at 6 ft in length and carrying 130 lb. in capacity, this is a simple option at a great price in your search for youth kayaks. It also includes Lifetime's notable 5-year warranty.
The Lifetime Youth Wave kayak has some notable features, though has the least amount of them all. The boat comes with a paddle, a T-handle that pulls or tows from the front, a swim-up deck (though, without handles), groove grips for carrying, a paddle rest, and two footrests.
In comparison to other models, this one is missing the elevated seat, a bottle holder, and grips to pull yourself out of the water.
Besides some of the missing features, it should be noted that the Youth Wave brings some unique features that stand out from the rest on the list. In addition to being stable and flip-resistant like others with this design, it has a twin fin design on the bottom back for better tracking.
Another feature that sets it apart is the two mounted rings on each side for clipping gear. Also, I give it bonus points for the scupper holes being located by the feet (instead of the seating area).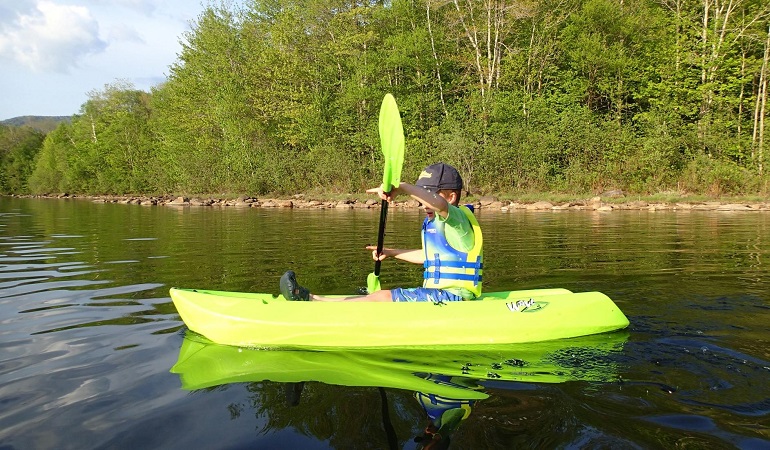 This vessel is the cheapest of its design and has some great advantages making it one of the best children's kayaks if you aren't worried about the kid outgrowing the kayak weight limit.
Some food for thought though: an average renting price of a kayak runs at $45 per day, which makes this youth kayak worth the buy after three rental days.
Features
Type: Sit-on-top/SUP
Footrest: Yes, two
Price: $140
Weight: 18 lb.
Capacity: 130 lb.
Length: 6 ft.
Towing: Yes
Material: High-density polyethylene (HDPE)
Pros
Cheapest of its design on this list
Twin fin design for better tracking and stability
Two mounted rings for clipping gear
Scupper holes by the feet
Cons
No handles on swim-up deck
Seat is not elevated
No bottle holder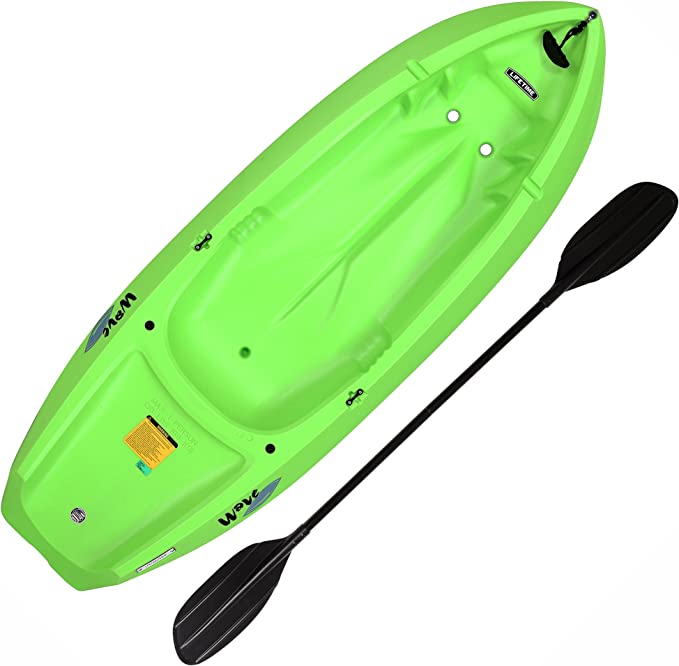 Lifetime Youth Wave Kayak
The Price of "Lifetime Youth Wave Kayak" varies, so check the latest price at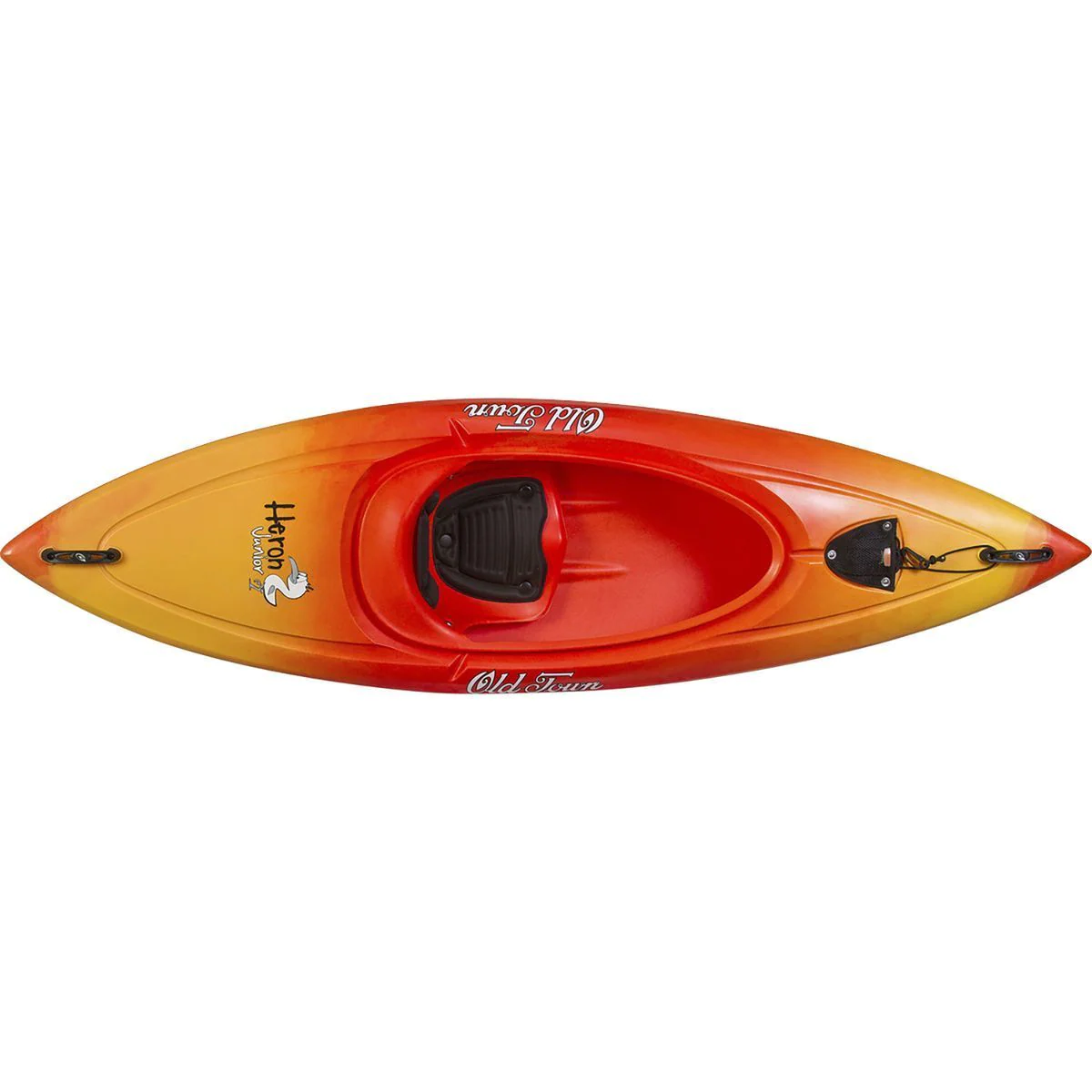 Old Town Heron Junior Kayak is a classic kayak design. This hard-body kayak for kids has a spacious sit-in cabin. Unfortunately, the seating is not adjustable, and the cabin lacks footrests for shorter paddlers.
Sit-in kayaks are designed for fast-tracking. It also has the feel of a traditional kayak. Despite looking more like a professional kayaker, it is still pretty stable and easy to tow.
The design of a traditional sit-in kayak gives it better and faster tracking than the dual sit-on-top and stand-up kayaks. This kids kayak is recommended for young paddlers learning how to kayak as beginner and maneuver a traditional kayak for future whitewater kayaking trips.
Though the Old Town doesn't come with a lot of features, the towing system is certainly a perk. If the kids get tired of lake paddling, the built-in towing handles will let them have a rest while enjoying the comfortable cabin.
At $450, if you aren't adamant about the traditional look, you could easily pass on this one for more affordable options. I personally think it should come with a paddle, but on second thought, most of the youth kayaks come with a paddle that will need replacing anyway.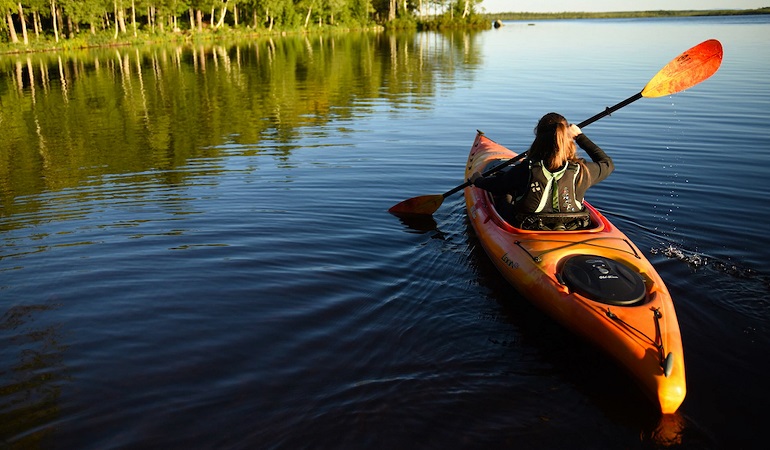 If you don't need all the extra features and you are looking for a classic kayak for your kid, then this is the perfect kayak. This is the sturdiest traditional kayak you've been searching for. All you need now is a paddle to go with it.
Features
Type: Hard body, sit-in cabin
Footrest: No
Price: $450
Weight: 26 lb.
Capacity: 115 lb.
Length: 7'5"
Towing: Yes
Material: Polyethylene construction
Pros
Pretty roomy inside
Built-in towing and carrying molded finger handles on the front and rear
Design provides faster tracking
Cons
Expensive for a youth kayak
Seat is a bit uncomfortable without adjustments or footrests
No additional features built-in like paddle rest or cup holders
Doesn't include paddle at price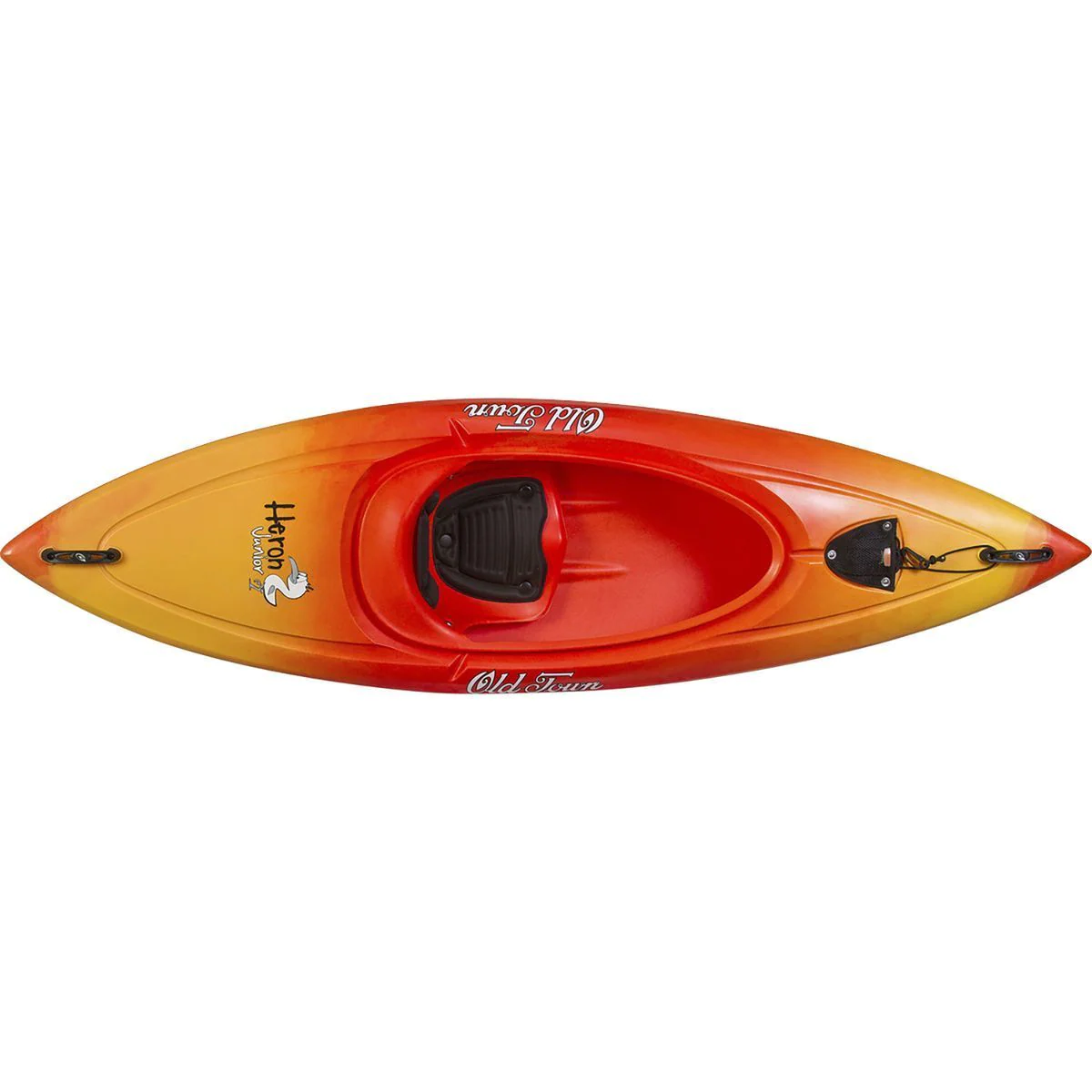 Old Town Heron Junior Kayak
The Price of "Old Town Heron Junior Kayak" varies, so check the latest price at

This kayak is an ideal traditional kayak for serious kayakers. Adjustable for kids' heights with multiple footrest positions inside, it is also accommodating to adults, so kids and parents can enjoy it together.
This is a good recreational kayak for those training for whitewater kayaking. Unfortunately, this is not the most stable kids' kayak compared to the others on this list; it doesn't accommodate children that want to jump out and back in relatively easily because it is difficult to climb in from deep water.
Less of a "let's play" kids kayak and more of a "let's paddle" kids kayak, this vessel is designed for intermediate-level paddlers, whether kid or adult. The design is meant to be maneuverable and to track faster, which is why it may seem tippy to less experienced paddlers.
I like the ergonomics of the sit inside kayaks design but felt that the seat was slightly too far back because the bow of the boat felt raised as if too much weight was on the backside. Not the worst thing, so I made an effort to even out the weight since it has a 275 lb. capacity.
I felt I had to practice getting in and out a few times on land before attempting it in the water because it's not as stable as the sit-on-top design. This is why I wouldn't recommend this kayak for kids that are really young or even older adults that struggle with balance.
The features of this whitewater kayak really stand out compared to other kids whitewater kayaks (except for the paddle not included). It comes with a front hatch storage bin great for keeping valuables safe and dry. The back deck has fancy mesh that stretches over and keeps your bag in place.
My favorite part: the seat is exceptional. Made of ergo foam, the padded seat and backrest are both adjustable for comfort. For even more comfort, the open cockpit deck has a spot to hold your bottle or cup.
This boat is on the heavier side at 36 lbs weight which means kids may need help toting it. But, if your kid is serious about kayaking, this is a great boat to accommodate rapid growth and even serve well into adulthood.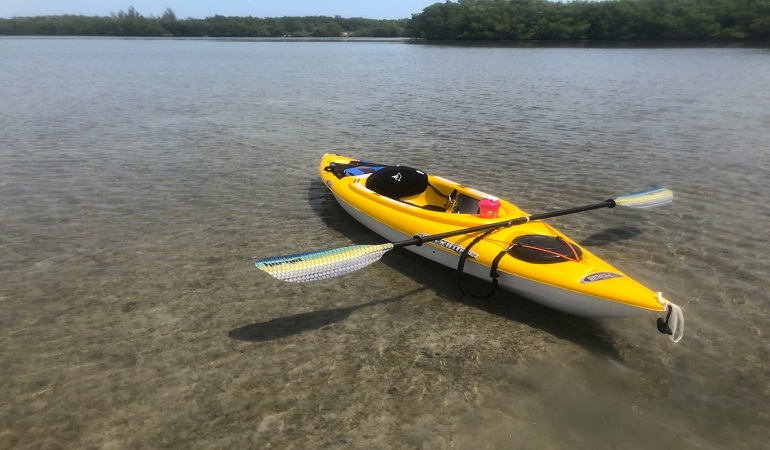 That might mean this is a one-time buy kayak for a long time, making the price more tempting than buying a youth kayak and then an adult one. If your kid has already learned how to kayak and is keeping up with adults on kayak trips, this is one to consider.
Features
Type: hard body, sit inside kayak
Footrest: yes, multiple
Price: $400
Weight: 36 lb.
Capacity: 275 lb.
Length: 10 ft
Towing: yes
Material: polyethylene and recycled plastic
Pros
Comfortable cockpit with adjustable ergo foam padded seat and backrest
Front hatch for gear storage and back deck storage with mesh cover
Cockpit table with bottle holder
Drain plug
Cons
Not for beginner kids
Less stable design
Difficult to climb back in
Heavy vessel

Pelican Maxim 100X
The Price of "Pelican Maxim 100X" varies, so check the latest price at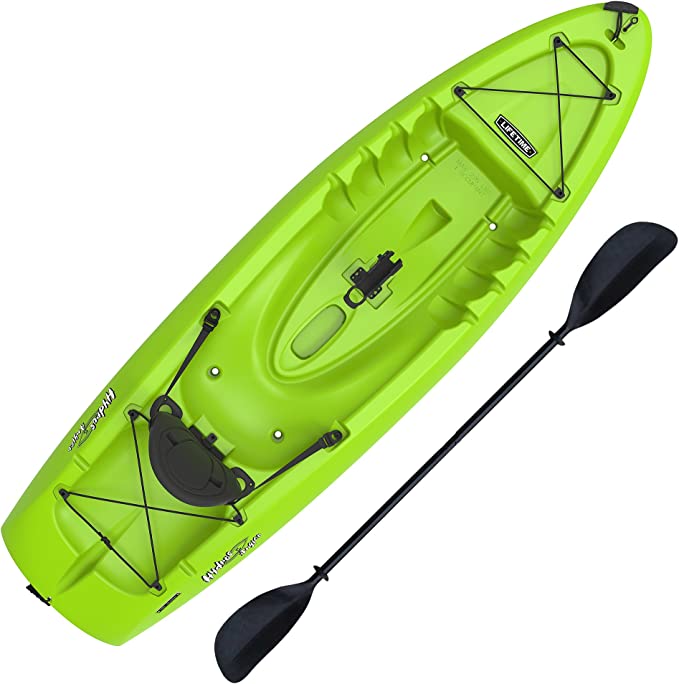 Got a fishing fetish? Lifetime's at it again with a killer kayak specifically for fishing. This sit-on-top kayak is made to accommodate larger adults but has multiple footrests that are suitable for older children.
This boat has a ton of great features, including an adjustable backrest that is absolutely necessary while fishing. The collapsible fishing rod holder pops right out of the bottom of the boat between your legs, so it's out of the way when you don't need it. This feature really gives this boat an edge over others if your main use for it is fishing.
Nevertheless, the storage features and hull design for straight paddling are all important aspects of a fishing vessel. Though it tracks straight, it isn't very fast, which is fine in a fishing vessel but should be considered if buying this for other recreational purposes.
The price tag is a bit high, but if you value saving time and headaches from searching for products, this boat includes everything you'll need for its fishing purpose. The paddle is sized for adults and is not a child-sized paddle. You might need to find a young paddler-size paddle.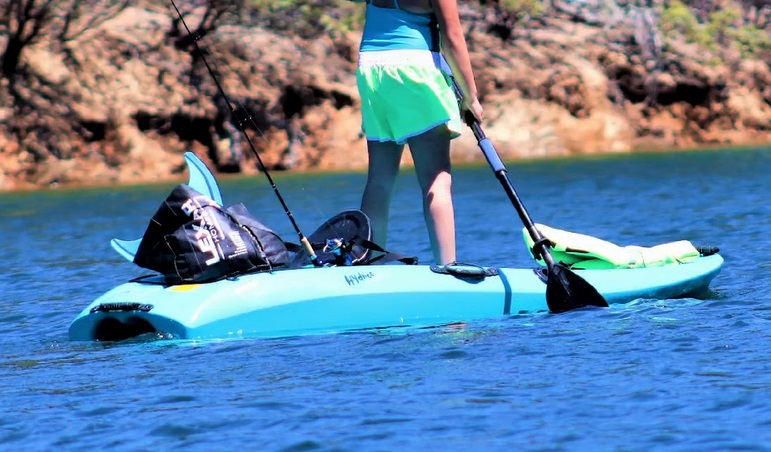 If you're looking to enhance those fishing bonding moments with them, this youth kayak also offers the possibility to continue those bonding trips well into adulthood.
With many endearing features specific to fishing, this is a highly recommendable boat.
Features
Type: Sit-on-top/SUP
Footrest: Yes, multiple
Price: $329
Weight: 38 lb.
Capacity: 225 lb.
Length: 8'5"
Towing: Yes
Material: Blow-molded high-density polyethylene (HDPE) 
Pros
Elevated seat with backrest
Each 4-footrest includes a paddle rest groove
Includes a collapsible fishing rod holder
Center carrying handle in addition to front and back T-handles
Cons
Heavy for kids
Hull design hinders the tracking speed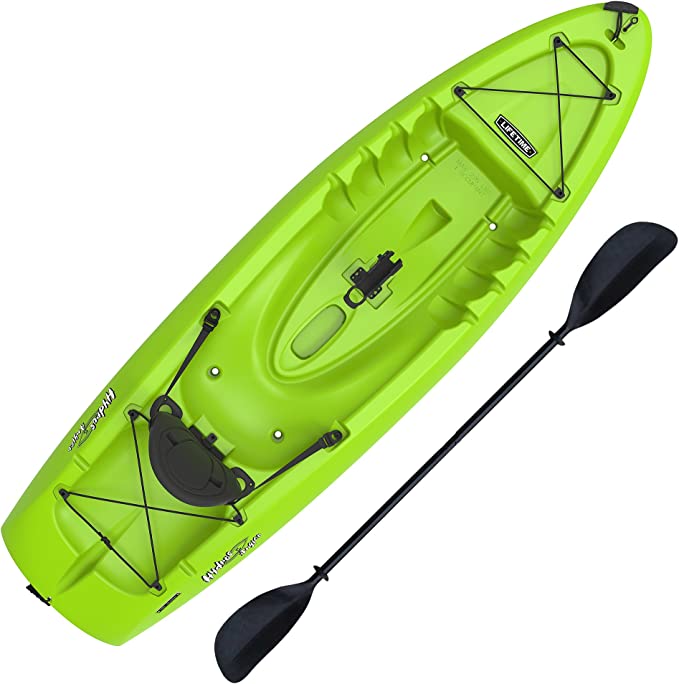 Lifetime Hydros Angler 85 Fishing Kayak
The Price of "Lifetime Hydros Angler 85 Fishing Kayak" varies, so check the latest price at
Best Kayak for Kids FAQs
After reading all that, you probably have some good questions about which kids kayaks to purchase. Here are some questions I took the liberty to answer for you.
Kids Vs. Adult Kayaks: What's the Difference?
Most kids kayaks are smaller, which makes them lighter to carry, but they can hold much less weight than an adult kayak. Typically, the capacity is under 130 lb., which will not be able to accommodate many adults.
Adult kayaks can hold over 200 lb. of weight, which means they're bigger and heavier. Typically, the best recreational kayaks in this category have more features since they're intended to accommodate more comforts an adult would seek out than a child.
The biggest difference between a kids and adults' kayak is the paddle length. While most adult kayaks can accommodate the size of a child, it's important to know how to size a kayak paddle for kids because it will be wildly different from a paddle size of adult kayaks.
At What Age Can a Child Kayak Alone?
Well, that depends. I've seen kids at three years old out on their own kayak. They will be in the right kayak life jacket and under supervision, but they are still rocking the river in a kayak!
Other times, young paddlers have had no experience, so kayaking becomes difficult to them or is uninteresting to them at a young age. Most of the best kayaks are recommended to use at age five, but parents will make their own decisions at their own discretion.   
What Type of Kayak Is Best for Kids?
This depends on the experience of the child. Most of the time, children are looking for beginner kayaks, so the best kayak for kids would be an elevated kayak.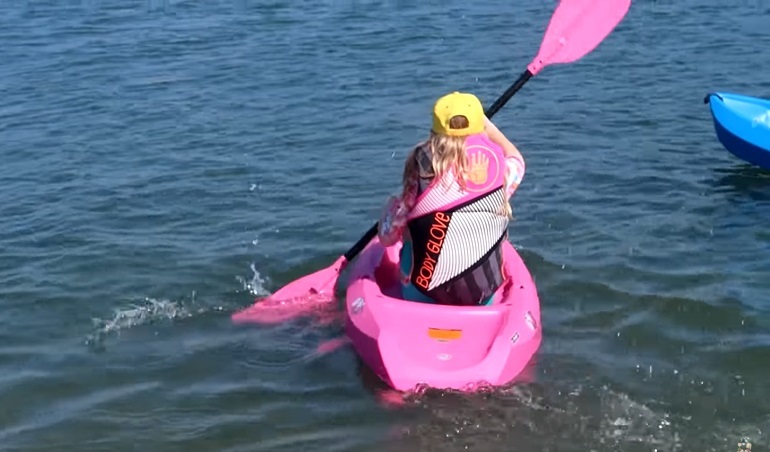 Sit-on-tops are the most stable and difficult to tip over, making these recreational kayaks a very safe option. They are also the most fun because you can jump out of them and easily get yourself back on the boat with a swim-up step, which isn't always the case with advanced and traditional kayaks.
Final Thoughts on Best Kayak for Kids
Eight options are still a lot to choose from, so how can you choose the most suitable youth kayaks for kids? First, answer whether the child is an absolute beginner, an intermediate, or a serious kayaker. This can help narrow choices right away.
If they're intermediate or above, you might try to determine the type of child's kayak you like the best. The best kayaks for kids are usually stable. Next, you should think about the specific features you can't paddle without.
Or, maybe you don't need any fancy features at all because your kid just wants to paddle in the water. In that case, go for the simple and inexpensive kayak. Or pull out all the stops.
Either way, grabbing one of these best kids kayaks will satisfy standards of good quality with exceptional features that have a reasonable price tag.
You can't choose wrong, but you can choose wisely!