Speaking of the best solo canoes, these things have been around since at least 8,000 B.C. The first known canoe is now known as the pesse canoe.
It wasn't a solo canoe, but it's fascinating to know that your canoe(s) are of ancient origin and the design methodology hasn't changed much at all.
There are several different types of solo canoes, including expedition, touring, beginner canoes, fishing, racing, and more. But, not all solo canoes are created equal, and some just stand out in a crowded marketplace.
As far as solo canoe reviews go, I like to make a lot of comparisons to kayaks. The reason is that these two are about as closely related as they come. I've been on both many a time, and it's hard not to compare solo kayaks and solo canoes.
Top Pick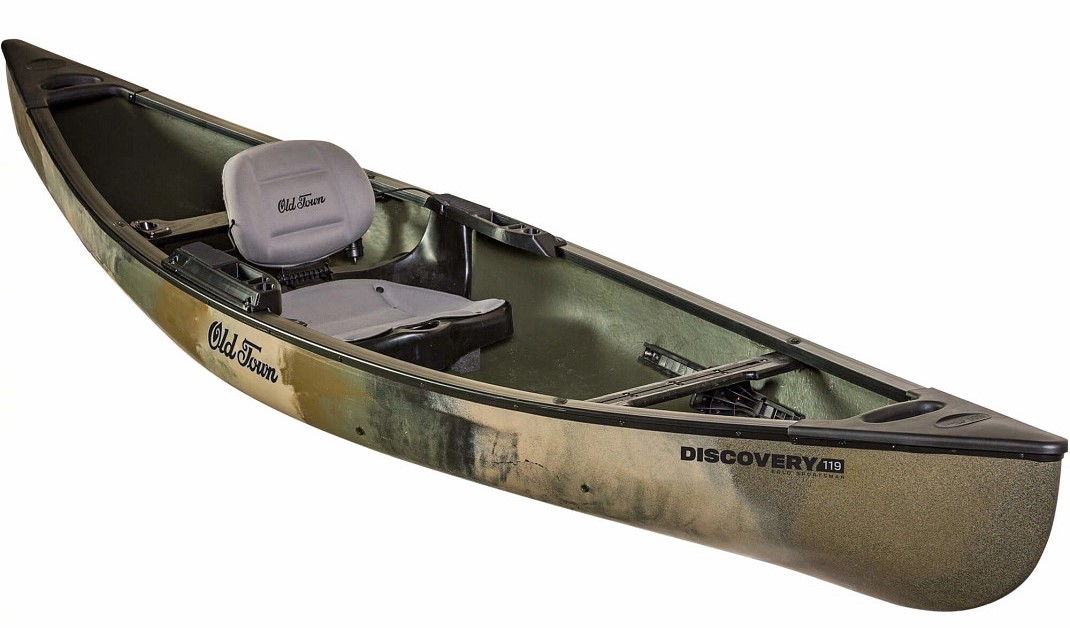 Old Town Discovery
MATERIAL:

 

POLYETHYLENE
ITEM WEIGHT:

 

56 POUNDS
Super Versatility

Esquif Adirondack
MATERIAL: T-Formex
ITEM WEIGHT:

 

39 POUNDS
Classic Design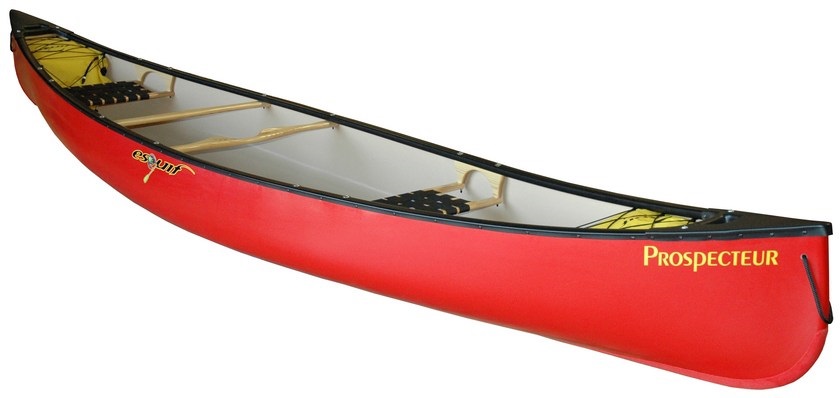 Esquif Prospecteur
MATERIAL: T-Formex
ITEM WEIGHT:

 

65 POUNDS
Great Portability

Sea Eagle TC16
MATERIAL: Wood
ITEM WEIGHT:

 

60 POUNDS
Incredible Responsiveness

Nova Craft
MATERIAL: basalt,Innegra fiber
ITEM WEIGHT:

 

85 POUNDS
Ultra Lightweight

Grumman 12′ 9″ Solo
MATERIAL: Aluminum
ITEM WEIGHT:

 

48 POUNDS
Awesome Durability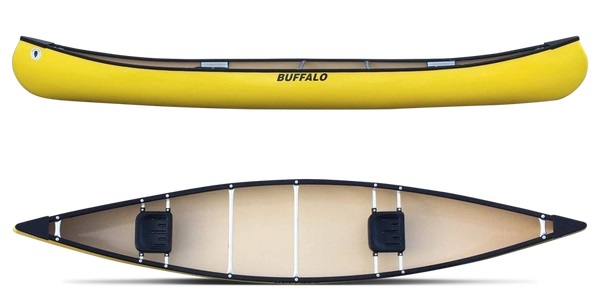 Buffalo Canoes
MATERIAL: T-Formex
ITEM WEIGHT:

 

76 POUNDS
Premium Choice

Stellar Kayaks
MATERIAL: Kevlar, Nomex, Twaron
ITEM WEIGHT:

 

24 POUNDS
8 Best Solo Canoes
Solo canoes are tough, as are most canoes. But, they're also pretty heavy, especially for a single individual to haul around.
These things aren't like kayaks, where even a tandem kayak is manageable with some decent handles. Fortunately, "tough" also means you're safe on the water, as these solo canoes can take a beating.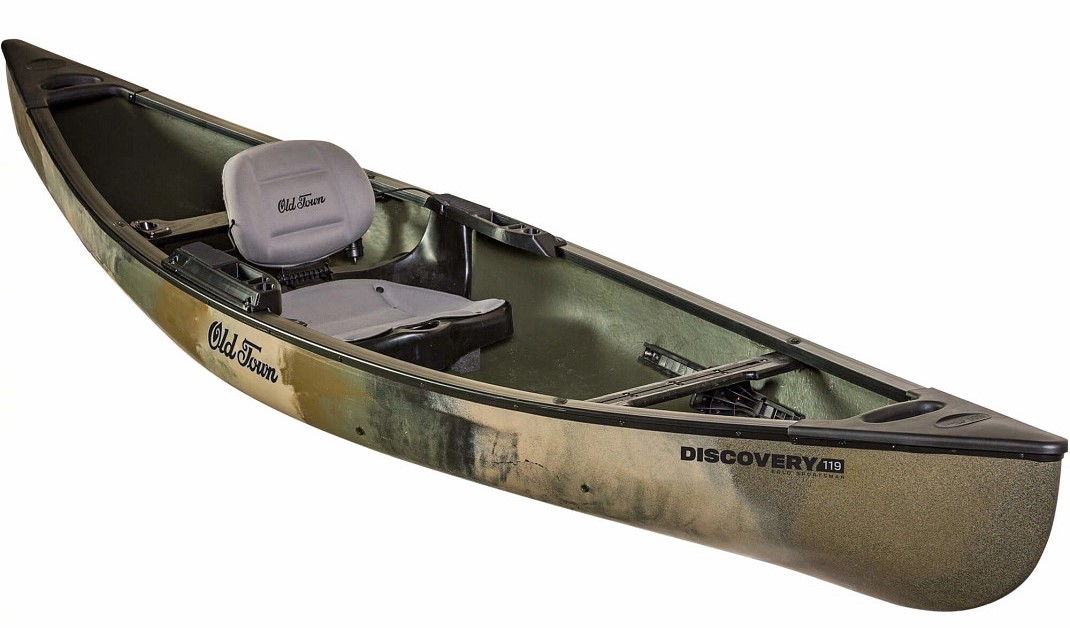 You might mistake the Old Town Discovery for a kayak, at least until you're standing right over it for a closer inspection. At 11′ 9″, it's not an extremely long solo canoe, which is good for those who appreciate a lighter-weight model and the maneuverability it offers.
Solo canoeing in Discovery 119 is surprisingly easy. It has solid speed and tracking capability. It's slightly unstable, but only if you're trying to stand up in it. Though Discovery 119s are often used as fishing boats, they lack the pontoon bottom that makes a stable fishing kayak.
Since it's a canoe, it has a more canoe-like bottom. Imagine that. Still, it's sufficiently stable on the water, whether you're fishing for alligator gar or just enjoying a cool evening on the water.
The Old Town Discovery 119 is similar in size to a recreational or fishing kayak, but there are still plenty of storage areas to hold all of your gear.
If you're looking for a solo canoe that offers a little bit of everything, especially for a beginner or moderately experienced canoeist, the Discovery 119 is a perfect match. The deeply recessed seat is comfortable and very kayak-like. You could get away with labeling these Old Town canoes as "hybrid."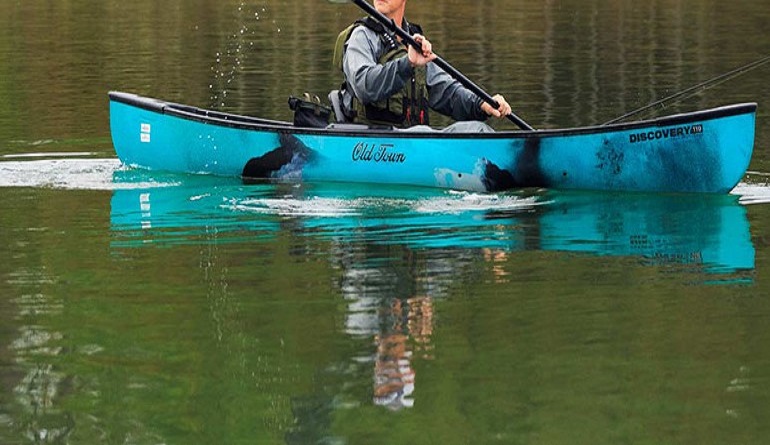 Versatile is a good, one-word description for the Discovery 119, which makes it one of the best solo canoes on our list and on the market as well. For solo paddling, you can use a single or double-bladed paddle. It also makes for a great tripping canoe both for short and long-term outings.
Pros
Great speed and tracking
Smooth hull allows for maximum exploration
Extra room for gear and possibly a dog
Smooth weight shifting
Three-layer polyethylene construction
Cons
Rough to tote in the wind due to its lightweight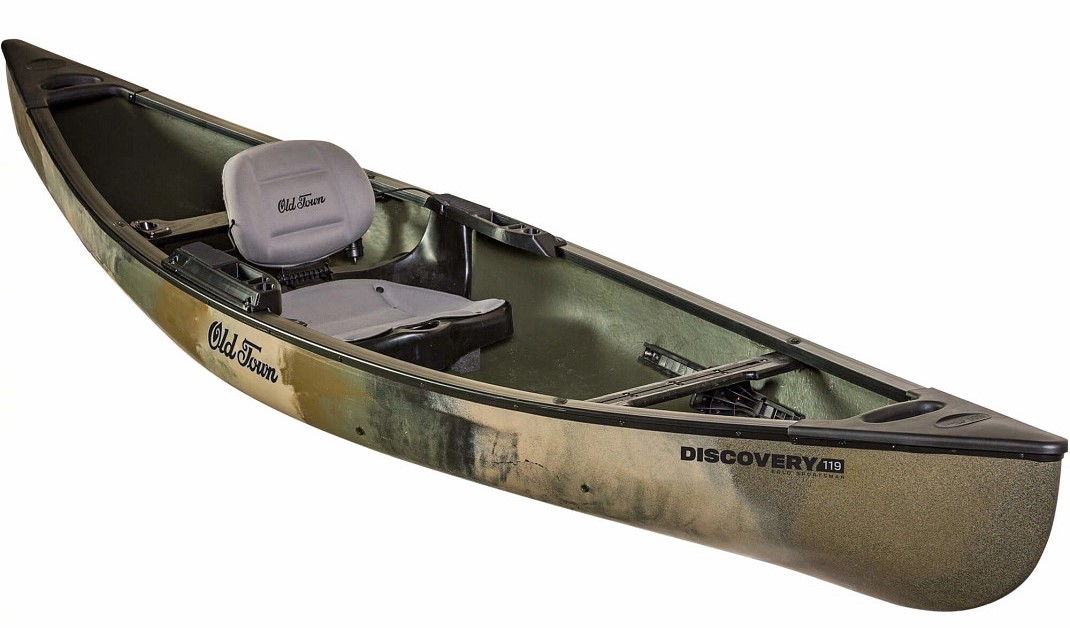 Old Town Discovery 119
The Price of "Old Town Discovery 119" varies, so check the latest price at

If you can say that five times fast (I failed immediately), you should get a free Esquif Adirondack Canoe. However, you don't have to pronounce it to know this is an outstanding solo canoe.
Like the Discovery 119, this solo canoe screams versatility. Tracking and speed are both excellent and, since it's a lightweight class canoe, you can haul it around a little easier, without breaking your back.
The Esquig Adirondack (wow, that's hard to type too) is manufactured with an extremely durable T-Formex material. It's fantastic in the shallows, shrugging off rocks like they're Squishmallows.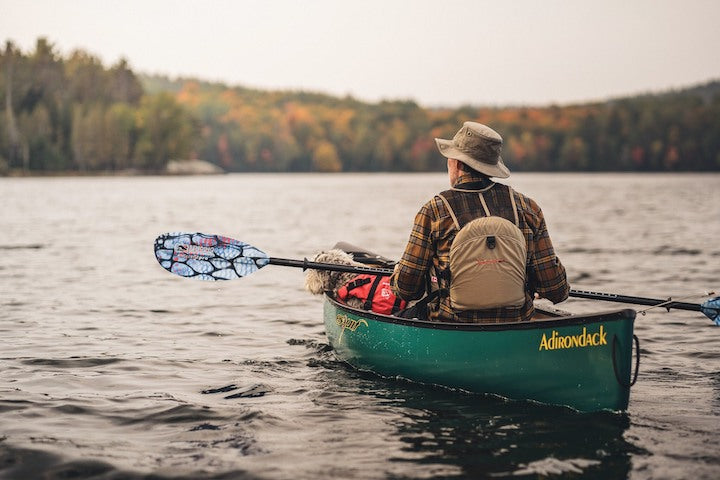 This is a higher-end canoe that features web seating and is entirely constructed of sustainable materials. Part of being the best solo canoe means everything you can expect from a premium canoe, including high-end features, without it being detrimental to the environment.
Pros
Lightweight and easy to carry
T-Formex material is very durable and long-lasting
Excellent tracking and speed
Highly versatile
400 lb weight capacity
Cons
Light weight makes it tough to handle in the wind

Esquif Adirondack Canoe
The Price of "Esquif Adirondack Canoe" varies, so check the latest price at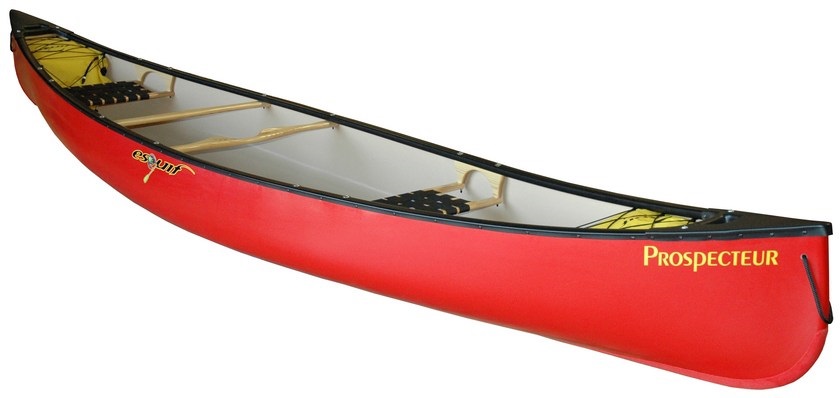 One of the best solo canoes for day-tripping, the Esquif Prospeceur 16 Canoe is your everyday machine. Built with T-Formex material, just like its Adirondack cousin, the Prospecteur is a beast on the water that's capable of taking on rapids as well.
This Esquif comes with a contoured ash yoke (that just sounds awesome even as I type it), webbed seats, vinyl trim, and weighs 65 lbs. It's a little harder to get this bad boy on the top of an SUV, so a small trailer should be in the cards for you somewhere down the line.
Though it's a solo canoe, you can also opt for the tandem version, which is just like the original, only bigger in every way. This is as classic a design as you can find on the market today. The rounded chine makes for a smooth ride over the water.
While you're not going to break any speed records in this solo canoe, it tracks very well and is just as agile in a river as it is in a lake. The arched bottom will keep you from going extremely shallow, but the boat sits well in the water, allowing you to go almost anywhere with ease.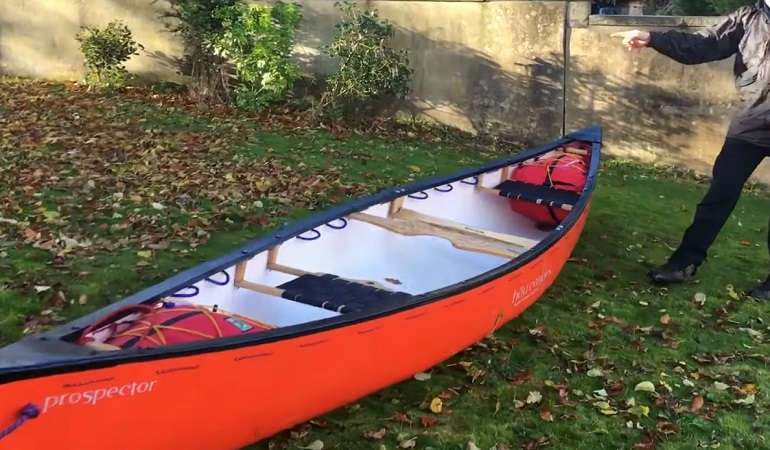 The excellent secondary stability makes up for lacking in the primary stability department. But, since many solo canoers take these into whitewater, that's not such a bad thing. Storage space is excellent as well, with plenty of room for all the gear you need.
Pros
Very smooth and comfortable (gliding feel) ride
Highly durable T-Formex material with vinyl or wood lining
Modeled after ancient Native American styles with today's technology
Excellent tracking
Good for flatwater up to moderate rapids
Cons
High freeboard is prone to windage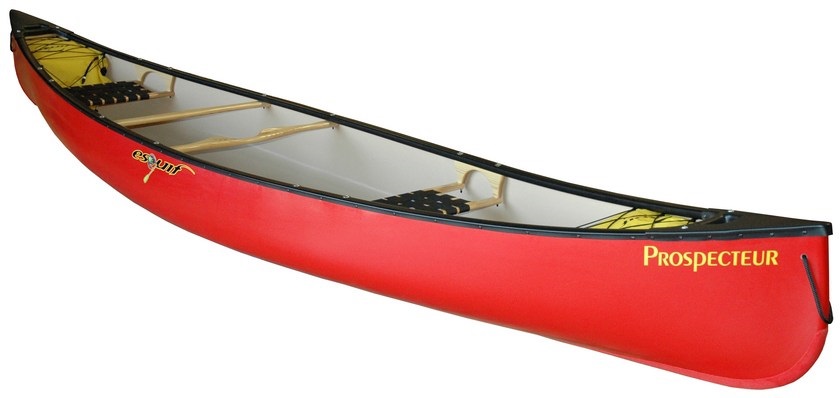 Esquif Prospecteur 16 Canoe
The Price of "Esquif Prospecteur 16 Canoe" varies, so check the latest price at

Don't let the first inflatable solo canoe on my list lead you to believe it's not the "best solo canoe" material. Part of what makes this one of the best solo canoes is its versatility, durability, and portability. That's a lot of "ilities" but the Sea Eagle TC16 stands up with the best of them.
It takes seven minutes to inflate the TC16 and that's not bad at all because it weighs 60 lbs. Despite the lack of a skeg, it tracks well on the water, surprisingly so. That's all thanks to the well-designed rocker (probably a moderate rocker by most standards), which also translates into quick acceleration and decent speed.
Another thing that makes this solo canoe the best solo canoe is its incredible versatility. You can drag this thing out onto a Class IV rapid or take it out on a pond and get the same amount of enjoyment (if not adrenaline).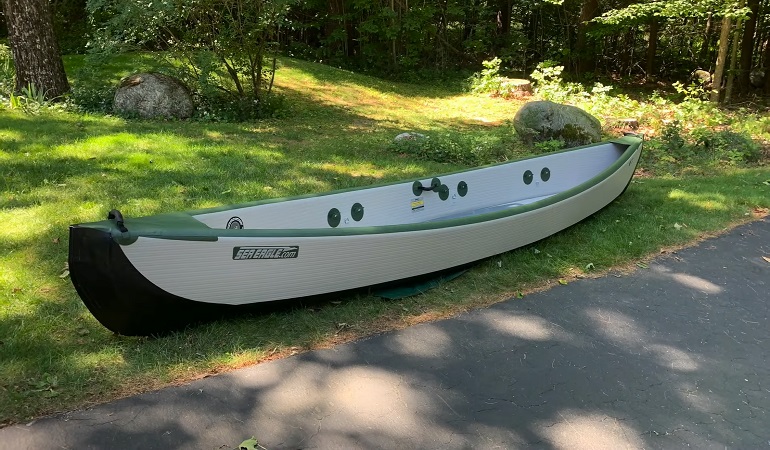 It's insanely durable with an "all-drop-stitch" design that is patented by Sea Eagle. The unique double chine offers fantastic stability and excellent tracking in the water. This isn't a lazy solo canoe—but a river runner or a touring canoe that can briefly pretend to be a lazy solo canoe.
Pros
Very durable All-Drop-Stitch design
Double chines
Packs small and tight for easy transport
Inflates in seven minutes
Incredible versatility
Cons
Seats are velcro and wear out quickly

Sea Eagle TC16
The Price of "Sea Eagle TC16" varies, so check the latest price at

Nova Craft's scaled-down version of its Prospector series is why the Prospector 15 makes it to the best solo canoes list. That's because the Prospector series is fantastic, and Nova Craft sacrificed nothing on the way to manufacturing a solo canoe.
Part of the joy of writing solo canoe reviews is touching on canoes like this. There's a lot here to make a solo paddler happy, including incredible responsiveness and tracking, with plenty of speed to boot.
Nova Craft calls this solo canoe its "play boat" and it certainly fits the bill. The Prospector 15 comes in fiberglass, TuffStuff, Blue Steel, and TuffStuff Expedition models, all of which are more than durable on the water.
The shallow arch bottom and moderate rocker help the canoe glide over the water with excellent control.
Depending on which model you choose, the Prospector 15 comes with a shoe keel, but even if your material choice doesn't support it, you aren't missing out on much. The weights are variable—again, depending on the material—but none are considered overly heavy.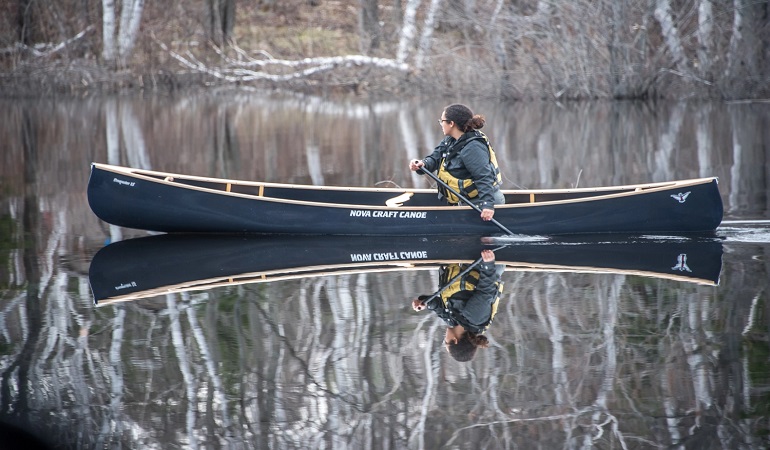 The Prospector 15 deserves to be on the best solo canoes list because it's a fantastic canoe that's just big enough to use as a tandem canoe if you would prefer. Nova Craft did a great job scaling this down, retaining the best of their premium lines without any sacrifices.
Pros
Highly responsive solo canoe
Multiple composite materials
Handles Class I and Class II rapids
Great speed
None of the models are extremely heavy
Cons
Gel coat scratches up pretty easily

Nova Craft Prospector 15
The Price of "Nova Craft Prospector 15" varies, so check the latest price at

Also called the Grumman 129 Solo or the G-129 Solo, the Grumman is the perfect addition to the best solo canoes list. While it only comes in aluminum material, there are a wide variety of colors to choose from.
Speaking of aluminum, the weight of this canoe is one of the lowest on our solo canoe list at 42 lbs. Despite that, it has a carrying capacity of 545 lbs. The age-hardened aluminum alloy is incredibly durable and has a low center of gravity.
Thanks to its lightweight, it's incredibly maneuverable on the water, including rough water. It's also easy to carry down to the lake or the river, so long as the wind isn't kicking up too badly.
The Grumman offers plenty of stability and has a large enough space that bringing a pet along isn't a problem. Whether you prefer a single-blade paddle or a double-bladed paddle, either one works great. However, if you are a taller person, the low profile might make rowing more of an effort.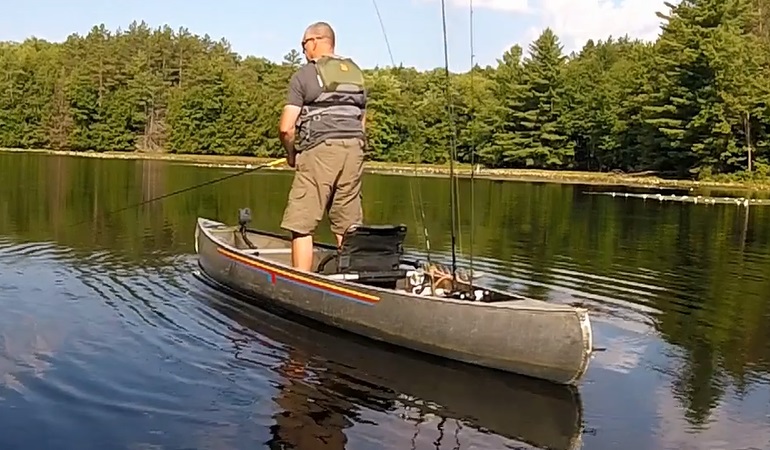 Grumman did a fantastic job with this little solo canoe. Its sleek design is seemingly contoured to your body without sacrificing stability. It's a bit of a deeper canoe, but you can tackle it with several paddling styles as long as you aren't tall.
Pros
Sleek, lightweight design is perfect for beginners
Excellent tracking
Holds up to 545 lbs
Extremely durable
Multiple color choices
Cons
Harder to row for taller folks

Grumman 12′ 9″ Solo
The Price of "Grumman 12′ 9″ Solo" varies, so check the latest price at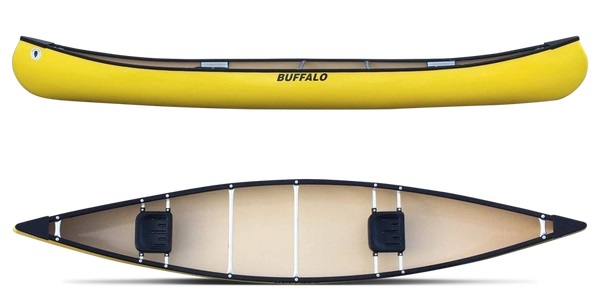 The best solo canoes have something to offer that others don't or, at least something better than competing solo canoes. Buffalo combined T-Formex material with Royalex composite and expert craftsmanship to develop one of the most durable solo canoes on the market.
Buffalo labels their Buffalo Solo Canoes as a river running, touring, and whitewater. The hull features a shallow arch with vinyl trim along the gunwales. It's not a deeper solo canoe but it cuts through the water well, with excellent tracking.
The Buffalo line of solo canoes is great for both beginner and intermediate paddlers and the Buffalo Canoe is one of the best solo canoes on the market, thanks to its incredible durability. On the outside, it's a traditional style canoe but it performs for recreational paddling up to Class II rapids.
Solo canoeists will appreciate the smooth glide and excellent tracking features, though it's certainly not the fastest of the solo canoes on the list. Still, it has plenty of speed and is a good choice for long-distance paddling.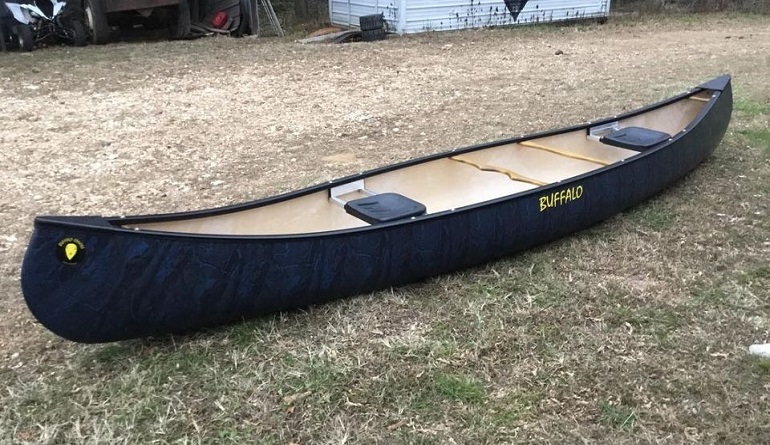 If you love to paddle solo, Buffalo Canoes are worth checking out, especially if you want something you can hold onto for decades. These things are rigid, very sturdy, built for long distances, and one of the best solo canoes for long-term planners out there.
Pros
T-Formex and Royalex Composite with high durability
Great canoe for recreation to Class II rapids
Shallow arch hull design for smooth glide and tracking
Greater storage capacity
Moderately maneuverable
Cons
Drop seats aren't great for larger paddlers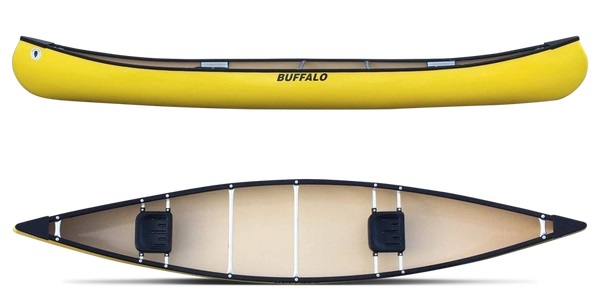 Buffalo Canoes
The Price of "Buffalo Canoes" varies, so check the latest price at

Stellar manufactures some of the best solo canoes on the planet but they command a higher price tag. But, good solo canoe reviews can't leave out the fact that some solo canoes are just pricey. It is what it is!
If you can shell out the cash for this excellent pack canoe, it's well worth the money. Stellar managed to create the lightest of the solo canoes on this list without compromising on durability. Their honeycomb core is encased on fiberglass laminate and has a gel coat finish.
As pack canoes go, it's hard to nominate the Stellar Dragonfly for anything other than "best solo." It packs easily and is readily portable. You can even mount it on a kayak carrier for car racks. These solo canoes come with a 400 lb capacity and are only 11′ 6″ in length.
On the water, you wouldn't know the difference between the Stellar Dragonfly and other solo canoes. It has excellent tracking and great maneuverability. It's the best solo for fishing, laying back, and just enjoying an evening on the water, though it can get up and go if need be.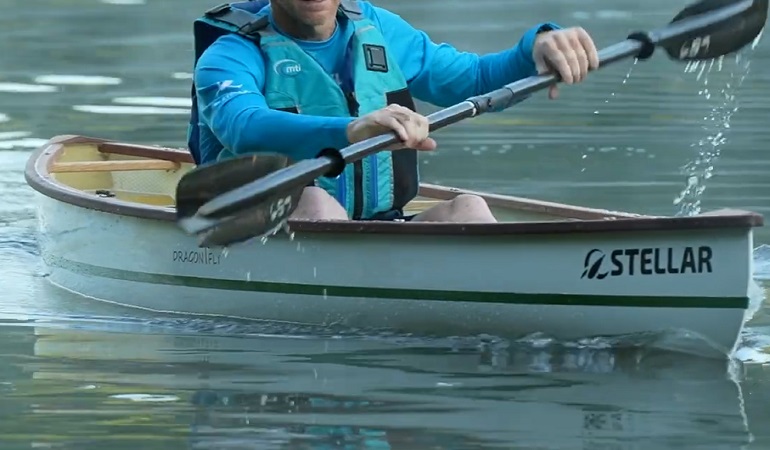 The Stellar Dragonfly works great for both short distances and long distances. Its lightweight and highly durable design will delight beginner and experienced canoeists alike. This canoe offers a lot in a small package and is one of the better solo canoes for a laid-back day on the lake.
Pros
Paddling solo is a breeze with the Dragonfly's lightweight
Includes bow and stern handles for easy carrying
It's the right solo canoe for travelers
Honeycomb and Fiberglass hull is highly resilient
Great option for carrying capacity
Cons

Stellar Kayaks Dragonfly
The PStellar Kayaks Dragonfly" varies, so check the latest price at
Buying Guide for Best Solo Canoes
If you're looking for the best solo canoes on the market, there are some factors you want to focus on. If you're used to kayaking, canoeing is a bit different and has its own features worth considering.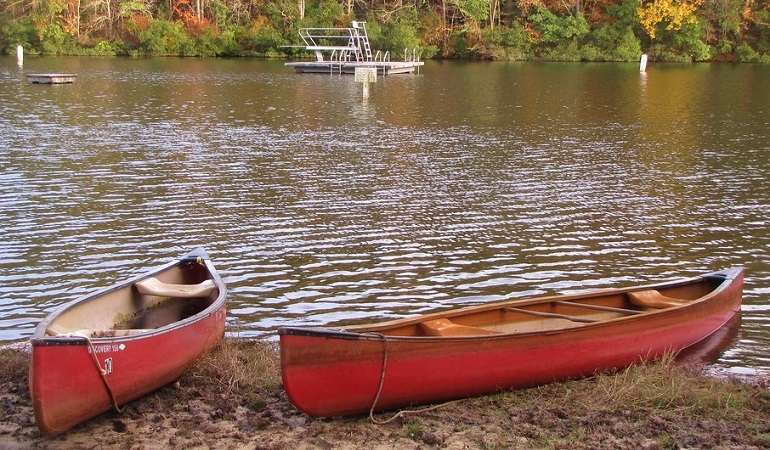 Length
Canoes longer than 15′ are tripping canoes while shorter canoes trend toward recreation. Length doesn't make or break the best solo canoes because it's all about what you want to do.
Width
Like a kayak, more width equals more stability, while narrower canoes are better suited for whitewater. Wider canoes create more drag, slowing them down, but are great for standing. Narrower and longer boats are ideal for long-distance trips.
Rocker
Think about it in terms of speed. Lower rockers equal more speed while banana-shaped canoes turn you into a maneuvering machine. The best solo canoes often fall somewhere in between.
Material
Composite, fiberglass, and carbon are the lightest canoes but command the highest price points. Thermoformed and rotomolded plastics are cheaper but heavier. That's why pack canoes are often highly-priced.
Weight Capacity
Weight capacity is entirely preference-related. It's all about what you want your canoe to carry. If you want the option to have a ton of gear or perhaps switch to tandem, look for higher-weight capacities.
FAQs
What Is a 1-person Canoe Called?
A 1-person canoe is most often referred to as a solo canoe.
What Is the Difference Between Solo Canoe and Kayak?
A solo canoe is typically longer than a kayak and heavier, while kayaks have more variety in the captain's seat. Canoes offer more long-term comfort and are more stable (in general), while kayaks are faster.
Final Thoughts
Solo canoes are seemingly designed for the introvert in all of us. However, they are also very versatile, with some long enough to support an extra partner or a dog. The 8 solo canoes make up a perfect representation of the solo canoe market.
One of the best ways to see nature fully while also having an exhilarating adventure is through canoeing. If you are interested to read more about the best expedition canoe you can check out our article with a comprehensive review.
They all offer something for the experienced paddler down to the beginner. Best of all, the above-listed canoes are highly durable. If you're willing to go the extra mile and grab one, you'll have an outstanding canoe for life.