Curious about surfing in Vietnam?
Read up on the best waves around the country (and when to score them!)
If you read our monster guide to surfing in Asia, you'll already know that we're pretty bonkers about the big 'Nam. Now, windsurfing and kitesurfing has been big in Vietnam for close to two decades, but surfing in Vietnam is still cruising way under most people's radar.
Vietnam's massive tourism boom has yet to spill over into surf tourism, but the country has all the makings of an A1 surfing destination:
Dreamy, empty line ups
year-round warm weather (no wetsuits needed)
Cheap cost of living
Totally gorgeous scenery
Super welcoming locals
And there's more than that:
To me, surfing in Vietnam holds an appeal because it's so reminiscent of the old school soul surfer days.
Outside of the major cities, the country is still pretty undeveloped.
The most beautiful surf spots still lack decent road access.
There aren't yet any laws that forbid surfing on certain beaches — or even in the protected national parks (more on that later).
There's still a real sense of freedom when it comes to living, traveling, and riding the waves in Vietnam.
---
Check out our other Surf related articles!
Travel resources
Getting a visa for your Vietnam surf trip
Securing a visa for Vietnam is pretty simple. The easiest way to do it is by applying for an e-visa (or e-visa on arrival) online in advance. You'll get the papers you need to collect your physical visa at the airport when you fly in, before passing through immigration.
We highly recommend using iVisa.com to get your Vietnam visa. They give the clearest, most up-to-date info on prices, processing time, and the steps you need to take to get your visa. Other websites can make it seem so much more complicated than it is!
Also, be aware that citizens of 24 countries are eligible for visa-free travel in Vietnam for a fixed period of time.
Plan your trip
Ready to start planning and budgeting your trip? Use Kayak to find and compare the best deals from all over the web on flights, hotels, and car rentals. When you do a search on Kayak, it pulls data from hundreds of travel booking platforms to offer you the best prices available, so you know you're always optimizing your budget to the max.
For local public transport in-country, like buses & minivans, taxis, trains, and even ferries, we recommend using Bookaway, which works the same way. Bookaway is especially useful in countries where small local operators don't necessarily speak English or even have a website at all. They also offer 24/7 support in case anything goes wrong.
Book activities
Want to start browsing and booking activities available at your destination? Nowadays there are a few booking platforms specialized in outdoor adventures and active holidays worldwide. We recommend Tripaneer for yoga and meditation retreats, surfing and kitesurfing camps, cycling holidays, or motorcycle tours.
Tripaneer focuses mostly on week-long holidays often including accommodation, while Manawa also lists daily and hourly activities including every action sport you can imagine but also a lot of crazy stuff like shark diving, survival training, zip-lining, or even reindeer sledding!
For traditional guided tours, day trips, and local experiences like cooking classes, GetYourGuide is everyone's go-to platform and features an insane amount of authentic reviews to help you make a decision. They also list more mainstream outdoor activities like diving courses, guided hikes, kayaking excursions and so on.
Travel insurance that covers surfing
Finding serious travel insurance that covers surfing and other extreme sports isn't easy, that's why we recommend World Nomads, a simple and flexible insurance company run by an international team of adventurous travelers since 2002. Fill up the form below and once on the website, just add the activity or activities you'll be doing and get a quote perfectly tailored to your trip.
From physical injuries and medical repatriation to dental emergencies, stolen passports, damaged gear by airline companies, trip cancellation, or even pregnancy complications, they've planned it all. You can even sign up for a policy after you started your trip. For a list of recommended travel vaccines and Covid country-specific information, head to the CDC's travel page.
From south to north, here are 10 spots (with 20 awesome breaks between them!) that we think are worth knowing about:
Top spots for surfing in Vietnam
Vung Tau
A favoured weekend haunt for Ho Chi Minh-ers (since it's the closest beach to the city), Vung Tau is a seaside town with a few choice bars, a growing party scene, and a long sandy beach which is home to one of Vietnam's most established surf clubs, Vung Tau Beach Club.
Back Beach
This is Vung Tau's numero uno surf spot. It's a sand bottom beach break that offers a short, gentle ride that's best suited to beginners, SUP surfers, and longboarders.
October-April is surfable, with waves typically measuring in around the 1 meter mark. The onshore wind from the northeast monsoon can blow things out a little bit, but if you catch the right day during the summer season, you might get treated to some clean 2 meter waves.
La Gi
Head 90 km up the coastline (if you're feeling adventurous, it's a damn fun drive on a motorbike) and you'll hit La Gi; a quiet, rural area known for its interesting hikes, gigantic lying Buddha statue, and cooler-than-cool beachside getaway, Coco Beach Camp.
Coco Beach
Coco Beach Camp is a collection of colourful beach shacks, glamping tents, and bungalows plonked right on the edge of the sand. To say it's quirky is an understatement; the site is surrounded by gardens stockpiled with upcycled artwork, sculptures, and even repurposed vintage cars.
In front of the resort, there's a long stretch of sandy beachfront that receives moderate wind swell during the northeast monsoon (Nov-April). The waves here aren't huge, but they can still be plenty of fun for anybody who values an empty lineup and an awesome, offbeat place to pop a few beers after your session.
Ke Ga
The next cape up from La Gi, Ke Ga is best known for its iconic lighthouse perched on an offshore island. The walk around the lighthouse is pretty cool in itself if you're looking for a nice daytime activity; but surrounded by white sandy beaches, Ke Ga also receives some pretty groovy swell for longboarding.
Ke Ga Cape
Surfing in Ke Ga is one for the adventurous (and prepared), since there's nowhere to rent boards from and little in the way of a well-trodden path to the breaks.
The surfable section of the beach starts just before the lighthouse and ends just after, and works best from November-March when the northeast monsoon is at its peak. You could surf Ke Ge Cape in the summer, too, but only during periods of stormy weather (the swell won't normally be big enough otherwise).
When the wind blows things out too much, Ke Ga is perfect for wave riding with a kite.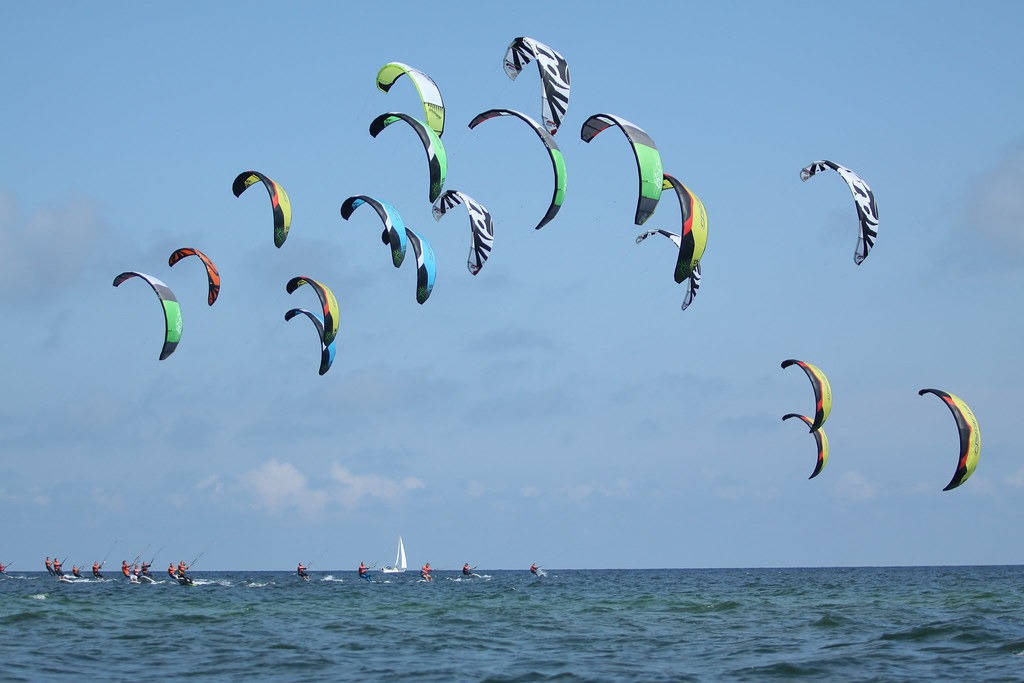 Phu Quy Island
6 hours by ferry off the coast of Phan Thiet, Phu Quy is a stunning island that still remains quite isolated from the speed and chaos of the mainland. Surrounded by reef and clear blue water, it's a dead dreamy spot to venture to with a surfboard.
The only thing to keep in mind is that it's not an easy place to get to; you'll need to apply for a permit to visit the island before you depart from Phan Thiet, and then you're looking at a ferry ride that could take 3-7 hours (it used to be nearly 10- hoorah for small victories!).
WiFi in Phu Quy is nonexistent at worst and spotty at best, and if the seas get rough then your ferry back will be cancelled. In short: don't come out here unless you're prepared to unplug from the rest of the world for a while!
Waves and wind on this little island go hand in hand; one is rarely ever seen without the other. With this in mind (and with the little information we have so far about the realities of Phu Quy's surf) this is probably a place best suited to those who like to combine surfing with kiteboarding or windsurfing, too.
Skate Park
Skate Park is home to a beautiful flat water lagoon which is mostly used by a few local kitesurfers. But far from the shore on either side of the protective reef, 1-2 meter waves break off to the left and right. It's quite a paddle out- and can get pretty hairy when the wind is blowing strong- so best leave this one to experienced surfers.
East Coast
The east of Phu Quy Island is well positioned to receive wind swell during both the winter and summer monsoons. Like the rest of the island, the shore is lined with reef and sandy beaches, creating a solid mix of challenging breaks.
A significant part of the coast is lined with large rock slabs which break the waves- which isn't ideal for beginner surfers (sand bottom beach breaks are much safer). The winter months bring pretty gnarly conditions, with 20-30 knots of wind from the open sea; general consensus so far is that May-September is the best time to surf in Phu Quy.
You might also like:
Mui Ne
Mui Ne has long held the crown for Vietnam's top kitesurfing and windsurfing spot, but little do people know it's also a pretty bangin' spot to go with a surfboard.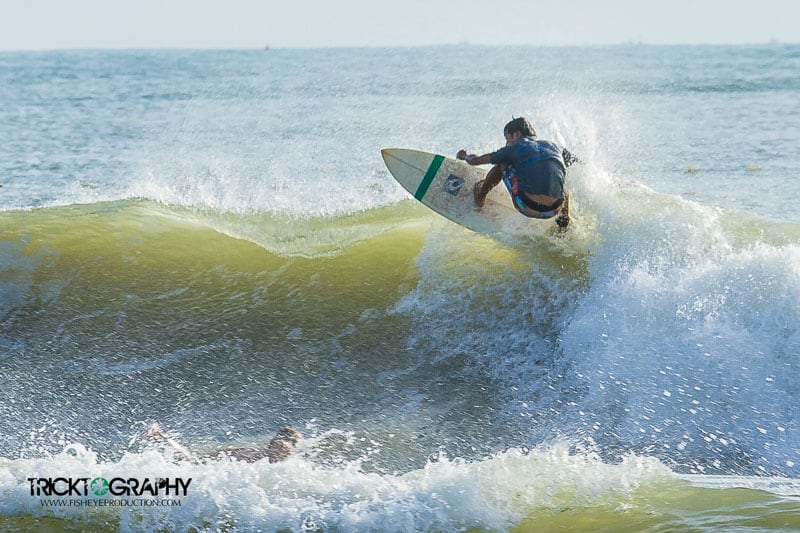 Little Buddha
5 minutes south of town, the surf spot at Little Buddha was an accidental- though ultimately happy- man made creation that came about when they built a sea wall.
The waves that break nearest to the wall are best left to experienced surfers, but further inside the lagoon the wave picks up again and forms some nice easy peelers that are perfect for beginners.
Ham Tien
This is the main beach for kitesurfing in Mui Ne, which runs parallel to the town. During the peak windy season, little choppy waves are the norm here- but the messy shore dump and herds of kitesurfers make it less than ideal for surfing.
The best surfing conditions hit Ham Tien between May and September when a storm brews, sending clean waves barrelling (yes, really!) into shore.
Malibu
10 minutes north of Ham Tien, Malibu is a huge sandy beach with multiple breaks. The spot works best between Oct-May when the wind swell picks up (that cross-on wind really is a blessing and a curse, in this case).
The beach is super massive, and the wave patterns change all along the beach, so take a few minutes to mark out where the best waves are breaking before you hit the water.
Suoi Nuoc
Location of choice for Jibe's annual Sunrise Surf & SUP Competition, Suoi Nuoc is Mui Ne's primo surf spot across most months of the year. November through April brings the most reliable swell, and even then the line ups are next to empty most days. The biggest and best conditions usually come either side of a big storm. Jibe's have a second beach club here, as does Vietnam Surf Soul; hook up with either of them for board rentals and lessons.
Phan Rang
If you don't yet know about Phan Rang, now is the time to catch up:
This quiet little slice of Vietnam's south is fast becoming one of the hottest kiteboarding locations this side of the globe- but it's also got huge potential for mountain biking, hiking, and- you guessed it- surfing.
With a long jagged coastline surrounded by reef, Phan Rang has some of the best surfing in Vietnam- without a doubt. There are breaks everywhere- though in the absence of road access, you'll need to do some Indiana Jones-ing to get to many of them.
The surf community here is small but growing (check out Vietnam Surf Camping for advice, lessons, rental, and some badass 'glamping' accommodation options).
Nui Chua National Park
As well as being an amazing spot for hiking (and swimming in hidden rocks pools and waterfalls), the coastal front of Nui Chua offers some of the best conditions for surfing in Vietnam. Check out the wave that breaks in the bay in front of Amanoi Resort; on a big day it can turn into a huge barreling wall of water.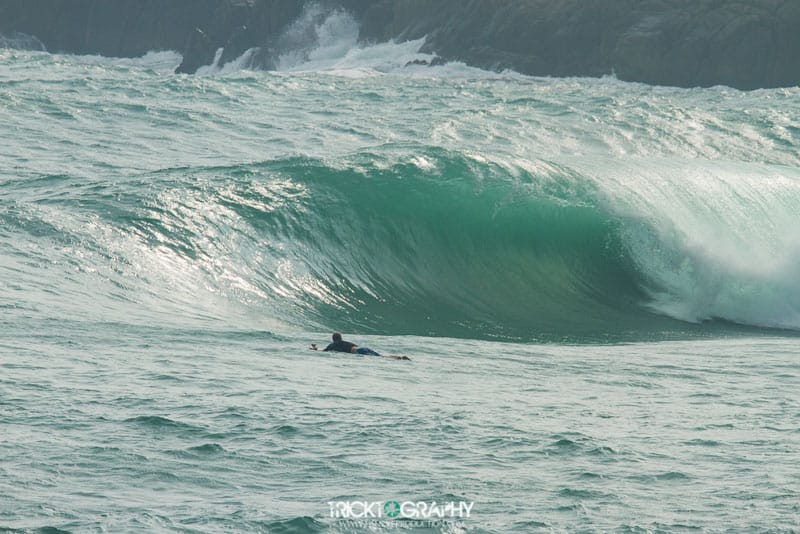 Binh Tien
40 minutes up the coast from Nui Chua, Binh Tien is one of the local favourites. The main break sits just south of a protective cape, which serves to funnel the waves straight into the bay.
Nha Trang
If you had asked someone 10 years ago if there's any surfing in Vietnam, they probably would have told you to go to Nha Trang. Nowadays, Nha Trang is a pretty wild place (think karaoke bars, cheesy discos, and Russian group holidayers).
Depending on whether you're one to don a pair of speedos and rock out to some Viet-pop or not will likely factor into how much you'll enjoy spending time in Nha Trang; but either way, it's not a bad place to surf.
Bai Dai Beach
The main beach for surfing in Nha Trang is Bai Dai, which, sitting 23 km outside the city center, is home to a bunch of beginner-friendly sand bottom beach breaks. Your best bet is to grab a taxi (which are very affordable in Vietnam) and head straight for The Shack. They're the guys who'll sort you out with a board rental, if you need it.
Khánh Hoà
Locally called Dark Reef, this tricky spot sits between Bai Dai and the city center. The break is fickle, and only works well when the wind blows dead west (so summertime is your best bet). When it pumps, the wave can reach 2+ meters- but you'll have to negotiate your way past some buoys, rocks, and spiky sea urchins to get to it.
Hon Chong
Also known as Nha Trang's City Break, Hon Chong is an easy, beginner-friendly wave that breaks right off the reef in front of the town.
Hoi An
Hoi An is a hodgepodge of Chinese, French, and Vietnamese cultures, and it shows everywhere from the architecture to the town's most famous trades (like tailoring, for example). It might be best known for its colourful lanterns and Ancient Town, but head for the river mouth and you'll soon discover Hoi An has a lot more going on than first meets the eye.
Cue Dai Beach
Now, this isn't the most reliable spot for surfing in Vietnam, by any account. But if you're planning to include Hoi An in your Vietnam travels anyway, you might find that you can score a surprise session down at Cue Dai.
Cue Dai is a steep beach break which, when it works, builds a swell big enough to rival one of the most famous waves in Da Nang (more on that later). The spot works best from May-October when the southwest wind funnels swell into the coastline.
Da Nang
A mishmash of caves, pagodas, mountains, and metropolis, Da Nang is fast becoming one of Vietnam's most dynamic cities- and with its own international airport, it's one of the most convenient places to fly into if you're hoping to score a quick weekend of surfing in Vietnam.
While you're there, make sure to do a day trip to Ba Na Hills to check out the epic Golden Bridge.
China Beach
Ever since it was famously pictured in that scene in Apocalypse now (damn it, I really thought I'd make it through this article without mentioning that movie!), China Beach (My Khe in Vietnamese) has been hailed for its long, lazy waves and easy going surf. The shallow beach break is forgiving for beginners, who can take lessons from the local surf clubs like Tam's Pub and Surf Shop.
Non Nuoc
Sitting on the same stretch of sand as China Beach, Non Nuoc's best waves break left and right off a sandbar, and work best during the winter when the windswell picks up. From May-September the wind blows offshore, which creates glassier conditions but only sees the swell build up when a storm is on the horizon.
Nam O
Nam O easily has the best quality wave to surf in Da Nang. It's a point break with a long left hander, and works best during the winter season (Nov-April). It's also worth exploring the coast to the north; there's a jetty that creates a few clean waves.
Huế
Filled with ancient architecture and piles of cultural relics, Vietnam's ancient capital, Hue, is a must-visit for any history buffs out there. Typically, Hue's surf isn't anything to write home about (most surfers in Hue tend to head to Da Nang to get their salt water fix) but Lang Co and Binh An are sometimes worth checking out- especially if you're short on time.
---
FAQs
Where can you find the best surf in Vietnam?
The south central coastline that faces out over the South China Sea (or East Sea, if you're Vietnamese) offers the best conditions for surfing in Vietnam. Go too far north and the waves get blocked by Hainan and Taiwan, but head too far south and you're closing in on the Gulf of Thailand, where typically there's very little wave action.
When is the best time to go surfing in Vietnam?
Even though it misses out on the massive Pacific groundswell, you can find waves to surf in Vietnam almost all year round, since Vietnam's waves are mainly influenced by storms and wind (of which there are plenty).
October-April offers consistent swell on many beach breaks along the south central coast, during which time the northeast monsoon drives wind over from the Philippines.
You can also go surfing in Vietnam during the southwest summer monsoon, and though the waves are somewhat less reliable, when they do come they're glassy, clean, and barrelling.
Read next: