Solo Kayak? No Thanks!
Paddling solo? Why keep the wonders of kayaking to yourself? Look, I get it. "Me" time is vital. But isn't paddling solo tiresome? How far can you realistically get without a kayaking partner? Frankly, a single kayak can get the job done. However, it'll never net you the benefits of a top tandem kayak.
Tandem kayaking lets you go farther. See more. All without needing to tear your arms off. A single-person kayak sounds enervating. Doesn't it?
Besides traveling long distances, overnight trips become a lot safer. You never know what is out there. Having someone watch your back can be life-saving. And what about the rapids? Class iii rapids are tough. Class iv rapids are nigh impossible for a solitary intermediate paddler.
Top-rated tandem kayaks surpass sit-inside solitaries by every metric. Some don't even carry a hefty price tag! Are you an experienced paddler? A novice? There are options for both listed down below.
Best Tandem Kayaks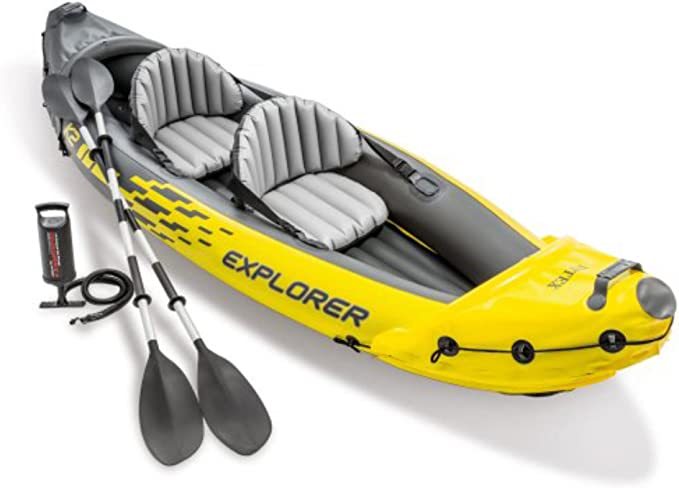 Intex Challenger
Material: Polypropylene

Item Weight: 30 Pounds

Best Inflatable Kayak
Advanced Elements Straitedge
Material: PVC

Item Weight: 46 Pounds
Best Rigid Tandem Kayak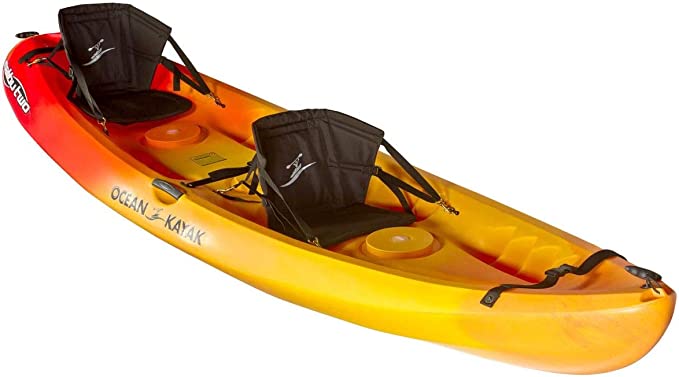 Ocean Kayak Malibu
Material: Single Layer Polyethylene

Item Weight: 57 Pounds
Best Sit On Top Tandem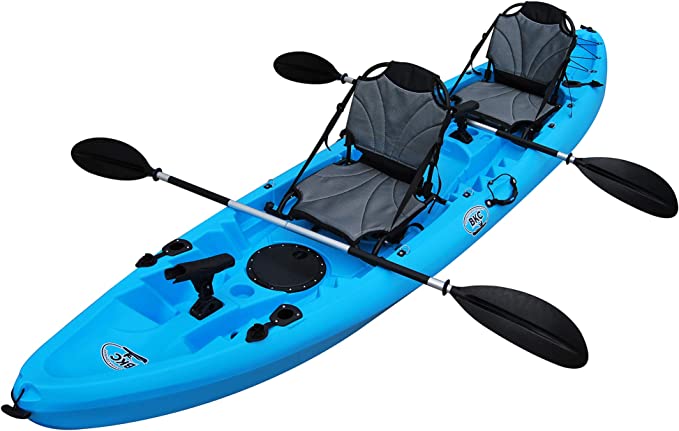 BKC TK219 12.2′
Material: Polyethylene

Item Weight: 68 Pounds
Best Premium Option

FeelFree Lure
Material: Polyethylene

Item Weight: 114 Pounds
Best Durable Double Kayak

Old Town Twin Heron
Material: Three Layer Polyethylene

Item Weight: 60 Pounds
Longest Stable Kayak

Aquaglide Blackfoot 160
Material: Duratex

Item Weight: 50 Pounds
Fastest Tandem Touring Kayaks

Wilderness Systems
Material: Polyethylene

Item Weight: 50 Pounds
Best Stability

Sea Eagle SE370K
Material: K80 PVC

Item Weight: 32 Pounds
Best of the Rest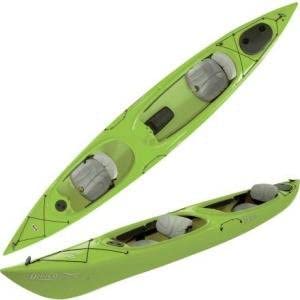 Old Town Dirigo
Material: Polyethylene

Item Weight: 72 Pounds
Best All-Rounder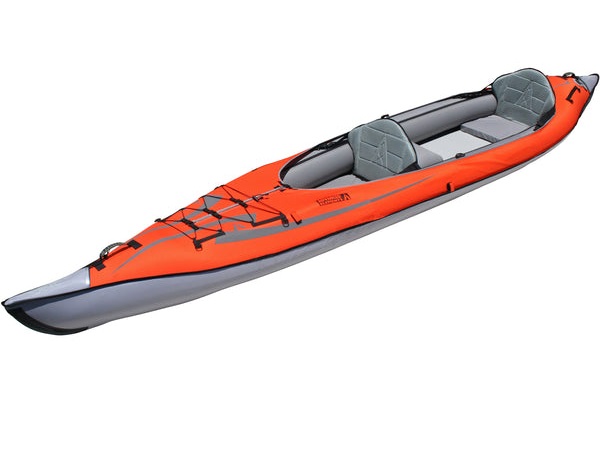 Advanced Elements AdvancedFrame
Material: Nylon, Plastic

Item Weight: 52 Pounds
Best Safety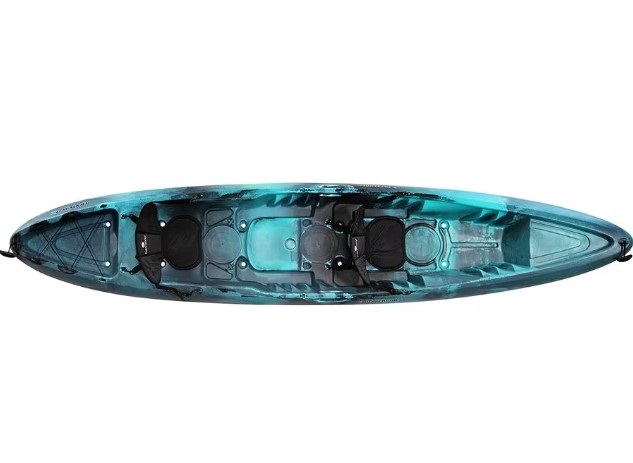 Perception Rambler 13.5
Material: Polyethylene

Item Weight: 78 Pounds
Best Versatility

Sea Eagle Explorer 380x
Material: Polyethylene

Item Weight: 40 Pounds
Premium Choice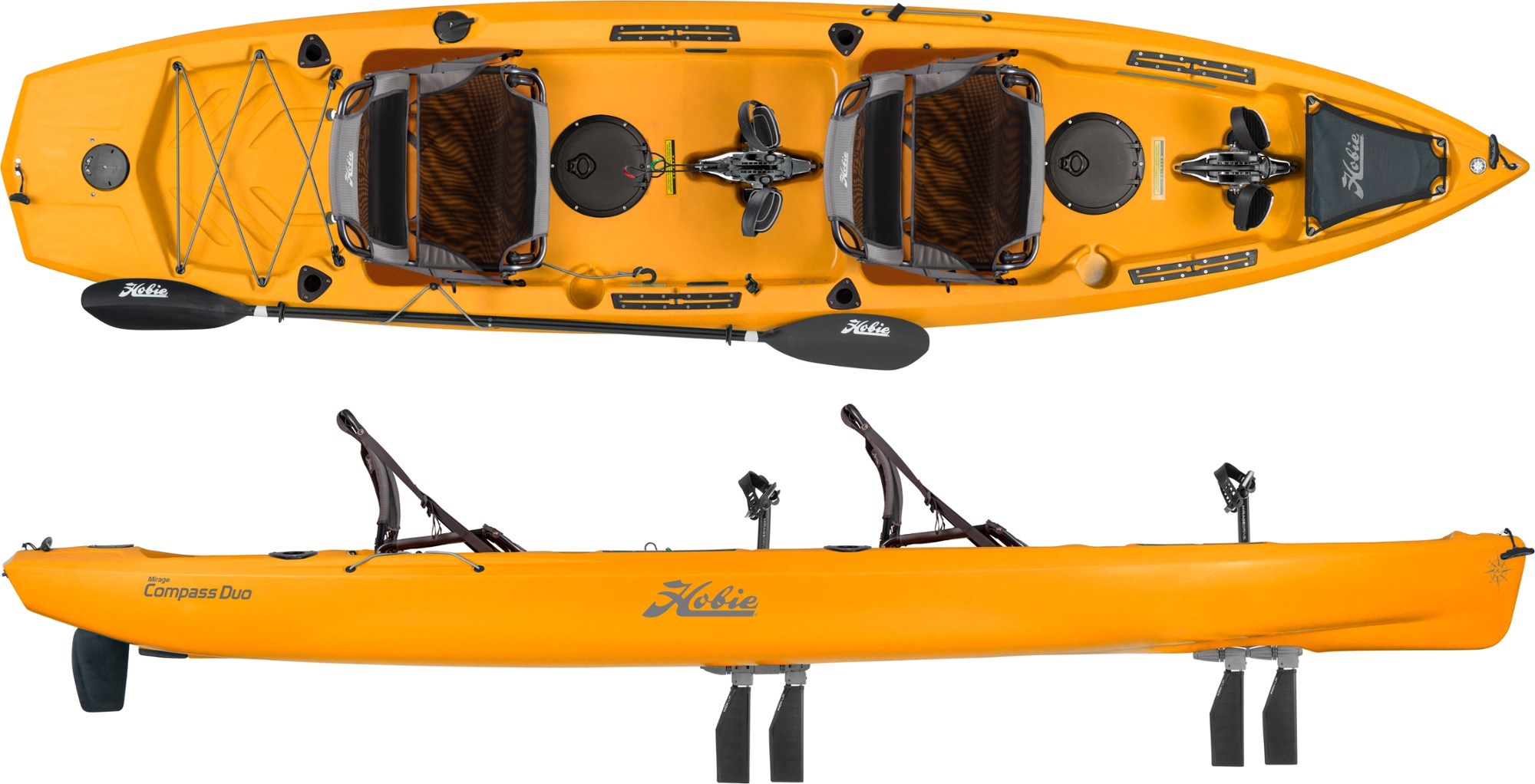 Hobie Mirage Compass
Material: Polyethylene

Item Weight: 92 Pounds
The Best Tandem Kayak and 13 Other Options
The Intex Challenger K2 has got a puncture-resistant hide. Multiple air chambers abound with the Advanced elements Straitedge 2. And plenty more throughout the list. Who knew tandem kayaks could vary so drastically from one another?
Seating two paddlers isn't enough. The recreational kayaks on this list raise the bar across several categories. Kayak features have long remained stagnant. Here, I'll show you that innovation is taking place. It's just harder to spot.
With that said, let's set off! Grab your essential gear. Maybe bring along a powerful trolling motor? Let's get ready to work our way through the best recreational tandems on the market.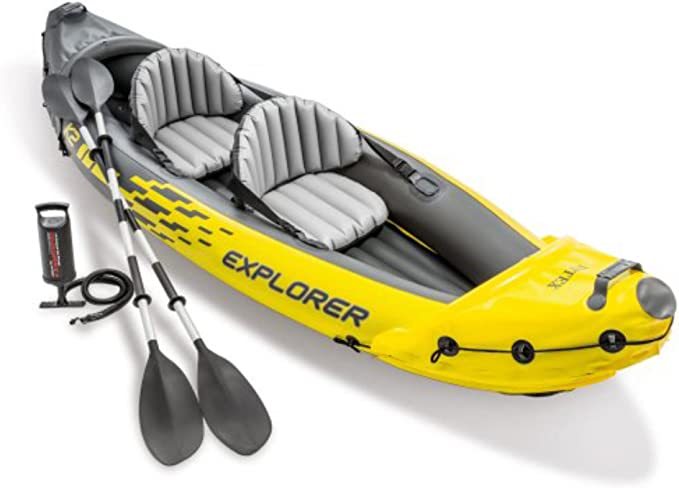 Puncture-resistant vinyl. See those sharp rocks? The jutting edges? Once, they were threats. Now they are nothing more than an inconvenience. Why? Because the Intex challenger K2 has got the construction to disable them.
Puncture-resistant vinyl is partnered with three separate air chambers. What for? Security. Paddler security. Say one of the air chambers gets ruptured. Panic? No. Continue paddling nonchalantly.
After all, the Intex Challenger's two other air chambers should be more than enough to get you to shore.
To help guide your way, the Intex challenger has a special feature. On its bottom. Furthest to the back. A skeg. Placed there to improve your tracking. Don't like it? Don't fret. You can detach the skeg. Enhanced directional stability, here we come.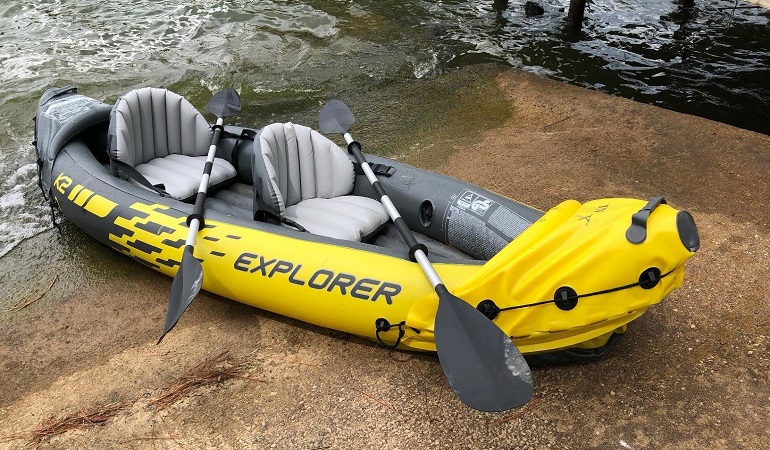 It doesn't matter how you kayak. The Intex Challenger K2 can do both. Providing you with the ability to decide how you paddle. I'll always heap praise on kayaks and other sports equipment that provide their user with options.
Features
Weight: Thirty pounds
Best Feature: Three separate air chambers
Build Material: Puncture-resistant vinyl
Comfort: Adjustable seating positions
Length: Ten feet and three inches
Pros
Adjustable seating, anyone? The Intex Challenger K2 comes with an adjustable seat. Comfy backrest included.
Removable skeg included. Detach the skeg to increase directional stability.
That vibrant yellow hue can be seen from a mile away.
Cons
Not for open waters. This inflatable kayak specializes in small bodies of water.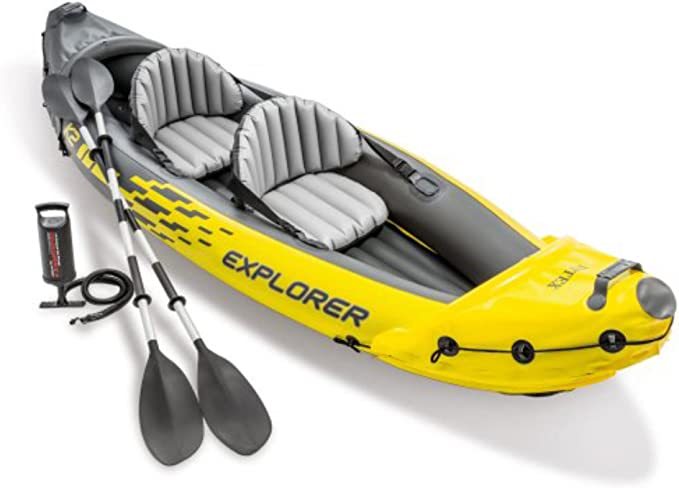 Intex Challenger K2 Tandem Kayak
The Price of "Intex Challenger K2 Tandem Kayak" varies, so check the latest price at
Air chambers. Want to stay afloat? Well, you are going to need them. The Advanced Elements Straight Edge 2 has got more chambers than it knows what to do with. Five of them. Spread throughout its frame. Now that is one reliable blueprint.
Recall that the sensational Intex Challenger 2 had three air chambers to depend on. The StraitEdge 2 takes it further. Paddle with conviction. After all, the StraitEdge 2 is nigh unsinkable. You'd have to try to submerge this kayak.
Because otherwise, I doubt that any river or lake has enough debris in it to get the job done. To help improve its tracking and lessen your workload, aluminum ribs have been inserted into the stern and bow of the StraitEdge 2.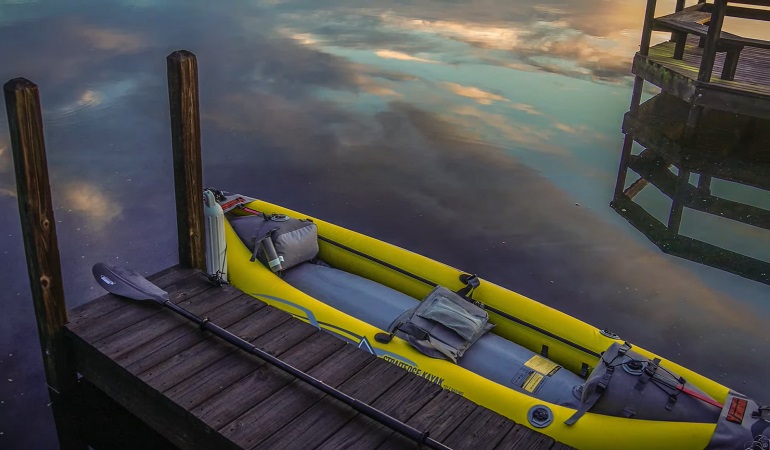 Who does that? Aluminum ribs? That's the first time that I've ever heard of such a feature. Blanket all of this innovation with PVC tarpaulin, and you've got yourself a winning formula.
There just weren't any downsides that I could see. The Straitedge 2 delivered on every metric.
Features
Weight: Forty-seven pounds
Best Feature: Five air chambers
Build Material: PVC tarpaulin
Comfort: Folding chairs
Length: Twelve feet and ten inches
Pros
Incorporates aluminum ribs into its bow and stern for improved tracking.
Handles big waves and low tide shallows with relative ease.
Seams have been welded shut. Nothing could split them apart if you tried.
Cons
Longer kayaks tend to be more narrow. This one is no different.
Advanced Elements Straitedge 2 Inflatable Kayak
The Price of "Advanced Elements Straitedge 2 Inflatable Kayak" varies, so check the latest price at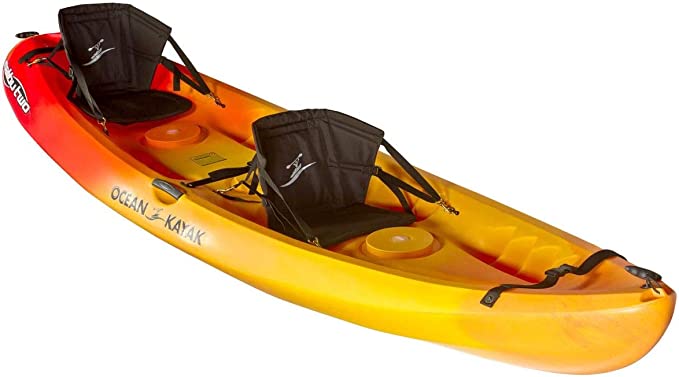 Sometimes, you are all by yourself. That's okay. Friends? Who needs 'em? While two-person kayaks are great, fishing kayaks that can do both are better. The Ocean Kayak Malibu Two is a dual-purpose kayak.
You can operate with a kayaking partner or by yourself. Even the best tandem kayaks tend to overlook this feature.
We can't always be accompanied. Forward-thinking like this should be appreciated. If you do wish to head out on your own, be sure to occupy the rear seat. The one farthest back.
The Ocean Kayak Malibu is optimized in such a way. Making the rear seat the one that you can most assuredly maneuver the kayak from.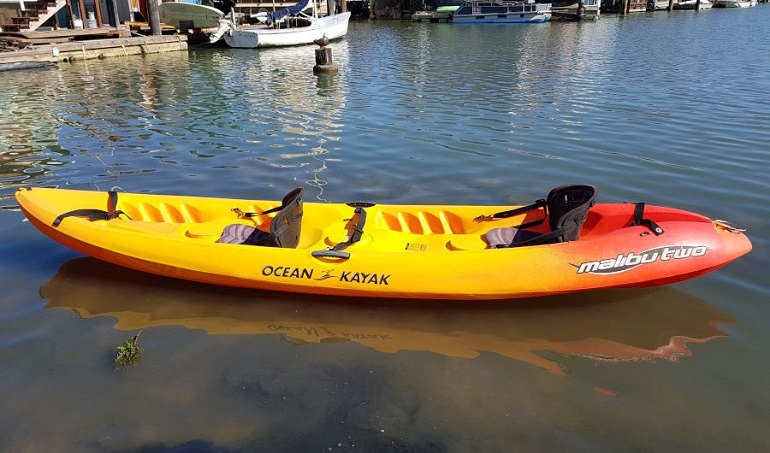 Either way. Your back is going to have a good time. Comfort plus adjustable seats all around. And that "plus" in the name isn't just for show.
That's not all. Your feet get to relish in the overlapping foot wells. Comfortable foot bracing and seating. Good enough to take a nap on.
Features
Weight: Sixty-three pounds
Best Feature: Can be paddled solo
Build Material: Single-layer polyethylene
Comfort: Comfort plus seats
Length: Twelve feet
Pros
Overlapping foot wells give you comfortable foot bracing. Even if you are seated in the center.
The Ocean Kayak Malibu two-person kayak can be paddled solo or with a paddling partner.
Flush the water out! Use the screw-in drain plug to release any unwanted water.
Cons
Inflatable tandem kayaks are far easier to transport and store.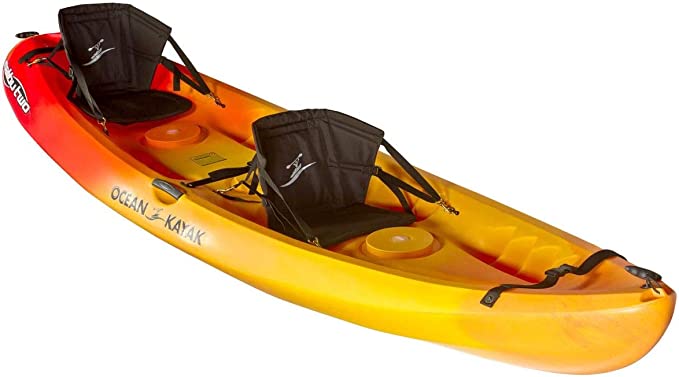 Ocean Kayak Malibu Two Tandem Kayak
The Price of "Ocean Kayak Malibu Two Tandem Kayak" varies, so check the latest price at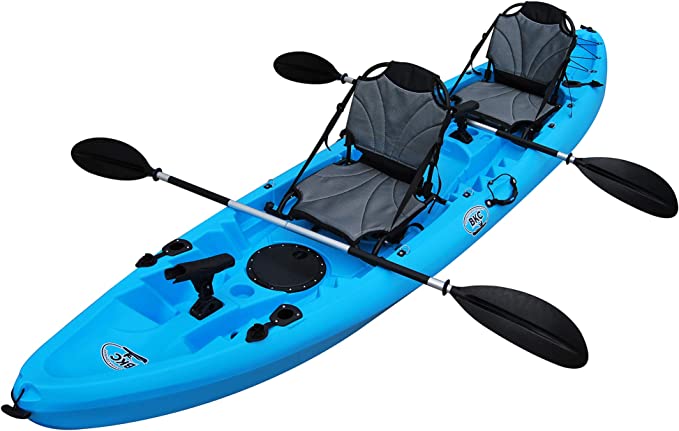 Sit-inside kayaks are overrated. Sit-on-tops deserve more respect. High vantage points bring a lot of benefits. How else will you spot your next catch? The TK219 understands this. It's why BKC has installed two aluminum frame seats at the top of its structure.
Bring any snacks along. I always do. If you're like me, then you'll be pleased by the watertight storage space on board.
Throughout the kayak's surface, there are two watertight hatches. Perfect for keeping your valuables dry. That is… if you consider chips valuable. Depends on the flavor!
While the TK219 may only have a single layer of polyethylene to count on, its build process circumnavigates any durability issues. Molded from a single piece of high-density polyethylene. On paper, the specifications say one layer. In reality, it feels closer to three.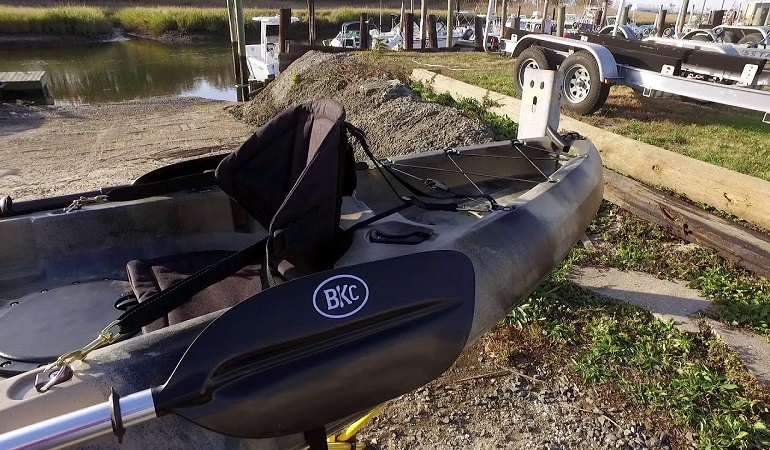 Between its build and waterproof hatches, I'd say this is one dependable kayak. It's also got an appreciably low weight.
Features
Weight: Sixty-eight pounds
Best Feature: Waterproof storage space
Build Material: Polyethylene
Comfort: Aluminum frame seats
Length: Twelve feet and eight inches
Pros
A mounting bracket and four fishing rod holders come pre-installed.
Constructed from a single piece of high-density polyethylene.
Two watertight hatches can be found on board for keeping your valuables dry.
Cons
Sit-on-top tandem kayaks won't keep you as dry as inflatable kayaks with low-profile seating.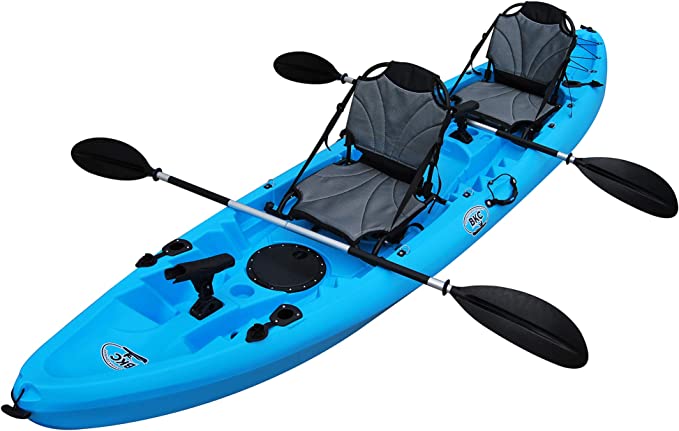 BKC TK219 12.2′ Tandem Sit On Top Kayak
The Price of "BKC TK219 12.2′ Tandem Sit On Top Kayak" varies, so check the latest price at

A behemoth. The FeelFree Lure II Tandem is plus-sized. You'll love its space. Despite the troubles that you'll encounter conveying it. Frankly, it has to be talked about. Hauling around something that is more than fourteen feet long is a real hassle.
Not to mention lodging it. Yet another logistics nightmare. Regardless of its troubles, the FeelFree Lure II Tandem is a well-built yak. Stand carefree. Take advantage of the non-slip padding that has been attached to its surface.
Make use of its Gravity seat. Why is it named that? I haven't the faintest idea. All I know is that it is comfortable. That could be said for the entirety of the FeelFree Lure II Tandem. Homely, in all the best ways.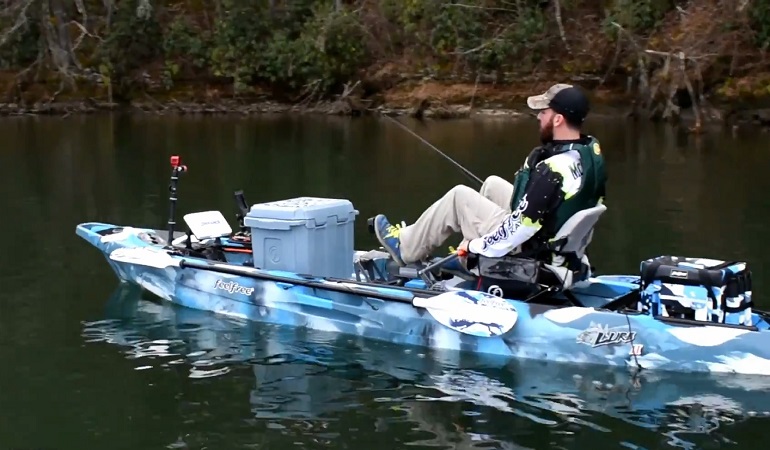 It even comes with an electronic sonar pod. Think it's cheating? Don't like it? Don't worry, it's removable. The FeelFree Lure ii tandem is a very considerate kayak. As I mentioned before. From a logistics standpoint, this thing is a nightmare.
Surprisingly, it's not the longest kayak on the list. That honor belongs to another beast. A true titan.
Features
Weight: One hundred and five pounds
Best Feature: Standing pad
Build Material: Molded plastics
Comfort: Gravity seat
Length: Fourteen feet and two inches
Pros
Multi-faceted build. Comfort, stable, and best of all, versatile.
Comes with a removable sonar pod. The fish will have nowhere left to hide.
Reliable standing pad that has non-slip properties.
Cons
It's massive, and so it will be difficult to transport and store.

FeelFree Lure II Tandem Fishing Kayak
The Price of "FeelFree Lure II Tandem Fishing Kayak" varies, so check the latest price at

Elegantly designed. Could you expect anything less? Black cherry is an aesthetic that is difficult to pull off. The Old Town Twin Heron managed to do it. How? Moderation, my friend. Moderation is the key to anything design related.
Aside from its looks, there are plenty of support features baked into it. Trouble maintaining correct paddling posture? Me too. The Old Town Twin Heron wants to help us. It's why it comes with Glide track foot braces.
For more than just correct posture. These foot braces improve your yaking control. Or should I say your control over your double kayak? Either way. It's a great feature. If reliability is what you seek, then count on the Old Town Twin Heron's blueprint.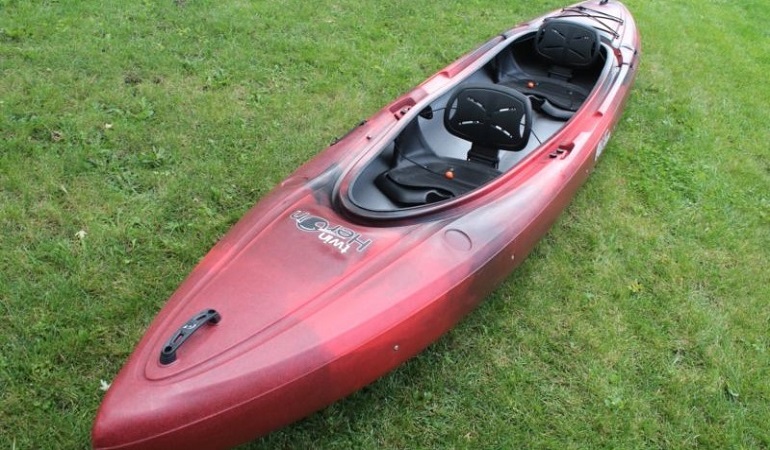 Constructed from three layers of polyethylene. Nothing is getting through it. Soldered together. Those layers are inseparable. As for its hull design? Specially engineered to prevent your bow from popping out of the water.
Features
Weight: Sixty pounds
Best Feature: Glide track foot brace
Build Material: Three-layer polyethylene
Comfort: Comfortable flex seat
Length: Thirteen feet and five inches
Pros
Black cherry is such an elegant aesthetic. It really gives this kayak a classic feel.
Soldered together using three layers of polyethylene. Talk about durability.
Its auto-trim hull design prevents the bow from popping out of the water.
Cons
This one is my personal favorite, nothing to complain about.

Old Town Twin Heron Kayak, Black Cherry
The Price of "Old Town Twin Heron Kayak, Black Cherry" varies, so check the latest price at

The titan has arrived.
Fancy longer fishing trips? Get the Blackfoot 160. Many tandem kayaks promise space. But they'll never give you the storage space and length of the Aquaglide Blackfoot. This kayak length was always a desideratum of mine. I didn't think it was feasible.
Boy, have I been proven wrong. Something else I enjoyed about the Aquaglide Blackfoot was all the extras that it came with.
Need a fishing cooler? Aquaglide's got your back. Included with the Blackfoot 160 are many goodies. A fishing cooler. A storage bag. Even a repair kit. I suppose Aguaglide was feeling magnanimous when putting this deal together.
For your back and bottom, plush seats. Among the most comfortable that I've felt. When it comes to kayaks, that is. As for its weight capacity. Colossal. Eight hundred pound weight capacity. What can't you bring on board this beast?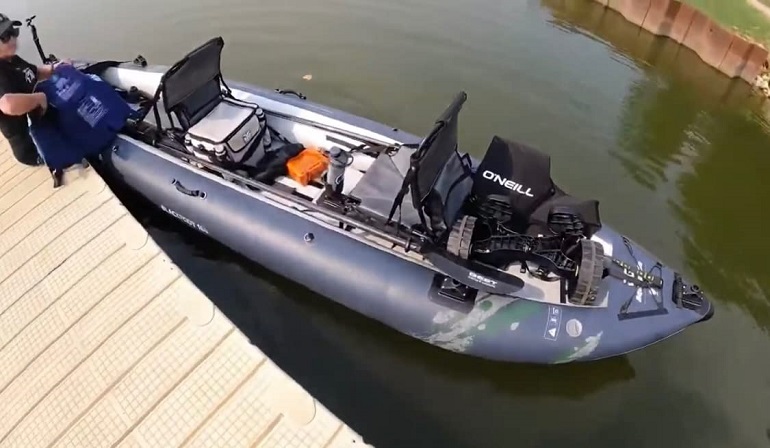 I may be frugal, but I'd happily pay full price for this tandem kayak. Not just because of how much space it brings but also its weight. Fifty pounds. Minuscule. There are dumbells that weigh much more than this gargantuan kayak.
Features
Weight: Fifty pounds
Best Feature: Eight hundred-pound load capacity
Build Material: Duratex
Comfort: Plush seats
Length: Sixteen feet long
Pros
Bring your dog, partner, family, and whomever else you want. This fishing kayak can fit them all.
Single kayaks can never compete with the Blackfoot's weight capacity of eight hundred pounds.
Comes with a storage bag, repair kit, and fishing cooler.
Cons
You will need a car roof rack and some help transporting this kayak.

Aquaglide Blackfoot 160
The Price of "Aquaglide Blackfoot 160" varies, so check the latest price at

Want steadiness? Is speed a desideratum of yours? The Wilderness Systems Pamlico has got both. No corner spared. Every part of it was optimized for performance. More so than any other kayak that I've encountered in the last two years.
Not bad. Especially considering its build. Polyethylene. Nothing out of the ordinary. A quite common building material, at least as far as kayaks are concerned. Aside from its speed. The Pamlico 145T benefited greatly from its seating arrangement.
Supportive seats. The seats provide extra care to vital areas of your back. I said earlier that the Pamlico 145T benefited from this.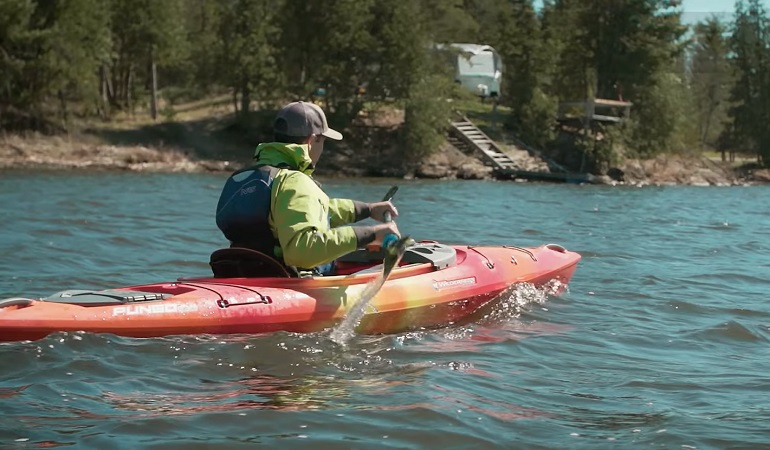 What I meant was that thanks to its seating arrangement, I was able to maintain the correct paddling posture. Regardless of how intense each stroke was. Meaning that I could fully enjoy the Pamlico 145T's speed capabilities. And boy, was it fast! A rounded hull will do that to a kayak.
Features
Weight: Seventy-three pounds
Best Feature: Supportive seating arrangement
Build Material: Polyethylene
Comfort: AirPro Tandem
Length: Fourteen feet and six inches
Pros
Speedy kayak thanks to its rounded hull. No better design for moving through the water.
Enjoy its minimal rocker and chine design's stability.
To increase your control: front and back foot braces have been added.
Cons
Well designed and looks great. I found no negatives to speak of.

Wilderness Systems Pamlico 145T
The Price of "Wilderness Systems Pamlico 145T" varies, so check the latest price at

Stability. It seems I've been talking about stability forever. I get it. It's a key component of any sport. Especially water sports. It's one of those qualities that you can only appreciate once you've had enough experience within a sport.
For example, kayak fishing. It's not easy. Not at first. A stable boat, one with an I-beam construction, will go a long way toward making it easier. Non-slip flooring also pays dividends. Fortunately, the Sea Eagle SE370K_P has both.
Another shining quality of this kayak is its durability. PVC exterior. If you've got to wrap the outside of your kayak with something, let it be PVC. All seams on the deck have been welded shut. Further raising the longevity of the Sea Eagle.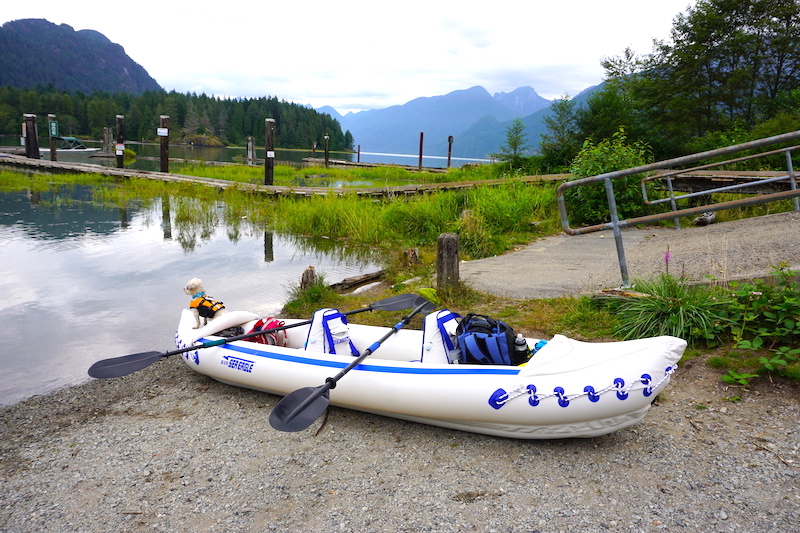 As I mentioned before, the I-beam construction of this kayak is superb. Throw everything against it. Even the biggest waves won't rock this yak. Steady sailing guaranteed. Don't believe me? Put it to the test. Take it out anywhere you please, and you'll get the same easy riding.
Features
Weight: Thirty-two pounds
Best Feature: I-beam construction
Build Material: PVC
Comfort: Inflatable seat
Length: Twelve feet and six inches
Pros
Its I-beam construction provides the SE370K with excellent stability.
Crafted using durable PVC. Resistant to punctures and abrasions.
Has welded shut seams to prevent tearing or unraveling of any kind.
Cons
More could have been done to improve its comfort level.

Sea Eagle SE370K_P Kayak
The Price of "Sea Eagle SE370K_P Kayak" varies, so check the latest price at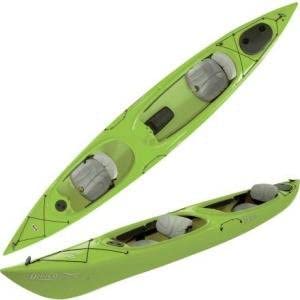 A stabil-form hull. The Dirigo tandem's hull is designed for stability without the loss of control. Forgiving kayaks are great. More so when two paddlers are trying to find their rhythm. Getting in sync is a trial.
What's so special about the Dirigo? Wasn't the Sea Eagle the most stable kayak? Yes, however, the Dirigo goes about things in its own way. This tandem yak's hull design increases not only its stability but also your control. Maneuverability sees a huge boost.
More so than any inflatable kayak. Usually, what we see is that inflatables are easy to control. Although they lack the stability of rigid kayaks. The Dirigo, by virtue of its hull design, manages to encapsulate the best of both worlds. Completely embodying each trait.
Constructed from three separate layers of polyethylene, the Dirigo is nigh impenetrable. It does a lot with a little. The hallmark of intelligent design.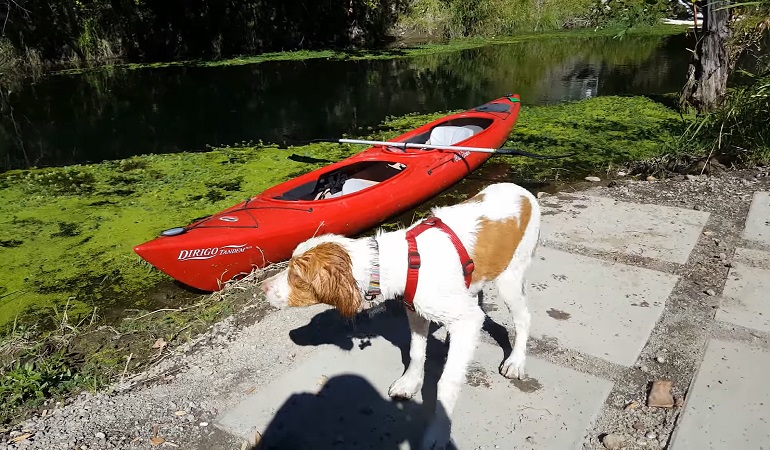 Features
Weight: Seventy-two pounds
Best Feature: Stabil-form hull
Build Material: Three layers of polyethylene
Comfort: Glide track foot braces
Length: Fifteen feet and three inches long
Pros
Click to seal hatch included for easy storing of your valuables.
Has several comfort accommodations, including a foot brace system and thigh pads.
Its stabil-form hull increases paddler control without compromising on speed.
Cons
Two paddlers can comfortably sit in this kayak. However, the closed cockpit design takes up a lot of room.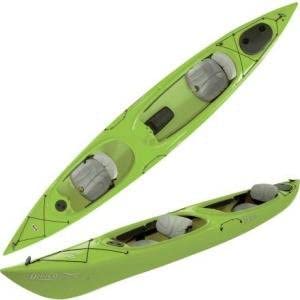 Old Town Dirigo Tandem Plus Kayak
The Price of "Old Town Dirigo Tandem Plus Kayak" varies, so check the latest price at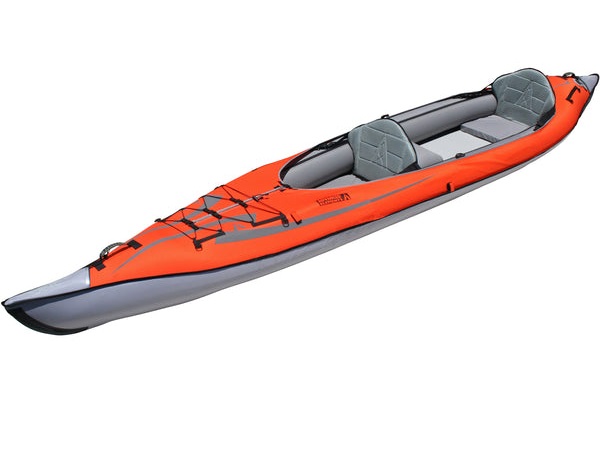 Step into a world of limitless exploration with the AdvancedFrame Convertible Tandem kayak. As someone who has experienced the thrill firsthand, I can confidently attest to its remarkable versatility.
With an impressive 550-pound capacity, you'll never have to compromise on what you bring along. It surpasses expectations by providing convenient bow bungees that secure your dry bag filled with on-water essentials.
Crafted with the utmost care, the combination of PVC tarpaulin, aluminum frame reinforcement at the bow and stern, and triple layers of ripstop material ensures unwavering durability, instilling confidence on every journey.
Transportation and storage have been revolutionized by the ingenious design of the sturdy carrying bag. Not only does it securely hold your kayak, but it effortlessly transforms into a backpack, allowing for effortless portability.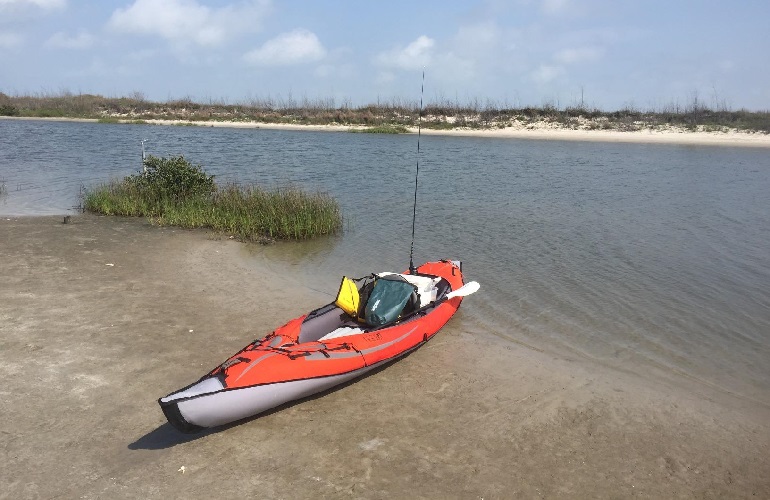 While this exceptional kayak does not come bundled with accessories such as paddles, a pump, spray skirts, or extra decks, this actually presents an exciting opportunity. By selecting high-quality accessories that suit your preferences, you have the power to enhance the overall experience of your tandem kayak.
The AdvancedFrame Convertible Tandem kayak boasts two inflatable seats designed to provide unparalleled comfort. Don't let their substantial appearance deceive you – these seats offer a luxurious and cushioned experience, allowing you to fully immerse yourself in the joy of kayaking.
Features
Weight: Fifty-two pounds
Best Feature: Multiple air chambers
Build Material: PVC Tarpaulin
Comfort: High support padded seats
Length: Fifteen feet
Pros
Boasts impressive features such as convenient paddle holders and practical pockets located behind each seat.
Swift setup—unbox, inflate, install seats, and embark on your journey in less than 15 minutes.
Its durable materials make it resilient against rocks and stones and can tackle class 3 rapids.
Cons
Its heaviness makes transportation a challenge.
May require a longer drying time compared to other boats before it can be conveniently packed away.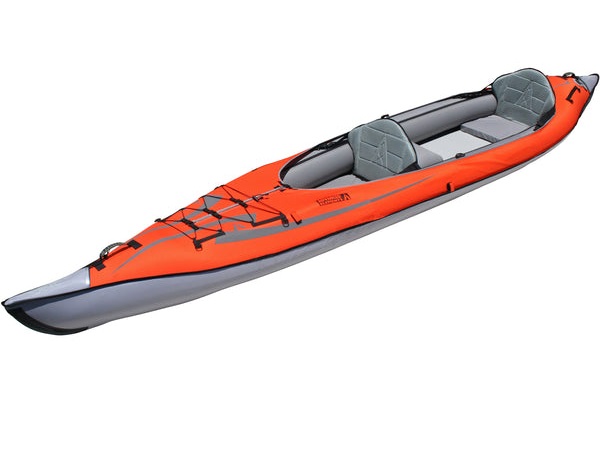 Advanced Elements AdvancedFrame
The price of "Advanced Elements AdvancedFrame " varies, so check the latest price at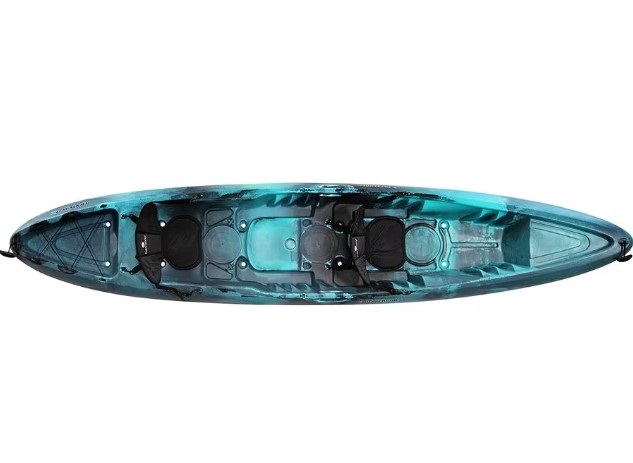 The Rambler Tandem is a beast of a kayak designed for those seeking an adventure-packed ride. Weighing in at a sturdy 78 lbs, it's true that this kayak has some weight to it. Compared to other tandem kayaks, you'll see why the Rambler reigns supreme in tandem kayaking experiences.
While the seats and storage space of the Perception Rambler 13.5 are suitable for recreational paddling, they may not provide enough comfort for extended trips.
Perception crafts their kayaks using their unique one-piece rotational molding technology, using high-density polyethylene material. This process ensures a leak-proof, rugged, and durable construction that withstands the test of time.
Perception Rambler Tandem kayak provides spacious seating areas with three comfortable molded seats. The removable front and rear seat offer adjustable backrests and improved comfort compared to other tandem kayaks with thin padding.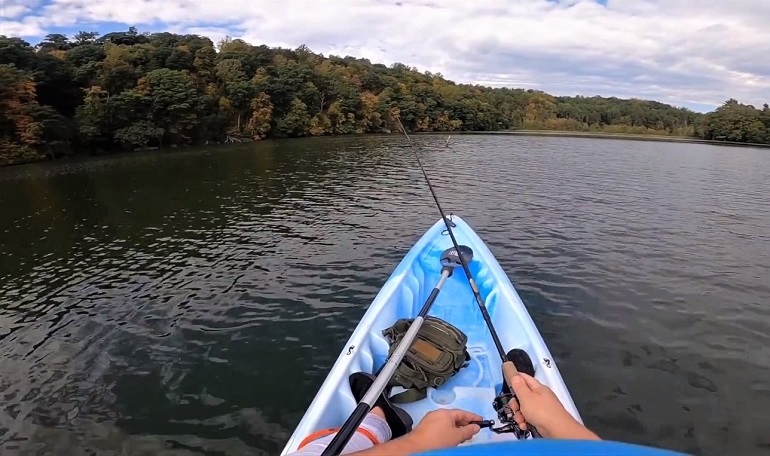 You can easily switch to solo paddling mode with the convenient centering seat mounts on the Perception Rambler tandem kayak.
Features
Weight: Seventy-eight pounds
Best Feature: One-piece rotational-molded kayak
Build Material: Polyethylene
Comfort: Best-in-class ergonomic support
Length: Thirteen feet six inches
Pros
Stands out as an exceptionally affordable tandem kayak in the market.
Its impressive design and exceptional stability make it a top choice for beginners.
With its leak-proof construction and excellent buoyancy, it ensures a safe and secure kayaking experience.
Cons
One drawback of the Rambler 13.5 is its limited features, as it is an entry-level tandem kayak.
The bow storage tray lacks depth and bungee cords, limiting its storage capacity. Adding a bungee would greatly enhance its overall storage capability.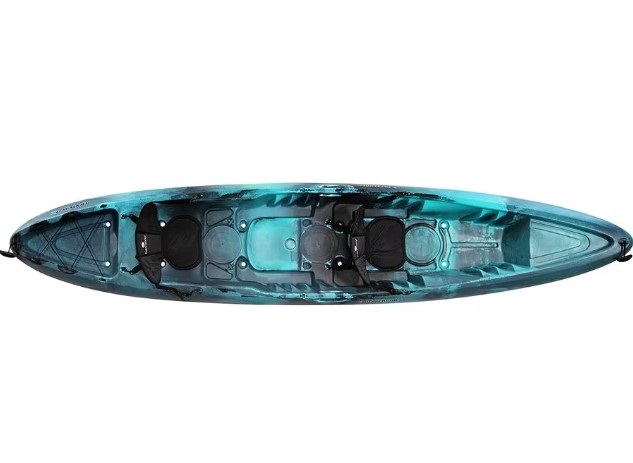 Perception Rambler 13.5
The price of "Perception Rambler 13.5 " varies, so check the latest price at

Looking for a tandem kayak that offers stability and a great experience on both flatwater and whitewater, then the 380x is definitely the one for you. I speak from personal experience when I say that it delivers an enjoyable and versatile tandem kayaking adventure.
With its wide base, the Sea Eagle 380x offers exceptional stability. Whether facing challenging conditions or calm waters, stability remains a prominent feature of this tandem kayak.
While the Sea Eagle 380x may not be the fastest kayak, its focus lies in versatility rather than speed. Though it requires some effort to accelerate, once in motion, it maintains a decent pace.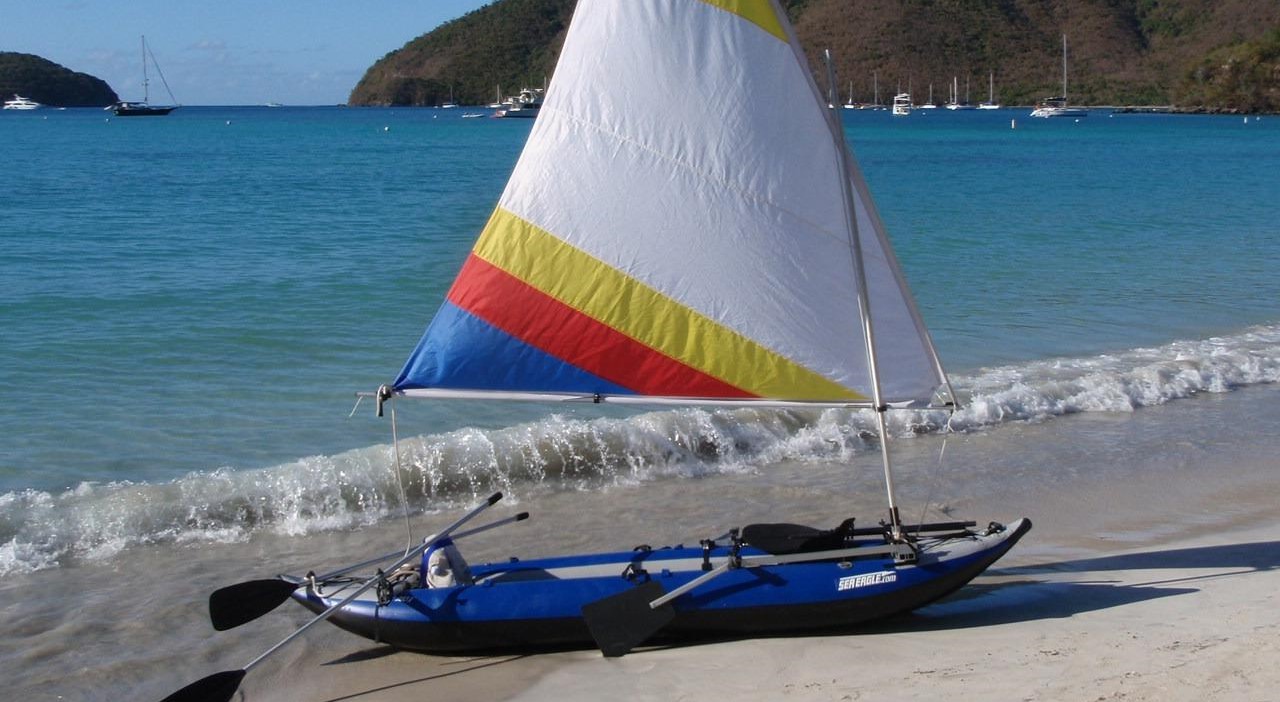 The inclusion of a removable skeg enhances its tracking capabilities while still allowing for easy maneuverability—a delightful combination. This inflatable kayak offers various package options, allowing you to customize the kayak according to your specific preferences and requirements.
During my experience with this inflatable tandem kayak, I was delighted to find a spacious pocket on the back of my upgraded seat. This feature sets it apart from other inflatable kayaks that often fall short of storage.
Features
Weight: Forty pounds
Best Feature: 16-floor drain valves
Build Material:  1100 Decitex Reinforced
Comfort: Deluxe Inflatable Kayak Seats
Length: Twelve feet six inches
Pros
Upgrade to the pro package and enjoy the complete set, including 2 paddles, 2 seats, a carry bag, a repair kit, and a pump.
Ticks the box for portability and transportability.
Bungees provide versatile storage options for securing kayak stow bags or any additional gear.
This versatile kayak is designed to handle various types of water with ease.
Cons
The absence of a pressure gauge means you have to rely on estimation to determine when the inflation process is complete.
May not be the fastest inflatable kayak available.

Sea Eagle Explorer 380x
The price of "Sea Eagle Explorer 380x " varies, so check the latest price at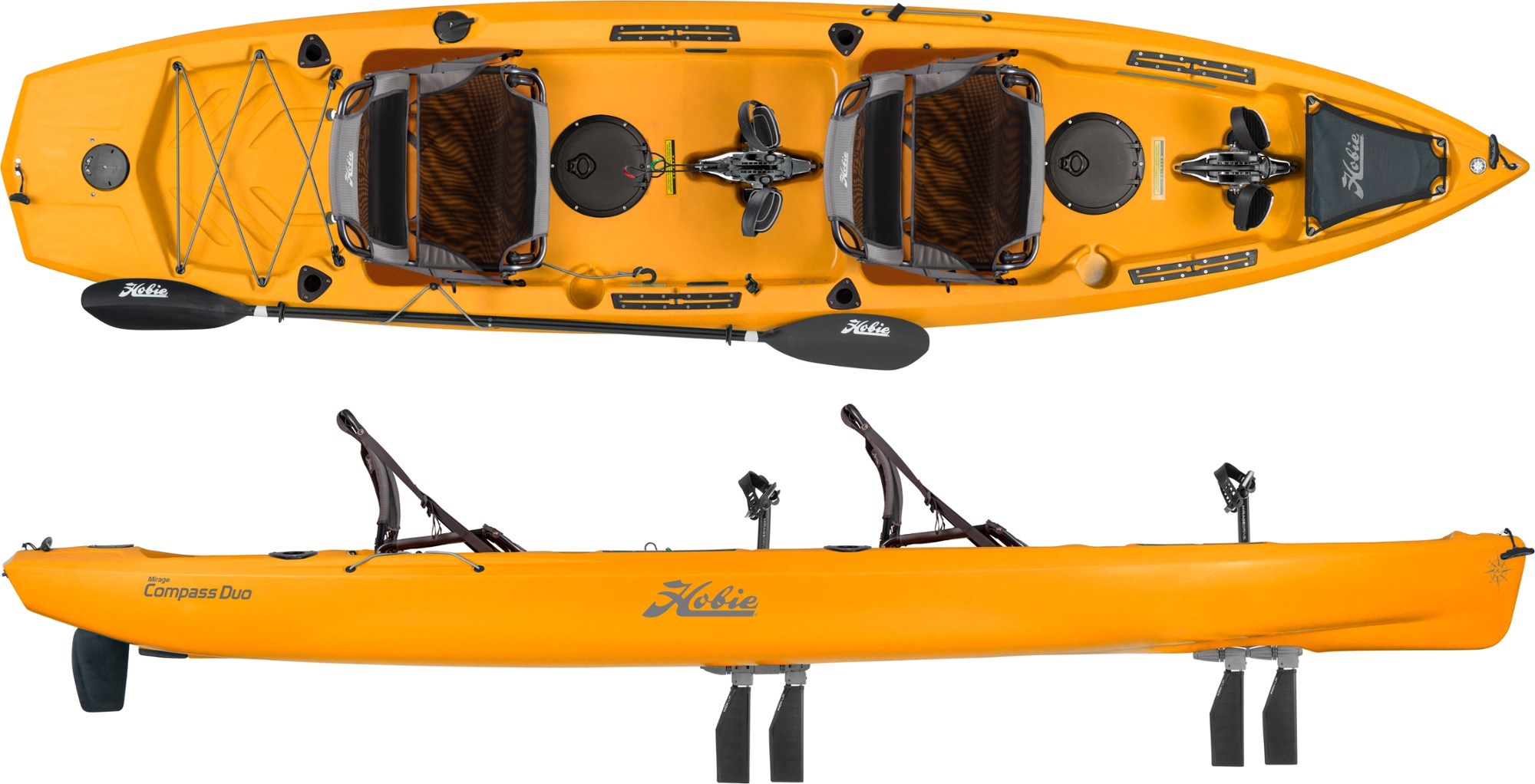 The Hobie Mirage Compass is a fishing kayak equipped with a pedal drive system, making it suitable for a diverse range of individuals, including beginners. With its user-friendly pedal propulsion, it offers a more accessible and effortless experience compared to traditional paddling.
The standout feature of the Hobie Compass is its MirageDrive pedal system, which efficiently propels the kayak through the water. This provides exceptional convenience for hands-free fishing, allowing you to focus on your angling without worrying about paddling.
Although pricier and heavier, the Mirage Compass offers superior speed, stability, and an abundance of customizable features and accessories to tailor your kayak to your preferences.
The Hobie Compass offers convenient features for anglers, including two built-in rod holders and H-track accessory mounts for customization without hull drilling. The rear storage deck with bungee rigging provides ample space for gear storage with added security.
Features
Weight: Ninety-two pounds
Best Feature: MirageDrive 180 pedal system
Build Material: Polyethylene plastic
Comfort: 2 anodized aluminum alloy frame seats
Length: Thirteen feet five inches
Pros
The super comfy and removable seat transforms into a convenient camp chair, providing a cozy spot to relax and unwind.
Effortlessly navigate through a wide variety of waterways.
The pedal drive system allows for smoother and more efficient propulsion, resulting in faster speeds on the water.
Recommended as an excellent choice for passionate fishermen.
Cons
Not recommended for solo use without assistance for loading/unloading.
Higher price tag compared to traditional paddle kayaks.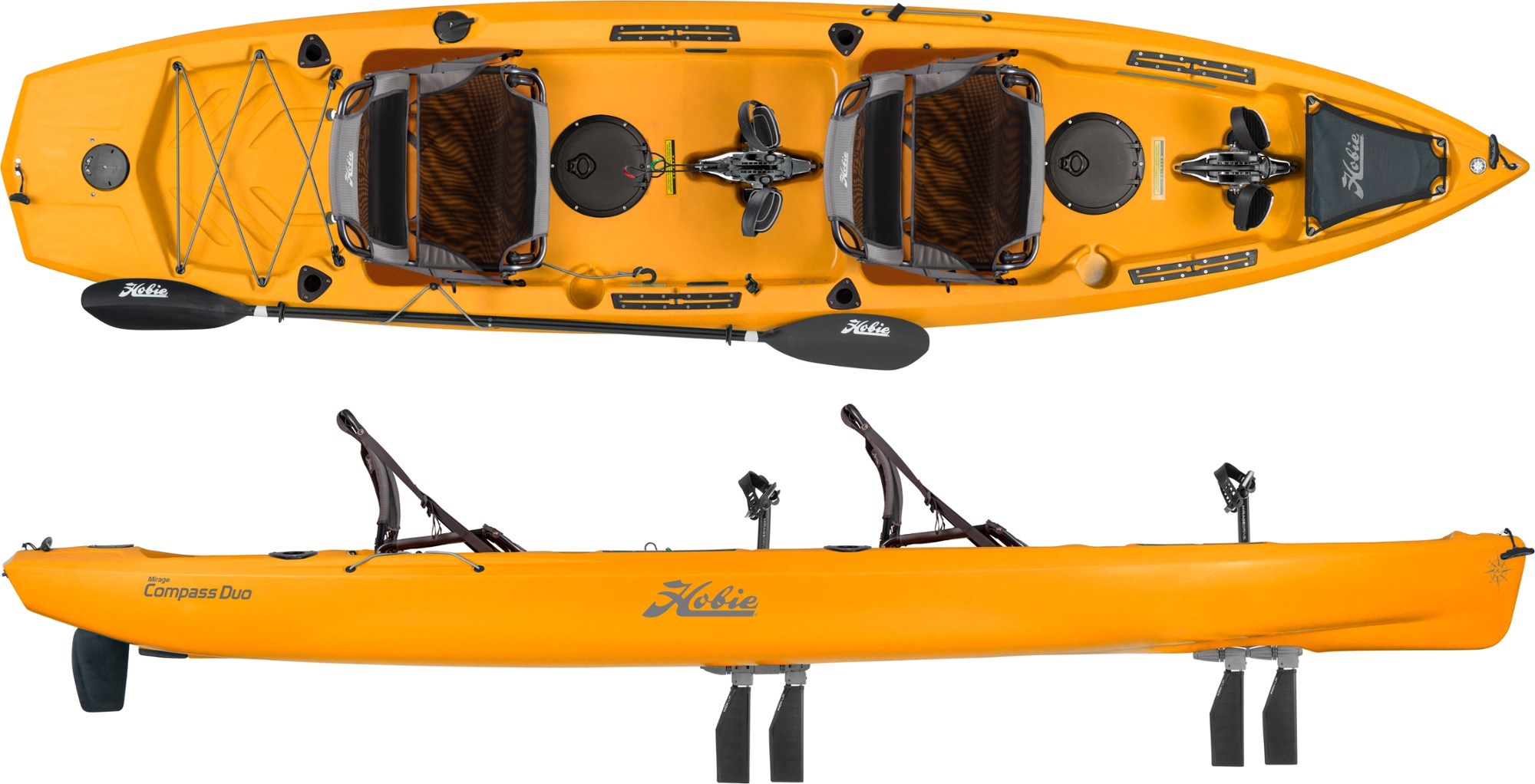 Hobie Mirage Compass
The price of "Hobie Mirage Compass" varies, so check the latest price at
Qualities Your Sit-inside Tandem Kayak Should Have
The Town Dirigo tandem has a stabil-form hull. However, that doesn't make it any lighter. Cup holders and a removable seat booster, they do not make a good kayak. Taller paddlers would agree with me. For far too long, they've had to cram themselves into tight spaces.
Quality kayaks have many things in common. Their blueprints may be worlds apart. However, when it comes to the fundamentals. The basics. Everyone follows the same lead. Want to know if you're getting a good deal? Don't shell out.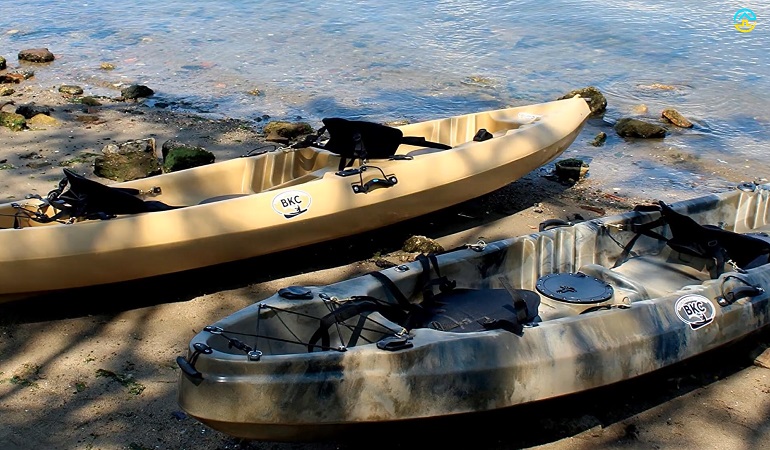 First, become acquainted with the qualities that all of the best tandem kayaks share. This is how you'll be able to tell the impostors from the authentic.
Inflatable Tandem Kayak Stability
Not steady? Don't purchase. Seriously. A tandem kayak must be stable. If a tandem kayak lacks this key quality, steer far away from it. No matter how cheap it may be. You will be throwing away your money.
A tandem kayak must be able to seat you and a companion. People weigh differently. Shocker. These weight disparities can unbalance smaller watercraft. An unbalanced kayak is one that is going to tip over. You can count on it. Anything short of evening the weight onboard out will not suffice.
Why bother? Why purchase a kayak that is going to trouble you so much? Tandem kayaks must be able to handle different weight loads, regardless of the conditions. Top-grade yaks have hulls designed to handle the brunt of a load.
Parts can also be added to further increase a kayak's stability. Something to keep in mind: the faster a yak is, the less likely that it was optimized for a steady ride.
The Capacity of a Tandem Fishing Kayak
At least two people. That's a no-brainer. It's called a tandem for a reason. Are there kayaks that can seat more individuals? Sure, but they are rare. There certainly aren't any on this list. However, there is more to a tandem's capacity than just seating.
Weight capacity. It matters. For solo kayaks and perhaps more so for tandem kayaks. A trick that sub-par tandems will pull on you revolves around their weight capacity. It's subtle. You'll need to pay attention to catch it.
There are some lower-quality tandem kayaks that proclaim to be able to seat two individuals at once. However, their weight capacity tells another story. There's a reason for this. Manufacturers, in an effort to save a few pennies, use less or weaker materials to construct their yaks.
The end result is an illusion. A "tandem" kayak with two seats and a length. But nowhere near the weight capacity. A dirty trick.
Tandem Touring Kayak Length
Length directly correlates to space. Dependent. Many tandem kayaks float around the twelve feet long mark. There are many on our list that can extend well past that number. Is that it? Does length affect anything else?
While a kayak's length does affect a few other categories. None more so than storage space. In this instance, storage space refers to two different things. The first one you already know. How much space onboard does one have to lodge their wears?
However, the second one you may not have considered. Lodging the tandem itself. The longer it is, the more trouble you'll have looking for a spot to put it in. Is their space available in your home for an average tandem? How about a sixteen-footer?
Storing it outside? Sure, it's possible. Though, weathering will always be an issue. How long can your kayak remain outdoors before it begins to deteriorate? I'd suggest getting an inflatable/blowup kayaks. Easy to store and even easier to handle.
Solid kayak your only option? Tarps. Place a tarp over it to shield it from the sun's rays.
Foot Brace System and Support
Support systems. Whatever kayak you elect, take a gander at its support features. The most recurrent addition? Foot braces. What is their purpose? Easement. Foot braces are there to help you get more comfortable.
Frankly, kayaks are not the most comfortable form of transport. Spend a few hours in one and you'll agree with me. My bottom always feels as if it's been grounded down to dust. What exactly do foot braces do? They prop you up.
Utilize the foot braces to maintain the correct paddling posture. Other support features that your kayak can have include padded thigh rests. Padded thigh rests work alongside the foot braces.
Further reducing the strain of the correct sitting posture. Notice. Both of the aforementioned features not only comfort you but aid your paddling. That is the mark of a quality support feature.
Does it aid your paddling? If so, you've got a good one.
Tandem Kayaks? Why Get One?
Fishing enthusiasts. Are you happy with your sit-inside kayak? You answered yes, so predictable. Does paddling a tandem kayak sound difficult? An average kayaker would think so. Paddling a tandem kayak can be a lot of work. Unless you bring along a friend.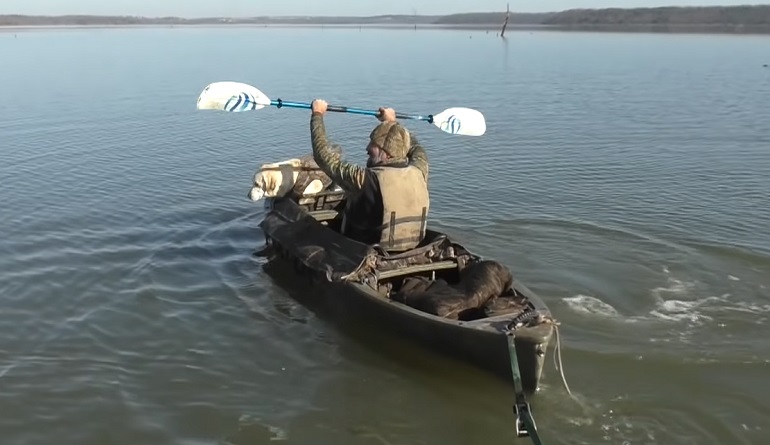 There are several reasons to get a tandem sit-on-top kayak. Wider kayaks may have stability, but tandem kayaks deliver the same and then some. Want to know more? I'll imagine you answered yes again. Then join me as I list the top benefits of owning a tandem yak.
It's not just about inflatable kayak length. Once we are done here, you'll never want to paddle solo again.
Break Time?
Forget the destination. It's all about the journey. An adage often parroted. Its relevance is so high because it's true. How then? How can you enjoy your kayaking trip if you are concentrating on your form? Forget delivering efficient paddle strokes.
Let your partner earn his keep. A tandem fishing kayak is so great because you can bring a companion along. The workload is severely reduced. Paddle in unison. A break your desideratum? Let them take over?
What happens when they need to rest? Tell them to keep going! When you paddle a tandem kayak with someone, you'll never brunt the full load. This means that you can go farther. Without the need to expend more energy.
Isn't that the whole point of kayaking? Relaxation and sightseeing? A tandem kayak is specially made for both end goals. As good as a solo kayak can get, it'll never be able to compete on those fronts.
Two Are Faster than One!
Speed. Everyone wants to go faster. Faster work day. Faster commute. Faster… well, you get the picture. Why stop now? This fixation must continue! By and large, an inflatable tandem kayak is faster than a solo touring kayak. Even one with a trolling motor equipped.
Two paddle holders, perfectly in sync. Delivering stroke after stroke cannot be competed against. Especially when using aluminum paddles. Deadly efficient. What's more. With two paddlers, gone are the days of stop-and-go kayaking.
Should one of you require a rest, the other one can take over. With this, a tandem kayak becomes an unyielding force. A force with two inflatable seats. You shouldn't worry about storage space or weight capacity.
A tandem kayak is specially made to have enough of each. Now, choose your bow paddler (or stern paddler) and get going! I'd recommend sitting closest to the bow. You get to enjoy the sights more.
Younger Kids? Make Them Paddle!
You know! Exercising is a great thing. Have any kids? Make 'em paddle! With a tandem kayak, you can sit back and let your children do the hard work. Why strain your back, and God knows what else? They are younger. They can take it.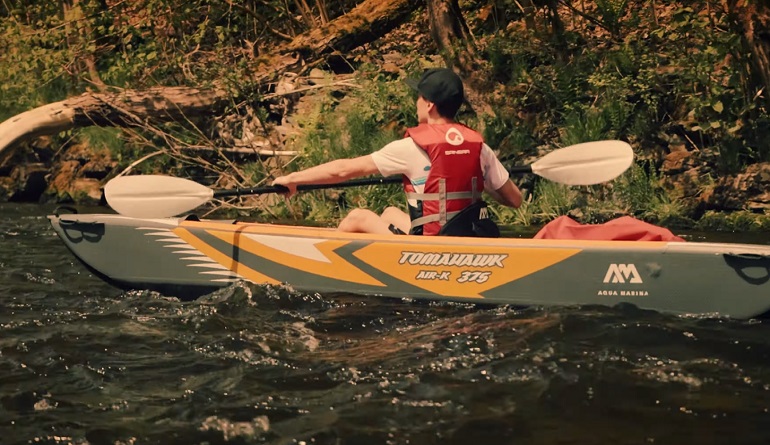 Joking aside, a tandem kayak is a great way to enjoy some quality time with your family. Even if your children are of the four-legged variety (dogs and cats), they can still be brought along. Don't worry about their claws.
Any top-grade inflatable kayak will be constructed from an abrasion-resistant material. PVC… the likely contender. We all spend too much time on our screens. A little family excursion could do your children a lot of good.
Again, if all you have is a dog. I'm sure the pupper would enjoy the fresh breeze. Mine certainly does. And if you have a cat. Well… just leave them alone. You know how cats are. Especially around water.
A Two-person Kayak Has Greater Stability
Stability. When it comes to winter and water sports, this word is repeated ad naseum. Stability this, stable that. It's for good reason. A stable tandem kayak makes for happy paddlers. Want to go overboard? Have your yak flip on you? Of course not!
This is why stability is such a talked about quality. A tandem kayak will always be more steady than a one-person inflatable kayak. Even a tandem kayak solo paddled. Why? Because they need to have the weight distribution to account for two people.
Everything has been optimized. The hull will usually incorporate a chine design. This design breaks up waves and rough currents. A more improved planning hull. The bow and stern are often touched up. Designed to break through the noise.
You can't always paddle on still lakes. The day will come when you will need something sturdy. A tandem kayak is the best option.
FAQs
What Are Appropriate Clothes for Kayaking?
Take it from me. I learned the hard way. Cotton? Leave that at home. Anything that has a moisture-wicking fabric or quick-drying properties will serve you well. There are two top options. Nylon and polyester.
Both have got the makeup to deal with water adequately. While wool may not be ideal. It does make for great insulation. In a pinch, wool clothing isn't the worst thing to have on.
What Are the Drawbacks of a Tandem Kayak?
Are there any? Just kidding. There is one issue that comes to mind immediately. Tandem kayaks are long. Oftentimes, they weigh. A lot. Their size and weight bring many advantages. However, a glaring downside is that transporting them can become a nightmare.
If it's an inflatable, you'll be fine. Otherwise, you better learn how to tie really secure knots. Storing a rigid tandem kayak is also annoying. They certainly won't fit inside your home. Unless you use it as a couch.
Other than storage and transportation logistics, they're great.
Where Should the Heavier Person Sit on a Tandem Kayak?
On a chair. Off the kayak. Kidding aside, the heavier paddler should sit in the back. The rear cockpit can better handle the weight. In most circumstances. If you find yourself paddling against strong winds. Switch it up.
Have the heavier paddler sit in the front. Unless you have a tandem with a generous capacity. Ideally, you should evenly distribute the weight onto your yak. Storage options and dry bags can help balance out any weight disparities.
Is It Possible to Paddle a Tandem Kayak Solo?
Absolutely. Several tandem kayaks give you the option to paddle on your own. Often, you'll have to occupy the stern seat. Pay attention to your yak's specifications! Some tandem kayaks will require you to sit in the very center.
Optimal seating position will vary. Each yak will have their own best option.
My Final Thoughts
Singles and single kayaks are dead in the water. Tandem kayaking has never been so good. We've seen it all. A tandem recreational kayak length that is half the size of a school bus. Touring kayaks that can be used for solo and tandem paddling.
A sit-on-top kayak that's got as many air chambers as I do fingers. Forget solo kayaks. Even most tandem kayaks couldn't hope to compete. Only the best sit-on-top kayaks can offer up monstrous benefits.
Consider this. Next time you're browsing tandem kayak reviews online. Ask yourself: "Why pay more for less?" Save your money! Improve your day out! Get one of the best tandem kayaks around.
Embark on your ultimate ocean kayaking expedition and unlock the wonders of remote natural beauty with the aid of the best GPS for kayaking by your side.