Pursuing your sport doesn't always have to be expensive. With a little research, you can always find cheap paddle boards that make the sport accessible for all.
Paddle boarding is supposed to be a pleasurable activity that everyone can appreciate. Cheap inflatable paddle boards are a great way to get started and really spark your passion for an enjoyable and fun pastime.
Paddle boarding is the perfect way to get out and about on the water. By buying a cheap inflatable paddle board, you can get out there on the water and take in the beauty of your natural surroundings.
On a paddle board, you can push into the ocean or a lake and enjoy the freedom of the open waters.
Whether you're looking for something for recreational paddling or a great paddle board for more advanced use, there should be a budget inflatable paddle board for you.
Top Pick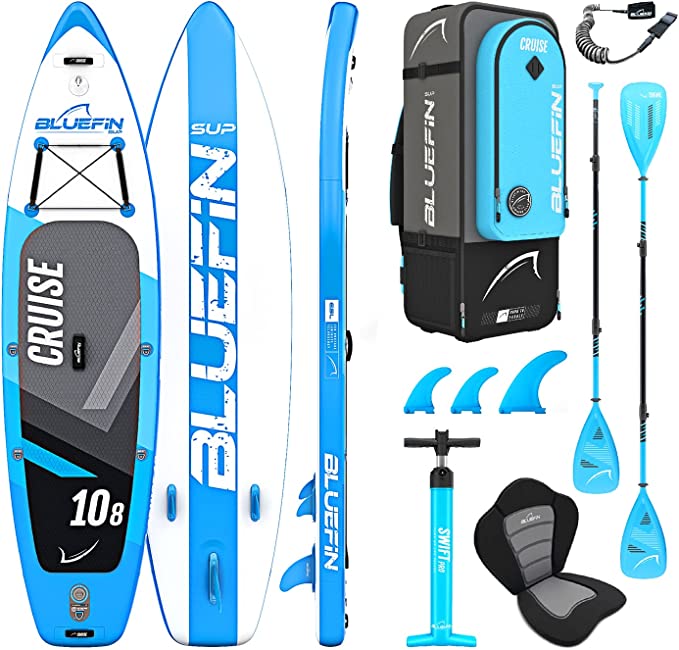 Bluefin Cruise 10'8''
Color: Blue 10'8″
Material: Nylon
Solid Construction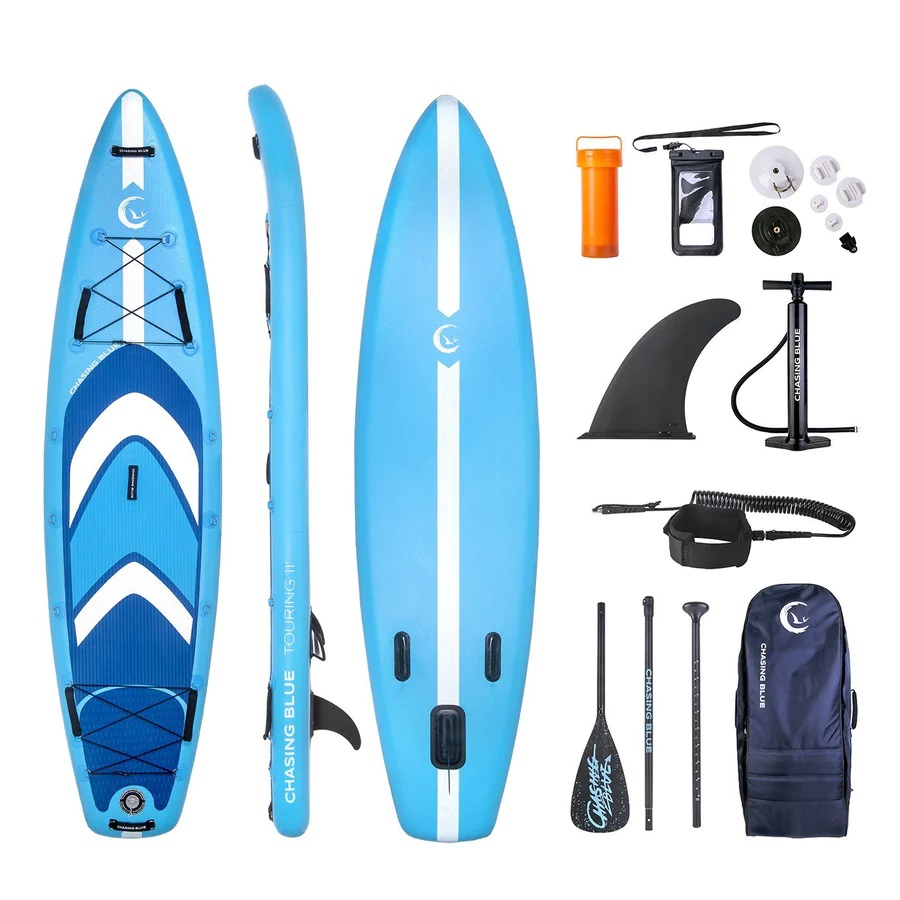 ACE iSUP BOARD
Color: Blue
Material: PVC
Excellent Grip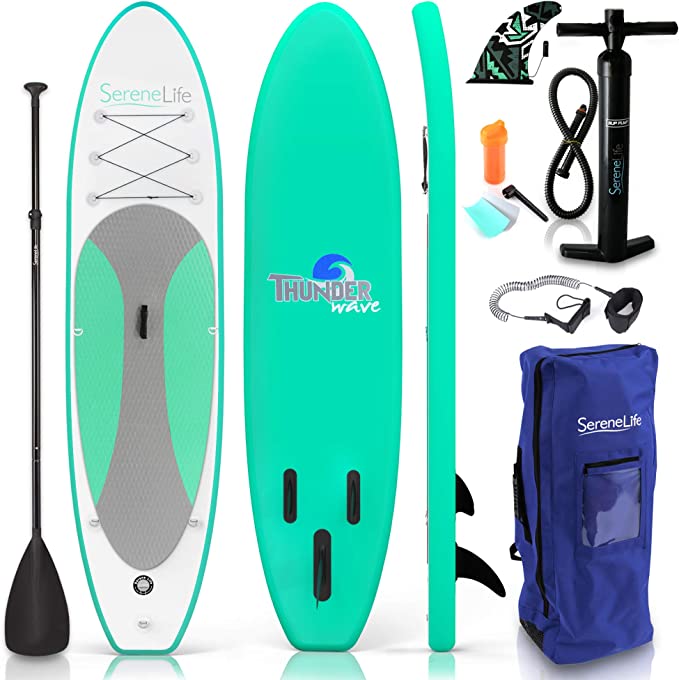 SereneLife Paddle Board
Color: Olive Green
Material: Double PVC
Light & Durable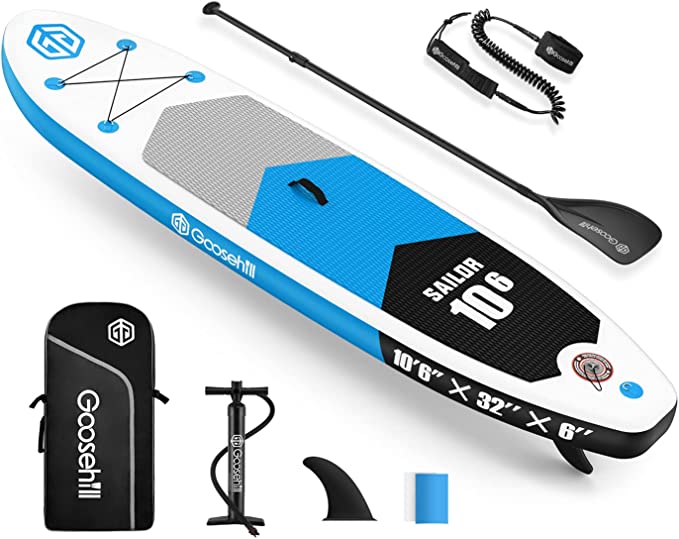 Goosehill Paddle Board
Color: Sailor Blue
Material: Reinforced PVC
Best Bang for Your Buck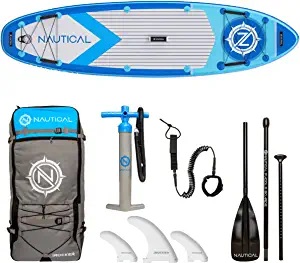 NAUTICAL Paddle Board
COLOR: Blue
Material: PVC
Supreme Stability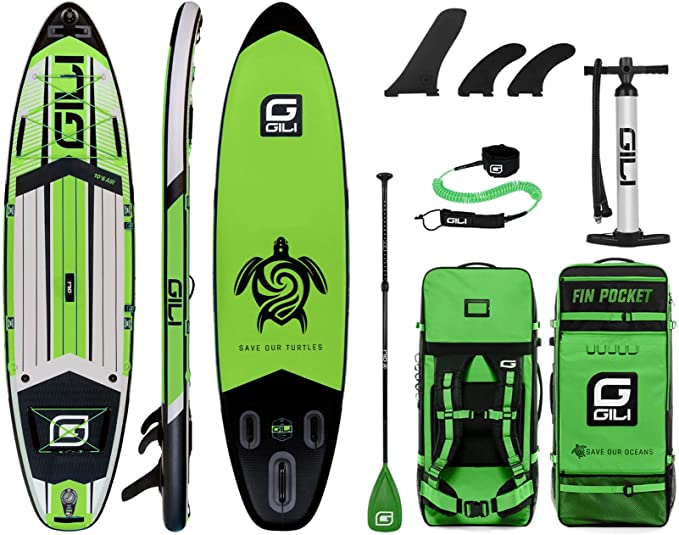 GILI Air Paddle Board Package
Color: Green
Material: Polyvinyl Chloride
Great Weight Capacity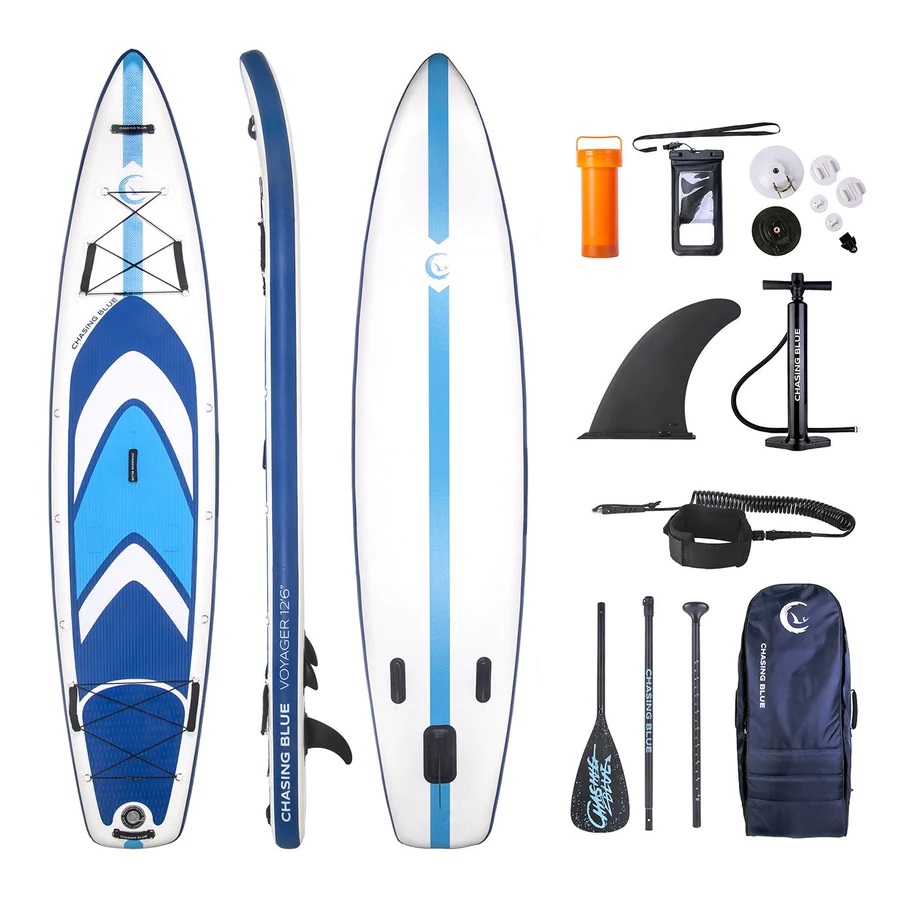 ORION iSUP BOARD
COLOR: Blue
Material: Double-layer PVC
Best of the Rest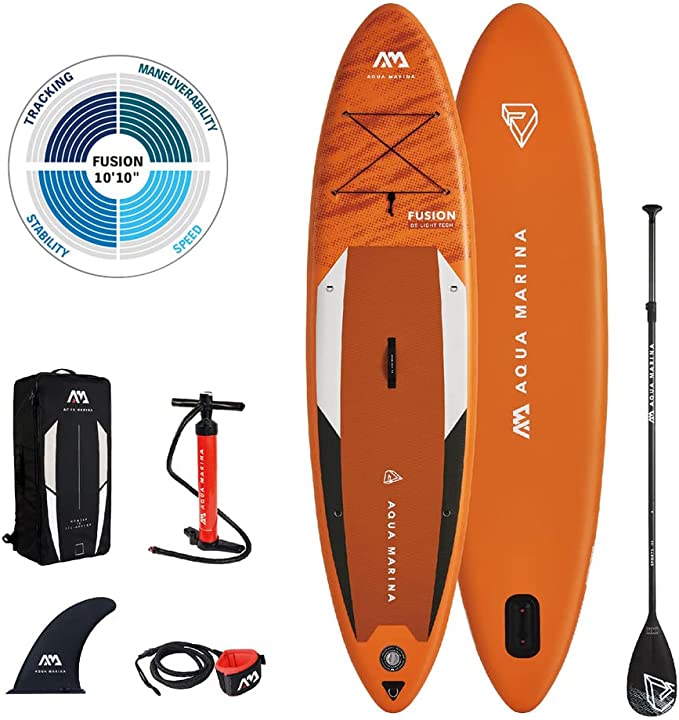 Aqua Marina Paddle Board
Color: Orange
Material: Pvc
For Whole Family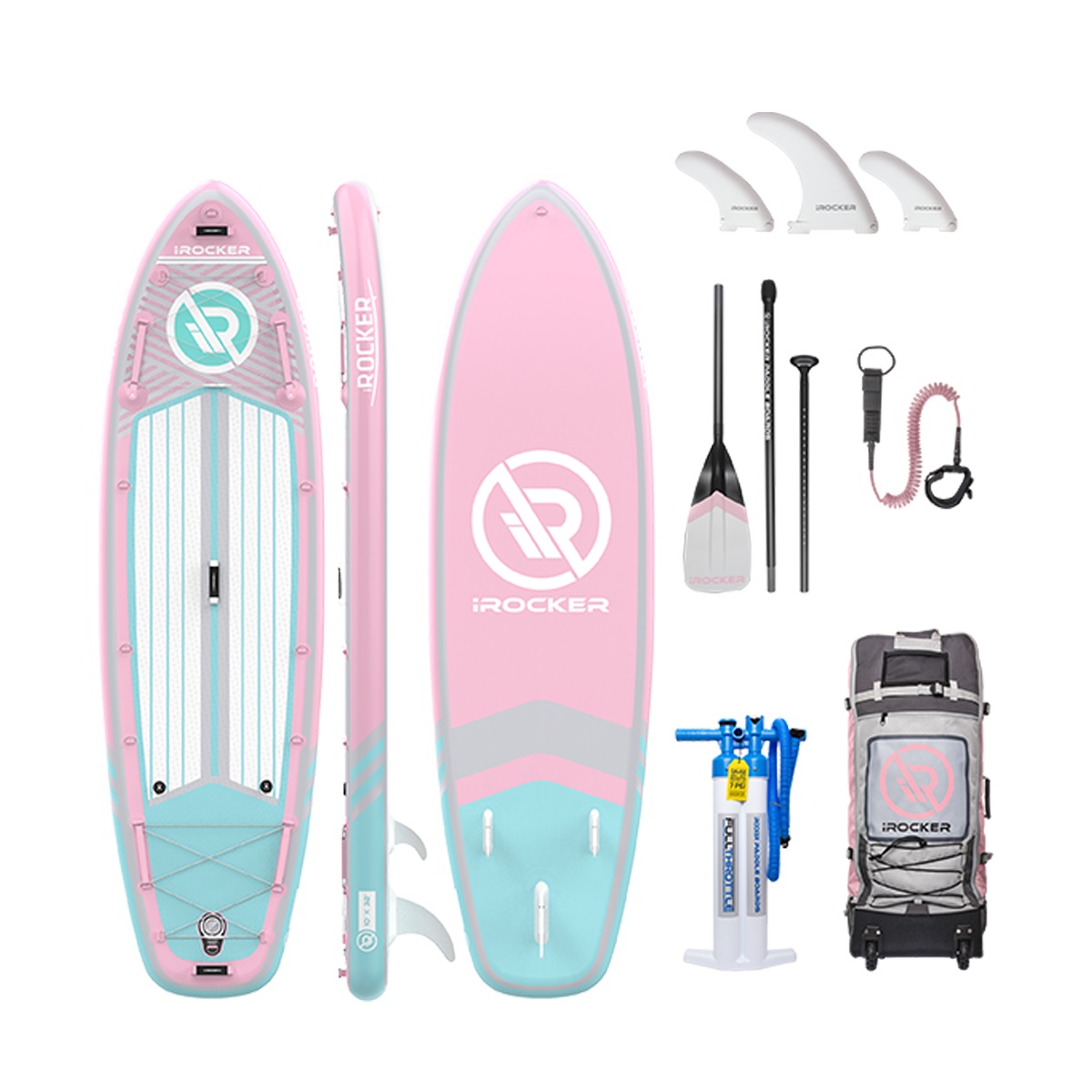 iROCKER All-around 10'
Color: Pink
Material: Pvc
Small yet Responsive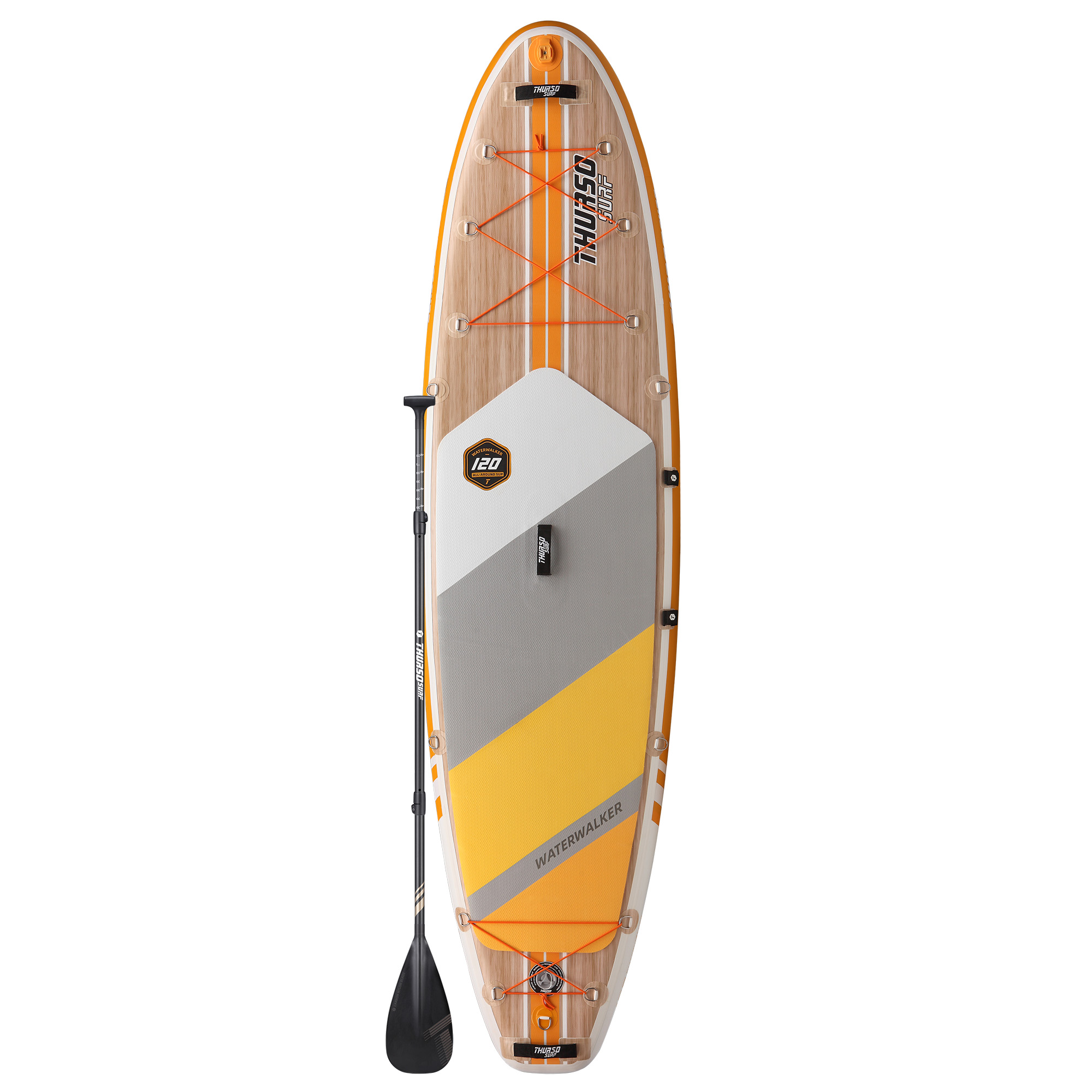 Thurso Surf 120
Color: Tangerine
Material: Pvc
What Makes the Best Cheap Stand-up Paddle Board (SUP)?
When looking for the best cheap stand-up paddle board (SUP), there are a few key factors to consider. Firstly, the material of the board should be durable and lightweight, such as high-quality PVC.
Additionally, the board should have a stable and easy-to-use design, with a width of at least 30 inches and a length of around 10-12 feet. Other features to look for include a comfortable and secure deck pad, multiple attachment points for accessories, and a high-quality paddle.
By finding a SUP that meets these criteria, you can enjoy a fun and affordable way to explore the water.
10 Best Cheap Inflatable Paddle Boards
Whatever your budget and whatever purpose you decide for your new paddle board, this list should have you covered. I have scoured the markets for some of the best cheap paddle boards out there and compiled them for you to consider.
Your next inflatable stand-up paddleboard shouldn't have to break the bank.
For a very reasonable price, you can get your hands on the complete package. This kit comes with everything you could possibly need from a budget paddle board set.
The average-sized board will be perfect for the rider who is already comfortable on a stand-up paddle board and is looking to invest in something that does it all.
The Bluefin Cruise is a premium paddle board that won't break the bank. The pack includes all the optional extras you would expect to see from a much more expensive inflatable paddle board. The Bluefin Cruise comes with a kayak conversion kit, fiberglass paddle, ankle safety leash, double action hand pump, and a large pack.
The kayak seat can be easily attached to the top of the board via multiple D rings, turning your paddle board into a kayak in seconds. The addition of a seat makes it a very versatile board able to tackle more than just flat water.
The comfortable paddle board seats offer much more stability in choppy seas when perhaps standing up isn't a great option.
The Bluefin Cruise is one of the best cheap paddle boards on the market. It is made of high-quality materials that can be inflated to a high PSI. The rigidity of the Inflatable SUP means it is able to hold a high weight capacity. It is able to be used for tandem paddling with a friend.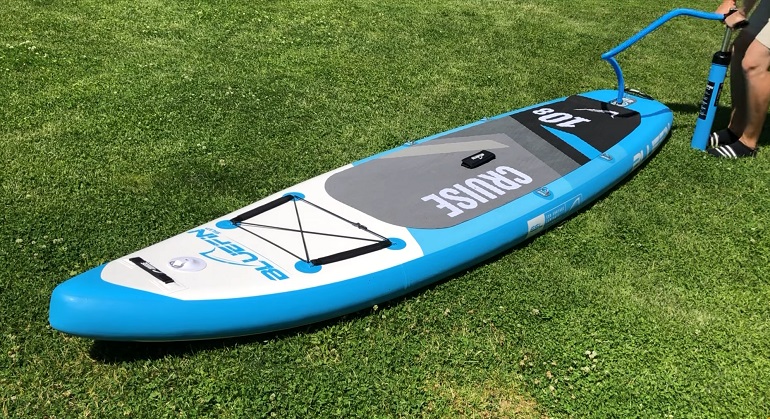 Removable fins make packing down and transporting the Bluefin Cruise a cinch, you simply unhook the 8″ center fin and stow it in the pack until you need it.
The paddles also pack away into three pieces and can reassemble in minutes. If you are wanting to use them as kayak paddles, you simply add a new nylon blade to the other end.
Features
Length – 10'8″
Width – 32″
Thickness – 6″
Construction material – 1000 Denier Exo Surface Laminate PVC & Pro Weave Drop Stitch
Max Weight – 330 lbs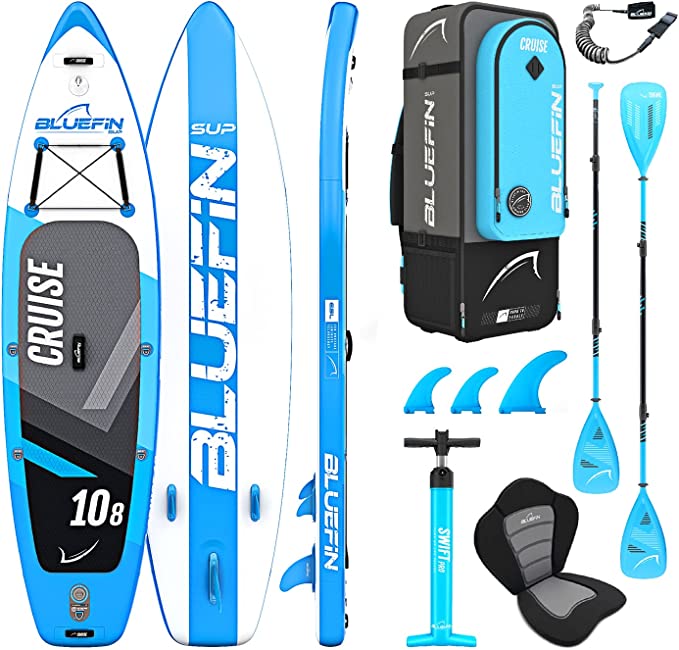 Bluefin Cruise 10'8''
The price of "Bluefin Cruise " varies, so check the latest price at
When you buy cheap paddle boards, you want to make sure that they are still of the best quality despite the price. Pricier boards are often made with much better materials that you can be assured don't break.
You never know what lies beneath the water; rocks, sticks, and other debris can puncture and damage inflatable paddle boards.
The Outdoor Master Ace is made with durability in mind. The solid double-layer PVC provides a stable and durable paddle board construction that will be able to cope with the bumps and scrapes of a day out on the water.
This budget board uses enhanced rail tape around the sides of the board to ensure it stays inflated even when it gets damaged.
The all-around board package comes with three fins, but the center fin is removable, so you can switch to a touring board if you want to. It also helps with packing down when it is inflated. The third fin on the Outdoor Master is designed to provide better tracking in water.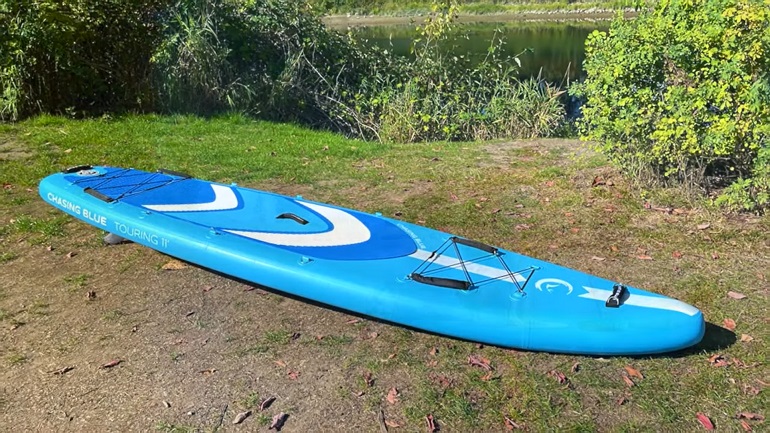 In the pack, you get your inflatable paddleboard, a repair kit (just in case), a double action pump, a leash, a camera mount set, a floating paddle, and a waterproof phone case.
This latter is a nice addition to the usual board package. Most inflatable paddle boards don't take your phone into consideration.
Features
Length – 11′
Width – 32″
Thickness – 6″
Construction material – Double-layer PVC
Max Weight – 300 lbs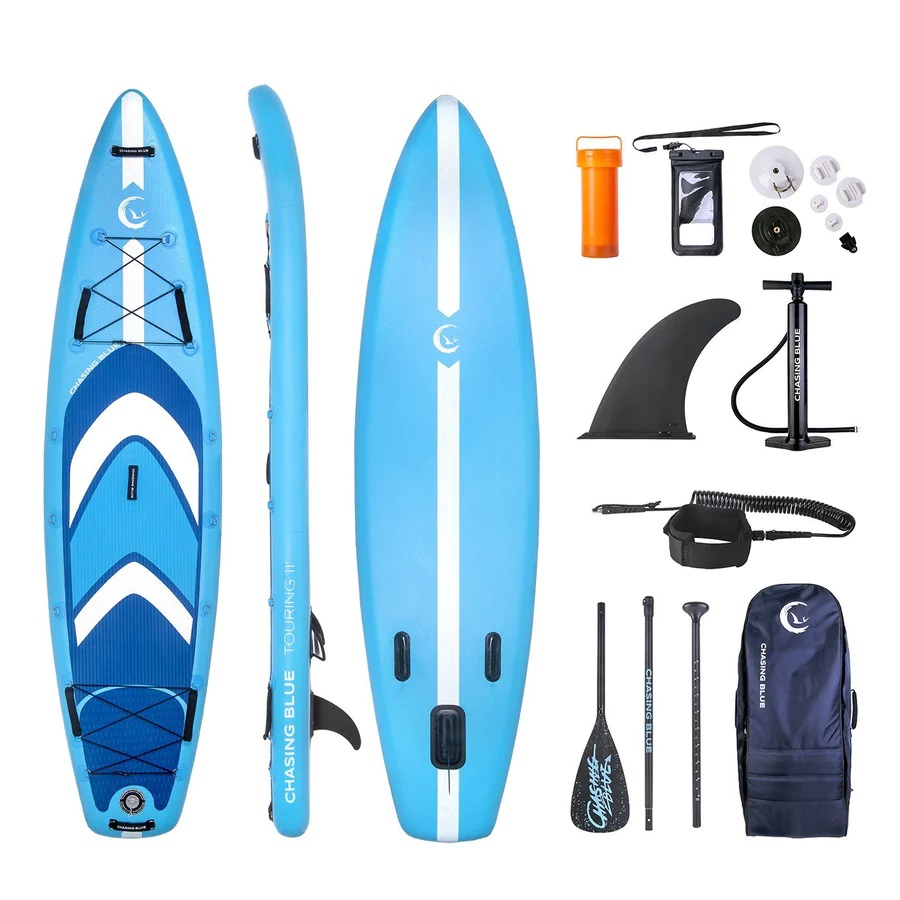 ACE iSUP BOARD
The price of "ACE iSUP BOARD" varies, so check the latest price at
This is one of the cheaper paddle boards on the list but can still be considered a great board. It would be a good way to get into stand-up paddle boarding if you are a beginner or just fancy giving it a try.
It offers a lot of stability and an excellent grippy surface without costing too much money.
Like a lot of other boards, the Serene Life paddle board features a drop stitch core. This improves the structure of the board by holding the shape together whilst it is inflated. The threads rubbing from top to bottom maintain the hard board even under high PSI.
For added grip when wet, the Serene Life comes with an EVA foam deck pad that stops your feet from slipping about. It will help with staying on top when you are pushing your weight through your feet as you row.
The EVA deck pad is also soft to help cushion any falls that may happen. Even the pros fall over sometimes!
Rather than using single-layer PVC, this budget inflatable paddle board is built with military-grade PVC. This material is commonly seen on much more expensive boards and is one of the most durable materials. It is unusual to see such good quality PVC on such cheap boards.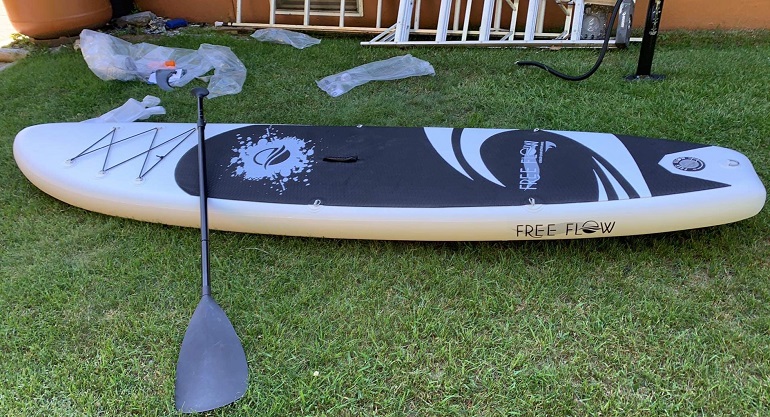 This can be considered an entry-level board that will provide all the stability you need to learn a new sport. The wide deck and longer board length make for an easy way to stay standing, even in choppier water.
The storage bag comes with a selection of basic accessories such as a coiled leash, hand pump, panel fins, repair kit, and an oar. This is the complete package, and you shouldn't need anything else to get up and away with stand-up paddle boarding.
Features
Length – 10″
Width – 32″
Thickness – 6″
Construction material – Military grade PVC & Drop stitch
Max Weight – 300 lbs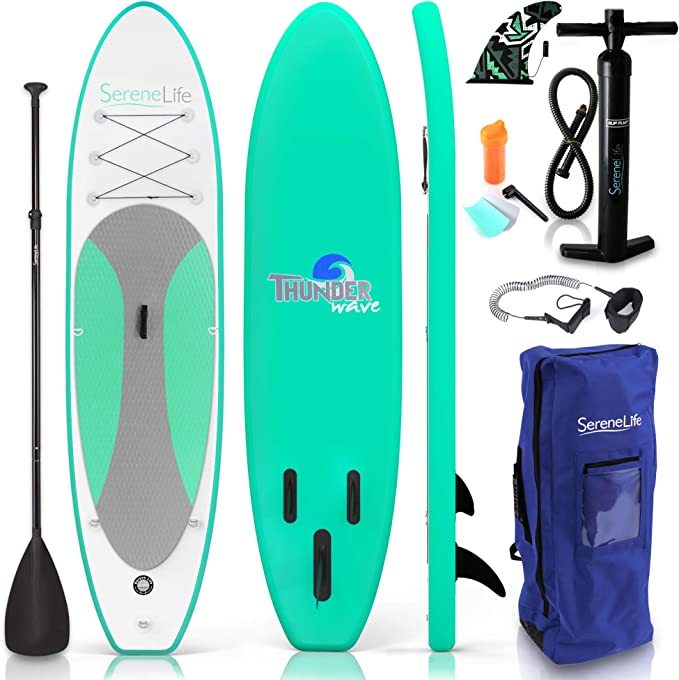 SereneLife Inflatable Stand Up Paddle Board
The price of "SereneLife Paddle Board " varies, so check the latest price at
For an ultra-lightweight and durable board, look no further than the Goosehill Sailor All-Around paddle board. This could be considered the best budget paddle board for people looking for a complete package that can be carried with ease to a lake or other place of open water.
The lightweight and cheap paddle board can be thrown in the supplied dry bag for paddleboarding and transported on a hike or trek to a location that can't be accessed by a vehicle. This would be a fantastic option for anyone looking for something a little more adventurous than the usual spots.
The supplied oar can be broken down into three pieces and packed away. It is an adjustable paddle that can cater to all rider heights. This is great for the larger paddlers who may find most paddles too short for them.
The Goosehill All-Around is perfect for long trips out or taking along a friend. The stable board has a very high weight capacity and has a maximum weight capacity of 440Lbs which is a lot higher than most boards.
You can use the bungee straps at the front to carry things like coolers or camping gear. The D rings down the side also facilitate more carrying capacity if you need it.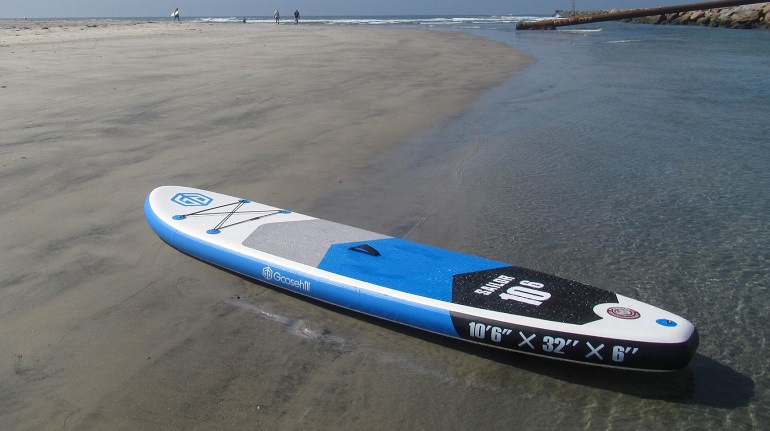 These are stand-up paddle boards made for most riders in most conditions. Flat water and choppy shouldn't be an issue with the gently rounded tip and tail design. These all-around inflatable paddle boards are made with stability in mind and are designed to have a lot of storage space without losing out on balance.
The SUP board comes with all the accessories you would hope to see in the best cheap paddle boards pack. You get an adjustable oar, coiled leash, repair kit, paddle board pump, and removable center fin. This is the complete package without too many extras, but it is everything beginner and intermediate paddlers will need.
Features
Length – 10'6″
Width – 32″
Thickness – 6″
Max Weight – 440 lbs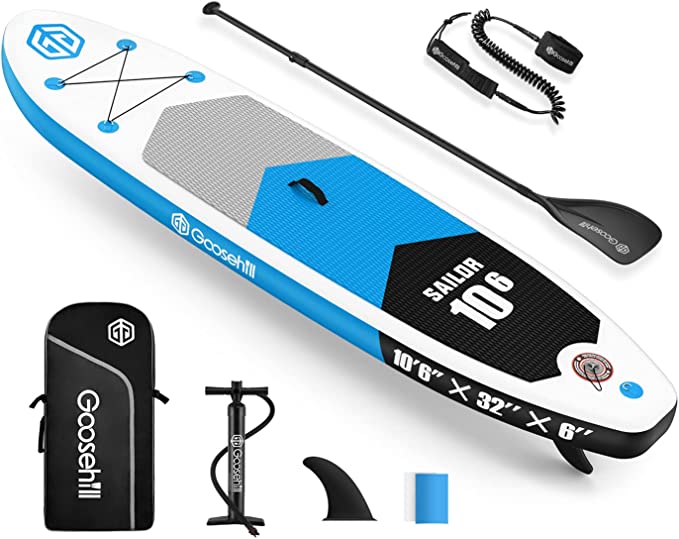 Goosehill Inflatable Stand Up Paddle Board
The price of "Goosehill Paddle Board" varies, so check the latest price at
iRocker is a name synonymous with high-quality inflatable paddle boards. They supply some of the best inflatable paddle boards that will serve you well in any environment.
They aren't the most inexpensive paddle boards on this list, but you do get what you pay for. If you're looking for cheaper boards, then this isn't the one for you.
The Nautical is a good quality inflatable board that is significantly longer than other boards on this list. The previous paddle boards are usually around the 10′ to 11′ size, whereas this inflatable SUP comes in slightly over the 11′ mark.
This makes it a great board for the taller rider who finds the short boards a little too unstable.
This is the best paddle board for people who may just be starting to learn and would be an excellent first board for getting out there and building confidence. It is well suited to calm marinas and lakes but could be taken out on slightly livelier water if you're self-assured enough.
The iRocker Nautical is designed with a pointed nose which is intended for quickly cutting through the water. The shape of the stand-up paddle board is different from most of the previous boards we have looked at.
It is a touring style. They are made to move faster than other paddle boards, and you can expect some decent speed despite the length.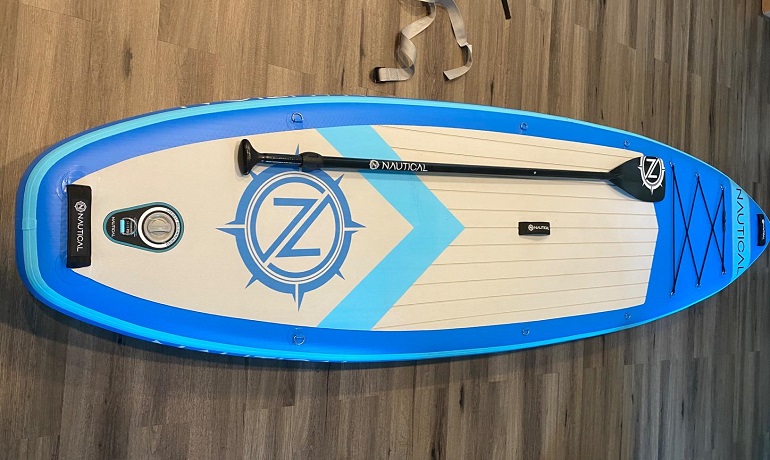 You know you're buying a high-quality board when you look at what comes along with the inflatable stand-up paddle board. You receive a three-piece fiberglass paddle, a single chamber pump, an ankle tether with a key pocket, and three removable fins, and it all packs into a wheeled travel backpack.
If you purchase your paddle board from their website, you also get a kayak seat and extra blade for the complete package. That's great value from one of the best cheap paddle boards available from iRocker. An ideal first board for any aspiring paddleboarder.
Features
Length – 11'6″
Width – 32″
Thickness – 6″
Construction material – Dual-Layer, Military-Grade PVC
Max Weight – 265 lbs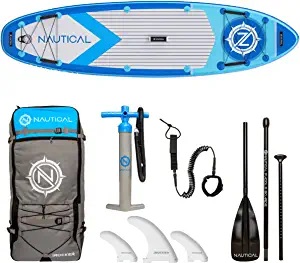 iROCKER Nautical Inflatable Stand Up Paddle Board
The price of "iROCKER Nautical Paddle Board" varies, so check the latest price at
The Gili Air comes in two sizes, so can be suited to the taller and the shorter rider. The longer version is great for anyone looking for a good quality board they can pop some luggage or even an extra rider on.
It would be perfect for a long camping trip or putting other gear on board.
The new 2022 design comes with 32″ of width, which makes the Air a very stable board even in choppier waters. This cheap board will be great on the ocean, lakes, and rivers.
The long, 9″ blade fins add more stability to the paddle board and assist in straight and true tracking.
Across the whole surface of the paddle board is an improved traction pad for extra grip, even in the wettest conditions. You need that added adhesion to save you from slipping around as you power yourself along.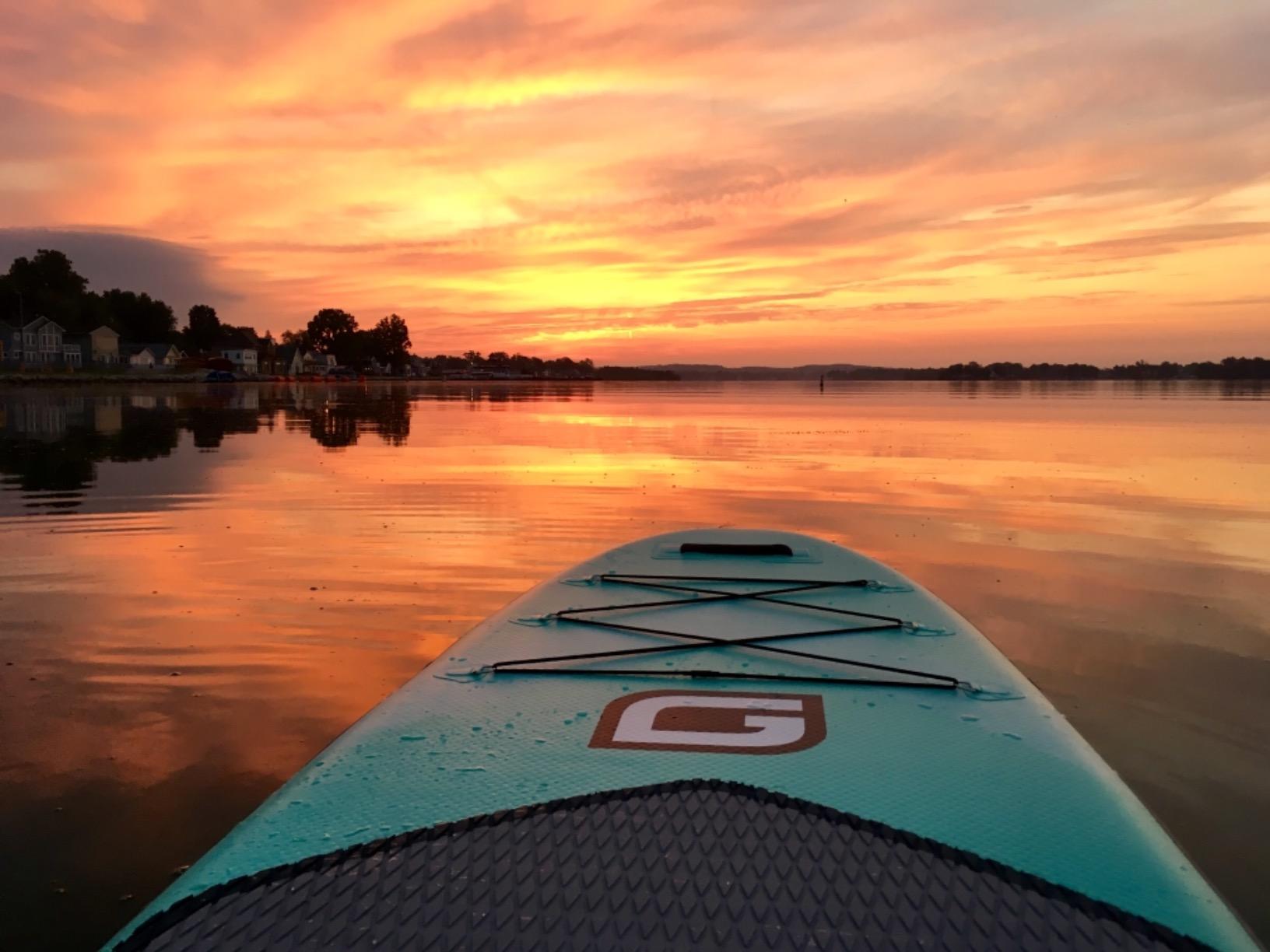 The Air comes with some nice little features we haven't seen on other boards. Gili has added a paddle holder to the side of the deck so that you'll never lose the aluminum paddle again. The top of the board also had three carry handles positioned at the front, middle, and rear for easy transport in and out of the water.
Gili has pledged a portion of every purchase to charities that take care of the environment. This nice little touch ensures that the beautiful nature you enjoy paddling through is preserved for future potential paddlers.
Features
Length – 10'6″ 11'6″
Width – 32″
Thickness – 6″
Construction material – Military strength PVC
Max Weight – 295 lbs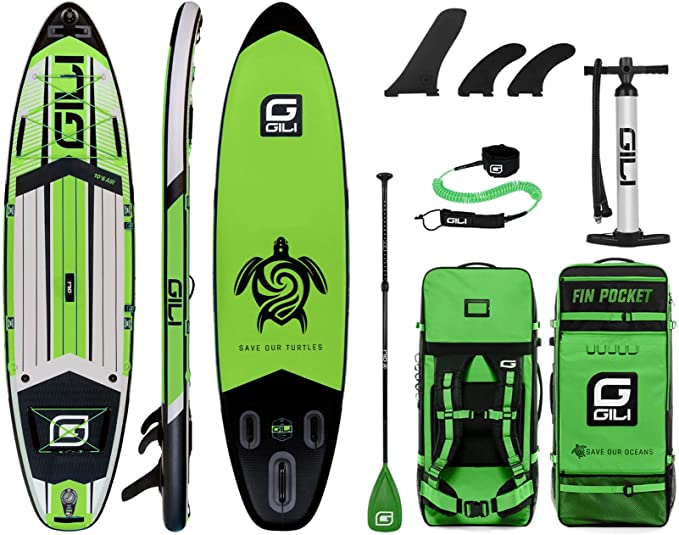 GILI Air Inflatable Stand Up Paddle Board Package
The price of "GILI Air Paddle Board" varies, so check the latest price at
The Outdoor Master Voyager has a massive length and is one of the best cheap inflatable paddle boards for anyone looking to transport a lot of luggage or is on the taller side.
The full twelve and a half feet of the board is capable of transporting friends, pets, luggage, and other things on its huge surface area.
The Voyager features bungee mesh across the front and rear of the deck. With the long and stable board, it makes it super easy to load up with luggage and securely tie it down. This cheap stand-up paddle board would be ideal to transport belongings across bodies of water.
If you want to go island hopping with a tent and some fishing gear, the Voyager won't have any issues carrying it all.
The touring shape of the paddle board is designed to cut and glide through the water with minimum effort making it the ideal choice for long distances and big journeys.
Like the previous Outdoor model, this comes with a plethora of extras in the pack. You receive ankle and paddle tethers, a waterproof bag for your phone, a manual pump, a super lightweight paddle, and an action camera kit, amongst other things.
This is a lot more than you would expect to see in a cheap paddle board's usual pack.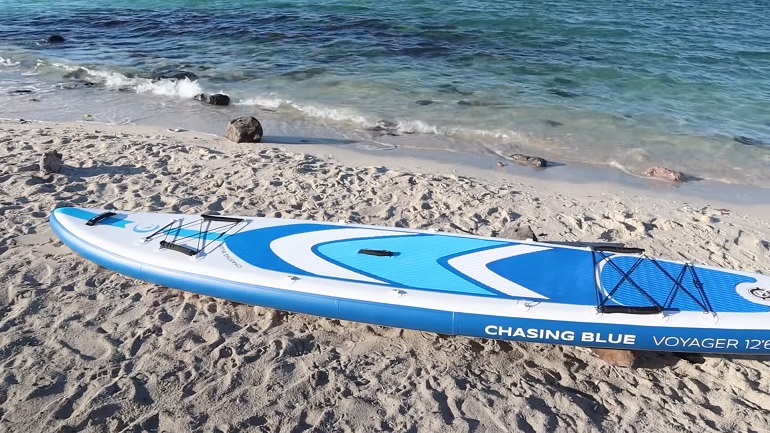 If you are a shorter rider or slightly less experienced, you may find this paddle board a little hard to maneuver. The extra length can be unwieldy if you don't have the height or control to push it around.
The board does feature safety handles on the front of the deck pad that is designed to make it easier for beginners to mount.
Features
Length – 12'6″
Width – 32″
Thickness – 6″
Construction material – Double Layer PVC
Max Weight – 300 lbs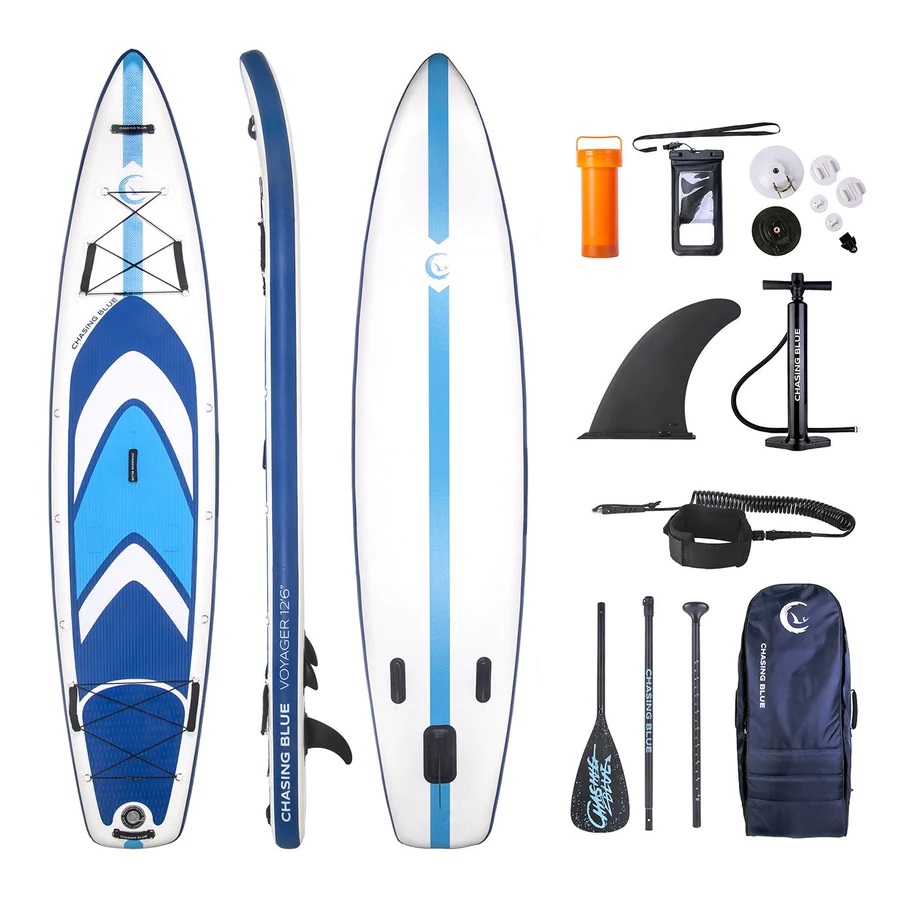 Aqua Marina Stand Up Paddle Board
The price of "Aqua Marina Stand Up Paddle Board" varies, so check the latest price at
Next, we have a perfect budget all-rounder. For a low price, you can get everything you need to start out as a paddleboarder. If you're looking to get into this new sport and don't want to break the bank, then the Aqua Marina is ideal.
A resilient and high-quality construction makes up the paddle board. A dual layer of rails ensures that the bumps and scrapes that are inevitable when paddling around and moving in and out of the water are protected against.
The seams are heat welded, providing assurance that they will stay airtight for miles and miles. Of course, you don't want a leak in the middle of a lake.
The Fusion comes with aluminum paddles. They are both lightweight and durable, they are slightly heavier than their fiberglass counterparts, but they are much tougher. An aluminum paddle will provide great power and strong strokes for a long time.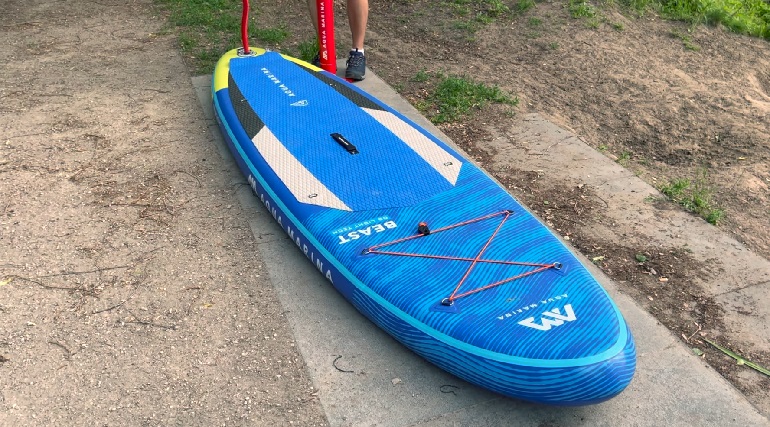 The pack doesn't have the huge range of extras seen on models like the other iRocker boards, but it does have everything you'll need. A Leash, pump, bag, and fins are all included.
If you already have a lot of gear and extras, this would be ideal, as there's no need to own multiple of things.
Features
Length – 10'10″
Width – 32″
Thickness – 6″
Construction material – Double Layer PVC
Max Weight – 330 lbs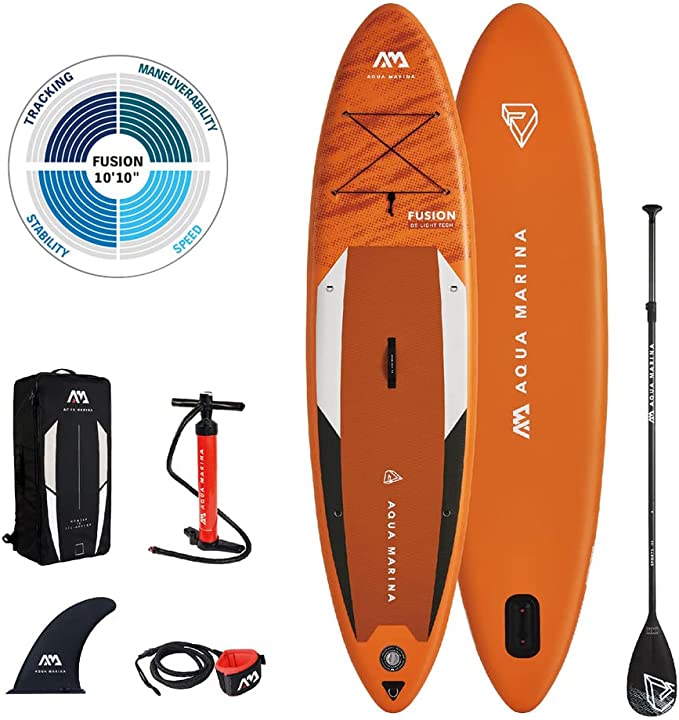 Aqua Marina Stand Up Paddle Board
The price of "Aqua Marina Stand Up Paddle Board" varies, so check the latest price at
One of the standout features of the iROCKER All-Around 10′ is its stability. The wide, 32-inch deck provides a sturdy platform that's perfect for beginners who are still getting used to balancing on the water.
Plus, it's a non-slip deck pad, which makes it comfortable to stand on and provides extra grip when you're out on the water. The tri-fin design helps keep the board on track, making it easier to maneuver in choppy water conditions.
Another great feature is the board's durability. Made from military-grade PVC, the iROCKER All-Around 10′ can handle the toughest water conditions and is built to last.
This board is not only beautiful but easy to transport, inflate, and get out onto the water. You can also splurge and get the electric pump and battery to make the entire process even more efficient.
But what really sets this best cheap paddle board apart is its versatility. Whether you're looking to catch some waves or take a leisurely paddle down the river, this board can do it all.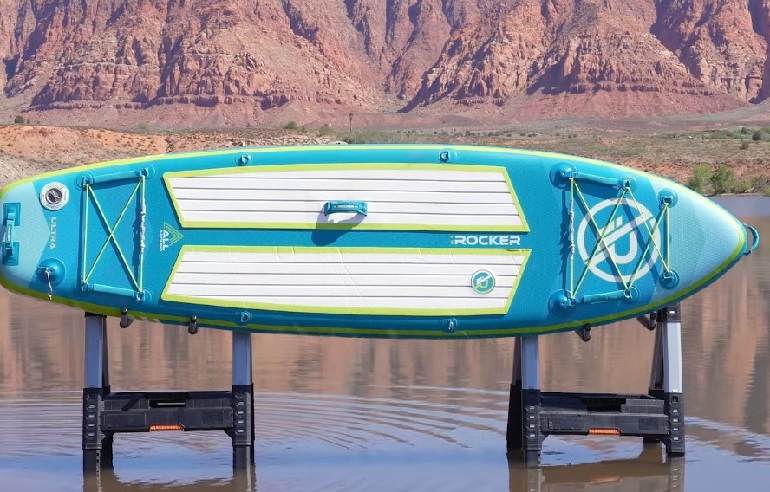 It even comes with a kayak conversion kit, so you can easily switch between standing and sitting positions.
With 17 strategically placed D-rings made from high-quality stainless steel, you'll never have to worry about leaving your gear behind. You can easily attach and secure your cooler, a kayak sit kit, or even a shoulder-carrying strap.
This feature gives you the freedom to bring everything you need for a successful day out on the water without having to worry about how you're going to transport it all.
Features
Length – 10′
Width – 32″
Thickness – 6″
Construction material – Triple Layer Military Grade PVC with Drop-Stich Core
Max Weight – 370 lbs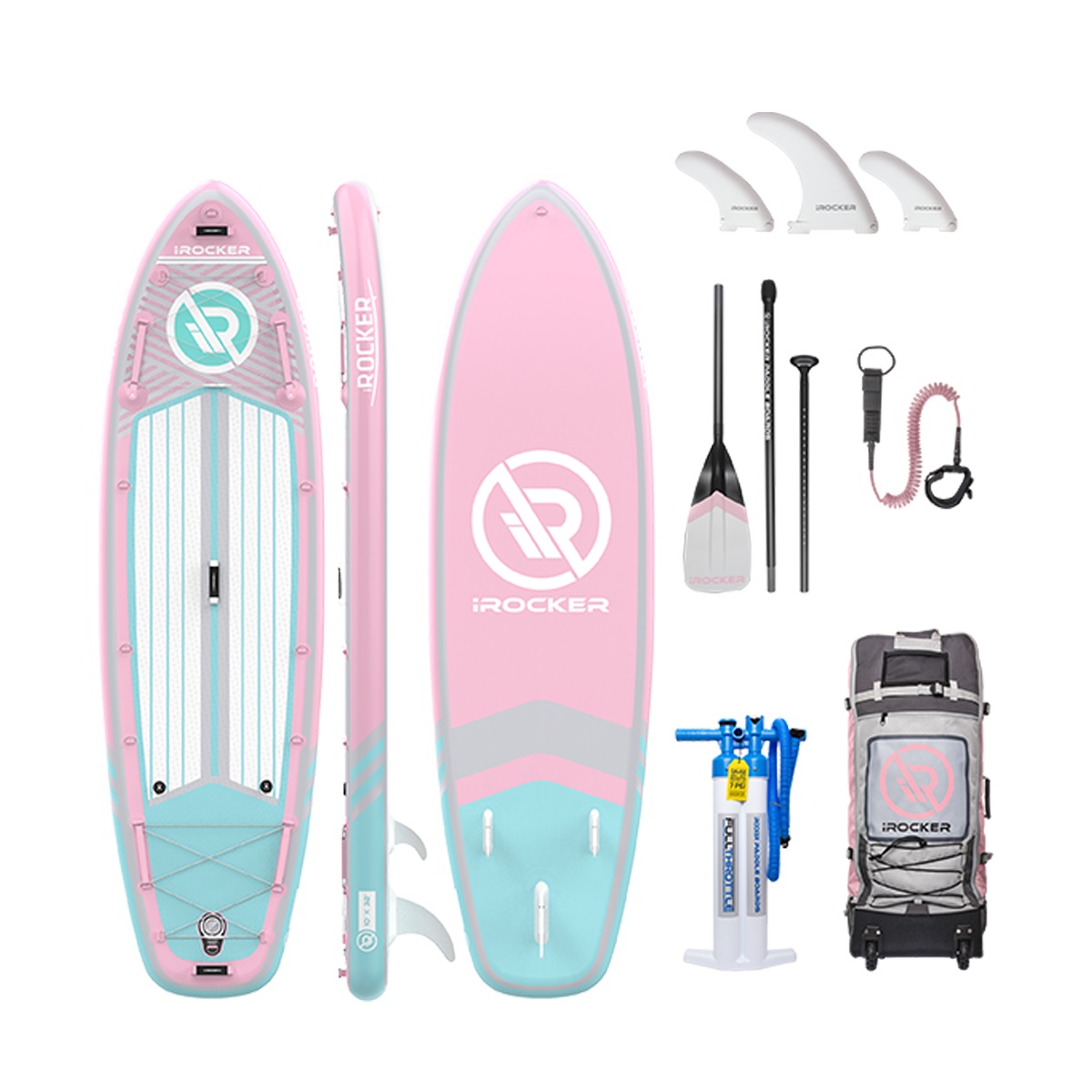 IROCKER All-Around 10'
The price of "IROCKER All-Around 10' " varies, so check the latest price at
The 30″ width of the Waterwalker 120 is a feature that shorter or lighter individuals will definitely appreciate. Not only does it require less reach when paddling, but it also makes it easier to maneuver the board through the water and execute turns without exerting too much effort.
The dual-layer construction with carbon fiber reinforced rails makes this SUP incredibly durable and able to withstand the rigors of frequent use.
Plus, the ton of accessory mounts, including D-rings, an action mount, and bungee cargo cords, make it easy to customize and bring all your gear with you on your adventures.
Additionally, the built-in paddle holder is a rare feature that is incredibly convenient. The wheeled backpack and carbon fiber paddle are high-quality accessories that make transporting and using the SUP a breeze.
Finally, the new dual-action pump design is outstanding and ensures that inflating the board is quick and easy.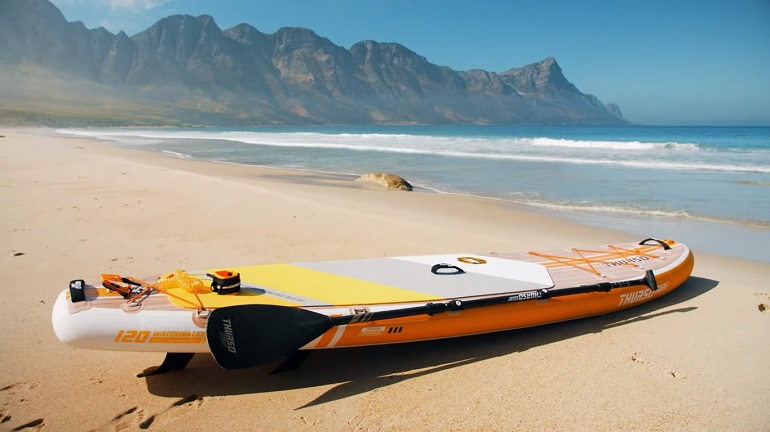 Overall, this SUP offers a great combination of durability, convenience, and customization options that make it an excellent choice for paddlers of all levels.
While it is incredibly portable as an inflatable stand-up paddleboard (ISUP), it's important to note that it's not the lightest option out there. Weighing in at 24 lbs, it's still quite manageable, but it's worth considering if weight is a top priority for you.
Features
Length – 10′
Width – 30"
Thickness – 6"
Construction material – Triple Layer PVC, drop stitch core + Carbon fiber composite reinforced side rails
Max Weight – 260 lbs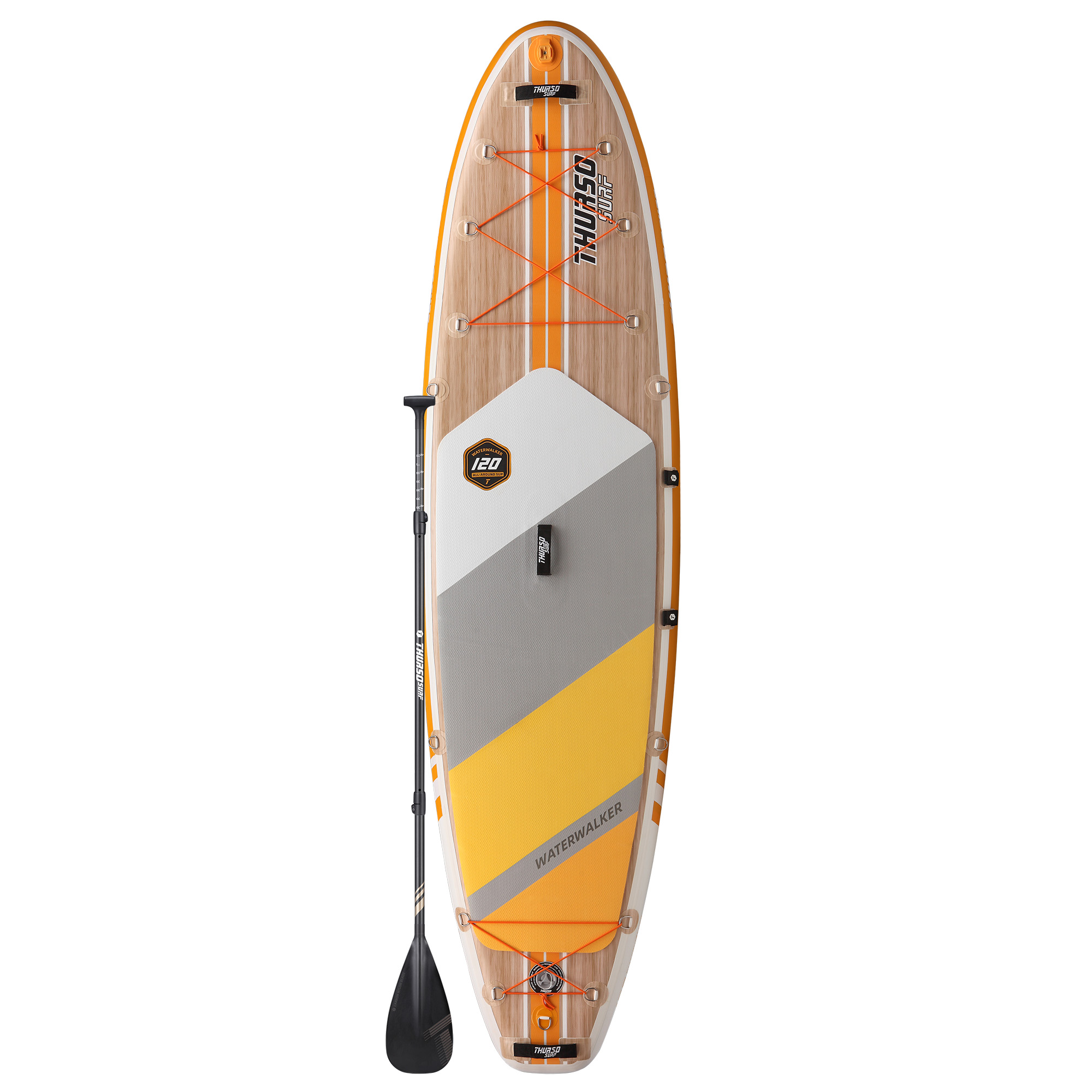 Thurso Surf 120
The price of "Thurso Surf 120" varies, so check the latest price at
Why We Recommend Starting With All-around Shaped SUPs
All-around shaped SUPs are a great option for beginners because they offer a good balance of stability, speed, and maneuverability. They are wider with a rounded profile and more stable than other shapes, making them easier to balance on and paddle.
This makes them ideal for novices who may not be used to standing on a board and need a more forgiving and steady platform.
Additionally, the rounded shape and wider width also make them easier to maneuver and turn, allowing the rider to navigate different water conditions with greater ease.
They can handle a variety of water conditions, from calm lakes to small waves, and are suitable for a range of activities, including touring, yoga, and fishing.
All-around SUPs are also typically more affordable than other shapes, making them a great option for those just starting out.
Overall, all-around SUPs provide a versatile and reliable option for riders of all skill levels and can handle a variety of water conditions with ease.
A Few Things to Consider When Choosing Cheap Paddle Boards
Knowing what you're looking for before you start shopping around is the secret to keeping costs down whilst still getting yourself a first-class paddle board. Every board is different, and so is every rider.
Take a look at some of these pointers and ensure you get what's right for you.
Stability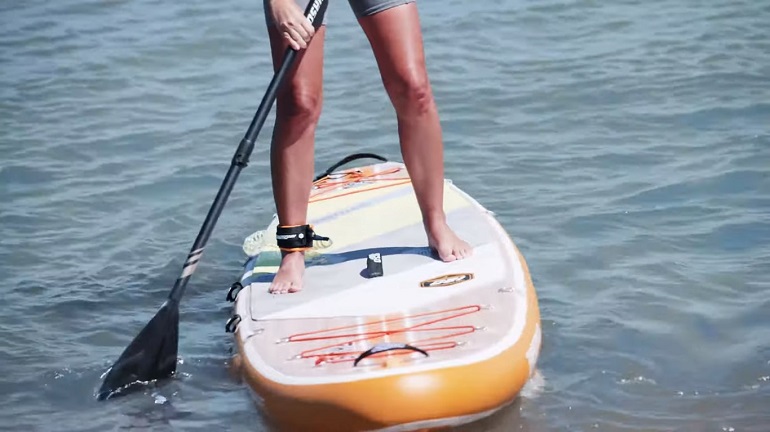 Stability often comes at the cost of speed and maneuverability. Wider boards provide the most stability on open water, but they lose a lot of the streamlining that comes with a narrower board.
If you are just starting out, it is best to start wide until you find your sea legs, then move on to something a little narrower to enjoy the speed and dexterity.
Features & Accessories
Paddle boards come with all sorts of extras that make your days out on the water better. These are a few of the better ones to keep an eye out for.
Electric Pump
It is rare you will find a SUP that doesn't come with a pump, but if you keep your eye out, you may find one with an electric pump.
They're not essential because the hand pump you usually get in the packs is more than adequate. The electric option is always good to have, though.
Fiberglass And Aluminum Paddles
Choosing your paddle comes down to personal preference. Aluminum is tougher but slightly heavier and usually slightly more expensive. Either way, just make sure it can float!
Webbing And D Rings
Paddle boards are great for taking long expeditions. The large surface area and stability lend themselves to holding luggage and passengers.
If you're looking for a paddle board, you can pop camping equipment and paddle board food coolers on, then webbing and d-rings are your friend.
Speed
If you're looking for a faster board, then you may want to go for the narrower and more pointed shape of a touring board. They have an aerodynamic design that is built to cut through the water and make paddling as effortless as possible.
Tracking
As you push yourself along the water, your paddle will affect the direction your board moves. This is known as tracking.
Different boards track differently, and this is determined by a few factors. It is noteworthy that you should learn how to hold paddle correctly before everything else. The fins on the bottom reach down into the water and keep the rear of the board on a straight trajectory.
The width of the board also makes a difference. If you are going to reach over a wide board to dig your oar in, you will find that you track to the side slightly. Narrower decks are best for straight tracking.
Answering Your Questions
Picking my brains to save you the search.
How Cheap is Too Cheap For An Inflatable Paddle Board?
Of course, you usually get what you pay for. Pay a premium price and get a premium board. Nevertheless, you can always find a great deal if you scour the shops long enough.
When you find something very cheap, just make sure to check reviews. You won't want to buy a paddle board that deflates, is soft and unstable, or need replacing every year.
As with most things, if you buy cheap, then you will have to repeatedly replace it. It is usually better to spend the money and get something you won't have to keep replacing.
What Size Paddle Board Do I Need?
Most boards are between 10 and 11 feet long and 32 to 24 inches wide. If you're on the taller side, go for the longer length. Too short, and you will find your balance is off and you're lacking in stability.
For beginners, a wider board is best. It is easier to learn and build confidence when you're on a wider board. The larger surface area gives more room to move around and gives balance whilst standing on the water.
How Long Do Inflatable SUPs Last?
A good quality SUP can last years if you take care of it properly. Suitable storage and careful maintenance will result in a lot of usage. Of course, make sure to try and keep the board away from sharp rocks and underwater debris.
The surface can wear away over time, especially if you are dragging it over rough terrain when taking it from the water.
What Extra Things Do I Need To Get With A Paddle Board?
When purchasing a paddle board, there are a few extra things you may need to get started. First and foremost, you'll need a paddle. It's important to choose a paddle that is the right length and weight for your height and strength.
A leash is also an important accessory to ensure your safety while paddling.
Other optional accessories include a personal flotation device (PFD), a pump to inflate the board, a repair kit in case of damage, a kayak seat, and a carrying bag or strap to make transportation easier.
It's important to consider your individual needs and preferences when choosing which accessories to purchase along with your paddle board.
The Last Point on Paddling
Paddleboarding can be used in a multitude of ways. The broad and stable board, along with an oar or a paddle, is the perfect platform to enjoy the open water. Many people use their paddle boards as a place to fish, perform yoga, or even transport equipment for big trips out.
The flat surface of a good quality board can usually facilitate a large weight capacity, be it the best fishing SUP or any other paddleboard.
You can find yourself an affordable inflatable paddle board and have a versatile and easily transported watercraft. They are fantastic for days out with family and friends. It is recommended to learn how to store the paddle board the right way to get maximum performance out of it.
Most paddle boards have the ability to strap down extra cargo so you can put a cooler or even camping gear on board. The best cheap paddle boards even come with things like a kayak seat, turning them into quick and easy kayak.
Paddle boarding is a beautiful way to take in your local waterways and a serene method of exercise. If you don't quite have the budget to fork out for an expensive bit of kit, then hopefully, this list will have helped you find something that suits your particular wallet.
Sports like this shouldn't be reserved for the rich, getting out there and learning a new skill, and appreciating nature should be for everyone.
With these cheaper boards, you could possibly afford to get your whole family on the back of these inflatables. Taking a family trip out into the sea or a local lake is a great way to spend a weekend.
I hope I've listed at least one board that will convince you to take the plunge and give this freeing and extremely pleasurable water sport a go.
Happy paddling!