Sports are taxing on the body, it's just part of the nature of extended exercise. Thankfully, there are specifically designed protective clothes and equipment to help alleviate the worst of the damage.
Every sport has a wide array of clothing that can help protect your body and, in some cases, improve your performance.
When participating in water sports, your body will become wet and sometimes cold. The cold weather can become very taxing on your body, and you may find that you need an extra layer to keep your hands warm.
As well as the cold, your hands can start to suffer from the constant grip on your paddle.
If you find your hands suffering after long days out on your touring kayak, then investing in a good pair of kayaking gloves will make a huge difference. Not only will they make your days out on the water more comfortable, but they can also greatly improve your performance.
Top Pick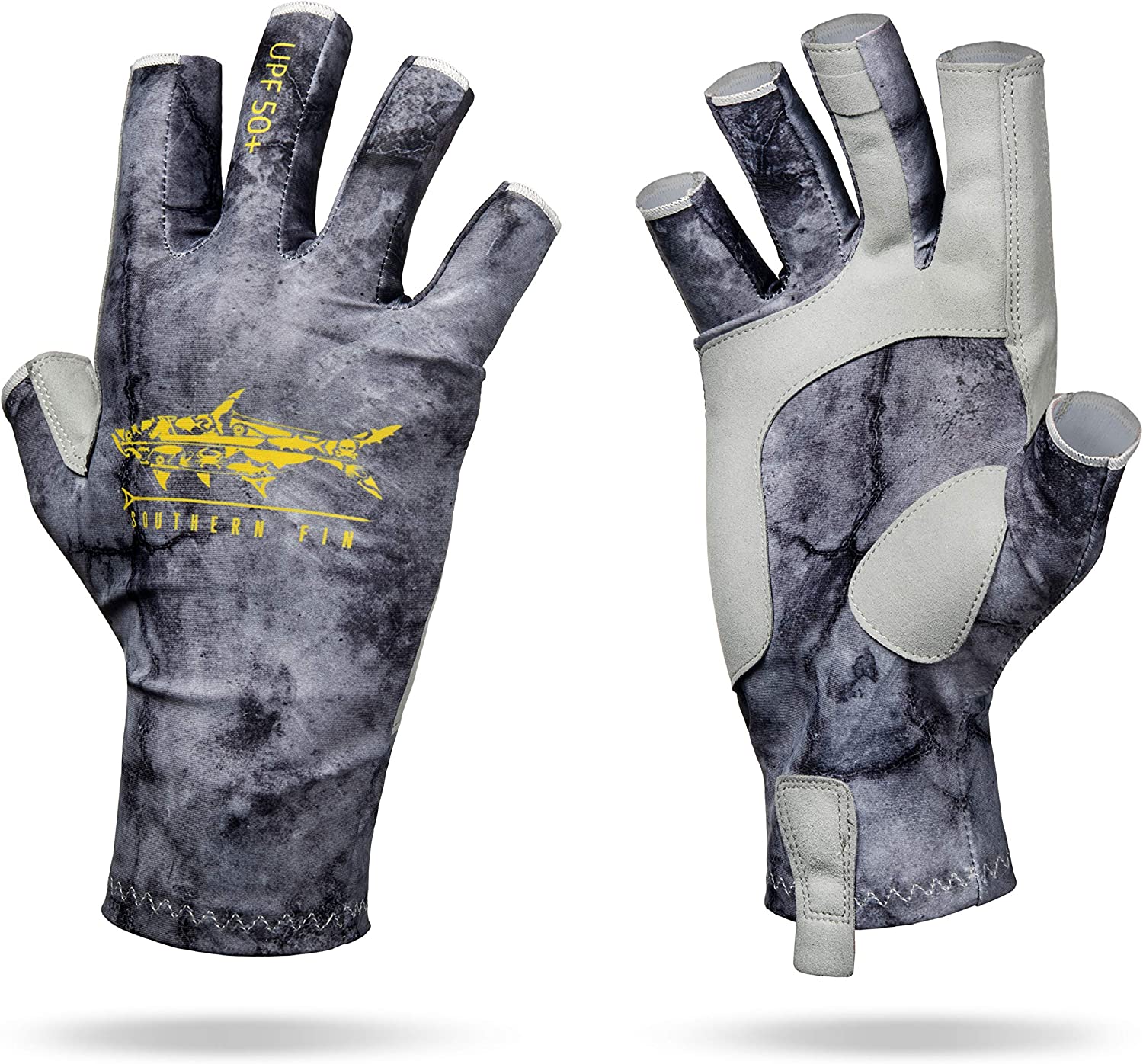 Southern Fin Apparel
Material: Faux Leather
Size: Large/X-Large
Best Quick-Drying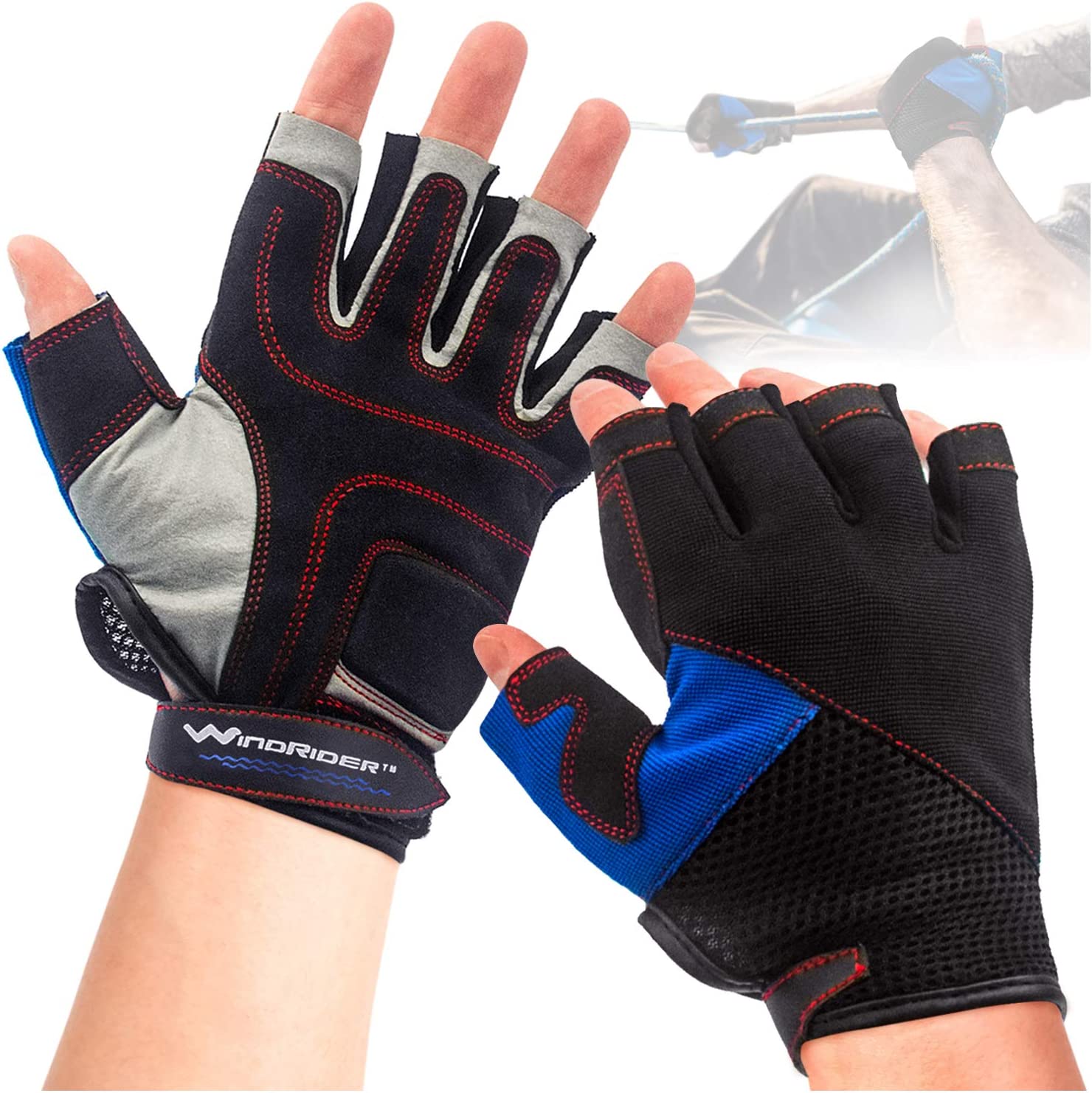 WindRider Pro
Material: Spandex
Size: XX-Small
Best Snug Fit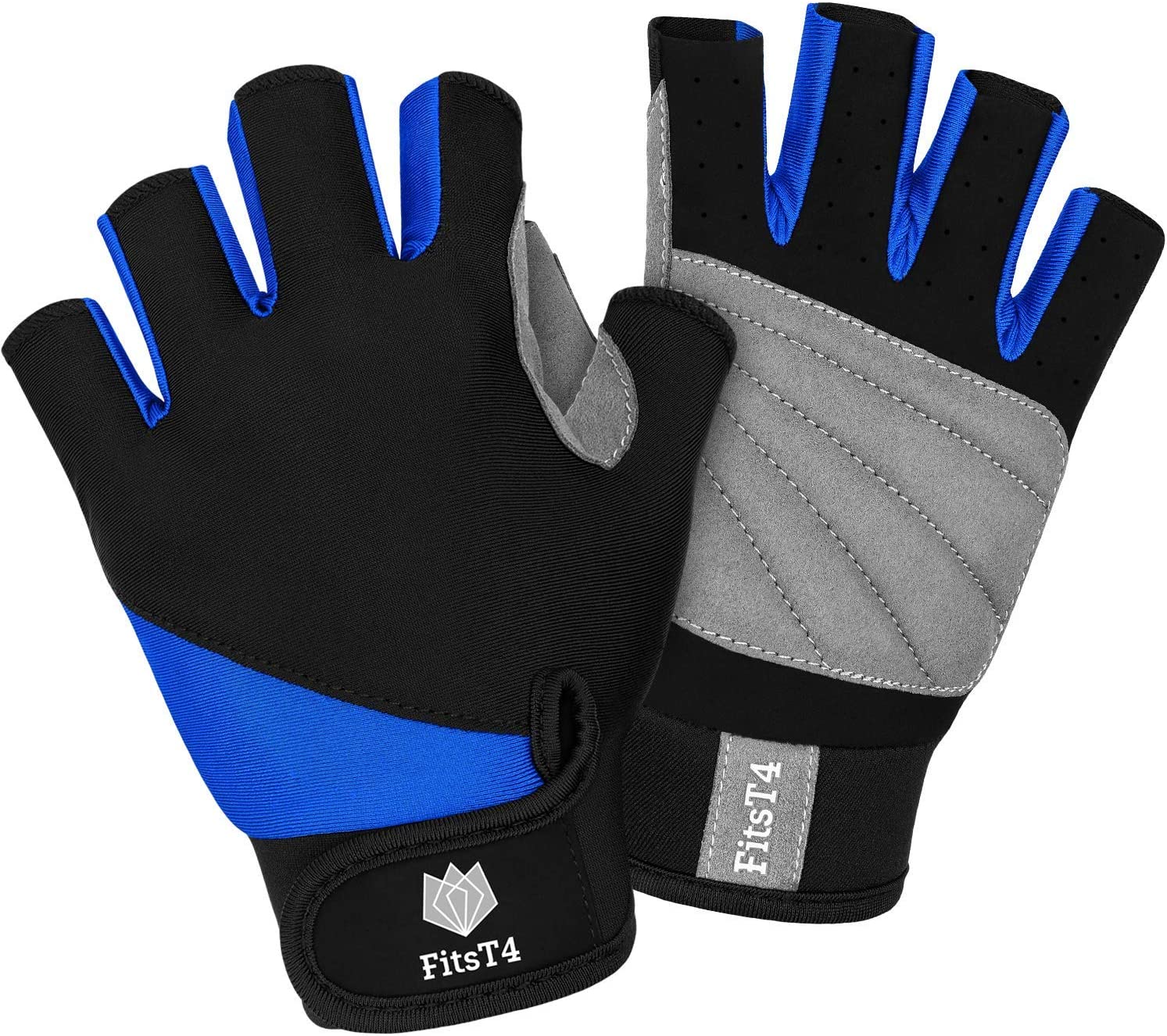 Fits T4
Material: Faux Leather, Spandex
Size: Small( Fits 7.25″- 7.75″)
Great Dexterity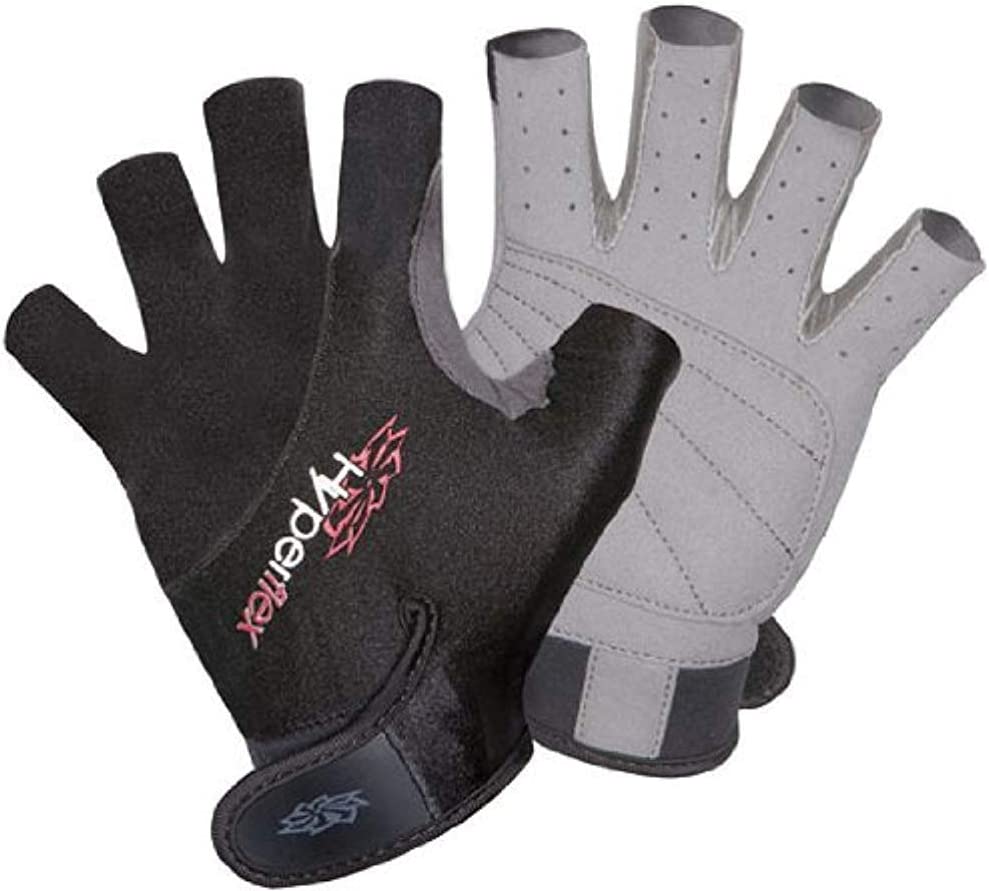 Hyperflex 3/4
Material: Faux Leather
Size: X-Small
Lightweight & Stylish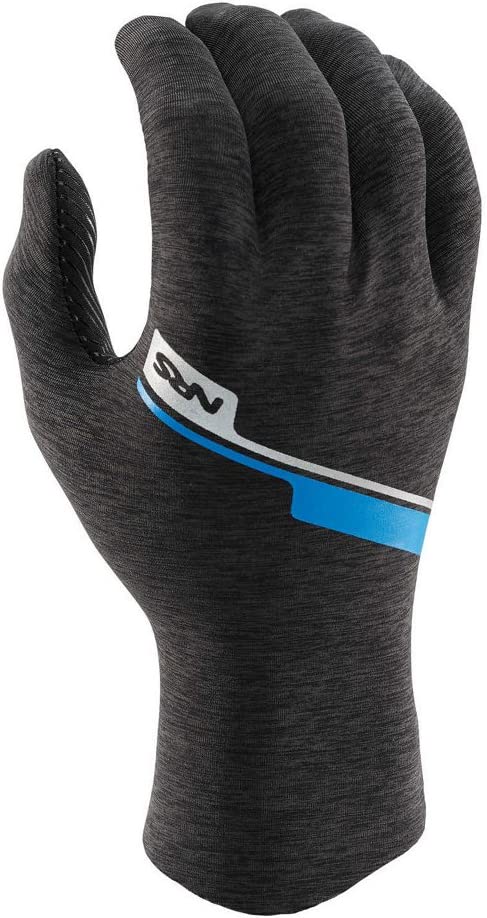 NRS Mens' Hydroskin
Material: HydroSkin
Size: Small
Super Flexible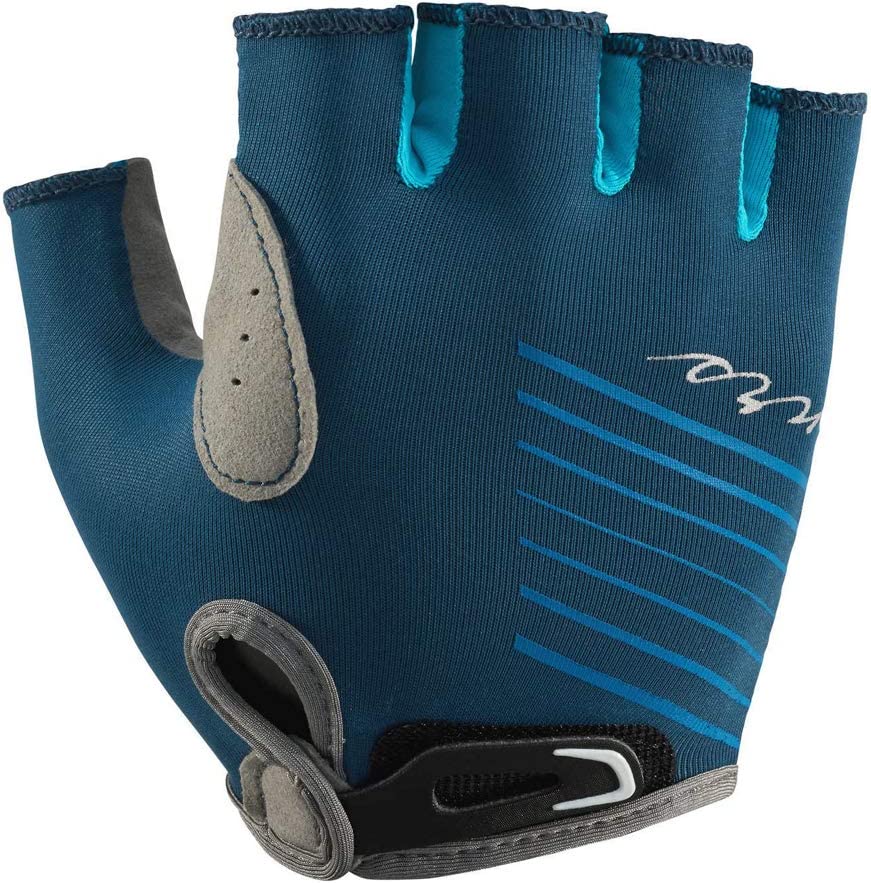 NRS Women's Boater
Material: Faux Leather
Size: X-Large
Premium Choice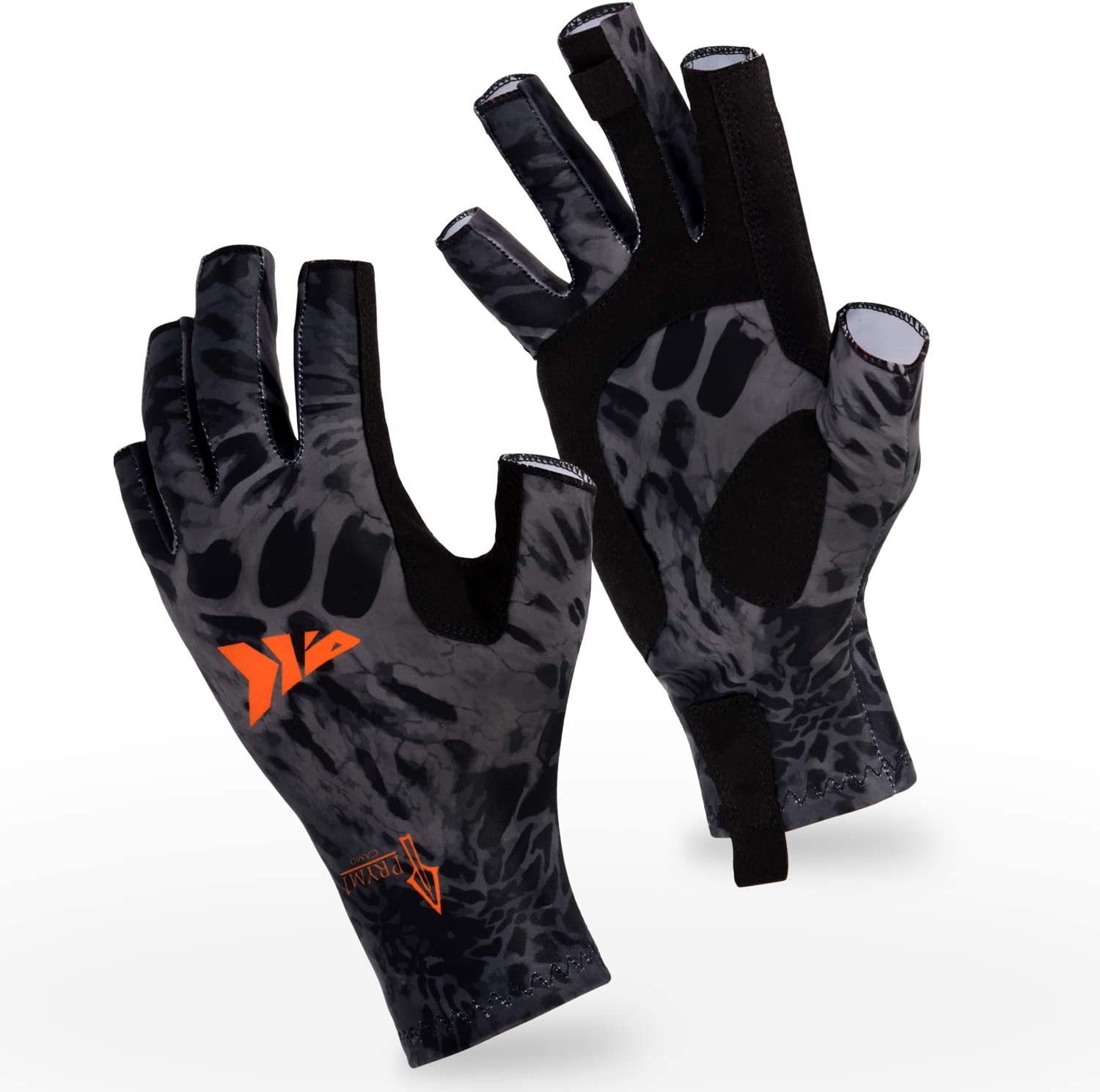 KastKing Sol Armis Sun
Material: Polyester
Size: Small-Medium
For Thermal Protection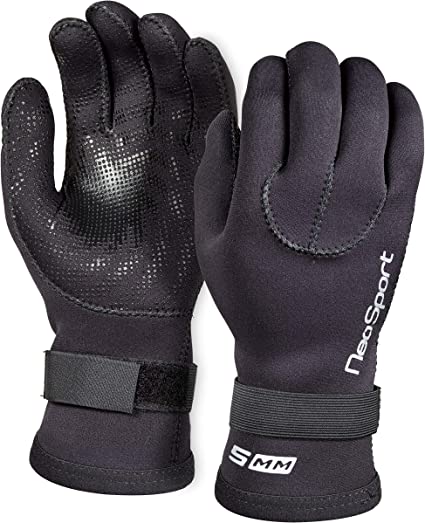 NeoSport Premium
Material: 3MM
Size: X-Small
Budget Option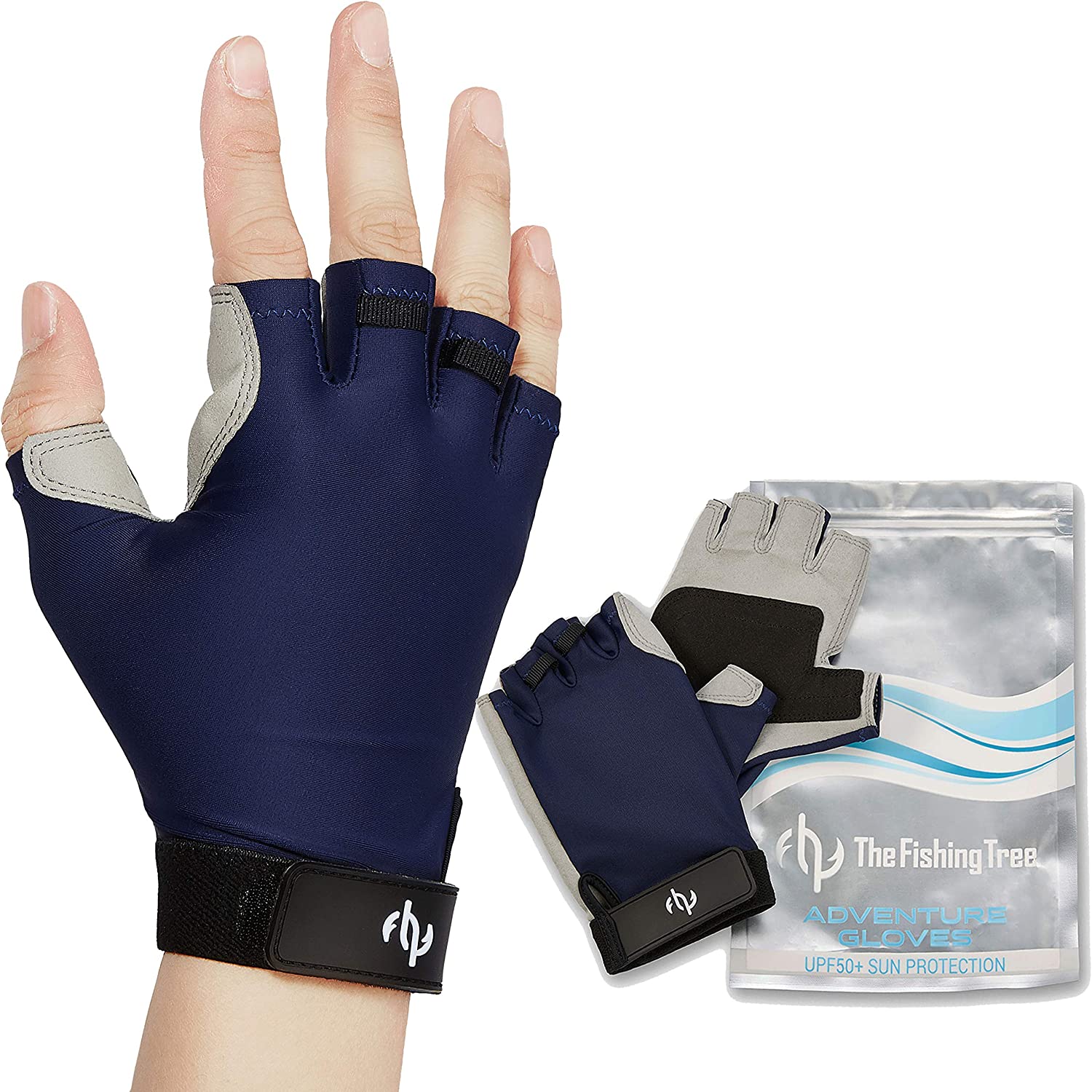 Fishing Tree UV Gloves
Material: Faux Leather, Spandex
Size: X-Small
A Selection of the Best Kayak Gloves
I have often been out kayaking and felt the need to give my hands a little extra protection against the cold weather. On longer trips, I find the paddle can often start to really strain my hands and rub against the softer parts.
The best gloves for kayaking will not only keep your hands warm and dry but should also provide superior grip and padding. The padding will help your hands avoid the aches and pains that come with constant use. They will dissipate the pressure around your hands away from the main points.
I understand the need for a good kayaking glove and have no shame in wearing them. I have scoured the web for some of the best gloves for kayaking, so you don't have to.
There should be something for every budget and need in this list, so read on and choose kayaking gloves that work for you.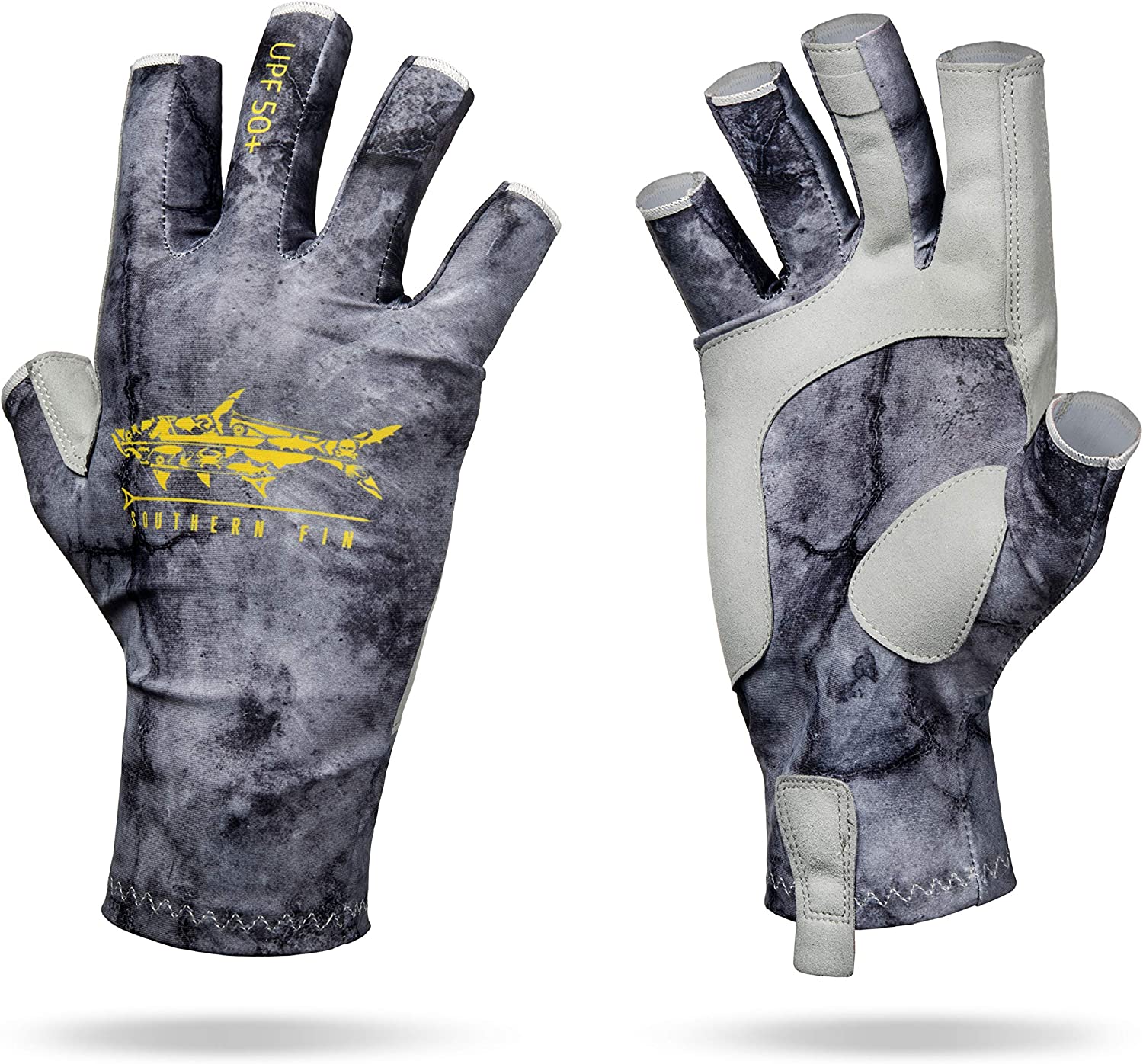 When you're out kayaking, you may find that you only need partial protection for your hands. Something that will ensure your hands are toasty and dry but won't restrict your dexterity too much.
Lightweight, fingerless gloves are the answer. They leave your fingertips free for delicate work with things like a rod and line, but still, provide superior protection against the elements.
Southern Fin Apparel has developed a pair of fingerless gloves that are able to protect your hands from UV and a lot of wetness but nevertheless, allow for delicate tasks. These finger gloves are not made to be water resistant, but they are very quick drying and have moisture wicking to keep your hands dry.
The fingerless kayaking gloves offer protection from the wrist up to the last knuckle on the finger. They have exceptional UV protection and can stop your hands from burning. If you have ever spent a day out on a sunny lake or ocean, you know how quickly your hands can become damaged.
Southern Fin's kayak gloves are made from a combination of synthetic materials. The majority is a moisture-wicking microfibre material. They feature a synthetic leather palm that assists with the grip of your paddle or rod. The fingerless design still gives the dexterity needed to tie lines and adjust rods.
Summary
If you need added protection against the sun when you're out on the water, these are the right pair of kayak gloves for you. They are able to leave you with lots of movement in your hands and still give blister protection across the palm.
The microfibre-wicking elements of the gloves are not waterproof but will dry incredibly quickly and pull sweat away from the hands.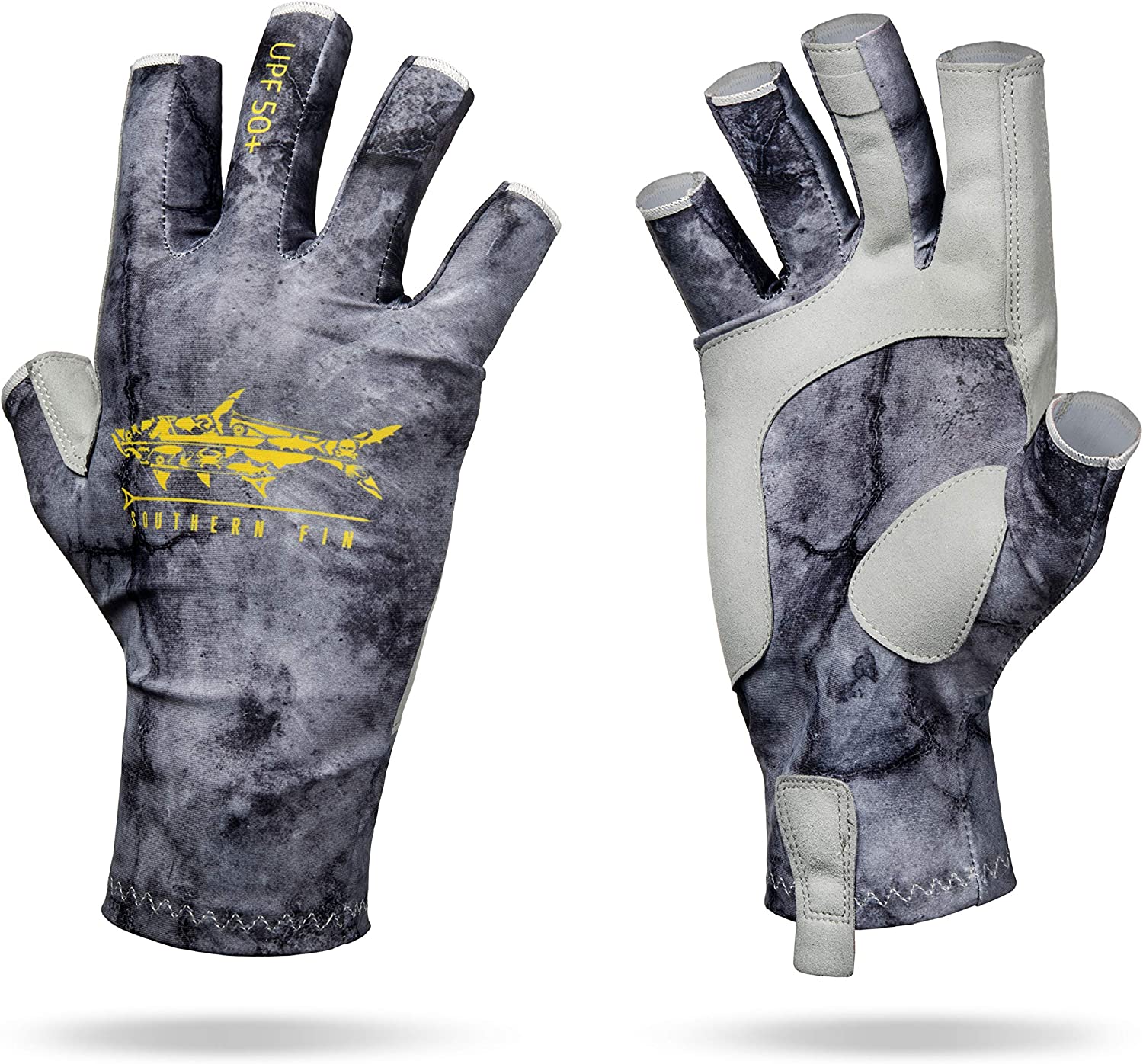 Southern Fin Apparel
The price of "Southern Fin Apparel" varies, so check the latest price at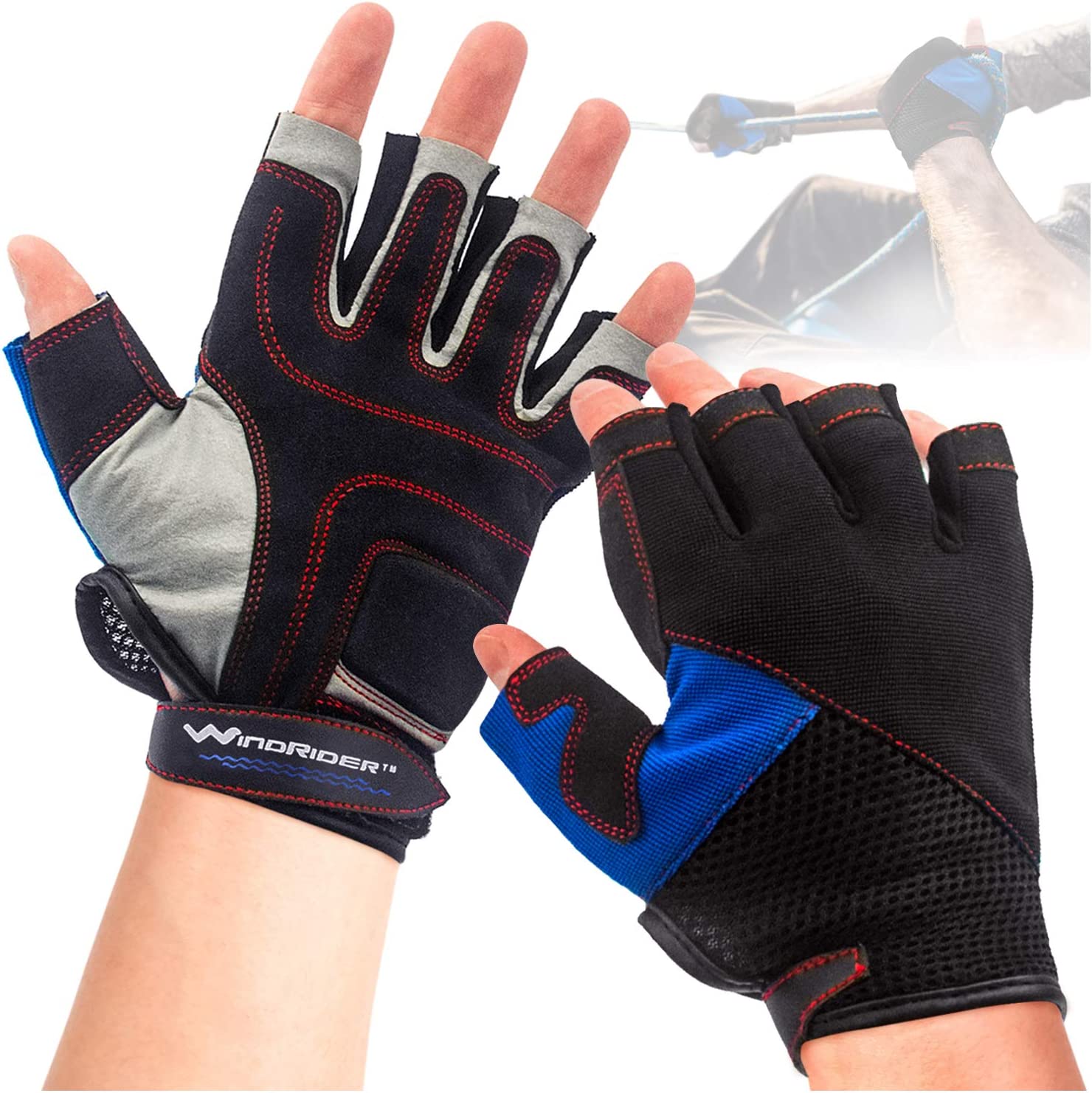 If you're out for multi-day trips, you'll understand the frustration of trying to put on wet gloves the day after. Winter paddling is the worst when you have to put wet gloves back on. Thankfully, WindRider Pro Sailing Gloves are a pair of multi-sport gloves that are quick-drying and toasty.
WindRider Pro Sailing Gloves are made of spandex, brushed Amara leather on the palms, and highly breathable mesh on the back.
The spandex gloves are able to breathe whilst still giving all the UV protection you need for a day out in the sun. A padded palm provides blister protection even when paddling for hours.
These fingerless kayak gloves sport a three-quarter finger design rather than a half-finger. This gives a better grip for things like rope, rigging, and of course, paddling. The open-finger gloves still allow you to use your digits for things like texting or tying a rope. It's the best of both worlds!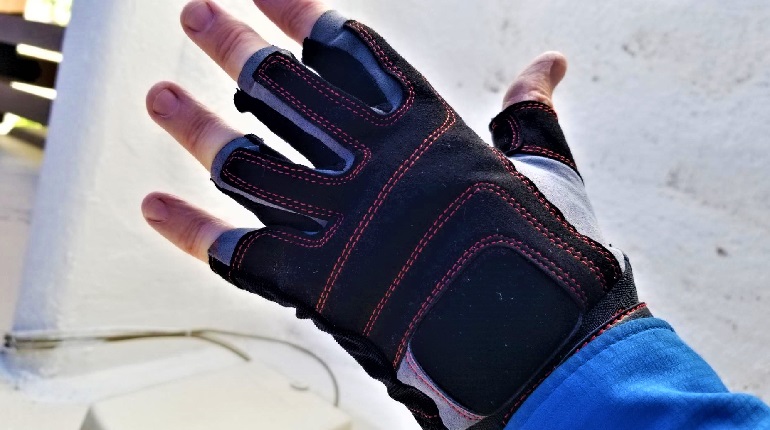 Summary
If you need a pair of gloves that can dry quickly after a day of wet outdoor activities, be it kayaking or sailing, then these are good gloves for you. They will prevent blisters from both wet rope work and long days of paddling.
They are ideal for summer use as they let your hands breathe and still shield against burning. The mesh is perfect for letting the heat out on hot days.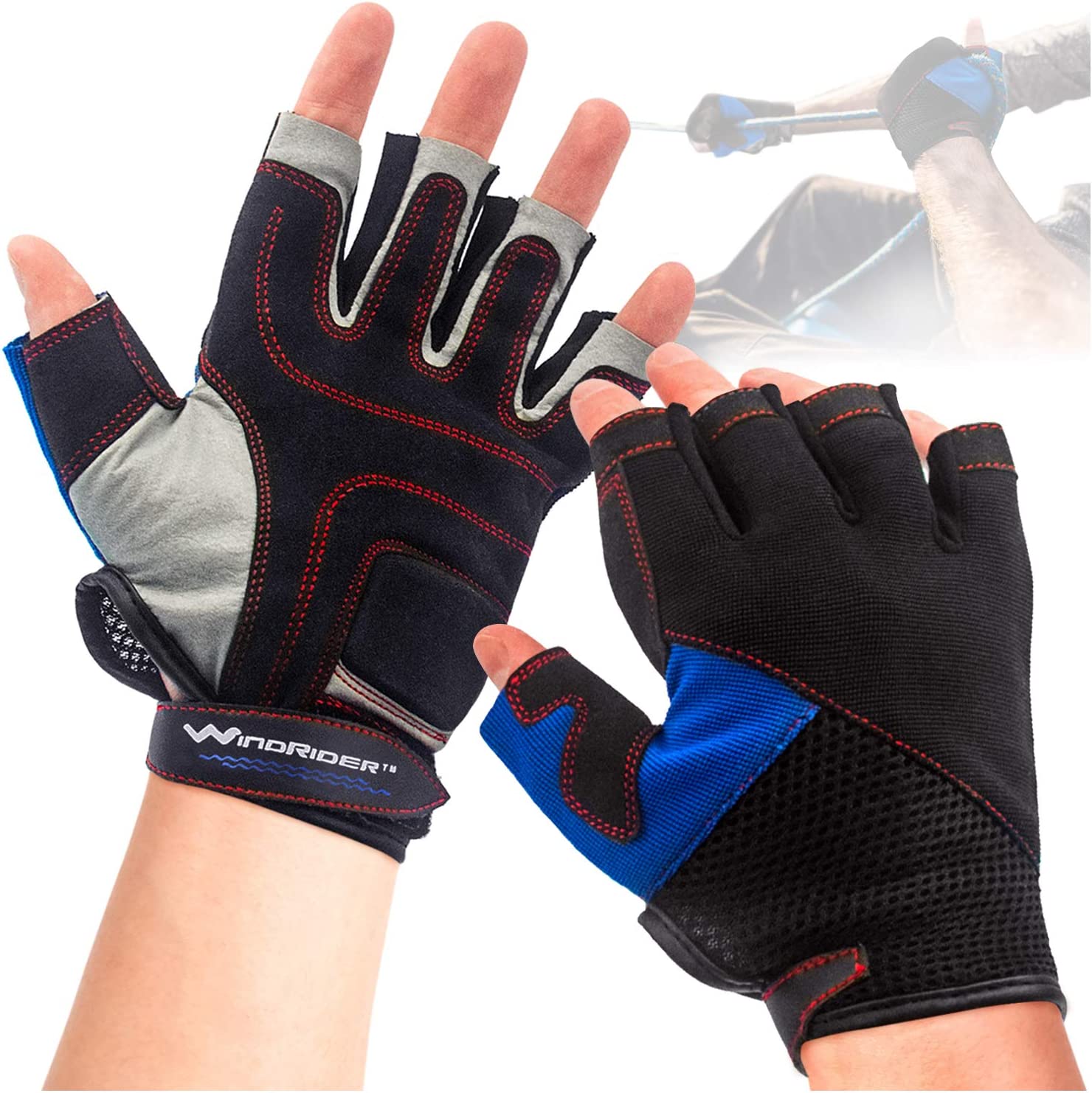 WindRider Pro
The price of "WindRider Pro " varies, so check the latest price at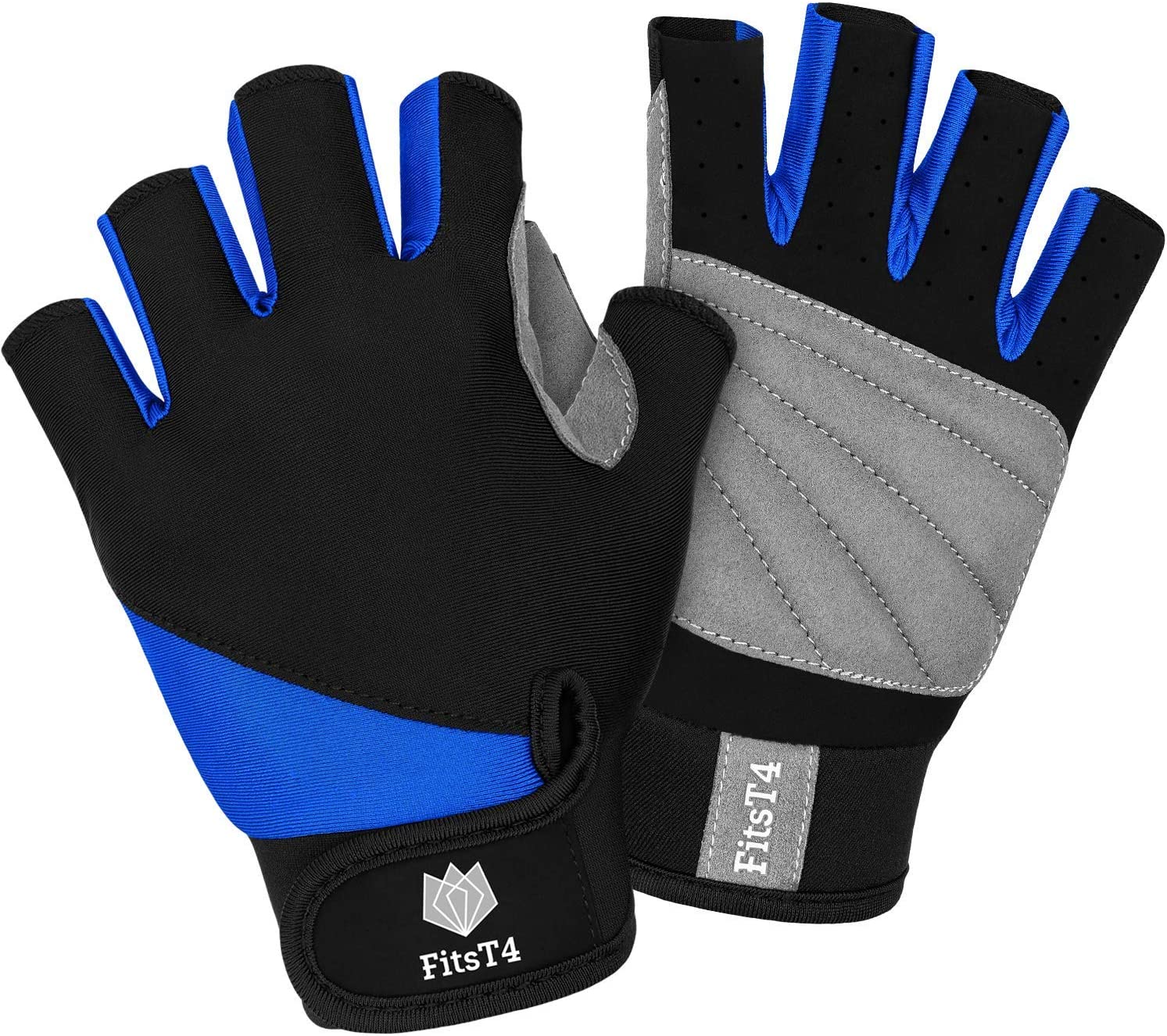 Get a snug fit from Fits T4 gloves. These are a pair of paddling gloves that will keep your hands protected from the wear and tear that comes with kayaking.
The specifically designed materials and cut will stop your hands from blistering even after a big day out. They are great half-finger gloves for warm-weather kayaking.
The snug fit of these gloves wraps tightly around the hand, leaving the fingers free to do whatever dexterous things you may need. A tight, velcro strap around the wrist ensures they maintain a secure fit even under the duress of sport.
The wrap-around strap ensures an optimum fit, no matter your hand or wrist size.
A synthetic leather palm covers the middle of the gloves and extends up between the thumb and forefinger. The extra padding on the double-lined grip provides extra comfort where you need it most.
When paddling, you will be putting a lot of additional strain between your thumb and index finger. Your hands will thank you for the good padding.
These are gloves designed as more than just kayaking gloves, they are also advertised as suitable for scuba diving. These would be the best gloves if you were planning to kayak out to a diving spot.
They could provide the protection you need whilst paddling, and the grip and finger dexterity you want whilst diving.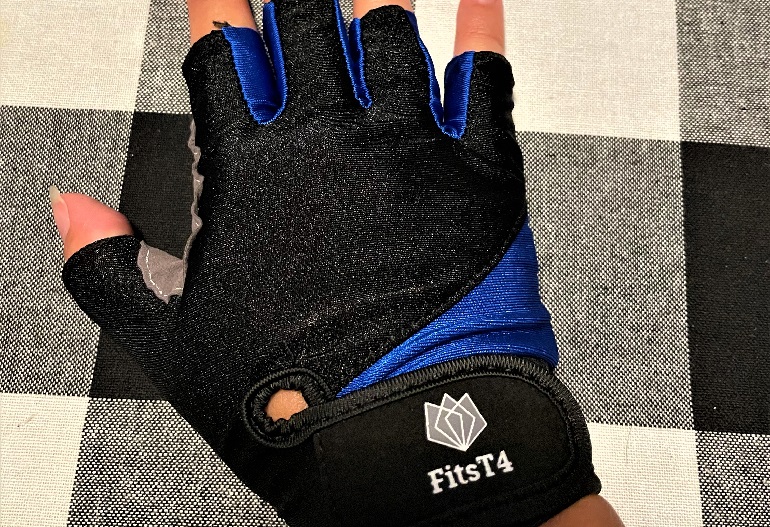 Summary
A great pair of kayak and dive gloves that will keep your hands protected from blistering and the sun. Better used for warm weather paddling rather than in cold, but still more than proficient at providing the protection you want when you need your hands covered.
The extra thickness between the fingers will be a real benefit to grip. The wrist strap will make these an excellent fit with zero slip.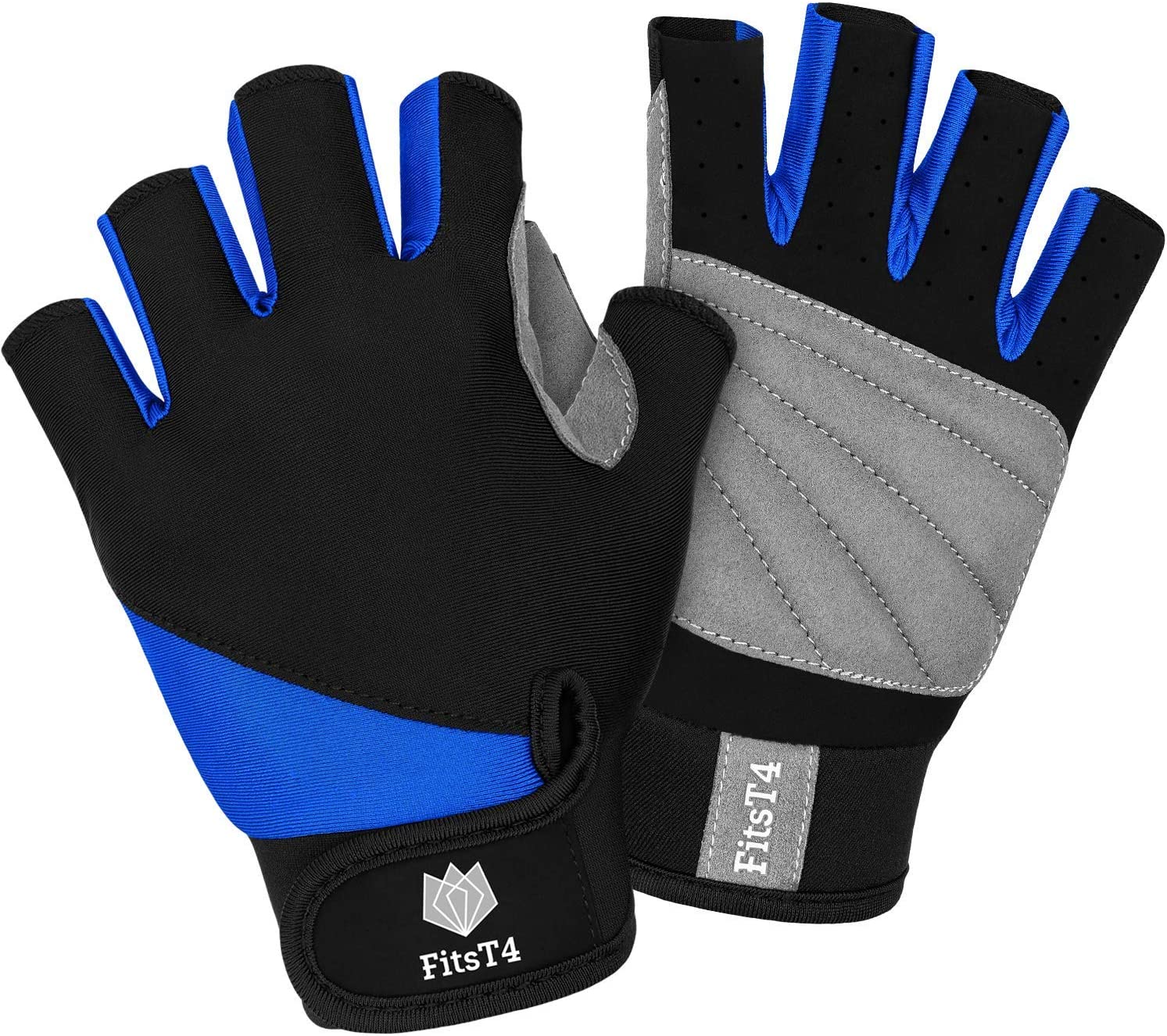 Fits T4
The price of "Fits T4 " varies, so check the latest price at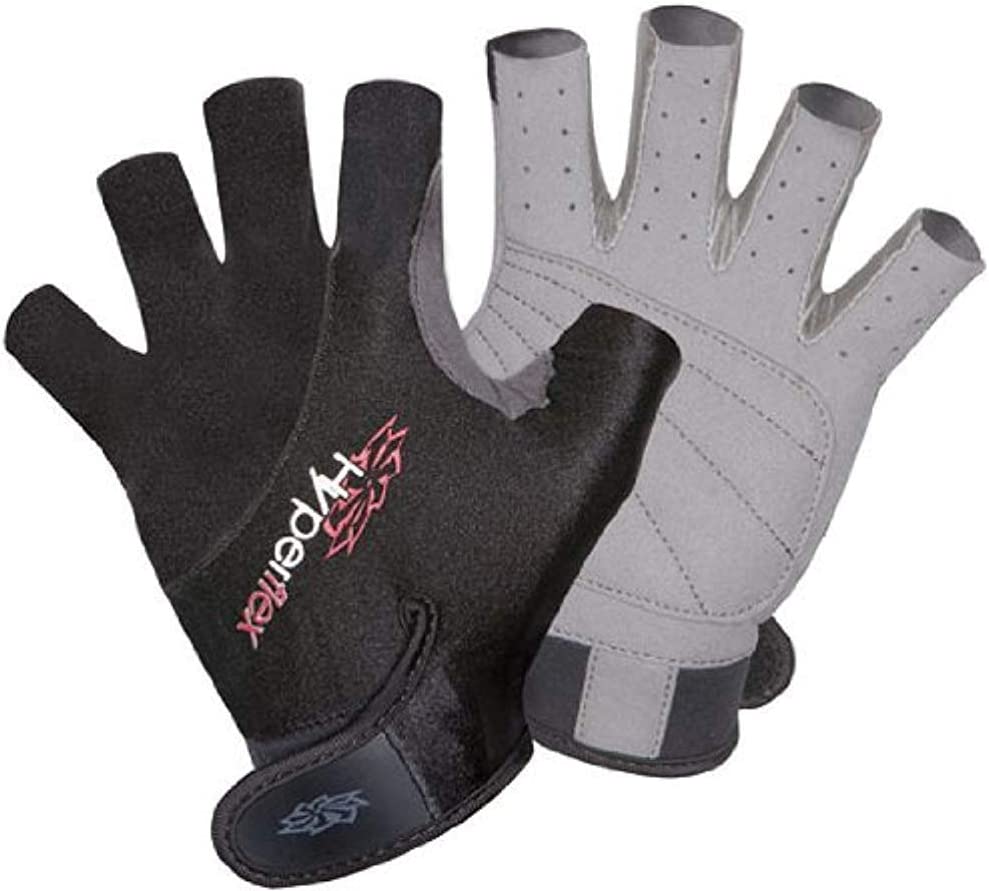 Finger movement and protection are two things you should be looking for when shopping for the best kayaking gloves. You don't want to give up one for the other though. A happy medium between the two is ideal. The Hyperflex 3/4 kayak gloves get this pretty much spot on.
Mid-finger gloves are made for warmer conditions. They are great for keeping the UV rays away with synthetic materials. They give the dexterity you need to still have excellent control but also provide insulation and padding where you need it most. You can avoid blisters and still enjoy the ability to touch.
The Hyperflex ensure that they fit snuggly with a lycra top, and spandex four-way stretch. They wrap around your entire hand and are held tight with a velcro strap to stop them from slipping even in wet conditions. This flexible feature makes them a pair of gloves suitable for all sizes of hands.
The leather material is not only quick drying but also has vented holes to stop your hands from getting too warm.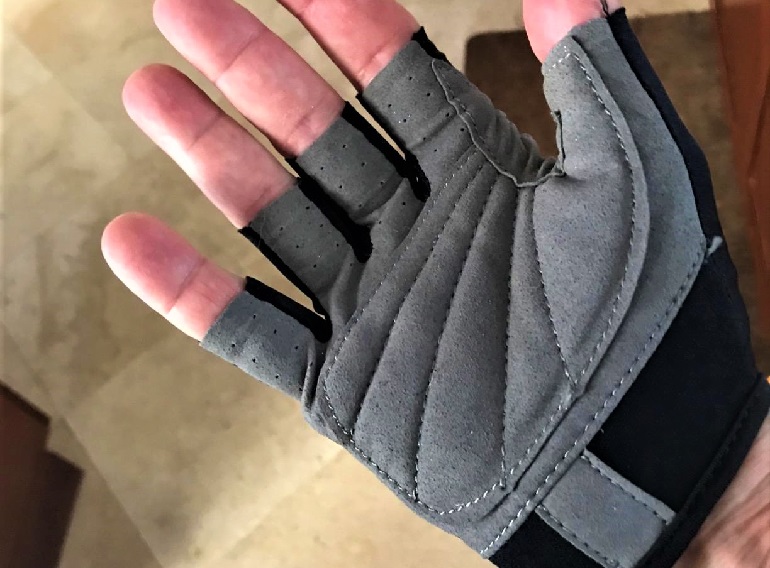 The lining is made to wick moisture away from the hands, keeping your grip as comfortable and dry as you need it to be. The gloves provide your hands with a cool, dry environment.
Summary
If you need to keep your hands cool in warm weather, grab yourself a pair of these. They may not be suited to cold temperatures, but they will guard your hands against UV, blisters, and exhaustion.
The adjustable wrist strap ensures you have a snug fit and good grip no matter your hand size.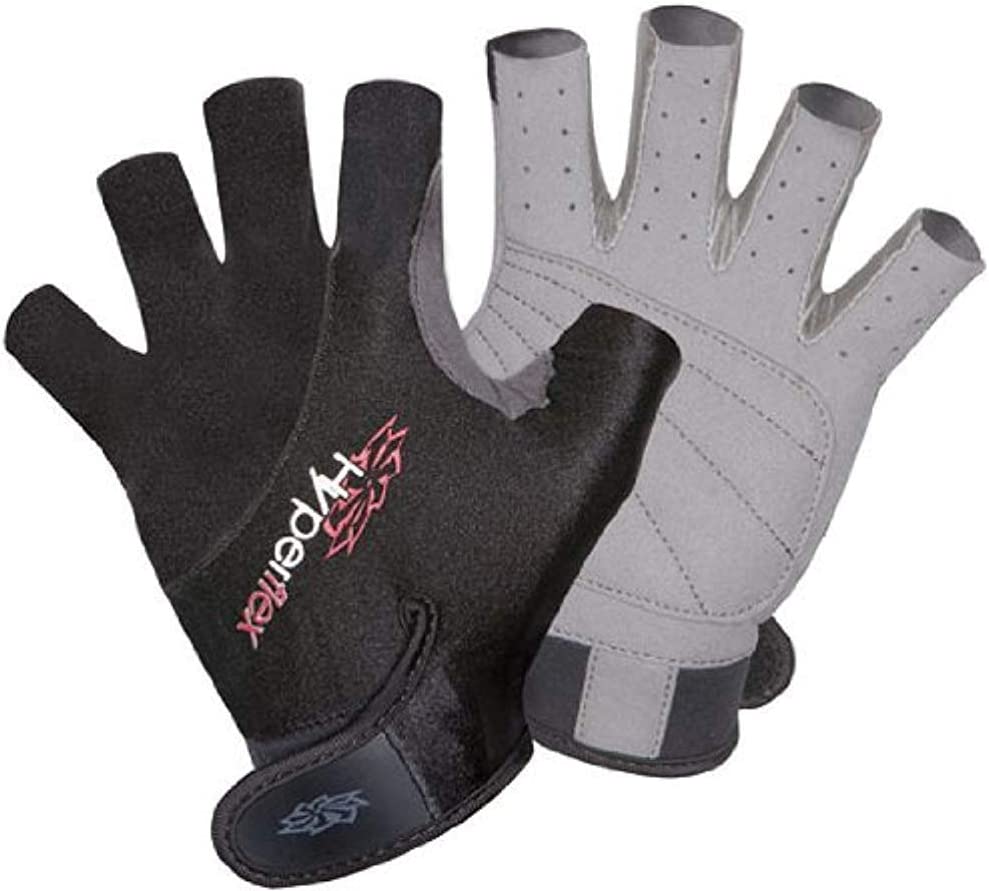 Hyperflex 3/4
The price of " Hyperflex 3/4" varies, so check the latest price at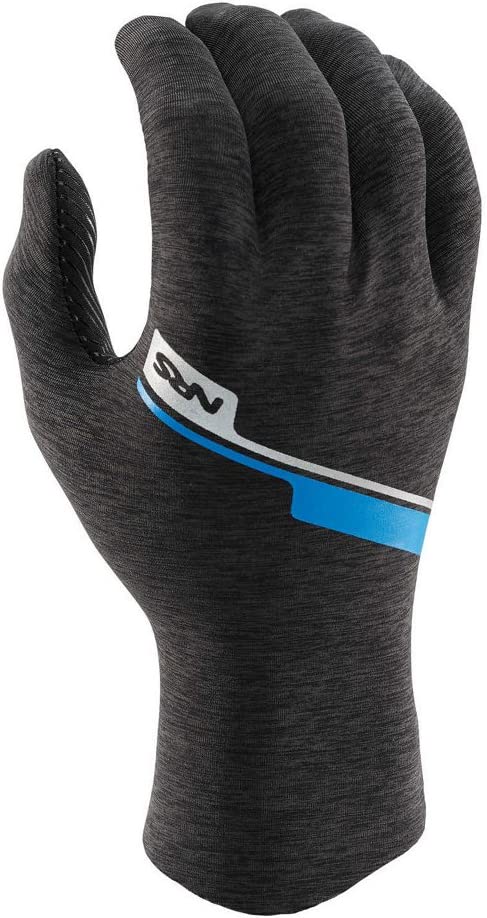 For a glove that covers your whole hand, you could do a lot worse than going for a pair of NRS Hydroskins. They are lightweight, stylish, and made of quick-drying materials that will keep your hands warm and protected from the elements.
Neoprene gloves for kayaking are great in cool conditions rather than in cold weather paddling. They are like a second skin and can be worn under a thicker glove as extra protection against the coldest weather. The water-repellent coating on the neoprene gloves helps you shed water and keeps your hands water-resistant.
These would work seamlessly with a wet suit, providing a little extra grip to your hands with the silicone pattern across the palm for extra grip. The fabric features a four-way stretch allowing for a customized fit that won't be loose.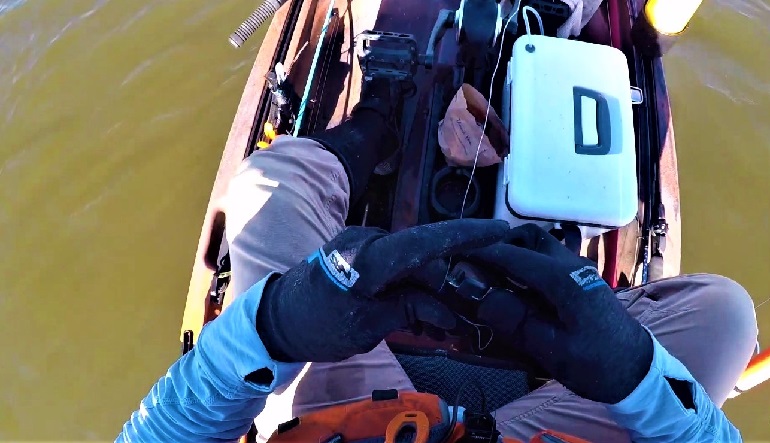 With such a comfortable fit, you can guarantee you won't lose out on grip on your kayak or in the water.
The quick dry material is well suited to being in the water. They are perfect for the in-between times on the water when the air may be warm, but the water is cold. They offer UV protection, and some thermal protection, locking body heat in with the full-finger gloves.
Summary
These are more like traditional gloves with their full-finger design. They are almost like a second skin and will provide protection against some of the milder elements.
The neoprene material is excellent for stopping blisters, adding grip, and keeping your hands warmer when the water may be a little too nippy for half fingers.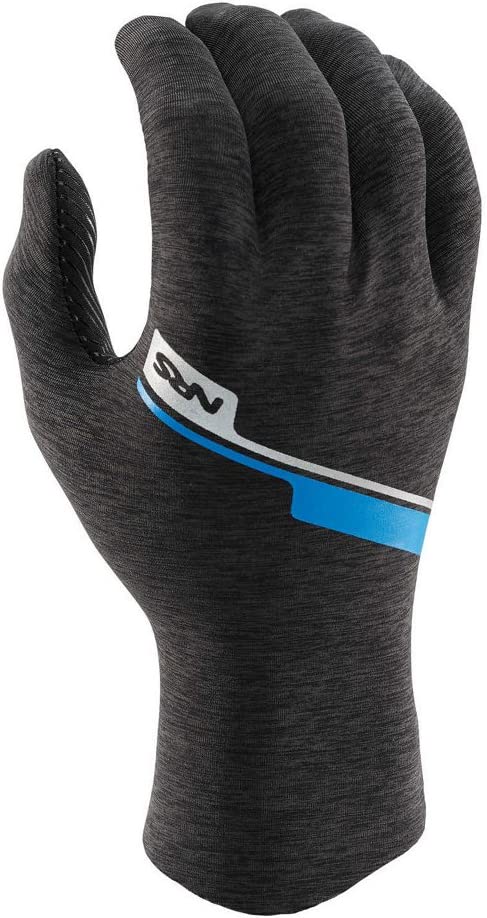 NRS Mens' Hydroskin
The price of "NRS Mens' Hydroskin" varies, so check the latest price at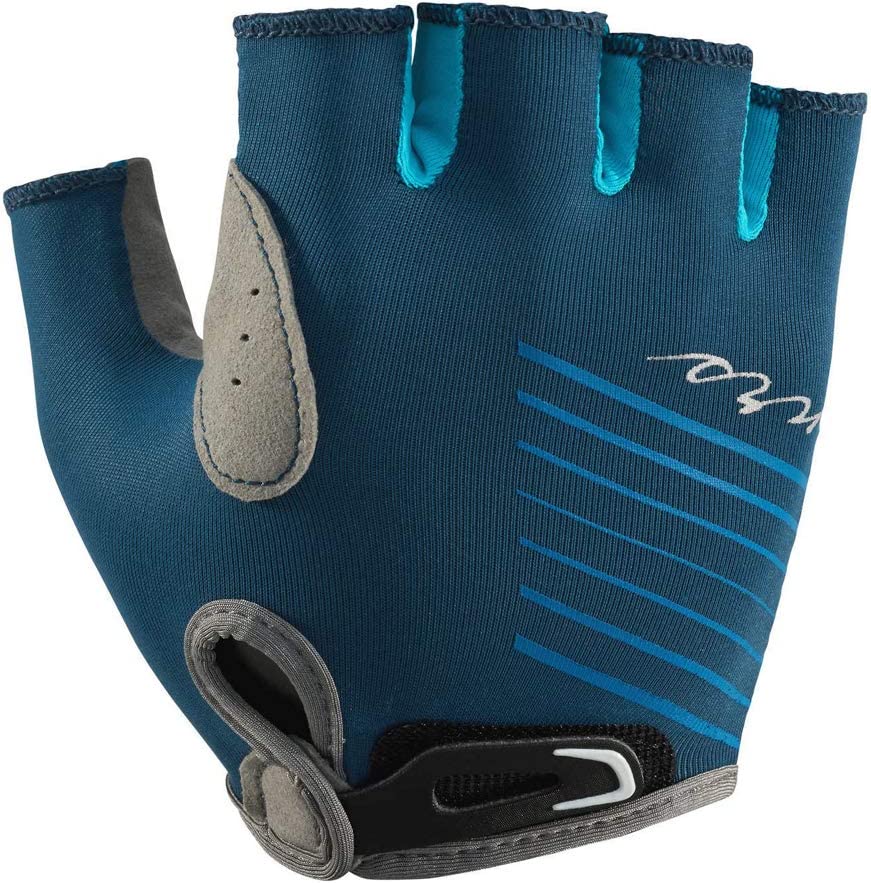 If you are looking specifically for the smaller size that comes with women's gloves for kayaking, then have a look at the NRS Boaters. They offer ultimate protection from the sun in warm weather conditions.
The half-finger design on the Boaters allows for maximum finger movement. Tying rope, paddling your kayak, and sending a text are all easy as pie with your fingertips exposed. You shouldn't have to give up your flexible movements for grip.
These feature a lightweight and flexible fabric that focuses on breathability. Although they do have a great level of padding in their synthetic leather palm, they don't give up the light and durable nature of the kayak gloves. You have more mobility thanks to the thin fabric.
They offer great protection against the sun with their high UV protection rating. The fabric goes right up the wrist strap so that it can sit flush with your kayak outfit and leave no little gaps for the sun to sneak in and burn your skin.
You can grip your kayak paddle with ease with the addition of small silicone accents across the palm. They won't wear out and will remain durable even after a lot of hard use.
Summary
If you're in the market for a good pair of women kayaking gloves then these are a fantastic option.
They are perfect for warmer weather conditions and will offer the protection and durability of most kayak gloves. The synthetic leather style palms will prevent blisters and support your hands.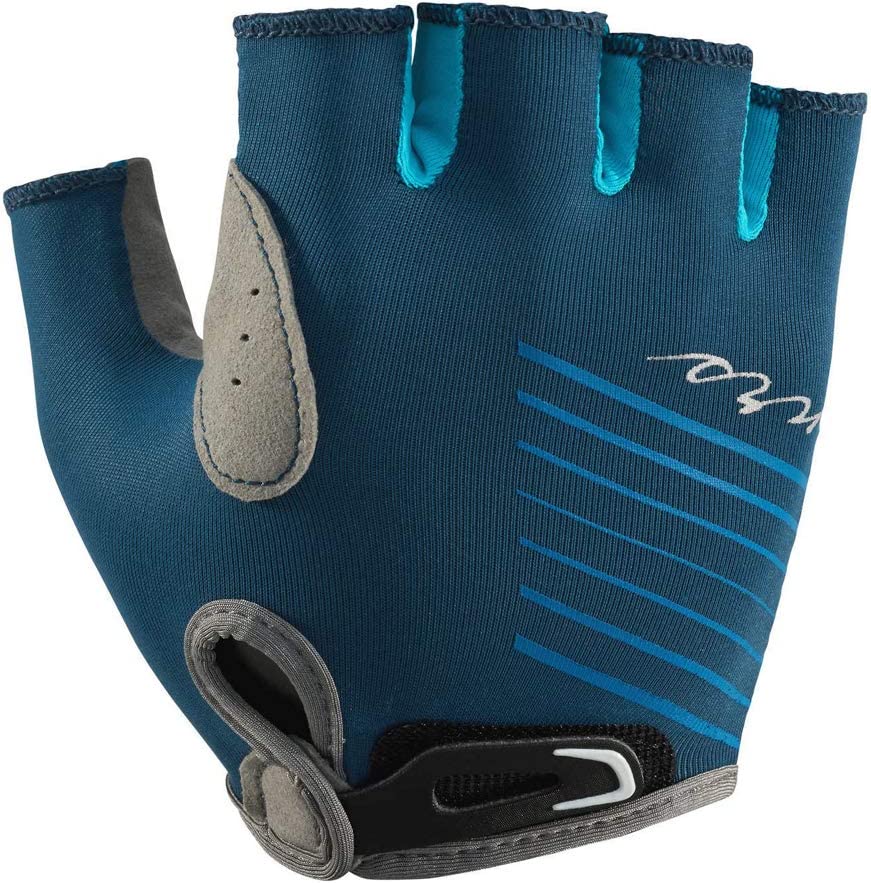 NRS Women's Boater
The price of "NRS Women's Boater" varies, so check the latest price at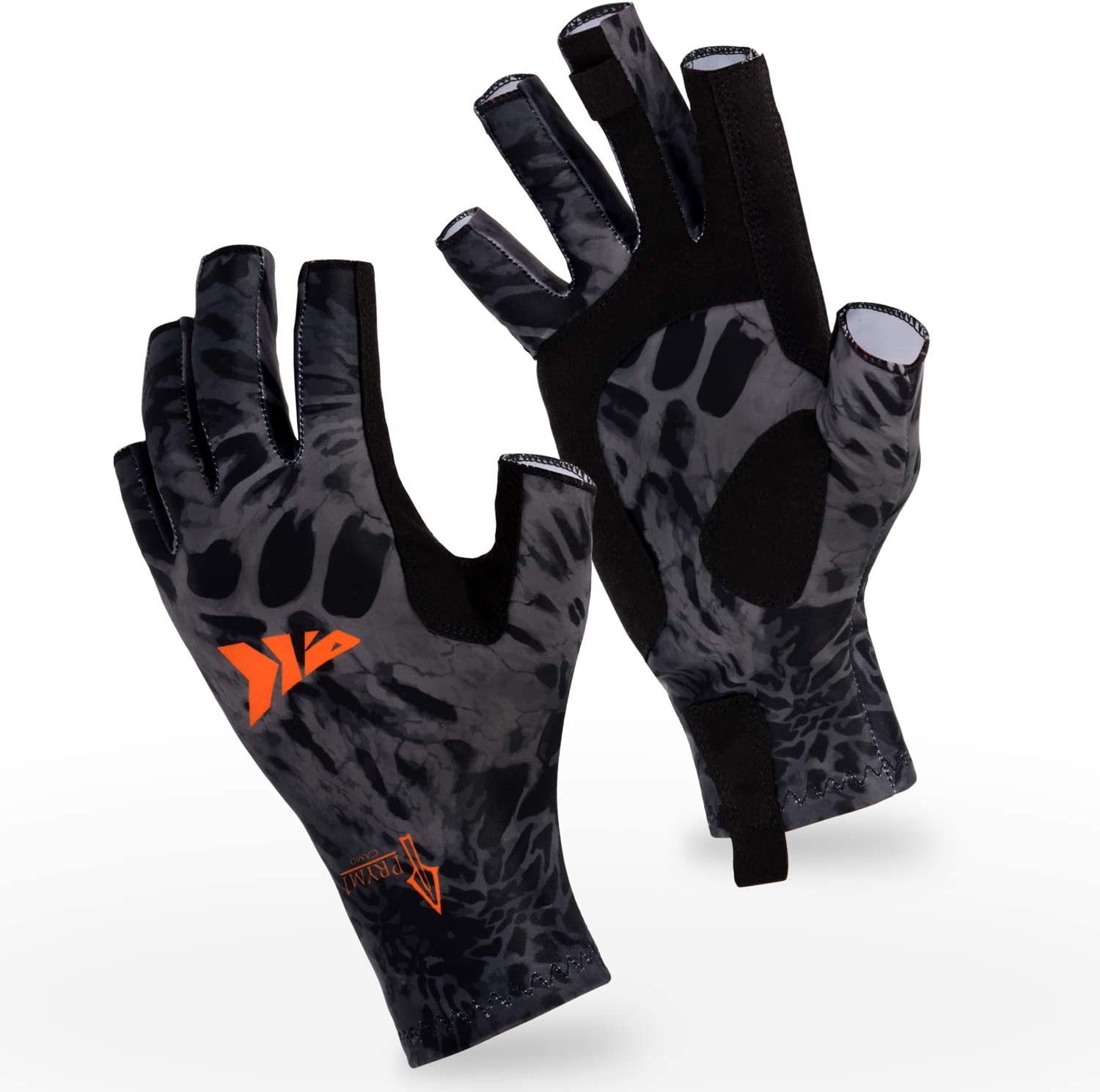 For a pair of premium gloves that will keep your hands cool, and offer top levels of grip and protection take a look at a pair of Sol Armis kayaking gloves.
Whether you're whitewater kayaking or sit-on-top kayak fishing, you can ensure you're doing it in style with the UV cover you need.
KastKing has designed lightweight and durable gloves for kayaking and fishing. The gloves feature the added protection of synthetic leather across the palms. Breathability is provided by the durable poly-spandex fabric that makes up the main body of the glove.
You can kayak and fish with ease whilst your fingers are kept free. The kayak gloves feature a three-quarter design leaving your middle fingers and thumb free to grip and do the more intricate tasks you may need to do in your kayak.
The kayaking gloves provide an excellent level of UV protection if you are in your kayak in the hot sun. The wrist guard goes right up to your cuff.
They are made of thin, light, fabric which makes them a good option for anyone who doesn't want to be over-encumbered by thicker gloves. They will not keep you as warm in the colder weather conditions but will provide some protection against water and wear.
Summary
When choosing kayak gloves you need to decide what you will be using them for. These do not have the glove thickness or thermal protection of a thicker glove, but their light and durable construction make them a great choice in warm weather hunting from your kayak.
You will be covered from palm to wrist from the damage of the sun.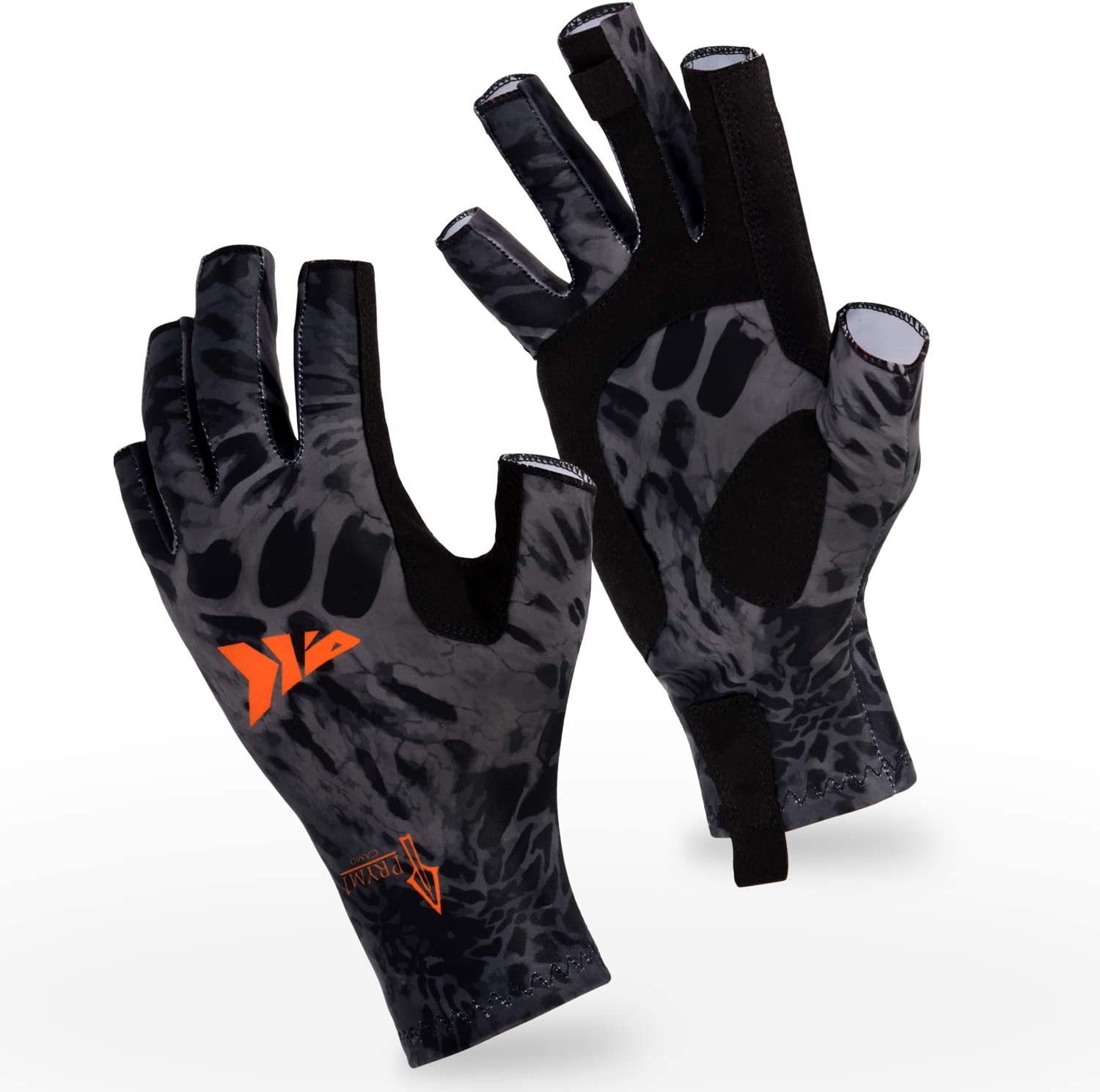 KastKing Sol Armis Sun
The price of "KastKing Sol Armis Sun" varies, so check the latest price at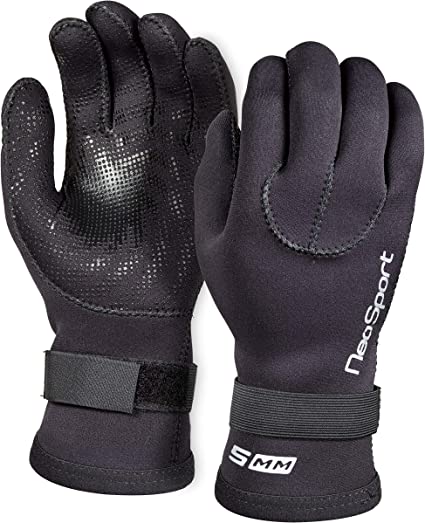 Keeping your hands warm in colder temperatures is essential when you kayak. The best gloves for kayaking need serious glove thickness, need to be waterproof, and provide grip even when your hands are cold.
This combination will ensure you can go cold weather kayaking in comfort, and these neoprene wetsuit gloves provide everything you could need.
Neosport Premium gloves are made to withstand cold weather conditions. They are thick gloves made of double-lined neoprene. The waterproof neoprene is held together with glued seams which keep the fabric locked up tight.
The double-lined neoprene can withstand cold temperatures better than most of the gloves we have looked at today. The fleece lining of the kayaking gloves offers thermal protection that makes cold conditions no problem at all.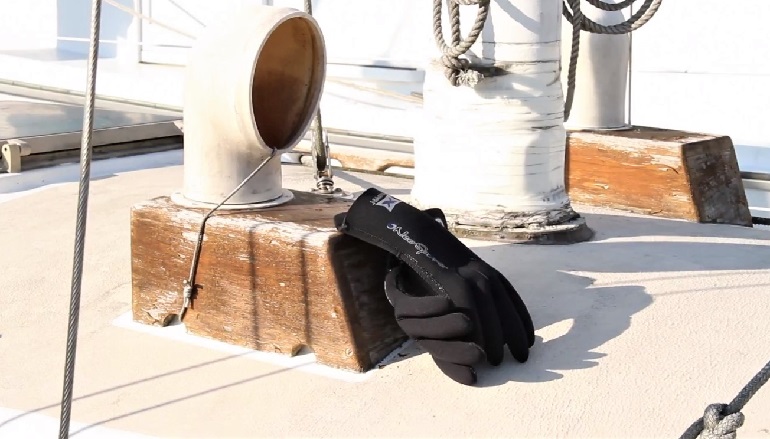 These are the best kayak gloves to keep your hand warm even in colder temperatures.
The cold weather gloves feature a gator wrist closure that keeps the water from getting in, improves grip, and does a great job of keeping your hands warm by locking in your own body heat. The grip is further improved by the durable high-grip palm that will ensure a tight grip on your kayak paddle.
Summary
These are the best kayak gloves for cold conditions. Their thermal protection against the cold will keep your fingers warm even when the weather is cold and the water is even worse.
The thickness can be a limiting factor, but if you decide to kayak in cold temperatures you want a thick fabric that will keep the life in your fingers.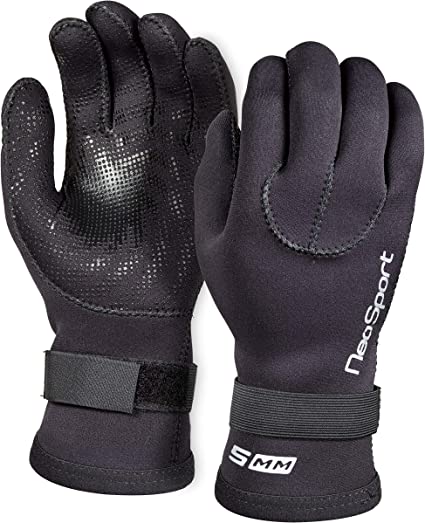 NeoSport Premium
The price of "NeoSport Premium " varies, so check the latest price at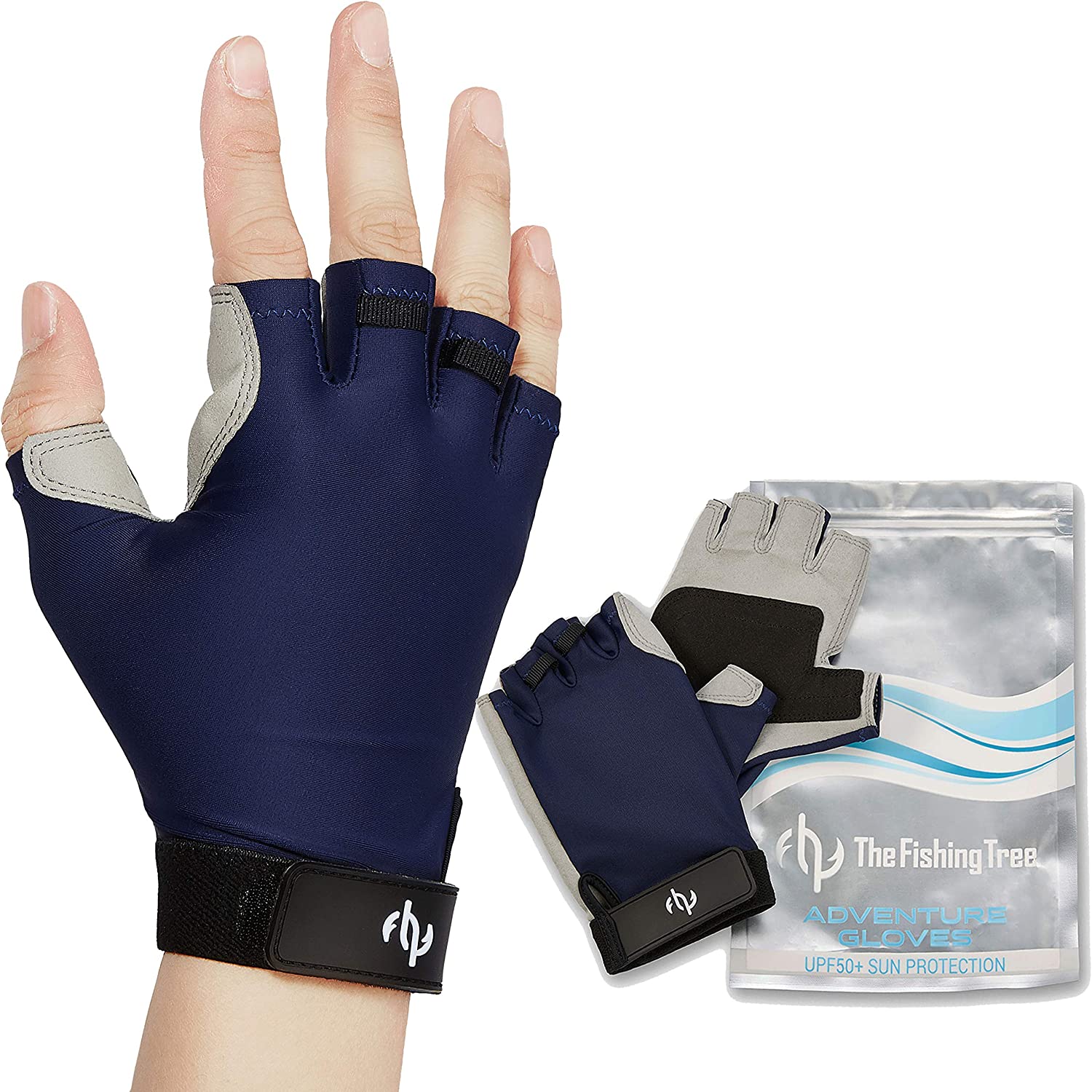 For a budget pair of unisex fingerless kayak gloves, these may be the best pair on the list. Buying kayak gloves doesn't have to break the bank and these paddling gloves provide everything you need for a comfortable and protected day on the water.
The Fishing Tree kayak gloves have a nice, small style that won't make your hands feel restricted. The fabric is breathable and quick drying, so your hands will be kept cool and sweat-free even under a lot of work. Their lightweight build is perfect for a kayak on hot sunny days.
Fishing Tree has developed its gloves to be completely machine washable. Even if you kayak through nasty water and get them filthy, you can just throw them in a washing machine and have them good as new in no time.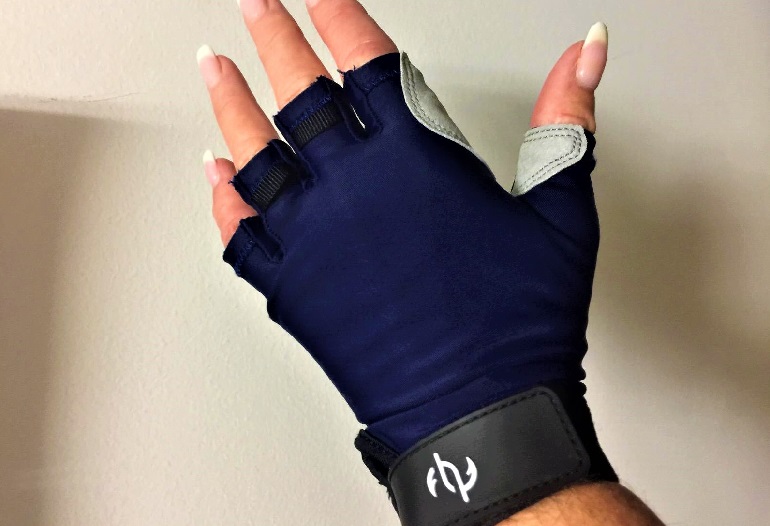 Kayaking gloves need to offer both SPF and UPF protective qualities to stop your hands from being damaged by the sun. When you kayak, the sun's rays bounce off the water, doubling the effects of burning and UV damage.
Summary
Kayaking gloves can be cheap and effective. These don't offer thermal protection, but they are lightweight and will stop your hands from blistering from use or burning in the sun. The faux leather palms are ideal for holding a kayak paddle.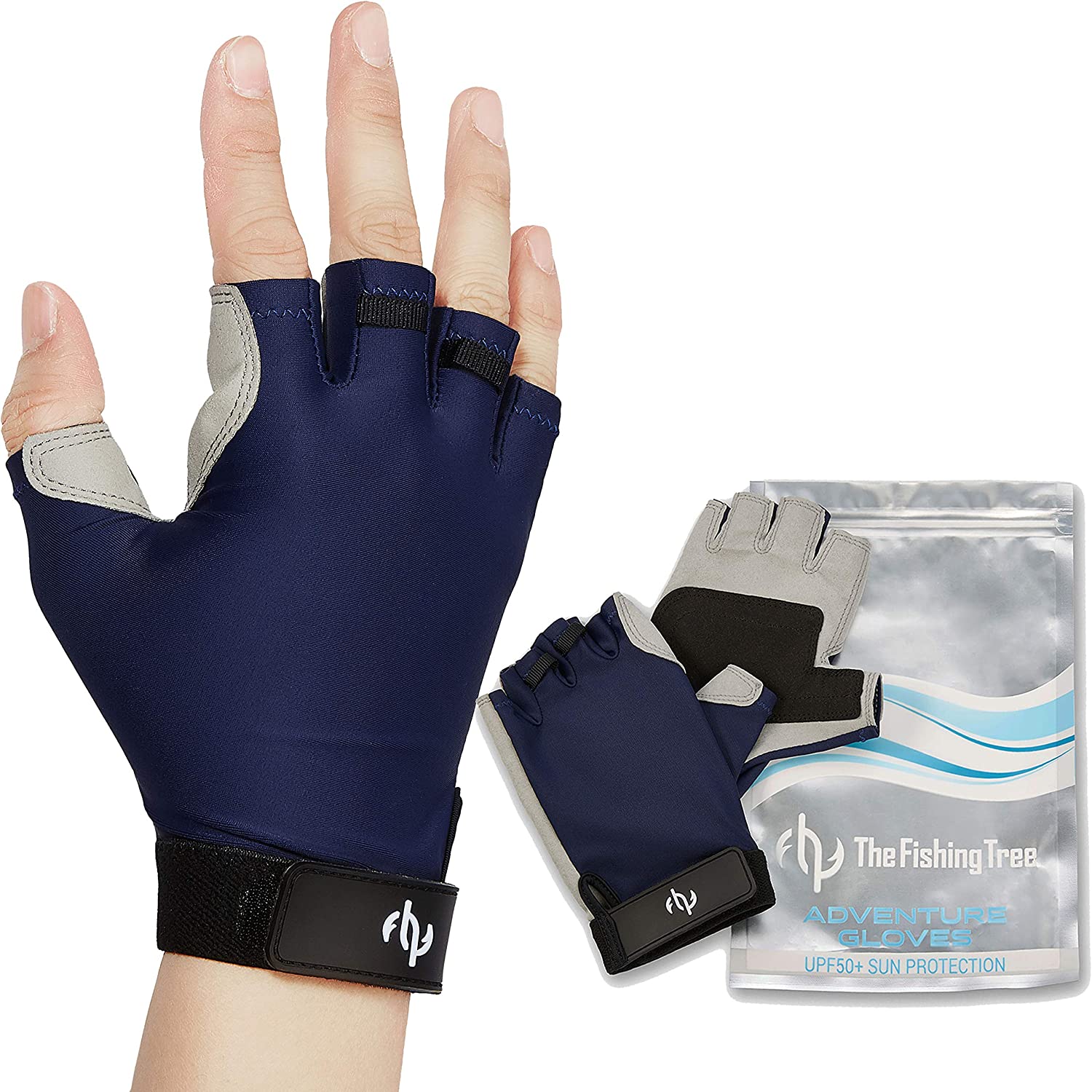 Fishing Tree UV Gloves
The price of "Fishing Tree UV Gloves" varies, so check the latest price at
A Buying Guide for the Best Kayaking Gloves
Before you go out there and spend a fortune on a new pair of kayak gloves, it is best to know exactly what you need from them. There is no point in buying thick and overweight gloves if you're going to be out in the blazing sun.
I can help you know what elements are most important when shopping.
Materials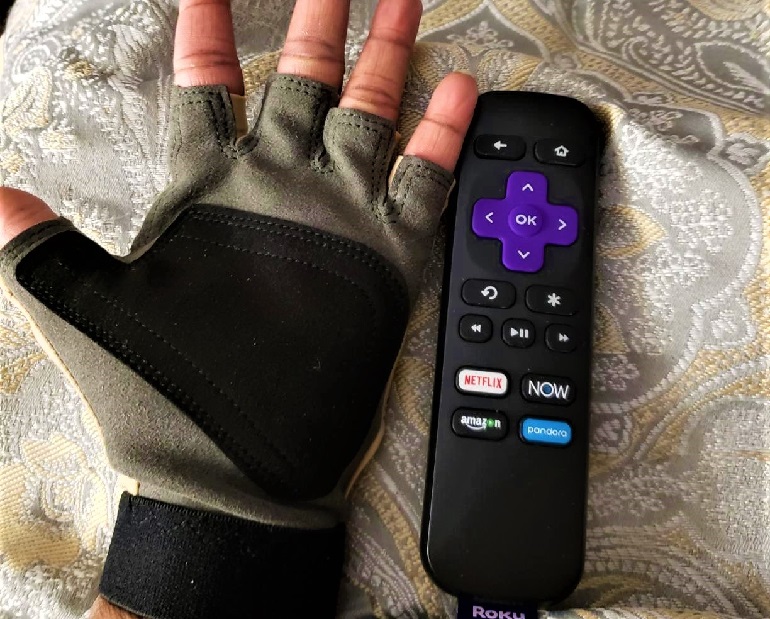 Depending on what you want to use your gloves for will dictate the best materials.
Neoprene Gloves
This is the most expensive material we have looked at today. It holds warmth amazingly and maintains its flexibility over a wide range of temperatures. It exhibits fantastic water resistance and some of the best kayak gloves will be made of this hard-working material.
Spandex
This is the most common material used on kayaking gloves. It is cheap to produce and will protect your hands from the worst of the sun and the wear and tear of paddling. It is super stretchy and will fit around your hand and wrist very snuggly.
Style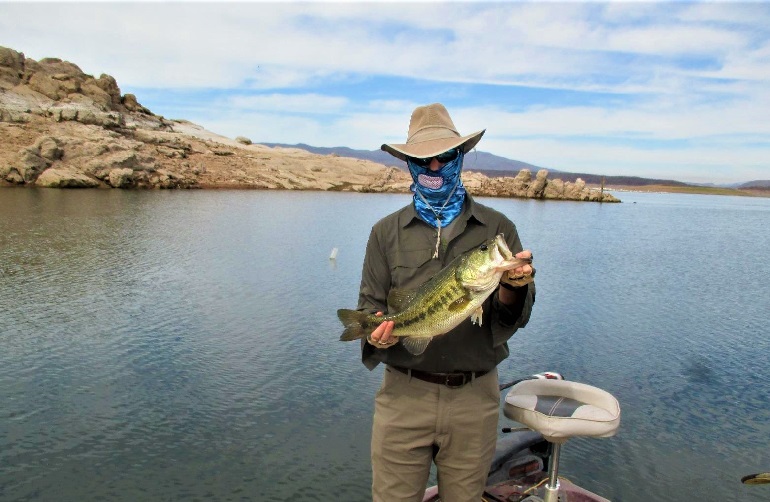 The style you need will depend on the weather and temperature of the water you will be using your kayak gloves in.
Fingerless Gloves
Kayak gloves with half of the finger missing leave your fingers free to do more intricate things such as tie knots or thread fishing lines. They will also keep you cooler on hotter days.
Full Finger Gloves
These offer all the thermal protection you could need against the elements. At the cost of dexterity, you have warmth and dryness.
Budget
Kayak gloves can range from $15 all the way up to hundreds. Just make sure you are getting durable and reliable gloves. Always keep your eye out for deals on better gloves. It's always better to buy expensive kayak gloves once than cheap multiple times.
Size And Fit
A lot of gloves are stretchy enough to fit a wide range of hands but always make sure you have the right size. Loose kayak gloves will lose grip and over-tight ones will restrict blood flow.
FAQ's
What Are the Best Kayak Gloves?
There are no best kayak gloves. Everyone's needs are different, and if you have a low budget and just need something lightweight, then the cheaper and small pair are the ones for you. If you need heavy duty then they will be the kayak gloves for you.
What Are Kayak Gloves Used For?
Primarily protection from the elements such as sun and cold temperatures. They also protect your palms from the damage that can come from the long use of a paddle.
How to Dry Kayak Gloves?
Kayak gloves should not be tumble-dried, you should leave them to hang somewhere warm. Most kayak gloves are quick drying, so if you have shopped well they will be done in an hour or so.
My Final Thoughts on Kayak Gloves
Like most pieces of optional equipment, kayak gloves will offer you a much more comfortable day out on the water. Once you give them a go it'll be hard to look back.
Grab yourself a cheap pair and just witness the bliss of comfortable hands all day.