Visiting Colorado and not skiing? Maybe a few runs can make you a fan!
Colorado standards are high, and it may be difficult to know where to begin with all of the ski and snowboard resorts it offers.
While everyone refers to Denver (the capital of Colorado) as the 'Mile-High City,' nobody brings out the exceptionally high mountain elevation of 11,398 feet.
Colorado is famous for the Rocky Mountains, sunshine, and vast ski resorts like Vail, Aspen Snowmass, and Breckenridge Ski Resort.
Even though these mega-resorts have a lot to offer, there are also some smaller resorts with less traffic, such as Arapahoe Basin and Wolf Creek ski area.
Best Places to Snowboard in Colorado (Our Top Picks)
Even the most seasoned skiers can feel intimidated when surrounded by 14,000-foot peaks; therefore, do not panic, and make sure you have a well-thought-out plan.
To help you opt for and plan for a ski trip, here is a tour of the best ski resorts and the best place to snowboard in Colorado to make your experience as memorable as possible.
1. ASPEN SNOWMASS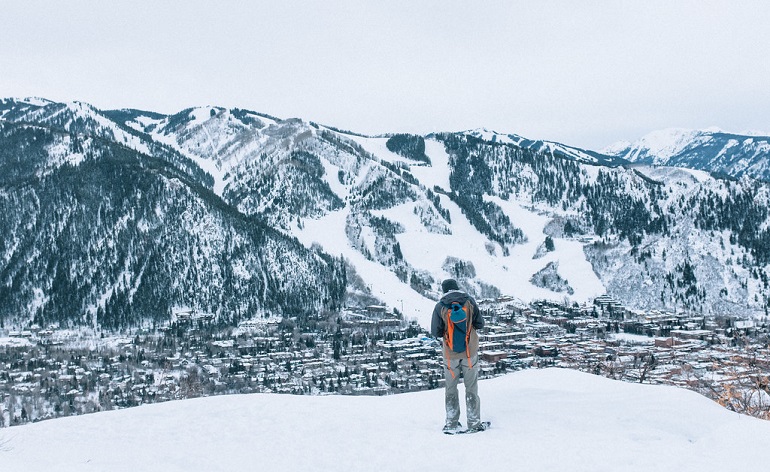 It doesn't get any better than this when it comes to skiing in Colorado because this ski resort is considered to be best for Ski in/Ski out Lodging.
Four different surrounding mountains collectively in the Aspen area and Snowmass village offer a breathtaking range of skiing opportunities, namely Snowmass, Aspen Mountain, Aspen Highlands, and Buttermilk, spanning over 5,527 acres. They are all accessible from two towns and one lift ticket.
More bowls, chutes, slopes, valleys, and glades are spread across four peaks, and that only includes the in-bounds. There are 332 trails that go up to 8 km in length.
With an average annual snowfall of 300 inches, 2300 hectares of snowcapped peaks, and 40 lifts to take you to the top, Aspen Snowmass offers the powder snow conditions you have always wanted.
To end your exhilarating day, you have over 120 restaurants and bars to choose from in the base area, giving tough competition to other ski resorts.
Accommodation
The Viewline Resort in Snowmass is a genuine ski-in/ski-out hotel with a ski valet, outdoor pools, and a full-service spa with the most classy vibe at the base of the mountain.
The Limelight Hotel in Aspen's downtown area may not be as upscale as its sibling, The Little Neil, but it is less expensive. You also have everything you need, including an airport shuttle, outdoor hot tubs, and laundry, which is obviously necessary when traveling.
Town
Aspen, situated at the base of Aspen Mountain, has long been considered for its celebrity community. There are many renowned people, from Hollywood celebrities to athletes, who own houses in this heaven-like place.
Closest Airports
Aspen/Pitkin County Airport 8 mi (15 min drive)
Official Site
Before moving ahead, let us discover all four mountains.
The Mountains: Snowmass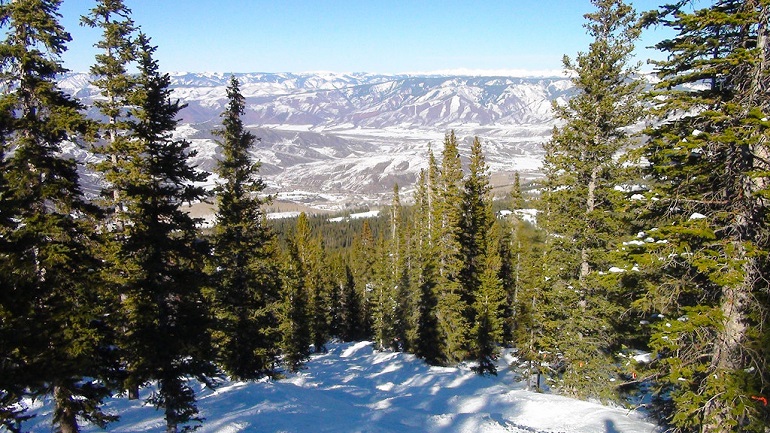 Snowmass claims that with over 150 miles of trails and 4,400 feet of elevation, 'you can spend your entire trip skiing and riding its terrain parks without covering the same ground twice.' Now that's what you call a great skiing destination.
The base height is 8,100 feet, while the peak height is slightly more than 12,500 feet. Beginners and intermediate skiers get access to the entire lower mountain, making it a plus point for freshers who are just starting out but still want to explore.
Experienced skiers and snowboarders have a treat stored for themselves in the form of powdered treasures to explore up on the High Alpine Cirque lifts.
There are activities to do for every age group in Snowmass. Very Important Kids (V.I.K.) Program at Snowmass offers daily family activities throughout the year, including storytelling, sing-alongs by a campfire, cookie baking, children's crafts, and more.
In each season, the village has a unique vibe of its own for the Colorado Rockies. They gather and give time to the most important part of anyone's life; the joy of family and friends, the excitement for exploration, and an appreciation of nature with fine dining.
The Mountains: Aspen Mountain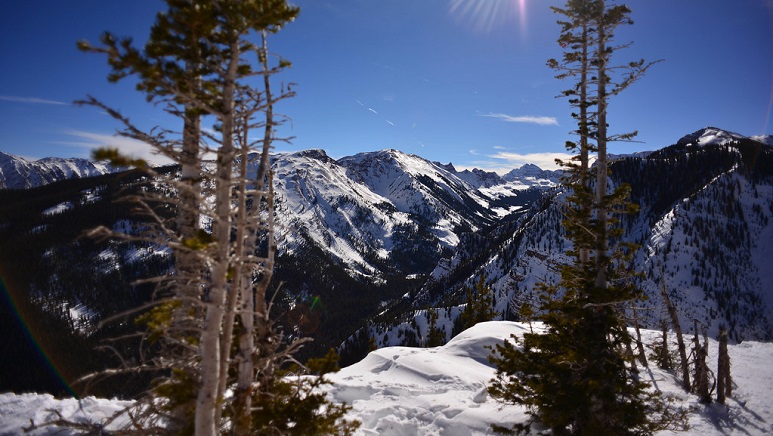 Aspen Mountain (also known as Ajax) is a little mountain, approximately a fifth of the size of Snowmass, with 675 skiable terrains. Its top elevation is 11,212 feet above sea level.
With approximately 70 years of skiing history, it is one of the oldest ski resorts in North America. But that does not affect the advancement of technology for chairlifts and facilities.
Aspen Mountain is well considered to have great challenging glades and steeps for skiers and boarders to conquer because it has consistently served as the venue for the World Cup Competition.
Remember, it has no beginner-friendly trails, so you need to up your game if you are planning to go and attempt any of the 76 runs out there.
The eight lifts on the mountain climb directly from Aspen. There are several wonderful trails to explore on the intermediate, advanced, and expert terrain accessible only by these chairlifts and one gondola.
The Mountains: Aspen Highlands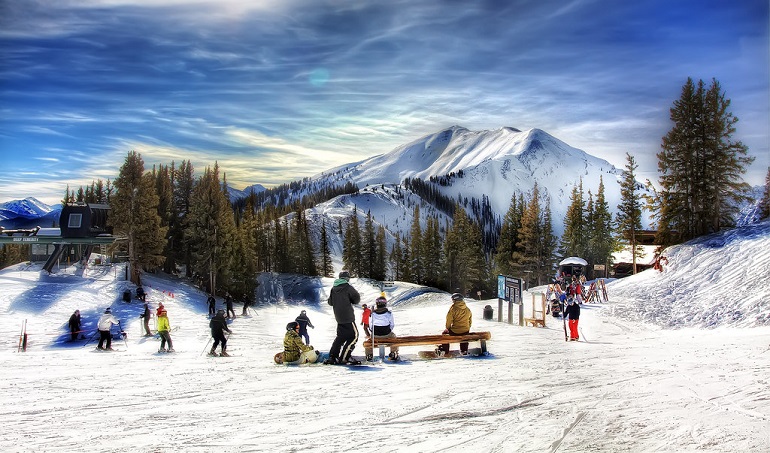 This place is well known for the Highland Bowl, which offers some of the state's most challenging, exciting, and intense skiing.
With a base elevation of 8,040 feet and a top elevation of 12,390 feet, it is the second largest among the four.
There is a considerable variety of terrain parks at the Aspen Highlands, including wide-open groomers. trees, steeps, bowls, and huge mountain skiing.
While there are limited beginner and intermediate terrain parks at the Aspen Highlands, there are numerous steep and deep tough terrain present.
The Mountains: Buttermilk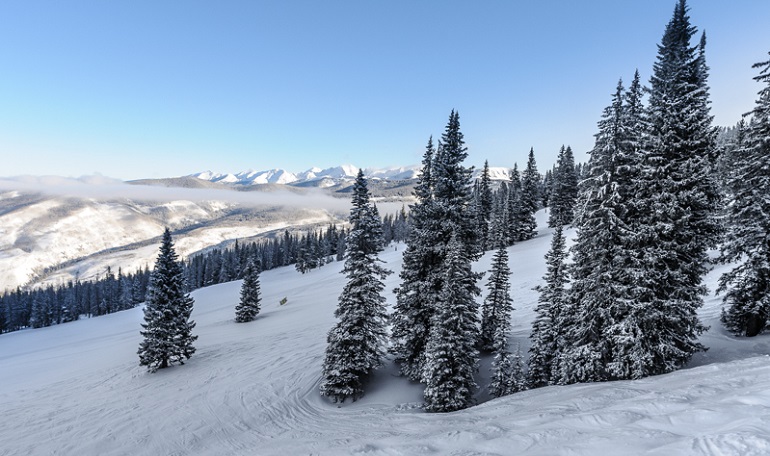 Buttermilk has a base elevation of 7,870 feet and a top elevation of 9,900 feet above sea level. With 470 acres, it is the smallest of the ski and snowboard areas in Aspen.
Despite this, it is a fantastic place for beginner skiers and offers some of the top terrain parks in the world. With less traffic, the West Buttermilk Express chair provides excellent learning terrain.
It is also known for hosting ESPN's Winter X Games slopestyle and half pipe competitions each year in late January.
2. TELLURIDE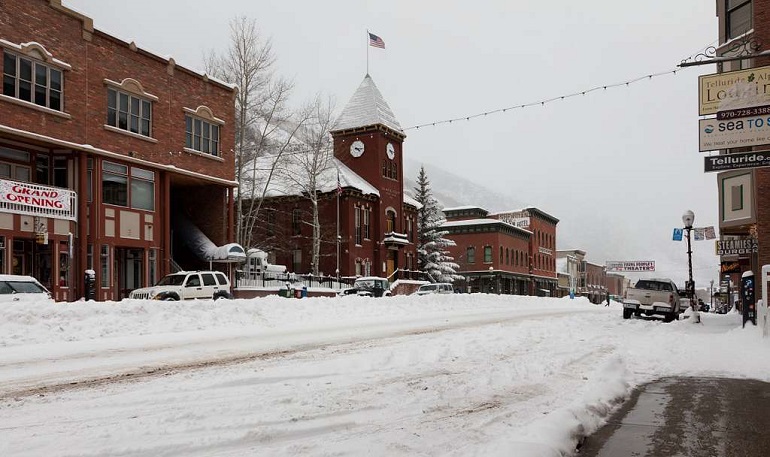 Telluride, located in Mountain Village Colorado, in the Northwestern San Juan Mountains with an average snowfall of 300 inches annually, Telluride has a total of 120 runs covering.
Covered by steep, intense hills and placed in a box canyon, Telluride is one of the most scenic ski resorts in Colorado. It has one of the best modes of transit in the state in the form of a free Gondola ride that connects the Mountain Village to the main village.
There are luxurious and affordable dining options available in both the town and the mountains. Telluride is also a part of the EPIC Ski Pass program.
It also has some recreational activities for the locals and visitors to enjoy in their free time, such as fishing, camping, and hiking.
For those with different levels of skill, Telluride entertains them all with its various terrains, simply leaving you speechless.
The key to Telluride's world-famous skiing is the rugged and extreme rocky Mountains, with 41% of expert terrain for advanced boarders.
However, even beginners can explore the mountain with the help of a blue and green line present from the top of every lift.
With the emergence of The Revelation Bowl in 2008, approximately 400 acres of high-alpine terrain were added.
The summit of Palmyra Peak provides ample opportunities for expert skiing. Therefore, any choice you make is perfect for extreme skiing when you are on this mountain.
The Mountains
a base elevation of 8,725 feet
the top elevation of 13,150 feet
skiable terrains of 2.000 acres
Accommodation
The Fairmont Heritage Place – Franz Klammer Lodge. It is an all-residence hotel situated at the resort's focal point with a full kitchen, free ski valet, and transportation to and from the Telluride.
Town
Telluride has a rich and glorious history, and some claim that Tellurium, a gold-bearing mineral, inspired the name. Others use the phrase 'To Hell You Ride,' which refers to the famous gold and silver camps established in the 1870s.
The town has a habit of organizing great events throughout the year, which is a great way to socialize with the people. Telluride which became a corporation in 1878, is a unique Old West city with tonnes of attractions.
Closest Airport
Telluride Regional Airport 10-15 mins (6 mi)
Opening/Closing Time
November 24 – April 2. Hours 9 am – 4 pm
Official Site
3. VAIL MOUNTAIN RESORT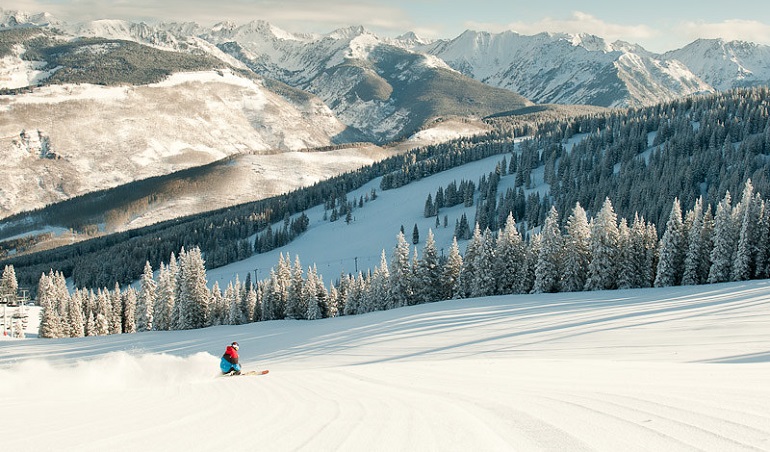 It is located near the town of Vail in Eagle County, Colorado, having seven back bowls. It is the largest single-mountain ski resort in the US.
Vail resorts receive enough snow per season with more than 350 inches and are considered to be the largest resorts and best place to snowboard in Colorado.
The ski resort can accommodate skiers of all skill levels, from beginners to professionals, because of its wide and large terrain. No matter the weather, you can always find a decent environment anywhere on the mountain.
The polished front slopes are usually more popular with beginner skiers, and the great tree skiing and steeps are better suited for more advanced skiers.
It also has 31 lifts and 3 terrain parks.
A six-person high-speed chair will replace the present chairlift in the Game Creek Bowl starting in the year 2023. This will enable additional rounds of this great terrain and greatly increase the number of skiers being carried.
The Mountains
a base elevation of 8,120 feet
the top elevation of 11,570 feet
skiable terrains of 5,289 acres
Accommodation
Sonnenalp Vail has a European vibe with a friendly environment located in the Vail Village, with pedestrian walking going around the town. It has comfortable rooms with world-class restaurants and high-standard spas.
Town
Spend the day exploring the renowned Vail Village and the nearby Lionshead Village if you are wondering what to do. Both villages feel like a scene from a Christmas card because they were inspired by the European ski communities that the founders of Veil fell in love with.
Vail Village and Lionshead Village are connected by a 15-min walk or a free bus ride with a scenic view of the mountains. Beyond these villages, you'll find East Vail and West Vail. Both require a bus to reach the action spot, making it a lesser priority for the skiers to stay in.
Closest Airport
Eagle Regional Airport, 40 mins (30 mi).
Opening/Closing Time
November 11 – mid-April. Hours 8 am – 4 pm
Official Site
4. KEYSTONE RESORT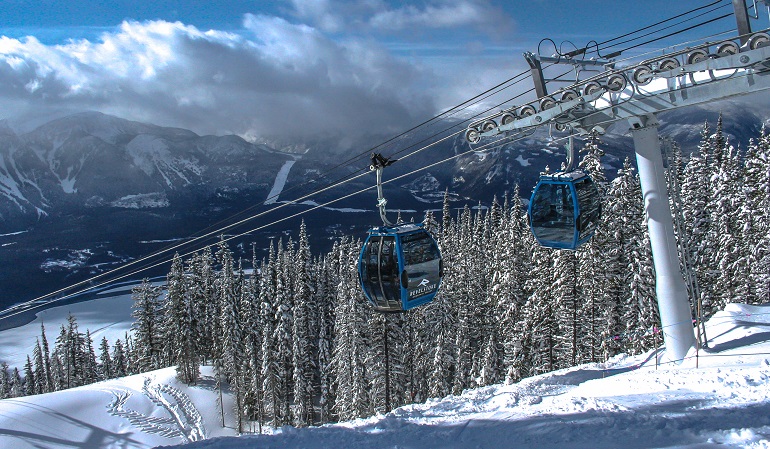 The Keystone is made up of three different mountains: the North peak, the Dercum mountain, and the Outback peak. Each has a unique collection of runs, bowls, and landscapes.
Although each mountain has several lifts and runs, they have different levels of difficulty, facilities, and accessibility.
Decrum mountains have long green and blue runs and perfect groomers where one can cruise all day. Beginners and intermediate skiers can start off with their learning here.
Skiers who enjoy lengthy and bumpy routes should visit North Peak for this challenging terrain, and a mixture of both is what Outback peak serves for its riders.
The Mountains
a base elevation of 9,280 feet
the top elevation of 12,408 feet
skiable terrain 3,148 acres
Accommodation
Keystone Lodge and Spa, surrounded by mountains and lakeside, for a view one could only wish for. The lifts are a mile away, with a free shuttle service from the hotel to the mountain.
Town
River Run Village and Lakeside are two communities in Keystone. For skiers, the activity is centered in River Run, providing a wide range of dining options, just what you need after a day on the hills. With free parking, you can have a trouble-free day at these ski destinations.
The community of Lakeside is built around a small lake that freezes over in the winter and becomes a skating home for people who love to skate.
Closest Airport
The Eagle County Airport, 52 mins (65 mi)
Opening/Closing Time
Opening date mid-October – mid-April. Hours 8.30 am – 4 pm.
Official Site
5. COPPER MOUNTAIN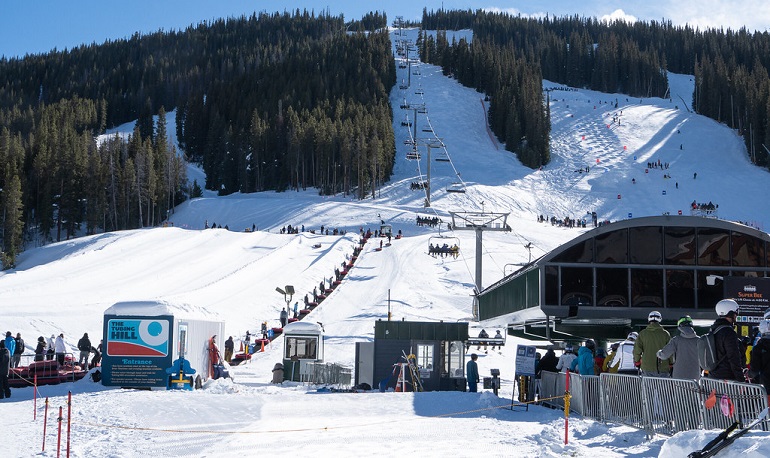 The mountain sees an average of 300 inches of snow every year, and after a storm, there may be many feet of snow, blessing you with a scene you won't forget!
Easy slopes are located on the western side, intermediate slopes in the center, and black terrain on the eastern side of the mountains.
It has a high-alpine terrain for expert skiers that Colorado is famous for, but beginners and intermediate have their share of terrain winter park, making it easy for all levels to ski.
It is family-friendly and has many children's programs and activities to keep your little ones busy. Also, the copper village has the best nightlife that you should at least experience once.
The Mountains
a base elevation of 9,712 feet
the top elevation of 12,313 feet
2,465 acres of inbound terrain
Accommodation
Best Western Ptarmigan in the neighboring Silverton Mountain is quite budget friendly and serves a lakeside view you would love.
Town
A charming small community with stores and restaurants is where the mountain falls. There are several dining options available for the families and candy shops for the kids to enjoy their time.
The village is made of three sections; East, Center, and West Village. They are closely bonded to each other but offer chairlift service to use as per your comfort. Center Village is the hub for activity and one of the best ski towns for you to experience!
Closest Airport
The Eagle County Airport 1 hour (55 mi)
Opening/Closing Time
November 14 – April 23. Hours 9 am – 4 pm
Official Site
6. STEAMBOAT SKI RESORT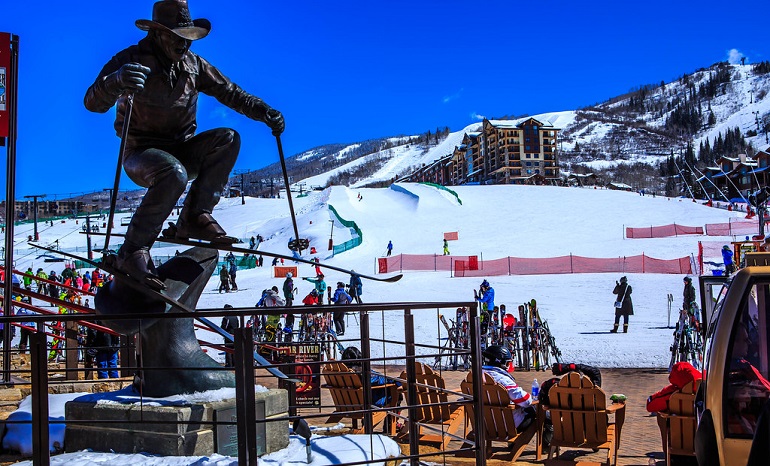 With the majority of the mountain serving tree skiing, the resort receives an average of 334 inches of light, fluffy snow annually, famously termed as the 'champagne powder.'
It is a treat, particularly for beginners and intermediate skiers but offers a great all-around terrain for all kinds. The night skiing at Steamboat can be accessible through Christie Peak Express high-speed chairlift.
A family-friendly resort, with lots of winter activities for all age groups, is a plus point. Especially on the base, there is a ropes course, bungee jumping, and bounce house available.
The Mountains
a base elevation of 6,900 feet
the top elevation of 10,568 feet
skiable area 2,965 acres
Accommodation
The Steamboat Grand is located just 5 mins walk away from the Ski area.
Town
Steamboat springs is located far from the I-70 corridor. The town organizes festivals and events based on its Western heritage and Cowboy culture.
Closest Airport
Yampa Valley Airport 29 min (24.2 mi)
Opening/Closing Time
November 23 – April 14.
Official Site
7. BEAVER CREEK RESORT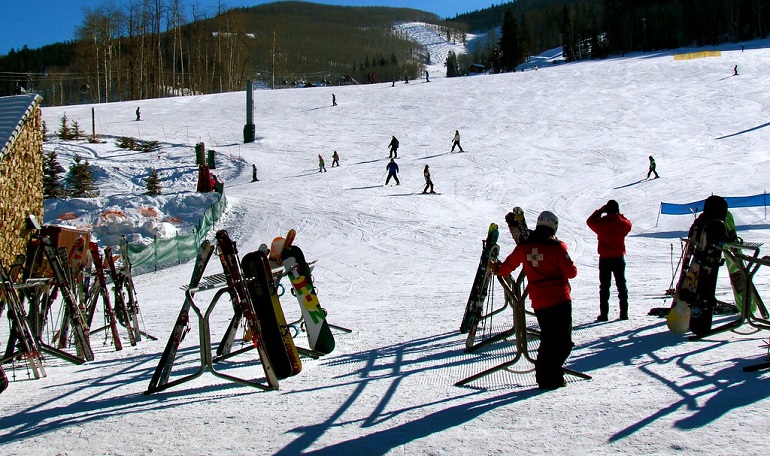 Located near Avon, this resort has all the terrain within a walking distance, making it easy for the skiers to reach their destination.
Beaver creek is especially well suited for beginners and intermediates as well as those who just want to ride because of the large polished paths.
A stunning amount of corduroy is produced every day, all thanks to the daily excellent grooming.
The Mountains
a base elevation of 8,100 feet
the top elevation of 11,440 feet
skiable area of 2,082 acres
Accommodation
Beaver Creek Lodge is a ski-in/ski-out lodge making it a perfect choice.
Town
The village is divided into three sections, the main being Beaver creek village. The village is full of beauty and worth a look with its northern neighbor Avon.
The village is a great area to spend the day exploring because it has everything from designer clothes to athletic items and modern restaurants.
Closest Airport
Eagle County Airport 30 min (24.3 mi).
Opening/Closing Time
November 23 – mid-April.
Official Site
8. ARAPAHOE BASIN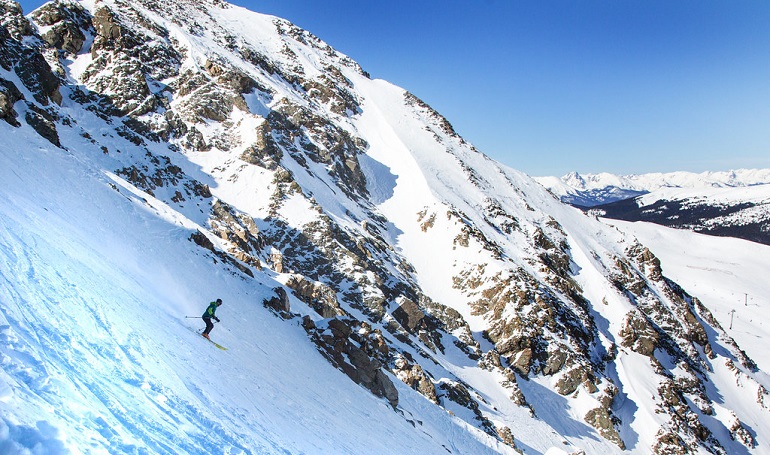 Commonly called 'A-Basin,' it is an Alpine ski area located in the Rocky Mountains. You may expect to discover stunning open runs at Arapahoe, some of which are challenging and others designed for beginners.
Some of the most exciting terrains are available for skiers here, including groomed tree and glade courses. No matter what level of skier you are, this is your stop to experience all kinds of ski areas designed here.
There are seven different mountain regions in A-Basin, each with its own personality. There are plenty of summer and winter activities at the mountain and the base with mesmerizing on-mountain dining.
The Mountains
a base elevation of 10,780 feet
the top elevation of 13.050 feetSS
skiable area 1,428 acres.
Accommodation
The Lodge at Breckenridge is just 12 mins away from the ski area, making it absolutely easy for the skiers to access the mountain.
Town
There is no village for A-Basin; however, you can visit the nearby towns like Keystone and Silverthorne.
Closest Airport
Denver International Airport, 1 hour 35 min (80 mi)
Opening/Closing Time
October – June (depends on Snow).
Official Site
Tips for Skiing in Colorado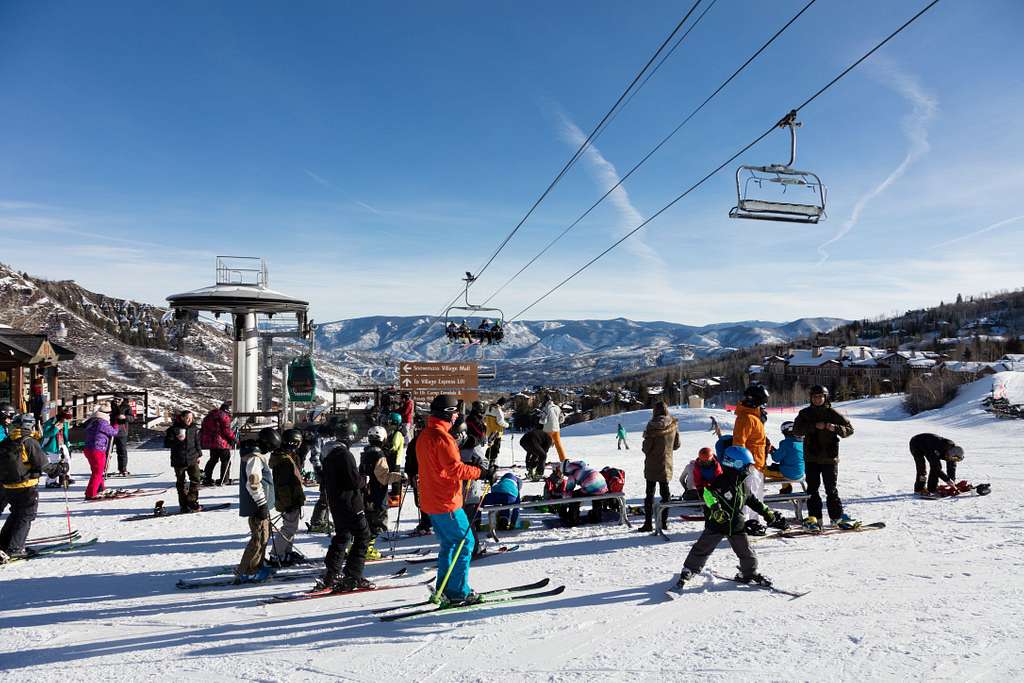 Choose the right season for skiing in Colorado. No matter how fit you are, altitude sickness can occasionally happen. Planning to spend your first night at the lowest elevation (maybe Denver) is a wise way to start off your trip.
It will allow your body to adjust before going into the mountains, also stay hydrated, and avoid alcohol while your body is transforming itself. One day trip will not serve the purpose, so if I were you, I would go for a multi-day trip!
Final Thoughts
Colorado ski resorts have something for every kind of skier and snowboarder, from beginner to intermediate and advanced skiers, so go ahead and plan for a ski trip.
Skiing is a dance, and the mountain always leads, is what they say, and I think they say it right.