Comfort on the slopes is, for me, one of the most important focus points when I buy new gear. Nothing ruins a day more for me than rubbing boots, cold feet, wet clothes, and goggles that aren't suitable for the day.
If you're like me, then you'll understand the struggle. I become especially obsessed with finding the best overall ski boots for my particular feet and calves. If they're too narrow, they'll cramp me up and restrict blood flow.
If they're too loose, they'll rub and lose insulation. I have an average foot width, but I know people with wide calves and feet need a lot more care and attention.
It is always worth popping down to your local boot fitters to get your size taken. Purchasing comfortable ski boots is a lot easier when you know what you need to buy first.
In fact, I would say getting a fitting is almost essential, boots are a big factor in control and comfort.
Top Pick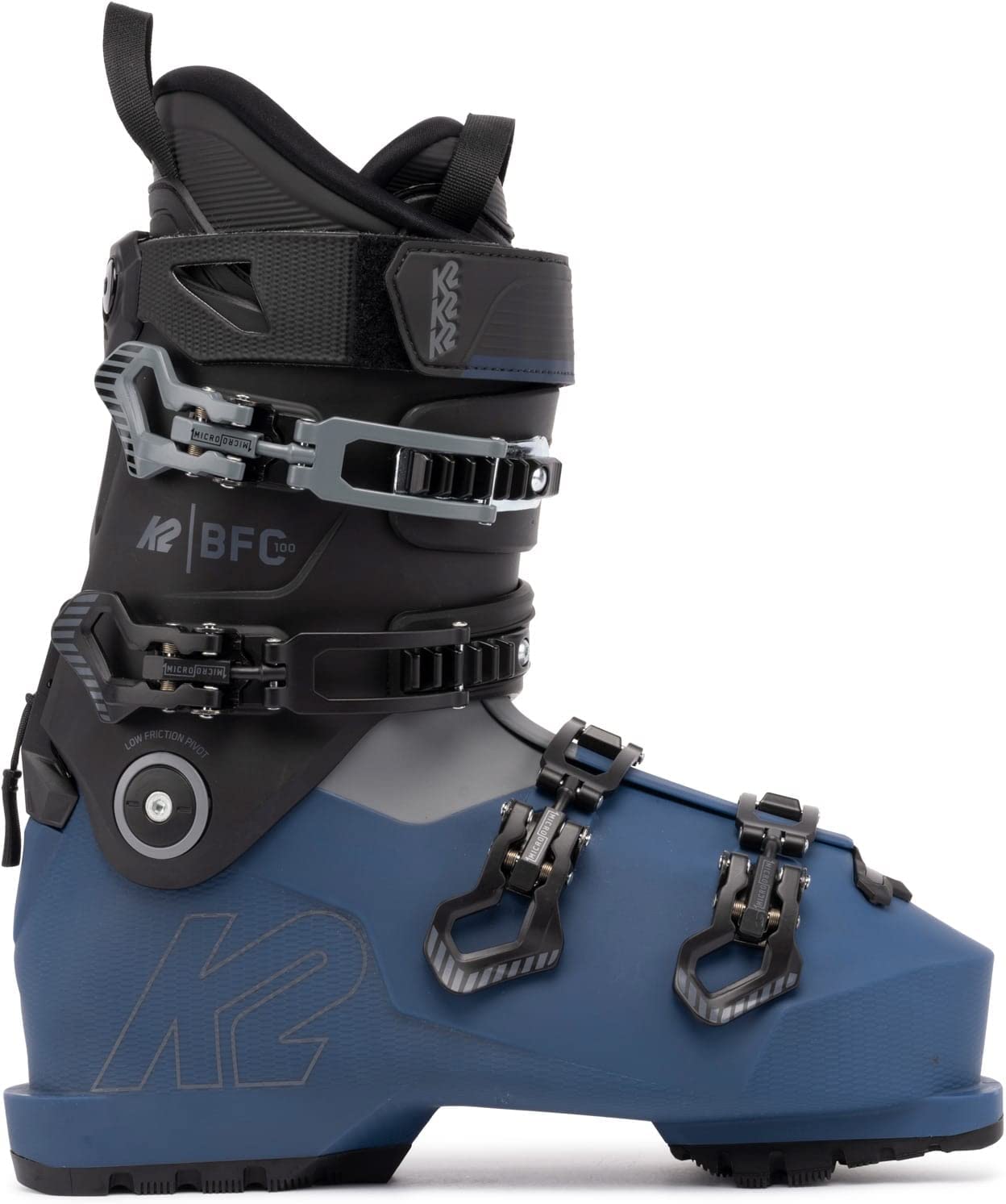 K2 BFC 100
manufacturer: k2
sport type: skiing
Heavy-Duty Option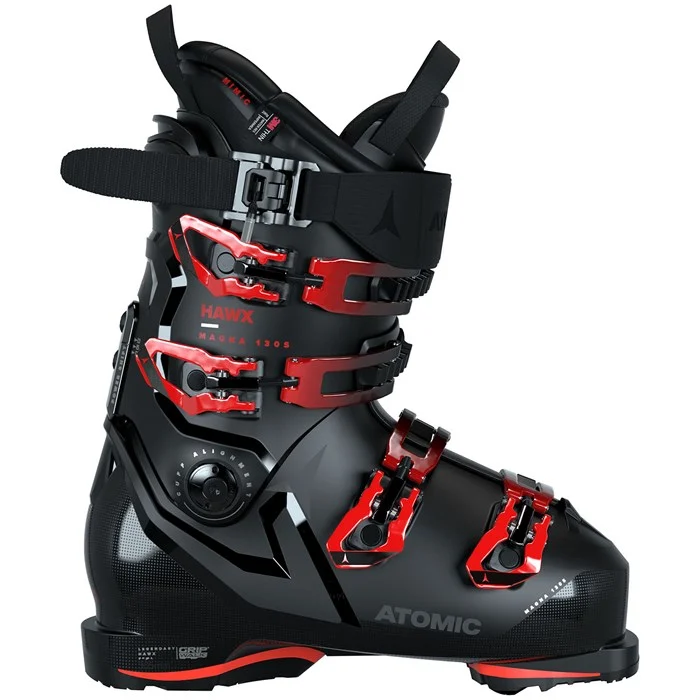 Atomic Hawx Magna 130
manufacturer: atomic
sport type: cycling
Super Adjustable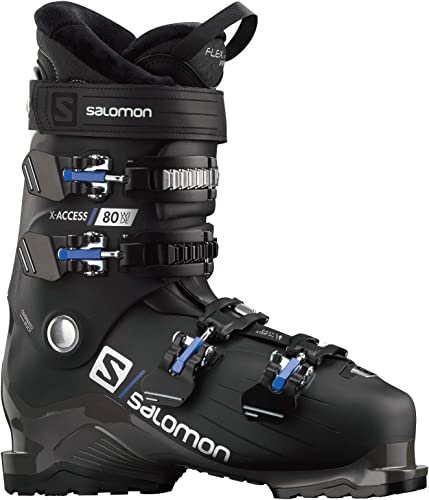 Salomon X Access 70-80 wide
manufacturer: salomon
sport type: skiing
Great Value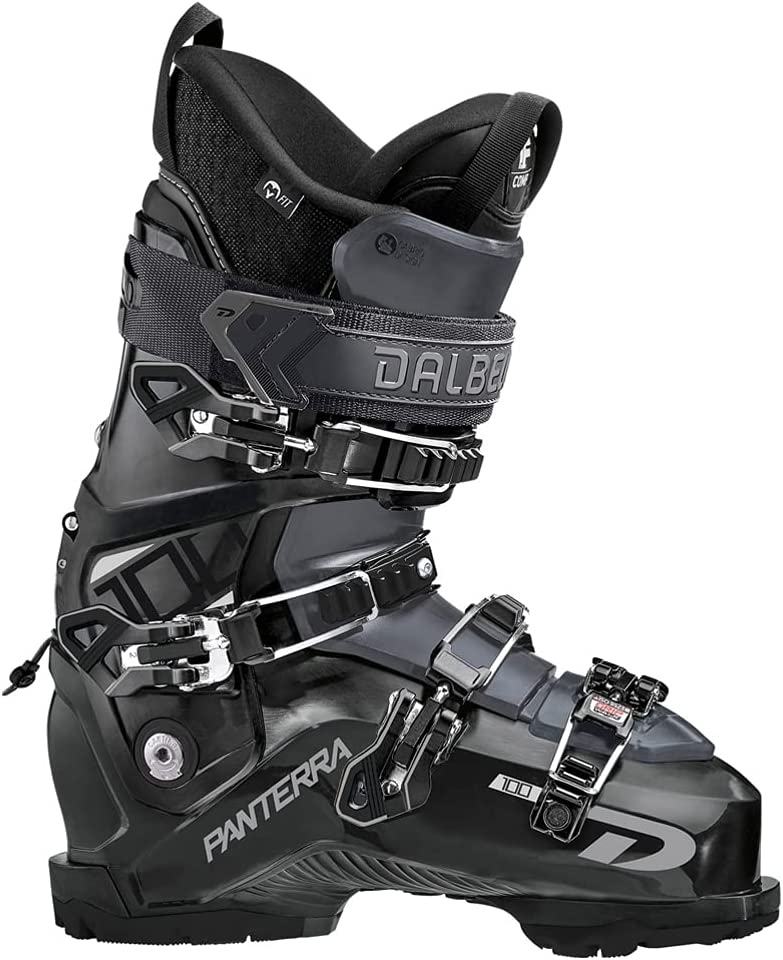 Dalbello Pantera 100
manufacturer: dalbello
sport type: all mountain
Budget Pick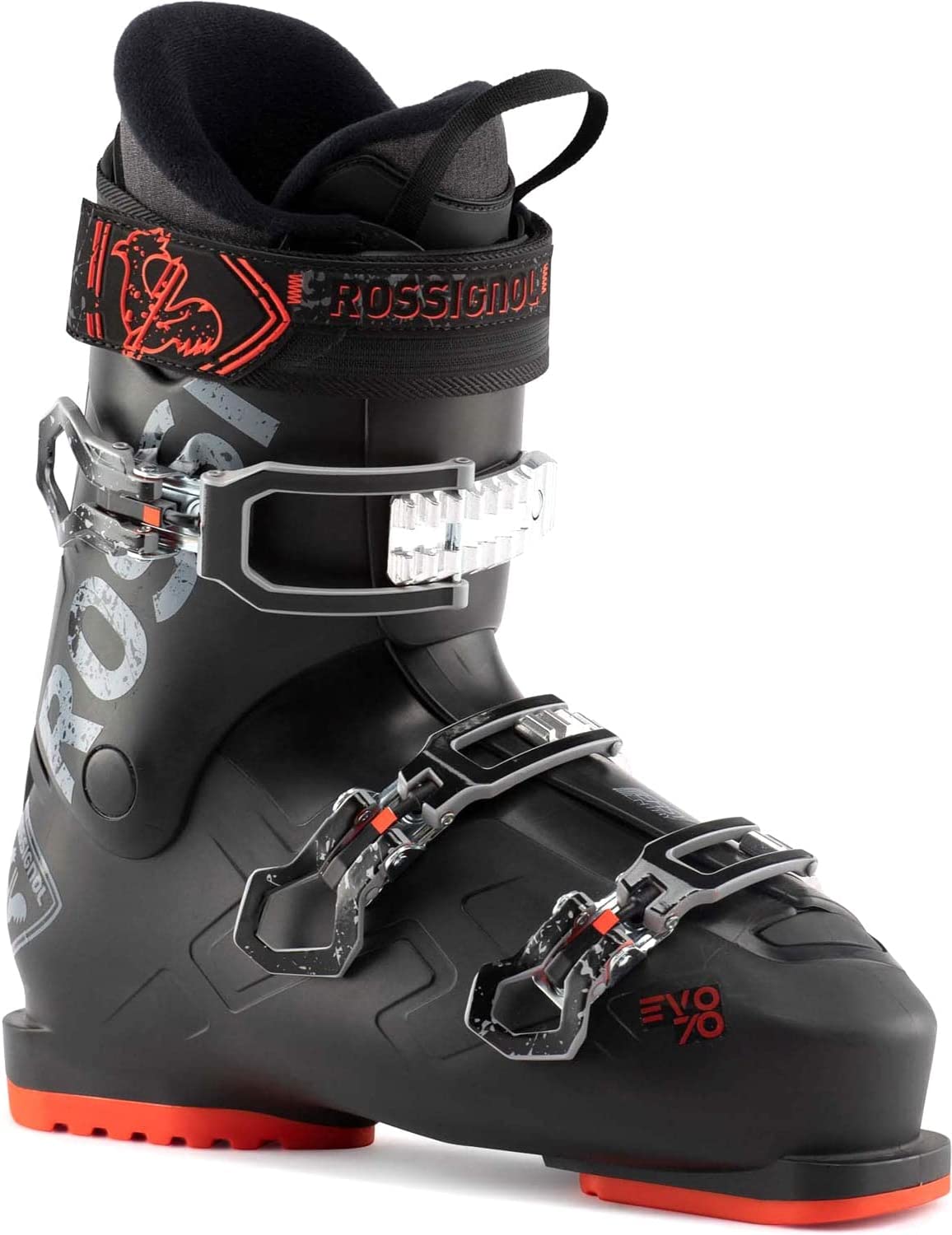 Rossignol Evo 70 Mens
manufacturer: rossignol
sport type: skiing
Super Comfy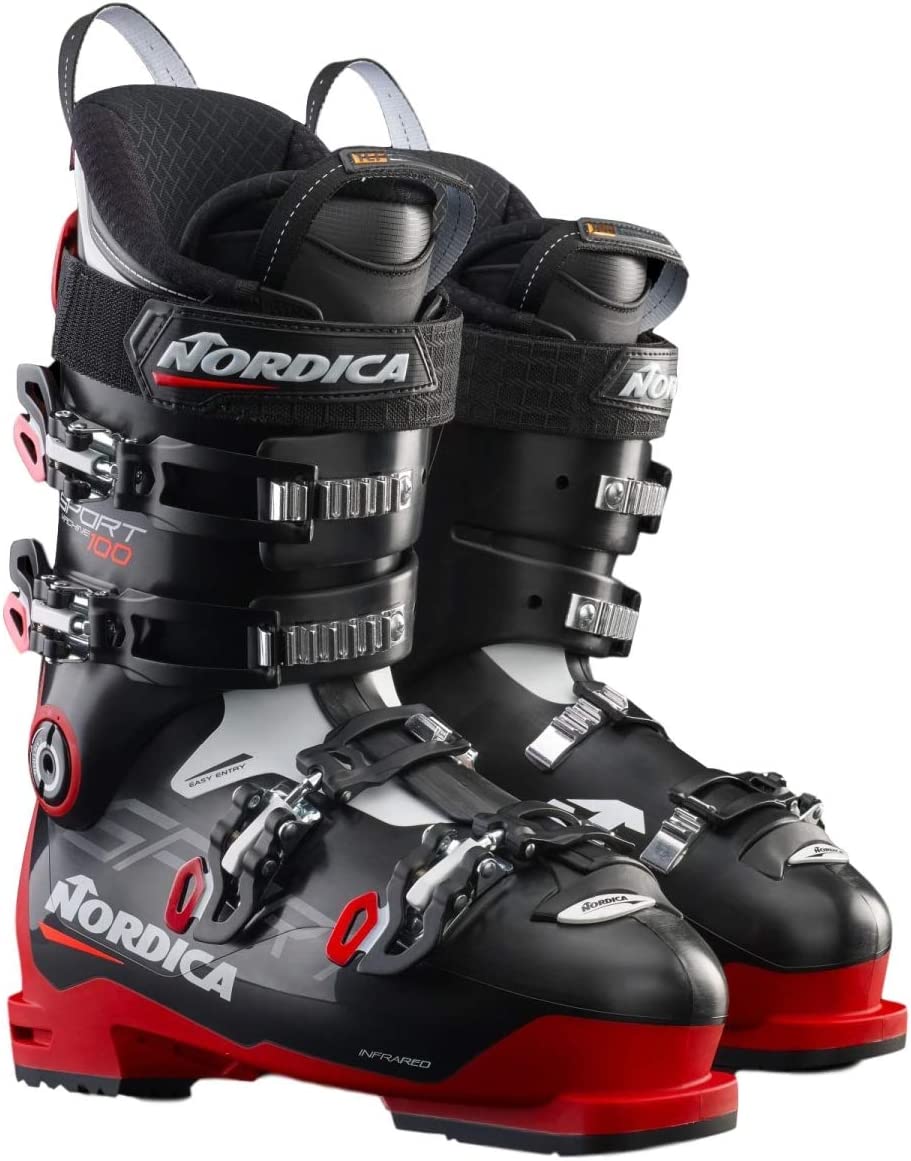 Nordica Sportmachine 85-100
manufacturer: nordica
sport type: multi sport
Cute & Tough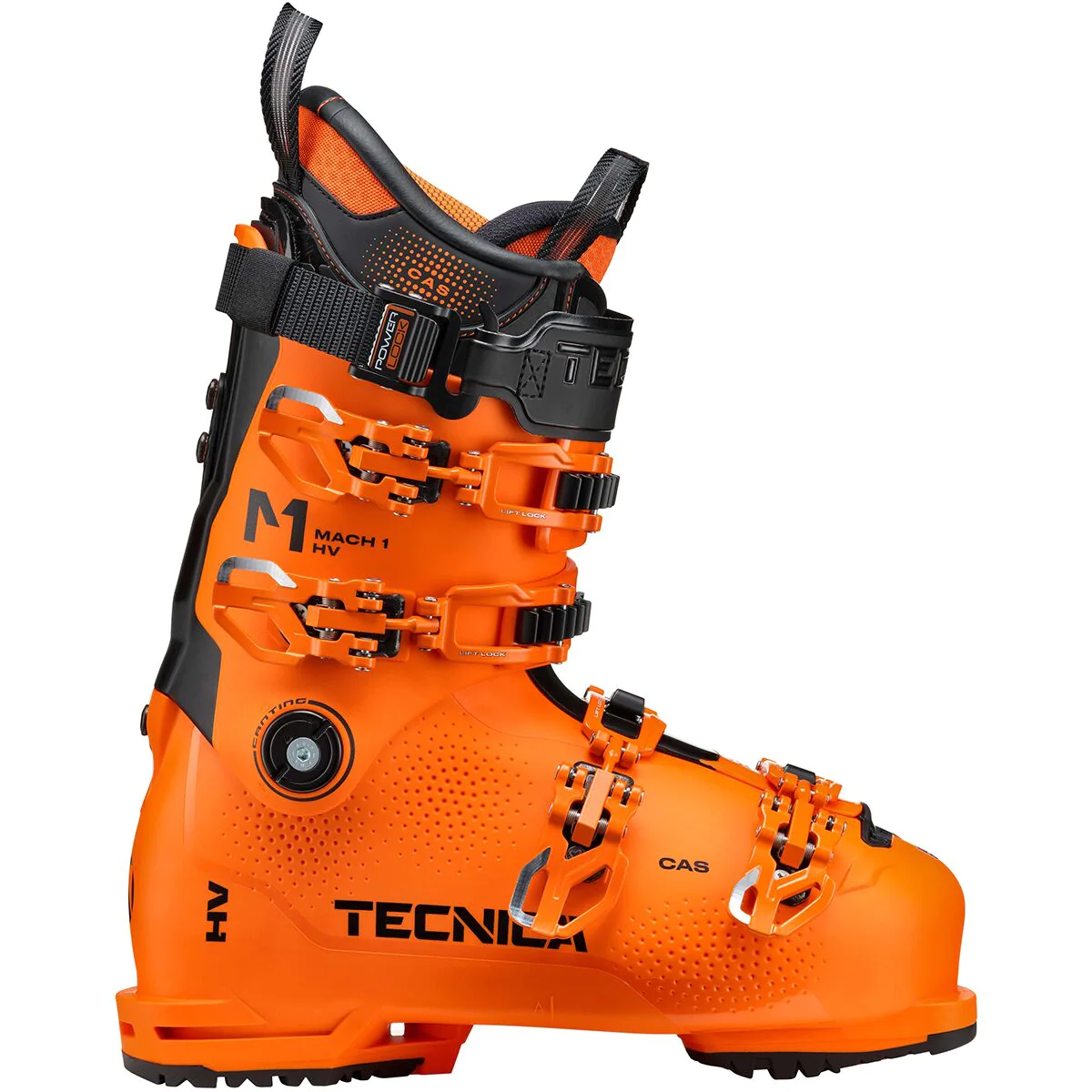 Tecnica Mach 1 HV
manufacturer: tecnica
sport type: multi sport
Ladies Choice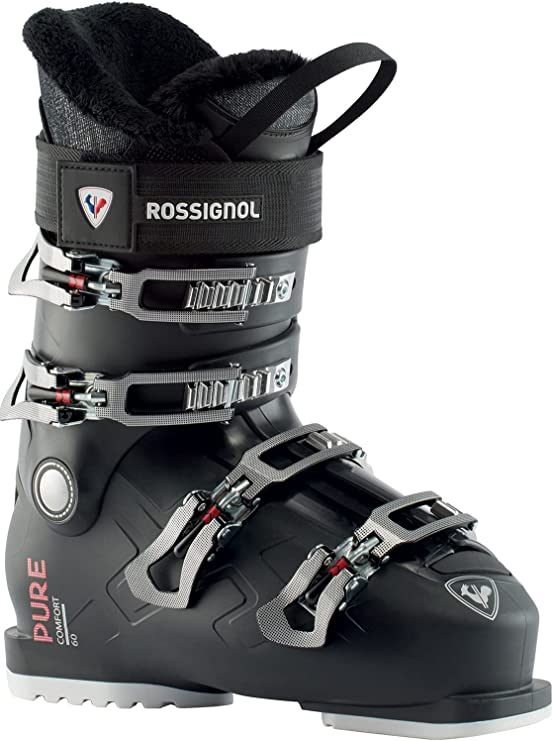 Rossignol Pure Comfort 60
manufacturer: rossignol
sport type: skiing
8 Best Wide Calf Ski Boots
In the case of larger calves, specifically designed equipment for big calves need to be found. Thankfully, the market does provide for this specifically.
You can get your hands on things like a heat-moldable shell, a wider calf adjuster, and a wider calf ski boot. No matter your size, there are comfortable ski boots for you, never fear.
I have trawled the stores for some of the best ski boots for wide calves. The list has ski boots that are suitable for beginners, advanced, and expert skiers. There should be enough variety for everyone to find boots that fit their calf shape.
Read on to find your perfect pair.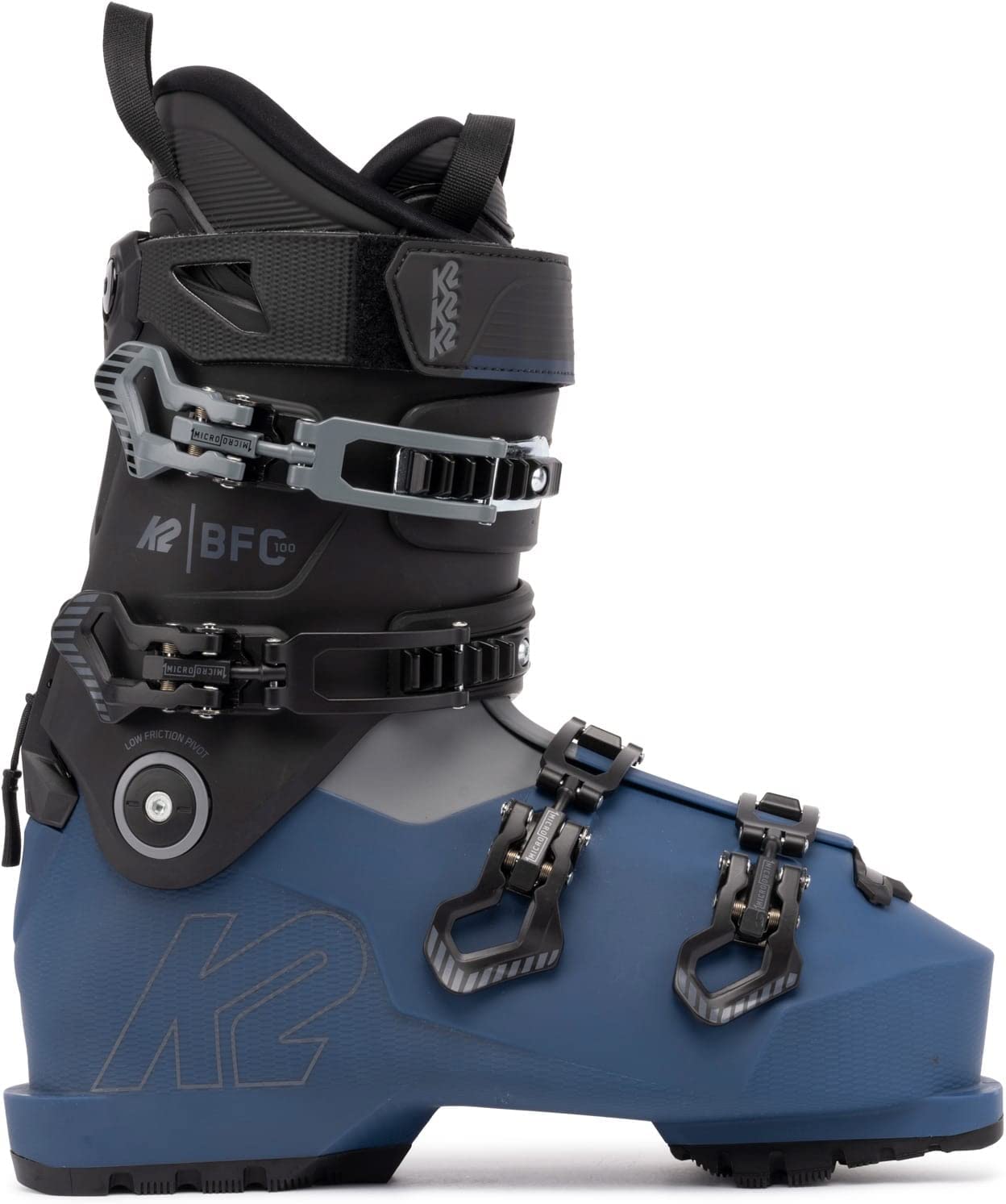 K2 makes bulletproof boots at a bargain price. You can reliably buy a pair without breaking the bank and know they will see you through season after season.
These are great all-rounder boots with a few simple features that will go a long way to maintaining a comfortable fit throughout the many trials and tribulations of a day on the slopes.
These are K2 ski boots made for wide calves specifically. They have been built around a wide last at 103 mm. The last is the mold a shoe or boot is fitted around to determine the final shoe size. Ski boots designed for wide feet and calves need a wider last than other boots.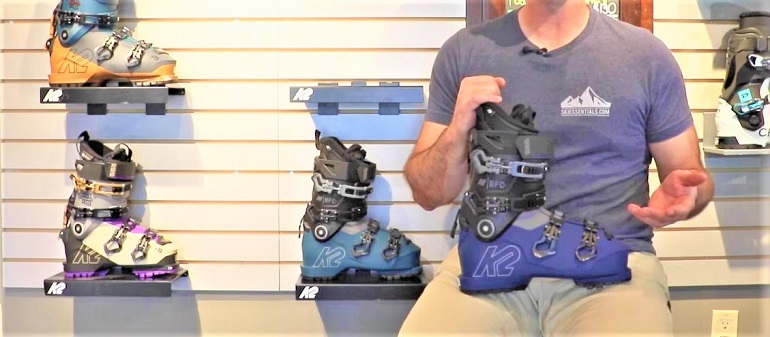 A heat moldable shell works to further house wider calves. If you visit your boot fitter, they will be able to heat these up and fit the ski boots specifically to your foot and calf area. Heat mold provides the most comfortable fit in ski boots.
K2 has included a hands-free entry in the design of these boots for wide calves. You can simply slip your foot into the lining. The split-shell and dual-material outer will also help anyone with wider feet or wider calves to get into and out of the ski boots.
Summary
For a decent price, you can get some all-mountain ski boots that have a flex rating that will be happy in the apres ski bars and on the slopes.
They are a great choice for anyone who struggles to get larger calves and feet into their ski boots. Perhaps not stiff enough for advanced skiers, but absolutely fine for most.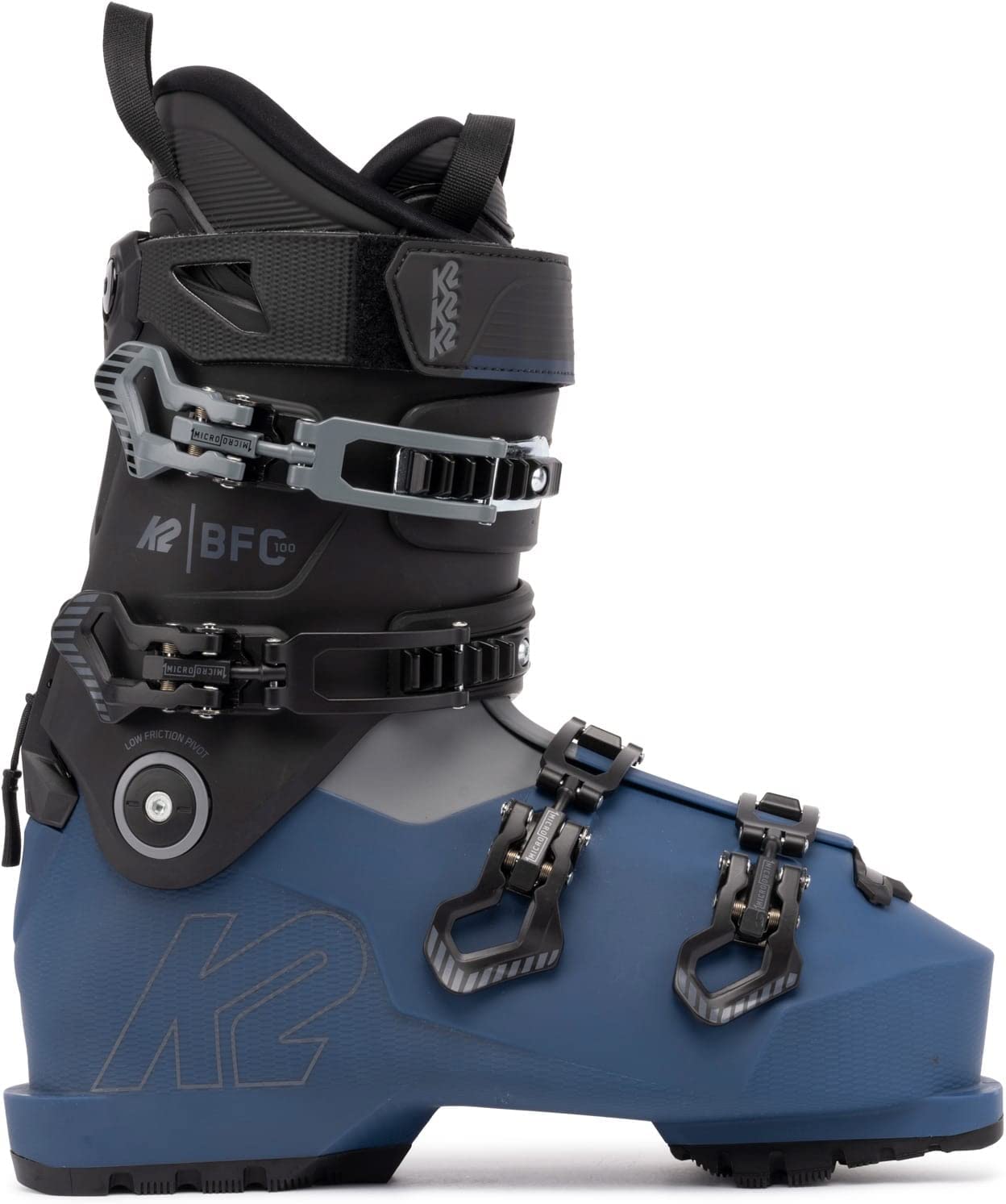 K2 BFC 100
The Price of "K2 BFC 100" varies, so check the latest price a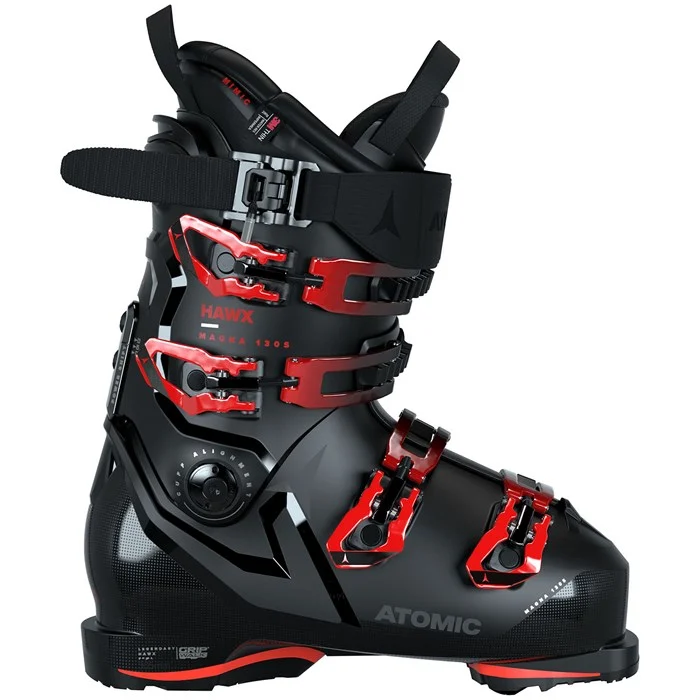 Here's a ski boot for professional skiers who need a heavy-duty boot that doesn't take any nonsense. A remarkably stiff flex rating and a last to fit the feet that need all the room and support they can get. These are the ski boots you have been looking for.
The Atomic Hawx Magna can fit big feet with ease and will provide comfort all the way through the day. They are ski boots for wide feet and advanced skiers who have found it impossible to find their size. They have been built with a 102 mm last to house wide calves.
Along with a wide tongue and room in the forefront and instep, the interiors of the Atomic Hawx Magna include a heat mouldable liner and shell.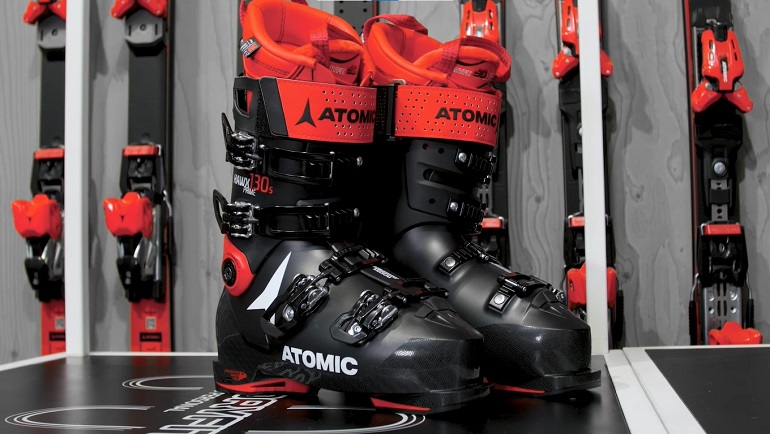 Once heated and put on, the construction becomes completely customized to your wider fit. Wearing them will feel comfortable no matter your foot size.
It is worth noting the incredibly stiff flex on the boots. These would be the best ski boots for someone with a lot of experience on the slopes.
They won't be forgiving of mistakes, and you should always choose ski boots that fit your skill level. If you carry a little extra weight, stiff boots are always worth trying too.
Summary
These are ideal for advanced and expert skiers that have struggled to find bulky ski boots that provide excellent performance on a wide boot. They have remarkable stiffness that is perfect for a high ability level or a heavier skier.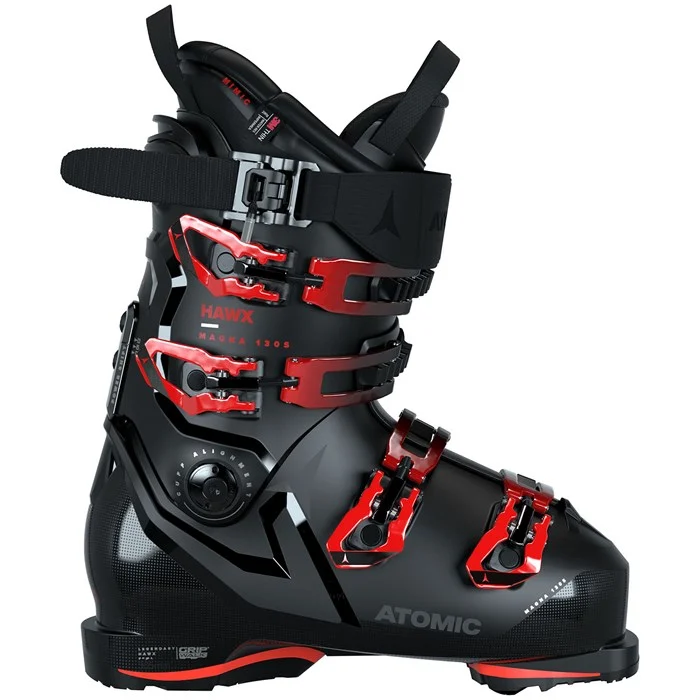 Atomic Hawx Magna 130
The Price of "Atomic Hawx Magna 130 " varies, so check the latest price a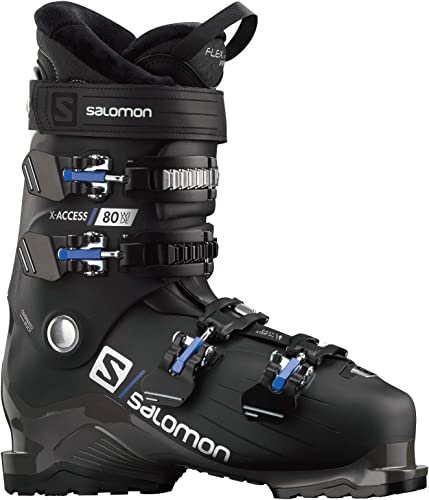 Salomon has specially designed a boot for wider calves and higher-volume feet. Their liner benefits the feet in a number of ways whilst the adjustable cuff is able to accommodate a large range of sizes and shapes.
A much wider last than most boots we have seen allows for a broader calf and foot to sit comfortably within the Salomon X Access boots. Wide feet and large calves will also find a lot of comfort in the deformation zones in the lining of the ski boot.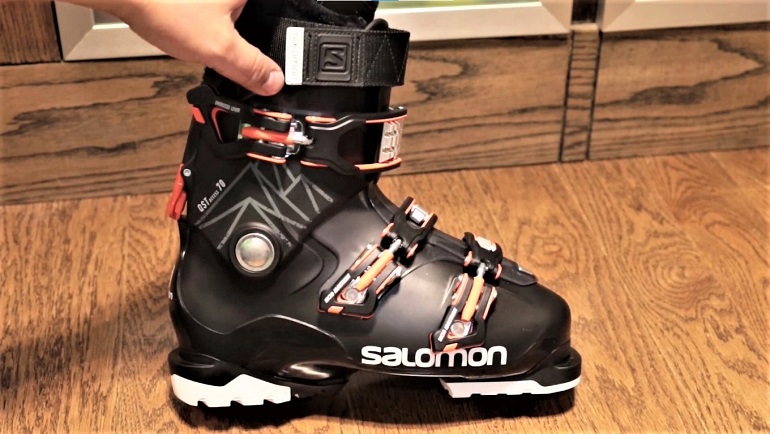 They provide plenty of room in the metatarsals and cuff. This is great for people with extra forefoot width.
The adjustable cuff strap has a higher and wider capacity than most of the Salomon models. This leaves extra adjustability for a higher range of sizes reducing any uncomfortable rub we all hate on a day on the slope.
I find this is one of the most common issues when out and about, different socks have different widths, so being able to get a full range of closeness is imperative.
Summary
A great lightweight boot for intermediate skiers who want some extra room in their ski boot whilst tackling the slopes.
I know how much of a distraction painful feet can be, so finding a boot with a forgiving medium flex and inserts that will support your feet is incredibly important. The adjustability on the ankle strap is one of the features that make these stand out.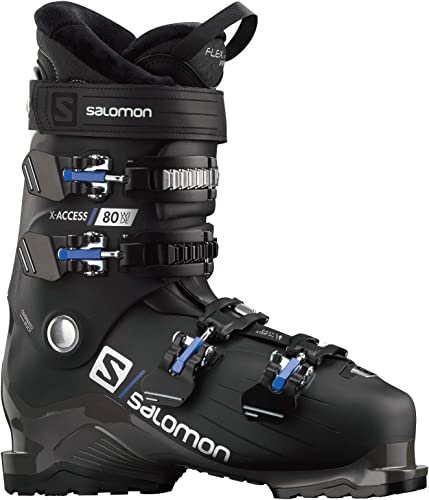 Salomon X Access 70-80 wide
The Price of "Salomon X Access 70-80 wide" varies, so check the latest price a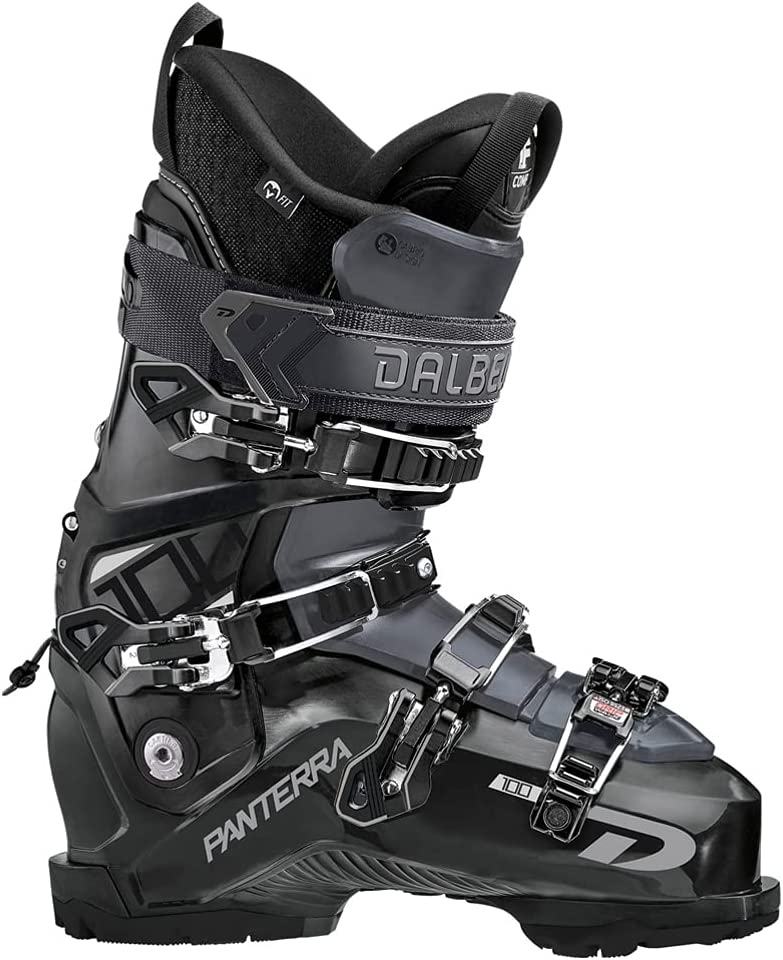 These aren't one of the most well-known ski boot brands, but they are making a name for themselves with high-quality, affordable ski boots packed with new technology.
The Pantera are perfect ski boots for the rider who doesn't need excess width but wants a ski boot that keeps their feet warm and performs across the whole mountain.
I think the skiing experience is always improved with high levels of customization options on my gear. I like to spend the time to get everything just the way I like it and ride in total comfort. These are there to do it all.
They can be adjusted to all terrains, and have features that assist in performance for beginners and up.
A 102 mm last doesn't make it the widest ski boot we have looked at, but it makes up for it with its power strap and adjustable flex ratings. The power strap across the foot adds adjustability to the foot allowing you to add room for wide feet. The boot can be removed without changing this measurement.
The adjustability of the flex rating allows you to move between a stiff and softer flex, depending on your needs and weight. I like this option as it allows for a wider range of skiing experiences and terrains.
Summary
These are ideal for the intermediate skier who needs a jack-of-all-trades ski boot. They are made for wide calves and feet and can adjust from a soft flex to a stiff one with ease.
Multiple straps around the wide ski boot can move the soft plastic to your personal preference.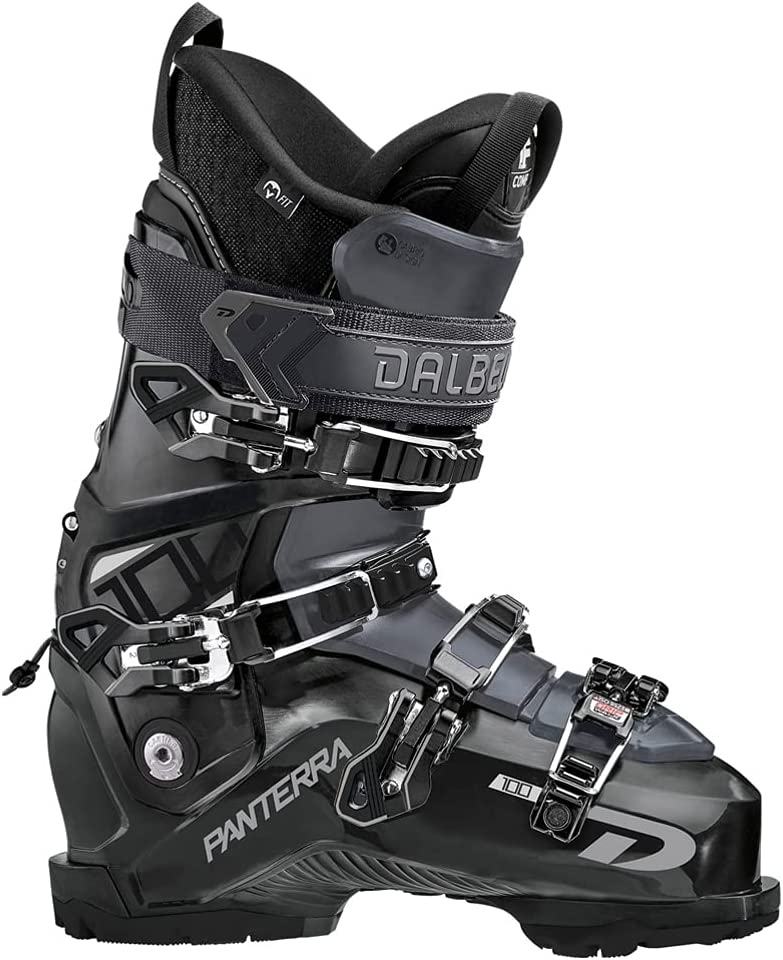 Dalbello Pantera 100
The Price of " Dalbello Pantera 100" varies, so check the latest price a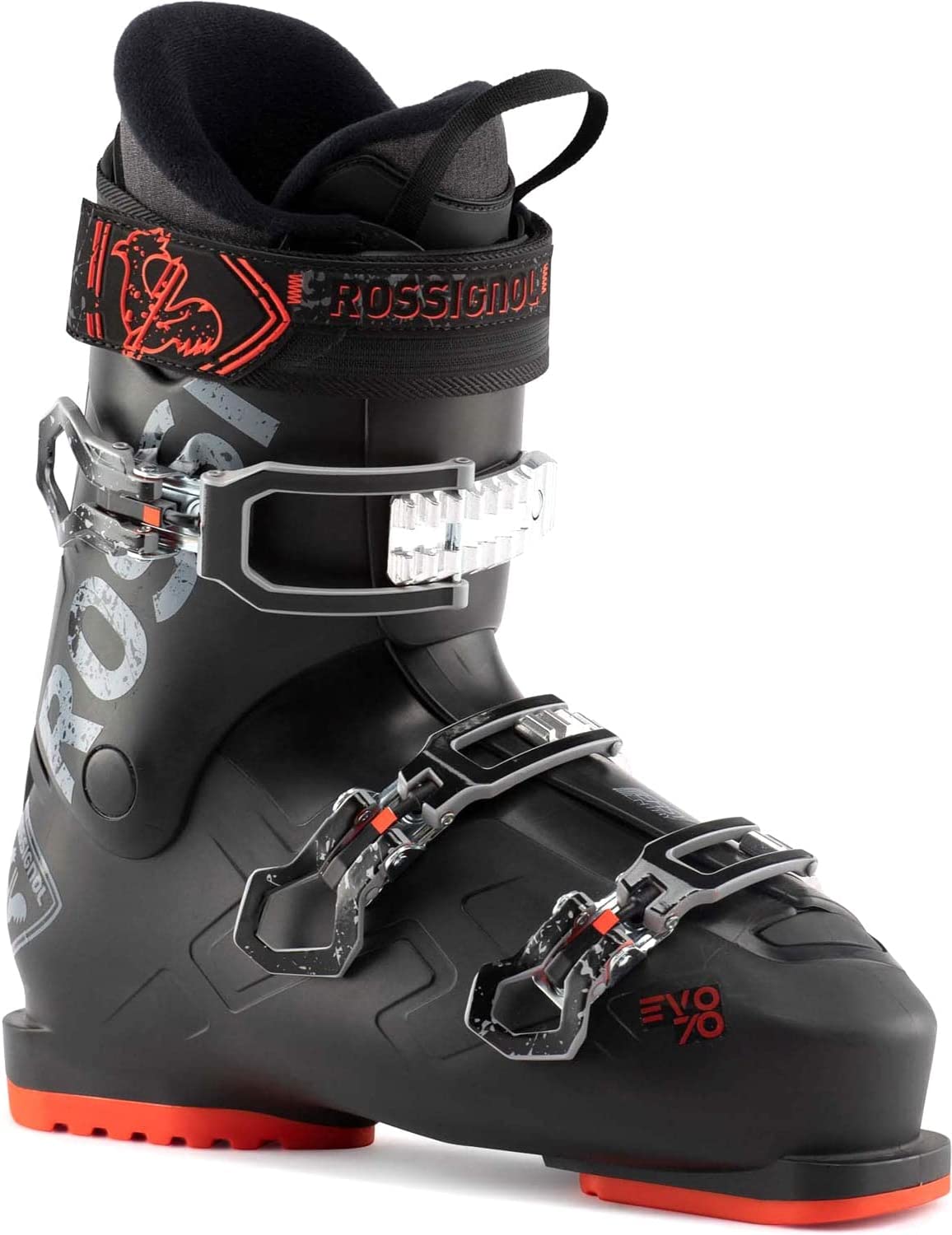 Beginners will love the budget option from Rossignol. I think they have all the essential features you would want on a piece of skiing equipment without being uncomfortable.
Rossignol has kept the price down and offers the benefits of a boot made for wide calves for beginner skiers.
Don't expect the world from these ski boots for wide calves. They will keep your feet comfortable, provide a decent amount of support, and have a softer flex rating made for beginner skiers. If you are new to winter sports and need boots for wide calves, look no further.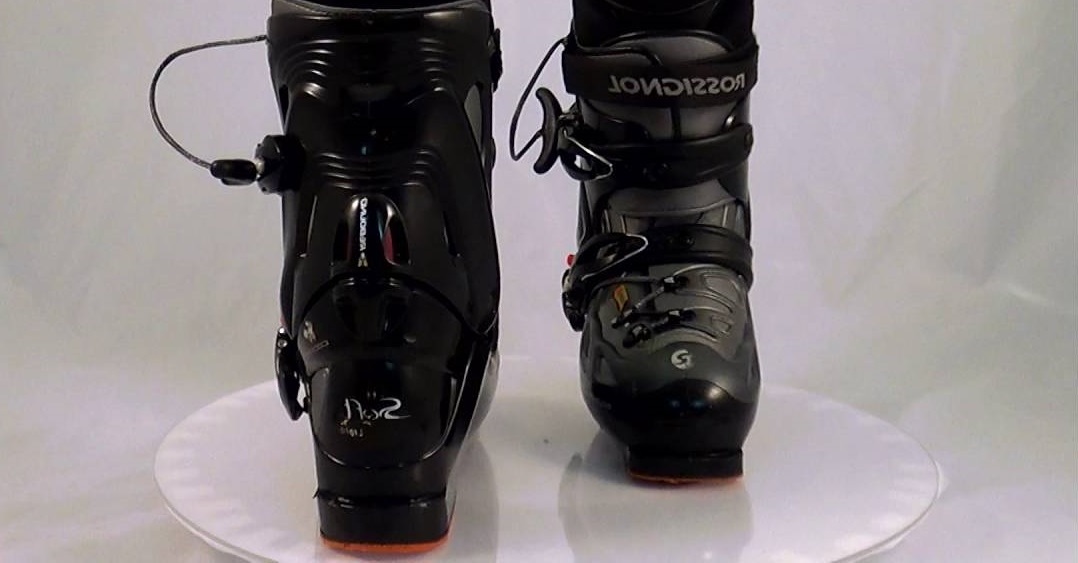 The Rossignol Evo's feature a 104 mm last, which is perfect for bigger feet and calves. The three-teeth straps will be able to accommodate a lot of sizes, but maybe not as many as we have seen previously. They will provide enough performance to get you through a day in comfort.
Summary
Advanced skiers may find these wide calf ski boots lacking in a few features you would expect to see on premium ski boots.
They would be the best ski boots for beginners who are just learning, finding their (wide) feet, and need some equipment that's made to measure.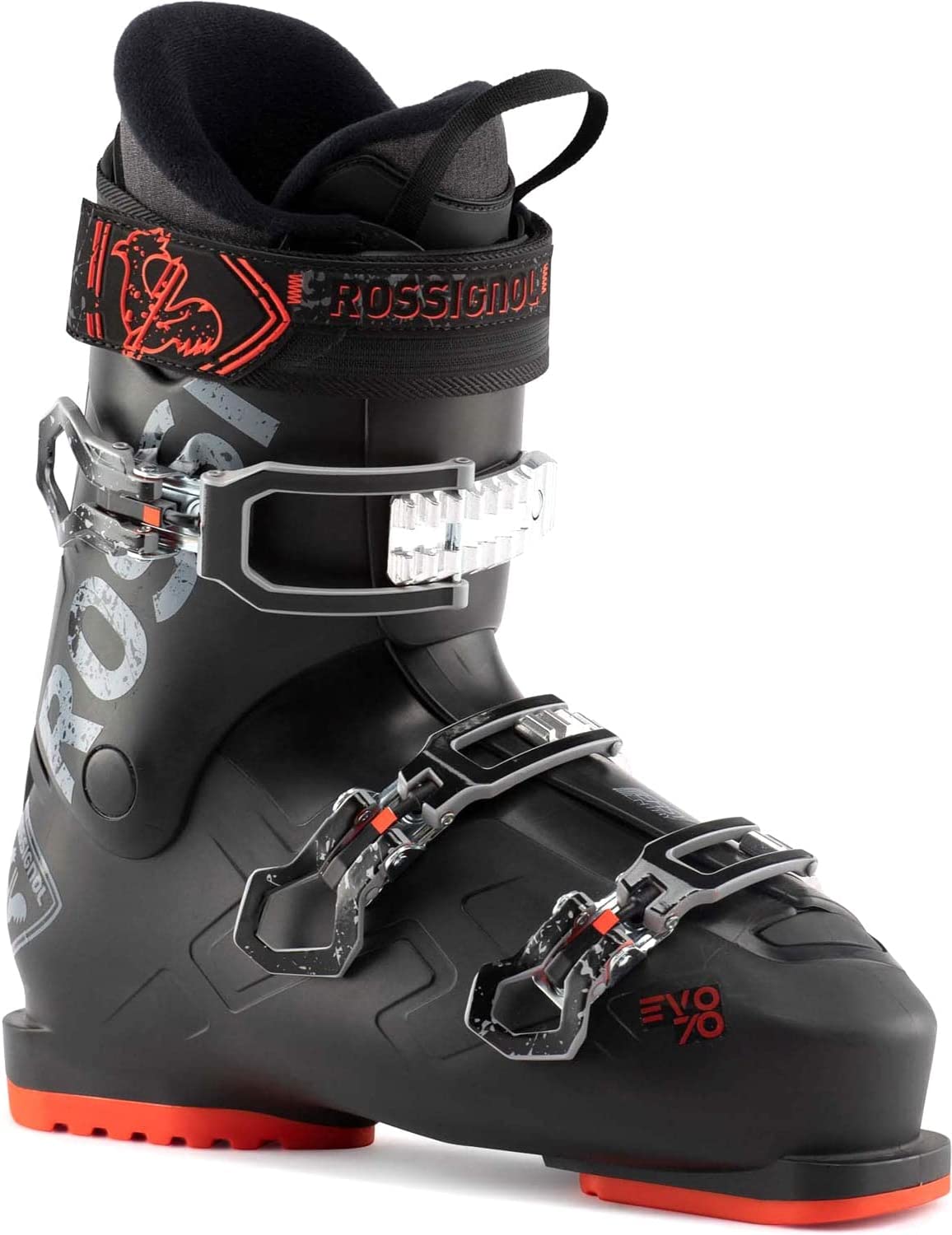 Rossignol Evo 70 Mens
The Price of "Rossignol Evo 70 Mens" varies, so check the latest price a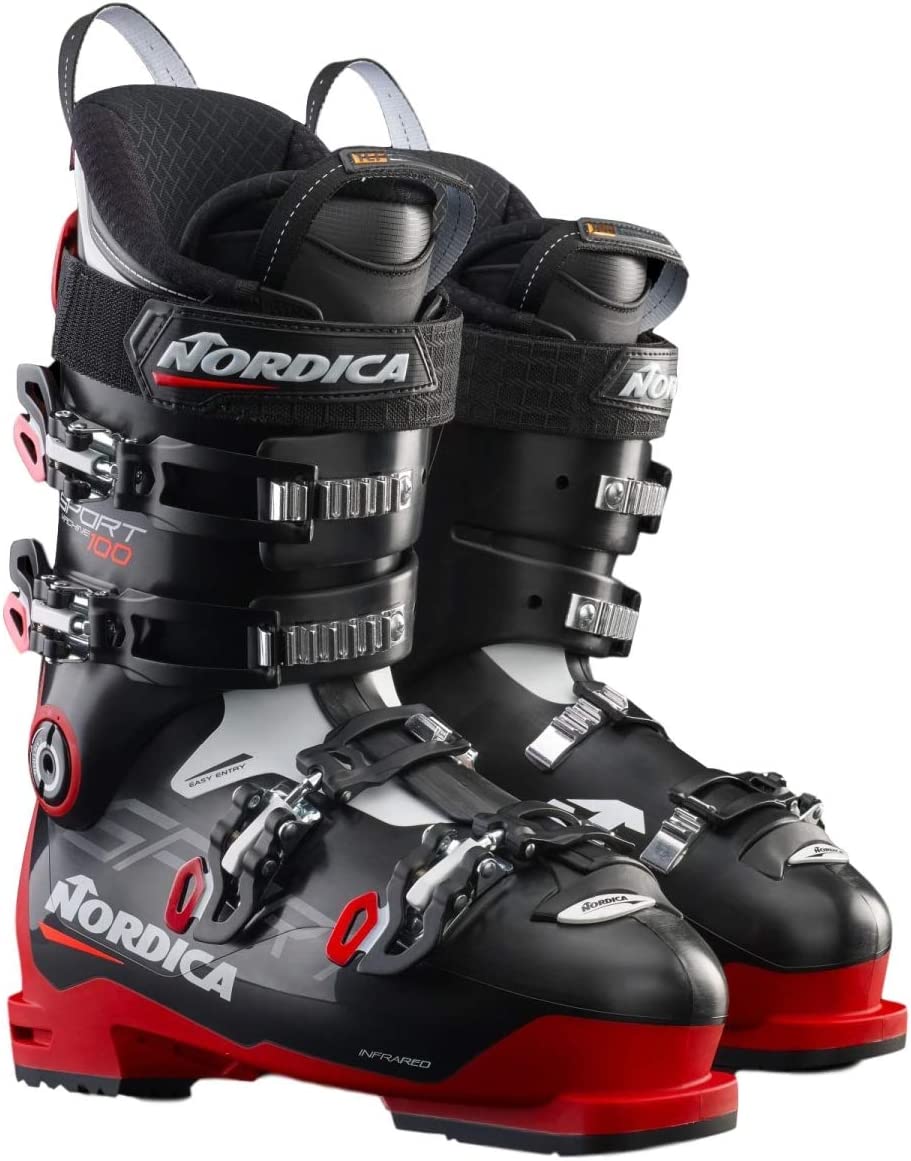 These may not have the widest last or the most adjustability of the boots for wide calves I have reviewed so far, but they're built specifically with a bigger calf area in mind. Simple boots that do what they do very well.
Primaloft insulation is something I always look out for, it provides a fantastic level of thermal insulation that keeps your feet toasty and comfortable all day.

It makes getting into your ski boots super easy, even with wide calves. Hands-free entry is always a benefit.
The shell and liner can be effortlessly customized. The cuff will easily cradle wide calves with some simple adjustments to the straps and clips around the leg.
The softer plastic on the shell will quickly adjust to the custom liners inside. You will not find ski boots for wide calves that feel as custom-made as these often.
Summary
Simple yet effective ski boots for beginners who want the right ski boots for wide calves.
A softer flex and cradling technology aren't made for aggressive riding but will leave your feet feeling relieved after a full day on the mountain.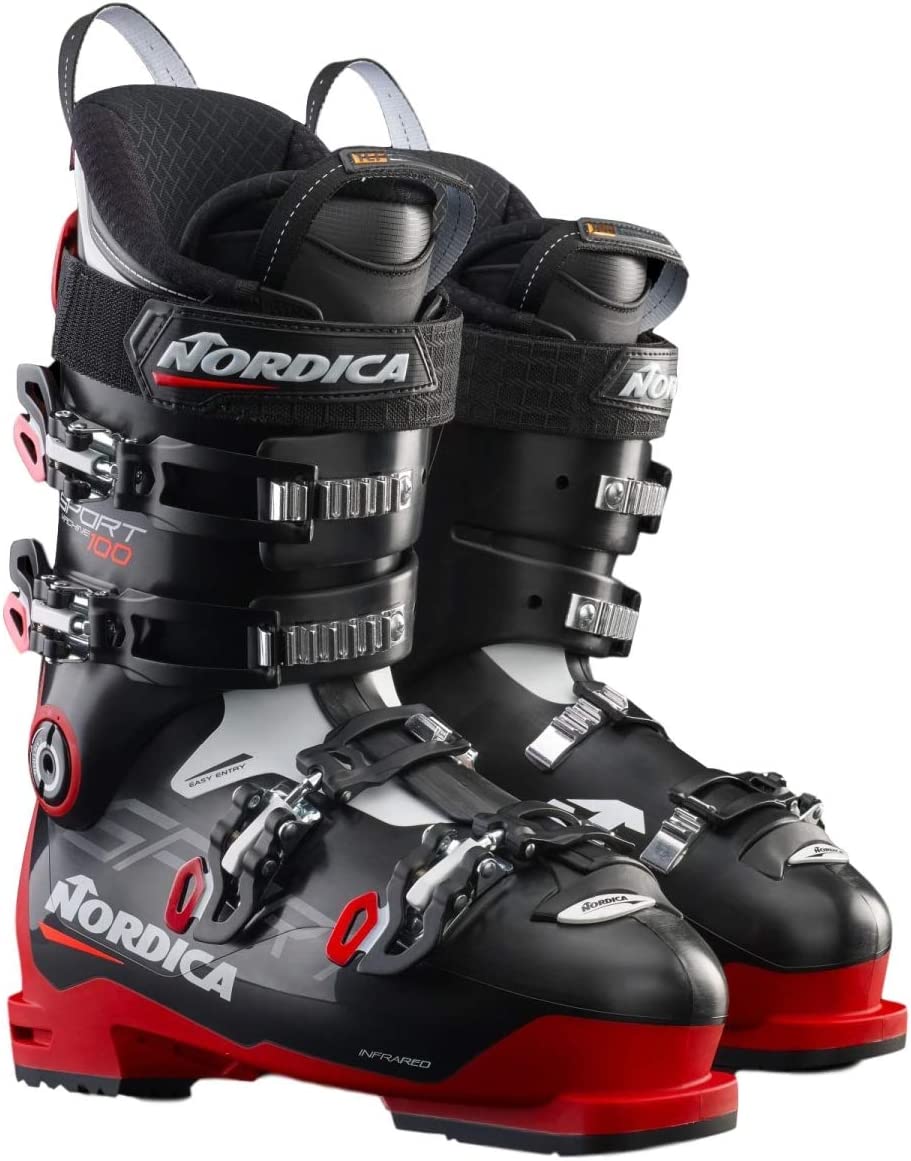 Nordica Sportmachine 85-100
The Price of "Nordica Sportmachine 85-100" varies, so check the latest price a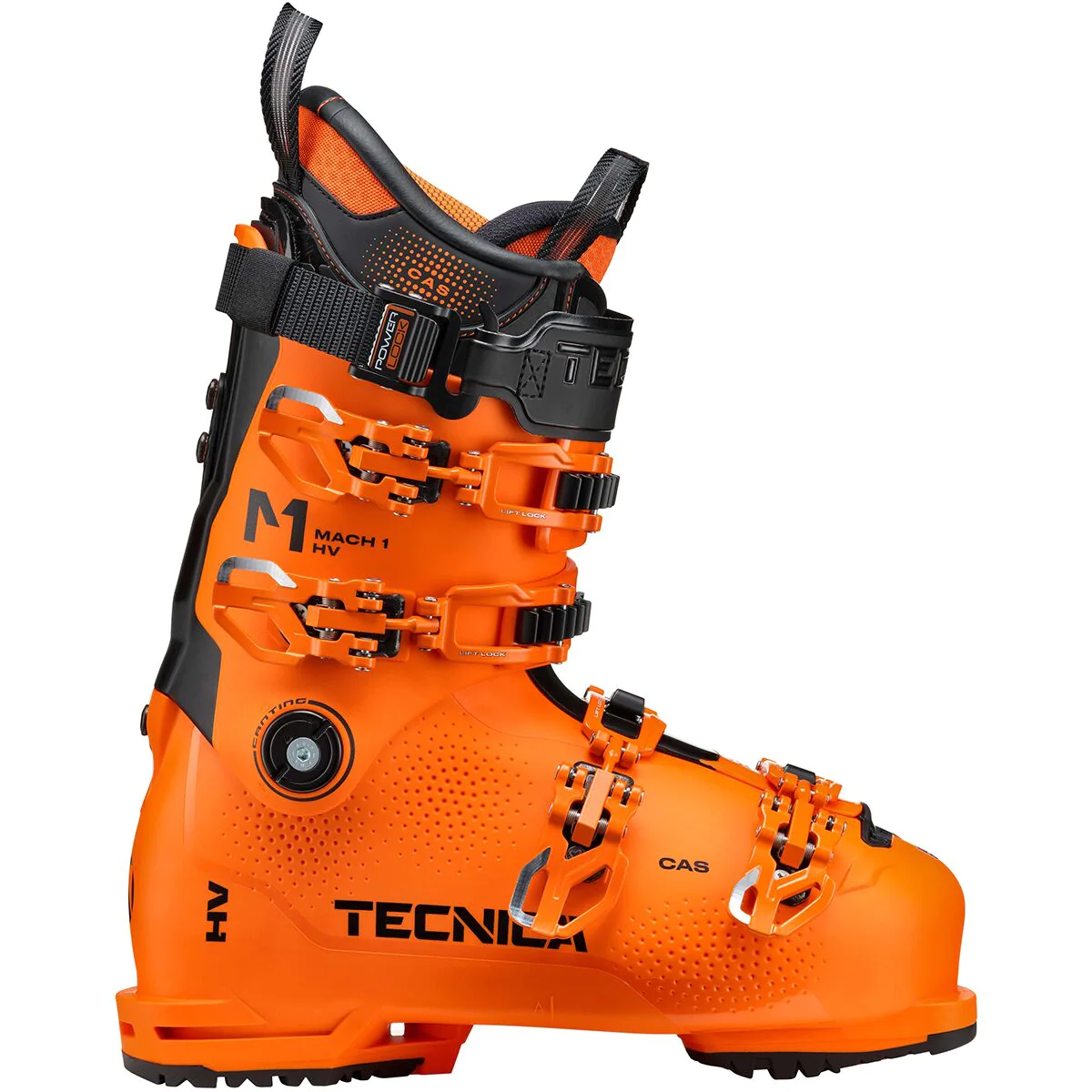 Tecnica makes some of the best overall ski boots in my opinion. The first ski boots I bought for myself were Technica and I loved them.
These beasts look great and have the performance to match, but they're not made for beginners. If you know what you're doing and looking for some of the best ski boots for wide calves, look no further.
Wide calves make finding stiff flex ski boots a nightmare. Usually, you'll opt for a soft flex so you have the forgiveness at least, but this doesn't allow for aggressive riding. Tecnica has the advanced technology to provide stiff support for the intermediate and up skier who wants a wide ski boot.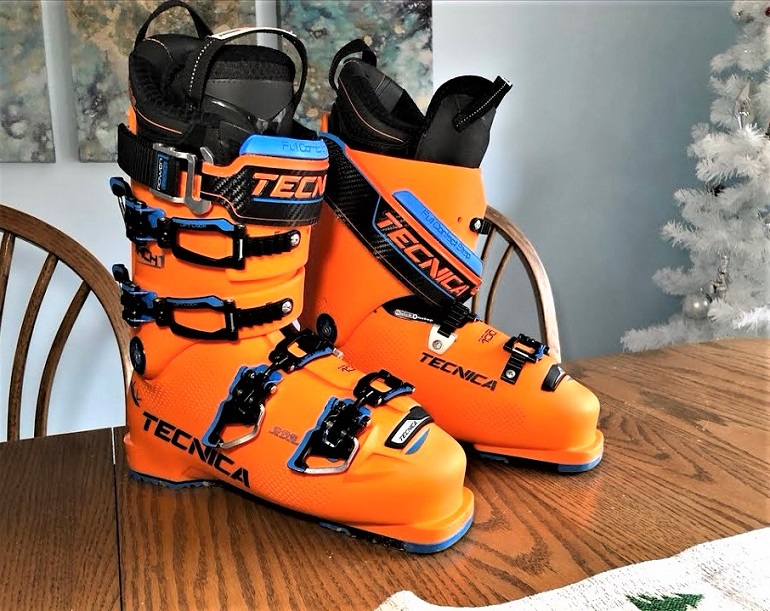 With a last of 103 mm and a flex rating of 130, these are stiff and defiantly not made for narrow feet. Expert and intermediate skiers will love the firm and responsive feel. Minimal power loss through the boot will keep your turns tight.
A straightforward yet effective four-buckle design will hold wide calves nice and snug, additionally, the thermo-molded liners are made to measure.
Summary
I consider these some of the best ski boots for wide calves. They keep it uncomplicated yet effective with tried and tested advanced technology.
They're for intermediate skiers and above. If you have the skills and need a ski boot that can hold wide calves, give them a try.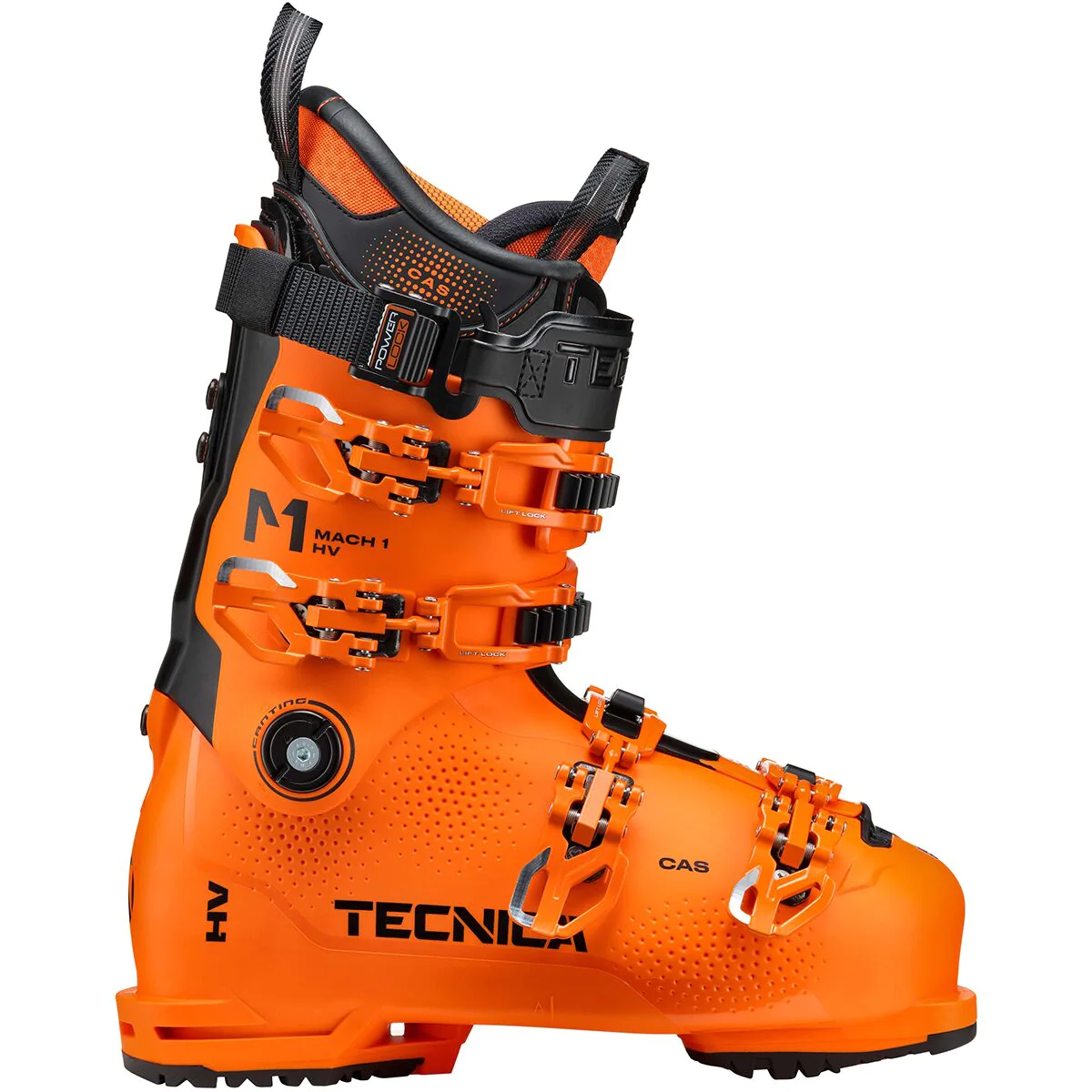 Tecnica Mach 1 HV
The Price of "Tecnica Mach 1 HV" varies, so check the latest price a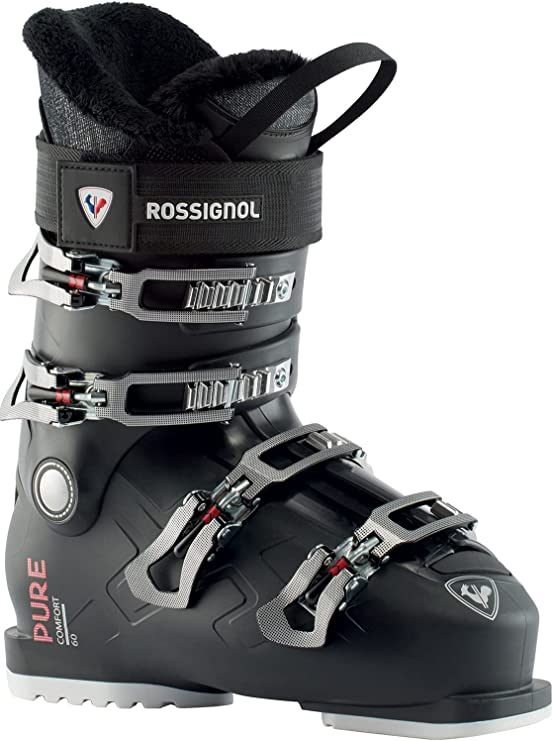 The women skiers out there need ski boots for wide calves too. I think the Rossignol Pure Comfort might be some of the best ski boots for wide calves for women out there. They have a lower length cuff than men's ski boots but still provide the support you would expect.
I wouldn't recommend these for intermediate or advanced skiers due to their softer flex, but for someone new to the sport, they're forgiving and comfortable.
The Rossignol Pure Comfort holds wide calves in a soft and insulated liner and shell. Four simple straps hold the shorter cuff length tight against your legs.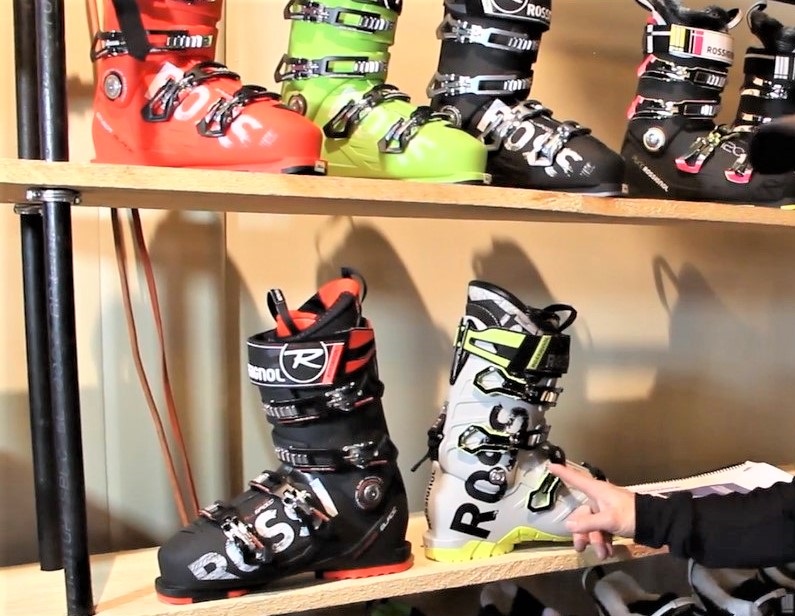 The shorter cuff length isn't made for narrow calves but will prove all the support you need for wide calves.
They have been built around a very broad 104 mm last, additionally, this can be heat molded to achieve the perfect fit for any size and dimensions.
Summary
These are the best ski boots for wide calves if you're a woman in need of some extra support. As a beginner, when your ski boots hurt, it makes learning so much harder. These are the solution to your problems.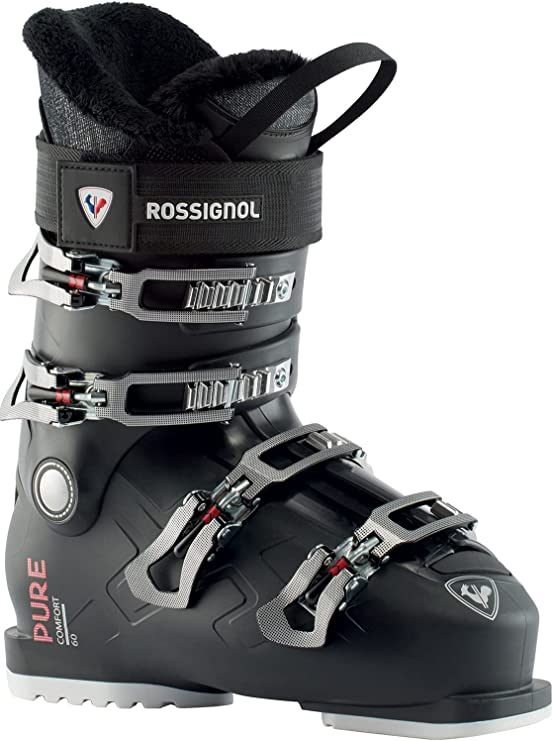 Rossignol Pure Comfort 60
The Price of "Rossignol Pure Comfort 60 " varies, so check the latest price a
A Ski Boot Buyers Guide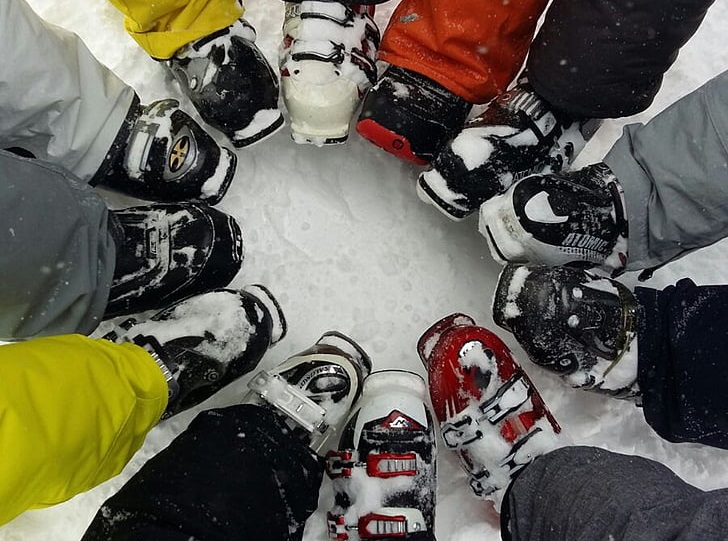 Knowing what you need before you start shopping will save you a wealth of time, trust me.
Adjustability
This can range from simple straps all the way down to having a walk mode button for mountain trekking.
As a newbie, I doubt you'll need more than the adjustable straps around feet and calves, but if you are going for something more advanced keep an eye out for the extras.
Comfort
This is everything. Get heat-molded inners, and resilient foam, and make sure they are water-resistant. Ensure they have the flex you need too.
Comfort for wider boots comes from how they hold your feet. If you want comfort, get the right width.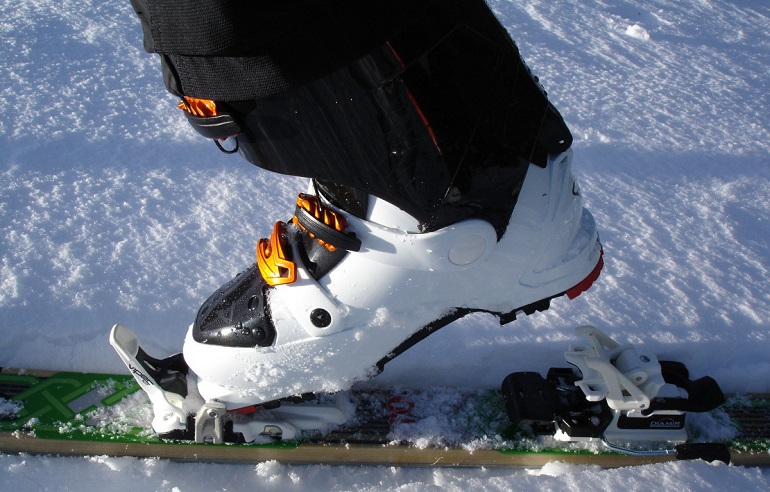 Flex Rating
On the subject of flex, don't get something that is too stiff for you. Stiff flex is made for pros who want to break the sound barrier but they will be far too tough on new skiers.
Length of Cuff
Longer cuffs are for longer legs in general. Make sure they run with the shape of your leg to avoid rubbing or lack of control.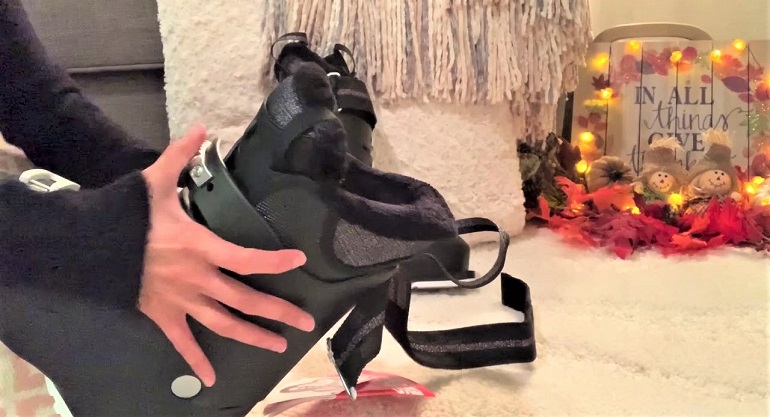 Last
The last is the mold they shape a boot or shoe to, the wider the last, the wider the boot.
Ski Shops and Fitters
I think it essential to first get your feet measured, but also to get your boots fitted afterward. Guessing something so specific is not going to result in a comfortable experience.
Cost
Go for something cheap and cheerful until you find your feet, then resell and buy something more specific. The range in prices can go from a few hundred to a thousand.
A Few FAQs
I'll save you googling later.
How Do You Adjust Boots for Larger Calves?
Start with the cuff straps, tighten them as much as you can, and if they cut off blood release them one step at a time.
Which Ski Boots Are Best for Wide Feet?
The wider the last the better in general. Also, keep a look out for boots with specifically molded liners. Extra clips around the feet and shins will help you find the ideal width.
Do They Make Ski Boots for Big Calves?
Ski companies make boots for almost every foot and leg shape under the sun, this list will help you find some for big calves.
Why Do Ski Boots Hurt My Calves?
This will be down to ill-fitting boots or badly adjusted clips. Have a play around, get fitted, and try some other sizes out. They shouldn't be hurting.
A Final Thought From Me
Finding the best ski boots for wide calves will save you a whole world of pain. Snowboarding is my main mountain activity, but the same problem exists for snowboarding boots.
Make sure you get boots that fit you well, your feet will thank you, and your performance will drastically improve.
Get yourself fitted, and tear up those slopes!