So you don't mind surfacing and gasping for air ever so often? Because you rocked the superman costume on your 14th Halloween?
Well, hey human, let me advise you not to let the danger of poor wakeboard rope selection look like adventure or heroism because your rope didn't break just after your third ride. You must have to carry your safety equipment while riding on a wakeboard all the time it includes wakeboard life jackets and a top wakeboard helmet.
Also, allow me to read out loud the weekend safety brief to you – don't add to or subtract from the population and stay out of the hospital. Live and let live. And believe me when I say I'm the biggest champion of weekend watersports but what I don't fancy is riding waves toothless.
Wakeboard ropes hold power to your safety and the ability to perform. Its functionality depends on its size, material, design, and overall quality.
So, read on to learn about some of the best ropes in the market that I spent hours on to filter out for you.
Best Overall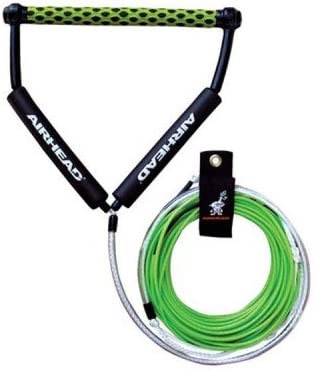 Airhead AHWR Wakeboard Rope
Best For Beginners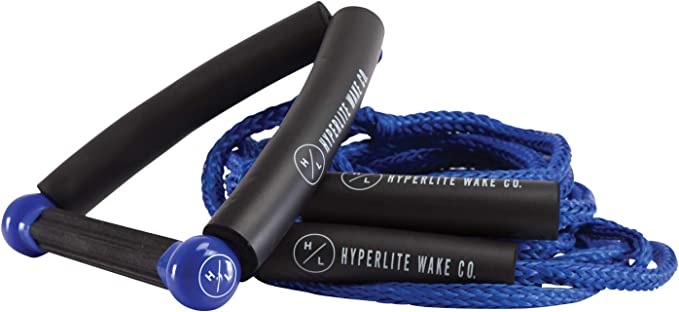 Hyperlite Wakeboard Rope
Material:
Poly-e
Color: Blue
Ideal For Professionals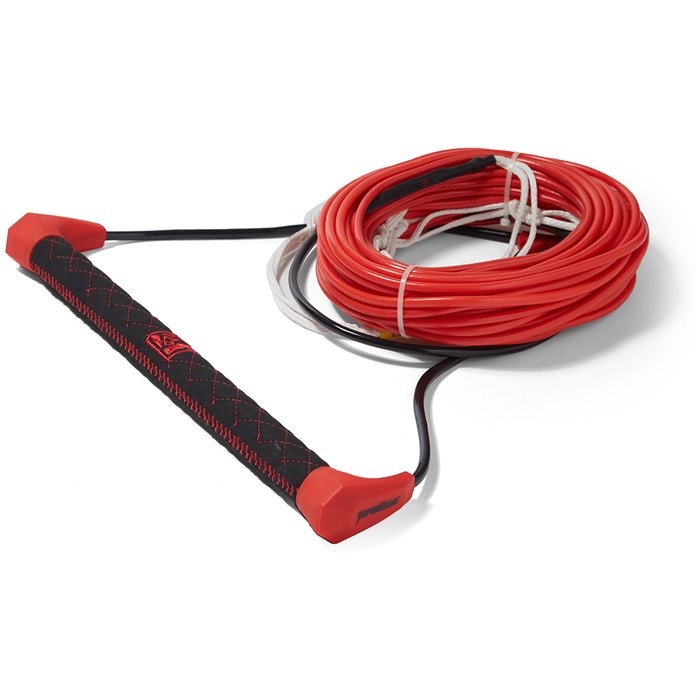 Proline LGS Wakeboard Handle
Material: Dyneema
Color: Red
Best Performant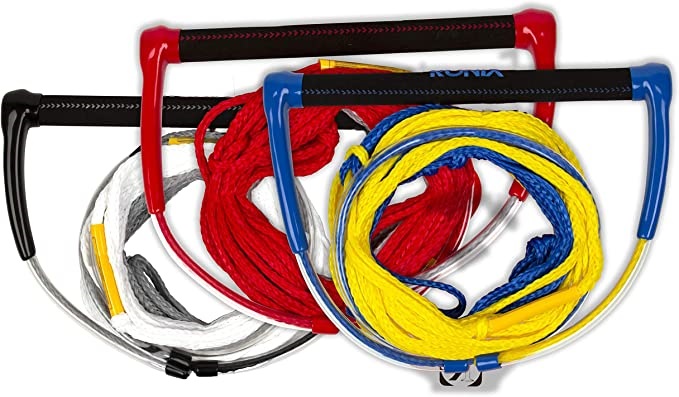 Ronix Combo 2.0 Wakeboard Rope
Material: poly-e
Color:
Assorted
Pocket-Friendly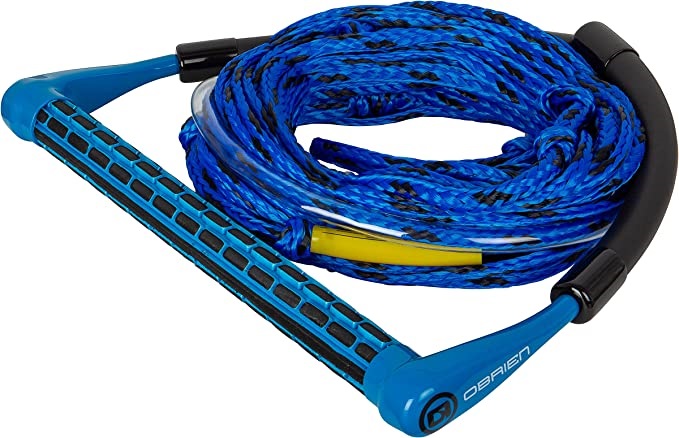 O' Brient 4-Section Poly-E Rope
Material: Poly-e
Color:
Blue
Most Functional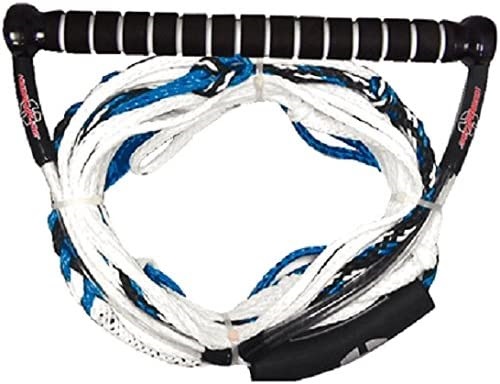 Nash MFG 5-Section Rope
Material: Poly-e
Color: White and Blue
6 Best Wakeboard Ropes
The right wakeboard rope and handle combination is all you need to keep making waves and to keep yourself from being flunked out of the water by the actual waves. These wakeboard ropes are compatible with men's and women wakeboards.
Here is everything summarized for you about the best wakeboard ropes and handles out there, so you can decide for yourself.
It says precisely that it is 007 and that the rider is Bond. If you are one tough muscle pro-wakeboarder looking for an unhindered journey into the savage ocean, then this must be your bulwark. As the name suggests, the Airhead wakeboard rope boasts a thermal coated spectra line manufactured using spectra material and so provides zero stretches.  
The spectra line possesses a tensile strength limit of 2000 lbs. and the much-needed rigidity and stiffness, a feature peculiar to Airhead and imperative to better maneuvering. No more twisting and knotting! Behold, it brings you good tidings. Doesn't it?
Airhead UV-resistant 70 feet long rope also features a 4-section-mainline with 5-foot takeoffs for you to adjust the length and PVC tubing for extra durability. It also has an ergonomic handle that eases off strain while riding, along with two foam floats that are thin and easy to hold. Enjoy enhanced buoyancy!
Features
Rope length: 70 feet
Handle length: 15 inches EVA grip with 5-feet-long bridle
Material: Spectra
Pros
This wakeboard rope offers a line with a tensile strength of 2000 lbs. This breaking strength is exactly what keeps you from having a 'we need to talk' conversation with the rope.
Cons
The stiffness and rigidity of the rope may make it difficult to coil it for storage, especially when you have no rope keeper available, as this product doesn't come with one.
Our Verdict
Experienced wakeboarders have a thing for tricks and acrobatics, to which quality ropes give an instant response through their no-stretch capacity, and this particular rope heard it loud and clear.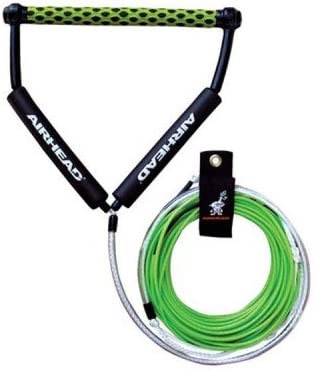 Airhead AHWR Wakeboard Rope
The price of "Airhead AHWR Wakeboard Rope" varies, so check the latest price at
Best performant for beginners, Hyperlite mainline rope includes a 10 inches handle with foam floats at its yolks and a padded better grip that makes possible a comfortable ride.
The question is, what makes it friggin' awesome for the newbies? Well, the line's thick nature is the answer. Safety first! Plus, the handle is wider, so you can fit both hands on it more easily.
The EVA foam used in its handle provides a firm and solid grip with a maximum length of 25 feet from the boat's prow. Which can be shortened however you like with the help of preset increments. To make your learning process easy-peasy, this thick braided rope offers four foam floats to grab hold of anywhere in order to enhance proper floating.
Features
Rope length: 25 feet
Handle length: 10 inches
Floats: 4
Material: Poly-e
Pros
Hyperlite line provides easily removable sections with multiple length options that stand necessary for better learning and practicing. However, the length of the wakeboard rope depends on the speed of your wakeboard. You need to decide beforehand how long you want your rope to be.
Cons
Some customers seem to complain about the rope fraying and unraveling after 3-4 rides.
Our Verdict
The thick nature of this rope and the provision of four foam floats are a bonus to beginners. If you want to play safe, this Hyperlite wakeboard rope has got your back.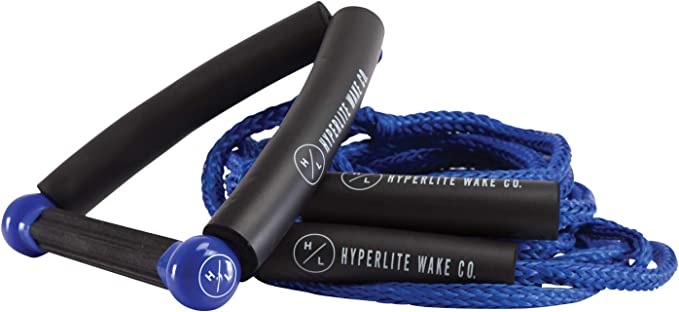 Hyperlite Wakeboard Rope
The price of "Hyperlite Wakeboard Rope" varies, so check the latest price at
Proline's LGS wakeboard handle and rope combo will take you up the road to minimalism and works well for more experienced wakeboarders, courtesy of its pro-style performance.
Its engineering includes a 1/4 inch inflexible and a zero stretch Dyneema line, which prevents any giveaways from the rope when you maneuver. Its handle is encapsulated in foam as well as has a 15 inches stitched leather grip. Exciting? I mean, you cannot pick your pay with no fingers? Can you?
The rope provides a maximum length of 75 feet from the tow point on your boat, proclaiming itself a longer rope. Besides its all best features, there stands one most prominent feature of the smooth PVC coating of rope that enables tangle-free storage and eliminates chances of knotting. Designed with three takeoff sections and a molded EVA core handle, this rope increases safety and visibility.
Features
Rope length: 75 feet
Handle length: 15 inches
Floats: None
Material: Dyneema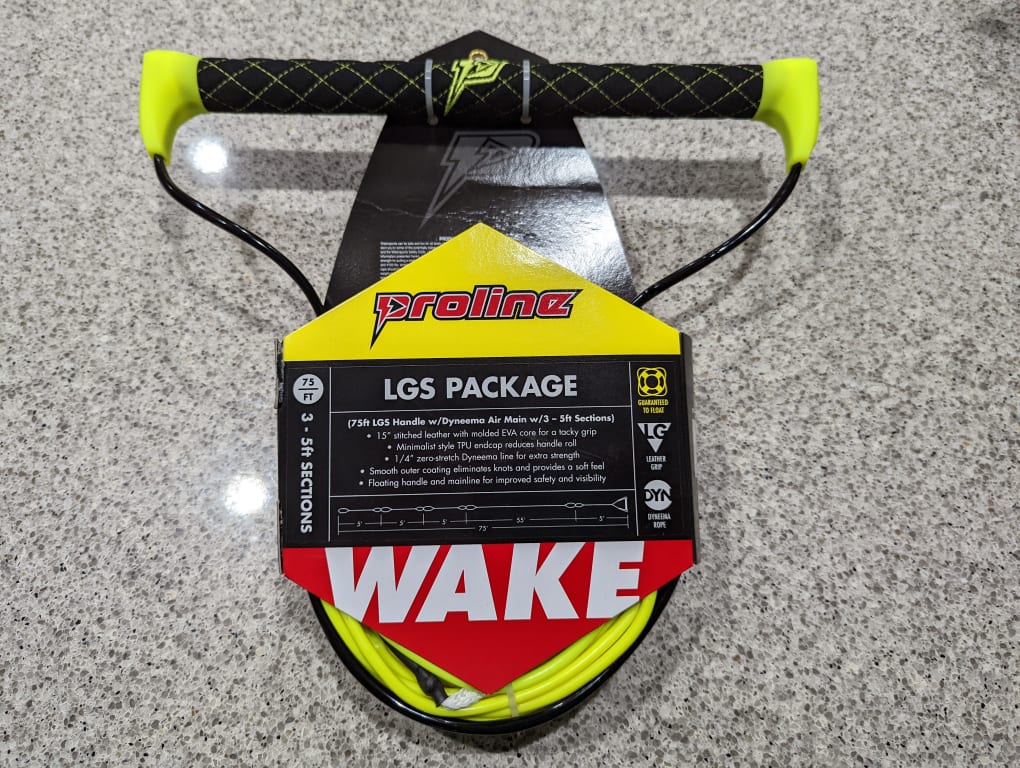 Pros
Its soft-to-touch PVC coating keeps the line from coiling and twisting, which saves you a hell lot of time untangling it.
Cons
Some of the customers seem to complain about how its handle takes water and sinks and doesn't float.
Our Verdict
Proline is the best wakeboard rope for advanced riders as it doesn't come with any foam floats to ensure the safety of beginners. It gets to work quickly, hence, avoiding any issues like knotting, and its long rope capacity is what pro-wakeboarders really love.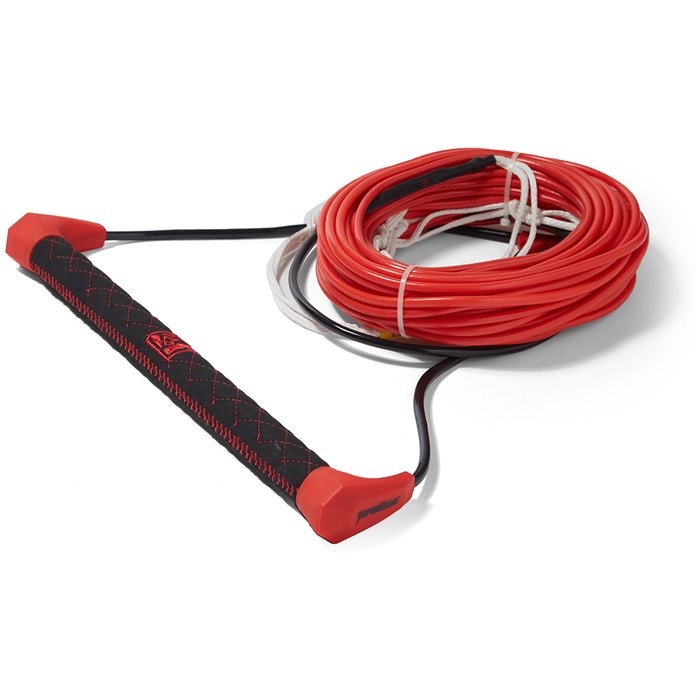 Proline LGS Wakeboard Handle
The price of "Proline LGS Wakeboard Handle" varies, so check the latest price at
Praised for outperforming many others, Ronix Combo 2.0 stands as a reliable rope for your outclass wakeboarding experience. Its 15 inches long handle embroidered grip with its 1.15 inches shank and 3 mm thick EVA end caps begets excellent grip.
With higher density and greater resistance pressure, EVA inner padding lets it float and never sink. Didn't it get the memo right? Yes, it did.
The polypropylene-made line is low stretch with a good length of 65 feet that guarantees optimum performance, rendering it a perfect pick for intermediates and advanced wakeboarders. This low stretch potential of the rope helps in absorbing any shock that makes a cut through the boat wake.
Features
Rope length: 65 feet
Handle length: 15 inches
·Floats: 2 pencil floats
Material: Poly-e
Pros
This low stretch line with a multitude of quality features like 7 inches-long pencil floats and an adjustable rope vouches for the brand itself.
Cons
The only thing missing in this spectacular rope is a tendency to fight UV radiation on a sunny day.
Our Verdict
Ronix has earned customers' respect by always offering up-to-the-mark products. This wakeboard rope and handle seem to be made just according to a rider's needs, and it is a must-have if its cost doesn't bother you.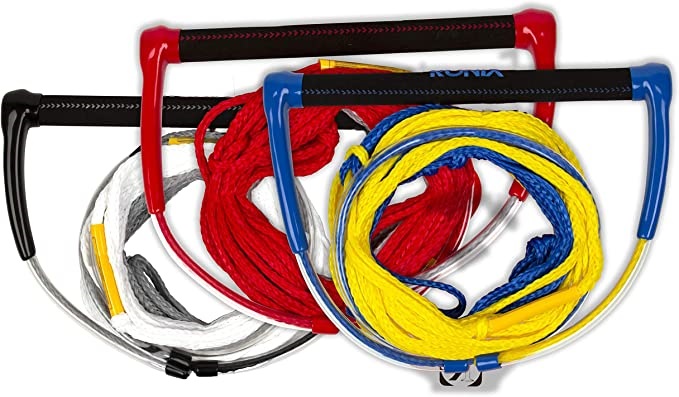 Ronix Combo 2.0 Wakeboard Rope
The price of "Ronix Combo 2.0 Wakeboard Rope" varies, so check the latest price at
Afraid of losing your handle in the water? O'Brien's floating handle ensures that you don't lose it. The O'Brien 4-section rope is suitable for both knee boarding and wakeboarding with its brick design EVA grip and the better traction it provides.
The mainline is a poly-e made 75 feet rope featuring low stretch that can be adjusted to length into 4 different sizes it provides.
With its 15 inches aluminum core with extra leverage and pull for spins and more tricks, make it is the best wakeboard rope suitable for professional badass wakeboarders. Mount your binding on the wakeboard properly who want to ride freely to feel more alive and competent.
Features
Rope length: 75 feet
Handle length: 15 inches Aluminum core
Floats: 2
Material: Poly-e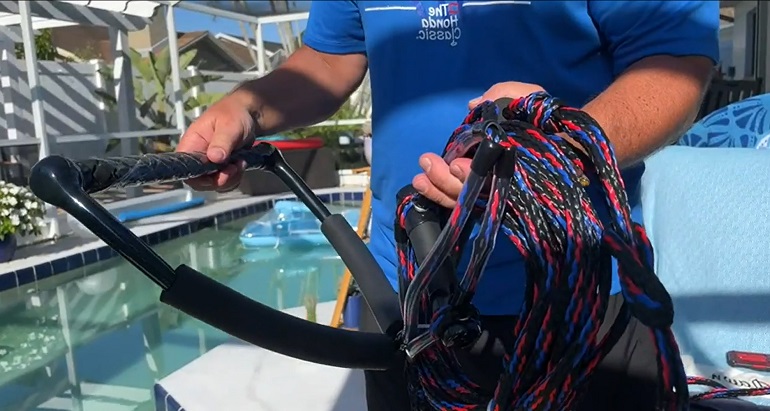 Pros
Its EVA grip provides excellent traction and a firm comfortable hold.
Cons
The shortest rope length it provides is 60 feet which may prove still too long for some wakeboarders, as some riders prefer a shorter rope to perform tricks and stunts.
Our Verdict
If you want a highly performant wakeboard rope for your daredevil stunts and tricks, this is your ultimate confidante.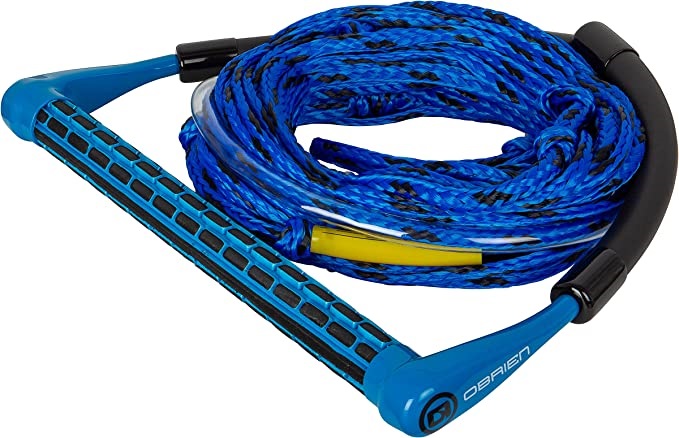 O' Brient 4-Section Poly-E Rope
The price of "O' Brient 4-Section Poly-E Rope" varies, so check the latest price at
This hydro-slide wakeboard rope is a 5-section, 75 feet long line that offers customizability with its length. Five takeoffs? Nash MFG really comes bearing gifts. Doesn't it make it the best wakeboard rope for an amateur and even an experienced rider?
Best for knee boarding and wakeboarding, this rope provides excellent stability and superior grip that riders are yearning for. Unlike many lines, this wakeboard rope will not make you dodge a flying handle, you know what I mean, right? This no-stretch, very functional rope prefers to protect your sentiments instead of dumping you when you are exposed to a river as mad as a hatter.
The Nash MFG 5 rope features braided choke sections that enable easy wrapping and unwrapping without even minor trouble. Its 15 inches handle, along with a finger guard and 3 adjustment loops, empowers your grip for better traction. Moreover, this line is UV resistant and meets or exceeds WSIA standards.
Features
Rope length: 75 feet
Handle length: 15 inches Aluminum core
Floats: 2 pencil floats
Material: poly-e
Pros
Its UV-resistant quality enhances its lifetime and saves you money.
Cons
Some of the users were noticed speaking about its handle quality and how it started to peel the grip on it after 2-3 rides.
Our Verdict
To both beginners and advanced wakeboarders, this line provides essential safety with the provision of finger protectors, unlike many wakeboarding lines. If you want to throw caution in the air and wakeboard like never before, place your order already.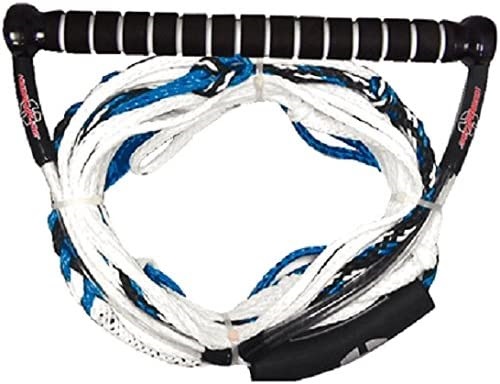 Nash MFG 5-Section Rope
The price of "Nash MFG 5-Section Rope" varies, so check the latest price at
What Are the Factors To Consider When Buying a Wakeboard Rope?
Rope Material
Wakeboarding ropes are usually made out of three types of materials – Polypropylene, Dyneema, or Spectra. Each material has its peculiar features that impact the overall functionality of a wakeboard rope.
Any rope made out of Polypropylene or Poly-E material is ideal for beginners but not professionals. The reason why is its low stretch quality, poly-e ropes can stretch to about 3 times their actual size, which must be avoided when you intend to perform various tricks.
Dyneema wakeboard ropes show stern behavior against any common damages your ropes may encounter. Designed to have zero stretch quality, these ropes display UV-resistant behavior, and high resistance to abrasion, degradation, or corrosion by salt water or any wear and tear damages.
With the same attributes, a Wakeboard Park Cable qualifies for professional use by advanced wakeboarders.
Wakeboard ropes made with Spectra are durable, lightweight, and have zero stretches. The zero stretch quality improves its performance and responsiveness to surface spins and midair stunts, thus, making it suitable for intermediates and advanced riders.
Coating
Good quality coating saves you the hassle of buying wakeboard ropes every now and then. The coating must be adhesive and resistant to UV rays. Wakeboard ropes come in various types of coatings – PVC, silicone, polyurethane, and urethane.
Rope Length
A wakeboard rope must allow takeoffs to allow adjustability of the length of the rope according to the need of the wakeboard rider. If you are a complete novice at this water sport, you should opt for a line with multiple takeoff sections in order to gain more experience.
Tensile Strength
The breakpoint of a wakeboard rope determines how much weight it can bear before it gets out of its shape. The tensile strength of the rope for an experienced wakeboard rider must be good enough to stand twisting, knotting, and various stunts.
Tensile strength of 2000 lbs. at least is a prerequisite for professionals, while beginners don't need it in the early stages.
FAQs
How Much Is a Wakeboard Rope?
The wakeboard rope cost varies based on features like coating, tensile strength, or length. A poly-e rope comes as the cheapest, which is meant for beginners, then comes Spectra ropes, and then Dyneema.
Beginners can also use water ski ropes to start their journey as wakeboarders if they own any, as a ski rope is also considered ideal for learning this watersport.
How Do I Take Care of My Wakeboard Rope?
After use, remember to rinse your rope with fresh water as the salt water of oceans and rivers can degrade it. Always store it coil-free, and after it has been dried as a wet line may encourage the growth of organisms like lichens or moss. While storing it, remember to keep it out of sunlight to avoid damage.
Conclusion
The compatibility of a wakeboard rope and a wakeboard determines the quality of your experience. Not just quality but safety also. A superior wakeboard line must be versatile as a race cannot be won by accelerating on top gear, but it can be won only by changing the gear at the right time.
Needless to say, the best wakeboard ropes are the ones with enough versatility to defeat whatever comes your way.
Confidence is preparation. If you are an adventurous enthusiast planning to learn how to wakeboard, besides being fit on the marks of endurance and good stamina, prepare your gear with good prudence because you ought to fight the gigantic power of water.