Overview
While watching people in the shallows frolicking and laughing the salty water from their mouths, I thought of checking my e-mail, Instagram, Tinder account, and whatnot – oh, mobile phone, the ultimate spoilsport! Well, this chronic state of distraction follows us everywhere. Shouldn't we make time for ourselves at least once in a blue moon?
If there's one water sport where you completely engage yourself and forget about your life's troubles, it is windsurfing! Once my friend advocated this water sport to make me stop being misery guts, and I'm happy to reckon that it really did catch my undivided attention by a long chalk.
Windsurfing demands your full body engagement, complete attention, and your ability to multitask. As this amazing game brings together sailing and surfing, it allows you to navigate the oceans, seas, and rivers and lets you discover new horizons. So, if you are interested in both sailing and surfing, this is your game.
Ahead, read about what windsurfing is, and why you should go for it.
How Do You Explain Windsurfing?
This recreational sport had its roots in Polynesian watercraft when a sailor and a fisherman used a small boat to navigate the Pacific Ocean. But one can say, modern windsurfing was created by Newman Darby in 1964.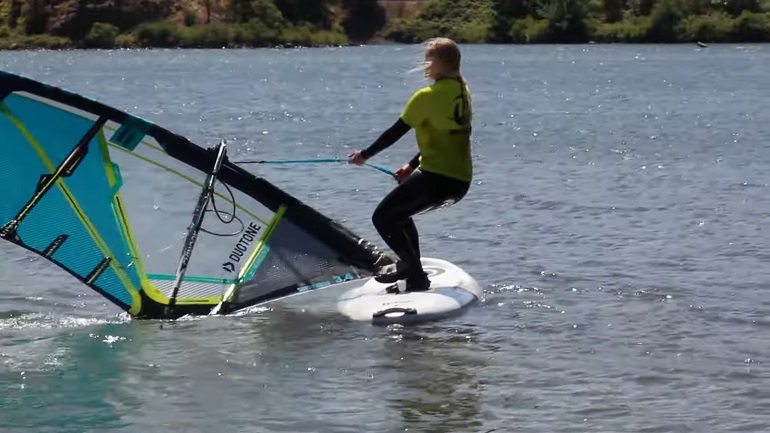 Also known as boardsailing, windsurfing is actually sailing in its most fun and diverting form as it combines the elements of both surfing as well as sailing. Being different from traditional surfing, windsurfing also requires wind speed besides just water. Powered by the wind, this water sport allows freestyle sailing, hydro foiling, (big) wave sailing, slalom, formula windsurfing, tandem, super X, and speed sailing.
Windsurfing encompasses a sail that helps in catching the wind in order to propel the sailing board. Using the power of the wind the board gains speed. Therefore, the higher the intensity of the wind, the higher will be the speed of your sailing board.
This wind-propelled water sport allows windsurfers to gain different levels of experience under different wind conditions, hence, learning a new thing or two every time. What a boredom buster!
Windsurfing Equipment
You may ask, what is it one needs to windsurf? Mainly, a sailing boat or a windsurf board and a sail or a rig to complete the equation. Read on to see how the aforementioned components work, and let's look at the other necessary safety items. 
A surfboard is one of the main components of windsurfing gear. You can use both small and large boards, the size varies for different types of wave sailing experiences and different wind conditions.
You can see for yourself what kind of windsurfing board you are in need of, whether you want freestyle boards, slalom boards, or something for Olympics windsurfing, as this game is also an Olympic sport.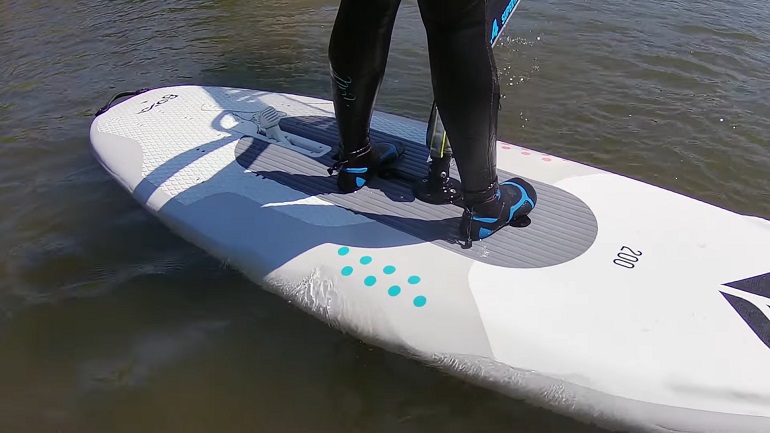 Normally, a surfboard is a 2.5 to 3 meters long piece of board that allows the surfer to stand on it. One or more fins attached to its bottom makes it easy for the board to cut through water while the board facilitates the windsurfer with a firm surface or a base underneath their feet made of either PVC, Expanded Polystyrene Foam, or fiberglass.
The rig comprises a boom, a sail, and a mast. Sail is made from any membrane material or sometimes a fabric, it helps the surfer in navigation while catching the wind as it pushes the board forward. In windsurfing, a sail is not like a handheld sail, the one used in wing surfing, instead, it is rigged to the board through a free-rotating universal joint.
The mast acts as a support to the sail. The boom is what is there for you to hold onto for standing support. While an uphaul is a kind of cord attached to the boom and the bottom of the mast. The uphaul is used to pull the sail up.
A helmet provides optimal head protection when you are windsurfing. It keeps the surfer from getting any head injuries that may occur while you do wave jumping, wave riding, or when you hop from one unbroken wave to the other.
A wetsuit keeps you warm and comfortable during different weather conditions. It is made from foamed neoprene which is a type of synthetic rubber that repels water and is very flexible. This skintight outfit absorbs the moisture off your body and repels the water that touches your body when you sail.
Water shoes are made to be used in sports where the feet are likely to become wet, such as windsurfing. As it is made with mesh material and a hard solid base, it keeps the feet cool yet provides optimal insulation in cold water. The mesh material used in its production offers enhanced breathability which is one important factor to consider for such sports.
These sea specs are polarized sunglasses normally used for all watersports. These specs have the ability to float, a tight-fitting strap, and polarized lenses. They shield your eyes from the direct sunlight as well as light reflected from water on a sunny day.
Moreover, it keeps your eyes from tiring out when you subject yourself to an open ocean with strong or light winds. May I suggest the ultimate pair of floating sunglasses the FLO to save your peepers from water sprays!
What Is the Aim of Windsurfing?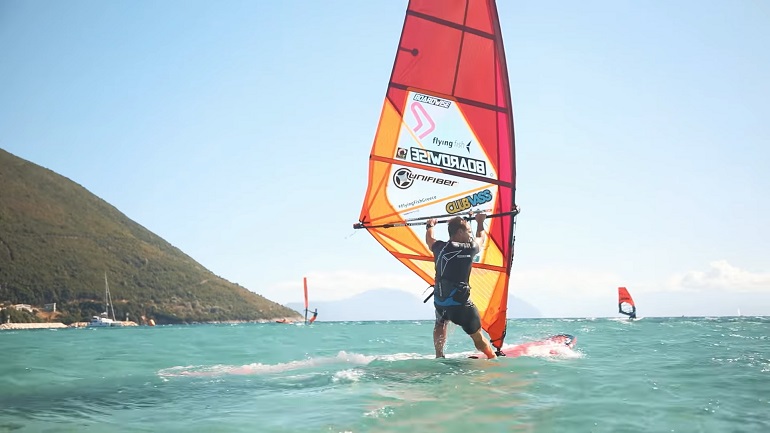 Besides being an exciting recreational sport, windsurfing is a sport of competition. So, being one of the most popular racing games, windsurfing for some is a mere competition, while for some, it is a source of nail-biting experience that will leave you thrilled to bits.
You can ride freely and explore different windsurfing destinations, or opt for the world championship of windsurfing by participating in International Windsurfing Tour. Wink-wink!
Why Do People Like Windsurfing?
Windsurfing does not demand water swell like traditional surfing, so windsurfers can easily surf to their heart's content even when the waves are flat. People also like this sport for its versatility. It can be enjoyed on huge water bodies ranging from lakes to estuaries and the oceans.
Moreover, as windsurfing is also a racing game, people tend to gravitate towards it more, thus, making it a hobby for weekdays or weekends. It's really a good escape that slaughters boredom, it gives you confidence and strengthens your social ties when you go windsurfing with your pals.
And most importantly, it is a full-body workout. And who wouldn't want to get a sexy bod while having fun too?
What Are the Challenges of Windsurfing?
Simple surfing with a board is an easy job that can be mastered even in a day, but learning how to navigate and not trip while windsurfing can be time demanding. As this sport is a combination of surfing and sailing, one needs to master both in order to surf effectively.
It can take months of practice or years to perfect. On top of all, windsurfing requires your dedication to the game, physical strength, and polished mental skills.
Is Windsurfing Easy?
One can say, windsurfing is both easy and hard to learn. In comparison to other surfing sports, it demands more time and more practice to ace it, especially if you don't know how to use sail. The reason is as it combines two activities – sailing and surfing.
But with the proper gear, instruction, and dedication, one can ace it in a number of days. And where's the fun if the game is too easy? A dedicated windsurfer cannot back off after facing any difficulties, their only option is to put it down to experience.  
Is Windsurfing Expensive?
If you are a beginner, you just need a board and a sail rigged to it. A durable board with a durable sail can go on for years without it being damaged. However, when you have mastered the game, you may need to level up your gear by buying varied sails and boards according to the type of windsurfing you desire to do.
Is Windsurfing Dangerous?
One cannot control the weather, so always check the weather forecast before planning to windsurf. Apart from the weather, the surfer's physical fitness and proper gear maintenance are also crucial to a safer ride.
For a surfer, a basic level of fitness is paramount. Low stamina or poor flexibility can lead to troubles like muscle injuries or bruises. Likewise, regularly maintained equipment is also a must to avoid any sailing failure or severe injuries.
Final Thoughts
Windsurfing is an exhilarating game that can please and excite you irrespective of your age. The most exciting thing about it is that even a five years old kid can windsurf, doesn't it make your wave sailing journey more exciting?
This watersport is all about the great outdoors and a superb way of experiencing and exploring unexpected locations around the world. If you are an outdoorsy kind of guy and you are planning to discover new lands, learn to windsurf as it will help you in crossing the waters ruthlessly that may get in your way.
So what are you waiting for! Let's explore San Pedro!