Owning a kayak is a pleasure, it gives you the freedom to explore the beauty of lakes, the ocean, and rivers at your own will.
Kayaking is a wonderful sport that is good not only for the fitness aspect but also for the enjoyment of going out with friends or alone to unwind and find peace.
It is now possible to pick up a kayak for under 500. Getting into this accessible hobby has never been easier, with crafts made for the beginner all the way up to the seasoned paddler.
The issue that can prevent most from getting out there on their nearest body of water is transporting kayaks. They're not small, and unless you have an inflatable kayak, you'll struggle to carry them long distances.
So, if the issue of transporting kayaks has been the thing holding you back, take some time to look through this list of the best kayak roof racks and find something that fits you and your lifestyle.
Top Pick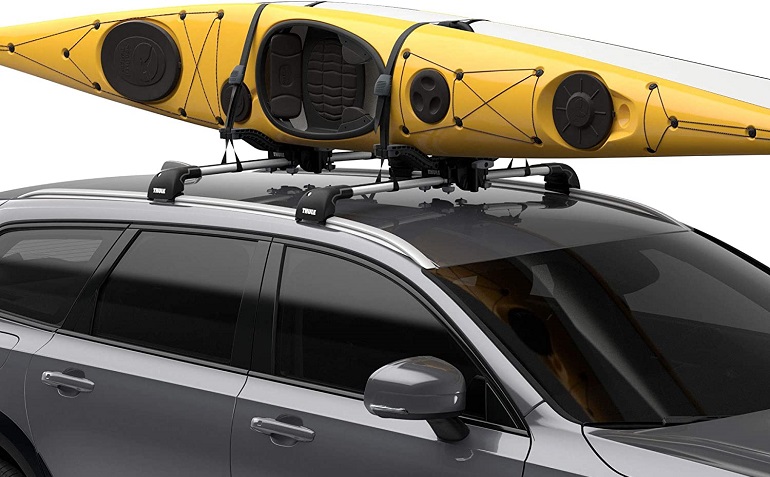 Thule Compass Kayak Rack
material: plastic
item weight: 20 pounds
Super Versatile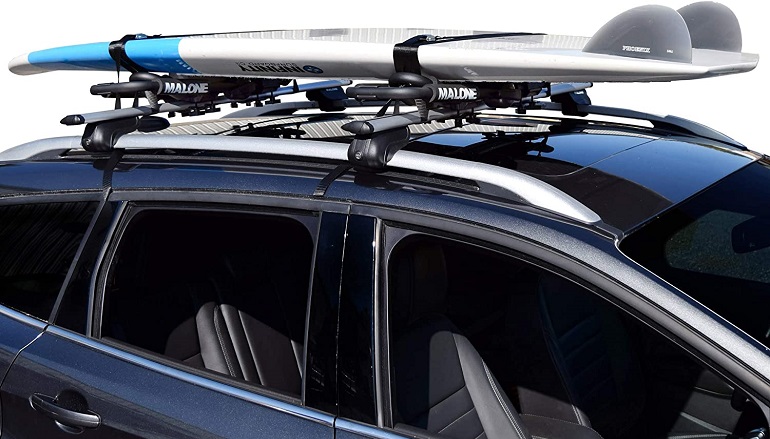 Malone FoldAway-5
material: steel, alloy
item weight: 14.5 pounds
Great Weight Capacity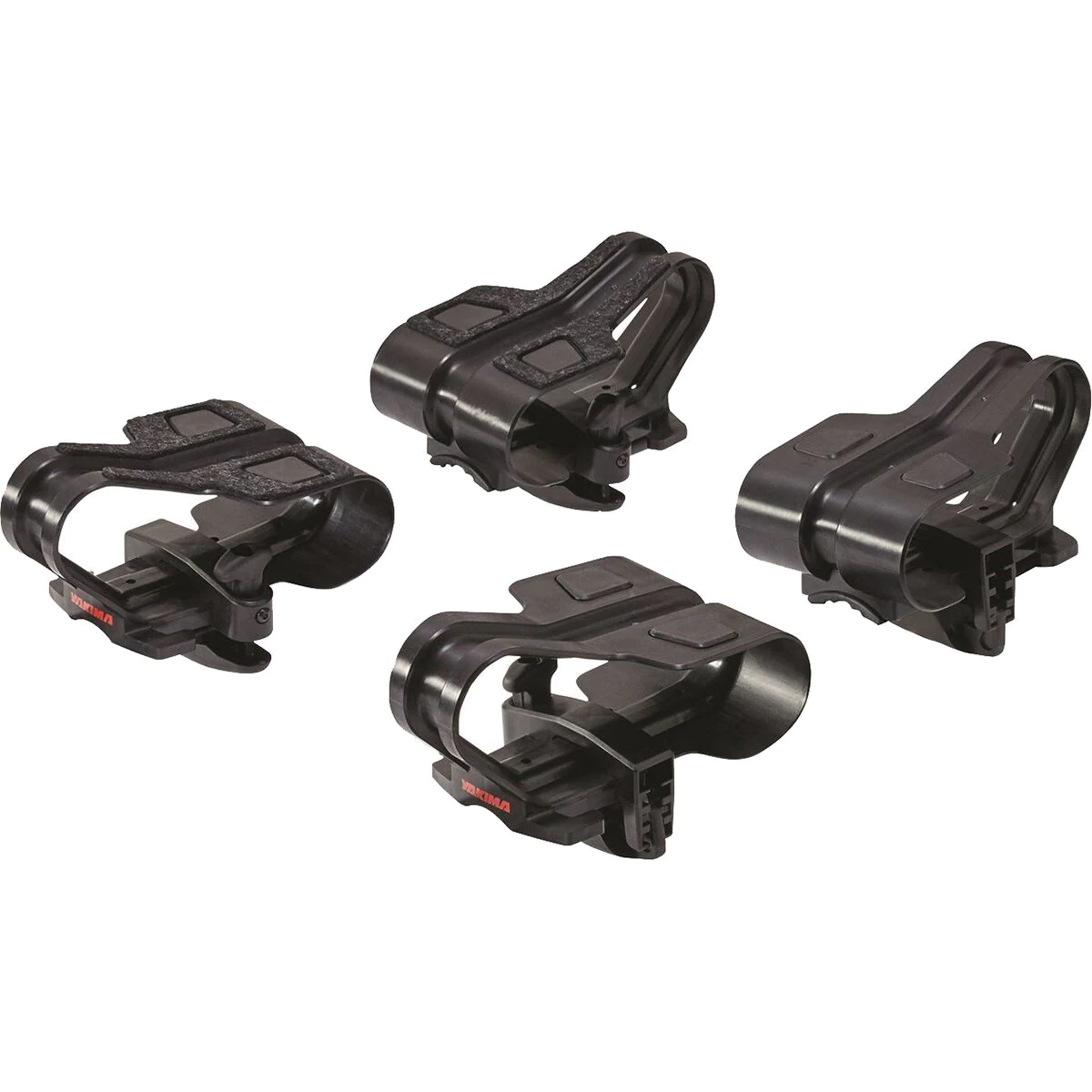 Yakima Big Catch
material: rubber
item weight: 8.5 pounds
Superb Load Assist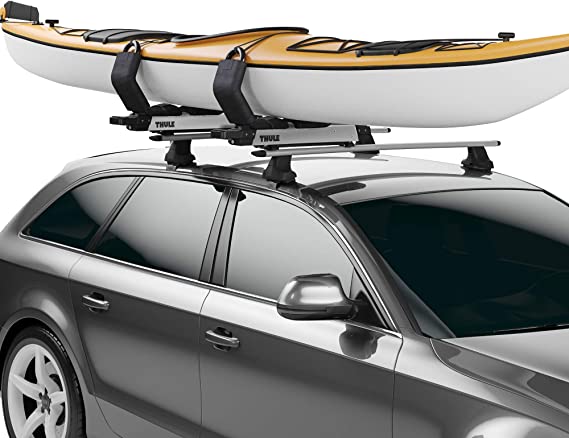 Thule Hullavator
material: aluminum
item weight: 39.7 pounds
Compact Design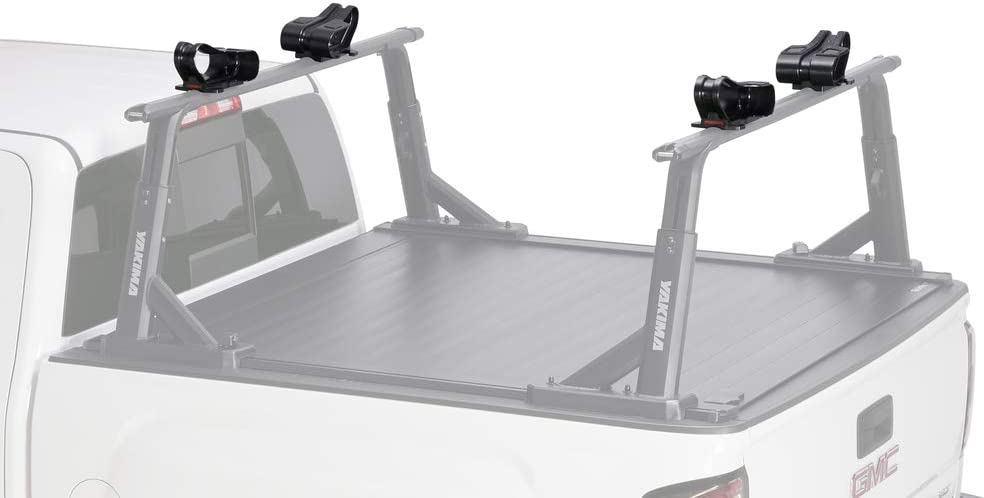 Yakima SweetRoll
material: plastic
item weight: 7.71 pounds
Budget Pick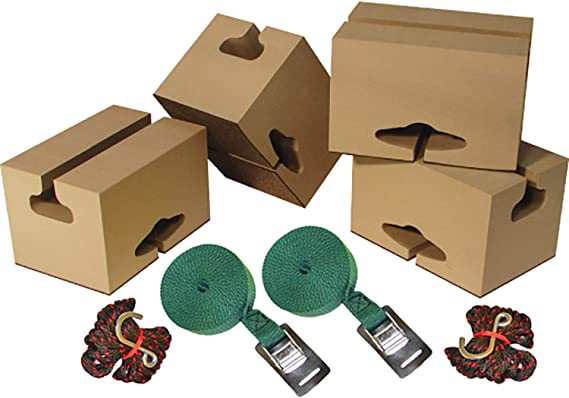 Malone Foam Blocks
material: eva
item weight: 1.5 pounds
Best Muti Kayak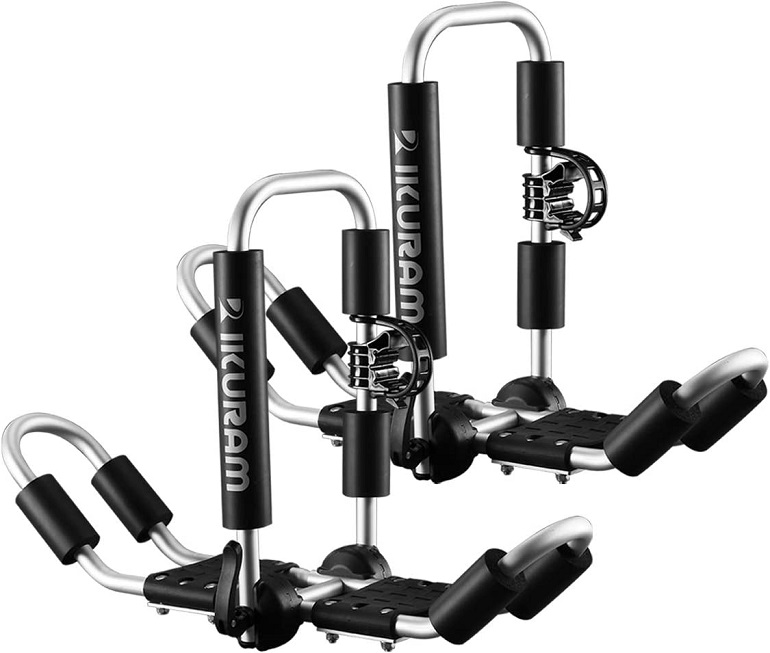 IKURAM R Kayak Roof Rack
material: aluminum
item weight: 24.9 pounds
Universal Fit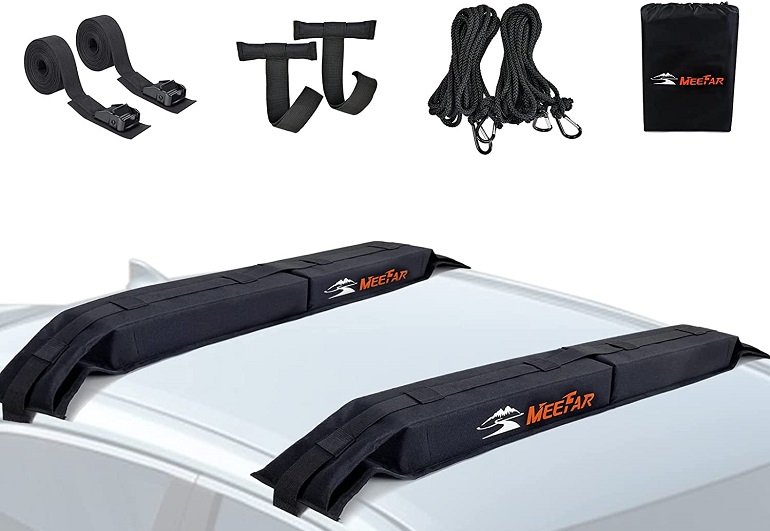 MeeFar Universal Soft Foam Pads
material: eva
item weight: 5.29 pounds
8 Best Kayak Roof Racks
Kayak roof racks come in many shapes and sizes depending on need. Inflatable roof racks provide a quick and easy way to strap kayaks to your car's roof. Solid roof rails are built for multiple kayaks or a single heavy kayak with their high load capacity.
Shopping around for something like a new kayak roof rack can be a tedious job. They come with so many features and such a wide price range it can be hard to know where to start.
Thankfully, I've done the research for you. Read on to find the roof rack for your car, kayak, and budget.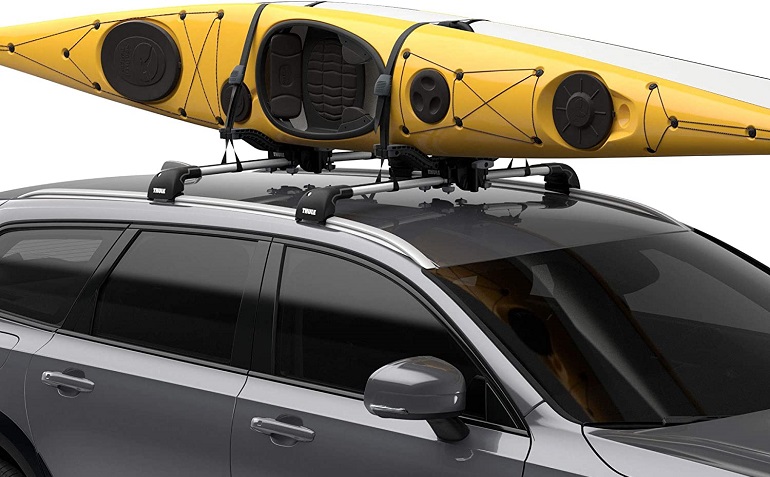 This simple yet very effective kayak carrier attaches to your currently installed roof rack system providing the ability to transport one or two kayaks with ease. This is a quick and cheap solution if you don't want to have a permanent kayak roof rack fixed on your car.
This kayak carrier is able to transport two kayaks vertically. It uses stacking or J-style kayak mounting to accommodate transporting multiple kayaks safely and securely. One kayak can also be really easily loaded onto the roof rack in both the J-style rack and saddle racks.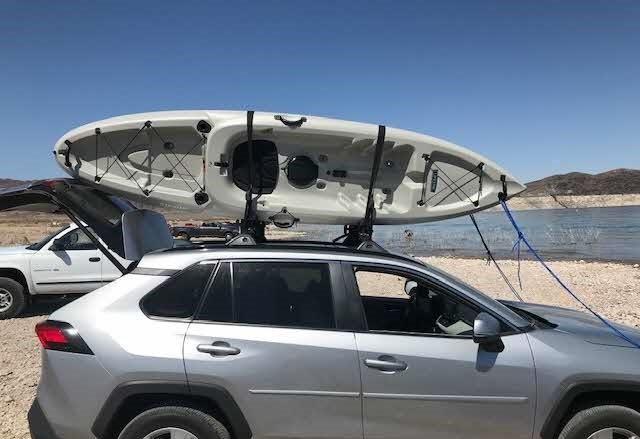 When not in use, the kayak rack can be easily folded down to improve aerodynamics. With the cost of fuel, keeping that gas mileage down makes all the difference! The simple tool-free design can fit almost any existing crossbars.
The rack's material features padded contact points across the whole supporting frame. This provides hull protection where you need it most. Getting to your destination only to find that your kayak roof rack has holed your boat would be a disaster.
Summary
Thule racks are reliable, universal, and good at what they do. A super simple design can be easily attached to whatever crossbar system you already have on your car and will get your kayaks from A to B without any problems.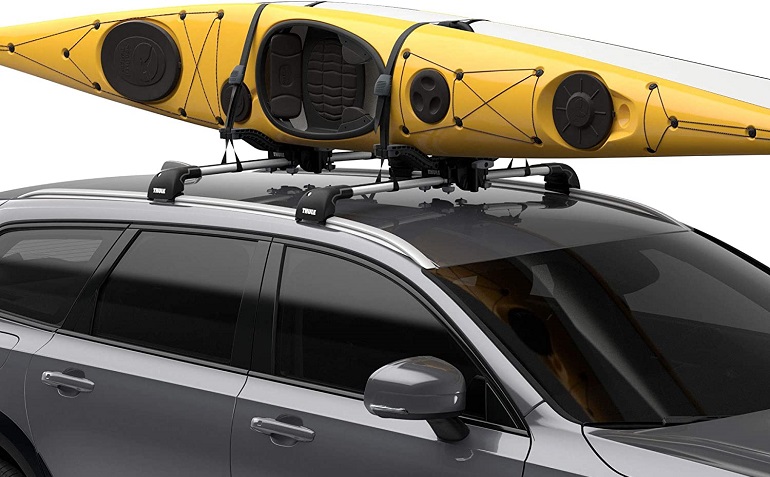 Thule Compass Kayak Rack
The Price of "Thule Compass Kayak Rack" varies, so check the latest price at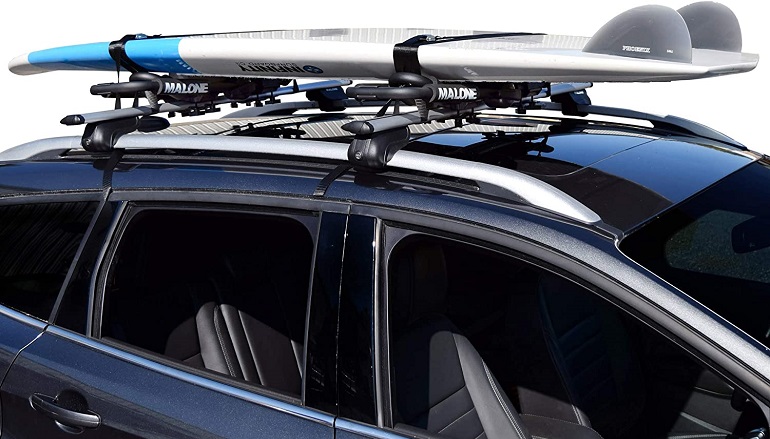 Securely attach your kayak to your vehicle's roof with this fold-down mechanism roof rack from Malone. You can rest assured that whether you're transporting one kayak or two, you can count on this to safely transport your beloved vessel.
Universal mounting hardware allows you to attach this to pretty much all aftermarket roof bars. 2 Lengths of mounting bolts ensure that no matter what shape or diameter your roof rack is, this should have the mounting hardware to match.
The fold-down system gives the ability to load up more than one kayak, paddleboard, and canoe with ease. The J-Cradle position can easily hold two kayaks in the vertical position whilst the flat hinged position can hold large kayaks.
Extra thick padding, corrosion-resistant steel construction, and heavy-duty molded parts make up the adjustable frame. You can rest assured you will have this kayak roof rack for a long time. Its versatility will allow it to have many uses over the years.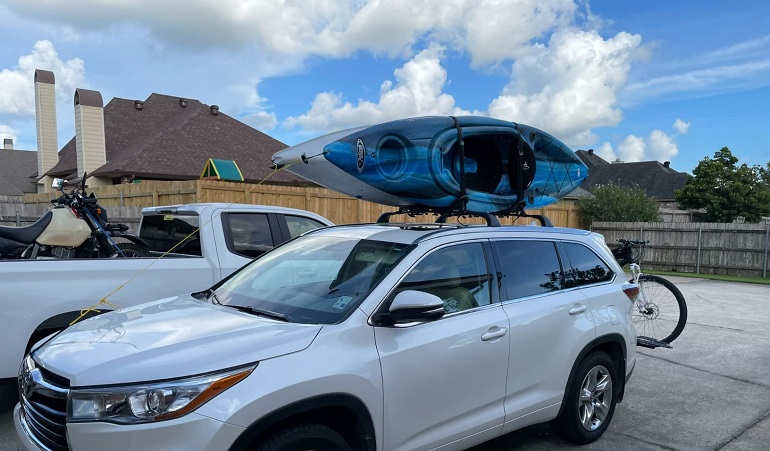 Bow and stern safety tie-down straps come with the pack. The 11-inch straps can wrap around not only one, but two kayaks with ease.
The 75 LBS weight capacity per boat will easily hold a kayak. You can keep your speed up on your way to the water without having to worry about losing them on the highway.
Summary
For a strong, versatile, and well-built kayak rack, you could do a lot worse than the Malone. It is able to transport a wide array of sea crafts and carry more than one at a time. It folds away into aerodynamic crossbars.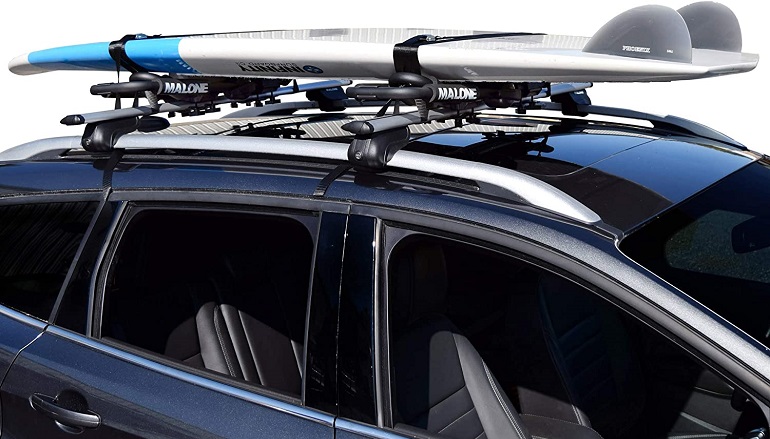 Malone FoldAway-5
The Price of "Malone FoldAway-5" varies, so check the latest price at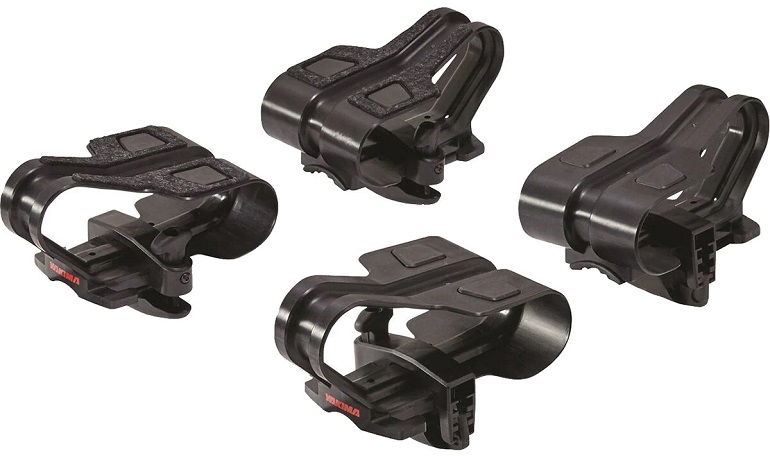 If you need that maximum load capacity kayak rack, then look no further than the Yakima Big Catch. The saddle racks are specifically designed to transport heavy loads, such as a heavy fishing kayak, and sit on top kayaks. This is here for when you need to bring those big loads.
An oversized cradle clips to your existing crossbars and conforms to the hull shape of your kayak. This gentle method of carrying stops any bumps or bangs that may come from driving over rocky terrain.
The rubber-padded saddles and thick foam pads protect your craft even when loading and unloading.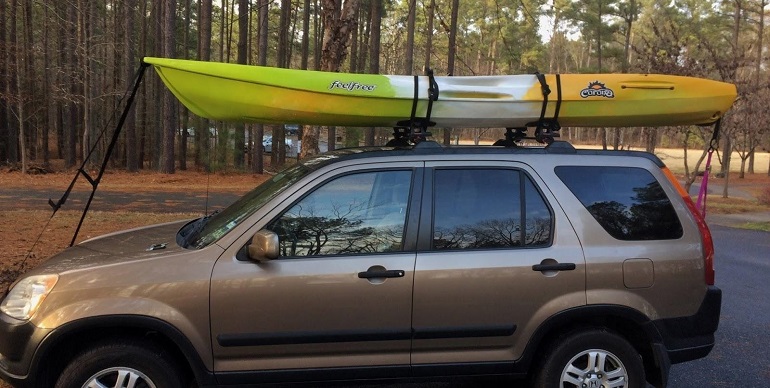 Heavy-duty straps and 150 LBS saddle capacity ensure that your kayak roof rack can handle whatever you plan to pop on the top of your vehicle's roof.
For added security, you can get a hood anchor for cars without bow and stern tie-downs. These are purchased separately but will give you the extra peace of mind you need.
Summary
If you are transporting a large kayak with a high weight, you want to make sure your roof rack can handle it. The Big Catch is the tool for the job and, although it is only designed for a single kayak, will be able to take the weight.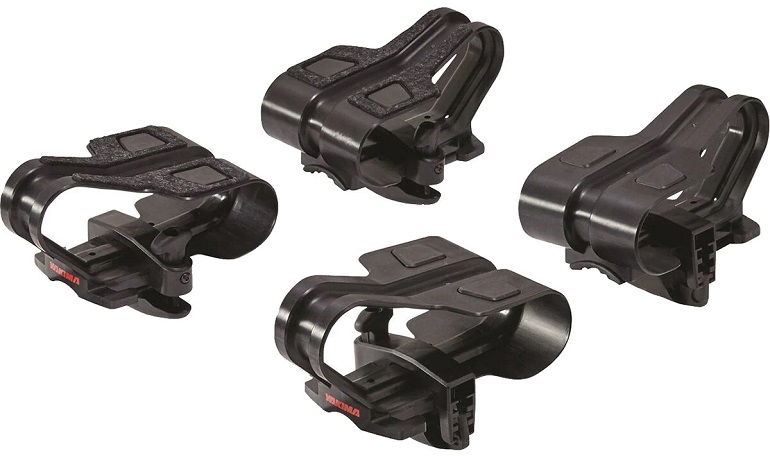 Yakima Big Catch
The Price of "Yakima Big Catch" varies, so check the latest price at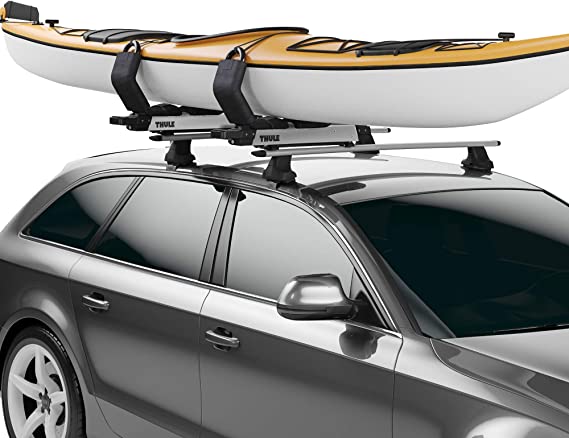 For a price, you can get your hands on some Thule crossbars that will not only safely transport a large and heavy craft, but also assist in the loading process.
If you struggle to get your kayak onto your kayak roof rack or your roof is just a bit too high, this may be the best kayak roof rack for you.
The side-loading mechanism uses gas-assisted struts to provide easy loading and unloading from the kayak rack. With an assisted load capacity of 40 lbs, this will help you lift your kayak onto your roof.
For anyone who has ever tried to lift anything larger than sea kayaks onto an SUV, you'll know how much of a benefit this is.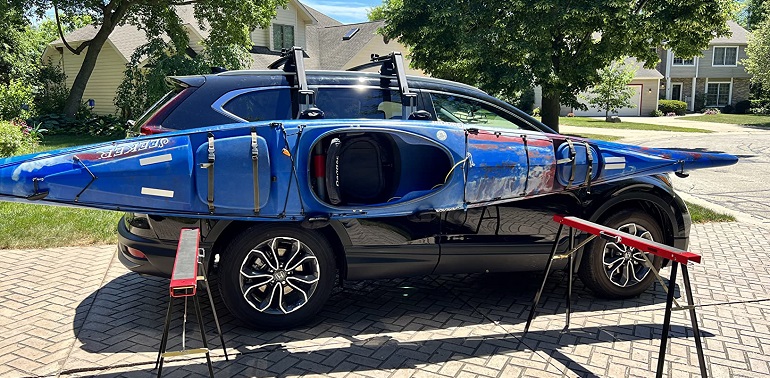 Eight padded contact points across the steel material and aluminum construction of the rails provide a lightweight and gentle cradle to keep your kayak safe. The rack system is only suitable for a single kayak but can carry up to 75 LBS.
Summary
This is the top kayak roof rack system for anyone that may struggle to load their kayaks due to their weight or the awkward height of their vehicle.
Being able to load a single kayak from waist height onto your kayak transport is essential for some. A premium rack for pedal-driven kayaks.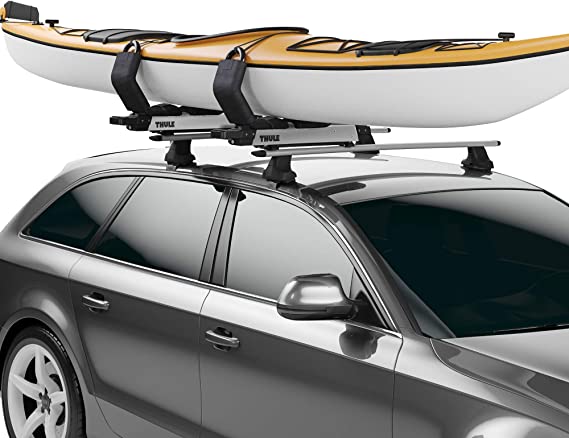 Thule Hullavator
The Price of "Thule Hullavator " varies, so check the latest price at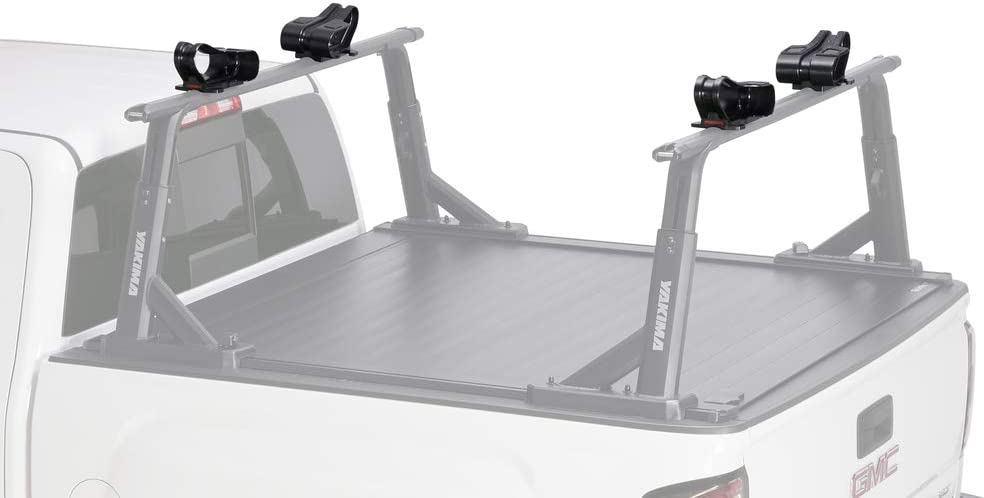 These are simple design that just gets it all right. Rollers, springs, and endless adjustability for all hull shapes make this the complete system for a single kayak.
The super easy installation process and universal mounting system make these suitable for any car, any time.
The simple clamps are suitable for square, aerodynamic, factory, and oval-shaped crossbars without an adapter kit. They clip to your load bars with the supplied mounting hardware. All the necessary straps come with the pack, including ratchet straps, and bow and stern tie-downs.
SweetRoll owes its name to the innovative design of the kayak carriers. They are spring-loaded to gently accommodate your kayak, safely transporting it even over bumps.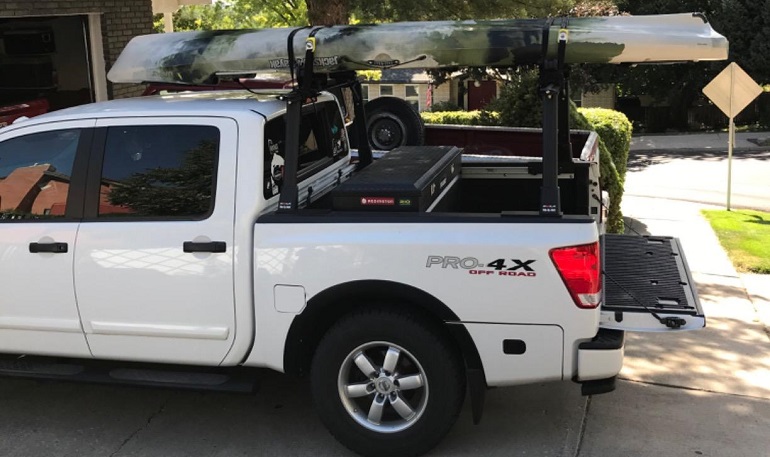 Rollers are embedded in the roof rack pads so that as you load it onto the kayak carrier, you can roll the weight of it from the rear saddles to the front with ease.
The small kayak carriers take up minimal space, so if you do want to carry two kayaks you can always get a second set and have it as a side-by-side saddle configuration. All the straps you could need will help you tie your kayak.
Summary
For a small and very versatile kayak roof rack for a truck, give the Yakima a go. The secure bow and stern tie-downs work alongside the adjustable padding to form a fantastic, compact option to carry one kayak.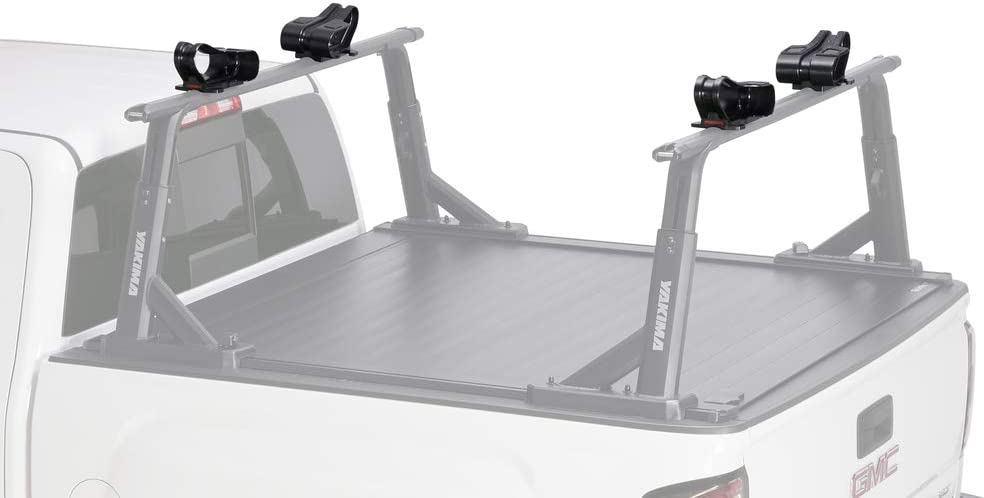 Yakima SweetRoll
The Price of "Yakima SweetRoll " varies, so check the latest price at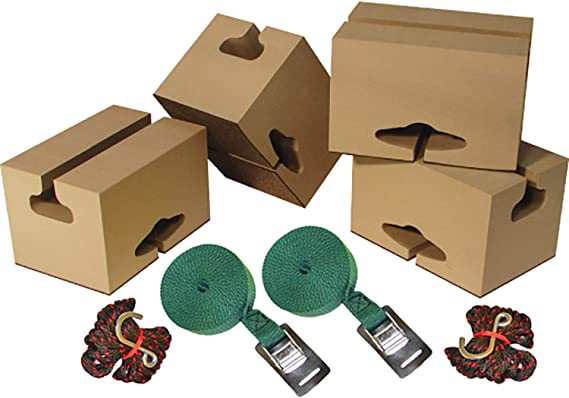 For the most simple and cheapest of solutions, choose Foam Blocks. If you can't be bothered with kayak racks, then you can simply wrap these foam pads around your existing crossbars and strap down one or two boats using simple straps.
Malone has provided shock-resistant EPE foam pads that wrap around your crossbars and use load straps to hold the boats secure.
They are only limited by the weight capacity of your current roof rack, and you can use them as a double kayak roof rack by simply stacking your kayaks side-by-side.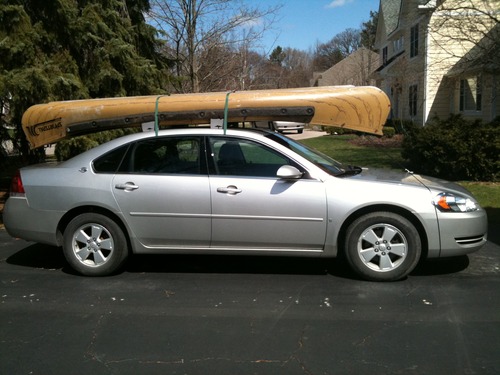 Summary
These are simple foam blocks that do the very basics of kayak transport. They cost very little, but with a little ingenuity and care can provide an excellent solution to kayak roof racks.
They're not suitable for bare roofs but do the job provided you have a roof rack already.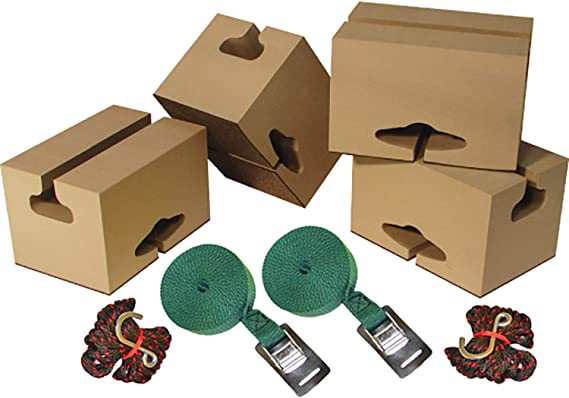 Malone Foam Blocks
The Price of "Malone Foam Blocks" varies, so check the latest price at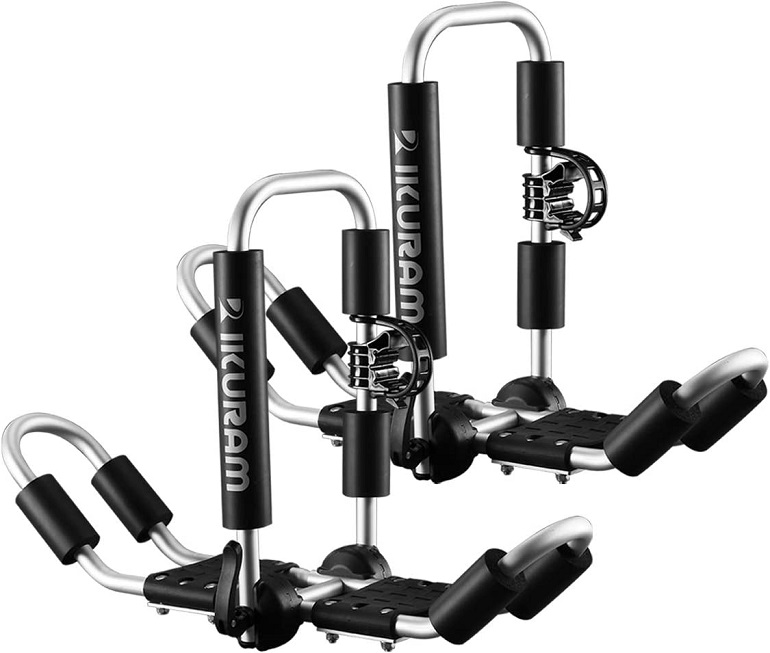 J-Style racks are able to hold up to two boats in the upright position with adjustable center poles and a few additional straps. This kayak carrier from IKURAM has the load capacity and design to transport even the heavier kayaks out there with ease and safety.
The J-Style kayak roof rack uses an aviation-grade aluminum alloy to deliver the stability needed to hold multiple kayaks. High-load straps, capable of withstanding 750 lbs are supplied to go along with the strong kayak rack.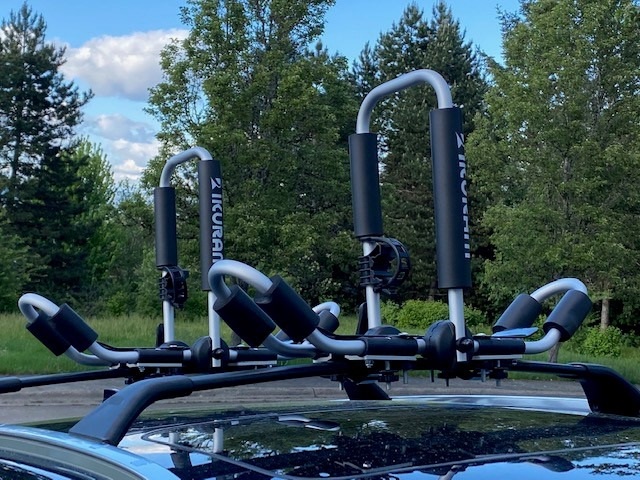 The non-scratch outer coating is wrapped in thick padding and all-weather rubber saddles. The kayak carrier is designed to protect your kayak hull even in rough road conditions and adverse weather.
Summary
Opting for a J-Style rack is a great way of ensuring that your roof racks are able to hold multiple kayaks safely.
They are the best kayak roof racks for anyone that needs the kayak security of some purpose-built equipment. They will fit on all sorts of roof racks and cross bars.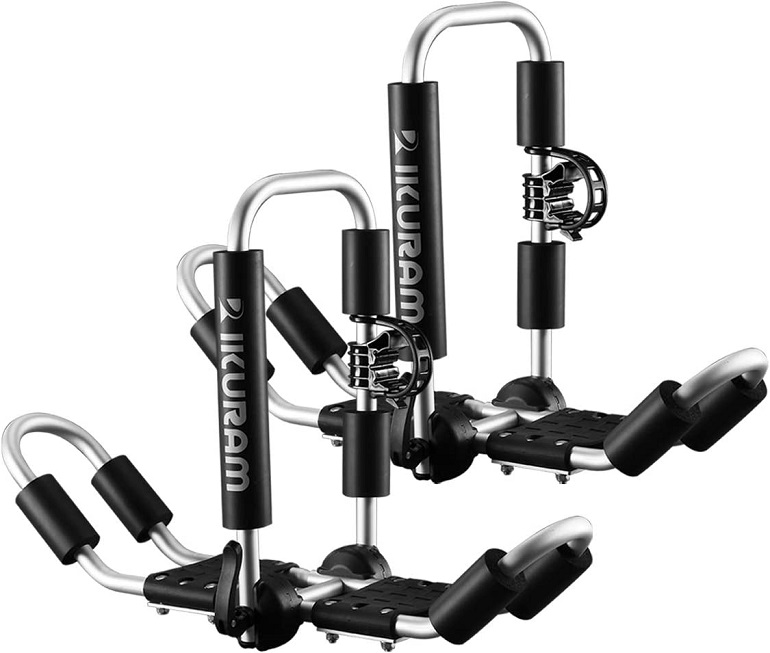 IKURAM R Kayak Roof Rack
The Price of "IKURAM R Kayak Roof Rack" varies, so check the latest price at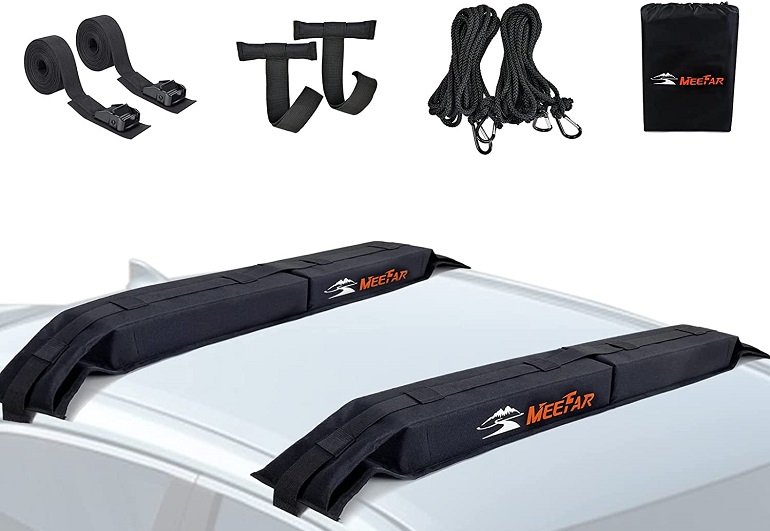 This is the best kayak roof rack if you aren't lucky enough to have a standalone roof rack already installed on your car. It will easily fit onto a bare roof and easily transport your kayak without damage to the car or the hull of your kayak.
Stashed in an easily transported storage bag, this inflatable roof rack can be quickly unpacked and installed on almost any vehicle. The kayak rack simply needs the inflatable pads to be pumped up and the straps to be secured through car doors.
You don't need to worry about saddle configuration with this kayak rack, as it spans the whole roof of your vehicle and can accommodate all sizes and lengths. It has a decent weight capacity and can carry more than one kayak.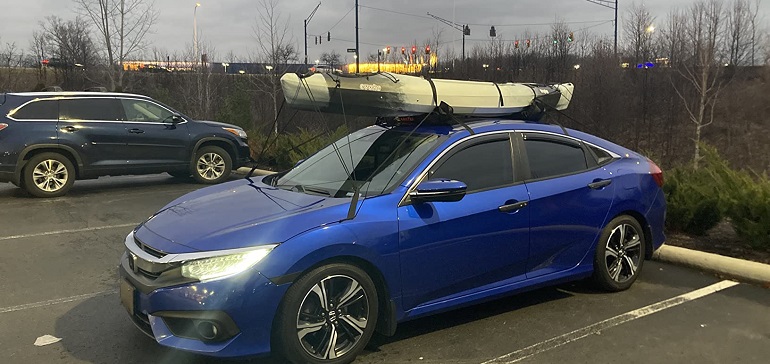 The non-slip base on the roof racks underside protects the paint on your car, keeping it scratch free. The soft padding is forgiving to both the kayak and the car.
Summary
This is the best kayak rack for anyone who doesn't already have roof racks installed on their car and isn't interested in getting them. It allows you to really simply install and uninstall the kayak racks with a simple pump and some straps.
As long as you have secured your boats properly, there's no limit to how many kayaks you can pop on your kayak carrier.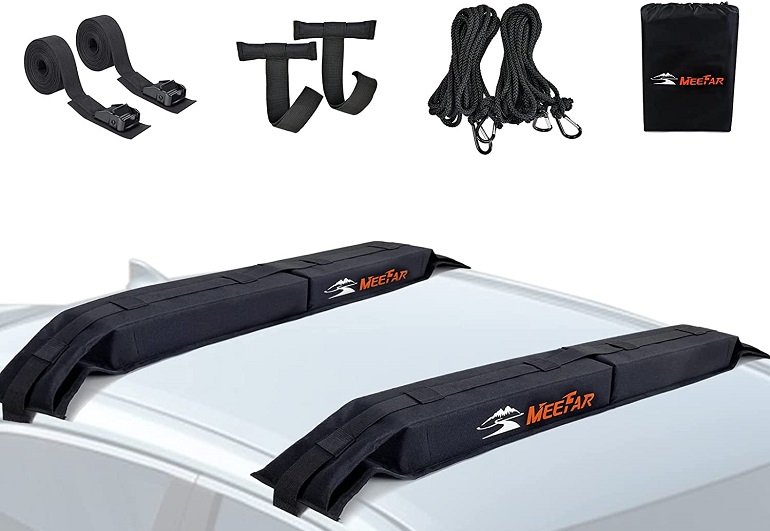 MeeFar Universal Soft Foam Pads
The Price of "MeeFar Universal Soft Foam Pads" varies, so check the latest price at
Buying Guide For Your Next Kayak Rack
As simple as you may think buying a kayak carrier is, you'll still be surprised at how many little elements can make all the difference. If you get the wrong size, your kayak won't fit, and if you get the wrong load capacity, it may break.
I've compiled a list of things to take into consideration when you buy your next kayak rack.
Weight Limit
Making sure you get a kayak roof rack with the right weight limit is actually one of the most important things to keep in mind when shopping around.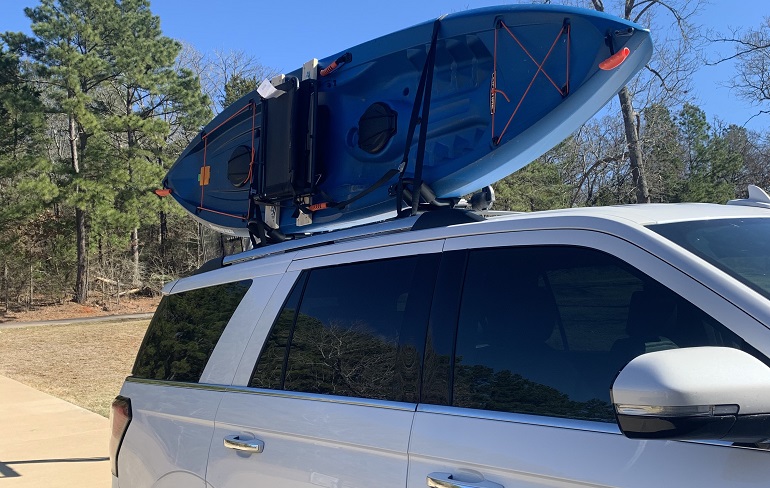 You may have seen, on your last trip down to the ocean or lake, a sad abandoned kayak by the side of the road. This is usually because the kayak roof rack couldn't handle the weight.
Not only will a weak roof rack damage your kayak, but it could also cause a terrible accident on the road as someone gets a 12-foot sea vessel through their front window. Check the weight of your expected load, especially if it is multiple boats, and check with your kayak rack manufacturer.
Look for materials like powder-coated steel and other strong metals for guaranteed strength.
Size
This is especially important if you have an extra wide boat. Stand up fishing kayaks and sit-on-tops are usually a lot wider than regular-sized kayaks. The kayak rack's maximum width needs to accommodate the whole hull or your boat will not be secure on the top of the car.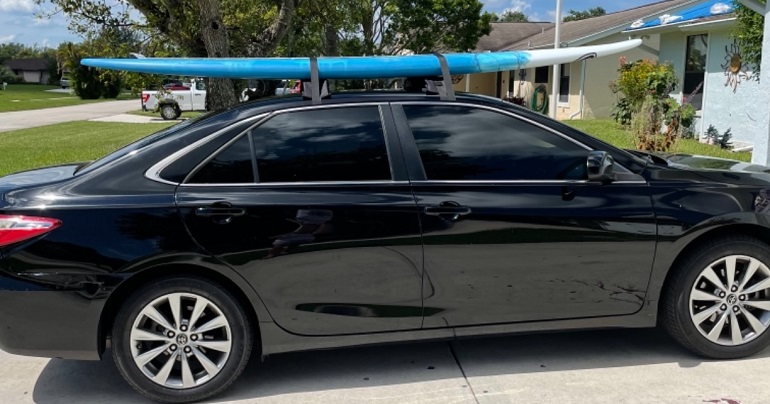 We have looked at a number of kayak racks that can accommodate a wider beam. Most of them sit on the roof rack with adjustable pads. They can be moved to the sides to gently hold the wider size of a bigger boat.
Anything too narrow for your boat will not be secure, check your boat's width and compare it with your own equipment. You must also make sure your vehicle is wide enough!
Car Compatibility
Certain racks will not work with certain cars. One prime example is the inflatable rack we looked at last. This requires four doors to hold itself into, if you're driving a three-door car you may have a hard time finding somewhere to wrap it.
Some cars do not have the necessary clips on the top of their roofs to actually clip a roof rack too. If you are not able to actually have a roof rack, you will struggle to use a lot of the kayak carriers we have looked at today.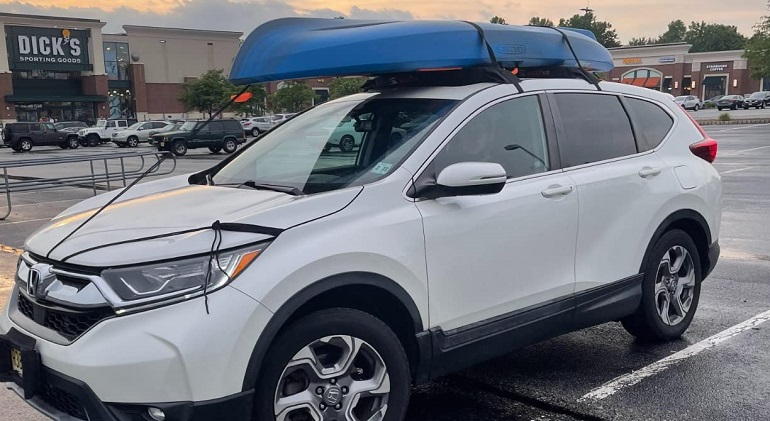 Make sure you are able to install all the equipment before you put it on.
As an afterthought, if you have car modifications such as roof scoops or spoilers, you will have to make sure that the racks are able to lift the kayaks high enough above them not to damage both.
Type
The type of rack you get depends on the style of the kayak and how many you are bringing. If you need multiple kayaks then a sturdy J-Style rack is a fantastic choice. They are able to transport multiple kayaks safely and securely.
For a single lightweight kayak like a whitewater, you can get a really small and very simple rack that won't take up much room and can be easily packed away when you're done with it.
For extra wide kayaks, you can get yourself a wide load rack that can hold things like paddle boards, sit-on-tops, and fishing kayaks. The secret is, don't spend more than you need and only buy what you have to.
A Few Frequently Asked Questions
Don't feel like a fool asking these simple questions in your nearest car retailer, I'll answer them for you instead and save you some face.
What Does My Car Need To Attach a Kayak Roof Rack?
In a lot of cases, you need a car that can support a roof rack and actually already has one installed. Most of the models we have looked at today clip to previously installed racks and are additions to your equipment.
Of course, this isn't always the case. If you don't have and don't want a roof rack, get yourself an inflatable one that simply slips through your doors and secures your boat that way. All you need is equipment suitable for you.
Is Getting My Boat Onto My Kayak Roof Rack an Act That Takes Muscle?
I'm not going to lie to you and tell you that every kayak can be lifted by every person. Sometimes they are heavy and your roof seems miles away. There is no shame in needing a little extra help to get your kayak onto your kayak roof rack.
Thankfully there is help out there. The Helluvator and the SweetRoll are actually designed to take the load off your shoulders and make loading and unloading a breeze.
If you're struggling with the weight, there is no shame in asking for help or grabbing yourself a rack that gives you a hand.
How Long Should My Kayak Rack Last and How Can I Increase Lifespan?
You should expect many many years of use from a kayak roof rack. They are only used occasionally and only for short periods of time. Most of them are made from really solid materials, using tough aluminum and steel construction to provide durability.
You can take care of your rack by making sure you don't overload it, don't over-tighten the straps, and make sure you remove and store it well when not in use.
Strap In for the Last Word From Me
Transporting any large sports equipment is always the worst bit of the sport. The amount of times I've been crammed into a mountain bus with a stupid long snowboard or been in a heated altercation because I don't want to spend extra money to buy a train ticket for my snowboard is embarrassing.
Thankfully purpose-built kayak roof racks exist. They are capable of transporting multiple kayaks on your car's roof. These kayak carriers easily clip to your vehicle's roof and safely transport kayaks with relative ease.
Just spend the money and get yourself a roof rack that can do it all. You can travel in your own vehicle, at your own speed, and you don't have to be subject to the scalding stares from the other passengers on the bus.
Just be careful to strap your stuff down securely. A few bungee ropes and some gaffa tape will leave your beloved vessel halfway up a tree the first time you hit 50.