Even In Calm Waters…
When the water is still, and the sun is out, that's perfect lounging weather. Everything is set for you to relax, but the thing about tragedy is, that it strikes when you least expect it.
I don't want to die, usually, and I'm assuming that you don't either, hopefully. Do you know what would keep the both of us alive? A life vest.
Don't be misled by paddle boarding's innocent exterior. It's all SUP yoga and games until you are underwater and struggling to get back up.
A SUP life jacket, one with a heavy-duty nylon shell, can react as quickly as misfortune does. Saving our fun and most importantly, our lives in the process.
Stay cool and be secured with the best life jackets for paddle boarding!
Best Life Jacket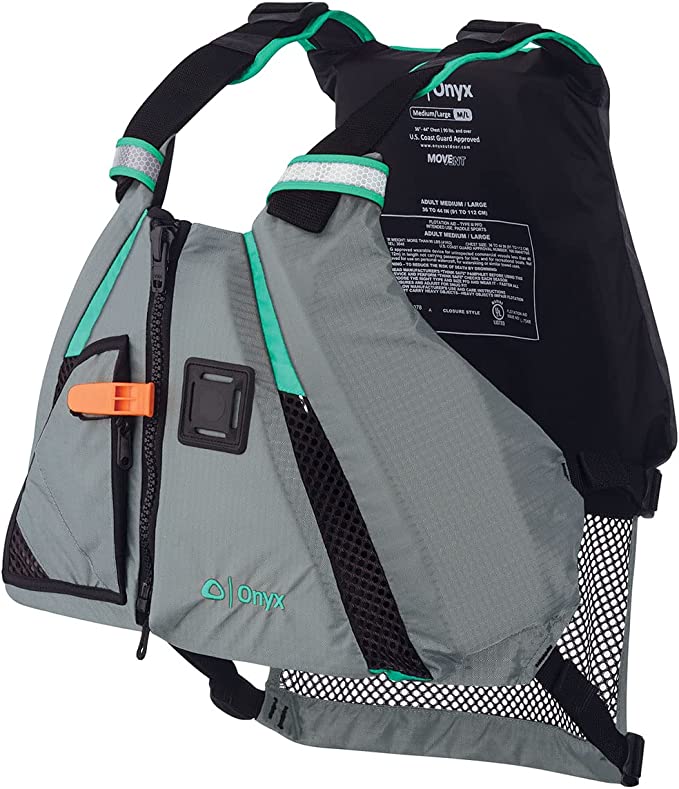 Best Budget Option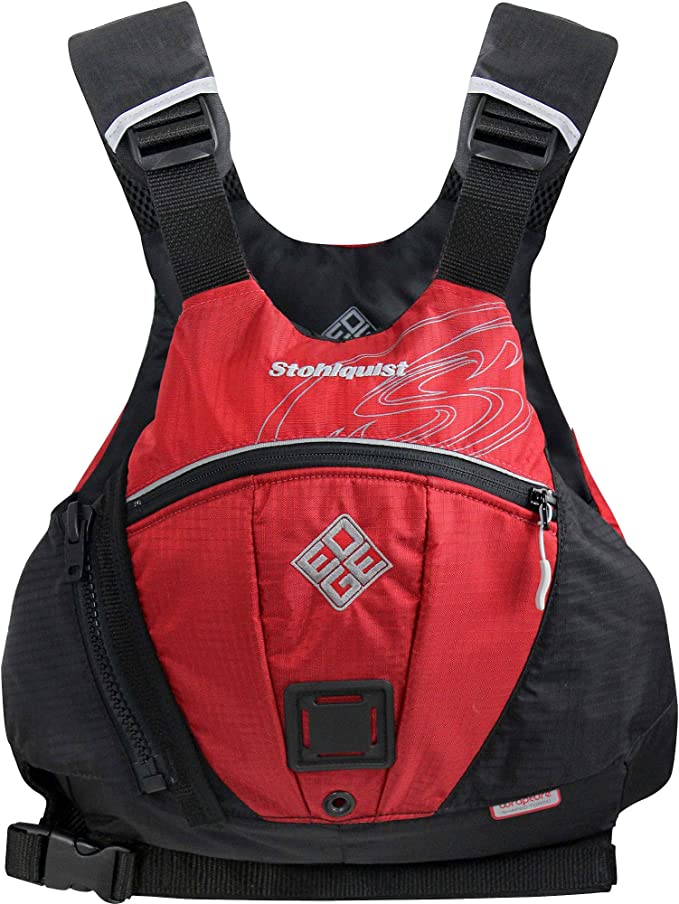 Stohlquist Edge
Brand: Stohlquist
Color: Black
Best Full Coverage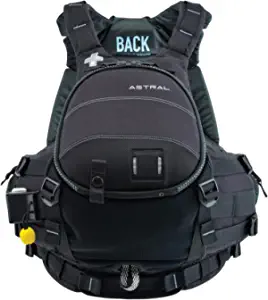 Astral GreenJacket
Brand: Astral
Color: Fire Orange
Best Full Mobility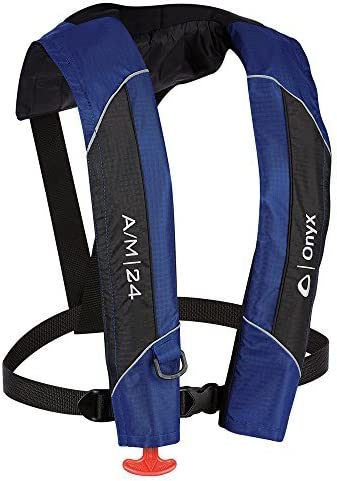 Onyx A/M-24
Brand: Onyx Outdoor
Color: Blue
Most Comfortable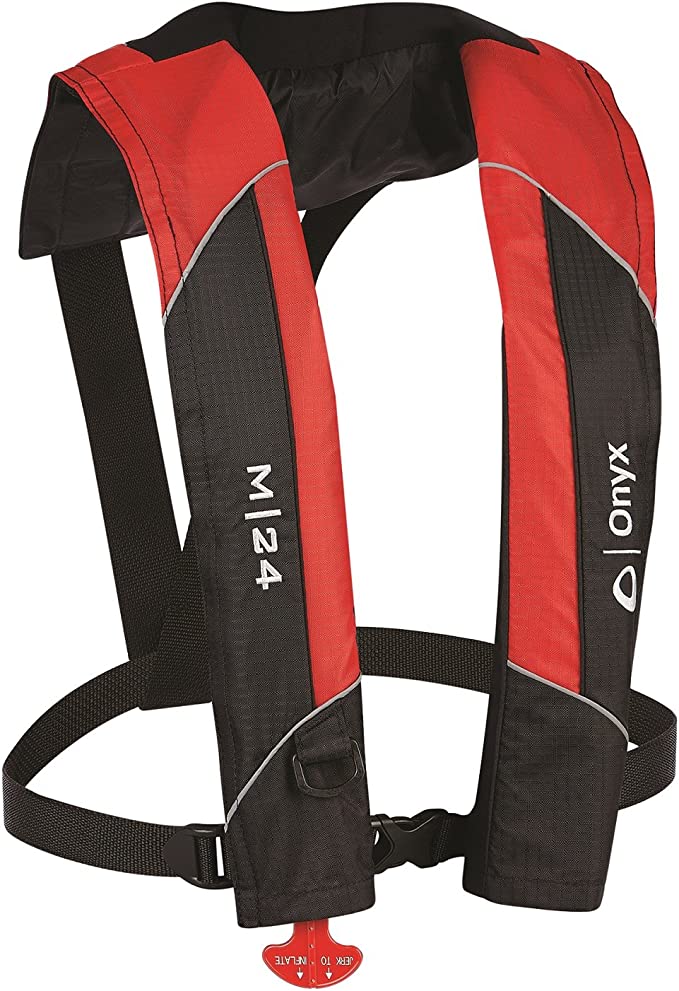 Best Minimalist Design

STEARNS Suspenders
Brand: STEARNS
Color: Multi
Best Visibility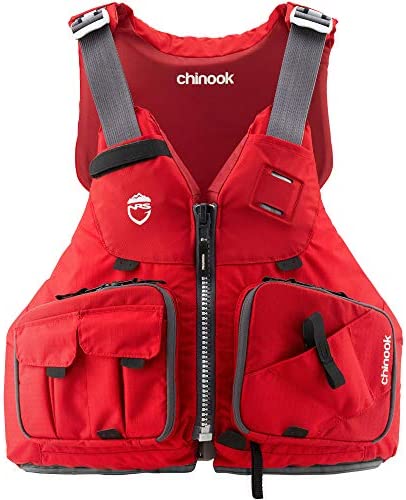 NRS Chinook Lifejacket
Brand: NRS
Color: Bayberry
Best Of The Rest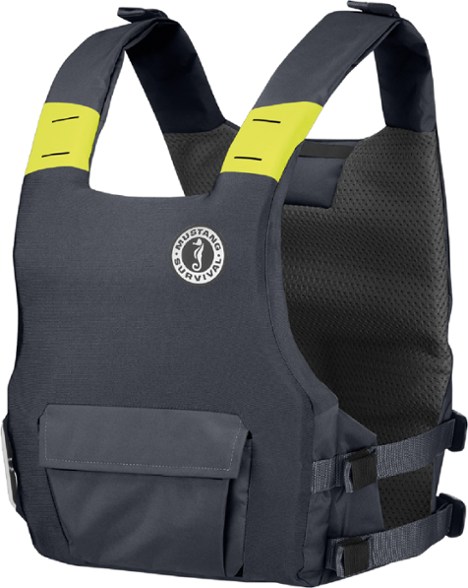 Mustang Survival
Brand: Mustang Survival
Color: Black
The 8 Best Life Jackets for Paddle Boarding
Things can change fast in the world of stand-up paddle boarding. This is why the life jacket that you choose will define how confident you are heading into uncharted territory. But life vests are not created equal, and contrary to popular belief, they don't all follow the same design.
We will be getting into everything that you need to know when it comes to your life jacket and its features later. For now, keep in mind that even amongst the best life jackets for paddle boarding, there is no one size fits all solution.
Different paddle board life jackets will work better in certain situations than others.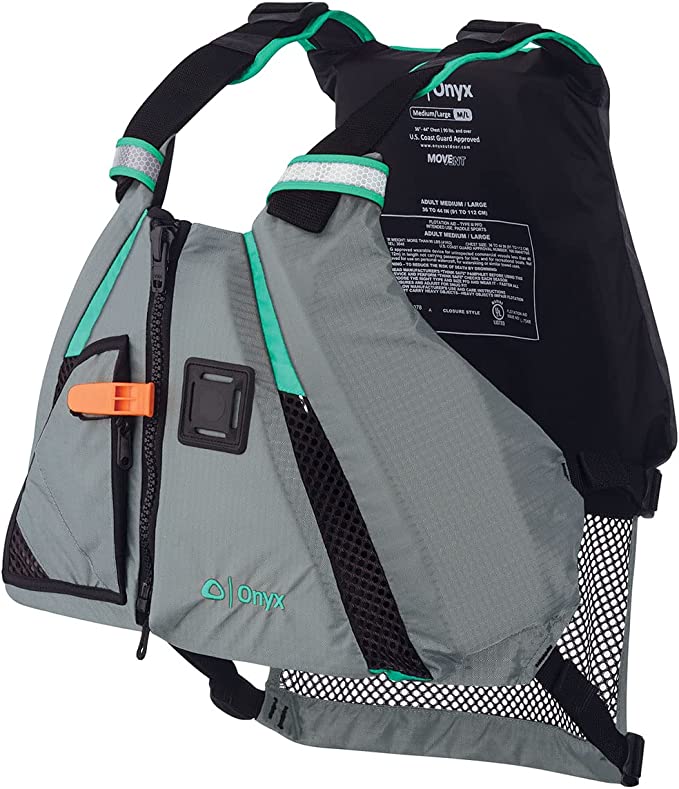 The Dynamic, my favorite life jacket, had everything that a paddle boarding life vest should have. It felt like a full suit of the best features that you could have in one product. The tough nylon exterior, which is resistant to tears and abrasions, gives this jacket great longevity.
The neoprene comfort pads that have been fitted into each shoulder strap prevent any chaffing or marking. You'll be wearing your PFD for extended periods of time, comfort pads like these turn this life jacket into something that can be easily worn all day.
There are even small but useful accessories littered throughout the Dynamic. Attached to the front is a safety whistle. In the worst kinds of situations, you are going to want all the help you can take. This whistle pays dividends.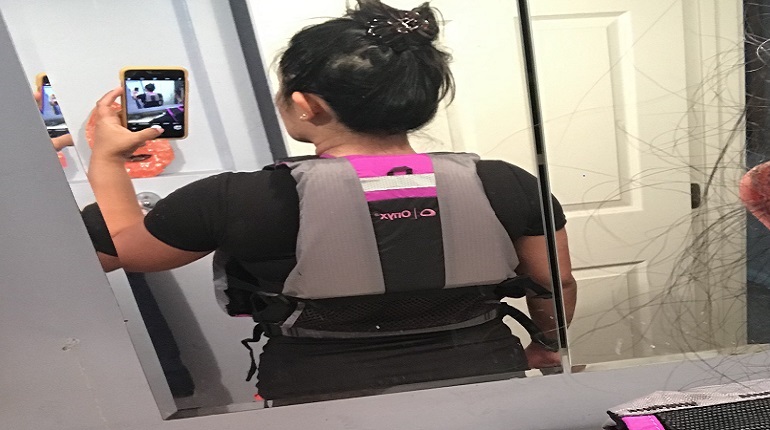 But as if that wasn't enough, the vest has reflective strips in key areas that increase your visibility. With both the whistle and these SOLAS-grade strips working in tandem, you boost your chances of being found quickly by a significant margin.
There weren't any areas where the MoveVent Dynamic was lacking. From safety to wearable design, I felt secure with it on, and that is what a life jacket should be all about.
Features
Life Vest Type: Type iii PFD
Build Materials: Nylon
Best Feature: Attached safety whistle
Item Weight: 1 pound
Area Worn: Over the chest
Pros
The MoveVent has neoprene comfort pads stuffed into the shoulder straps.
This vest is fitted with SOLAS-grade reflective strips that increase your visibility.
Comes with lower back mesh panels for high back seat compatibility.
Cons
This design could have benefited from more reflective strips.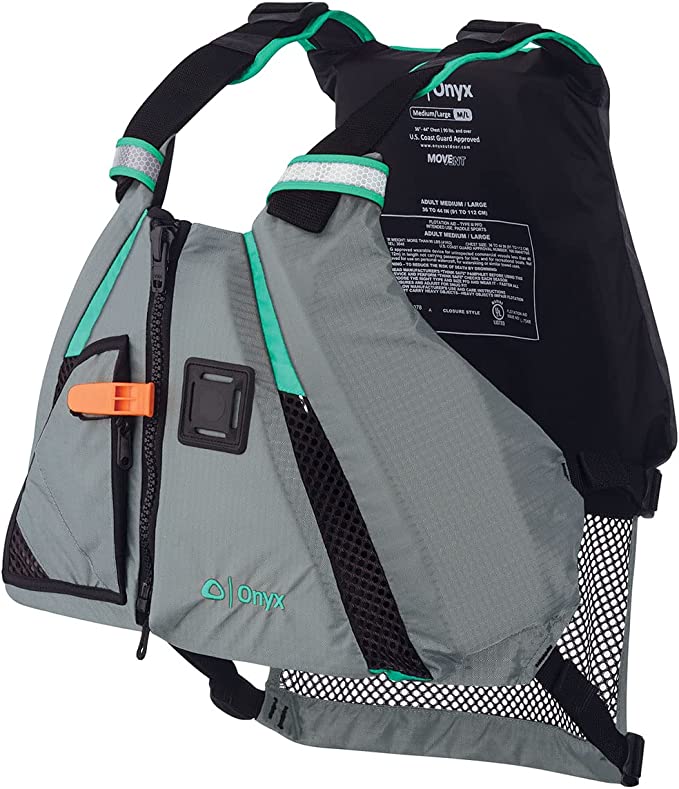 Onyx MoveVent Dynamic
The Price of "Onyx MoveVent Dynamic" varies, so check the latest price at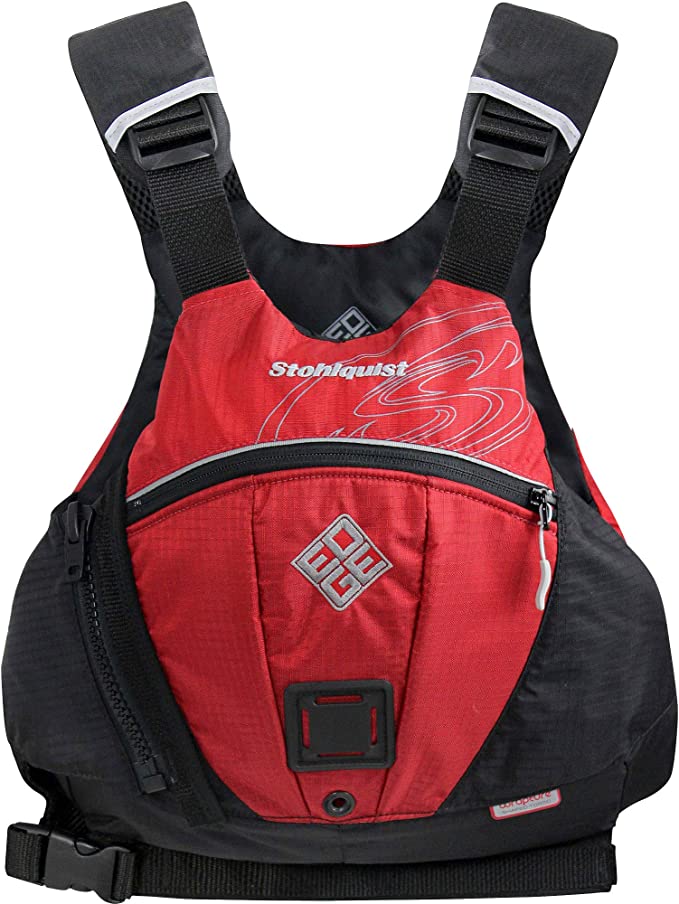 With a name like the Edge Life jacket, I wouldn't blame you for not having much confidence in its design. However, let me assure you that not only is this Stohlquist offering up to standard, but it is also available at a great price.
Filled to the brim with polyethylene foam and with a design that encompasses your entire stomach and chest. There is security to be found here, and a lot of it. Despite its size and the amount of protection offered, its weight is not an issue.
It doesn't weigh you down, nor does it obstruct you in any way. The torso of this jacket was specially designed to flow with the natural turns of your body. What you end up with is a comfortable and flexible fit.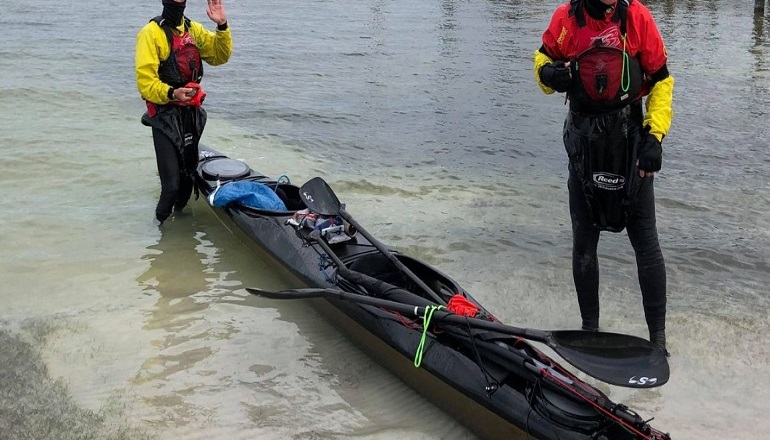 There are also plenty of adjustment points for you to tinker around with. Sure, I would have liked it better had there been more foam padding near the top of its design. However, what I found was an inexpensive option that still kept you safe.
Not much more you could ask for in a personal flotation device for paddle boarding.
Features
Life Vest Type: Type iii flotation device
Build Materials: Polyethylene Foam
Best Feature: Ergonomically shaped torso
Item Weight: 1.64 pounds
Area Worn: Over the stomach and chest
Pros
The Wrapture-shaped torso doesn't decrease your mobility. Very comfortable and flexible.
Has adjustment points throughout the shoulder straps and four side pulls.
Comes with a large and easy-to-access front pocket.
Cons
Would have liked it better if there were more foam panels near the top of the vest.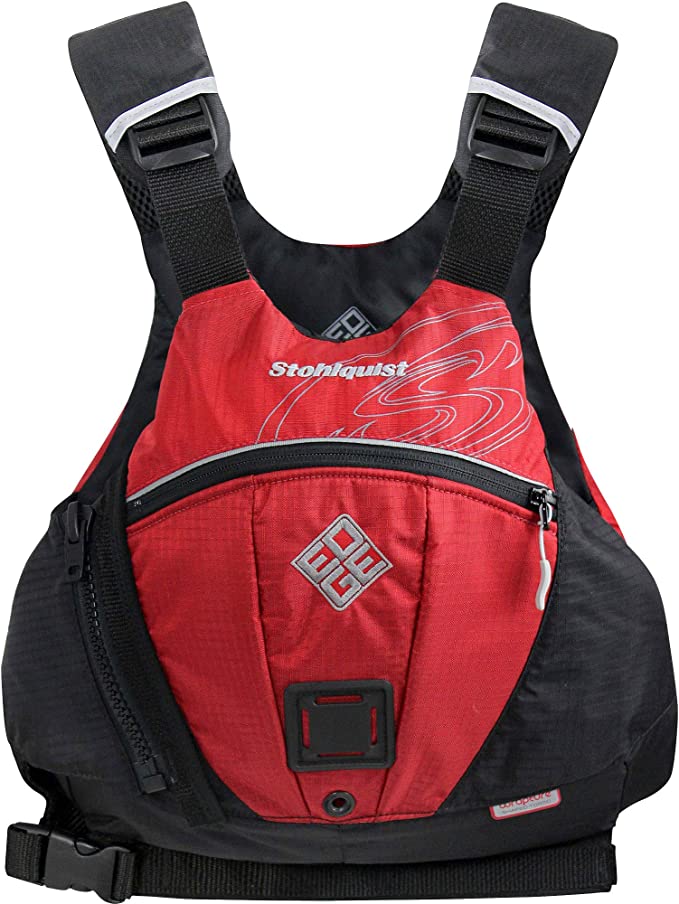 Stohlquist Edge Life Jacket
The Price of "Stohlquist Edge Life Jacket" varies, so check the latest price at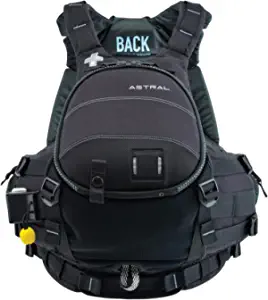 The Astral Greenjacket doesn't let a single inch of your upper body go unprotected. This great range of coverage isn't just for show, either. Underneath the incredibly sturdy 500 denier Cordura shell is a mix of materials that help this life jacket keep you afloat.
Among these materials are PVC-free Gaia and Polyethylene foam inserts. This is what I call targeted design. Astral could have stuffed every corner of this life jacket with flotation foam, but then the weight of this life jacket would become a massive issue.
It already weighs more than the other life jackets, so keeping this number from growing was paramount. By strategically inserting inserts in key areas, Astral was able to give its product a great buoyancy rating without bloating its design.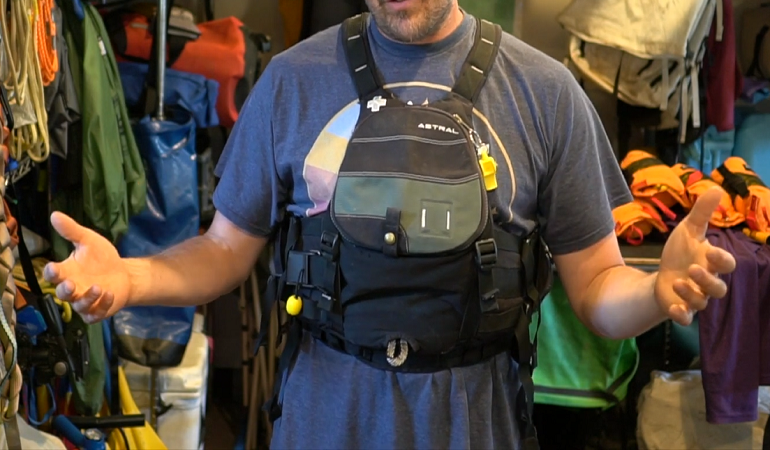 For your storage needs, a large clamshell-style pocket was included on the front. This pocket has multiple compartments in which you can organize and store your gear. There is even a rope storage pocket, should you need it. Now if only there was a dedicated snack pocket.
Despite any weight issues I may have had with it, I greatly enjoyed the rest of its design.
Features
Life Vest Type: Type V
Build Materials: PVC-free Gaia
Best Feature: Quick-release harness
Item Weight: 2.9 pounds
Area Worn: Full chest and back
Pros
Has a great range of coverage that will safely and effectively keep you afloat.
Clamshell style front pocket that has multiple smaller pockets and even a rope storage pocket.
Has an incredibly durable 500-denier nylon shell.
Cons
Weighs the most out of all the life vests on this list.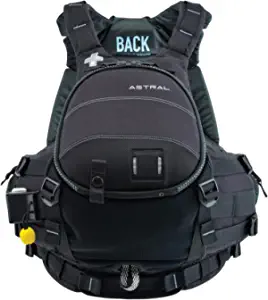 Astral GreenJacket Life Jacket PFD
The Price of " Astral GreenJacket Life Jacket PFD" varies, so check the latest price at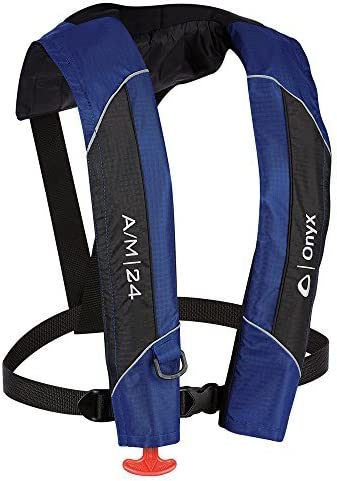 Safety is great and all, but boy, can it get annoying when it gets in the way of your water sports fun. For those that don't wanna give a single inch but still want to have a life jacket watching their back, the Onyx Automatic is for you.
I suppose the best place to start would be the automatic inflation capabilities of this jacket. It is this feature that makes the Automatic ideal for beginners, children, and anyone that doesn't have strong swimming skills.
As soon as you are submerged in water, this personal flotation device springs into action. Inflating like a blowfish and taking you to the surface where you belong. This PFD is made from durable fabrics that won't fall apart and is capable of carrying full-grown adults.
These qualities ensure that this PFD isn't just a great option for mobility but also for dependability.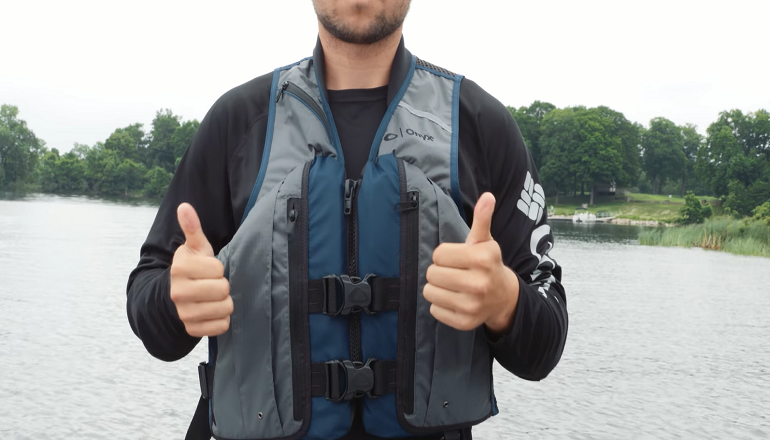 Should you want to manually inflate this PFD, there is a handle that takes care of the job with a simple pull. It doesn't weigh much at all and is worn over your shoulders. I didn't think that personal flotation devices could come in this style, but I'm glad I found the Automatic.
Features
Life Vest Type: Type iii
Build Materials: Durable fabrics
Best Feature: Doesn't obstruct your movement
Item Weight: 1.6 pounds
Area Worn: Shoulders
Pros
The shoulder strap design of this life vest makes you feel as if you are wearing nothing at all.
Immediately inflates automatically as soon as you are immersed in water. The perfect PFD for beginners.
Simple handle that you pull to fully inflate in a matter of seconds.
Cons
I believe this should have been made in a more easily visible color.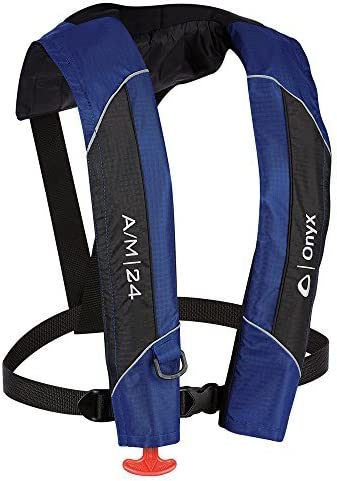 Onyx A/M-24 Automatic/Manual Inflatable PFD
The Price of "Onyx A/M-24 Automatic/Manual Inflatable PFD" varies, so check the latest price at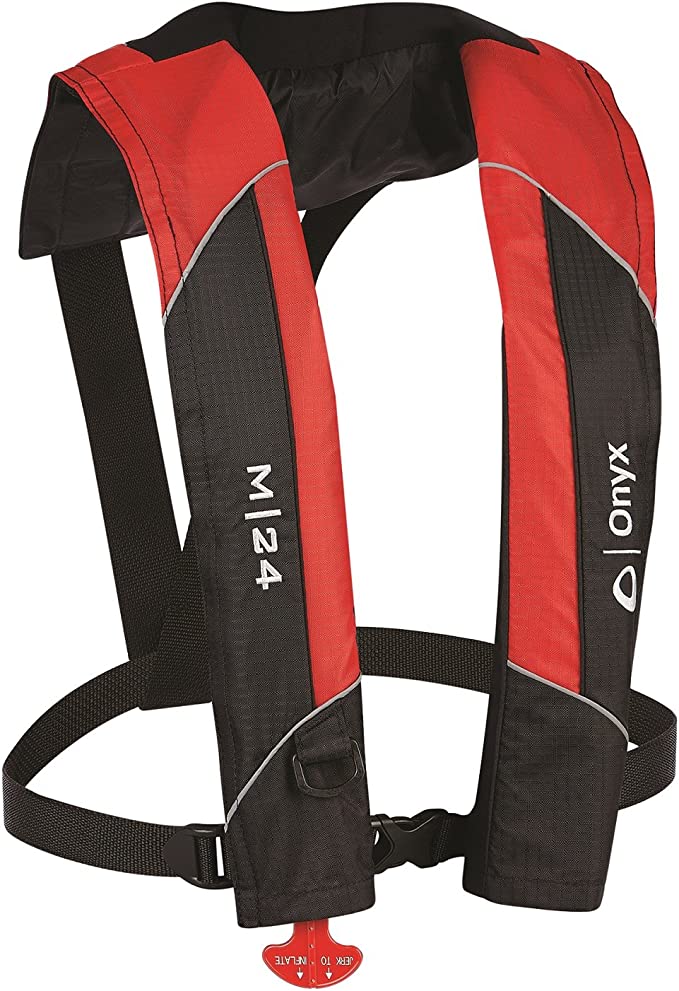 Following the last shoulder-focused inflatable PFD is another offering that gives you both a secure fit and maximum mobility. The M-24 may appear incredibly similar to the Automatic, but it chooses to do things in its own way.
Where the Automatic shined in its dependability, the M-24 specializes in being reliable. It is one of the few life jackets on the list that have a fail-safe feature. You see, to activate this device, you've got to pull on a cord located in the front.
However, in case you are one unlucky fellow and the jacket doesn't activate, you can choose to inflate it manually. The M-24 has a backup oral inflation system that'll get you out of a pinch in a worst-case scenario situation.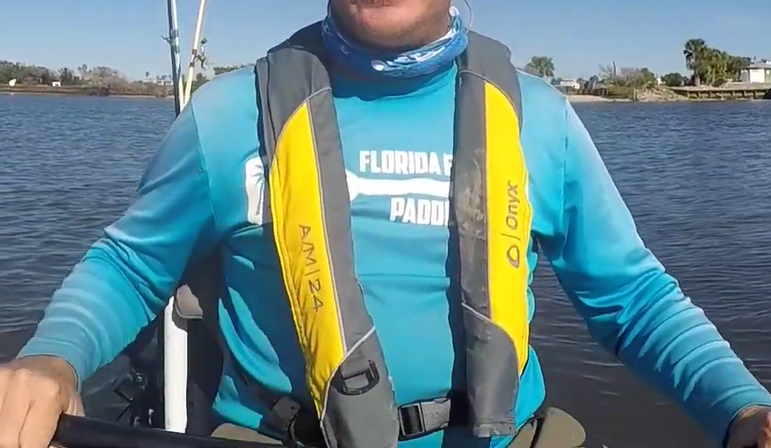 While the M-24 may not have automatic inflation, it does have comfort padding spread throughout its structure. Longevity and efficiency shouldn't be an issue. A whole assortment of synthetic materials was used to make the base and shell of this PFD.
What you end up with is a comfortable and reliable sup paddle board safety net.
Features
Life Vest Type: Type V
Build Materials: Synthetic
Best Feature: Low profile design
Item Weight: 1.46 pounds
Area Worn: On your shoulders
Pros
Fantastic design that is worn on your shoulders and stays out of the way.
Despite its low weight, this PFD is suitable for anyone over the age of sixteen years old.
Has a backup oral inflation system should the pull cord fail to activate the straps.
Cons
Does not have automatic inflation but has a great backup fail-safe system in place.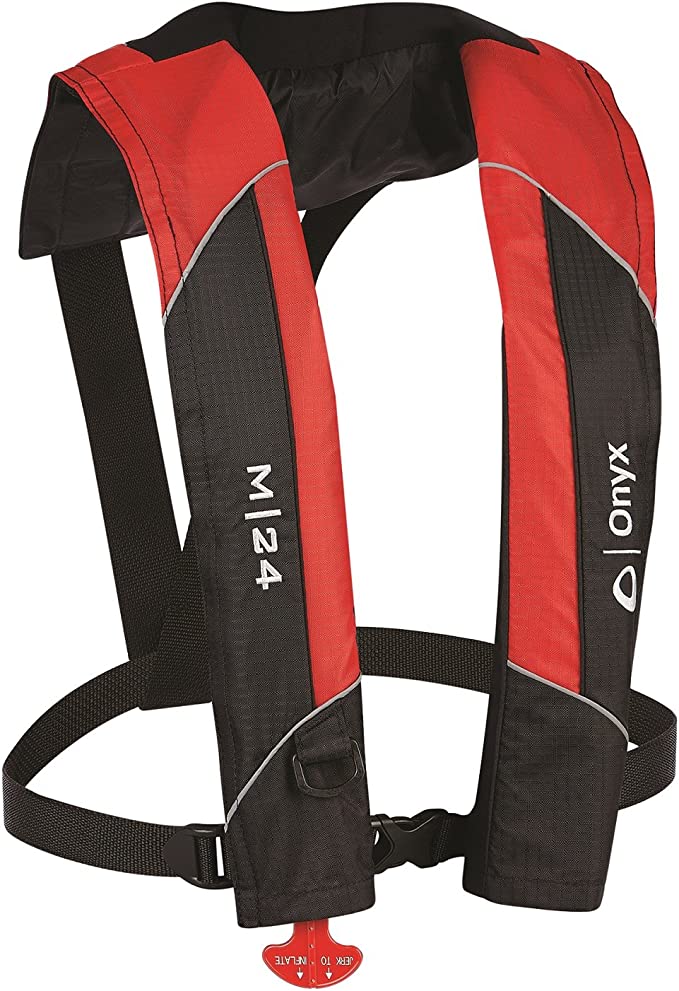 Absolute Outdoor Onyx M-24
The Price of " Absolute Outdoor Onyx M-24" varies, so check the latest price at

All of the life vets and flotation devices on this list offer you great floating capabilities. Keeping your head afloat and providing you with a safety net that you can rely on in any situation. However, some of these designs can prove to be cumbersome.
Even those that are smaller in size can't match up to the Stearns suspenders. This type three PFD was constructed from a blend of durable and extra-strength synthetics. Delivering the perfect concoction of longevity and float.
Even when inflated, this device refuses to burden you. The Stearns suspenders is more of a belt pack than actual suspenders. When it inflates, you are placed on your back. The giant pouch lifts you up while still providing full mobility to your arms and legs.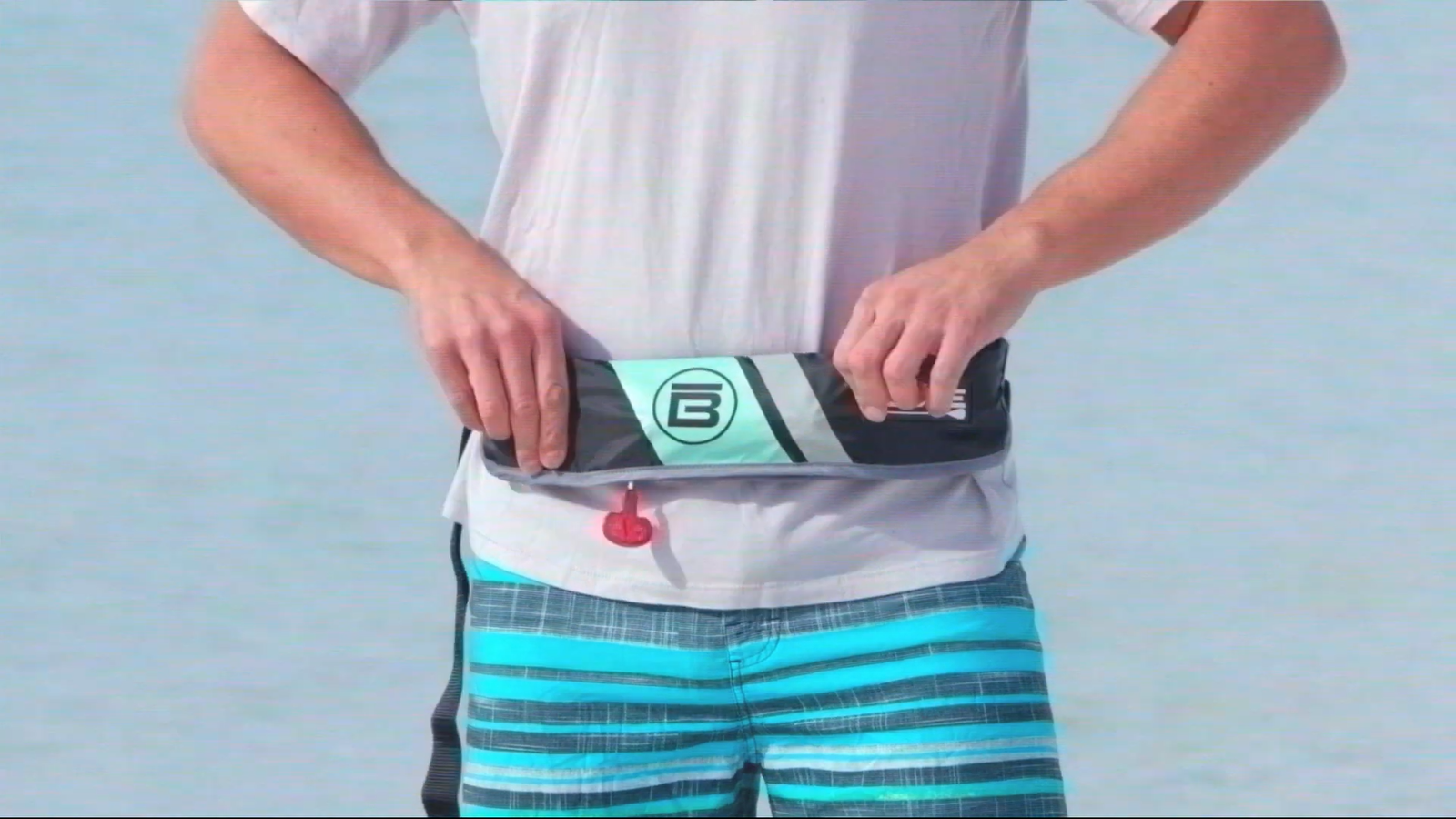 Thanks to its small size, this belt pack fully inflates in a matter of seconds with a simple pull of a lanyard. If you had any doubts about the efficiency of the Stearns suspenders, rest assured that this device is a US Coast Guard-approved design.
The only downside that I see here is that this isn't a stable design for those that aren't strong swimmers. Besides that, there are no shortcomings here.
Features
Life Vest Type: Type iii PFD
Build Materials: Blend of synthetics
Best Feature: Small and easy to bring along
Item Weight: Half a pound
Area Worn: Around your waist
Pros
With these suspenders, you get the best freedom of movement and comfort.
Cool belt pack that manually inflates with the pull of its lanyard.
Coast Guard-approved design and functionality.
Cons
This is not a PFD for those that are not experienced paddle boarders or swimmers.

STEARNS Suspenders
The Price of "STEARNS Suspenders" varies, so check the latest price at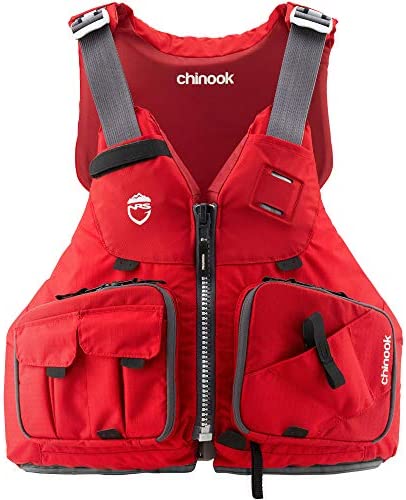 Paddle boarding is an activity that is usually done in a small body of water. However, there are individuals that like to head out to sea with their board. This is something that is definitely on my bucket list. But it's not all glitz and glamour. The ocean is a beast.
For the daredevils and adventurers among us, the Chinook life jacket wants to give you a fighting chance. This is the right life jacket that specializes in being visible from a long way out. Of course, it has wonderful flotation abilities. Filled with PlushFit foam that gives it lift without fattening up the design.
But its key feature is visibility. Colored a bright Bayberry red and without a single inch spared. It would be difficult to remain lost with this bad boy on. Furthermore, the exterior of this life vest is dotted with several pockets.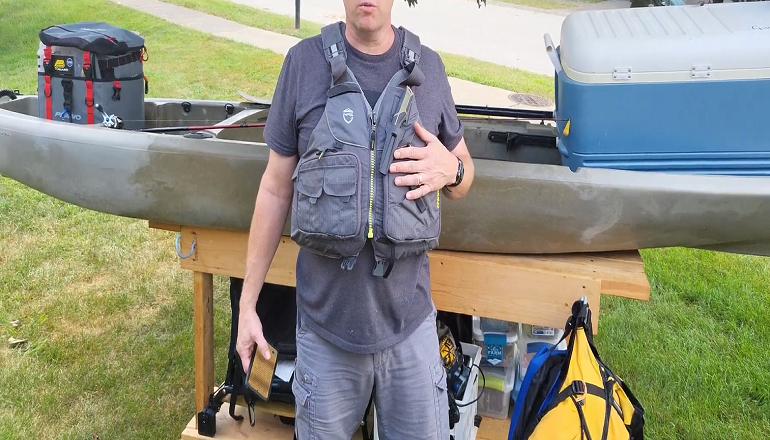 Organizing and maintaining any necessary gear will be easy. There is even a dedicated tool zippered pocket. You gotta love little details like that.
The last thing I'll mention is the mesh sides and back panels that provide you with ventilation for those days when the sun won't quit.
Features
Life Vest Type: Type iii PFD
Build Materials: PlushFit foam
Best Feature: Bright and visible color
Item Weight: 1.81 pounds
Area Worn: Over your chest
Pros
I love the comfortable fit and vibrancy of this life vest. It makes you easy to spot from any distance.
Comes with several zippered pockets and one dedicated tool holder pocket.
Has mesh sides and mesh panels on the lower back that offer up great ventilation with multiple adjustment points.
Cons
Could have benefited from more flotation foam.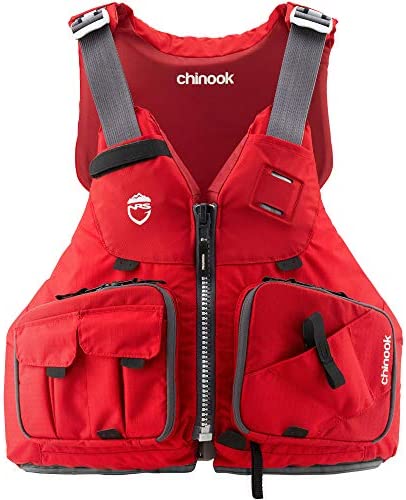 NRS Chinook Fishing Kayak Lifejacket
The Price of "NRS Chinook Fishing Kayak Lifejacket" varies, so check the latest price at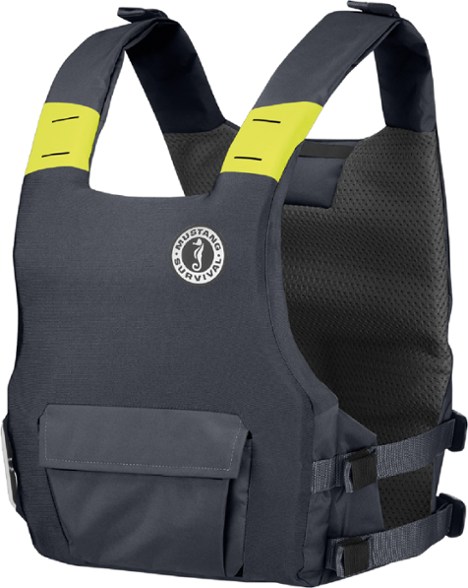 The Mustang Khimera gave me a lot to appreciate. With a name like Mustang Khimera, I knew that, at the very least, this flotation device would be a solid pick-up. In reality, it proved to be much more than that.
From within, a nylon and spandex inner shell stretch and conform to your body's natural shape. Not bogging you down in any way. The weight was kept low. Weighing in at only one pound would mislead you to believe that it isn't durable.
Wrong assumption.
The outer shell is made from a thick Cordura polyester that is more than up to the task. A dual flotation system powers this entire life jacket. Providing you with an insanely efficient system that has no trouble maintaining your head above water.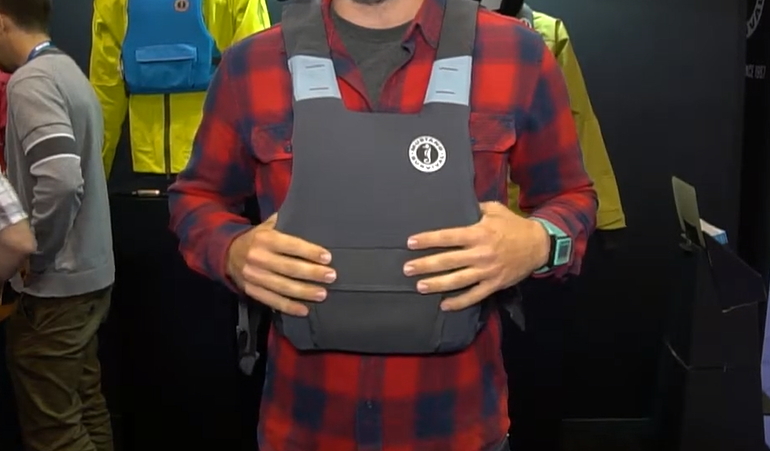 This life vest isn't an afterthought, it's a solid contender.
Features
Life Vest Type: Type iii flotation device
Build Materials: CORDURA polyester Oxford
Best Feature: Nylon and spandex inner shell
Item Weight: 1 pound
Area Worn: Over your chest
Pros
This life jacket has an intricate build that incorporates quality materials in various areas.
The spandex inner shell is flexible and comfortable. It won't rip apart, thanks to the nylon inseams.
Has a dual flotation system for improved performance.
Cons
Only two color options to choose from, and one is a dull gray color.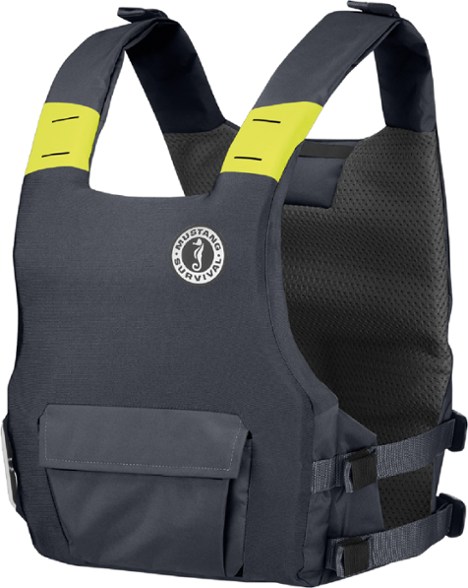 Mustang Survival
The Price of "Mustang Survival" varies, so check the latest price at
What to Know Before Buying a Personal Flotation Device
We've run through the best life jackets for paddle boarding, and now's the time to dig deep. I will be explaining to you the key features that personal flotation devices should have or excel at.
It's important to know the following information about your paddle board life vest because then you will know what scenarios it is best suited for. For example, a type iii life jacket is perfect for canoeing and paddle boarding near the shore.
However, these kinds of life jackets aren't designed to turn your face upward should you pass out. They also aren't built for long-term usage. Knowing the intricacies of your life jacket helps you use them more efficiently.
Buoyancy and Float
Every life jacket has a minimum buoyancy rating. What this rating determines is how much weight that life vest can hold up in the water. Now comes the confusing part. You may have noticed that each paddle board life jacket listed above has a rating of twenty pounds, fifteen pounds, and so on.
No doubt that you are wondering how one of these life vests is enough to hold up a fully grown man or woman. The thing is that our weight, and the weight of anything, changes in the water.
An average two-hundred-pound individual will weigh around ten pounds when fully submerged in water. There is some math involved, but generally, the higher the buoyancy rating, the more weight it can handle.
The Sizing and Fit of Your Life Vest
You'll want to get the size of your SUP life jacket correct for more than just your comfort. If a SUP life jacket is too big for you, then it will not effectively hold you up in the water. This is because you will sink partially while your life jacket floats to the surface.
Fortunately, determining what size life jacket you need is a lot easier than figuring out buoyancy ratings.
Put on your life jacket of choice and then attempt to slip three fingers into the space between your shoulders and the life jacket shoulder straps. If you can fit them in, then your life jacket is too big and will not adequately keep you afloat.
Remember that life jackets are sized depending on your chest size. However, certain personal flotation devices like the Onyx M-24 are worn around different parts of your body. The three-finger rule still applies, you'll want a snug fit.
Getting a Comfortable Life Jacket
A comfortable PFD is one that fits on right and doesn't bog you down. Minimalist designs such as the STEARNS Suspenders are great because they don't over-encumber you, but they won't offer as much flotation foam as the Astral Greenjacket.
Remember that a snug fit will be the most comfortable for you. Nobody wants to mess around with something that is loose.
Special attention should also be paid to the shoulder straps. Most life jackets have them, but only a few will offer convenient features such as adjustable waist straps or adjustable straps in general.
Comfort is all about security, a slim fitting life vest may feel great, but the best PFD is the one that can safely keep your head afloat.
How Does Your Life Jacket Inflate?
A SUP life jacket doesn't always inflate automatically, nor does it always come pre-inflated. Different inflatable life jackets for paddle boarding will have their own unique inflation method.
Some jackets do have automatic inflation, while others have a pull cord for manual inflation. Further still, sometimes the automatic system fails, which is why a great life jacket for paddle boarding will have a fail-safe pull cord.
The MoveVent Dynamic is an automatic inflatable life jacket, while the Onyx M-24 is a manual life jacket. I would recommend that beginner paddle boarders use life jackets for paddle boarding that have an automatic inflation system.
Beginners tend to panic, and this is one way to counteract that.
Easy to Use?
Continuing from the previous section, how much inherently buoyant your personal flotation device is important, but how easy it is to use is equally so.
Why? Because falling overboard can be a pretty intense situation. Many paddle boarders, especially beginner paddle boarders, may panic. If you have ever panicked before, then you know that even the most obvious things are forgotten amidst the chaos.
A personal flotation device that is easy to engage with is a game changer. Small accessories and features such as an adjustable waist strap, a zipper pocket, and reflective accents all increase the usability of your life jacket.
Making it easier to wear them and, by extension, paddle board in them. Ease of use isn't just about activating a life jacket's flotation foam. It's also about how easy they make it for you to focus on paddle boarding and not your gear.
FAQs
What Is the Best Life Jacket for Paddle Boarding?
The best life jacket for paddle boarding would be the Onyx MoveVent Dynamic. Simply put, it had everything that you could want in a personal flotation device.
A tough nylon shell that prevents tears and abrasions, expandable zipper pockets that have mesh panels for draining out water, and shoulder straps with neoprene comfort pads.
This paddle board life jacket is a perfect blend of comfort and convenience.
What Size Paddle Boarding Life Jacket Is Right for Me?
Recall what I said earlier, most PFDs are measured and sized for your chest. However, different styles of life vests exist. Even amongst the best life jackets for paddle boarding listed above, you'll find waist belts and full shoulder strap designs.
Regardless of which paddle boarding jacket you choose, make sure that they have a snug fit. If you can slip three fingers between your body and the life vest or if the life vest easily shifts in place, then you'll need something tighter.
My Final Thoughts
Some of us are risk takers, and others are risk averse. However, our personalities shouldn't stop us from taking care of ourselves. You can embark on all of the craziest journeys you want while paddle boarding. Simply strap on a personal flotation device first.
Remember, those additional buoyancy ratings are based on our weight while completely in the water. Whatever paddle board PFD you settle on can be used for all water sports you decide to try out.
The quality of these inflatable PFDs is universal. They'll get the job done so long as you are in the water.