The best shoe for paddle boarding differs depending on the type of paddle boarding you do and where you do it.
There are different types of water shoes with designs ranging from sandals to high-top styles.
Choosing the best paddle board shoes isn't easy, but once you do, you will find paddleboarding much more enjoyable.
While SUP water shoes are not a requirement, they can help keep your feet warmer, prevent you from slipping on your board, assist in protecting your feet from sharp objects, and provide more stability and overall comfort.
Top Pick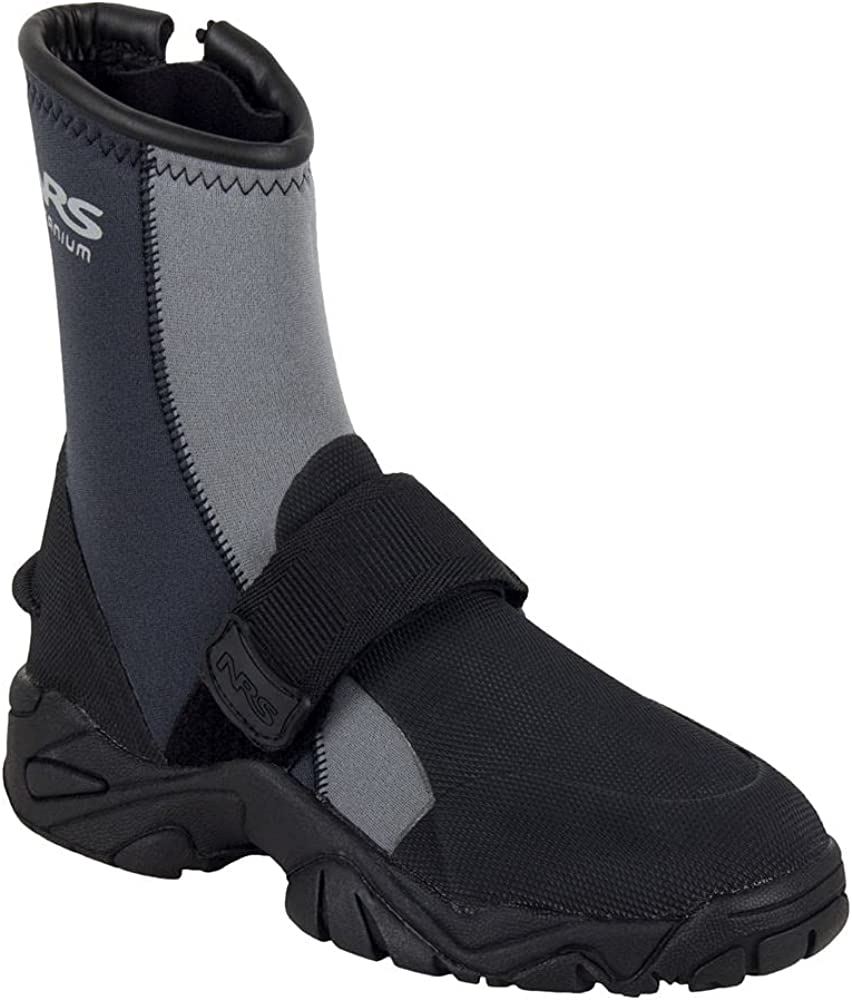 NRS ATB Wetshoe
Item Weight: 3.5 Pounds
Color: Grey
Great Stretchability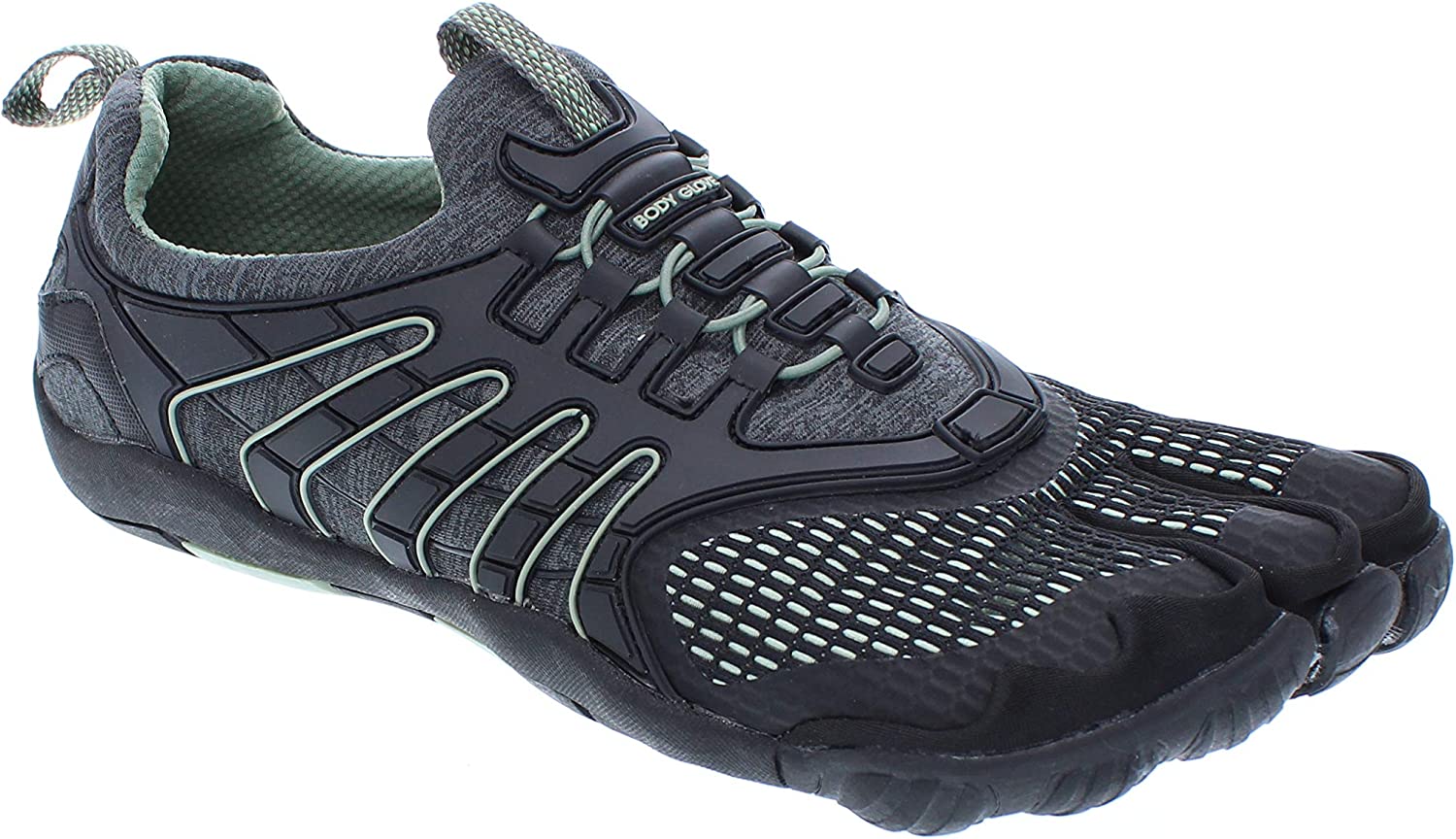 Body Glove Hero
Item Weight: 1.4 Pounds
Color: Black/Agave
Awesome Protection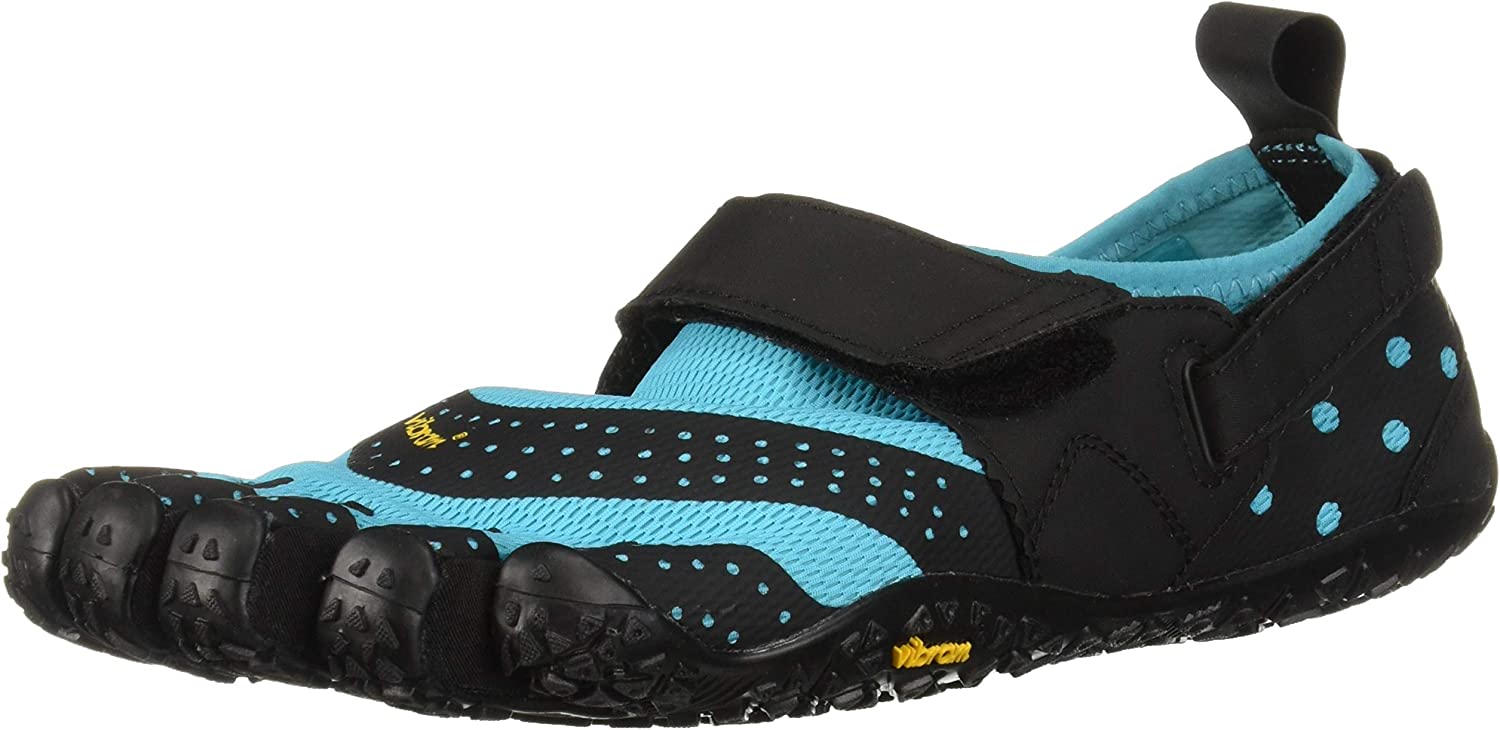 Vibram Five Finger
Item Weight: 10 Pounds
Color: Black/

Light Blue
Amazing Support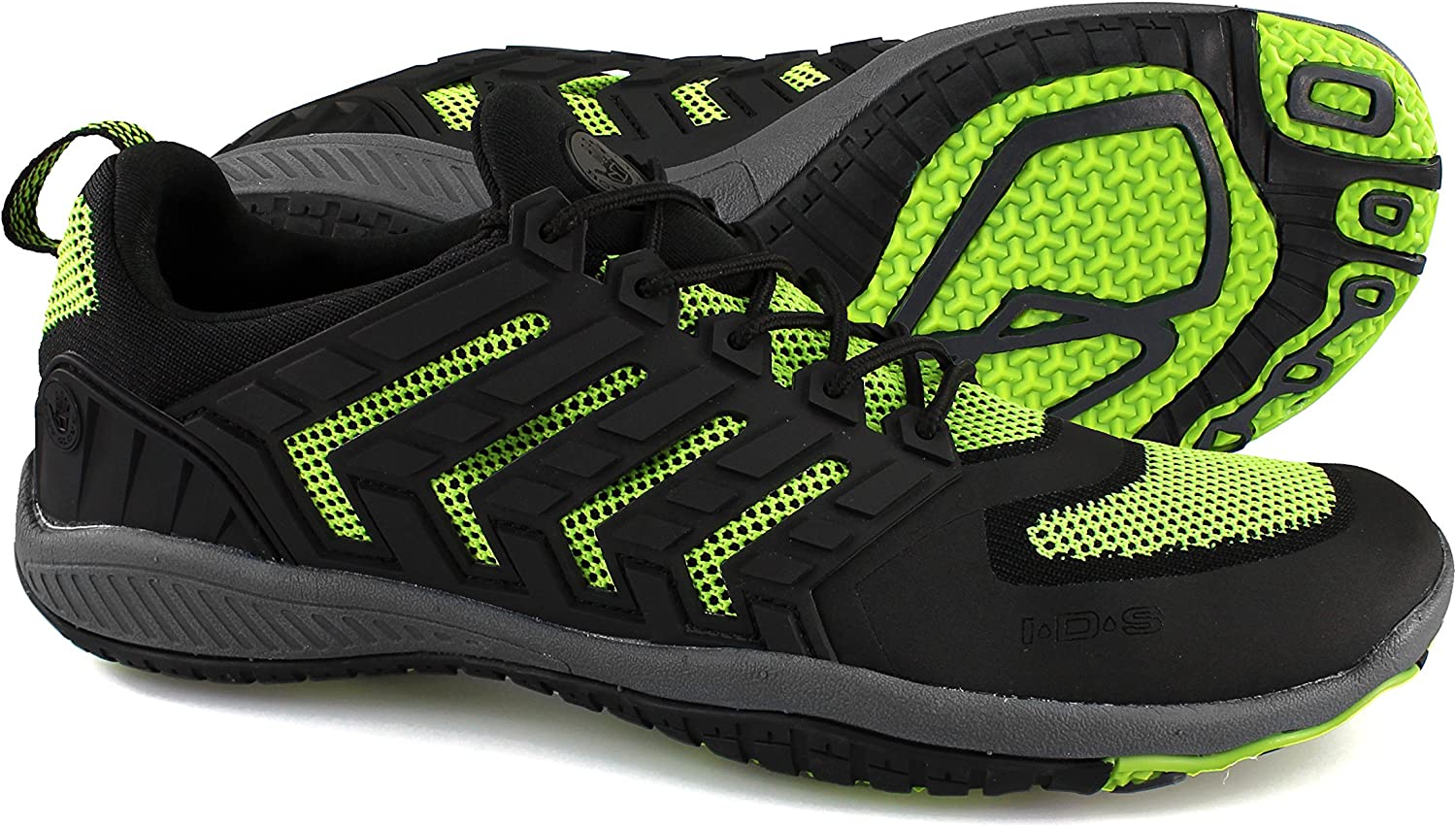 Body Glove Dynamo
Item Weight: 1.75 Pounds
Color: Black/

Green
Super Versatile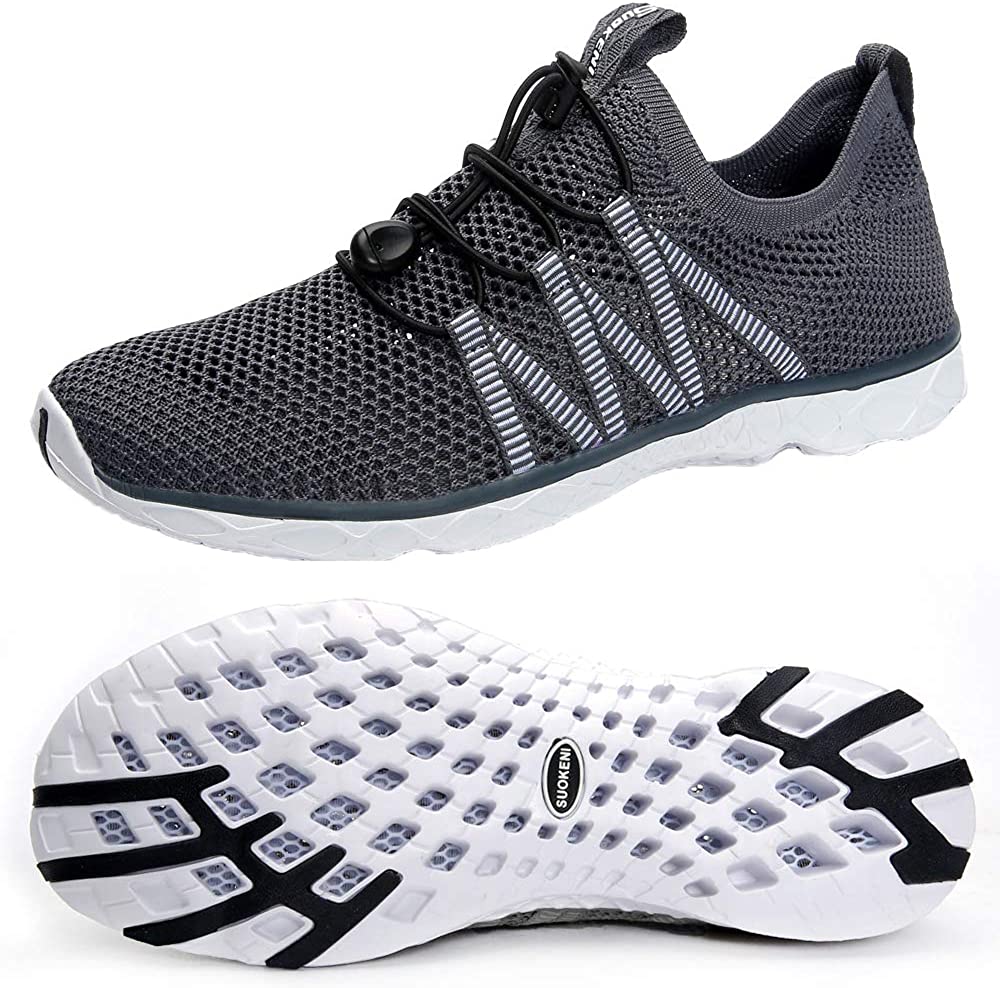 SUOKENI Men's
Item Weight: 0.57 Pounds
Color: Darkgrey
Sleek Design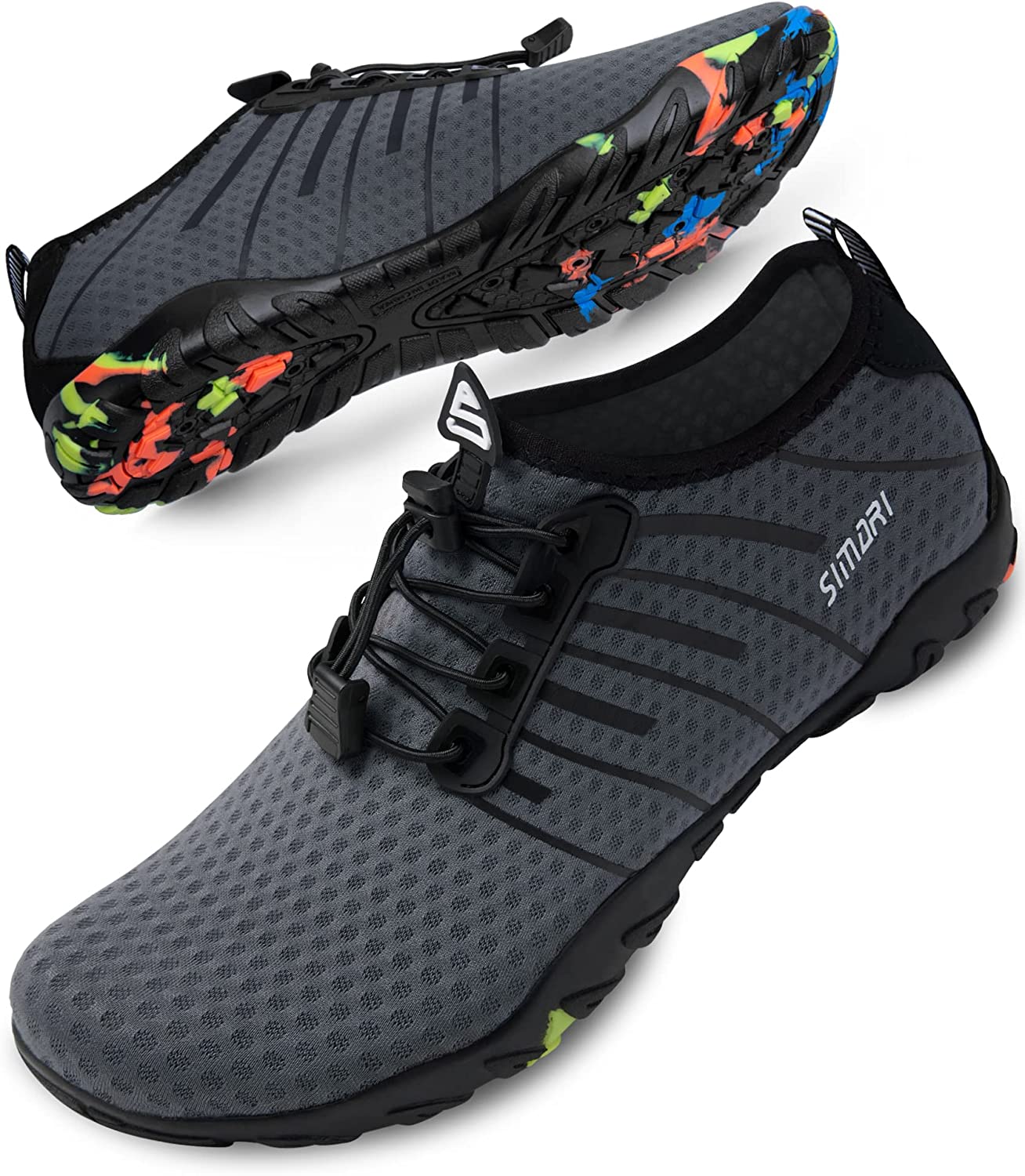 SIMARI Quick-Dry
Item Weight: 0.59 Pounds
Color: 1b-gray With Shoelace
Terrific Portability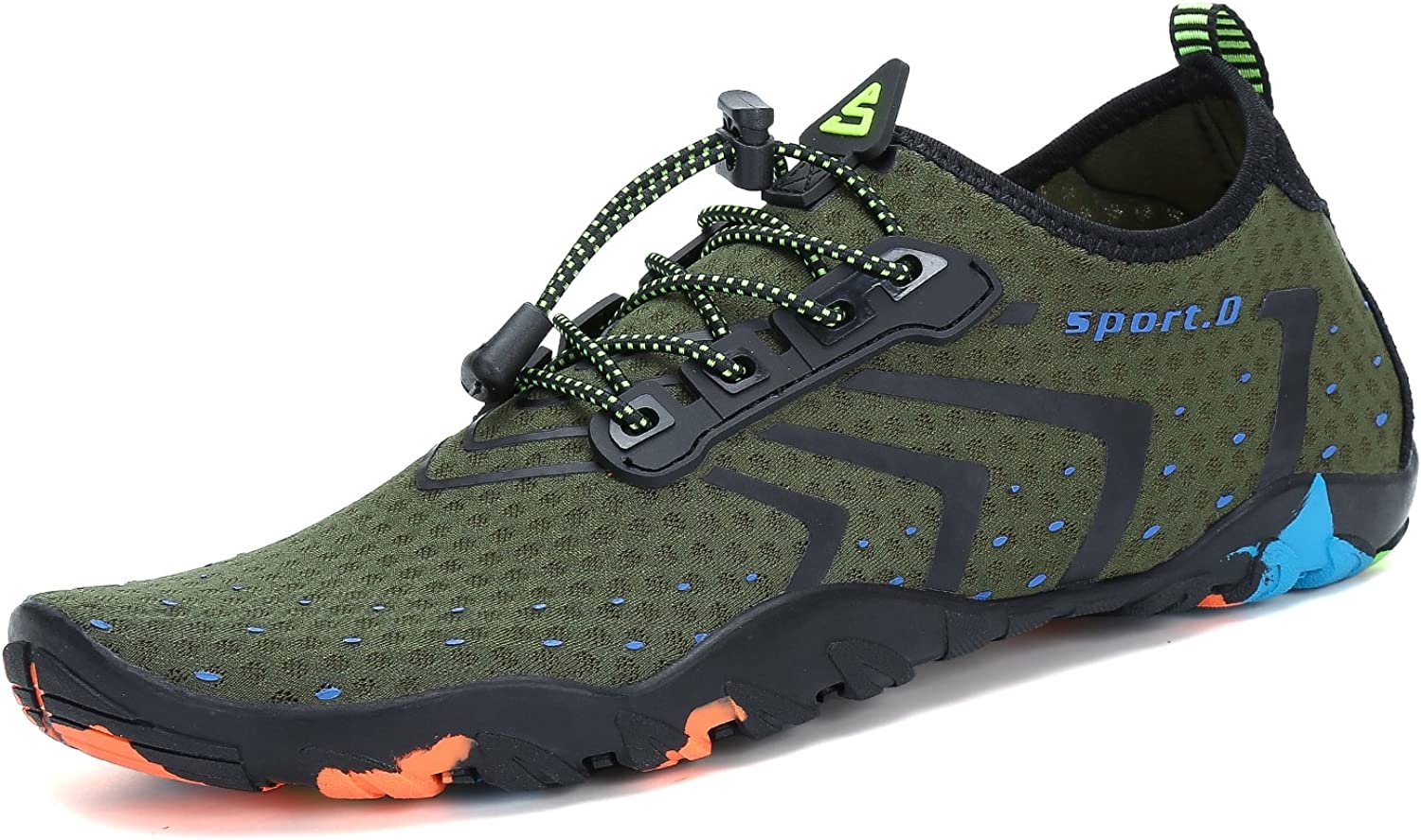 Kararao Quick-Dry
Item Weight: 0.57 Pounds
Color: A21 Green
Open Sandal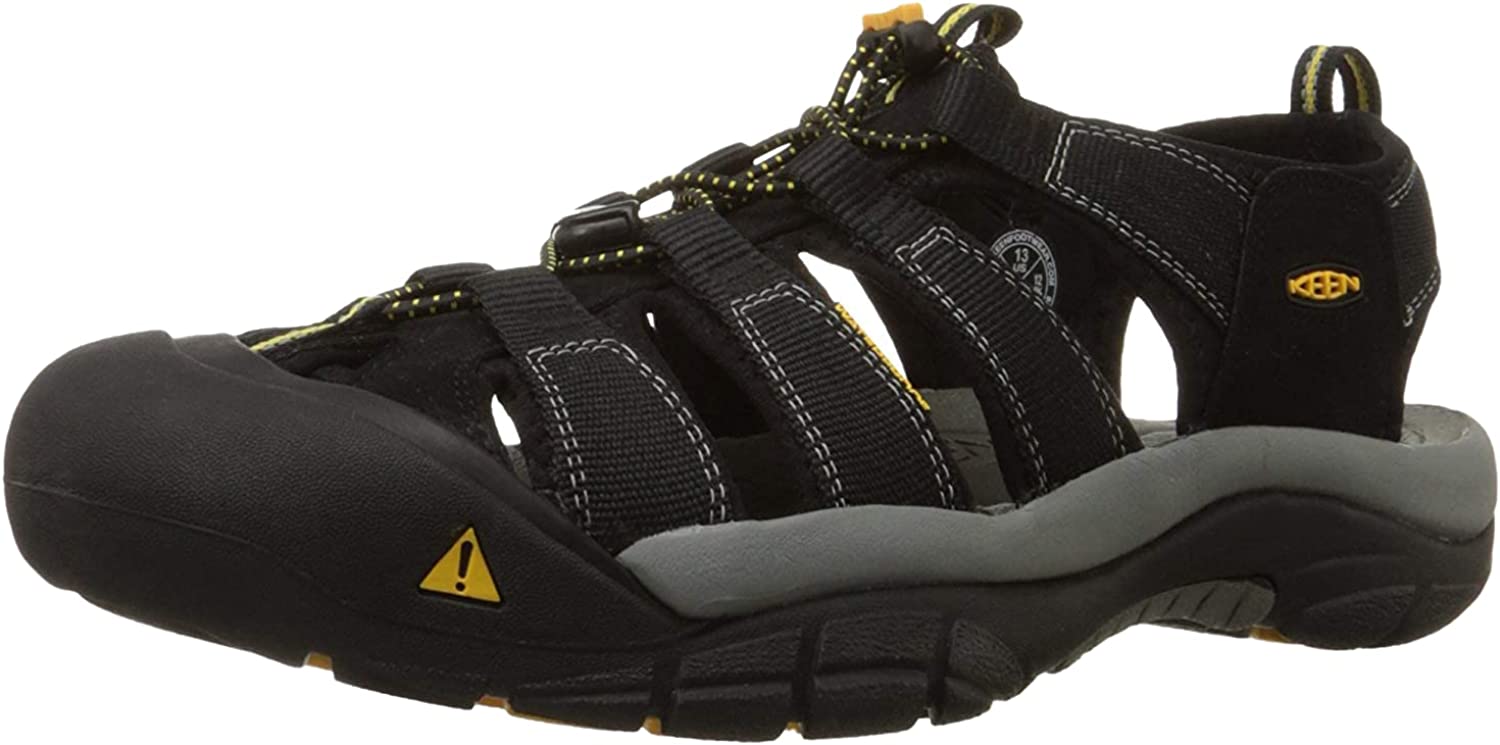 Keen Men's Newport
Item Weight: 1.98 Pounds
Color: Black
Superb Durability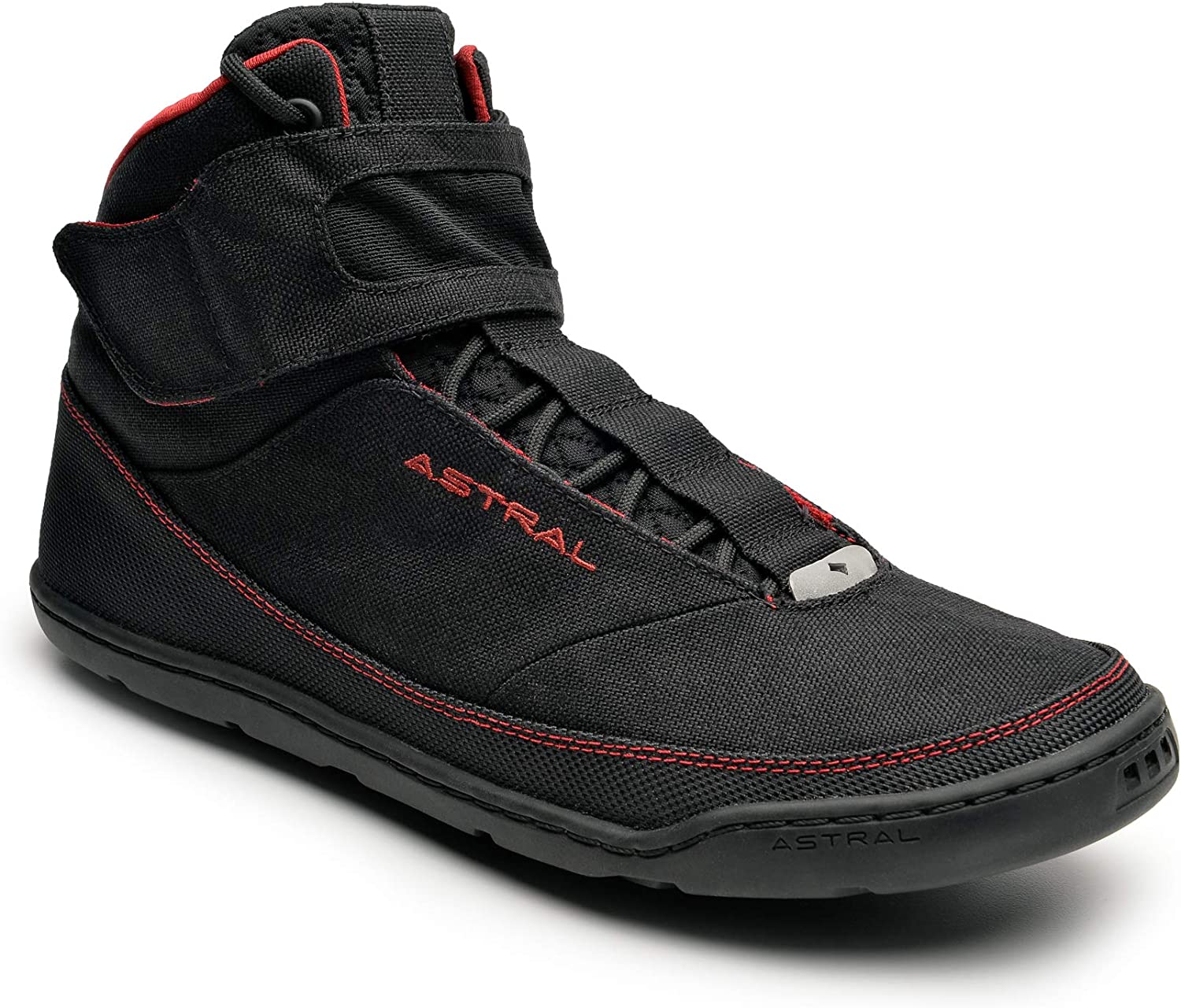 Astral Hiyak
Item Weight: 1.55 Pounds
Color: Black
Best Shoes for Paddle Boarding
When choosing the best water shoes, you should consider how they feel, how well they protect your feet and their affordability.
Read on to learn more about the best water shoes for paddle boarding and enjoy your water adventures in style!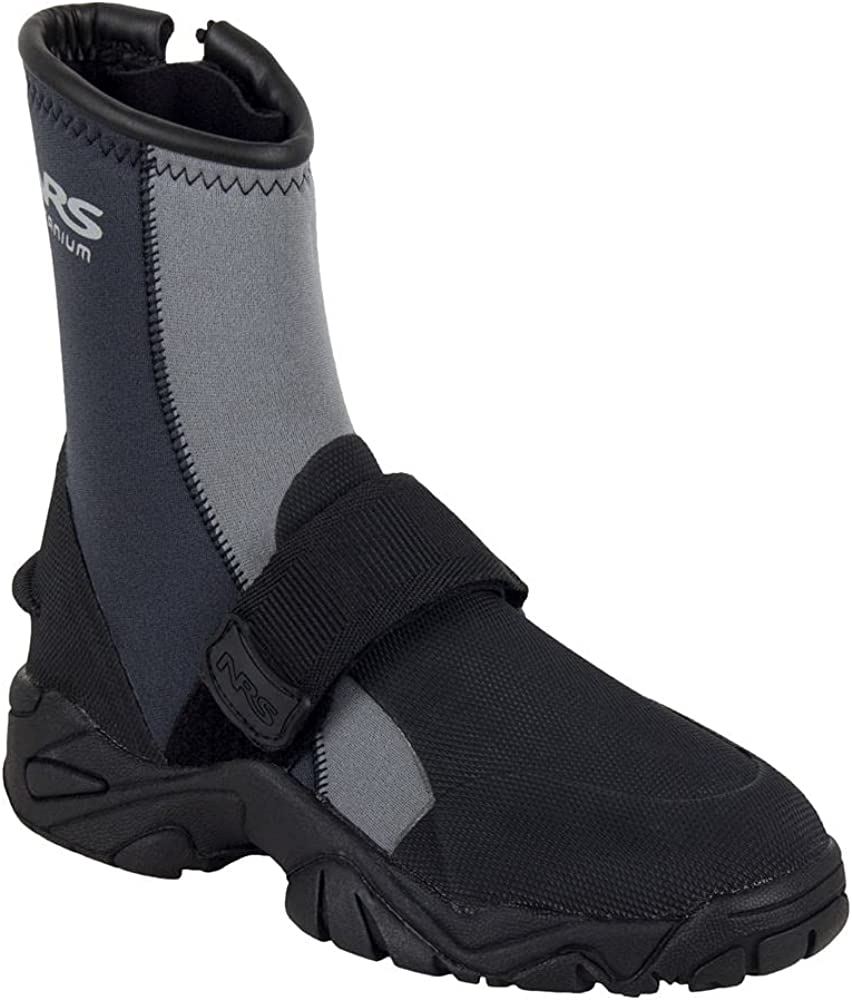 The NRS ATB Wethshoe is super comfortable and durable. They have amazing grip on all different surfaces, and I found that they made it easy to walk on the bank and slippery rocks. Winter paddling in shallow water sometimes means getting off your board and trudging through algae-covered wet rocks or creek bottoms that are slippery.
I never lost my footing or slipped while wearing these, even when pulling my board up a steep, swampy bank. I was able to wear heated socks with them and didn't have any problems with rubbing or discomfort.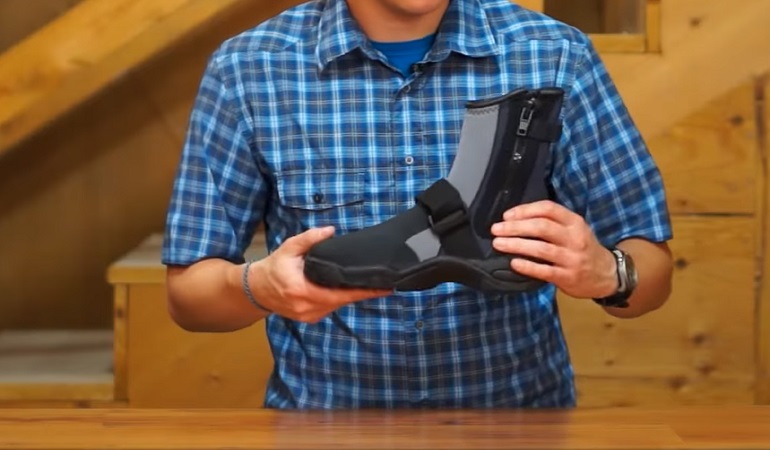 In fact, I had a pretty long trek with my board and gear, and my feet stayed warm and comfortable the entire time. I feel like they run slightly small, so if you plan to wear them with socks, you may want to size up.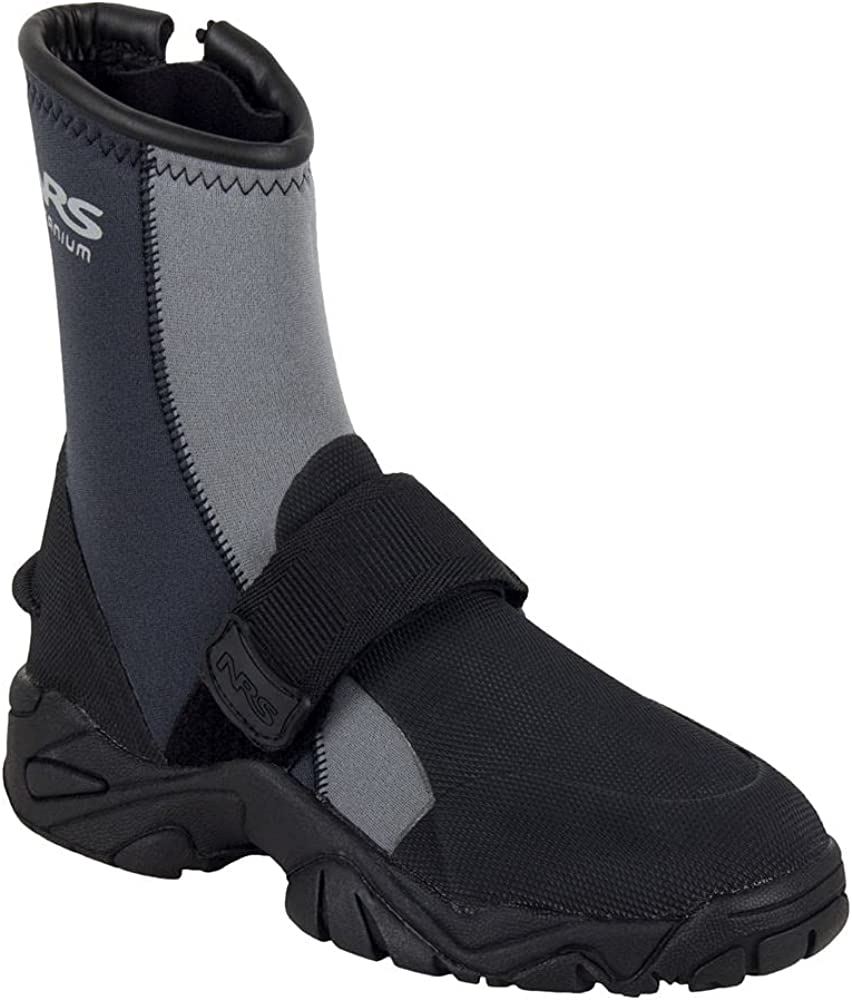 NRS ATB Wetshoe
The Price of "NRS ATB Wetshoe" varies, so check the latest price at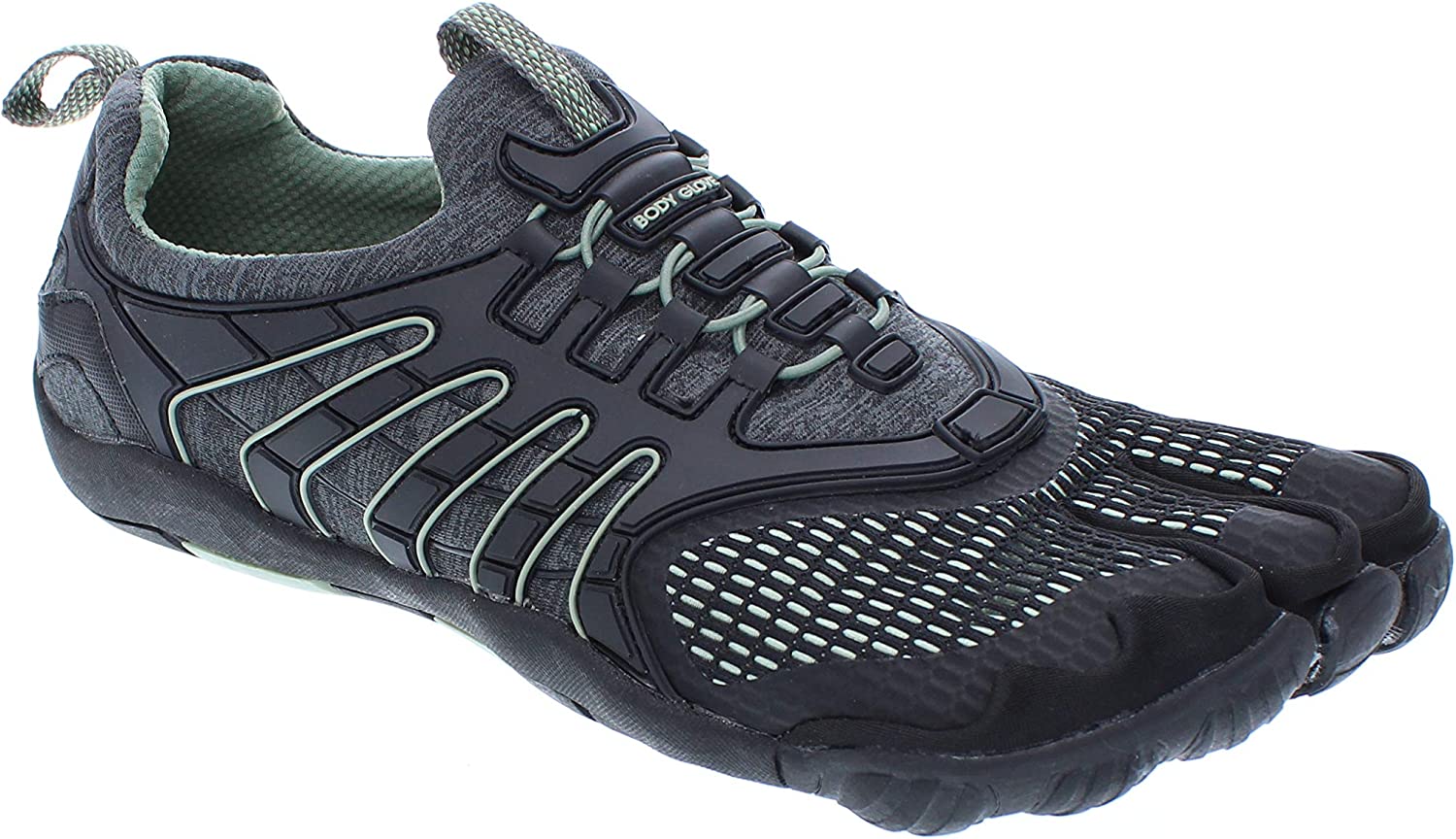 Although some toe shoes are hard to get off and on, these ones don't seem to cause this issue. They have plenty of stretchability, and it's easy to slip your toes right in the correct spots. I also found them comfortable.
I was really surprised at how comfortable they were to hike in, even with three toe design. Normally I find the three-toe design hard to walk in for long periods, but that wasn't the case with these shoes.
I often paddle in areas that can only be accessed by hiking, so wearing one pair of shoes for the hike and on the water is a huge convenience because it means less to carry.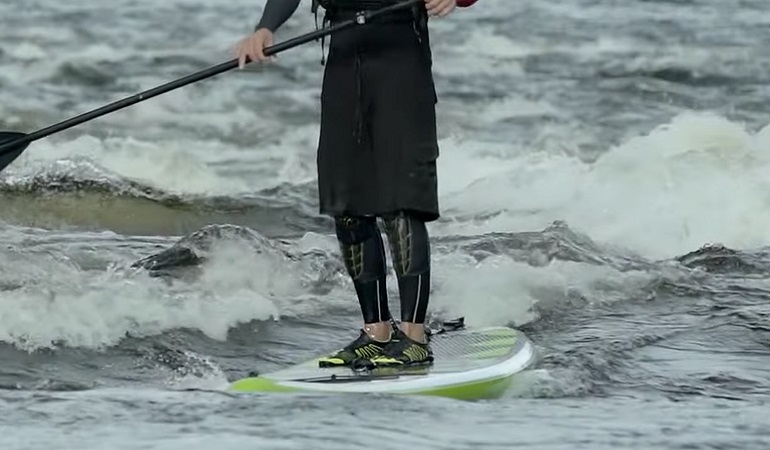 I noticed that the elastic around the ankle stretches pretty easily, allowing water and sand to leak into the paddleboarding shoe after a while. This wasn't an issue every time I wore them, but I'm afraid it will occur more often after they are broken in.
The body glove performer 11 is the best compatible paddle board with this body glove hero water shoe.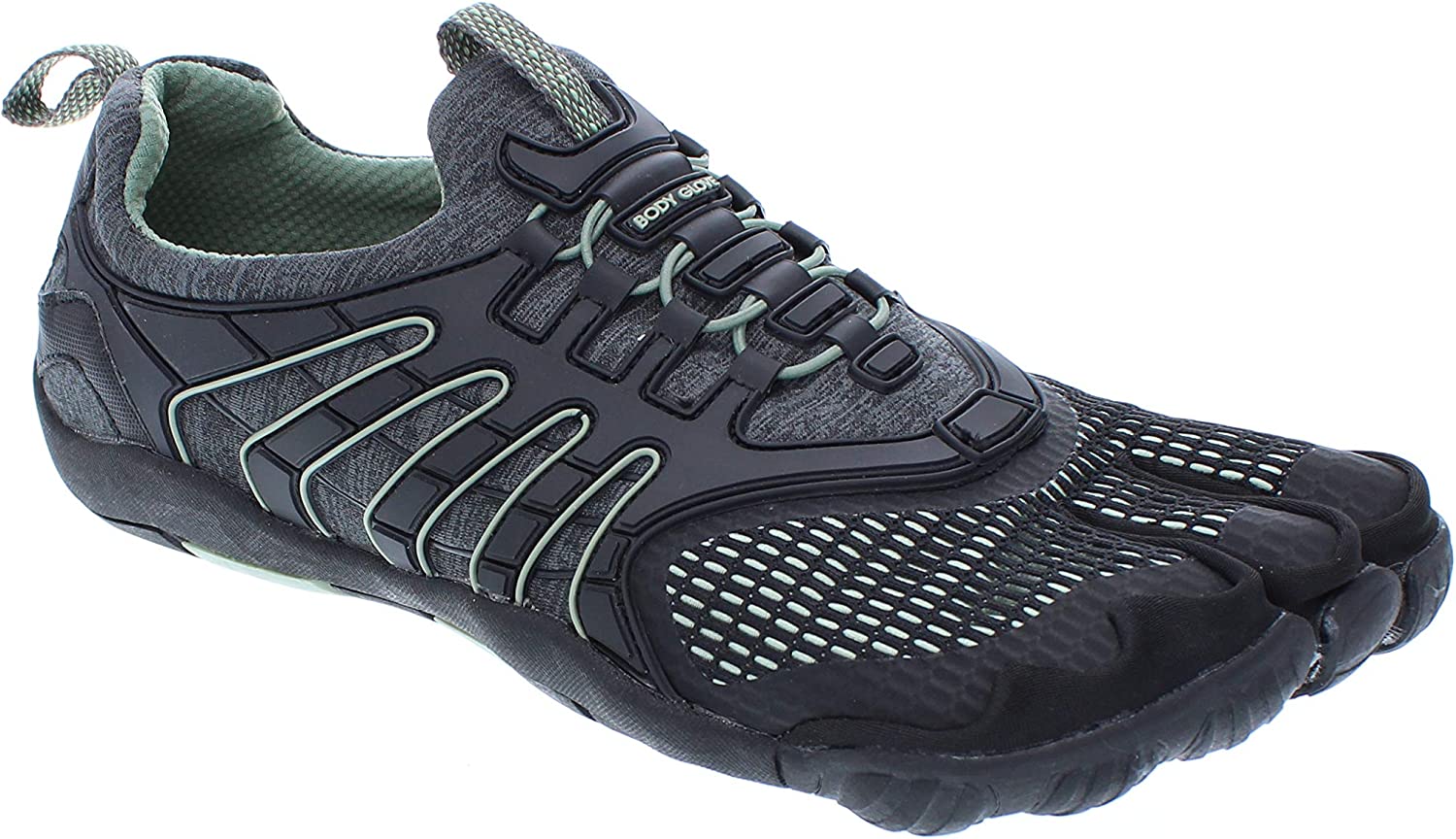 Body Glove Hero
The Price of "Body Glove Hero" varies, so check the latest price at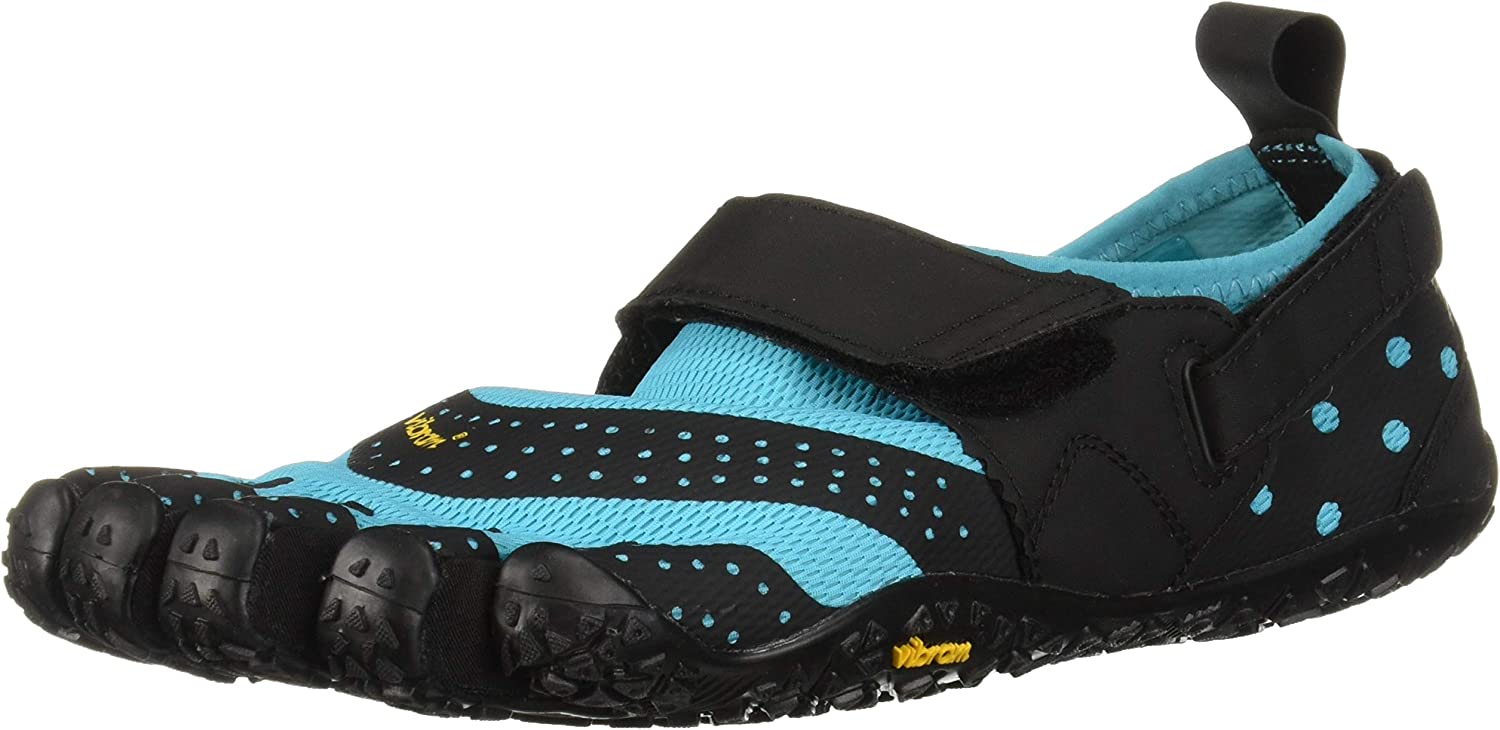 These neoprene water shoes have thick soles that protect against sharp rocks and provide traction on slippery surfaces.
Although they are slip-on water shoes with a five-toe design, they do have velcro straps that help keep them tight around the ankle to keep cold water and sharp objects from getting inside when you are paddle boarding. I have smaller ankles, so this was a wonderful feature for me.
The upper is made of breathable material, so your feet stay warm but don't get sweaty once you are out of the water and walking around. I prefer to paddle in warm weather, and I like to wear my SUP water shoes during the whole trip, so the breathability was obvious and made a big difference on a humid day.
I also appreciate the heel strap that makes it easy to pull them on, even if your feet or the paddling shoes are wet. The velcro strap felt strong and durable, so it seems like it will be able to handle everyday wear and tear from constant pulling.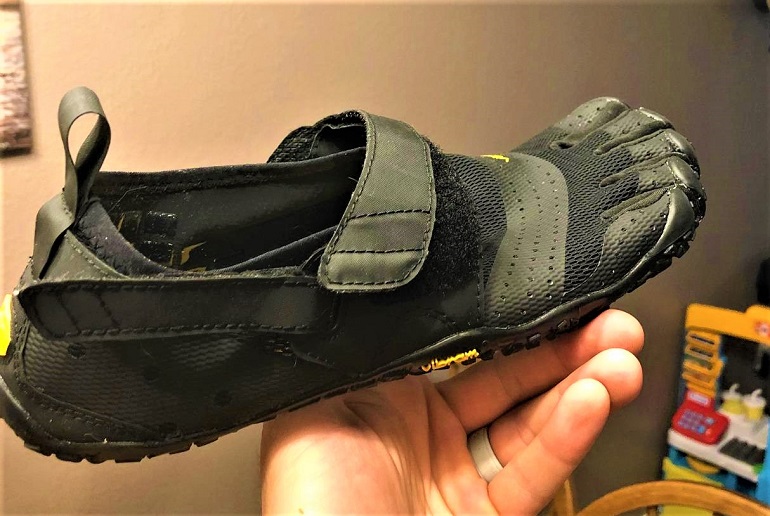 It was slightly difficult to get my toes into the proper spaces for all five toes, even with dry feet. This is common with most slip-on water sports shoes with the five-toe design, but it wasn't a deal breaker for me.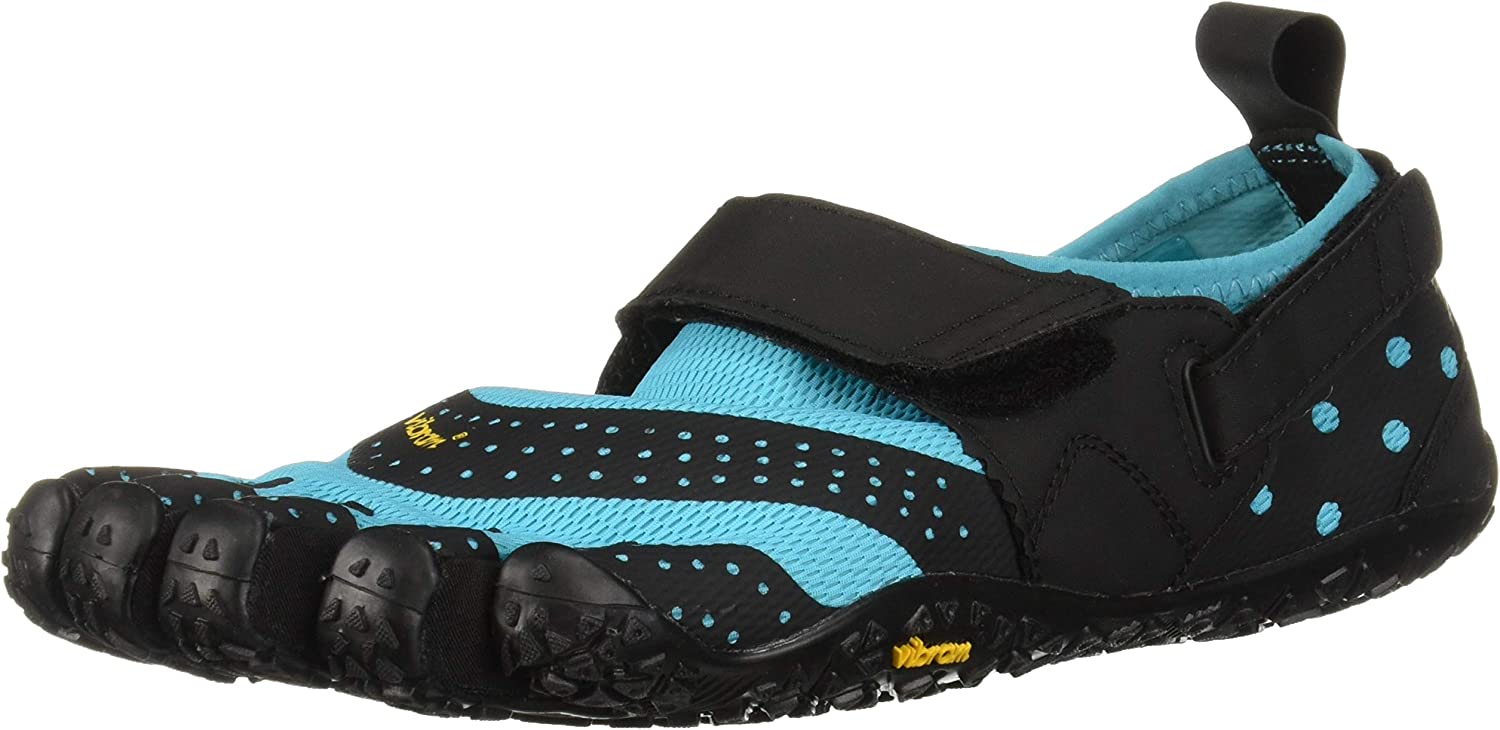 Vibram Five Finger Water Shoe
The Price of "Vibram Five Finger Water Shoe" varies, so check the latest price at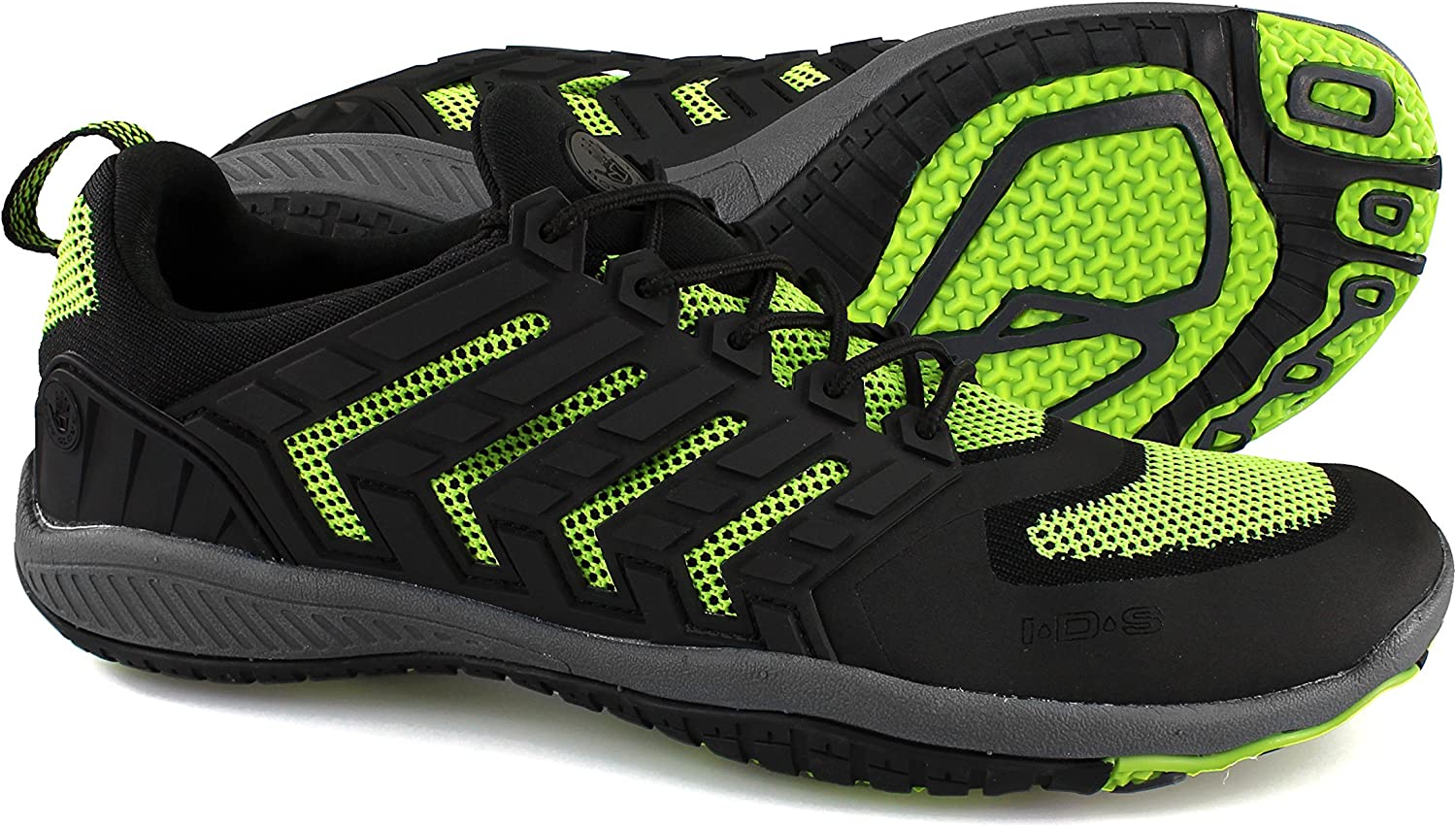 The thick rubber sole of these paddle board shoes makes them one of the best on the market. They have great ankle support, which is hard to find with thin neoprene shoes. They are heavier than other paddleboard shoes, but the added traction and protection make them worth the extra weight.
The rubber outside helps protect wide feet all the way around, and because the rubber sole is so thick, they provide great arch support. I had no problem walking on wet surfaces while carrying my board, and they kept my feet dry and warm throughout my trip.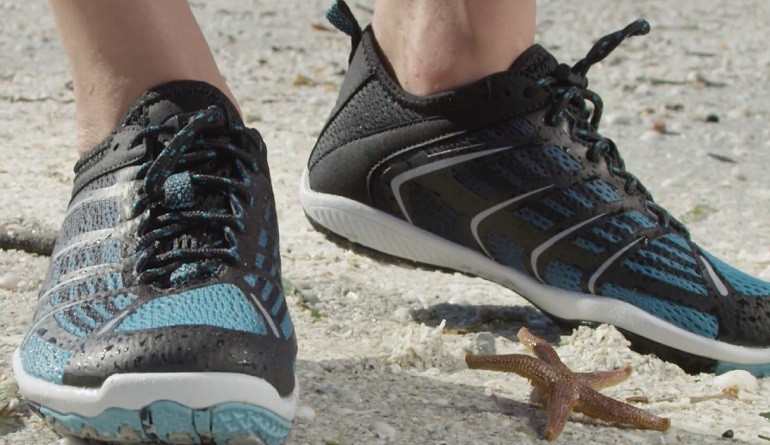 They are also great land shoes for hiking, and that textured rubber sole works well on all types of terrain. My only complaint is that they seem a little narrow.
If you have wider feet or if you like a little extra space to keep your feet comfortable while you stand, you may not find these boarding shoes suitable for your water activities.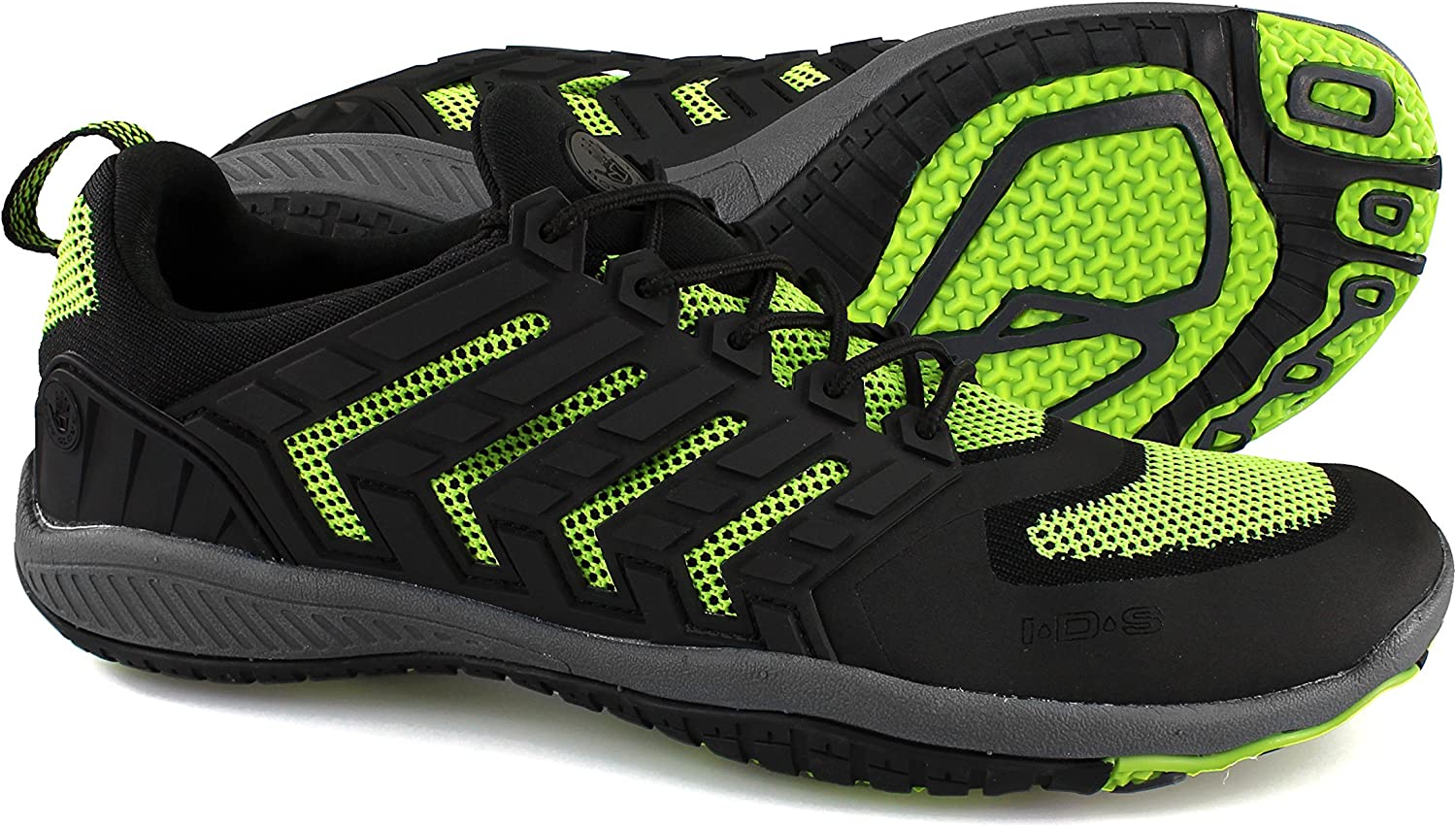 Body Glove Dynamo
The Price of "Body Glove Dynamo" varies, so check the latest price at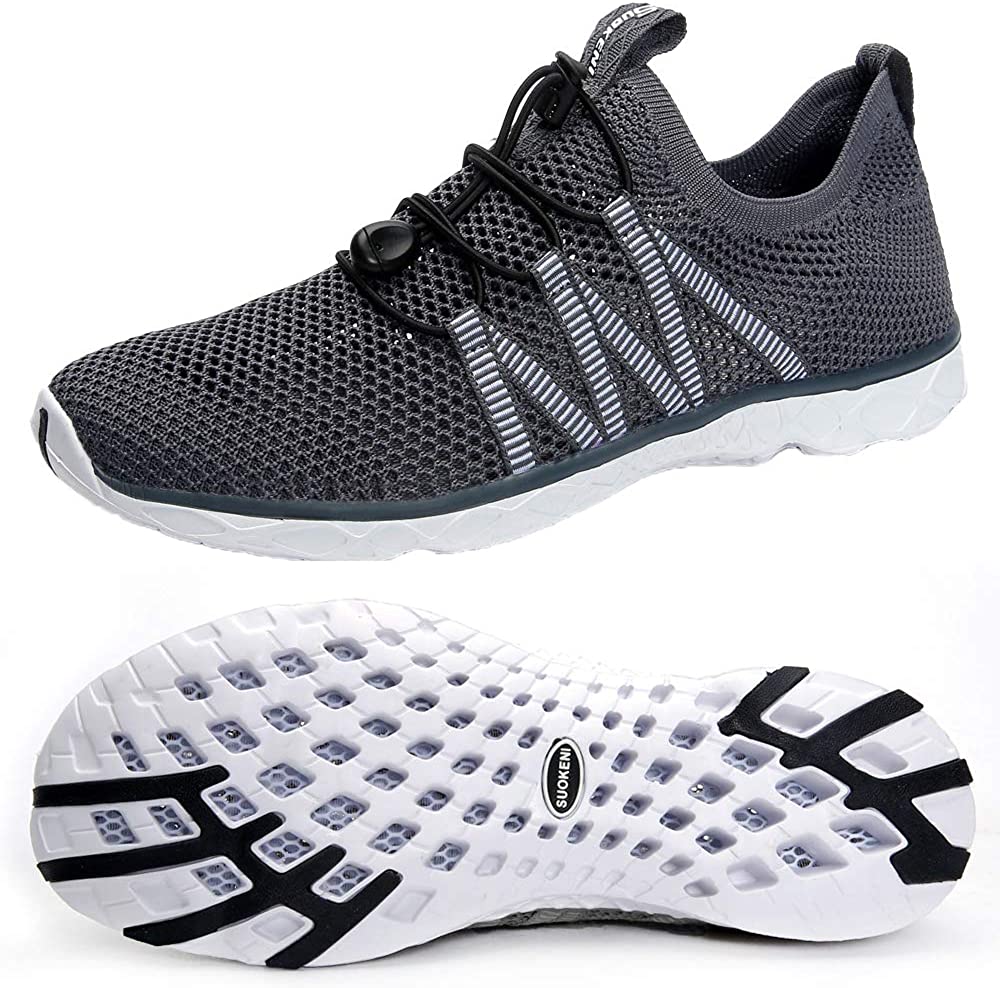 These are a great option if you want paddle-boarding shoes that look and function like land shoes. I like that they come in so many different color options and perfect fit like regular sneakers.
These water shoes have mesh material on the upper that makes them breathable, so you don't have to worry about your feet getting too hot to sweaty in water weather.
The mesh upper also provides adequate water drainage. The outer rubber sole helps with durability and provides some stability for walking on rocky ground or any slippery surface.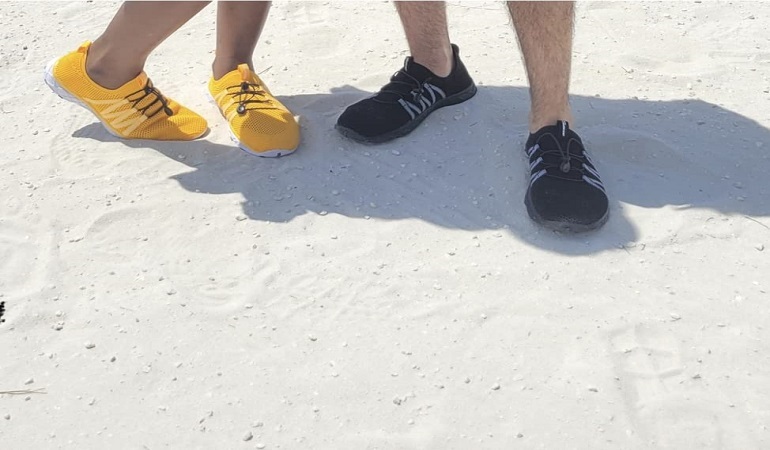 While there are different water shoes out there that provide better traction and more stability, I appreciate that these are lightweight and quick-drying shoes. The integrated drainage system seemed to do a great job of removing the water quickly, and the water shoes provided plenty of stability thanks to the non-slip sole.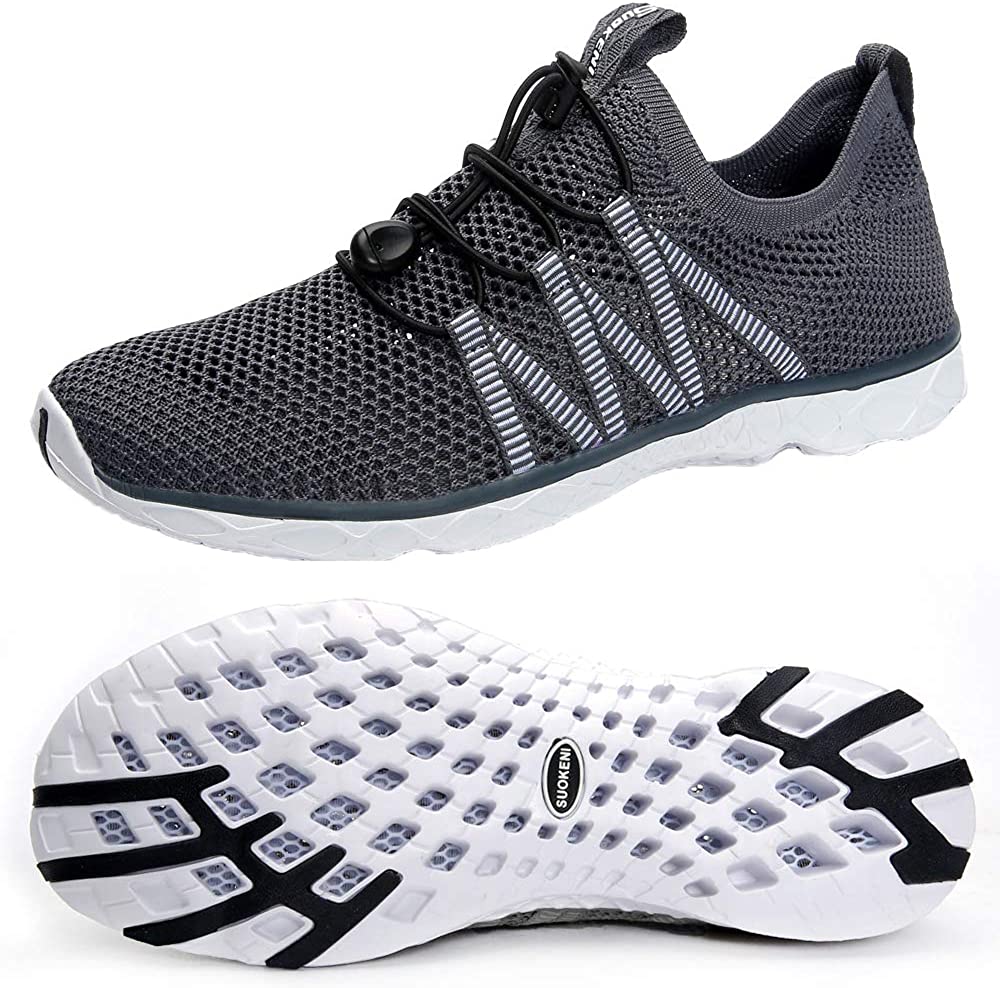 SUOKENI Men's Water Shoes
The Price of "SUOKENI Men's Water Shoes" varies, so check the latest price at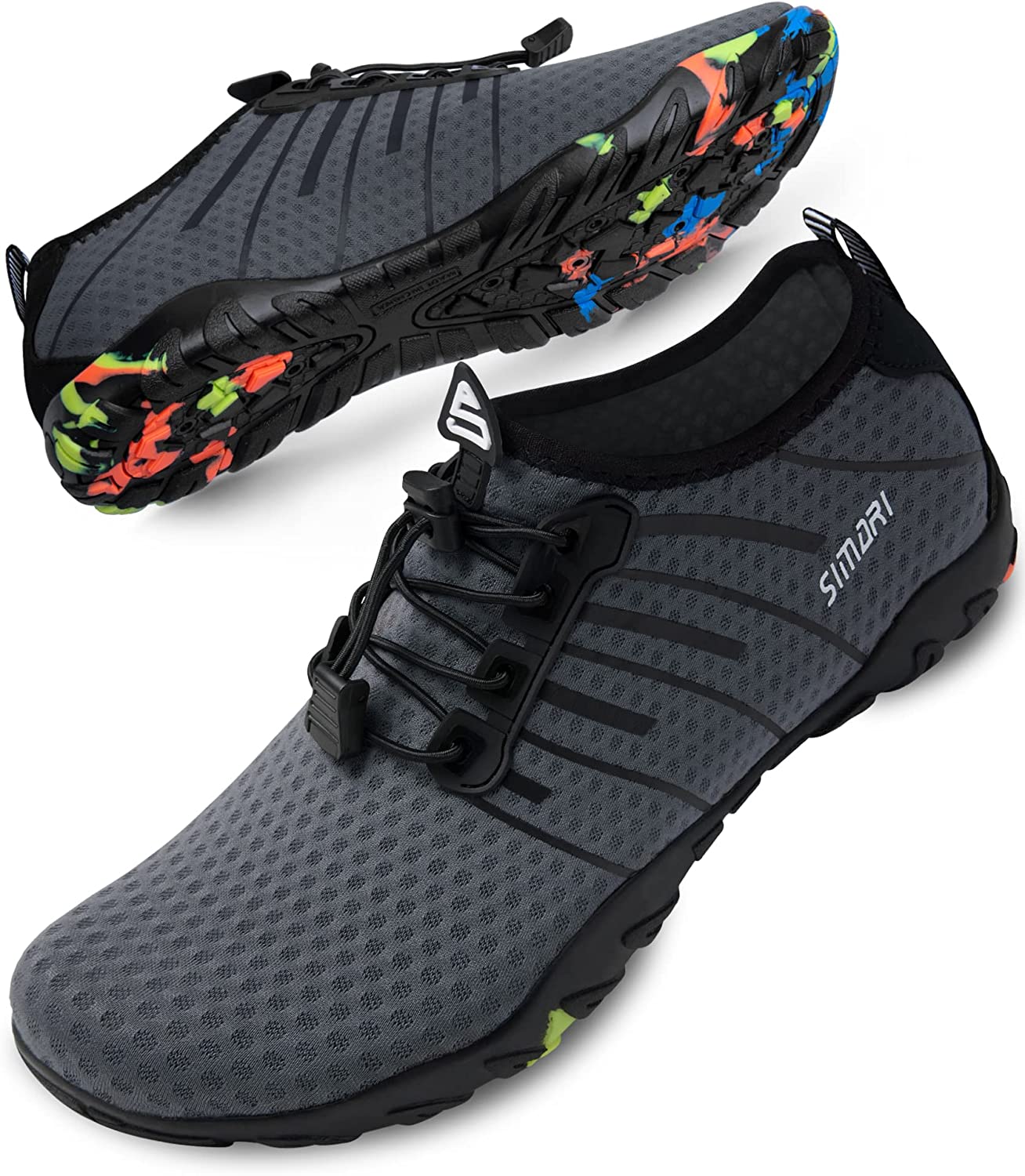 The sleek design of these unisex water shoes was what first appealed to me, but I was equally impressed by the integrated drainage system and overall design. The rubber outsole provides great traction on rocky beaches and in slippery streams.
It's also thick enough to provide toe and foot protection. They are very easy to slip on and off and have ventilation holes to help keep feet cool in warmer weather. The increased airflow means they may not be as suitable for winter paddling or cold weather conditions, but they can handle most water activities.
These Simari water shoes felt tight when I put them on, but after wearing them around the house for just a few minutes, they seemed to loosen up. After getting them wet and taking them off, I noticed they were snug again when I put them back on.
This isn't a problem, and the snugness isn't uncomfortable and works its way out quickly. The elastic laces make it easy to adjust the SUP water shoes so you can tighten or loosen them to match your personal preference.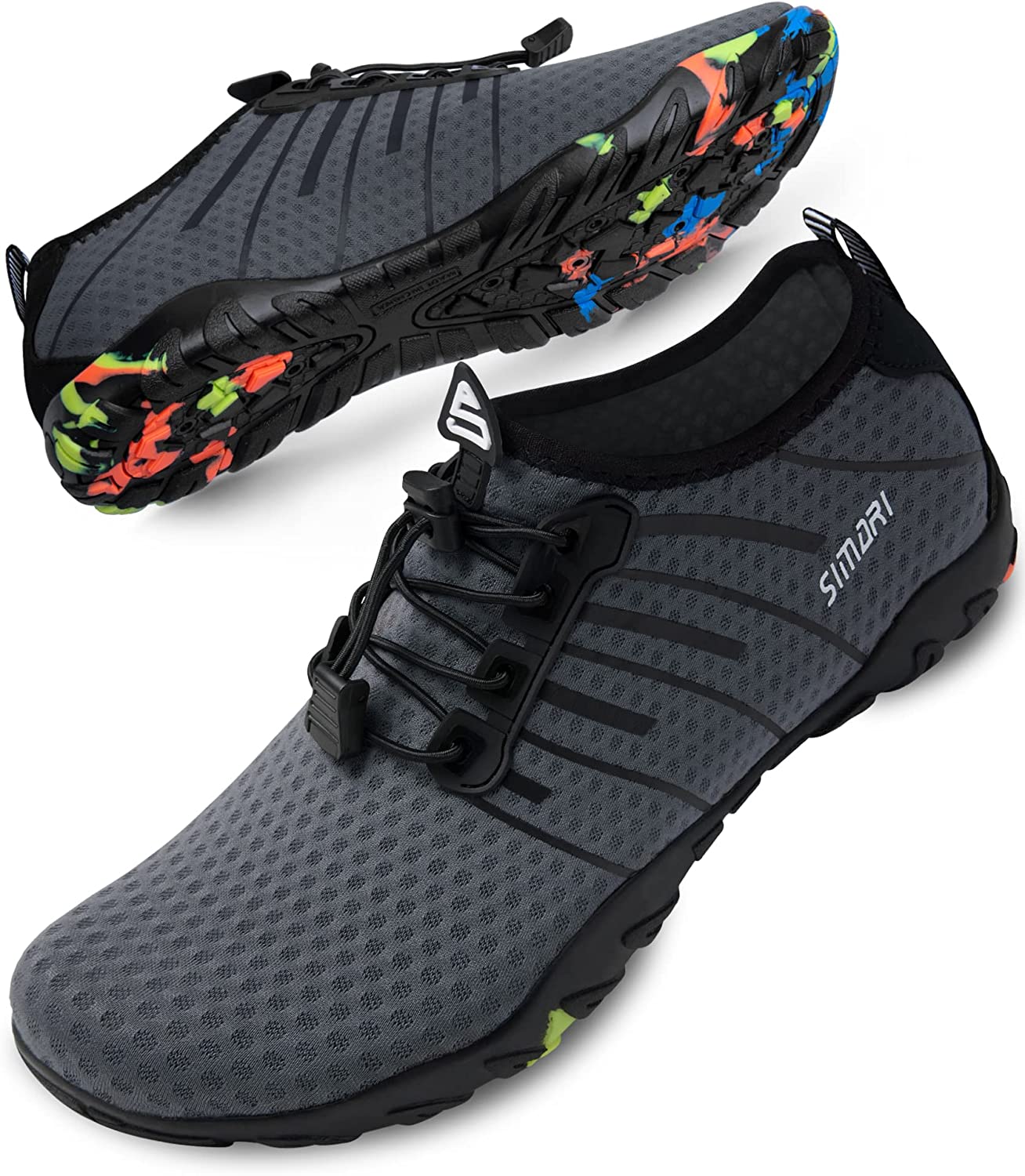 SIMARI Quick-Dry Water Shoes
The Price of "SIMARI Quick-Dry Water Shoes" varies, so check the latest price at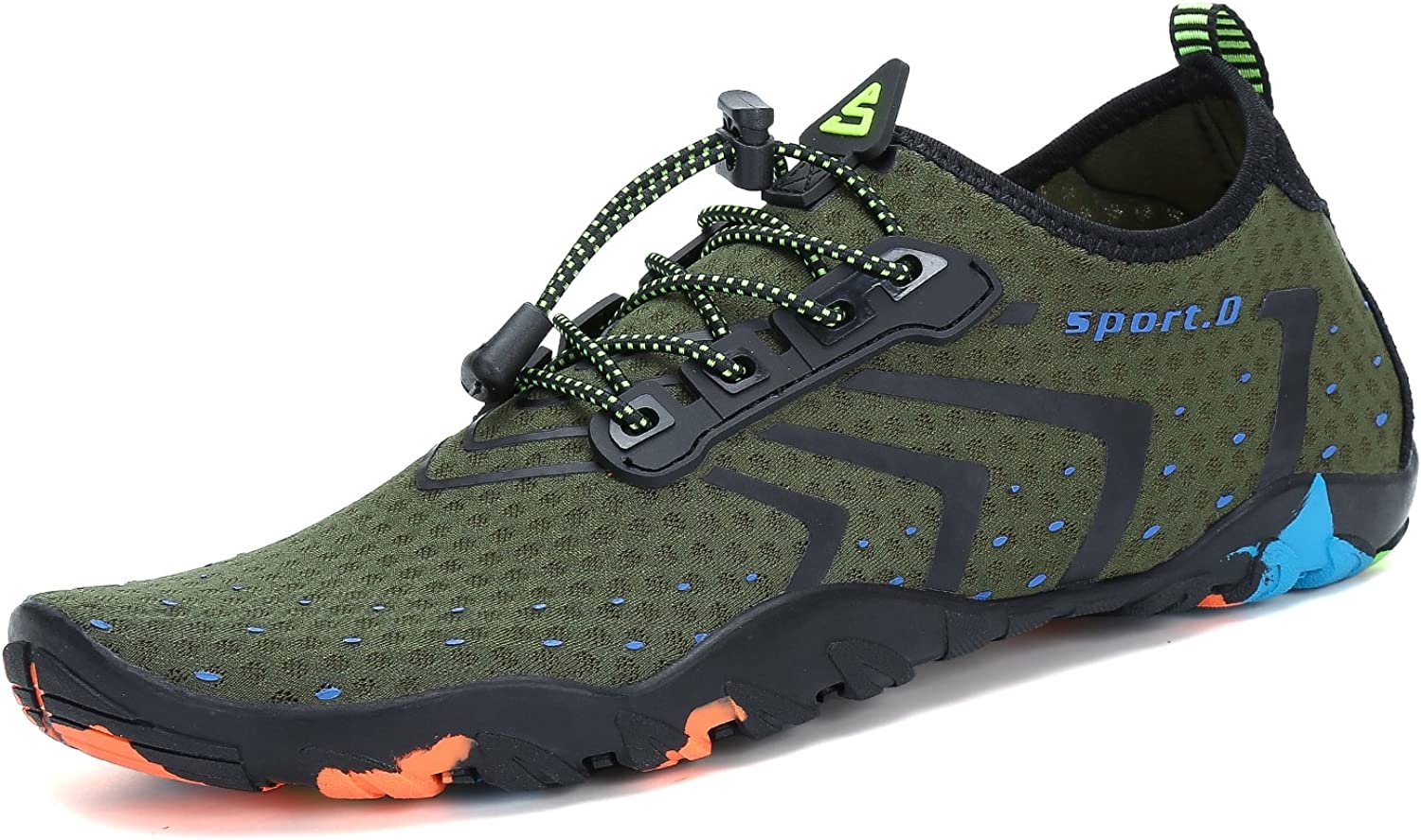 These are the best paddle board shoes for anyone who appreciates the conveniences of portability. They are not only lightweight, but they can also be folded or rolled up for easy packing.
They won't take up much space in your backpack, but they also seem rugged enough to wear if you are hiking or just don't want to change or bring along other shoes. Even though they have a thin mesh upper, they still have a durable rubber sole with a good amount of heel lift.
They also have plenty of drainage holes to get the water out quickly and keep feet warm and dry. The elastic laces provide a secure fit, and these paddleboarding shoes have a barefoot feel that I enjoy when I'm on the water.
The shoes feature a very comfortable insole and lining that create that feeling of bare feet and also prevent blisters and redness. The lining also eliminates the need to wear socks.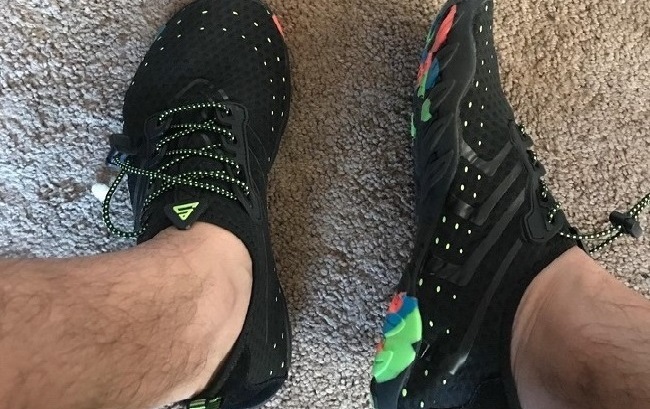 I spent some time on land in these unisex water shoes after I had finished with the paddleboard and found them just as comfortable on the bank as I did on the water. I did feel like these ran about a half size big, but if you like a shoe that is a little roomier, just order your normal size.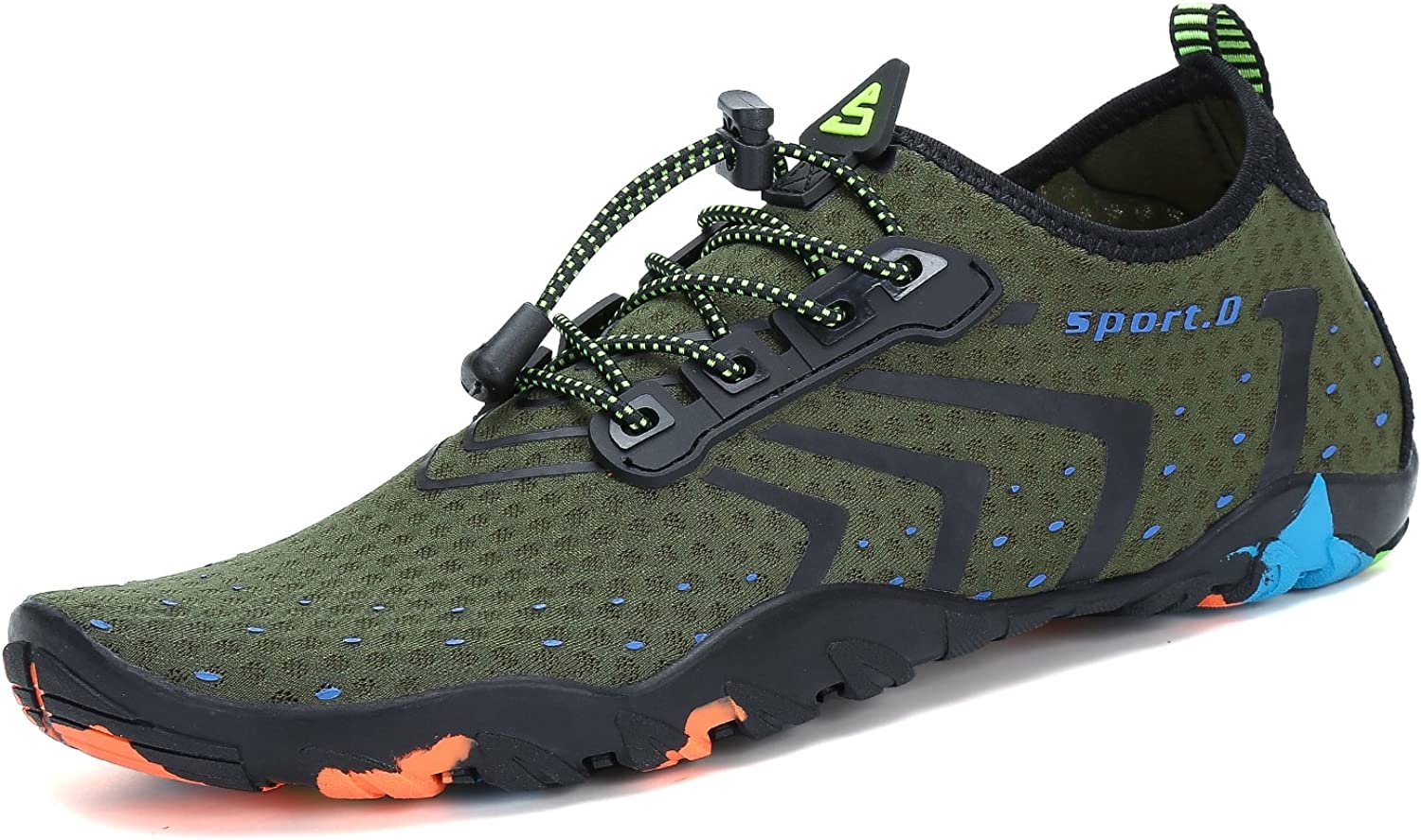 Kararao Quick-Dry Aqua Beach Shoes
The Price of "Kararao Quick-Dry Aqua Beach Shoes" varies, so check the latest price at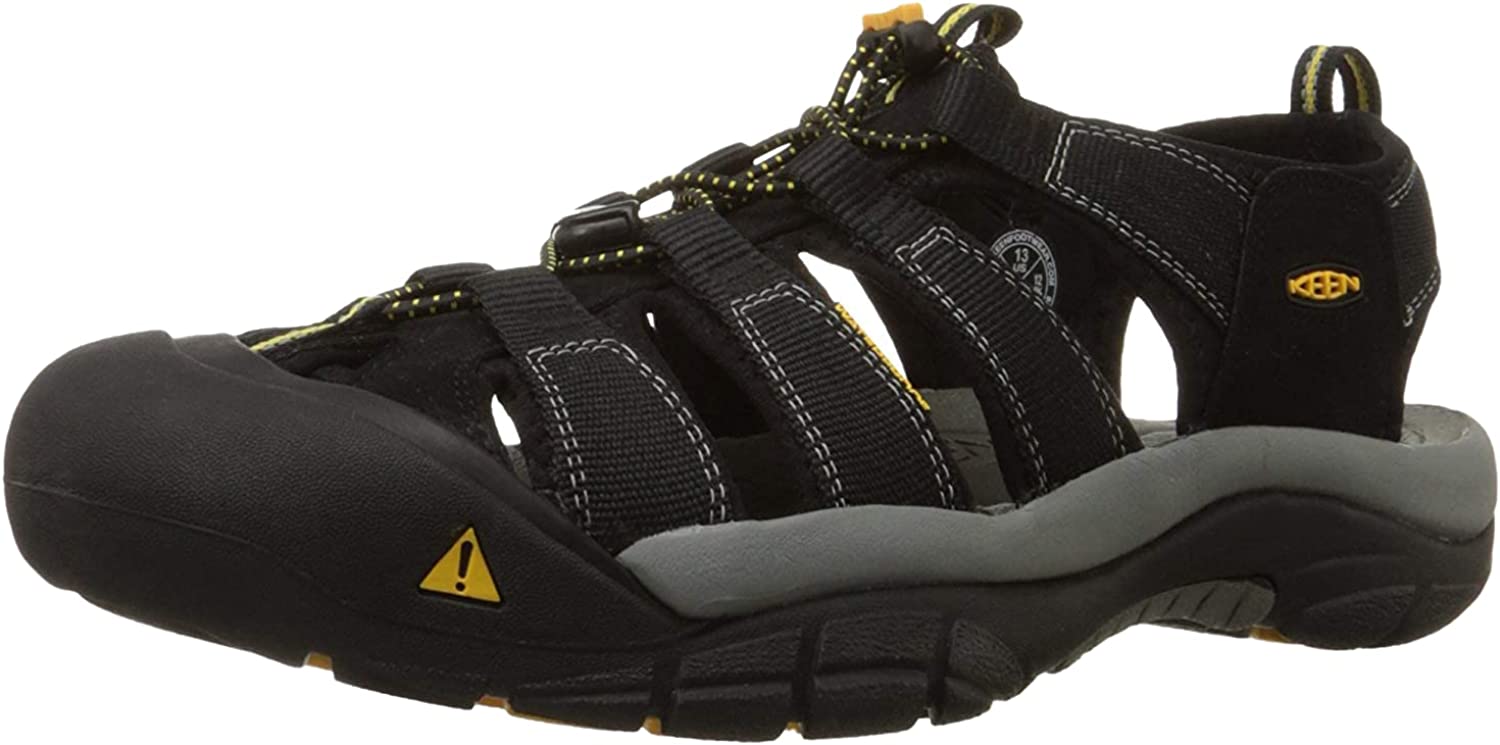 This water shoe has a sandal design that makes them less ideal for cold water paddling but suitable for warmer water temperatures. The thick rubber sole provides maximum traction on all surfaces to prevent slipping on wet rocky beaches or muddy banks.
While they don't provide insulation, the style does feature a large front bumper to protect the toes, and the sandal design also acts as a drainage system with plenty of slits for the water to come out of if you decide to get your feet wet. Your feet will definitely get wetter faster, but they will also dry faster.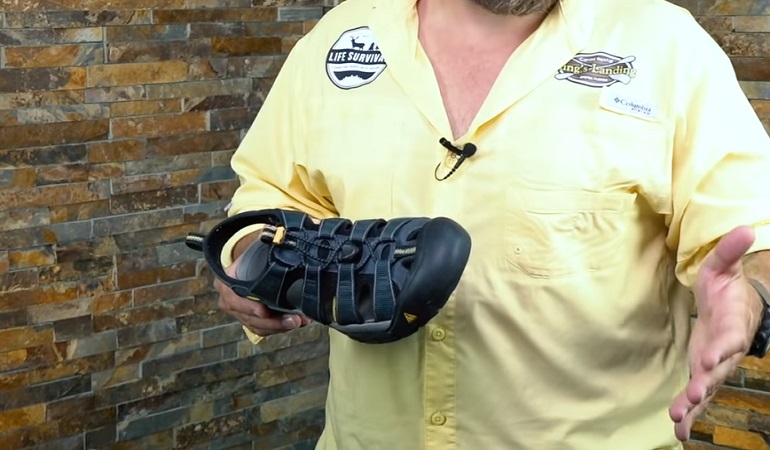 I really enjoyed the soft insole that seemed to mold to fit the bottom of my foot and provided plenty of cushion. I can see wearing these for many outdoor activities, even though I personally prefer a closed sneaker design when I paddle board.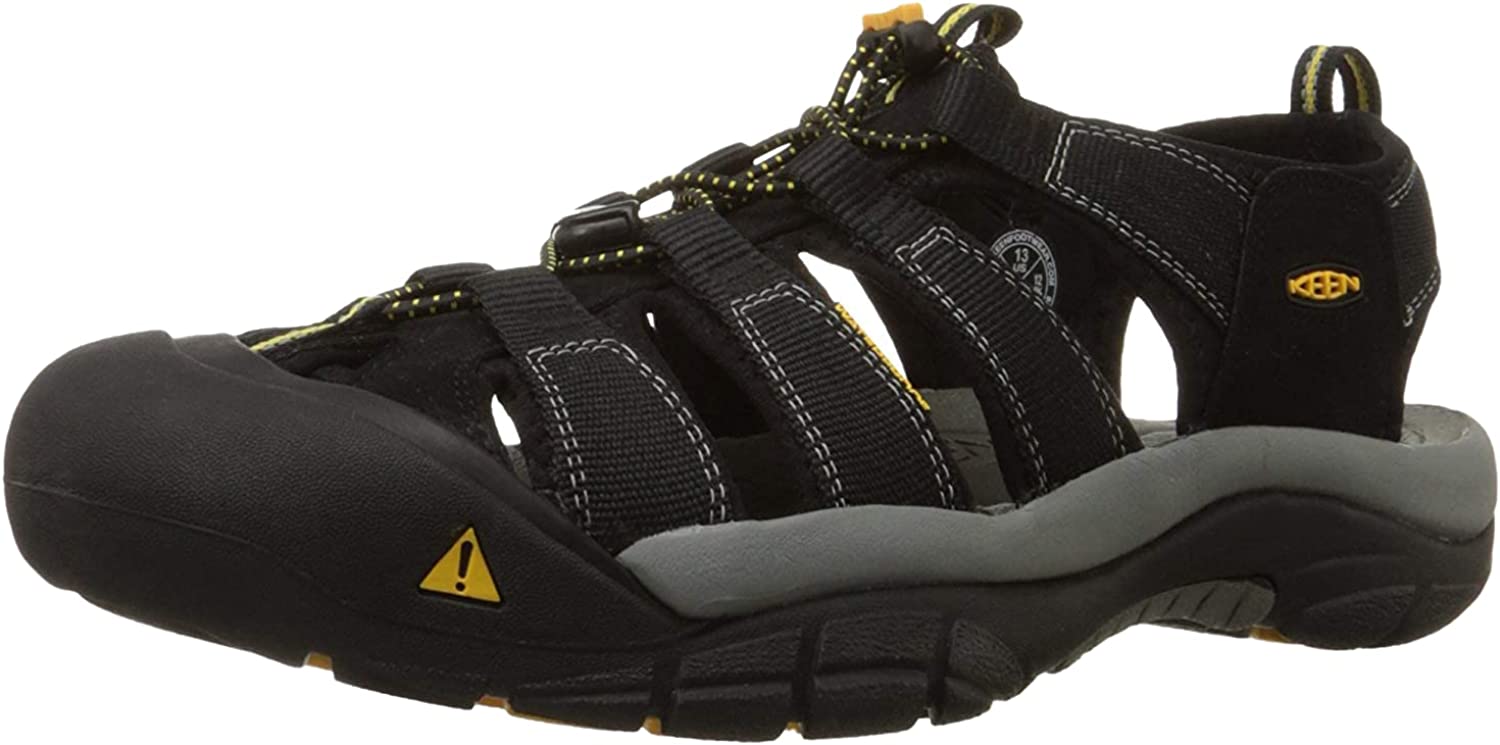 Keen Men's Newport
The Price of "Keen Men's Newport" varies, so check the latest price at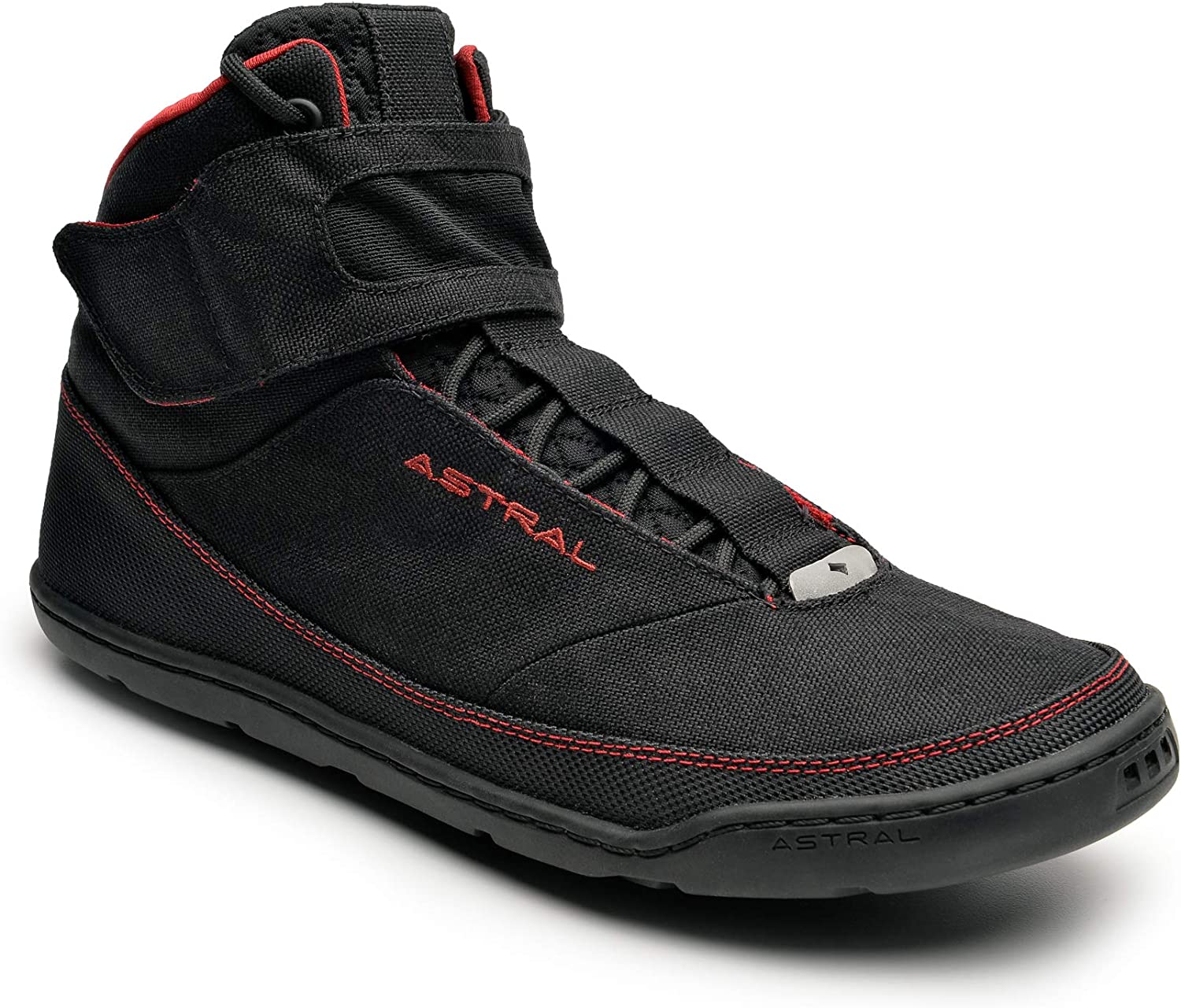 At first glance, these don't look like paddle boarding shoes, but they have all the features you need to make your feet comfortable on the water. The rubber sole helps provide stability on slippery surfaces, and the canvas uppers provide an efficient draining system.
While they have zero heel lift, the rubber outsole is durable, so you can easily wear these while hiking, boating, or doing other outdoor activities. These have a nice feel to them and provide plenty of balance and traction on a wet paddle board and dry land.
I also found them to be flexible in spite of the ultra-grip sole. I like to move around and change positions often on my SUP, and these shoes allowed me to do so without feeling like I might lose traction or balance.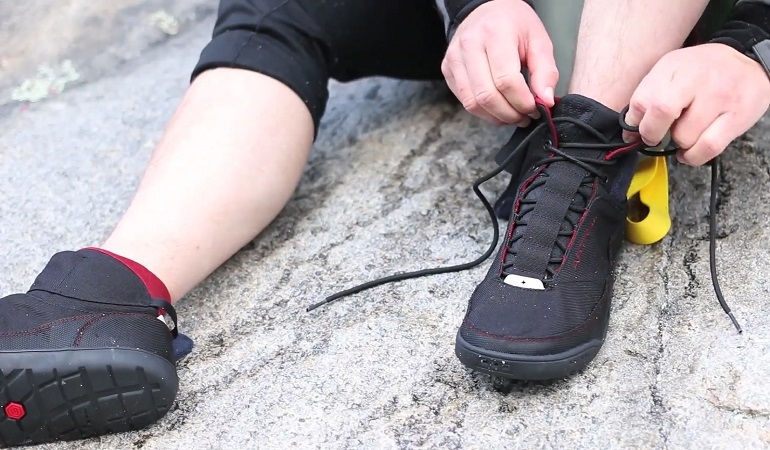 The adjustable straps on the ankle provide plenty of support, and the laces are water-resistant. This makes them easy to tie and untie, even when they have been exposed to wet conditions all day. While I wouldn't wear them in cold water, they seem suitable for most paddle board adventures, and the casual style made them fun to wear.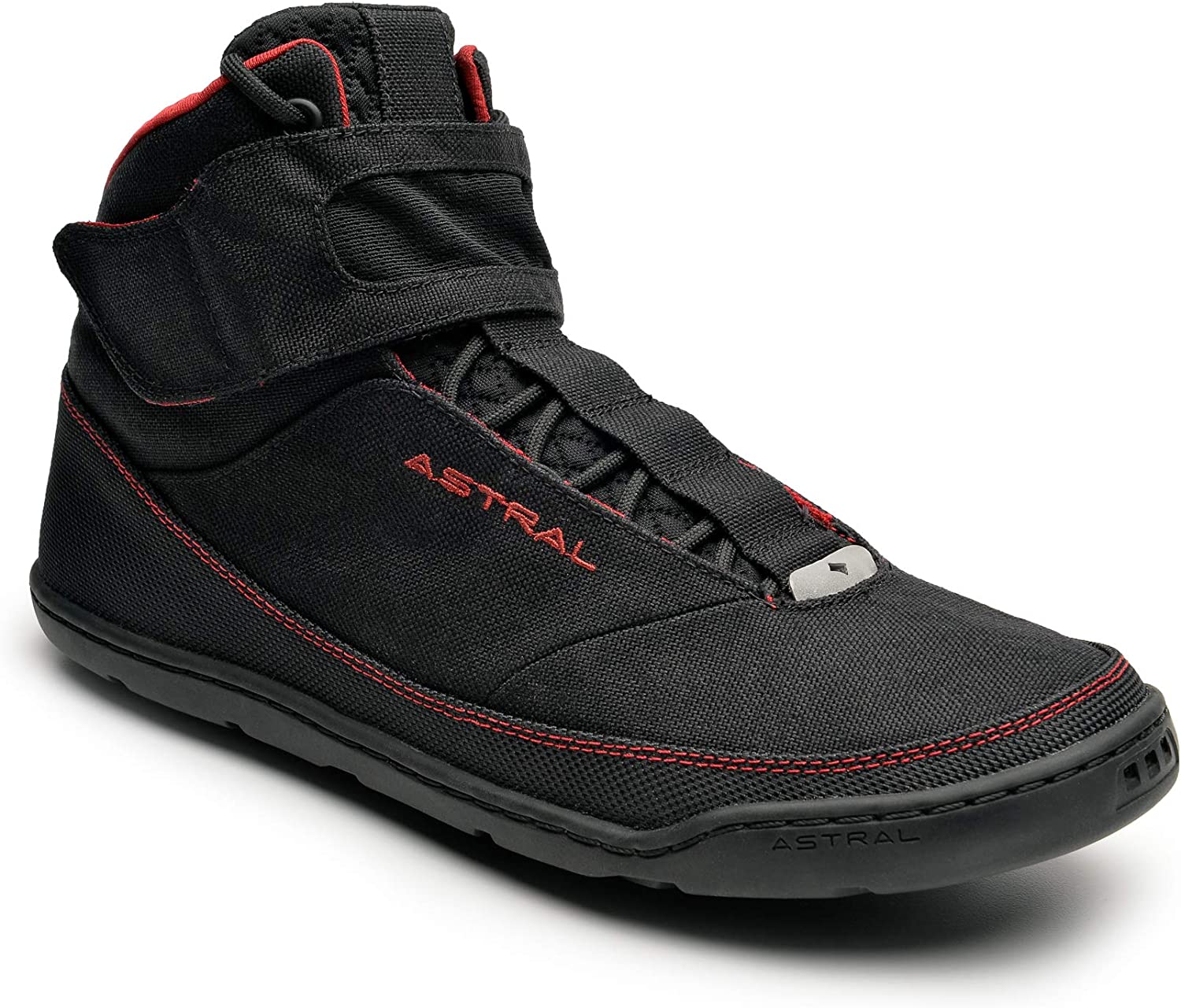 Astral Hiyak Water Shoe
The Price of "Astral Hiyak Water Shoe" varies, so check the latest price at
Buying Guide For Best Shoes For Paddle Boarding
Here is a list of all the essential factors to take into consideration while choosing water shoes for paddleboarding.
Type
There are many different types of water shoes. Some are designed to slip on like socks and have very thin rubber soles or even soft anti-slip soles. While these styles are comfortable, they do not provide much traction or support and don't tend to be very durable. They work well on the paddleboard and even transition well in the water.
Still, they just can't cut it if you need to walk over uneven or rocky terrain to get to the water or if you happen to be paddleboarding on a waterway with rocky or rough creeks or riverbeds.
The thin material allows rocks and sticks to penetrate the shoe and puncture or bruise the foot. The lack of support also makes it hard to pull your board up a steep or muddy bank.
Other types are made to resemble sneakers. They typically have canvas or mesh upper and a thick rubber sole. This type is ideal because it provides plenty of support and a casual design that makes the shoe suitable for wearing throughout the day and not just during your time on the water.
The soles are typically thick enough to prevent rocks and sticks from harming the feet, but they are also flexible enough to provide plenty of movement on your board. These styles are also usually the most comfortable as they provide enough cushion to support the arches and ankles and breathability to help them dry quickly.
Another option is the sandal design. These usually have a rubber outer sole and strappy uppers made from nylon, canvas, or neoprene material. While the straps make it easier for water to reach your feet, they also allow your feet to dry faster.
While they are similar to the sneaker style, they don't provide quite as much protection. The gaps between the straps can allow rocks, sand, and sticks to reach your feet. They also fail to provide much protection from the cold.
You may want to try several different types to see which ones work best for you and the type of paddleboarding you do the most.
Comfort
If you wear shoes while paddle boarding, you want them to be comfortable. Your feet will be wet for most of the day, so choosing shoes that fit well and have plenty of support and cushion is a good idea. You will be standing while paddle boarding and loading the paddleboard in and out of the water.
The shoes should be not only comfortable when you first put them on but throughout the duration of the time that you wear them.
You want to ensure they feel good on your feet when wet and dry and maintain their shape and fit. They shouldn't cause blisters or leave marks on your feet or toes.
The soles should provide traction and allow you to walk over sharp and hard surfaces without feeling any discomfort. While you want the soles to be sturdy and supportive, they should also allow you to flex your foot and bend it as needed.
Pay attention to sizing and width, as some water shoes are narrow. If you need more stability when walking or standing, look for water shoes with textured rubber sole to aid arch and ankle support. Shoes with straps and laces can be adjusted for comfort and a better fit.
When shopping in a store, try on different paddle board shoes until you find a quality pair that feels good on your feet. If you plan to order online, you may still want to try on some different styles in a store, so you know which designs or brands you prefer and can look for them when you are shopping online.
Material Used
The type of material used on paddle boarding shoes can play a big role in their durability, functionality, and comfort. Most water shoes are made of neoprene, but other materials, such as canvas, are also sometimes used.
Most water shoes have a rubber sole, which helps provide traction and protect feet from injury. Since your shoes will be wet most of the time you are paddle boarding, it's important to choose a breathable and quick-drying material. They also need to hold up to wet and muddy environments.
Breathability
While many people enjoy cold water paddling, there's a good chance you will be paddling in warm weather at some point. It's important to choose water shoes that have good breathability.
This will allow the air to circulate and keep your feet cool. It can also help your feet and shoes dry faster.
Water shoes with adequate breathability will also prevent your feet and toes from pruning and reduce bacteria growth that could result in a foot infection and bad foot odor. Many different shoes have drainage system and mesh upper to allow the air to move around your feet.
Durability 
There's more to paddle boarding than just paddling. You use your feet just as much as your arms, and sometimes you have to hike to your favorite waterway or trek over rough terrain to get your board in the water. You should choose durable water shoes that will hold up in harsh conditions.
They need to be able to withstand various water conditions and tough terrain, as well as regular cleaning and travel. A good pair of paddle board shoes should last for several months or even up to a year, depending on how often you paddle board.
FAQs
Do You Need Water Shoes for Paddle Boarding?
While you can definitely go paddle boarding without wearing shoes, there are some advantages to choosing to wear them. A quality pair of water shoes will help keep your feet warm in colder waters and keep you comfortable while you stand on your paddle board.
Paddleboarding shoes can also provide great traction to keep you from slipping off your board and make it easier to get your board in and out of the water.
A water shoe with an efficient drainage system can help your feet dry faster during the colder months and year-round. They provide protection from the sun, sharp objects, and insects. They simply keep you comfortable while you are paddle boarding so you can focus more on your adventure and less on your feet.
Should You Wear Shoes on a SUP?
It's a good idea to wear SUP shoes to help reduce foot fatigue while cold water paddling and avoid injuries to your feet. Paddle boards can have rough surfaces that can be painful if you are paddling barefoot.
Cold temperatures can also make it hard to get in and out of the water with a good paddle-boarding shoe. SUP shoes can help keep your feet warm and dry and make it easier for you to stay balanced on your SUP board.
Most SUP water shoes have non-slip soles to help you stay on your board, as well as fast-drying materials and drainage holes to help keep your feet dry and comfortable so you can stay on the water longer.
Are Crocs Good for Paddle Boarding?
Crocs can be worn paddle boarding and have many of the proper features you should look for when buying watersports shoes. Crocs are a comfortable, breathable, and affordable option. Still, they are not the best water shoes because they lack support for the ankles and won't prevent slipping on wet surfaces.
They also don't have a durable or non-slip sole. Because they are made of thin materials, they also won't protect your feet from sharp objects. If you are looking for a simple water shoe to wear while paddle boarding, they can suffice.
If you are an avid paddle board, it's best to look for SUP shoes with a more rugged design, an integrated drainage system, and insulation to protect your feet against cold weather.
Final Thoughts
When shopping for a new pair of water shoes, be sure to consider the type of paddleboarding you do, where you tend to paddle, and the water temperatures of your favorite waterways.
This will ensure you choose the right pair of water shoes that can meet your needs and personal preferences.