If you love to go fast, then you're going to need to get yourself a pair of carving skis.  There are just no two ways around it. 
Carving is one of the most exhilarating sensations on snow, and nothing quite matches its adrenaline-pumping glory. 
But if you're trying to carve with all-mountain skis, you're never going to achieve the same thrilling results that carving skis can provide. 
I remember when I first learned how to carve. It was like unlocking an entirely new dimension of the mountain, allowing me to cut through the snow and feel the terrain in a way that I'd never experienced before. 
But wait a second… what exactly are carving skis, anyway?
What makes them different from normal skis?
Do you really need a pair?
And perhaps most importantly…
What's the best carving ski available right now?
Best Overall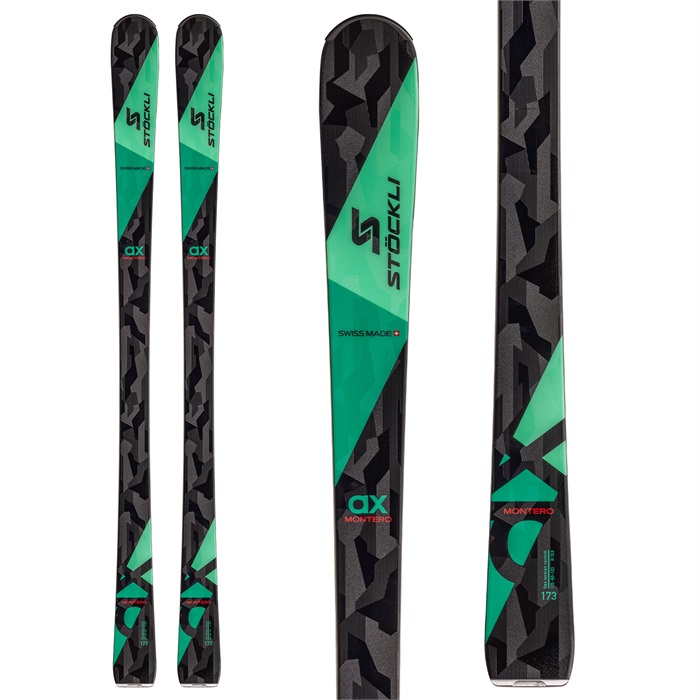 Stockli Montero Ski
Core: Metal, Wood
Turning Radius:

Short
Versatile Speed Control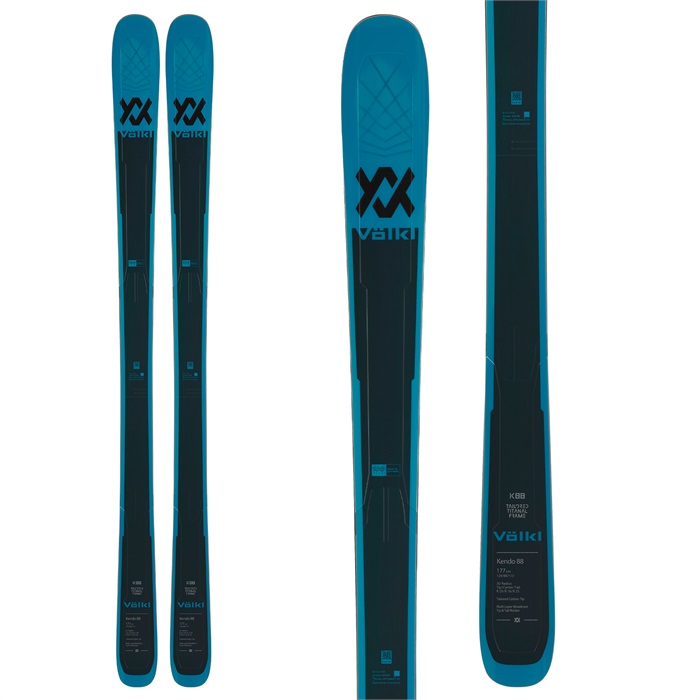 Volkl Kendo Ski
Core: Carbon, Metal, Wood
Turning Radius:

Medium
Hard Charger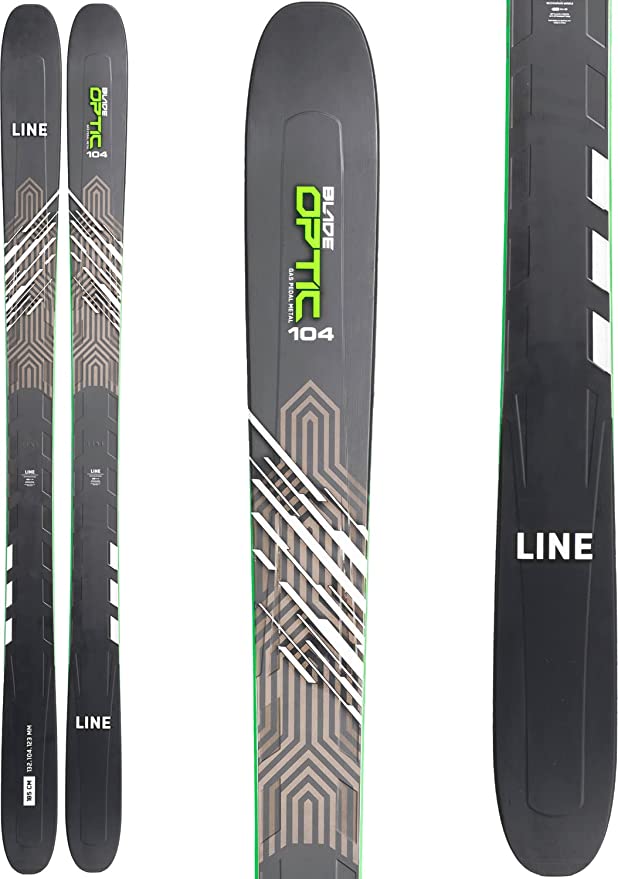 Line Skis Blade Skis
Core: Metal
Turning Radius:

Medium
Best Value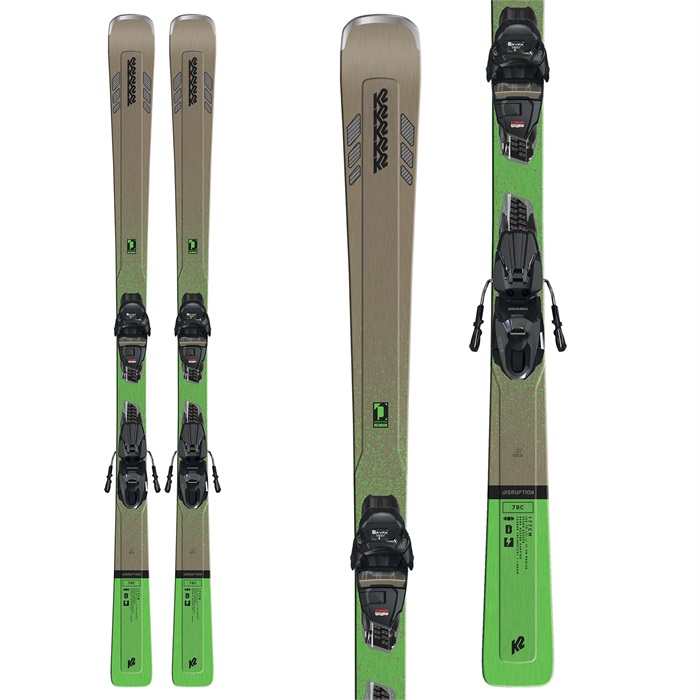 K2 Disruption Ski
Core:

Carbon, Wood

Turning Radius:

Short
Best for Women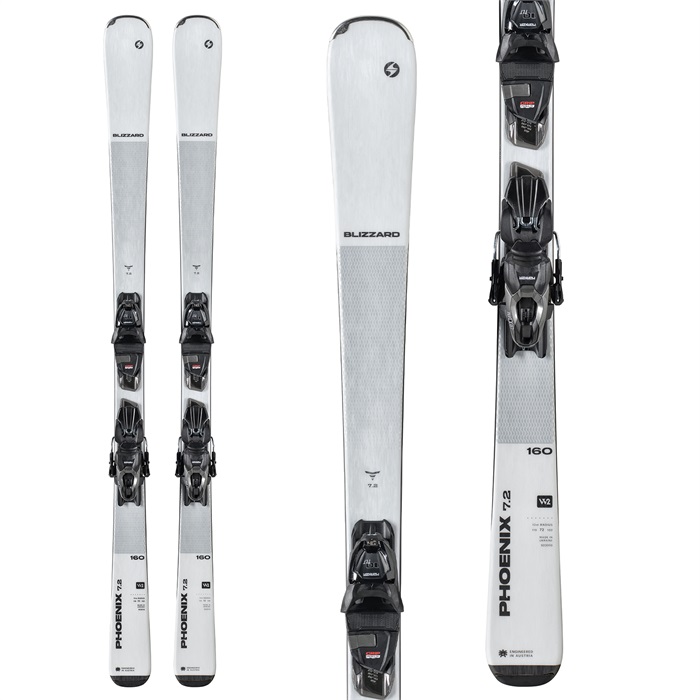 Blizzard Phoenix Ski
Core:

Wood

Turning Radius:

Short
Most Fun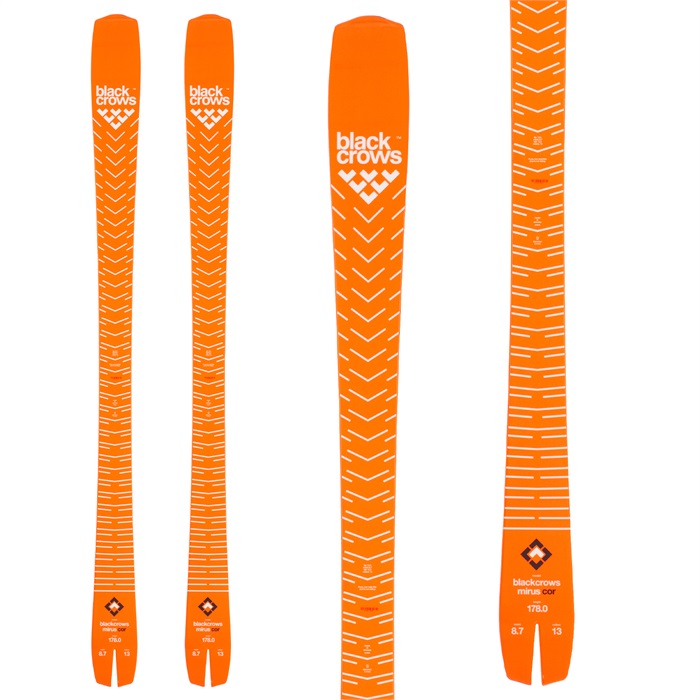 Black Crows Mirus ski
Core:

Metal, Wood

Turning Radius:

Short
Best Carving Skis – Top 6 Picks
Enough rambling!
Let's get straight into the action with the best carving skis available today: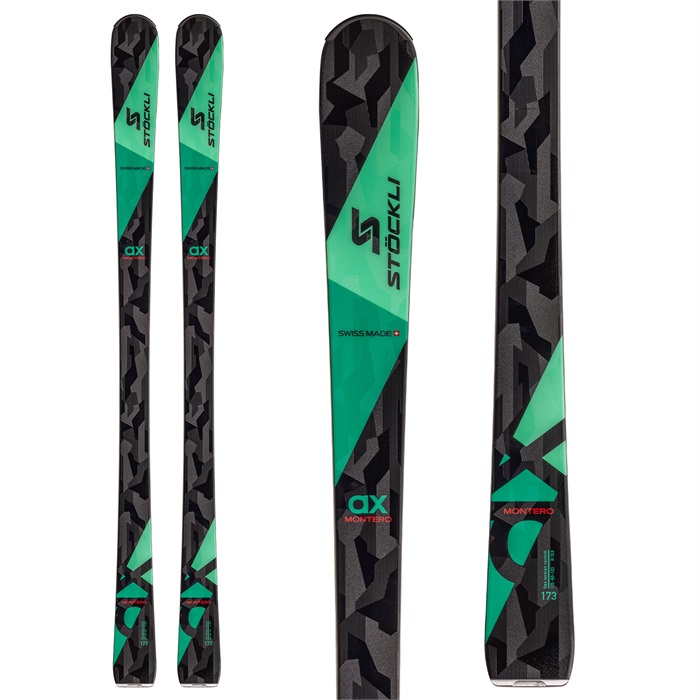 If you're ready for a serious pair of skis for high speed, high-octane thrills, then you really can't go wrong with the Montero Ax. 
This lighter ski features a "barely-there" feel, thanks to a featherweight core. One thing I noticed right away is that these skis just feel incredible. 
It's difficult to put into words, but the adaptive contact length gave me this very responsive, snappy, and almost playful vibe as I carved my way down groomed terrain. 
If you're an advanced skier, you'll find that this ski will move how you want, when you want, even with the subtlest encouragement. 
The only downside I can think of is that there are probably skis out there that are slightly faster.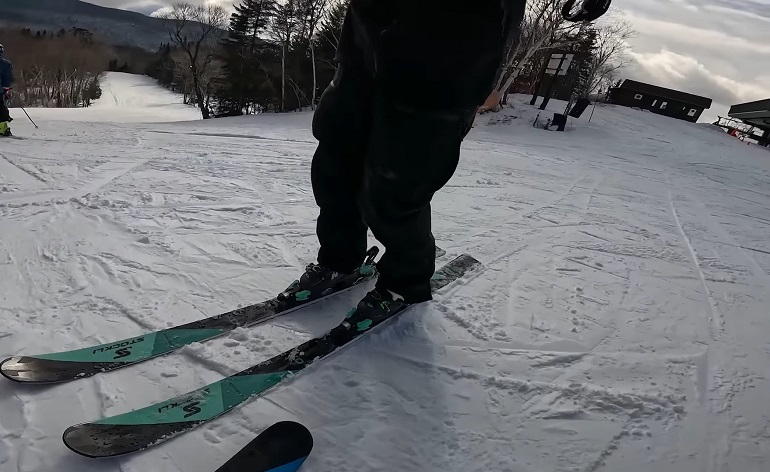 Top Features
Adaptive contact length
Full edge contact
Lightweight core
Flex torsion control
Pros 
Adaptive contact length and flex torsion control puts you in the driver's seat.
Lightweight cores for a "barely-there" feel.
Insanely playful and fun.
Cons
There are faster skis out there.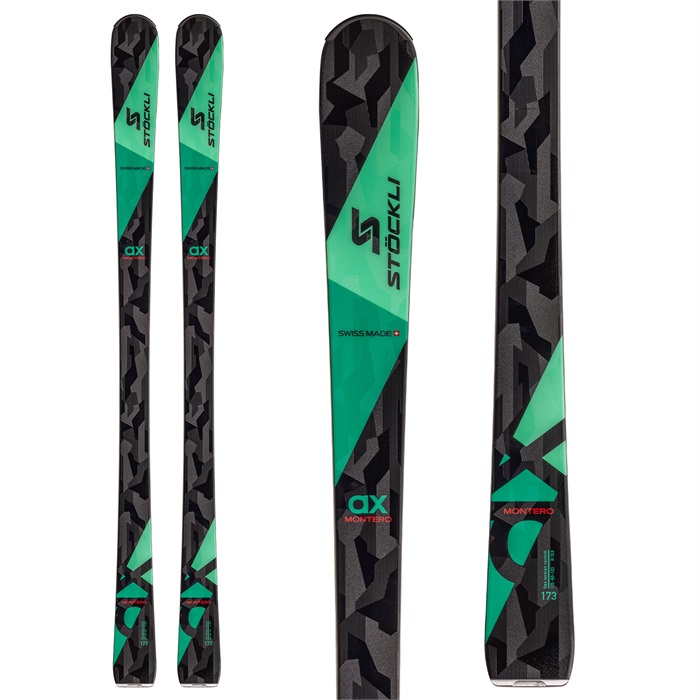 Stockli Montero AX Carving Ski
The price of "Stockli Montero AX Carving Ski" varies, so check the latest price at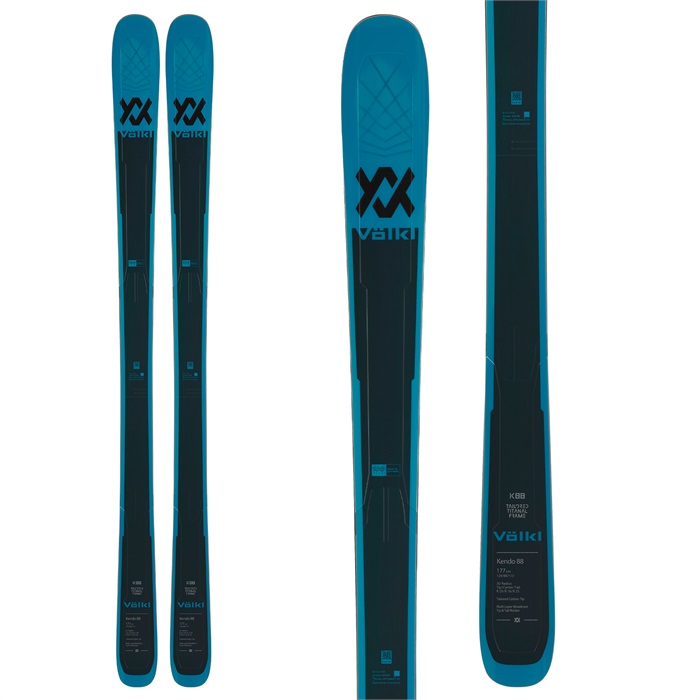 One of the biggest complaints for the previous iteration of the Kendo 88s was the fact that they were very difficult to ride at slower speeds. 
I was one of the many skiers who shared these frustrations – and it looks like Volkl listened. 
The new Kendo 88s have been tweaked for 2023 for a more forgiving ski at slow-to-moderate speeds – while retaining all of the stunning features you've come to expect at blistering velocities.
Tailored carbon tips feature embroidered carbon fibers that have been embroidered onto a carrier metal to boost performance to insane levels. I really noticed the difference here – with serious responsiveness at the tips. 
While it's great for advanced skiers, the Kendo also represents a perfect stepping stone for those intermediate skiers who are ready to move to the next level. 
And with a price tag of about $700, you really can't go wrong. 

Top Features
3D Radius Sidecut
Multilayer Woodcore
Tailored Carbon Tips
Pros 
Still easy to handle at slow speeds.
Carbon tips boost handling capabilities.
Cons
Might not pack quite enough punch for the super-advanced skiers out there.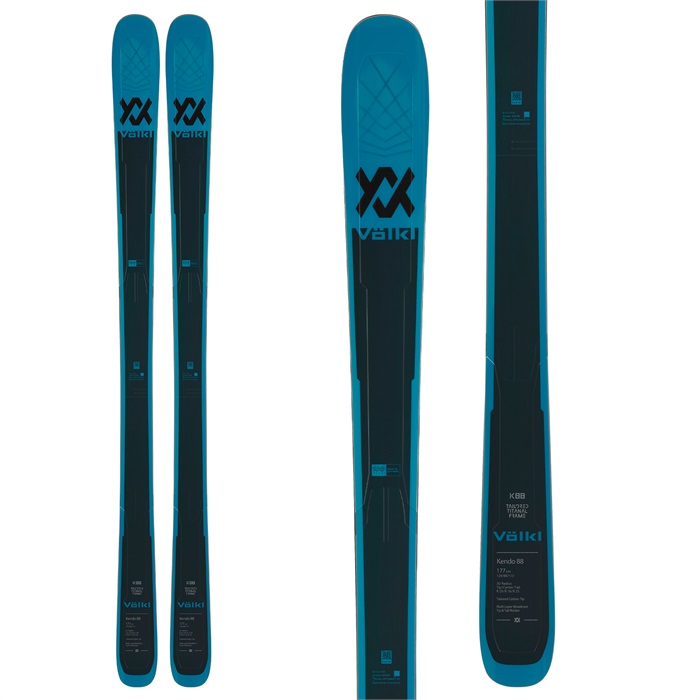 Volkl Kendo 88 Carving Ski
The price of "Volkl Kendo 88 Carving Ski" varies, so check the latest price at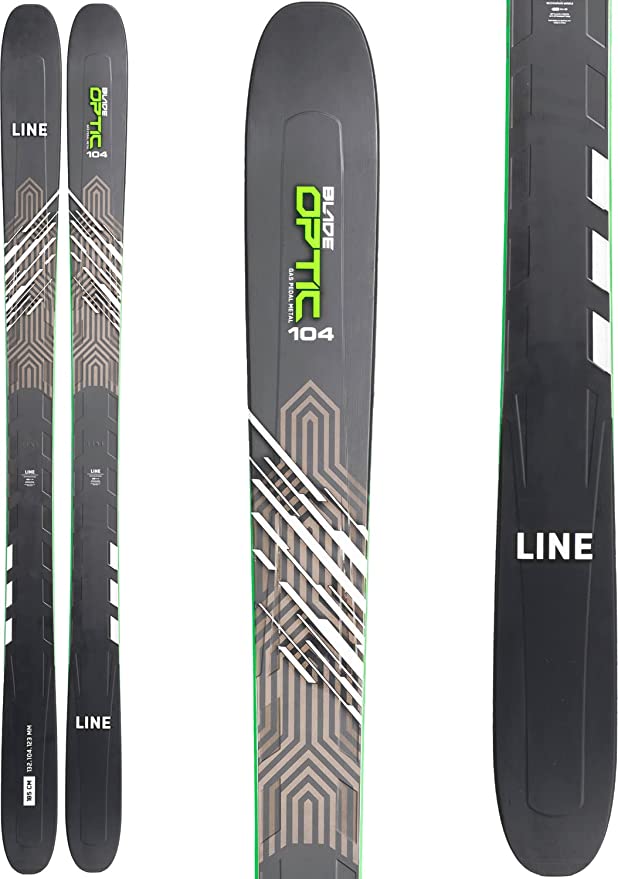 Looking for something a little… different? Try the Blade Optic 104. 
Yes, yes… I know. These aren't really "carving skis" in the traditional sense. Technically, they're more for all-mountain skiing. 
But here's what's important:
They're fun, they're fast, and they rip. Let's break it down:
The Gas Pedal Metal Overdrive layer brings serious stiffness to the table, but with a generous touch of freestyle playfulness when you hit that sweet spot. 
These chunky monkeys also boast Fatty Bases with plenty of durabilities, and Early Rise Rockers help you get all the edge contact you need when carving. If you need smooth turns and curves on hard snow you must have to sharpen your ski edges.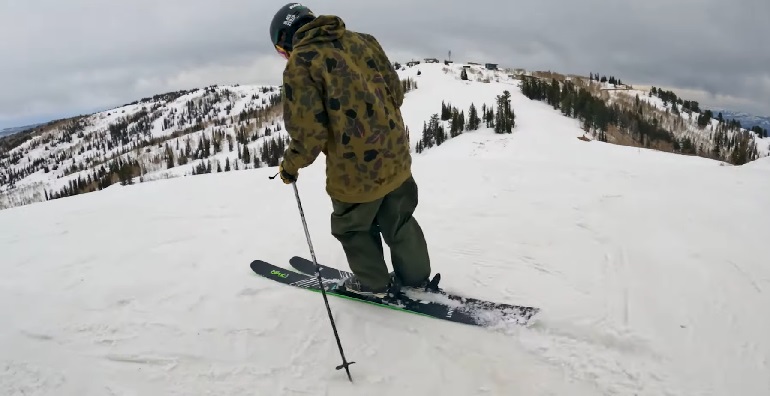 These bad boys just feel different – and they might be a perfect option for that skier that has tried everything and wants something new. 
It's everything you want in a "hard charger" – and with a pretty reasonable price to boot. 
Top Features
Super versatile 
Early Rise Rockers
Gas Pedal Metal Overdrive
Fatty Base
Pros 
Solid versatility lets you carve without missing out on other aspects of the mountain.
Great choice if you're looking for a hard-charging ski that kills jumps.
Fatty base for long-lasting durability.
Cons
Not a dedicated "carving ski" in the traditional sense.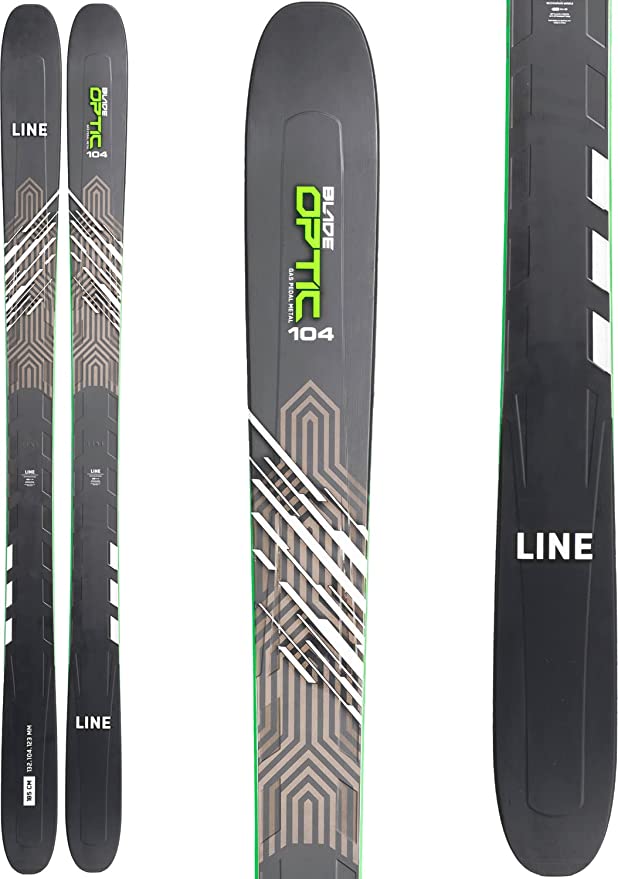 Line Skis Blade Optic Skis
The price of "Line Skis Blade Optic Skis" varies, so check the latest price at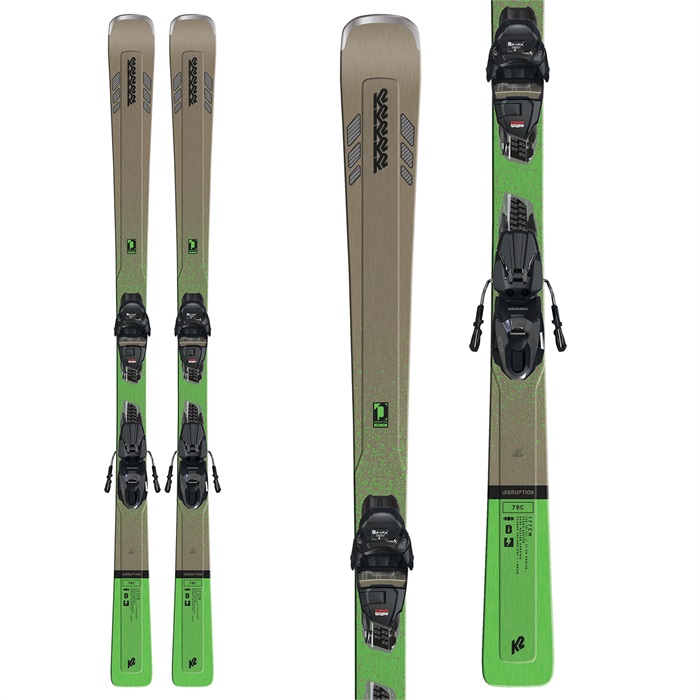 If you've just mastered the basics and you're ready to start learning how to carve, I definitely recommend the Disruption 78 C from K2. 
The fact that snow ski bindings are included is a major plus – especially when you consider that this bundle is one of the cheapest overall options on this list. 
Carbon fiber means that these skis are super lightweight, but the Dark Matter Damping technology provides enough edge grip for solid stability.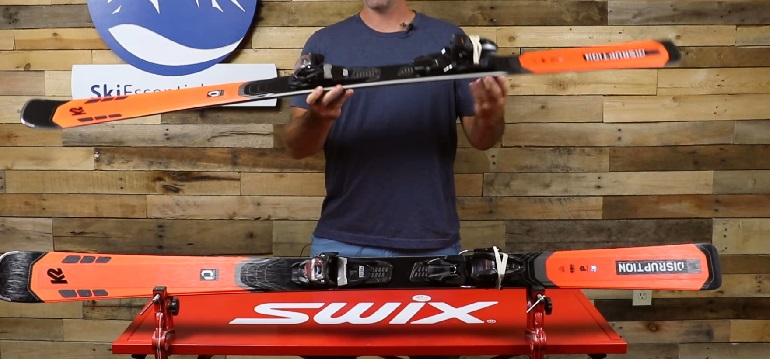 Stability is really important when you're first learning how to carve. Take it from me!
It's easy to feel way out of control when you start reaching high speeds, and the level of control these lighter skis give you makes them a perfect choice for less experienced riders. 
Top Features
Quickclik bindings included
Lightweight carbon fiber 
Dark Matter Damping
Forgiving enough for intermediate skiers
Pros 
Added bindings provide excellent value.
Super stable – even at high speeds.
Lightweight for a truly enjoyable feel.
Cons
Not as feature-rich as some of the other options out there.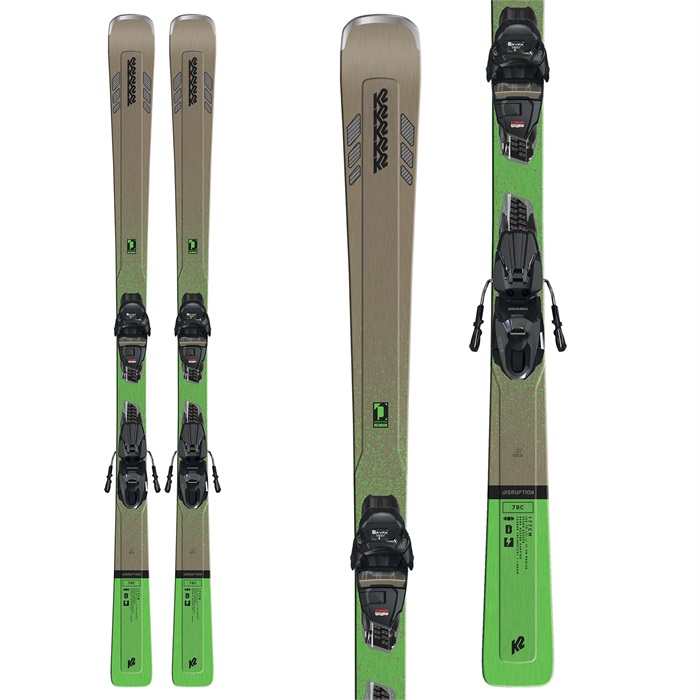 K2 Disruption 78 C Carving Ski
The price of "K2 Disruption Ski" varies, so check the latest price at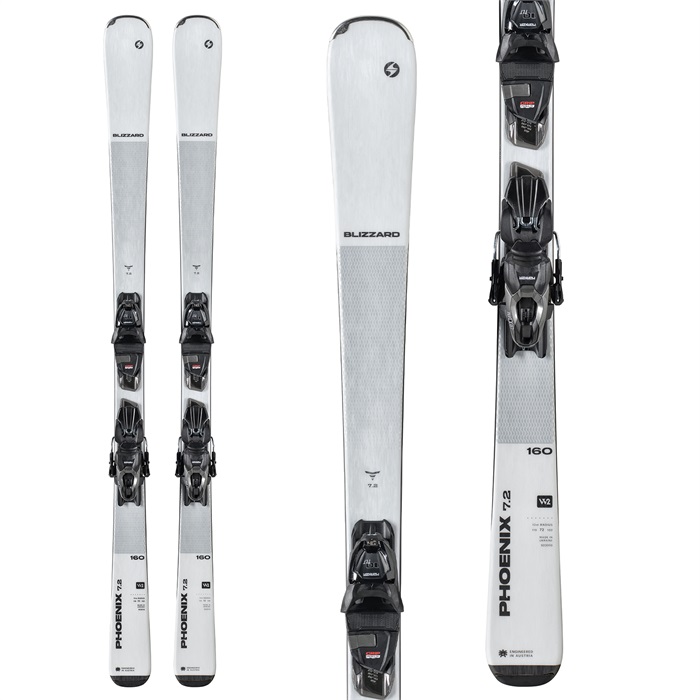 If you're a female skier and you want to get straight into carving right from your first few lessons, this Phoenix 72 is for you. 
While this ski isn't intended for expert skiers, it'll help you make that transition from foundational skills to high-speed carving very quickly. 
The fact that bindings are included makes this a no-brainer and a solid investment of under $500 for the entire bundle.
The skis themselves are also specifically designed for females, and their slightly different centers of gravity.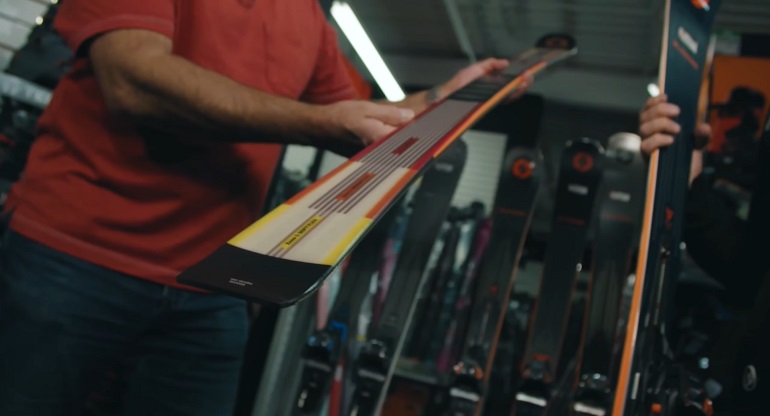 I mean… why wouldn't you grab these as a female skier?
Top Features
Bindings included
Specifically built for females
Ideal for beginners
Pros 
Insane value.
Excellent for progressing from beginner skills to intermediate and expert carving.
Rocker-camber profile gives you tons of versatility.
Cons
Only for females.
Not for true experts.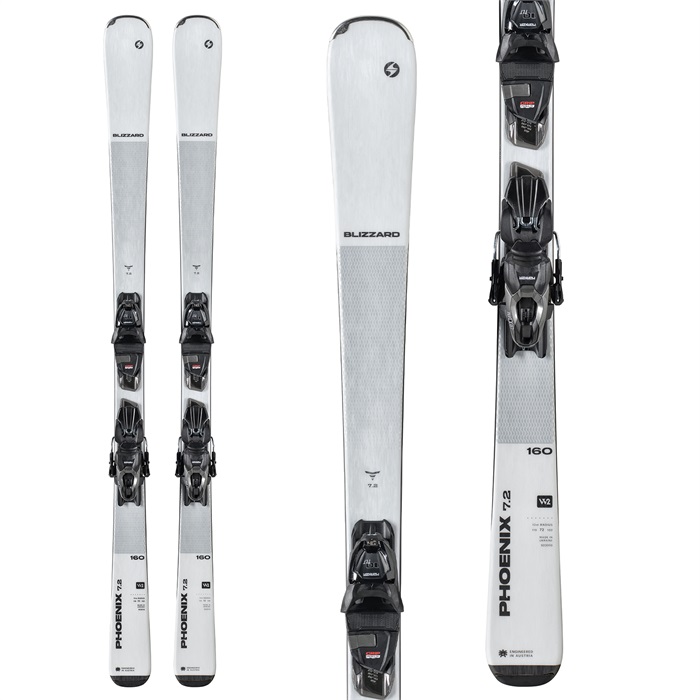 Blizzard Phoenix 72 Carving Ski
The price of "Blizzard Phoenix Ski" varies, so check the latest price at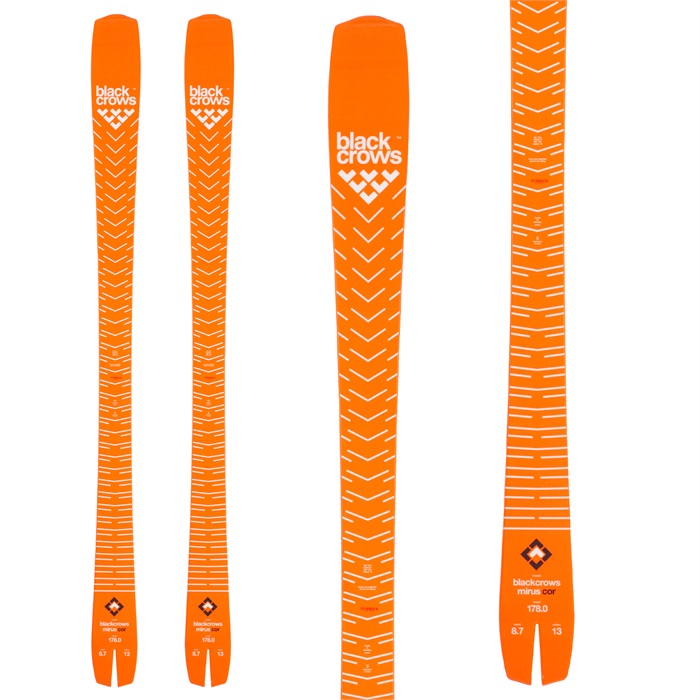 This high-performance, fun, and stylish ski will give you plenty of thrills as you rip down the mountain. 
While you can certainly carve it up with the Minus Cor, you also get plenty of playfulness thrown into the equation. 
The end result is a pretty versatile, unique ski that lets you reach high speeds and veer off into those sidehits.
Just don't expect this to be a full carving ski, because I found that it was a little difficult to find the sweet spot on my edges. I also noticed a tad bit of instability when transitioning on my edges. 
But despite these concerns, the Minus Cor is just plain fun – and that's hard to beat.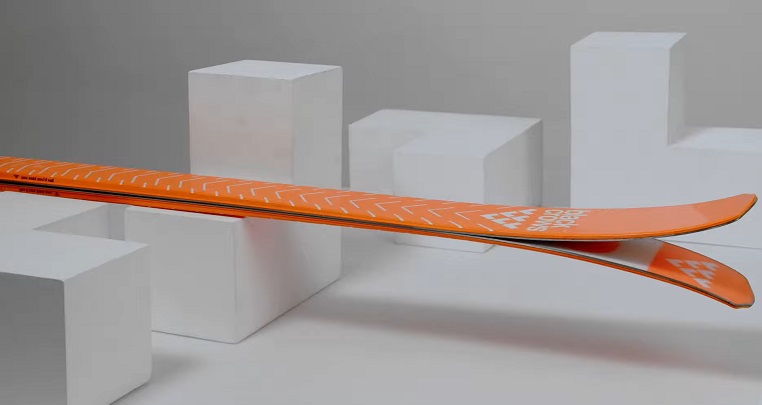 Top Features
Eye-catching neon look
Extremely tight turn radius
Skinny waist
Fish Tail
Pros 
Tons of fun. 
Solid choice for intermediates.
Cons
A little unstable when carving at full speed.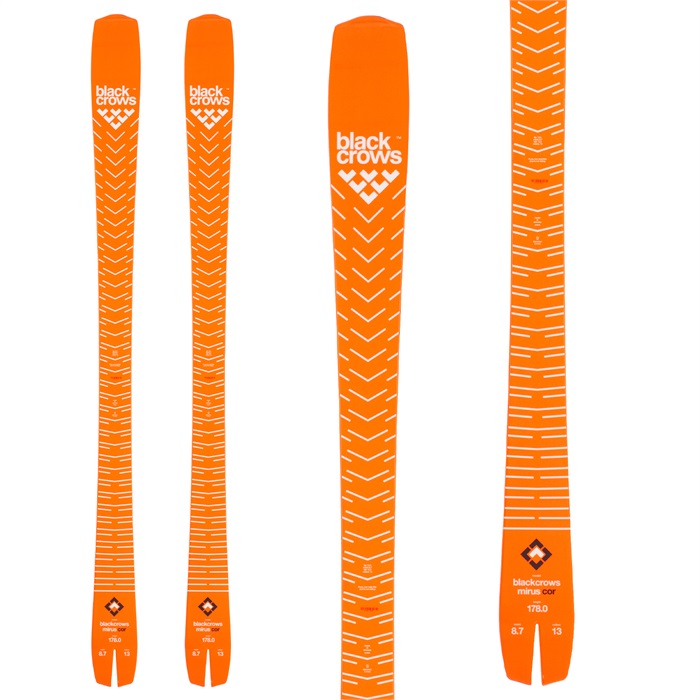 Black Crows Mirus Ski
The price of "Black Crows Mirus Ski" varies, so check the latest price at
Why Do You Need Carving Skis?
So do you really need carving skis?
The short answer is no – you don't necessarily need a pair of these specialized skis. But are they going to make your time on the mountain more enjoyable?
Probably! 
You see, carving skis are specially designed for (you guessed it) carving. 
With an intense sidecut, you get a whole lot more edge grip on the sides of your skis, boosting your speed to ridiculous levels on hard snow. 
These skis are shorter than all-mountain or freeride skis. They're also thinner and narrower – especially at the waist –  which helps them cut through the snow and hit high velocities. 
Look down at your carving ski (also known as a piste ski) from above, and you'll see a very pronounced bow or "arc" from tip to tail. 
In short, like race skis, carving skis are built for speed on soft snow. 
These skis also feature a more appropriate turn radius that helps you make those knife-edge adjustments while bombing down the mountain – whether you're racing your friends or you're trying to break the sound barrier. 
So if carving skis are so great, then why doesn't everyone use them?
Well, carving skis come with a few notable disadvantages:
Lack of versatility
Made for advanced skiers
More maintenance 
Lack of Versatility
First off, you won't be able to ski the entire mountain with your carving skis (at least not effectively).
This is because carving skis are specifically designed for hard snow or "piste" runs rather than deep powder, fresh snow, or backcountry conditions. 
With such narrow widths, your carving skis aren't going to fare very well in powder or fresh snow. In fact, they might become a bit of a nightmare! 
Now, this is all well and good if you plan to stick to freshly groomed snow – but you might struggle a little if you want to ride the entire mountain on a daily basis. 
This is why "all-mountain" skis are so popular, as they give you a little bit of everything. They're also an ideal choice if you can only afford one pair of skis. 
On the completely another end of the spectrum, you also have "best powder skis" that are designed specifically for deep snow. 
Made for Advanced Skiers
Because carving is considered an expert-level skill, carving skis are specifically designed for more advanced skiers. 
You don't need to be an expert to own carving skis, but you should feel ready to start learning how to carve more effectively. 
If you're still working on those foundational skills or if you're totally new to skiing, you might want to reach for a different pair of skis to start with. 
More Maintenance 
Last but not least, carving skis require a bit more maintenance than your typical pair of all-mountain skis. 
This is because you're going to be spending a lot of time skiing on your edges – which means that you need to keep those edges as sharp as possible. 
It's not all that difficult to sharpen your edges – but it's definitely something to keep in mind. 
Because take it from me:
Your edges will get dull with time. 
And one more thing:
You might also find yourself waxing your carving skis a lot more than your other pairs. 
While maintenance isn't difficult, it's a little time-consuming and might be a bit more expensive – whether you're taking your skis to the repair shop or maintaining them yourself. 
Buying Guide – What to Look for in a Carving Ski
Now that you're familiar with six of the best carving skis available, let's go over a few factors you should consider to narrow down your options and find the perfect pair for the winter ahead:
Waist Width:
Generally speaking, carving skis feature waist widths of less than 85 mm. 
Flex:
If you want a pair of good carving skis, you should aim for skis with stiff flex ratings. Stiffer skis carry speed easily and improve stability – something you definitely need when you're reaching speeds that are bordering on danger!
Turn Radius:
Carving skis aren't built for wide, skidding turns. Instead, they're built for smaller, precise, and nimble adjustments as you cut through the snow, build up your speed, and control your movement in a mostly straight line. Because of this, a typical carving ski features a turn radius of less than 17 m. 
Length:
Picking the right length can be a little tricky for carving skis. It's not an exact science. Some say that you should pick skis that are taller than your chin but shorter than your nose, while others like skis that are taller than the top of their heads.
Generally speaking, carving skis can be a little shorter than their all-mountain counterparts, and they're definitely shorter than powder skis. Some like shorter skis because they make it easier to initiate carving.
That being said, longer skis will give you higher top speeds – so keep this in mind if you want to truly push yourself to the limit. 
FAQs
What's the Difference Between Carving Skis and All-mountain Skis?
All-mountain skis are basically more versatile than carving skis. They give you a little bit of everything – allowing you to tackle every aspect of the mountain without missing out. 
All-mountain skis are not specialized, however – and they will not give you the same level of performance as all-mountain skis. 
Carving skis are narrower skis with no tip rocker and a more aggressive arc. 
What Length of Carving Ski Is Right for You?
If you're just getting into carving for the first time, you might want to reach for a shorter ski. If you're already comfortable with carving and you want to reach seriously high speeds, reach for a longer ski.
If you'd like to strike a balance between the two, reach for a carving ski that sits somewhere between your chin and your nose. 
Do You Need Special Skis to Carve?
No, you don't need special skis to carve. You can learn how to carve with the best downhill skis – you just won't really have the ability to carve at an advanced level. 
A specialized carving ski will let you reach higher speeds with more precision and agility. 
Your Tip and Tail Rocker
Here's another important thing to remember about carving skis:
You want only camber underfoot with absolutely no rocker. 
The thing about a rocker is that it means less of your ski edge touches the snow. In order to get the most out of your edge for true carving, you want to have as much edge contact as possible. 
But there's a trade-off:
With less edge contact against the snow, you're going to find it more difficult to initiate turns. 
This is another reason carving skis are built for speed and not wide-radius turns. 
Camber means that your skis are going to lift off the ground slightly around the waist. With camber and no rocker, you're still going to have plenty of contact on the snow – but with the flex you need to tweak plenty of performance out of your skis. 
Start Carving it Up Today
If you're ready to take your carving skills to the next level, I promise you this:
Carving skis will unlock an entirely new challenge for you – one that is thoroughly rewarding and thrilling. 
Carving represents an entirely new way to ski – and you'll reach speeds that will outstrip your wildest dreams. 
There's nothing quite like feeling your edge bite into hard snow while you tear down the mountain at insane speeds. 
Everyone should experience that feeling – and that's why I recommend that you grab yourself a pair of carving skis if you're ready to reach for that next level. 
So what are you waiting for?
Start carving it up today!