When time is money, and you haven't got both, I'm your knight in armor shining bright like a diamond. And his armor is his brain, which can be yours if you expire and be born again. You are right, that's impossible.
You must be familiar with carving that's why you are here, so allow me to enlighten you on what stands critical to a perfect carving snowboard. First thing first, answer if you want to carve small arcs and mimic carving? Or is going big your forte?
Because if you are about some small arcs, you can use any other snowboard you can find on the market. But if you want to be an artist, shaping their art as some fine lines and patterns on the snow surface, you better buy a suitable carving board for you.
Now, what are some best snowboards on the market, and what are the important features you should be looking for in a suitable carving snowboard? Read on to solve the mystery! 
Best Overall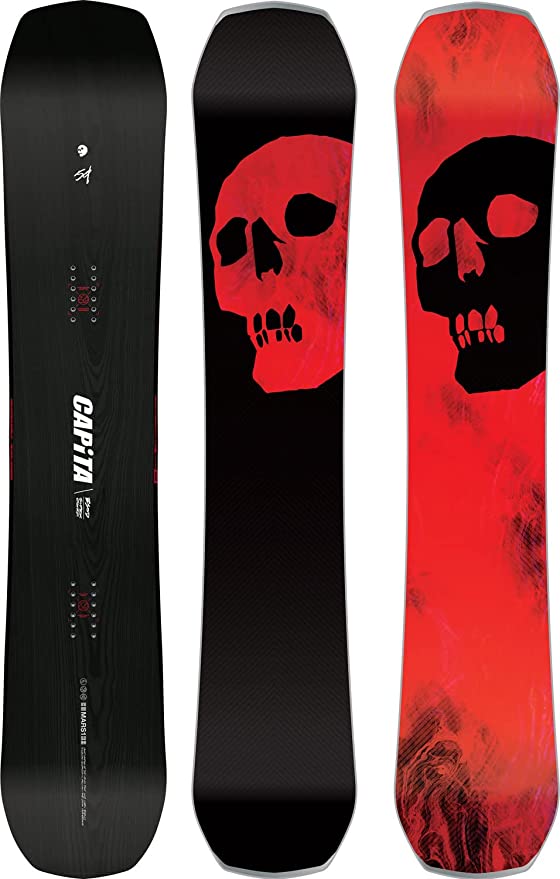 CAPiTA Black Snowboard
Ability Level: Advanced-Expert
Shape: Directional
Best For All Mountains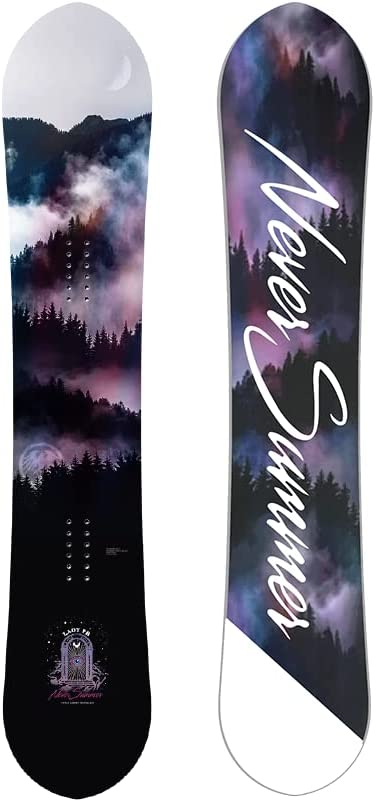 Never Summer Lady FR
Ability Level: Advanced-Expert
Shape: Directional
Ideal For Professionals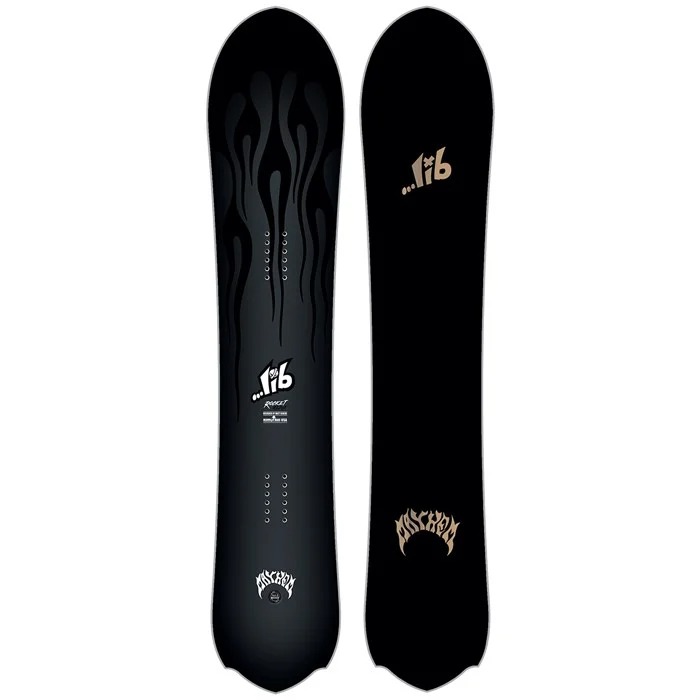 Lib Tech X Lost Rocket
Ability Level: Advanced-Expert
Shape: Directional
Most Durable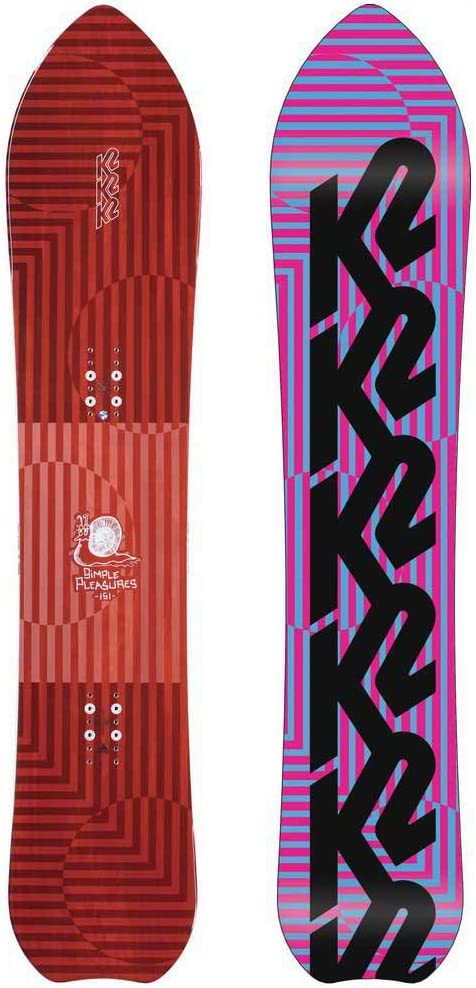 K2 Simple Pleasures
Ability Level: Advanced-Expert
Shape:

Directional
Best For Powder Days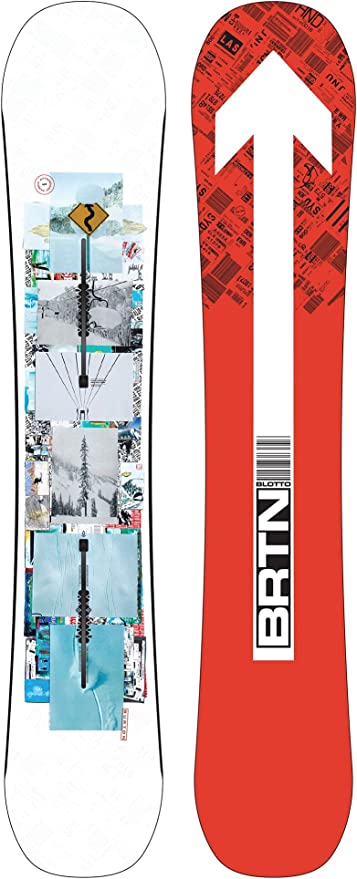 BURTON Flight Attendant
Ability Level: Advanced-Expert
Shape: Directional
Ideal For Tricks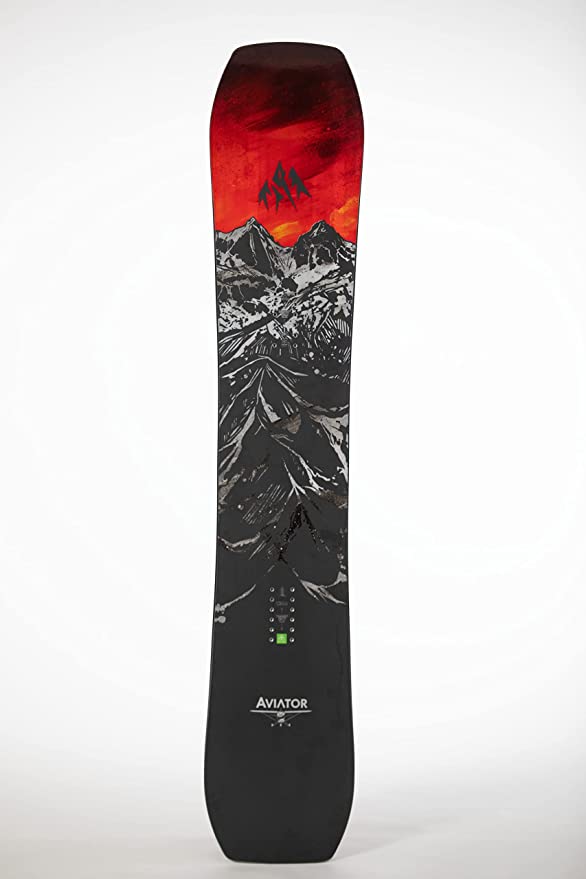 Aviator 2.0 Snowboard
Ability Level: Advanced-Expert
Shape: Directional Twin
Budget-Friendly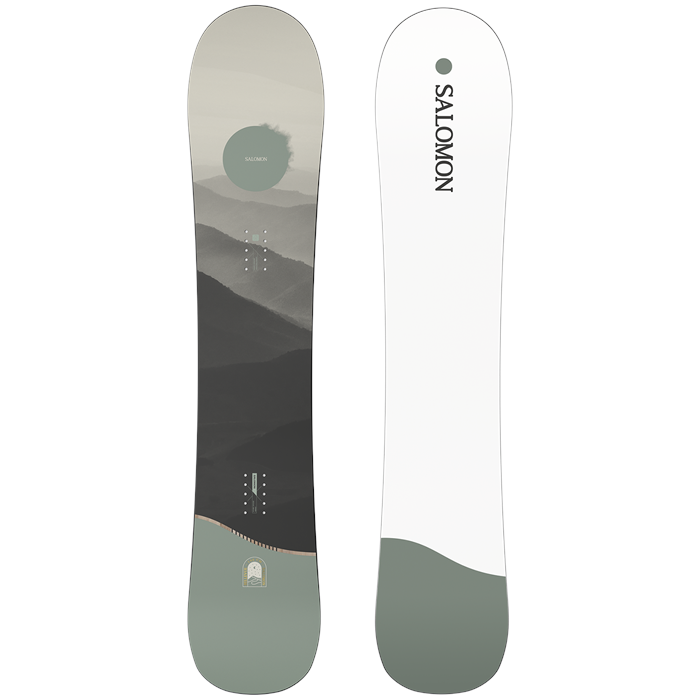 Salomon Bellevue
Ability Level: Intermediate-Advanced
Shape: Directional Twin
Best Carving Snowboards – Top 7 Picks
To save you time, I have shortlisted some best carving snowboards on the market. Let's see what they have in them that makes them special.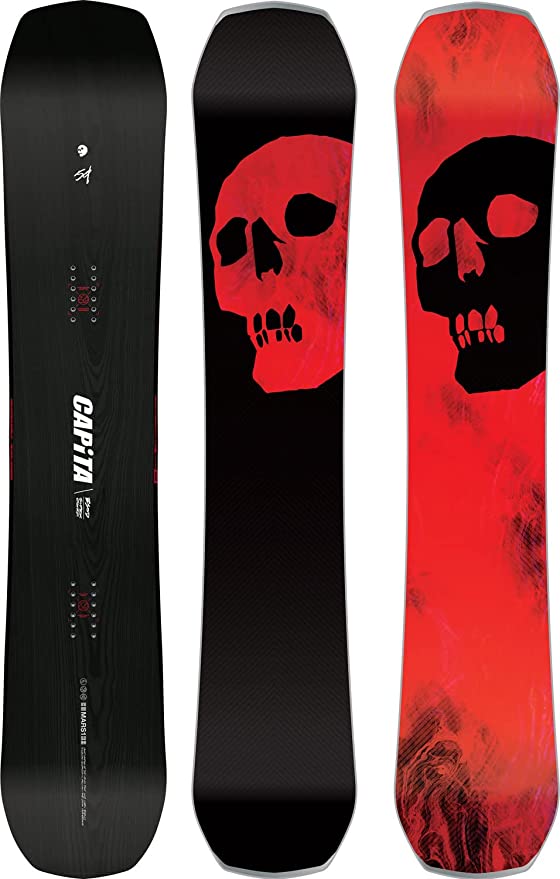 Are you hungry for precision carving? Capita BSOD sits in the top league for best carving boards. Looks like your next mistake? Not a mistake, though, if you know the very purpose, you are buying it for – as a knife to slice the snow.
Well, here's where the board shines brighter and boasts its carving ability. Indeed, the snowboard of death feels nice to carve as it gives back energy a great deal if you put energy into the carves.
Not to mention, the carving board gets alive at high speeds, and the carving game gets stronger, more defined, and more pronounced.
The reason behind its superb agility is its specifically engineered profile for carving. The board features a camber section between your bindings along with a flat tail and a reverse camber in the nose.
The core is torsionally soft, which impacts the flex and the board's performance overall. The stiff board features a directional flex starting slightly softer in the nose and then progressively stiffening back up to the tail, putting it on the stiffer side of the boards.
The Capita Black snowboard of 2022 feels smooth, a bit chattery, stable, and nimble enough for side-cuts. But the 2023 snowboard of death got damper without compromising its innate liveliness. Now, it can competently absorb micro-vibrations. No irritating chatter! Yay!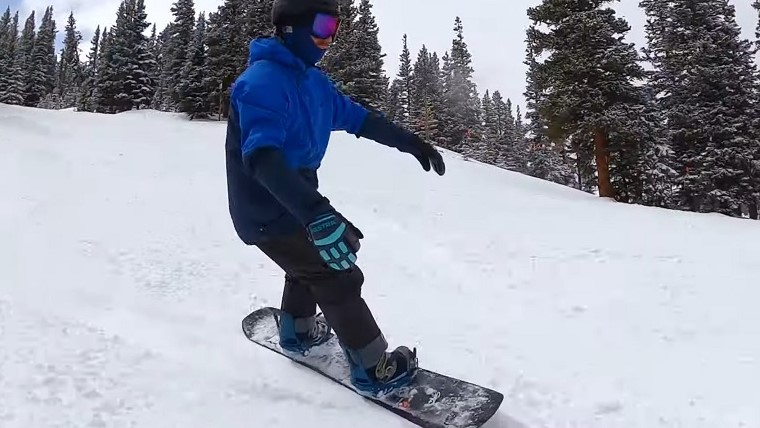 If we talk about the tricks it allows, the board launches poppers, side hits, and rollers like a pro. However, the board makes you fight the flex and camber tooth and nail when it comes to locking into a tail butter or a nose. To hard charging all mountain free riders, good luck working it out!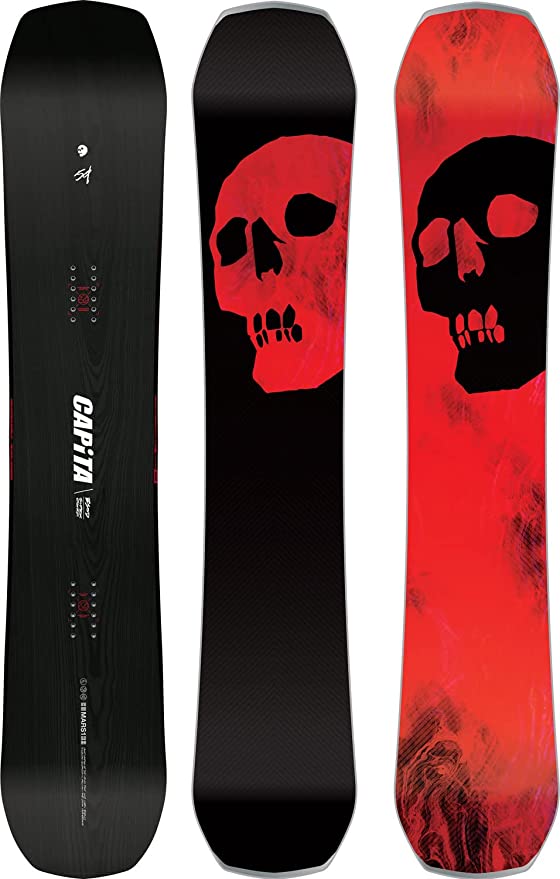 CAPiTA Black Snowboard
The price of "CAPiTA Black Snowboard" varies, so check the latest price at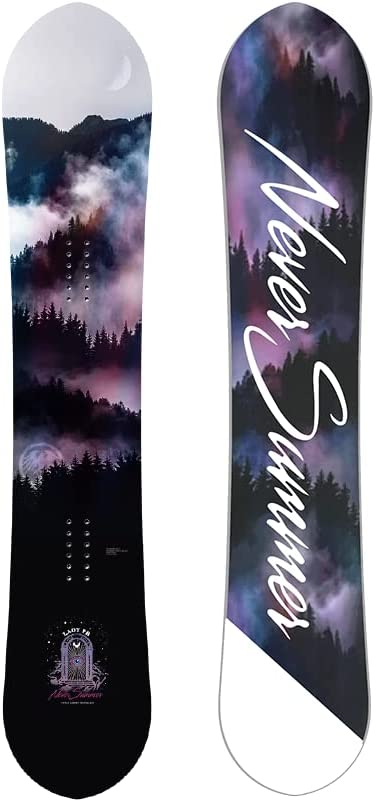 Never Summer Lady West doesn't lie when it claims to be an all-mountain quiver killer among the alternative all-mountain boards. The board is capable of nailing a wide spectrum of terrain and conditions. How is it possible?
To our surprise, it is. It has great edge control, rips groomers like no other, cuts through curd, and blasts the powder days.
The most prominent feature of NSLW is its terrific edge hold. You'll be amazed to notice how exceptionally grippy the board is and how well the edges bite into firm snow. Also, it makes edge-to-edge transitions super easy and fun.
Secondly, the flex pattern is specifically tailored for shredders. The stiff flex snowboard does a good job of balancing its stiffer flex with bags of torsional flex. Good luck cutting through choppy snow and carving turns without chattering a great deal!
If we talk about its performance on powder days, the board performs quite well, but I'd say it's not specifically made for powder rats.
The empowered slightly setback stance helps you lift the tip of the board when riding in deep snow. Moreover, the directional shape paired with a flat transition area underneath allows excessive floatation. It may not be your first choice on deep snow, but one can get a fun ride out of it.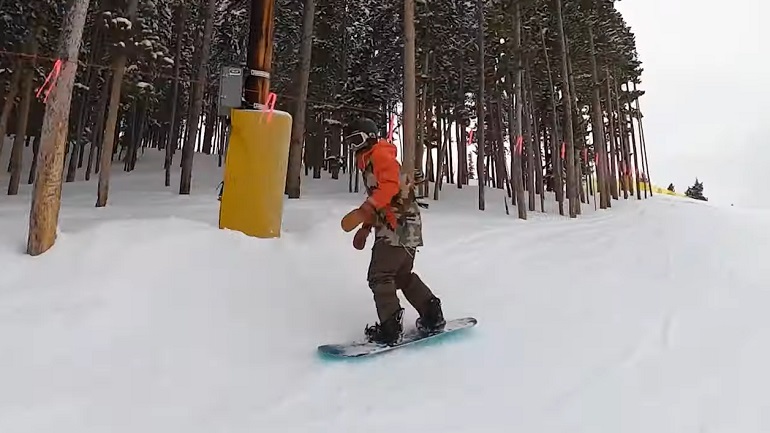 To conclude, the stiffness and exemplary edge hold make the rider feel extremely secure at higher speeds while performing ollies, jibs, and skidding turns.
Did someone say high speed? Yes, Lady West wants you to go fast and furious, that's why it is embraced by many aggressive riders. It just blasts through curd and rips down groomers with minimal chatter.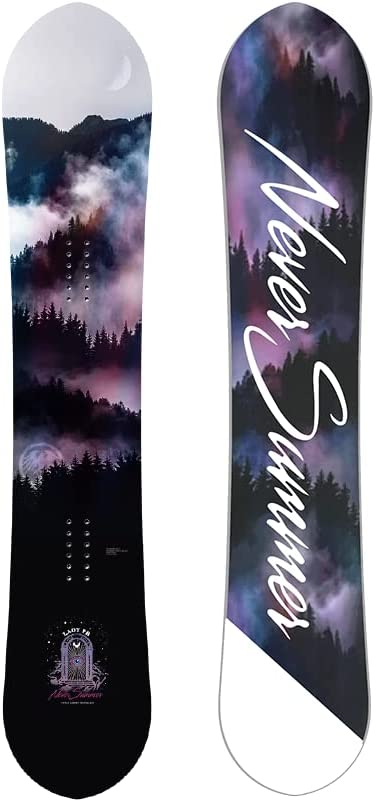 Never Summer Lady FR Snowboard
The price of "Never Summer Lady FR" varies, so check the latest price at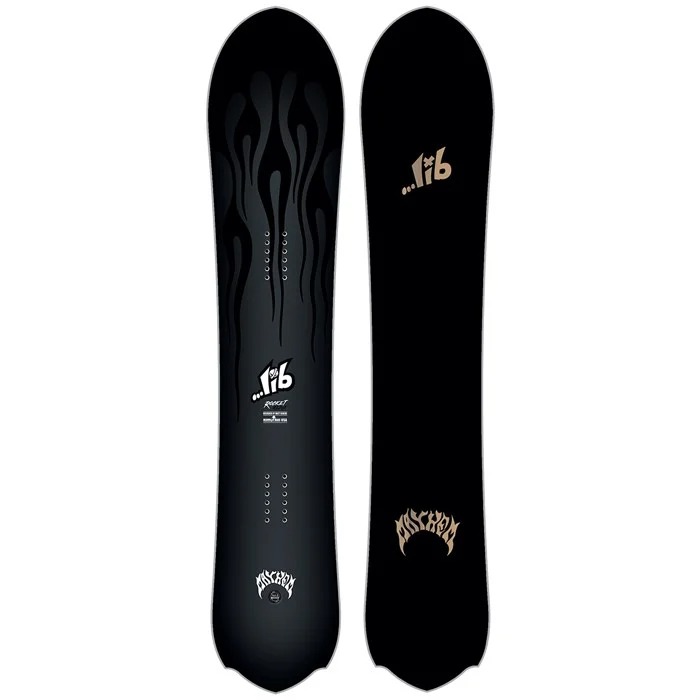 Are you in need of a power machine for carving the entire mountain? Let me introduce you to the direction dream machine – Lib Tech Lost Rocket. With stability touching the skies, the Rocket rests more on the locked side of the stable and encourages smooth turn initiation.
The board is pretty much all camber. However, very light and mellow, and the shape is super fun for taking turns. If we talk about its abilities, the board can butter off the tail better than any alternative with the same profile as the one it possesses.
The Rocket snowboard boasts a medium flex with a lot of snap and pop to entertain you.
The sturdiness of this snowboard surprises you, like all other Lib-Tech snowboards. The reason why it is so is that the board feels energetic and strong underneath your foot. Hence, overall enhancing the feeling of the ride, ultimately forcing you to believe that you are riding on wood.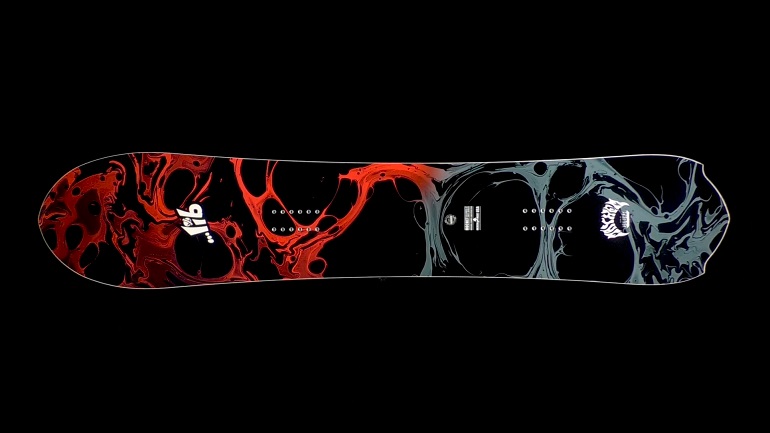 On soft snow, the board kills it. No doubt it boasts a mellow mag. However, it takes a muscle to make it obey on hard snow. And if you succeed, it shows competent extra grip for hard snow riding, for sure. Although, we recommend it for experienced riders, not beginner babies. You can also check Lib Tech T Rice Pro Snowboard.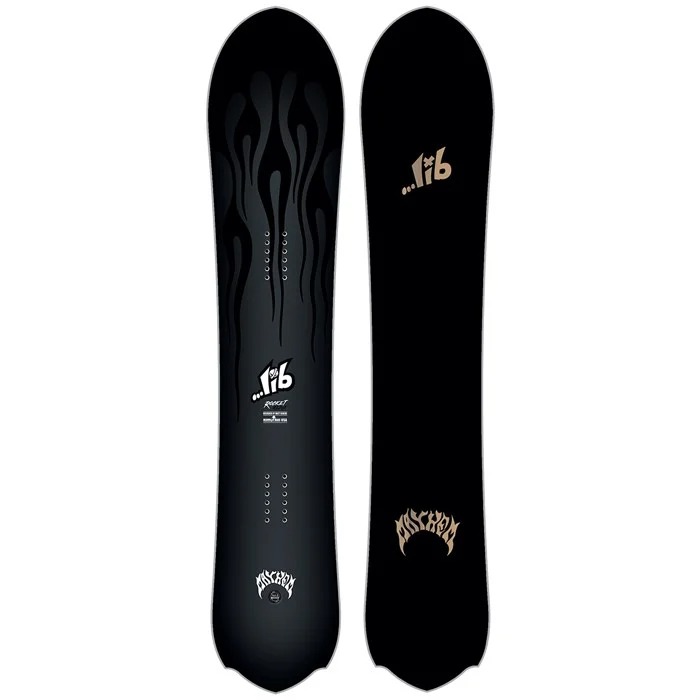 Lib Tech X Lost Rocket
The price of "Lib Tech X Lost Rocket" varies, so check the latest price at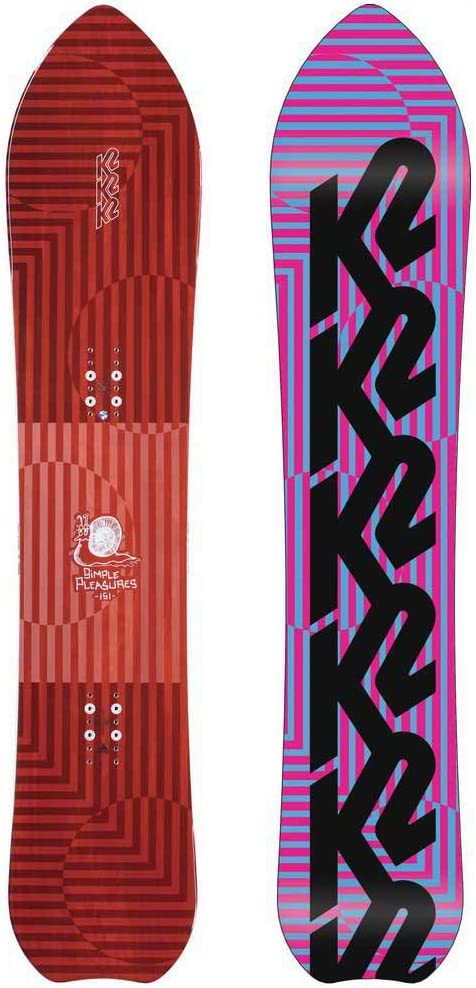 K2 Simple Pleasures swanks a big rockered nose, a tapered cut-out tail, and a mid-wide waist. All these features are ideal for better floatation and sniffing out powder. Simple Pleasures provides absolute pleasure on the piste, easy directional float on powder, and a smooth but slow ride on uneven terrains.
The board, with its mellow camber, stands stable yet somewhat locked in if we talk in terms of its stableness.
Now since we are talking about the profile, let me tell you about its camp/rock combo. One can get the best of both worlds as it blends the traditional camber and rocker profiles. This means, getting the float and predictability of rocker and precision and pop of camber.
The camber stretches down to both contact points in the tail, for an aggressive ride, while it also supports smooth turning from the rockered nose when you want to push it. Already feel like riding it? I'm sure you do.
Don't forget, its narrow tail provides maneuverability to the back binding, so one can pump their turns without much effort. Moreover, the wide nose and waist never fail to amaze you with the dynamic and lively ride it provides.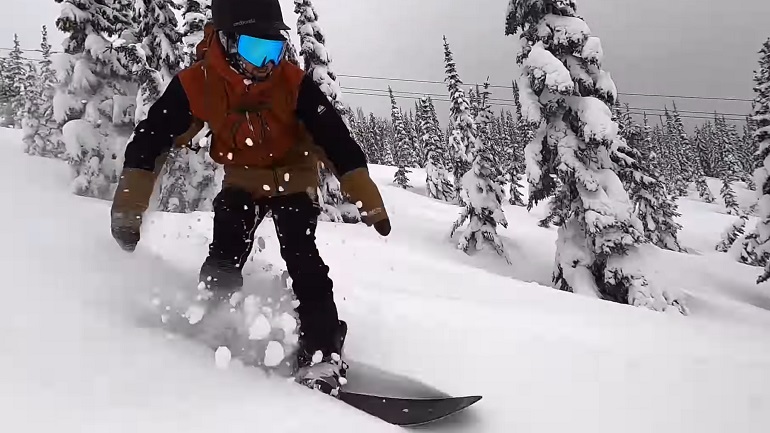 The super slicked sintered base of the snowboard promises only one speed – top. It is also known for its durable and elastic nature under pressure, rendering it ideal for heavy hitters. Amazing! And that's exactly what makes it the best carving snowboard.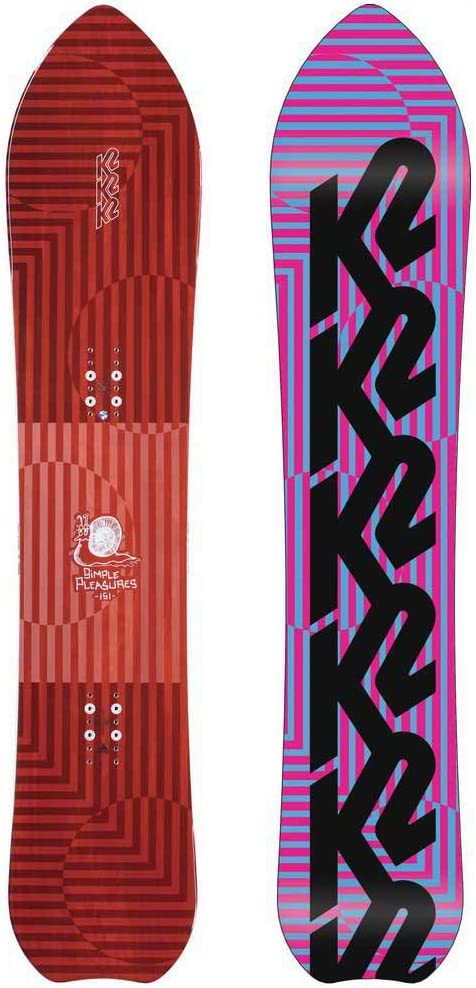 K2 Simple Pleasures Snowboard
The price of "K2 Simple Pleasures" varies, so check the latest price at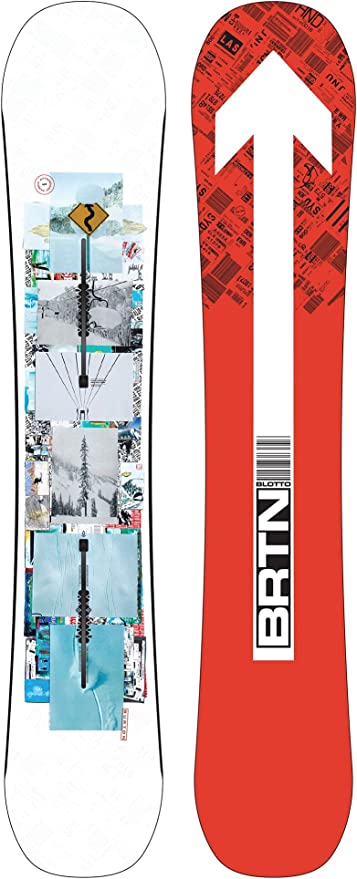 Ideal for carving up groomers, Burton flight attendant got a poppy directional camber and the much-needed spring.
Built for aggressive and more advanced riders, the Flight Attendant is Burton's answer to a high-quality ride in the brutal hard snow, or even soft. The pretty stiff snowboard is the one if you want to throw caution in the air. No kidding, beginners are advised to leave the chat room.
Boasting its long rockered nose, a setback stance, and a tapered outline, the board is born to sniff out powder stashes and keep the board afloat when you hit the payload. Although, one can reset the setback stance into a centered stance for more stability and better control while riding groomers.
Let's talk about its mighty profile. The excessive rocker in the nose offers easy surfing in the powder, but a dominant camber present in the rear, pumped by the stiffer tail, drives power and precision through your back leg.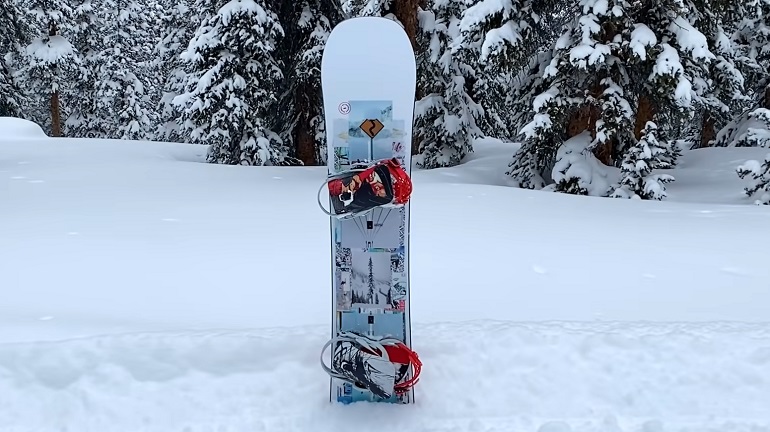 Also, park rats are most welcome to try it to throw down some backcountry freestyle, or rip through the park, as it's not a buttery jib board. This board is something more experienced riders desire to tackle bigger terrains. No doubt, with its fantastic edge grip, the board supports edge hold on soft to hard snow.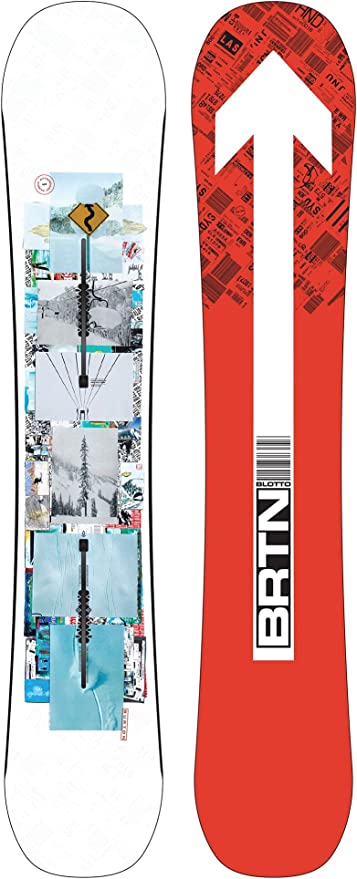 BURTON Flight Attendant Snowboard
The price of "BURTON Flight Attendant" varies, so check the latest price at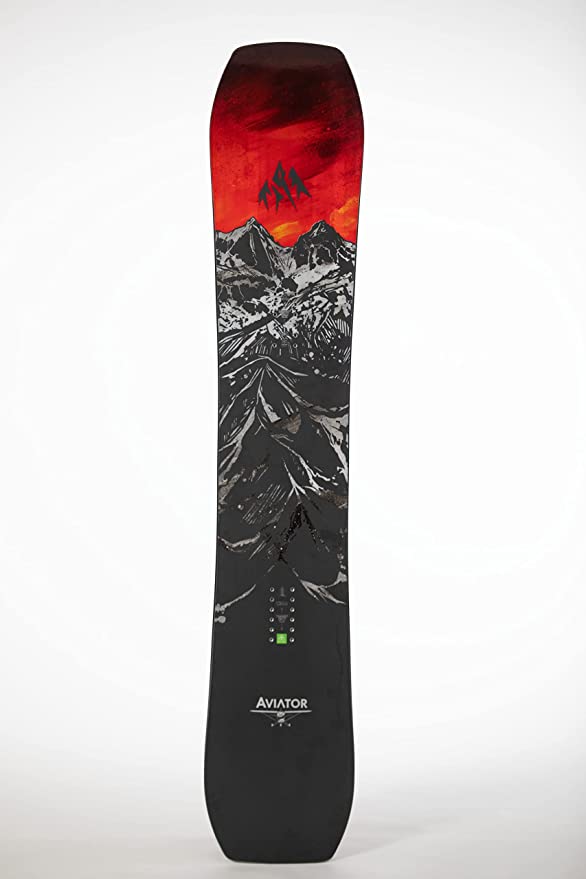 Aviator is a jumping machine! Believe me, when I say that I almost went to heaven, knocked on the door, and came back down on earth with a 'not allowed' card. Kidding, nobody answered, it was empty.
This light snowboard copies the directional shape of the Jones Mountain Twin, but it is not super directional, though. It has got a camber profile, and the camber runs throughout the board while divorcing rocker entirely and adopting a little spoon in the tip.
That's why it tends to be more forgiving than the traditional camber board but much more locked in than other boards of hybrid nature.
Aviator has got some really nice pop going on, so pop your ollies, impress the spectators, and respect the wildlife. Now let's talk about its flex. The board shows a medium to stiff flex that isn't easy to butter but possesses a snappy flex when it comes to carving, turning, and maneuverability at high speed.
Speaking of which, let me enlighten you on its impressive agility at higher speeds. It's not a tank but feels nice and stable when you try a good glide with its exceptionally high-quality sintered base. However, it doesn't perform well at slower speeds.
Well, I've got another good news for you, the board isn't chattery, on the flip side, it proves to be one of the dampest I ever came across. Superb in absorbing chatter and plowing through thundery and challenging terrain, Aviator will prove why it is named so.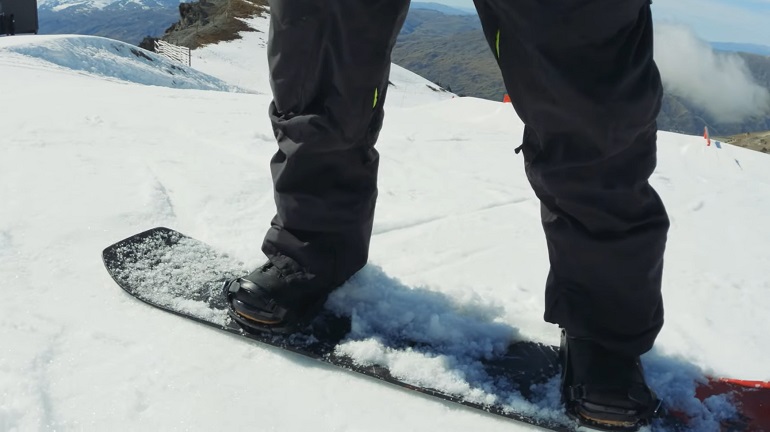 Do you wonder why? Because it wants to get in the air as it impeccably sails off lips and flies through the air like an aircraft. Moreover, it lets you explore the wide terrain with its wide waist width. Buddies! Leave no stone unturned!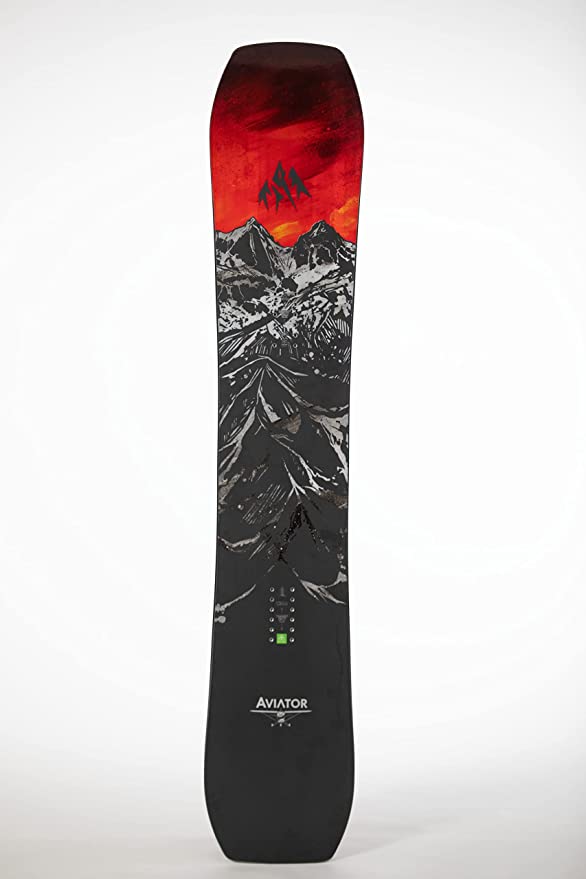 Aviator 2.0 Snowboard
The price of "Aviator 2.0" varies, so check the latest price at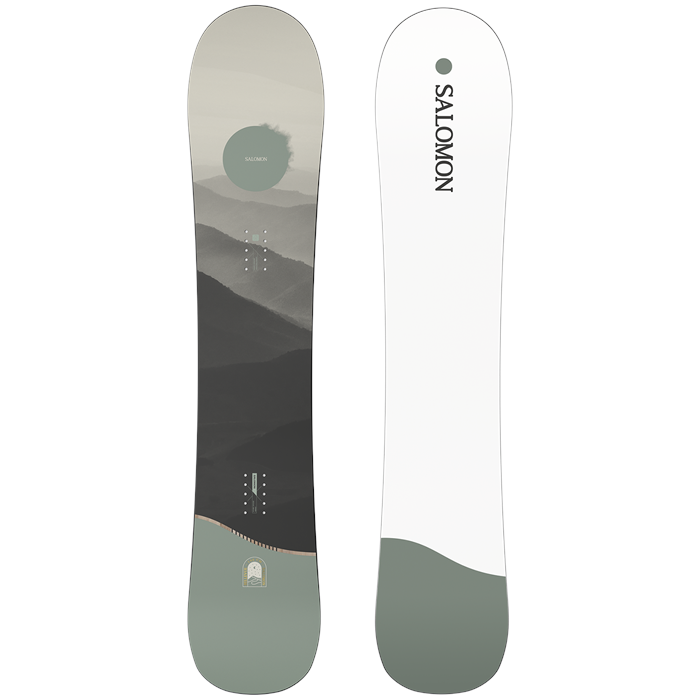 Primarily designed for powder rats, this wide snowboard with its backseat camber lets you take control while carving the turns. On the other hand, the nose embraces a flat camber under the front foot for better floatation in deeper snow.
The board is not the best option for beginners due to its stiff flex. So, if you are an experienced rider who wants to carve and slash powder, this is your friend.
Salomon Bellevue is designed with a tapered directional shape while keeping in mind powder days. You need not worry about your board's nose sinking in the snow ever so often because it sticks up like a snorkel while its tail sinks amicably.
To assist you further in powder, the wide board takes up a camber profile made just right for the job. The board with camber in the tail and flat section in the nose helps to lift it up and provide optimum power to your back snowboard bindings, without compromising a muscle.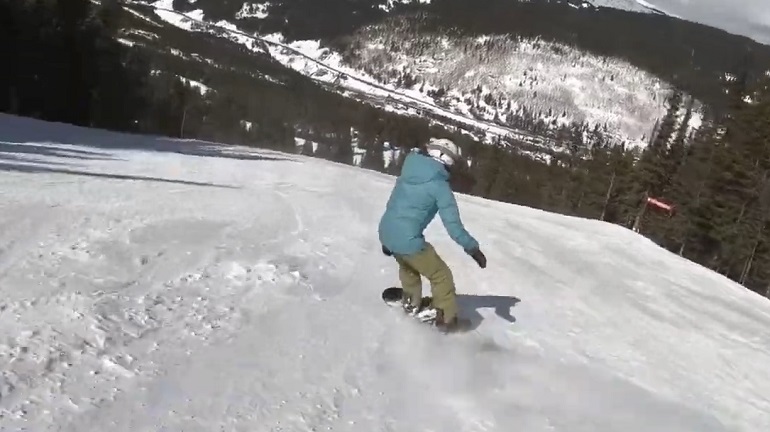 When you are on the piste, the flat area in the tip provides essential stability between turns. The stiff flex further enhances your experience as you can push against the snowboard for safe against high-speed carves on the piste. In addition to this, the quadratic sidecut lets you lay out super long carved lines without losing grip.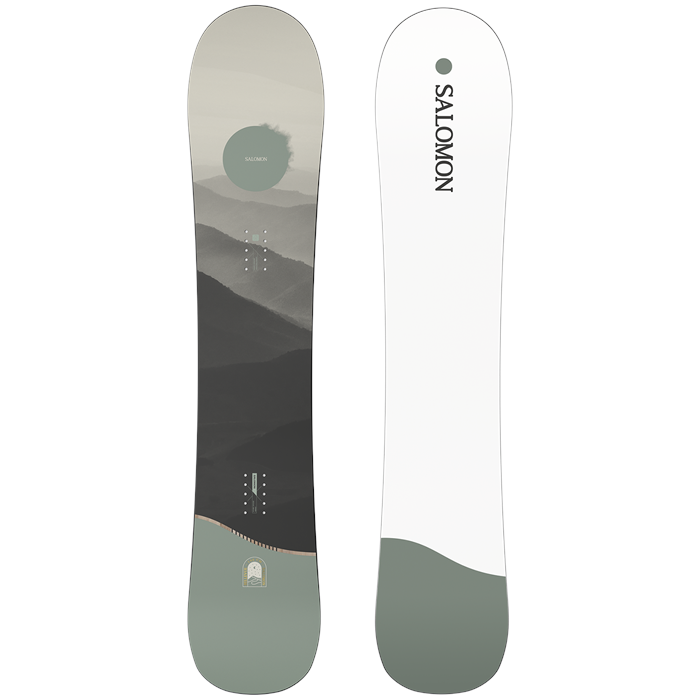 Salomon Bellevue
The price of "Salomon Bellevue" varies, so check the latest price at
How To Choose the Best Snowboard for Carving
There are a few features that combine together to accelerate your carving experience, let's see what they are. 
Flex (Stiffness)
A deadly stiff flex will save you from falling and branding your face with crispy snow. Yes! For carving purposes, always go for a stiffer flex with a flex rating greater than 6 out of 10.
When you carve the lines on snow, you exert huge pressure on the board, a feeble board will refuse to obey you, while a stiff board will go like, 'say no more, I've got this.' This means it should be strong enough both torsionally and along its length to handle your wrath.
While stiffness along the length helps in pop, torsional stiffness helps prevent the board from buckling.
Length
You don't want to explore the depth of snow 'literally'? If it's a no, I'm your friend. Otherwise, I'm not interested in finding out what snow tastes like.
Okay, Buddies! Hear me out! The length of the board for carving is as important as paying for a date. You know, it won't work otherwise.
A longer board with a long effective edge will allow a longer edge in contact with the snow, ultimately a smoother response while carving. Also, avoid buying too long, as it will make it hard for you to do quick short turns.
Directional Shape
A carving snowboard should possess a directional shape to allow an effective ride in one direction. Now such a board may not prove so good for ride switch, but it's a killer for laying out lines.
A twin shape snowboard will have its waist (the narrowest point) precisely centered along its length. While a directional board will have that narrow point built slightly backward towards your back foot and binding. Hence, rendering the nose longer than the tail. For carving, both are good to go.
Width
Another feature to save you from kissing the arse of snow – is a wide waist. When you carve a turn, you change the position of the board by turning it on its edge, and if you lean it heavily, you might start feeling your toes or heels touching the snow.
We call it toe or heel drag or a damper. No doubt, it puts a damper on the fun you were having. On the contrary, a wide snowboard provides more room for your boots to fit into. 
A wide waist might make the edge-to-edge transition slower, so you can also resort to increasing the angle of your bindings. For further assistance, you can learn how to adjust snowboard bindings.
Binding Angle
First thing first, for the extra boost, you will need to set a suitable stance angle. If you are new to carving, you might want to try a stance of 21 degrees for the front snowboard bindings while 6 degrees for the rear.
A pro tip is that keeping your bindings angles of both feet within 5 degrees of each other will provide that extra stability you need at high-speed carvings.
FAQs
What Is Carving in Snowboarding?
Carving is a foundational trick snowboarders use to carve the snow. It includes turning your snowboard edge up and using its edge shape of sidecut only to lay out lines on the terrains. One can use any deck to carve the mountain, however, the carving-specific boards excel in it as they are primarily designed for this activity.
What's the Difference Between Carving Snowboard and Freeride Snowboard?
Freeride snowboards and carving boards are designed for adventurous rides. They are often made directional as they are meant to be driven in one direction. Also, both carving and freeride board embrace a long and wide profile to benefit from a better lift and avoid toe drag.
Conclusion 
Carving is fun only when you own the right board for the job. Using a substitute will not only throw the fun out of the window, but it will also make you bow instead of obeying you.
For experienced riders, it is advised to use a stiffer board paired with a positive camber to nail the lines entirely. Because a soft snowboard will start to skip out, and eventually, you will end up losing edge grip. So, do your homework well before spending your money!