Ski Clothes, Anyone?
The perfect ski trip. Is it possible? I am dubious about the notion myself. However, there lies one common denominator among all of my best ski trips. Comfort. I was comfortable, and that was what made all of the difference.
Ski wear does not solely revolve around looking stylish. The warmth it provides, the breathability afforded to you, and how effectively it can safeguard you against the elements. These are all qualities that proper ski gear must have.
Frankly, I must divulge that my first few ski trips were a disaster. I did more shivering than skiing. Resembling a wind-up toy throughout those first few trips. Chattering away like a beaver. "Never again", I chattered to myself.
I'll take a wild guess and say that you have no desire to end up like that. The following ski brands will ensure that you don't.
The 10 Best Ski Clothing Brands
Assuredly, you will recognize some of the winter sports brands listed down below. For the reason that a small minority of these brands have transcended backcountry skiing. Most notably, Patagonia.
From their first-rate build quality to their admirable efforts to aid the environment. Nevertheless, their contemporaries have also put up a good show. Outdoor Research constructs new ski pants and cool ski jackets that are coequal in comfort and protection.
I'll be giving you a quick appraisal of each brand. This will be followed by a single recommendation that I believe best showcases the brand's caliber.
A side note. My first time out skiing, there wasn't a single article of clothing on my body from any of these brands. Yes… I was cold, and I did fall ill. Never again!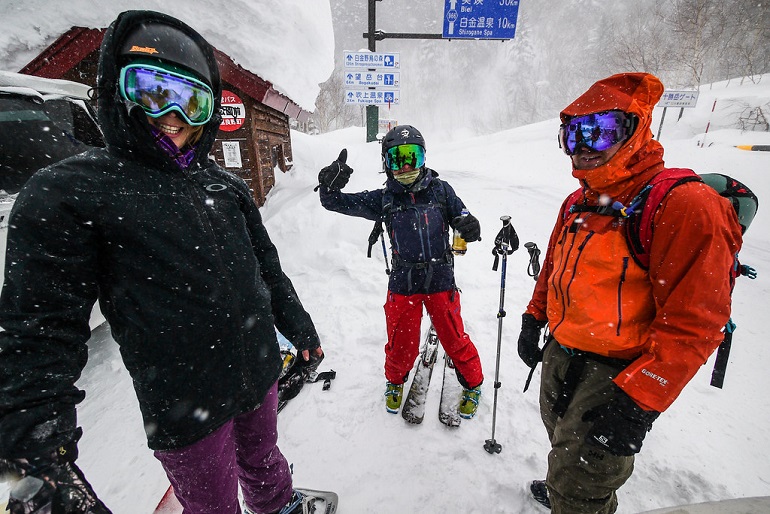 Renowned for their company culture and quality. Personally seen as the benchmark to which all other gear brands should aspire to. Patagonia was founded in 1973. Oddly enough. This corporation was birthed and remains to this day, in sunny California.
Patagonia's mission statement is: "We're in business to save our home planet." A mission statement that they've lived by up to this point. Donating at minimum, one percent of their sales to environmental causes.
Recently, Patagonia has begun to expand outside of the clothing industry. However, the core of their business and spirit continues to reside within the sportswear world.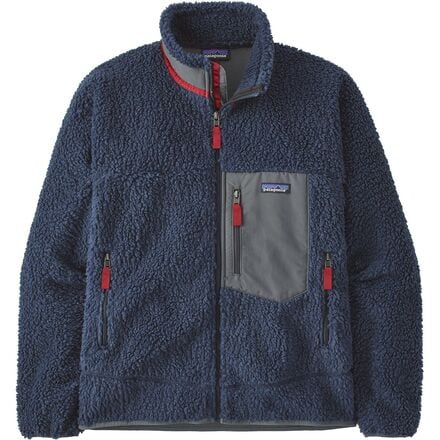 Nostalgia. Long ago, I was fixated on the feeling. Thankfully, I've learned to temper that demon. Well… that is until my path crossed with the Classic Retro-X ski jacket. Reeled right back in.
Where to start? The aesthetic design of this ski jacket has me hooked. The sagacity of having a waterproof chest pocket is not lost on me. Tiny quirks and features like these are what transform a conglomeration into a working product.
There's a unity to this jacket's design. Held well together by sherpa fleece and vanguard by a versatile mesh lining. A mesh lining, might I add, that has anti-odor and wind-blocking qualities. Style and protection!
Features
Best Feature: Anti-odor mesh lining
Comfort: Windproof fleece
Protection: Internal wind flap
Pro
Astonishingly warm and without needing to weigh you down.
Waterproof chest pocket? Yeah, it's got one of those.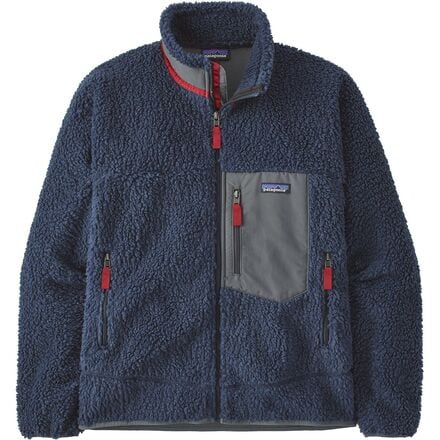 Classic Retro-X Jacket – Men's
The Price of "Classic Retro-X Jacket – Men's" varies, so check the latest price at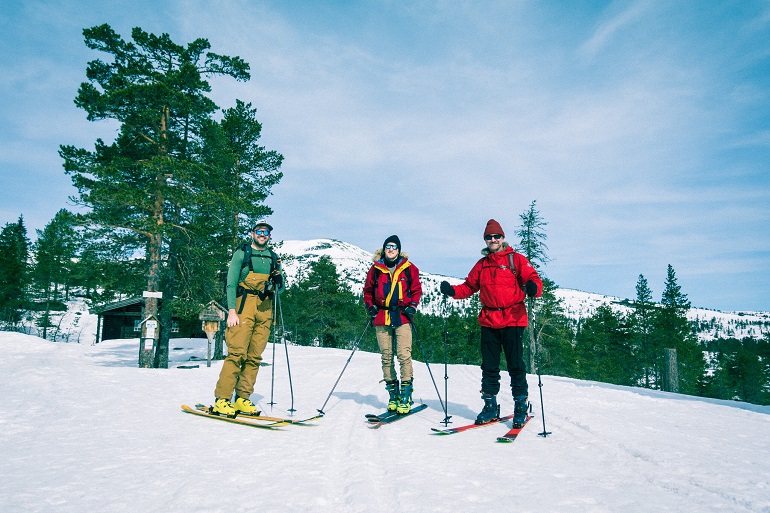 Outdoor Research. Straight to the point. A quality that shines through their products. Founded in Seattle, Washington, the year was 1981. Mainly plying their trade within the alpinist and rock-climbing disciplines. A fact that has not impeded them from reaching the upper echelons of the ski world.
Unquestionably, their roots within mountain environments have served them well. Despite their experience and magnanimous inclusion of technical features into their gear, their reputation was built upon another factor.
Affordable pricing. Other brands can boast about using recycled materials and the superior warmth of their standout products. However, they'd be hard-pressed to offer their gear at affordable prices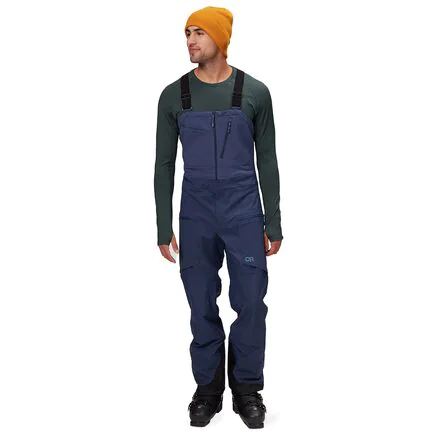 Ski suits of the world, please take note. This is how it's done. Protection and comfort should always take center stage. But does that mean that practicality should be tossed out by the wayside? Never!
The SkyTour AscentShell men's ski bib brings it all to the table. Practicality the shining star! With a zip-front design that is easy to grapple with and an assortment of pockets littered throughout.
Impressed I was left by the quality of this ski wear. Nature calling? Well, there's a rear hatch that can be swung open for those untimely emergencies.
Features
Best Feature: Mobility and comfort
Comfort: Gusseted crotch area
Protection: AscentShell technology
Pro
Gusseted crotch area, that's fancy talk for: you'll be able to move around with greater ease.
Has a zip-front design that makes it a cinch to take off and put on.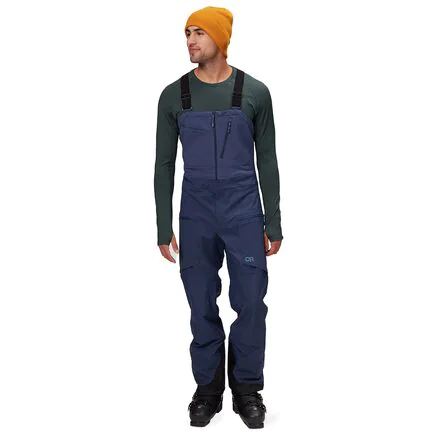 Skytour AscentShell Bib Pant – Men's
The Price of "Skytour AscentShell Bib Pant – Men's" varies, so check the latest price at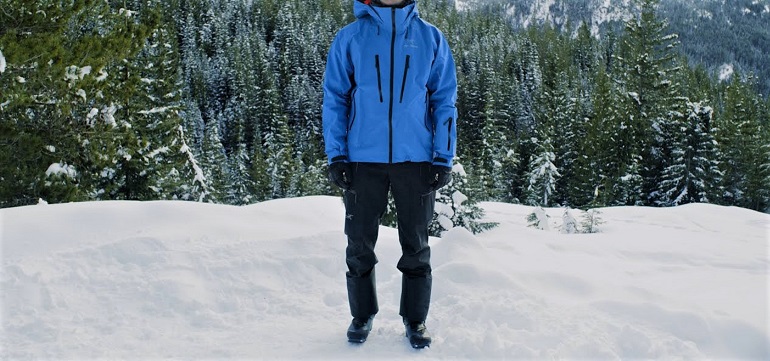 Reputation is everything. Defining how the world sees you. For any brand, closely monitoring and building up its reputation is a must. How's Arc'teryx been doing? Across all metrics, it can only be described in one way. Pure ascension!
Arc'teryx was founded in 1989. The eighties were busy! Headquartered in the frozen north, Canada. Specializing in top-grade ski clothing and equipment. My path has intertwined with Arc'teryx's on numerous occasions. Both in my writing and personal life.
I'll attest to their quality. Ski jackets, namely being their signature product. They make great technical gear, not much more to be said about them other than consistently top marks.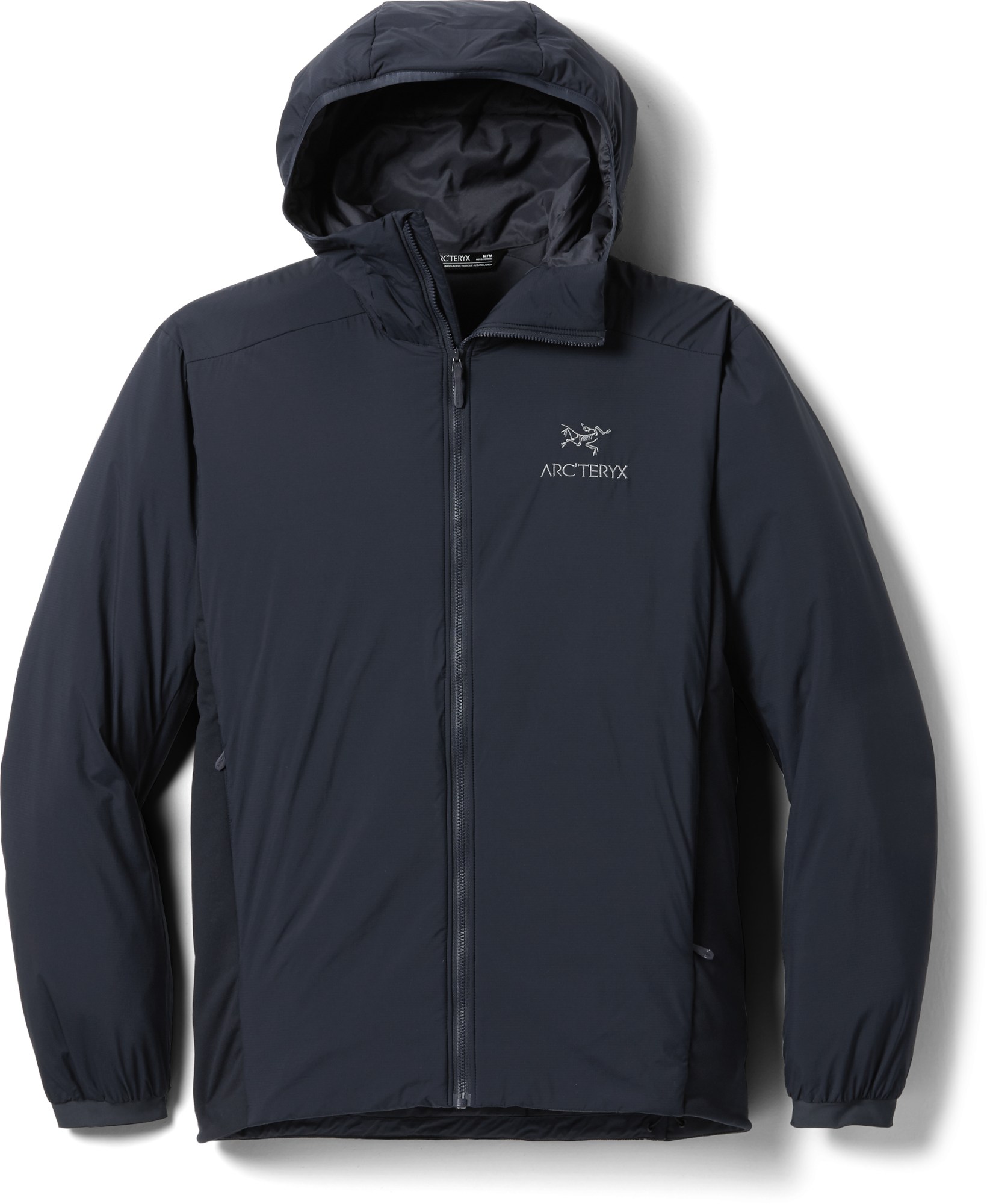 The Atom LT Insulated hoodie epitomizes everything about the Arc'teryx brand. Primarily composed of polyester and elastane. The right amount of elastane. Not so much that the hoodie's abrasion resistance plummets but enough to elevate your comfort.
Despite its thin frame, how can it be so warm? Its warmth comes from sixty grams of synthetic fibers. Synthetic fibers, that the Atom LT Insulated hoodie uses to great effect. Never concentrating any large amount on one specific area.
Granting this hoodie a uniform warmth. Want to cage in your body's warm air? Utilize the Atom LT Insulated hoodie's hem adjuster. Not a single detail was spared. Everything has been accounted for.
Features
Best Feature: Durable water repellent
Comfort: 60g Coreloft Compact
Protection: Abrasion resistance
Pro
Carries with it an adjustable and low-profile hood.
Astonishingly breathable liner that regulates your body's temperature.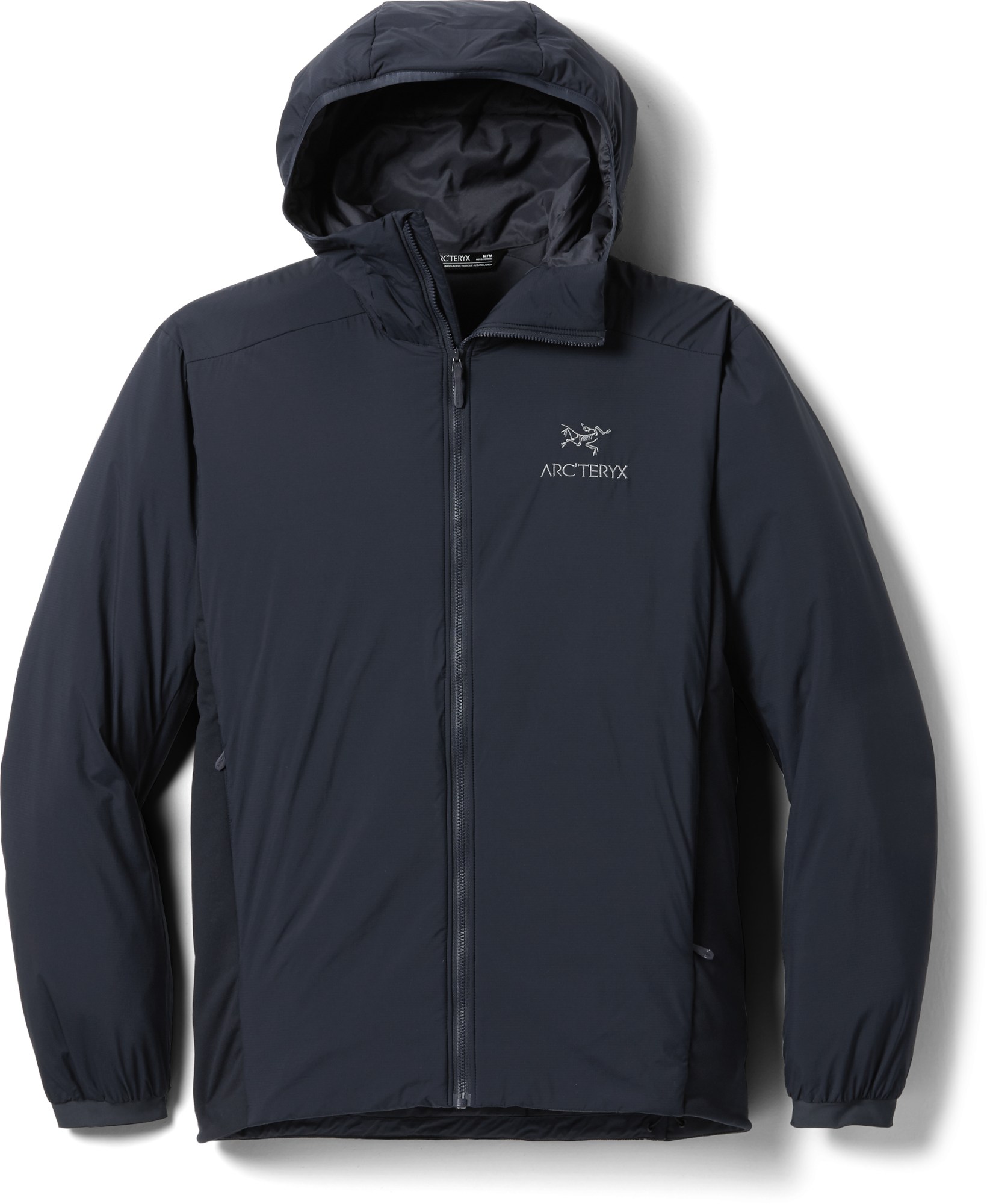 Arc'teryx Atom LT Insulated Hoodie
The Price of "Arc'teryx Atom LT Insulated Hoodie" varies, so check the latest price at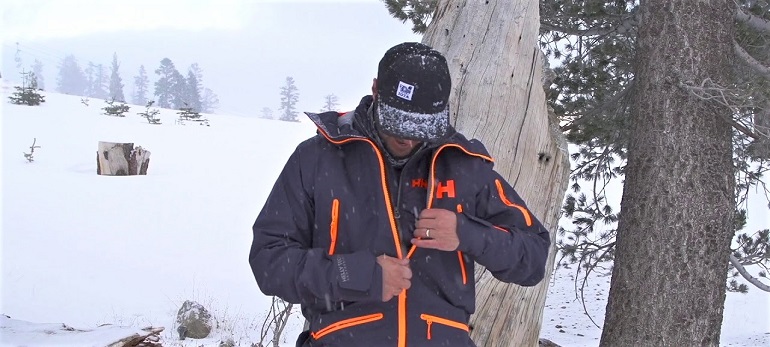 Helly Hansen, the bellwether. If not yet, then quickly becoming one. Consistently putting out top-drawer products. More so than other clothing brands. It's no wonder why their ascent has been so rapid.
Founded in 1877. Yeah, it's old! The company has continued to raise the bar within any sector that they deploy into. Apple has the iPhone, but what product of Helly Hansen's is ubiquitous with their brand?
The Men's Alpha 3.0. I'll be examining it further in a moment. For now, it must be said that this Norwegian delight isn't going anywhere. Neither is their commitment to quality. Perfect!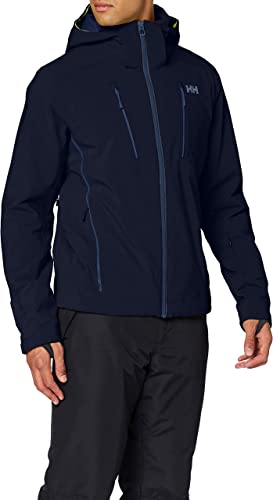 Here it is. Helly Hansen's iPhone. One knock-out product that experiences only slight iterations through the years. The Alpha 3.0 has got a premium build. Each sector of this ski jacket follows its own blueprint.
The outer shell is made up of polyamide and elastane. Elastane grants this ski wear increased stretch, and the polyamide brings with it high-wear resistance and warmth. For insulation, one hundred percent recycled polyester.
Warm and eco-friendly? Sign me up! Rounding off this design is one extraordinary hood. Do what you want with it. Adjust it to find the perfect fit. Detach it if it threatens to ruin your hair. And if you want to wear it? No problem! It's helmet compatible.
Features
Best Feature: Four-way stretch fabric
Comfort: 100% Recycled polyester insulation
Protection: DWR coating
Pro
4-way stretch fabric? Yeah, your sacred mobility is going anywhere.
Not only is the hood adjustable, but also detachable and helmet compatible.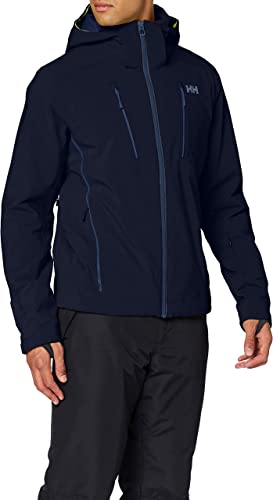 MEN'S ALPHA 3.0 SKI JACKET
The Price of "MEN'S ALPHA 3.0 SKI JACKET" varies, so check the latest price at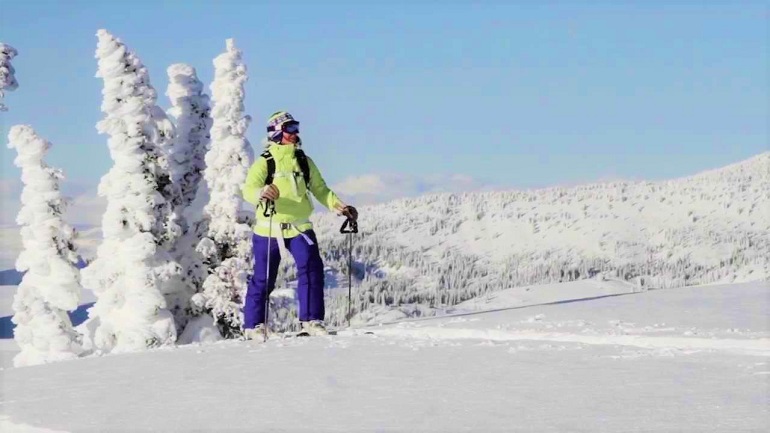 Born on the eve of 1938. Or thereabouts. Columbia, much like Patagonia, is another one of those clothing brands that have transcended the skiing world. Head to any American shopping mall, the ones that haven't yet been massacred by online retailers, and you'll find many people sporting their wear.
Resort wearing at half the cost! An unofficial motto of theirs. Certainly, words that they live by. Offering up the largest lineup of products and ski clothing, they've got something for everyone.
Does the quality of their wear take a hit? When compared to other top brands? Yes. However, when compared to non-ski clothing brands: absolutely not!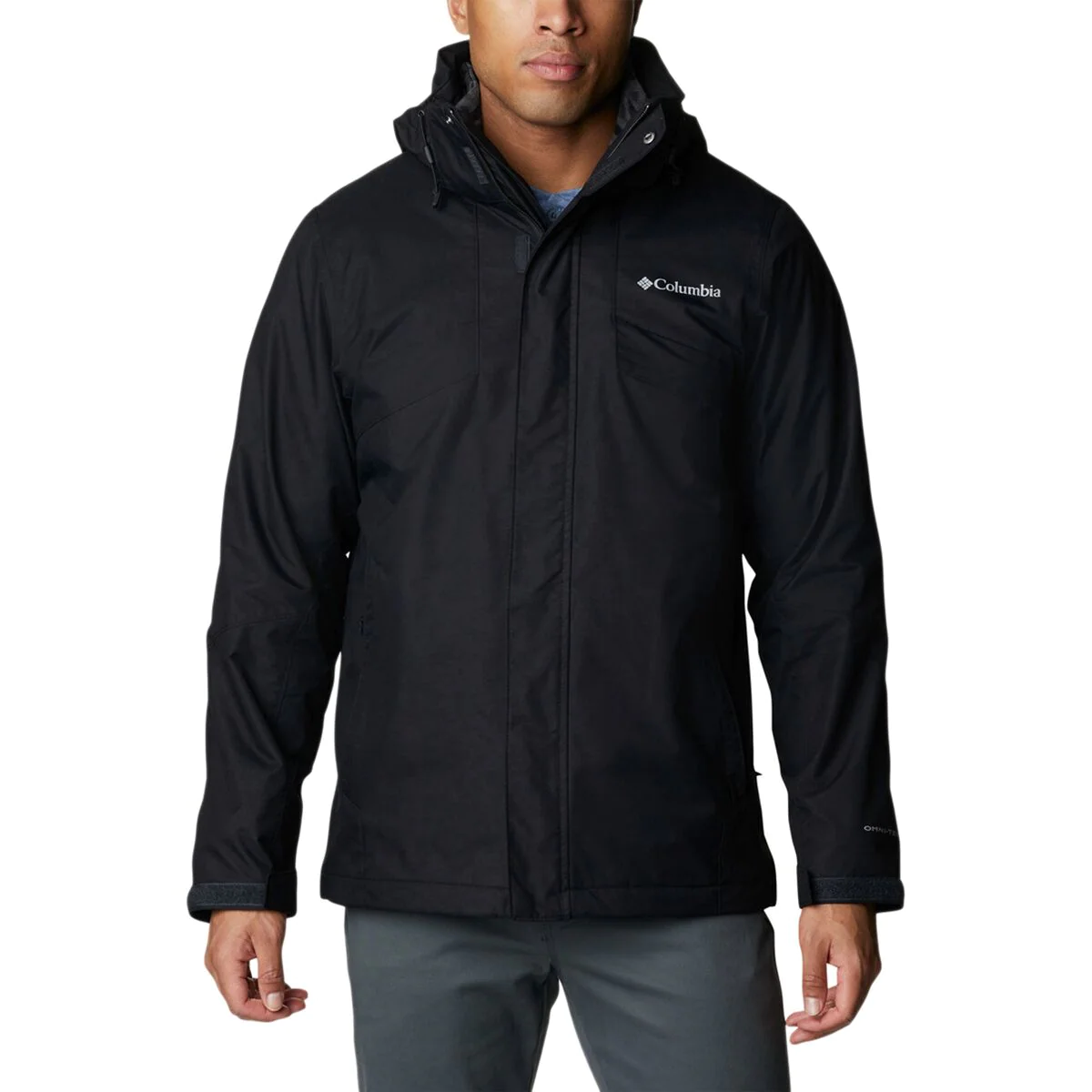 Looks great and feels even better! If I had to succinctly describe this ski jacket, that is how I would go about it. If upon first wear, you don't feel great, worry not. A vast majority of this jacket's design is adjustable. True technical gear!
The hood, the cuffs, the hem, and the haws. All of the aforementioned present one way or another to help you find a supreme fit. Well, not that last one. An Omni-Tech shell. That is what acts as the vanguard of this ski apparel.
One mighty resistance to the cold and bite of the snow. Did I mention it's waterproof? Because it is. Heat too much for you? Simply remove the inner fleece lining, it can be done.
Features
Best Feature: Great adjustability
Comfort: Fleece lining.
Protection: Omni-Tech shell
Pro
Has a fantastic fleece lining that is warm and yet removable.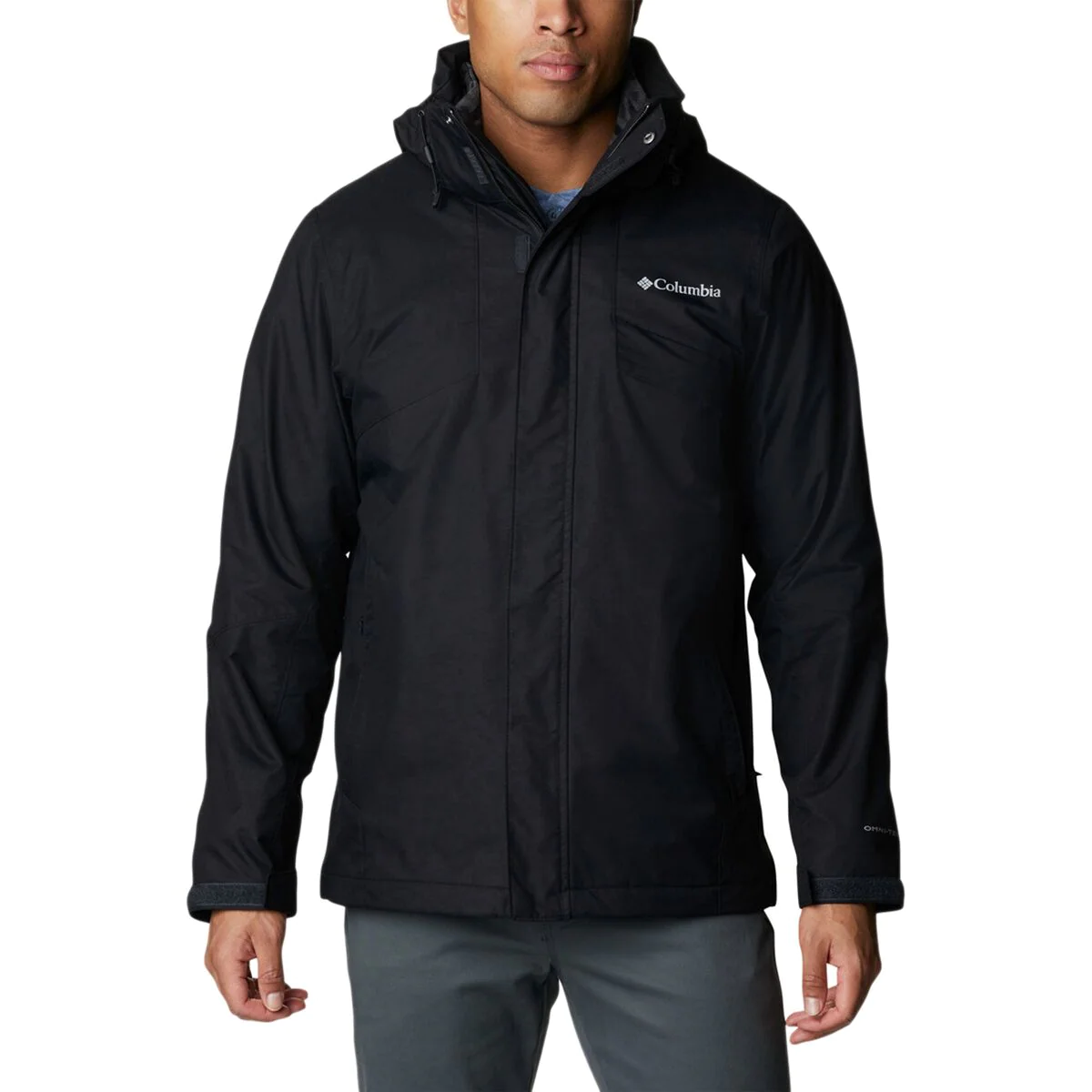 Bugaboo II Interchange Jacket – Men's
The Price of "Bugaboo II Interchange Jacket – Men's" varies, so check the latest price at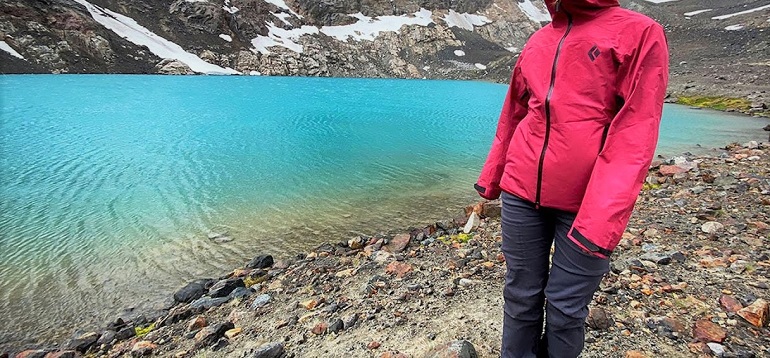 Not a black sheep. The upstart that aims to change it all. Iconoclasts are often not well received. But they are necessary. Without the presence of a trailblazer, all you could ever expect is stagnation.
Black Diamond came into being in 1989. Yvon Chouinard, the man responsible. Yvon is also the father of the "little-known" brand Patagonia. Yeah, the man was busy. Black Diamond began solely as a sports gear and equipment manufacturer.
Their superior quality elevated them quickly up the ranks. Recently, they too have begun to traverse into the world of clothing and apparel. A common traveler's tale on this list.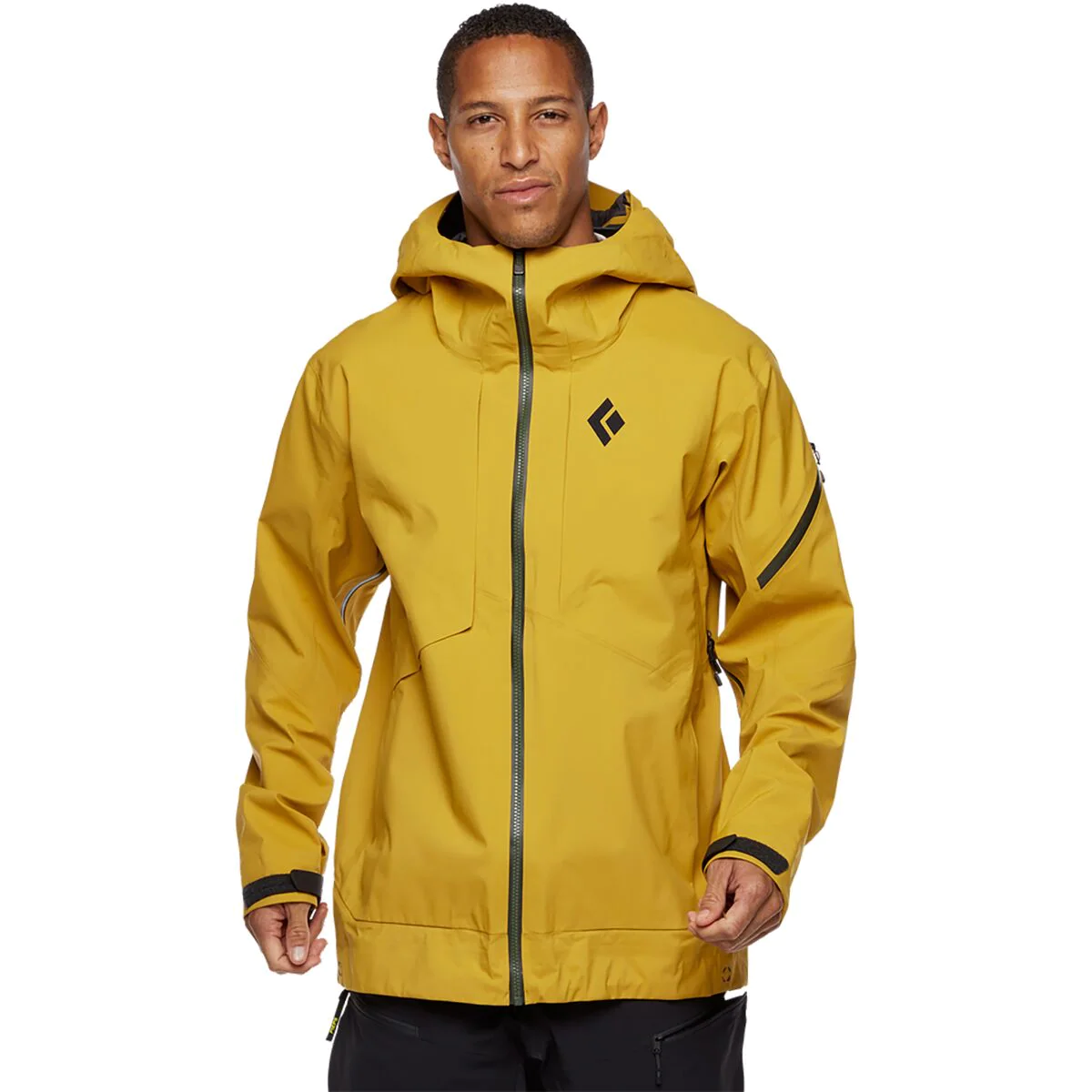 Down past your waist. That is how far these Mission Jackets like to extend themselves. Internally, they provide you with plenty of pockets. Large enough to accommodate your climbing skins.
How does it handle your heat? Movement creates heat and great insulation leads to sweat. The Mission Jacket's solution to this dilemma was underarm vents. Thank goodness! Sweating there is always unbearable. I have some agonizing ski suit stories.
The esteemed Gore-Tex also makes an appearance. As waterproof and breathable as ever. A roomy jacket with plenty of features to keep you comfortable. Mid layers can be fit underneath it. However, I doubt they'll be necessary.
Features
Best Feature: Internal powder skirt
Comfort: Underarm vents
Protection: Gore-tex
Pro
Is made up of Gore-Tex fabric that has high breathability and waterproof qualities.
Fully taped seams for keeping out unwanted elements.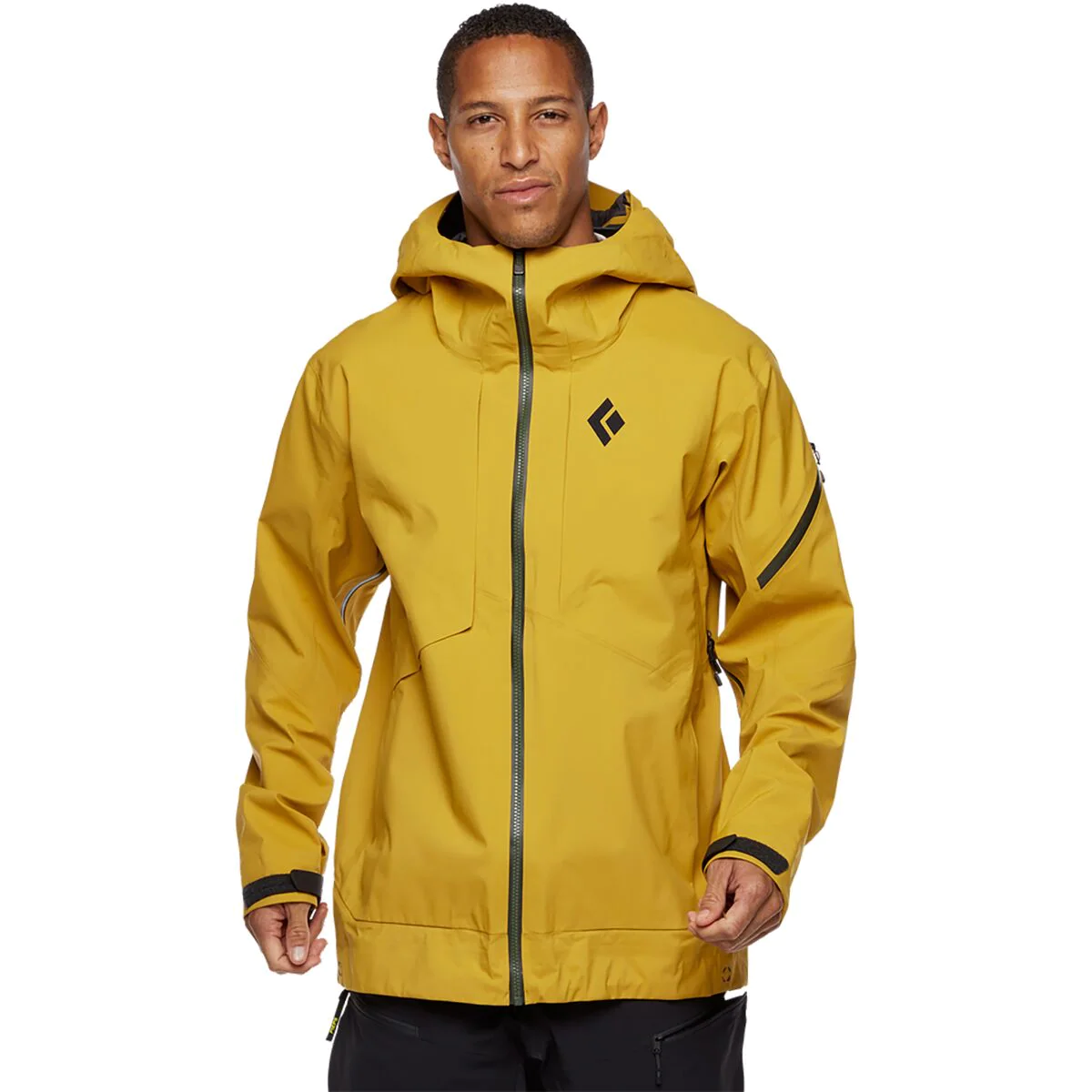 Mission Jacket – Men's
The Price of "Mission Jacket – Men's" varies, so check the latest price at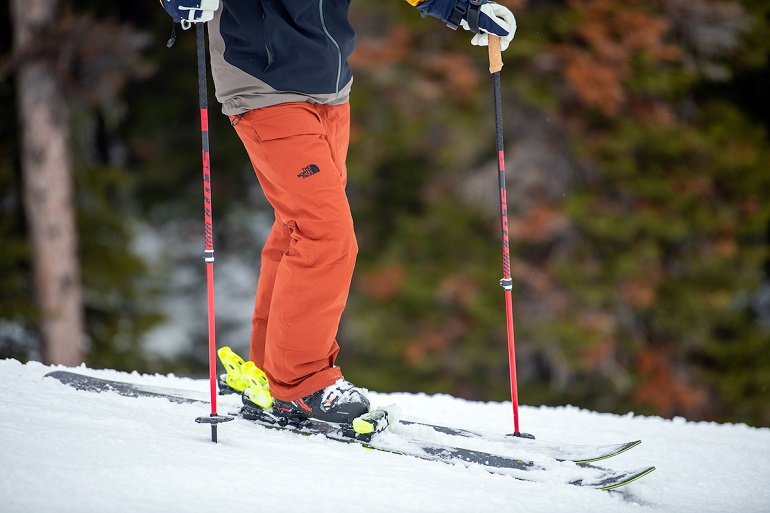 The popular kid. The North Face has become more of a clothing brand than a sports apparel brand. No other brand has been able to shed its niche, as well as the North Face. I sometimes make a "bad" face when seeing how much their jackets cost.
In fact, I'd say it was more of an evolution than simply letting go of their roots. Choosing the outdoors as their niche rather than a specific sport. It works! Today, you'll find an article of their clothing anywhere you look.
Born in 1968 in San Francisco but now calling Alameda their home. I don't blame them, Alameda is quite nice.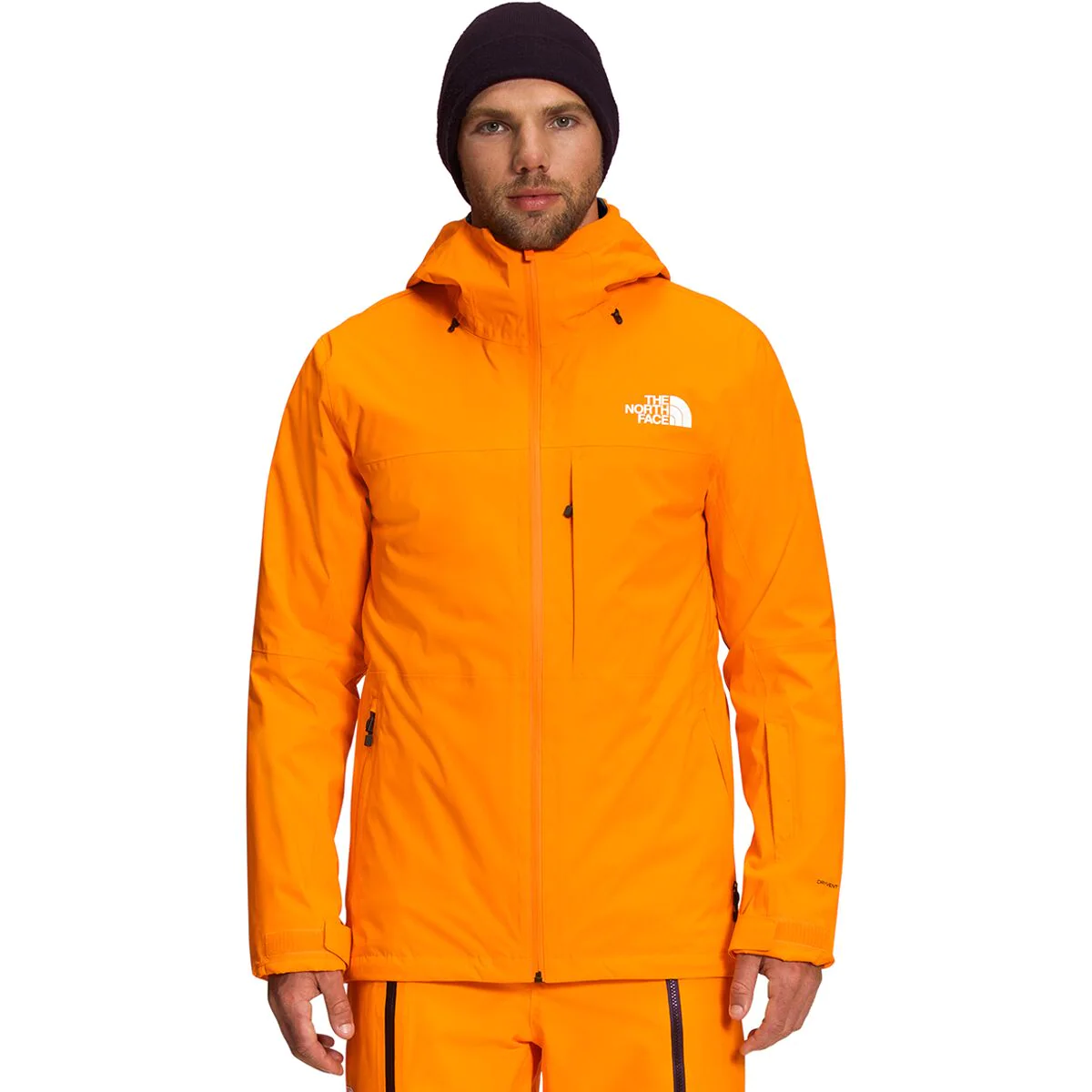 The Thermoball Eco-Snow Triclimate jacket is every bit as good as its name is long. Versatile by design. The Thermoball's entire build centers around being the one solution to every winter problem.
Three ways. This ski jacket offers you three ways to wear it. A synthetic and detachable mid-layer can be worn as a standalone item. Warm and snug but not overly cumbersome. The Thermoball's primary way of being worn is with the tough outer shell layered over the middle one.
Speaking of the outer shell. For those days when you want exterior protection and nothing more, it too can be worn as a standalone item.
Features
Best Feature: Three ways to wear
Comfort: Zippered underarms
Protection: DryVent Membrane
Pro
Multiple ways to wear this jacket. The perfect wear for all of winter.
Dual performance from the DryVent membrane within this jacket.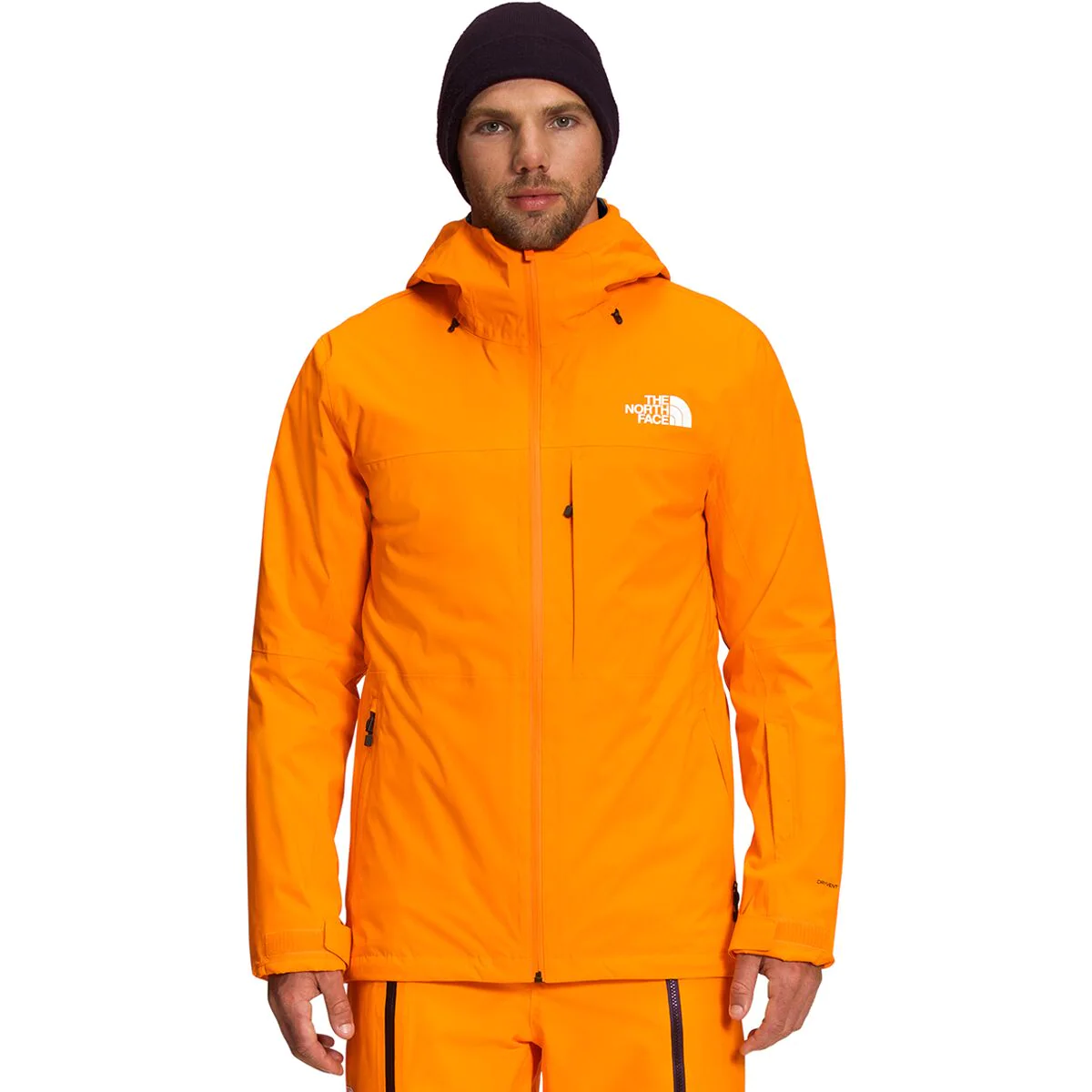 ThermoBall Eco Snow Triclimate Jacket
The Price of "ThermoBall Eco Snow Triclimate Jacket" varies, so check the latest price at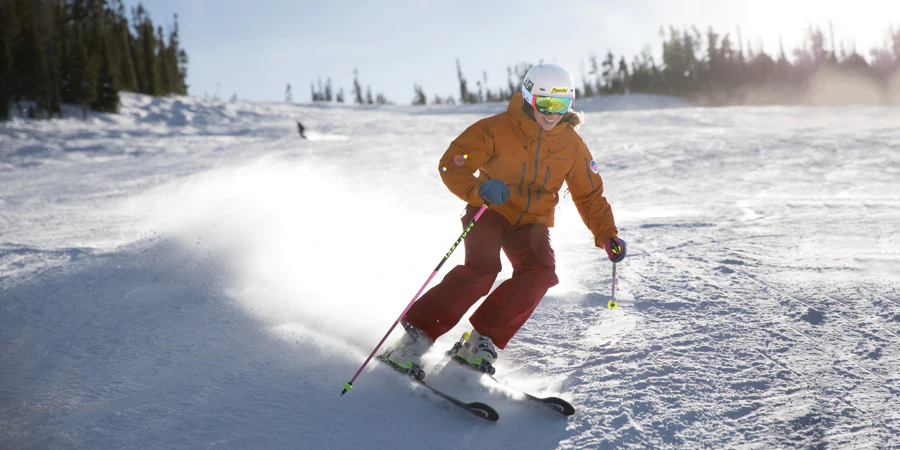 Treating your members right. That's a true Co-op. Rei Co-op has built its long-standing reputation on this dictum. Specializing in outerwear and camping and sporting equipment. This company is every bit as focused as it is old.
Cropping up in 1938 and like a few others before it, based in Washington state. Rei Co-op prefers to offer a smaller selection of goods. Without a bloated inventory, this company is better able to focus on what works and nothing else.
Their gear is moderately priced and adequate for whatever conditions you may find yourself in. Above all else, their membership plan is magnanimous. Providing plenty of deals and bonuses.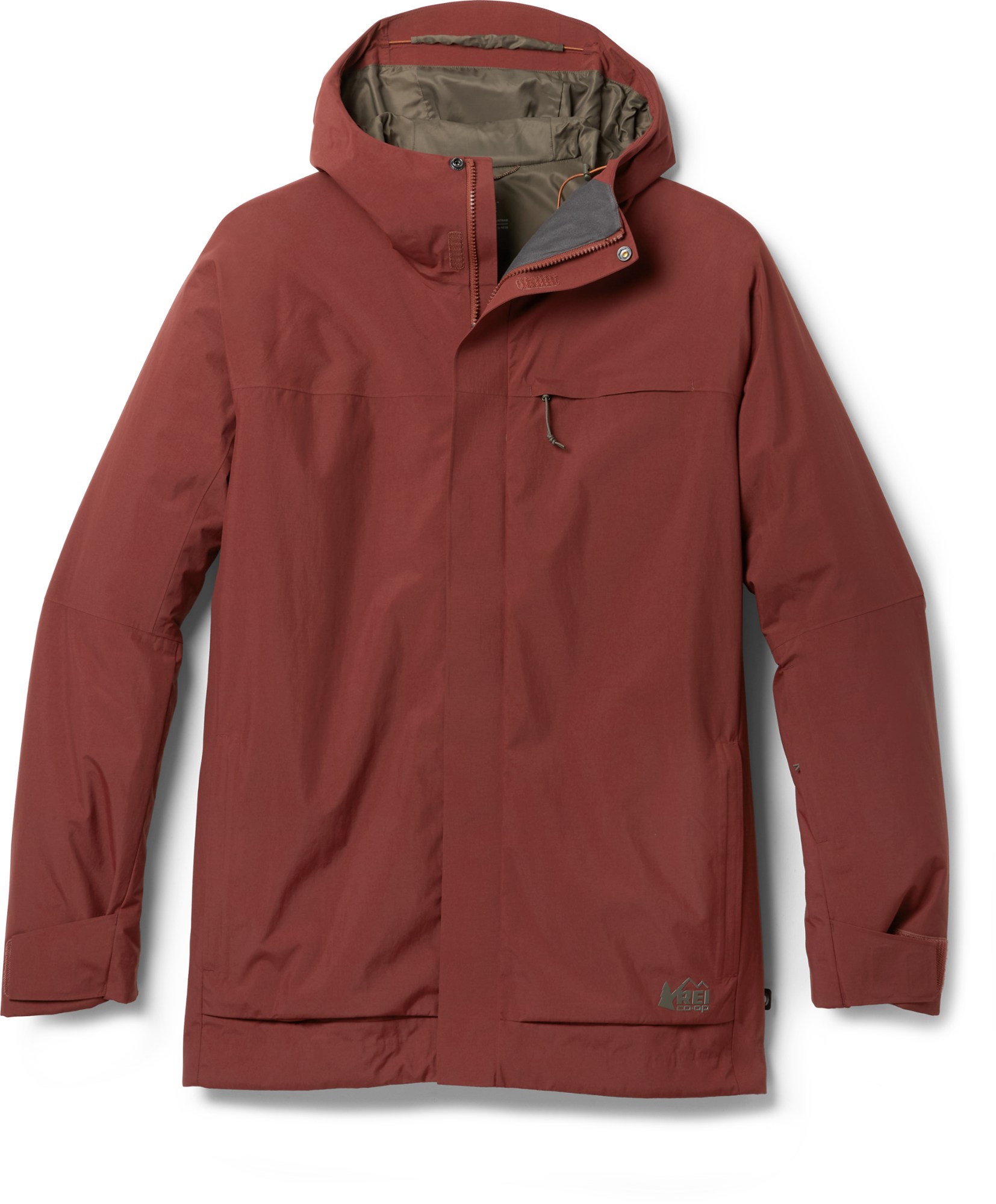 A warm and plush offering. Need anything else? For skiing and winter fun, I'd think not. This insulated jacket provides you with two layers of Peak waterproof protection and breathability. Two features that get brought up frequently. For good reason.
Without either quality, you won't be able to ski comfortably. For your warmth, the insulation of the Powder Bound jacket is segmented. Eighty grams of the precious material is offered up for your torso. Sixty grams are generously applied onto the Powder Bound jacket's sleeves.
There are pit zips for ventilation. However, the Powder Bound jacket is made for harsh winters.
Features
Best Feature: Plenty of insulation
Comfort: Polyester insulation
Protection: Waterproof
Pro
Dual-layer build that is both breathable and waterproof.
Has a high collar that protects your chin in harsh winds and from the biting cold.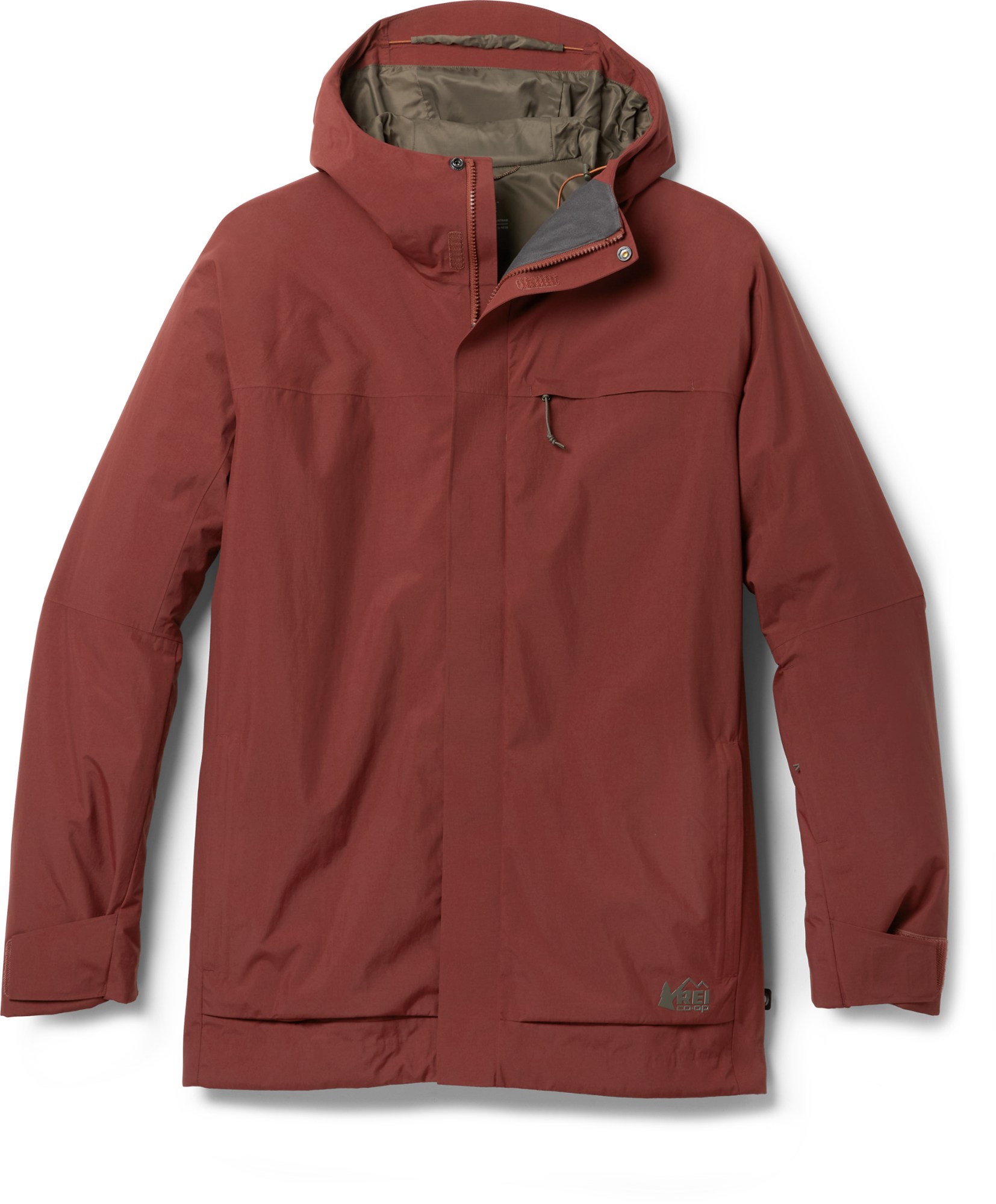 REI Co-op Powderbound Insulated Jacket
The Price of "REI Co-op Powderbound Insulated Jacket" varies, so check the latest price at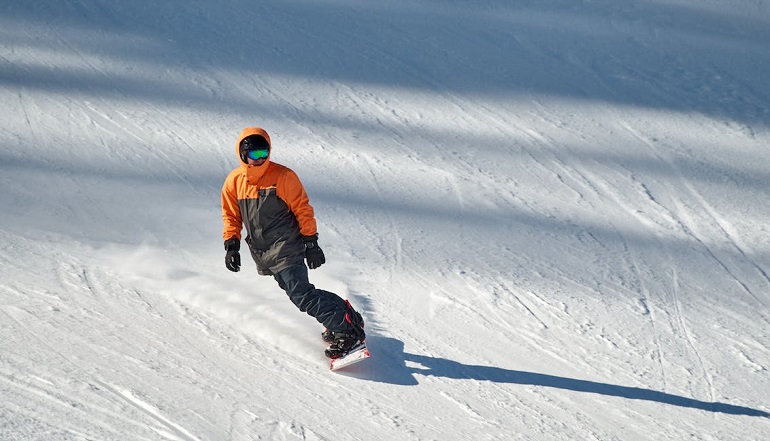 Spyder. Misspelled but well-intentioned. This American brand has been around long enough to carve out a healthy fan base. Though not as well known as the others, Spyder means business! Need something premium? These are the guys to go to.
Spyder specializes in top-grade skiing and snowsports gear and equipment. Ski clothing simply can not get more high-end than this. Their ski suits and ski apparel are placed through rigorous tests to ensure their quality and longevity.
Frankly, I hadn't heard of this company until recently. That didn't impede them from impressing me with the quality of their ski clothing.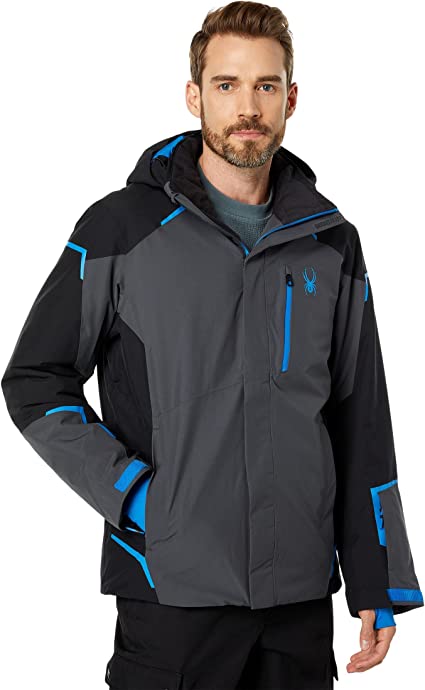 Pack it up! I highly doubt that we will encounter a better-looking jacket than the Spyder Cooper Insulated. Appearances aside, the Spyder Cooper Insulated has much more going for it than just being stylish.
Heavily insulated jackets tend to feel cumbersome. Weighing you down and slogging up the place. Despite being incredibly warm, the Spyder Cooper Insulated is lightweight. Moving with it on is not an issue. But how is this possible? Thinsulate!
Thinsulate insulation is an insulation material that is astonishingly warm and thin. Best of all, the Gore-Tex outer shell ensures that excess moisture is quickly dumped out. If I could only have one jacket, it'd be this one.
Features
Best Feature: This jacket looks incredible
Comfort: Lightweight insulation
Protection: Gore-Tex Shell
Pro
Its Thinsulate insulation gives you some serious warmth without the bulk.
See all those pockets on its outer shell? Each one is tight enough to keep the water out.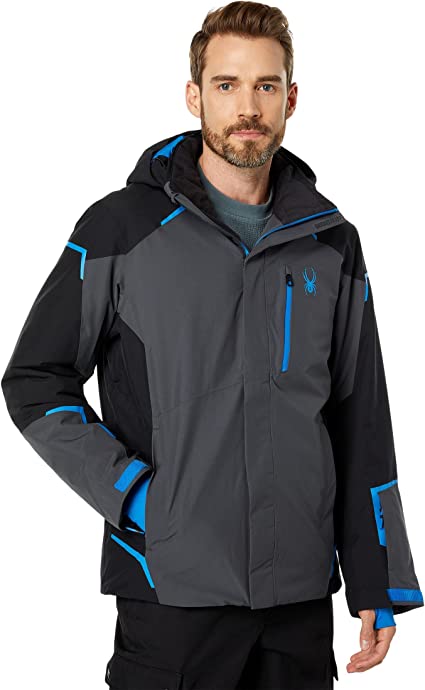 Spyder Copper Insulated Ski Jacket Mens
The Price of "Spyder Copper Insulated Ski Jacket Mens" varies, so check the latest price at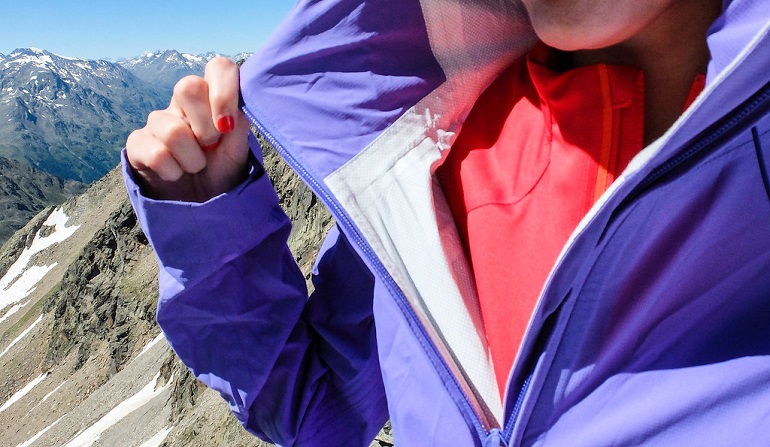 Mammut. Also misspelled, also well-intentioned. Borrowing its name from the burly king of the Ice Age, Mammut is a Swiss mountaineering-focused brand. Swiss? If anyone knows anything about mountaineering, it's the Swiss.
Brought into existence in 1862 and headquartered in Switzerland, not many have been in the game as long as these tusked mountain trekking experts. Their products are consistently listed at the top of "best of" lists across the internet.
They rose to prominence based on the strength of their ski clothing and their own personal experience. Hiking, climbing, skiing? You name it, they've got clothing for everything. Mammut-tested!
Almost as good-looking as Spyder Cooper. Almost being the keyword. For Mammut, I had to go with the Stoney HS jacket. Sturdy and more than adequate for the harshest winds. Like most others, the Stoney HS jacket does have some degree of ventilation.
Under the arms. Not an uncommon place to locate zippered vents. For protection, the Stoney HS jacket counts on DryTechnology Pro. This oddly named technology takes care of any waterproofing and breathability needs that its wearer will require.
There are plenty of pockets for convenience. An underrated feature. Bring your phone, your ski pass, and even some snacks. This jacket can store it all!
Features
Best Feature: Sturdy build that doesn't falter
Comfort: Arm ventilation
Protection: DryTechnology Pro
Pro
Multiple pockets litter the landscape of this reliable ski jacket.
Makes for a great top layer with plenty of adjustability and ventilation.
Stoney HS Jacket – Men's
The Price of "Stoney HS Jacket – Men's " varies, so check the latest price at
The Right Ski Clothing Brand? Consider the Following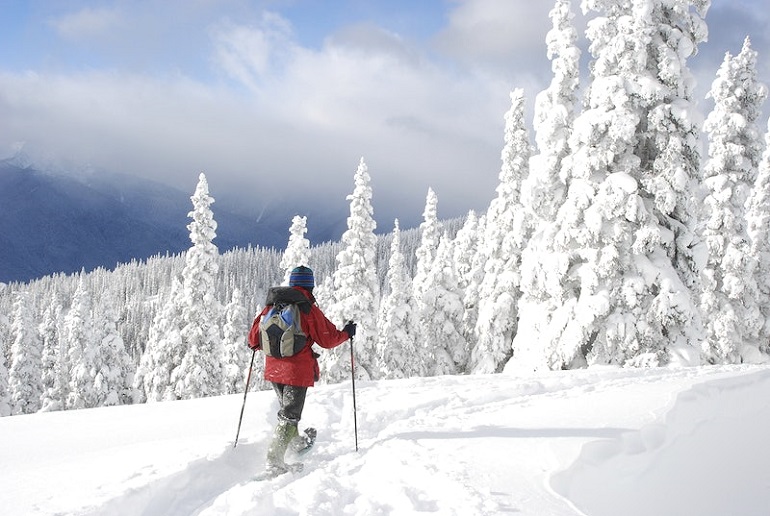 Philanthropic designs abound! There are plenty of exceptional ski clothing choices to… choose from. Couldn't think of a better word. However, how can you be certain that one brand is right for you?
Have you the funds to base your entire wardrobe around one of our choices? Even if the answer were to be yes, that doesn't mean that you shouldn't choose wisely. Top ski goggles or otherwise, you'll need to consider the following before making a final decision.
Is It a Ski-Specific Brand?
Suppose that you are spending a day out. Along your path, you come across a few shops. Each one filled to the brim with insulated jackets, pants, underwear, and everything else you can throw on your body.
Sounds great! Or does it? You may have a plethora of choices but that doesn't mean that they are all equal. Ski-specific brands will always be better than general clothing brands.
Why? Because ski-specific brands have the knowledge and experience in making ski apparel. These brands know what works and what is merely for show. How? Because they employ designers and testers who either ski or have skied.
This is why it is always best to purchase your ski apparel from ski-focused brands like the ones listed above. How convenient!
Your Ski Wardrobe and Cost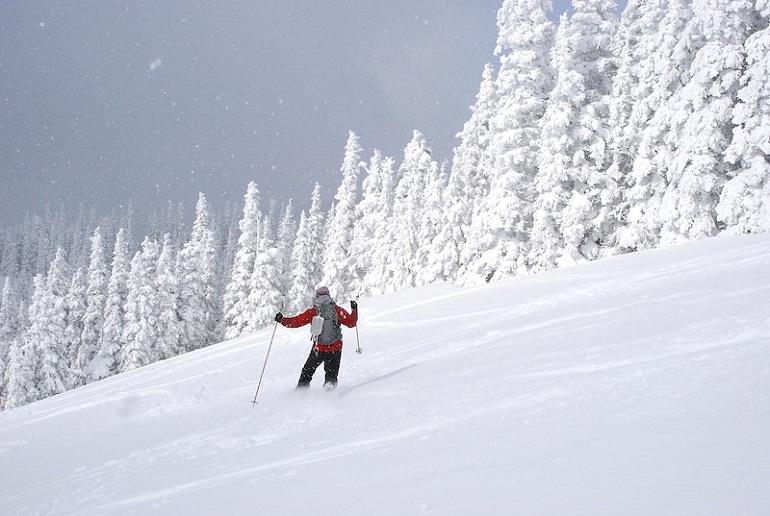 Wardrobes. Each one is comprised of our own personalities and interests. We can learn plenty about an individual from their closet. Putting together a wardrobe can quickly drain your wallet.
Apply extreme caution. Trust me, it is not lost on me how facile it is to spend beyond one's means. There are plenty of caliginous tales. Ripping through hundreds of thousands of dollars. All sunk onto clothing that is at best used only a handful of times.
Brands like the North Face and Rei Co-op are much more affordable than others. They are a fantastic way to get your mitts on some quality gear. Without needing to light your wallet on fire.
The Fit of Your Ski Apparel
Make sure it fits! Not just on your person but with the rest of your ski apparel. The concept of "fitting" is multi-faceted. Does it fit you? Does it fit the needs of your environment? What about your personal taste?
So many questions! Climates change. So too does terrain. Shelling out hundreds on ski wear that doesn't properly suit the climate you ski in is foolish. There are options above with removable liners and meshes.
They'll be your best bet for a satisfactory purchase.
FAQs
How Should You Clean Your Skiing Clothes?
It varies. Each article of clothing comes with its own requirements. Begin attentively and proceeding with care are necessary. That is… if you do not desire to tarnish your expensive new ski socks or jackets.
Although, washing with cold water and using a light soap that was designed for synthetic materials is always a solid choice.
How Should You Store Your Skiing Clothes in the Off-Season?
Don't. Always keep them on. Always… Joking aside, temperature-controlled environments will be your greatest ally. Sunlight, heat, and worst of all, moisture must be kept at bay. Weathering is the villain.
It'll break down your clothing's protective qualities. What worst fate than to watch your jacket's effectiveness wither away? Avoid the caliginous. Store your clothing in a temperature-controlled environment.
My Final Thoughts
Let's bring it all to a close. No doubt you've discerned that there are plenty of ski brands to choose from. Each one with the mastery and prowess over their niche to deliver a solid product.
But this was just a glimpse. For a more in-depth look, you will have to scroll through each brand's inventory. A word of advice. Be sure you check your bank balance before making any purchases.
You aren't fighting alone. The Spyder Copper Insulated jacket almost broke me. It's too good to pass up.