Ski resorts on the East coast are quite different from the West; so is the ski experience. You will find lower elevations and nearly no knee-deep powder snow, Hence, the resorts take technical aid and use snowmaking systems to make artificial snow for great skiing on the East Coast.
However, the Eastern peaks do have a lower vertical drop, but they have plenty of gnarly trails, white-knuckle challenges, and much more to offer. Usually, the East coast ski is family-friendly as the resorts in Vermont and Hampshire have suitable ski terrains for all.
Bode Miller, the Olympic medalist skier, is also from the same East coast mountains. Vermont and Hampshire are neighbors, so you can ski down both hills on a weekend trip. You will get a vintage vibe and local hospitality at these Eastern mountain resorts and villages.
Thus, the East coast ski areas have kept the skiing spirit alive in the East, even with the least suitable ski conditions.
Top-Rated Ski Resorts on the East Coast
You would be amazed to find a number of amazing ski resorts on the Eastern coast. To make it easier for you to choose we have enlisted top picks for the East coast skiing places. Following are the essential details and reviews of the best East coast ski resorts.
1. Mont Tremblant – Top Pick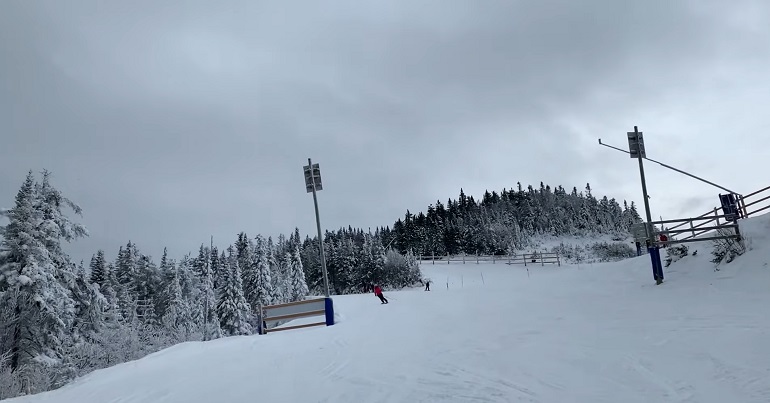 Opening and closing dates: November 24, 2022 – April 16, 2023
Famous for: Nightlife
Mont Tremblant is also known as the Disneyland of the ski world. This is due to its colorful vibe, European-style village, and cobblestone streets.
There are 102 ski runs for all levels of abilities, from beginners to advanced skiers. It is a family-friendly place as it caters to all age groups and family members. There is a great ski school, ice skating rink, cross-country skiing, and play centers.
The nightlife at Mont Tremblant is happening and remarkable. It is the only ski resort town in the East to offer such entertaining nightlife activities. It is one of the reasons why this place is crowded over the weekends to enjoy the off-slope fun.
At the base area, there is a pedestrian village. There is a variety of hotels, motels, rental cabins, and lodges. It also has numerous shopping and dining options.
While the free resort shuttle service makes it convenient for you to explore more accommodation options in the nearby areas.
Pros
Suitable for all ability levels
Nearest to Montreal
Family-friendly resort
Cons
 Extremely crowded on weekends.
2. Stowe Mountain Resort – Quintessential Vibes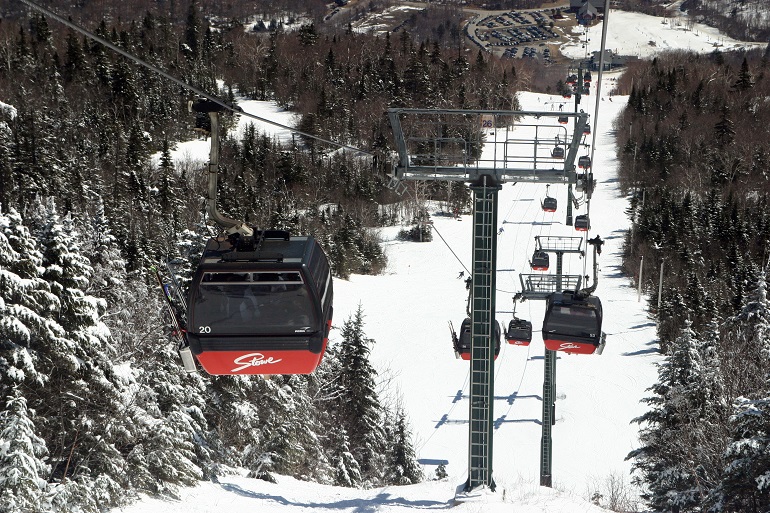 Opening and closing dates: November 19, 2022 – April 17, 2023
Famous for: Quaint ski village
Stowe mountain resort has been the earliest and oldest skiing hub since the 1930s. It is known as the quintessential ski town of Vermont. You can visit the Vermont ski museum to know more about the history of the place.
There are 116 trails containing 70% intermediate runs, and the rest are for experienced skiers with challenging terrain and deep runs.
For snowboarders and freestylers, there are 3 terrain parks. These trails offer lift-serviced skiing with gondolas, quads, and double chairlifts.
Mount Mansfield is Vermont's tallest peak, nearby Spruce peak. The ski trails of Stowe ski resort join these two mountains. Recently Stowe has made a snow record of getting 314 inches of annual snow.
Also, it is the most expensive ski area on the Eastern coast. However, the EPIC pass is acceptable here, so you can avail of the discount offers.
In recent times the management has introduced an addition of the on-mountain kids' adventure zone.
This area offers gentle slopes, terrains for progressive learning, outdoor sports like snowshoeing mountains, dogsledding, snowmobile tours, and much more.
The connecting mountain road creates a lot of options for rental amenities and recreational ski resorts and activities.
For instance, Stoweflake mountain resort and spa are located there with all the necessary facilities and comfort. While there are more residing options at the base area.
Pros
High-speed lifts
Challenging terrain park
Cons
3. Jay Peak Resort – Multiple Activities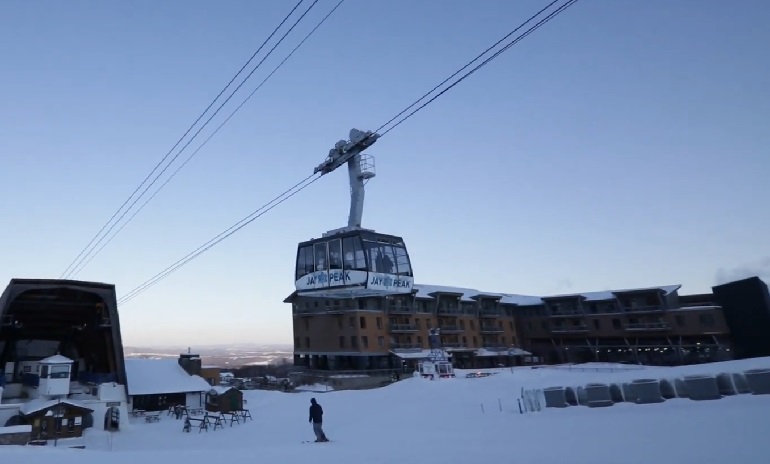 Opening and closing dates: December 10, 2022- April 23, 2023
Famous for: Being the snowiest spot on the East Coast
Jay Peak is located closest to the US-Canadian border. Although it is in a remote area, the heavy natural snow as compared to other best ski resorts in Eastern US, compensates for the travel time.
There are 385 acres of skiable trails at Jay Peak, which are accessible with an aerial tramway, chairlift, surface belts, and conveyors.
It is the only ski resort that offers tree skiing for beginners and intermediate and advanced skiers. Jay Peak offers the finest tree skiing in the East.
It also has cruising terrains for backcountry skiing, but they are not groomed. So, only the experts can hit those slopes.
Being located on the border, Jay Peak gets more multinational and bilingual visitors, which reflects the international vacation spot vibe. Also, there are multiple off-slope activities for non-skiers, i.e., ice skating, sleigh rides, spa, and a lot of eatery choices.
For accommodation, there are numerous options at the tram side base area of Jay Peak and along the stateside. While you can find lodging options close to the Jay Peak slopes to experience ski-in and ski-out accommodation.
Pros
Best for glade skiing
Lesser crowds
Indoor water park and activity area
Cons
No nightlife activities
No nearby towns

4. Sugarloaf, Maine – Diverse Ski Areas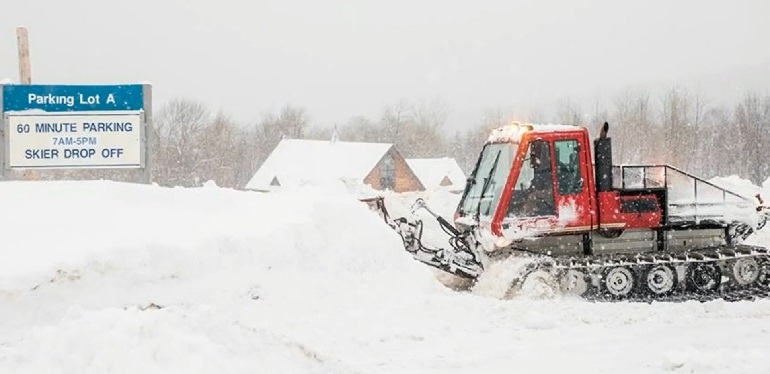 Opening and closing dates: November 19, 2022 – April 30, 2023
Famous for: being the biggest winter sports resort
Sugarloaf gets the most annual snowfall, i.e., 200 feet which extends its ski season till May. Also, Sugarloaf has the only lift-serviced skiing above the tree line among other East ski resorts.
So, if you are fond of wide and broad snowfields and late-season skiing, then Maine Sugarloaf is waiting for you.
There are 1240 skiable acres having 161 ski runs, three progressive terrain parks, and numerous dense glades. The longest run at Maine Sugarloaf is 3.5 miles with 2820 feet of vertical.
With recent renovations, a new detachable high-speed, six-person chairlift is being installed to carry 2400 skiers per hour. While the new T-bar lift now has a capacity of 800 skiers per hour.
At the base area, you get to enjoy at outdoor center. For instance, you can go for Nordic runs, snowshoeing, ice skating, or simple sightseeing.
Moreover, there are hotel rooms, rental cabins, an inn, dining options, and other resort facilities like outdoor pools in the base area. So, you won't have to move away from the resort area for lodging options.
Pros
Diverse ski area
Plenty of ski-in/ski-out accommodation options
Cons
Remote location
Longer distance and more travel time
5. Whiteface Mountain, N.Y. – Cool Après Scene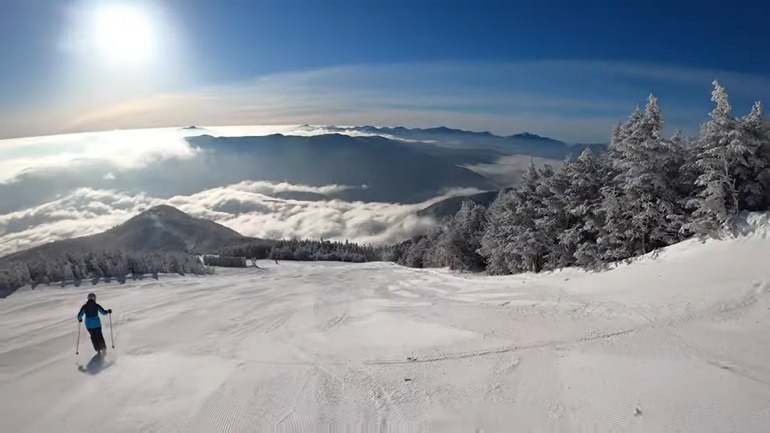 Opening and closing dates: November 25, 2022 – April 9, 2023
Famous for: largest vertical drop on the East Coast
Whiteface mountain, New York has 288 acres of skiable trails served by 11 lifts. It is also known as Iceface mountain due to the icy winds at the top with hanging clouds over the mountain.
However, there are no double black diamonds, but it is compensated with 35 acres of piste black wilderness trail and 53 acres of challenging terrain.
At Whiteface mountain resort, there are ski trails for beginners or less experienced skiers as well. The Willmington trail is 2.1 miles which is Northeast's longest single intermediate run.
Also, there are two terrain parks and a beginner's park for snowboarders and freestylers.
For off-slope entertainment, there are dining and recreation facilities at Lake Placid. Also, you can enjoy ice skating, luge rides, and bobsledding if you are a non-skier.
Unfortunately, you will not find many entertainment options in the base area of the Whiteface mountain resort.
You can go to Alpine Lodge for accommodation and rental options. While you can always take a short drive to the neighboring town to find more variety of lodging options according to your budget.
Pros
Lake placid dining variety
Ice skating and the winter Olympics
Expert skiing terrains
Cons
Not for intermediate skiers
6. Bretton Woods Mountain Resort – High-end Option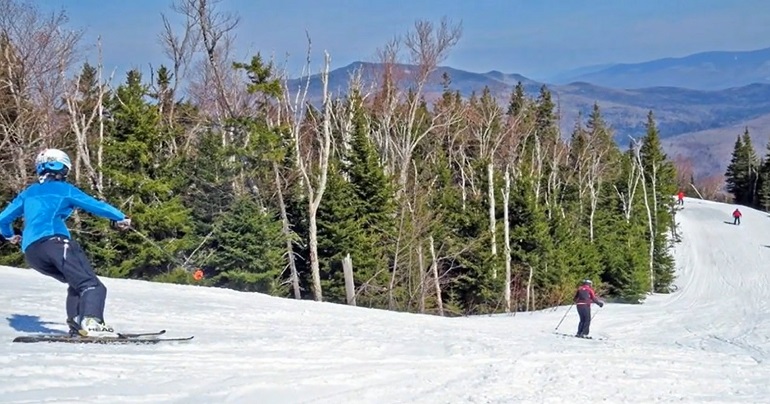 Opening and closing dates: November 26, 2022 – April 10, 2023
Famous for: largest ski resort in Hampshire
Bretton Woods mountain resort is located a few miles away from North Conway. It is a high-end ski complex with a wide range of snow sports activities, spas, dining, and lodging services.
There are 62 ski runs, three terrain parks, and 35 glades in 464 acres of skiable terrain; making it the largest ski resort in New Hampshire.
92% snowmaking along with the northern location of the resort, covers the Bretton Woods' dependable snow conditions. The ski trails of this resort are groomed to provide the best skiing in New England.
Bretton Woods has the first ever eight-person gondola with 1200 feet per minute speed. Plus, night skiing on weekends grabs more crowds on these days.
Moreover, at the ski area, you can enjoy fat-biking trails, sledding, snowshoe mountain, and cross-country skiing.
For accommodation, the famous Mount Washington hotel, now known as Omni Mount Washington resort, is there to serve. It faces the ski trails surpassing the Nordic trails. Apart from this, you can find more rental options and fine dining in nearby towns and villages.
Pros
Ski terrains for all skill levels
Scenic views of Mount Washington
Cross-country ski runs
Cons
Long lift lines at the base lift area
7. Sugarbush/Mad River Glen – Jetsetter's Favorite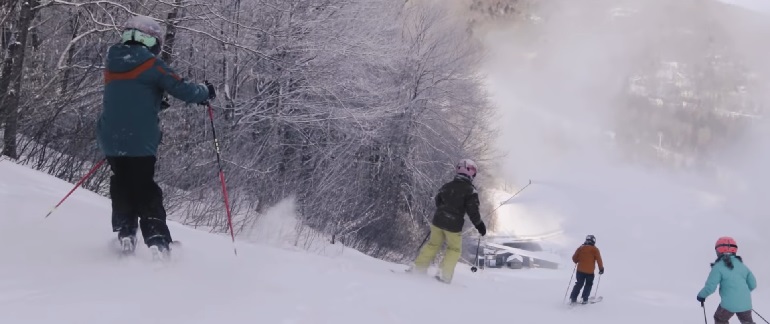 Opening and closing dates: November 20, 2022 – April 30, 2023
Famous for: Longest detachable quad lift in the United States
Sugarbush resort, or Mad River Glen has been a favorite of jet setters since the 1960s. The resort has continued and preserved the legacy in form of a base village, fine dining, well-groomed runs, and upscale hoteling.
In recent times skiing has been the major crowd-pulling feature of the Sugarbush resort.
Mad River Glen has the highest chairlift in Vermont that climbs to the glades of Mount Ellen and Lincoln Peak. There are 36 ski runs and 21 glades designated for experts. In the area of 200 skiable acres, they offer backcountry skiing.
It is not only for the experts instead, but there are also trails for beginners and intermediates as well.
Cat skiing is also offered at Sugarbush resort, making it the only cat ski area in the East. While there are three terrain parks and a half pipe at Mad River Glen to entertain the snowboarders. For dining and shopping, Waitsfield is best.
You can use the shuttle service to reach the lodging areas at and around Mad River Glen.
Mad River Glen is for skiers only, and snowboarders are not allowed. It is an old-school place with natural snow, habitat, and terrain. The curves and cuts are natural and followed by the mountain contour instead of a bulldozer.
Pros
Swift lift access to ski slopes
Affordable than other resorts on the east coast
Perfect combo of vertical drop and green woods
Cons
No nightlife
Busier eateries
8. Loon Mountain Resort, New Hampshire – All Ski Levels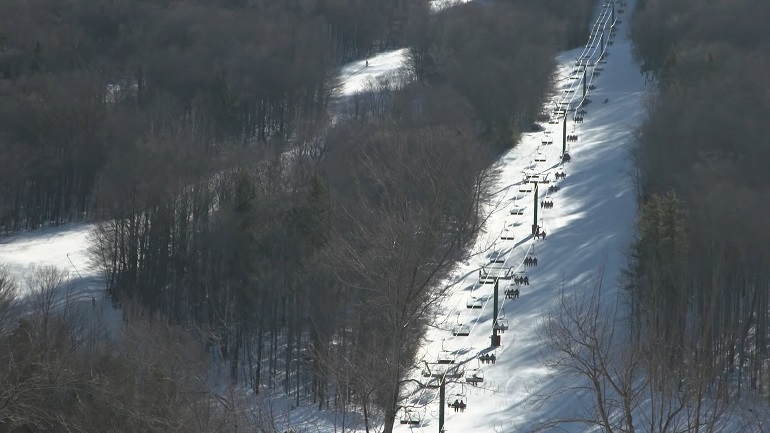 Opening and closing dates: November 23. 2022 – April 16, 2023
Famous for: ski-in/ski-out rental options
Loon mountain is a full-service ski resort having two sections on three different peaks in White mountain national forest. There are 61 ski runs for all skill levels. The terrain parks are for the freestyle boarders.
Whereas they have designated terrains for new boarders and challenging runs for advanced skiers.
Most of the Loon's ski mountains' trails face north making the ski season last into spring skiing and better snow conditions. There are chairlifts and gondola services to carry skiers up to the top.
Now there will be a detachable chairlift for the coming season. It will increase the skier's capacity and reduce the ride time by making it a swift experience.
The non-skiers can enjoy the Loon mountain adventure center. They offer snow tubing, snowshoe tours with guides, ice skating, zipline rides, cross-country ski trails, and much more. So you would not feel left out on the ski trip if you are not interested in downhill skiing.
At the base area, there is Mountain Club on Loon which offers hotel services with safe parking, high-end restaurants, quality spa, and private indoor pools.
You can book your staycation here beforehand to avoid on-site high rates. Or else, you can look for other rental amenities in nearby towns or access road lines.
Pros
Most suitable for intermediate skiers
Ski terrains are for all levels of skiers
Cons
The lift ticket prices are expensive
9. Gore Mountain, N.Y – Old-school Vibes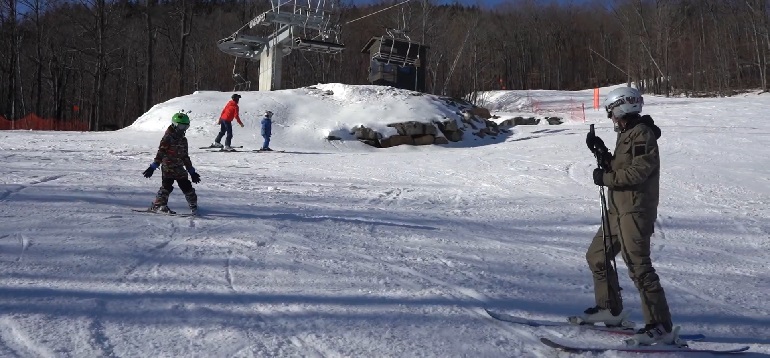 Opening and closing dates: November 26, 2022 – May 1, 2023
Famous for: Old-school vibes
Gore Mountain is spread out over four mountains in the Adirondacks i.e., Gore mountain, little Gore, Bear Mountain, and Burnt ridge. Altogether, they create the largest ski area in New York. In total there are 446 skiable acres with 2537 feet of vertical drops.
This ski resort is most popular among advanced skiers with 40 percent black diamonds and 27 challenging glades. The rest of the 119 ski runs are for both intermediate and beginners. These trails are served by 14 lifts.
The latest quad lift addition gives you access to all four peaks of Gore mountain New York.
For the coming season, the management is planning to carve in an intermediate groomed trail to make Gore mountain and ski bowl mountain more accessible. Whereas, at Pete's Paradise, there are family-friendly adventurous activities along with learning opportunities for kids, teens, and adults.
Gore Mountain also offers Alpine skiing. While there are 9 cross-country trails towards the North creek ski bowl. The freestyle terrain, half pipe, and downhill are lit for night skiing.
You can find various rental options at the base area and in the nearby towns for night stays and exploration of nightlife.
Pros
Moderate price range
Efficient lift system
Cons
10. Stratton Mountain, Vt. – Terrain Park Variety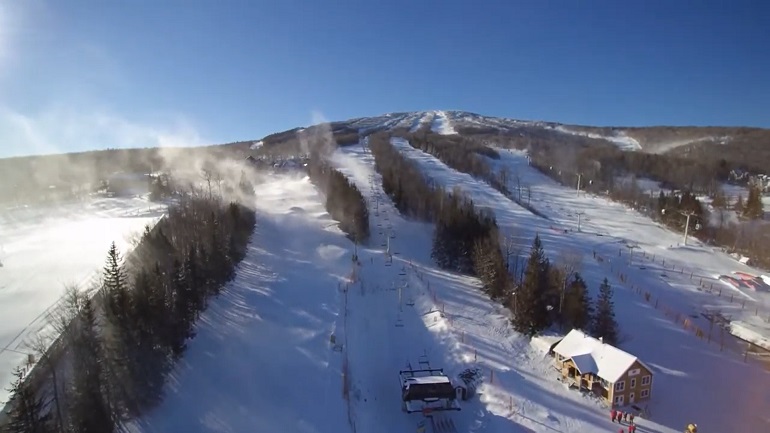 Opening and closing dates: November 27, 2022 – April 17, 2023
Famous for: groomed trails
Stratton Mountain is popular among skiers for its great snow conditions and high natural snowfall. Also, the high-speed chairlifts serving the ski trails are another reason for its popularity.
Whereas the snowboarders are all praise for the variety of terrain parks Stratton mountain has to offer.
There are 160 skiable terrains with 99 trails, five terrain parks, and glades. The progression park serves the new learners while the snowboarder course East Byrnes side designed by Olympians attracts more of the snowboarders.
There are 41 green trails, 28 black diamonds, and 31 blue trails. Whereas, the large park in Big Ben has a lot to offer in the Sun Bowl area. For instance, jump lines, half pipes, and rails.
The world-famous tree lined drifter trails and the world cup now have easy access with the Snow bowl express at Stratton mountain. While it creates a three-mile-long beginner trail from the top to the base of the mountain.
Stratton offers other winter sports like snow tubing hills, sleigh rides, dogsled tours, and ice skating. Also, it has a village at the base area which is designed like a luxurious European ski resort.
It has a lot of choices for dining, shopping, and lodging. Plus, the outdoor seating areas with heat lamps at restaurants and cafes provide you with more scenic, natural beauty exposure.
Pros
Speedy blue trails
Fast lift-served skiing
Cons
No variety of winter activities
10. Killington, Vermont – Long Snow Season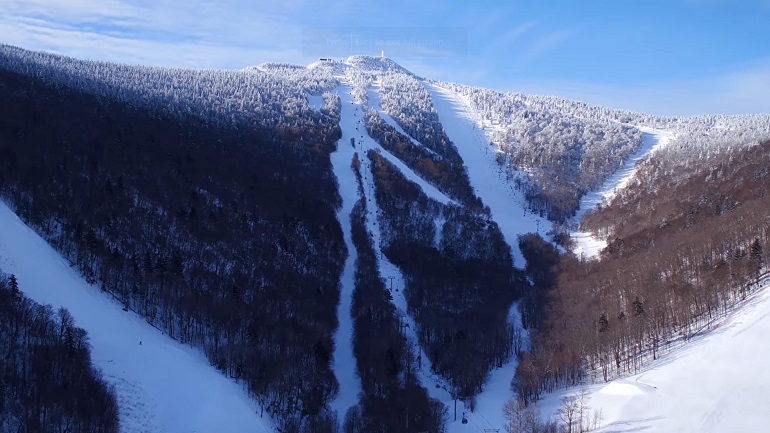 Opening and closing dates: November 18, 2022 – May 28, 2023
Famous for: Diverse train in seven mountain areas
Killington resort is known as a party mountain as it is quite popular among young snowboarders and skiers. There are 159 ski trails, of which 53 are intermediate, 43 are beginner, and 60 are expert trails or black diamonds, along with 16 glades.
It is also known for its variety of terrain. The visitors are attracted to the steep chutes, mogul faces, and wide cruisers. Whereas, it also has narrow trails and old-school winding options to give you all the traditional feels.
To ride up the Snowdon mountain at Killington resort, there are 22 express gondola lifts and a high speed six-person chairlift. Thus, young skiers can use this lift system to reach the ski terrain in no time. Moreover, this resort is more famous for spring skiing up-till June.
You can also visit nearby Pico mountain for a quieter and traditional ski experience with the highest Vermont vertical drop of 2000 feet. For accommodation, you can look out for rental options at the five base areas closer to the slopes. The leading road to the resort also has multiple stay-in options.
Pros
Snow tubing hill
Best nightlife in Vermont
Mogul trails and tough trails for experienced skiers
Cons
Navigation of trails and lift is difficult
 11. Mount Snow, Vt – Modern Facilities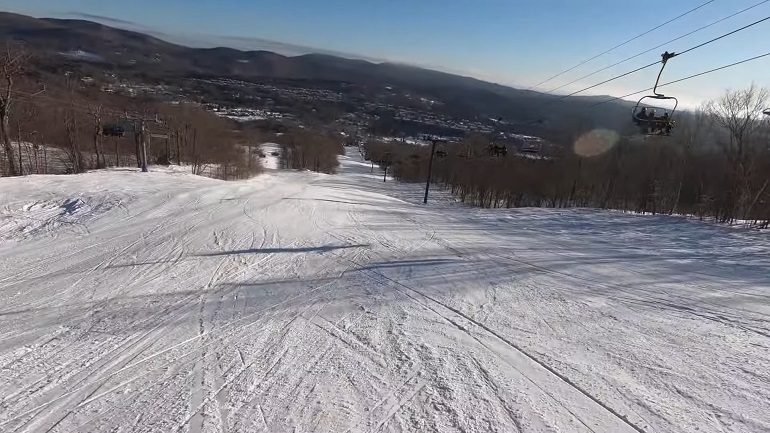 Opening and closing dates: November 26, 2022 – April 24, 2023
Famous for: Biggest terrain park on the East coast
Mount snow has an efficient lift system, a variety of trails, and excellent snowmaking capability. Along with numerous terrains for snowboarders while being proximal to major Northeast cities.
There are 589 skiable acres at Mount snow served by 20 lifts, i.e., three high-speed, Bluebird Express, and bubble lift. These high-end lifts cut out the ride time and make the process swift. So you do not have to wait in long lift queues to reach the top and ski down the hill.
From 80 ski trails, 12 runs are for beginners, 54 are for intermediates, and 14 are for expert skiers, along with a double black diamond. Towards the north face, there are some ungroomed trails for daring skiers.
While there is a three-mile cruiser at Mount snow along with Carinthia park for beginners.
There are 899 snow guns which are the most in North America, to meet the top criteria of snow conditions. Also, this resort is part of the EPIC pass family. So you can use it to avail some discount offers while planning your family or friends' ski vacation.
At the base area, you would find multiple choices for lodging and rental options if you are planning a staycation.
Pros
Happening nightlife
Groomed ski trails
Cons
12. Smuggler's Notch Resort, Vt. – Best Kids-friendly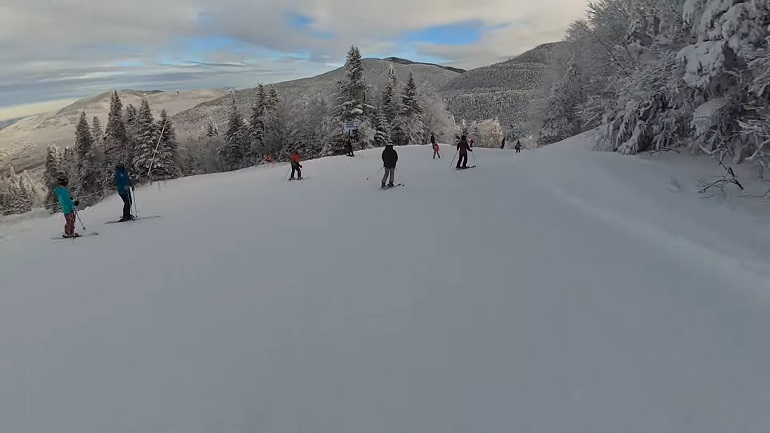 Opening and closing dates: November 25, 2022 – April 9, 2023
Famous for: heavy natural snowfall
Smuggler's Notch is rated as the most kid-friendly resort in Vermont. It knows how to entertain kids and other members of the family. For this reason, it has a variety of activities and sports for all i.e., kids, teens, and adults.
So, that everyone has something to get amused with and not feel isolated while being surrounded by a crowd.
It is a secluded place providing an intimate experience in mountains. It is one of the reasons why families find it safe to sit in a remote, less crowded, place. Hence, they seek it as an open playground. There is a special learning area designated for the newbies to gain confidence in their skills.
Smuggler's Notch is not all about kids. Instead, there are 360 acres of skiable terrain spread over three mountains. There are 25 ski runs for expert skiers. While the rest are for beginner and intermediate skiers. These trails are accessible via condos.
This resort is remote and proximal to Burlington commercial airport at the same time. It makes it a full-service ski resort in Vermont, closest to a commercial area. There are stay-in facilities available at Smuggler's Notch Resort Vermont in the base area.
Pros
Family-friendly resort
Quality services
Cons
Final Thought
Your skiing game has to be strong no matter what are the external conditions. The ski resorts on the Eastern coast prove this saying right. As they gear up for the ski season with the wet snow and more ice.
Thus, you can visit any of these best ski resorts for a wholesome family ski vacation. The lodging options, dining places, and most importantly the ski trails face west and are fun for all. So, that everyone leaves the resort with a positive impression.
Happy skiing in the East!
Related Guide: