The alpine trees amidst the snow-covered peaks, chair lifts a few miles away, and people snowboarding and racing one another, it's the epitome of a winter wonderland.
It's a joyous adventure for most, away from the monotony of everyday existence, the rigidity of routine and petty problems. Up on the mountain, glaring at the pristine scenery whilst on the snowboard, with adrenaline rushing through your veins, and your heart racing with excitement, it's an experience that can make one feel truly alive.
Freeriding is a perfect example of a man in nature, in the truest sense of the word. With no artificial constraints, the rider is free to float, glide and soar.
Durable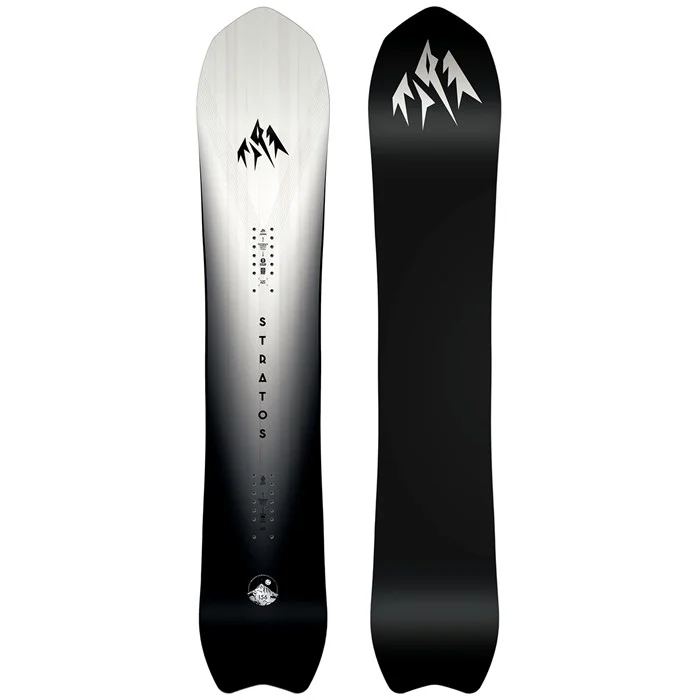 Jones Stratos
Brand: Jones New York

Material: Wood
Versatile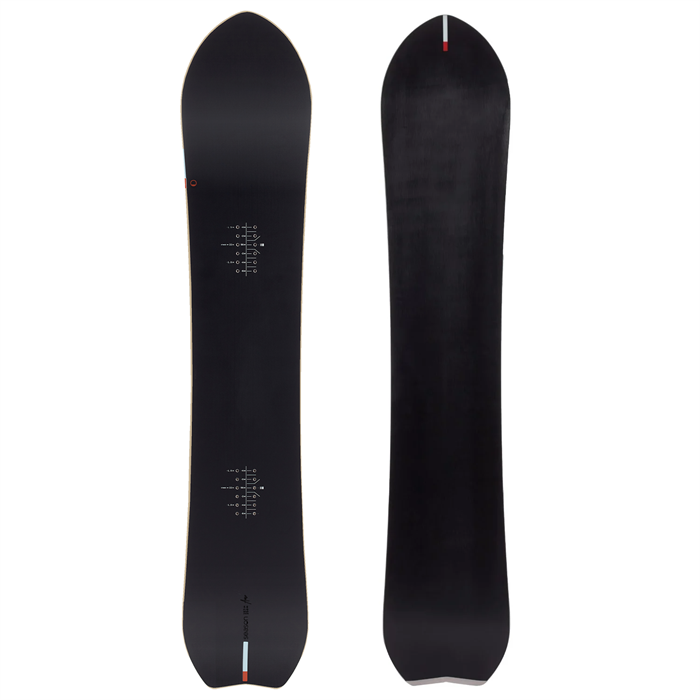 Season Aero
Brand: Season Aero
Material: Wood
Good Float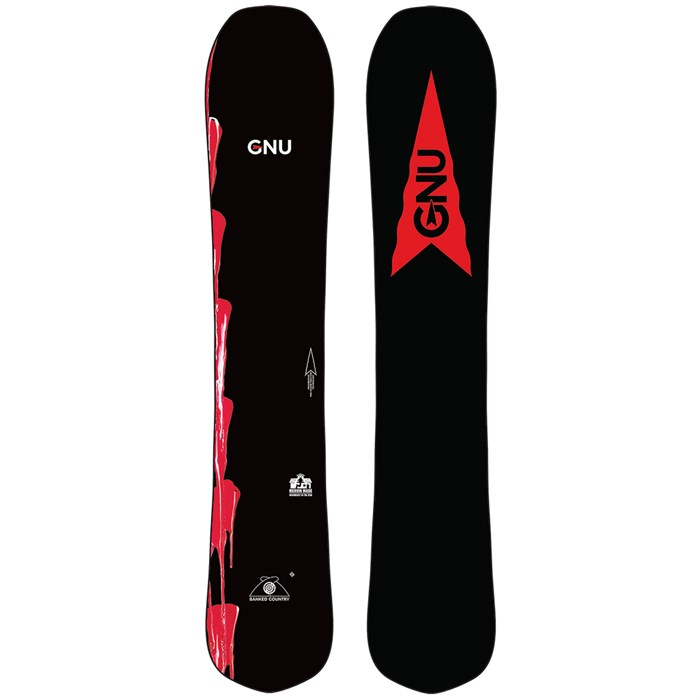 GNU Banked Country
Brand: Gnu
Material: Tri-Ax / Bi-Ax – 

A glass fiber
EFFORTLESS FLOAT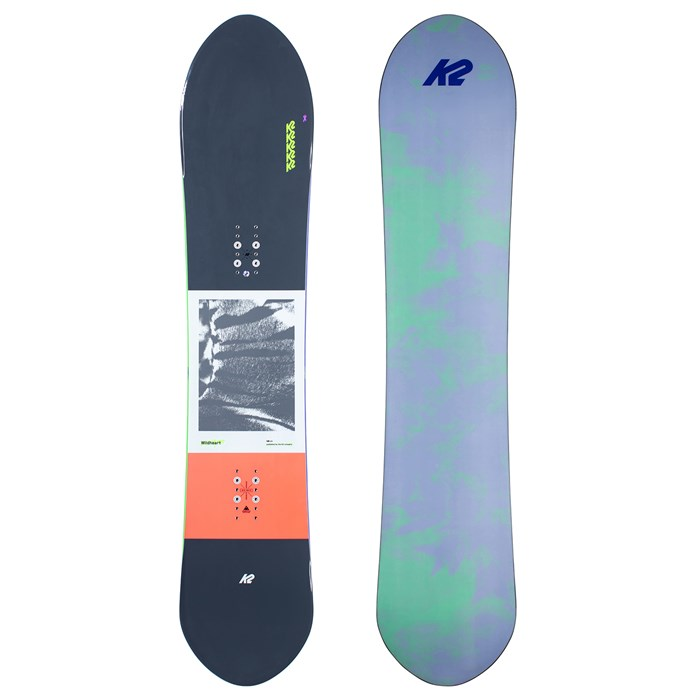 K2 Wildheart
Brand: K2
Material: Wood core with  strips
Easy To Use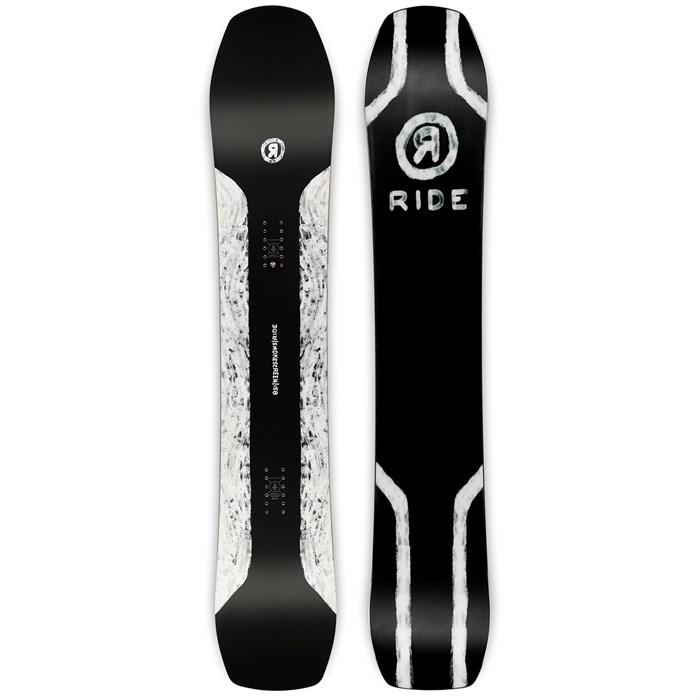 Ride Smokescreen
Brand: riding
Material: Aspen and bamboo
Excellent Grip

Jones Flagship
Brand: Jones New York
Material: Wood
For Skilled Riders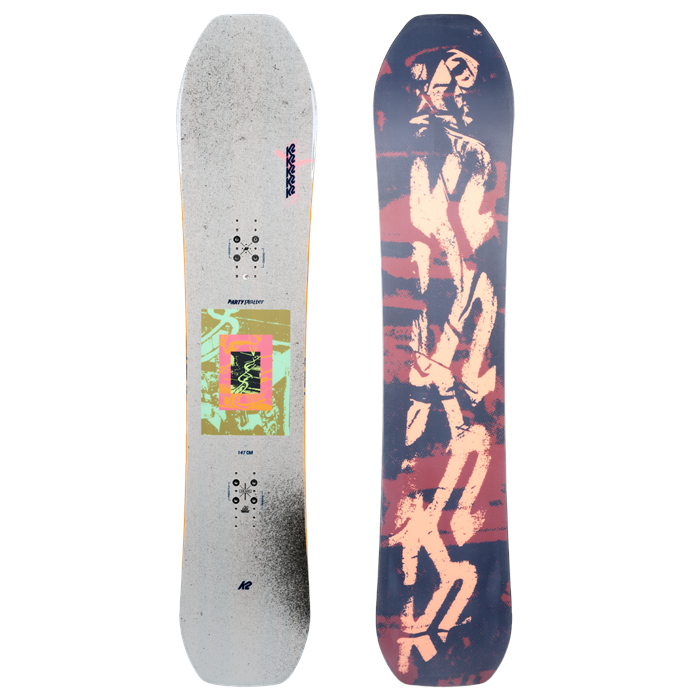 Stiffer Flex

Rossignol XV Magtek
Brand: Rossignol
Material: Wood
To make the experience exciting, safe, and hassle-free, it is essential to choose the right snowboard.
8 Best Freeride Snowboards
Some of the best freeride snowboards include:

The Jones Stratos is a perfect board for all-mountain and freerides terrains. Once you are comfortable with the sport and have better control and grip, it's time to upgrade your ride, this board will enable you to perform masterly moves and maneuvers, helping you glide through the snow as effortlessly as a bird soaring in the sky.
Jones Stratos is aware of the environmental crisis that the world is going through and makes it a priority to develop its products in a way that is not harmful to the environment. You should need to know the best snowboard brand while choosing the right snowboard for you.
Key Features
Directional flex pattern
Stringers made of natural fibers
Eco-friendly, as recycled acrylonitrile butadiene styrene plastic and bio-based resin are used instead of petroleum resin, resulting in 33% less emission of greenhouse gasses.
Float pack inserts enable you to ride just as easily in heavy snow conditions.
Perfect for freeride and powdered terrains
Suitable for advanced riders
Consists of a camber in between two rockers
Directional shape
Medium flex
Carbon and wood core
3 years warranty
Pros
Lightweight
Good edge hold
Versatile
Fast base
Long lasting
Effortless float in powder
Cons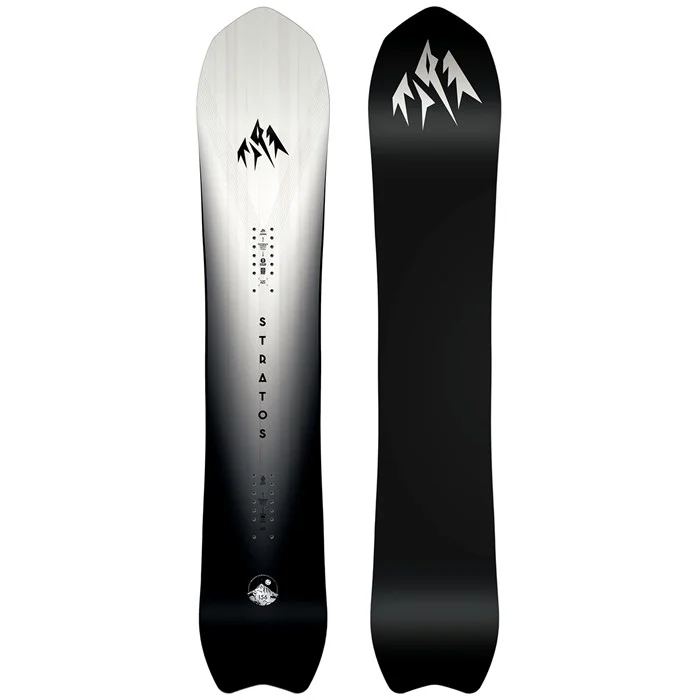 Jones Stratos
The price of "Jones Stratos " varies, so check the latest price at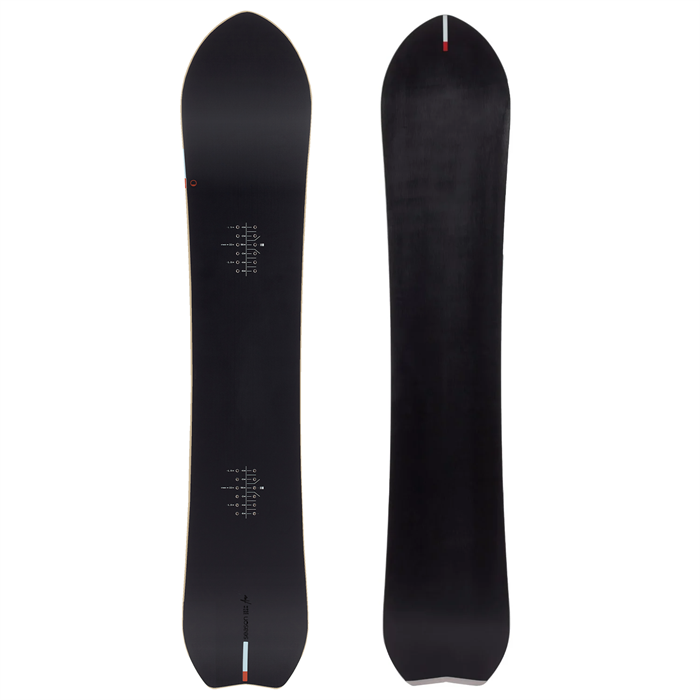 Season aero, with its incredible speed and maneuvering abilities, can lead you to unknown trails with boundless beauty. The powerful flex can enable you to showcase your skills and practice thrilling tricks on the snow, perfect for a ride in challenging terrain.
Aero is like a rocket ship blazing through the air, fast and precise. With its aerodynamic nature, it is built to take to the air.
if you need to know when the snowboarding season starts check out the guide.
Key Features
Acrylonitrile butadiene styrene plastic sidewalls reduce vibrations making way for a stable ride
Stiff flex
Sintered base
Can be used for all-mountain and freeride terrains
Suitable for advanced riders
Rockers at the two ends and camber in the middle
Directional shape
Wooden core
Limited lifetime warranty
Pros
Great edge at higher speeds
Versatile
Durable
Cons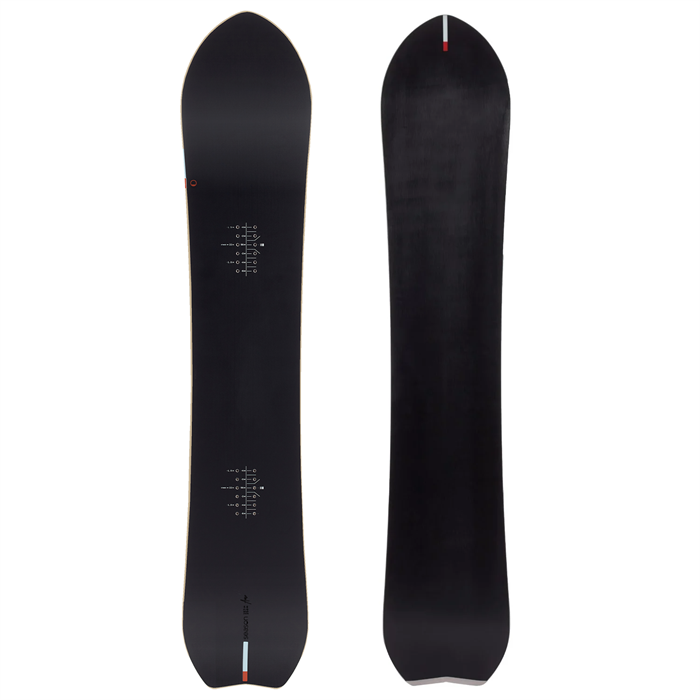 Season Aero
The price of "Season Aero " varies, so check the latest price at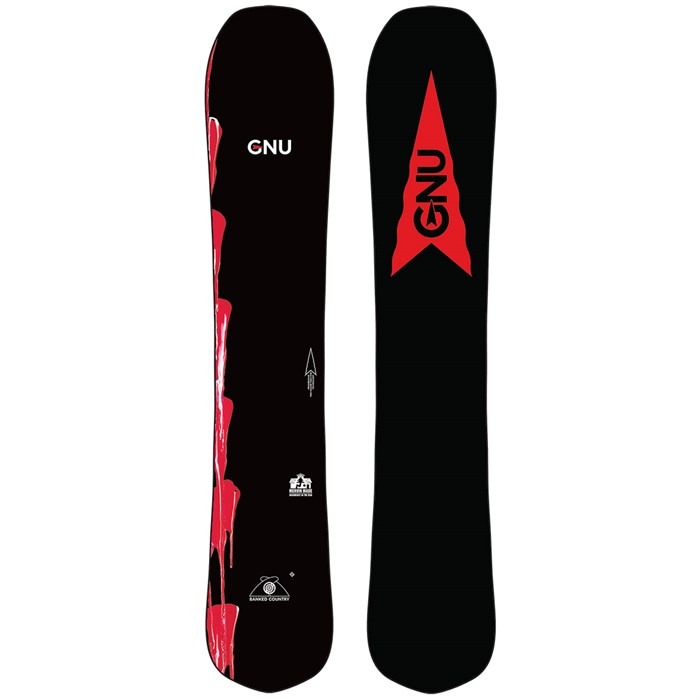 GNU banked country's powerful construction and longer nose makes it stand out.
This beast of a board was made by a father-son duo, perhaps symbolic in that it is the ride of a life-time, a journey that you can embark upon with the people closest to you. If you're ready to take on big mountains or steep terrain, this is the ride for you.
Key Features
Mild rocker between the cambers
Eco core
Bombproof sidewalls
Progressive magne-traction, with SEVEN serrated edges.
Tough base
Suitable for all mountain and freeride terrains
A great fit for advanced riders
A rocker between two cambers
Directional board
Stiff flex
Wooden core
1 year warranty
Pros
Amazing edge control under a variety of conditions
Super fast
Stable
Cons
Less impressive factory wax
Heavy
Stiff flex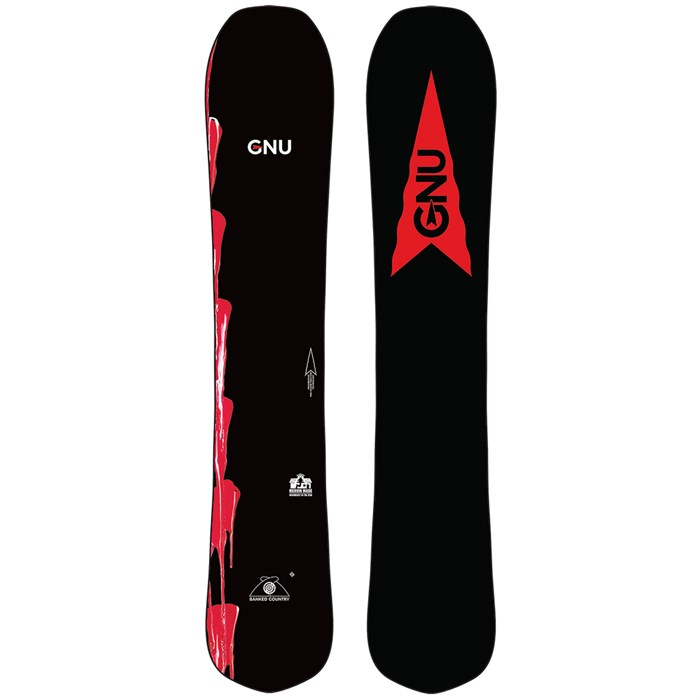 GNU Banked Country
The price of "GNU Banked Country " varies, so check the latest price at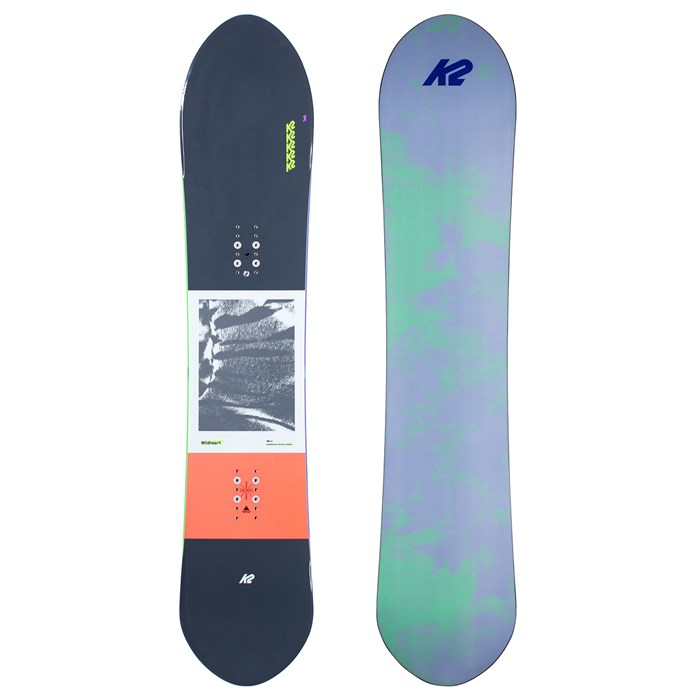 This one is for the free spirits and the wild hearts, those who feel "one with nature" in all its encompassing glory. Floating on this, with a spectacular view is like hearing the beats and rhythms of nature with its magnificence abound.
Key Features
Rocker at tip and camber in the footing area
Tapered shape
Rhythm board
Carbon from the contact points to the inserts
Sintered 4000 base
Suitable for freeride and powdered terrains
A good fit for advanced riders
Tapered directional shape
Medium flex
Carbon and wooden core
3 years warranty
Pros
Cons
Not suitable for beginners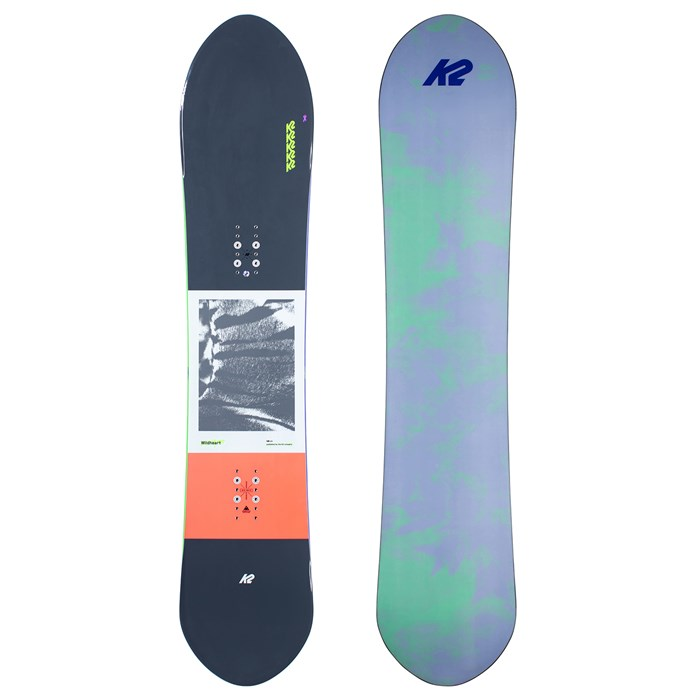 K2 Wildheart
The price of "K2 Wildheart " varies, so check the latest price at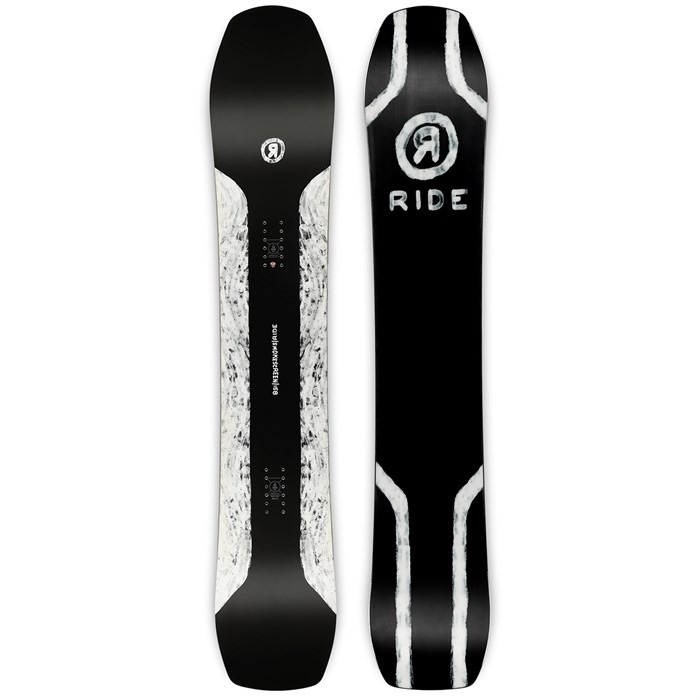 The ride smokescreen, in addition to being accessible, also has all the features necessary to make your riding experience top-notch. A match for all the fighters and enthusiasts, the sidewalls are not just on the defense against strong vibrations but actively absorb them to make the ride super stable.
Key Features
Double impact plates for a stronger board
Sintered and stone base
Performance core made with a perfect combination of aspen and bamboo
Complete board control in different stances
Useful in all mountain and freeride terrains
Good for riders with intermediate snowboarding abilities
Consists of a camber in between two rockers
Directional board
Medium flex
Core made up of carbon, bamboo, and wood
3 years warranty
Pros
Lightweight
Strong
Excellent durability
Stable
Pocket friendly
Cons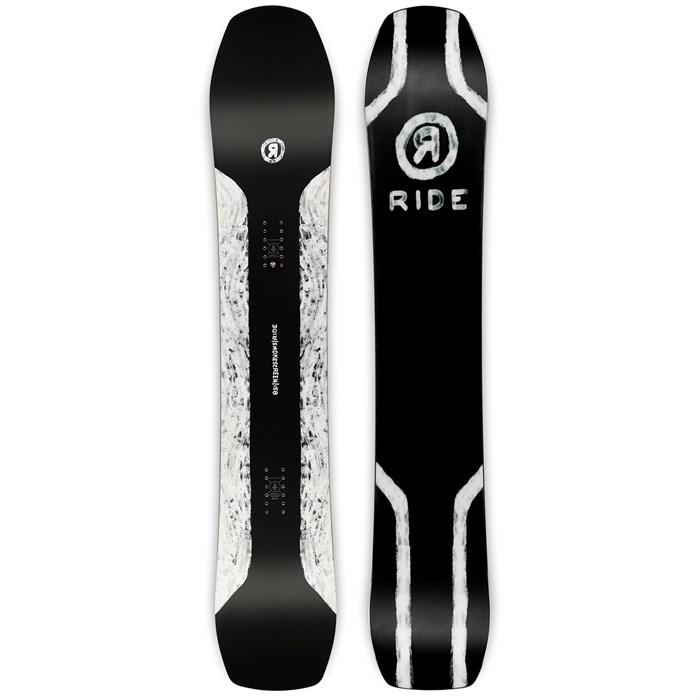 Ride Smokescreen
The price of "Ride Smokescreen " varies, so check the latest price at

The Jones flagship will take your riding experience to the next level! With its smooth surface and texture, fast pace, and incredible precision, it is sure to fill you with rapture and thrill.
The smooth and airy journey provided by this board is comparable to floating in the clouds. A perfect choice for a comfortable yet adventurous experience. Read out the complete detailed review of jones flagship snowboard.
Key Features
Amazing traction
Tapered shape
Optimal powder float
Precision
Excellent grip
Moderate torsional flex
Easy to control the camber section
Pros
Easy to control
Smooth journey
Great speed
Good edge hold
Cons
Not suitable for entry-level riders

Jones Flagship
The price of "Jones Flagship " varies, so check the latest price at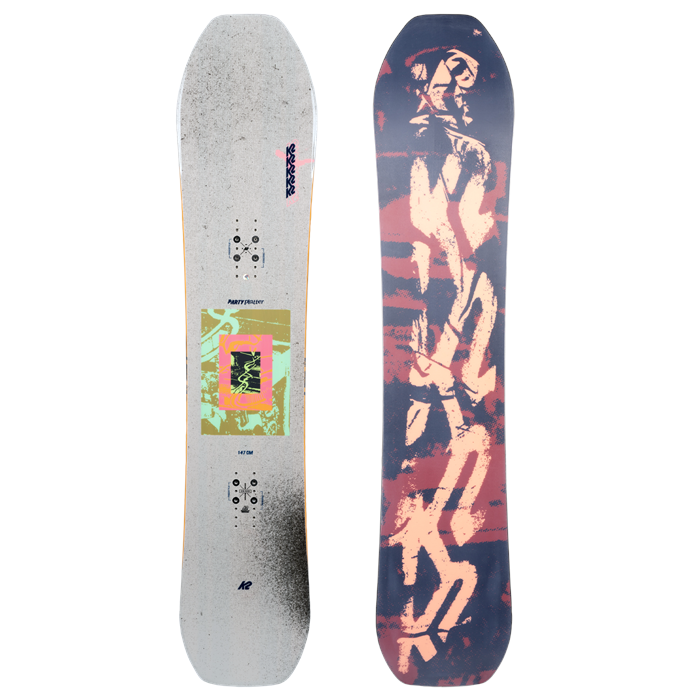 If your ride has the word "party" in it, you can be sure to have a good time. This board with its unique design and colors not just fuels your adrenaline-filled adventures but can also enable you to explore the narrow pathways and complex terrains.
Using this board you can tour the "roads less traveled by", away from the crowd and among the tall trees and the white landscape.
This is the perfect board to sharpen your skills and perform new tricks with comfort and ease.
Key Features
Consists of a combination camber with the perfect blend of both camber and rocker qualities.
Sintered base
Increased dampening
More slashing
Can be used in all mountain as well as powder terrains
Made especially for skilled riders
Consists of camber between two rockers
Directional board
Stiffer flex
Wooden core
3 years warranty
Pros
Strong
Lightweight
Greater maneuverability
Better control
Stable
Great side cuts
Cons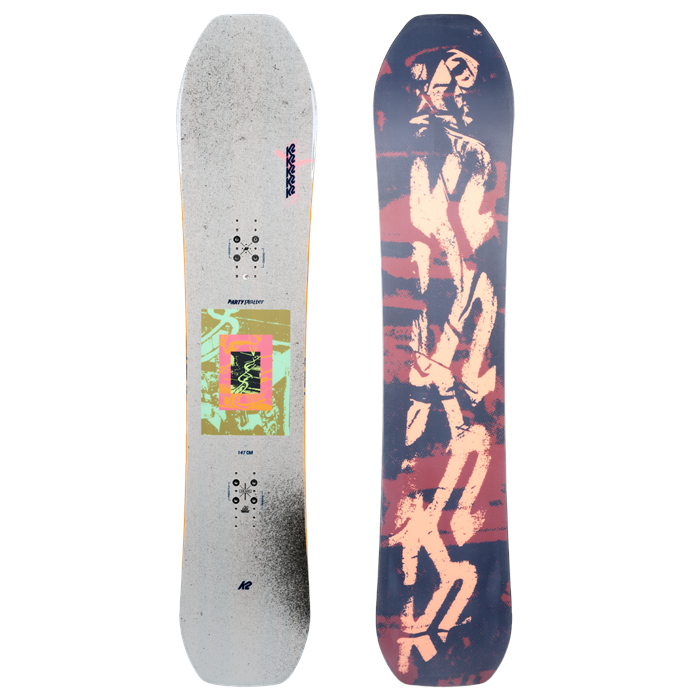 K2 Party Platter
The price of "K2 Party Platter " varies, so check the latest price at

With its colors and patterns, the Rossignol XV magtek reminds one of Vincent Van Gogh's "Starry night". The white swirls at the top are reminiscent of the luminous stars in the renowned painting.
But this ride is far from the melancholy picture we know and love. Quite the opposite, this board provides that extra grip and goes up to pretty high speeds.
Designed by the snowboarding legend, Xavier de la Rue himself, this is the go-to board for anyone looking to improve their skills and take their riding to the jaw-dropping level.
Key Features
Stiffer flex
Sintered 7500 base
Magne-traction
Provides a better edge in hard snow
Environmentally friendly
Camber rocker combination
Can be used in an all-mountain terrain
Wide waist width
Open radius side cut
Pros
Super fast
Excessive waste from board ends is removed making the performance much more effective
Effortless float even during deep snow
Cons

Rossignol XV Magtek
The price of "Rossignol XV Magtek " varies, so check the latest price at
Some Considerations to Keep in Mind When Choosing the Best Freeride Snowboard
A few considerations to keep in mind when choosing a snowboard are:
Length of the Board
The length of the board should be according to the rider's weight, an expert can easily help you pick a board based on your physique. The traditional method to choose a board includes measuring the length of the board with one's height, if the board reaches the lower facial area, it is probably of the right size.
However, the length of the perfect freeride board varies. Many riders seek the thrill that comes with riding on longer boards as compared to freestyle snowboards, while others prefer shorter ones.
Flex
The flexibility of the board is of two types, longitudinal flex is measured from the tip of the board to the tail, and torsional flex depends on its width.
Beginners generally opt for the soft flex pattern, as it is easier to control. More advanced riders tend to prefer stiffer flex as it is more convenient for different speeds.
The right flex also depends on your weight. If you weigh less, a board may seem too stiff to you and if you weigh more, it might seem too flexible. It all comes down to your personal experience and what works for you.
The Right Binding
The board and binding compatibility must be ensured.
Mainly there are two types of good snowboard bindings: Strap bindings and speed-entry bindings. Strap bindings are a good fit for both stiff and soft flexing boots. They are easy to adjust and offer a great amount of support, the only downside may be having to strap them on and off.
Speed-entry bindings allow the rider to quickly fit into and take off the boots. These are heavier as compared to the strap bindings and may offer less control to the rider.
The base plates of the board consist of discs and bolts that attach with the binding. |It is important that bindings are compatible with the boot size.
Snowboard Torsion
Torsion relates to how the board will bend and move under varied conditions. It depends on the shape of the board.
What to Look for When Buying a Freeride Snowboard
The choice of the perfect snowboard is pretty subjective and almost always varies from person to person.
There are a few important factors that must be considered when buying a snowboard.
By Gender
Women's snowboards are significantly different to that from men's. They have less camber and a softer flex. This is due to the fact that their center of gravity as well as foot size is less. In addition to that, they also have narrower waists.
Design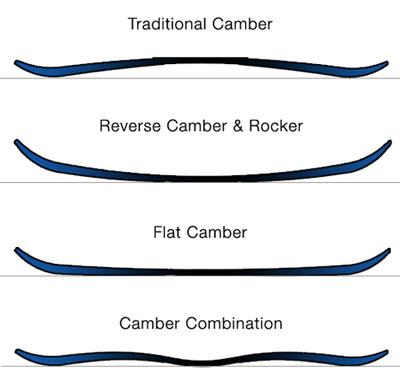 The best-performing snowboards are grouped into different categories, the most common being camber and rocker, there are additional varieties within these groups. Flat boards are also commonly used, and they are, as the name indicates, flat.
Camber board is slightly bulging in the middle and the ends are faced upwards, this type of board provides stable rides and is best suited for experienced riders who seek the thrill that comes with speed.
Flat boards are easier to maneuver and turn, they can also enable a rider to increase their float.
The tips of the rocker board are turned upward giving a slight bowl shape, these best powder snowboards and in technical terrain, these are softer as compared to their contemporaries, the cambered boards.
They are easy to turn and control and there is an airy, weightless feeling that encompasses a rider when drifting through the pristine snow-covered peaks on these boards.
A lot of the boards combine the two, camber and rocker, such boards provide a good edge hold and allow for better turning capacity. The shape of the board is that of the waves with camber and rocker regions being the crest and troughs.
Shape
Snowboards can be categorized according to shape.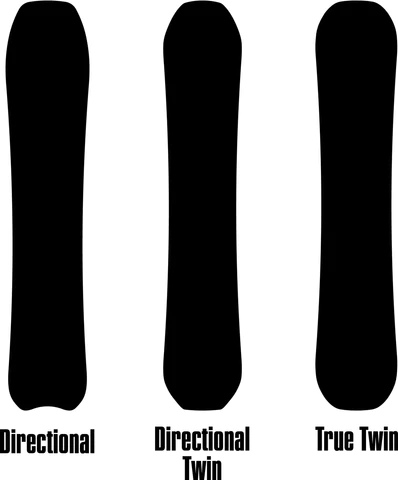 Directional snowboards are ridden in one direction, most freeride boards and top all-mountain boards have this shape, and the speed that is offered by such boards is incomparable. Directional snowboards are fully compatible with snowboarding and skiing.
True twin boards are designed similarly from the front and back and hence it is possible to ride them either way. These boards are used in park riding as well.
Directional twin boards are pretty versatile and can be used in a variety of environments.
Border
The edge of the snowboard is described by the side cut radius, and the arc of the board can tell you about the turning ability of the board.
A board can either make tight turns or bigger ones. As a rule of thumb, the narrower the board, tighter will be the turns made by it and vice versa. So the choice depends on the maneuvering and turn control that you want in your riding experience.
Effective edge

It is the part of the board that touches the snow.
A shorter effective edge enables the rider to turn easily, whereas a longer effective edge provides a better grip and stronger support.
If you want to learn how to sharpen snowboard edges pain-free read out this guide.
Material
The main component of a board is its core, this is generally made of hardwood which ensures steadiness and provides maximum support, it also has a significant effect when it comes to damping of vibrations that accompany snowboarding.
Carbon made snowboards are also available in the market but are usually less economical.
There are two types of polyethylene base material that are used in snowboards. Sintered bases are stronger and light weight, as a result of these characteristics they can go up to faster speeds. But they are costly.
On the other hand, extruded bases are less expensive but they are more susceptible to being damaged.
Fiberglass layers are also often added to the boards with the intention of increasing their stiffness. This material surrounds the core of the board.
Surface Area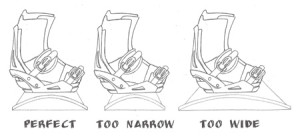 The width varies at different points in the board, hence as a standard, the width is measured at the least wide point. This point should correspond to the size of your boots. The width of the board determines the edge of the board and the drag that it can cause on your heels and toes.
So find a board that is compatible with your shoe size.
Ability Level
Beginners are often suggested to opt for softer boards, as they are easier to control and require less effort and strain.
It is easier to move using these boards as opposed to the stiffer ones, once you have gotten the hang of the basics of snowboarding, you can move towards stiffer boards.
As a beginner, it is especially important that you select a board that is compatible with your height and weight.
The experience of picking the perfect board for you is much like the prince looking for Cinderella by having various women try it. But finding the right match is worth it at the end and can not only make for an incredible adventure but can also help you polish your skills.
Frequently Asked Questions
What Flex Should I Go For?
Generally, it depends on how long you have been snowboarding. For a beginner snowboard, softer flex is recommended, you can advance towards stiffer flex with increase in experience.
Free riders who enjoy the aggressive and fast paced rides should definitely go for a stiffer flex as it provides greater stability and better control.
The recommended flex rating for an all mountain rider is between 4 and 7.
Should the Shape Be Directional or Twin?
Whether you should go for directional or twin shaped boards depends on not only your riding style but also on your location.
All mountain riders usually go for directional boards and park riders opt for twin boards.
What about Volume Shift Snowboards?
The width of the volume shift snowboards compensates for their length, these boards are shorter than the conventional boards.
The idea for this type of a board was borrowed from the surfing boards, which are easier to use and control. These boards were originally designed for riding powder.
Pros:
Light weight
Useful in performing tricks in the air
Great for riders with a larger boot size
If these pros resonate with you, volume shift snowboards are definitely worth the try.
What Should My Stance Be When Snowboarding?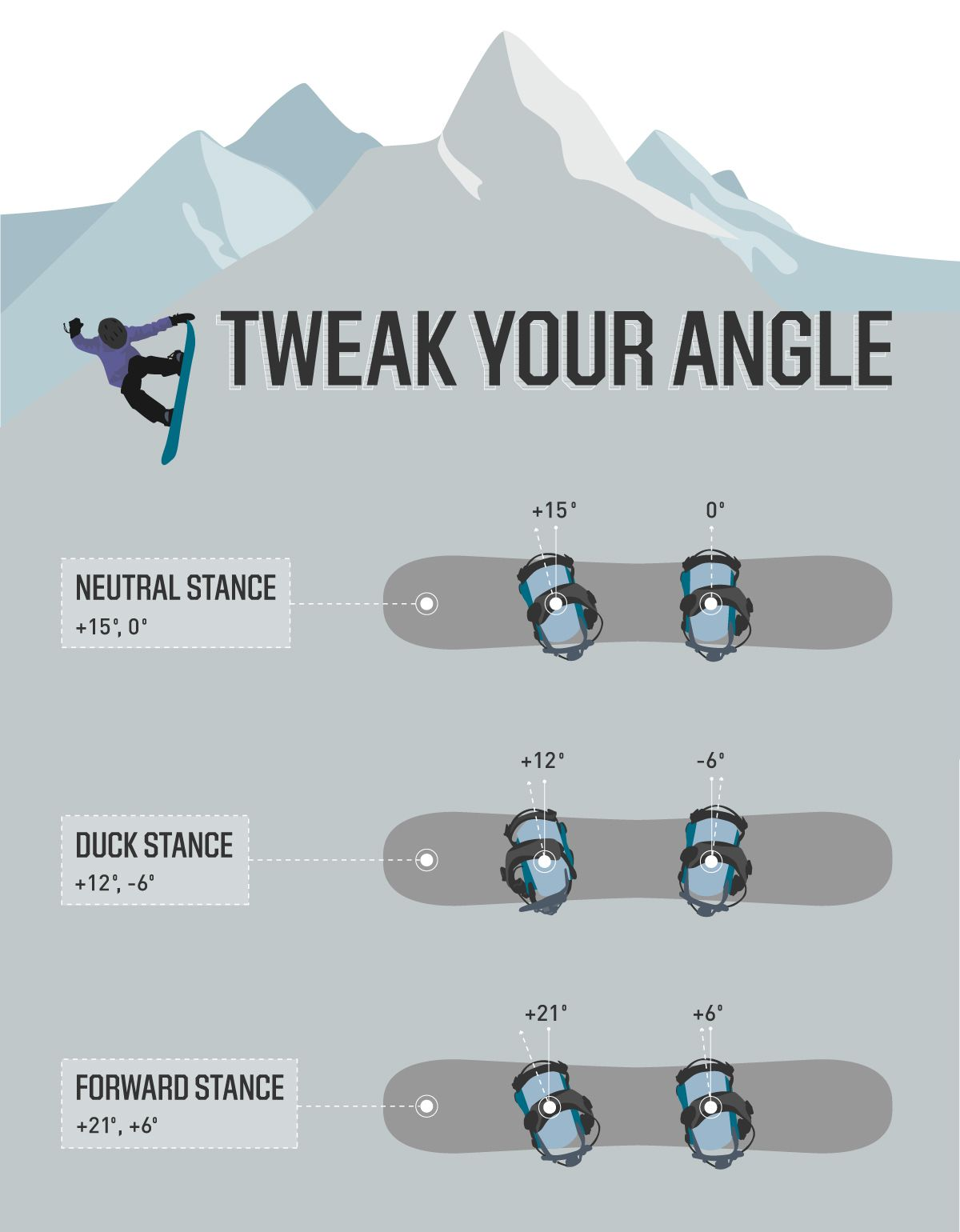 The stance you take is essentially just the foot that you put forward when snowboarding. It could be either the left foot or the right foot.
People generally choose a stance in which they feel comfortable and can showcase their skills.
What Is the Lifespan of an Average Snowboard?
It usually depends on how often the board is used and on the style of the rider. But on average, the lifespan can be between 150 to about 200 days of riding.
How Should I Choose a Snowboard for My Child?
Children should also choose a snowboard based on their weight and height. They should not be given an adult snowboard and be expected to use that with the assumption that they will eventually grow into it.
Since, kids have less physical strength than adults it is preferable that they be bought a snowboard that is softer as it will make it easier for them to adapt to and control the board.
Another important consideration to keep in mind is that at a younger age the child is still learning and therefore they should go for beginner and intermediate snowboards as opposed to the expert boards. You should also know what to wear while snowboarding if your child is going to snowboard for the first time.
Is It Better to Go for a Wide Snowboard?
Again, it depends on your personal preference. In general wide boards can be just as soft or stiff as the normal boards.
Pros:
Some advantages that wider boards offer include:
Less drag force: Because of this the toes will be less likely to drag in the snow, offering better control.
Greater option: Wide boards are fairly popular and there is a lot of variety. Riders have more to choose from and are likely to be a perfect fit for them.
How Do I Reduce Drag When Snowboarding?
A few factors play a role when it comes to your toes being caught in snow
Firstly, choose a wider board, a board that is too narrow can increase drag. Make sure you adjust the position of your binding.
Finally, make sure your stance is correct, you should bend your knees but avoid leaning on your toes, if you do that, you will experience not only toe drag but will also hoist the board from the back, this will cause your speed to reduce and make it harder for you to turn. Ensure that most of the surface area of the board is touching the snow.
Conclusion
Snowboarding is a fun sport, one that everyone should try at least once in their lifetime. When it comes down to finding a board that is the perfect fit for you, it can be overwhelming going through a number of choices trying to find the best freeride or freestyle snowboard for you but it does help to know the basics about the many different types as it will enable you to choose according to your personal preference and one that suits your particular needs.
When I went snowboarding with my friends for the first time, the experience itself was exhilarating and the incredible view really does shed perspective and makes one think in terms of the grand scheme of things.
Make an informed decision and choose snowboard logically based on your weight, height, ability, and environment as opposed to the bright colors and cool designs, and remember, the most important thing is to have fun! You can also use freeride snowboards for buttering!
So strap on and begin the adventure of a lifetime.