Back in 2012, as I fumbled around looking for my own best kayak brands, I came across Pelican. The way I saw it, any company that was as old as me had to be worth spending money on.
I still have that kayak today, and though I don't take it out on the water much, it's been a great learning kayak for the kids.
Now, I'm not suggesting you search for the best kayak based on how old the company is. The truth is, I went about it the wrong way and ended up with a decent brand and a solid, long-lasting kayak by sheer luck.
Whether you're looking for inflatable kayaks, touring kayaks, recreational kayaks, tandem kayaks, or whatever it is that floats your boat (pun intended), the brand makes a difference.
Unfortunately, there are a ton of knock-offs out there that rely on aesthetics to lure you in. Poor kayak brands necessitate lists like this one so you know the best kayak brands available.
Best Kayak Brands
Cornerstone features serve as the base point, with everything else a contributing factor. When I pick a brand, it's all about what that brand's kayaks have to offer me and what I want to do with them.
I wouldn't pick a brand with a focus on comfortable whitewater kayaks if I need some good fishing kayaks.
With that being said, there are at least ten kayak brands worth your time and money. There are other brands that put out a lot of good products, but there has to be a top ten—something that separates the wheat from the chaff.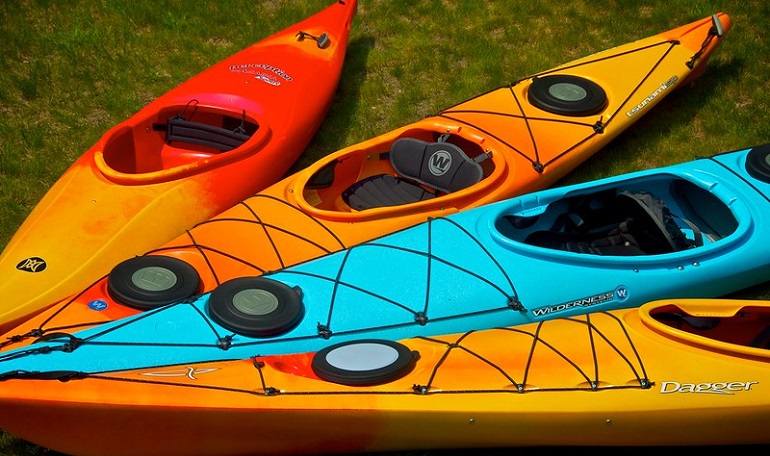 Wilderness Systems opened its doors in 1986, but I didn't have the opportunity to hook up with one of their recreational kayaks until just last year. It was the Atak 120, and I'm not even sure you could call this thing "recreational."
The Atak 120 is a veritable beast of a kayak and includes everything an angler or recreational paddler could want, including a Helix HD Motor Drive mount. No need to say Wilderness Systems kayaks grabbed my attention immediately.
Wilderness Systems kayaks are fantastic, even though the company's focus is mostly on touring kayaks and kayaks for recreational paddlers. Another notable kayak from their brand is the Wilderness Systems Pungo 120. This kayak stands out with its exceptional speed, making it the easiest to paddle and the most efficient in its class.
Recommended: Atak 120 (Cream of the Crop)

The Atak 120 is a compact variation of the Atak 140, the latter of which is an award-winning kayak. It's easily one of the best fishing kayaks in the industry, with a deck designed to cut through the wind.
Wilderness Systems Atak 120 is very stable and fitted with a number of electronic accommodations features for fishing enthusiasts.
Constructed of high-density polyethylene, it's a heavy recreational kayak. On the bright side, that means you can take it for a wild ride because it shrugs off rocks and underwater debris like a champ.
Despite its weight and 12′ 3″ length, it's a fast kayak and will give recreational paddlers a fun ride.

Atak 120
The Price of "Atak 120" varies, so check the latest price at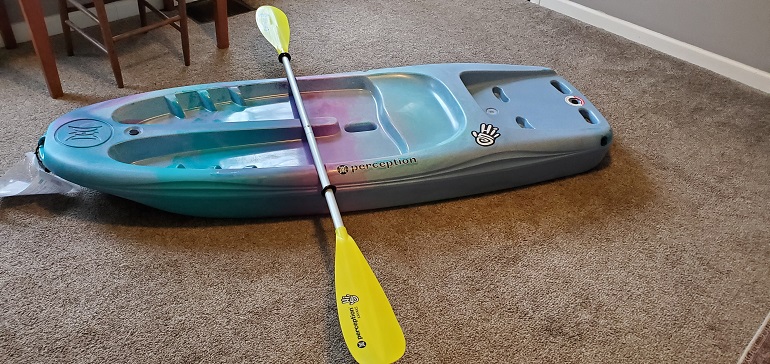 Perception has had skin in the kayak-making game for even longer than Wilderness Systems. They're all about whitewater kayaking, and only recently has the Perception kayak company spread into other adventures on the water.
Perception Kayaks offers a diverse range of reliable and functional ocean kayaks, including tandem kayak models, recreational, touring kayaks, premium models, budget, and sit-on-top kayaks to experience quality and simplicity during sea kayaking.

The Perception Hi-Five is an excellent kayak for your kids and a long-lasting choice to teach them the ins and outs of kayaking. As a standing or sitting kayak, they can even learn paddle boarding.
Just because it's tiny and designed for kids doesn't mean it's not a capable kayak.
Being one of the best kayaks for kids, it has great tracking and speed, along with giving you an excellent excuse for getting all of that energy out of your rambunctious little one so you can have a break later.

Perception Hi Five
The Price of "Perception Hi Five" varies, so check the latest price at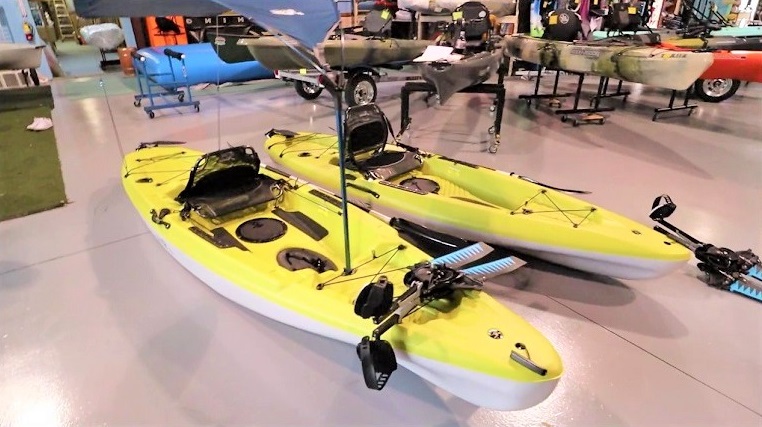 Every angler worth their salt immediately recognizes the Hobie name. It's probably one of the most prolific fishing kayak manufacturers in the world, even though they make more than just one type of kayak.
Hobie has honed its craft for over half a century and is known for making the best sports kayaks in the world.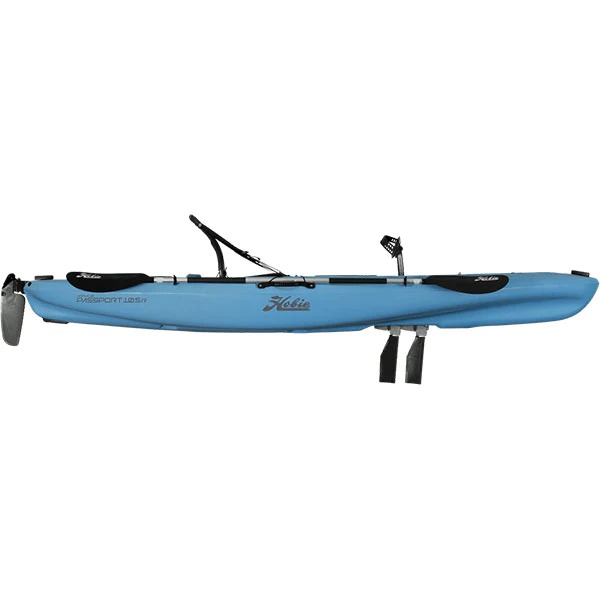 Hobie is known for its pedal-driven kayaks, and the Mirage Passport 10.5 R is a fine example of this. It's also an example of Hobie packing in premium features on a more affordable model.
The Glide Technology and "kick-up" fins allow you to take these fishing kayaks anywhere, even if it looks far too shallow to navigate.
Hobie makes sea kayaking fun again, and the Passport 10.5 R is one of the best all-around, affordable fishing kayaks on the market.
Although it's considered an entry-level fishing kayak, it's highly customizable, allowing you to throw all kinds of personal accessories on it at your leisure.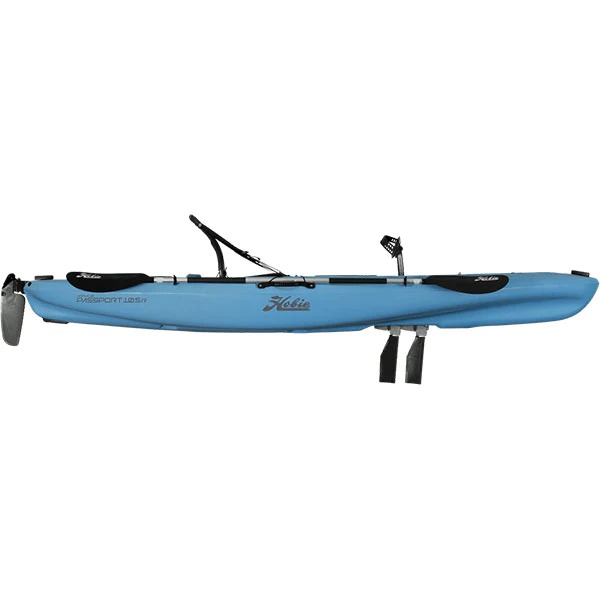 Mirage Passport 10.5 R
The Price of "Mirage Passport 10.5 R" varies, so check the latest price at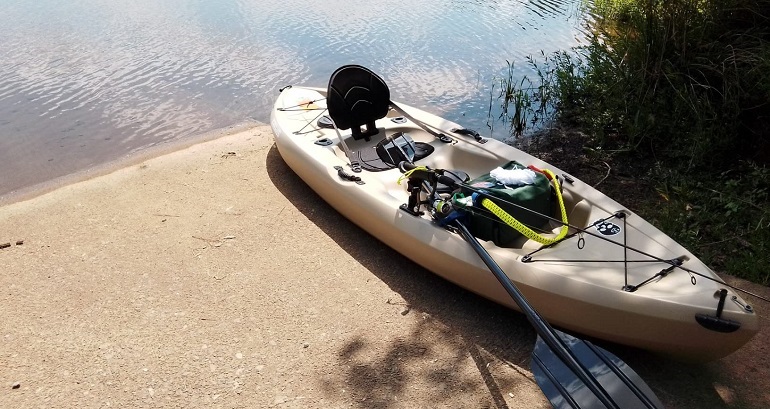 Lifetime and Pelican have been going at it for a long time. These two kayak brands are fierce competitors because they both design a ton of price-friendly entry-level kayaks.
That's not to say that Lifetime doesn't offer more than beginner-friendly kayaks because they certainly do.
Lifetime is one of the few kayak manufacturers out there that produces affordable kayaks you can depend on in the long term.
What I love about Lifetime is the company's commitment to value without manufacturing kayaks that are over the top and crazy expensive.
Recommended: Tamarack 100 (Value for Money)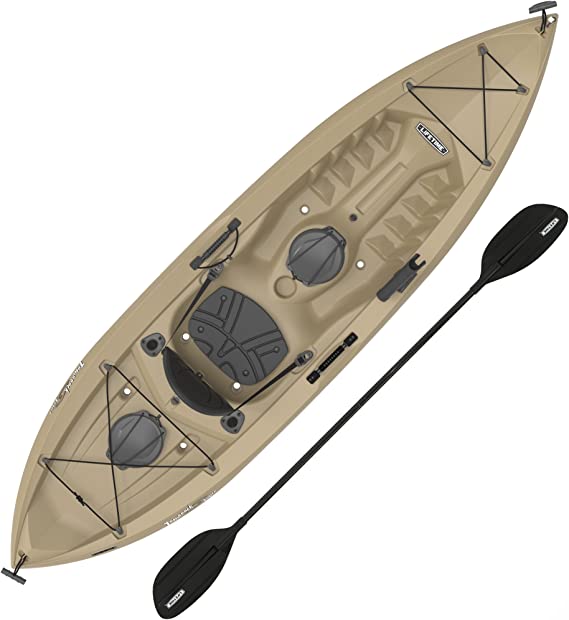 The Tamarack line is fantastic for fishing and recreational kayakers. It comes with plenty of fishing accessories for the eager newbie angler, and it's lightweight enough for you to unload and load on your own.
The Tamarack 100 has excellent stability, and although I wouldn't advise you to do cartwheels and backflips on it, it's more than stable enough to stand up while you reel in your prize.
There's plenty of space to store your kayak fishing gear as well, with a bow and stern compartment, the former large enough to take a small cooler.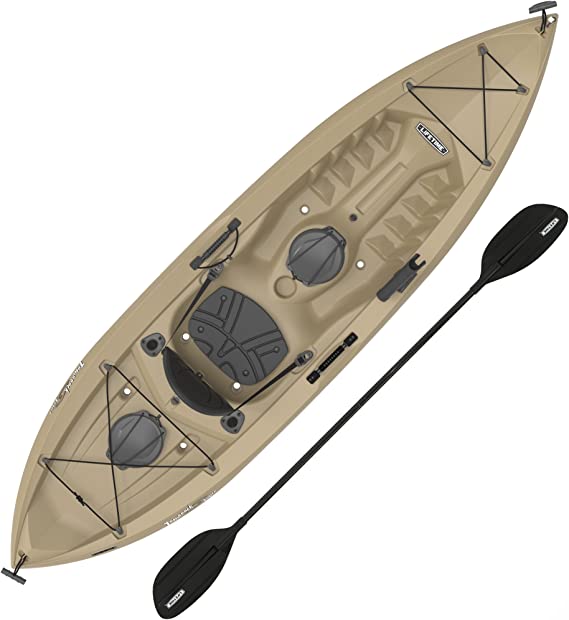 Tamarack 100
The Price of "Tamarack 100 " varies, so check the latest price at
Vibe Kayaks are relatively new to the kayaking business, opening its doors for the first time in 2013. Fortunately, it's off to a good start, offering a variety of kayaks that covers beginners to veterans alike.
Their kayaks include recreational and touring kayaks but manufacturing a good fishing kayak is Vibe's primary focus.
Recommended: Yellowfin 120 (Kayak With an Attitude)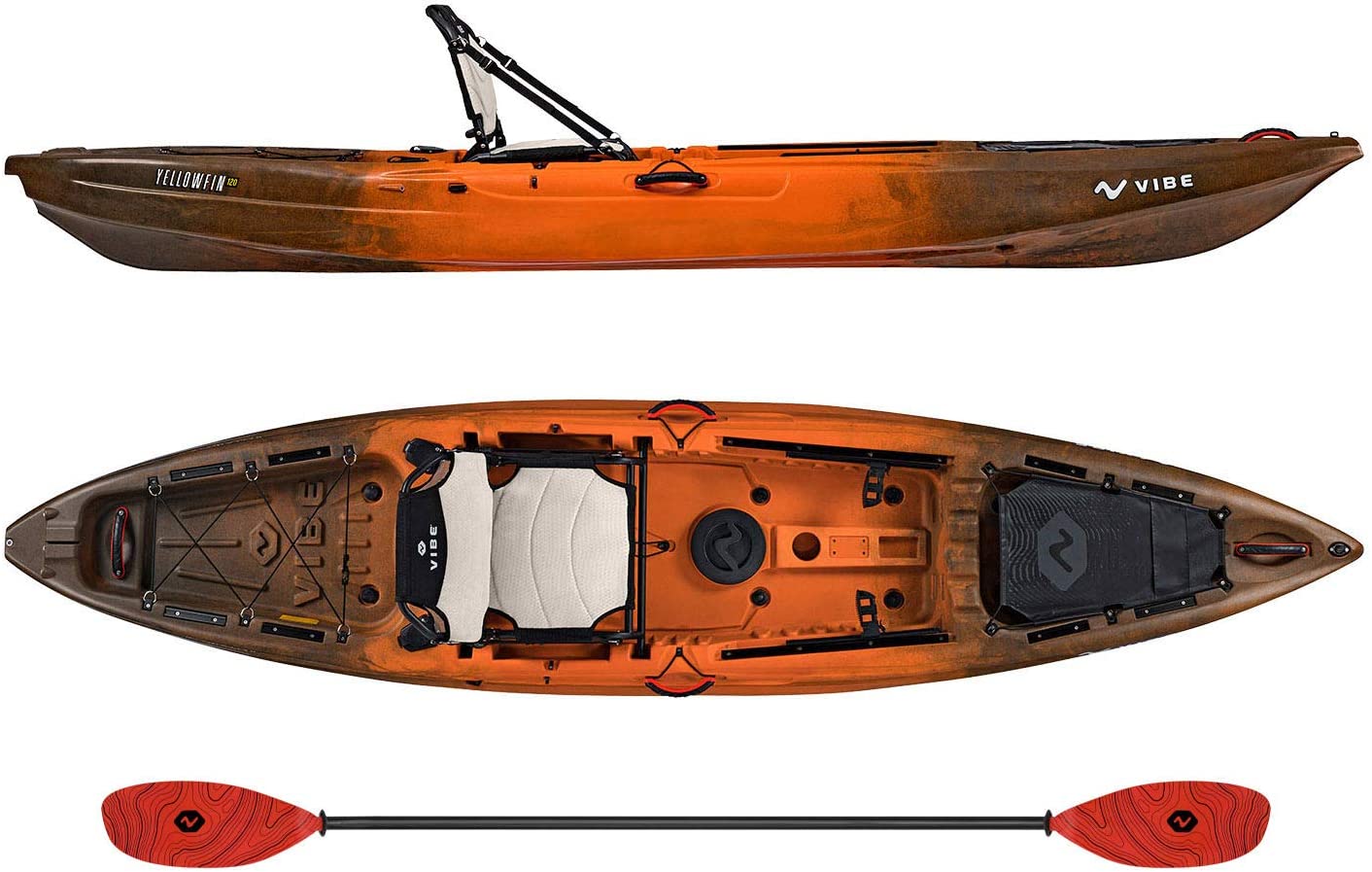 Built for stability and speed, with a 400 lb capacity, the Yellowfin 120 is a kayak fishing dream come true. It's loaded with fishing accessories, customization options, and extra storage space.
Did we mention the 400 lb capacity? It's worth saying twice because it means kayak anglers can bring along all the fishing gear they need.
The Yellowfin 120 is an example of why Vibe Kayaks is one of the best kayak brands. It shows they can cover a wide range of various kayaks.
Whether it's fishing rigs or touring kayaks, Vibe puts together a kayak with attitude. Vine is confident enough in the Yellowfin 120 and all of their kayaks to put a limited lifetime warranty on them as well.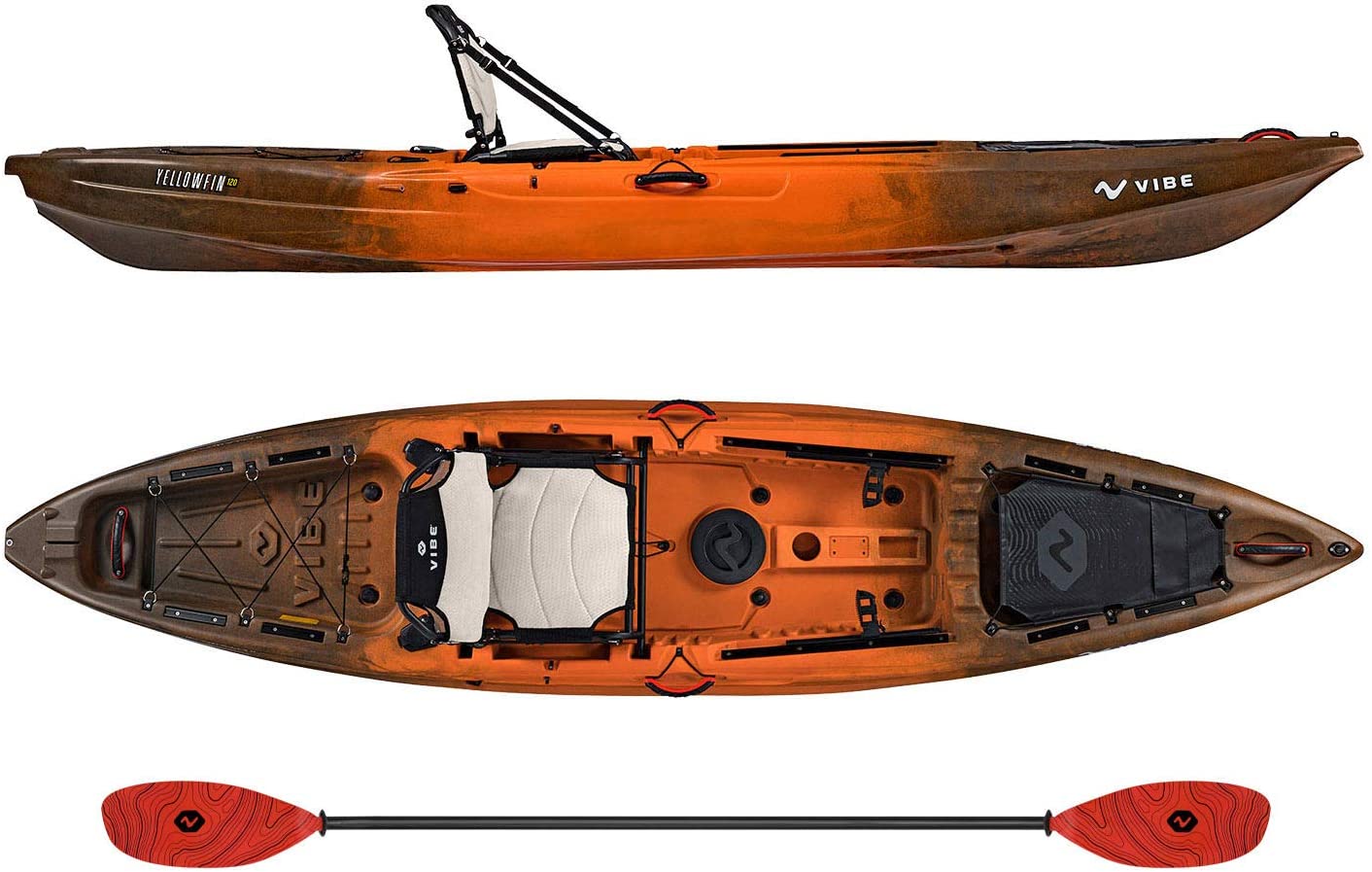 Yellowfin 120
The Price of "Yellowfin 120" varies, so check the latest price at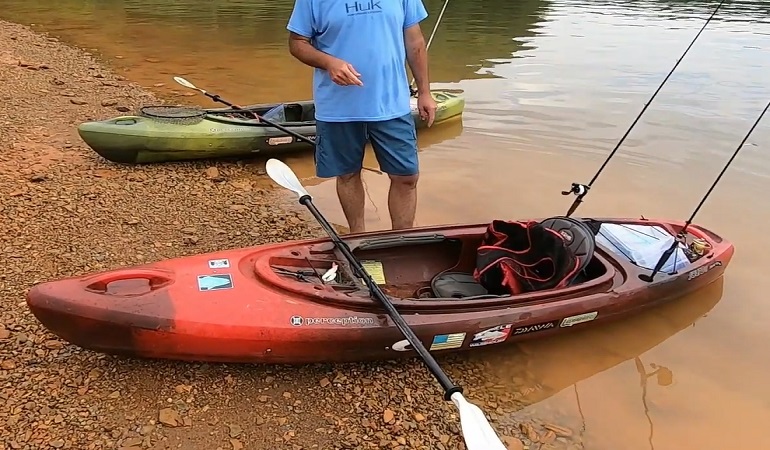 Old Town is a well-known and highly respected kayak and canoe manufacturer.
It's easy to understand why there are those that believe Old Town is one of the best kayak brands in the world since the company has manufactured watercraft since 1896.
Old Town Vapor 10 is their highly popular compact kayak with ample volume, offering a stable and efficient ride through its large cockpit opening; however, here we will talk about Vapor 12XT.
Recommended: Vapor 12XT (Old Is Gold)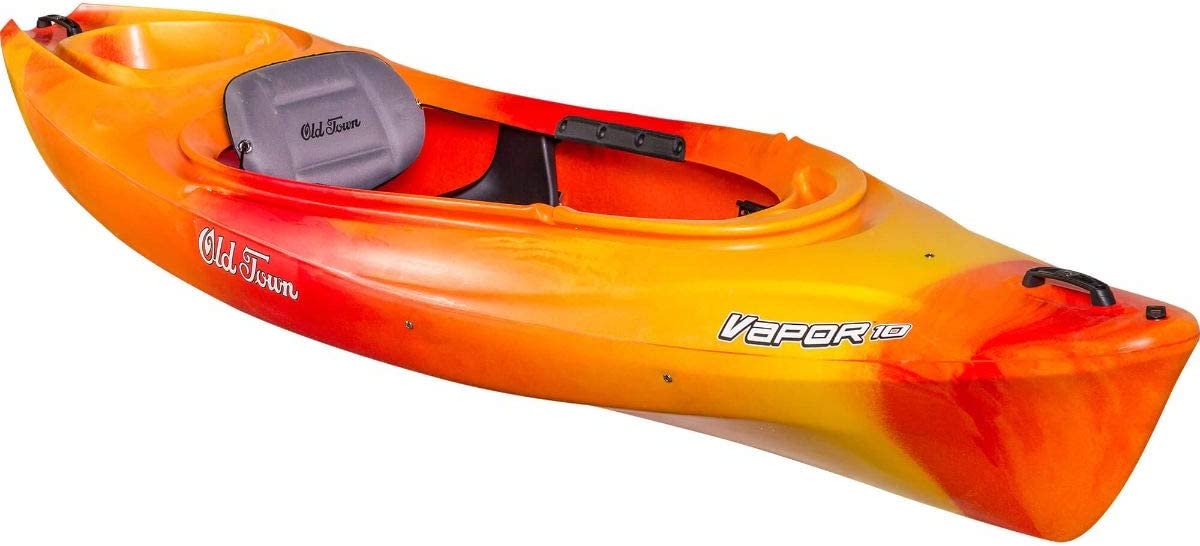 The Vapor 12XT features excellent stability and is designed primarily for recreational paddling. It sports the unique rocker that makes a town canoe instantly identifiable.
The comfort flex seat is nice, and you might find yourself dozing off in the thing if you aren't careful.
Speed and maneuverability are both present and plentiful, and even when it's fully loaded, you can sling the hull around with ease.
The stern contains a storage tank that is molded into place, so it's not going anywhere. You can stuff quite a lot of stuff into it as well.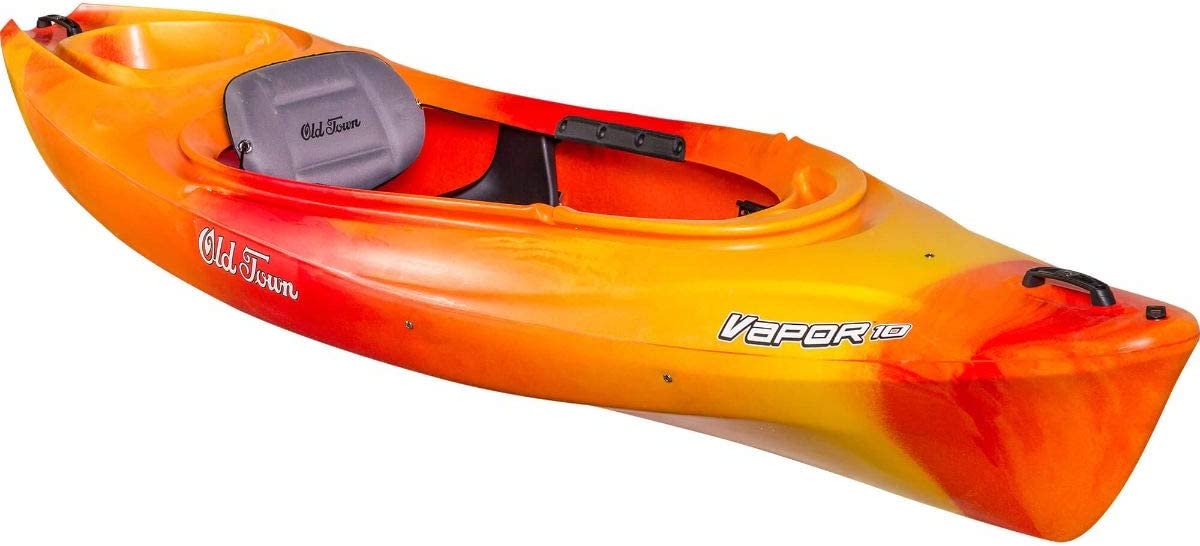 Vapor 12XT
The Price of "Vapor 12XT" varies, so check the latest price at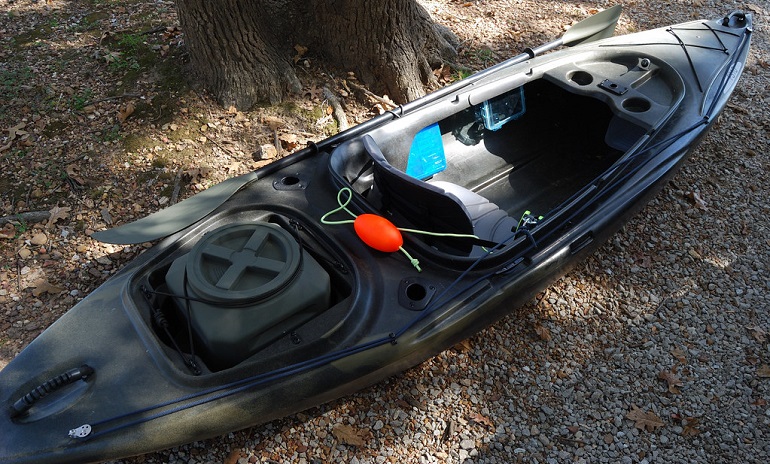 Ascend kayaks company is off to a great start, and even though it opened its doors in 2010, Ascend has already achieved a status as one of the best kayak brands in the world.
If you're worried that Ascend isn't a good brand, it's the only kayak brand (along with Hobie) to be certified by NMMA (National Marine Manufacturers Association).
Recommended: D10 (Best Design Philosophy)

Ascend is famous for its rotomolded kayak hull designs incorporated in all of its kayaks, including the D10.
The D10 is popular for its excellent tracking and customization options, whether it's cup holders or the removable seat.
D10 kayaks are a part of Ascend's luxury line of kayaks, and it basically means you're getting a recreational craft.
Featuring a rotomolded hull, the D10 is sleek, small, and fast on the water without sacrificing a single degree of stability.

D10
The Price of "D10" varies, so check the latest price at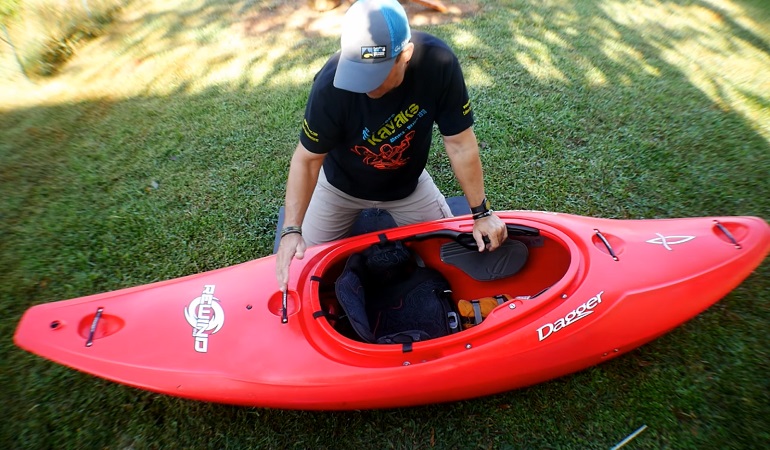 Dagger is an award-winning kayak brand for a reason. Known for bucking current kayak design trends, occasionally Dagger will mess something up, but that's the genius of the company.
They aren't afraid to innovate, even if the occasional Dagger doesn't go over well.
If you enjoy kayak fishing, Dagger is your brand, though they also manufacture other kayak types, including whitewater kayaks.
I've had hands-on experience with a few of them, and it's hard not to be impressed, from the design aesthetics down to the tiniest accessories.
Recommended: Phantom (Innovative Aesthetics)

The Phantom is just a seriously impressive, all-around kayak with fantastic tracking, speed, and stability. It's a sporty little creek boat, and it's seemingly made to accommodate your fun side and get you out on the water.
While it's not necessarily an ocean kayak, it has that go-anywhere vibe that makes Daggers a fantastic kayak brand.
Dagger is a kayak maker that focuses on aesthetics, style, and comfort without sacrificing capability.
The Phantom is just another example of their phenomenal success in that arena. The Phantom has excellent handling and boofs, as well as any white water kayak.

Phantom
The Price of "Phantom" varies, so check the latest price at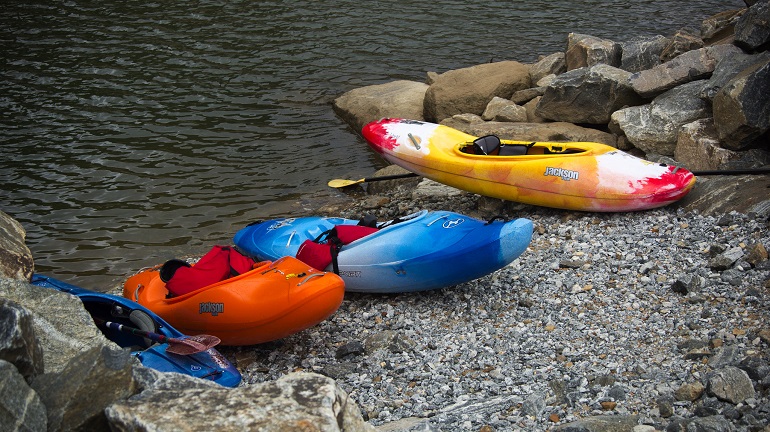 Jackson set itself apart from the rest of the kayak industry with its unique, cross-linked plastic hull designs.
This design feature makes Jackson kayaks the lightest kayaks on the market without sacrificing the capabilities you expect from different kayak types.
A good Jackson kayak often strikes that fine balance between fishing and recreation or touring and sporty.
Recreational paddlers and just adventure-seeking kayak enthusiasts will find a lot to love with Jackson and the kayaks it has to offer.
Recommended: Riviera (Super Lightweight)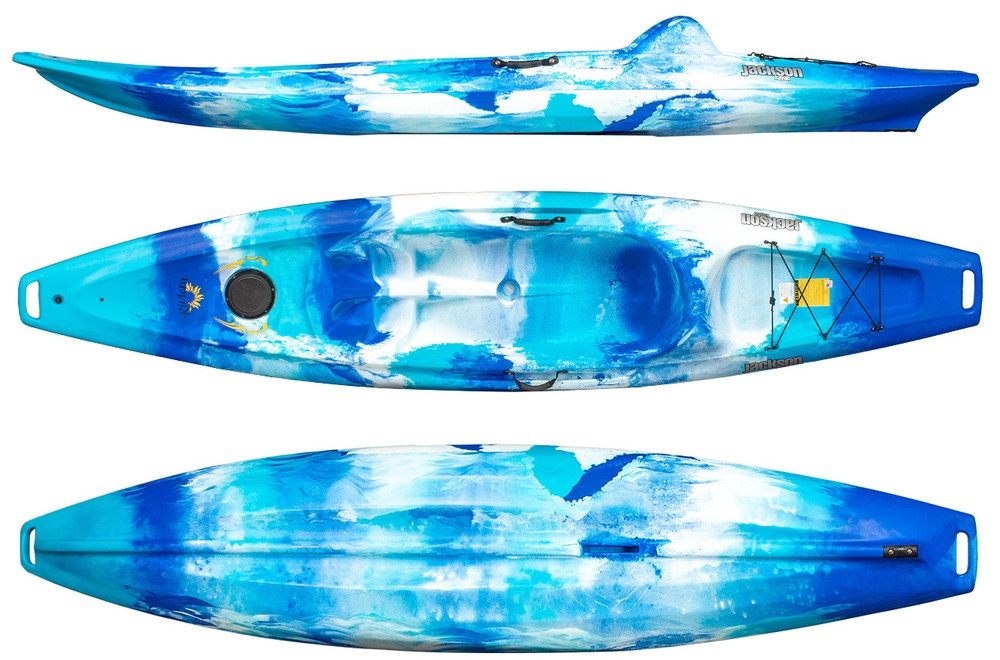 I once tried to jam a Jackson Riviera between a rock and a giant piece of half-submerged driftwood. I didn't mean to do it, but I got distracted by an alligator on the shoreline.
He was expressing far too much interest in me, and I was anything but comfortable at the moment.
Fortunately, Jackson manufactures some incredible kayaks. I was able to reverse course against a fairly strong current and pull myself out of the natural pinch point without falling into the water, something that would have made sir gator even more interested.
Better yet, the kayak looked no worse for the wear, escaping without a single, discernible scratch.
The Riviera is flattish in design but features a noticeably raised bow, which gives it plenty of slicing power.
It's considered a cottage kayak, and it's also one of the most popular models when it comes to kayak rental services.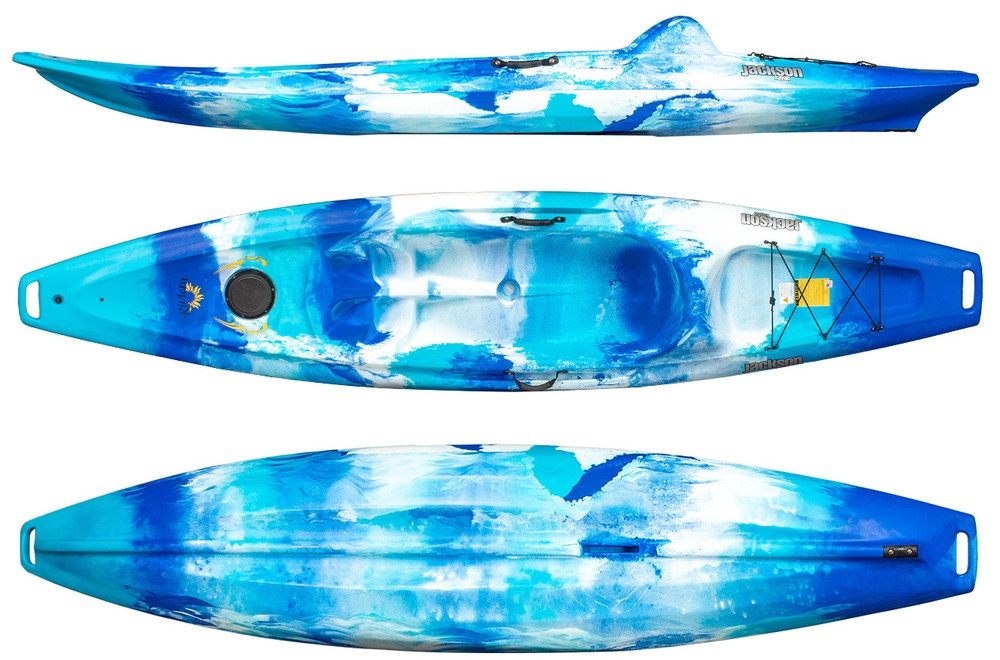 Riviera
The Price of "Riviera" varies, so check the latest price at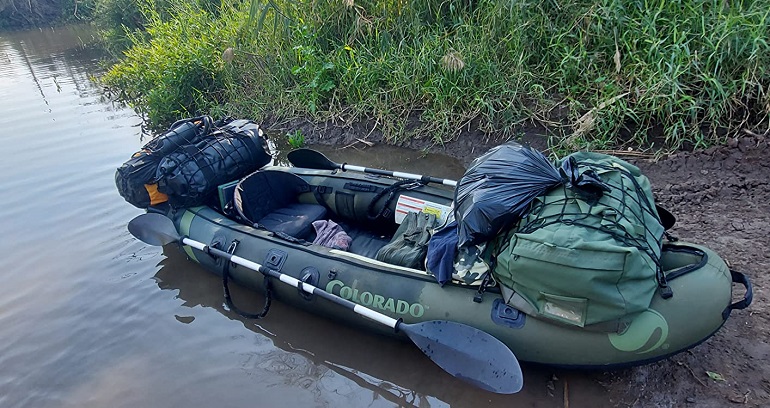 Sevylor is known for its inflatable kayaks, something none of the kayak brands above spend much time focusing on.
Sevylor is also one of the most well-known inflatable kayak brands on the market, with a focus on beginner kayaks all the way to whitewater paddling veterans.

As an inflatable kayak brand, Sevylor often has to combat common misconceptions. When they first started out, they offered affordable models that were probably just average.
However, the company has improved dramatically in recent years, rising to the top as one of the best kayak brands to own.
The Coleman Colorado is an excellent, laid-back fishing kayak for two that features 18-gauge PVC construction and multiple air chambers.
The construction is heavy and very durable. Usually, you can expect to get about two, maybe three years out of an inflatable kayak.
However, if you take good care of the Coleman Colorado 2, you can easily add another year or two to the count.

Coleman Colorado 2
The Price of "Coleman Colorado 2" varies, so check the latest price at
What To Look For in a Good Kayak Brand
As I mentioned above, there are a lot of good kayak brands on the market, and that means there are also plenty of kayak brands to avoid.
Top kayak brands typically come with a number of innovative features that separate them from low-priced, knock-off brands that are best left on the store racks, where they belong.
Safety Rating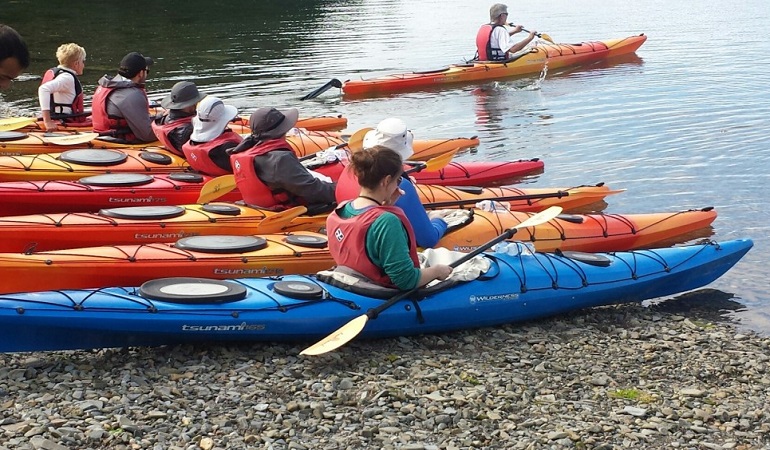 Kayak safety in the water is almost entirely predicated on its hull integrity. A solid, durable kayak will stand up to most punishments for a long time.
An ocean kayak is a prime example of necessary safety measures, with the corrosive nature of salt and how far out you can take an ocean kayak.
Whitewater boats are in the same category. It's a dangerous sport for obvious reasons. There have been plenty of whitewater paddling trips that have put my heart in my throat, and not because of the excitement of the moment.
Recreational kayak brands are typically the safest because they are the most stable kayaks of the bunch. They're designed for beginners and casual kayakers alike. Then there are the best kayaks for women, thoughtfully designed to prioritize safety and convenience, empowering female adventurers to embrace the thrill of the water with confidence.
Durability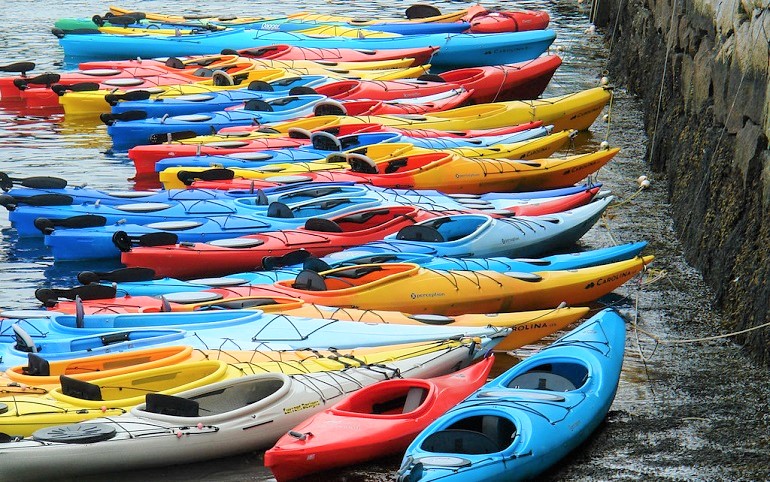 Durable kayaks are made using various materials, including Polyethylene, kevlar, carbon composite, fiberglass, and thermoform. Inflatable kayaks are usually PVC or various poly-based materials. Never buy an inflatable that doesn't incorporate the drop-stitch tech.
As for hardshell kayaks, it's all about tradeoffs. None of the materials I listed above are bad, and they're all durable.
But you have to look out for things like UV resistance, abrasion resistance, and things of that nature. Kayak brands to avoid are the ones that aren't upfront and honest about what materials go into their hull designs.
Warranty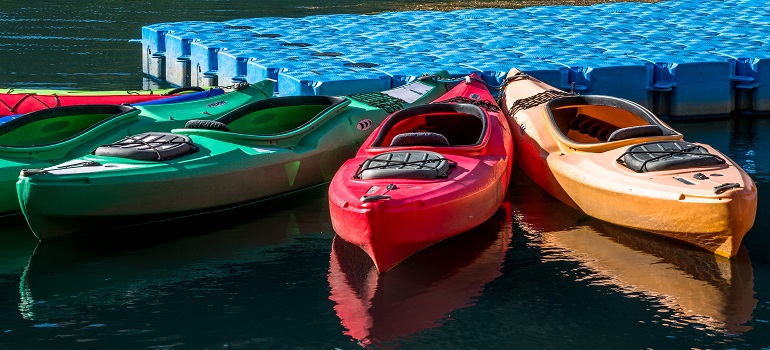 Old Town probably has the best of the warranties with a lifetime limited offering. The longer the warranty, the more confidence the manufacturer has that customers will get a lot out of their kayaks.
Top kayak brands offer the best warranties available on the market.
Another thing you can expect from top kayak brands is excellent customer service when it comes to filing warranty claims. Manufacturers that offer shady or extremely short warranties are kayak brands to avoid.
FAQs
What Is the Best Kayak To Buy?
The best kayak to buy is the one that checks all of the boxes for what you want to do. Stick to one of the kayak brands on this list, and you have a massive world of kayak types, sizes, and styles to choose from.
With the above-listed kayak brands, good quality kayaks are a dime a dozen.
What Is a Good, All-Around Kayak?
Wilderness Systems' Aspire 105 is probably one of the best all-around kayaks for beginners to veteran paddlers.
Perception Kayaks offer several well-rounded kayaks as well. The Aspire 105 is above average in almost every category and is an exceptional recreational boat worth checking out.
What is the most stable kayak out there?
Probably the S4 Cartop Cat Skiff, which certainly isn't on our list. It's an interesting kayak design that can hold up to three people, even if they're all standing up and fishing.
They're manufactured by Wavewalk, and if you're interested in pure stability, it's worth looking at.
What Is the Most Popular Type of Kayak?
Kayak manufacturers are constantly putting out new concepts and designs, but the most popular kayak type is the recreational kayaks variety.
Kayak companies are keenly aware of this, and that's why recreational kayaks are far more prevalent.
What Is the Best Time of Year To Buy a Kayak?
The dead of winter is easily the best time of the year to purchase a kayak. Any kind of water sport or leisurely water activity generally revolves around the summer months.
No one is buying kayaks in the middle of the winter, so retailers drop the prices on them.
Final Thoughts
If you're looking for a quality kayak or looking for your first kayaking adventure, it's hard to go wrong with one of the ten kayak brands listed above. You should avoid the cheapest kayak and stick with the top kayak brands listed above.
Whether you're looking for sea kayak brands, wave sport kayaks, recreational, 2-person inflatable kayaks, a town kayak, a kayak for big guys, or something for whitewater paddlers, there is something out there that's perfect for your next trip out.
Personally, I try to stick with the leading manufacturers and purchase my kayaks in the winter to avoid the highest prices of the year.
No matter what you choose, if it comes from the popular kayak brands listed above, you will have plenty of confidence in its capabilities.