What better way to reconnect with the natural world around us and ourselves than a good weekend spent fishing, touring, and exploring on a good old kayak?
Well, maybe not an old one, those were huge, heavy, and not that convenient. Nowadays, inflatable kayaks are democratizing this awesome outdoor activity all by themselves, with one huge advantage: portability.
Update June 2022: Due to persistent disruptions to supply chains worldwide regarding raw materials, in this case, PVC, most retailers struggle to keep up with the rising demand. If you see a product you're interested in and currently available, we advise you not to wait too long before making a purchase, as it could easily be out of stock the next day. If the product you're interested in is already out of stock, please call the retailer's customer service for more information about a potential date of availability, and see if there's a possibility to secure your product(s). Vinyl-made kayaks do not currently have this issue.
Best Overall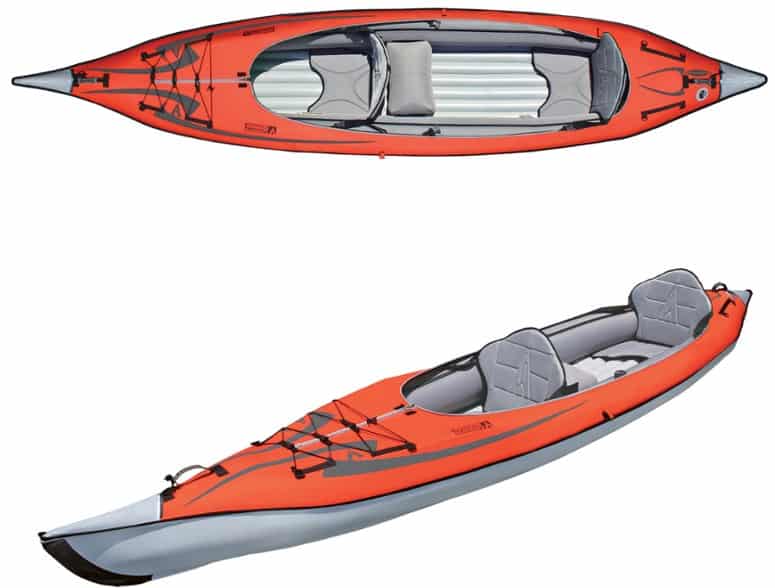 Advanced Elements
Material: Rip-stop Polyester

Weight: 36 Pounds
Most Versatile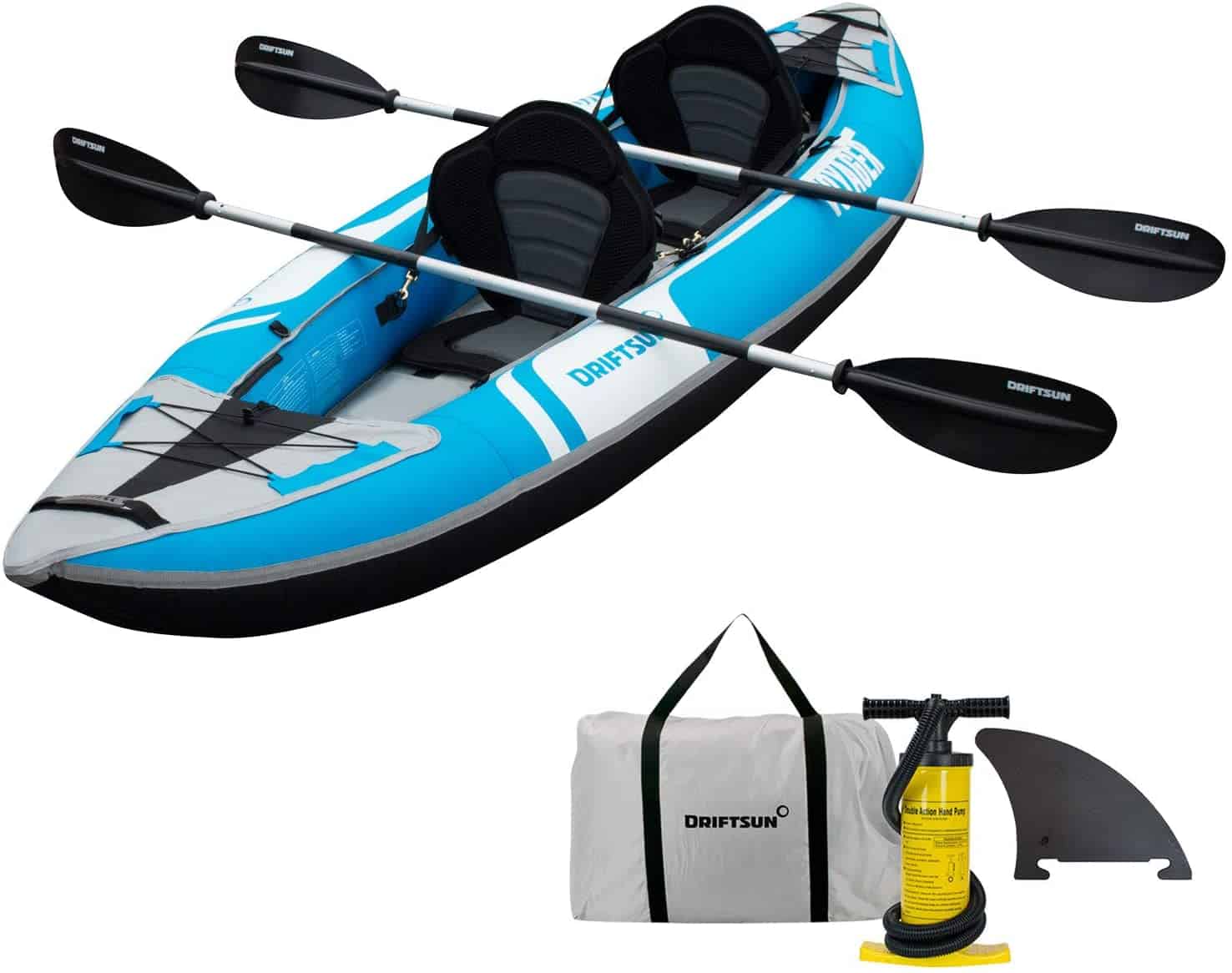 Driftsun 2-Person
Material: Polyvinyl Chloride

Weight: 27 Pounds
Most Good Looking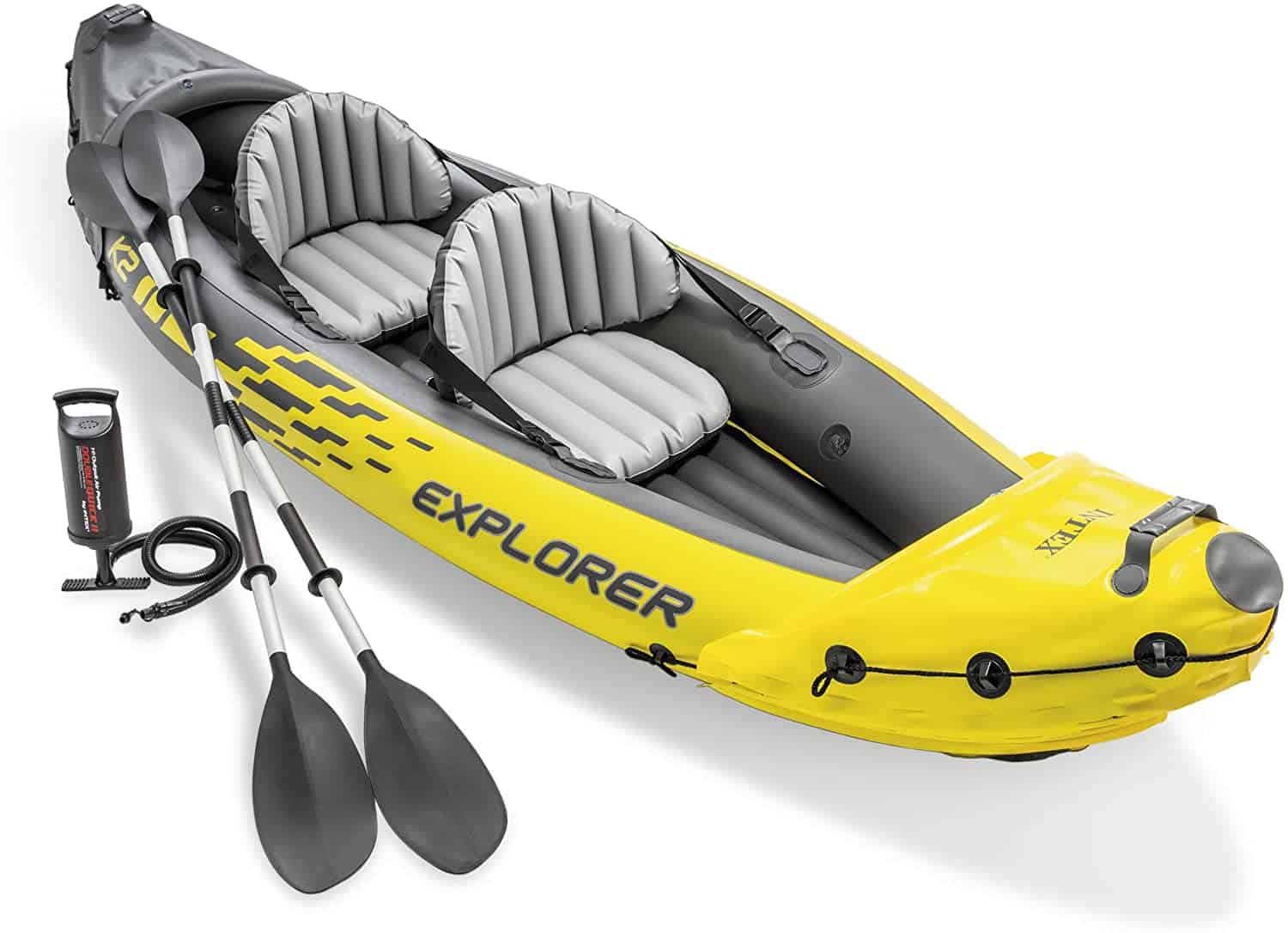 Intex Explorer K2
Material: Nylon

Weight: 27 Pounds
Great for Whitewater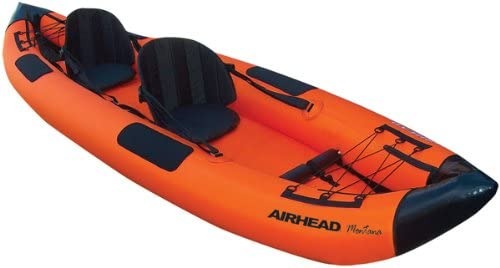 Airhead Montana
Material: Inflatable

Weight: 27 Pounds
Best Speed

Oru Beach LT
Material: Polypropylene

Weight: 25 Pounds
Great For Recreation

Sea Eagle SE370 Pro 3-Person Kayak
Material: Synthetic

Weight: 44.25 Pounds
Best for Beginners

Sevylor Quikpak
Material: Polyvinyl Chloride

Weight: 26 Pounds
Ideal For Big Guys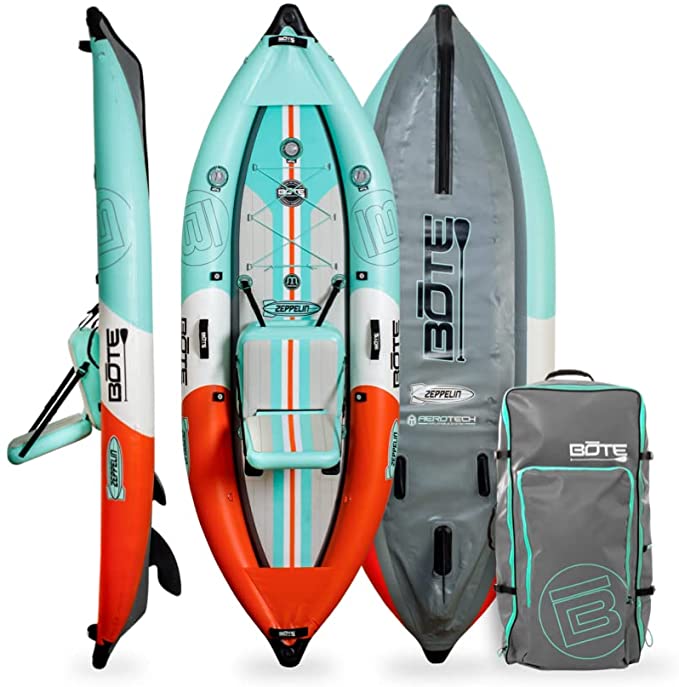 Bote Zeppelin Aero 10' Kayak
Material: Polyvinyl Chloride

Weight: 27 Pounds
Best Solo Kayak

Kokopelli Rogue-Lite
Material: Tpu

Weight: 8.85 Pounds
Budget Friendly

Aquaglide Navarro 14'6"
Material: Polyester

Weight: 27 Pounds
Best hybrid kayak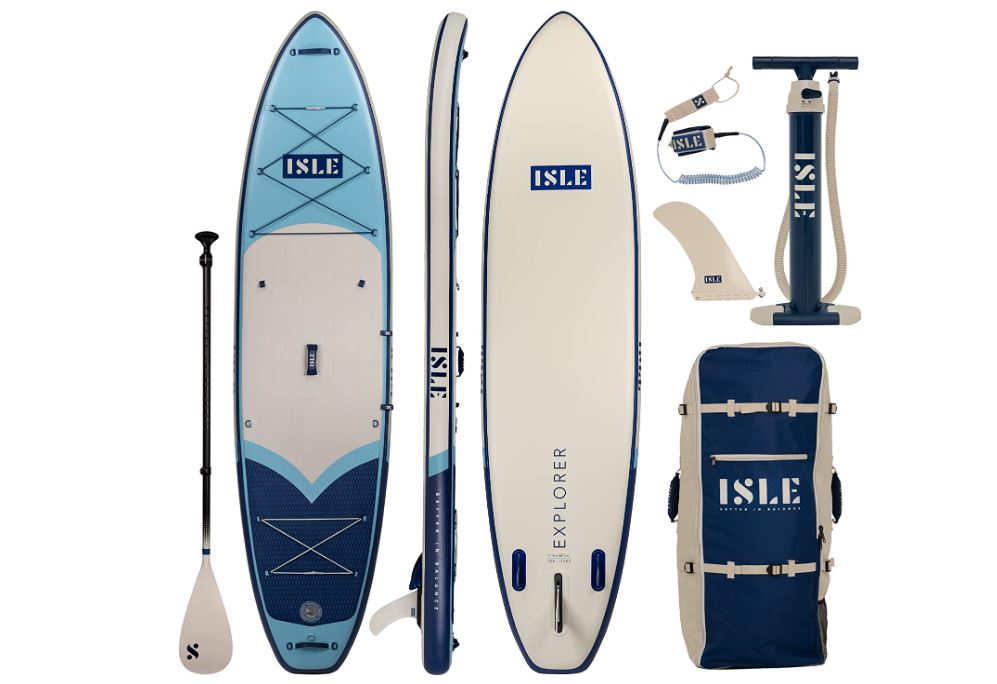 Isle Switch
Material: Nylon, Ethylene 

Weight: 24 Pounds
Super Convenient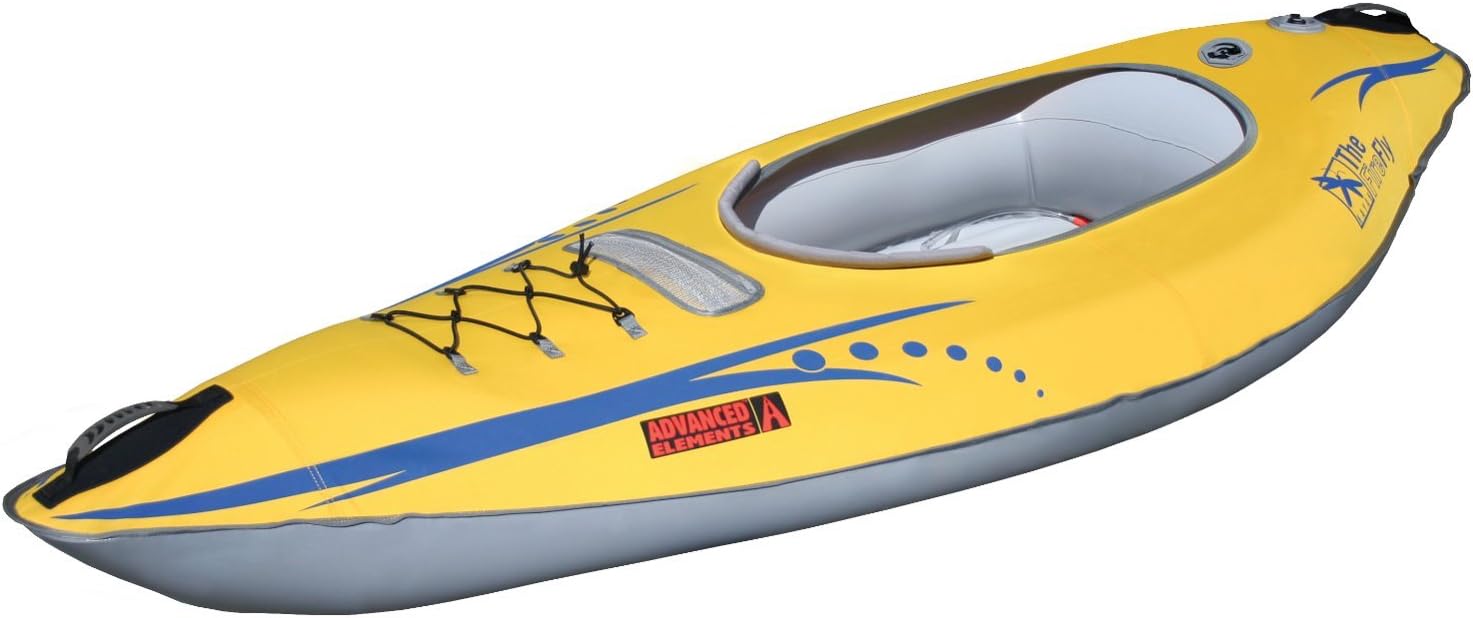 Advanced Elements FireFly
Material: Plastic

Weight: 16 Pounds
Best Storage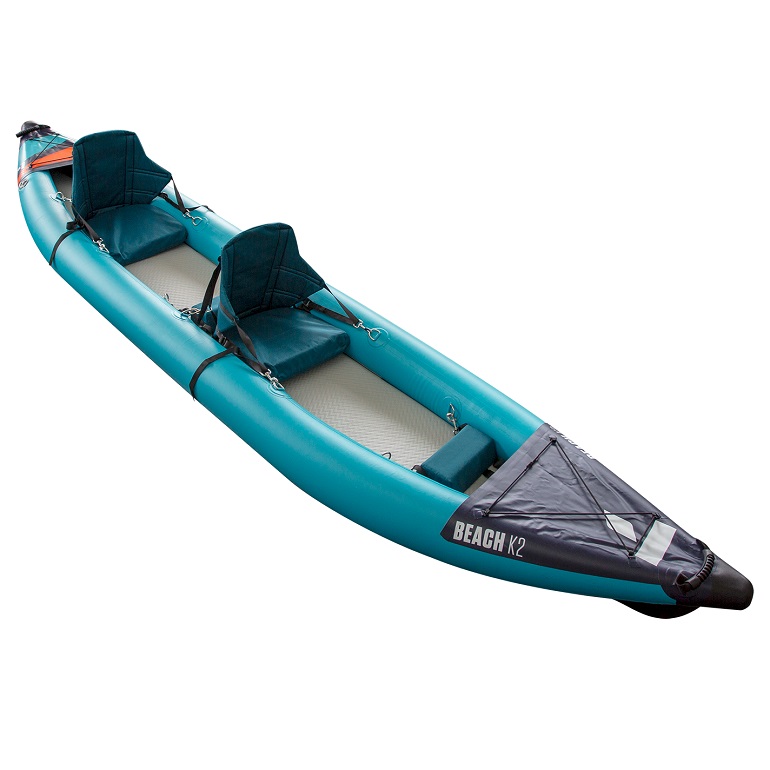 Tahe Beach K2 Inflatable Kayak
Material: PVC

Weight: 32 Pounds
Best Inflatable Kayaks
In these inflatable kayak reviews, I'll suggest models for both touring and fishing, as well as a few white water options for adrenaline seekers.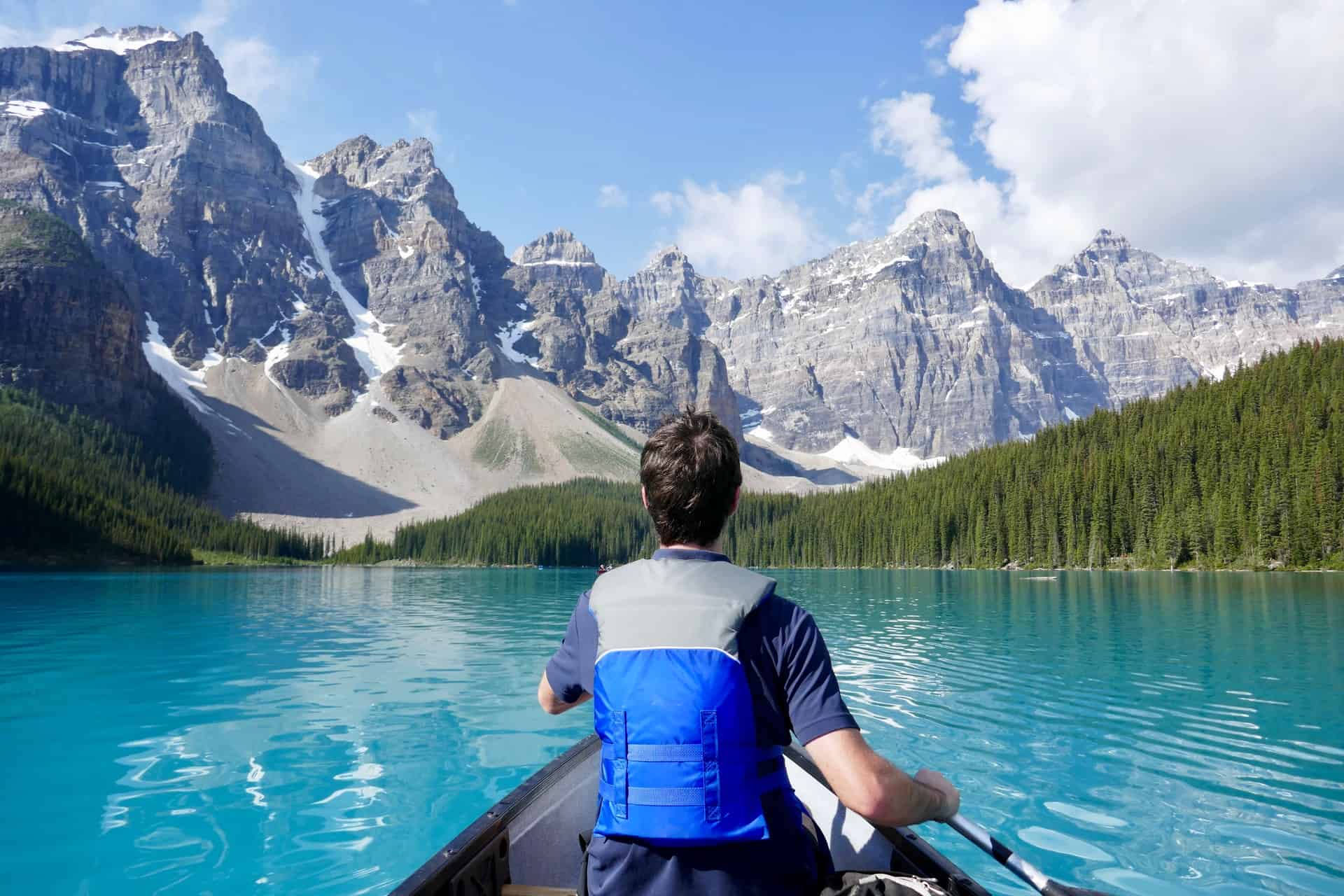 These are great for flat water, whether exploring the coast or the lake, or in mellow white water. These inflatable kayaks are specifically designed to accommodate fishing equipment, from storage to rod holders or bait trays.
Coming to their sizes, while you can easily use a 10 or 12 ft kayak in a solo configuration, great for fishing space, or bringing a furry friend and occasionally another adult, a 15 ft kayak isn't really recommended if you'll mostly be by yourself.
You'll also notice that some inflatable kayaks in the entry-level range (under $400) come with and included, while the more expensive models don't. So if you're looking for a mid-range kayak or better, don't forget you'll probably need to add an extra on top for those essentials, not forgetting the PFD (Personal Floatation Device), and then potentially or any other equipment.
Alright, let's get to it then!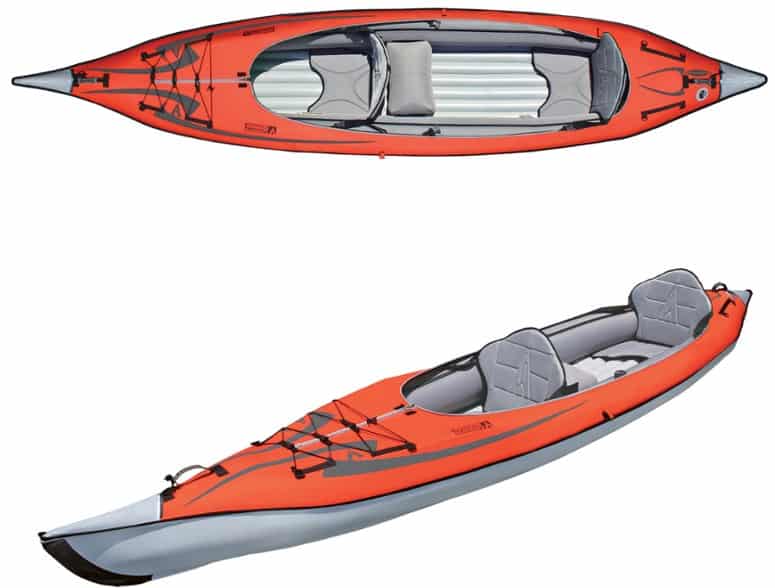 First on the list among performance-oriented inflatable kayaks, is this AdvancedFrame by Advanced Elements. With a rigid bow and stern and aluminum framing, the tracking on this thing is getting seriously close to a hard shell kayak, the narrow and chop-cutting shape of the bow also plays a big part in the boat's speed and performance.
Because of the aluminum rib frames and a generous 10'5 ft length, this inflatable is on the lighter side at 36 lbs, and you get a better load capacity at 300 lbs in addition to the highly puncture-resistant 3 layers PVC coated polyester.
The seat is super comfortable and, of course, adjustable, the front storage space area is huge and well covered against sprays thanks to a water-resistant zipper entry, and the rigging is truly class all around, with heavy-duty grab handles that are molded, not sewn, and a large bungee deck lacing on top.
On top of that, setting up and packing down faster are always welcome for a pleasant experience!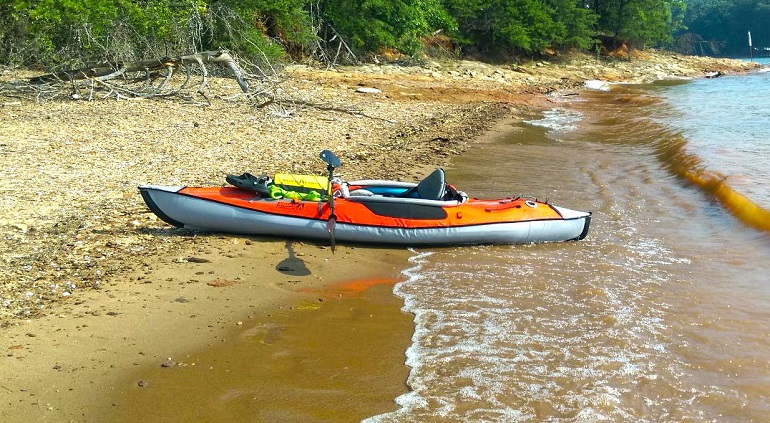 Features
Length: 10'5 ft
Weight: 36 lbs
Best for: 1 person
Capacity: 300 lbs
Paddles and pump included: No
Material: PVC + Polyester + Aluminium
Pros
It is particularly appreciated for its paddle holders, allowing you to use your hands for something else, whether it's fishing or taking pictures, without losing your precious paddles. 
Cons
It's a little heavier for a single boat, but once on the water, we were happy we'd hauled it out.
Our Verdict
There are quite a few nuances that are conspicuous enough to mark this inflatable kayak as something different and innovative. This single-person inflatable kayak is a great option based on several factors, like performance, durability, reasonable price, and easy transport. Although a bit on the heavier side, it offers incredible performance, and in my opinion, it's a steal at such a low price!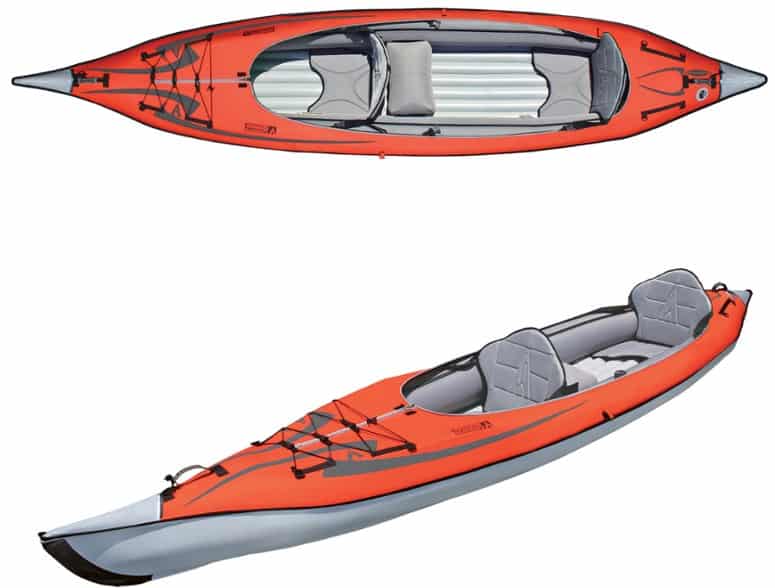 Advanced Elements Advanced Frame
The price of "Advanced Elements Advanced Frame" varies, so check the latest price at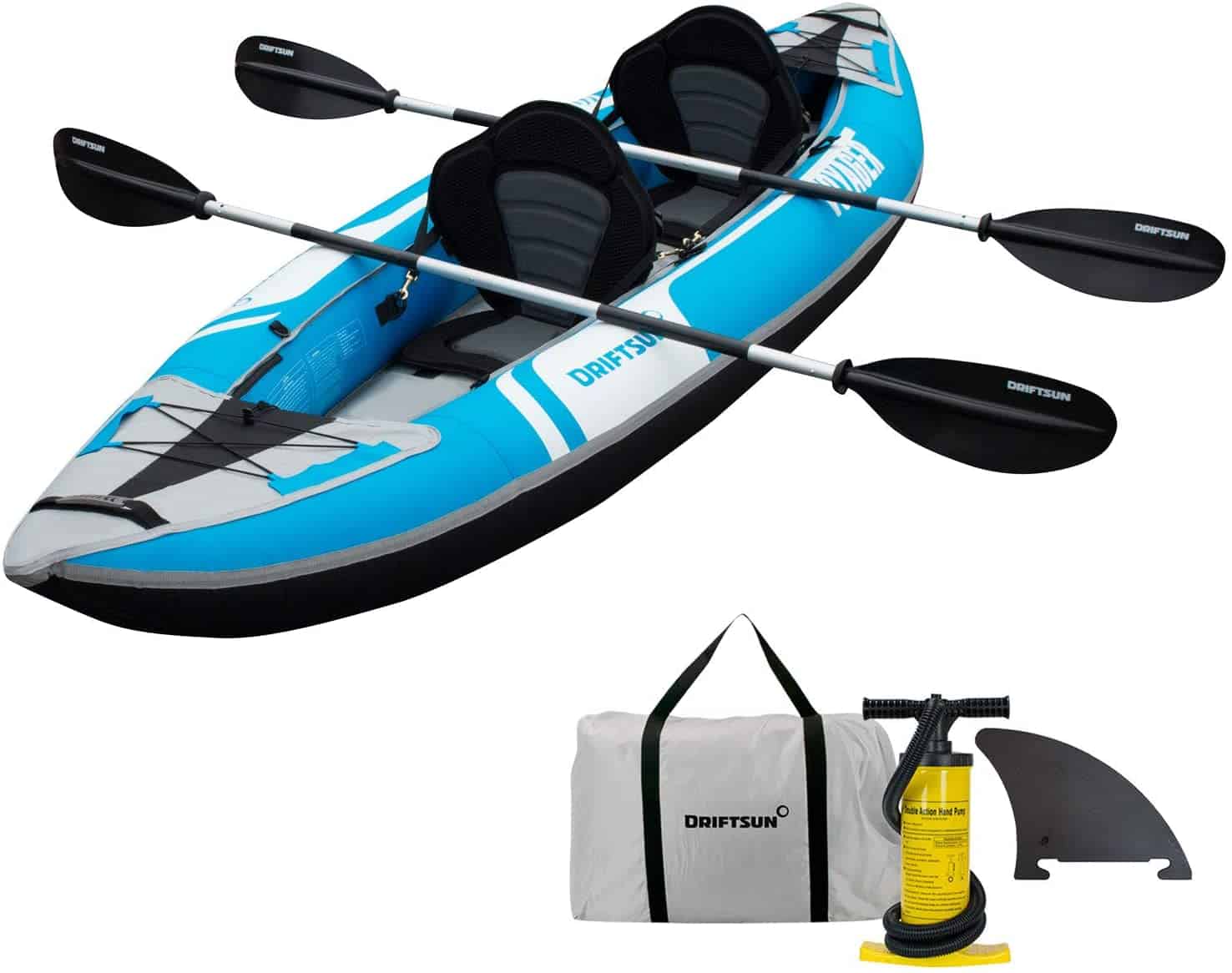 Now, this looks like it could handle some actual rock hugging without issue, right? That's because it can. PVC clearly makes a huge difference in terms of robustness against rough spots and general reliability over time.
And it doesn't mean it's necessarily heavier, in fact, this Driftsun Voyager might be in a higher price range than the Intex Explorer K2 made of vinyl, but it's actually 3 pounds lighter.
The basic features are still there, like grab handles, a removable skeg, and the load capacity of 450 lbs, but now you get much higher quality seats adjustable in position and in recline, adjustable paddles, corrosion-resistant hardware, and best of all, a dual-action pump so inflation is twice as fast.
Moreover, there is plenty of onboard storage space available, with both front and rear bungee compartments.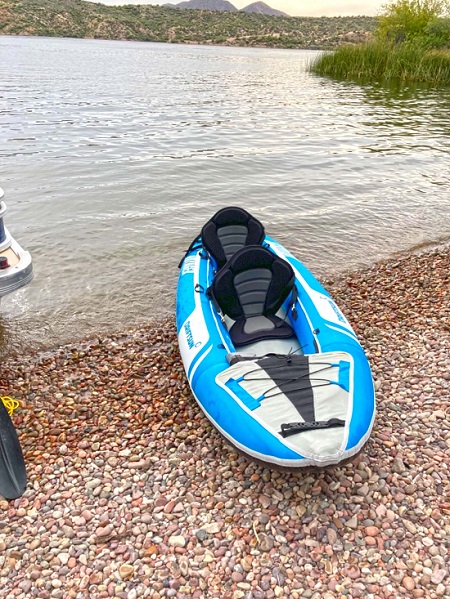 Features
Length: 11 ft
Weight: 27 lbs
Best for: 1-2 people
Capacity: 450 lbs
Paddles and Pump included: Yes
Material: PVC + Nylon
Pros 
With a 450 lbs capacity and the ability to turn the front seat back inwards so both paddlers face each other, it's ideal for a picnic break or hours-long fishing sessions.
Cons
Before storing this tandem kayak, you need to let it dry completely in order to prevent mold and mildew, which means removing the outer fabric and then replacing it when it's dry.
Our Verdict
If you're serious about kayaking and need something reliable and performant but still extremely convenient, this is a great choice. First, because most inflatable kayaks of this quality and in this price range aren't that lightweight, and second, because they rarely include paddles and pumps, as you'll see. The only drawback is the packing process which can be a bit difficult and time-consuming.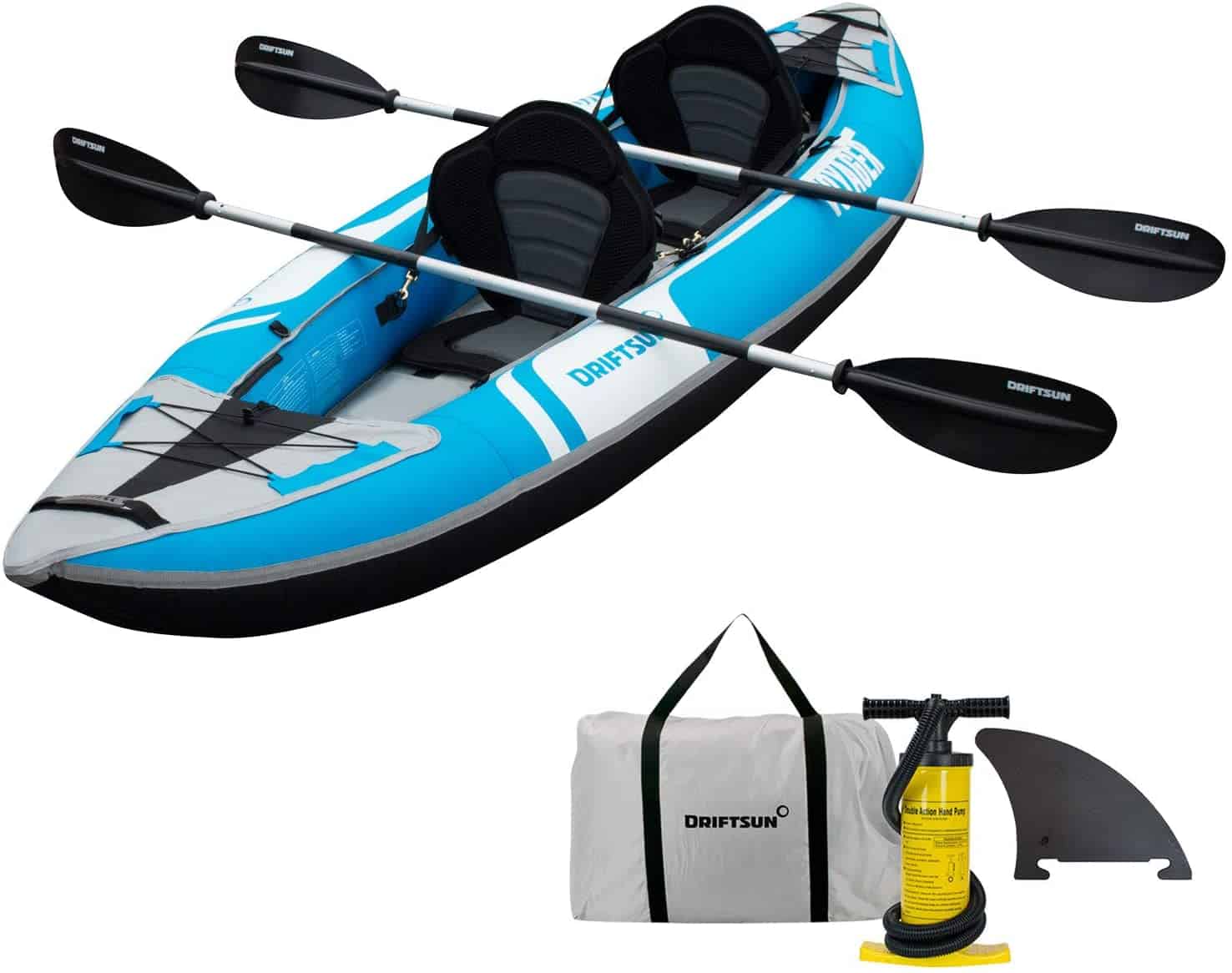 Driftsun 2-Person
The price of "Driftsun 2-Person" varies, so check the latest price at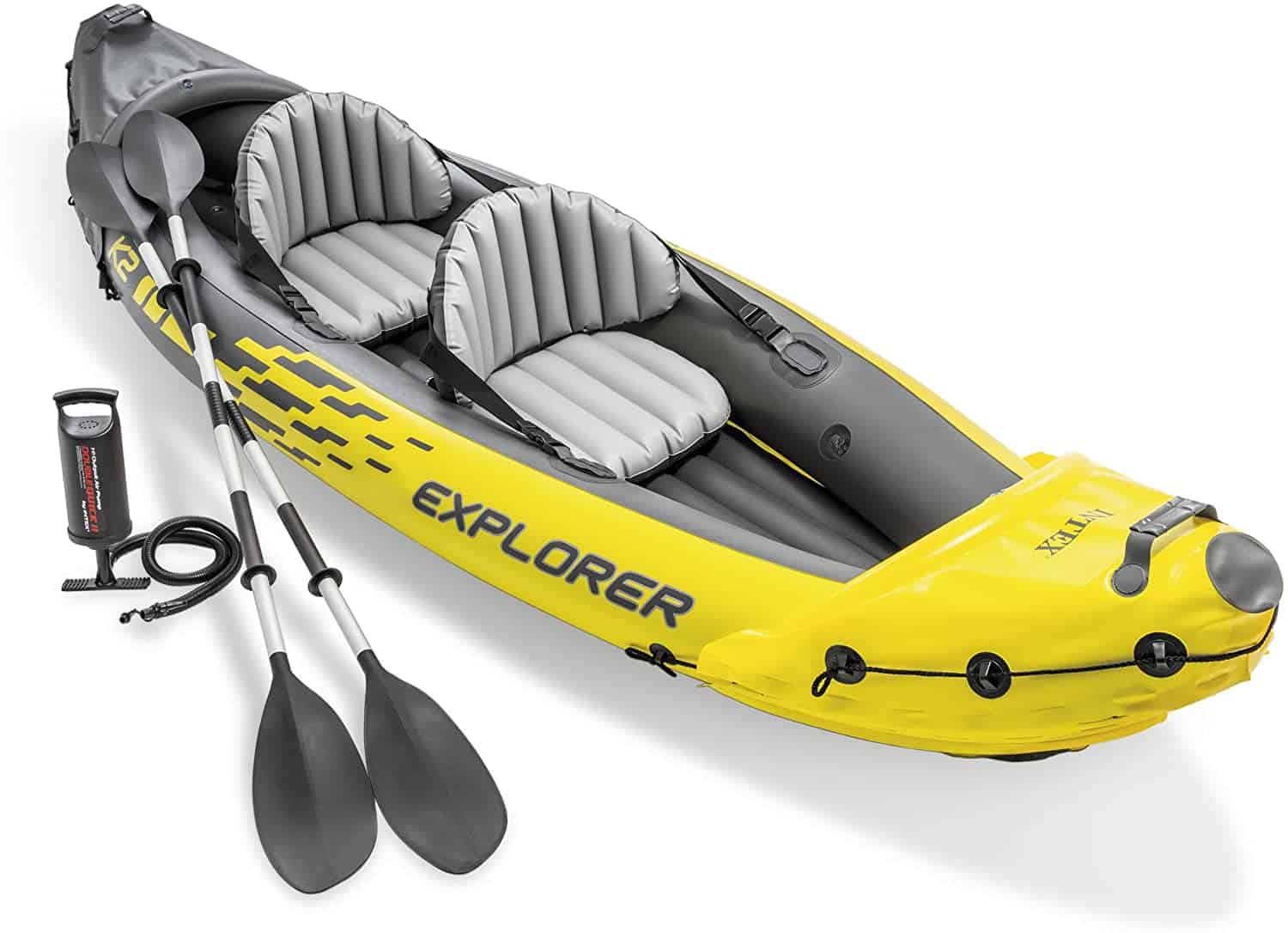 Another popular option, an inflatable kayak made of vinyl listed here, is the flashy and affordable Intex Explorer K2. Although is it made of vinyl, the coating is still treated against UV rays and punctures, so it certainly won't give up on you anytime soon, as long as you make sure it is always well-rinsed and perfectly dry before storage.
The flexibility and smoother surface of the vinyl are actually great for just fooling around with the kids as well, PVC is much stronger, but it also has that super-rugged coating that doesn't slide on the skin easily, even wet, a bit like a cat's tongue.
This might be an entry-level kayak, but that doesn't mean you get sub-par floatability or rigidity, thanks to the 3 separate air chambers ensuring the boat's integrity as well as a well-thought-out inflatable I-beam acting as a spine for a reinforced structure. Also, you get industry-standard Boston valves making inflation and deflation a quick and easy job.
These valves are also used in kitesurfing, where bladders can be huge. It's a sort of double valve system where the first valve lets the airflow only on the way in but not on the way out, making inflation seamless, while the second valve is a wide opening designed to deflate the multiple air chambers in just seconds.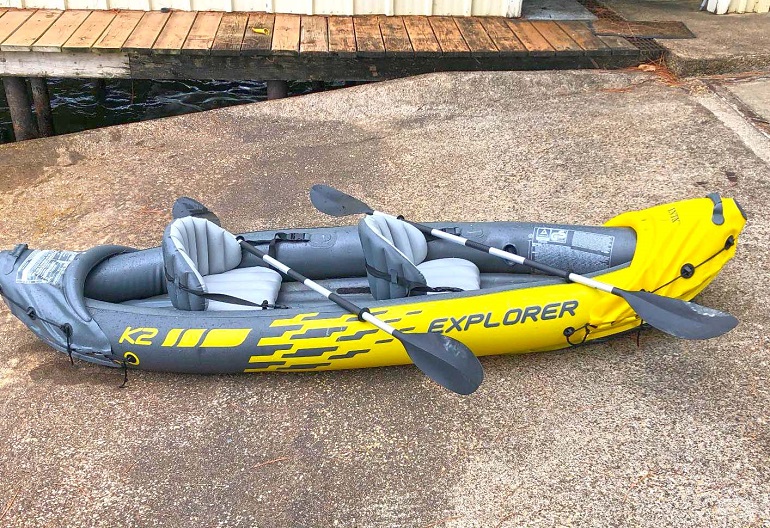 The adjustable seats are fairly basic but adaptable nevertheless (remember that you can upgrade these later on), and the overall lightweight of the boat is definitely a big plus logistically. At only 30 lbs it's a breeze to carry around. If you'd be interested in a PVC, fishing-ready version of this inflatable kayak still in the same price range, check out the Intex Excursion Pro.
Features
Length: 10 ft
Weight: 30 lbs
Best for: 1-2 people
Capacity: 400 lbs
Paddles and pump included: Yes
Material: Laminated Vinyl
Pros
Particularly appreciated as an entry-level kayak because of the large grab handles both on the stern and bow, coupled with generous rigging all around. This might sound trivial, but as a professional yachtie with countless seasons behind me, I can tell you: boating is all rigging!
Cons
The one thing we really would like changed would be the little clear flip-out inflation valves on the floor, the front, rear bow, and stern covers, which seem cheap.
Our Verdict
This is a great choice for first-time users who aren't quite sure yet of how frequently they'll be going out and just want to make the experience as easy as possible. For less than $250, you get (almost) everything you need to go straight on the water as soon as it's delivered to your door! Paddles are included, so are the hand pump, the removable skeg, and the storage bag, you'll just have to get some PFD(s), and you'll be all set.
Note: If it's an even cheaper model you're looking for, the 1-person Intex Challenger kayak goes for less than 200$ but is far from ideal as these models seem to struggle with tracking and keeping a straight direction. Still, for that price, including aluminum paddles and a foot pump, you can't be too demanding, and if you just want to give kayaking a try to see if you like it, then it should be fine. It's actually a great choice for kids who just want to have fun playing around.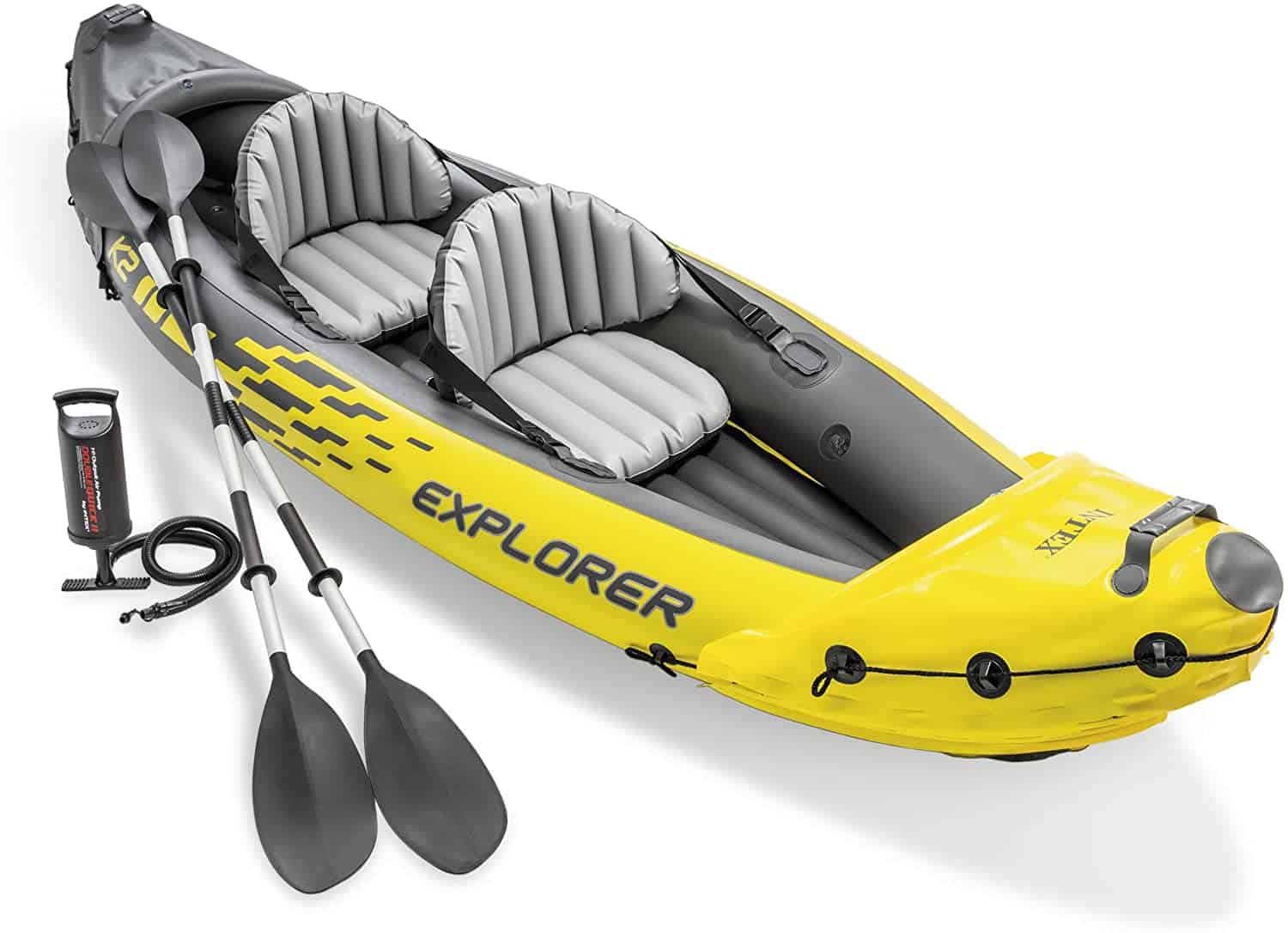 Intex Explorer K2
The price of "Intex Explorer K2" varies, so check the latest price at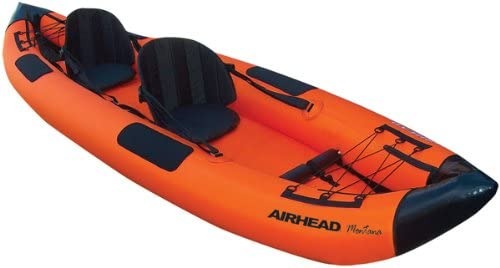 Get your kayak groove on with this best inflatable whitewater kayak designed for lakes and moderate white water. For testing, Airhead has been subjected to some fairly rough use on local rivers and in local bays, and it is still in perfect shape, and it is still being used regularly in rough waters filled with sharp objects.
The first thing I've noticed and thought well, that's smart, is the fluorescent orange color, which has UV and water-resistant coatings and is highly visible for safety. Such additional features cannot be overlooked if you're buying for beginners. 
Quite a feat here is that although this foldable kayak is very lightweight at just about 26 lbs, it has a capacity of 500 lbs. There are plenty of grab handles for convenience, and it takes a few minutes to inflate and set up.
The multiple air chambers are completely enclosed by rugged 840 denier nylon, and there's tough triple-layer black leather-like "skid plate" reinforcement covering much of the bottom of the foldable kayak.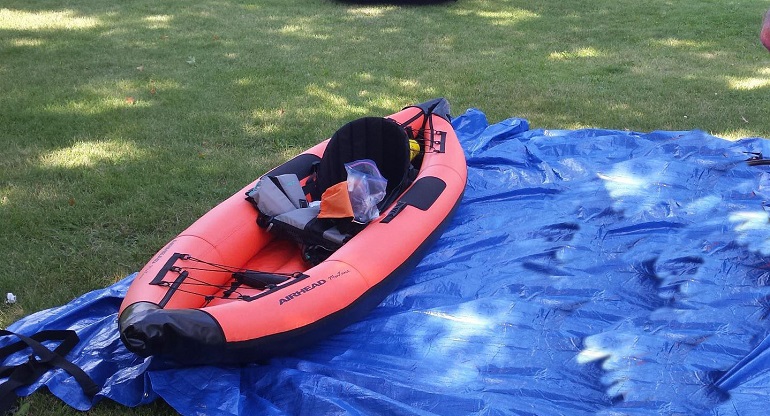 Features
Length: 12 ft
Weight: 36.3 lbs
Best for: 2 paddlers
Capacity: 500 lbs
Paddles and pump included: Yes
Material: PVC
Pros
This inflatable kayak provides plenty of room to stow camping equipment, fishing rod holders, and other outdoor gear even when two people are aboard. 
Cons
The air bladders might lose some pressure after the inflatable kayak has been sitting in the water for more than 20 minutes. 
Our verdict
Our reviewers observed this inflatable tandem kayak provides bulletproof durability. As with other kayaks, we recommend taking a spare hand-operated air pump in a mesh gear bag, just in case, to tackle the nuisance of losing pressure in the bladder.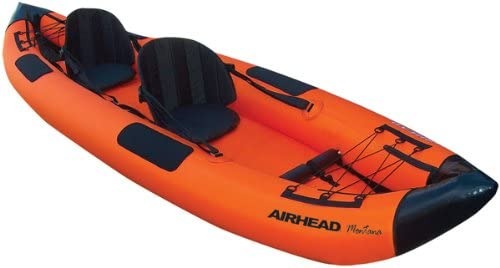 Airhead Montana
The price of "Airhead Montana" varies, so check the latest price at

Now we're talking. Oru is known for making high-quality kayaks only, and the Beach LT sits right in this lineage. If you're looking for the best foldable kayaks on the market right now, and the price isn't an issue, you're going to love this lil' boat.
Oru is the Japanese word meaning to fold, and we're surely inspired by the crafty foldability of this gorgeous beauty!
The beam floor creates a V-shaped hull at the base, which improves tracking and speed, and these are held together with straps and buckles that connect and disconnect very easily and can also be tightened or loosened in a jiffy.
The footrest is easily adjustable using straps and also completely removable — ideal if you have extra cargo, a dog, or a small child to accompany you. You can make the most of your adventurous water trips by learning how to kayak with your dog and unlock a world of fun and bonding on the waves.
I loved the features of portability, easy storage, and the simple setup of this high-quality inflatable kayak.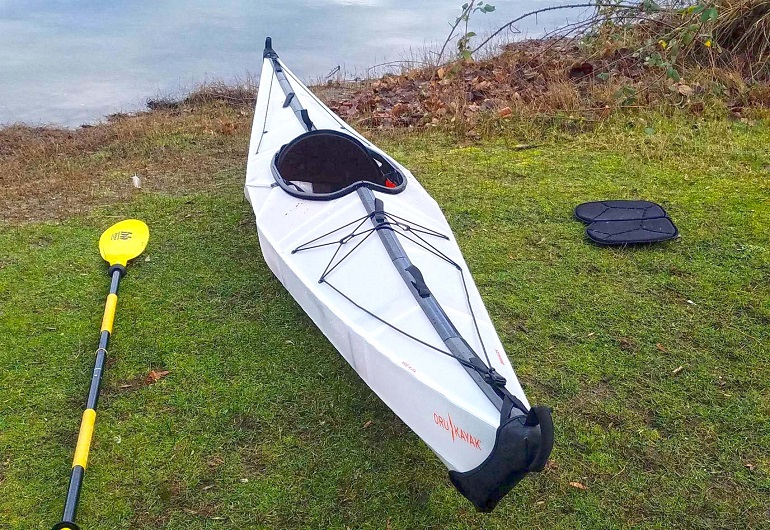 Features
Length: 12 ft
Weight: 26 lbs
Best for: 1 person
Capacity: 300 lbs
Paddles and pump included: Yes
Material: Polypropylene
Pros
It tracks well in calm weather without wind and is comparatively a faster boat than other options.
Cons
It's like putting a dent in your wallet, big time!
Our Verdict
This is an amazing kayak for spontaneous adventures. I know you might be glaring at the price tag, keep in mind that similar hard flatwater kayaks of the same size usually fall in the same price bracket, if not more, and they will not fit in your carry bag or your closet when you're back home. It's a much better deal if you ask us.

Oru Beach LT
The price of "Oru Beach LT" varies, so check the latest price at

This versatile kayak is roomy, rugged, and lightweight – perfect for whitewater paddling! The Sea Eagle 370 kayak is good value for the money. You will be hard-pressed to find such a quality product in this category for a similar price.
The best thing I loved is how high the seats sit. That's great for 2 reasons, first, because you get to keep yourself dry, with inflatable spray skirts, at all times, but also because it gives you ample space to move your arms around and even pivot to reach your gear at the back. And were you to need a lower seat position at times, you can always adjust the inflatable seat to its lower position.
The saltwater and sun-resistant hull material, along with the I-beam floor design, enhance performance since you sit higher while paddling. The hull is, therefore, resistant to tears from any physical contact with sharp or pointed objects.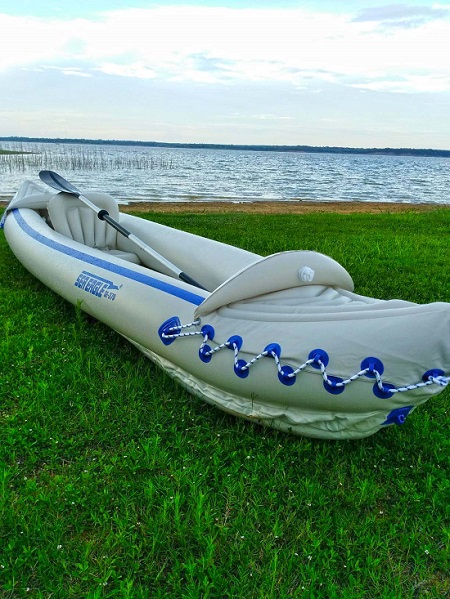 Features
Length: 10 ft
Weight: 49 lbs
Best for: 1-3 people
Capacity: 650 lbs
Paddles and pump included: Yes
Material: PVC
Pros
The super comfy and plushy adjustable seats of the Sea Eagle kayak make the experience doubly enjoyable.
Cons
The large body makes it easy to be blown off course by the wind, particularly if you're going solo.
Our Verdict
We are absolutely floored by how easy it was to inflate this Sea Eagle boat. The large side walls have a lot of surface area though, which means strong wind might blow you off course. But it can be tackled if you're taking someone with you for kayaking!

Sea Eagle SE370 Pro 3-Person Kayak
The price of "Sea Eagle SE370 Pro 3-Person Kayak" varies, so check the latest price at

Best for solo paddlers, the Sevylor Quikpak k5 is all about comfort and performance. There aren't many inflatable kayaks on the market that can boast a quick 5-minute setup, so this Sevylor Quikpak k5 might end up being your preferred choice. 
The advantage of this folding frame kayak is that it only weighs around 25 lbs, which, once folded, is still more than manageable. The Sevylor rides high out of the water and has a more blunt bow and stern than some other models we tested.
While not up to pro-kayaker standards, the Sevylor Quikpak k5 is a great all-around boat that is pretty dang difficult to tear or puncture.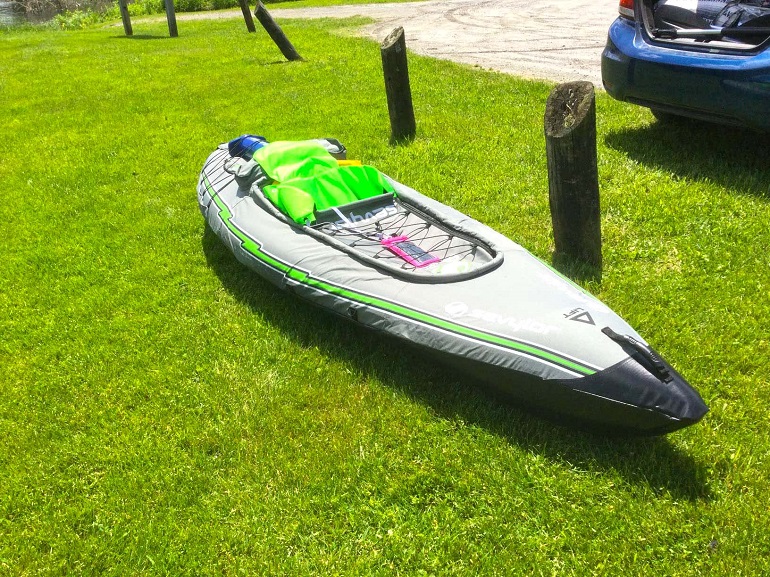 Features
Length: 10 ft
Weight: 25.5 lbs
Best for: 1 person
Capacity: 250 lbs
Paddles and pump included: Yes
Material: PVC
Pros
This beginner-friendly kayak offers extra storage compartments for hiking gear and food which is a great bonus. Plus, you get everything you need to get out on the water in a solid little inflatable boat at a bargain.
Cons
Its paddle is not very durable or the most comfortable one.
Our Verdict
Even though Sevylor Quikpak K5 has a potential drawback, this is still considered the best 1 person inflatable kayak out there, and most of the people who've tried it are satisfied overall.
An issue, though, from reading a good bunch of customer reviews, is the included 2-piece aluminum paddle that has been reported to break easily, so purchasing a better quality paddle might be a good idea.

Sevylor Quikpak
The price of "Sevylor Quikpak" varies, so check the latest price at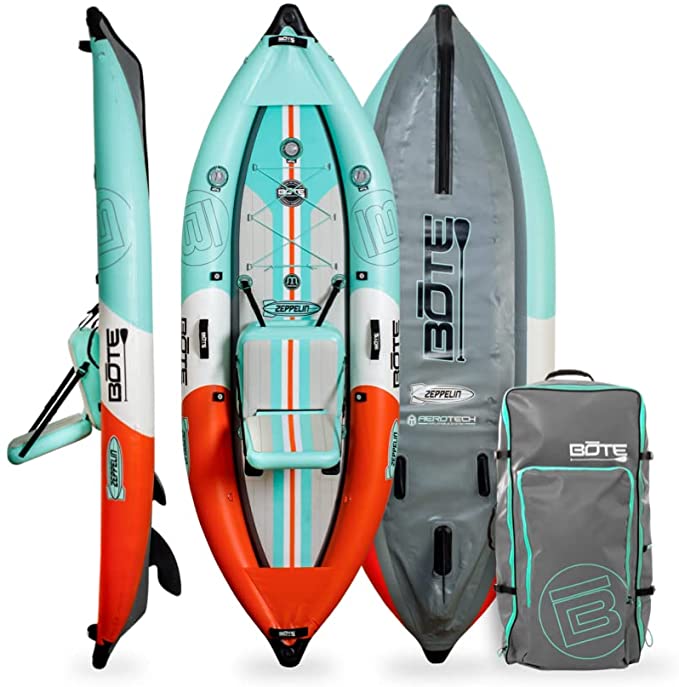 Even though it's just 11 ft long, it's still spacious enough for 2 due to the large cockpit design and open bow and stern. It can easily accommodate 2 grown-up adults for a max capacity of 600 lbs.
That means the structure is extremely strong (also due to the bow beam running halfway down the hull), but it also means that inflating is going to be much more work. A small electric pump is highly recommended if you're not that fit and don't want to be exhausted before you even start.
What's really appreciated, apart from the great colors and design, is that awesome backpack storage bag that comes with the Bote Zeppelin Aero, and that really matters since it isn't that light at 41 lbs, compared to other inflatable kayaks.
It also comes with the brand new Magnepod system! If you have a compatible thermos or tumbler, it snaps and locks to the Magnepod pad for a tight hold that won't tip or slip over during your aquatic adventures.
Finally, you have a drain valve at the bottom of this kayak which you should absolutely use to properly empty the boat of its water, otherwise, it can stay trapped under the seats even when flipped upside down. Big guys will love this kayak.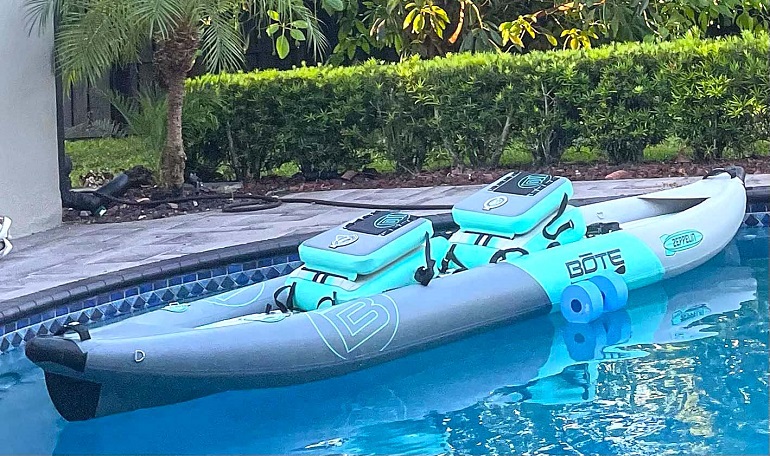 Features
Length: 11 ft
Weight: 41 lbs
Best for: 1-2 people
Capacity: 600 lbs
Paddle and pump included: Yes
Material: Drop-Stitch PVC Polyvinyl Chloride
Pros
One of the most stable inflatables we have ever tested and is able to support around 600 lbs, so even taller and heavier adults can kayak on it together.
Cons
The only downside we could observe is that for solo paddlers, speeding up this kayak might seem like an arduous task. 
Our Verdict
This is a great all-rounder able to perform nicely in all kinds of conditions and uses. The only deal-breaker might be the issue of speeding up while going alone, but one can live with that while enjoying mother nature's boundless beauty.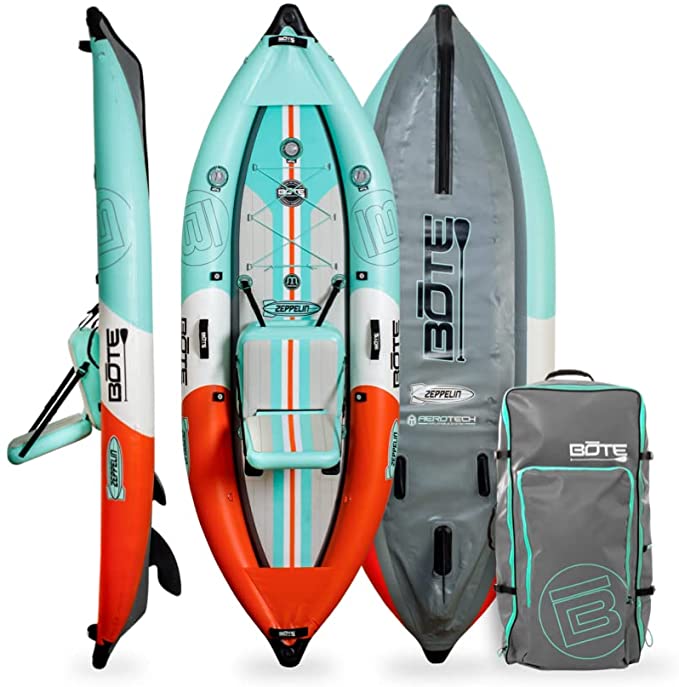 Bote Zeppelin Aero 10' Kayak
The price of "Bote Zeppelin Aero 10' Kayak" varies, so check the latest price at

This uber minimalist, lightweight, packable, and inflatable boat is a dream come true for adventure seekers. Before testing, I was a little skeptical about its performance, given the measly weight of just 5 lbs. 
You may ask, why is this Angler so performant? There's, of course, the high-pressure drop stitch floor, reinforced with Kevlar, that adds considerable rigidity to the structure and allows for excellent tracking and stability. Then the side bladders are just huge and stiff as hell if properly inflated. 
Best of all? The self-bailing scupper drains will quickly let the water onboard flow out ideal for rough waters or mild whitewater kayaking. I just toss this little beauty in my car when going out on my little excursions, so I'm always up for watery escapades!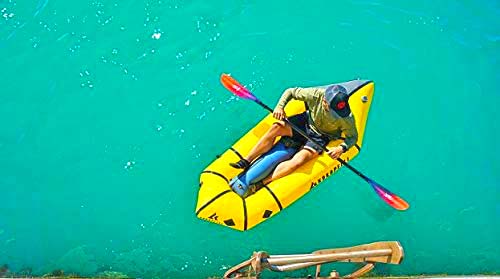 Features
Length: 7'1 ft
Weight: 5 lbs 8 oz
Best for: 1 person
Capacity: 300 lbs
Paddle and pump included: No
Material: Thermoplastic polyurethane-coated nylon
Pros
Best to carry along for impromptu water adventures as it hardly takes any space in your car trunk.
Cons
It may take a little while to master the inflation technique, but one learns from experience, right?
Our Verdict
Let's get it straight! Rogue features a slight rocker in the bows and large-volume sterns, boasting excellent maneuverability and exceptional stability in flat water and on gentle rivers. This brand claims the inflation takes only 5 minutes, take it as a challenge and try to outperform your last attempt every time.

Kokopelli Rogue-Lite
The price of "Kokopelli Rogue-Lite" varies, so check the latest price at

There aren't many inflatable kayaks on the market that can accommodate 3 people, so this Aquaglide Navarro might end up being your favorite choice for recreational paddling. Although it is advertised for 3 people, the max capacity of 500 lbs means that it can't be 3 grown-up lumberjacks.
With a narrow profile and a longer skeg, it allows for excellent tracking and speed, yet with comfortable Core 2.0 seats featuring a thick padded cushion and a high, breathable, and supportive backrest, you can get going all day long as long as your arms hold up!
The 14'6 ft length also means you have ample space for storing your gear, which should be kept dry with the help of strong splash guards at both ends of the open cockpit design. The 500 lbs of weight capacity is ideal for longer excursions or for bringing your family or friends with you.
Need more? The Duratex PVC's durability is really of outstanding quality, lightweight but extremely resistant, and the feather frame central bladder, right behind the seat, also reinforces the structural integrity of the boat without the weight of aluminum pieces.
Remember, you will need to buy the paddle and pump separately on this model, in addition to the PFD, but if performance, reach, and freedom are what you're after in kayaking, then this Aquaglide could be your next crush.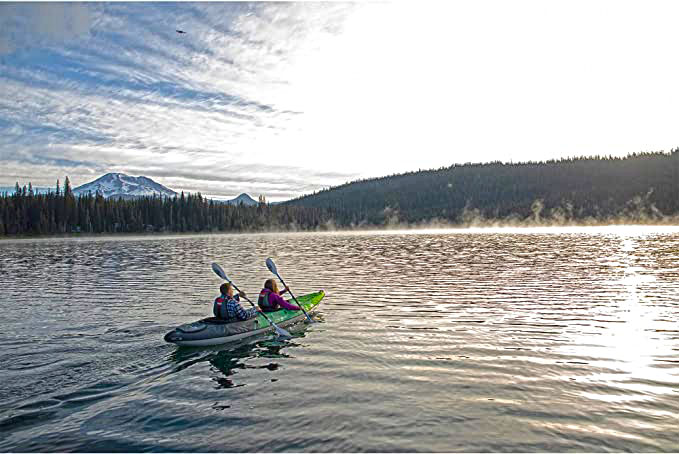 Features
Length: 14'6 ft
Weight: 36 lbs
Best for: 1-3 people
Capacity: 500 lbs
Paddles and pump included: No
Material: Duratex Reinforced PVC
Pros
This inflatable kayak inflates and deflates super easily. These boats are less than half the price of a solid boat and perform just the same for a casual kayaker. 
Cons
Our only complaint about the kayak is that the polyester cover takes a long time to dry after you have cleaned the kayak, just taking longer than usual to pack.
Our Verdict
The sturdy construction and super stable floor of this tandem inflatable kayak make for a fun and confident time on the water. Drying out this inflatable kayak is more tedious than I anticipated. Be ready for this chore, which I'd say is the one drawback to this boat.

Aquaglide Navarro 14'6"
The price of " Aquaglide Navarro 14'6"" varies, so check the latest price at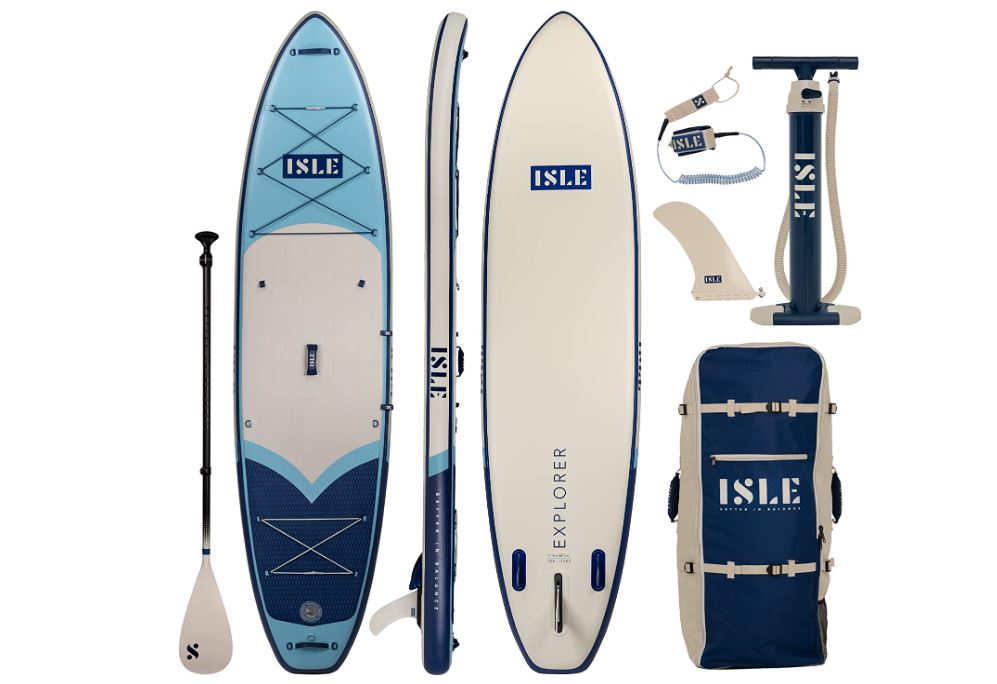 A complete UFO in the inflatable world, the new hybrid watercraft from Isle Switch can be paddled as a kayak or as a stand-up paddleboard. Just remove the sit-on-top seat in seconds and stand up proud and tall for better scanning of the environment and a sportier feel, or sit back down for a classic kayaking position.
With a 35-inch wide open stern design, much like racing sailing boats, water onboard isn't an issue, especially with the high rocker bow and self-draining cockpit funnels. The 20 pairs of link loops across both upper edges of the board complement the design for easy attachment.
This versatile inflatable kayak includes a tandem kayak customization with great paddles that are super stable for beginners. The paddle board on this clever crossover allows easy access to the crooks and crannies of waterways that are inaccessible by boat.
An advantage coming off the SUP design is that the pressure needed is much higher than classic inflatable kayaks, about 13-16 PSI instead of 2-4 PSI since it needs to stay perfectly rigid even when stood on.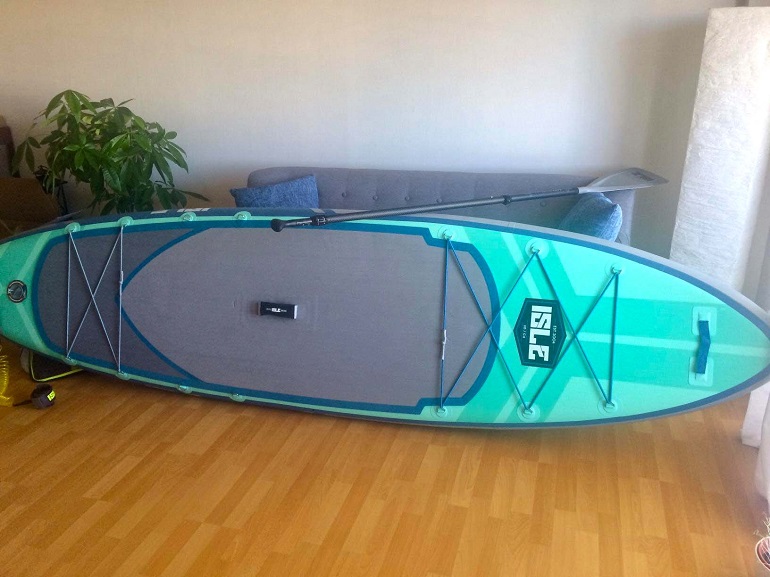 Features
Length: 11'6 ft
Weight: 19 lbs
Best for: 1-2 people
Capacity: 425 lbs
Paddles and Pump included: Yes
Material: AirTech Fusion Lite Drop Stitch Construction
Pros
This hybrid kayak is an ideal option for doing yoga, fishing, tandem kayaking, or tandem SUPping.
Cons
Our only complaint is that an additional seat and paddle are not included and need to be purchased separately.
Our Verdict
This stand up paddle-board kayak hybrid has higher dimensional stability, making it more durable, rigid, and way lighter than most SUPs. When compared to upper to mid-range inflatable kayaks like the Advanced Elements AdvancedFrame, the Switch's sitting and paddling experience are better.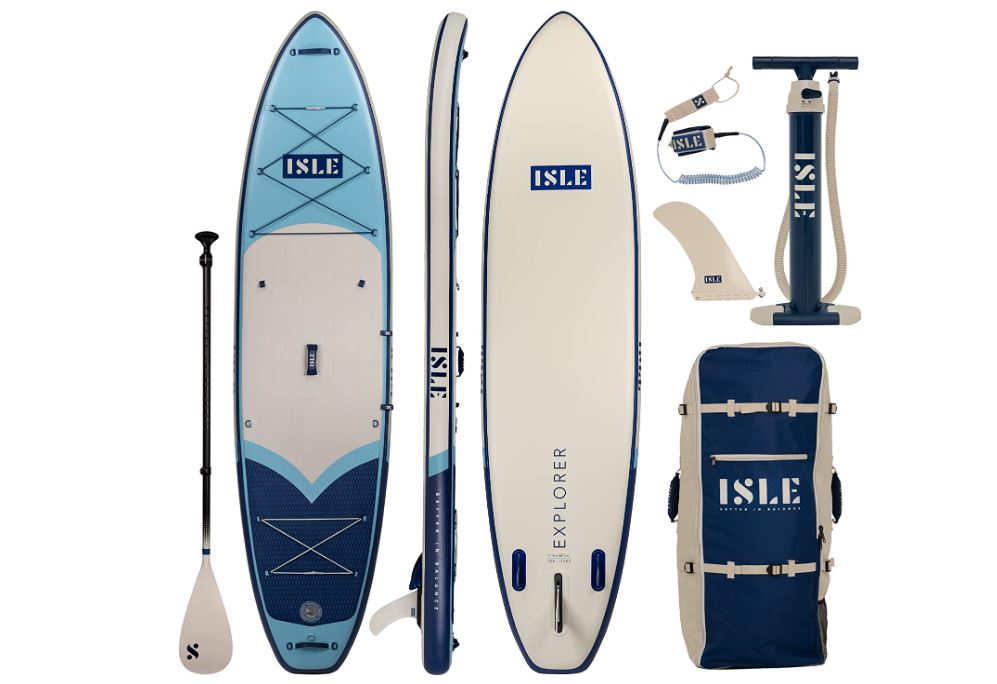 Isle Switch
The price of "Isle Switch" varies, so check the latest price at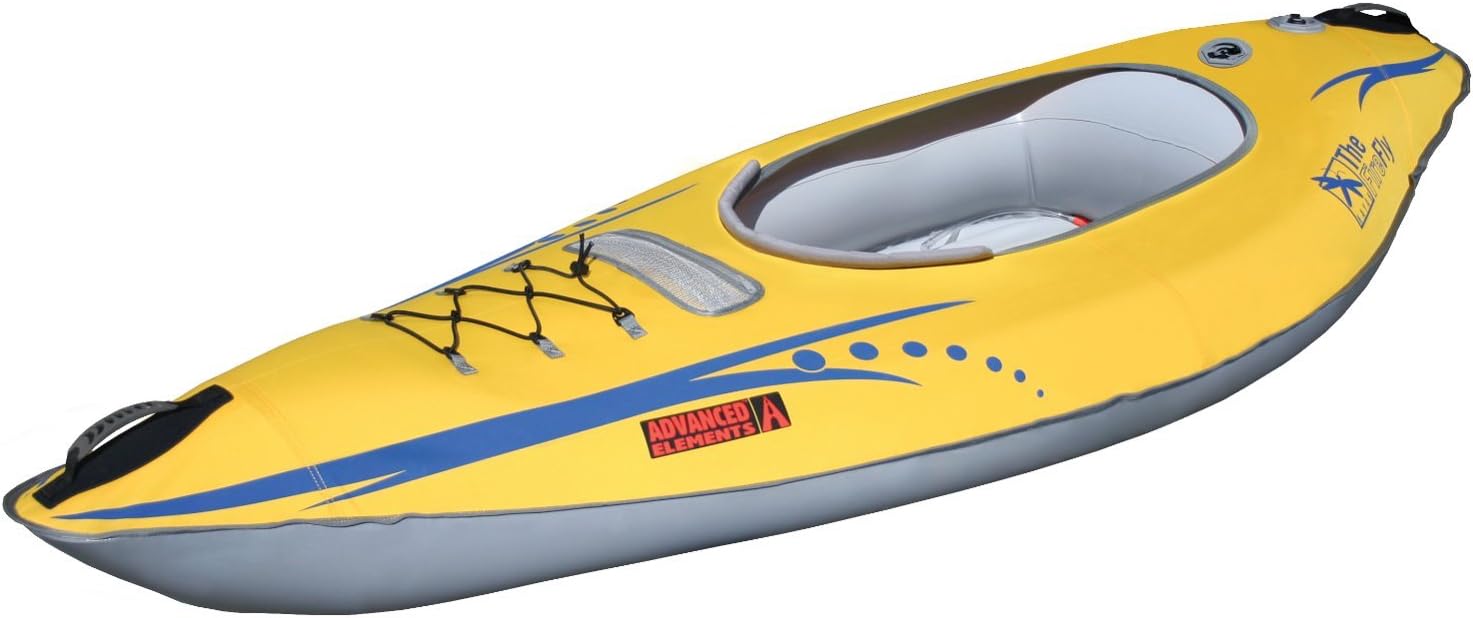 The Advanced Elements FireFly inflatable kayak is literally the epitome of convenience. Its innovative Spring Valve and Twistlok Valve ensure an effortless blow-up and speedy setup, catering to both seasoned paddlers and newcomers alike.
With its compact design and lightweight quality construction, the FireFly is an ideal choice for small to average-sized paddlers who value simplicity and portability.
This inflatable kayak is equipped with cutting-edge technology, it features fixed rigid forms cleverly integrated into its design. The FireFly tackles the problem of tracking issues head-on with its built-in rigid panels, delivering exceptional steering control and faster paddling performance.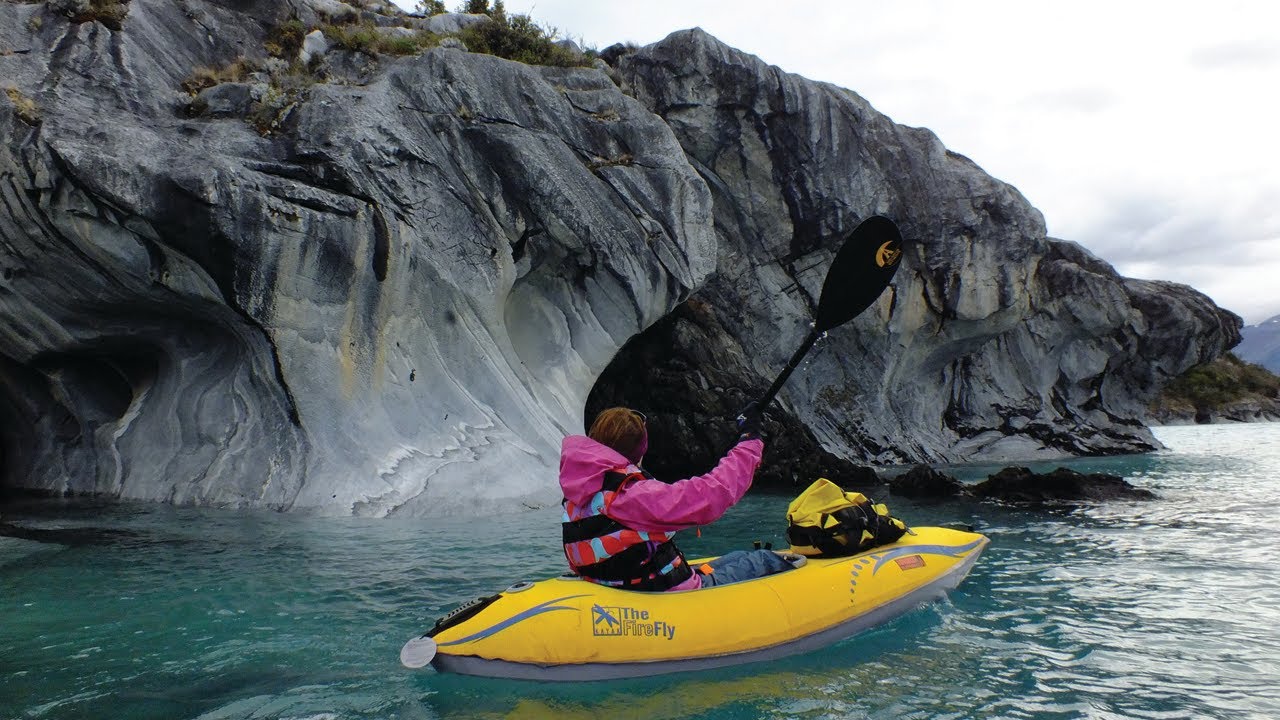 The enhanced lightweight material of the tough waterproof fabric shell not only makes the inflatable kayak highly portable but also remarkably durable. Unlike many shorter kayaks in its category, which are limited to calm waters, this kayak is capable of withstanding collisions from Class II rapids, expanding your paddling possibilities.
Features
Length: 7'10 ft
Weight: 16 lbs
Best for: 1 person
Capacity: 250 lbs
Paddles and Pump included: No
Material: 600 D Polyester & PVC tarpaulin
Pros
This inflatable kayak is super compact, comfortable, easy to lift, lightweight, quick to inflate, stable, and budget-friendly.
Cons
One drawback of this inflatable kayak is its limited storage space, making it challenging to carry more than your packed lunch.
Our Verdict
This decent kayak is specially recommended for beginner kayakers seeking a fun and affordable option. While it may not meet high expectations, it serves as an easy and accessible way to enjoy the water.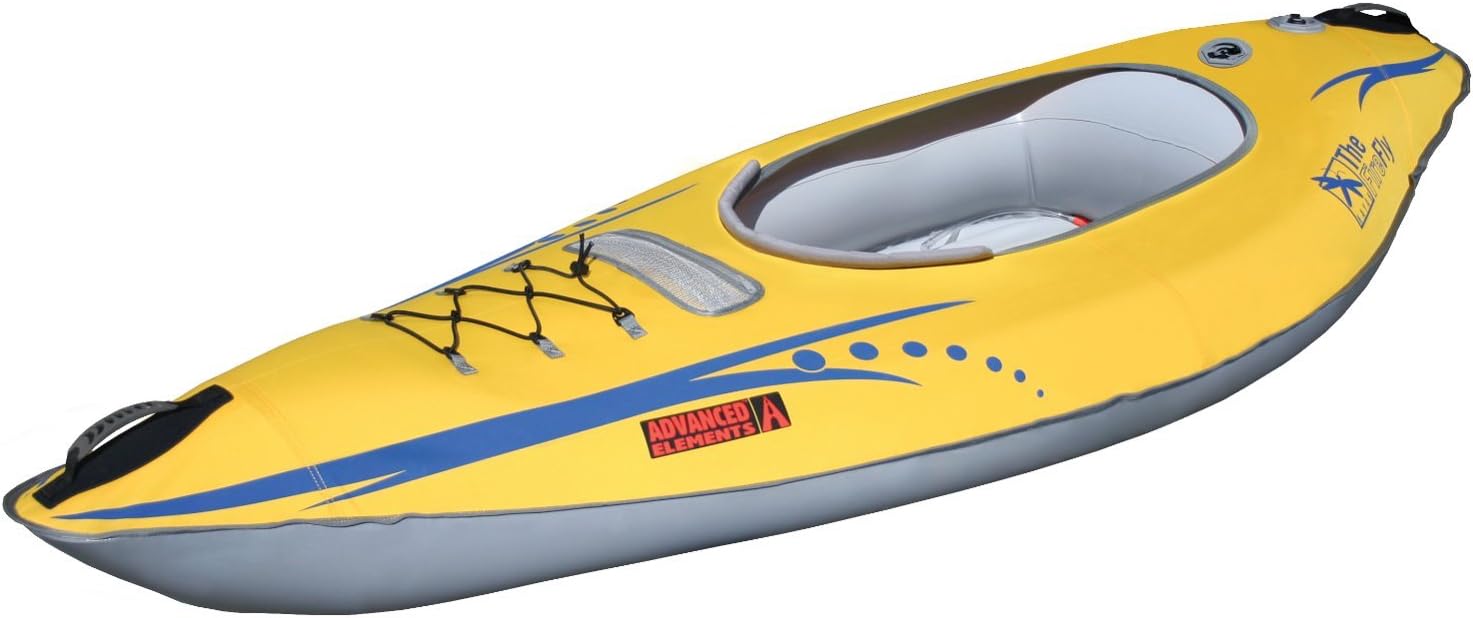 Advanced Elements FireFly
The price of "Advanced Elements FireFly" varies, so check the latest price at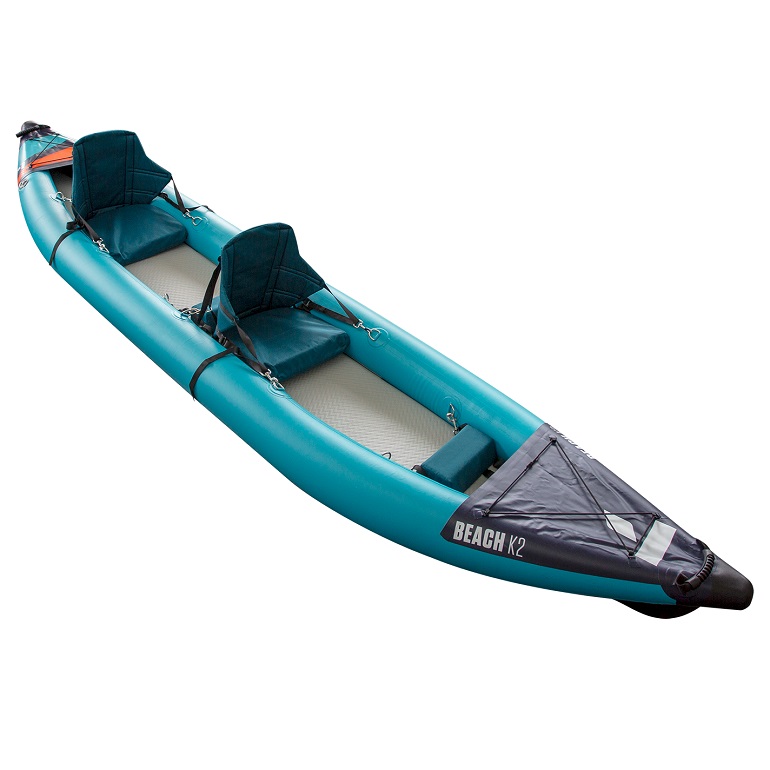 This inflatable kayak delivers a perfect balance of stiffness, stability, and lightweight technology. The floor, boasting the revolutionary HP Drop Stitch floor technology, offers unparalleled ease and glide.
The LP side chambers are constructed with reinforced 1000 denier PVC Tarpaulin that ensures remarkable stability, compactness, and fast inflation. They effortlessly withstand scratches and small shocks, ensuring your journey is not hindered by any unexpected obstacles.
The deck design, inspired by the Full HP, showcases deep V molded tip sections at the front and rear. This ingenious design helps to reduce the rowing effect and grants exceptional directional control.
The ergonomic seat and adjustable footrests guarantee relaxing kayaking experience. The thick foam wrapped in a resistant mesh offers unparalleled support during paddling, so paddlers can enjoy hours of adventure without any discomfort.
The elasticated carry nets with tie down points provided additional space for securing belongings and carry all equipment and essentials with ease. The kayak's design truly caters to the needs of adventurers who crave the freedom to explore beyond the shorelines.
Features
Length: 12'6 ft
Weight: 37 lbs
Best for: 1-2 people
Capacity: 440 lbs
Paddles and Pump included: Yes
Material: 1000-denier PVC Tarpaulin
Pros
The fast and easy inflation process, taking less than 5 minutes, allows kayakers to spend more time on the water and less time preparing.
Cons
Might not be suitable for larger individuals.
Our Verdict
Tahe Beach K2 series offers an extraordinary kayaking experience that combines advanced technology, exceptional performance, and unmatched comfort. It invites you to explore the depths of your passion and embark on thrilling adventures with confidence.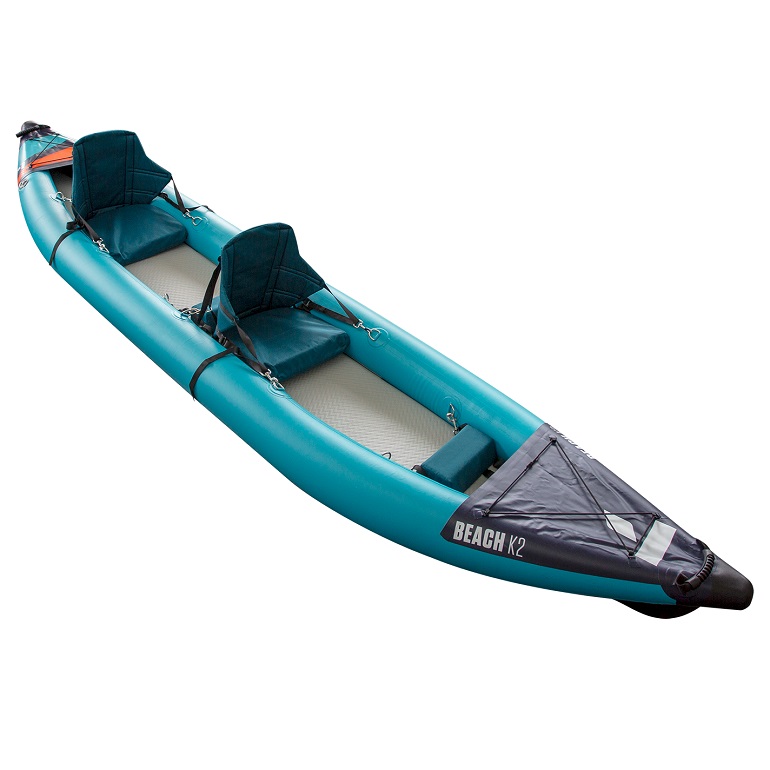 Tahe Beach K2 Inflatable Kayak
The price of " Tahe Beach K2" varies, so check the latest price at
How to Find the Best Inflatable Kayak
After scrutinizing this review, you must have gathered the main essential features of most inflatable kayaks. Now that you know the basics of kayaking, it's time to gauge which kind of kayak might be better for you.
Inflatable vs. Hard Shell Kayaks: Which One's Better?
Inflatable kayaks are all about convenience on land, while traditional hardshell kayaks still offer the best performance overall on the water. Hard shell kayaks typically paddle faster and are better able to hold a straight line (called tracking) thanks to a rigid structure that also adds to the stability. 
When it comes to inflatable kayaks vs. hardshell, the latter are also less prone to drifting from winds & currents, especially at sea, which is one of the main cons of inflatables. But, and it's a big but, If you can't take the thing to where you want to go, then what's the point, right?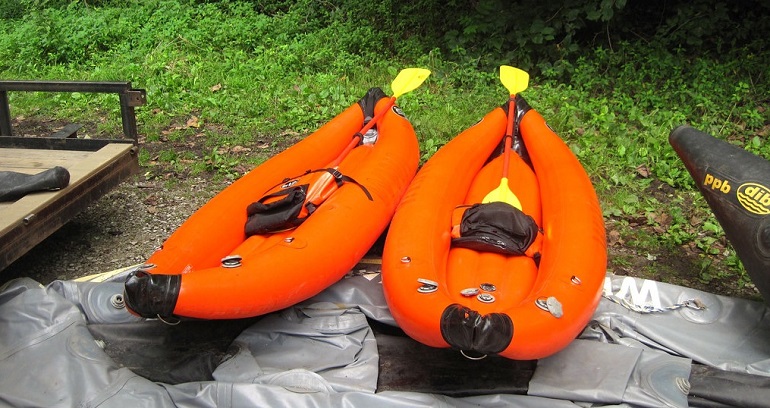 There's a simple yet very true saying I love about photography, it says the best camera you'll ever have is the one you have with you.
Because yeah, most kayaks are at least 10 ft long, up to 15 ft for 2-3 seaters, so transporting kayak as is on anything smaller than an RV or a trailer gets tricky. And it's not just length, the weight of an inflatable kayak vs. hardshell is usually around 30% lighter as well.
Inflatable Kayaks Pros and Cons
Being lightweight, inflatable kayaks tend to be super portable. A 10 ft inflatable kayak could easily go with you on a motorbike if the storage bag has straps to be worn as a backpack. 
And in the car, yes, even a Prius; why not? It's small enough that it doesn't take the whole trunk, so you'll be able to fit everything else you need, like paddles and PFDs (Personal Floatation Devices), but maybe also camping gear, provisions, or other toys like inflatable paddleboard.
The inflatable kayaks are sturdy and way more inexpensive than hard shells. However, as stated earlier, they are prone to be affected by strong wind currents. Additionally, they also require more time to inflate and for thorough drying, which might irk some people.
My advice is: if you want to paddle a hardshell kayak but can't carry it around, better find a spot with a local rental center and rent one, but if you want to buy your own, then get an inflatable and save yourself the trouble.
What to Look for in an Inflatable Kayak
When looking for an inflatable kayak, there are several key factors to consider. By considering these factors, you can find an inflatable kayak that suits your needs and ensures an enjoyable and convenient kayaking experience:
Material
There are many types of durable materials used in the manufacturing of kayaks. The material of an inflatable kayak determines what it will be used for. Among the most extensively used materials are polyvinyl chloride (PVC) coated vinyl or nylon and Oxford woven cloth. 
PVC construction is suitable for kayaks that are meant for touring, sea expeditions, or playing in the sea (away from rocks and ridges). Different materials have different costs, pros, and cons depending on where and when you plan on using the kayaks.
Weight & Seat Capacity: Single Or Tandem?
The great thing about inflatable kayaks is how customizable they are and, in particular, the adjustable padded seats. These have to be well placed for a comfortable position and easily taken off in an instant. Padding should be generous and quick-drying, 
You can actually swap for a whole new pair of inflatable seats on the developed third-party market, so don't worry if you're not a super fan of the original ones; everything can be improved, except the inflatable kayak itself, which is why leaning onto the PVC models from the get-go can be smart.
Try to see already how you'll be able to adapt your little ship to different activities, maybe you want to add some cool extras like a best fish finder or a small electric motor working on a battery. It's better to plan these things in advance and make sure you get the right base to build on.
Not quite related to the kayak itself but still a true essential, a good pair of polarized floating sunglasses will also make a huge difference in the quality of your experience, highly reducing glare and water reflections so you can better see where you're going, but also what's happening underwater.
Uses
Traditional kayaks have been around for centuries and used by the Inuits in the Arctic regions to navigate waterways. Fishing kayaks also presented a pragmatic way to hunt, fish, and transport passengers across the water.
A folding kayak can deliver multifarious purposes depending on your individual requirement and preference. Kayaking is a fun activity that lets you enjoy the beauty of nature up close and personal! 
Inflatable kayaking is open for everyone, requiring no basic experience or training! The passion to explore the open waters is an incentive exciting enough to try it out. 
Durability
Inflatable kayaks nowadays are sturdy as hell, especially if you're ok with putting a bit more money upfront to pick a mid-range model over $400.
Entry-level inflatable kayaks are made of vinyl, which is cheaper and lighter, but also much less rigid and puncture-resistant, they tend to feel more like blow-up toys for kids, although they're definitely stronger than that.
Still, they can't match the sturdiness of mid and higher-range kayaks, made with UV-resistant PVC material often coupled with nylon or polyester for added durability. These kayaks are the ones that will still be used in 5 or 10 years if treated right, while vinyl will deteriorate much quicker than that.
Portability
Yes, the high-quality inflatable kayaks make the logistics so much easier, but it doesn't mean they're all equally easy to set up, pack down in a carry bag, or transport.
A bit like tents for some reason, learning how to pack an inflatable kayak in its original carry bag can sometimes be a bit of a mindfuck, IKEA style, right? But get it right just once, and you'll be set for life! Of course, getting one with clear instructions and a nice storage bag with padded shoulder straps and carry handles will help. 
But also choosing the right weight of kayak matters, as carrying around 52 lbs (the weight of some bigger 15 ft kayaks listed here) all by yourself on long distances may not be that easy.
Packable
An inflatable kayak can be easily carried by one person and stored in a small storage space, such as in a car trunk, closet, or garage. These function like inflatable boats as they paddle nicely on flat water and are super quick to set up.
These give you the benefits of easy portability and transferability and provide independence to solo travelers. Carry a portable kayak in your backpack to even the remotest of places to enjoy to the max.
FAQs
Are Inflatable Kayaks Safe?
As inflatable kayaks for sale need to be certified for both international sales (ISO 6185) but also in the US, where the NMMA certification comes from the US Coast Guard, they certainly are as safe as they can be, as long as you respect the maximum loading capacity that comes with each boat but also adopt some good habits regarding gear maintenance and safety rules. 
For example, remember to check the weather and make sure your portable kayak is in excellent condition before each adventure, and try to plan out your route in advance and let someone know where and for how long you're going, even if it's 2 of you. And, of course, wear a PFD at all times.
Just like hardshell kayaks, though, inflatable kayaks can tip over in certain situations if the user is seriously overweight, inexperienced, or just fooling around trying to surf the ocean waves, for example (which is so much fun, btw!), but it doesn't mean they're unsafe. If you repeatedly tip over in a kayak, even in the quietest flat water, then there is a problem, either the load is too heavy, or it has a real defect. 
It can happen, unfortunately, just like any other product, and in that case, you should get a replacement from Amazon or the retailer. What's important is the integrity and floatability of the boat, it should always stay afloat no matter what, and be easy to get back on with the right technique.
Even a serious puncture should not threaten the integrity of these kayaks as they're all composed of separate chambers, especially for that reason.
Where To Buy Your Inflatable Kayak?
For entry-level models, Amazon is perfectly fine, and the thousands of customer reviews can definitely help to get a better idea of each kayak's pros and cons, but dealing directly with manufacturers can often be a pain in the butt.
That's why for mid-range and high-end models, I strongly advise turning to trusted outdoor retailers where you'll be able to get personalized advice from real experts who are best placed to direct you to the product that's most adapted to your needs, regardless of the kayak brand. Plus, many offer deals on PFDs and paddles with any kayak purchase, perfect for those higher-priced models that don't include them.
In case of a problem with your purchase, you tend to get better and quicker results when going through a specialized retailer. Becoming a member also has many perks and is quite interesting for people who shop for outdoor products all year long. Manufacturers' customer service usually isn't as inclined to help you out. A retailer is much more willing to stay impartial but also has a serious interest in keeping its customers happy.
Coleman, for example, who makes the Sevylor models listed here, is known for refusing to sell replacement bladders, which is a shame, but well, that's how it is.
Are Amazon prices cheaper for the same model? Not even. So if you can, better give your money to a good old mom-and-pop store where the staff is passionate about their work and the sports they do.
How to Find a Leak in an Inflatable Kayak?
Most kayaks come with a repair kit, so you're always prepared! A possible issue on inflatable kayaks, as sturdy as they can be, is leaks.
If you are losing air pressure, try to find out the small leaks on your inflatable kayak. Fully inflate the kayak until it's hard to touch. The best tool to find air leaks is mixing soap, shampoo, or dish detergent with water in a spray bottle.
Usually, the cause of leaking is poorly fitted valves. Firstly, spray on the valve or any suspected hole and observe any bubbles coming out of it.
Sometimes, you can also locate the leak just by listening to the sound of air coming out of your folding kayak.
How to Clean an Inflatable Kayak?
Follow the simple tips given below to clean an inflatable kayak:
Remember to wipe off the mud, seaweed, or any other mess from the inflatable kayak before drying it.
Let it air dry directly in the sun for as long as possible. 
Use a clean and absorbent towel/cloth that can really soak up all the excess water that inevitably finds its way into your kayak. Make sure that you wipe all the nooks and crannies of the sides, top, and bottom of each compartment.
Turning it upside down is also a good idea to wipe off the bottom and let any excess water fall out of its body.
Conclusion
Kayaking is the best way to unwind and relax in this fast-paced world. Following my mantra 'to travel light' has pushed me to explore all the available options to find the perfect lightweight sports gear on the market.
There are a lot of different types of portable kayaks that are suited to different paddling types, temperaments, styles, locations, and conditions. I hope that by this time, you're able to make a wise decision about choosing from the list of the best inflatable kayaks for your memorable kayaking experience!
Which of these kayaks do you like the best? Is there one you think you might add to your collection? Let us know in the comments below.