This guide will make your search for the best wetsuit simple.
Having spent the past few years beach bumming and kitesurfing in Asia, I've thankfully had about as much need for a wetsuit as a fish needs a fur coat.

But alas, times are a'changing:

What with myself and Jim making an imminent move to Ireland, we've got wetsuits on the brain. Big, wooly, warm ones. And also pints of Guinness- but that's a topic for another day.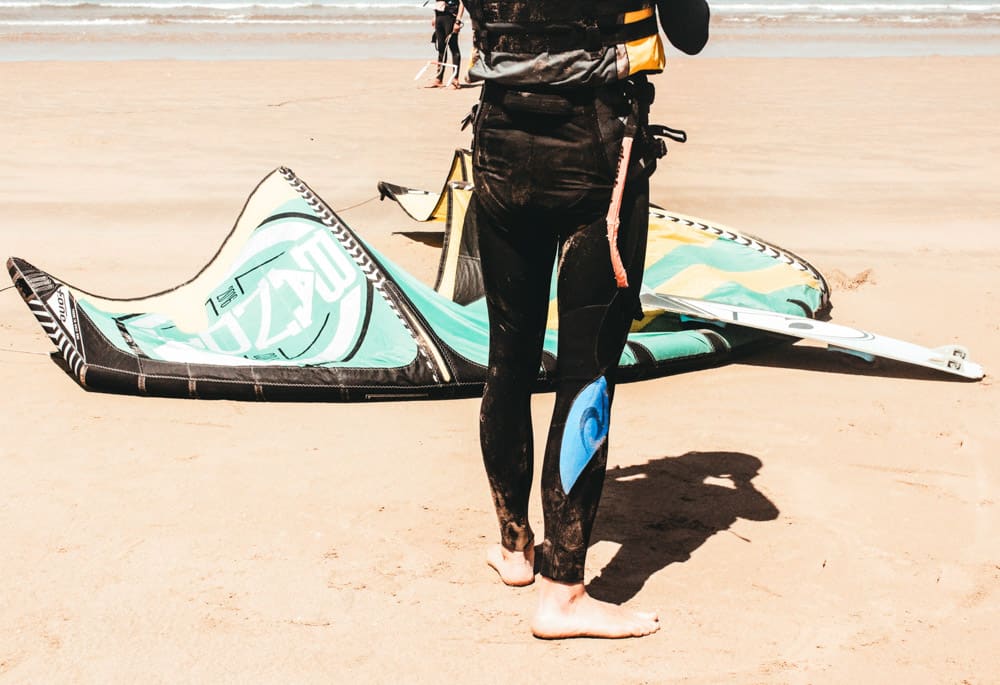 My point is: there's hella lotta wetsuits on the market these days, and trying to find the perfect wetsuit can make you feel kinda like throwing your laptop out the window.
Listen, I feel you. I've been exactly where you are; trawling through online shops, trying to work out which wetsuit will fit over your butt and which'll look like a very, very expensive bin bag.
So to help ease you through the process, I've compiled all the info I found during my own deep dive into the world of wetsuits and created what I THINK is a pretty user-friendly guide with all the best wetsuit brands.
In this guide, you'll find simple comparison points and must-know info about each product, which should help you decide which one is best for you (or at least make you feel a little less like head-butting your laptop).

We'll also go through each of the factors you should consider when buying a surfing or kitesurfing wetsuit, from the cut to the fabric and everything in between.

Meanwhile, Jim and I will continue to update this list as we get around to trying all the suits we can get our hands on!

Let's dive in:
Best Unrivaled Flexibility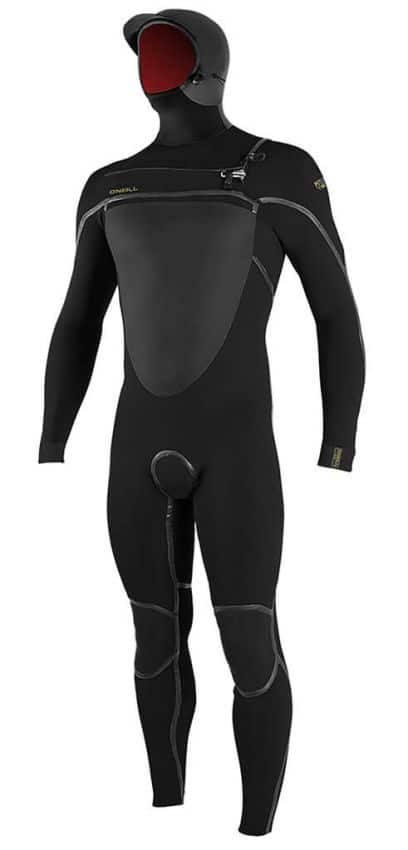 O'Neill Psycho-Tech
Material: Neoprene
Wetsuit Thickness:

4/3.5 mm

Wetsuit Fit:

Chest Zip
Best For Durability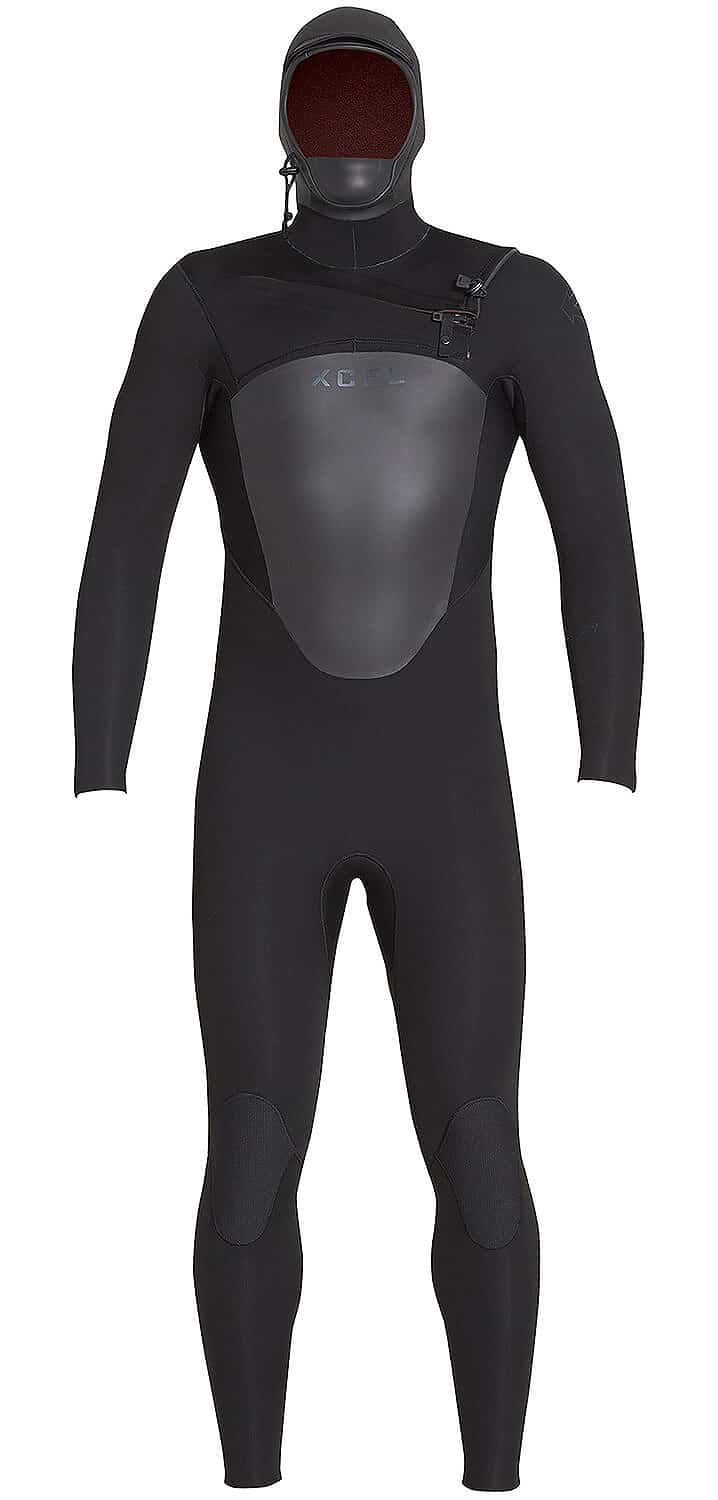 Xcel Axis
Material:

Neoprene

Wetsuit Thickness:

4/3 mm

Wetsuit Fit:

Chest Zip
Best For Flexibility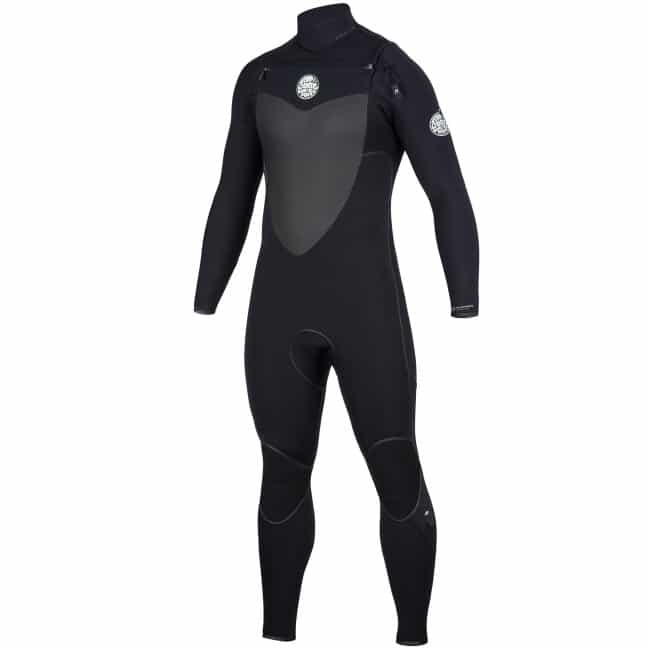 Rip Curl Flash Bomb
Material:

Neoprene

Wetsuit Thickness:

5/4 mm

Wetsuit Fit:

Chest Zip
Best For Comfortability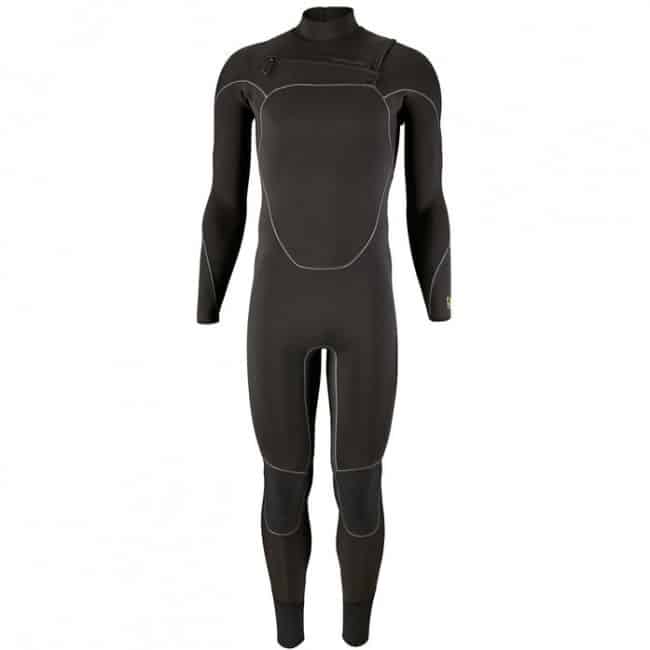 Patagonia Yulex R1-5
Material:

Recycled Polyester, Spandex

Wetsuit Thickness:

4.5/3.5 mm

Wetsuit Fit:

Back Zip,

Yulex®
Best for Conscious Shredding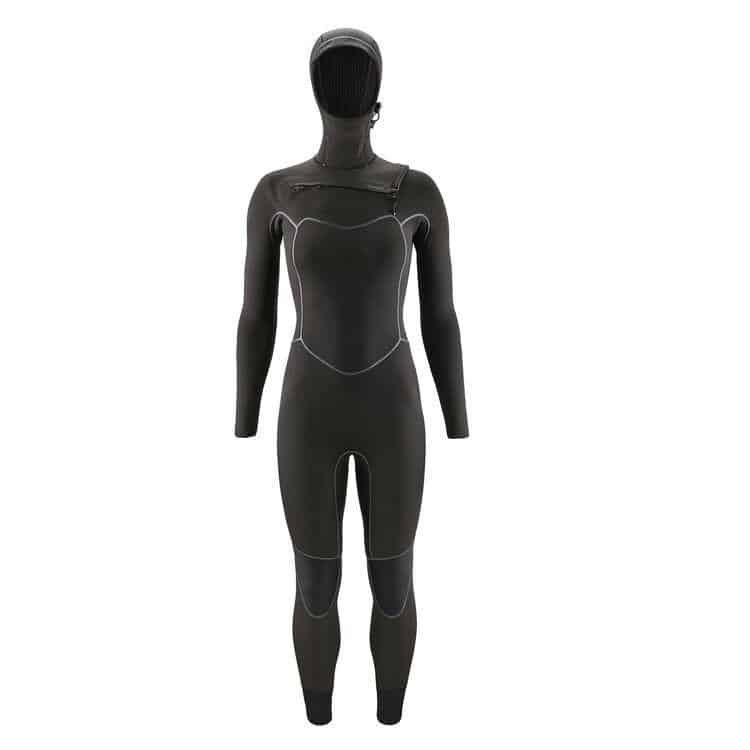 Patagonia Yulex R1-5
Material:

Recycled Polyester, Spandex

Wetsuit Thickness:

4.5/3.5 mm

Wetsuit Fit:

Back Zip,

Yulex®
Best For Light Weight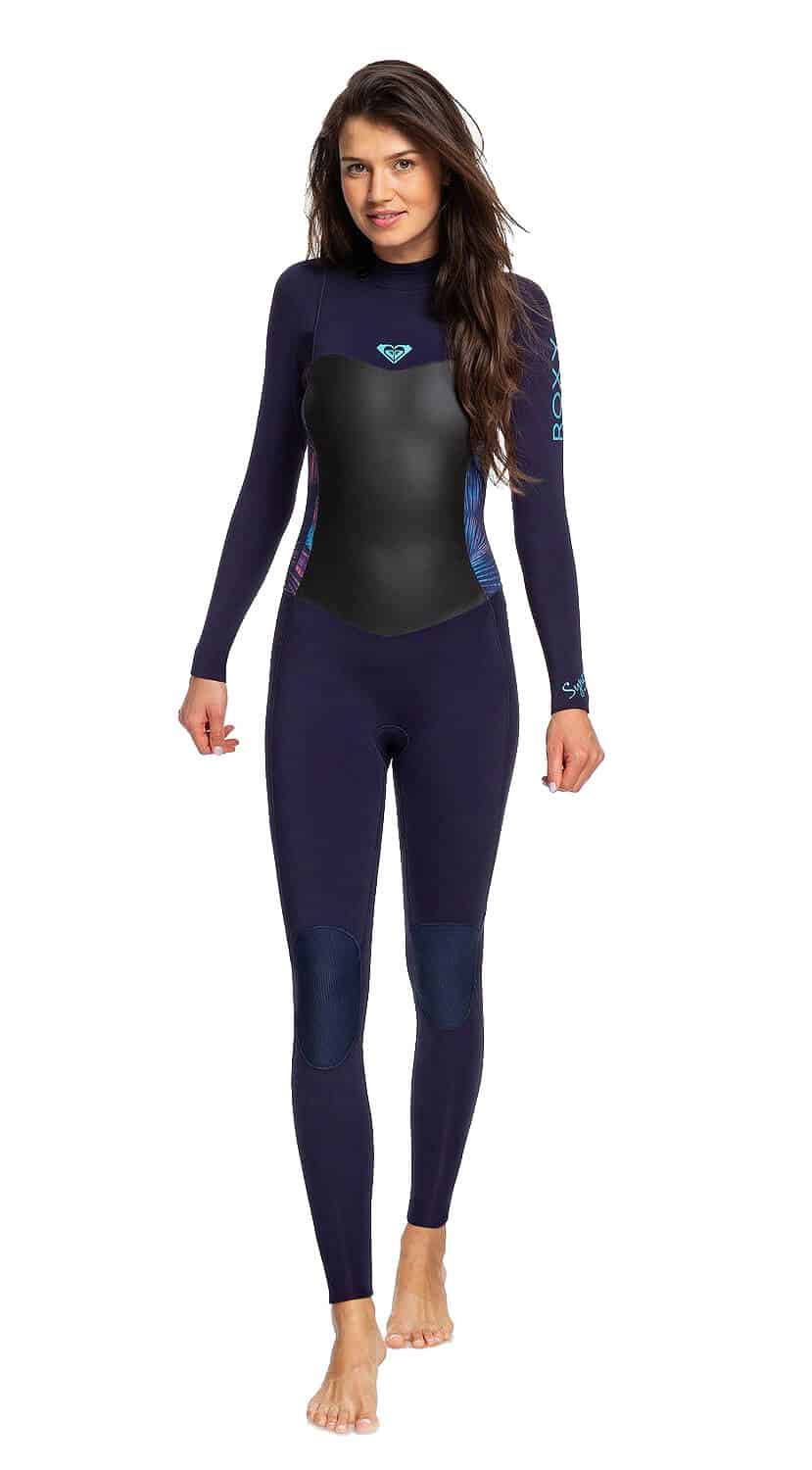 Roxy Syncro
Material: Neoprene
Wetsuit Fit: Zipper
Color: Jet Grey/Coral Flame/Temple Gold
Best For UltraFlex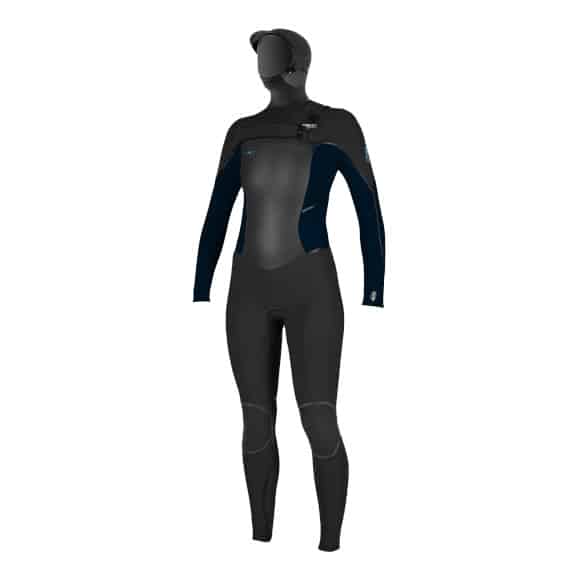 O'Neill Psychotech
Material: Neoprene
WETSUIT THICKNESS: 3/2MM
Wetsuit Fit: Zipper
Best For Design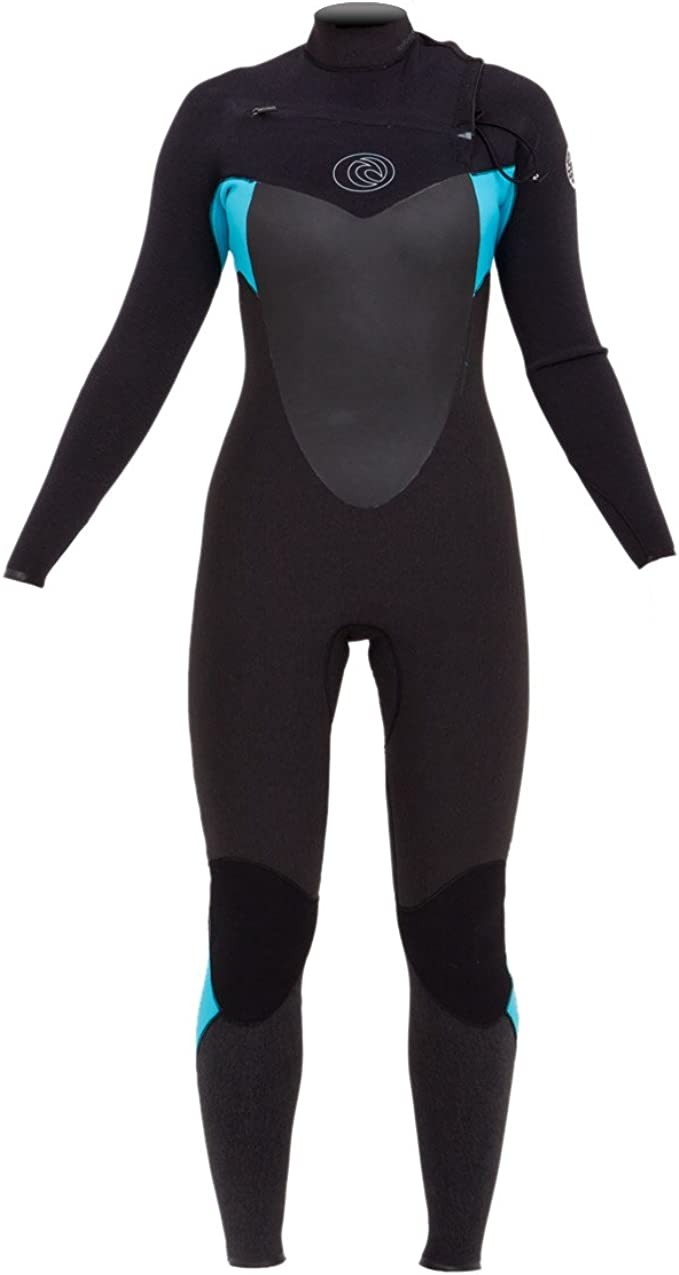 Rip Curl Flash Bomb
Material: Neoprene
Color: Black/Blue
Wetsuit Fit: Zipper
Where do you find the right wetsuit at the best price?
Buying a wetsuit online will guarantee you the best prices, but you should accept the risk of having to send the product back if it doesn't fit, and in this case in particular, having the most suited size is the key.
When trying it at home when you receive it. You should be able to get in easily and move freely but stay firmly held in the wetsuit with absolutely no loose parts.
If it's almost too hard (talking about chest zip models here) to get out of still dry since you're at home, then it doesn't necessarily means it's too small. Wetsuits are meant to be wet and get all their elasticity only in water.
A brand new wetsuit may seem tough to get out of on the first few sessions but will loosen up until it just makes one perfect single being with you… and then after a few years or much more if you're a casual user, it inevitably gets too loose, UV damaged or ripped open by diving knives and board fins, and you need a new one!
So the goal is to find the best fitting wetsuit that will have the longest durability between these two milestones.
So front zippers and back zippers, wind skin and stretchy stuff, rubber and neoprene… jeez Louise, there's a lot to consider.
The perfect kitesurf wetsuit can look pretty different to different people. But no matter what your preferences, you'll want to think about things like:

Warmth factor and thickness
How restrictive it is
Durability
Drainage
What the fabric is made of (is it comfortable? Is it eco-friendly? Is it suitable for the climate you'll be kiting in? More on all that coming up.)
The sizing and cut
The price. Of course.
Most importantly, it's crucial to try to pick the suit that's going to fit your body type most comfortably (errg, I know it's easier said than done when it comes to buying a wetsuit online, but stay with me here).

Not every wetsuit is created with the same reference point in mind; some brands have particularly thin legs and arms, for example, while others might have an especially short/long body.
We've done our best to highlight these factors for each of the wetsuits listed below, so hopefully that'll give you a solid baseline to work with.

Read next:
Surf vs. kitesurfing wetsuits: what's the difference?
Okay, so this whole article is about kitesurfing wetsuits, right? But is that even like, a thing?

Here's the deal:

A lot of times brands differentiate between kitesurfing wetsuits and, say, surfing wetsuits purely for the sake of branding. In fact very few (if any) of the brands we've included on this list market their suits specifically/exclusively to any sport. Whether it's surfing, kitesurfing, windsurfing, wakeboarding or water skiing, those wetsuits will meet the needs of most watersports, except of course diving, which can present radically different designs especially as you go up the price range.

But that said:

Some brands have a background in a specific sport, and so their products are often tailored most towards said sport.
Some products have differences in cuts and reinforcement (for example, kitesurf specific wetsuits often don't have the same flexibility in the arms/armpit area that's required for paddling in surf).

Conversely, some kitesurf wetsuits have a thicker layer of smooth skin on the chest which provides extra protection from the wind (which surfers don't have to deal with as much).
If you ask me, it's a bit of a potato po-tah-to scenario.
A lot of experienced water sport lovers will tell you that surf wetsuits have been around much longer than kitesurf wetsuits, and have therefore benefited from greater r&d. Soooo, you may find some of the more established surf/outdoor brands have higher quality suits.

But at the end of the day, it's all down to finding the product that works best for you.
Best suits for men by top wetsuit brands
If you're on the hunt for a kitesurf wetsuit that's comfortable and unrestrictive, the O'Neill Psycho-Tech should be right up your street. It's made using the brand's exclusive 'Technobutter' fabric which is designed to allow total freedom of movement (which also makes it gloriously easy to put on and take off).

The Technobutter Firewall material covers the chest and back, which helps to protect from extra wind chill and serves to keep you super toasty. Hydrophobic neoprene ensures water stays outside of the suit without leaking in; and the quick-dry properties and light foam rubber core keeps the suit from feeling bulky or absorbing water.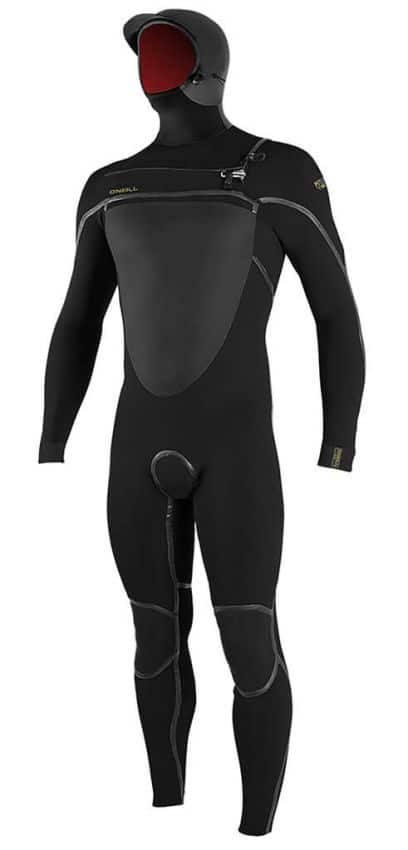 O'Neill Psycho-Tech
The price of "O'Neill Psycho-Tech" varies, so check the latest price at
Xcel is a name that comes up time and time again whenever people are talking about affordable wetsuits- and the Xcel Axis wetsuit fits that bill pretty damn well.

And it's got plenty bang for your buck, too:

It's one of the warmer kitesurfing wetsuits we've come across; especially when you compare the cost of this one with more expensive brands.

And if warm is what you're after, take a look at their fully sealed limestone neoprene 5/4 hooded full suit. It's made with eco-friendly 'Superprene' Japanese limestone which is designed to be extra durable while remaining lightweight. It's also reinforced on the chest with watertight smooth skin and on the knees with extra padding.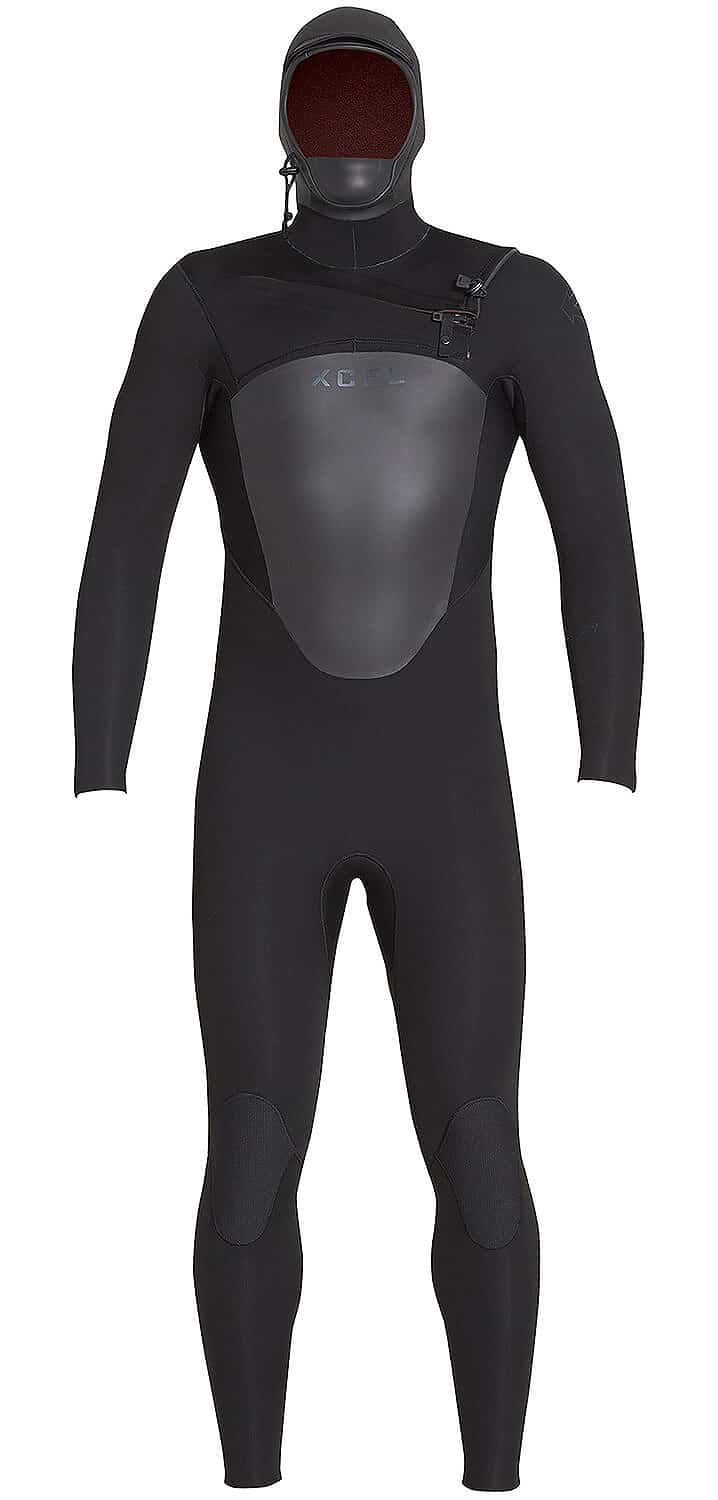 Xcel Axis
The price of "Xcel Axis" varies, so check the latest price at
Legendary surf brand Rip Curl are well known for their wetsuits, but how does the Flash Bomb hold up against the others on this list?

Well, with the extra stretchy E5 flash lining, it's one of the comfier ones- but it doesn't sacrifice anything in the way of warmth. Add that to the smoothskin on the chest and the full hood option and you've got yourself a damn warm wetsuit for kitesurfing.

Now, for anyone who's ever known the travesty of having a wetsuit literally fall apart at the seams, the blind stitching and gluing on the Flash Bomb is going to be a huge step up.

In fact, the manufacturers also claim this is the fastest drying wetsuit in the world. Damn.

As for flexibility:

While this suit isn't exclusively designed for surfing, Rip Curl is first and foremost a surf brand, so you can be pretty sure that this particular wetsuit allows for plenty of freedom of movement around the arms (to accomodate paddling on a surfboard).

The one thing we've noticed about Rip Curl's wetsuits in general though, is that they tend to run fairly slim on the arms and legs. Check out their exact sizing specs for full details on this; but keep in mind that these suits typically fit slim/athletic builds best.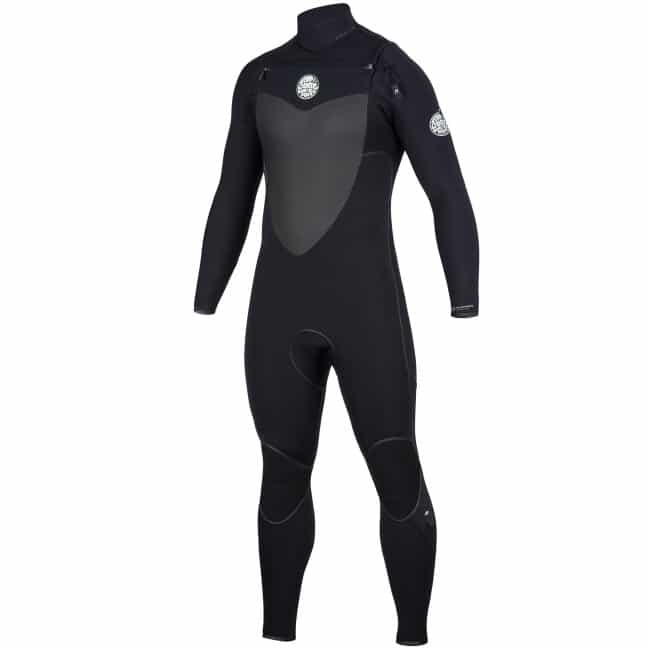 Rip Curl Flash Bomb
The price of "Rip Curl Flash Bomb" varies, so check the latest price at
Age-old outdoor brand Patagonia has us head over heels for their collection of insanely high quality Yulex wetsuits. But it's not just their trademark durability that we love about these suits:

Yulex (which makes up 85% of the fabric content) is natural rubber that's been sustainably sourced from locations approved by the Forest Stewardship Council and certified by the Rainforest Alliance (the remaining 15% of the suit's fabric is made of synthetic rubber).

All of Patagonia's wetsuits are neoprene-free, which means that anyone who buys one of their wetsuits is essentially helping to eliminate one more little slice of nasty petroleum-derived chemicals and products from the world.

Considering this, the Patagonia wetsuit is the 'greenest' one on the list– which earns it two big thumbs WAY up from us!

But let's not forget about the other important stuff like functionality, durability, and comfort. How does Patagonia compare with others on this list?

Performance-wise, the range includes 5 different suits (from the lightest R1 to the heaviest duty R5) which are designed to insulate and regulate body temperature to the highest standard possible. They're stretchy, warm, and come in front and back zip models– with full suit hoods also available for those kiting in super nippy conditions.

And to top it all off, Patagonia offer a LIFETIME warranty for their wetsuits. Life. Time. Warranty. Holy bananas!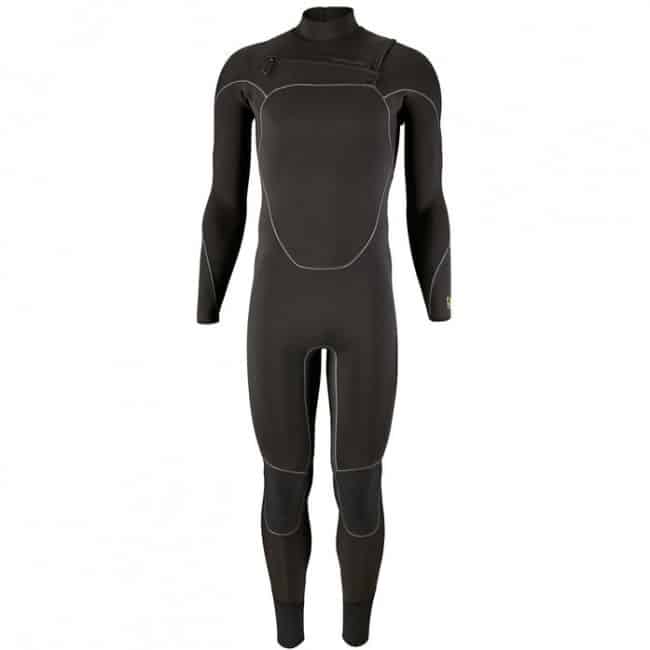 Patagonia Yulex R1-5
The price of "Patagonia Yulex R1-5" varies, so check the latest price at
Best suits for women by top wetsuit brands
Kicking off our list of ladies' wetsuits is the ripper from Patagonia that we know and love, the Yulex R1-R5 collection. Just to reiterate, the super green Yulex fabric is like, the most eco friendly alternative to neoprene known to woman. Not only that, but they offer a lifetime warranty for their wetsuits. So we love them. Big shtyle!

Their suits are super durable thanks to their 85% natural rubber material, yet still they maintain a fair level of flexibility and overall suppleness. They're available in 5 different thicknesses, from the lightest R1 which is designed for temps of 65-75 degrees to the snuggliest R5 which promises to keep you toasty in temps as low as 32 degrees Fahrenheit.

There's also a full suit hooded version for those of you needing maximum warmth factor!

In short:

If you're looking for a kitesurf wetsuit that's gonna be just as kind to Mama Nature as it is to you, this might be just the one you're looking for.

Yes, for sure you pay a premium for the green factor here, but the quality more than makes up for it.

However, those of you on a tighter budget will want to keep reading to hear which cheaper wetsuits we rate! Just know that the Yulex R4 is going at 20% off on Blue Tomato at the moment!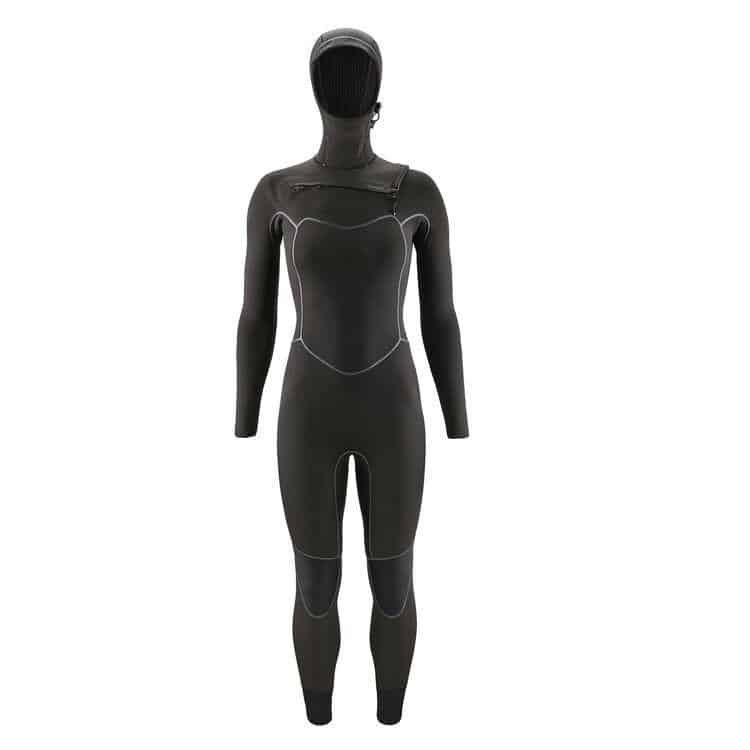 Patagonia Yulex R1-5
The price of "Patagonia Yulex R1-5" varies, so check the latest price at
As someone who's worn Roxy apparel and bikinis for years, I was definitely curious to see what kinda standard we were looking at for their wetsuits. The one thing I hear which I LOVE is that Roxy's suits tend to fit best on people with a small waist and big hips– which is exactly my body shape.

So the Syncro is pretty much their most popular model thanks to its versatile Thermal SMoothie Neoprene (not so eco-friendly, but warm AF), thermal lining, and strong seams. AND purse-friendly price tag. Just sayin'.

Though this isn't a surf specific wetsuit, it does have a few surf-friendly features which a kiter wouldn't necessarily looks for, such as extra padding around the knees (but hey, doesn't hurt to have it!).

What you can count on if you got with a Roxy wetsuit for kitesurfing is a suit that's relatively easy to get in and out of, looks good, and is water resistant and warm.

Most importantly though, is that the platform selling these Roxy wetsuits makes it extremely easy to return the product if it doesn't fit as well as you'd like upon arrival. Thanks internet shopping people!
Check out the classic black hooded Syncro (currently offered at a 20% discount on USoutdoor), and if your home spot is of the rocks & boulders type, have a look at the assorted Syncro booties.
You'll also find the Syncro in shorty 2/2 version, featured below, at another US shop, The House.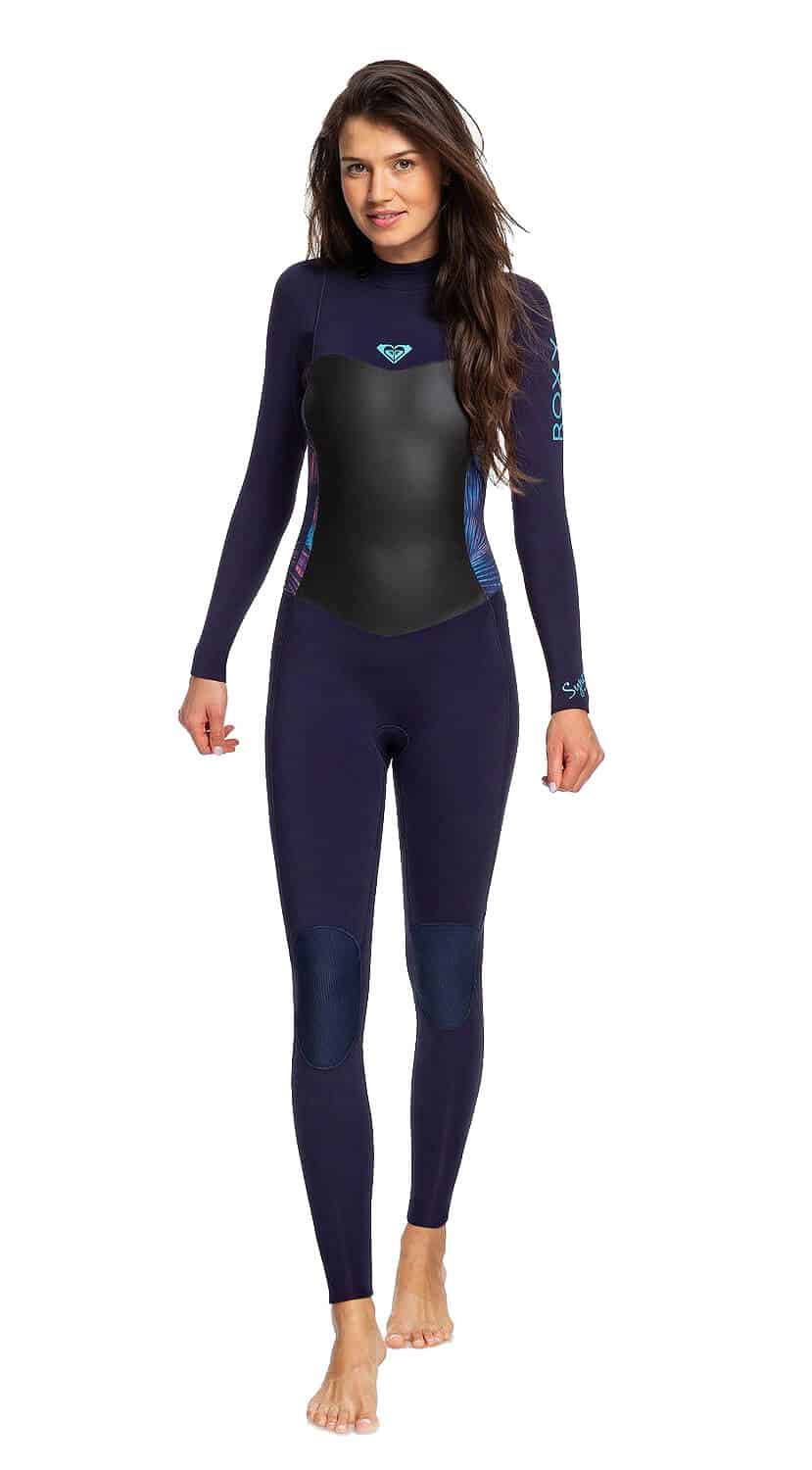 Roxy Syncro
The price of "Roxy Syncro" varies, so check the latest price at
I have one word for the Psychotech wetsuits, and that word is 'YAAAAASSSSSSSS!!!!'.

From what I've seen so far, I love everything about this wetsuit, from the idiot-proof chest zipper entry system to the trademark flexibility of the technobutter material.

Most importantly though, is the warmth factor. The Psychotech suits are designed to stand up to the freeziest temperatures. The technobutter firewall coating on the chest and back has been placed there to act as a barrier to excess wind chill– which is a really big factor to consider when looking for kitesurfing wetsuits in particular.

This is easily one of the most flexible wetsuits on the list, offering full freedom of movement without absorbing any water and getting weighed down.

It'll put a dent in your pocket, but I reckon the quality makes the price tag worth it.
The O'neill Pyschotech Hooded for women is currently 20% off on USoutdoor, while in Europe you'll find the lighter and thinner O'neill Hyperfreak 3/2 for women on Blue Tomato's store.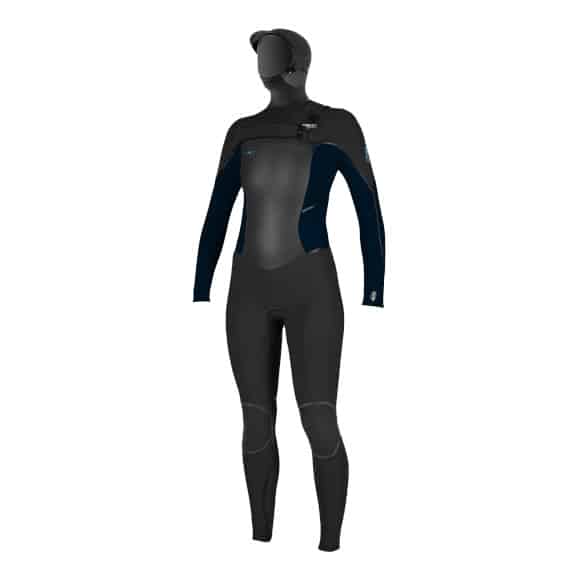 O'Neill Psychotech
The price of "O'Neill Psychotech" varies, so check the latest price at
Rip Curl have a seriously impressive collection of wetsuits on their line up. I've been wearing my G Bomb spring suit for the past two seasons in Vietnam and LOVED it to pieces; but with cold Atlantic kiting in my future, I've started to dig into Rip Curl's cosier offerings.

The Flashbomb wetsuit is one of the most popular full suits that Rip Curl have. Made with neoprene, it comes with flexible E5 flash lining, mesh skin panels which absorb heat and reduce wind chill, and carefully layered material that serves to funnel water out of the suit and prevent it from getting heavy or bulky. You can find the Flashbomb 3/2 at 15% off on Blue Tomato's store (Europe)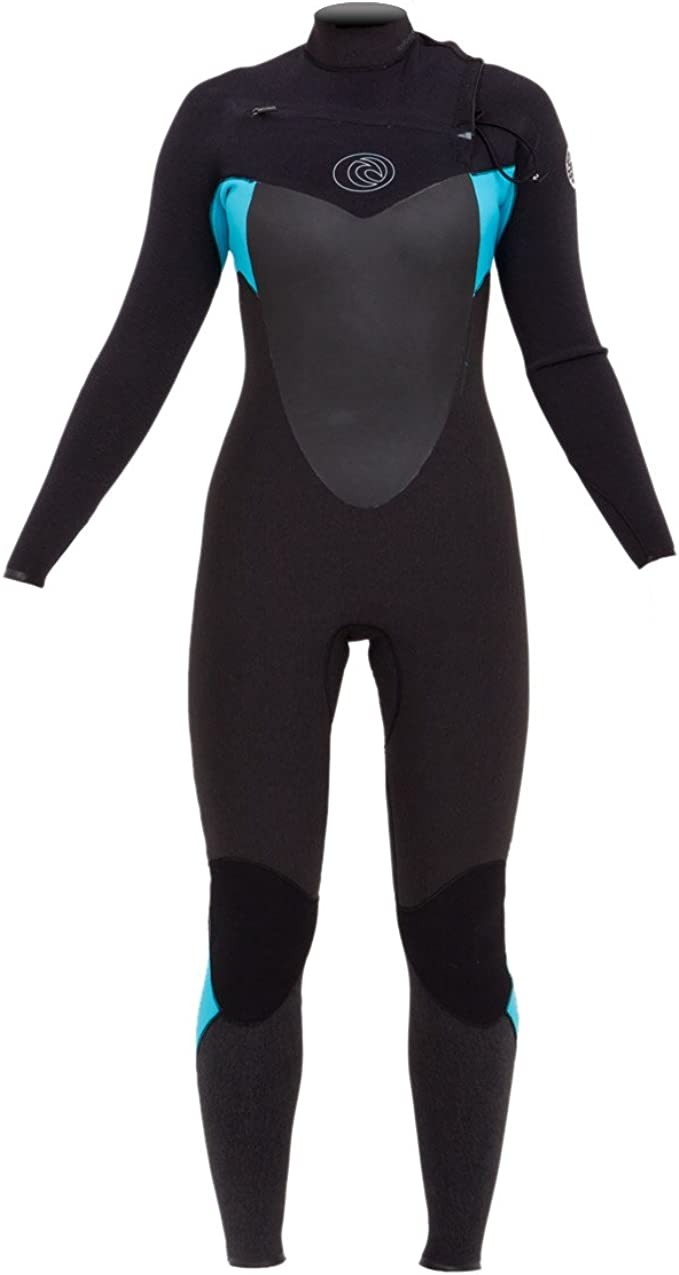 Rip Curl Flash Bomb
The price of "Rip Curl Flash Bomb" varies, so check the latest price at
Wrapping it up
Phew– that was a long list! If you're still with me, kudos to you for sticking through it all.

At the end of the day, this list is far from an exhaustive account of every single kitesurfing wetsuit on the market today– and it's not meant to be. It's purely a selection of suits that we've narrowed down as some of the best available.

Each of the suits on this list has its own merits, so it's impossible to truly say which is the BEST best one. That'll all depend on what you prioritise:
Cost
Comfort
Eco friendliness
Durability
Style


Meanwhile, if you've tried any of the suits on this list and have some feedback about their performance, please let us know in the comments! We're going to try to keep this article alive with updates as we try more models during our time in the cooooold Atlantic waters of West Cork.

As always, if you have any questions about choosing a kitesurf wetsuit, just drop it in a comment below and we'll get back to you faster than you can say "it's fookin' windy!!!".