Introduction
No matter whether you're a beginner or a pro skier, the resorts in Breckenridge welcome you to delight yourself with amazing adventures this winter season!
If you are planning a ski trip, be it with family or alone, you can surely book your slots for the best ski resorts in Breckenridge for their amazing amenities and features!
Also, what sets this skiing spot apart from others is the laid-back aura it exudes. For a relaxing vacation with stunning locations, this is the best choice to make!
Best Places To Stay In Breckenridge
The fall season is just around the corner and if you still haven't picked out your winter destination to ski on the powdered snow, take a read, and you may end up finding your next travel destination right away!
1. One Ski Hill Place
The One Ski Hill Place is a great choice for anyone looking to skid through the heavy powder. With around 40% of high alpine terrain, it's an amazing spot for skiing as well as ice skating. For those who love elevations and have good skiing skills, plan to head towards this mountain, and you'll never regret it!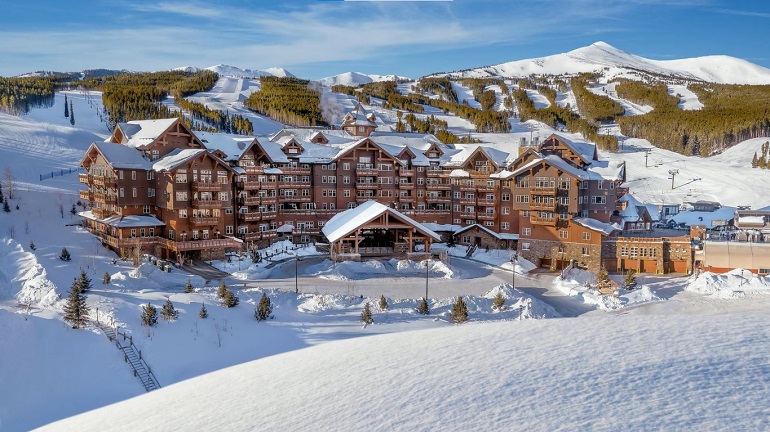 Pros
One ski hill place not only offers a ski-in facility but lets you enjoy the ski-out experience as well. With a vertical drop of around 3,398 ft, you can expect the ski area to be well-groomed for intermediate and expert skiers.
For advanced skiers, this mountain is a dream come true! The massive Five Peaks give them a peek of the sky, while the ski lifts ensure they have a good view of the entire ski area easily.
It not only offers a terrain suitable for skiing. Rather snowshoeing, dog sledding and snowmobiling are some really sought-after adventures for friends and families at this vacation spot!
A cafeteria works as an on-site restaurant for the visitors as they can delight themselves with a quick bite at any time! Its breakfast is seriously the best! Also, if you are planning a family tour, the indoor pools will amuse your kids a lot!
The Condo hotel also offers a free shuttle service, which makes getting here easier! The hotels in Breckenridge are within walking distance, and you can fill your belly up with a hot meal whenever you want to!
Cons
Though you get great privacy in the condo-style units, they are super expensive, and you should plan a tour to this part of the States only if it falls within your budget range!
Opening and Closing dates
If you are into serious winter escapades, this spot opens mid-November and extends its activities all the way till the end of January.
Famous For?
It offers convenient access to the mountain, and you won't have to travel to reach the ski spot. Also, what makes it pretty famous amongst tourists is its close proximity to the Rocky Mountain SuperChair, Four O'Clock Ski Run, and the 5-Chair Ski Lift.
2. Crystal Peak Lodge
Crystal Peak Lodge offers as many as 45 spots where you can experience ski-in and ski-out. No matter you're looking for a fun day tour with your family or planning an exciting week-long adventure, there are tons of things to do at this place that suits most tourists.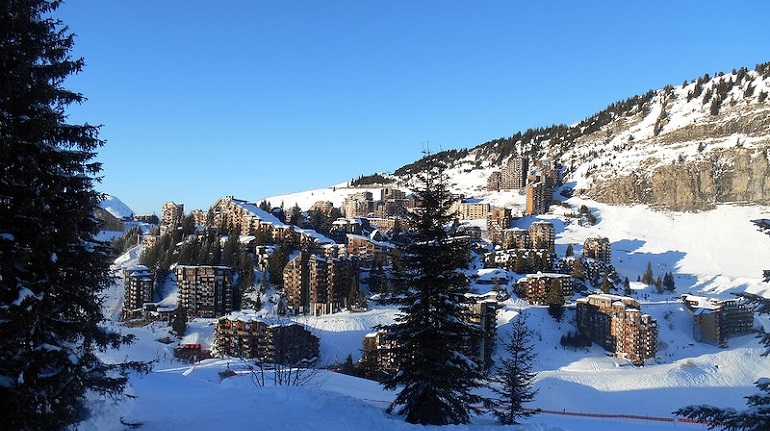 Pros
Luxury thy name is Crystal Peak Lodge! To ensure your vacation is super relaxing, this place offers everything from fully equipped kitchens to hot tubs and from grocery delivery to a comfortable jacuzzi.
The ski-out access makes your trip even more enjoyable. Also, as it is adjacent to the Independence SuperChair Gondola, you really won't have to travel long distances to make the best out of your vacation!
Cons
The staff employed at Crystal Peak Lodge is insufficient. During the peak season, when the volume of visitors augments, the need for more staff efficiency gets visible.
Opening and Closing Dates
Visit this resort in mid-November, as this is when it initiates its fall adventures and extends it all the way to March.
Famous For?
Being away from the town, this place is pretty peaceful, and you can rejoice in the amenities in solitude. After a long day of skiing, it will offer you much-needed calmness. Also, its close proximity to the Peak 7 lift makes it a great spot to stay at!
3. Bluesky Breckenridge
The views this place offers are stunning, and you can feast your eyes on this magnificent skiing place. It offers apartments to visitors, and if you are planning a trip with your folks, this place has the most family-friendly amenities ever!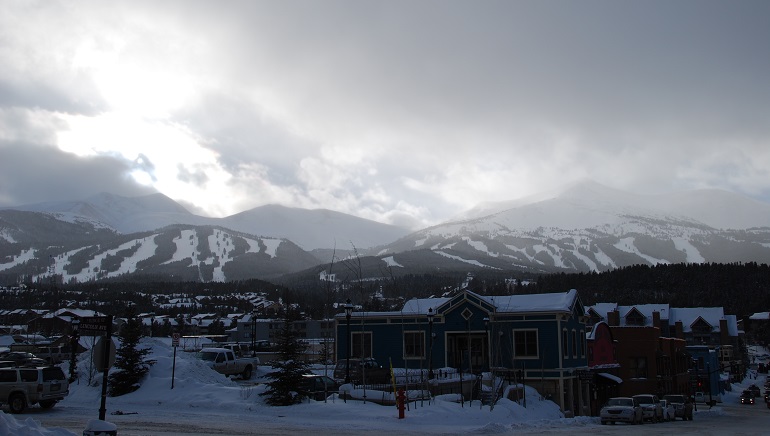 Pros
The main street is merely three blocks away! If you want to shop, you can easily do so. Also, the fitness center is filled with top-notch equipment, while the game zone provides great entertainment to adults and kids.
The ski lifts are within the walking distance of this resort, including the Snowflake Chair and the Beaver Run SuperChair.
Cons
Though it's one of the best ski resorts to choose for your family, it requires a bit of hiking which may not be easy for your little ones!
Opening and Closing Dates
The opening date of snowy adventures is November 11, 2022, while it plans to end by May 30, 2023.
Famous For?
While the on-site restaurant is quite good, other hotels in Breckenridge are also quite famous for their amazing dining experience. If you are craving a good steak, head to the Spencers steak house while, for a full five-course meal, get your bookings done at the Dredge.
4. Mountain Thunder Lodge
If aesthetics really please you, staying at the Mountain Thunder Lodge would turn out to be one of the best decisions you will ever make during the holiday season. The lodge is stunning and is located within pines!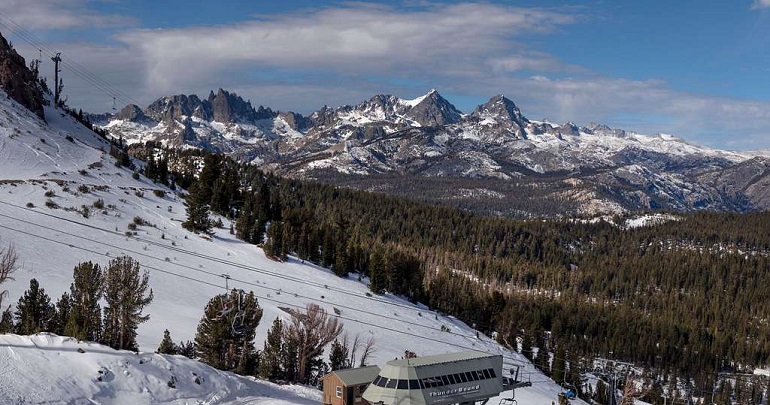 Pros
This ski resort is merely two blocks away from the main street, which makes it easy for you to stroll and explore the area. Also, just two hundred meters from it is the BreckConnect Gondola, giving this place a perfect location.
Outdoor pools, soaking tubs, a dry sauna, gourmet kitchens, and nearby restaurants are a few of the amenities it offers. Also, the rooms are always fresh and clean, making this place really family-friendly.
Cons
The lodge doesn't offer indoor air conditioning or ceiling fans. Hence, if you visit it during summer, you would have to find other cooling options!
Opening and Closing Dates
Mid-November to Mid-May is the excursion duration for the Mountain Thunder Lodge.
Famous For?
This lodge offers extensive options to tourists. Depending on your budget, you can find a pick among the condos, studios, and townhomes. No matter which option you select, you will definitely be welcomed by spacious rooms and top-notch services.
5. Marriott's Mountain Valley Lodge
Looking for pet-friendly ski hotels is quite a task! However, if you can't travel without your four-pawed companion and want to take him along to the mountains, get bookings for the Marriott's Mountain Valley Lodge, as it is a great pet-friendly place.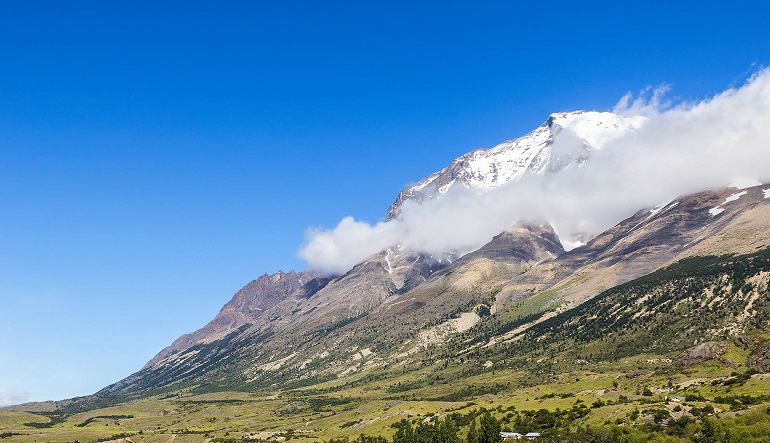 Pros
You can take along two domesticated pets, however, you'll have to pay some extra charges for having them with you.
This Breckenridge ski resort offers skiing lessons for both beginners and advanced skiers, as well as excursions to local hot spots for non-skiers. It's just 4.8 miles far from the Breckenridge ski spot.
Staying here will give you access to full kitchens and you can prepare meals for yourself as well as your pet conveniently!
Cons
The on-site parking is not free! If you are taking your own vehicle along, you'll have to pay around 20$ on the daily basis.
Opening and Closing Dates
The Marriott Breckenridge hosts the adventures during the winter season as soon as November starts and extends it all the way to the end of May.
Famous For?
Marriott Breckenridge is located at a great spot as it's pretty close to a lot of tourist destinations, including the Hoosier Pass, Blue River Sports area, and The O2 Lounge.
6. Beaver Run Resort & Conference Center
For spectacular mountain views and stunning trails, the Beaver Run Resort & Conference Center is a great choice as its located right in the heart of the mountain. Friends traveling to this spot would love to know that it's close to the golf course, and you can have a competition amongst each other anytime!
Pros
Some of the best restaurants are located in great proximity to this place. Swiss Haven Restaurant and the Mi Casa Mexican Restaurant and Cantina are within a walking distance.
Want to relax after a hectic ski activity, get a comforting massage at the spa! Or, want a quick workout before joining the group of snowboarders? Head to the fitness center within the resort.
Getting here for travelers is pretty easy. The Denver international airport is only a 120 min drive, and for that, you'll get a free shuttle from the resort.
Cons
I feel like having balconies with the rooms would have been a good idea! To enjoy a good view of the mountain right from your room, it is a MUST!
Opening and Closing Dates
The resort initiates the adventures on November 10, 2022, extending them until May 15, 2023.
Famous For?
The Beaver Run ski resort is close to a lot of amazing tourist spots, including the River Walk Lawn, the Carter Park Sled Hill, Frisco Historic Park, and the Dillon Marina Park. While visiting these spots, you would love to soak in the beauty of Baldy mountain.
Final Thought
Most of the lodges offered at Breckenridge are not only close to the main street but also offer a ski concierge to let you plan the ski trip efficiently.
If you really want to make the best of this trip, make sure to visit the downtown shops, bars, and private dining spots after you're done with the cross-country skiing adventure.
Related Guide: