Have you ever taken a liking to a sport but no matter how hard you try, you just can't seem to have a good grip on it? Then you sit and think, "maybe I'm the problem!"
Well, let me stop you right there! Sometimes, it's just not you! It's the wrong equipment that's not your cup of tea that's making you doubt your skills.
When it comes to water sports, paddle boarding specifically, choosing the right equipment is crucial in making or breaking your experience and love for the sport. So when choosing a paddle board, you've got to make a carefully calculated decision.
Inflatable paddle boards are my favorite because of their practicality, durability, and portability. They are also among the most shopped-for boards in the market for those exact reasons.
Today's review is about one specific board with outstanding performance and features; the Bote Breeze Aero Inflatable Paddle Board.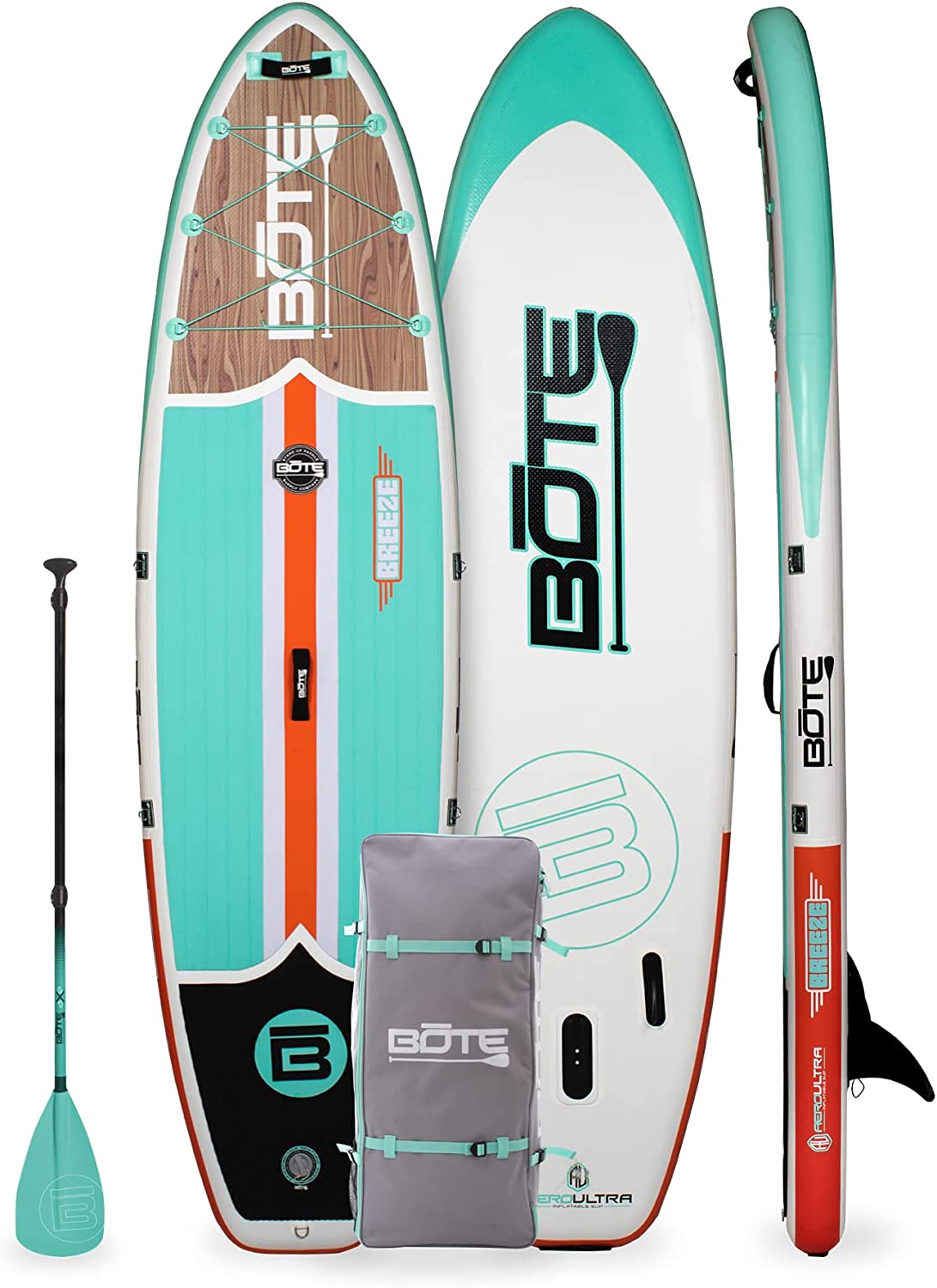 Overview of Bote Breeze Aero
The Bote Breeze Aero is easily one of the best-selling paddle boards and an instant fan favorite. Although it's a super lightweight board, it is designed with simple bungee straps and a highly durable and stable deck space that suits both beginners and experts.
Bote is known always to manufacture the finest paddle boards, but this model specifically is put together with all the best features avid paddlers would want. In addition, it is available in 2 different lengths, and you get a different package of accompanying accessories with each type.
For me, possibly the best feature of the Breeze Aero is its weight which stops at only 20 pounds (the 10'8 model). This was not only insanely convenient for me when shifting locations, but also, after a long day of paddle boarding, no one wants to lug a heavy board back to the truck.
Read ahead if you're looking for a detailed sup review on one of the lightest paddle boards in the market as of now.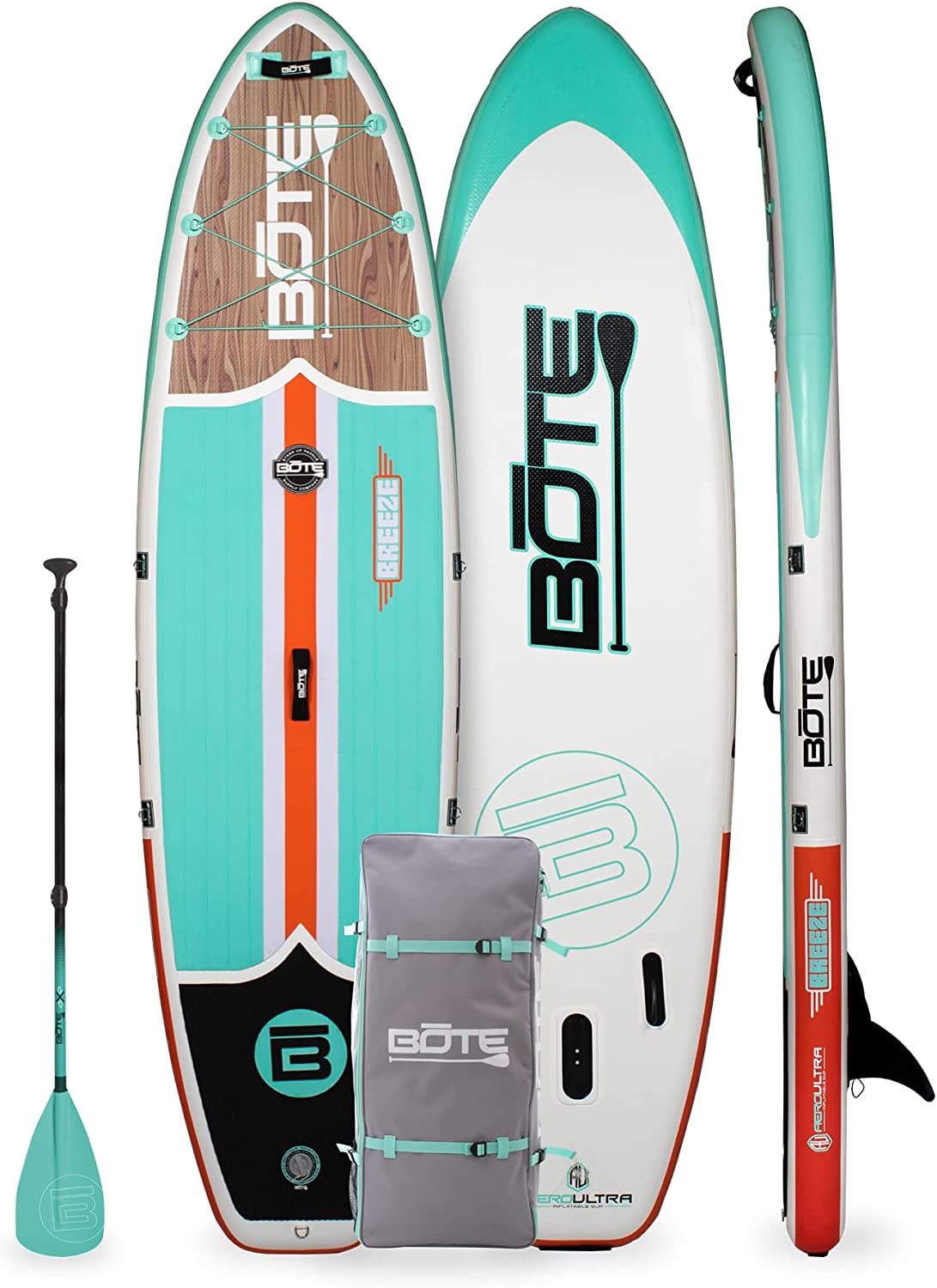 Breeze Aero 10′8″
The Price of "Breeze Aero 10′8″" varies, so check the latest price at
BOTE Breeze Aero Inflatable Paddle Boards: Spec Chart
Board Type: Inflatable
Length of Board: 10 foot 8 inches / 11 feet 6 inches
Width of Board: 33 inches
Thickness of Board: 6 inches
Board Weight: 20 lbs (10'8) / 22 lbs (11'6)
Maximum Weight Capacity: 250 lbs / 315 lbs
Optimal PSI: 10-15 PSI
Material: BOTE Aero Ultra Technology
Travel Bag Dimensions: 38 inches (L) x 18 inches (W) x 12 inches (D)
Fins: Detachable center fin, 2 non-removable side fins
Paddle: Adjustable 3 piece
Warranty: 25 months
Who Is the Bote Breeze Aero Paddle Board For?

Perfect for beginners, the Bote Breeze Aero offers a variety of features that accommodate and adhere to the needs and requirements of a newbie paddler. For starters, the stability that this board offers is a real treat, as the biggest issue amongst learners is the fear of tipping into the water.
I enjoy a secondary presence with me when I hit the waters. It's both enjoyable and nice to have some pleasant company. The Bote Breeze Aero excels in this area specifically as the deck space is wide enough and sturdy to handle two presences.
So, even for intermediate paddlers who have mastered the art of balance on their paddle board and are interested in bringing a friend along, the Bote Breeze is your perfect specimen. The first time I tested this great paddle board feature, I decided to team up with my pet dog, and the board proved to be reliable and super comfy.
I experimented with the Bote Breeze Aero a lot to see how far its limits can be pushed. And it turns out the answer to that is…pretty far!
The Breeze Aero performed remarkably when I took it out for a yoga session on a slightly bumpy lake (yep, that's my kind of therapy), so if you're into that kind of thing, then this two-person inflatable paddle board should be your choice!
In-Depth Review of the BOTE Breeze Aero Stand-Up Paddle Boards
Mentioned below are the features specific to Bote Breeze Boards.
Design

The Bote Breeze Aero 10'8 earned much praise for its design. Set apart from the cliche models that generally litter the market, you can purchase it in two different colors. Both took me by surprise!
I was swept away by the Native Eclipse color incorporating a symphony of pleasant and calm colors. Most of the board is bathed in a pretty matte teal shade with bright orange strips strategically placed in the middle of the board, where they stretch to the nose and dissolve into a beautiful medley of blue, orange, and teal.
However, if you're interested in a less flashy selection, the Classic Teak color it comes in would suit you perfectly. The deck pad is majorly robin egg blue with a light orange strip right in the middle that stretches up to the nose, where it is met with a rich Teak wood color that maps out a wooden texture.
Stability Rating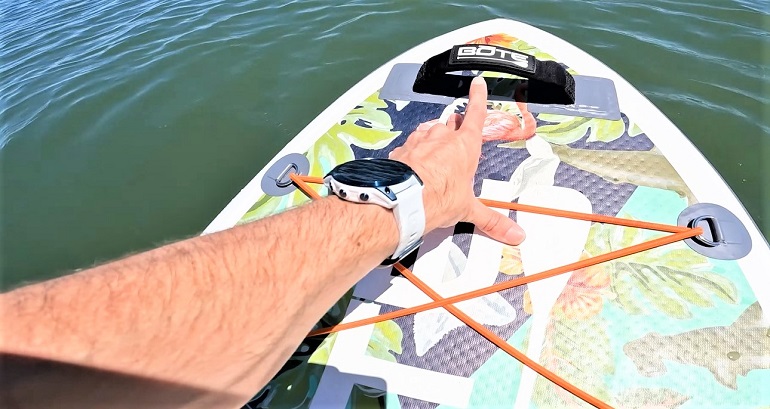 When testing out the smooth glide of this durable board, I tried it out on flat water and bumpy water where some wind was involved. And surprise…the Bote Breeze Aero performance didn't drop even a notch.
Where the winds reached up to 15 miles an hour, the Bote Breeze Aero paddle board didn't show any noticeable changes in its performance. It is constructed smoothly and strongly to ensure that no choppy or bumpy waves disrupt your smooth ride, whether on flat water or not.
I dared to glide a straight line into some oncoming waves and observed that the paddle board seemed to almost absorb (and practically swallow) the shock and oncoming motion pressure. This way, I felt minimal shakiness or disturbance in my position atop the stable board.
In addition to that, movement from over the board (not just from the water underneath) was well balanced too. My pet dog was a bit restless once the paddle board headed towards the bumpy waves, and his scurrying back and forth didn't negatively impact the stability.
Although I chose the 10'8 Bote Breeze Aero, there is another variation of 11'6 length. Undeniably, a longer paddle board will be more roomy and comfortable for traveling long distances, but the shorter Bote Breeze didn't skimp on stability.
Weight Capacity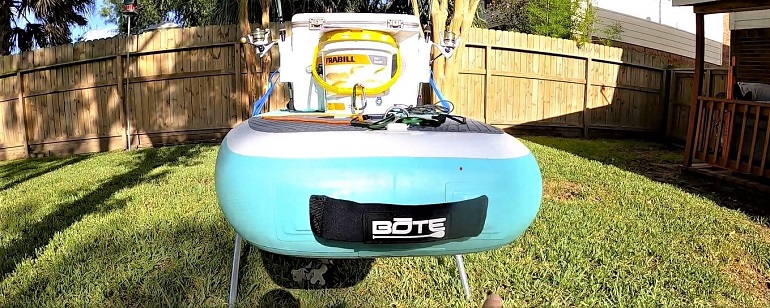 The Bote Breeze Aero weighs only 20 pounds but can handle a maximum weight capacity of up to 250 pounds. Yea, if you did a double take on that…so did I!
It's truly a wonder how this inflatable board works because it packs all the features and specifications you want in a board. Although this weight capacity was more than enough for me and my pet, there is another option for those looking to maximize this limit.
The 11'6 Bote Breeze Aero paddle board can withstand more than 300 pounds. Moreover, it is advised by the lovely folks at BOTE that if the rider's weight is within 50 pounds of the maximum weight range, it is advised to upgrade to one with a bigger capacity.
Basically, if you, your gear, and your optional partner total up to 200-210 pounds, then you should probably go for the 11'6 Bote Breeze instead of the 10'8.
Maneuverability
I was fairly impressed with the quick response of the Bote Breeze Aero to the slightest turn navigation. The center fin, paired with its tapered nose, gives the paddle board a cutting-edge feel over the water.
From personal experience, the accompanying paddle is a tad bit heavy compared to the lightweight board. However, with its ABS edge blade, the paddle has made up for the heaviness as it is quite durable and ready to withstand a ton of usage.
Also, the heaviness of the paddle didn't in any way interfere with or reduce the quality of the ride experience, so it wasn't much of a deal breaker. The board's maneuverability wasn't impacted by any choppy or bumpy waters in the same way that the stability proved to be a real rock in all conditions.
However, it is worth mentioning that when I placed all my weight on the center of the board and made a turn on fairly calm waters, the Bote Breeze Aero board proved to be a bit slow. But then again, that is normal with every board, so I didn't put much hope in this aspect.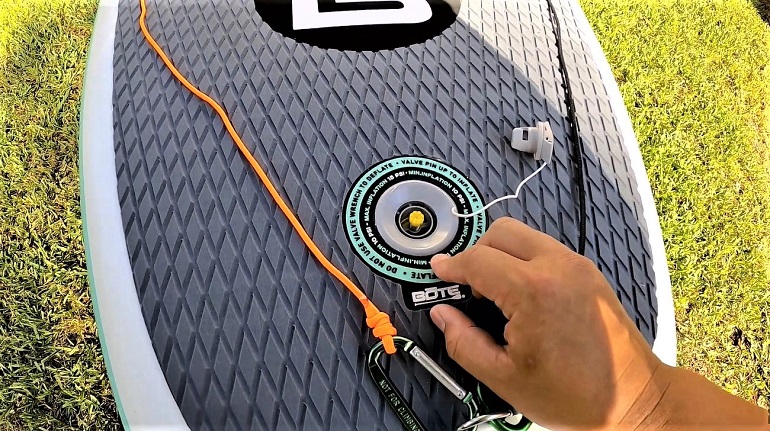 Another winning factor about the Breeze Aero is the surface padding at the rear of the board, which makes a huge difference in turning. As it provides a strong grip to the feet when stepping on the rear end, I could maneuver myself in the direction I wanted, even when broadside to the wave current.
On that note, it is important to point out that although the Bote Breeze is not the fastest inflatable paddle board on the market…it is very responsive to the touch.
Construction Quality
Bote boards have always proven themselves beyond measure when it comes to material and construction quality. The Breeze Aero is constructed from patented AeroULTRA technology, a signature original BOTE company special.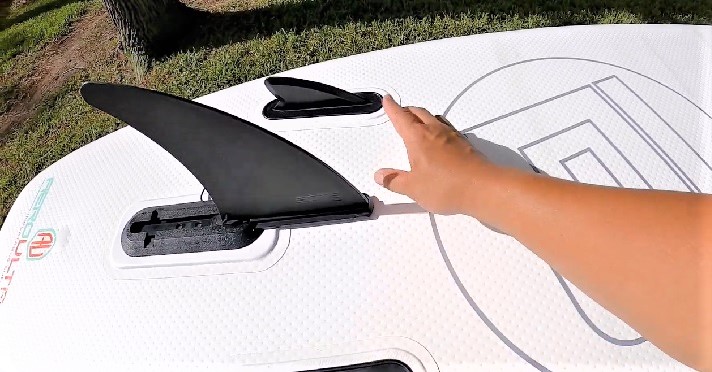 The company has commented that the Breeze Aero is its best creation due to the advanced construction AeroULTRA technology. Incorporating military-grade PVC with composite drop stitch technology produces an end result that is a lot sturdier than other paddle boards that weigh a lot more.
The composite drop stitch production makes all the difference in determining how sturdy and withstanding the board is.
Board Stiffness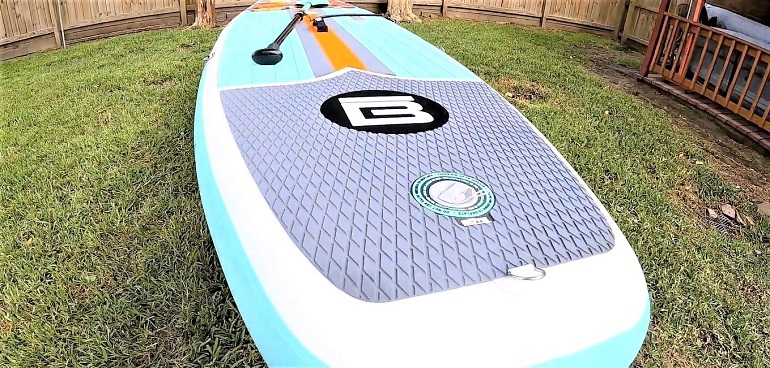 I know this question is at the back of everyone's mind when it comes to inflatable paddleboards. The Bote Breeze equally perked up the question in my mind because even though it may have all the equipment and features…where's the catch?
The board's stiffness is an important question because it determines what kind of stable board you are in for. To determine the firmness of this Bote Breeze stand-up paddle board, I ran an at-home stiffness test (which is super easy).
Basically, it requires two blocks of weight (I used paddleboard food coolers) placed at an adequate distance apart to balance the nose and tail of the board. Then you stand on top of the board and check to see just how much it bends.
Usually, 20 PSI boards barely bend, while 10 PSI boards bend the most. However, the Bote Aero Breeze inflatable paddle board performed really well for Bote boards in its price range. Hell, all other entry-level boards perform poorly on this test.
Certainly better than the 15 PSI Amazon knock-off brand paddle board that I first bought when I was only a novice. Don't ever make the same mistake as me!
Ease of Transport
With an inflatable SUP, you don't have to worry about carrying the whole board atop your head like a farmer transporting water from the village well. Inflatable SUPs can easily be deflated and stashed in your storage bag. And luckily, the Boto Breeze inflatable paddle board comes with its own compact bag.
Made of high-quality, durable fabric, the bag is well-suited for all body types and is comfortable and snug on the shoulders. It is also relatively roomier than expected because I had lots of room left to stash my personal gear even after packing up the inflatable SUP.
However, when looking at how convenient the Boto Breeze inflatable paddle board is to carry around when fully inflated, it barely feels like a chore. You can find front, rear, and center handles to assist you in handling the Bote Breeze.
Besides that, there are also D-rings on the sides of the stand-up paddle board that you can use to attach a shoulder strap (personally, this is my favorite way of transporting my Bote Breeze). But then again, whichever way you carry this board around, it will be fairly easy because it is the lightest paddle board ever.
Paddle Board Accessories: What Comes With the Breeze Aero?
This paddle board comes with the following accessories.
Paddle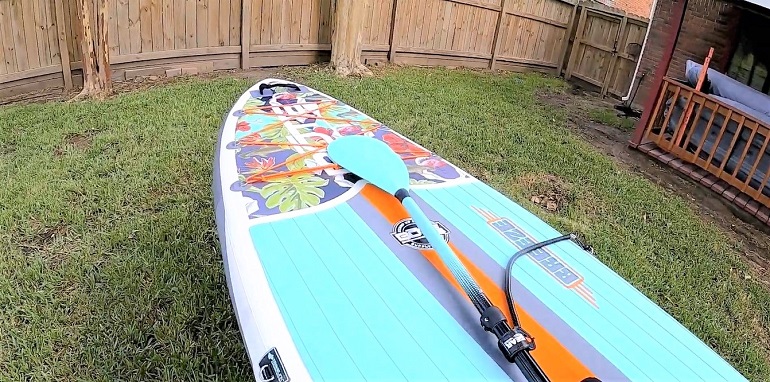 Included with the Bote inflatable SUP is a 3 piece adjustable paddle that has received mixed reactions from other users. In my opinion, it is a pretty nifty and useful part of the kit, even though it is considered a bit heavy than other paddle board equipment.
The paddle could've been lighter for a basic kit in this reasonable price range, but thanks to its ABS edge blade, many have forgiven that. During my rides on this inflatable SUP, I didn't feel like the paddle was heavy, but maybe it depends on experience and exposure to the sport.
For some beginners and intermediate paddlers, this may feel a bit large out of all the accessories, but it's nothing a bit of practice on how to hold the paddle can't fix.
Bag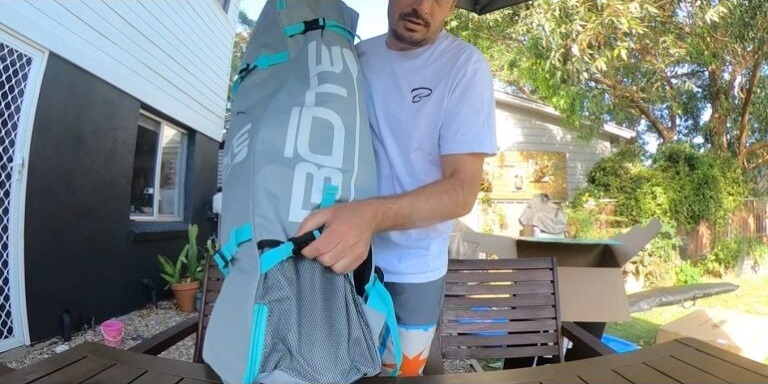 I've mentioned the bag before, and it's because of how cool it is that I'll mention it again!
This solid bag is comfortable on the shoulders even though the straps lack padding, but the stitching is noticeably well done. The Bote inflatable SUP fits in it easily and leaves much room for additional items and gear you want to bring along.
It's obvious that the fabric for the bag was carefully chosen because of its resistance to moisture and maintaining its sleek look even when wet. If I could change anything about the bag, it would be adding more pockets, as there is only one main pocket for additional gear.
Nevertheless, there are side straps for placing the hand pump or electric pump you use to inflate the board. It also has a smaller mesh pocket for any smaller gear or maybe a smaller electric pump you have that you wouldn't want to lose in the hubbub of the main pocket.
Pump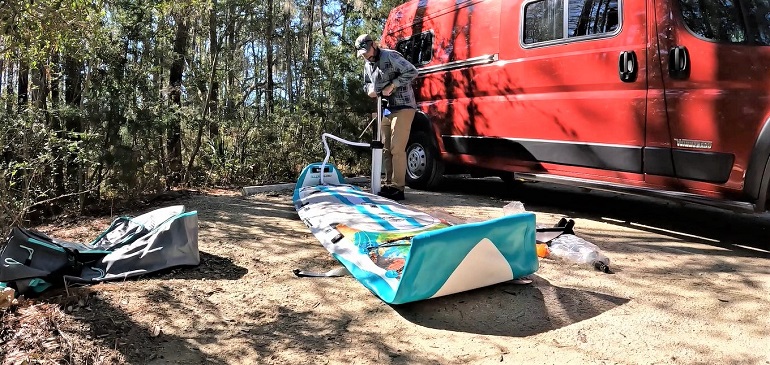 It might come as a relief for some beginner paddlers that the Bote inflatable paddle board comes with its own pump, but it didn't impress me like the rest of the accessories.
The BOTE inflatable SUP comes with a single chamber dual stage pump which is a bit of a letdown. Many other brands have long since upgraded their accessories to the dual chamber 3-stage setup. 
The upgraded pump is essential in allowing smaller boards to reach the last few PSI units that are otherwise not achieved by an outdated pump system. Basically, the older pumps (like the single chamber) can't fill up the inflatable SUP to its recommended limit leading to a bit of a drab, deflated outlook. In that case well recommend the electric SUP pump to get the job done!
Other Accessories Include
The accessories include one repair kit and one removable large center fin, but I was mainly interested in the three-fin setup. Since the board already has two small permanent side fins that greatly aid its stability, a removable fin truly felt like it perfected the equation.
Not only is it fun to install the center fin onto the strong military-grade PVC body of the board, but it also makes a substantial difference in the maneuverability and control of the boat.
However, I would've loved an ankle leash in the accompanying equipment.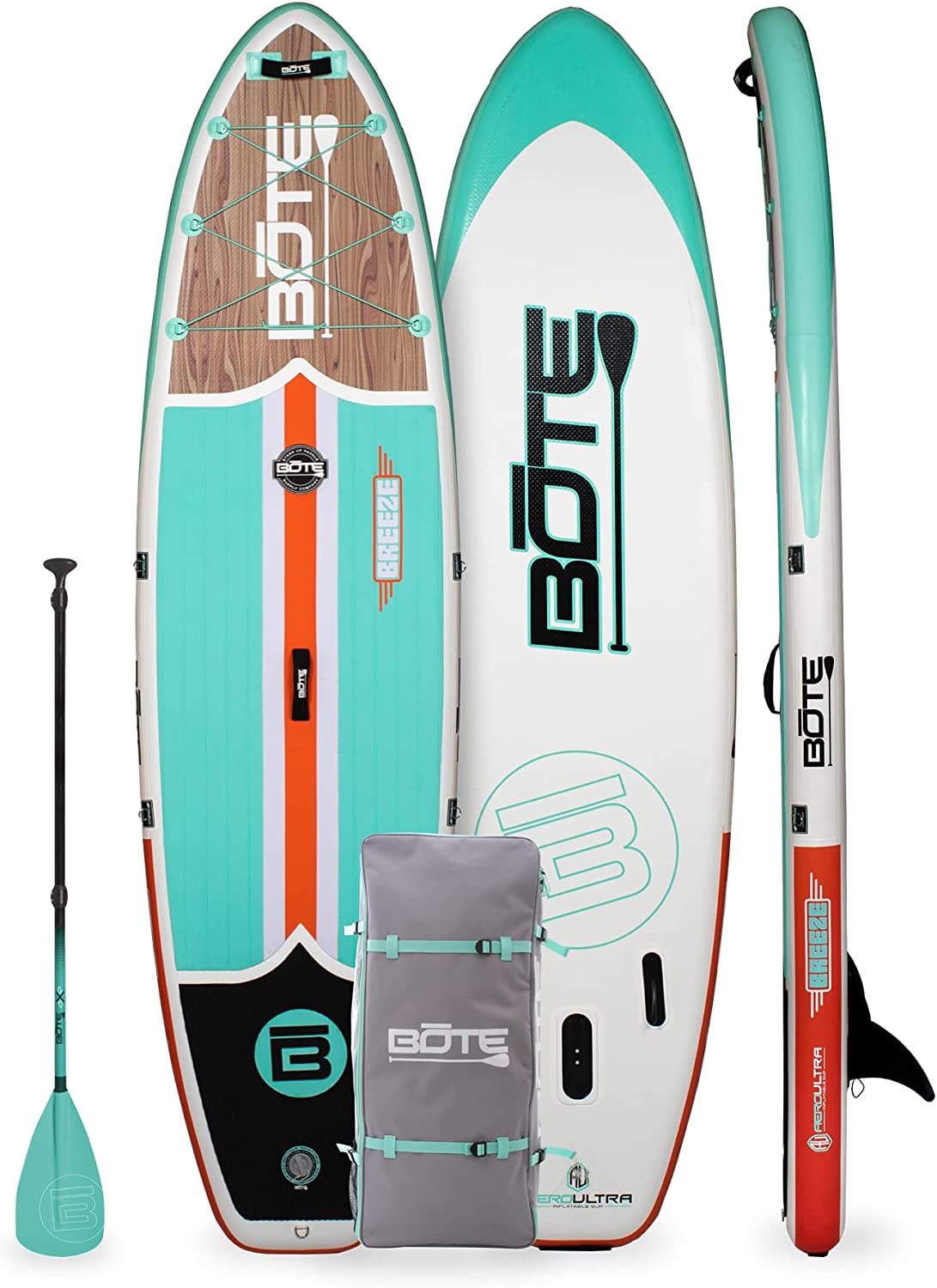 Breeze Aero 10′8″
The Price of "Breeze Aero 10′8″" varies, so check the latest price at
Summary Review of the BOTE Breeze Aero
I always tell my friends to read a bunch of reviews for the model they've decided on before making a final purchase, so I sincerely hope all of you paddlers and enthusiasts found this Bote Breeze Aero review to be helpful and useful in guiding you toward deciding on whether to buy this model.
In general, this model's sleek shape, cutting-edge design, and quick maneuverability guarantee you an adventure and your money's worth, particularly for novices!
But professionals and advanced paddlers also have a lot to say about the Bote Breeze Aero review and how it might be improved (like, e.g., cooler tie-down points)
But overall, my Bote Breeze Aero review ends on a pleasant note with the fact that this model is compact, easy, and worthwhile. It got me hooked!