This all-mountain true twin is Never Summer's no. 1 selling board, year after year.
10 years after creating the Proto CT, the Never Summer Proto board series became the fastest-selling of all time.
There's no need to wonder why and you'll not even need more than a few runs to understand that…
It is such a versatile board, and it's got so many useful technologies incorporated into it!  
The most impressive of these technologies is the Shockwave Rocker Camber profile, which has even longer camber areas for maximum pop and a stable ride.
With a core made from different woods and some remarkable graphics, this snowboard is a pleasure to ride and watch.
The Harmonic Tip/Tail Damper increases the board's stability at high speeds, in different snow conditions, and on landings. It doesn't affect pop, however.
Moreover, the exclusive and durable Durasurf XT Sintered 5501 Base is Never Summer's fastest base.
So, there you go: so many reasons to choose this board as your new companion!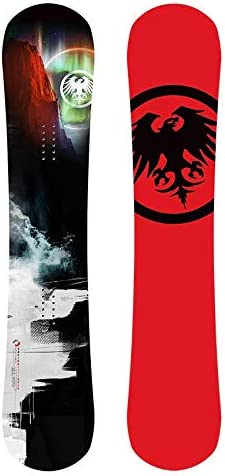 Never Summer Proto Synthesis
The price of "Never Summer Proto Synthesis " varies, so check the latest price at
Who Would Ride Never Summer Proto Synthesis?
An advanced rider, maybe not even an upper-intermediate one, but a snowboarder that would be close to being labeled 'expert'.
It comes both in Men's and Women's design, which is great because we can all enjoy its benefits and improve our riding style.
'All-mountain freestyle snowboard' is the goal, and it lives up to it.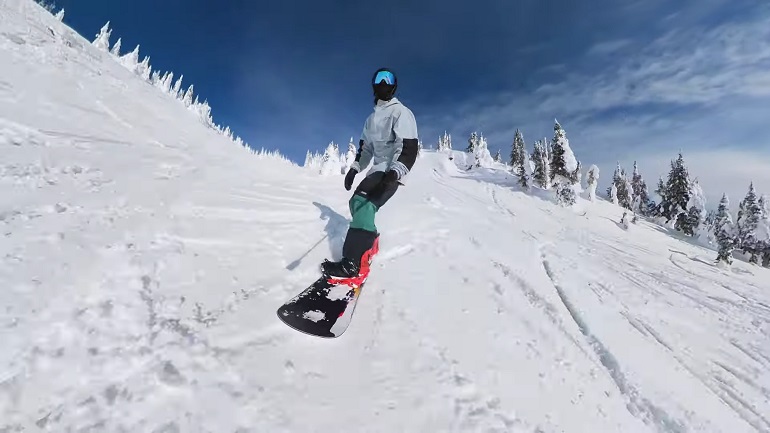 It has a centered setback stance, and the effective edge is slightly longer on the Proto Synthesis.
Snow park, piste, even powder runs in the backcountry and fast-carving turns – the Synthesis does them all.
It shines brightest when you turn your piste ride into a park ride because it excels at jumps, spins, and the like.
The Proto Synthesis features the Shockwave profile, which is arguably the most massive store of energy in any snowboarding profile.
This combines a small Rocker between the bindings with strong Camber areas to the contact points at the tip and tail.
There are five contact points altogether between nose and tail, providing better pop and even more stability than hoped for, with added edge control and great power transmission. 
The snowboard also comes equipped with the Power Grip Sidecut, the biggest advancement in snowboard edge technology.
The Bi Lite Fiberglass combines many of the strength features of Never Summer's STS fiberglass with an ultralight glass fiber matrix. This leads to incredible freestyle and the best freeride snowboard performance without sacrificing durability.
To sum up, freeriders of different styles may enjoy riding the Never Summer Proto Synthesis.
More aggressive riders and more playful ones will equally feel drawn to take this board down the mountain.
Demo Details: Never Summer Proto Synthesis
How did Never Summer Proto Synthesis snowboard do?
Continue reading for the facts* about the demo and, of course, the finds**!
*All the elements were based on my height, weight, usual ride stance, and ability level.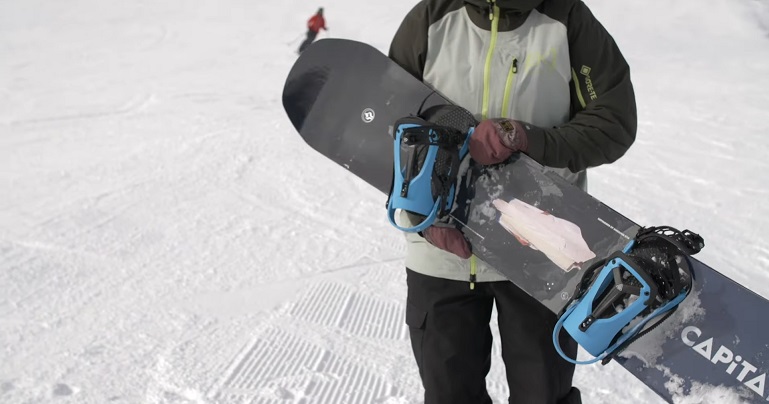 **The following review is designed to compare the features of Never Summer Proto Synthesis and recommend the gear (or not) for performance under certain conditions.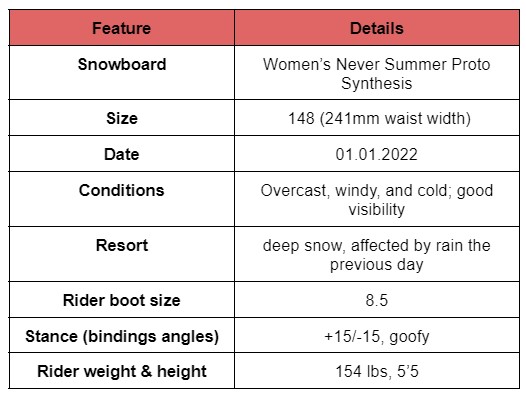 Speed
Not a Speedy Gonzales, but it can handle high speeds well, being very stable through the process.
It is a consequence of the perforated damping system between the bindings, in the Rocker section.
Another positive aspect to it? It is very forgiving, and you needn't worry about catching an edge while you ride down the mountain.
Agile and maneuverable at slow speed.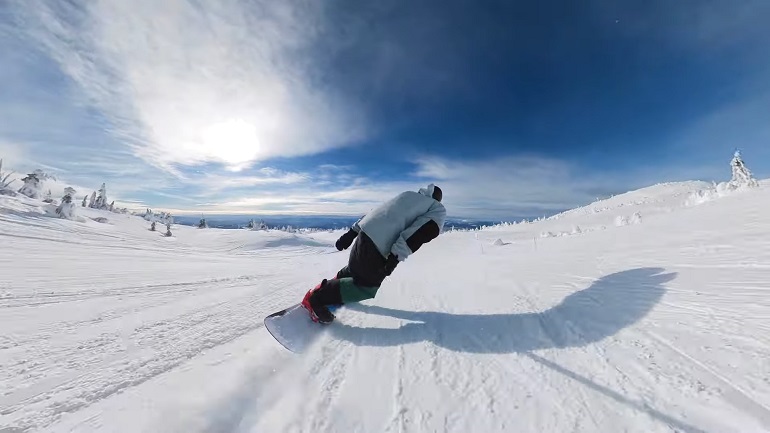 You can negotiate your way through in any terrain – hardpack or mogul skis. It felt good going through bumps.
So, heading off-piste, on uneven terrain, wouldn't be a problem at all.
The Elastomeric Underfoot Stabilizers found directly under the mounting area provide optimal vibration damping and increase stability at high speeds.
Flex & Pop
Medium in terms of flexibility, which is right for all those who love fast rides and stability at landing. It is lightweight, and it pops easily.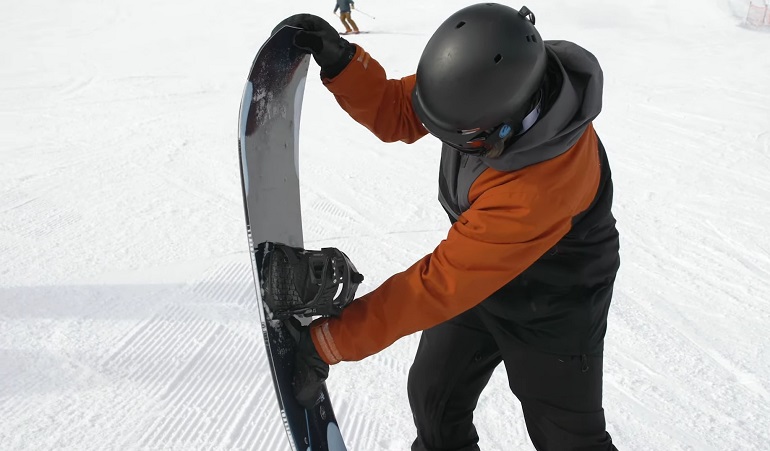 Edge Hold
'Vice-like edge hold' – this is what the board's manufacturer promises you and this is what you do get.
Snowboards are usually delivered ready-to-ride, with a waxed base snowboard and sharpened edges. This factory tuning is, however, not very durable, and you should properly wax all your new snowboards after a few days and maintain them regularly.
Carving & Turning
A nice carver!
It is true, these are not the fastest carves that you'll ever do, but the board does well in this respect. The same goes for turning – there's a snappy feel to it.
Happy with the medium-fast turn initiation – and I know many riders will also be thrilled with this feature!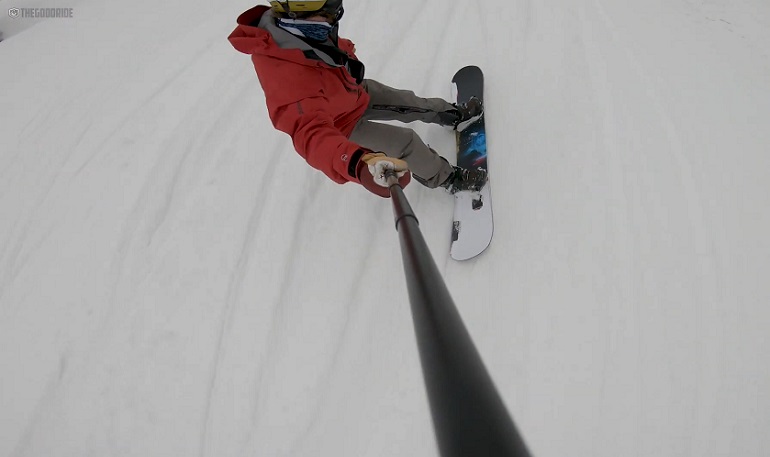 It's a fun and snappy snowboard for carving on a turn. The Synthesis solidly rides sharp turns in tight spaces and longer ones.
Powder & Switch
This is where the weakest point of this board lies, in my opinion.
It is truly a shame (for me and those who love riding powder more than anything else!).
It is not the snowboard for powder riding, but it is perfect for that riding switch! The True Twin shape makes it symmetrical and fully balanced.
My testing conditions were not ideal; coming down the mountain felt like riding a gigantic carpet. I guess that's what happens when the really deep powder gets rained on.
The board works, however (even if a bit harder because it doesn't float), if you choose to play in the shallow powder and make a few turns.
These were not that day's conditions, but it is something to keep in mind and try nonetheless.
In deep snow, however, you will have to put an effort into keeping your nose up.
Butters
Easy to butter.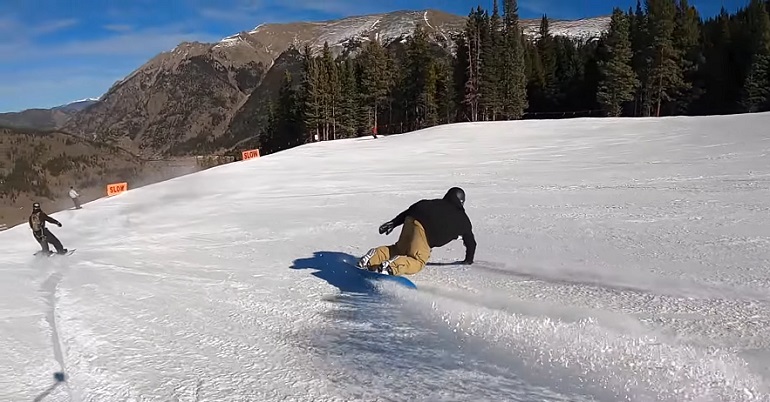 It seemed even easier to butter given the medium flexibility. 
Jibbing
So and so as far as jibbing is concerned (I am not good at jibbing).
It is more suited for the jump line than the jib line, but, all in all, a solid snow park ride. 
Jumps
A good hybrid board for jumps! It may be slightly better for medium to high jumps, but small jumps also go.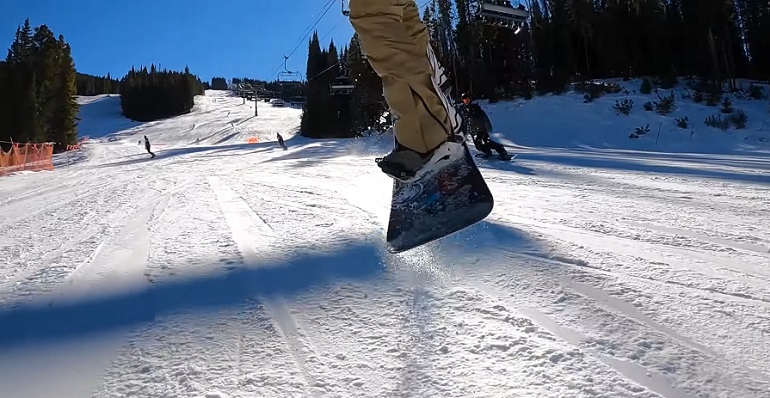 A solid board for spins and landing both switch and normal stance; I could claim that Proto Synthesis is an all-around great spinner.  
 
Verdict: Never Summer Proto Synthesis Review
I've tried to rate Never Summer Proto Synthesis based on my observation and experience:
Feature My Rating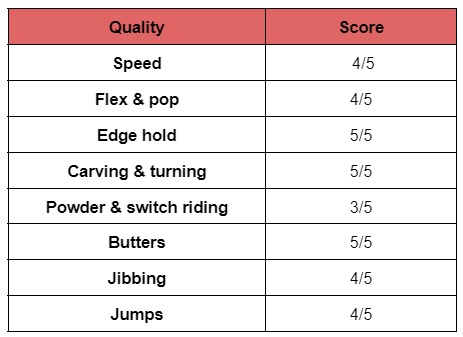 Final Review Score: Never Summer Proto Synthesis 4.25
Conclusion
The conclusion for the Never Summer Proto Synthesis snowboard?
It keeps you in shape.
This versatile board not only makes snowboarding more fun but makes you a better rider.
It can carve, is skidable, and is easy to spin and pop.
Good speed, too, without being super fast and aggressive.
The Never Summer Proto Synthesis was designed for fun all over the mountain, in all terrain and conditions.
Its true mountain twin shape makes it stable whether ridden forward or switch.
From park to piste, from perfect snow to uneven terrain, this mountain board shines, as it is lightweight and quite responsive, with medium to fast turn initiation.
The Shock Wave Rocker Camber helps you get power and performance while mellowing down with the forgiveness of the Rocker Camber profile.
It is interesting what these hybrid profile technologies help you achieve.
While we aren't dealing with a traditional Camber board, it has some features that make the Shockwave Camber profile shine brightest, like the ability to carve hard.
Its NS SuperLight Wood core one is of the lightest and most durable cores in the market, with a perfected medium flex.
The Synthesis is thus a lightweight yet powerful configuration that optimizes torsional stiffness and energy transfer but doesn't compromise control.
What about the price? A bit higher than what you would pay for your usual board.
On the other hand, this isn't your usual board (even naming similar boards is a difficult task).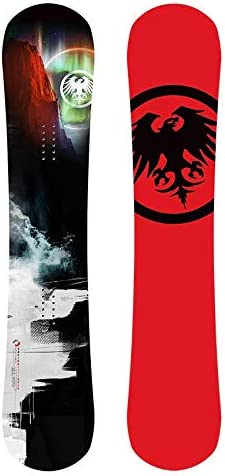 Never Summer Proto Synthesis
The price of "Never Summer Proto Synthesis " varies, so check the latest price at
Would I buy it for myself? I definitely would.
Of all Never Summer boards, this is a board fit for all those who love playing in the snow, experimenting with what the mountain has to offer and challenging themselves and their ability level.
For that, it's one of the best snowboards out there!