What Does 'rear-entry' Mean in Snowboarding?
The world is moving fast. Things are changing fast. Many people appreciate the fast way of living and the pace that seems to gain speed from one day to the next.
Snowboarding doesn't make an exception, and it seems that one of the solutions to streamline it is transitioning from strap-in bindings to rear-entry ones.
Are your eyebrows raised?
That's one way to react, for sure!
You'd no longer sit to adjust your board bindings but stand (maybe kneel). However, their manufacturers promise you'd be ready to go down the mountain in no time.
That is if you're not an entry-level snowboarder and you've become familiar with using the conventional bindings by now.
You may be intrigued! So, I'll continue by delving deeper into the topic, trying to provide my perspective, give you the pros and cons, and ultimately help you decide if this specific snowboard rear entry binding is what you need to purchase.
The Winner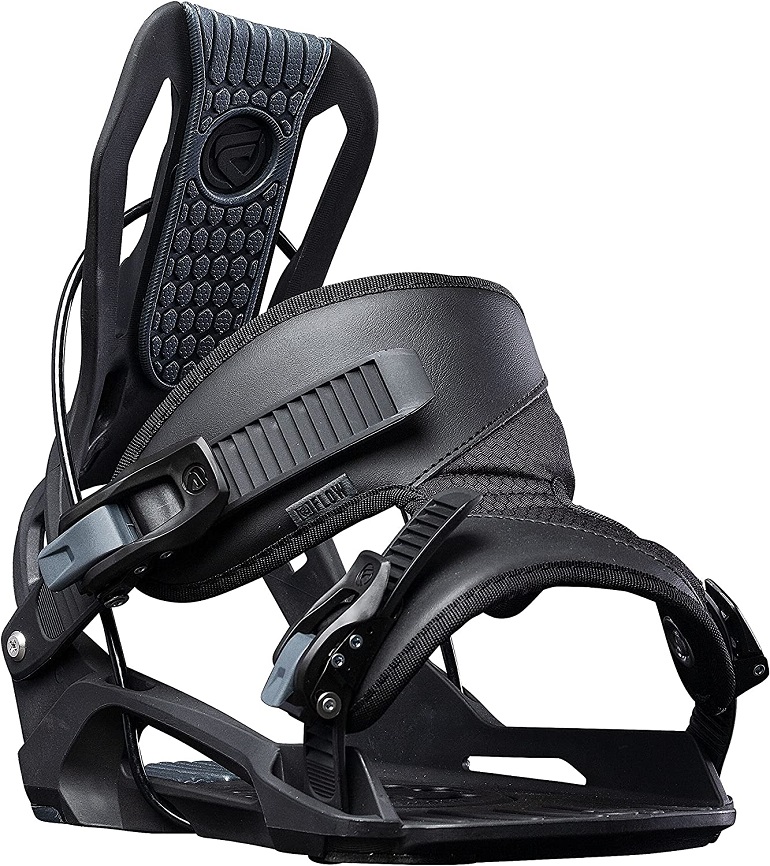 Flow Nexus
Ability Level:

Beginner-Intermediate

Flex Rating:

Medium
Freestyle Friendly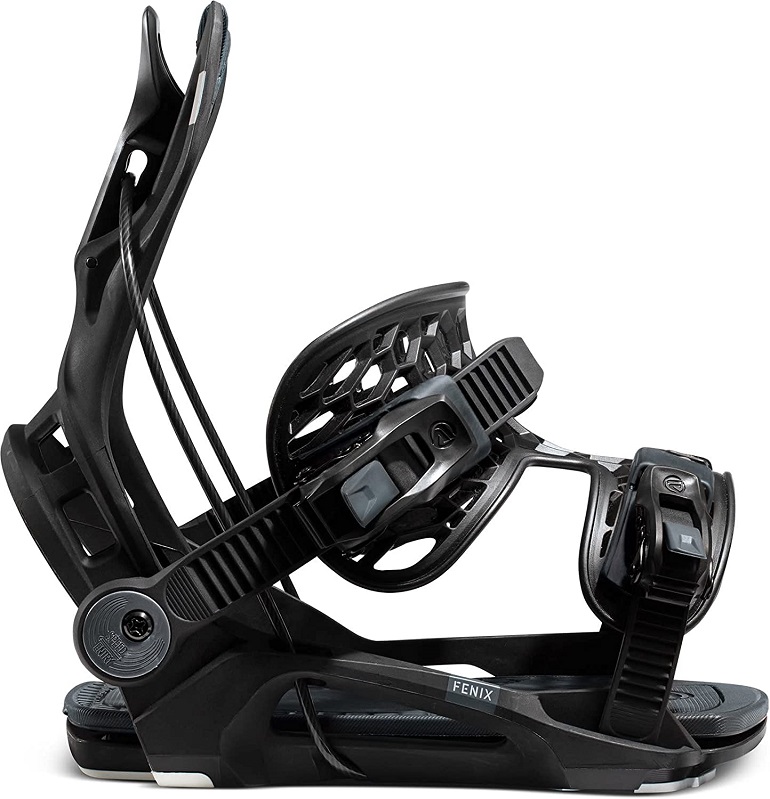 Flow Fenix
Ability Level:

Intermediate-Advanced

Flex Rating:

Medium
Carving Support For Women
Flow Omni Fusion
Ability Level:

Intermediate-Advanced

Flex Rating:

Medium
All-around For Men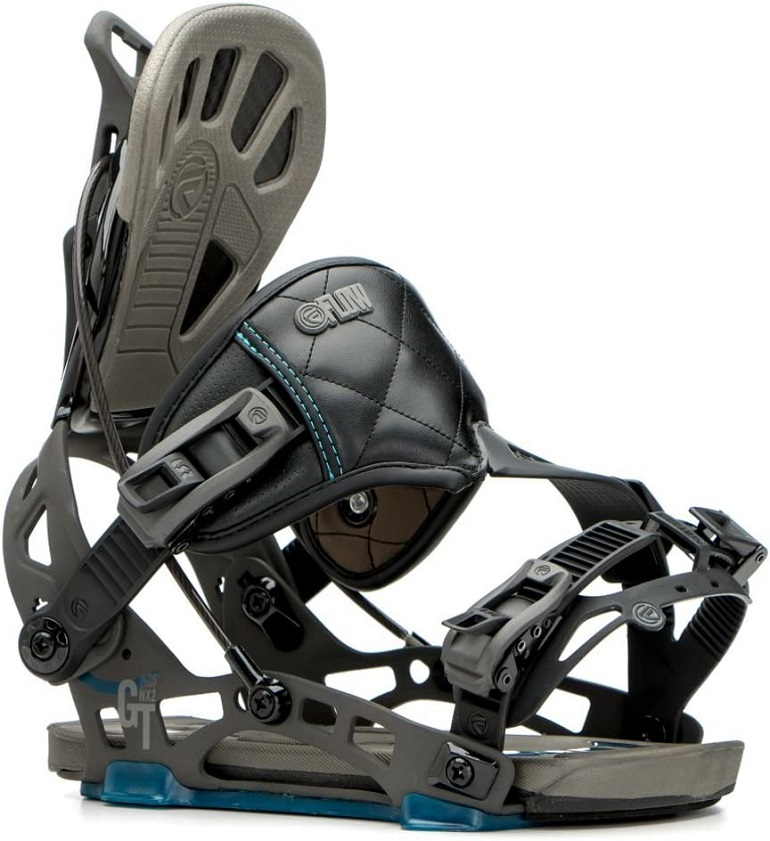 Flow NX2-GT Hybrid
Ability Level:

Advanced-Expert

Flex Rating:

Very Stiff
Forgiving Option For Women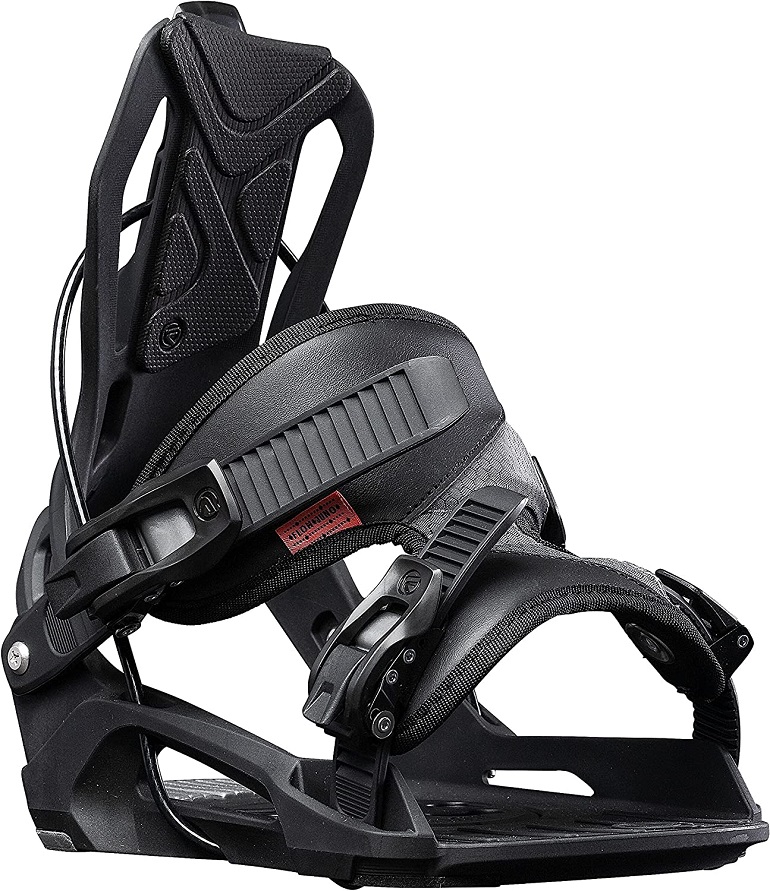 Flow Juno Fusion
Ability Level:

Beginner-Intermediate

Flex Rating:

Soft
Carbon-All-The-Way For Men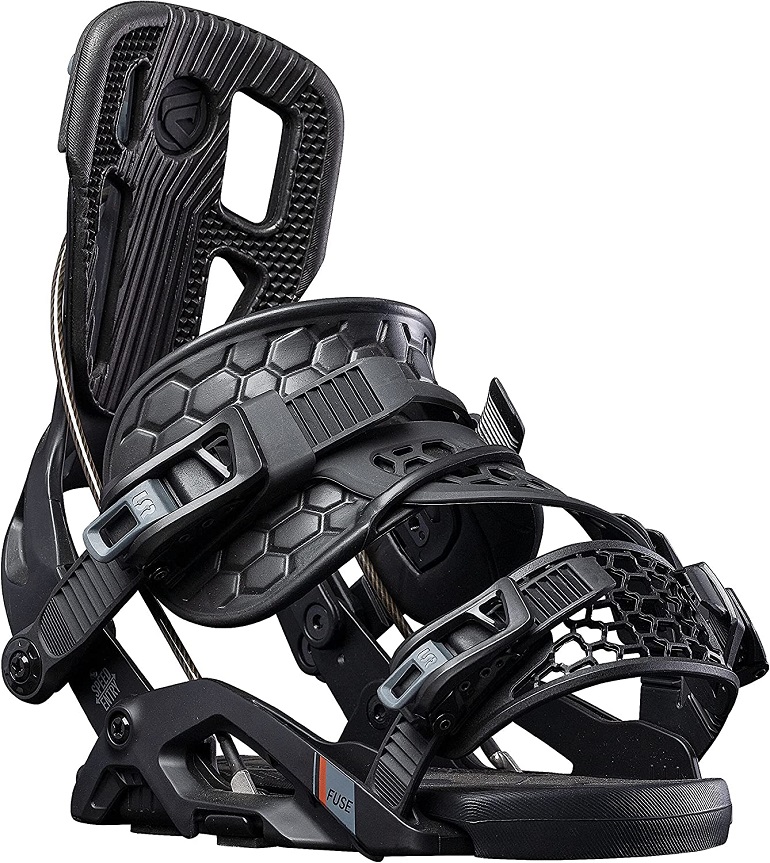 Flow Fuse Hybrid 2023
Ability Level:

Intermediate-Advanced

Flex Rating:

Medium
Selecting Rear-entry Snowboard Bindings
Consider the following two scenarios. You've made up your mind and want to start your snowboarding adventures using rear-entry bindings (consider choosing a softer flex rating!).
You wish to make the transition from strap-in bindings to see if you and them are a match.
Either way, you may find that the following selection of Flow bindings is both interesting and opens new perspectives (we're talking about a huge range of products!).
Which pair of snowboard binding is going to make you feel more secure?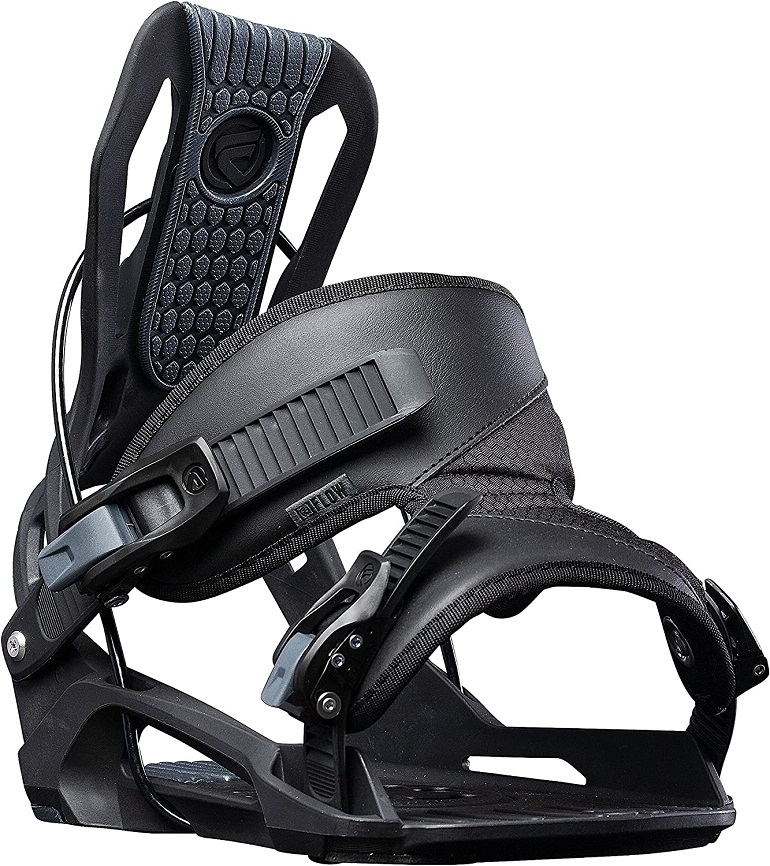 From playful beginners to upper-intermediate riders, the Flow Nexus bindings are optimal for those men and women who snowboard for the fun of it and wish to continue doing it with confidence.
The Fusion PowerStraps and a locking slap ratchet cover a large surface area of the foot and provide more control, consistent fit, and a comfortable ride. The medium flex allows an all-terrain versatility and is the softest in Flow's range.
You'll also find these snowboard bindings very forgiving and versatile, thanks to the axis series baseplate that offers balance to your ride.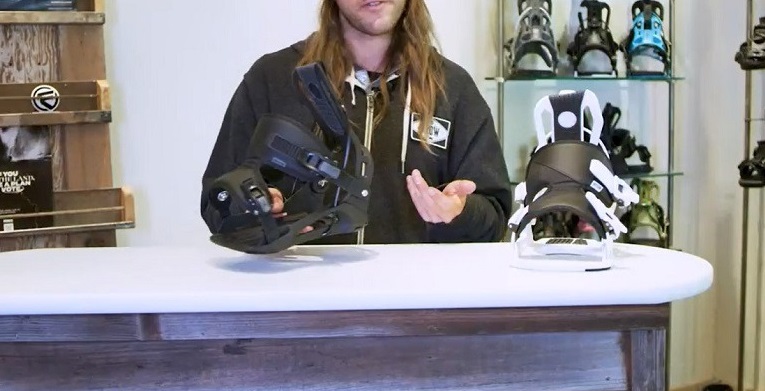 Riders claim that the Flow Nexus bindings may work better for lighter people and that they can be quite fragile (the cable can break unexpectedly, and the screws can come off if too much pressure is applied to the bindings).
The fully-reclining high back is one of Flow's staple features, and the price is right, too. These entry-level bindings are very easy to install and come in very classic black-and-white versions. Will you buy them?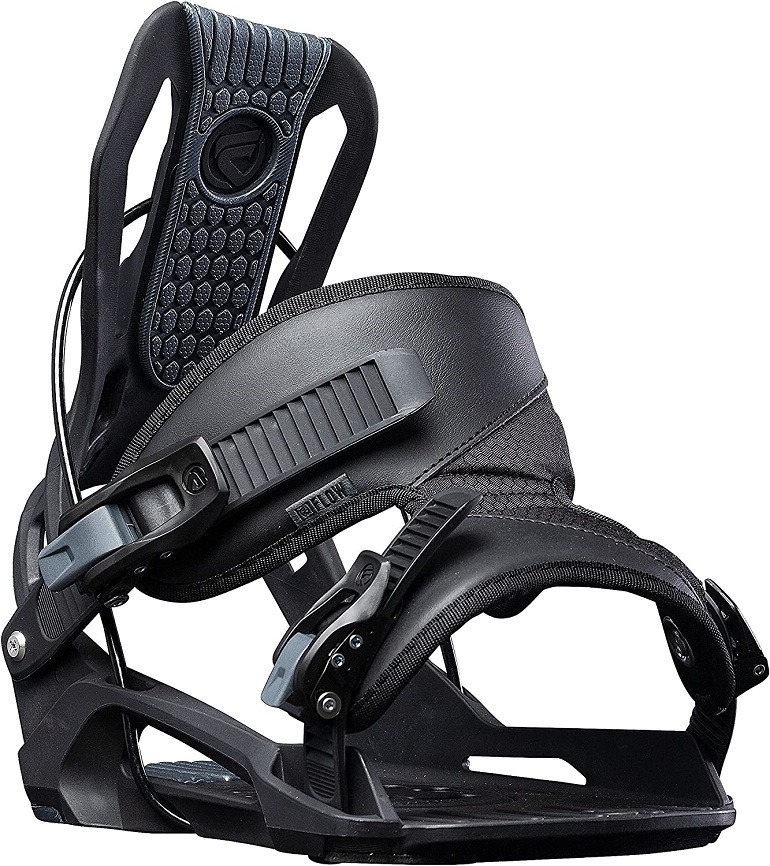 Flow Nexus
The price of "Flow Nexus" varies, so check the latest price at
Quite affordable snowboard bindings, with a medium flex, ideal for intermediate and advanced shredders. No wonder they're best-selling rear-entry bindings!
They can be equally fun to ride in the resort or the backcountry. Constructed from glass-filled nylon, these rear-entry bindings allow lateral movement, supporting freestyle riders in the park, too.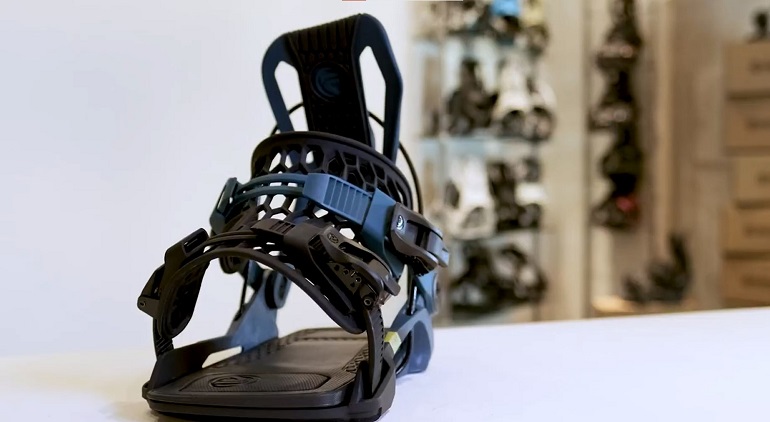 The ExoFrame Fusion Strap consists of one piece of material that hugs more of the boot, with extra comfort and customized fit over the midfoot. They can't soak up water or freeze like straps that include padding.
While a few riders claim that they really wanted to like the Flow Fenix but that the bindings weren't their style (and that the cable broke in the end), most snowboarders are stoked. Did they tick your boxes?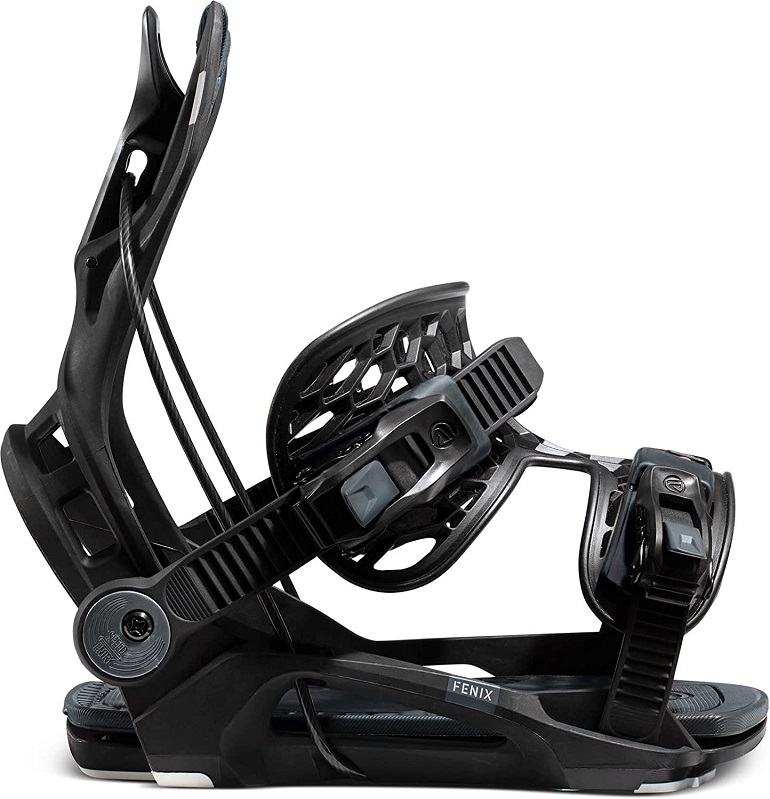 Flow Fenix
The price of "Flow Fenix" varies, so check the latest price at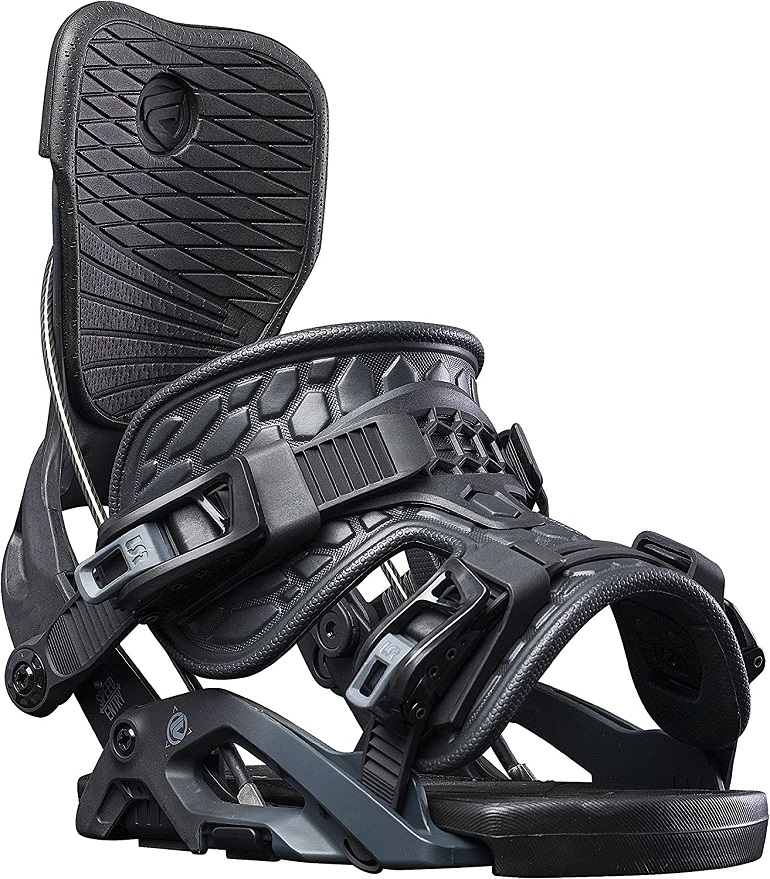 Some snowboarders claim not to feel them while going down the mountain. Others love the better control attained while carving with them. However, others found it difficult to get in and out of the Flow Omni Fusion (the footbed is referred to as too narrow).
We're dealing with a medium flex rating and snowboard bindings perfect for intermediate through advanced riders.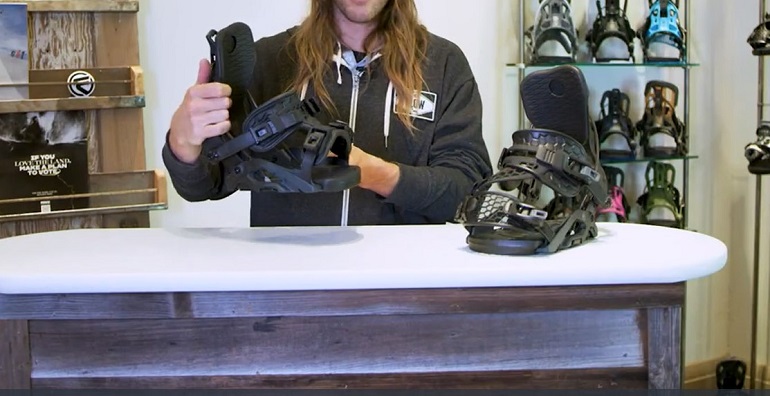 The price may be higher, but these rear entry bindings can work in any snow condition, and they're very responsive. After all, they're Flow's top-of-the-line as far as women's bindings are concerned.
Whether you've got fast turns on your mind or difficult descents where control is key, you should consider this pair of rear-entry bindings. Not to mention the ExoKush material used for the active strap technology, which makes them soft and very comfortable. They also provide flexibility and maneuverability and excel off-piste.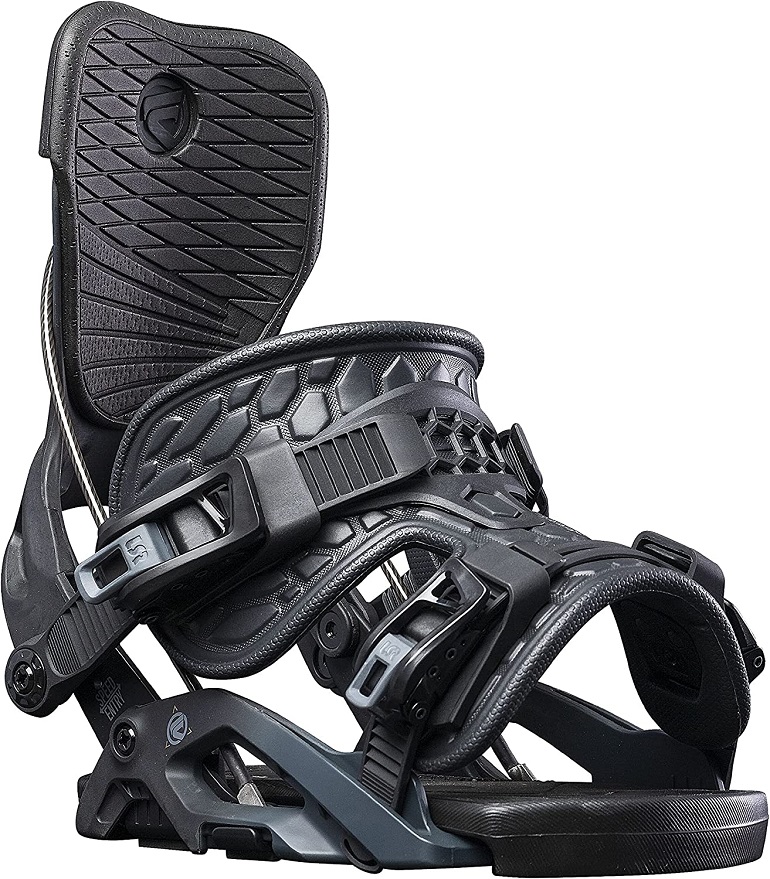 Flow Omni Fusion
The price of "Flow Omni Fusion" varies, so check the latest price at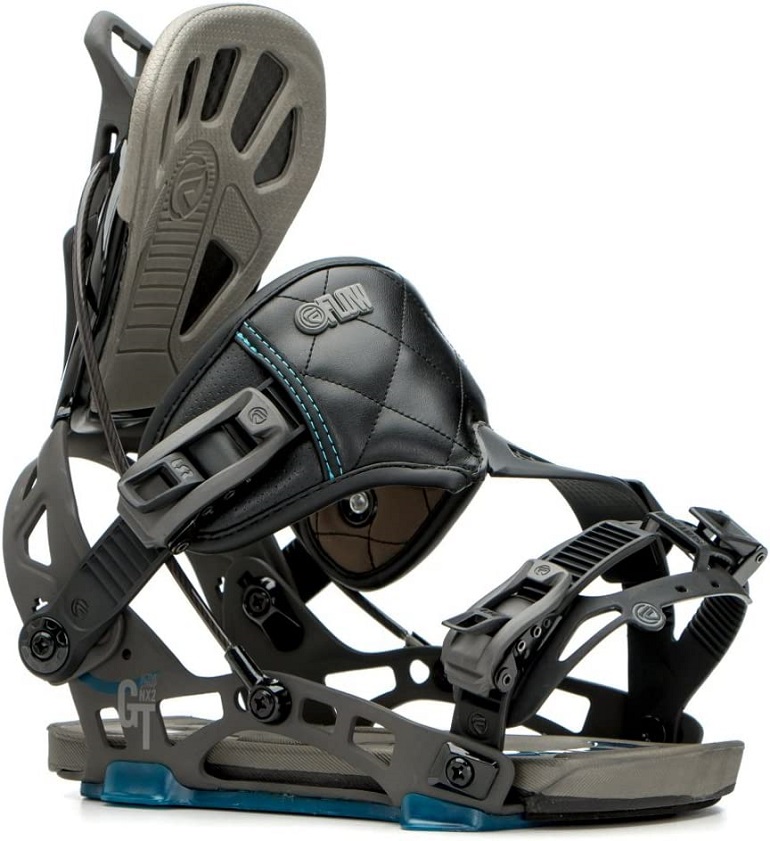 Harder to put on, apparently, because of the toe strap, but you do gain in performance, solid performance!
What about the price tag?
What about it?
You get so much for the price. The mid-stiff flex, which allows precision shredding. The comfort! The responsiveness! The freedom of snowboarding in all snow conditions.
The N-Gel heel cushioning and full-length Bankbeds will absorb the vibrations and enable smoother landings. So, freeriding, park riding, and resort riding are all possible and fully enjoyable.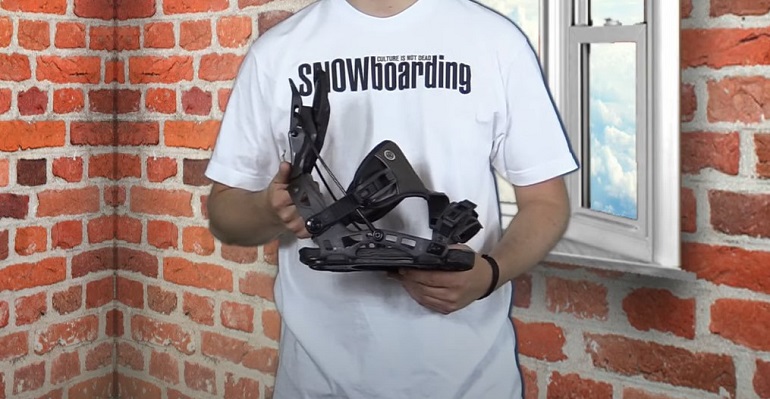 The Flow NX2 rear-entry bindings seem to be very popular among riders, although some claim that the need for adjustment is still there (for instance, when getting off the lift).
There are also concerns that the straps (we're dealing with a toe and ankle strap) can lock and then suddenly unlock.
Why not test them yourself and see how fine they are?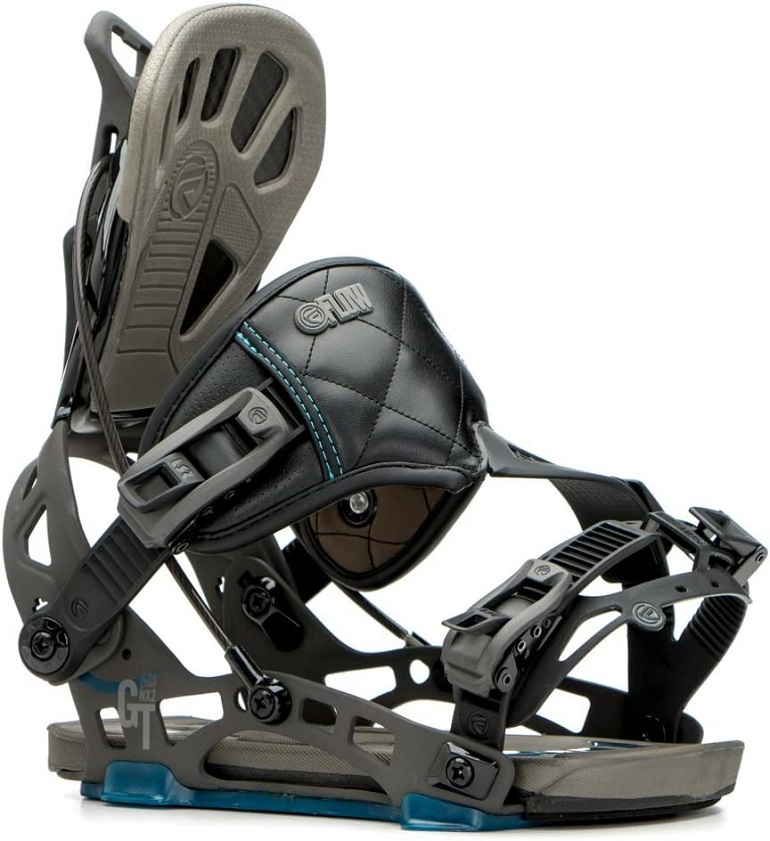 Flow NX2-GT Hybrid
The price of "Flow NX2-GT Hybrid" varies, so check the latest price at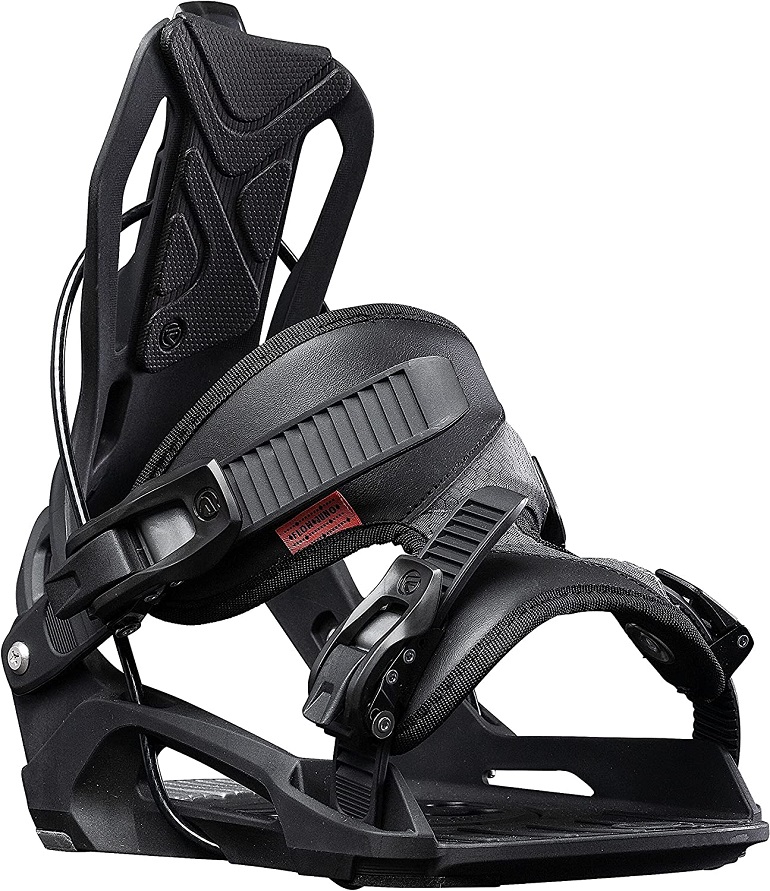 Flow Juno Fusion bindings are perfect for beginners to intermediates, as they're very forgiving and feel secure. The flex pattern (soft) is the mellowest of Flow's range. Attach to that an attractive price, and you'll end up with great snow days down the mountain.
They'll also help in the park – the EVA cushioning in the heels will make you land smoothly. The ComfortFit Fusion PowerStrap that fits all over the rider's boots will provide more support, which will ultimately translate as reduced fatigue on the slope.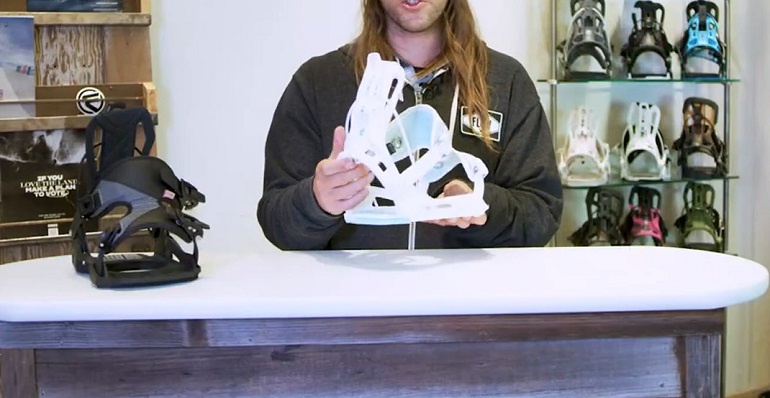 These entry-level bindings will help you learn and progress, with a great design, if I may add.
They can feel a bit tight in the beginning, but some riders seem to love them to death! Will you be one of them?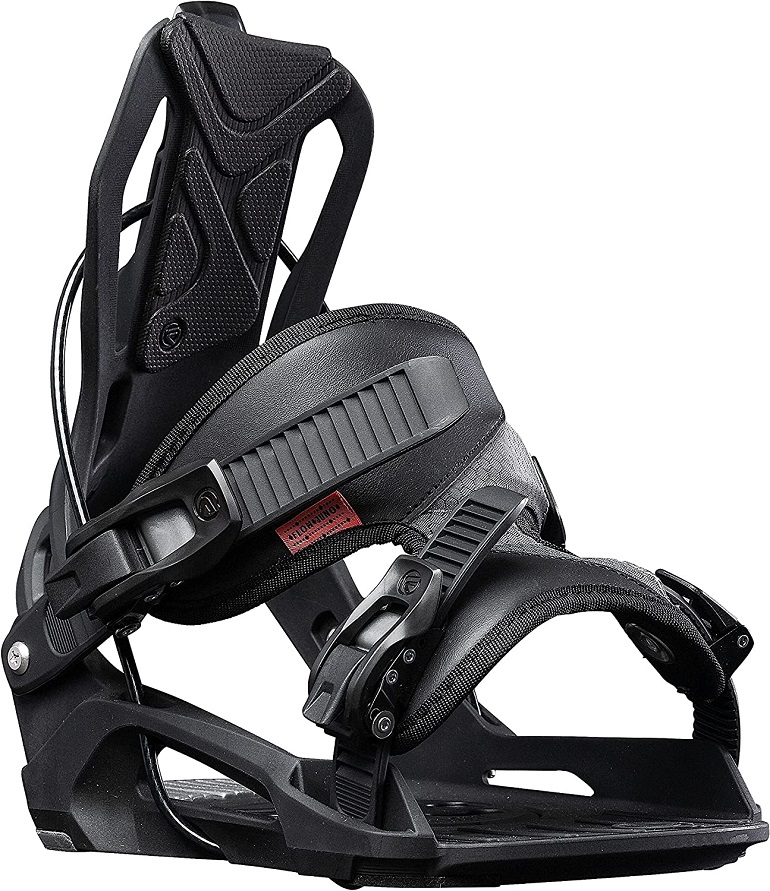 Flow Juno Fusion
The price of "Flow Juno Fusion" varies, so check the latest price at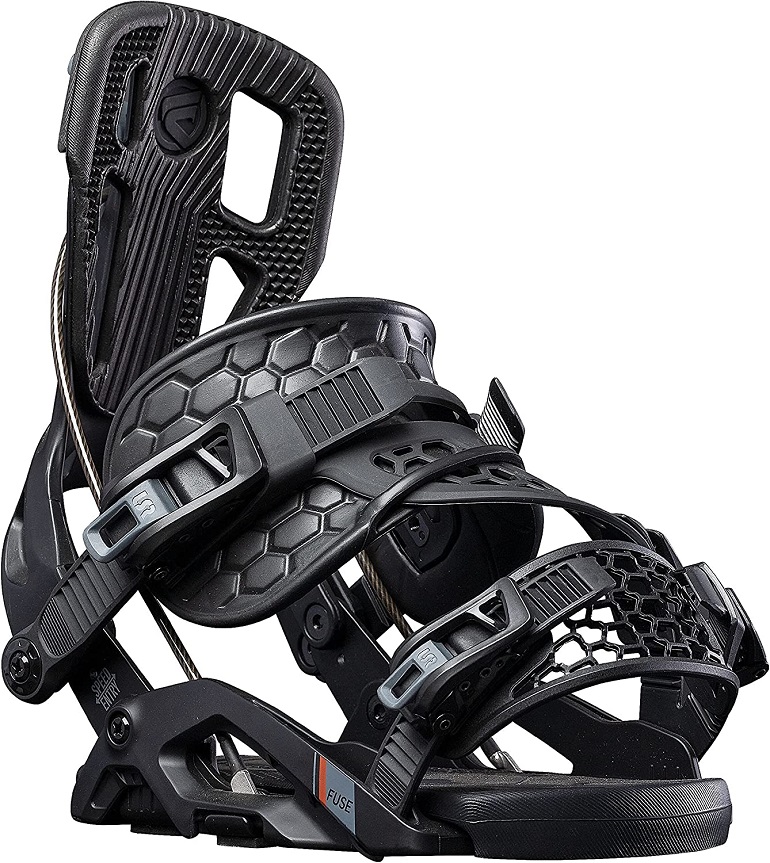 A carbon-infused nylon baseplate and highback are the norm. Experienced riders can now descend the mountain with added comfort and edge-to-edge response.
There are other premium features provided: aluminum buckles, canted footbeds, and the N-Gel heel and toe cushioning. These Fuse Hybrid rear-entry snowboard bindings are for those who love high speeds, carving, freeriding, and even super-heavy park riding.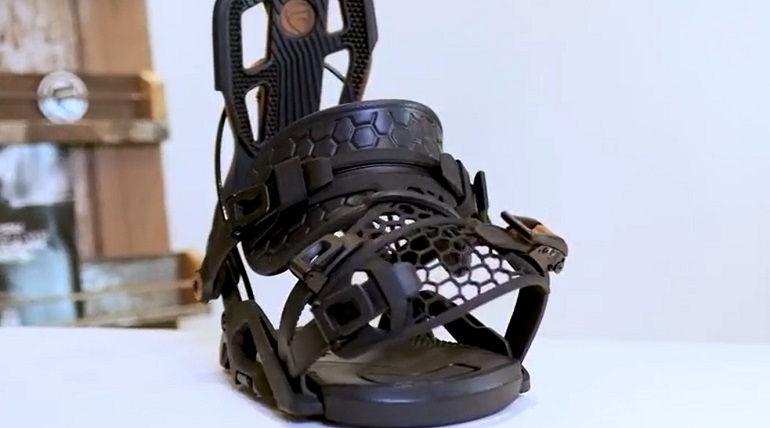 This is a high-end rear entry binding that provides both softness and rigidity through the Exo-Kush straps for male snowboarders looking for adventure. We've got high performance and comfort blended with the toe and ankle strap.
The price is high. Are they worth it?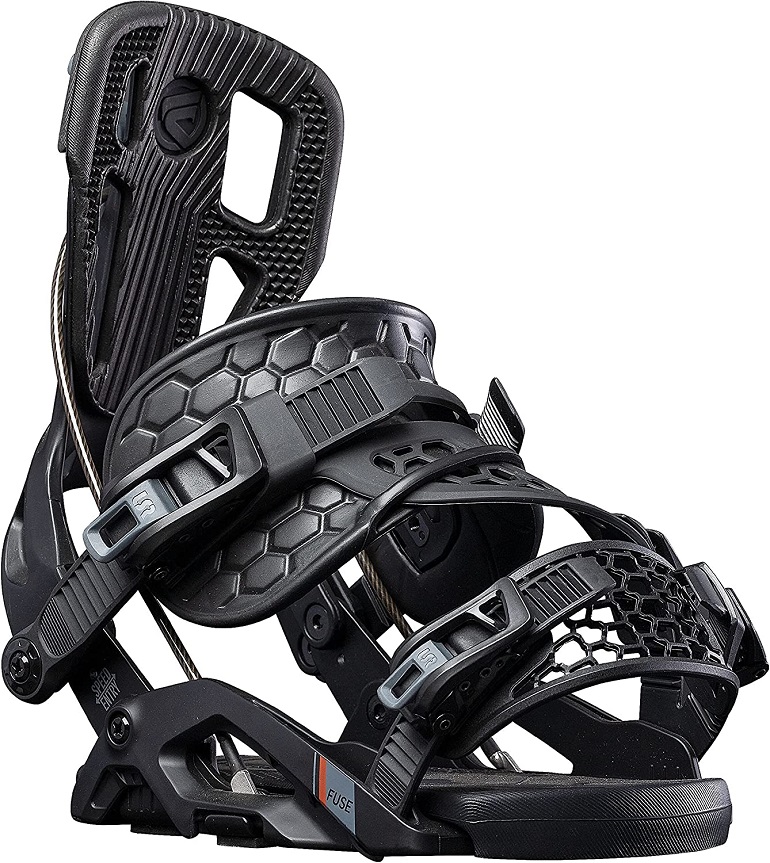 Flow Fuse Hybrid 2023
The price of "Flow Fuse Hybrid 2023 " varies, so check the latest price at
How to Choose Rear-entry Bindings?
When most riders worry about the board and the boots too much, there's no room left to think about the snowboard bindings. And that's a shame because they're important. I can't ride properly if I'm strapped in too loosely or too stiffly for that specific day. You should also need to know how to mount bindings on snowboard.
Which are two basic features that would be of interest to any snowboarder? 
Durability
It is trickier to talk about durability in the case of rear-entry snowboard bindings than traditional bindings. This happens because more parts could fail when dealing with rear-entry bindings.
Then again, 50-100 sessions are ideal for any board binding. Most manufacturers recommend replacing each pair after 4-5 years of use.  
Flex
In terms of flexibility, rear-entry bindings come with various flex ratings. Go for a softer flex if you're just starting to snowboard and a medium-stiff flex if you're an intermediate ride. A stiff flexibility rating should be reserved for expert riders. 
FAQs
Let's go through some questions regarding rear-entry snowboard bindings. They may be going through so many minds, but not many will speak them.
It's important, however, if you wish to be able to decide which to purchase for the next snowboarding season.
How Do You Use Rear-entry Snowboard Bindings?
Finally, this question! (It will make you understand things better.) They are called rear-entry because the highback opens up, allowing you to slide your feet from the back.
The high back then hinges back and is locked in its place. The whole idea around the rear-entry bindings is to get your foot in and out of the rear-entry binding faster than in the case of strap-in bindings.
Are Rear-entry Snowboard Bindings Good and Work Just Fine?
It depends on who's using them. Some riders think they're fabulous, and others can't stand them. Let's take some moments to compare traditional bindings and rear-entry bindings.
The strap-in bindings are said to be tougher to put on (it's just theoretical in the end, depending on the rider – some are very fast!), but you have the flexibility to do that while seated. You'll slide into your rear-entry bindings while standing (work on that balance!) or kneeling.
Each strap of the traditional bindings will be as tight or as loose as you like it, and you'll adjust it to the snow conditions that day, or your mood when you start to ride your board. The only strap (in most original rear-entry models) will be adjusted once (in theory) – and that's it.
Sure, it'll save you time, but you'll compromise on the control and performance of your descent. (Rear-entry bindings do provide more support in the front of the binding.)  
Yes, it's true, you can strap while on the move and on-the-go adjustments are easy. On the other hand, you'll get some extra movement if the bindings are not correctly set up.
Also, consider that the rear-entry snowboard bindings are heavier than the strap-in bindings. They are also harder to put on in deep powder or when there's a build-up of snow or ice on the base plate.    
Are all Flow bindings Rear-entry?
There are (again, thanks to technological advances!) also hybrid bindings, with two straps. These combine the adjustable toe and ankle straps that the traditional bindings use with the rear-entry style.
In the end, Flow was the pioneer brand in this rear-entry-bindings field, so rear-entry is their snowboarding specialization.   
Strap-in or Rear-entry? That Is the Question.
You have more choices with strap-in bindings, it's true.
They're lightweight and easy to put on while seated.  
The rear-entry bindings are a bit heavy and can be put on only while standing (have you worked on your balance?) or kneeling.
The speed and the flexibility of strapping while on the move are the strong points of the rear-entry bindings.
Deep snow and the build-up of ice on the baseplate can make it very difficult for the rider to get on their rear-entry bindings.  
Add everything, use the minus sign wherever needed, and then decide whether to buy or not to buy a certain rear-entry snowboard binding. Consider features like flexibility, durability, the snow conditions in which you can ride, getting on and off the lift, and even the all-mountain riding possibility.
Then, if you've done everything and still can't decide what to purchase, you may go for a hybrid binding, with toe and ankle straps included, fitting all over the rider's boots. Snowboarding may be your passion or this season's winter job. Whichever the case, we all do everything for a comfortable snowboard ride!
The world is moving fast. Things are changing fast. And it isn't necessarily to our benefit.