Check out GoPro's Hero 8 Black & MAX's Price & Specs


Yes! GoPro's Hero 8 Black is finally out, with a fairly rad $100 – €100 off discount for 2 different options, available on GoPro's own online store. The Hero 8 black, by itself, comes at $299.99 instead of $399.99 (€329.99 instead of €429.99), while the Hero 8 Bundle Pack, including a Shorty grip, Head Strap, a 32GB SD card and spare battery, comes at $349.99 instead of $449.99 (€379.99 instead of €479.99). The Hero 7 Black, meanwhile, is currently offered at an insane price of $229.99 (€249.99). If there was ever a good time to buy a GoPro, it is NOW!
So what do we have here? Let's start with the Hero 8 Black's new specs and features, compared to its predecessor, the GoPro Hero 7 Black.
As expected, there isn't much evolution on the resolution side of things. Why? My best guess is that the 4k60 mode is already pushing the data transfer possibilities to the max on both micro SD cards and even mainstream (i.e. non professional) computers. So there wouldn't be much point in pushing this even further, if most people can't benefit from it just yet.
There is one mode that saw a small resolution improvement though, and that's the live stream, which goes from a max resolution of 720p to 1080p.
So, where's all the hype?
The GoPro Hero 8 Black is simply going all-in on the customization possibilities, clearly directed at people who just want to take things to the next level in terms of production value. It's now all about modding, mainly the possibility to mount a light to shoot darker scenes (the light mod), or a flip-up screen that allows to monitor your shot when shooting yourself, aka selfie videos and pics (the display mod).
These 2 mods, and the primary media mod, which is basically the frame that these will be mounted on but that also brings a premium shotgun microphone, 3.5mm jack, and 2 HDMI ports, will all be available for pre-order later on, in December 2019.
Vlogging and the influencer industry seem to be what GoPro is mostly going for here, but you could also say that it was equally important to focus on the limitations that were still present in the previous models.
Light, check. Sound, check. Selfies, check. But do you know what I'm most impressed by and can't wait to actually test hands-on? Digital lenses!
Digital because they're not actual add-on lenses that you can switch around. It's simply an improvement of the previous Super Wide, Wide, distortion-free Linear modes and the Zoom option available in the latter. The first 3 were already great, but if you've checked my in-depth review of the previous Hero 7 Black, or have one yourself, you already know that this zoom mode was just not worth using. It was basically zooming toward the pixels of the Linear mode, which ruined the quality way too quickly. Now it seems we'll get a brand new field of view mode, called Narrow. Well, it's all relative, as GoPro says it clearly themselves, it's equivalent to a 27mm lens.
Still, having to be arm-length close to whatever action you're shooting has always been the most serious limitation to all wearable, action cameras, not only GoPro, so we can only welcome this evolution and hope it delivers a bit more versatility.
Next, is the work done on both the Hypersmooth stabilization and the Timewarp mode. Honestly, it's rather tricky to judge how much improvement from Hypersmooth to Hypersmooth 2.0 is delivered, as the comparison shots proposed on GoPro's official product page only shows the difference between a shot without any stabilization at all, and the latest Hypersmooth 2.0. A comparison between the first Hypersmooth and its successor would certainly be more helpful, but surely it will come soon enough from whoever get their hands on one of these Hero 8 Black first! A new boost mode also comes with the Hypersmooth 2.0, but it isn't quite clear what that actually brings yet.
In any case, the first hypersmooth was such a game changer for the action camera industry, that it's hard to imagine how much better you could make it. We can only be assured that today in 2019, shaky shots are a thing of the past, whether you're running the Ultra Trail du Mont-Blanc, wingsuit flying across narrow valleys in Norway, or racing through the trees on your favorite Whistler downhill track. Today's high-tech cameras pack all the features for an insanely clear result!
Timewarp 2.0 sees a cool little addition, which is the ability to slow down the shot at any desired time. Pretty handy when you have stuff happening that is just worth focusing on for an instant.
Finally, there's also the new Super Photo + HDR modes that get a revamp, as well as the addition of a new Liveburst mode, and a mysterious RAW mode, which I know will get pro videographers wondering what exactly that's about.
GoPro HERO 11 Black
The price of "GoPro HERO8 Black" varies, so check the latest price at
What about the GoPro MAX?
The GoPro Max is the successor to the Fusion, GoPro's 360 action camera model.
It boasts many of the same characteristics of the GoPro Hero 8 Black, but with an insane 360 degrees spherical view, which you can then play around with in the GoPro App.
It comes with a 5.6K resolution at a 30 fps framerate for the 360 spherical capture mode, a 16.6 Megapixels sensor, spherical audio from no less than 6 different mics, and a single Hero lens with the widest field of view ever featured in a GoPro Camera, Max Superview, equivalent to 13mm.
Another exciting feature is the PowerPano, a distortion free, 270 degrees photo mode. Finally, the sweet little Timewarp mode is also present on the MAX, and also time adjustable on the go, just like its sibling!

The GoPro Max is offered at a pricetag of $499.99, or €529.99.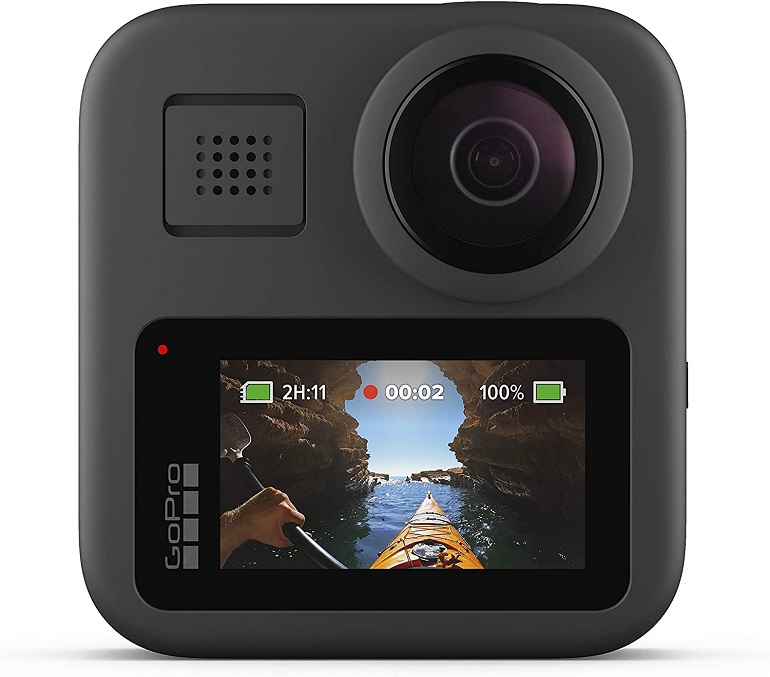 GoPro MAX
The price of "GoPro MAX" varies, so check the latest price at