Planning a Mui Ne kitesurfing trip? Here's everything you need to know.
The Mui Ne kitesurfing scene has achieved near legendary status in the worldwide wind-seeking community.
Yup, I said it- legendary.
And of all the epic, adventurous things to do in Mui Ne, kitesurfing comes in at the top of our list. Every. Single. Time.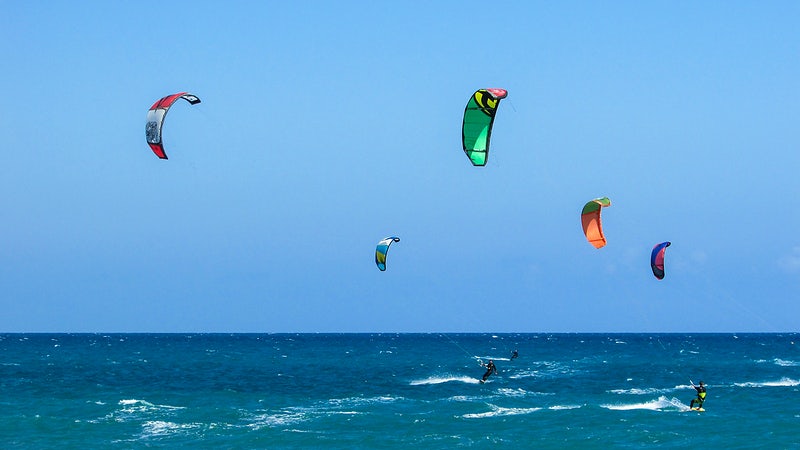 Mui Ne was initially discovered by the windsurfing community 20-ish years ago; though what with the insanely fast growth of the sport of kiteboarding (and its members' uncontrollable need to whip round the world in search of wind) Mui Ne quickly became one of Asia's premiere kiteboarding locations.
Not only was it considered the number one spot for kitesurfing in Vietnam for more than a decade, but there's also a squillion other reasons that its status is so well-deserved:
Why, pray tell?
A winter wind season you can bank on
An iron-clad community of local board riders
Cheap cost of living
Seriously saucy nightlife
Tropical weather — year round
Now, for those of you curious about the nitty gritty of the Mui Ne kitesurfing world, keep reading:
We're about to walk you through everything you need to know about the season, spots, conditions, local schools, and must-know tips for beginners.
And just for good measure, we'll also sneak in some insider recommendations for the best kite-friendly accommodation in Mui Ne (we're good like that, dont'cha know!).
Psssssst: if you're planning to travel with your kite gear soon, make sure you've got a high quality kiteboard travel bag! Read our kite travel bag review to find out which ones rock.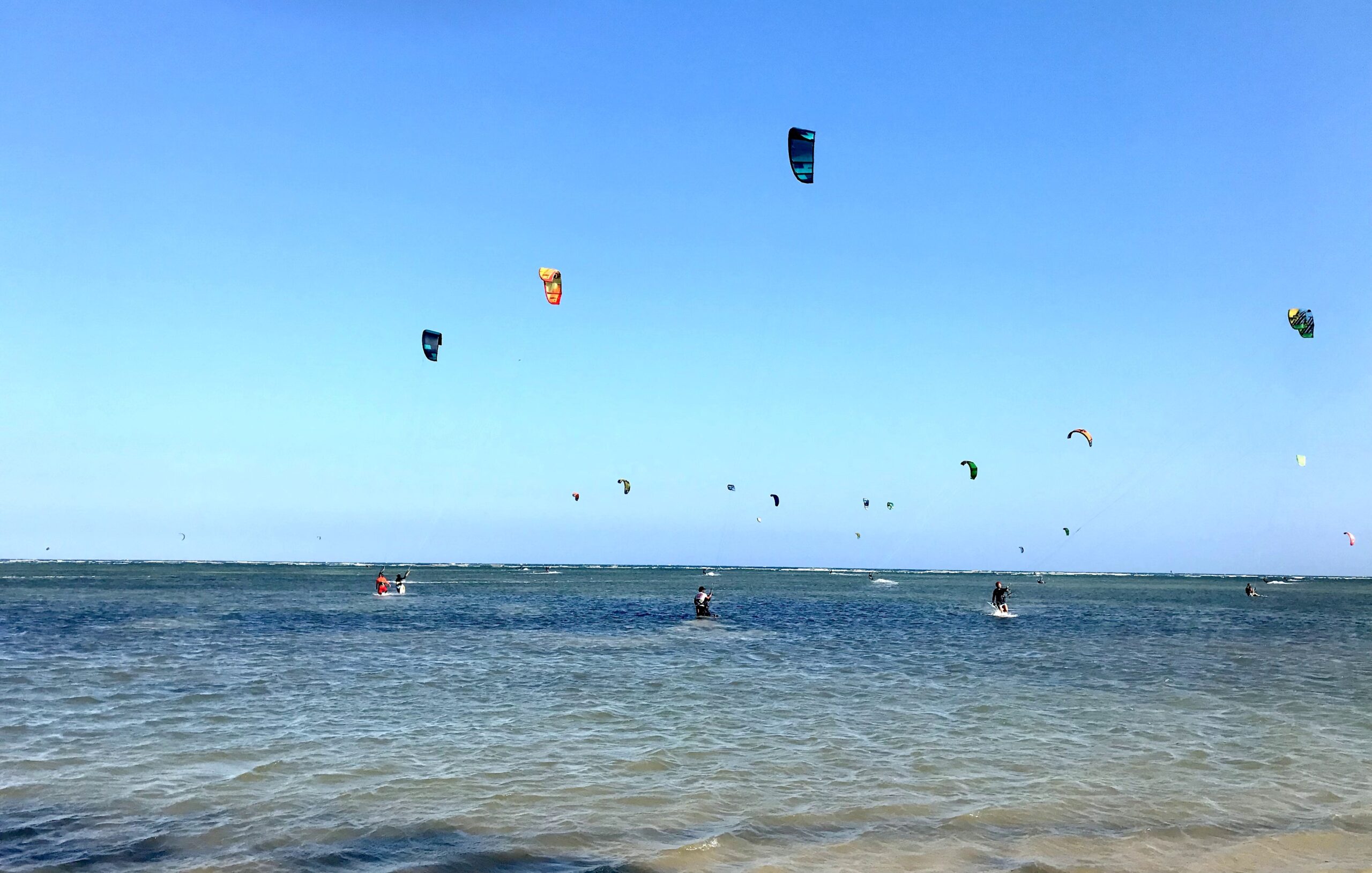 When is the Mui Ne kitesurfing season?
The main kiting season runs from November until the end of April (peaking between December and February) with reliable northeast wind blowing on about 80% of days.
Now, on "a good year" the wind might start as early as the first weeks of October (it certainly did this season) but this isn't a hard and fast rule- and shouldn't really be counted on when planning your Mui Ne kitesurfing holiday.
It's also possible to kitesurf in Mui Ne during the summer season when the wind blows from the southwest, but the summer wind is far less reliable than that of the winter season (so you're better off not specifically planning a Mui Ne kitesurfing trip during this time, since there's always a good chance you'll be left windless and whining!).
Check out Mui Ne's wind stats on Windguru to get a more complete overview.
What's the main Mui Ne kitesurfing spot like?
Although there are a few spots where the kite action takes place, the main Mui Ne kitesurfing beach is located in Ham Tien (which is commonly referred to as Mui Ne — even though that's kinda, sorta… wrong. Technically, 'real' Mui Ne is 10 km north!).
The Mui Ne kite beach stretches along the coast for several kilometres, with somewhere in the realm of a dozen schools scattered along its shores.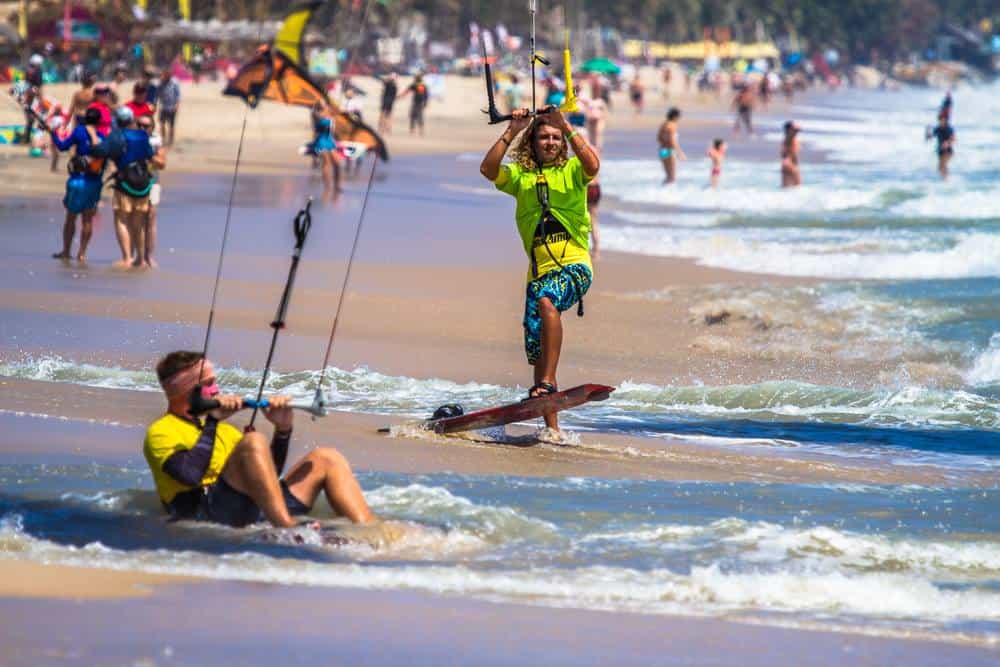 The wind blows cross onshore during both the winter and summer seasons. Meanwhile, you'll usually see a moderate/heavy shore break with rough, choppy water further out. Typically speaking, the stronger the wind is blowing, the rougher the water is going to be.
Keep reading on to the next sections for a detailed breakdown of the beach, wind, and water conditions!
Now lads, there's a wee bit of unsavoury news to cover, so best get it out of the way:
The once grand kitesurfing beach in Mui Ne has sadly been subject to heavy erosion over the last few years. Some of the kitesurfing schools have lost their beachfront entirely, while others have noticed significant loss of the sandy area outside of their school.
Generally speaking, the further south along the beach you go, the bigger the sandy area gets (read on to find out our recommendations for schools with the best beachfront!).
During the high season, the beach gets prrrrretty busy- so it's important to familiarise yourself with your right of way rules. And if you're a beginner, don't be put off; your instructor will be able to bring you to a suitable part of the beach where you'll have enough space to safely practice.
Pssssst: More tips for beginners coming up later!
Other spots for kitesurfing in Mui Ne
Apart from the main beach in Ham Tien, there are a couple of other great spots to know about before you set off on your next Mui Ne kitesurfing adventure:
Suoi Nuoc
You'll find Suoi Nuoc near the tip of the northerly cape of Mui Ne Bay, just a 15 minute drive from Ham Tien.
Suoi Nuoc is primarily a surf spot; home to the crew at Vietnam Surf Soul and host spot for annual surf competitions held by Jibe's Beach Club (read more about Suoi Nuoc and other badass surf spots in Vietnam). And no wonder — the surf here is some of the best you'll find in Vietnam.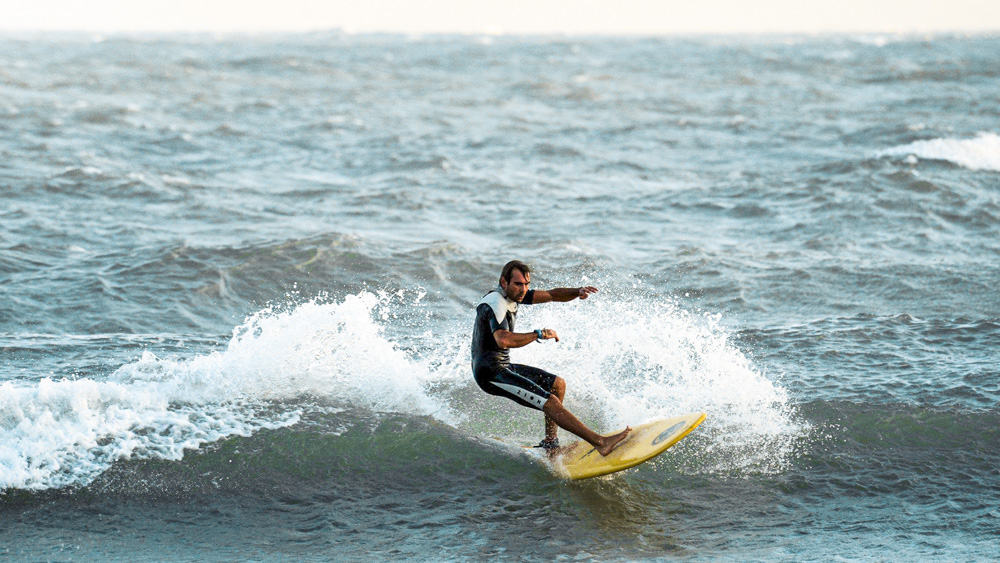 That said, it's also a pretty sweet spot to hit up with your kite thanks to the spacious, sandy beach, distinct lack of crowds, side onshore wind, and fun sets of waves.
Now, the waves here can be packed quite close together- and they tend to be powerful, too. All things considered, Suoi Nuoc is best suited to intermediate and advanced kitesurfers.
Ganh Beach
Ganh Beach — or what local's commonly call Malibu Beach — lives on the other side of the cape, and with a massive sandy area and clean, well-spaced waves, it's a super fun place to kite for anyone fancying a change of scene from Ham Tien.
Another plus is that the wind at Malibu tends to be that little bit smoother than it is in Ham Tien thanks to the orientation of the beach combined with the lack of buildings and obstacles in the surrounding area. Wind blows side shore near Malibu Resort, progressively turning more onshore the closer you get to the graveyard.
Waves in Malibu can get pretty big, which is fun for wave riders- but quite challenging for beginners (fair warned, fair armed as they say!). The upside is that the waves are usually evenly spaced, with flat areas to play around in in between.
What to expect from the Mui Ne kitesurfing conditions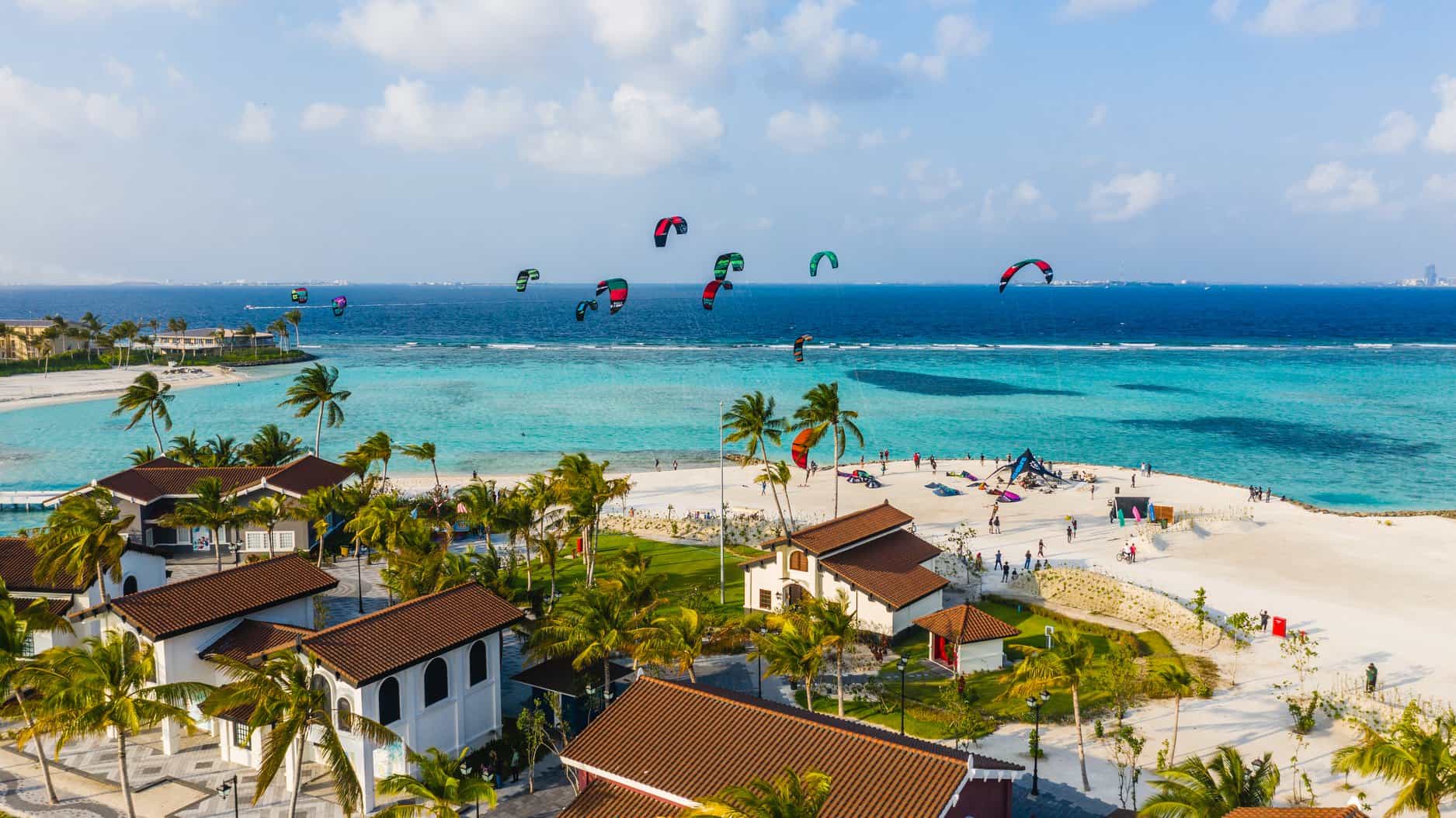 Wind
When the season is on, the average wind range in Mui Ne is 18-25 knots, often with gusts of 25+. Sometimes you'll also get a string of 12-18 knot days, but these are what most locals eloquently refer to as "crappy light wind days" (see what happens when you live in a super windy place? You get SPOILED, goddammit.).
Typically during the season, the wind starts blowing around 10/11 am and continues to grow in strength into the afternoon. It usually holds on throughout the evening and drops off sometime after dark.
The most common kite sizes during the season are 9-12 meters, but on a strong wind day it's not uncommon to see a few 7 meter kites zipping around.
Big kites are rarely used, and when they are it's usually during unreliable wind periods- so they probably aren't worth bringing with you (you can always rent them instead- read on to find out where we recommend renting your gear from!).
Foil kiting is slowly starting to catch on in Mui Ne too, and the calmer morning waters and light winds make for perfect training conditions. Mui Ne's C2Sky Kite center also happens to be the home of the only CR:X Chapter in Asia, where visitors can come and test out the beginner-friendly convertible foil kits and take part in the 'friendly' race days.
Water
When it comes to water, the Mui Ne kitesurfing conditions can be pretty challenging. When the wind picks up properly, the water becomes super choppy- and if you're out there during periods of heavy swell, you can find yourself facing down overhead waves at the shore break.
On the bright side, chilling on the beach with a coconut and watching those ballsier than you get eaten by the monster shore break is an activity I've been known to dabble in from time to time.
On Mui Ne's lighter wind days, the water conditions are generally much easier to manage, with moderate chop throughout.
If you're not feeling all that confident in rough water, you're best off going for a late morning session (or as soon as the wind kicks in) since the water tends to be much, much calmer at that time of day.
Beach
The Mui Ne kitesurfing beach is sandy and free from sharp shells, rocks, and debris- yay!
It's also fairly clean- for the most part- apart from when changes in the wind direction and currents send rubbish washing onto shore. If you're visiting Mui Ne for kitesurfing, please consider doing your bit to keep the beach clean- if you see some trash on the sand, pick 'er up and pop 'er in the bin, would ya?!?
Now, we did mention it a little earlier on, but it does stand to be repeated:
Mui Ne Beach has sadly fallen victim to some pretty heavy erosion over the years. There is still a sizeable sandy area on the southern end of the beach, but up north it's all but disappeared.
Just remember: you'll also find 2 massive sandy beaches, Suoi Nuoc and Malibu, just 15 minutes up the coast.
Hazards
All things considered, kitesurfing in Mui Ne is a relatively safe experience. That said, there are a couple of hazards that you should be aware of- particularly if you're a beginner/intermediate kiter:
The shore break can be pretty strong, and it can sometimes be difficult to make it past the waves. Likewise, the current at the shoreline can be super powerful, so if you don't get out onto the water quickly, you'll find yourself drifting downwind at a fast rate.
It's also important to keep your eyes out for fishing lines on the far southern end of the beach. Typically you won't encounter these as long as you're riding upwind, but if you go too far downwind you'll need to keep your eyes peeled.
Are the Mui Ne kitesurfing conditions suitable for beginners?
In short: absolutely.
But is it the easiest place for beginners? Absolutely not.
Yet plenty of people learn to kitesurf in Mui Ne every single day of the season, proving that if you're willing to persevere on those tough days, you'll be rewarded for it.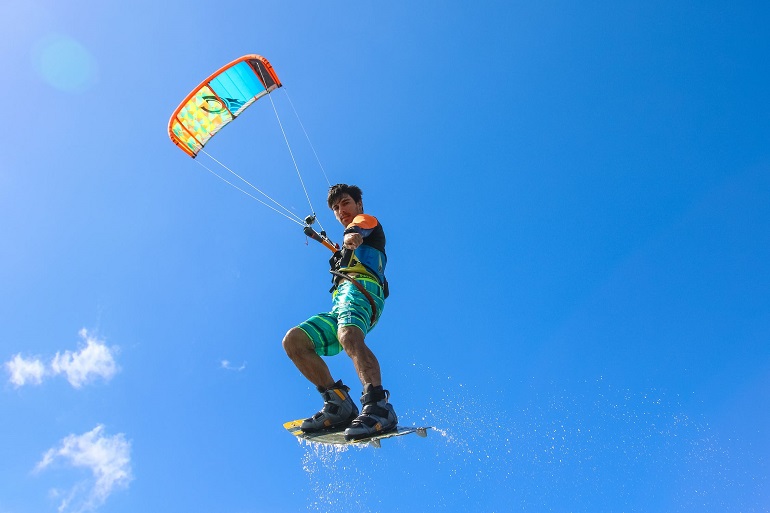 Here's what beginners should consider about kitesurfing in Mui Ne:
The conditions are challenging, but not impossible. It's likely that it'll take you a bit longer to get to grips with standing up on the board for the first time, and you'll inevitably go through a couple hours of frustration as you try to ride those first few meters in the waves.
But as they say, if you can learn to ride in those conditions, you'll be able to ride anywhere (at least, that's what my instructor told me when I was sent out body dragging in 3 meter monsoon waves. Motivational- or evil? Hard to tell).
The upside of learning how to kite in Mui Ne is that the wind is reliable, so you've got a really high chance of having the right kinda weather to learn in (trust us when we say there's nothing more friggin' annoying than being short on wind when you're trying to learn how to control your bleddy kite for the first time!).
Here are some key nuggets of wisdom to keep in mind:
If you're struggling to get past the shore break, start upwind a little bit to compensate for any drifting, and don't be afraid to body drag out past the biggest waves.
Make sure to book yourself in for an IKO certified beginner's course. This is the only way you'll be able to guarantee the safety and quality standards of your instruction. There's currently only one IKO certified school in Mui Ne (more on that in the next section).
The wind and water conditions are much more mellow at the beginning of the day, so that's the ideal time for you to take your lessons.
If you've already got some kiting experience but you're not 100% confident on your own, you can always book yourself in for a 1 hour refresher course, then you'll have an instructor giving you pointers and keeping an eye on you while you get comfortable on the water.
Best kite school in Mui Ne
There are TONS of kitesurfing schools in Mui Ne to choose from, but based on our own personal experiences, there are only 2 that we confidently recommend to you guys, as we know the owners and instructors personally:
Having recently celebrated their 10 year anniversary, C2Sky is one of the longest standing kite schools on the beach. Not only do they enjoy the biggest beachfront of any of the schools in town, but they're also the only IKO certified school in Mui Ne- so you can be sure their instructors teach to the highest standards.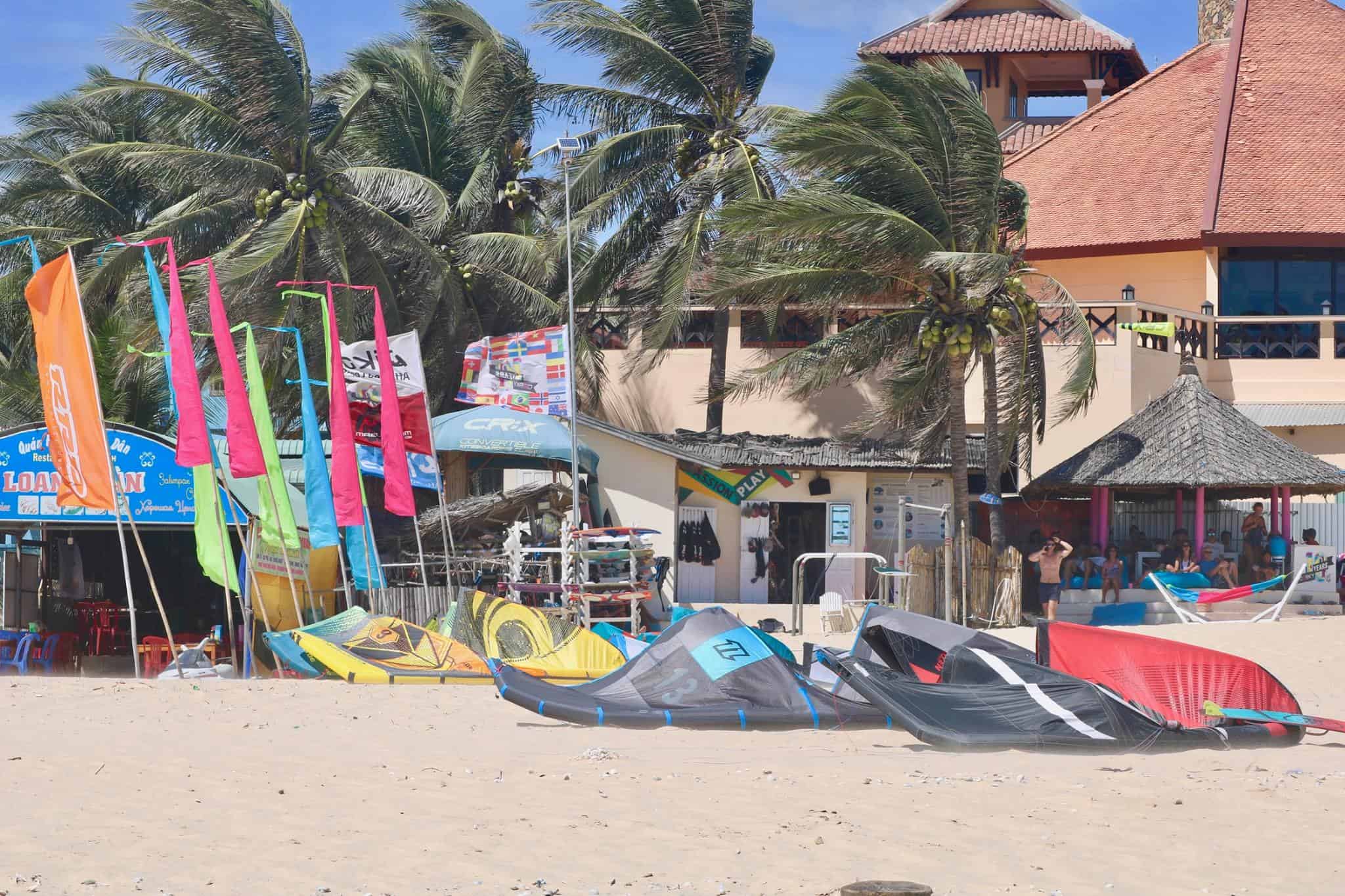 Liz, the Dutch owner of the center, is a fantastic person to know; she can help you out with everything from kite gear to sunset SUP sessions, visa applications, and accommodation.
You can book your lessons and courses with C2Sky with our partners at Bstoked- the top platform for booking kitesurfing experiences worldwide- right here.
If you're planning to scooch on over to Mui Ne for a quick kitesurfing holiday, you're best off booking yourself into one of the town's many kite-friendly guest houses or hotels.
From solo budget travelers to families, super basic to high-end luxury, there's bound to be a place that tickles your fancy.
Let's look at a few spots you should know about:
Source Kiteboarding & Lodge is, as you already know, one of our top picks for kitesurfing schools in Mui Ne- but what's better, they also offer their own accommodation options overlooking Mui Ne Bay.
Seriously good views, a stunning rooftop terrace, an on-site bar and restaurant, and in-house kite instructors. Two thumbs way, WAY up from us.
For those of you looking to kite from C2Sky, take a peek at Seahorse Resort which is located right at the spot (you can literally look out your window and check the wind!).
The rooms are comfy, the gardens are stunning, and you can't get closer to the beautiful sandy beach.
For luxury seekers, you can't do better than the phenomenal Mia Resorts. Set in super lush, tropical gardens overlooking the kite beach, everything in this boutique resort has been immaculately designed to match the breezy, ocean vibes of Mui Ne itself.
It has to be seen to be believed, though; check out their incredible rooms!
For a comfy, friendly, and cheap as chips stay, you can't beat Mui Ne Hills, who essentially have an entire frickin' accommodation empire up on the hillside overlooking the bay.
Choose between Mui Ne Hills Backpackers for a young, energetic, social-fuelled stay;
or Mui Ne Hills Budget Hotel for those of you who prefer something a wee bit more intimate.
How to get to Mui ne
Check out our extensive guide about the best ways to get from Ho Chi Minh to Mui Ne and back, including by train, bus, taxi or minivan.
Travel Resources
Get a Vietnam visa
As of the past couple years, citizens of 24 countries are eligible for visa exemption when travelling to Vietnam (the duration of permitted stay depends on which country you are from).
If your country isn't on the above list, or if you plan on staying in Vietnam longer than the visa-exempt time frame allows, or if you require multiple entries, the easiest thing to do is to apply for an e-visa (or e-visa on arrival) online in advance. The process is quite simple and relatively inexpensive, as long as you go through a reputable website to do so.
Find out the exact price and the steps you need to take to apply for your Vietnam visa on iVisa.com or by using the checker below.
Plan your trip
Ready to start planning and budgeting your trip? Use Kayak to find and compare the best deals from all over the web on flights, hotels, and car rentals. When you do a search on Kayak, it pulls data from hundreds of travel booking platforms to offer you the best prices available, so you know you're always optimizing your budget to the max.
For local public transport in-country, like buses & minivans, taxis, trains, and even ferries, we recommend using Bookaway, which works the same way. Bookaway is especially useful in countries where small local operators don't necessarily speak English or even have a website at all. They also offer 24/7 support in case anything goes wrong.
Book activities
Want to start browsing and booking activities available at your destination? Nowadays there are a few booking platforms specialized in outdoor adventures and active holidays worldwide. We recommend Tripaneer for yoga and meditation retreats, surfing and kitesurfing camps, cycling holidays, or motorcycle tours.
Tripaneer focuses mostly on week-long holidays often including accommodation, while Manawa also lists daily and hourly activities including every action sport you can imagine but also a lot of crazy stuff like shark diving, survival training, zip-lining, or even reindeer sledding!
For traditional guided tours, day trips, and local experiences like cooking classes, GetYourGuide is everyone's go-to platform and features an insane amount of authentic reviews to help you make a decision. They also list some mainstream outdoor activities like diving courses, guided hikes, or kayaking excursions.
Travel insurance that covers kitesurfing
Finding serious travel insurance that covers kitesurfing and other extreme sports isn't easy, that's why we recommend World Nomads, a simple and flexible insurance company run by an international team of adventurous travelers since 2002. Fill up the form below and once on the website, just add the activity or activities you'll be doing and get a quote perfectly tailored to your trip.
From physical injuries and medical repatriation to dental emergencies, stolen passports, damaged gear by airline companies, trip cancellation, or even pregnancy complications, they've planned it all. You can even sign up for a policy after you started your trip. For a list of recommended travel vaccines and Covid country-specific information, head to the CDC's travel page.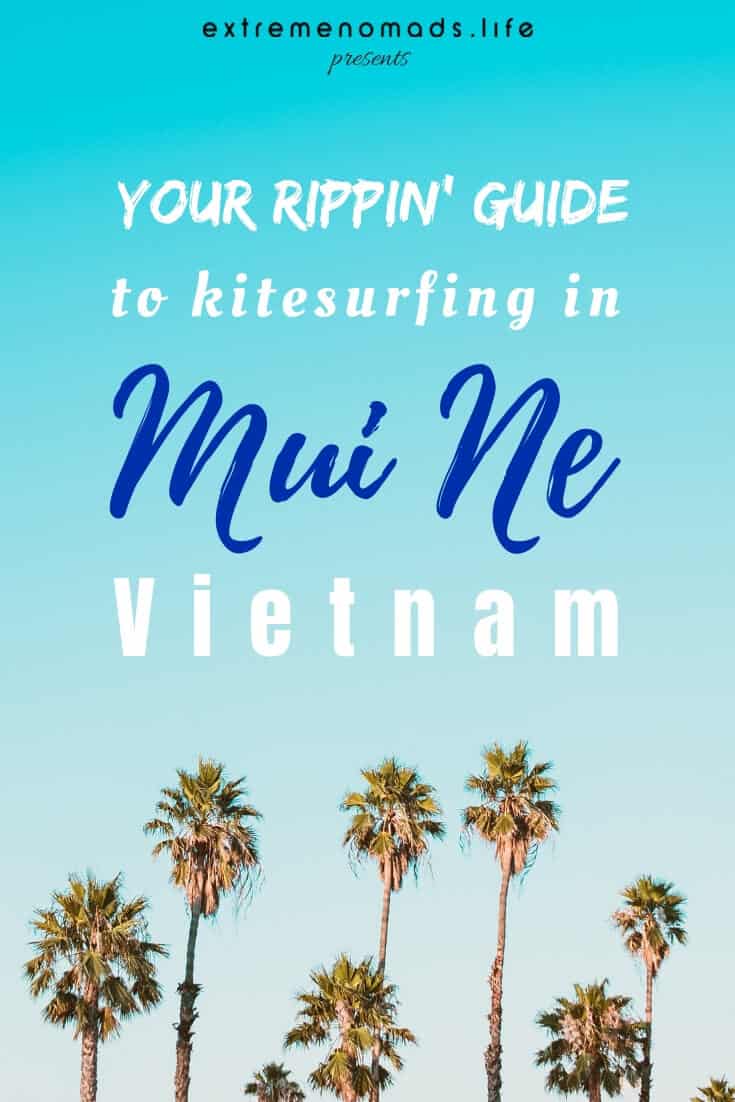 ---