Kitesurfing in Vietnam is worth writing home about
The wind is strong, the weather is warm, and the beer is cheap.
…and did we mention the length of the coastline? (it's 3,444 km, FYI).
By all accounts, kiteboarding in Vietnam is awesome.
Season for kitesurfing in Vietnam
The wind blows hard during the high season, which runs from October to April (on paper, at least. It's maybe more realistic to consider the season as November-March).
That said:
Vietnam's kitesurfing season peaks from December to February, which is when the wind is at its most reliable across all of the country's best spots (keep reading to find out where they are!).
But it's not just the winter winds that blow; you can even sneak in a couple of summer sessions, too — as long as you stick around long enough to make the most of the sporadic south-westerlies.
What can you expect while kitesurfing in Vietnam?
Over the past 10 years, Vietnam has established itself as one of the best kiteboarding locations in Asia (you can double that number if you consider the windsurfing nomads who have been coming for 20 years or more).
While Mui Ne has long been a top spot for strong wind lovers, surfer dudes, and salty dogs, there are a ton of other incredible kite spots in Vietnam that tend to slip under the radar.
Travel Resources
Get a Vietnam visa
As of the past couple years, citizens of 24 countries are eligible for visa exemption when travelling to Vietnam (the duration of permitted stay depends on which country you are from).
If your country isn't on the above list, or if you plan on staying in Vietnam longer than the visa-exempt time frame allows, or if you require multiple entries, the easiest thing to do is to apply for an e-visa (or e-visa on arrival) online in advance. The process is quite simple and relatively inexpensive, as long as you go through a reputable website to do so.
Find out the exact price and the steps you need to take to apply for your Vietnam visa on iVisa.com or by using the checker below.
Plan your trip
Ready to start planning and budgeting your trip? Use Kayak to find and compare the best deals from all over the web on flights, hotels, and car rentals. When you do a search on Kayak, it pulls data from hundreds of travel booking platforms to offer you the best prices available, so you know you're always optimizing your budget to the max.
For local public transport in-country, like buses & minivans, taxis, trains, and even ferries, we recommend using Bookaway, which works the same way. Bookaway is especially useful in countries where small local operators don't necessarily speak English or even have a website at all. They also offer 24/7 support in case anything goes wrong.
Book activities
Want to start browsing and booking activities available at your destination? Nowadays there are a few booking platforms specialized in outdoor adventures and active holidays worldwide. We recommend Tripaneer for yoga and meditation retreats, surfing and kitesurfing camps, cycling holidays, or motorcycle tours.
Tripaneer focuses mostly on week-long holidays often including accommodation, while Manawa also lists daily and hourly activities including every action sport you can imagine but also a lot of crazy stuff like shark diving, survival training, zip-lining, or even reindeer sledding!
For traditional guided tours, day trips, and local experiences like cooking classes, Get Your Guide is everyone's go-to platform and features an insane amount of authentic reviews to help you make a decision. They also list some mainstream outdoor activities like diving courses, guided hikes, or kayaking excursions.
Travel insurance that covers kitesurfing
Finding serious travel insurance that covers kitesurfing and other extreme sports isn't easy, that's why we recommend, a simple and flexible insurance company run by an international team of adventurous travelers since 2002. Fill up the form below and once on the website, just add the activity or activities you'll be doing and get a quote perfectly tailored to your trip.
From physical injuries and medical repatriation to dental emergencies, stolen passports, damaged gear by airline companies, trip cancellation, or even pregnancy complications, they've planned it all. You can even sign up for a policy after you started your trip. For a list of recommended travel vaccines and Covid country-specific information, head to the CDC's travel page.
From north to south, here are 9 noteworthy locations for kiteboarding in Vietnam.
Kitesurfing in Da Nang
With its own international airport (and close proximity to one of Vietnam's most popular tourist towns, Hoi An), the kitesurfing game in Da Nang is one of convenience as much as good conditions.
The beach is big and the water is much less crowded than some of Vietnam's southerly kite spots. That said, the facilities are also far less developed.
The wind is light, but the upside is that it's sometimes possible to kitesurf here during Vietnam's 'low' wind season (April-October). During this time, you could be treated to a string of days with 12-18 knots coming from the southwest.
Post monsoon season can also be great for waves, so if you're into a spot of surfing Da Nang is worth a look.
There are a small number of surfing schools that cater to the community of local riders as well as the wave hunting nomads who pass through.
Learn more about the city through the eyes of nomadic notes.
Kitesurfing in Nha Trang
Vietnam's notorious south-central party town has built up a lot of hype over the past few years.
It wasn't long ago that Nha Trang was a low-key beach town with authentic roots, but in true Vietnam style, developments happened fast and furious….and shiny.
The city still holds an appeal for a lot of travellers looking to clock in some beach hours.
Nha Trang has developed right along the beachfront, where it is possible to kitesurf (at least wind-wise, it is) although the bulk of the kiting happens at Bai Dai Beach, 23 km south of the city.
It's another light(ish) wind spot (13 and 15-meter kites are standard) that enjoys some gentle rolling waves that are great for practising your beginner surf skills.
There are a couple of surf and kite clubs scattered along Bai Dai Beach, each of which offers lessons, rentals, and storage.
Need to gear up before your trip? Check out our latest reviews!
Kitesurfing in Cam Ranh
It feels worlds away from the bright lights and bustle of Nha Trang, but Cam Ranh's glorious landscapes and quiet lagoons are only a stone's throw from the city.
This is a seriously underrated kite spot.
Actually, make that two kite spots.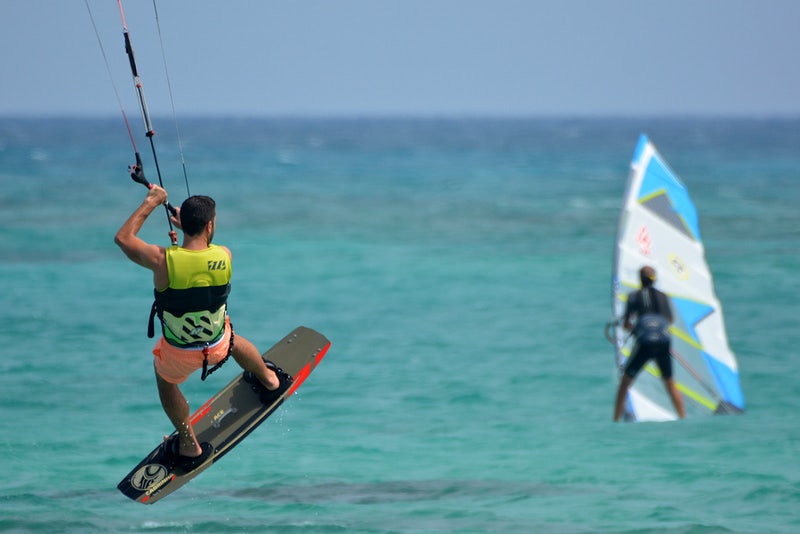 The first spot is wave territory- and fairly big waves, at that. The water is absolutely gorgeous- totally clear blue- and the beach is lined with shaggy palm trees.
The second spot is a big contrast:
A little further down the coast, you'll find a military base, in front of which is a perfect, man-made, flat water lagoon.
Tempting as the flat water may be for beginners, this spot is only suitable for more advanced riders (there are some fishing lines and wooden posts sticking out of the water).
Once you're comfortable riding upwind, however, this spot is a breeze.
If you've been travelling down from the north, you'll find that Cam Ranh offers the first taste of strong wind along the coastline.
That having been said, it's often the place to go to when the wind is too strong in the next kitesurfing spot to the south- Phan Rang.
Kitesurfing in Phan Rang
This is Vietnam's newest kiteboarding destination- and one that's drawing a lot of interest.
A far cry from the choppy waters in Mui Ne, Phan Rang is all flat water, clean breakers, and spacious sandy beach.
The main spot during the season is My Hoa Lagoon, where you'll find flat water inside the reef and sweet little waves breaking off the outer edges.
The wind is strong- but stable (you can expect 20+ knots almost every day during the high season).
When the wind direction switches in the summer months, the nearby Ninh Chu Bay is the place to head for.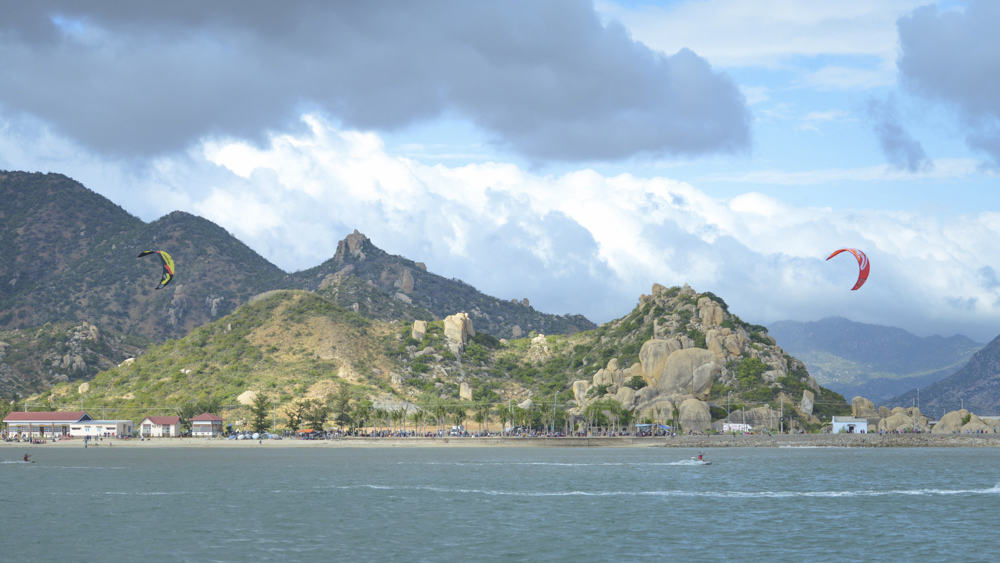 Phan Rang also has some of the best surf in Vietnam.
Off the water Phan Rang has tons of adventure potential: hiking in the national park, swimming in hidden waterfalls, and cycling along the picturesque beach roads.
Sorrento Beach Club is the most popular resort in Phan Rang for kitesurfers right now, so make sure to book well in advance if you want to get a room there! We did a detailed review of the kite club, restaurant, and rooms at Sorrento for those of you interested in the nitty-gritty.
There are 3 other kite resorts in town; Phan Rang Kite Center and our old friend's Phi Kite School, as well as the neighboring Vietnam Surf Camp which offers glamping facilities onsite in their hand-built teepees — pretty sweet!
Head over to our detailed Phan Rang travel guide for more information about the top things to do in Phan Rang, or to our complete guide to kitesurfing in Phan Rang for further info on spots, season, conditions, and more.
Kitesurfing in Mui Ne
For the best part of 2 decades, Mui Ne has been touted as Vietnam's premier kitesurfing destination. And of all the epic things to do in Mui Ne, kiting is our absolute fave.
Today, there are easily a dozen schools in operation here- not to mention the myriad other businesses that have developed around the kitesurfing community.
The wind season in Mui Ne is normally quite reliable (although we've recently seen the wind seasons shifting and becoming less predictable- which is something of a global phenomenon).
From November until the end of April, Mui Ne enjoys 18-25 knots on 80% of days- and it's not uncommon for it to blow well in excess of 25 when a weather front moves in.
Water-wise, it's usually rough and choppy.
It's not the easiest place for beginners, but it is by no means impossible to learn here- as we see from the dozens (if not hundreds) of new kiters who get up and riding for the first time on Mui Ne's challenging chop every season.
In terms of the beach itself, the size of the sandy area changes dramatically depending on the tides and time of year.
Beach erosion is a big problem in Mui Ne and is usually at its worst around mid-December for about two weeks.
People often talk of the challenging shore dump here- another symptom of the beach erosion. In reality, the shore dump is only really significant during the times when the erosion is at its worst; most of the time it's not an issue.
Along the main kitesurfing beach, C2Sky Kite Center enjoys the biggest beach area. As an IKO registered centre, they offer lessons, rental, storage, SUP excursions, foiling workshops and foil rental, and they even hold regular instructor training courses. They've got an absolutely stellar reputation- and they tend to book up fast during the season. Be quick to reserve your C2Sky lessons and accommodation!
C2Sky is also the first kite school in Mui Ne to set up their own surf cam and live Windguru meter, so users can tune in online to watch for wind and check out the conditions themselves before heading down to the beach.
It's also worth noting that Mui Ne's main kitesurfing beach is not the only kitesurfing beach in town:
With Malibu Beach to the north and Little Buddha to the south, kiters (and surfers, for that matter) have their pick of the bunch.
Mui Ne has an impressive choice of hotels and guesthouses for all budgets. From luxurious, beachfront Mia Resort to the young and laid-back Backpacker Village, you should have no problem finding the perfect room.
For further info about kitesurfing in Mui Ne, check out our complete guide to kitesurfing in Mui Ne.
Kitesurfing in Ke Ga
Ke Ga is the next cape down the coast after Mui Ne. Known for its iconic lighthouse facing out over the sea, Ke Ga is worth visiting for its landscape alone.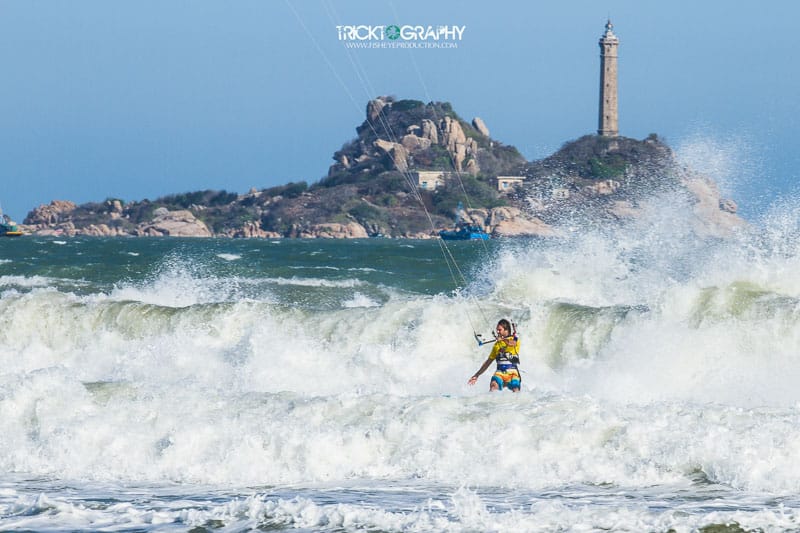 As far as kiteboarding in Ke Ga goes, it's definitely a spot for the more adventurous.
On one side of the lighthouse there's a lot of rocks, and on the other side it's very tidal. Timing is the key here; you'll only be able to get out of the harbour when the tide is low- but once you're out there you'll find the conditions are actually quite nice.
Even if the wind isn't on, Ke Ga is worth a visit- simply for the beauty of the place.
If the tides are right, you can almost walk all the way to the little island that sits right off the coast (or hire a fishing boat to nip you over), and the hike up to the lighthouse is very rewarding.
And after that, you can always head north to Mui Ne or south to La Gi.
Kitesurfing in La Gi
Thanks to its close proximity to Saigon, La Gi is a popular destination for weekend breakers looking to swap the city for the seaside.
It's the home of super quirky and very cool Coco Beach Camp, which — conveniently — is where you'll also find the kite beach.
La Gi's winds are lighter than Mui Ne, but that also means the water conditions are much gentler as well.
Coco Beach used to have their own watersports centre, but currently, it's out of action (you may be able to rent a couple of surfboards if you ask). Best off bringing your own gear.
Kitesurfing in Ho Tram
Down the coast less than an hour from La Gi, Ho Tram is the home of a supermassive new hotel complex and casino, The Grand Ho Tram Strip.
Outside the back of The Grand, there's an equally supermassive beach- already equipped with its own dedicated watersports centre.
The wind here is similar to Ke Ga (i.e. it's lighter and somewhat less reliable than Mui Ne or Phan Rang, but still blows 12-18 knots regularly when the season is on).
The big, spacious beach and easy shore break (not to mention its close proximity to Ho Chi Minh) make it an appealing alternative to the high winds and challenging water conditions in Mui Ne.
Kitesurfing in Vung Tau
Last on this wonderfully windy strip of Vietnamese coastline is Vung Tau, a busy port town that welcomes hordes of travellers coming up on the hydrofoil ferry from Ho Chi Minh.
The wind in Vung Tau is similar to Ho Tram and La Gi, but facilities are limited.
There is some small surf to be found here, and thanks to the establishment of a handful of local surf schools, you'll have easy access to board rentals and lessons.
How to get to Vietnam's kite spots
For Mui Ne, Ke Ga, La Gi, Ho Tram, and Vung Tau:
The most convenient airport to fly to is Ho Chi Minh (Tan Son Nhat International).
From there, you have a choice between public buses (cheapest), tourist buses (slightly more expensive, but way comfier), or trains (similar travel time and cost to buses, but better views).
Check prices and availability for buses and trains to Vietnam's kite spots now!
You can also access Vung Tau by ferry from Ho Chi Minh. If you're willing to part with a bit more cash, you can always choose to hire a private vehicle to get you door to door. Private cars, minivans, and buses should all be arranged in advance to secure a fair price and suitable vehicle; we use Bookaway for this and can highly recommend their services.
We've written a detailed guide on getting from Ho Chi Minh to Mui Ne which you'll find helpful if that's the route you have planned.
For Nha Trang, Cam Ranh, and Phan Rang:
Cam Ranh International is the closest airport. If you're coming from abroad and landing in Ho Chi Minh, the domestic transfer flights from there to Cam Ranh are awesomely cheap and fast.
Hiring a private vehicle is definitely the most convenient way to access the kite spots up here, as public transport is slightly less foreigner-friendly, and a little trickier to navigate than in Ho Chi Minh.
The most budget-friendly way to get there is by bus or train, which costs <$5. We definitely recommend booking your train tickets using the traveller-friendly site Bookaway.com to avoid confusion at the train station (it can be hard to find English speakers there).
For Da Nang:
Da Nang has its own international airport which is only a short drive away from the kite beach. Best off grabbing a Grab car straight from the airport; they're fairly cheap, and they'll get you right to the spot.
Internet in Vietnam
Internet in Vietnam varies greatly from place to place (see our Vietnam spot guides for details on internet speeds in a particular location).
In the cities and developed towns like Mui Ne, fiber optics are widely available and offer speeds of up to 50 MBps (though 10-20 is much more common).
Wifi is everywhere and free in virtually every hotel and guesthouse.
If you're planning to head to Vietnam for a kitesurfing holiday, your best bet is to grab a tourist SIM card. They're super cheap and easy to come by (from $5 USD for a month of 3G/4G options).
3G/4G in Vietnam averages 5.4 Mb/s, which is lower than the Asia-Pacific average of 9.69 Mb/s. Vietnam's 4G networks cover 95% of the nation. The main 4G providers in Vietnam are Mobifone, Viettel and Vinaphone.
See a full guide on Vietnam's Sim cards options here.
You might also like:
Cover picture and thumbnail: Alexandru Baranescu – KTA