Kayaking is a great way to get fresh air and exercise. It's also a fun way to get closer to nature and explore various waterways. The hardest part of any kayak adventure is loading and unloading your kayaks and getting them in and out of the water.
Traditional kayas often require heavy lifting and equipment for transportation, but foldable kayak are portable and lightweight.
Designed to be portable and durable, Oru origami-style kayak designs make it easy to travel almost anywhere with your kayak. They fold up to a compact size, fit in a small storage bag, and can be transported in a car, RV, or even on a bike.
They are made from strong and durable materials and come in different models, so kayakers of any level can enjoy them. It's up to you to decide which model can best meet your needs.
Best Volume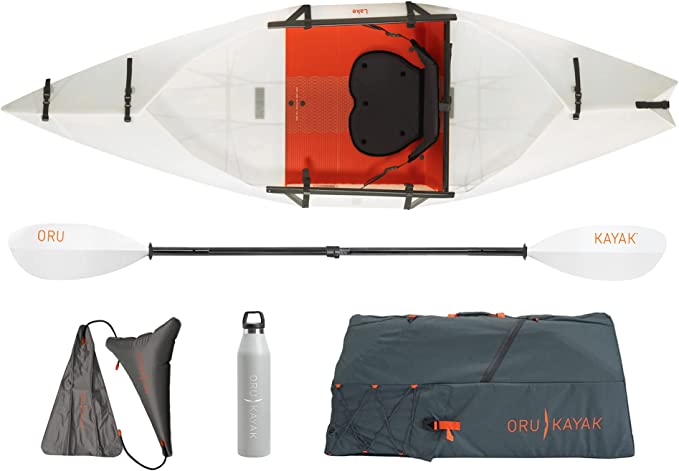 Oru Lake
Material: Polypropylene
Item Weight: 17 Pounds
Lightweight and Compact

Oru Inlet
Material: Polyethylene
Item Weight: 20 Pounds
Best on Flat Water

Oru Beach LT
Material: Polyethylene
Item Weight: 25 Pounds
Most Versatile

Oru Bay ST
Materil: Polypropylene
Item Weight: 26 Pounds
Best Performance

Oru Coast XT
Material: Polyethylene
Item Weight: 32 Pounds
High Value

ORU Haven TT
Material: Polyethylene
Item Weight: 41 Pounds
What Is Folding Oru Kayak Review
Folding Oru kayaks are easy to transport and take on your favorite waterways. They are made of durable custom-extruded polypropylene that is flexible but also durable. They fold up for storage, can be assembled in less than five minutes, and last up to 20,000 folds.
What Are the Differences Between the Oru Kayak Models?
When it comes to the different models of Oru kayak models, the biggest difference between them is their size, which also corresponds to their overall design. Let's take a look at the features of each model.
1. Oru Lake – Ideal For New Paddlers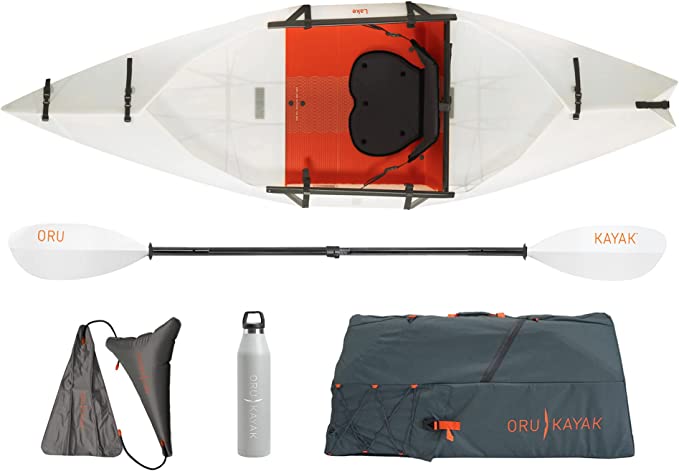 This is the first folding kayak my family owned. My son got it for his fifth birthday before any of us got serious about kayaking. We have always been a fishing family, and while we had a bass boat, our son always wanted to be off on his own, even at such a young age.
We bought him this kayak and allowed him to use it near our boat or close to the bank while we were fishing there. It didn't take him long to learn how to fold and unfold it himself.
It's also light enough, at just 17 pounds, that he was easily able to load and unload it with minimal help.
He found it easy to paddle and steer, and honestly it's the reason my whole family decided to get into kayaking.
When my son upgraded to a hard, river fishing kayak, we passed this on to my younger son, who loved it just as much. Over the years, we have all used it, and it has held up nicely.
I really like its portability, and it's still our go-to kayak if one of us is just going for a quick trip or if one of my boys wants to take it for a camping trip with a friend or scouts.
It's great because you don't need a lot of storage space and because it's such a best lightweight kayak, I know they can handle it on their own.
Performance-wise, it does better than expected. For something so light and flexible, I didn't expect it to do that great, but it has exceeded my expectations.
I love how it sits in the water. It's not too high to make you feel like you're struggling to paddle, but it's also not so low that you are afraid the water may come in if you tip too much to one side.
I have only ever used this on calm water at our local lakes and creeks. It is very sturdy, so I think it could hold up to some slightly rougher water.
It is rated for up to 250 pounds. My husband is right at the weight limit, and he has used it a couple of times with no issues and found it comfortable as well.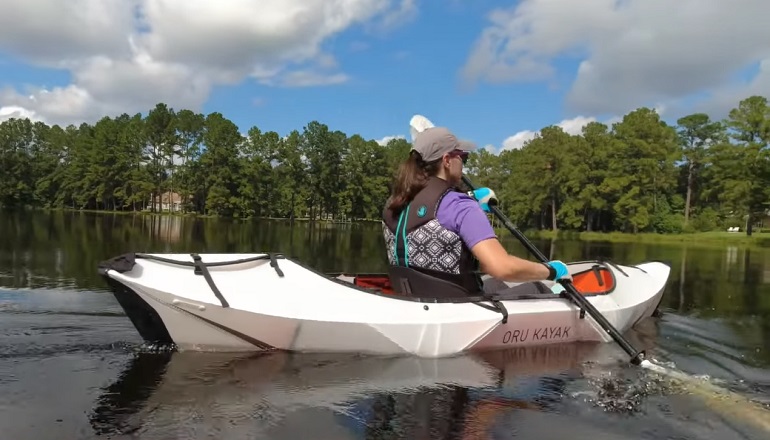 While we have loved having this kayak for quick trips on flat water, I have noticed that it does pull from side to side easily, and when going from a standard kayak back to this foldable kayak, it did take some time to adjust my stroke.
Now that my kids are more experienced paddlers, they have mentioned the same thing. Still, you just can't beat it for a beginner kayak that is affordable and easy to pack.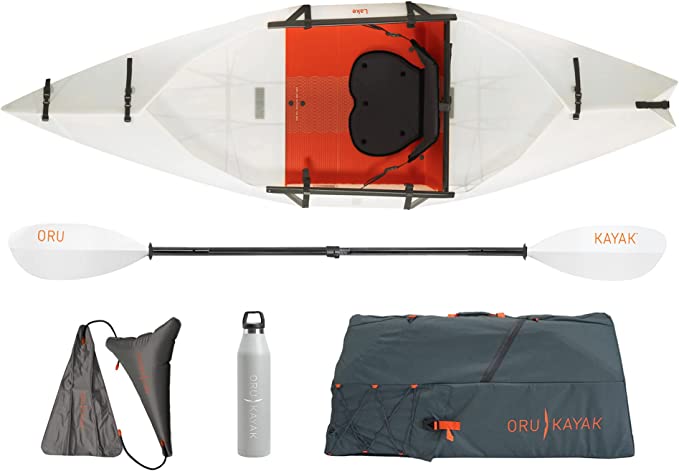 Oru Lake
The Price of "Oru Lake" varies, so check the latest price at
2. Oru Inlet – Perfect For Casual Kayaking

The Oru Inlet is a step up from the Oru Lake. It's a great recreational kayak that you can easily launch from a sandy beach or a muddy bank with no problems. This kayak is extremely portable and lightweight.
It only weighs 20 pounds, and it's easy to set up. Once you have practiced a few times or if you have experience with other origami kayaks, you should be able to set this one up in less than five minutes.
I love the sleek design and the fact that I can just toss this in the back of my car and don't have to borrow my husband's truck to haul it to the lake.
It makes it easy for me and my kids to go on our own without needing a lot of muscle to load and unload bulky kayaks. I use this model for flatwater kayaking mostly, and it does the job just fine.
It has an open cockpit design, and there's some extra storage space if you want to put a tackle box or backpack in it. It does get a little humid in the summer when the sun is beating down on the plastic, but it's not unbearable.
Because of the open cockpit, and the lightweight frame, I am leary about taking this on bodies of water where boats with gas motors are allowed. I'm not sure it could handle large wakes without tipping or filling with water.
The adjustable seat is held in place with velcro, and while the seat is comfortable, I feel that the velcro has started to give out already. This would be easy to replace, but something worth noting.
As someone who loves to hike and explore new trails, I sometimes toss this in my backpack if I know there may be a pond or creek worth paddling and have some extra time to do it.
The added weight doesn't bother me, and it's much easier than trying to drag a hard kayak down a trail. In fact, I wouldn't even attempt to do that. While it does easily fit in a large backpack, I also don't mind just carrying it in its old bag.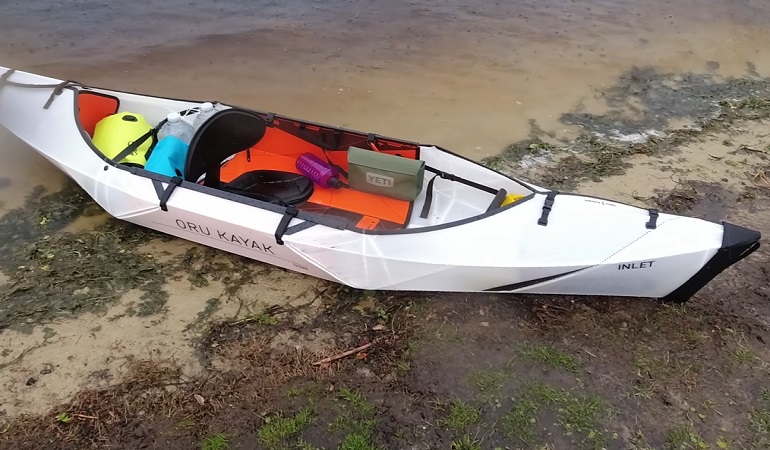 The plastic shell does look like it could be flimsy, and it feels that way when you are unfolding it. Once it's together though, it's very sturdy and durable. Like other Oru kayaks, it can be intimidating to put it together at first, but after a few times, it's much easier.
I always try to avoid paddling over trees or too close to banks that could have roots or sharp rocks sticking out, but as any experienced paddler knows, sometimes you just can't avoid it. So far, nothing has torn or damaged it.
There are some marks and scratches, but that's to be expected. I am careful not to bring it in too far to the bank over rocks and gravel, as I feel like doing this too often would eventually wear down the bottom.

Oru Inlet
The Price of "Oru Inlet" varies, so check the latest price at
3. Oru Beach LT – Great For Narrow Waterways

The Oru Beach LT can hold up to 300 pounds and has a sleek and slender design compared to the other models. This makes it easier to cut through the water and get some speed if you are a more experienced kayaker.
This design also makes it perfect for narrow waterways such as creeks and streams. My first time using this kayak was in Murrels Inlet in South Carolina. These were available for rent and since we already had two Oru kayaks, we didn't hesitate to try them.
My kids opted for a tandem model canoe and my husband and I took these. While they may not be great for rough sea kayaking they were perfect for the inlet and marsh.
They were able to cut right through the dense reeds and because this portable kayak is lightweight and doesn't sit too far down in the water, it was able to glide over shallow areas with ease.
I'm smaller, so I never have an issue fitting in a kayak or feeling comfortable, but even at 6'2" and 255 pounds, my husband found it comfortable and easy to maneuver. He also felt that it had more legroom than the other folding kayaks we have at home from Oru.
The paddling is different than with a traditional kayak and they are more sensitive and responsive to turns, but it's easy to adapt and if you don't already own a hard kayak, you wouldn't have any issues. I actually prefer the ease of steering once I get used to it.
Since we rented ours, we didn't need to assemble the initially.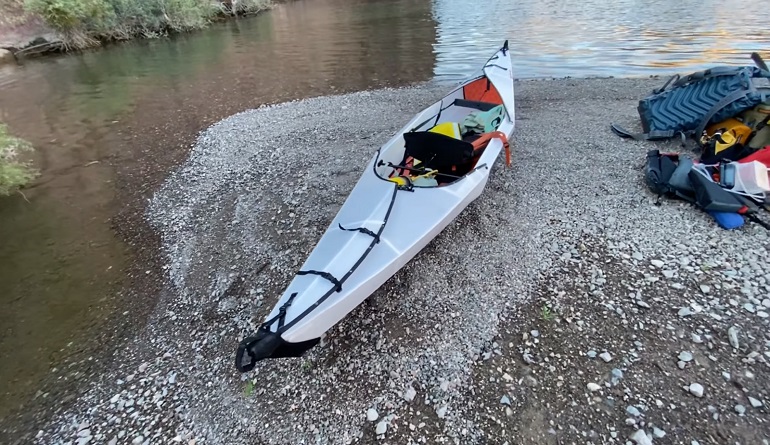 After we finished at the Marsh we wanted to take them further north to Cherry Grove and we stopped back by the rental office so they could show us how to break them down so they fit in an Oru Pack and also gave us a quick lesson on setting them up when we go there.
It was just as easy as our other inflatable kayaks made by Oru. This folding kayak model was a little heavier than the other models but still lighter than most other portable kayaks and easy to carry.

Oru Beach LT
The Price of "Oru Beach LT" varies, so check the latest price at
4. Oru Bay ST – Best For Intermediate Paddlers

This is one of the best Oru kayaks for intermediate paddlers because it has a more rugged design that makes it ideal for stronger or rougher waters. Unfolded it is a little over 12 feet long and weighs about 26 pounds.
It has a 300-pound weight limit and a slimmer design. Don't let its slender frame fool you though, it's tough. When scuffed up against a rocky creek bed it held up just fine.
It's made of strong, double-layered polypropylene, which is also what helps it withstand all the folding and unfolding.
The Oru Bay ST kayak can be a little wobbly due to the slender frame, but it doesn't take long to get a good feel for it. It's also more responsive to your paddling.
I felt more confident taking this on bigger bodies of water where there were other boats and wakes and it seemed easy to balance.
Like other folding kayaks, it takes a couple of tries to set it up and unfold it. It's much easier to fold and put away. It also comes with a carrying bag and it only weighs 28 pounds, much lighter than traditional kayaks and any inflatable kayak I have tried.
I find most Oru kayaks comfortable, but this is one feature that stood out on the Oru Bay Kayak. I felt the padded seat was very comfortable it didn't get too soaked when water splashed in. In fact, it dried pretty fast.
The backrest is also padded and seemed sturdier than those on the other models. There are also padded footrests for extra comfort and plenty of room in the foot area.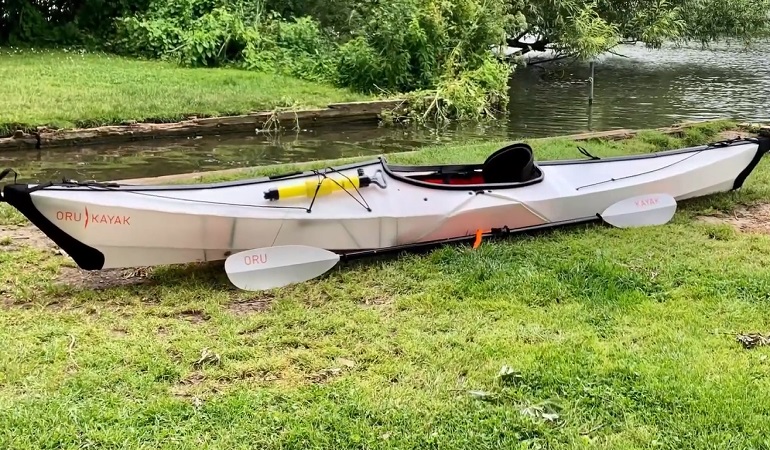 There was plenty of room for me to store my waterproof bag in the leg area, but I could have also kept it on either side of my seat too.
I was really pleased with my overall experience with this folding kayak and due to its extra stability and ruggedness, I prefer it when paddling on bigger waterways or areas with rocky or rough lake and river bottoms.

Oru Bay ST
The Price of "Oru Bay ST" varies, so check the latest price at
5. Oru Coast XT – Best For Advanced Kayaking

The Oru Coast XT is great for serious kayakers who need a folding kayak that is durable but also lightweight. This origami kayak can go places that an inflatable kayak just can't. This is the original Oru kayak and they built it right. It has a sleek design but it is very rigid and durable.
On a trip to New River in West Virginia, my friend let me borrow his so I would have a packable kayak that I could easily stash in my RV.
I was worried it might get damaged on the rapids or the rough and rocky parts of the river, but it held up nicely and I didn't find a scratch on it after the trip.
The thick material is abrasion resistant, so I was able to return it to my buddy in perfect condition. I was relieved that there were no durability issues.
Both the bow and the stern come to sharp points and make it easy to cut through the water. Because it's a lightweight kayak it's very responsive, which is nice in fast-moving water with lots of boulders, downed trees, and obstacles to navigate around.
I enjoy kayaking on various types of waterways and I think this would work well on any, even ocean water with larger wakes. The carrying strap was thick and comfortable to hold for easy transport.
The design creates a slim line, but it actually has a rather large cockpit. It has plenty of space for my kayak life jacket and the backpack I always carry on day trips. There's also a little space for extra equipment.
Even though this is meant for advanced kayakers, paddlers of all levels could enjoy it. It would do amazing on flat water and the good tracking would make it incredibly easy to cover a large distance quickly on all your adventures.
You could also install a spray skirt if needed to block the water from entering the kayak at higher speeds.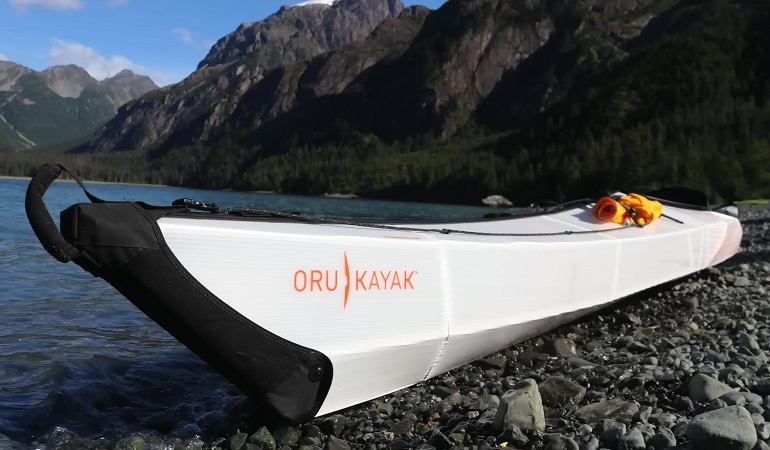 Just like the other folding kayaks by Oru, this one folds up tightly to store and transport it easily. The assembly time is less than five minutes with a learning curve but you can expect it to take a little longer to set up and break down the first couple of times you take it out.
At just 32 pounds, it's much lighter than a regular kayak which any kayaker who loves hiking into their favorite waterways or just wants to be able to transport their kayak without needing a roof rack or other accessories to get it to their destination.
The exceptional performance of this folding kayak really impressed me and while I'm lucky enough to be able to borrow it whenever I want, I can't wait to get my own.

Oru Coast XT
The Price of "Oru Coast XT" varies, so check the latest price at
6. ORU Haven TT – Great For A Tandem Adventure

This folding kayak is a best tandem kayak with a large cockpit perfect for two paddlers. Not only does it glide through the water with minimal effort, but it is also extremely portable and easy to store when folded and broken down.
A second paddler requires secondary stability and this folding kayak delivers. You don't have to worry about a tight fit because there is plenty of room in the cockpit for both paddlers and additional items.
The assembly time for this model is the same as other Oru models and the weight is just slightly more at just 41 pounds.
The double-layered design makes it perfect for freshwater touring and beginner kayaker who don't want to kayak alone but still want something that can be folded for easy transportation and portability.
This comes in handy if you have a child who is too young to paddle their own kayak or if you just want to enjoy touring with a friend. Designed to hold more people and more gear, it's very spacious. The width is perfect and even my dog seems comfortable when sitting in it.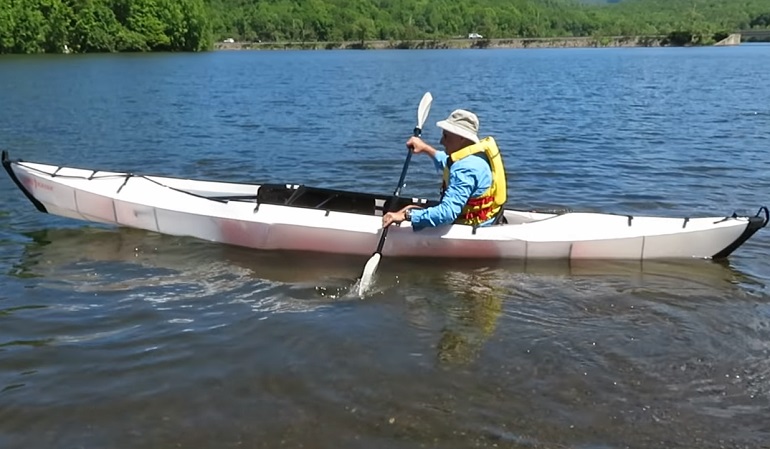 Due to its lightweight, it's very sensitive so you and your partner have to be in sync with your strokes. Beginners who have never paddled before may want to practice before taking off for a weekend adventure.
Otherwise, you may find yourself headed to shore unintentionally or rocking back and forth.
In spite of being a tandem kayak, it's surprisingly fast. The sleek design made it easy to get a good speed and it coasted for a while after a few strong paddles. My partner and I were easily able to keep up with fellow paddlers in traditional kayaks and other individual folding kayaks.

ORU Haven TT
The Price of "ORU Haven TT" varies, so check the latest price at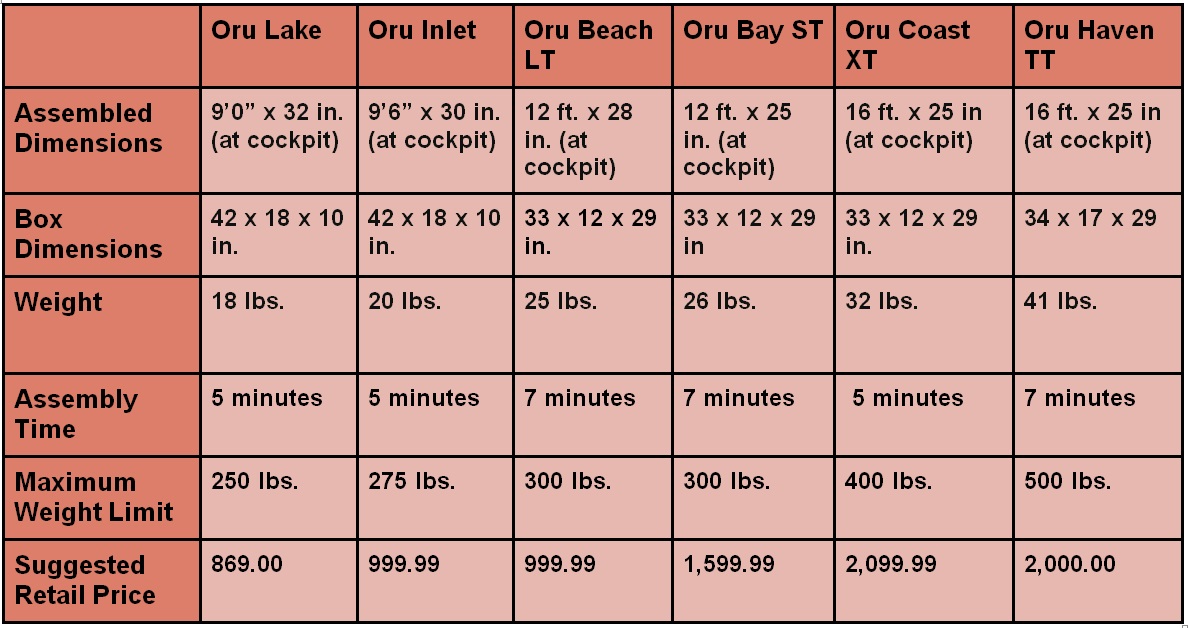 Oru Kayak Accessories
Oru folding kayaks work with a lot of accessories and it's a good idea to keep some of these in your kayak when you go on your next paddling adventure.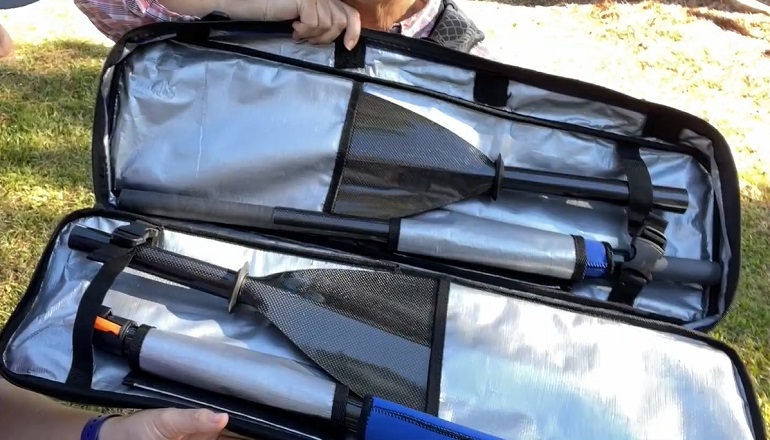 The Oru paddle breaks down to be just as portable as the folding kayaks. It comes apart in four pieces and can be added to a backpack. The blades are made of molded ABS plastic and the handle is made of marine-grade stainless steel, so it is rigid.
It is adjustable and lightweight, weighing less than three pounds. It also floats, which is great if you happen to drop it in the water or lose your grip while paddling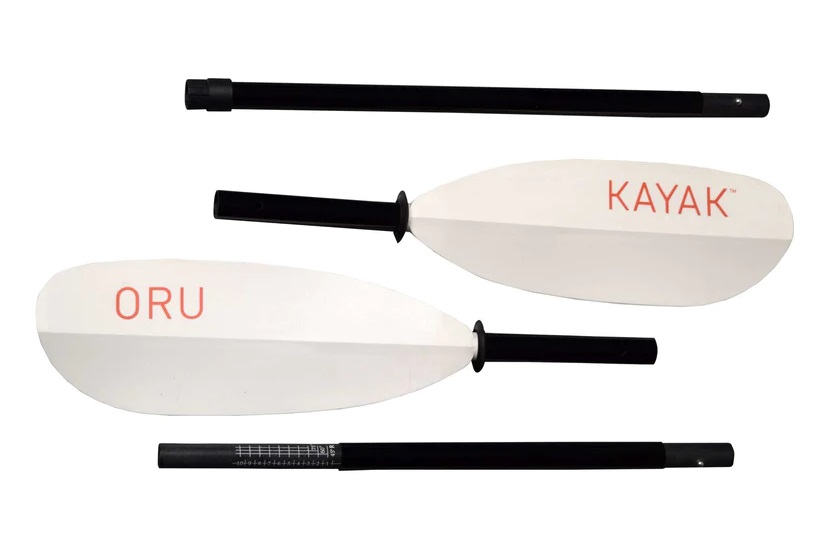 Oru Paddle
The price of "Oru Paddle " varies, so check the latest price at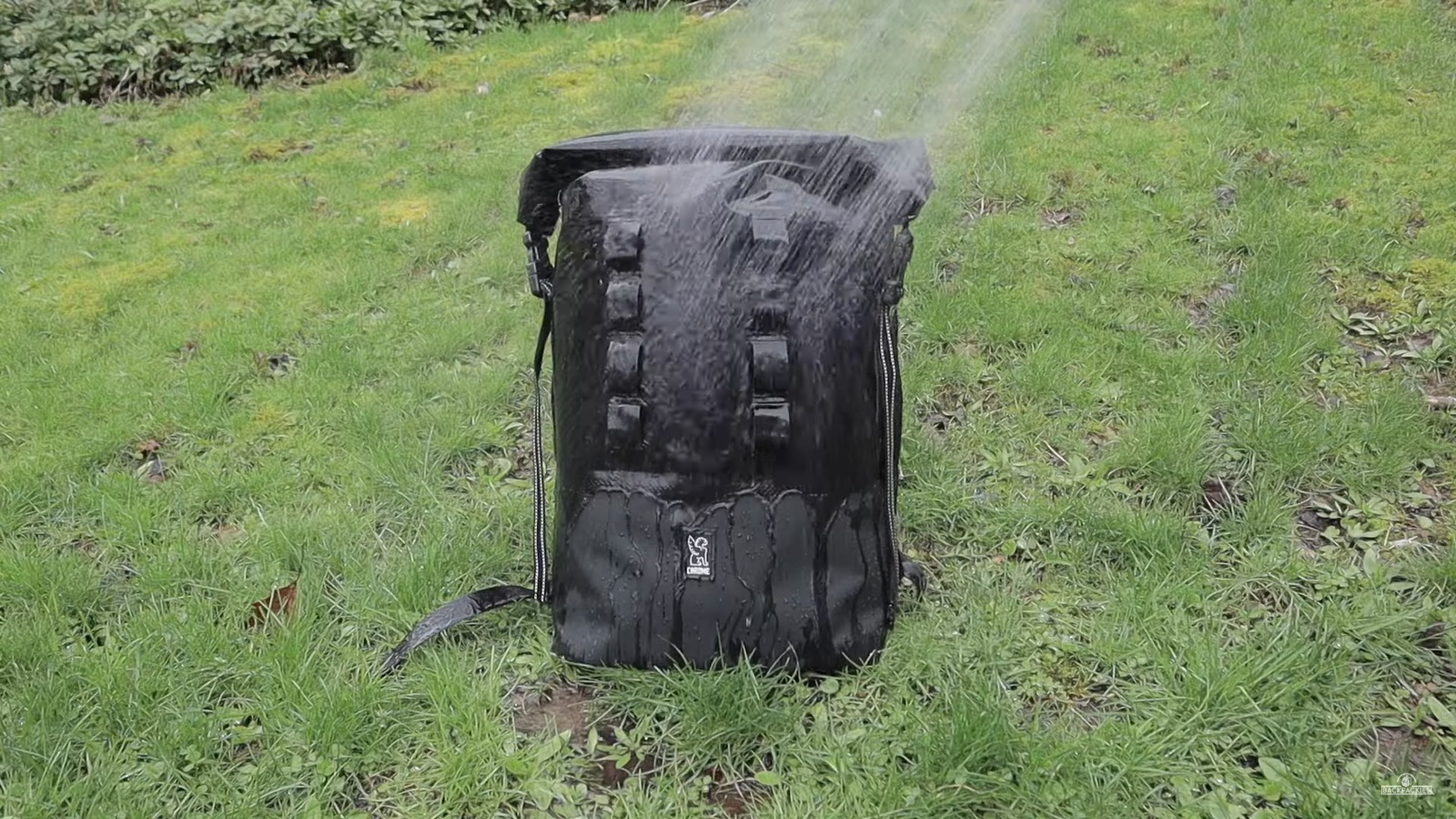 The Oru Waterproof backpack is available on the Oru kayak website. It is spacious and can protect any gear you may need to carry for your adventure with your origami kayaks.
It has a convenient front pocket that zips and is ideal for smaller items and a larger main pocket that hold up to 35 liters. It is made of 500D PVC Tarpaulin, which makes it durable and waterproof.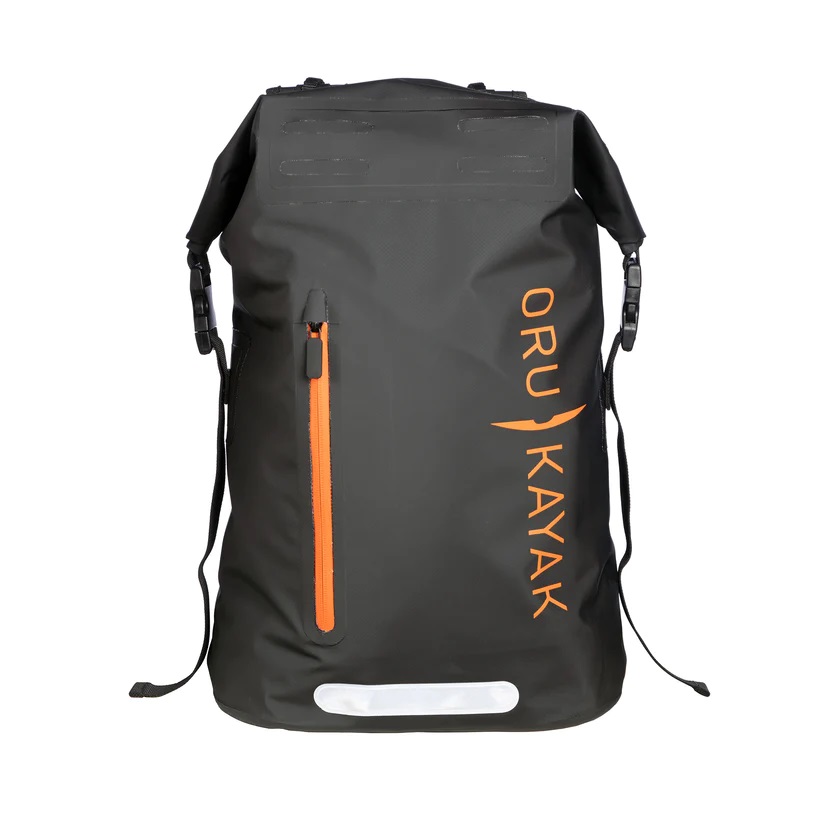 Oru Waterproof Backpack
The price of "Oru Waterproof Backpack " varies, so check the latest price at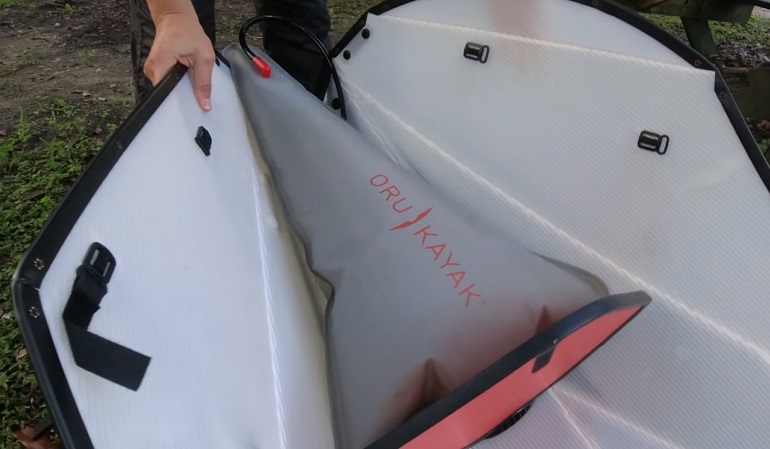 Oru offers float bags that are compatible with their origami kayaks other than the Lake models and helps to prevent the folding kayak from tipping or overturning should you lean too far to one side, get hit by the wake of another boat, or hit rough water.
Each set has two bags and they are designed to fit perfectly in the bow and stern so they aren't in the way but are there when you need them.
They are also inflatable so they won't add to the weight of the kayak or prevent it from folding. I keep mine in place and folded up with the kayak so everything is in one place.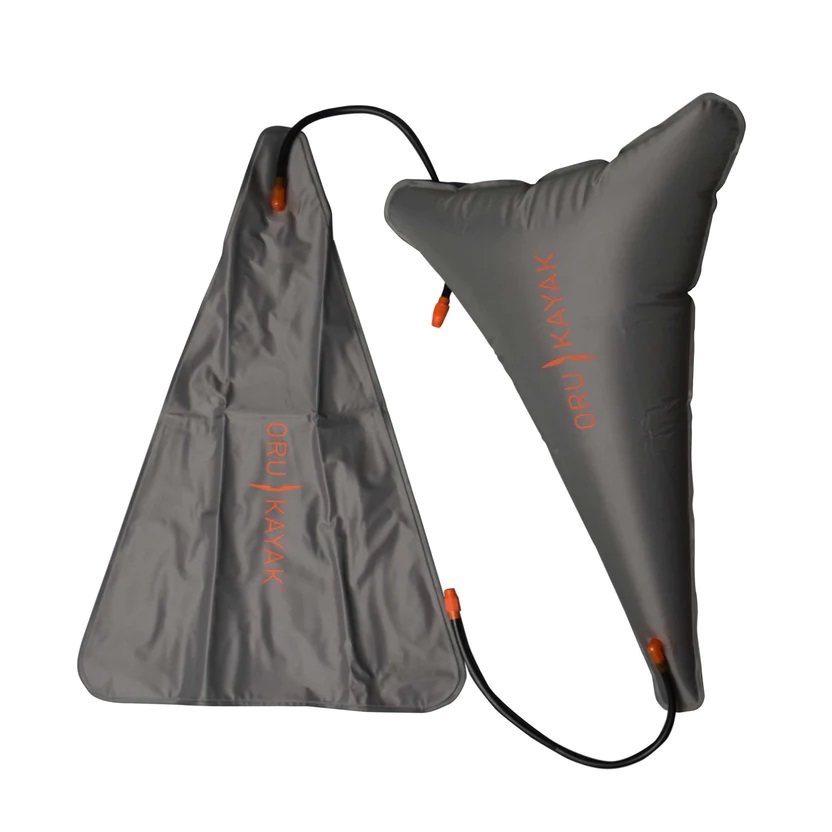 Oru Float Bags
The price of "Oru Float Bags " varies, so check the latest price at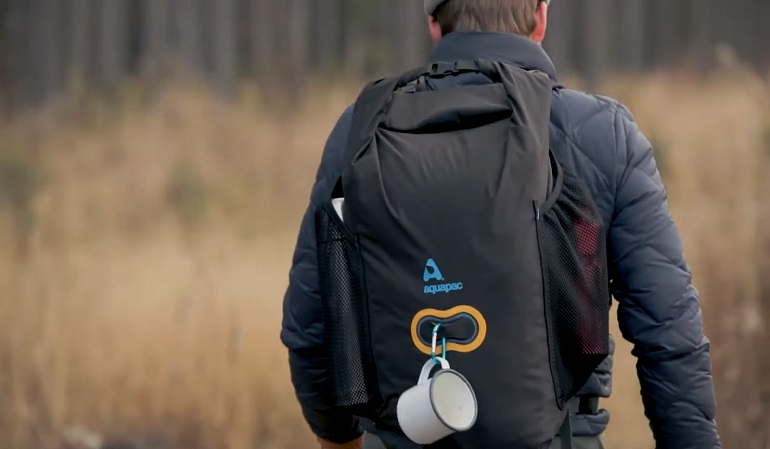 If you love kayaking and do it often, you need the best dry bag for kayaking. Dry bags are waterproof and protect your personal items from getting wet and damaged. The Oru dry bag has a clear window so you can see everything inside the bag.
I love that I can look inside so I can quickly grab what I need without taking everything out to find it. The dry bags are made of durable 500D PVC Tarpaulin, have a large capacity, and come in two sizes, 2L capacity and 15L capacity.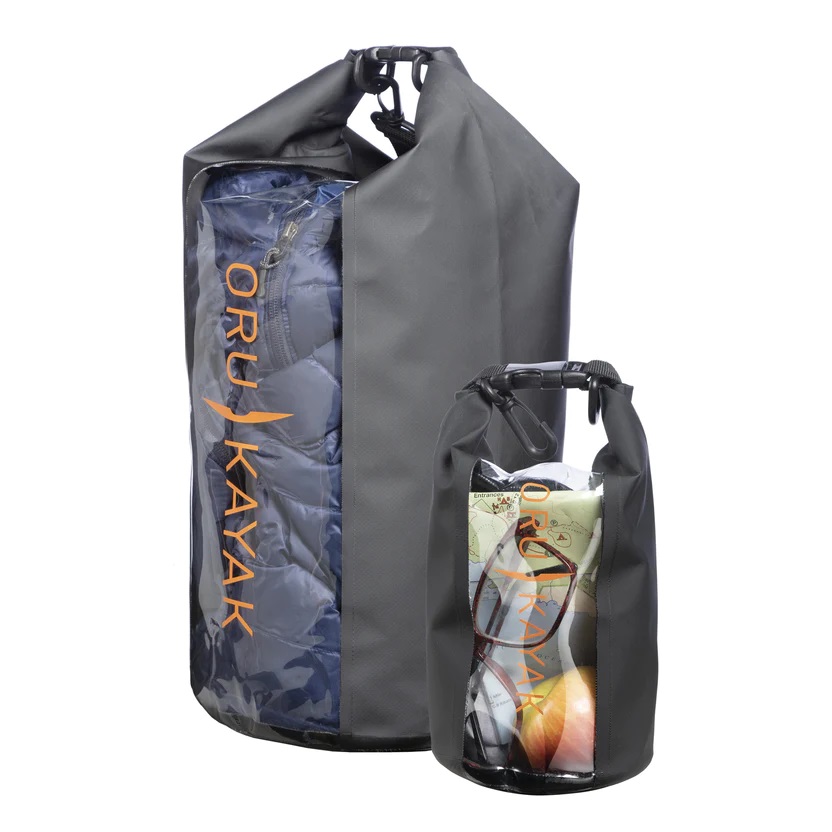 Oru Dry Bags
The price of "Oru Dry Bags " varies, so check the latest price at
While Oru kayaks are high quality and very durable, accidents can happen, and if by chance you experience one, you will want to have a repair kit on hand.
The Oru repair kit includes waterproof tape to help you stay afloat until your get your folding kayak back to the beach. The kit is small and can be kept in the kayak with your personal flotation device and other safety gear.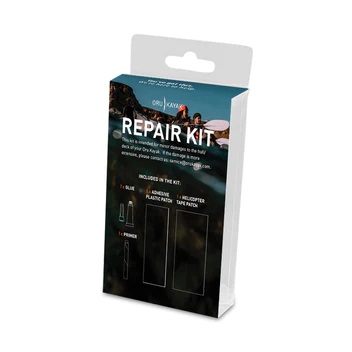 Oru Repair Kit
The price of "Oru Repair Kit " varies, so check the latest price at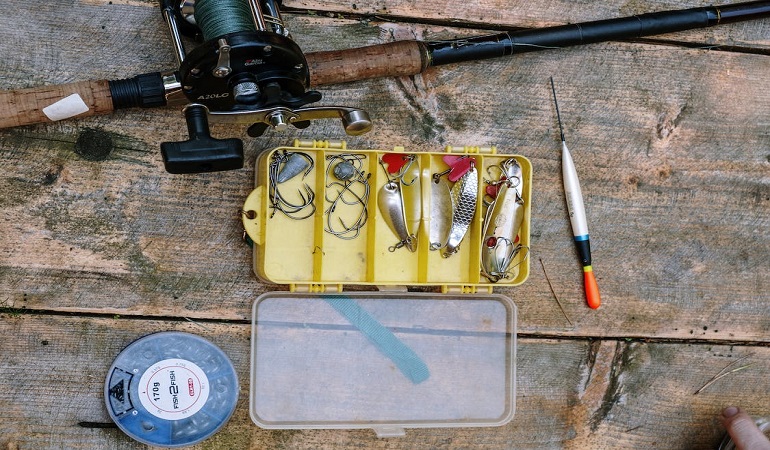 If you are like me and my family, you probably do a lot of fishing from your folding kayak. Oru offers a rod holder that is specifically designed for their kayaks.
The adhesive rod mount is available for all models other than the Inlet model and the rail mount is available for the Haven model. The fishing kit includes everything you need to install the rod holder and adds to the versatility of your kayak by making it perfect for touring and fishing.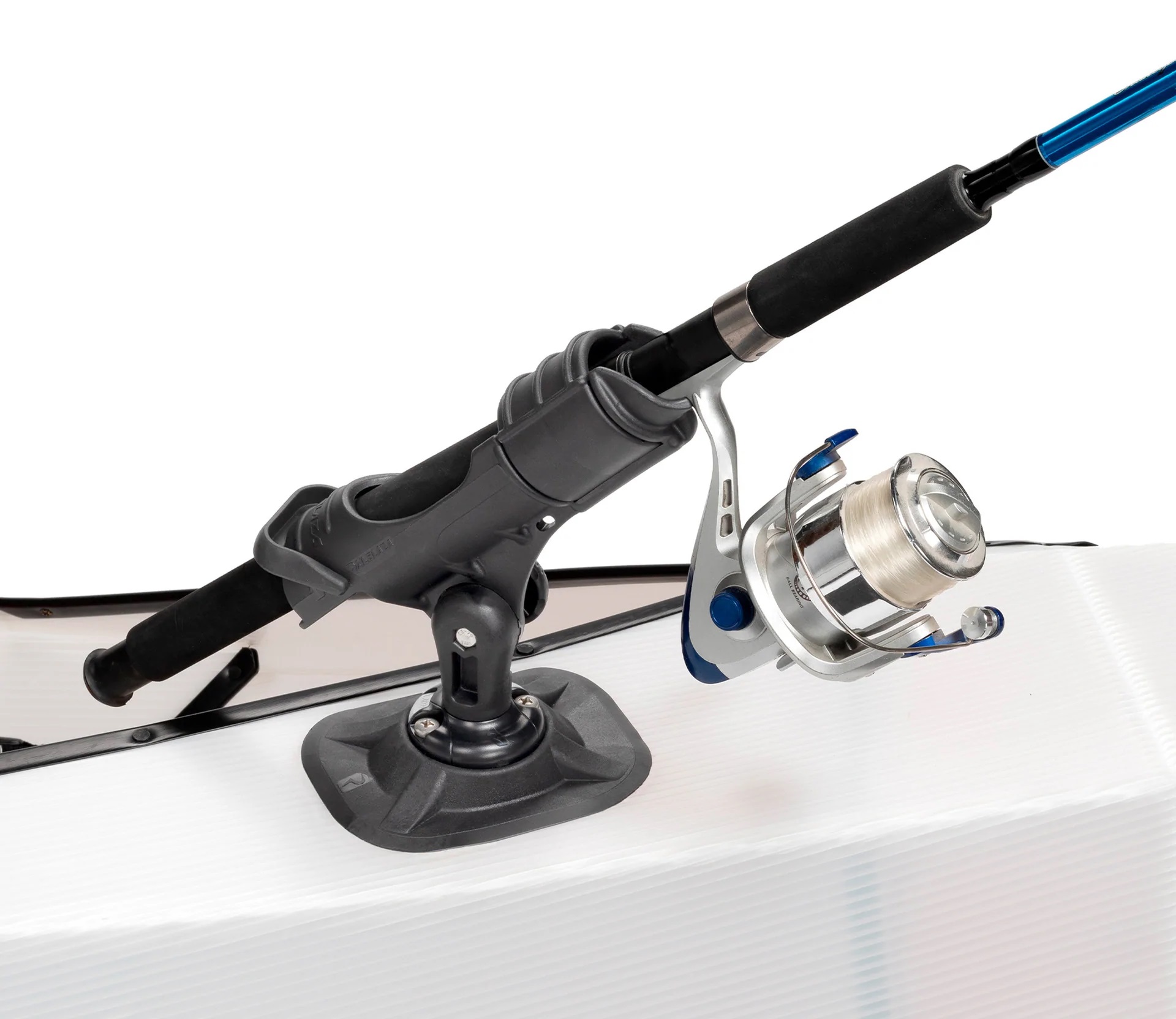 Oru Fishing Kit
The price of "Oru Fishing Kit " varies, so check the latest price at

Who Should Consider an Oru Kayak?
Oru kayaks are ideal for paddlers of all ages and skill levels
The Lake, Inlet, Beach, and Haven TT models are perfect for beginners or casual kayakers, and the Bay ST and Coast XT models have everything a more advanced paddler could want, including a slender design for better speed and professional performance.
Pros to Owning an Oru Kayak
There are many reasons I love owning an Oru kayak. I'm sharing some of those reasons below for your consideration.
It's a Real Boat
Even though it folds flat and is made of lightweight materials, the Oru folding kayak is still a real boat and be used the same way you would use a traditional kayak.
They're Portable
It's easy to toss any of the Oru kayak models in the back of your car, strap it to a bike, or just carry it to your favorite paddling spot. They fold up and down easily so you can pack up and unload quickly no matter the location.
They're Lightweight
If you have ever lugged around a hard kayak, you will appreciate how lightweight Oru kayaks are. The Lake model is the lightest and weighs just 18 pounds and the Haven model is the heaviest weight just 41 pounds.
They Can Be Stored Easily
Because Oru kayaks are folding kayaks they can easily be folded down and placed in their storage bags so they can be stored easily. They don't take up much space and can be kept in a closet, garage, or even your RV.
They're Pretty Easy to Assemble
While I'll admit it can be intimidating to assemble a folding kayak at first, these really are fast and easy to set up once you do it a couple of times. It took me about 30 minutes to set mine up the first time, but now I can do it in less than five minutes.
They're Durable
All models of Oru folding kayaks are made of polypropylene and rust-resistant hardware. The polypropylene protects the folding kayak from scratches, dents, and tears and the hardware won't rust, even when left wet for a long time.
Cons to Owning an Oru Kayak
There are some cons to owning an Oru folding kayak that should also be taken into consideration.
They're Expensive
They are pricey and while I think they are well worth the cost, they may not be in the budget for everyone.
The Seats Aren't That Comfortable
My biggest complaint is the seats. They just are not very comfortable. The padding does help and if you are only taking a short trip they are fine. If you go on longer tours, you will find that they lose their cushion and comfortable over time.
Should You Buy An Oru Kayak?
If you are new to kayaking or have a traditional kayak but need something more portable and easier to store, folding kayaks are the best option. Oru folding kayaks are some of the best.
They are durable, and lightweight, come in different models, and have many accessory options. Every time I use mine it's a great experience and I believe they are suitable for paddlers of all ages and skill levels.