Wondering what to do in Bangkok? Here's 7 action-packed activities you'll love.
From the glitz and glam of the iconic sky bar to the down and dirty backpacker roads, Bangkok sees a million different kinds of lives being lived on her streets every day.
Bangkok has long been a tourist hub, the main port of call before travellers head north to the mountains in Chiang Mai or south to the sunny islands. While it may still hold a reputation for its unscrupulous after hours activities, there's a lot more to this weird, wonderful, and downright wild city.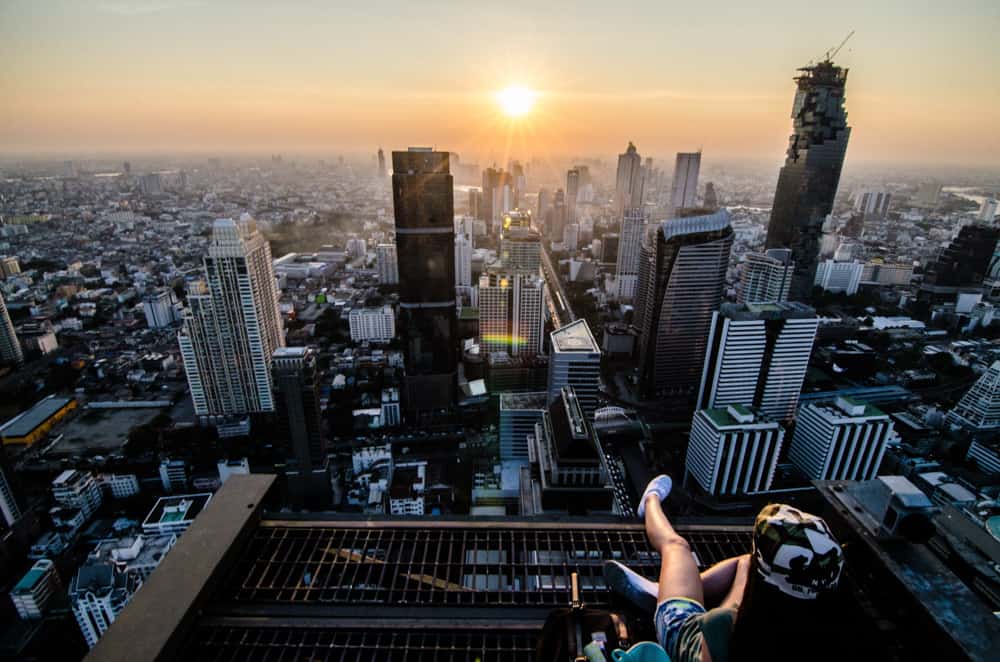 For those of you looking to get your adventure on in Thailand's capital, here's our pick of the best outdoor activities and offbeat things to do in Bangkok:
Psst: if you're working remotely in Bangkok, head over to our complete Bangkok digital nomad guide for tips designed just for you!
Our top outdoorsy Bangkok activities:
Wakeboarding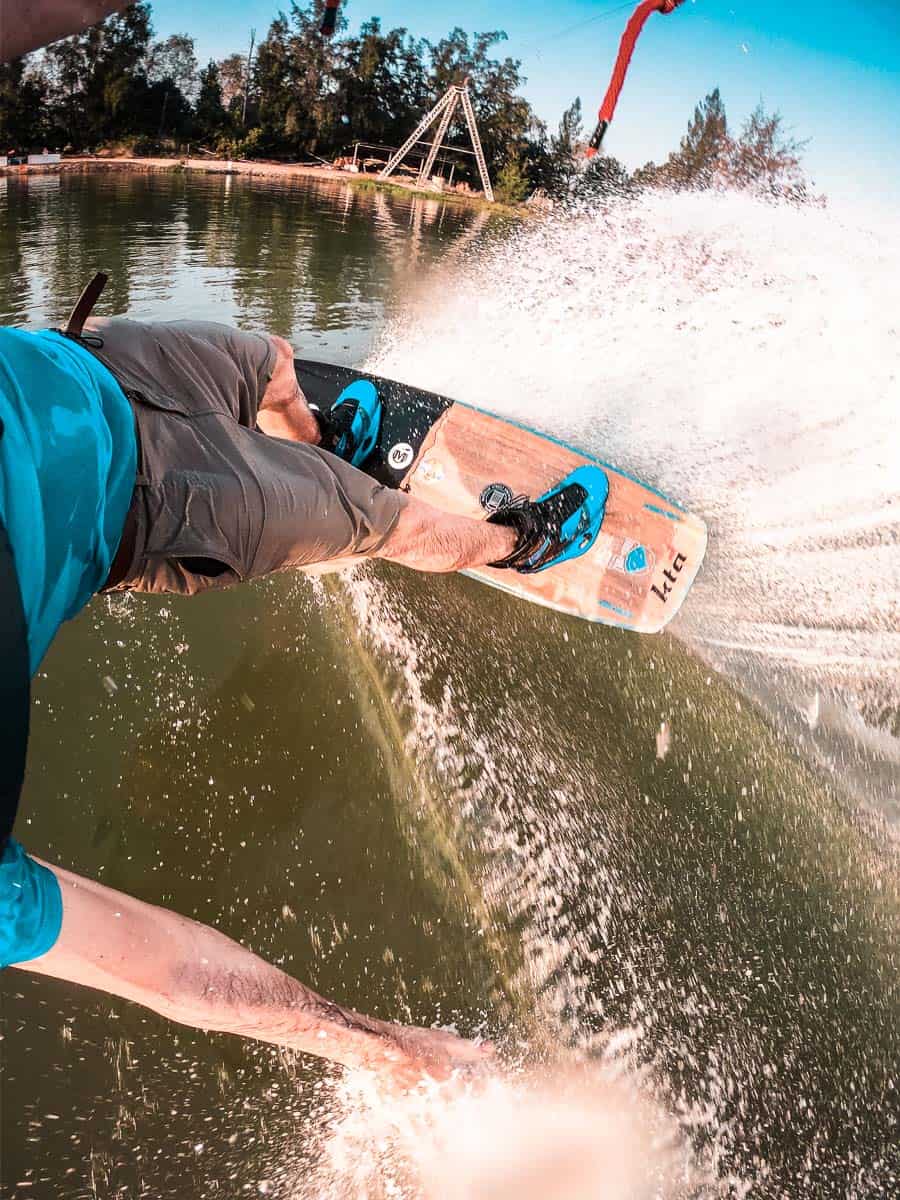 Thailand has seen an explosion of popularity in the world of wake over the past few years, and Bangkok is home to a hefty slice of the action. In fact, Bangkok is actually home to some of the best cable parks in Asia.
Whether you're a wanna-be wakeboarder, an experienced shredder, or even someone who's travelling through Bangkok with your kids and looking for a family friendly activity, the city's wake parks leave nothing to be desired.
For these reasons — and the fact that wakeboarding is a perfect way to keep cool in the supa' hot Thai weather — wakeboarding is one of our favourite Bangkok activities.
Here's where to go to get your wake on:
Taco Lake
Impressively, people have been riding around on this lake since 1991! Just 20 minutes from Suvarnabhumi airport and 45 min from downtown, Taco Lake is kitted out with a mix of kickers and sliders. On site they have their own kitchen serving up fresh Thai food, as well as an array of rooms which are available to rent short-medium term (each with air-con, hot shower, wifi, and kitchen access).
Set up by a group of wake-crazy locals, Thai Wake Park has hosted some pretty major comps (like the Asia Wake Park Tour) in its time. It's got a 5 corner Rixen counter clockwise cable (check out the sick cable layout here) as well as a 2 tower system for private rides, beginners, and pros looking to nail down some serious training.
They offer their own accommodation on-site, and discounts are available for 'slow-mads' staying more than 2 weeks.
Only 25 minutes drive from the city center, Zanook's German-made 5 tower Rixen system is one of just 2 clockwise systems in all of Asia. A nice challenge for the goofies among us and for sure a welcome change for the regulars! They've also got an inflatable aqua park next door as well as SUP rentals for the lake.
These guys run a boat and winch operation in the north of the city. One of the trainers is reigning Asian wake champ, 'Bomb' Padiwat Jaemjan. Just next door to the lake, they've got poolside cabanas available to rent on a monthly basis for really good rates.
Located in the northwest of the city, MDPG sports a handmade 2.0 cable. It might not be the biggest and baddest in the city, but their rates are good and the 2.0 is ideal for beginners looking to nail down some basic riding skills.
Surfing at the Flow House
In addition to the world-class wakeboarding, Bangkok's heart is also home to the Flow House 2.0, an "urban beach club" sporting a double FlowRider system imported right from San Francisco! Swit-swoo, this is one Bangkok activity not to be missed.
The concept basically creates an everlasting artificial wave on which you can ride with either a bodyboard or a small finless surfboard. The place is also equipped with a plunge pool, a bar, a surf shop, a bike zone and of course, free wifi and lots of space to work or chill.
Visiting the floating market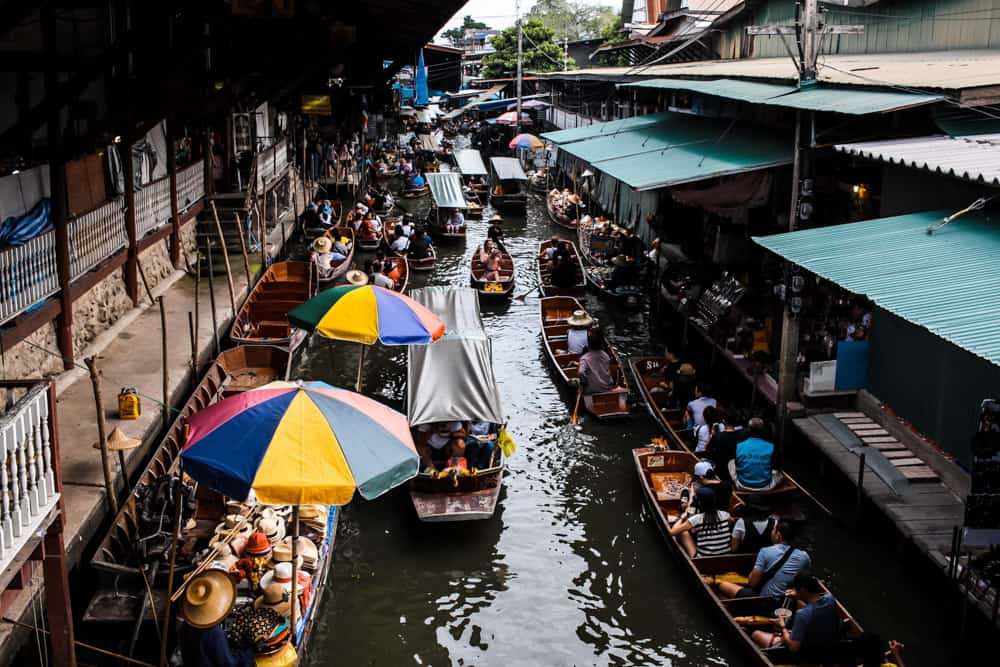 Bangkok's canals are more than just iconic landmarks and the home of giant, scaly, dinosaur-like monitor lizards (ummmm, what?). They also play host to the city's floating markets.
They're pretty unique to this part of Thailand, an important part of local culture and social life, and increasingly popular tourist stop-offs. And no wonder — they're pretty frickin' cool places to visit.
Located about an hour and a half from the city centre, a visit to Damnoen Saduak Floating Market is by far one of the most popular Bangkok activities for travellers hoping to see some local culture.
Since this market is located in Ratchaburi — quite a ways away from downtown — the easiest way to get there is by booking a private tour. You'll get picked up from wherever you're staying in Bangkok and driven to the market, where you'll board a long-tail boat and cruise around the maze of canals; meeting the locals and snacking on some Thai specialties. Yum.
Hiking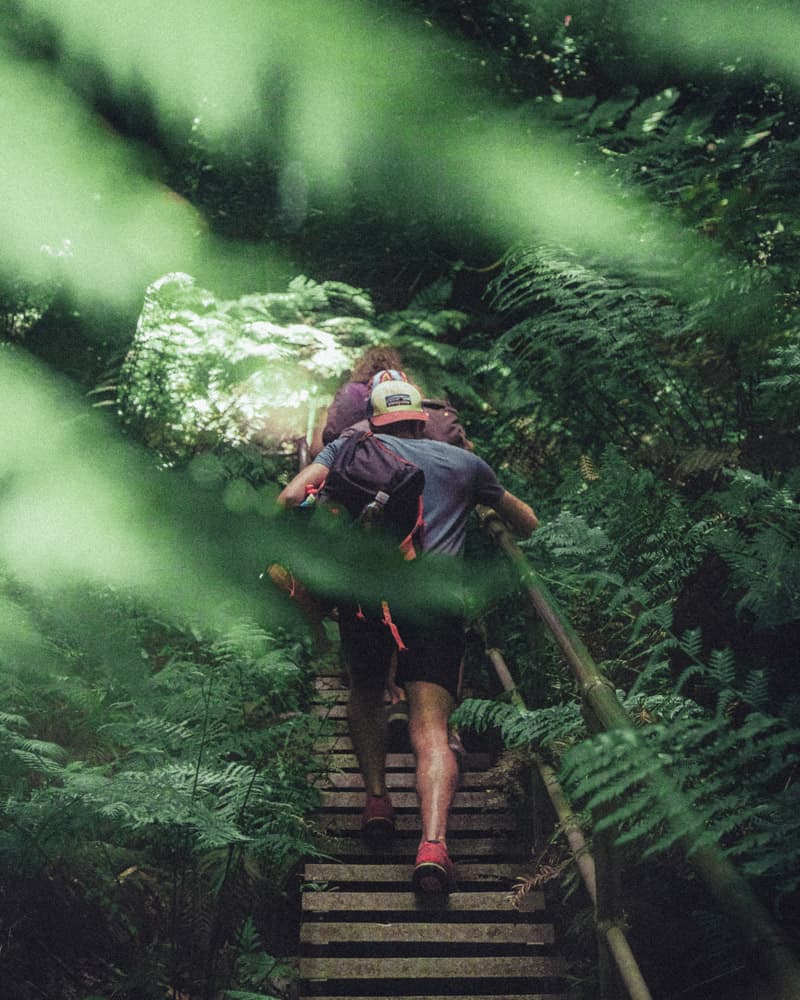 As far as nature hiking goes, you'll have to travel outside the city to get to anything remotely green.
You can hike near Bangkok pretty much year round, but it's best to avoid the rainy season since the hillsides can turn slick with mud after a few days of heavy downpour.
From closest to furthest, here are some of the best hikes near Bangkok:
Ko Kret
This island sits 15 km north of central Bangkok. It has a 5 km trail through the oldest settlement of the Mon people; expect to see colourful markets, serene temples, and teetering piles of handmade terracotta.
Khao San Lam
1.5 hours away in Saraburi Province. The Khao San Lam National Park is all gentle peaks (the highest of which is 330 meters) and diving valleys. Oh, and it's also scattered with waterfalls that are amazing to swim in.
Nam Pha Pa Yai
2 hours away from central Bangkok, the hiking trails are just one of the draws of Nam Pha Pa Yai. It's also bound to satisfy cyclists and rock climbers and is best enjoyed over the course of a couple of days. Top tip: stay in the dedicated camping ground- they have tents and treehouses up for rent.
Kaeng Krachan
Though it may be one of the further jaunts (3 hours from downtown), Kaeng Krachan is Thailand's biggest National Park. Located on the border of Myanmar, the park is full of exotic wildlife (think elephants, leopards, gibbons, and tigers). Do it solo or with a guide- however you choose to explore it, don't rush. We recommend making a real adventure of it and staying for a few days.
Erawan National Park
3 hours and 15 minutes away from central Bangkok, the Erawan National Park is the prize jewel of Kanchanaburi- a region known best for its beautiful landscape. With a mix of hiking trails, tiered waterfalls, and dreamy blue lagoons, it's the sort of place you'd be happy to make the journey for once you see how beautiful it is.
Exploring the city by bicycle
With its swerving traffic and general chaos on the street level, we'd forgive you for thinking that cycling in Bangkok is a no-go.
But not only would you be wrong, you'd actually be missing out on an awesome Bangkok activity that gets overlooked by your average joe tourist.
Cycling in Bangkok is an awesome way to see the sites and sneak in some exercise (because we all know what happens when you eat pad thai and mango sticky rice every day).
Bangkok's cycling trails are actually pretty cool. Make sure you check out:
Golden Mount Pagoda (which has sick panoramic views of the city and the old Bangkok prison)
Chinatown
the public parks (where there are often dedicated cycling lanes)
Sukhumvit and Banglamphu (which also have dedicated cycling lanes)
the jungle
Wait, what?
Jungle- in Bangkok? Nay, you say.
But yes, it's totally true: and the untouched jungle across the Chao Phraya River is one of the best places for cycling in Bangkok. You can spend the day peddling through the tropical wilderness, visiting a traditional incense craft village, and picking up some treats at the local floating market when you book a spot on an epic jungle bike tour.
Cross-country and MTB
Kicking up the adventure factor a notch from our last Bangkok activity, this one is for all of you who crave a bit of action: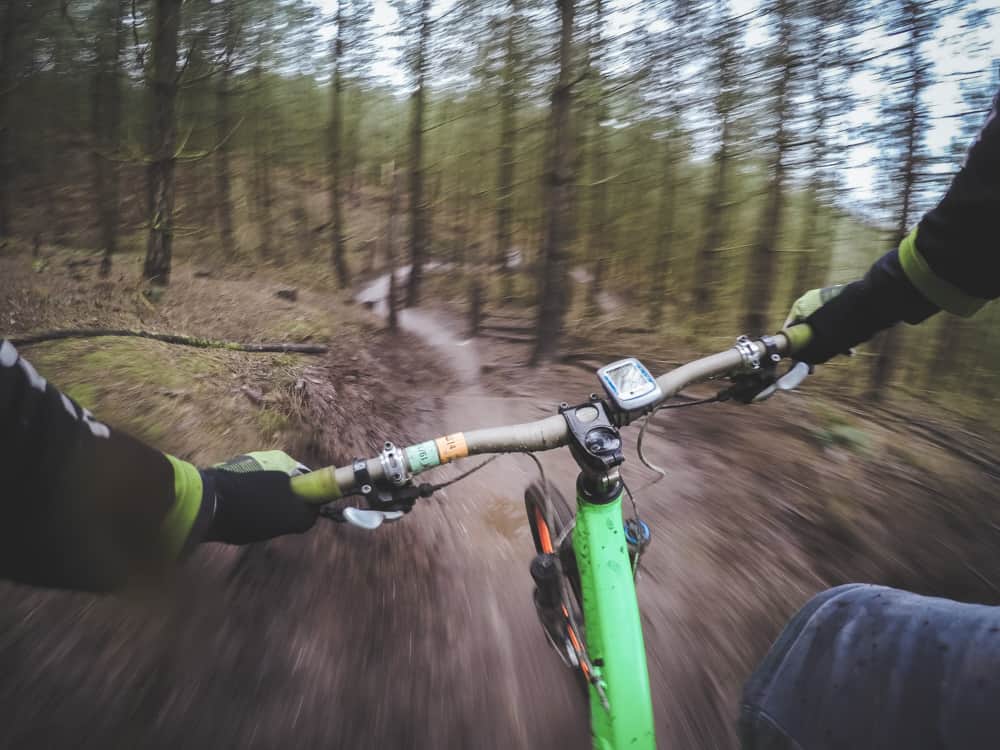 Just half an hour from Khao San Road, you've got one (out of 2) of Bangkok's off-road trails. Phuttamonthon Park MTB XC Trail is a 7 km single flat rack, which is well-looked after and a regular haunt for semi-pros looking for a wee training session.
It's fairly flat (expect around a 1m elevation change), but even so it's pretty fun to weave in and out of the trees and take a break from the city and traffic. Oh, and keep your eyes peeled for monitor lizards and giant terrapins! They like to chill out in the middle of the track.
Located on Phahonyothin Road in the north of Bangkok, ATV & MTB Club 11 is a 4 km MTB track with approximately 4 meters of elevation change.
Within a stone's throw of the army base, the track is kitted out with berms, jumps, steep ascents and descents, sand traps, rock gardens, water traps and ponds. It's located right next to the army base, so you'll need ID to enter (foreigners need to show their passport).
For a list of bike shops in Thailand click here.
Zip lining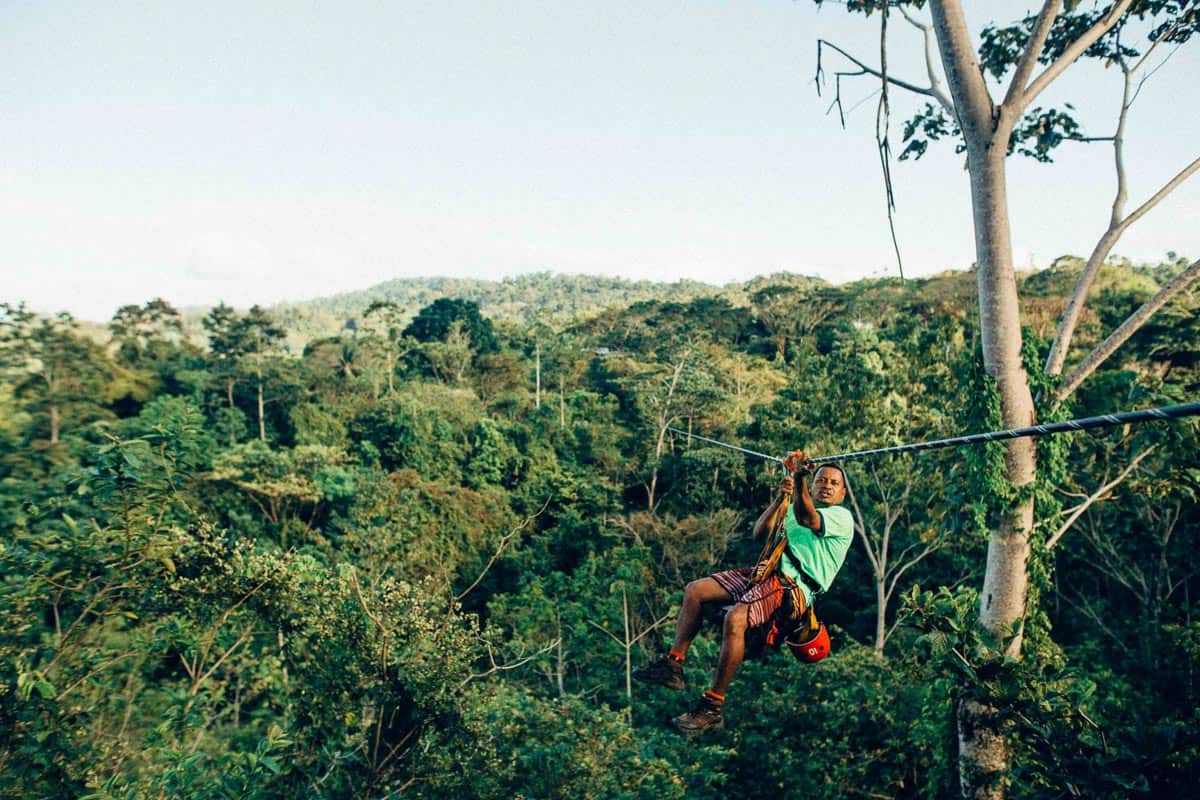 Zip lining is one Bangkok activity that's totally unlike the rest; a unique way to discover all the beauties and intricacies of the tropical rainforest — but from the air! Navigate through the jungle from tree to tree in a network of ropes and bridges, reaching stunning viewpoints and learning about all different aspects of this eco-system.
Check out this insane ziplining day tour which takes you just outside the city limits to one of Thailand's prime rainforests — where they've set up treehouses, sky bridges, and hair-raising zip line routes through the jungle!
We love how this tour has been set up because a) it's SUPER adventurous and offers loads of fun and b) it's environmentally conscious, too. The guys running the show make a big deal about educating their guests about rainforest conservation, and spending a day out there in the jungle with them is a damn special way of learning to appreciate Thailand's natural –and fragile — beauty.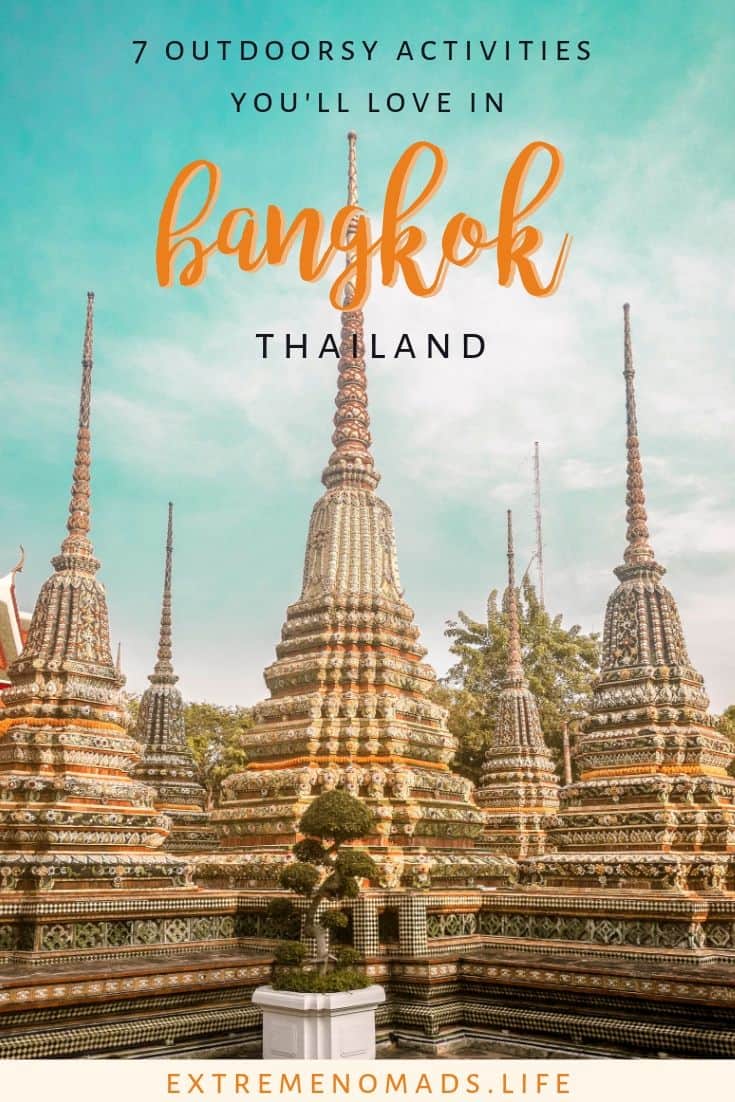 Have a question about outdoor activities in Bangkok? Are you the owner of an awesome business you think deserves a spot on this list? We want to hear from you! Drop us a comment down below and tell us about it.
---