Wondering what to do in Bangkok?
From the glitz and glam of the iconic sky bar to the down and dirty backpacker roads, Bangkok sees a million different kinds of lives being lived on her streets every day.
Bangkok has long been a tourist hub, the main port of call before travelers head north to the mountains in Chiang Mai or south to the sunny islands. While it may still hold a reputation for its unscrupulous after hours activities, there's a lot more to this weird, wonderful, and downright wild city.
Bangkok's creative soul runs deep. Street art covers the walls in the harder-to-reach parts of the city, and artisan cafes spring up faster than you can count. By night, the street markets pulse with crowds of visitors coming to peruse the stalls, while downtown the deep house and techno thumps through the thick walls of the clubs.
But Bangkok's not all smoothie bars and sweaty night clubs:
Interest from the government to encourage the growth of SMEs means the city's start-up scene is really beginning to thrive. Add that to a smattering of brand new coworking spaces, reasonable cost of living, and drool-worthy local food and it's easy to see why Bangkok's digital nomad scene is growing faster than ever.
1 – Wakeboarding in Bangkok
Thailand has seen an explosion of popularity in the world of wake over the past few years, and Bangkok is home to a hefty slice of the action. In fact, Bangkok is actually home to some of the best cable parks in Asia.
Best cable wakeboarding in Bangkok
Impressively, people have been riding around on this lake since 1991. Just 20 minutes from Suvarnabhumi airport and 45 min from downtown, Taco Lake is kitted out with a mix of kickers and sliders. On site they have their own kitchen serving up fresh Thai food, as well as an array of rooms which are available to rent short-medium term (each with air-con, hot shower, wifi, and kitchen access).
Set up by a group of wake-crazy locals, Thai Wake Park has hosted some pretty major comps (like the Asia Wake Park Tour) in its time. It's got a 5 corner Rixen counter clockwise cable (check out the sick cable layout here) as well as a 2 tower system for private rides, beginners, and pros looking to nail down some serious training. They offer their own accommodation on-site, and discounts are available for 'slow-mads' staying more than 2 weeks.
Wakeboarding at Zanook
Only 25 minutes drive from the city center, Zanook's German made 5 tower Rixen system is one of just 2 clockwise systems in all of Asia. A nice challenge for the goofies among us and for sure a welcome change for the regulars! They've also got an inflatable aqua park next door as well as SUP rentals for the lake.
These guys run a boat and winch operation in the north of the city. One of the trainers is reigning Asian wake champ, 'Bomb' Padiwat Jaemjan. Just next door to the lake, they've got poolside cabanas available to rent on a monthly basis for really good rates.
Located in the northwest of the city, MDPG sports a handmade 2.0 cable. It might not be the biggest and baddest in the city, but their rates are good and the 2.0 is ideal for beginners looking to nail down some basic riding skills.
2 – Surfing at the Flow House
In addition to the world-class wakeboarding, Bangkok's heart is also home to the Flow House 2.0, an "urban beach club" sporting a double FlowRider system imported right from San Francisco! This concept basically creates an everlasting artificial wave on which you can ride with either a bodyboard or a small finless surfboard. The place is also equipped with a plunge pool, a bar, a surf shop, a bike zone and of course, free wifi and lots of space to work or chill.
3 – Hiking around Bangkok
As far as nature hiking goes, you'll have to travel outside the city to get to anything remotely green.
Best time of year for hiking near Bangkok
You can hike near Bangkok pretty much year round, but it's best to avoid the rainy season since the hillsides can turn slick with mud after a few days of heavy downpour.
Best spots for hiking near Bangkok
From closest to furthest, here are some of the best hikes near Bangkok:
Hiking in Ko Kret
This island sits 15 km north of central Bangkok. It has a 5 km trail through the oldest settlement of the Mon people; expect to see colourful markets, serene temples, and teetering piles of handmade terracotta.
Hiking in Khao San Lam
1.5 hours away in Saraburi Province. The Khao San Lam National Park is all gentle peaks (the highest of which is 330 meters) and diving valleys. Oh, and it's also scattered with waterfalls that are amazing to swim in.
Hiking in Nam Pha Pa Yai
2 hours away from central Bangkok, the hiking trails are just one of the draws of Nam Pha Pa Yai. It's also bound to satisfy cyclists and rock climbers and is best enjoyed over the course of a couple of days. Top tip: stay in the dedicated camping ground- they have tents and treehouses up for rent.
Hiking in Kaeng Krachan
Though it may be one of the further jaunts (3 hours from downtown), Kaeng Krachan is Thailand's biggest National Park. Located on the border of Myanmar, the park is full of exotic wildlife (think elephants, leopards, gibbons, and tigers). Do it solo or with a guide- however you choose to explore it, don't rush. We recommend making a real adventure of it and staying for a few days.
Erawan National Park
3 hours and 15 minutes away from central Bangkok, the Erawan National Park is the prize jewel of Kanchanaburi- a region known best for its beautiful landscape. With a mix of hiking trails, tiered waterfalls, and dreamy blue lagoons, it's the sort of place you'd be happy to make the journey for once you see how beautiful it is.
4 – Cycling in Bangkok
With its swerving traffic and general chaos on the street level, we'd forgive you for thinking that cycling in Bangkok is a no-go.
But not only would you be wrong, you'd actually be missing out on experiencing a really awesome side to the city that gets overlooked by your average joe tourist.
Interest in cycling is at an all time high in Thailand right now, and while most of it is centered around road cycling (especially in Bangkok) mountain bikers will still be able to get their fix in the city.
Sightseeing & exploring while cycling in Bangkok
Cycling in Bangkok is an awesome way to see the sites and sneak in some exercise (because we all know what happens when you eat pad thai and mango sticky rice every day).
Bangkok's cycling trails are actually pretty cool. Make sure you check out:
Golden Mount Pagoda (which has sick panoramic views of the city and the old Bangkok prison)
Chinatown
the public parks (where there are often dedicated cycling lanes)
Sukhumvit and Banglamphu (which also have dedicated cycling lanes)
the jungle
Wait, what?
Jungle- in Bangkok? Nay, you say.
But yes, it's totally true: and the untouched jungle across the Chao Phraya River is one of the best places for cycling in Bangkok. You can spend the day peddling through the tropical wilderness, visiting a traditional incense craft village, and picking up some treats at the local floating market when you book a spot on an epic jungle bike tour.
Cross country cycling in Bangkok
Just half an hour from Khao San Road, you've got one (out of 2) of Bangkok's off-road trails. Phuttamonthon Park MTB XC Trail is a 7 km single flat rack, which is well-looked after and a regular haunt for semi-pros looking for a wee training session.
It's fairly flat (expect around a 1m elevation change), but even so it's pretty fun to weave in and out of the trees and take a break from the city and traffic. Oh, and keep your eyes peeled for monitor lizards and giant terrapins! They like to chill out in the middle of the track.
Mountain biking in Bangkok
Located on Phahonyothin Road in the north of Bangkok, ATV & MTB Club 11 is a 4 km MTB track with approximately 4 meters of elevation change.
Within a stone's throw of the army base, the track is kitted out with berms, jumps, steep ascents and descents, sand traps, rock gardens, water traps and ponds. It's located right next to the army base, so you'll need ID to enter (foreigners need to show their passport).
For a list of bike shops in Thailand click here.
5 – Ziplining in Bangkok
A surely unique way to discover all the beauties and intricacies of the tropical rainforest is from the air. Get to navigate through the jungle from tree to tree in a network of ropes and bridges, reaching multiple breathtaking viewpoints and learning about all different aspects of this eco-system.
Check out Get Your Guide's ziplining day tour in Bangkok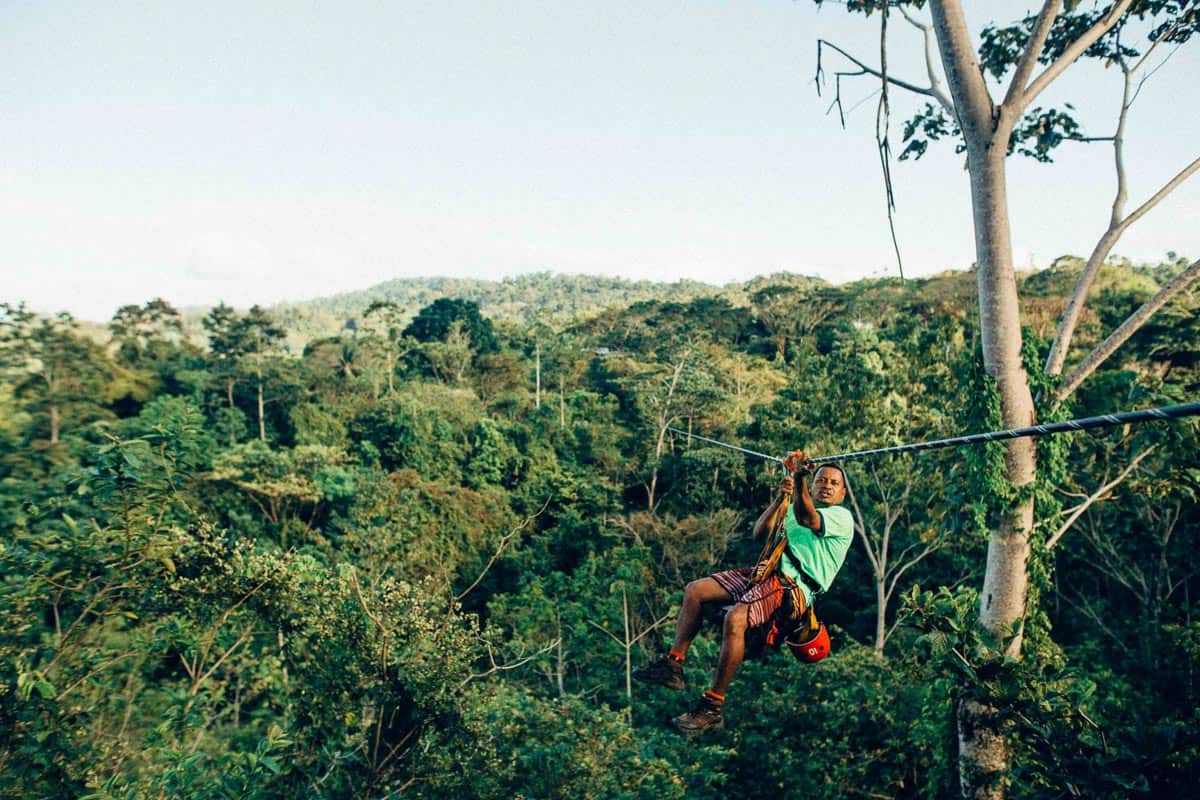 Where to stay in Bangkok
Cheap local style home stays, family friendly guest houses and hotels, quirky and social hostels, luxurious resorts, and private apartments… You name it, Bangkok has it.
Short term nomads in Bangkok who are looking for a good deal should know that many places in the city offer weekly rates. There are scads of local style guesthouses and budget friendly hotels that'll offer you a discount if you're staying for more than a couple of nights.
If you're only sticking around the city for a short amount of time, you might want to check out this 5-day itinerary for Bangkok to help you map out how to best spend any of your remaining free time.
When it comes to longer term rentals, you have a few options:
Airbnb has tons of listings in Bangkok, but it's often the slightly more expensive way to go.
That said, you're paying for convenience. It's a good idea to book a place for your first few nights, then head for a coworking space and chat to a few Bangkok digital nomads about their digs and how much they pay.
As a rule of thumb:
Local landlords tend to give 3, 6, or 12 months leases (the longer the lease the better value). There are also a couple of incredibly handy Facebook groups that deal with sublets and house swaps in Bangkok, such as this one, as well as specialized platforms for long term rentals: merooms.co, and nomadrental.com.
A basic, local style studio with wifi and kitchen access might cost you as little as $250/month. Meanwhile, a comfortable serviced apartment in a central area (with wifi, a kitchen, and cleaning services) would be closer to $550.
For a more detailed look at the city's most convenient areas to stay in (and the accommodation options therein) check out this guide on where to stay in Bangkok.
---
Working & Coworking Spaces in Bangkok
There's no shortage of facilities for digital nomads in Bangkok. No matter what kind of workspace you need- perfectly silent and professional, or something a little more creative- there's a coworking space or a cafe that'll have your name on it.
As far as the coworking scene goes, there's more and more spaces opening up with every passing month. Of the established spaces in the city so far, our nomad community recommends Hubba in Watthana district, The Hive (which has 2 locations, Thonglor and Prakanong, you can try them for free on Tuesdays), and E88, near Sukhumvit Road.
The above coworking spaces all have hot desks, private meeting rooms, Skype areas, printing, and coffee facilities.
Expect to pay around 200 baht for a day pass.
As far as cafes go, most places in Bangkok are fairly welcoming to digital nomads. Wifi is generally offered gratis as long as you buy something off the menu. The tricky part is finding a place with free wifi and plugs (bonus points for good tables and no annoying music).
Our nomad community recommends Tomntoms coffee shop chain. You get 3 hours free wifi with every coffee ordered; plus they have their own homemade pretzels!
---
Where to shop and eat in Bangkok
Food in Bangkok is awesome (especially if you like your spicy stuff).
Seriously, the street food in Bangkok is like nowhere else- steaming coconut curries, spicy soups with lemongrass and ginger, noodles flamed fried with fresh herbs and greens… Damn it's good- and plenty of options for the veggies among us, too. Price-wise, expect to pay upwards of $1.50-3 for a basic Thai meal.
Market trawling is one of the best things to do in Bangkok, hands down. You can dig up crazy bargains on clothes, funky knick-knacks, and of course…. food! Local farmer's markets are easy to come by and offer the cheapest place to get your fresh produce, meats, eggs, and other household staples.
Virtually every street in Bangkok will have at least one (if not 2 or 3) convenience stores, be it 7-Eleven, Circle K, or Family Mart. These little shops have all the essentials: beer, snacks, basic Thai meals, coffee, household items, and toiletries. If you need to do a bigger shop, the local supermarkets have everything from Asian staples to a selection of imported products.
However, if you've got a hankering for a jar of pesto and a block of cheddar cheese, you'll need to head off for one of the imported supermarkets like Tops, Villa Market, Gourmet Market, or Delishop.
But it ain't all food that Bangkok is good for. Spend literally 5 minutes in the city and you'll see that Bangkok is heaven for high street shopping. If you're keen to do a bit of retail therapy, make sure you check out this super informative Bangkok Tour Guide detailing where to shop, eat, stay, and more.
Internet in Bangkok
Internet in Bangkok is pretty good all-round.
Several districts in Bangkok are fitted with fiber optics. However, there are still many downtown areas that suffer from slower speeds due to older lines.
Virtually every one of the city's hotels, guesthouses, serviced apartments, cafes, and restaurants offer free wifi for their customers (of varying speeds and reliability, sadly).
That said, if you need fast and reliable, look no further than the quickly growing selection of coworking spaces in Bangkok. These dedicated spots offer lightning speed connections (100 Mbps download easy) and tons of other digital nomad facilities (see coworking spaces in Bangkok below for more).
SIM cards are quite cheap and can be bought, well… basically everywhere.
If you're staying short term (i.e. less than 2 weeks or so) you're best off picking up a tourist SIM at the airport. You can get packages with 10 GB of high speed 4G + unlimited 3G for around $35. Those staying longer term may want to consider a local prepaid SIM.
4G internet in Thailand averages 9 Mb/s as measured by a recent (November 2017) state of mobile networks in Thailand (see report). It is in line with the Asia-Pacific region average of 9.69 Mb/s.
The top 3 mobile providers of internet in Thailand are Truemove, AIS and Dtac. See a full guide on Thailand's SIM card options here.
How to get to Bangkok
Bangkok has 2 international airports: Don Mueang (DMK) and Suvarnabhumi (BKK).
DMK is where the budget airlines fly in and out of, and BKK is the one you can expect to fly to if you're traveling from Europe, America, or Asia on one of the better airlines. The two airports are well connected by a free shuttle bus service.
How to get around Bangkok
A scooter/motorbike is the most flexible way of getting around Bangkok, and it's also the most economical choice in the long run.
Second hand bikes can be picked up for around $450 (tax on vehicles in Thailand is quite high compared with other Asian countries, so this price is significantly higher than, say, Vietnam or Cambodia). At least gas is cheap as chips.
If you're looking to get somewhere quick and hassle-free, Grab and Uber offer a convenient way to get around Bangkok (they're cheaper and way more convenient than a normal taxi). That said, if you're up for navigating the public transport system, the whole city is quite well connected by the MRT and BTS Skytrain.
To find the best public transport to or from Bangkok, use this search form from 12go.asia – the most efficient and user-friendly public transportation booking platform for Thailand, Vietnam, Malaysia, Singapore, India, Philippines, Laos, Cambodia and Myanmar.