Do you have a case of "hobbit feet?"
Are your soles so wide that they feel like a pair of flat pancakes?
Do your wide feet burn with pain after just an hour of riding?
Well, you've come to the right place. I'm about to share some of the best snowboard boots for wide feet I've ever tried on!
If you're on the verge of giving up on snowboarding because you just can't seem to find boots that fit, this article is definitely for you. By the end, you'll know that snowboarding is for everyone – even those with wide, flat feet. 
There are a ton of wide snowboard boot manufacturers out there who are listening to the cries of all you wide-footed riders out there, and they've come up with an amazing selection of solid, well-fitting boots specifically designed for even the widest feet imaginable. 
Whether you're a beginner rider or an expert snowboarder who loves to hit up the park, you'll find a pair of boots in my list that are perfect for your unique needs.
Best Overall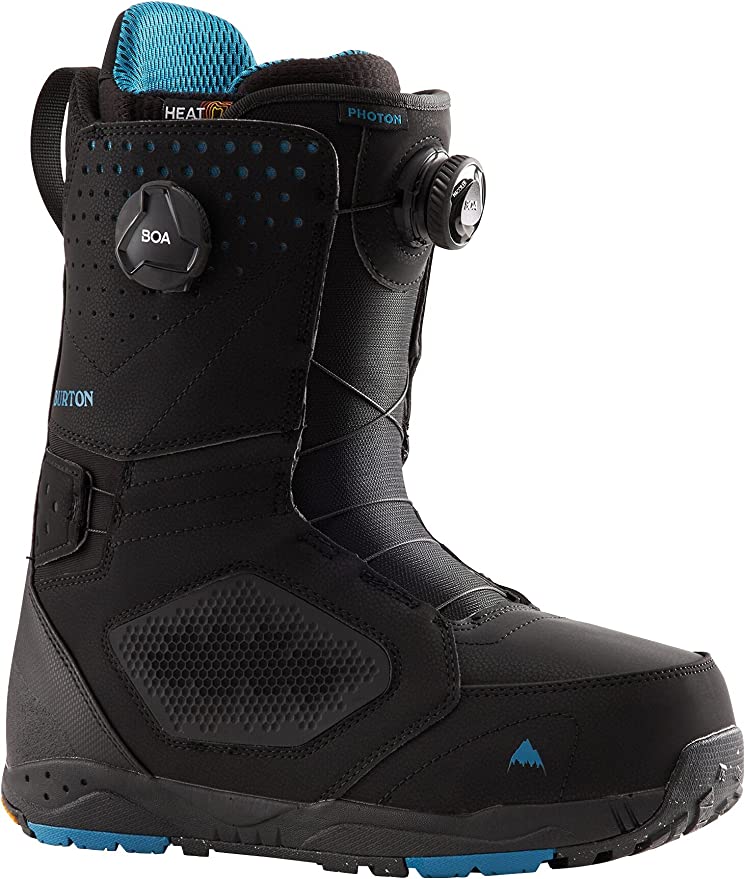 Burton Photon Boa Boots
Lacing System: Boa®
Binding Style: Strap
Performance & Durability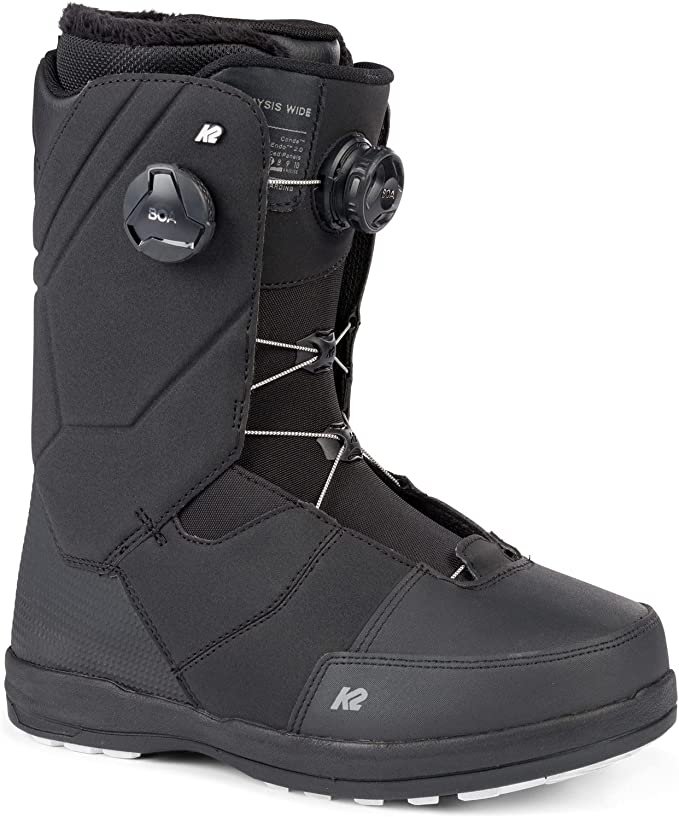 K2 Maysis Wide Snowboard Boots
Lacing System:

Boa®

Binding Style: Rear-Entry, Strap
For Perfect Fit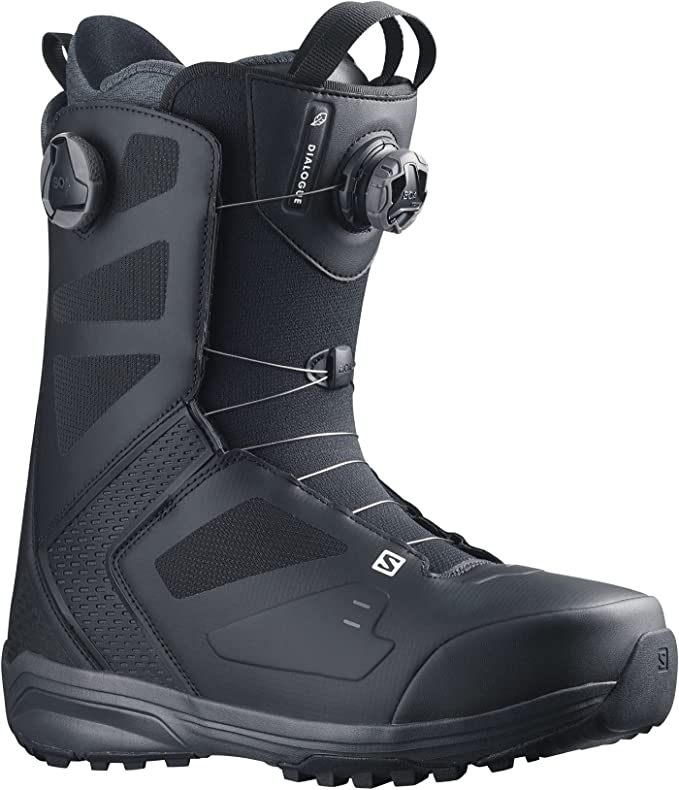 Salomon Dialogue Boots
Lacing System:

Boa®

Binding Style:

Strap
Modern Custom Fit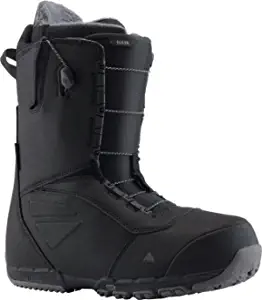 Burton Ruler Boots
Lacing System:

Quick-Pull

Binding Style:

Strap
For Budget Conscious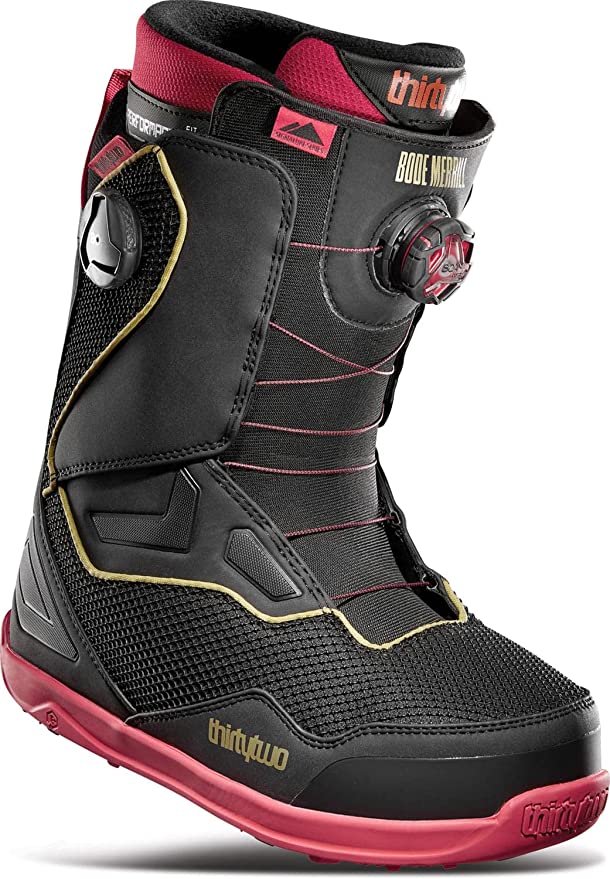 Thirty Two TM-2 Boots
Lacing System:

Traditional

Binding Style:

Rear-Entry
Serious Responsiveness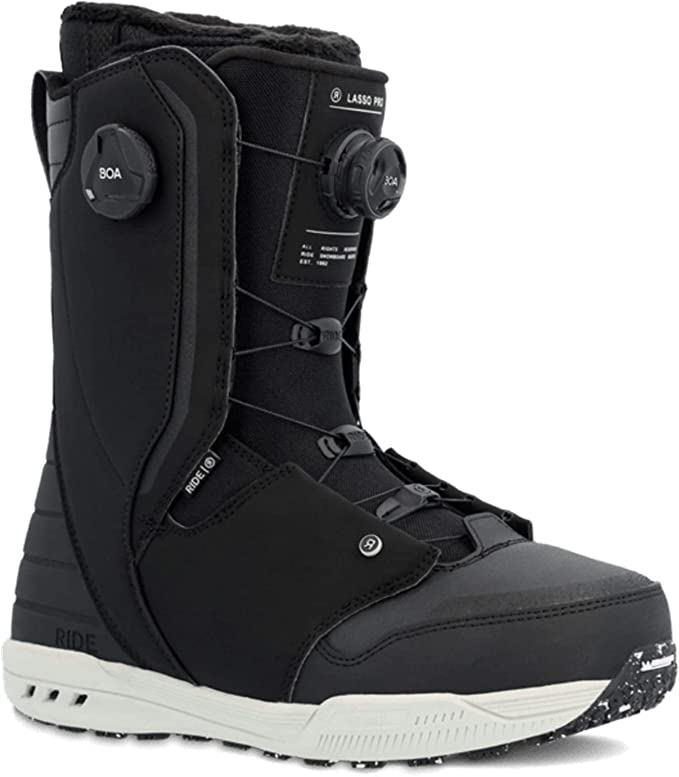 Ride Lasso Pro Wide Snowboard Boots
Lacing System:

Boa®

Binding Style:

Rear-Entry
Classic Choice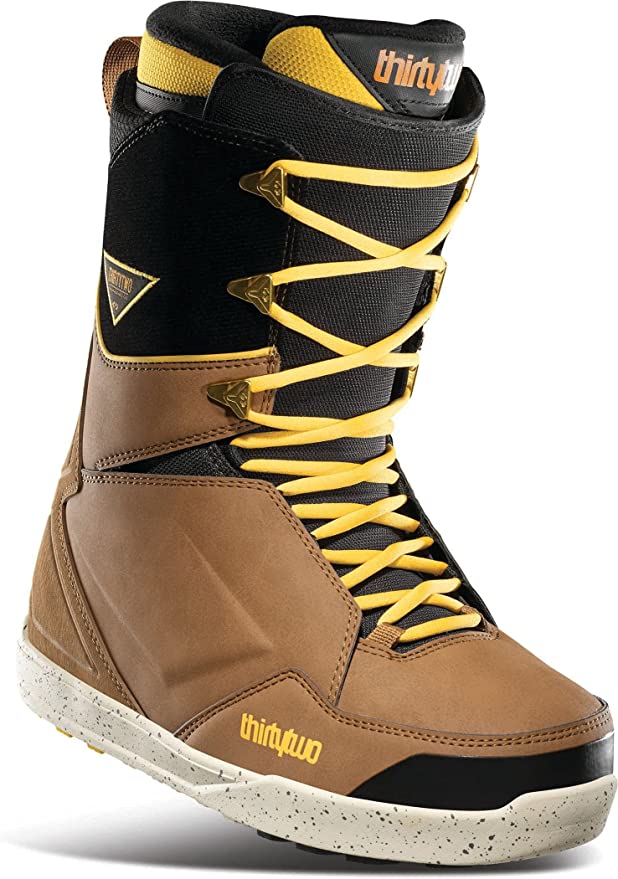 Thirty Two Lashed Boots
Lacing System:

Boa®

Binding Style:

Rear-Entry, Strap
The Best Snowboard Boots for Wide Feet I've Ever Tried
Aches and pains can seriously dampen your day on the mountain – especially as you get older. You owe it to yourself to give yourself the most comfortable ride possible – and comfort always starts with your boots.
Let's have a look at the selection of boots for wide feet that'll help to rip those slopes in style!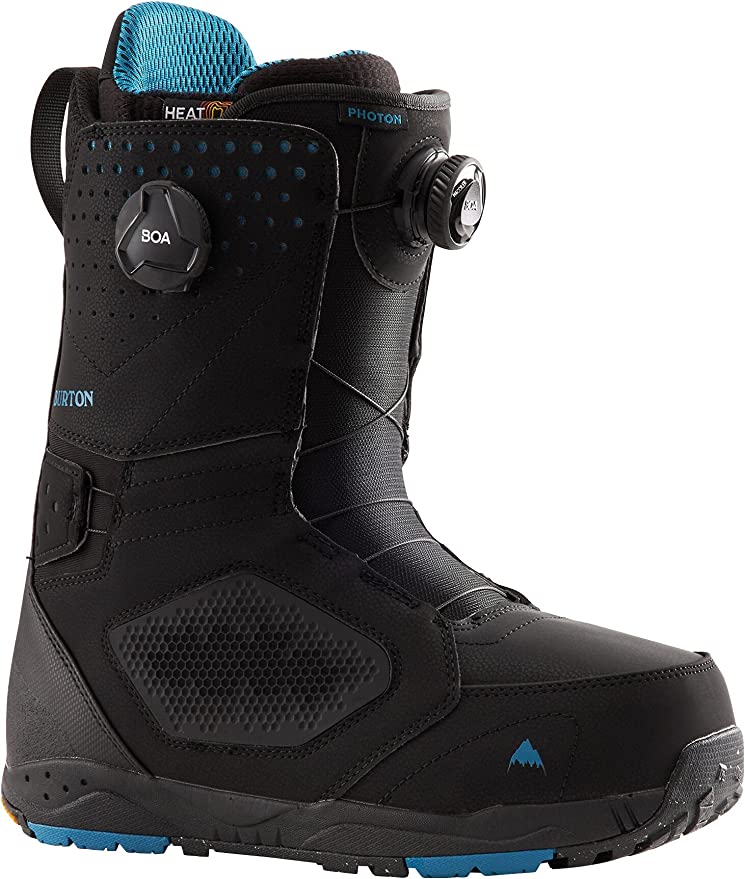 Burton is a name that needs no introduction in the snowboarding world.
These guys pretty much invented the sport, and their brand is synonymous with quality and durability.
I've owned Burton boots in the past, and I currently ride a pair of Burton bindings. From what I've experienced, their stuff is not only built for the best riders – but it's also built to last. 
But what about the Photon Boa Boots? 
First off, this model is perfect for wider feet. They don't put the word "wide" in the product name for nothing, after all. 
But dig a little deeper, and you'll find that this boot packs much more under the hood. First off, it features an Imprint 3 Liner with DryRIDE Heat Cycle Technology. 
There's also a Level 2 Molded EVA Footbed. The liner is heat-moldable, and all of these features together result in a truly comfortable boot that you won't even want to take off when you get home. 
If you prefer traditional laces, you might be a little disappointed to find the Dual Zone Boa system. But this isn't your average speed lacing system, and it comes with real New England rope. It's a high-quality, high-performance system that allows you to "dial in" your perfect fit.
It's an ideal way to make sure your feet feel nice and comfy – even if you're dealing with wide, flat soles. 
Top Features
Medium flex rating
Heat-moldable
Tx3 & Dual Zone Boa Lacing System
Vibram sole
Pros
Heat-moldable for perfect fit
Dual Zone Boa lets you dial in a perfect fit
Solid durability
Cons
You might prefer traditional laces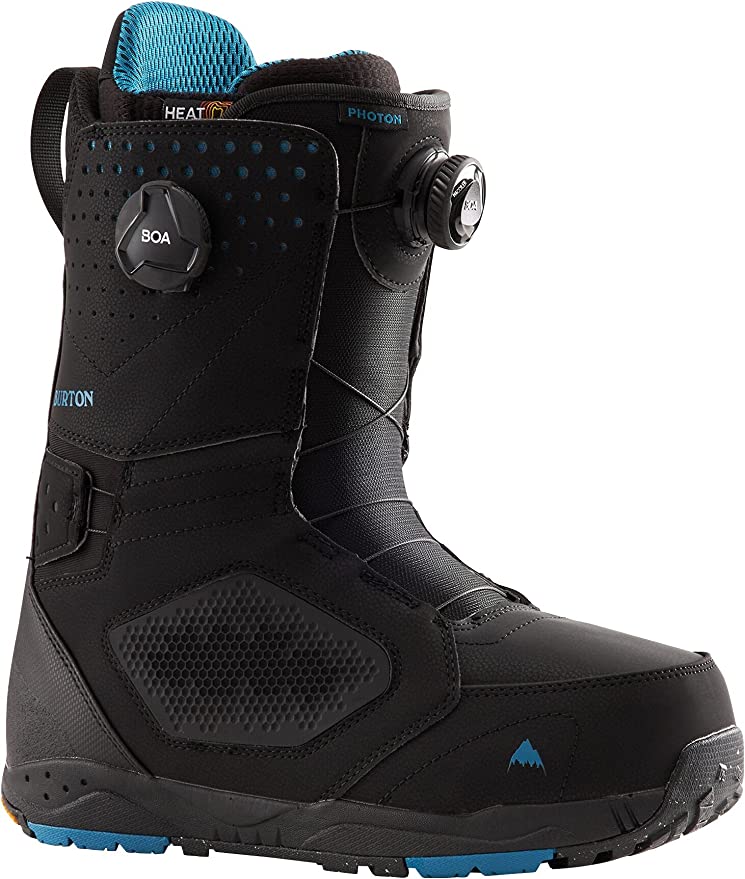 Burton Photon Boa Wide Boots
The price of "Burton Photon Boa Wide Snowboard Boots" varies, so check the latest price at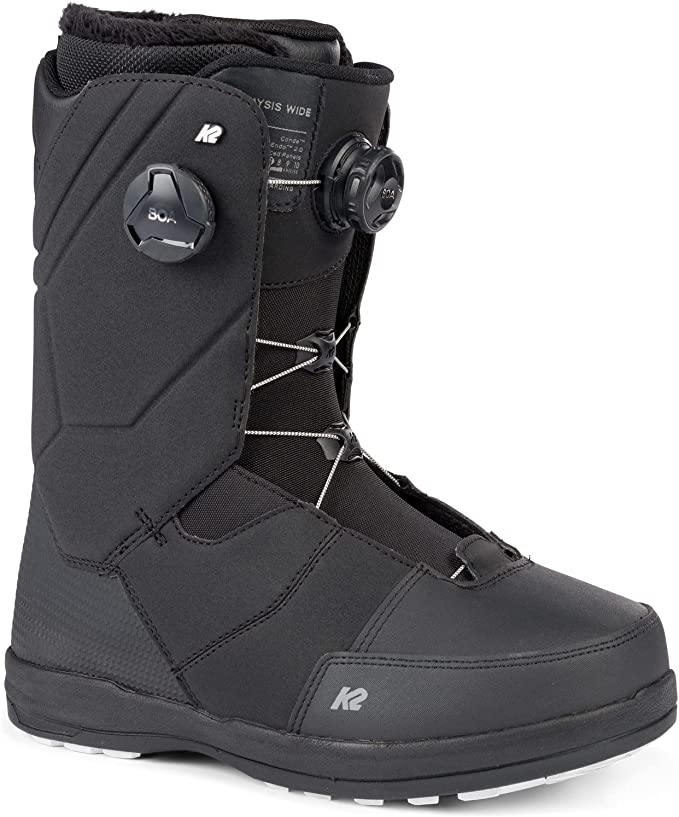 If you're looking for a stiffer boot that offers plenty of performance, the K2 Maysis Wide gives you everything you need. 
Calling all experts:
This boot features a rubber-reinforced articulating cuff upper, not only boosting stiffness but also durability. My friend has a pair of these, and they seem to have lasted forever. 
The H4 Boa Coiler also keeps everything super tight and snug, and this system even automatically retracts lace slack. Honestly, I wish I had this feature on my current boots – because I'm constantly having to tighten my laces. 
One thing that really caught my attention was the Harshmellow dampening system, which seriously cuts down on vibration for a smooth, mellow ride. Not only that, but it reduces fatigue – which is great when you're pushing yourself to your absolute limit on the mountain.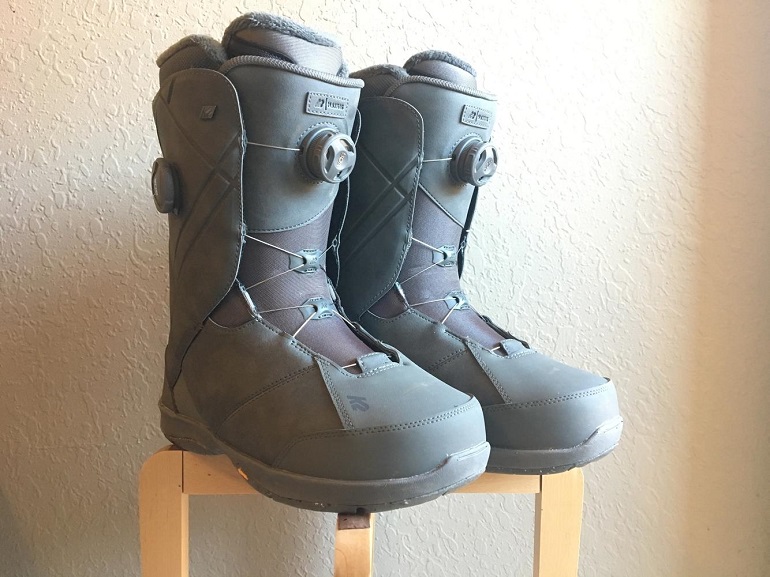 The Endo 2.0 injected heel counter construction also ensures that the boot stays stiff – even after years of riding.
To top it all off, K2 did something absolutely crazy (but awesome)!
They used recycled coffee grounds to give you some serious odor control. 
Top Features
Stiff flex
3D Formed EVA Footbed
H4 Boa Coiler
Rubber Reinforced Upper
Pros
Stiff flex is ideal for experts.
Boa Coiler system means you never have to worry about slack in your laces.
Harshmellow system dampens vibrations for a smooth, comfortable ride.
Cons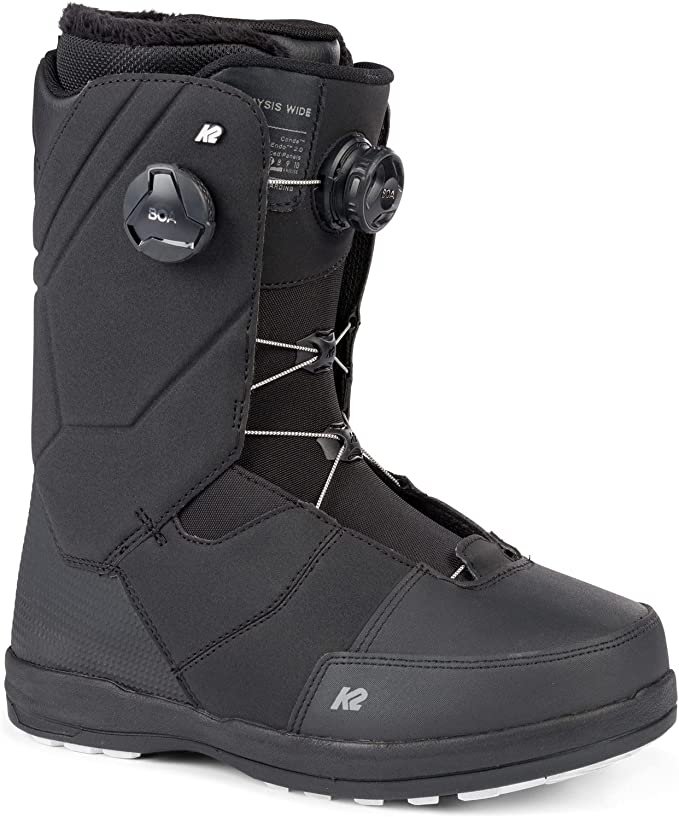 K2 Maysis Wide Snowboard Boots
The price of "K2 Maysis Wide Boots" varies, so check the latest price at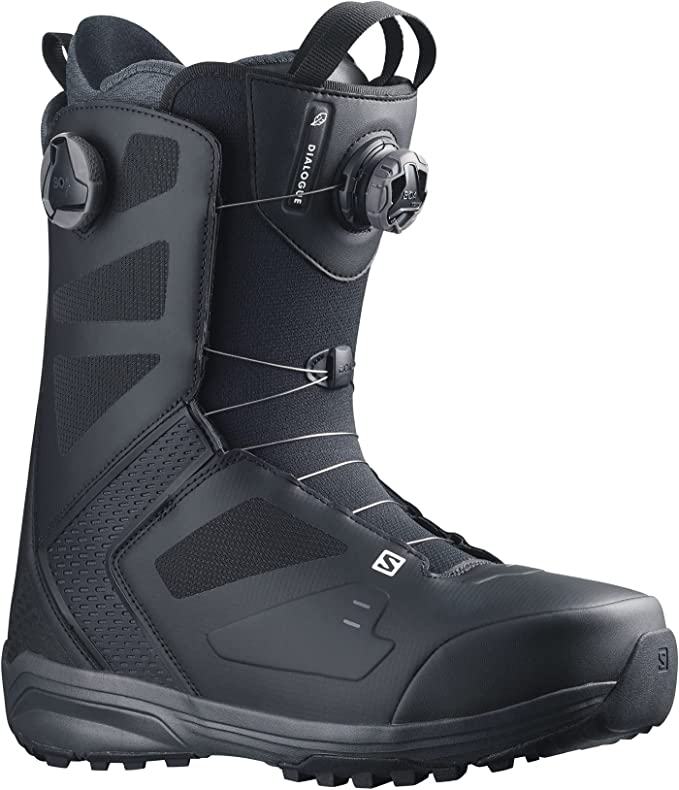 Salomon has been making snow gear since long before snowboarding was even invented, making them one of the oldest snowboard boot brands on this list.
Many of my wide-footed friends swear by the Salomon Dialogue Dual Boa, and the newest 2023 iteration of these Salomon boots definitely does not disappoint.
Packed with features like a heat-moldable liner, Quickdry Insoles, and a Dual Boa Lacing setup, you're going to have no problem fitting even the widest feet into these Salomon boots.
I had the chance to try these on briefly in a store, and I really had a "wow" moment when my feet touched the Ortholite C2 Footbed. This dual-density surface molds to the unique contours of your feet, and I could immediately see how comfortable these boots would be on the mountain.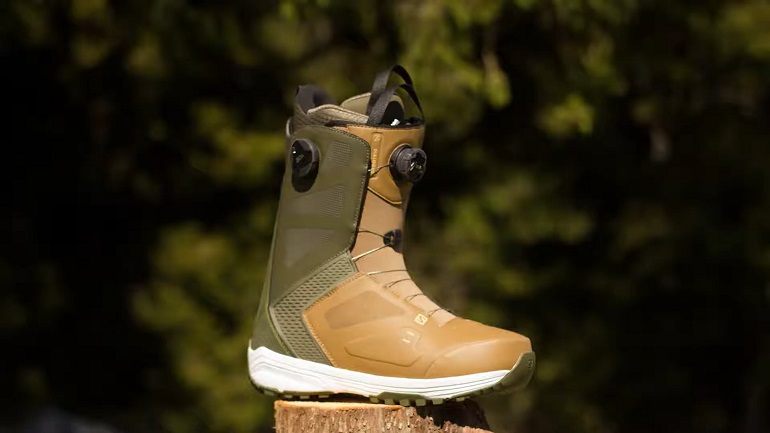 That being said, these Salomon boots are proving to be a little divisive. Some say that the boot is wider-fitting than models offered by other snowboard boot brands. Others claim that the ankle can be a little loose – especially if you have skinny ankles but disproportionately wide feet. 
Top Features
Medium flex
Quickdry insoles
Ortholite C2 Footbed
Pros
Dual-density Ortholite C2 Footbed is a true joy
Dual Boa Lacing for solid, accurate fit
A "true wide" boot that will fit even the widest of the wide
Cons
I've heard some minor complaints about the ankle being a bit too loose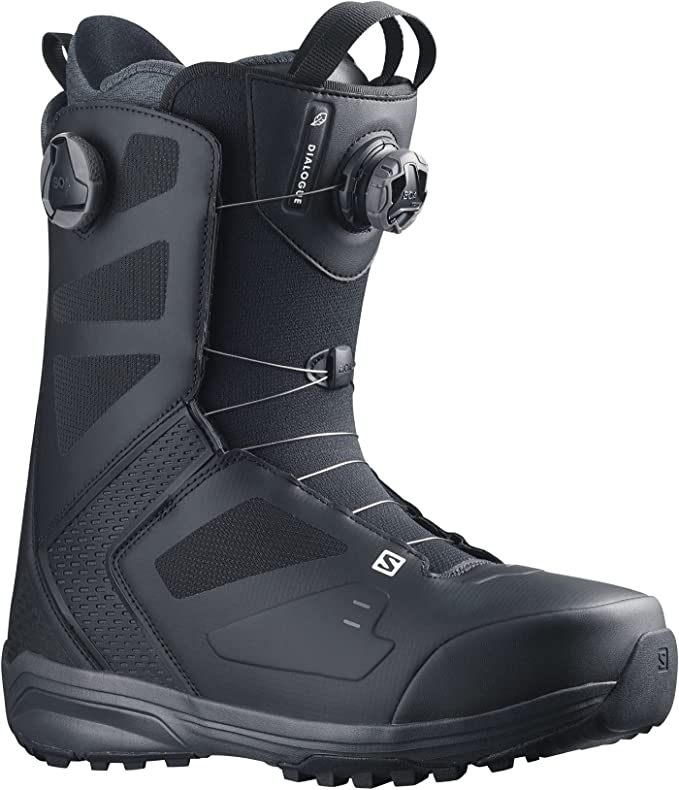 Salomon Dialogue Dual BOA Boots
The price of "Salomon Dialogue Dual BOA Boots" varies, so check the latest price at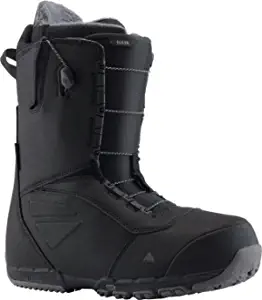 If you ask wide-footed riders which boot they prefer, a lot of them will probably say the same thing:
Burton Ruler Wide.
These bad boys have been the "go-to" model for wide-footed individuals for many years, and it's not hard to figure out why. 
One thing I noticed right off the bat is that you get tons of room in the toe box. This is an area in which a lot of snowboarding boots fail, because even if the mid-area of the boot is wide, the toe box can sometimes feel a little cramped. 
This is definitely not something to worry about with the Burton Ruler wide boot, with tons of extra forefront room to stay on the safe side.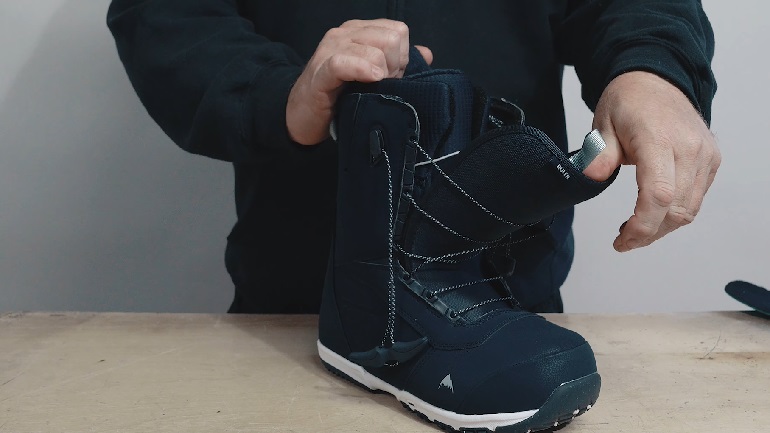 As you'd expect from a modern, high quality boot the Ruler is completely heat-moldable – giving you a custom fit that accommodates the contours of your foot.
A mid flex will serve most riders just fine, especially intermediate snowboarders. Speed zone lacing makes for even more customizable fit that I found seriously fast and convenient – even if I personally prefer traditional laces. 
The B3 Gel made for a seriously smooth ride, as this technology dampened impacts even in cold, jarring temperatures. 
Another weird but cool feature was the Sleeping Bag Reflective Foil, which reflects your natural body heat back into your feet, keeping you nice and toasty while boosting comfort. 
Top Features
Extra room in the toe box
Mid flex
GripLITE Backstay
B3 Gel
Sleeping Bag Reflective Foil
Pros
Extra toe room.
B3 Gel dampens impacts.
Sleeping Bag Reflective Foil keeps feet warm at all times.
Cons
Might be too warm for spring riding.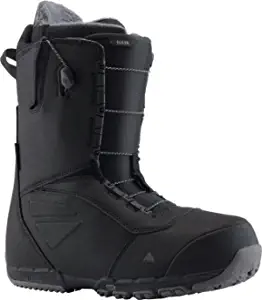 Burton Ruler Wide Boots
The price of "Burton Ruler Wide Snowboard Boots" varies, so check the latest price at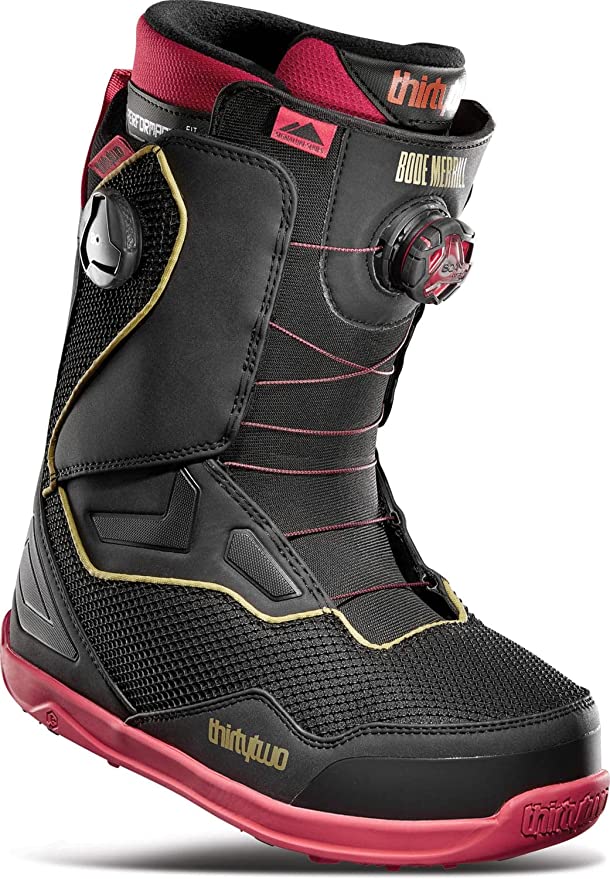 With a mid-flex and an affordable price point, Thirty-Two's TM-2 Double BOAs are tailor-made for intermediate, budget-conscious riders with wide feet. 
These best snowboarding boots feature 1:1 lasting, which means each separate size has its own unique size and shape. In other words, a size 11 isn't just a "scaled-up" version of size 7 – it features its own separate design that has been created from the ground up. 
The result is an amazing fit that I felt as soon as I tried the TM-2s on. A Dual Boa speed lace system allows you to dial in the fit to an even greater degree. It's no wonder pros like Bode Merrill prefers to use these exact boots.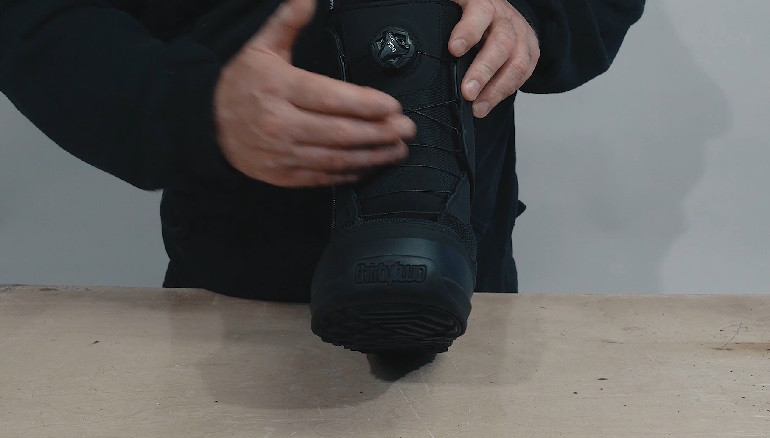 Another feature that really grabbed my attention was the Molded Evolution Foam with its own Heel Cradle, which really locks your foot in place with a reliable heel hold. I never once felt any heel lift, which is something that many other wide boots struggle with. 
Plus, there's a really cool tan/camouflage colorway if you can get your hands on it. 
Top Features
Bode Merrill uses this boot
Medium boot flex
Heel hold system
Pros
Heel cradle for minimal heel lift
Medium boot flex for intermediate riders
1:1 lasting for incredibly comfortable fit for wide feet
Cons
Difficult to find the wide option for sale right now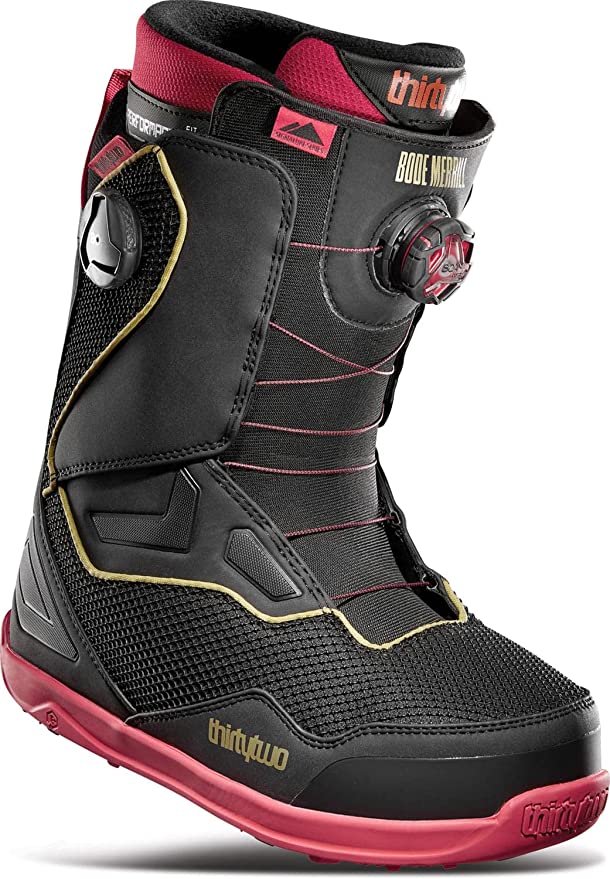 Thirty Two TM-2 Double BOA Boots
The price of "Thirty Two TM-2 Double BOA Boots" varies, so check the latest price at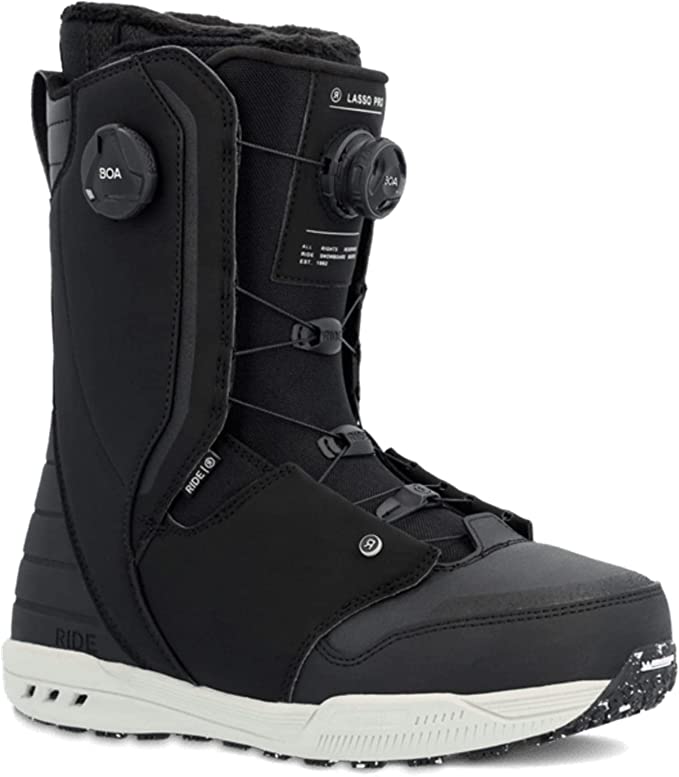 If you're willing to spend a little extra on a high-performance, high-quality boot, consider the Ride Lasso Pro Wide snowboard boots. These bad boys feature some of the stiffest flex you'll find, with a rating of "8." This makes them perfect for experts who want serious responsiveness from their boots.
An H4 Coiler Fit helps you lock down that stiff flex even more, and the Wide Last ensures that your boots have been designed from the ground up specifically for wide feet. 
One thing that really blew my mind was that they put internal and external J Bars into this boot for a seriously locked-down heel. Heel lift became a distant memory as I rode with these boots.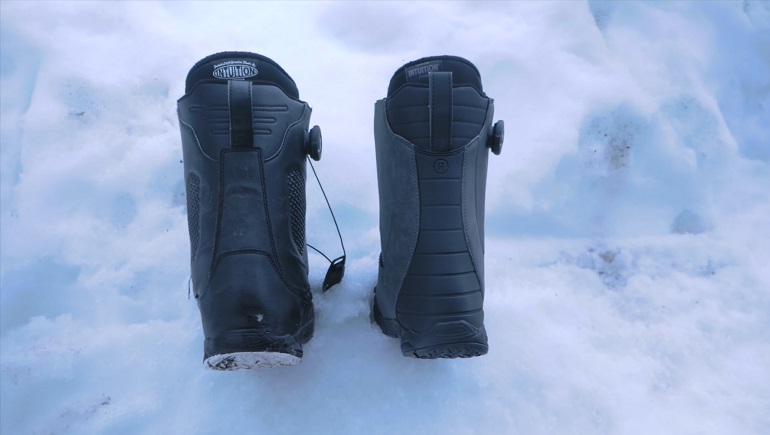 Another thing I noticed after stomping a few ollies was that the Impacto Elite Insole made landings seriously soft. This is definitely something to keep in mind if you love the park and halfpipe. 
Top Features
Super stiff boot flex
H4 Coiler Fit
Wide Last
Rebound Heel Counter and Internal and external J Bars
Impacto Elite Insole
Pros
Stiff flex for experts
Wide last creates custom fit feel
Rebound Heel Counter and J Bars keep your heel locked in place
Impacto Elite Insole for cushioned landings
Cons
A little on the expensive side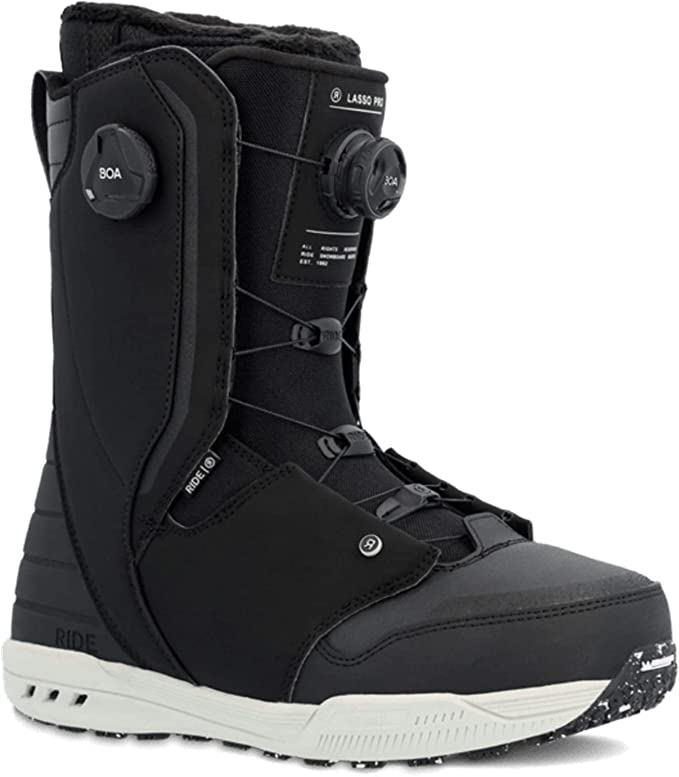 Ride Lasso Pro Boots
The price of "Ride Lasso Pro Boots" varies, so check the latest price at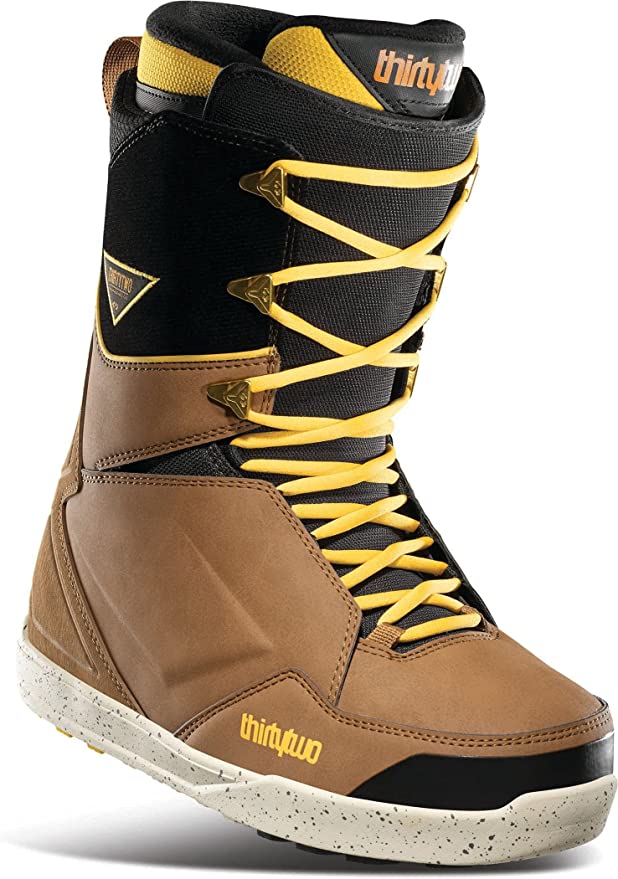 Yep – you know I had to throw in at least one option with traditional laces. If you love that comfy, sneaker feel, you're going to feel right at home in a pair of Thiry Two Lashed snowboarding boots. 
First thing's first: This is also the only option on this list that isn't a dedicated pair of "wide boots." For this reason, a pair of Lashed boots might be a solid choice if you have slightly wider feet.
The heat-moldable system will give you enough foot width without leaving too much room in the boot – creating a solid, locked-down fit that feels just right. 
With a Performance Backstay and an Articulated Cuff, these boots will stand the test of time and avoid shell distortion.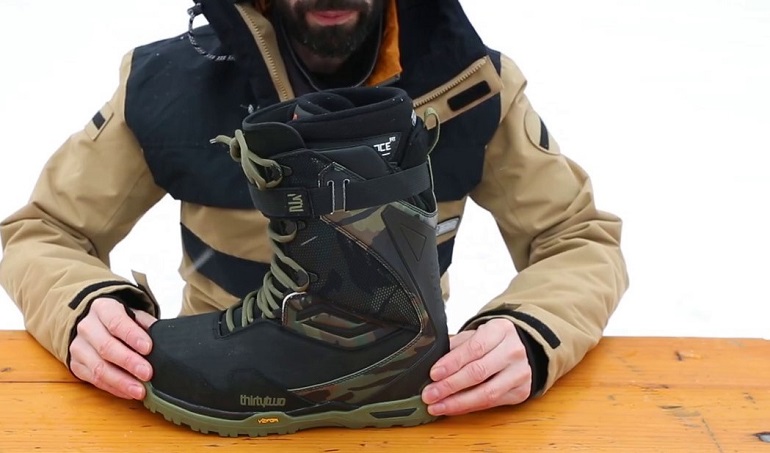 The great thing about laced systems? If the laces break, you can just replace them with a fresh pair. It's that easy. 
Top Features
Traditional lacing
Worn by Chris Bradshaw
Mid flex
Performance Backstay
Pros
Traditional lacing system for that sneaker/skate shoe feel.
Performance backstay and articulated cuff for plenty of support and durability.
Mid flex for intermediate or expert riders.
Cons
You might prefer a zone lock lacing or a zone lacing system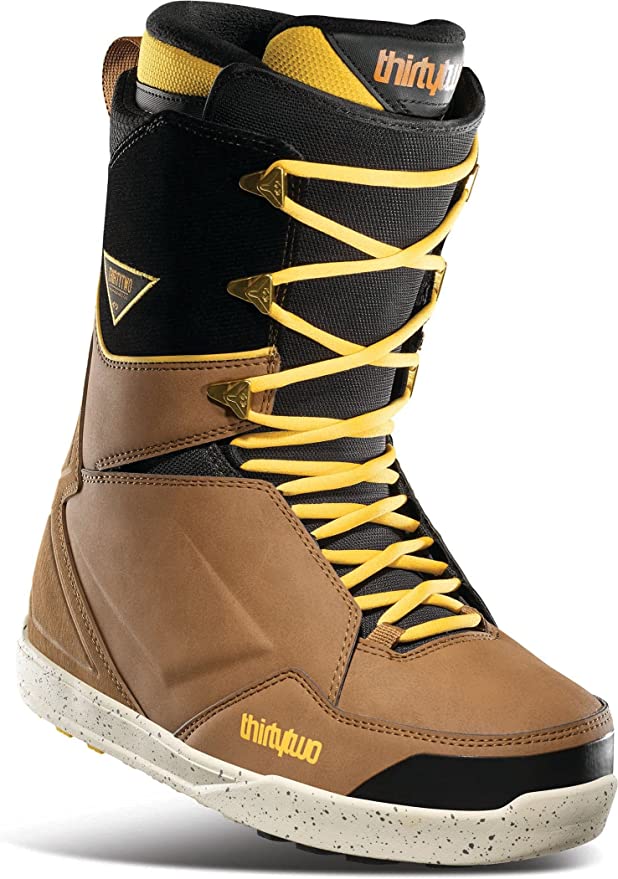 Thirty Two Lashed Mens Boots
The price of "Thirty Two Lashed Mens Boots" varies, so check the latest price at
Do I Really Need Wide Snowboard Boots?
But do you even need to buy yourself a pair of the best wide snowboard boots?
This is a question you might be asking yourself if you're gearing up for your first time in the snow. What happens if you buy a pair of boots that seems just a little too tight around the sides? Will it actually affect your riding, or will it feel like just a minor inconvenience?
Based on my experience, it's really important to find a pair of boots that fits well. Your goal is to achieve the highest levels of comfort possible. If your boots don't quite feel right, you're not going to have much fun on the mountain. 
And as any wide-footed rider (including me) will tell you, a bad pair of boots can make it almost impossible to stay on the snow for more than a few hours at a time. The pain and discomfort will get so intense that you'll have no choice but to sit down and rest for a while. 
Long story short:
Yes, you definitely need a pair of wide snowboard boots if you have wide feet!
Buying Guide
We've just hit you with tons of options for wider boots, and you might be feeling a little overwhelmed. How on Earth do you narrow down your choices when you have so many solid options to choose from?
Simple:
Follow this buying guide:
Durability:
One of the first things you'll want to consider is durability. Unfortunately, it's not all that easy to figure out how durable a pair of wide boots is going to be before you go ahead and buy them.
Trust me, there's nothing worse than boots that are falling apart. The most annoying thing is when your boots no longer tighten up properly, which can easily happen if the lacing systems start to break down. 
Fit and Comfort:
This is really the most important thing when you're buying a set of boots. If your boots don't fit well, you shouldn't buy them. It's that simple.
Fortunately, new heat-molding systems help you achieve that perfect, broken-in fit. Most snowboard shops will do this for you, and it's definitely worth it.
My last set of boots were heat-molded – and I really felt the difference. That being said, no amount of heat-molding will make narrow boots suitable for wider feet – so make sure you pick boots specifically made for your foot type.
Flex:
Your choice of flex depends partly on your personal preference, but it also depends on your ability level. Stiff boots are designed specifically for experts, while soft boots are perfect for beginners. Intermediate riders can get plenty of joy from a medium-flex boot.
That said, even some experts prefer softer boots for that buttery, playful feeling – perfect for the park. Just know that stiff boots will give you way more responsiveness and performance – and they'll be a little too strenuous for new riders.
Lacing Systems:
Again, this is a matter of personal preference. For me, I'm leaning more toward traditional laces these days. I had a bad experience with the speed lace systems, and I'd just rather go with the tried-and-true method.
On the other hand, traditional is way more fiddly and difficult to adjust on the snow. You'll probably have to take off your snow gloves to tie your laces, which can be a bit of a pain.
Speedlaces are way easier to adjust. I find that laces give you a lot more control over your fit, allowing you to customize tightness in specific areas. 
Material:
In terms of material, there are two main options: Leather and synthetics. Cheaper boots tend to use synthetic materials, while more expensive boots are more likely to feature leather.
Some believe that leather is naturally more durable while molding to your feet more effectively. That said, both leather and synthetic options will need some kind of waterproofing treatment, and you might argue that some synthetic materials are more naturally water-resistant.
Personally, I stay away from all animal products – including leather. But that's just my own choice, and it has nothing to do with the quality or feel of my boots. 
FAQs
Which Snowboard Boots Are Wider?
If you're looking for the best boots that fit wide feet, you'll probably see the word "WIDE" somewhere in the product name.
You might also spot the letter "W" somewhere in the name. This should give you a clue as to whether the boot was specifically made for wide feet. 
Which Burton Boots Come in Wide?
The cool thing about Burton is that they make it really obvious when a pair of
boots have been designed for wide feet. Burton Photon Boa Wide snowboard boots represent a clear example, and these are a solid choice if you're dealing with wide feet.
You might also go with the Burton Ruler Wide boots, which are also designed for people with wide feet. 
How Do I Know If I Need Wide Snowboard Boots?
You might only find out the hard way. By that, I mean that you might buy a pair of boots that are way too narrow, only to discover that they hurt on the mountain – leaving you unable to ride for more than a few hours at a time.
You may then be forced to buy another pair. Honestly, it's something that most snowboarders learn by trial and error.
That being said, you can save yourself a serious headache (and a lot of money) by making sure your boots fit extremely well before you start riding.
How to Break in Snowboard Boots?
One of the cool things about heat molding is that it really speeds up the "breaking-in" process. If done right, heat-molding can help you break in your snowboard boots before you even set foot on the mountain.
Leather boots might be especially easy to break in, as many riders feel that they create a more "custom fit" over time. At the end of the day, the only reliable way to break in your snowboard boots is to actually go snowboarding. 
What Size Snowboard Boots Do I Need?
Buying online is a lot easier these days, and most companies offer free returns. You can also check out sizing charts on product pages – usually, they're pretty accurate. Just know that sizing varies between brands.
For example, you might not fit a size 10 Burton pair of boots just because your previous pair was a size 10 K2 pair of snowboard boots. 
Wide Boards vs. Wide Boots
Wide boots are not the same as wide boards. 
You do not need to go out and buy a wide board just because you have wide feet. The two things are completely different. 
You need a wide board if you have especially long feet. This is because if your board is too narrow, your toes and heels will stick out, potentially catching in the snow and causing you to bail. This is a lesson I found out the hard way – which is why I stick to mid-wide (MW) or wide boards. 
Now, you could have wide and long feet – in which case you would need to get a wide board and wide boots. But you might also have shorter, wide feet. In this case, you would be fine with a normal board and wide boots. 
The Best Snowboard Boots for Wider Feet Are Waiting for You
Your boots are the most important part of your snowboard gear. Take extra care and consideration when choosing your boots for your wide feet will thank you at the end of each day. 
Fortunately, there are tons of options for anyone with wide feet, and you can take your pick from some of the best boots on the planet.