Is Buying a Backpack for Snowboarding on Your Mind?
The first steps in all sports are probably always linked to buying equipment. In time, this ends up bordering obsession: you never own enough merino layers or socks, so you keep buying.
On the other hand, you 'forget' to buy the best snowboard accessories that you have never owned. It resembles a veil over your eyes. When it starts lifting, you also leave your comfort zone and allow the magic to manifest.
Snowboarding is a new sport and has so many things going on at the moment! Developments are still being made, even more so than in other sports.
Quality equipment will always help the athlete get great results – this should be remembered when buying something you have never bought before. It will save you time and money, in the end, without even realizing it. And you'll be thankful for it. A backpack is an essential piece of snowboard equipment!
You can carry your camera, the selfie stick, some dry clothes, and even some snacks and drinks, off the top of your head. What about an extra pair of best snowboarding goggles, rescue gear in case of avalanches, or sunblock? They could all prove essential for a good day on the slopes, in the end, and fit into a snowboard backpack.
Best Overall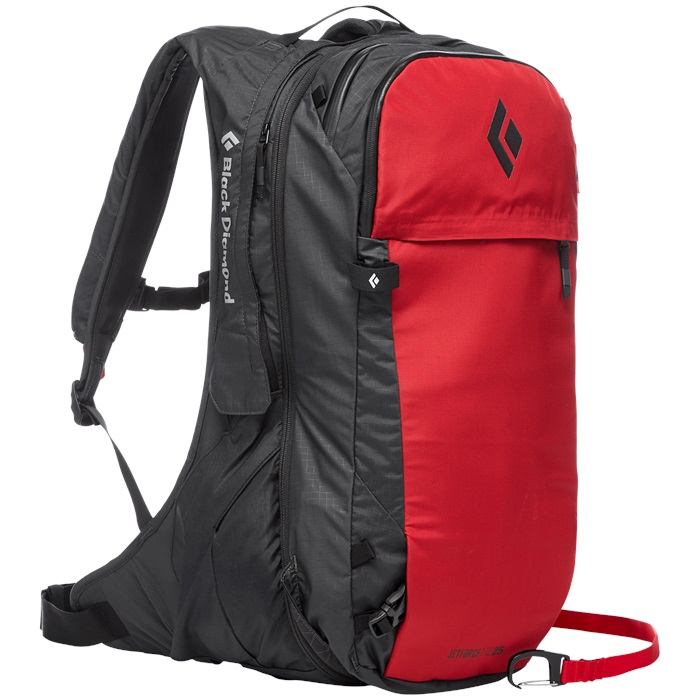 Black Diamond Backpacks
Fit for: Men & Women
Weight:

 

2870 Grams
Freedom of Movement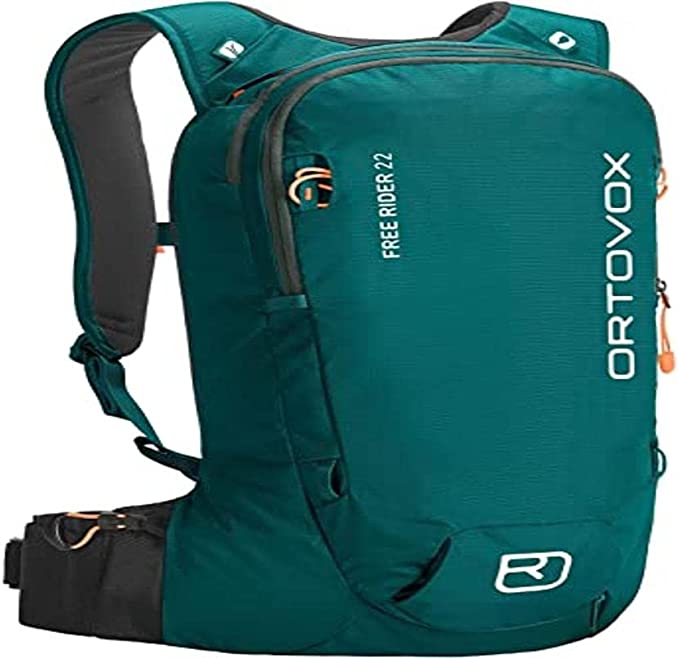 Ortovox Free Rider Backpack
Fit for: Men & Women
Weight:1000 Grams
For the Mountain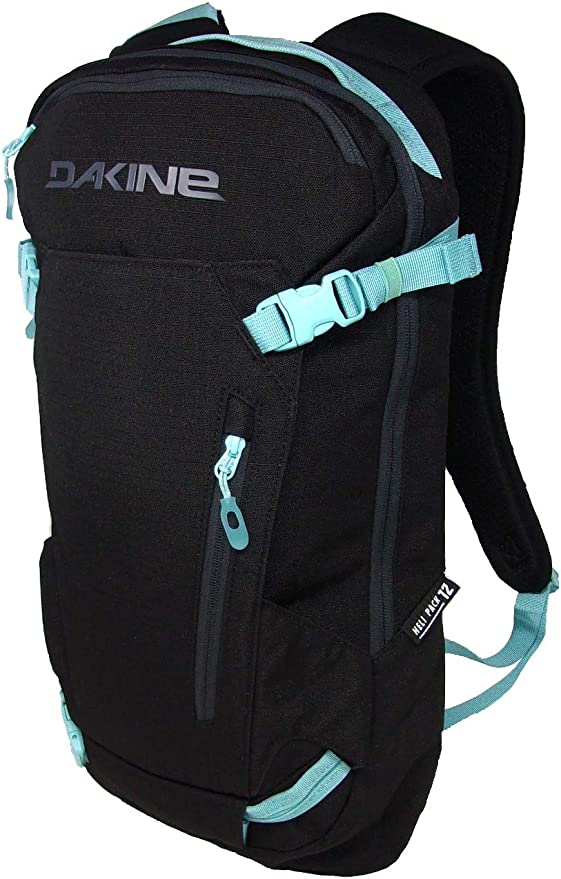 Dakine Heli Pack Backpacks
Fit for:

 

Women
Weight : 770 Grams
Best Versatile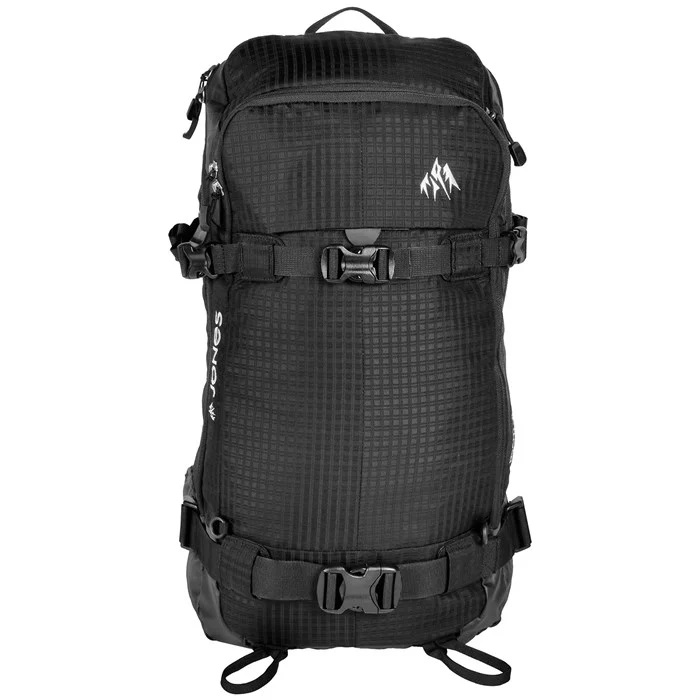 Jones DSCNT Backpack
Fit for: Men & Women
Weight:

 

1600 Grams
Best Value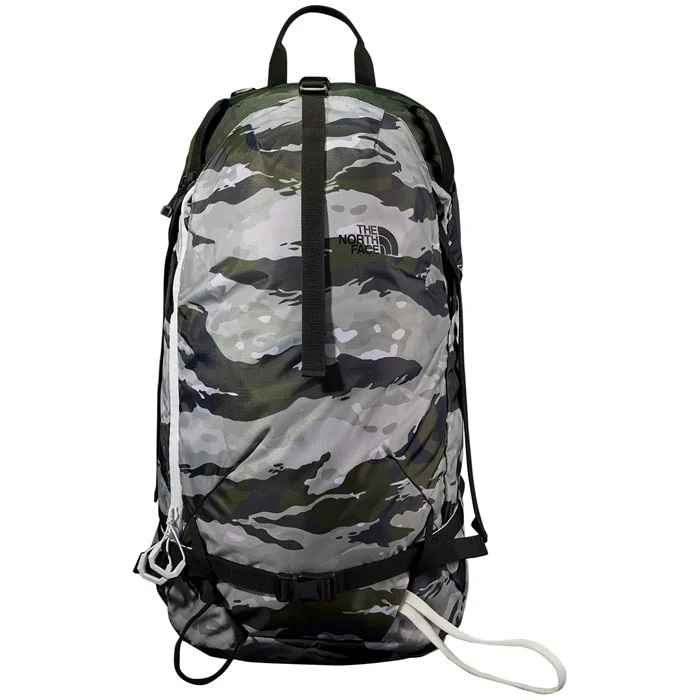 The North Face Backpack
Fit for: Women
Weight:

 

1110 Grams
Most Pragmatic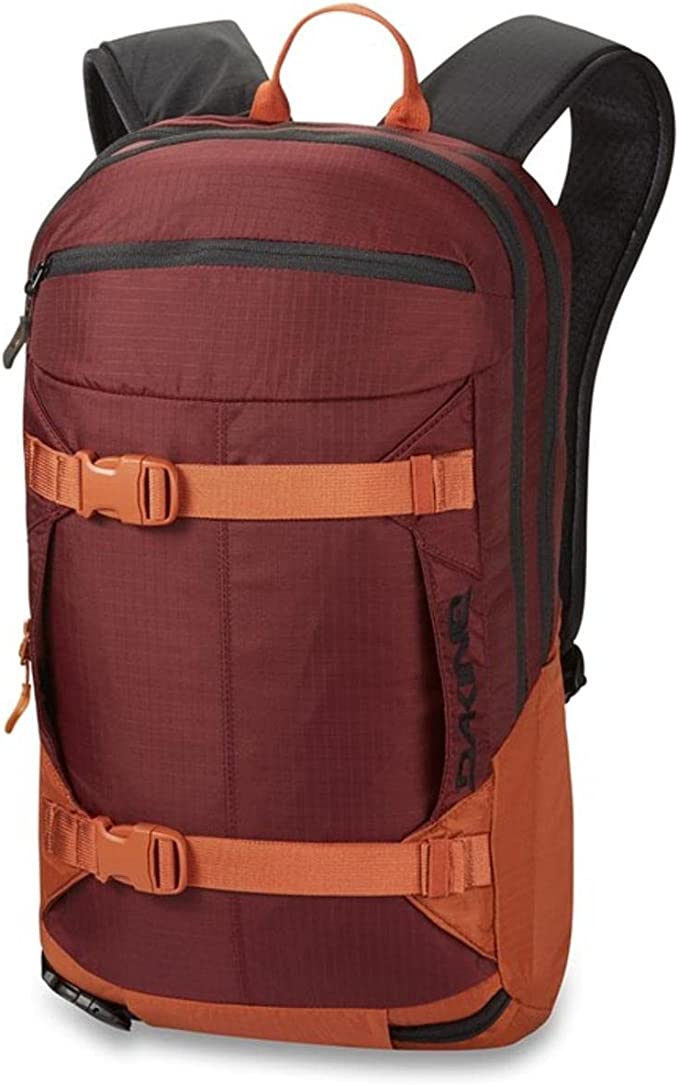 Dakine Mission Backpack
Fit for: Women
Weight:

 

700 Grams
Modern Design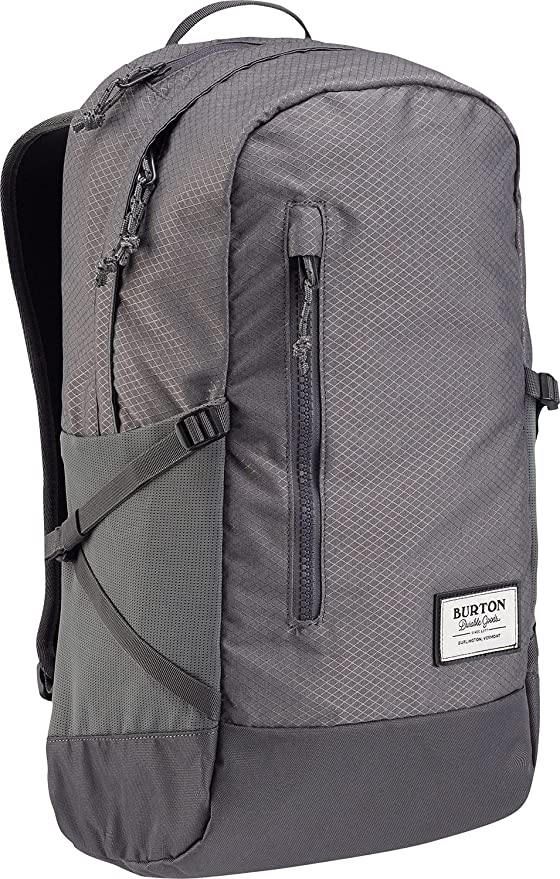 Burton Prospect Backpack
Fit for: Men
Weight: 500 Grams
Best Snowboard Backpacks – 5 Top Picks
I will be honest – when I started snowboarding, a backpack wasn't the first item to buy that went through my mind.
First, you buy the snowboard bindings and boots. Then, you start to look at and compare snowboarding gloves, trousers, and jackets. You even think of buying a baggy overall. Then come socks, special underwear, a snowboarding helmet, and goggles.
Are we done?
Well, not necessarily.
Using tactics that always tend to avoid the things and actions that are truly needed, an extra buff always comes in handy. I even thought of buying a bag for my boots before thinking of buying a backpack. But then, I started to feel a more and more acute need to get a backpack for snowboarding.
So, here I have utilized my research and personal experience to bring a list of backpacks for snowboarding. Fit for backcountry riders or maybe a couple of hours up and down the mountain? Let's check out all the 7 best backpacks for snowboarding: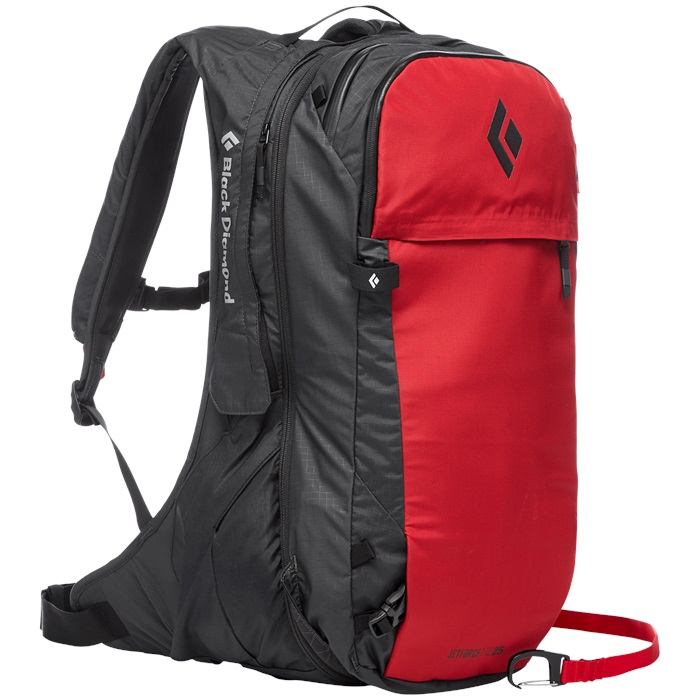 The Black Diamond JetForce Pro is a battery-powered airbag avalanche pack. The JetForce technology allows recharging by supporting your life functions once an avalanche occurs, e.g., by automatically deflating the airbag to create an air pocket.
The tuck-away diagonal ski carry allows the airbag to deploy while the skis are attached. The leg strap is retractable (for the time spent getting on/off the chairlift) and can be attached via the easy-to-use carabiner clip.
It is also endowed with self-diagnosis software and an avalanche tool compartment. It acts as safety gear, with special straps for your split board, which means that carrying skis is also possible. 
The snowboard and skiing backpack are streamlined for backcountry use. Indeed, all its features point in that direction: an ice axe attachment, a HiLo helmet carry, a hip belt stash pocket, or an internal accessory pocket.
There is a large front pocket, which allows easy access to your most-used items. The modular design of the pack means that its upper part can be replaced by a 10/25/35-liter version, to suit your goals and adventure style of a certain day (it must be purchased separately).
But for the price and not too many external zippered pockets and pockets available inside the main compartment, this is a dream pack.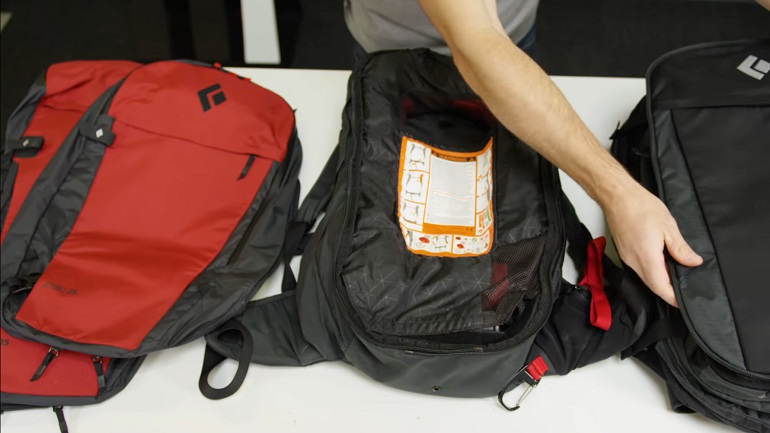 However, some riders would think a lot before purchasing the Black Diamond JetForce Pro 25L Backpack. Why? Because it is a real investment even though it is one of the best snowboard backpacks out there.
While this avalanche backpack may save your life, so can other avalanche airbag backpacks that do not cost a fortune and have more features that are daily necessary for snowboarders. But it stands tall among the crowd!      
The Black Diamond JetForce Pro 25L Backpack comes in two sizes: S/M (torso length 41 – 48 cm; waist length 66 – 102 cm) and M/L (torso length 47 – 55 cm; waist length 71 – 114 cm).
Specs
Fit for: Men & Women
Material: Polyethylene
Volume (l): 25
Weight (g): 2870
Airbag system included: Yes
Snowboard carry: No
Hydration compatible: No
Warranty: 3 years for the backpack, 1 year for the battery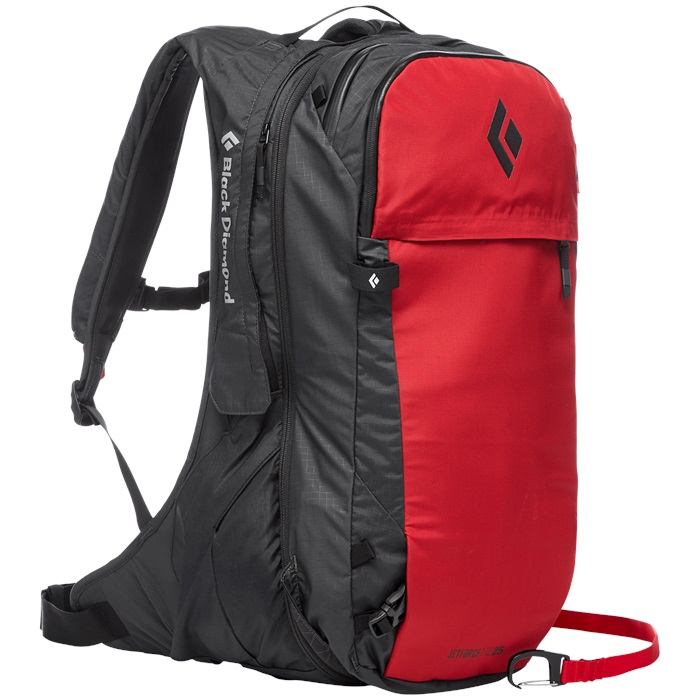 Black Diamond Backpacks
The price of "Black Diamond Backpacks" varies, so check the latest price at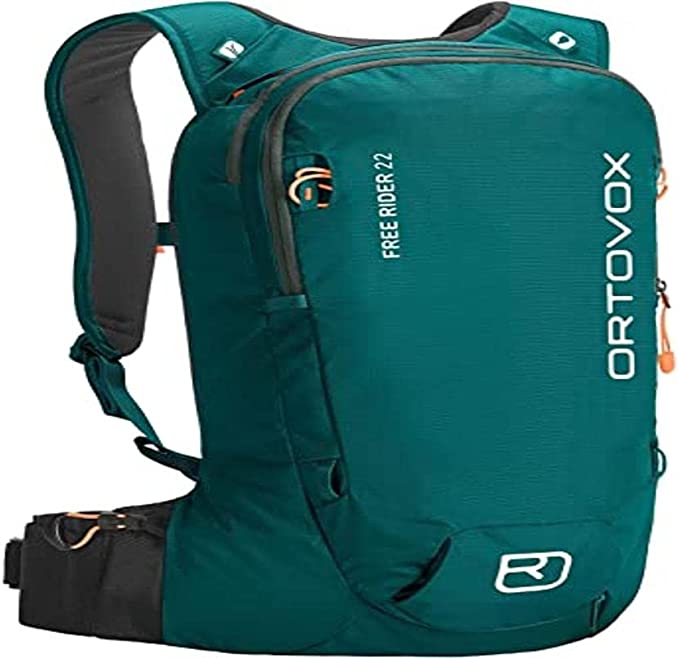 What's not to love about the Ortovox Free Rider 22L Backpack? It fits snugly. One of the main factors for that is the elasticated CLASP FLEX BELT.
The movements of the spine are not restricted thanks to the soft back pads. The inside of the backpack can be fitted with the CLASP SPINE PROTECTOR, which is motorcycle-certified, providing protection for your items.
The side straps can help compress the backpack, acting as compression straps. While it can carry your snowboard and is hydration compatible, it also has attachment options for an ice axe or rope. It comes with a helmet net.
Cons? While it has a rescue whistle attached to the chest strap, this backpack designed for free-riders and backcountry snowboarding does not have a removable airbag system. The weight and shape of the backpack are pros, which can turn fast into cons when talking about the volume.
For a day out riding, you cannot pack too much stuff. While it is comfortable and fun to take along, a few riders would worry about the warranty and the price tag. On the one hand, it is a little expensive for a backpack that lacks extra avalanche safety features.  
Would I pick the Ortovox Free Rider 22L as my snowboard backpack? I must admit that I am not 100% sold on this idea, but many aspects still make me ponder over the pros and cons.
While I love the snug fit and the CLASP SPINE PROTECTOR that can be added, its volume and lack of an avalanche protection system are a put-off. So is the price. For half that price, I'd buy this solid pack without blinking an eye.       
Specs
Fit for: Men & Women

Material: 100% polyamide 400D (recycled)
Volume (l): 22
Weight (g): 1000
Airbag system included: No
Snowboard carry: Yes
Hydration compatible: Yes
Warranty: 24 months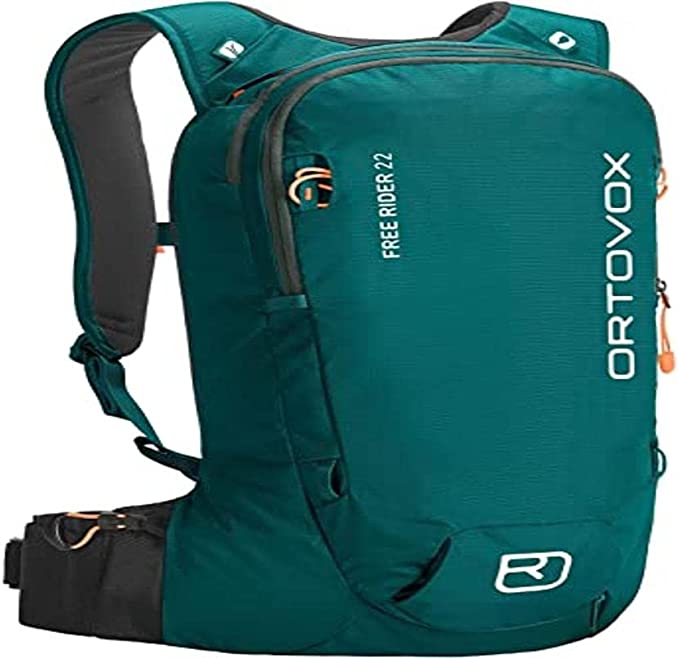 Ortovox Free Rider Backpack
The price of "Ortovox Free Rider Backpack" varies, so check the latest price at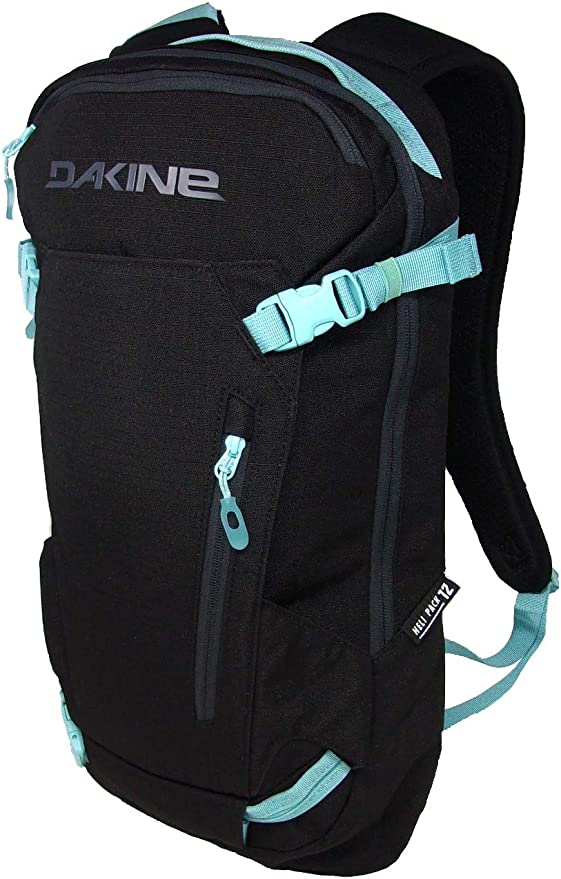 Designed with women snowboarders in mind, the Dakine Heli Pack 12L Backpack is tiny but does its job as a backcountry pack. It does have a hydration sleeve, a shovel blade carry, a fleece-lined goggle pocket, and vertical snowboard carry straps (with a horizontal snowboard carry option).
There is a rescue whistle on the sternum strap, but the size of the pack does not allow too many items to be carried, an overnight expedition, or avalanche gear. 
It is a great backpack for adventurous women who love to travel light. The price is also affordable, the maintenance is basic. Women tend to love their gear spotless. They can get that by using only mild soap and water to clean this backpack.      
Riding with this backpack is such a fun experience! You feel as if you're not carrying a thing, yet you have every basic item that you could need with you. That is more important than sets of pompous features. In the end, in this sport, staying down-to-earth and practical is essential.
Specs
Fit for: Women

Material: 600D Recycled Polyester ripstop with water-repellent finish, bluesign® approved materials
Volume (l): 12
Weight (g): 770
Airbag system included: No
Snowboard carry: Yes
Hydration compatible: Yes
Warranty: Limited Lifetime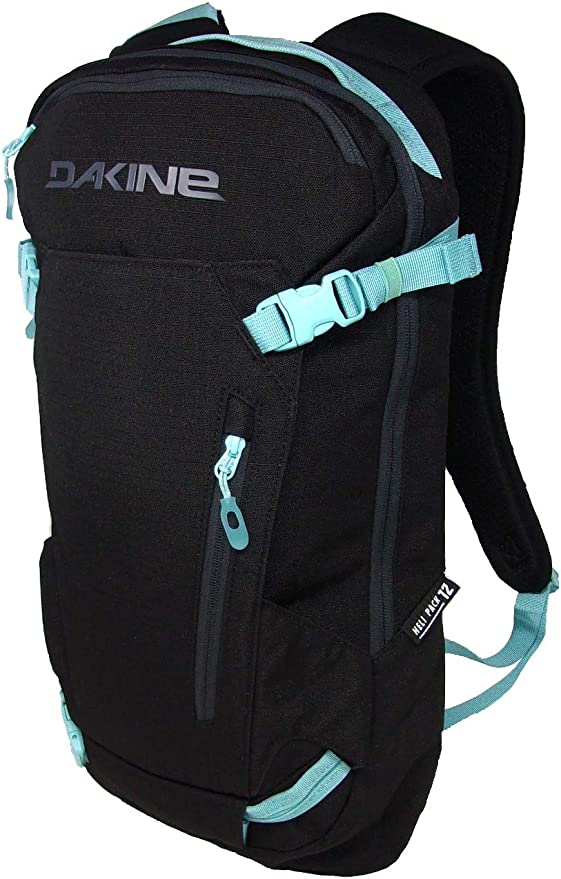 Dakine Heli Pack Backpacks
The price of "Dakine Heli Pack Backpacks" varies, so check the latest price at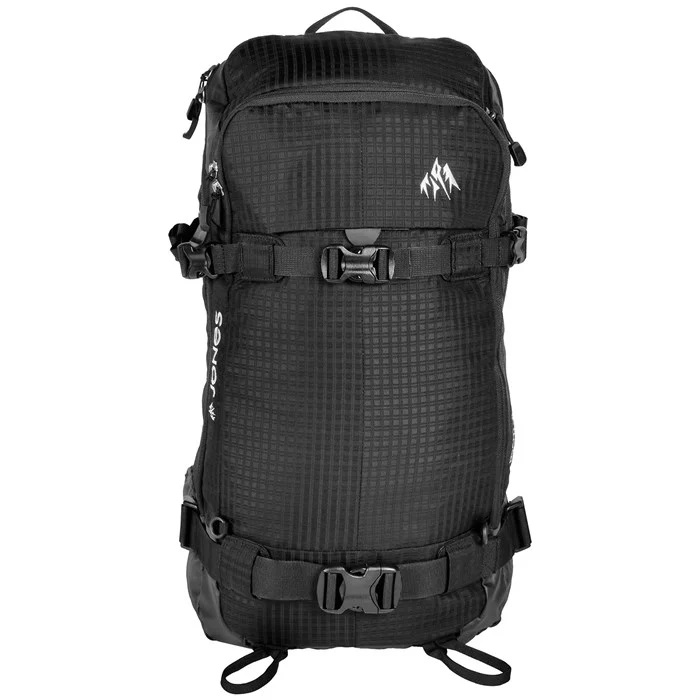 An interesting item among all snowboard packs is the Jones DSCNT 32L R.A.S. This backpack is one of the few to differentiate between regular and goofy riders regarding the strapping of poles and skins.
It provides vertical carry for the snowboard. The splitboard is also supported (see the A-frame carry mode). So many features are present!
Dual ice axe loops, dual hip belt pockets, a hip belt gear loop, a helmet holder, a fleece-lined goggle pocket, and the list goes on. The volume/weight ratio is optimal. So many items can fit into this backpack, which is loved by snowboarders and backcountry skiers alike. 
Comfort shoulder straps and a thermo-molded foam back panel are also included. A rescue whistle is incorporated. A removable Airbag 3.0 system, sold separately by MAMMUT, makes many users regard the Jones DSCNT 32L R.A.S. Backpack as the best airbag backpack on the market.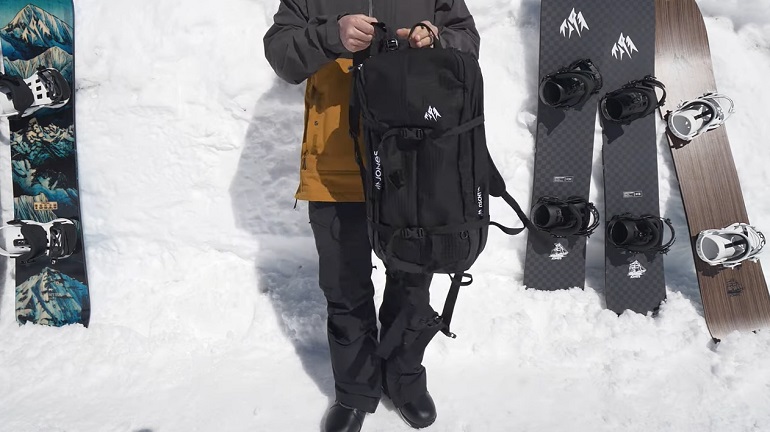 The installation of the airbag system is performed more easily than in the case of other backpacks. Durable, functional, and comfortable – it appears that its only downside would be the price and the leg strap that doesn't easily retract.
However, for a backpack of such high quality, you would just pay it. After all, it is probably one of the best ski backpacks (and best snowboard backpacks!) out there!
It is a long but narrow backpack, so it does not pull your body back, unlike other snowboard backpacks. Perfect for day trips in the backcountry! Its spacious main compartment helps you carry along the many elements that you need.
I believe that this is the one among the airbag backpacks that I assessed! I get pretty serious when talking about avalanche tools, so quality gear is necessary when you adventure out into the wild.  
Specs
Fit for: Men & Women
Material: Nylon 450D
Volume (l): 32
Weight (g): 1600
Airbag system included: Yes
Snowboard carry: Yes
Hydration compatible: Yes
Warranty: Limited Lifetime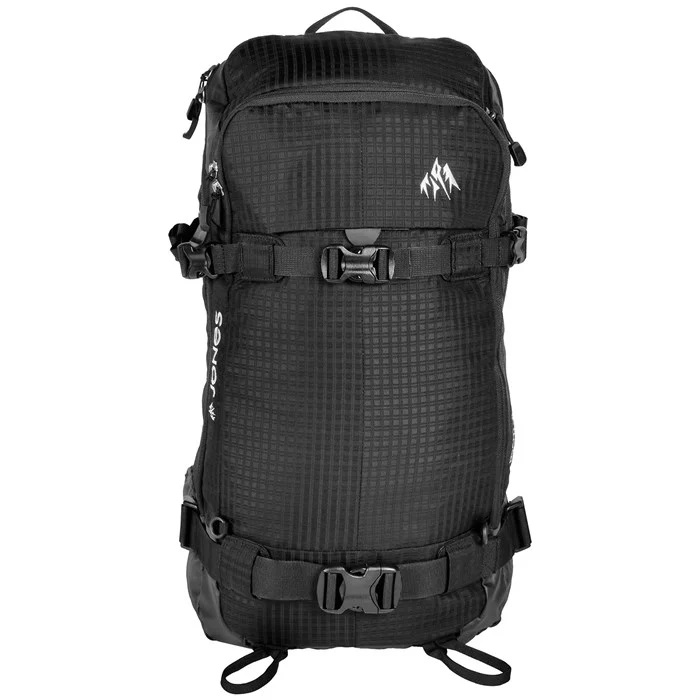 Jones DSCNT Backpack
The price of "Jones DSCNT Backpack" varies, so check the latest price at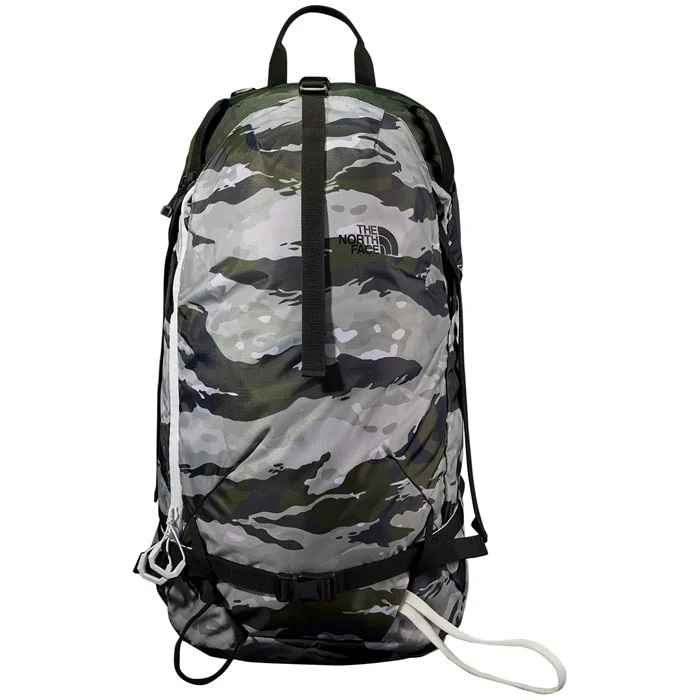 It may not seem like that at a first glance, but the North Face Snomad 23 Backpack is spacious. Its steel frame supports great loads; so does the new IronLite material.
The pack has diagonal ski straps and horizontal and vertical snowboard straps. What does that mean? That it is not only a snowboard pack but also a ski backpack.
On a pocket level, the situation is also good. There are pockets for an extra layer, and there is a dedicated pocket for the camera and goggles. This pack provides easy access from the side and the front to the main compartment and a hip belt loop. A helmet holder and ice axe loops are also included.
There are not many cons here, to be honest. We are dealing with a very complex backpack. The price is affordable, too. The only thing is that the North Face Snomad 23 Backpack may seem a bit bulky.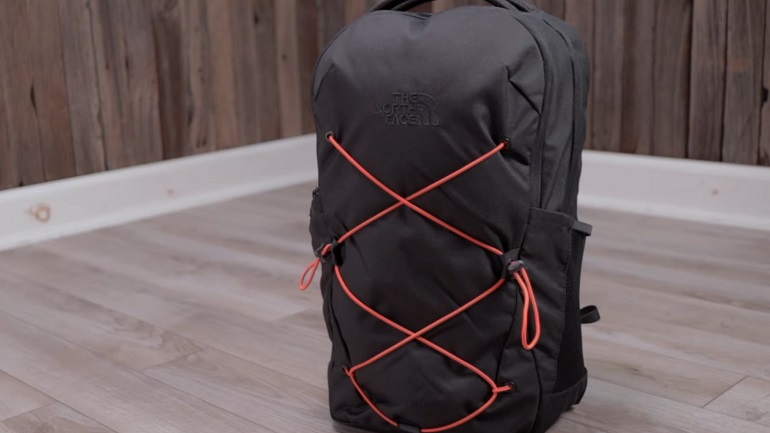 I would not hesitate to buy this versatile piece of equipment, with a tremendous storage room. It would be ideal both in a resort setting and on a day/half-day backcountry adventure (backcountry skiing included).
I am not saying that all your gear would fit into this quality backpack, but all the necessary items will. It is one of the best choices as far as backcountry backpacks are concerned.      
Specs
Fit for: Men & Women (best for Men)
Material: IronLite
Volume (l): 23
Weight (g): 1110
Airbag system included: Yes
Snowboard carry: Yes
Hydration compatible: Yes
Warranty: Limited Lifetime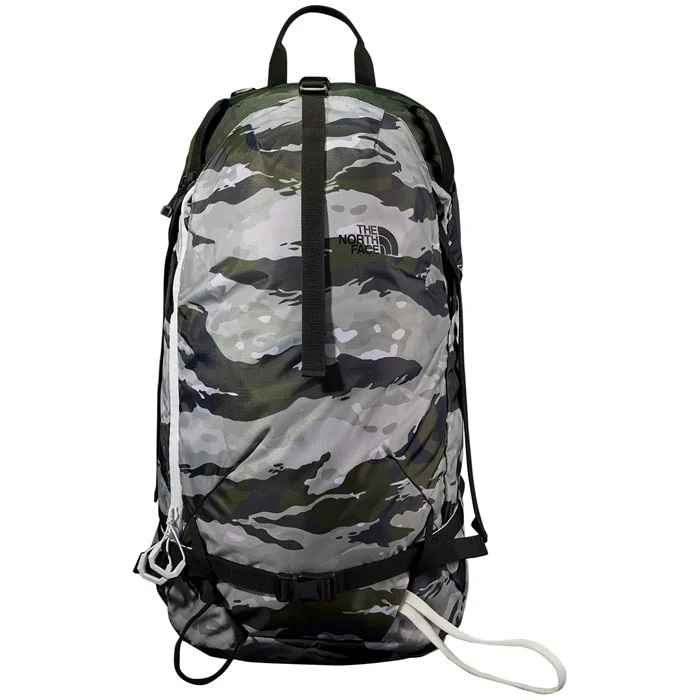 The North Face Backpack
The price of "The North Face Backpack" varies, so check the latest price at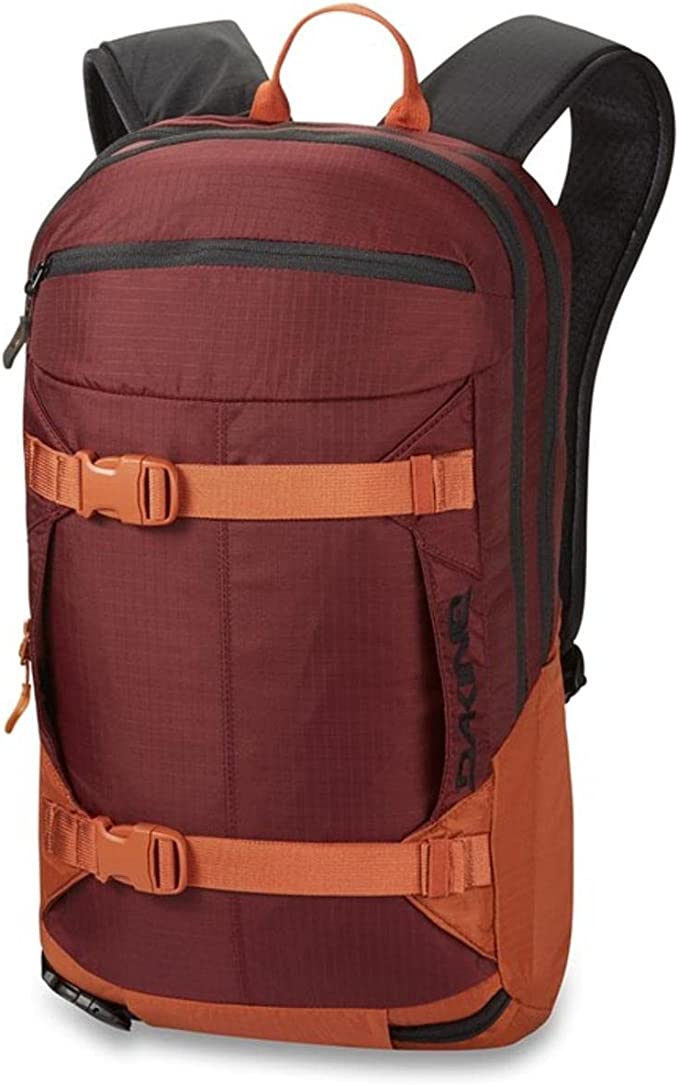 Sized for resort laps, the Dakine Mission Pro 18L Backpack was designed for men and women (especially women) who love practical features and micro-adventures.
The shovel and the probe can be carried along and then, there's a fleece-lined pocket for goggles or sunglasses. It is hydration compatible, so you won't run out of water if you're heading on a short off-piste ride. Your snowboard can be strapped to the backpack (vertical carry).
This backpack is Impact Spine Protector compatible (sold separately). It has an adjustable waist belt and a padded hip belt. It may not come equipped with an airbag system, but a rescue whistle is attached to the sternum strap.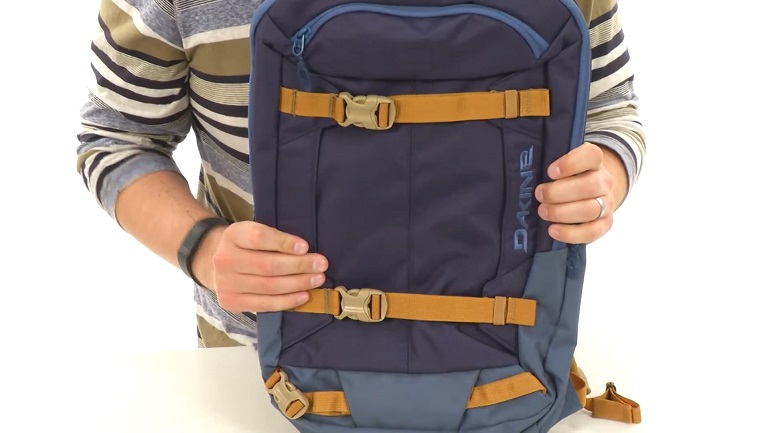 With its cute and compact appearance and the right price tag, the idea of owning this versatile pack is very inviting. I would love to purchase the Dakine Mission Pro 18L Backpack for rides in my home winter sports resort.
It would be the right decision even for those days when the chairlifts are not working because of the wind. I also love the variety of colors in which it comes and the easy maintenance (water, mild soap, and a brush). The Dakine Heli Pro is also great for heliboarding (as also suggested by its name).  
Specs
Fit for: Men & Women (best for Women)
Material: Nylon
Volume (l): 25
Weight (g): 700
Airbag system included: No
Snowboard carry: Yes
Hydration compatible: Yes
Warranty: Limited Lifetime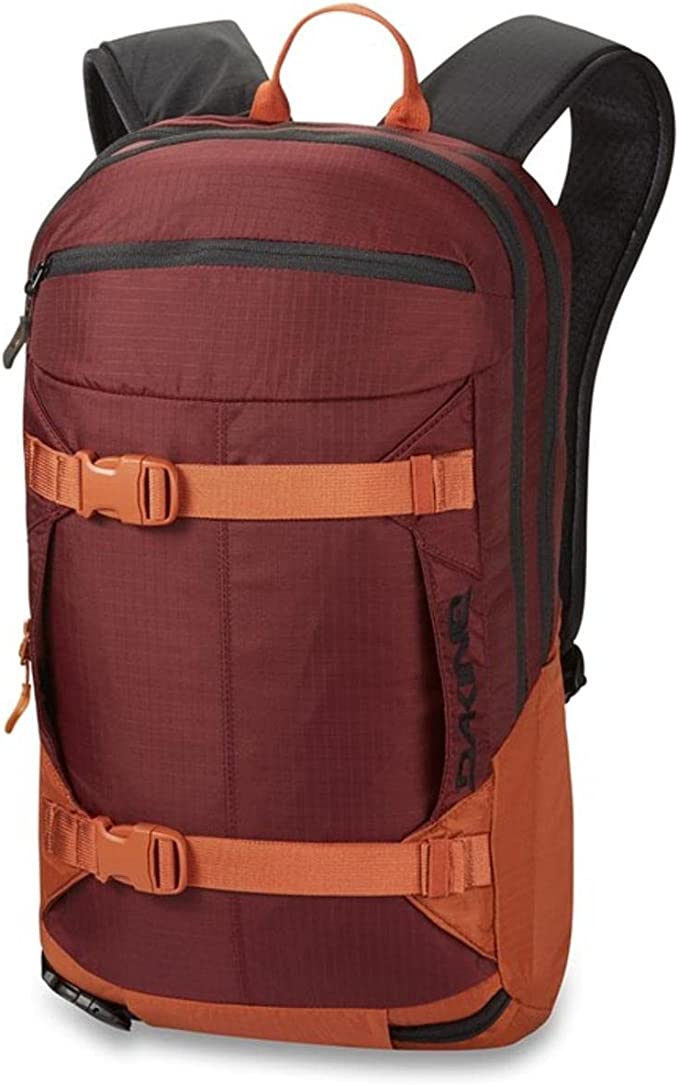 Dakine Mission Pro Backpack
The price of "Dakine Mission Pro Backpack" varies, so check the latest price at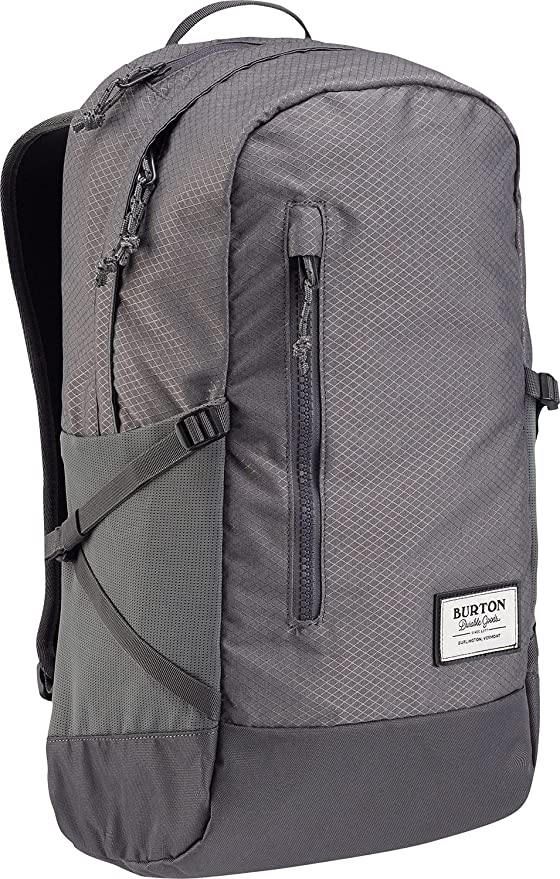 While it is very aesthetically pleasing, water-resistant, and light, in my opinion, the Burton Prospect Backpack seems more suited for hiking and everyday activities around town than a day on the slopes, as a ski and snowboard backpack. Even so, its volume is low, so not too many items can be carried.

Pluses? Many pockets and straps, compression straps, and two mesh side pockets designed for water bottles. Minuses? No features for freeriding: no straps to carry snowboards, no airbag system included, and no hydration compatibility.
The price is right, so right! And the Burton Prospect Backpack looks so good! It may be waterproof, with adjustable shoulder straps and an adjustable sternum strap, but I cannot see myself riding with it on my back.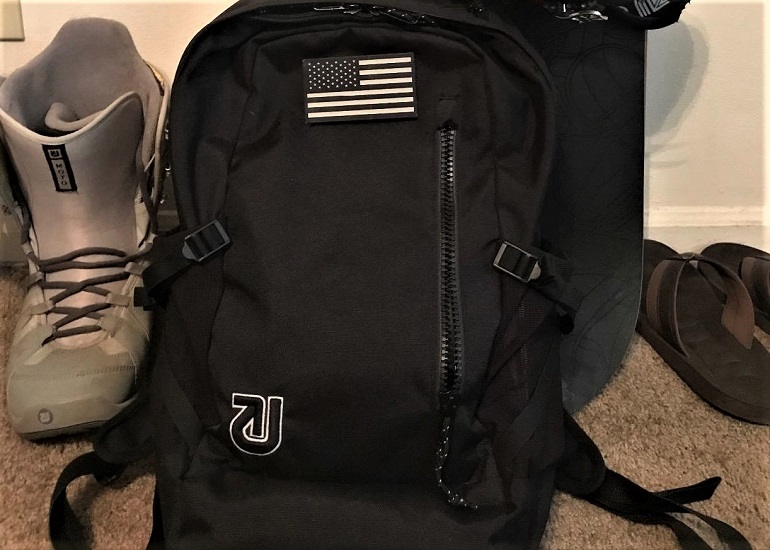 I would, however, definitely purchase it to take it along on a walk around my hometown. It has a padded laptop sleeve, after all. Why not put it to good use? That lifetime warranty sounds like such a good deal!    
Specs
Fit for: Men
Material: bluesign® approved 600D recycled polyester
Volume (l): 20
Weight (g): 500
Airbag system included: No
Snowboard carry: No
Hydration compatible: No
Warranty: Lifetime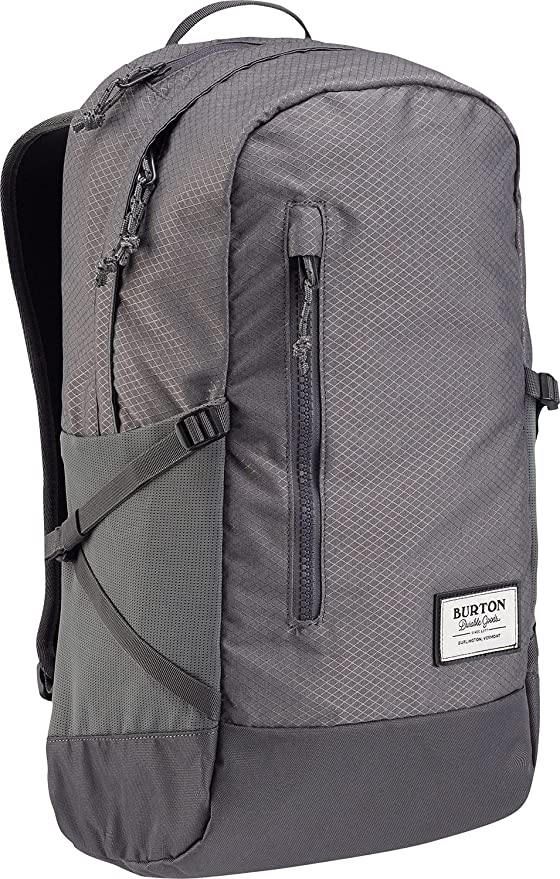 Burton Prospect Backpack
The price of "Burton Prospect Backpack" varies, so check the latest price at
Features To Assess in Backpacks for Snowboarding
What should you consider when researching and assessing snowboard backpacks, which can also act as ski backpacks? (well, some of them)
Type of terrain ridden, shoulder straps and waist straps for support, gear straps (snowboard and ski carry) for functionality, type of material for different weather scenarios, storage room for that extra layer or that packed lunch (drinks included), airbag (an avy tool pocket), and hydration system.
Here is a list of essential features to consider while buying the best backpacks for snowboarding.
Carrying Comfort
Your snowboard backpack should feel like your second skin. Chest and waist straps will help you maintain your balance and keep your snowboard backpack in an as-fix-as-it-gets position.
It should ideally provide horizontal, vertical, or diagonal straps to help you carry your snowboard.
A helmet holder or a helmet carry system would also be good to have. In the end, you are not always wearing your helmet.
Slots for a shovel and loops for ice axes would be a great addition.
If the snowboard backpack is also hydration compatible and comes equipped with an insulated hydration sleeve, it is a winner.
Weight and Volume
Standard snowboard backpacks range from a few hundred grams to under 3 kilos. Add to that the items that you are thinking of carrying. Volume is important, too. You will not need more than 20-liter backpacks for some rides in the resort but choose a 40-liter backpack for long days and/or overnights.

Choose women's snowboard backpacks if you have the option – they were designed especially for a woman's body.
In the case of light backpacks, they will cover your water and snack necessities for a few hours. You'll also be able to carry a small camera and a selfie stick.
Perspectives change when we deal with larger backpacks designed for overnight expeditions and split boarding sessions. Think 'bivy, charger, head flashlight, plenty of food and hot drinks, maybe even a collapsible water bottle, and a set of dry clothes.'
Never forget to check the weather conditions. We all know how fast transitioning from sun to snowstorm can be. Be prepared for all weather conditions; carry extra underwear, socks, a pair of leggings, and a warm beanie.
Avalanche Protection
A delicate topic but one that we should all talk about: avalanche safety gear. A large backpack would allow you to have avalanche tools on you. It is necessary, especially at the end of the snowboarding season.
If you head off-piste or enjoy split boarding, you should carry a rescue whistle and even ski walkie-talkies for expedition members if you are part of a team. There are special backpacks incorporating Avalung technology – access to oxygen around you without breathing in carbon dioxide, should an avalanche occur.
Be aware of the tricky locations, especially at the end of the season. Watch out for announcements from mountain rescue centers.
A small note here – if you encounter wildlife, especially big carnivores, keep your distance and try making some noise. Do not attempt to run or turn your back on the animals.    
Material
Waterproof materials are ideal. Even if the snowboard backpack that you have your eyes on is not fully waterproof, at least go for a flexible material that can dry fast.
Look at how the backpack expands – it will also depend on the material. Your comfort level while riding will be impacted by the horizontal or vertical stretching of your backpack.
It sometimes also rains (at the end of the snowboarding season), or you may be experiencing heavy snowfall, so a protection cover would be perfect for your backpack.
Accessory Pockets
I love pockets! No bag or backpack has enough pockets for me. We are talking about a compact piece of equipment that will join me throughout the day, so I'd love as many pockets as possible.
A fleece-lined goggle pocket would be excellent – I may wish to bring along an extra pair of goggles,  store my regular ones, or take the sunglasses with me, too.
Then again, I may need pockets for SD cards, sunblock, anti-inflammatory pills, and patches, or my phone. Both a front pocket and a rear one would be nice.
Two inside pockets and small pockets on the waist and chest straps would be ideal. This is how you know where your SPV lip balm and tissues are at all times!   
Some well-rounded backpacks also come with a dedicated snow tools pocket, hydration bladder, and laptop compartments!
Questions on Your Mind
What Snowboarding Backpack Size Do I Need?
Even though it is not elegant to reply using another question, it will have to do this time—
Where will you use your snowboarding backpack? If it's in the resort and you'll only need storage space for a small camera, water, snacks, and maybe a beanie, you can buy a small backpack of 10-20 liters.
When you are planning long days around the resort but also off-piste snowboarding, you should pack more. Maybe a set of dry clothes or more food? Any snowboarding backpack of up to 32 liters should suffice.
If you plan overnights and split boarding even, the advice would be to choose a backpack of around 40 liters. In the end, you also need an avalanche airbag if weather changes and avalanches occur.
You should also choose a designed-for-women backpack if you have the option.     
How Do I Strap My Snowboard to My Backpack?
Many snowboarding backpacks have straps for horizontal or vertical board carry. Some may even have straps for the vertical and diagonal snowboard carry.
It depends on how you feel most comfortable. If you need extra support, you can always buy additional straps to get your snowboard attached to the backpack that you're carrying.   
Are You by Now the Happy Owner of a Backpack for Snowboarding?
Now that you have conducted your research and are looking forward to the new snowboarding season, I bet you can't wait to buy it. Hold it. Have that new snowboarding pack join you on your white adventures.
In the end, what should the features of the best snowboarding backpacks be? Comfortable on your back, barely noticeable while riding, and secure in backcountry and avalanche-prone zones; plus, loads of pockets and straps, hydration compatibility, robustness, spacious main compartment, with the right price tag. Because the best snowboard backpack is the best snowboard backpack for you!   
You'll need water immediately – you'll just drink. You'll feel the need to stop for long photo sessions – you'll just open the zipper and take out your professional camera. Last but not least, you'll never suffer the 'cold and wet' feeling any longer: you can now change because you've got everything on you. In your snowboarding backpack!