So you're a dedicated snowboarder who loves hitting the backcountry. What's your solution to getting to those fresh powder lines?
Of course, you could always get yourself a snowboarding backpack with a snowboard clip and slog your way through the snow up steep terrain and deep powder, but why not give a split board a try?
Splitboarding is the solution to having the pleasure of hitting untouched slopes marred by the effort of trying to get your snowboard up big mountain terrain.
These incredibly versatile snowboards come equipped with the ability to come apart down a center seam to become backcountry skiing tools by simply attaching skins.
The bindings are able to be removed and repositioned in a snap, adjusting to accommodate the new movement of uphill tracking.
With a few simple steps, you can add skins to your newly made skis and tackle all sorts of terrain, usually inaccessible to anyone but skiers. With a few little extra bits of gear in your backpack, you can keep up with any alpine group.
They may seem odd at first, but you should give one of these a try if you ever get the chance, you may be pleasantly surprised. Uphill efficiency, matched with the downhill performance of a snowboard, is not something to turn your nose up at.
Top Pick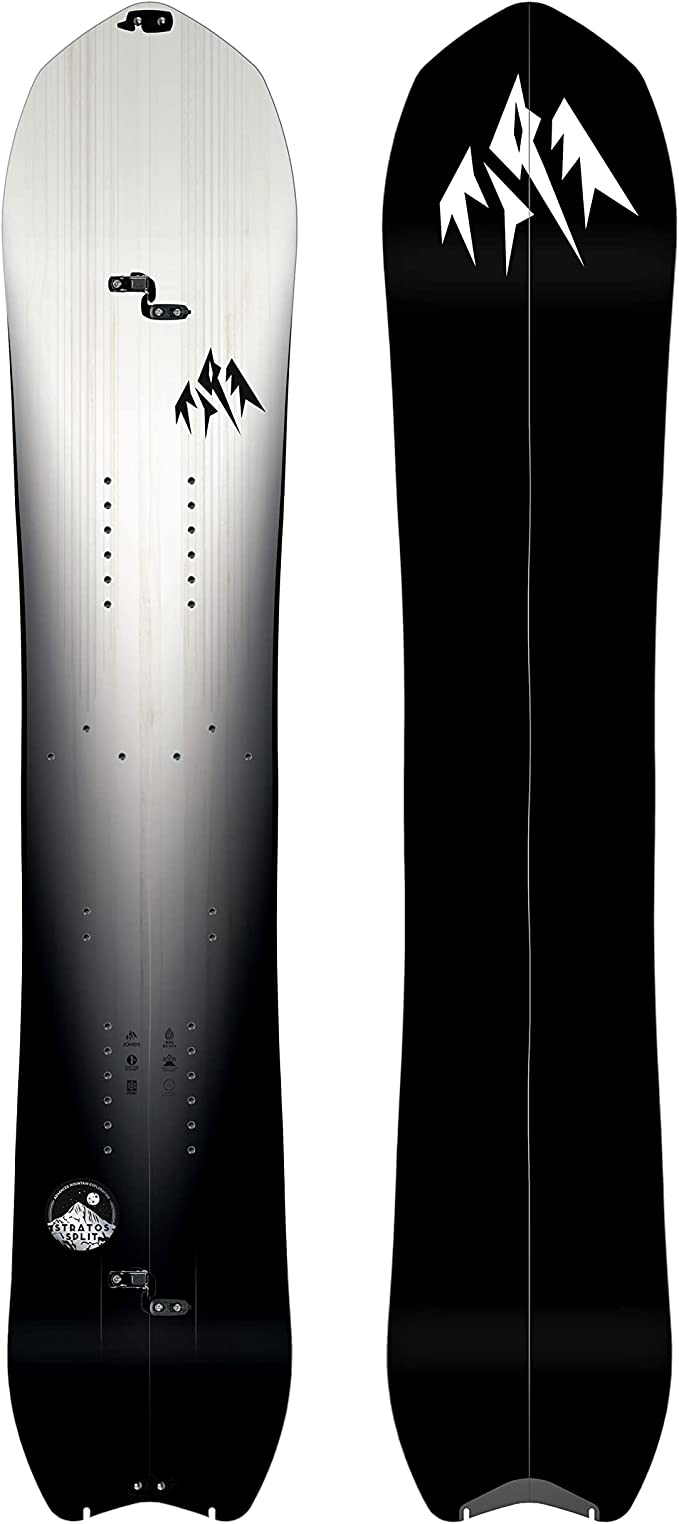 Jones Stratos
Color: Black
Material: Wood
Super Light
Jones Solution Splitboard
Color: White
Material: recycled steel edges
Accessible & All-inclusive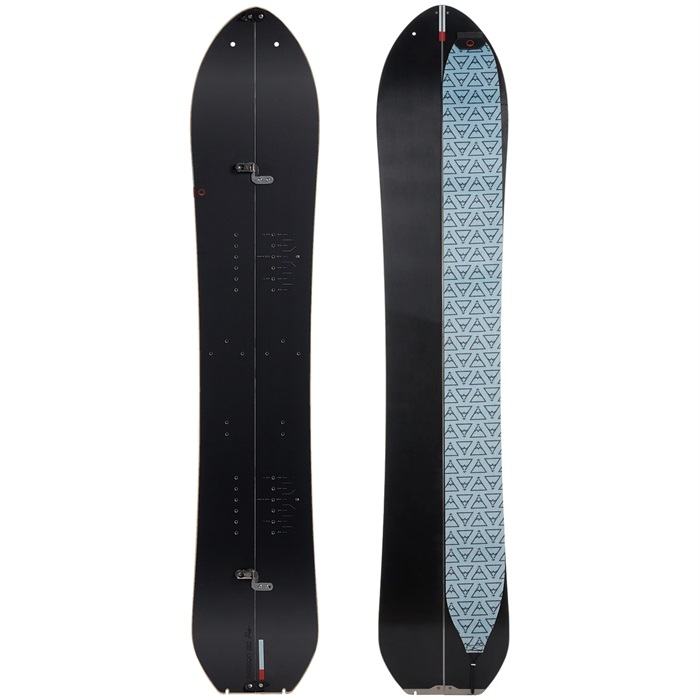 Season Pass – Unisex
Color: Black
Material: Wood
Eco-friendly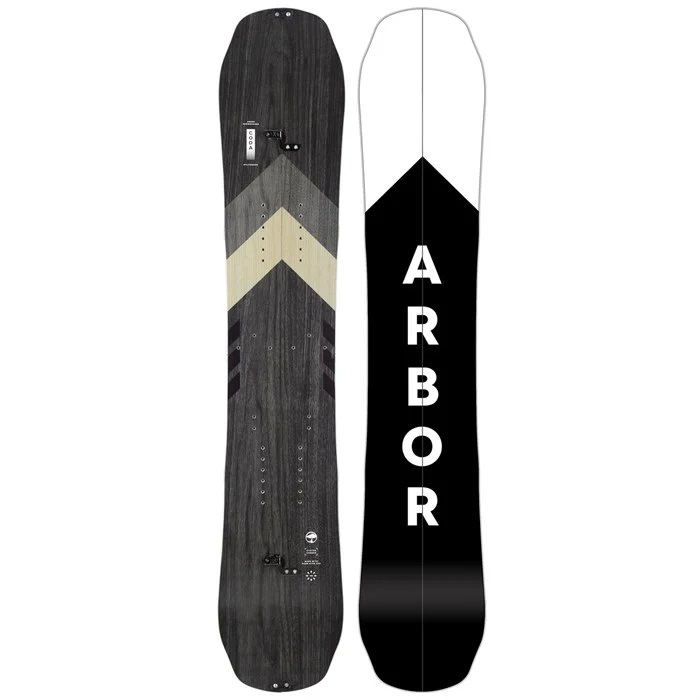 Arbor Coda Split Cambe
Color: Black and White
Material: Wood, Carbon
Uber Versatile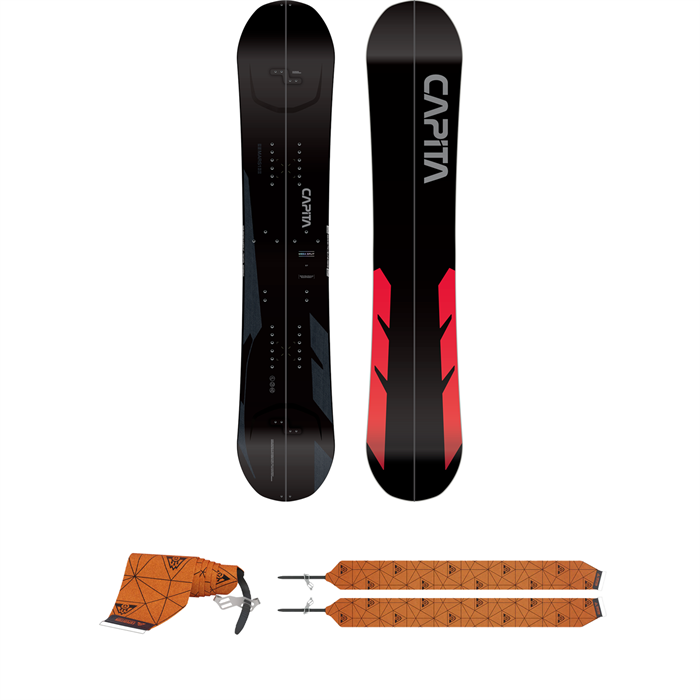 CAPiTA Mega Split
Color: Black and Red
Material: Wood, Carbon
Classic Choice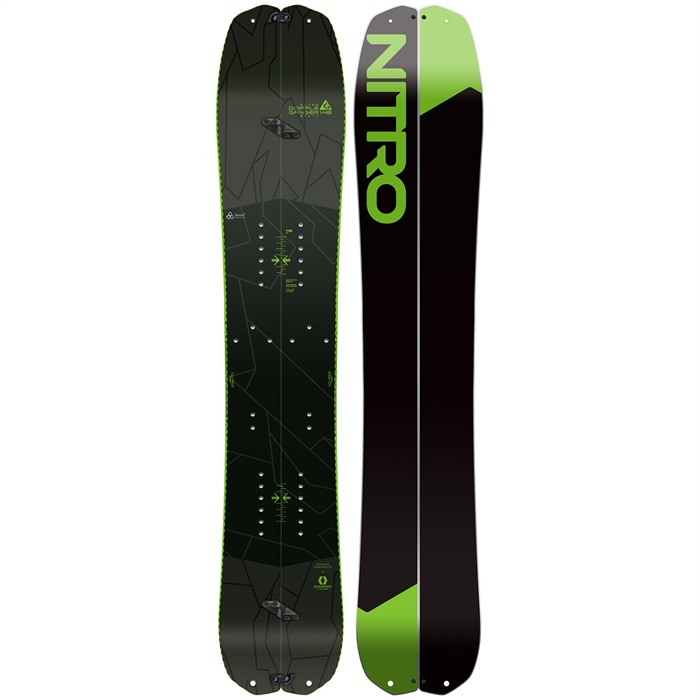 Nitro Doppleganger
Color: Black, Green
Material: Carbon, Koroyd®
Environmentally Safe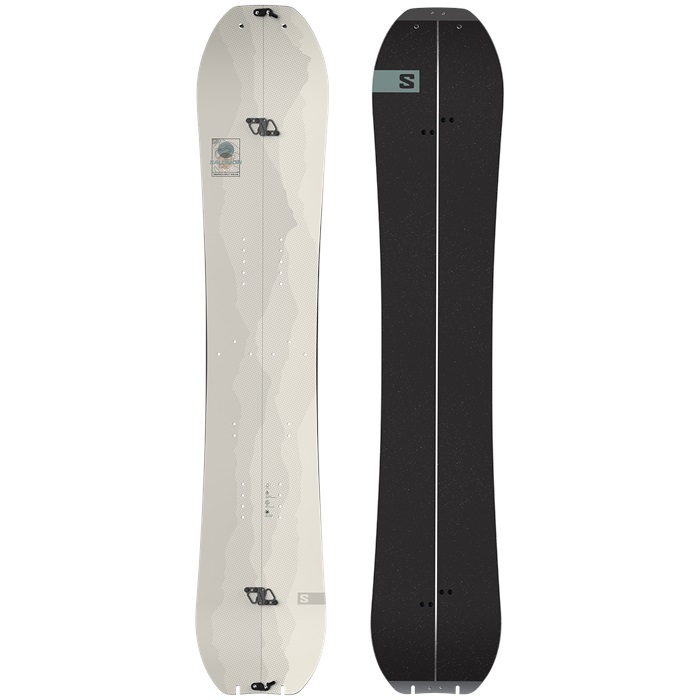 Salomon Highpath Splitboard
Color: Black, White
Material: Wood
Premium choice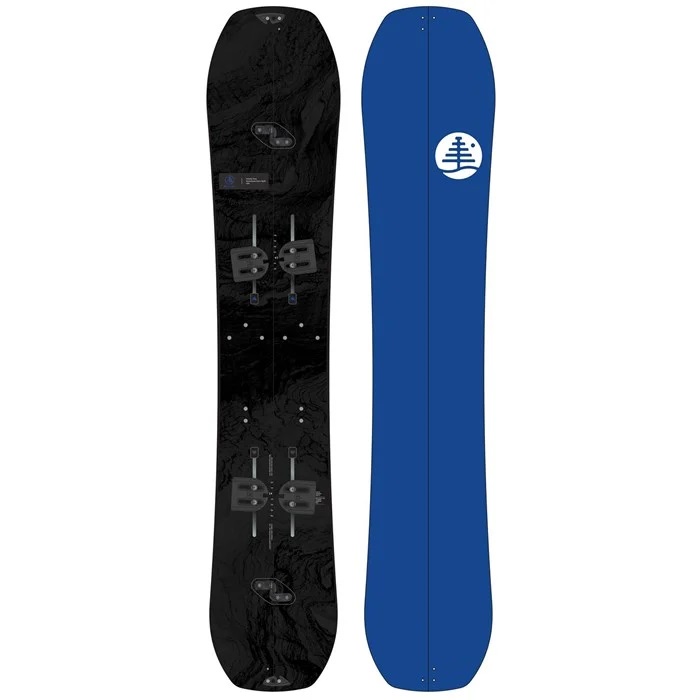 Burton Family Splitboard
Color: Black, White
Material: Carbon, Wood
Light-hearted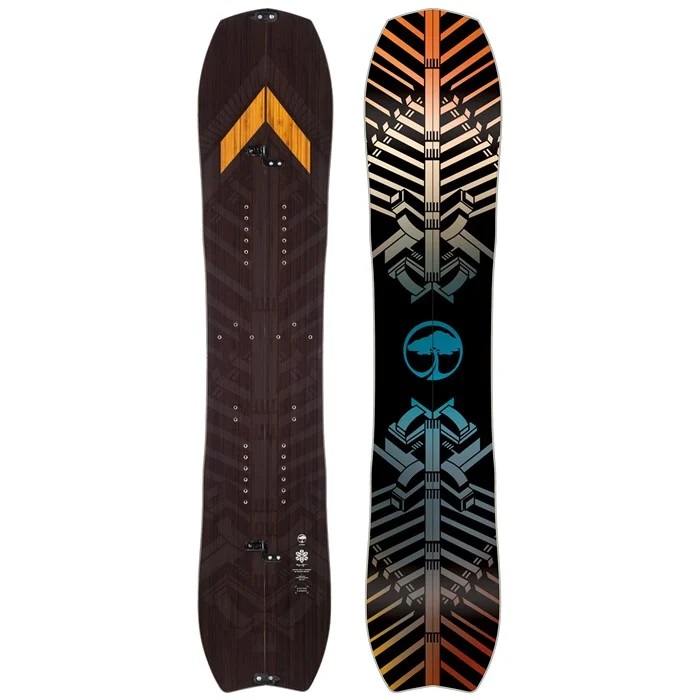 Arbor Satori Camber
Color: Multi- Colored
Material: Wood
Women-specific Option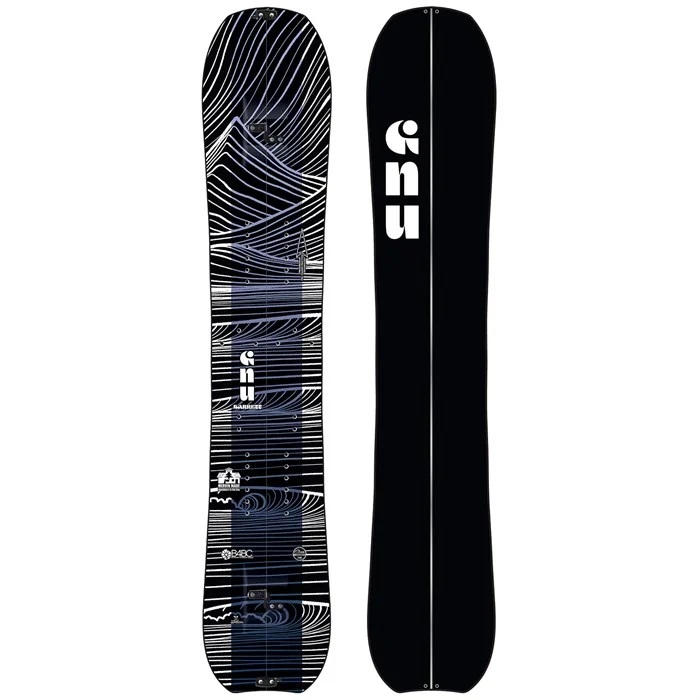 GNU Barrett – Women's
Color: White, Black
Material:

Carbon, Wood
Reviewing The Best Splitboards For Deep Snow
If you're looking to get yourself a new split board setup, or even your first pair after riding only traditional snowboards, then you may find yourself a little overwhelmed. There are an awful lot of boards out there.
They are a little more technical than other boards due to being essentially skis, and a snowboard rolled into one. You really need to know what you're looking at before you get spending, or even popping in for a loaner.
One splitboard isn't the same as the next, just as one snowboarder isn't the same. Finding the right style, shape, and size for you is always down to the individual.
Whether you're a beginner or a seasoned pro, this list should have something for most riders. All of these are great choices, from the entry-level all the way to the deluxe market leaders. Take a read, and maybe find your next all-terrain warhorse.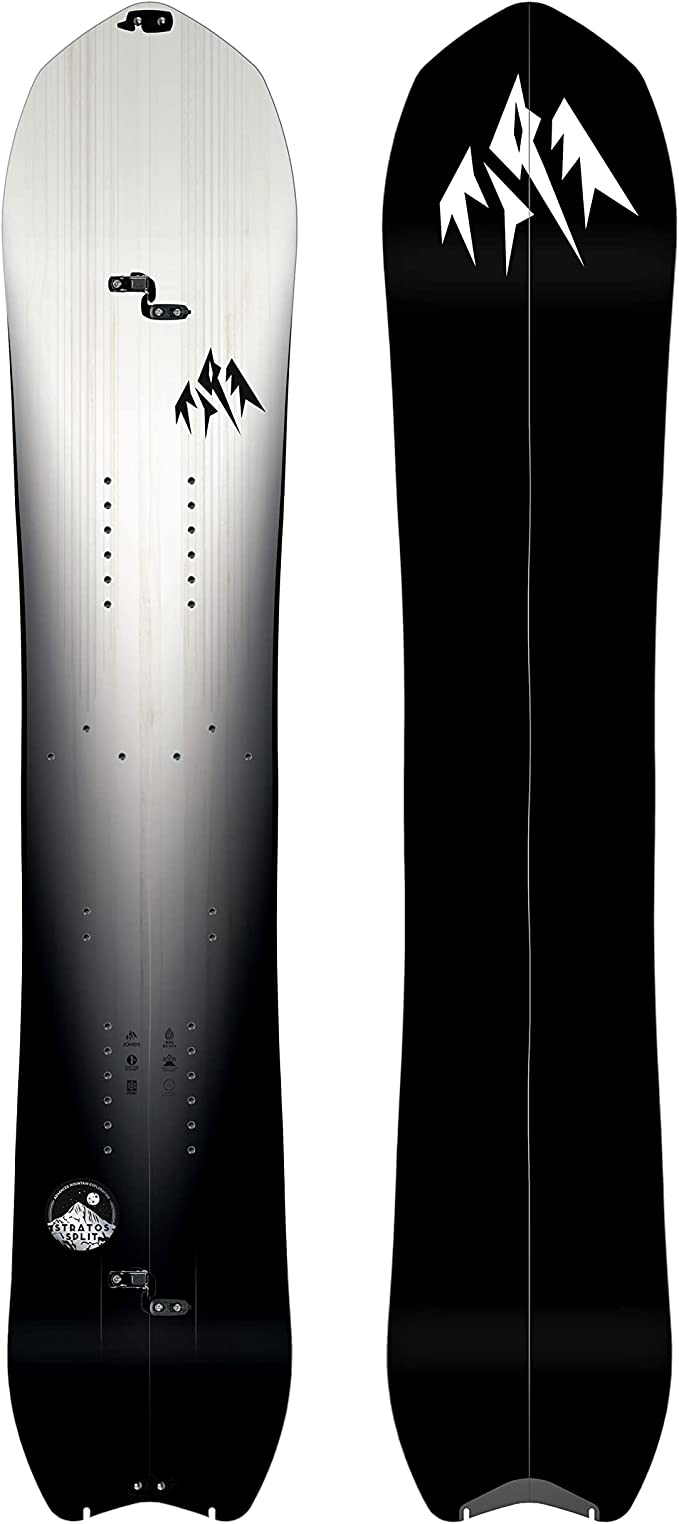 A new splitboard setup isn't ever going to be the cheapest thing on the market, but you're essentially getting two bits of gear in one.
With the Jones Stratos, you know you're getting something that will match you, turn for deep snow turn. Recycled and sustainable materials are used to ensure that this board looks after your winter environment.
The directional shape of the Stratos combines a mid-flex feel with a directional rocker that is comfortable floating through backcountry powder or flying through tight trees. We can see a camber underfoot between the bindings contrasted with a rocker profile that is slightly larger at the front than at the back.
Having a bigger rocker at the front of the board makes sense when you're riding deep snow. You want that front lift to keep you floating on top. The smaller rear rocker camber is still important though, as it'll help when riding switch and prevent you from catching those edges.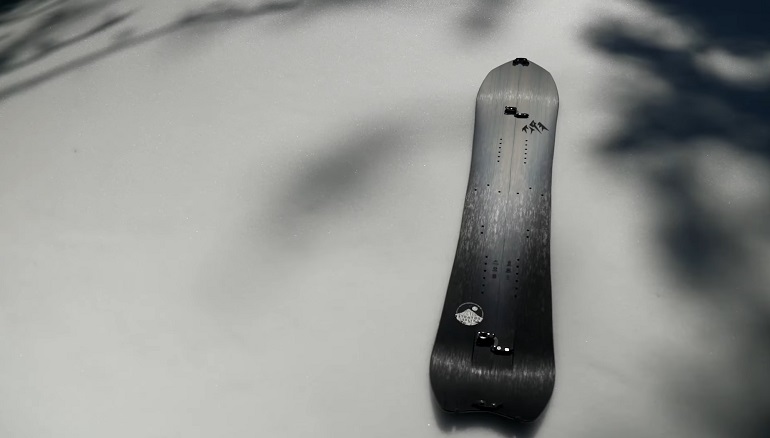 A progressive sidecut has been used on the Stratos, making the radius deeper toward the contact points. Progressive sidecuts are perfect for carving sharp turns that allow you to really boot into some speed between arcs.
Summary
The Stratos is a great choice for anyone looking to hop on a split board setup that will meet you blow for blow.
It has used Jones's own ultra-core design to provide what may be the lightest splitboard we look at today. This is blended with the mid-stiff flex and beautiful directional tapered shape to give you a fun, versatile, and reliable rider.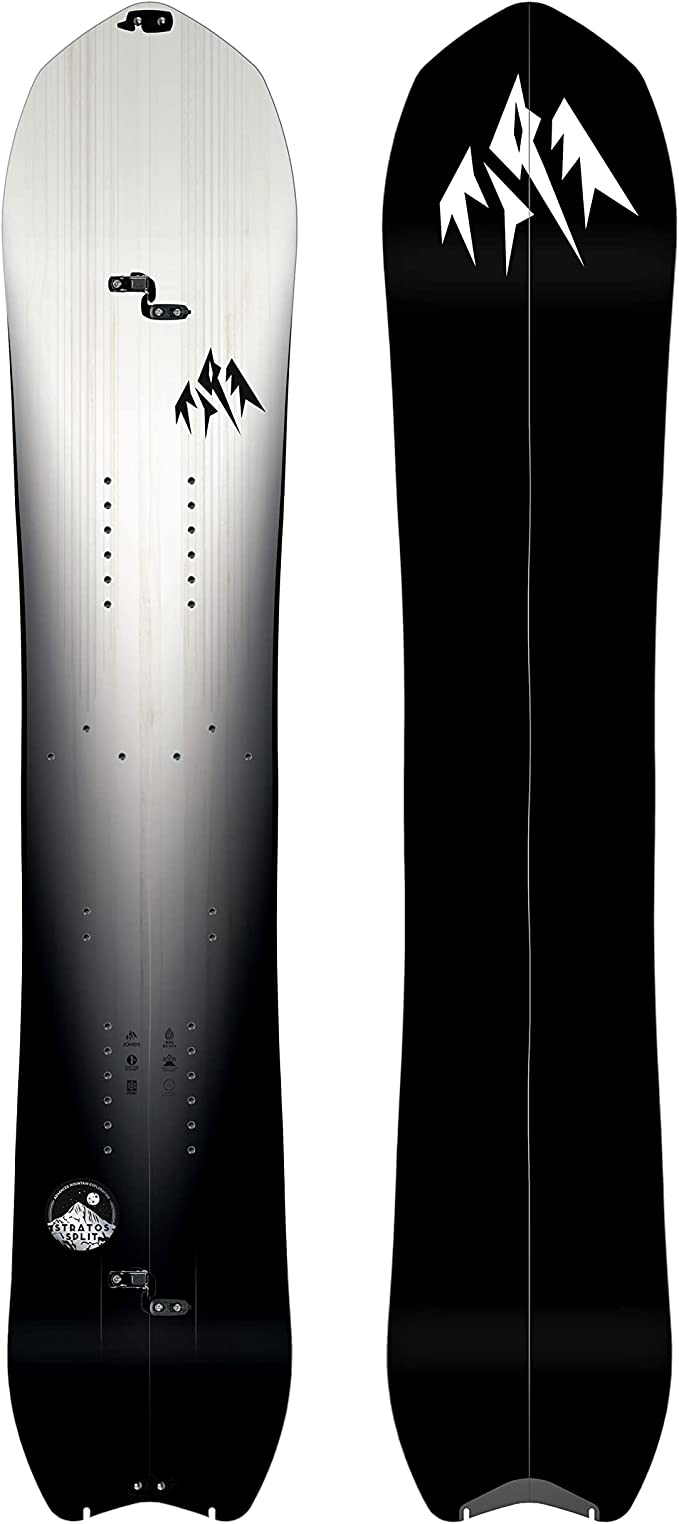 Jones Stratos
The price of "Jones Stratos " varies, so check the latest price at
The Jones Solution splitboard sits at the stiffer flex end of the scale but provides stability, versatility, and absolutely tons of fun. It is built with FSC-certified products, just like the previously reviewed model, making it a powder board that takes care of the powder.
Jones is able to produce some of the lightest splitboards with their core and base construction. The Jones Solution is no exception to this rule. It is lighter than most splitboards and yet still offers stability and great edge hold.
The Jones Solution features a directional shape giving it excellent performance downhill as it uses its directional rocker to stay afloat and fly straight and true. That is until you decide to use the 3d contoured base to pick out silky smooth lines through the untracked powder.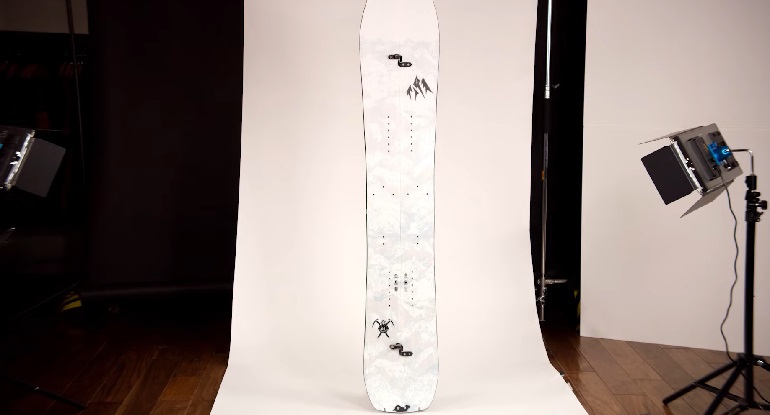 A blunt rockered nose adorns the front of the Jones Solution, giving float on any powder day. Icy slopes are no issue as the stiff flex of the board makes use of serrated edges, built to take turns at high speeds whilst staying stable underfoot.
You can pick out any line in many different snow conditions and know the Jones Solution has your back.
Summary
The Jones Solution is made for the advanced to expert rider who knows how they want to spend their day out on the mountain. It can take some seriously demanding riding through almost any mountain conditions you may encounter.
As a best freeride snowboard, it can handle the variable terrain of soft snow and icy runs without complaint. It is built with hardcore and professional freeride board riding styles in mind.
Jones Solution Splitboard
The price of "Jones Solution Splitboard" varies, so check the latest price at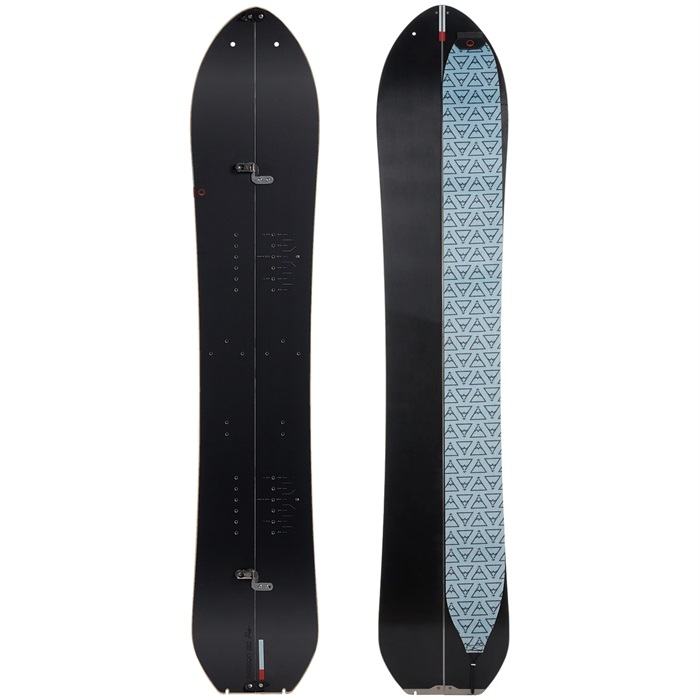 The Season Pass is a model exclusively available at EVO. It has been designed by snowboarder Austin Smith and skier Eric Pollard to bring you a splitboard intended to suit any rider at all.
Young or old, male or female, the Season Pass is built to give you the journey up, and down the backcountry you deserve. Every Season Pass comes with a set of pre-cut skins designed just for this gear.
The two halves of the Season Pass keep their visual profile low with a simple black design running tip and tail. The directional twin shape provides excellent stability whilst riding at higher speeds but is still a more powder-specific shape.
Finding a board designed for all riders can be a bit of a trick, all the boards on the market seem to be geared to specific riders, but this can cater to all.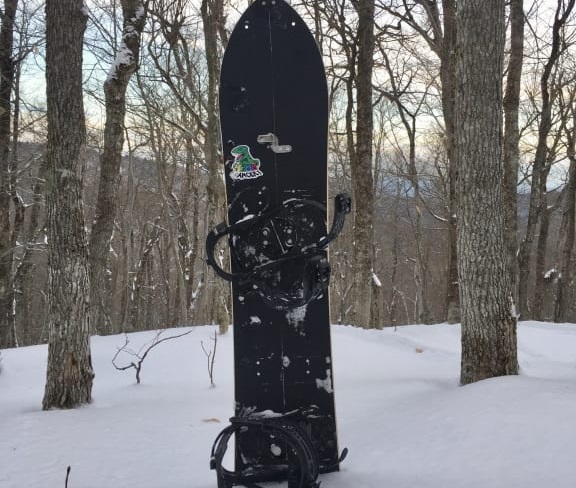 It is a versatile split that can, depending on size, work for just about anyone. As you get smaller sizes, the board is built for smaller feet ensuring you get maximum edge hold and your bindings fit comfortably.
Summary
Here is a board built for most splitboarders. No matter who you are, you should be able to jump on, strap on the free custom-cut skins and fly across any terrain. It is nice to see a universal split made to be accessible and inclusive.
The softer flex than usual will make this an excellent choice as an entry-level splitboard. Jump on this board and give the backcountry a bit of trouble.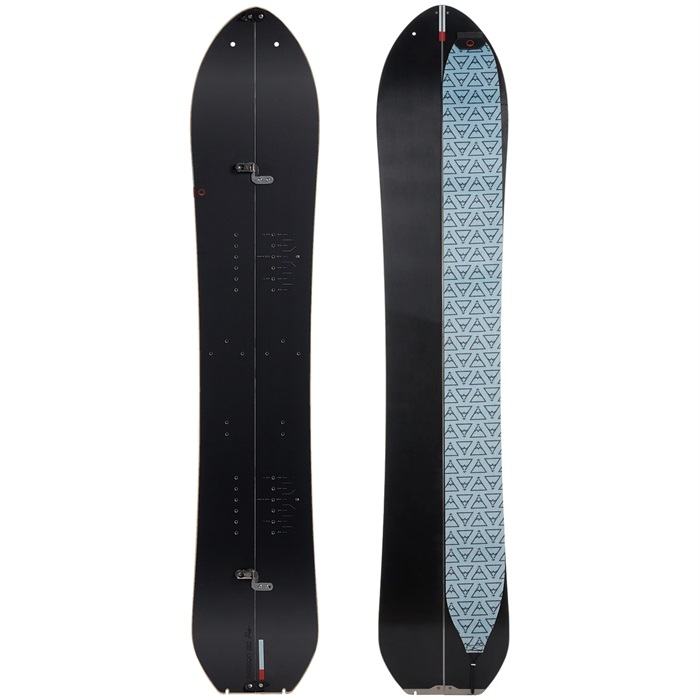 Season Pass – Unisex
The price of "Season Pass – Unisex" varies, so check the latest price at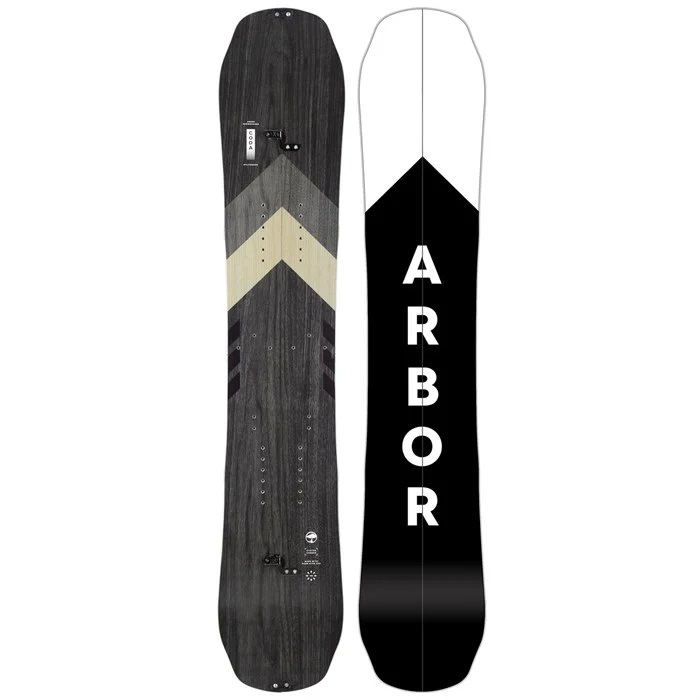 Quality and sustainability are synonymous with the design ethics of Arbour, and this is evident in the beautiful-looking Coda.
Harmful petroleum has been removed from the top sheet construction instead of opting for a castor oil alternative. Recycled steel is used around the edges and sidewall, and bio-resin is implemented throughout the build.
Knowing you have one of the best-looking boards on the resort whilst also possessing one of the most ecologically conscious is always a great feeling. Almost as great a feeling as the twin shape of the splitboard.
Rather than going with a blunt or swallow tail like a lot of other boards we have looked at today, this has gone for a true twin making it absolutely perfect for riding switch in the backcountry. The tip and tail have the same shape in contrast to the directional twin shape.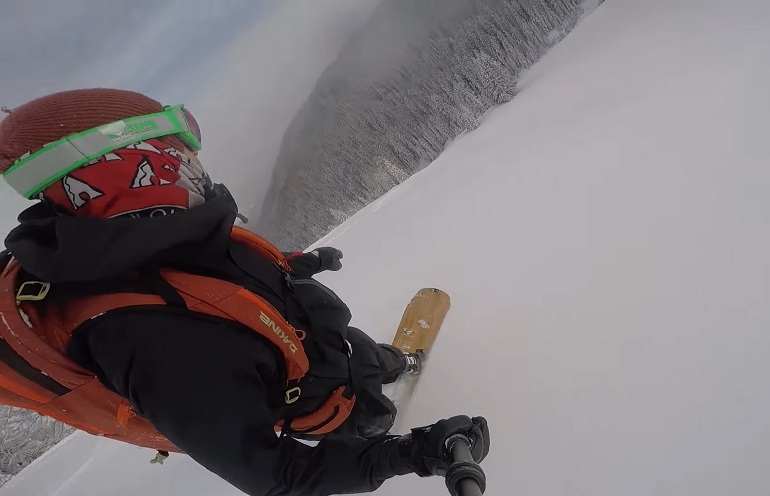 Grip tech is used to improve contact points with the snow, which makes carving your board easy even in harder snow. This works alongside Arbors parabolic camber profiles giving a huge rise between the bindings. The shape in the middle of the board gives a surfy feel and keeps the nose out of the powder.
Summary
Tip and tail match up on this sustainable splitboard. It lends itself to buttery, switch mountain runs. You can ride knowing that you are taking care of the environment you rely on for snow sports.
When you split this board down the middle and strap on some pre-cut skins, you can tackle any terrain in all different conditions and know that your run back to the resort will be stable even during high speed. This is a great splitboard for the fashion and environmentally conscious.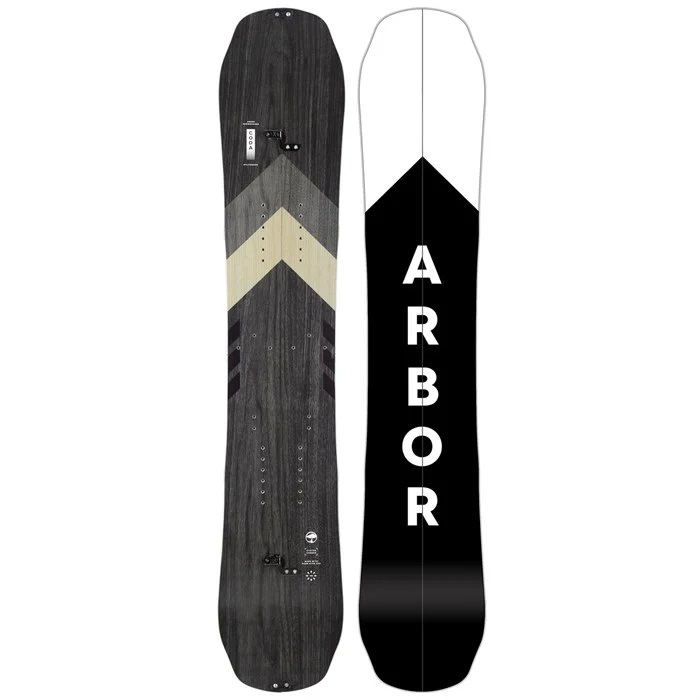 Arbor Coda Split Cambe
The price of "Arbor Coda Split Cambe" varies, so check the latest price at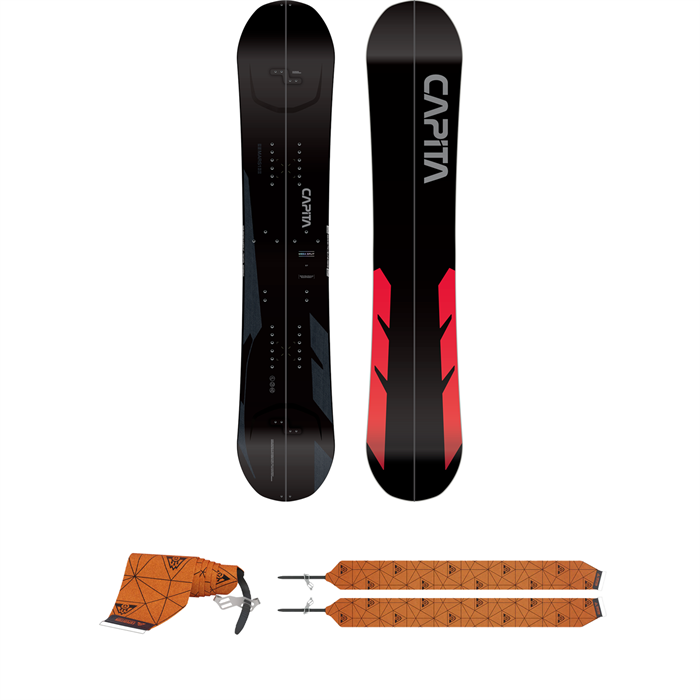 If you want one of the best splitboards on the market, look no further than the CAPiTA Mega Split. This versatile splitboard combines some innovative and interesting features to produce a lightweight ride that can tear up the backcountry with the best splitboards out there.
The weight of the CAPiTA Mega Split sets it apart as a splitboard. It uses a lot of its own technology to keep it featherlight and stable for a ride that seems to float over fresh lines.
The Megalite skin used on the top reduces the weight by 60% over competitors. The core is made of poplar graded for weight and consistency resulting in less wood having to be used, further reducing the splitboard weight.
The lightweight design of this board is unusual for a softer board. Stiffer boards usually have a higher weight. You will really feel the lack of weight in deep powder as their climbing efficiency becomes evident. The free skin track that comes with the board will be put to good use.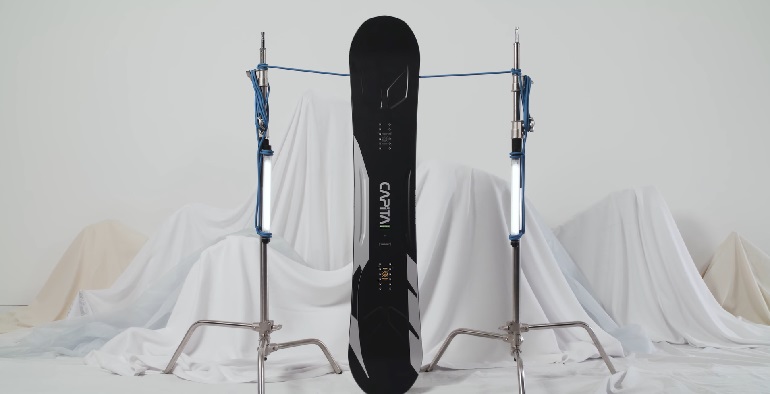 CAPiTA Mega Split uses a unique camber underfoot. The camber profile between the bindings is a positive camber version providing excellent high-speed edge hold, whilst a reverse camber sits just in front of the rear and front binding.
This is unusual compared to the usual rocker camber on the tip and tail but provides easier transitions through tight spaces and on firm snow. Perfect for powder chasers.
The CAPiTA Mega Split sports a medium flex for a softer ride that will give you some great flex when picking out your next tree line. The benefits of this over a stiff board give you a bit more float on your ride.
When you pop on the free pair of custom-cut skins that come with the splitboard, you will feel the softness through your edges.
Summary
Slap on a skin track and take this lightweight and technically brilliant splitboard up your nearest slope. You'll be popping off all the backcountry features and be happy to land switch with its positive to negative cambered profile. You can float over everything no matter which way you're facing.
You'll love the lack of weight with your pre-cut skins sliding you through any terrain. This is a splitboard made for the advanced to expert shredder who is ready to invest in a ride that can tear the backcountry up.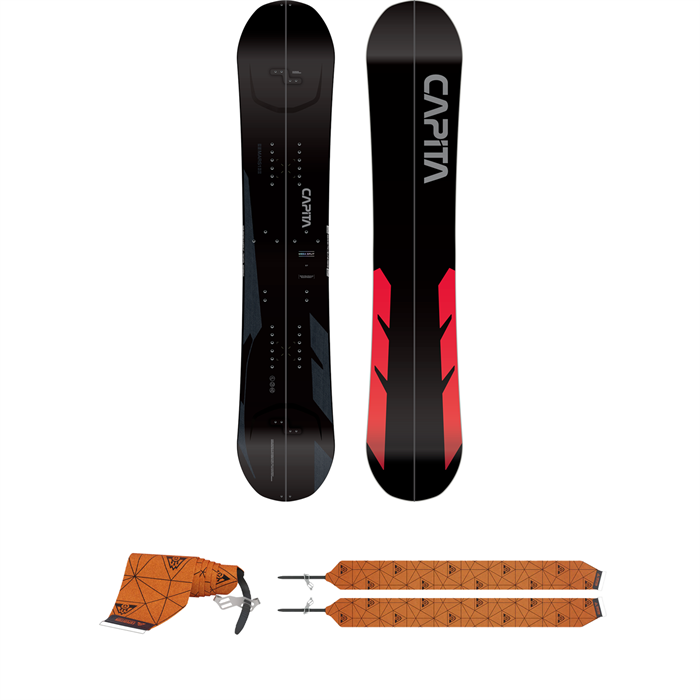 CAPiTA Mega Split
The price of "CAPiTA Mega Split " varies, so check the latest price at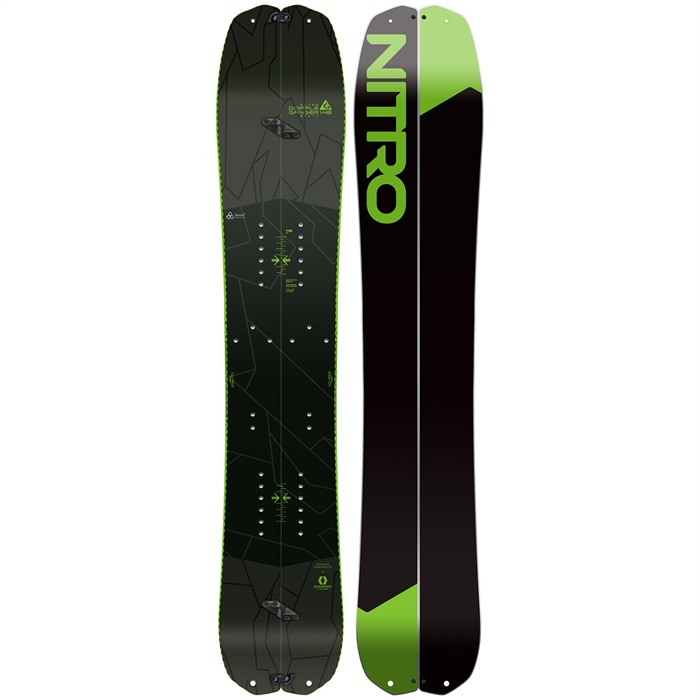 You will wonder why you ever owned a board that couldn't strap on a skin track, hike to avalanche terrain, switch to ride mode, and blast a new line through virgin snow.
The Nitro Doppelganger will make you never look back from the splitboard lifestyle. Innovative tech and a clever camber profile through tip and tail make this splitboard a pleasure to ride through any snow.
The rocker camber on this board runs a classic camber shape with an early-rise nose and tail. The tip and tail sit at the same heights allowing you to turn on the spot with the centrally placed bindings.
The sidecut is progressive leaving a more narrow and shorter tail with a larger, slightly longer nose. This tapered directional shape lends itself to deep powder as the setback stance really dominates turns in the backcountry.
With the lightweight yet firm tech involved in the creation of the Nitro Doppelganger, you will be able to float in powder snow whether you're in skins or clipped into your binding for some serious downhill action. Koroyd Power Cores are built into the splitboard, which provides a 70% lighter build than balsa wood.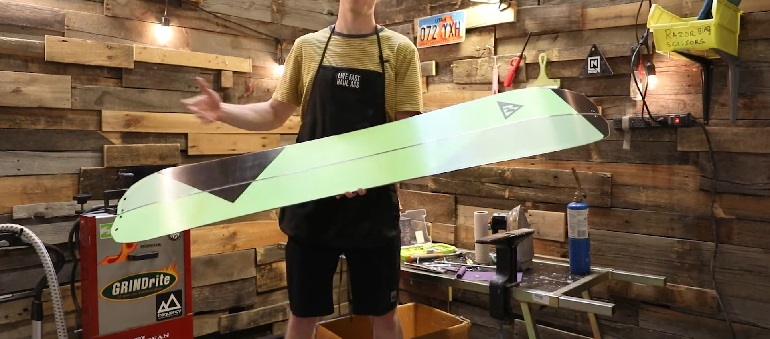 When you're trekking through icy conditions or firm snow in skins, you can often lose a lot of traction from a lack of contact points. This splitboard comes with hike pods under the bindings when in hike mode that improve your board's connection to the firm snow through your skins.
Summary
Nitro knows how to make boards, and they have translated that perfectly to this splitboard with a classic rocker camber profile and lightweight design.
Backcountry powder will be a pleasure under the domination of the Doppelganger on skins or clipped in for a ride. The tapered directional shape will rise above the snow, and the board will keep you locked down as you hike through firm snow.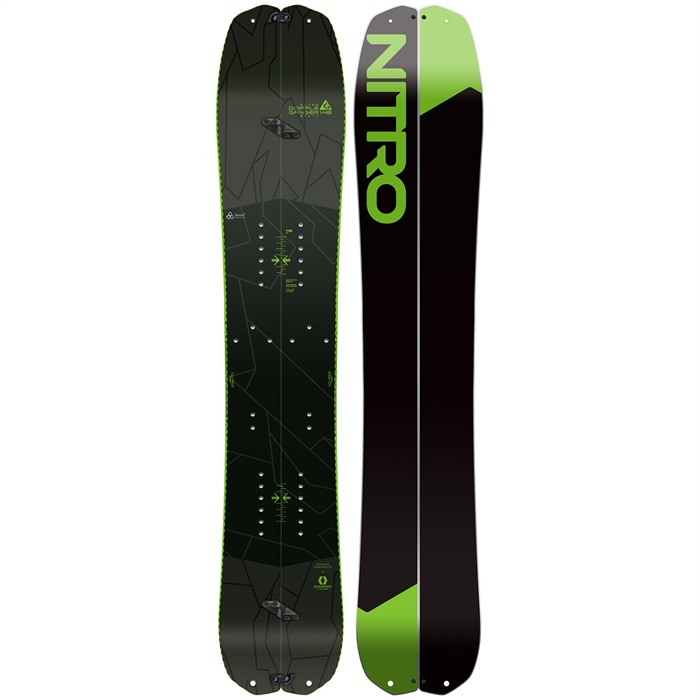 Nitro Doppleganger
The price of "Nitro Doppleganger" varies, so check the latest price at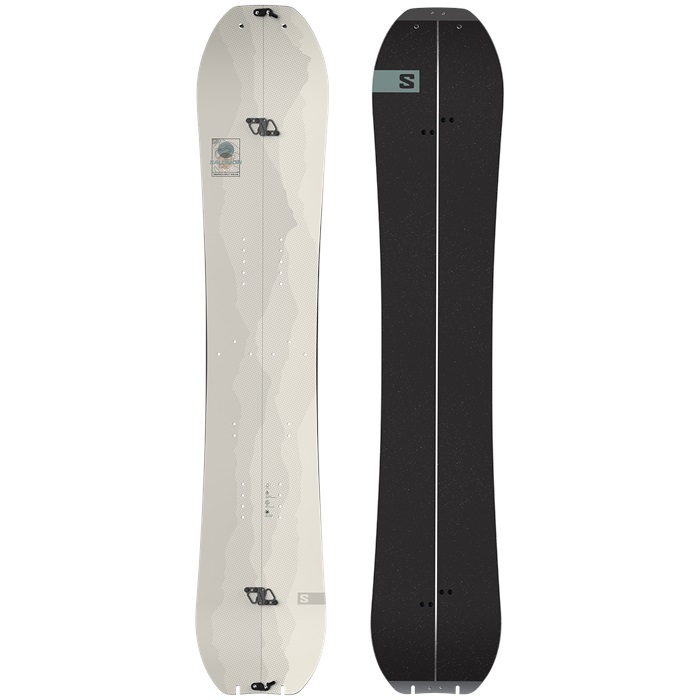 Salomon has produced a board that has sustainability and rideability in mind. Plum hardware and custom-cut skins make this tapered directional shape splitboard one worth taking out for a spin.
The rocker for the Highpath has a flat camber underfoot between each binding and then a rise moving towards the tip and tail for that extra bit of pop.
The directional rocker promotes float and pop as your binding sits further from the tip and deeper into the rear rocker. The Salomon Highpath becomes a pleasure to ride with this very natural feeling stance between the binding.
When switching modes in the backcountry, you want hooks that are secure enough to hold your splitboard together no matter the pressure but can also be relied on not be stiff and unmanageable when you want to switch to skins. The Plum hooks are light, strong, and easy to use, sitting with an asymmetrical profile down the board.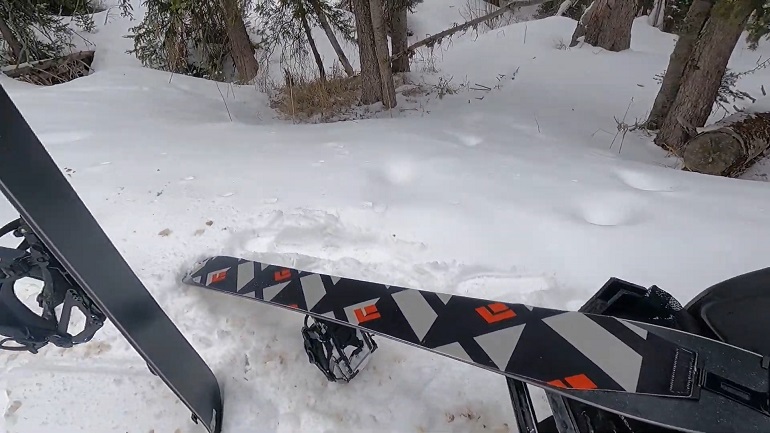 Salomon has created a wonderfully sustainable board of many recycled and eco-friendly materials. They understand the importance of looking after the environment that provides the snow conditions we all love so much.
The base is a 100% sintered production, the core is produced from FSC-certified wood, and the fiber and resin are made of 28% plant products. Even the wax applied from the factory is made from natural but super low friction compounds.
Summary
Take care of the backcountry with the Salomon Highpath as you tear it up. It's always good to see a company that is so conscious of the environment whilst still being able to produce a splitboard that can easily stay playing with the big boys in the industry.
Whether you're on skins or pounding through powder, this splitboard will be a fantastic spin.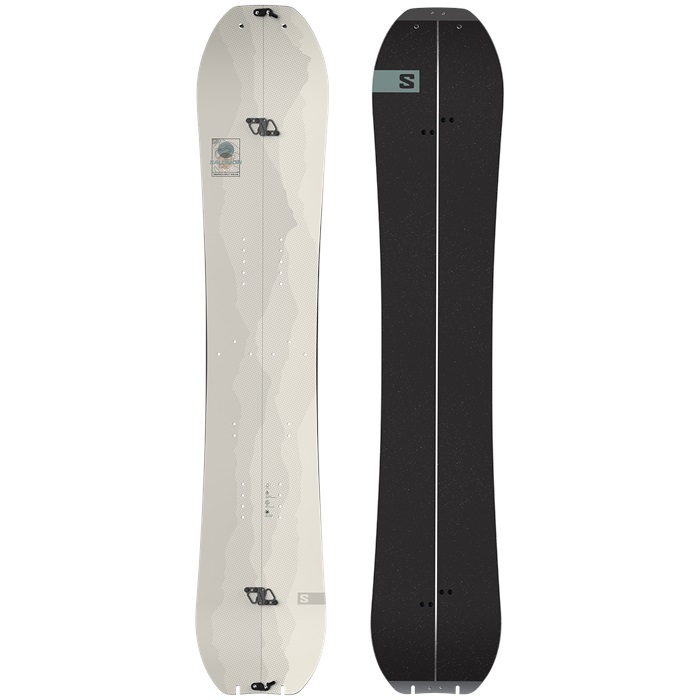 Salomon Highpath Splitboard
The price of "Salomon Highpath Splitboard" varies, so check the latest price at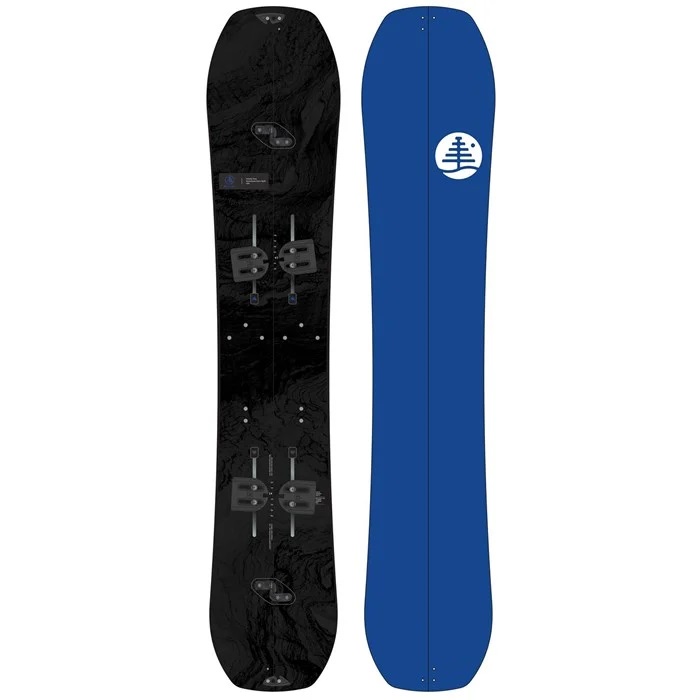 The Family Tree range of snowboards from Burton has some absolutely monumental boards under their branches.
Buying a Burton usually means you're getting yourself a premium board, and the Hometown Hero is no exception. The directional twin sets your stance a little further back as your bindings clip into that singular Burton rail system.
The family tree range of boards is made for powder but can be played with anywhere on the mountain. They specialize in being gender-neutral in design and can take any shredder around the mountain in ultimate style.
Burton is known for their channel systems on boards. This unique system allows an unprecedented level of customization for your stance, positioning, and width of the binding. The Hometown Hero continues this benefit with two rails running down either separate board.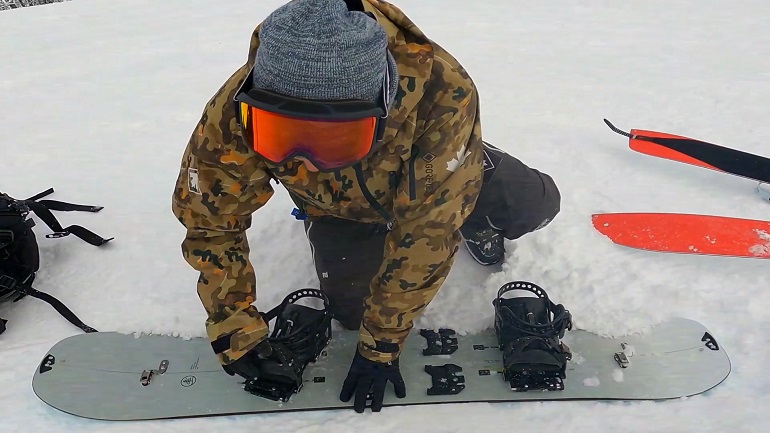 The pucks that come with it are instantly adjustable wherever you decide to switch to and from skins and offer excellent personalization. The main issue with this rail and puck system is the lack of compatibility with anything other than Burton bindings.
The Hometown Hero hits the perfect mark for a directional twin with a setback stance and camber. The sidecut centers on your stance, which give a lovely freestyle feel to the board. The big rocker on the tip of the splitboard really lifts the ride right up out of the powder and gives excellent bite when cruising through firm snow.
Summary
Become part of the Burton family with a splitboard that is from a tried and tested range loved by thousands. You are guaranteed quality, technology, and adventure on this innovative splitboard.
The only issue is if you have equipment from a different manufacturer. You may have to fork out a little extra to get Burton-specific sets. It will all feel worth it in the end as you unclip those skins and throw the Hometown Hero down a filthy powder run.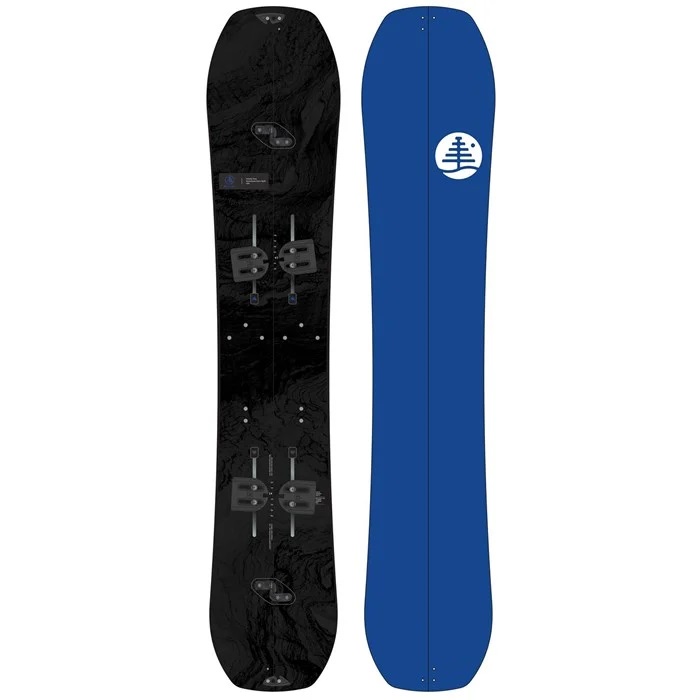 Burton Family Tree Hometown Hero Splitboard
The price of "Burton Family Tree Hometown Hero Splitboard" varies, so check the latest price at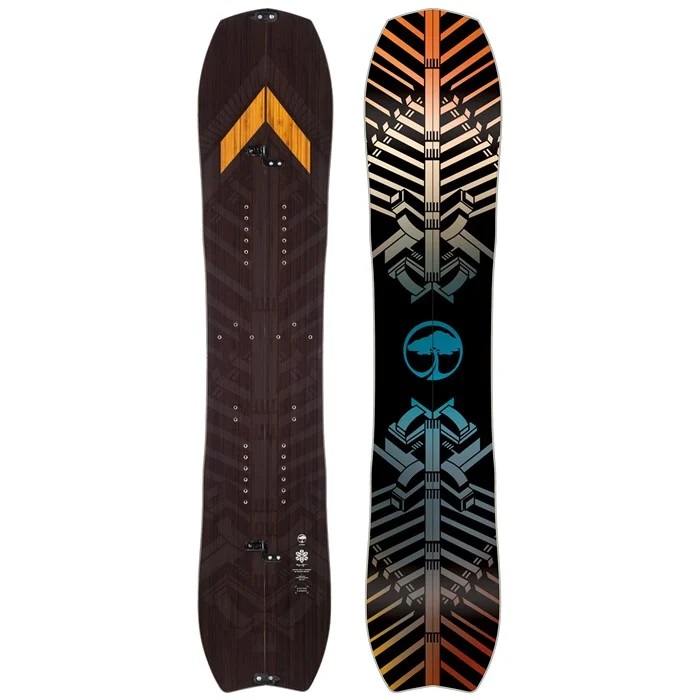 Camber is the name and camber is the game with this splitboard design. The eye-catching graphics do little to distract from the interesting shape and lack of rocker camber through the full length of the board.
The splitboard was designed as part of the Bryan Iguchi range, which, if you haven't heard of him, you should check out. It was made to be a lighthearted and playful board, and he pretty much nailed that.
The board features a camber from tip to tail that reduces slightly as it reaches each respectively. This provides a lovely pop throughout, which isn't harbored by the surprise fenders. They give a nice lift near the nose and tail that helps with buttery movements and doesn't take away from the camber.
It is a playful board that isn't made for absolutely hacking down a mountain or blasting parallel carves but will take you on a ride that will leave you feeling happy.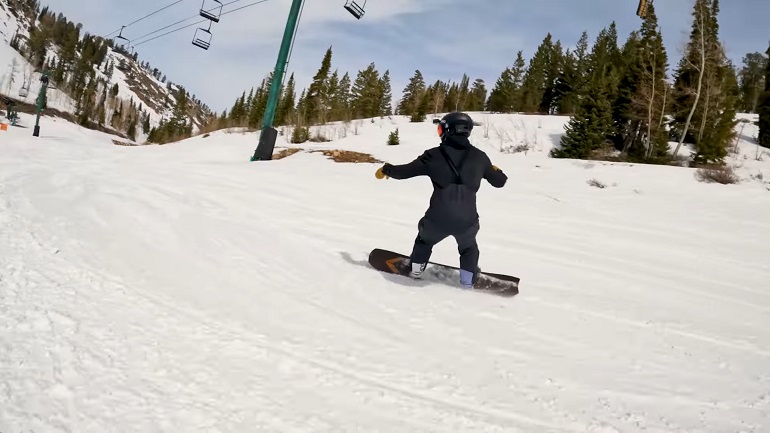 The board is made to make you smile, and that's pretty much guaranteed. It is built with one of the softer flex profiles we have seen and, honestly, it doesn't miss out too much with the lack of stiff feel.
The softness and lack of rocker make this splitboard one that you can really butter around. It's poppy and feels much more playful than many of the other more serious boards we have looked at. Lightweight and carefree riding makes for a day that's full of smiles, if not speed.
Summary
Splitboards can get a little serious so nice to see one that is designed for fun and relaxation in the backcountry.
The soft and forgiving board has opted to do away with the traditional rocker shape and give you something you can play around on without the unforgiving twitchiness of a stiff board. Boards are meant to be fun at the end of the day, it's time to remember that.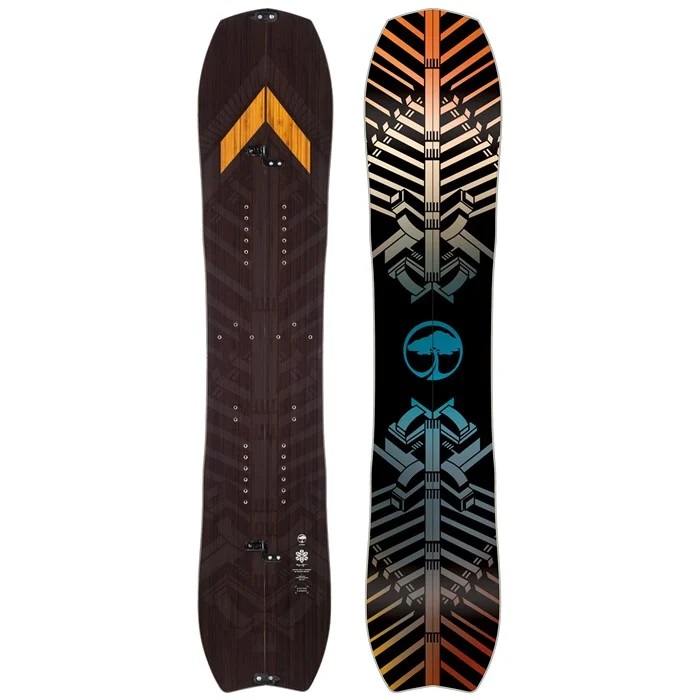 Arbor Satori Camber
The price of "Arbor Satori Camber" varies, so check the latest price at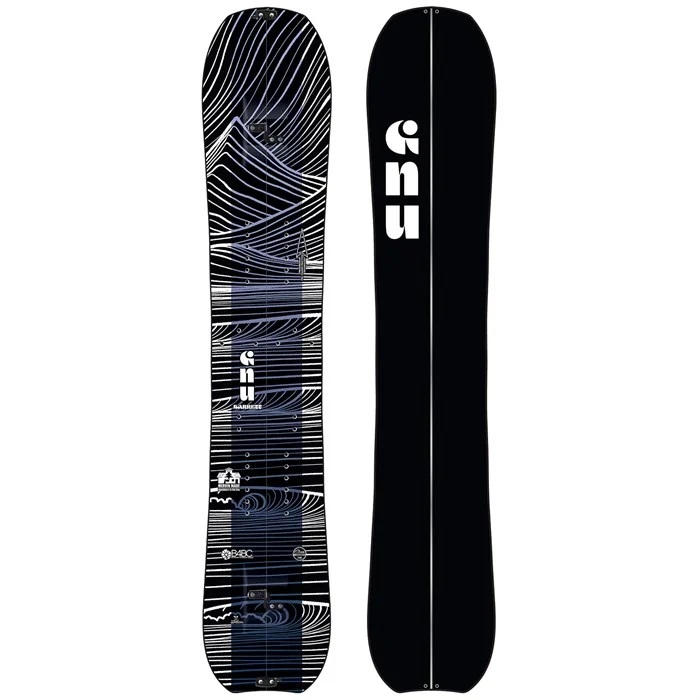 We have seen a number of unisex boards, and a few men's but not one that is designed for women specifically. Women's boards are usually made slightly shorter and with a lightweight load in mind.
They need to respond just as quickly despite less weight being pushed down into the snow. The Gnu Barrett makes this a breeze and will have you loathe to ever pay for a lift pass ever again.
The rocker on this board is actually the opposite of what we have seen on almost all the boards reviewed today. The splitboard puts a mild rocker between the feet and camber at the tip and tail of the board. This is called the C2 design from the parent company Lib Tech.
This results in an aggressive board suited to skilled riders looking to absolutely tear new lines through the powder. You need to be nimble on your feet and comfortable in your boots to master this beast.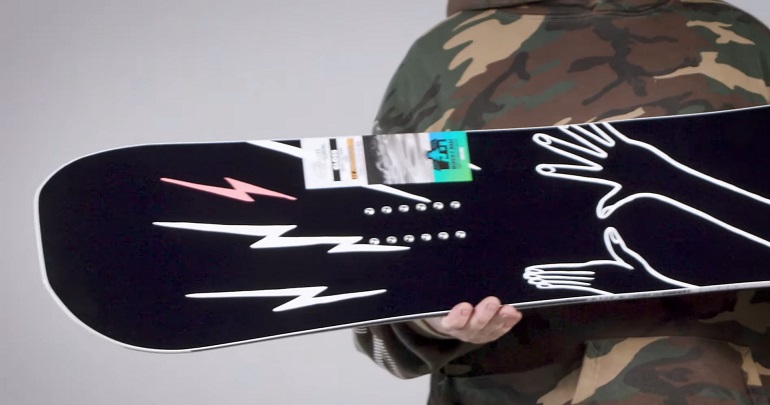 The aggressive build of the Gnu Barrett is furthered by the stiff build throughout the fast and tough base. You don't need to worry about the speed you are building when you have Gnu's directional serrated edges holding you fast to your hard carves and big showy S lines down the slopes.
Summary
This is a women's board that is designed to be thrown into hard fast lines down untouched backcountry snow. It is a solid contrast to the previous board but if your thrill is breakneck speed then this will leave you smiling just as much.
You can unclip your skins and feel the stiff and ultimate response of a splitboard made to go wild. Not for the lighthearted or inexperienced.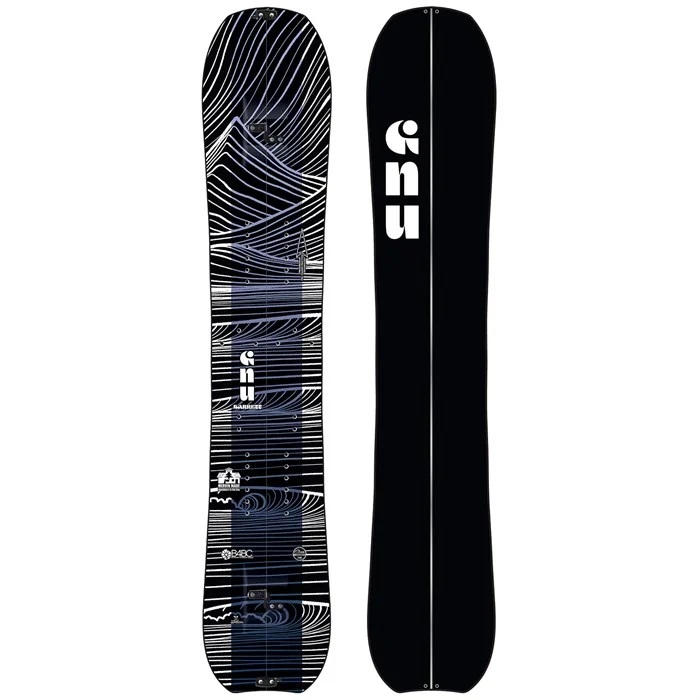 GNU Barrett – Women's
The price of "GNU Barrett – Women's" varies, so check the latest price at
Some Hints for Buying Your next Split Powder Board
Knowing what to look for is half the battle when you buy your next splitboard. They're significantly more expensive than their regular counterpart, be it snowboard or ski. Making sure you know what suits you will save you some extra cash.
Directional Shape or True Twin?
Want to ride switch? Love those buttery spins and landing 180s? Get yourself a twin or directional twin. Want to get your body close to the ground and break the speed of sound in one direction? Opt for a directional or tapered directional splitboard.
Best Flex
Stiff boards give aggressive responsiveness down the slopes, reacting and obeying your every move. It'll provide snappy turns and absorb a lot of the pressure from big drops. Get yourself a softer board for a forgiving ride that you can bend and flex around for some jibby, slushy moves.
What Camber Profile?
Your profile type depends on your skill level and what you want from your board. A full-rocker shape is suitable for nobody but kids in the learning stage really but, throw this forgiving upward curve at specific points through a traditional camber and suddenly you have a board with the best of both worlds.
A rocker under your nose and tail provides pop and float whilst one between your legs gives you aggressive contact points and supreme speed control.
Size Matters
Size depends on your weight, height, and the build of the board. You should always check the websites or in-store when buying your board.
If you get a board with a narrow waist width and your feet hang over, you're gonna catch your toes. If you get a board that is too short for you it'll be far too small to support you and you'll be unstable.
Stay Lightweight
The weight of the board becomes very evident when you're dragging them up a hill on your skins and trying to stay on top of the soft powder. Keep your eyes out for the innovative designs made to keep the overall weight of the typically heavy splitboard to a minimum.
Some Final Thoughts From Me
Splitboards are one of the most interesting bits of equipment on the mountain and are making waves with advanced riders all across the globe.
Unlike traditional snowboards, they can be used across a huge range of terrain and are able to give the best of both worlds. They are opening up the wonderful pleasure of the best deep stuff to snowboarding everywhere.
There is nothing better than backcountry snow that hasn't ever been touched and is just waiting for fresh lines to be driven through it. I have trekked through miles of snow just to get one or two runs out and I can tell you, it is worth it every single time!
I have done it with my board strapped to my back and I have done it with a splitboard and the latter is astronomically easier.
If you're looking to expand your mountain experience and have already cut your teeth on the slopes then get yourself a splitboard and some skins and venture into the unknown.