Time to make nip slips a thing of the past.
I've always thought myself to be something of a minimalist, but if there's one thing I shamelessly indulge in collecting, it's surf bikinis.
My ever expanding collection has seen some highs and lows over the years; some items proving to seriously stand the test of time, withstand the worst of my graceless (see what I did there? Mmmhmm!) wipeouts, and look badass — while others… not so much.
Finding the best surf bikinis can be a challenging task, especially when shopping online means forgoing the chance to try them on and inspect the quality, fabric, and staying power IRL.
I wanted to put together this article to ease the struggle for you just a little bit, and to give you the lowdown on what I consider to be the top surf bikini brands on the market right now.
This article will take you through some of the best surf bikinis that myself and my surfer gal friends have tried and fallen in love with. I've also scored a few saucy discounts exclusive to Extreme Nomads' readers, which you'll find the codes for throughout the post. You'll also find further down our curation of the best swimsuits for surfing from the same top swimwear brands.
Our pick of the best surf bikinis out there
Maria Malo
Pros
Tight fitting and sturdy
Flattering fit
Brand that really cares about ethos
Cassava bag – no plastic packaging
Made from econyl, a sustainable material
10% Discount available with the code EXTREMENOMADS
Cons
Sizing can be a little irregular between products
Full disclosure: Maria Malo and I have been working together over the past couple of years as we grow the content on her blog. But before we ever got in touch directly, I had spent waaaay too much time ogling over her website and daydreaming about owning, oh, EVERYTHING SHE CREATES.
When I got the chance to start writing for Maria, I was stoked. Not only did it mean working with a brand whose ethos of sustainability, minimalism, and slow fashion was totally in line with my own, it also meant testing out her products. Namely, the best surf bikinis in her line. YAY FOR TESTING SURF BIKINIS!
I now own a sizable chunk of her bikini collection, and can say this about it: not all of them are designed to stay put in the surf. Some are skimpy as hell. Some are pretty much decorative pieces of fabric for your boobies and bum cheeks. But some of them are a surfer girl's wet dream (as in…. Salt water wet, ya feel me?).
Use the code EXTREMENOMADS at checkout on Maria Malo's website to score 10% off any order!
The very best surf bikini duo in Maria Malo's collection, in my opinion, is the culotte bottoms and mini crop top. Note: I'm linking directly to a product page below which'll show you the bikini in one colour – but click through her swimwear collection and you'll see it comes in loads of different ones!
The cheeky culotte bottoms are absolutely bomb-proof; they're incredibly well-fitting (read: tight but not pinchy and no muffin tops in sight, which is a huge plus). I'm a sucker for the shape of these bottoms too; a cheeky cut offers the perfect balance between good lookin' and practical.
The mini crop top is a beaut; the wide band around the ribcage is supportive and stays put when you're out riding, while the plunge cut is just delicious on the cleavage side of things. That said, if your boobs are bigger than a C cup I'd be inclined to say it mightn't be the most suitable top on this list for you — especially if you're a kitesurfer (harness riding up on cleavage-y bikini tops can lead to unintended freeing of the nipple. Speaking from experience here).
For what it's worth, I think my favourite piece of surfwear from Maria's collection is her new nude bodysuit, which I'll tell you all about in the 'best surf suits' section below.
Read next:
Vivida Lifestyle
Pros
Designed by surfers
Supporting small business
Sustainable materials
Europe based and made
Discounts available with the code EXTREMENOMADS

Cons
Sometimes needs a little adjusting post trick

Tarifa based surf brand Vivida Lifestyle knows what's up. Operating out of one of Europe's windiest and wave-battered locations, the designers are intimately familiar with what it takes to create a surf bikini that stays put in the face of the elements.
They rock a range of rad surf bikinis and one-piece suits that are well worth checking out.
We asked our friend Josie West, founder of the female-centric extreme sports platform She Flies, about her experience riding in Vivida's designs, and here's what she had to say:
"Previously just the Water Warrior one piece, Vivida have upped their game in the surf bikini section with the introduction of the Women of the Sea range. There's something about the style, fit & patterns I really like; pretty prints but in sea hues rather than a girly pastel that would normally put me off – they definitely have the range that speaks of strength in femininity. They come up pretty high on the bottom, making your bum look rather scrumptious but despite the very good fit, they still need a bit of adjustment post gnarly trick that you didn't quite land. Women of the Sea rash vest in bamboo tropics and the high waisted bottoms in a fierce sapphire blue is my favourite."
When you visit Vivida Lifestyle's site to explore their collection of surf bikinis & suits, don't forget to use the code EXTREMENOMADS to apply your discount!
Psssst: Josie wrote an awesome guest post for us about women in extreme sports rising up above the patriarchy; it's sassy AF and full of interesting insights.
Sensi Bikinis
Pros
Sustainable materials
Super high quality
Supporting small business
Ethically made in the US
Designed by a real deal pro kiteboarder

Cons
Limited number of styles and colours available compared with larger brands (but more being added all the time!)
Pro kiteboarder and entrepreneur Sensi Graves creates what are, to many, the holy grail of surf bikinis. Having been a competitive kiter herself for a number of years, Sensi knows exactly what makes the difference between surfwear that supports you when you need it most, and something that's going to end up causing you aggro during your session.
Her line of sustainable, recycled surf bikinis and suits are designed — first and foremost — with staying power in mind (the tagline "designed for women who rip, by women who rip" says it all really).
Time and time again we hear Sensi's surf bikinis are the best out there for hard shredding water women. My first Sensi suit is in the post right now, so I'll nip back and update this article when I've had the chance to test it out. In the meantime, make sure you check out the delicious cut of the Jennifer's bottoms and her best-selling Issy bikini top.
Pura Clothing
Pros:
Super flattering fit
Sustainable materials (?? check)
Reversible = 2 for the price of one!
Charity donations with every purchase
Supporting small business

Cons
Came in a small amount of plastic packaging
On the pricier side
As soon as I opened my package from Pura Clothing, I got the impression that everything held inside was super high quality. You could just feel it (and truth be told, with a price point like Pura's, you'd want this to be the case). It really was a different experience to trying on a bikini from a big multinational brand (though I have had great experiences with some and am hesitant to tar all big brands with the same brush — but I'll get to that later).
I went for the high rise Alani bottoms and multi-way Samoa top and found them both to be awesome. The elastic and feels firm and the density of the material is just what you want to feel confident paddling out on bigger days. Even the Samoa top, which is definitely on the skimpier side, is budge-proof in the waves.
I love the attention to design detail; the Alani bottoms feature a flattering high cut on the hip bones and little cut-outs on the side which add a touch of sass — without sacrificing staying power.
The Samoa top features multiway straps which can be tied over the shoulder or as a halter neck. Both top top and the bottoms are reversible, featuring a solid colour on one side and a subtle print on the other. Technically, I got liiiike, 6 surf bikinis for the price of one top and one bottom!
Add that to the fact that Pura are EU based, support sustainable production processes, and have pledged to donate a portion of their earnings to charity, and you've got yourself a winning surf bikini brand in my eyes.
I can honestly say Pura's wares equate to one of the best surf bikinis I've ever owned, and I'd highly recommend trying some out yourself. I bet you won't be disappointed.
Other surf bikinis we recommend checking out
Volcom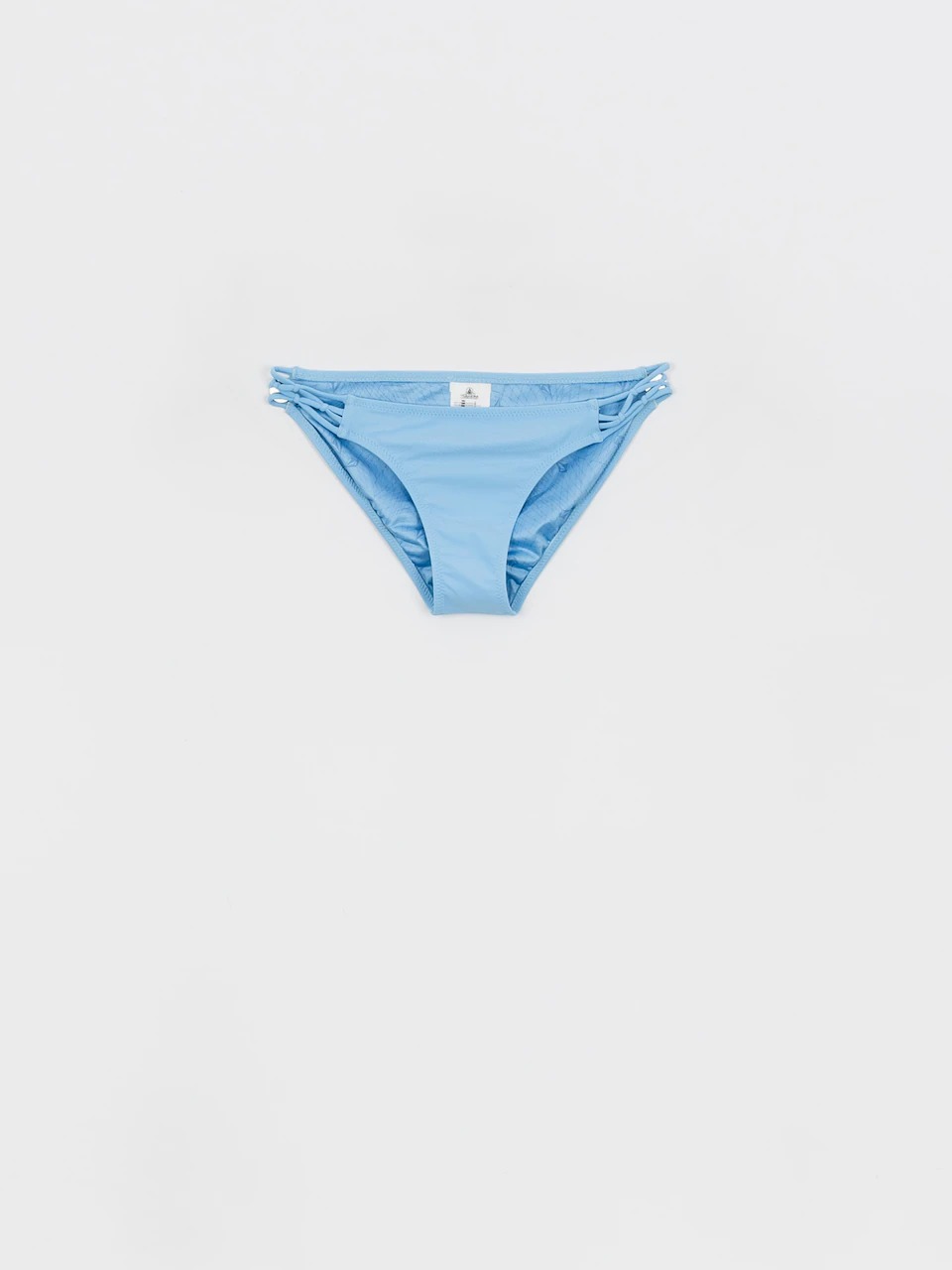 As far as big name surf brands go, I can usually take or leave them. Quality varies, designs are often 'meh', and I don't adore the idea of my money supporting huge conglomerates over small, heart-driven businesses. That said, I make every exception for Volcom.
I've owned and loved everything from Volcom's sandals to snowboarding jackets, and their surf bikinis are right up there in my books. The Simply Solid bikini tops are absolutely perfect for surfing and kiteboarding in thanks to its firm fit, supportive design, and no-frills cut. It's also made from regenerated econyl fabric, making it one of the more environmentally friendly options on the list.
Volcom's simply solid surf bikini tops are on the skimpier side, admittedly, but the strap system and broad band around the ribcage make them more supportive than you might think. Pair it up with the simply solid surf bikini bottoms and you're good to go.
Rip Curl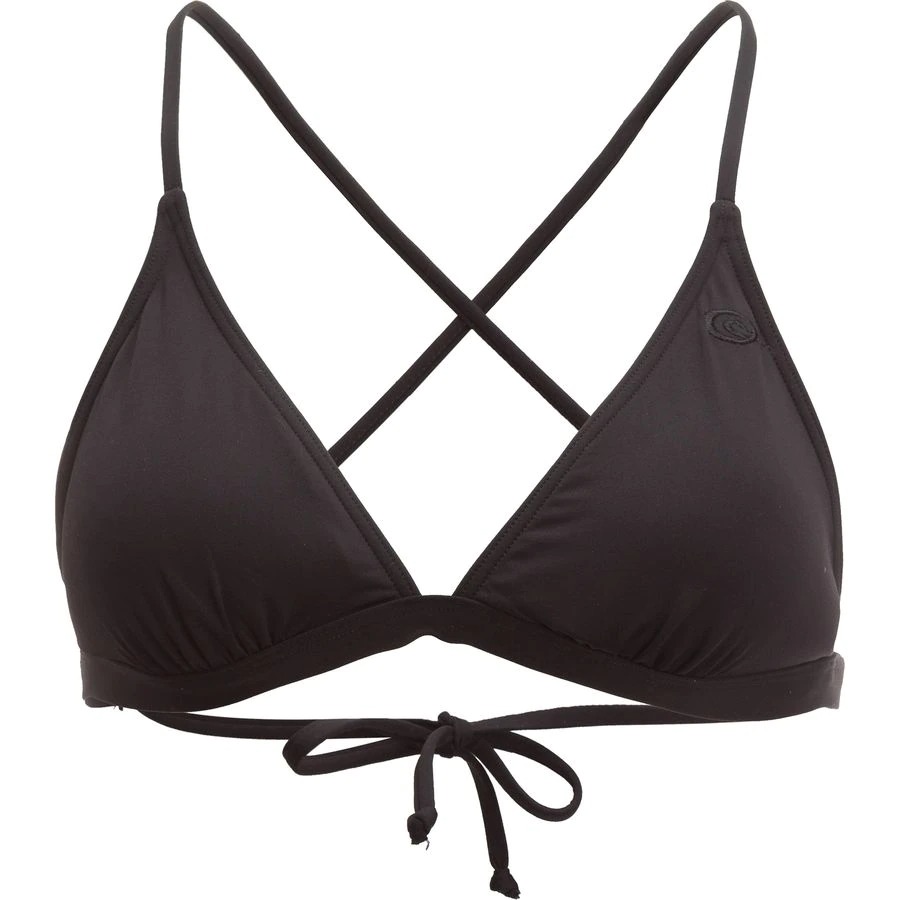 I've worn a pile of Rip Curl surf bikinis, some with greater success than others. The thing with Rip Curl, and basically most of the multinational surfwear brands, is that they products are mass produced and you'd know it by the quality. It simply doesn't always live up to the smaller, batch produced brands I've chatted about above.
That said, when the sales are on you can score some really great surf bikinis for cheaps, and a lot of their designs are totally perfect for surfing in.
My core recommendation is to go for the bikinis that CLEARLY look like they're designed for actual surfing, because if it doesn't look like it'll do the job in the picture, chances are it won't in real life.
I'm a fan of the Mirage Essential Halter Top (gotta love the criss cross back for its staying power) and matching Mirage Cheeky Bottoms. If you're inclined to go for something with a little more coverage, check out the bandeau bikini tops, which are great for protecting your skin from getting board rash.
O'Neill
O'Neill's Baay Mix surf bikini tops and Maoi bottoms are surf wear staples and come in a pretty decent range of colours and prints. The top features a feminine crossover top and criss cross straps and is made from predominantly recycled materials. Its hyperdry technology means it doesn't hold water for long and will dry out super quickly (handy when you just want to throw your clothes on over the bikini instead of doing a full on change).
Meanwhile the Maoi bottoms sport a low waist, cheeky cut, and a centred seam on the back. Like the Baay Mix top, these bottoms are made using recycled materials and Hyperdry tech.
Best one-piece surf suits & springsuits
For when you fancy a little more coverage and/or security, surf suits are the way to go. Here are some of my tried and trues from over the years:
Maria Malo
When Maria released her first surf suit designs last year, I knew I had to have one like immediately. And booooy was I right; this is now officially my favourite one piece for surfing and kiting (ermm, just not for use in Ireland — brrrrr).
The high cut on the hips is flattering as it gives the illusion of longer legs, while the thick cut straps stay put in the waves — no bother. 
I did find that the sizing runs a little small on this piece (I comfortably wear a medium in the rest of Maria's line and this was a tad on the tight side) but after a few test runs I actually came to appreciate how snug it is. Number one, it holds you in and does a little bit of a boob-pushy-in thing which is both secure and ahem, easy on the eyes. Number two, the snugness makes this surf suit majorly secure.
Better yet, it's made from econyl (a recycled fabric which uses regenerated ocean plastic and ghost fishing nets) so purchasing this surf suit helps you do your bit for Mama Ocean, too.
This particular surf suit comes in cheeky nude and classic black, but she's also got some other cuts in different colours. Check 'em out in her webshop, and don't forget the code EXTREMENOMADS at checkout for an exclusive 10% off your entire order.
Vivida Lifestyle
We couldn't mention their surf bikinis and neglect to cover their suits. Vivida Lifestyle's collection of Water Warrior one-pieces come in a range of awesome ocean hues and prints (feather is my absolute fave). The fabric is UPF50 for serious sun protection and features a semi-cheeky cut and open back which promises to stay put and look rad at once.
Use the code EXTREMENOMADS at checkout for your exclusive discount!
Sensi Graves
Just like her surf bikinis, Sensi Graves' one piece surf suits have achieved near legendary status amongst women of the water. 
Her ever-expanding line features a few different styles and cuts of one-piece surf suits, including the Emily One Piece which rocks a modest V-neck and a criss-cross/mesh panelled back.
Rip Curl
For something a little heavier duty, I often turn to Rip Curl. I've had the 1mm G-Bomb surf suit for a few years now and it's still in immaculate condition, even after taking on season after season of salt water, high winds, and crashing waves.
The classic Mirage surf suit is another one worth checking out; it's one of their best sellers and looks super flattering on all body shapes.
The front zip makes it super easy to take on and off, and also helps create an extra supportive hold on your chest. The cut around the bum/top of the legs is somewhere between a boy shorts cut and classic bikini cut, so pretty decent coverage (as in, 'don't worry if you didn't take care of your bikini line' kinda coverage).
The fabric quality has also stood the test of time; no pilling, ripping, or coming apart at the seams to this day.
---
Have a question about any of these surf bikinis or suits? Did we miss an amazing brand that you think we should try? Drop us a comment down below!