Austria, the land of diverse possibilities, stunning Austrian alps, and a lavish snowy winter season, offers endless adventure options to the powder hounds!
Visiting it is exciting as Austrian ski resorts are loaded with amenities and top-notch facilities.
This, along with the high-quality mountain slopes, is why Austria has kept visitors coming all year round for the last few decades.
Austrian ski resorts are blessed with a long and lavish snow season. Snow guarantee makes it one of the world's best snow-sure skiing destinations.
Best Ski Resorts in Austria
Deciding where to stay in Austria and which terrains to pick when it comes to sliding down the mountains may be the biggest challenge you could be encountering atm!
Well, if this is so, read on, and you'll know what exactly the ski resorts of Austria have to offer in terms of discount options, spectacular views, and unique locations.
1. Söll and the SkiWelt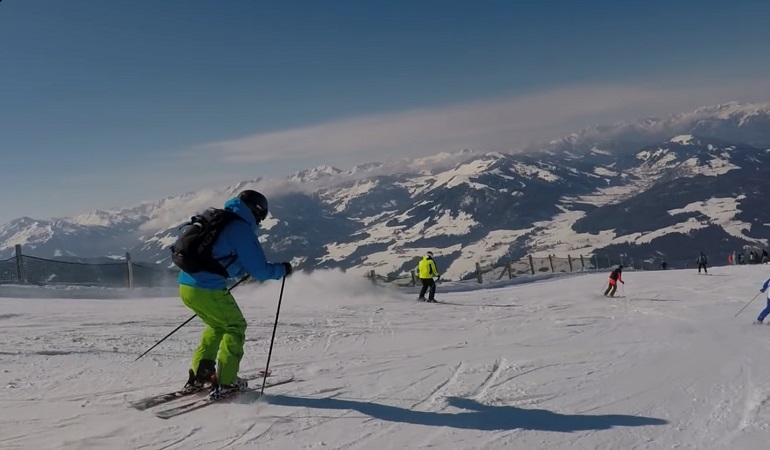 Being gigantic and massive, the world-famous Austrian resort, Söll and the SkiWelt is hands-down one of the best ski spots to visit at least once in a lifetime! Owing to the vast ski area it covers, it's unsurprising that this place has a wide variety of terrain parks.
Known For:
There is something for everyone, no matter what skill level one possesses! Hence, you will be able to sail down the side of the mountain fearlessly.
Highlights:
For experienced skiers, there is a lot to quench their thirst "for adventure," especially mentioning the "Black Eagle" run, as it's pretty steep! Choose it only if you have a good grip and can navigate through fresh powder efficiently.
If you are a quintessential tourist at heart, you will be particularly happy here since ski buses make this adventure worthwhile. You can visit the village, check out the shops, and mingle with the locals even on a daily basis.
What's even better? All these buses are FREE! Hurrraahhh…
Pros:
The easy access to ski lifts makes it possible for families to have a good view of the mountain. The modern lift system makes the entire experience extremely safe and comfortable.
The main Gondola Base is merely fifteen minutes walk from it.
The Soll Ski School is incredible. The instructors are super-friendly and let you hone your skills in a comfortable environment. Once you are done with your lessons, I suggest you head to Westendorf for a quick trial!
Cons:
I found a lack of blue runs in Soll, so beginner skiers would need to head over to other parts of the ski area from Soll.
Opening and Closing Dates
The ski resort kick starts its winter activities this year on December 08, 2022, while it will end on April 10, 2023.
Bonus Tip: It's the 45th anniversary of Söll and the SkiWelt; hence it's showering visitors with amazing discounts! Book your tickets now and save bucks.
2. Mayrhofen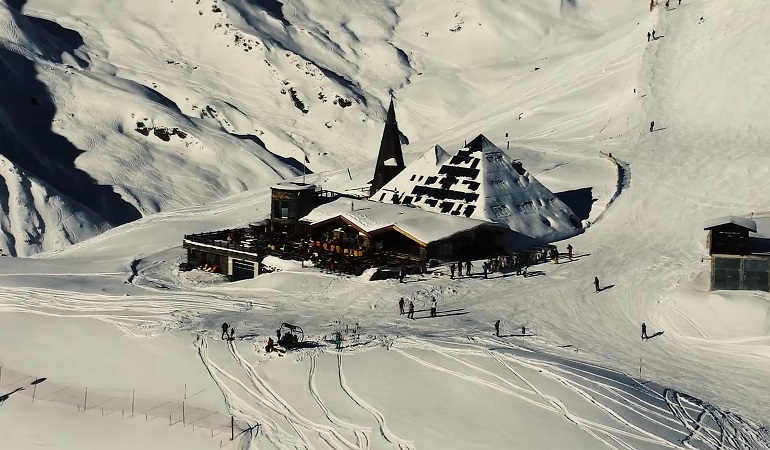 The incredibly steep Harakiri piste and a gigantic snowpark are heavens for expert skiers. Even if you are a non-skier, this place has a lively vibe that you must not miss!
Known For:
This ski resort is known for its steep slopes, and it's not ideal for beginners. If you don't want to hit the slopes, you'll still have plenty to do here.
This ski resort has an excellent lift system. All the lifts are incredibly safe and give you good access to Mayrhofen, Hochzillertal, Zillertal Arena, and Hintertux Glacier.
Highlight:
The next time you take a ski trip, make sure it's at Mayrhofen, especially around the time of the annual Snowbombing festival. For music lovers, this week-long electronic music festival would be the most incredible thing to experience!
The five villages connected to it are super easy to access. You can definitely have a look at how the locals live here by visiting them.
Owing to the steepness, downhill skiing may not really be safe for newbies! However, it would be an incredibly adrenaline-pumping activity for intermediate and expert skiers.
Pros:
Despite heavy winds and endless snow, the variable terrain and groomed pistes make this ski experience incredibly safe.
On top of that, what makes this one of the most famous ski resorts in Austria is the night skiing option it offers! Though night skiing is every bit as dangerous as it is exhilarating, advanced skiers can definitely opt for it. Just remember to pack your best night goggles with you.
Located right where the Zillertal Valley floor ends, Mayrhofen is a hub of activities and showcases great nightlife. For party lovers, ski touring here would be filled with fun and excitement.
Cons:
Rush hours can really turn vile with the long queues of people waiting for the lift tickets. If you have a lift pass, you'll save lots of time!
Opening and Closing Dates
The expected winter season at Mayrhofen would be from December 25, 2022, to April 16, 2023.
3. Kitzbühel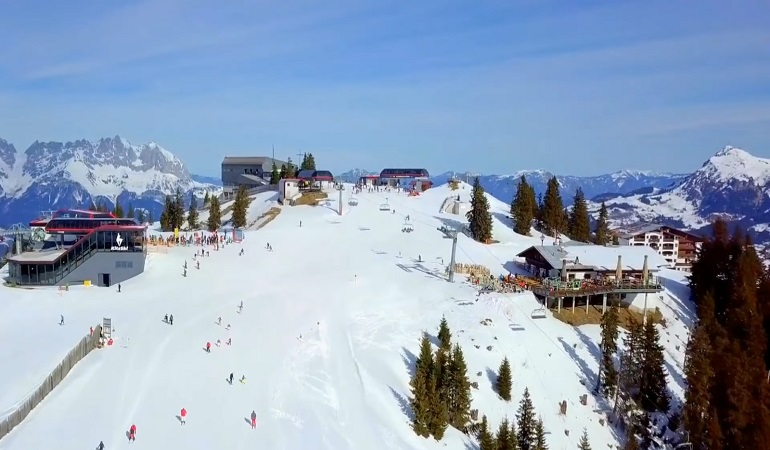 When it comes to the best ski resorts, you would want to head to a place that not only offers scenic locations but where the snow quality is also impressive. If this is so, the ski slopes of Kitzbühel and its off-piste terrain are what you need to experience over this winter season.
Known For:
Being one of the most visited European ski resorts, Kitzbühel is famous as a winter-sports center.
For beginners, the area between Hahnenkamm and Pengelstein offers some really gentle slopes. If you move ahead, you may encounter some challenging runs and advanced terrain, which is more suited for the experts!
Highlights:
The KitzSki Snowpark ─ Hanglalm is a true paradise for snow lovers! If you are planning a ski holiday with your kids, this place will entice them the most!
This ski resort is synonymous with comfort, and you'll find great luxury hotels all around the area. I particularly loved the Mountain Design Ski Resort, Hotel Kitzhof, for its beautiful design and incredibly family-friendly staff.
If you are looking for budget-friendly accommodations, you can try out A-ROSA Ski Resort Kitzbuehel or Lebenberg Schloss Kitzbuhel.
Pros:
The public transport network is praise-worthy. You don't need to bring your car here and can roam around on the buses easily!
What's more? The lifts here are super-comfy! There are 11 feeder lifts and 57 cable cars, through which you can have a good panoramic view of the mountains.
You can experience the thriving art culture of the villages around it through a short bus ride, which will be worth your time for sure!
Cons:
A word of caution: This place is a little expensive. During the peak season, it can, naturally, get out of the budget!
Opening and Closing Dates
The winter season activities here will stretch from November 19, 2022, to April 10, 2023.
4. Saalbach-Hinterglemm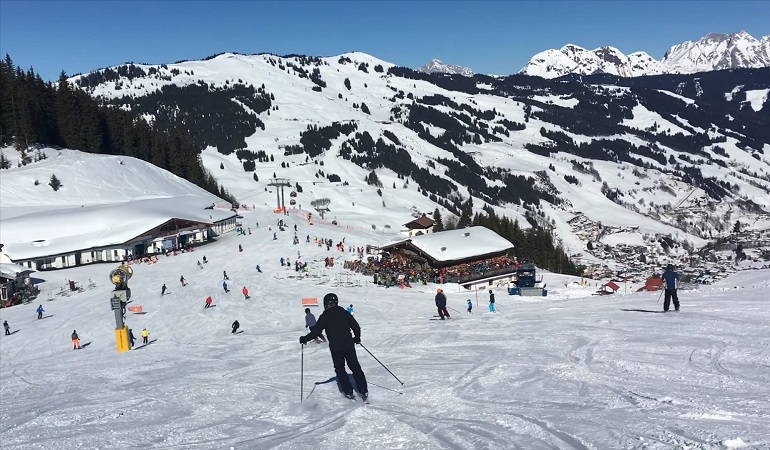 Saalbach-Hinterglemm is one of the hidden gems in Austria for a lot of skiers. This winter vacation, heading towards it, would surely be well worth the money!
Known For:
Saalbach-Hinterglemm is known as one of Austria's high ski resorts, with an altitude of 1,000m. Out of the total local ski area, around 140 km is dedicated to beginners!
Despite this area being incredibly snowy, Saalbach-Hinterglemm is one of the safest ski resorts in Austria.
Highlights:
To spend a perfect day on the slopes, get your hands on a ski pass, and you won't have to wait in long queues!
It has as many as 52 lifts working for the tourists, and a lift pass would give you access to all of them. This, along with the toboggan run, junior piste fans, and snowpark acrobats, make visiting this place quite an adventure in itself.
Pros:
If you have a ski ticket, you get complimentary free parking. But, if you are not bringing your vehicle along, you can definitely avail the benefits of the free ski bus.
The locals living around the Austrian ski resorts are super-friendly, and their charm would make you want to visit this place time and again!
With the Saalbach Hinterglemm Leogang and Fieberbrunn merging together, this ski resort offers the widest ski terrain for adventurers. As the ski area is quite extensive, you would probably see it getting overcrowded during the peak season.
Cons:
If you are an expert skier, you won't see many black runs, which could be disappointing! Also, though the ski buses are free, they are a little unreliable in terms of free space!
Opening and Closing Dates
The ski resort kick starts its operations on December 02, 2022, and will extend them till April 06, 2023.
5. Innsbruck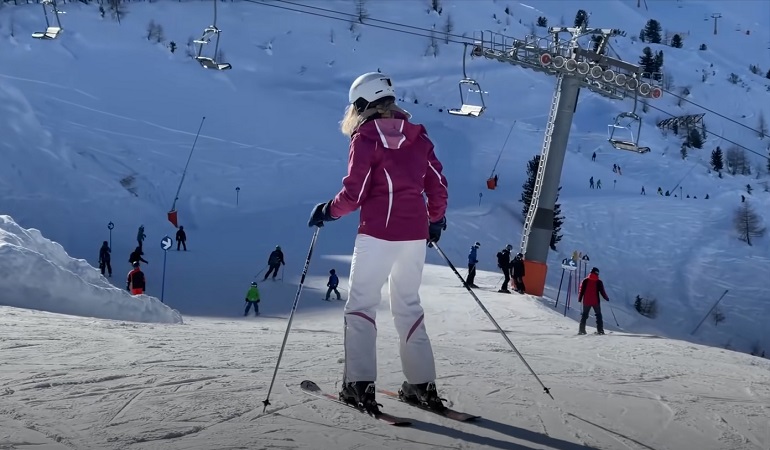 For adventure junkies, the high alpine of Innsbruck is a great place to experience the snowy winter to the fullest.
Known for:
Surrounded by massive, snow-capped mountains, Innsbruck is one of the largest ski resorts in Austria, known for its winter sports activities.
There are so many interesting things to do here après ski and your spare time will be filled up with extensive activities. These include exploring the scenic old city of Innsbruck, checking out the vibrant Maria Theresien Street, hitting Wilten square, visiting the vegan restaurants, and scouring the local shops.
Highlights:
The ski pistes at Innsbruck are well-groomed, which is why you can easily be a part of the downhill ski races.
If budget is not a problem, I would highly recommend you stay at the Best Western Plus Hotel, Goldener Adler. It's super luxurious and offers you the much-needed comfort après ski.
A great budget-friendly option is the Hotel Leipziger Hof, which is merely fifteen minutes walk from the main city!
Pros:
For the foodies, the after-ski scene is amazing. You can choose the LAMM Restaurant & Lounge for some really amazing vegetarian options, the Machete-Burrito Kartell for great Mexican food, or the New India Restaurant for some spicy options.
Cultural tours by the locals who are always more than ready to show their city around are a great way of exploring the place.
If you ask me what I loved the most about this ski resort, it would be the ease with which I could reach here! The Innsbruck Airport is merely four kilometers from the city center, and from there, you can easily get a bus.
The ski plus city pass gives you access to thirteen ski resorts around the area, and you can choose whatever suits your taste best!
Cons:
There is nothing much to do here for the kids! If your kids don't ski, you'll have to find other ways to have some family fun!
Opening and Closing Dates
This year around, the adventure season would extend from December 22, 2022, to March 19, 2023.
6. Zell am See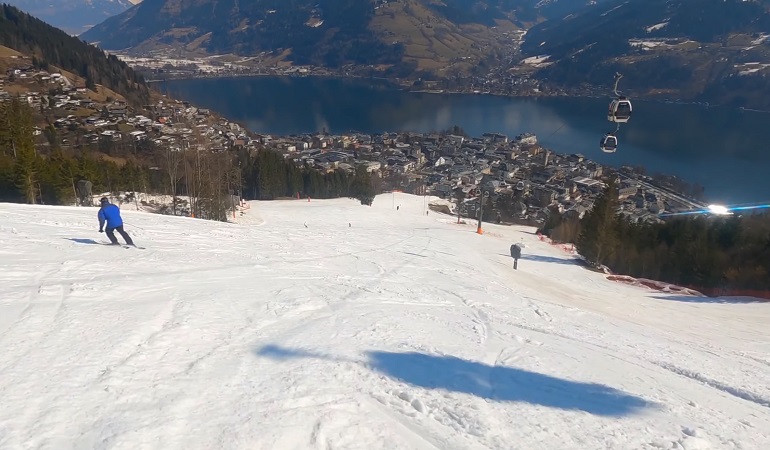 If you are a sucker for pretty places, you will love Zell am See owing to its magnificent lakeside setting. Skiing and snowboarding also get even better, as the snow quality is seriously impressive!
Known For:
Just like most ski resorts in Austria, this one also comes with extensive ski areas. Simply put, this area has around 408 km of ski area with three resorts, offering a freeride terrain for newbies, intermediate skiers, and experts.
Highlights:
Cross-country skiing gives you a chance to get the best view of the area.
Being a money-saving enthusiast, what pleased me the most about this place is the extensive options you have got when it comes to saving money. If you get the right passes, you get to save money!
Get your hands on a mobility card, and it would let you travel free of cost across the area on public transport. The ski alpine pass gives you unlimited access to all the ski areas.
Pros:
As this place is super-pretty and picturesque, you can take incredible shots and post them on Instagram for more views and likes!
With an annual snowfall of 6m on average, you can expect this place to be filled with high-quality snow. This is why, for most snowboarders, this place offers great value for the money.
Cons:
If you are an expert, you are more likely to get bored here as it doesn't have a high altitude, and for more experienced skiers, it's a little too easy to skid through!
Opening and Closing Dates
Zell am See starts its winter adventures on December 23, 2022, and will continue them till mid-March 2023.
7. Ischgl and the Silvretta Arena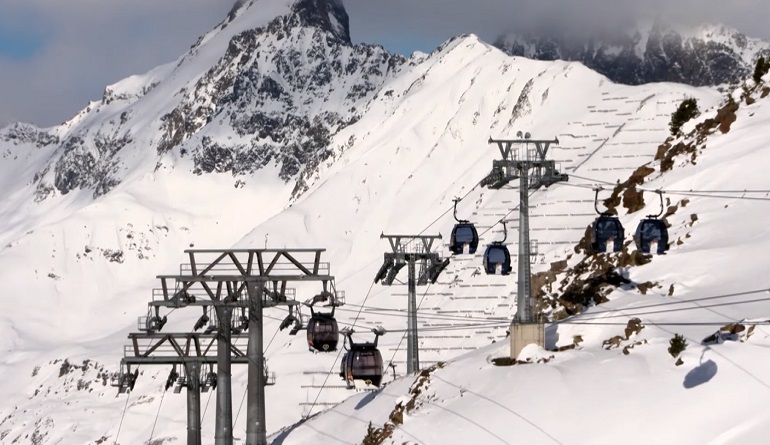 What makes this ski area a MUST-VISIT is its unique location. Its placed at Paznaun-Ischgl, Austria, and extends all the way to Engadin Samnaun Val Müstair Region, Switzerland.
Known for:
Being a cross-border area, it's on the bucket list of a lot of skiers. Here, you get off-piste ski options as well, which most of the nearby resorts don't offer!
For the most enthralling après ski scene, I would recommend you to hit the Paznauner Taja mountain hut.
Actually, this Austrian ski resort offers great entertainment, from amazing music to chilled beers and from delicious food to splendid music nights.
Highlights:
As this is one of the largest ski areas offered by Austria to skiers, it's not surprising that the management has invested quite a lot in the lift infrastructure. The ski resort has it all, from the drag lifts to the chair lifts.
One of my favorite things that I experienced on my trip to Ischgl and the Silvretta Arena was the extensive backcountry intermediate terrain. It's so well-groomed that you would love skidding across the mountain throughout your ski holidays!
Pros:
The super-cozy huts give you all the romantic feels! If you are planning a trip with a loved one, there is no place better than this one!
The south-facing hills are quite well-groomed; hence you can hit them confidently even if you are a newbie.
Well, I don't know about you, but good food is a huge deal for me, and here, I didn't find the local taste in the food. Though the restaurants have a reasonable menu, there's nothing praiseworthy about the taste!
Cons:
Well, I don't know about you, but good food is a huge deal for me, and here, I didn't find the local taste in the food. Though the restaurants have a reasonable menu, there's nothing praiseworthy about the taste!
Opening and Closing Dates
The peak winter season at Ischgl and the Silvretta Arena is from late November to early May.
Final Thoughts
If you are nuts for adrenaline & adventure, you gotta check out the ski resorts in Austria to experience an unforgettable ski vacation. There are a number of homestays here, which will let you have a nice, warm, intimate holiday with your family.
Also, as there is so much to do here along with Austrian skiing, you'll never have a dull moment!
So, I hope this article helped you make up your mind, and you are already on your way to getting your passes booked and heading towards these majestic mountains!
Related Guide: