All-in-One
There's something to be said about the mythical "one solution to all problems". Does it truly exist? No matter what sport or discipline you cash your time on, no doubt you have heard of a tool, system, or what have you promising a one size fits all solution.
It's safe to say that most of these contenders, never live up to the hype. Where then, does the Head Kore 93 fall on the scale between "complete fraud" and "the perfect one quiver mountain ski"?
To my pleasant surprise, this light ski showed up and delivered on every metric that a ski can be measured on. Picture this, a high-quality ski that consistently performs on any terrain type, and that has a durable build quality while maintaining a low weight.
Doesn't that sound pleasant? It doesn't have to stay a fantasy, and it won't… not with the Kore 93 mountain skis by your side.

What Drew Me To The Head Kore 93 Skis
Why the Head Kore 93? Aren't there hundreds of other top-drawer all-mountain skis to choose from? There are even other Head skis that perform at the same or near the same level on soft snow. Why then was this particular all-mountain ski chosen for this review?
There are two main reasons why the Head Kore 93s had to be the next skis to get an in-depth breakdown. The first is that this all-mountain ski is well-rounded, making it the perfect daily driver.
Whether on powder, the backcountry, off-piste or on it. Everything about the Head Kore 93s revolves around consistency and giving you a solid performance. It is worth noting though, that despite this performance-oriented construction, this is still one of the most fun skis that I've come across in a while.
My second reason for choosing the Kore 93s is that they have been slightly modified and certain features have been altered and upgraded. These skis took all the lessons learned from the Kore series thus far and applied them to one ski.
The Head Kore 93 Mountain Ski In Detail
Now comes the time to peek under the hood and show you how the magic is made. The differences between the Kore 93s and other versions of the Head Kore skis go beyond just a simple weight difference.
However, even if weight reduction had been the only change, that would still significantly alter how a ski would perform. A heavier ski will have greater stability even when skiing at a high speed. How the flex pattern progressively spreads throughout the structure of the ski would also be affected.
Nonetheless, I made sure to document any changes and the performance of these skis on the terrain types they are best and not so best suited for. It's all there for you down below.
Powder Performance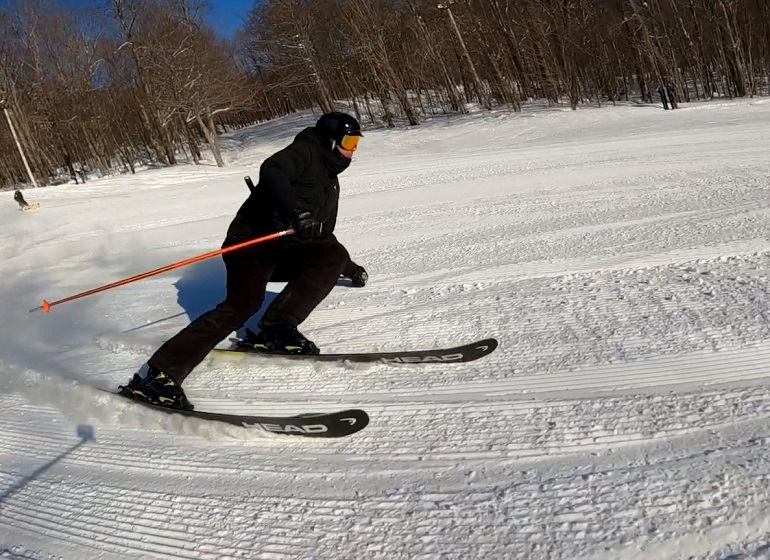 Fresh pow is some of the best stuff you could ski or snowboard in. It should go without saying that you'll want a pair of skis that can make the most out of the white mountain gold.
Of course, powder-specific skis are always the way to go, but if you want a true one-ski quiver, then it'll have to be an all-mountain ski with the build to make the most out of its environment. The Head Kore 93 has got those specific body features that allow it to compete with powder skis quite evenly.
The nose or tip of these skis is large, in all directions. With its slight upturn and size, getting it to rise above the pow is effortless. Of course, the tip rocker plays a significant role in this ability.
However, credit has to be given to the tail rocker and the amount of camber underfoot. All the little tweaks and adjustments needed were made, and the result is astonishing. These skis get top marks when it comes to how they perform on powder, and they are only surpassed by the top powder skis around.
Surfy, to say the least, and with an edge to cut everything in sight. Coincidentally, this is what we will be discussing next.
Carving Up Snow
The end of one section but the beginning of another, seamless in transition. The same can be said for the edges and the carves that you can pull off with the Head Kore 93 skis. The turn radius of these skis is small.
What a small turn radius gives you is the ability to change course at a break-neck speed. The turns are not only faster to engage in, but their entire duration is quite electric.
Of course, this is also the reason why these skis must not be used for beginners. Can you imagine how painful the whiplash must be from one of these turns if you're smashing into the ground?
Ok, so we have established that carving with the Kore 93s is great and feels great. But how did these skis get such great carving prowess? The camber underfoot and the sandwiched construction of the edges are what add such slicing greatness to the Head Kore 93 skis.
Combine the two features listed above with the short turn radius I mentioned earlier for a complete carving machine. Like a samurai's blade in the shape of a ski.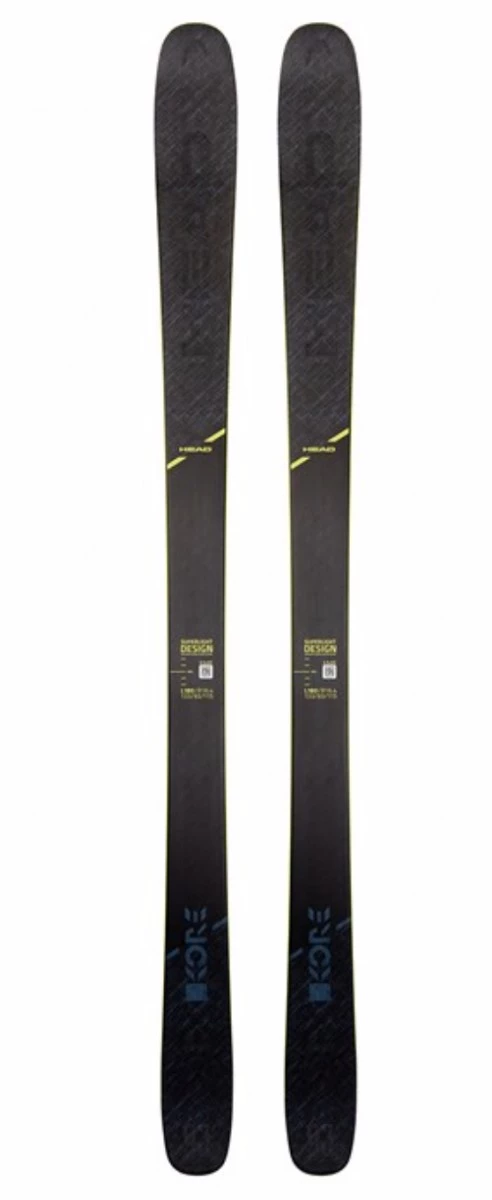 Head Kore 93 Skis
The price of "Head Kore 93 Skis " varies, so check the latest price at
Bumps and Off Piste Descent
Bumps, side hits, mounds, whatever you want to call them, it doesn't matter. The Head Kore 93s have the practice down right. Thanks to the previously mentioned rocker, in both the tip and tail, you get a cushioning effect that handles the rocky road well enough.
One last thing to mention is that you won't catch an edge. In short, you've got nothing to worry about. Free, you are free to enjoy the bumps. Flying from one to the next and turning and carving around all of them.
However, keep the length of your skis down in order to maximize the ebb and flow from one mound to the next. It's common sense really. It'll be easier to turn and glaze through bumps with small and shorter skis.
I'd place the Head Kore 93 in the upper echelon of handling bumps.
It has been pretty smooth sailing so far for the Head Kore 93s. There hasn't been much to complain about, and while I wish it would have stayed this way till the end, I must let you know that the next section will have some hearty criticism.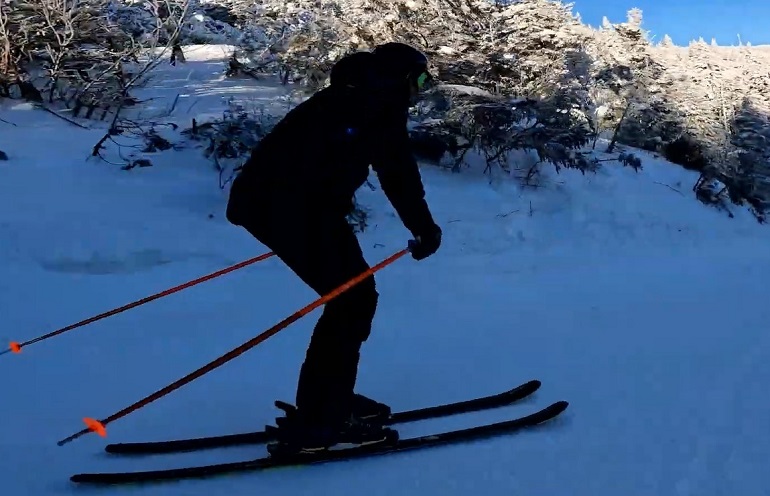 Stable Speed Stability
The faster I went the more a niggling annoyance turned into an actual flaw. From little to no chatter at decent speeds to a dangerous cacophony of jittery planks and thin top sheets. Be warned, if you like to go fast, then consider freeride-focused skis.
Sure, thanks to the two layers of carbon plastered over the wood core, you get a surprising amount of stability at higher speeds. However, once you reach trail-blazing levels of velocity, it's as if these skis didn't have a spine.
They waver and shake uncontrollably, and I found it hard to imagine even the most experienced skiers being able to contend with these jitters. Don't be discouraged, at most speed levels, the Kore 93s have got you covered but again, it is only when you truly push it that they begin to push back and hard.
Could some see this as a deal breaker? Yes, but there aren't many skiers that actively reach and maintain the speed levels required to get the Kore 93s dancing all around. How does the stability of these skis hold up at higher speeds? The short and sweet answer is that they are good but not great.
All-Mountain Ski Build Quality and Durability
The less something weighs, the thinner it is. The thinner something is the more questions are raised over its durability. With this in mind, the Head Kore 93s have quite a few features going for it that help address these concerns.
A Graphene laminate has been included in the skis. Graphene is much stronger than steel but also lightweight and very flexible. Think about it like this, a twist tie, those little strips of plastic that we use to keep our bread fresh, is small, flexible, and thin. Yet twist ties are also very hard to rip in two.
Graphene has similar properties and a much stronger effect. Take all of that resilience and apply it to your skis. Suffice it to say, that durability isn't much of an issue.
This is only further compounded by the multi-layer sandwich construction, which sees several layers of carbon being applied to either side of the wood core. Within these skis, are the materials needed to take on any conditions.
One last thing that I'd like to add, is the Karuba wood which runs alongside the Poplar in the core of these skis. Making for a denser and longer-lasting center, that surprisingly, isn't completely weighed down.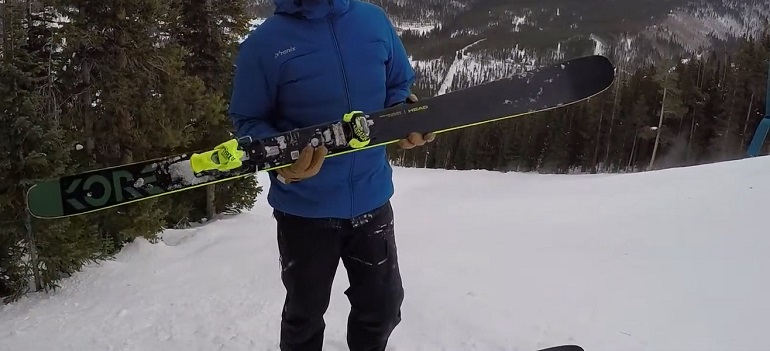 Fit and Sizing
There is a great size difference in between each available model of the Head Kore 93s. This has its benefits. For one, skiers of all sizes and styles can be confident in finding the perfect fit for them.
The vast assortment of sizes also allows you to use the Head Kore 93 for all of your skiing needs, no matter how fickle your tastes may be.
For example, like the Kore 93s, but need longer skis? Don't worry, because they've got an option available. Should you jump from one size to the next, keep in mind how this affects the performance and feel of your skis.
Shorter skis are better for bumps and moguls, not to mention that you'll have an easier time controlling them and turning on a dime. Longer skis can be more stable and damp, best for speed skiing, among other things.
What I Liked About The Head Kore 93
I could ramble on about everything that I liked about the Kore 93 skis. However, I'd prefer to finish this ski write-up sometime in the near future. This is why I've condensed everything that I had to say about these skis into three key points.
They are as follows: a great float that helps these skis truly pop, a lightweight construction, and a solid combination of fun and versatile riding.
Float
When it comes to the float that a ski can have, the tip and tail rocker profile matter most. The Kore 93 skis have got a great float, and this is because of the sizable tip of each ski.
With enough lift to make any skateboarding ramp proud and a soft flex for improved agility, these skis leap out and make you feel as if you are surfing waves and not snow.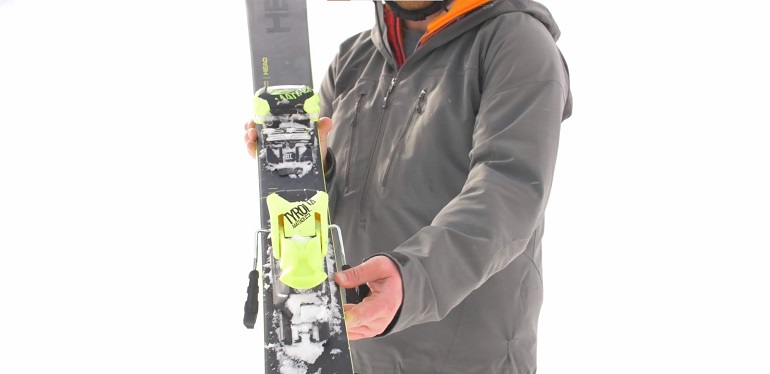 Lightweight
I am a strong supporter of messing with something, only if there is a strong need for it. What's the point of having the perfect design if you are going to tweak it relentlessly just for the sake of having changed something?
This is where Head decided to focus most of their efforts on a Kore series redesign. The Kore 93 has a poplar wood core without any of the metal inserts that are typically included in most skis in order to boost the dampness of its ride.
The result is a low overall weight and the added control that comes with this.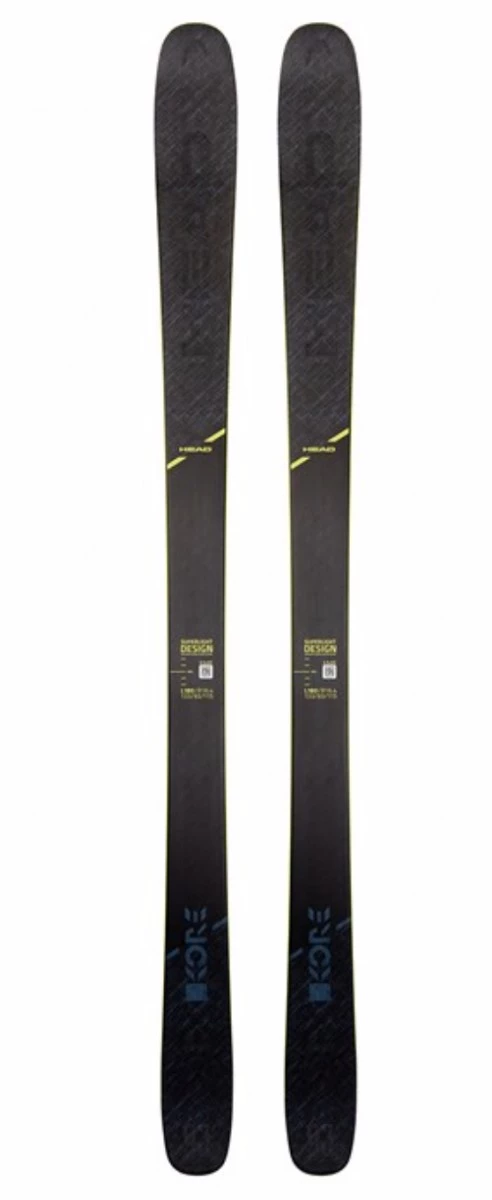 Head Kore 93 Skis
The price of "Head Kore 93 Skis " varies, so check the latest price at
Fun Versatility
Due to its build design being an amalgam of different contrasting features, these skis deliver across varied terrain. Groomers or off-piste, the easy control afforded to us by these featherweight skis could not be overlooked.
It doesn't matter where on the east coast, or any coast, you get your skiing done. You're gonna have a good time with the Kore 93s. And that is a ringing endorsement.
What I Didn't Like About The Head Kore 93
Unfortunately, the Kore 93s stopped short of a perfect score due to their wavering stability and their performance on moguls and bumps. Look, as I have stated several times throughout this review, the main selling point of the Head Kore 93 is its weight.
However, this is where the issues begin to arise because less weight means less effective edge hold and less speed when you want to ski fast. When riding through particularly choppy snow, there was enough chatter and noise to make me consider putting on heavier skis.
Fortunately, the rest of my time with them was sublime.
My Final Thoughts
I forgot to include this in the "what I liked" section of this write-up, but I figured that this section is as good a place as any. The Head Kore 93 skis are accessible. Skiers that are at an intermediate level and above are capable of getting a good time out of them.
Solid across all kinds of conditions with a slight emphasis on deep powder runs and with a shape and turn radius that lends itself to quickness. There wasn't much that I could say in the negatives department. This pair of skis simply satisfy the needs of any skier.
Something to note, be careful how you swing weight on these skis.
That is to say, how fast or hard you swing your weight around. The Head Kore 93s have a low weight and a short turn radius. Easy to control and even easier for one misstep to deliver your face right into one of nature's very own slush puppies.