If you're down for some flat water fun and strong wind kitesurfing, Sri Lanka is for you
Sri Lanka has just topped Lonely Planet's list of must-visit destinations for 2019 (mysteriously followed by Shenzhen in second place… huh. That's a head-scratcher).
So I thought to myself:
There's no better time than right this very second to write a totally comprehensive guide to kitesurfing in Sri Lanka. After all, Sri Lanka is home to some of the best kiteboarding destinations in Asia.
But let's get one things straight before we go any further:
Before you clicked on this post, you probably already knew that kitesurfing in Sri Lanka is big news, right? Of course you did!
Kalpitiya has enjoyed a rep as one of the windiest places in Asia for quite some time now. But what a bunch of people don't know is that there's a pretty stellar lineup of other kitesurfing spots in Sri Lanka that, so far, are skimming blissfully under the radar.
How d'ya like them apples?
Let's dive right in and take a look at what you should know about kiteboarding in Sri Lanka: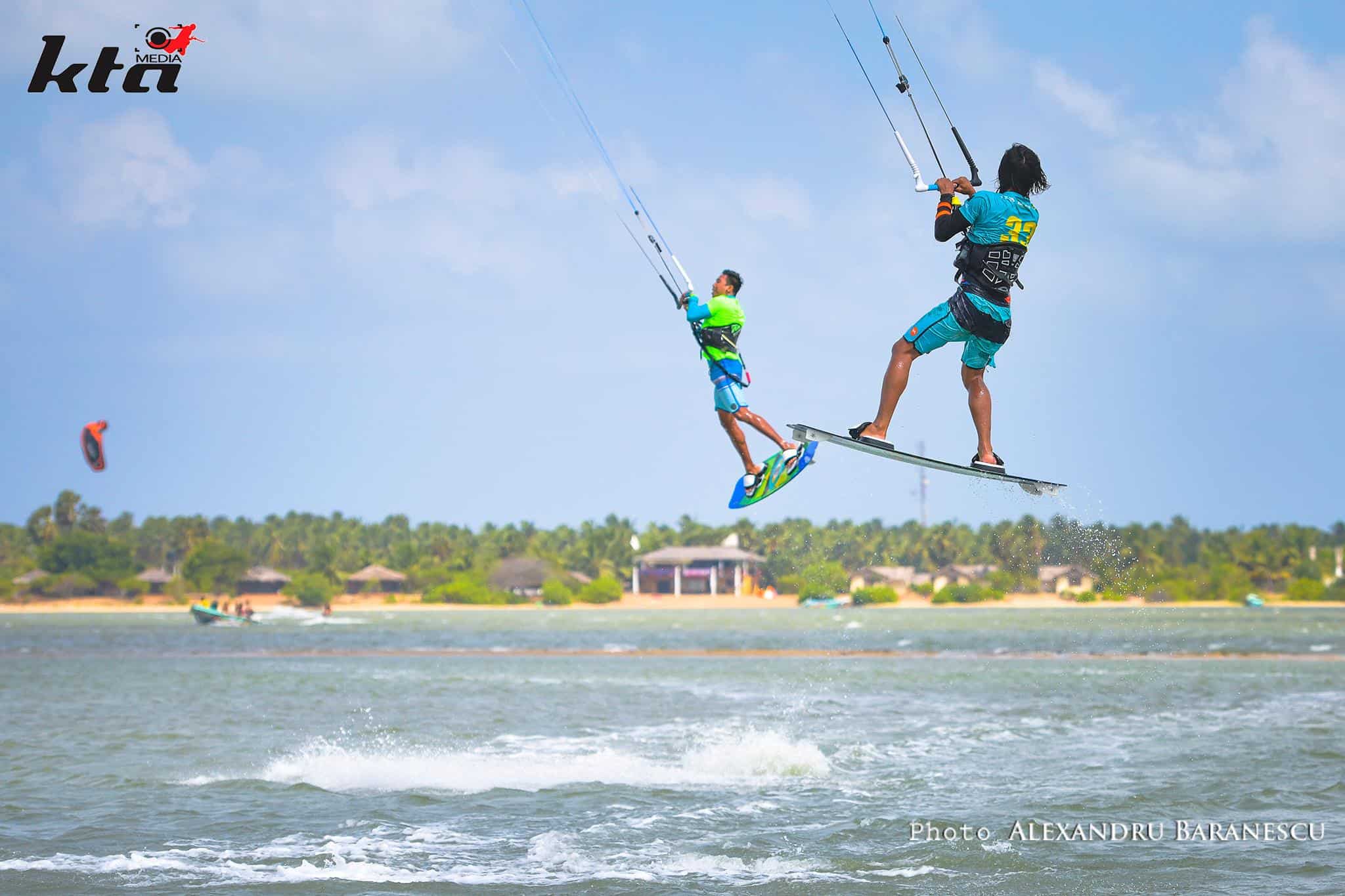 Need to gear up before your trip? Check out our latest reviews!
Sri Lanka kitesurfing season
There are two main seasons for kitesurfing in Sri Lanka; one in the summer and one in the "winter" (yeah, 28 degrees doesn't exactly sound 'wintery' to me! But I'm from Ireland- we don't have seasons. Just pain. I mean…rain).
The main Sri Lanka kitesurfing season runs from the middle of May until the end of September (or start of October, if it's a good season). During this time, the wind is at its strongest and most reliable, typically blowing 18-28 knots on a near daily basis.
The 'winter' Sri Lanka kiteboarding season starts around mid-December and continues to the end of February or start of March. During this time, the wind usually blows 15-20 knots on average, though it's somewhat less reliable than that of the main season.
Best kitesurfing spots in Sri Lanka
---
Kalpitiya
9 times out of 10, if someone's on about kitesurfing in Sri Lanka, they're usually talking about Kalpitiya. After all, the Kalpitiya kitesurfing scene is by far the biggest and most established in all of Sri Lanka.
The famous Kalpitiya Lagoon is where all the action happens in this neck of the woods:
Separated from the Indian Ocean by a single sandbar, the lagoon is filled with flat water ideally suited to freestyle riders and beginners (if you're looking to learn kitesurfing in Sri Lanka, you'll definitely want to get onboard with a complete beginner's kitesurfing course in Kalpitiya with SriLankaKite school, where you'll also find some sweet accommodation right on the lagoon).
The water is shallow near the shoreline, getting progressively deeper as you move towards the middle of the lagoon. In the middle, you'll often find it's a little bit choppy from the strong wind.
You can choose to kitesurf on the flat lagoon or out on the ocean side, where there's some wind chop and plenty of little kickers to play around in. Further south you can even find a beautiful wave spot hidden away near some cliffside caves, where an offshore reef creates clean peelers that measure in 1.5-3 meters.
In high season, the wind blows round the clock- so you can expect the palm trees to be swaying from the moment you wake up til well after you eventually fall into bed to sleep. No wonder pro riders like Ruben Lenten and Mikaili Sol choose to come kitesurfing in Kalpitiya!
If you fancy progressing your skills like those guys, you should definitely sign yourself up for an exclusive pro coaching camp.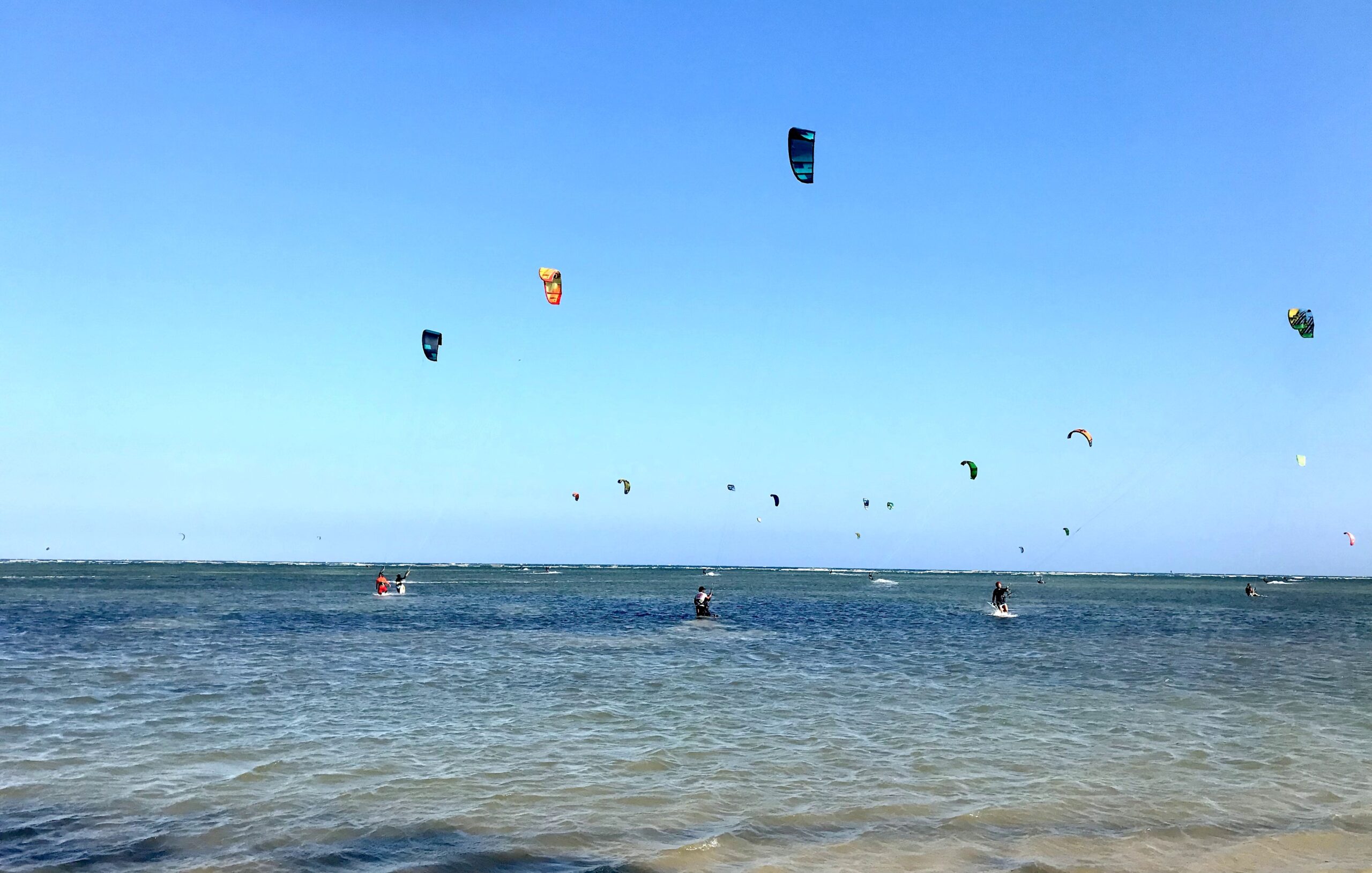 The wind in Kalpitiya is strong, it's reliable; but it can also get gusty. This is because the southwest wind crosses over the land before it reaches the lagoon (as opposed to the wind that comes in from the sea which is usually cleaner). In the winter, the wind direction changes to northeast, and since it blows in from the sea, it's usually much steadier.
If you truly want to make the most of your time here, you can choose to stay right next to the spot in an eco-friendly resort or an authentic lagoon-front cabana.
The Kalpitiya kitesurfing season peaks between June and September, during which time the lagoon can get pretty busy. If you prefer to kite away from the crowds, keep reading; I'll let you in on 4 other awesome alternatives.
Keen to know more about Kalpitiya accommodation, internet, lifestyle, where to rent your gear, and other adventure activities? Head on over to our extensive guide to kitesurfing in Kalpitiya.
Kappalady
If you're looking for a smaller, quieter version of the main Kalpitiya kite beach, Kappalady lagoon should definitely be on your hitlist.
Sitting about 16 kilometers south of Kalpitiya, Kappalady lagoon is small but scenic (there's hardly room for 20 kiters, FYI, it's really tiny!).
On the land side, the lagoon is lined with palm trees; the Indian Ocean is just 20 meters away, separated only by a sandbar. The lagoon is waist deep throughout, and the water is flat as a pancake.
Extra brownie points for this one:
Surfboard riders will be happy to know there's a reef less than 100 meters offshore where clean little waves break off to the left and right.
Thanks to the orientation of the lagoon, the wind that blows across Kappalady during the high season comes in off the sea, making it smoother and less gusty than the wind at Kalpitiya. During the winter season, the wind direction changes and so the wind at Kappalady Lagoon blows over the land and becomes gustier.
Puttalam
Puttalam is a sheltered lagoon that absolutely dwarfs the likes of Kappalady and Kalpitiya. In a word: it's huge.
The lagoon begins just south of Dutch Bay (parallel to Kalpitiya) and continues down the coastline for close to 40 kilometers. Within that area, there's dozens of sandbars, tiny islands, and pockets of flat water to ride around in.
Puttalam can be a pretty epic place to explore by kite- especially because so few other kiteboarders make it down that far.
A word of caution though:
Kitesurfing in Puttalam Lagoon isn't all that suitable for solo exploration. The lagoon is an active fishing zone, so there tends to be a lot of lines and sticks in the water in certain areas, as well as very dense seaweed that will bury your lines for good if you happen to crash at the wrong place. On top of that, road access to the kiteable areas is fairly limited. It's best to ask advice from some of the local kite centers (or better yet, join a tour with them!) before you head down there on your own.
Vella Island
Vella Island is one of the most beautiful spots for kitesurfing in Sri Lanka- hands down.
The teeny tiny island sits bang in the middle of the waters north of Kalpitiya- and man oh man, is it ever stunning.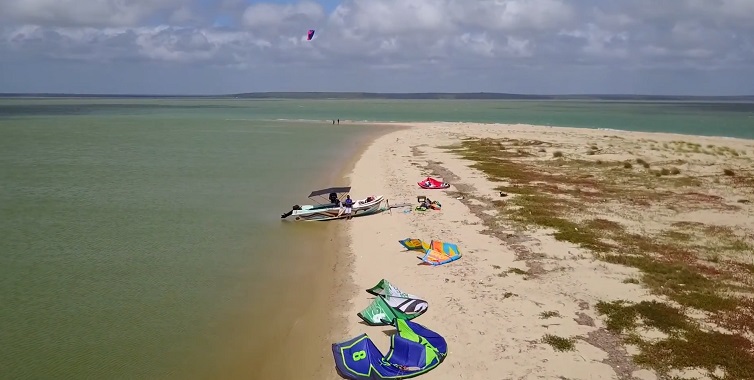 Take a bumpy boat ride from Kalpitiya to Vella Island where you'll be able to set up and launch your kites. The surrounding waters are flat and the wind is stable, making it a sweet-AF alternative to the more popular kite spots to the south.
While most people who choose to go kitesurfing at Vella Island tend to base themselves in Kalpitiya, it is possible to stay on the island overnight with some of the remote kite camps (think hammocks and tents style).
Vella Island was once only used as a base for the local fishermen, but a few years ago the local kitesurf clubs from Kalpitiya chose to expand their reach and set up satellite bases on Vella. Kitesurfing Lanka is the most established, having had their Vella base for 6 years now.
Mannar
In short: Mannar is manna from kiteboarding heaven.
We're talking butter flat lagoons, crystal clear water, squeaky sand beaches, and nobody around for miles and miles.
Sounds too good to be true, right? But it is true.
"I loved kiting Vella island in Sri Lanka but my back didn't thank me for it with the boat ride back" said Craig Chandler, owner of the boutique kiteboard brand Upeksha, "Mannar is at least 10 times longer flat water, stronger steady wind, uncrowded, and no back ache from boat ride! I got my highest ever Woo score and my fastest GPS board speed of 38 MPH. Definitely a dream location for me, will be returning next year!"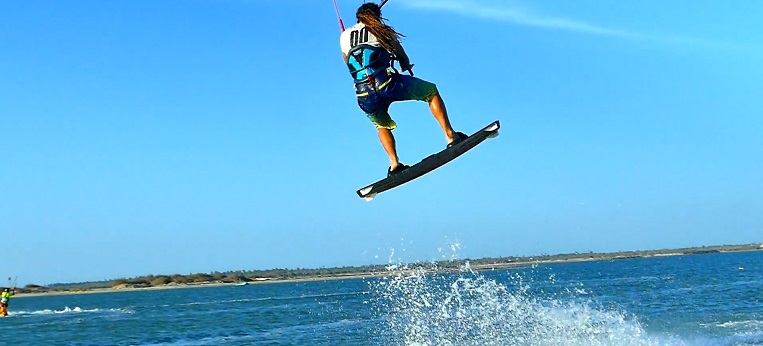 Mannar sits in the far northeast of Sri Lanka, stretching out towards mainland India. Fun fact: the story goes that Mannar was once connected to India by a sliver of land that we now know as Adam's Bridge; a delicate underwater limestone shoal.
And want to hear the best bit? (Duhhh, of course you do!)
You can actually kitesurf right around the shoal- and since the water is so clear, you can see all the way down to the rock formation below.
Rent your gear and take your lessons from Vayu Kiteschool; they've partnered with Vayu Resort to offer great accommodation for their kitesurfing customers.
Pssst: if you're thinking about checking out Sri Lanka's kitesurfing scene soon, make sure you read our helpful review of the best kiteboard bags for travel!
Extra spots for kitesurfing Sri Lanka
Apart from the main Sri Lanka kitesurfing spots we've listed above, you can also chance scoring a session at some of the country's southern beaches such as Colombo, Negombo, Arugam Bay, Weligama, Unawatuna, Galle, and Hikkaduwa.
Now, most of these spots are known for their surfing- not kiteboarding. The venturi effect that creates such strong winds in the northwest of Sri Lanka doesn't really apply down south. When there's wind, it's usually storm-based- so it's unpredictable at best.
But that said, in-the-know locals and lucky visitors have, on occasion, managed to get some kitesurfing action in at these locations.
Should you plan a kitesurfing trip to any of the southern spots? Probably not- unless you're going to combine it with surfing or sightseeing. The wind isn't reliable enough to plan an exclusive kite trip around.
Where to stay (and kitesurf!) in Sri Lanka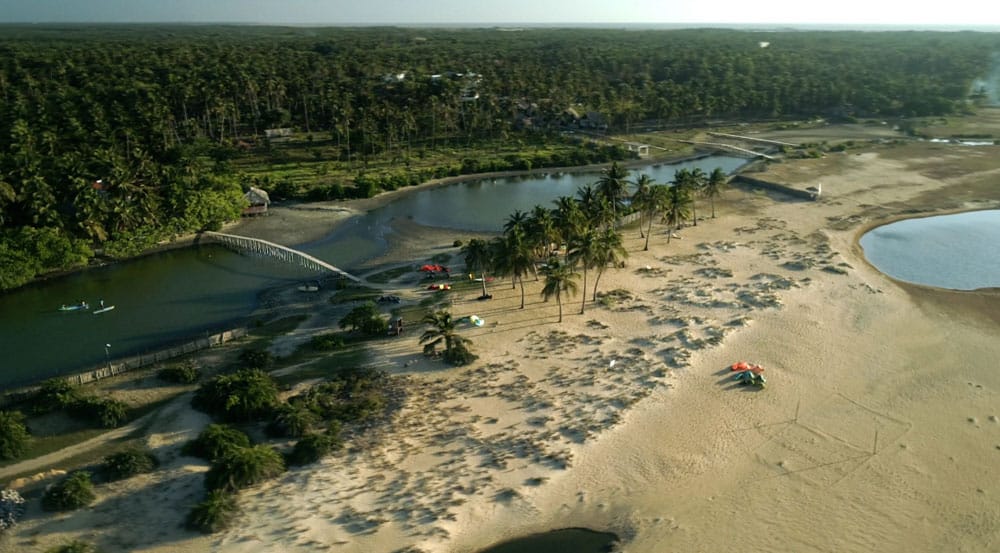 Finding the perfect base for your Sri Lankan kitesurfing trip depends on quite a few things, like:
desired vibe: looking for somewhere with a big kite community and social events? Kalpitiya is probably a good choice! Looking for windy wilderness? Mannar should be right up your street.
location: and not just the spot — but how close to the spot you can stay, accommodation-wise (and for what cost).
accommodation type: you can everything from find luxurious resorts to tents — and everything in between.
budget: same as above — prices differ wildly depending on the standard of comfort you're looking for, as well as location, inclusion of added extras (like meals), etc.
We've already recommended quite a few schools and hotels above (and if it's Kalpitiya you're heading for, you can find our detailed recommendations in our complete guide to Kalpitiya accommodation).
If any of you follow along with our blog, you'll probably know that Dil and Leo of Kitesurfing Lanka are good friends of ours at Extreme Nomads, as are the crew from Sri Lanka Kite. We've long recommended their services and will continue to do so!
In addition, we wanted to include a note about Margarita Kite School, which is currently ranked as the number 1 kitesurfing centre in Sri Lanka on TripAdvisor. Their kite camp is run by a cool crew of Spanish instructors and their mascots — a doggy named Tommy and a crazy duck named Eduardo (err, they don't teach the lessons though — just to be clear).
Though we haven't had the chance to stay at Margarita yet ourselves, we're super keen to visit them on our next trip. We love the way their camp is really personalised; it's not a big-ass luxury resort with tons of staff; it's a relatively small, chill place where everybody knows each other and feels like family.
They offer IKO certified lessons for beginners and advanced riders alike, and regularly organise downwinders and trips to places like Vella Island, Dream Spot, and Ippantivu.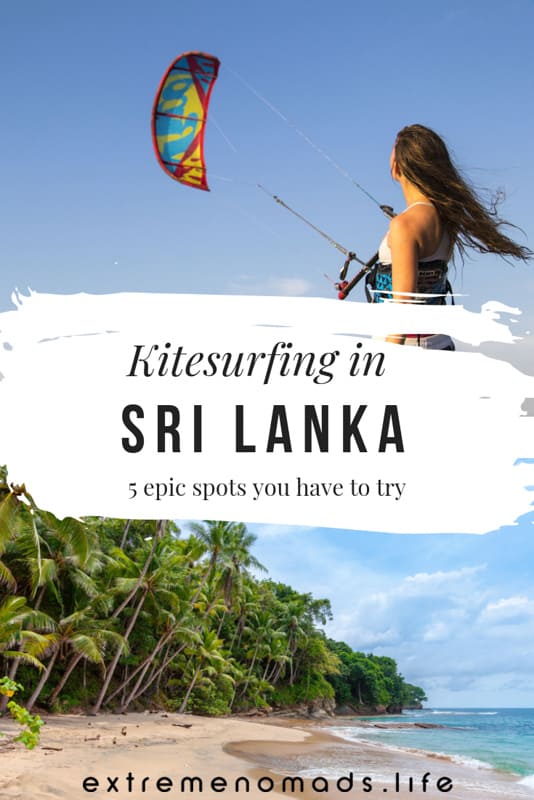 Still have questions about kitesurfing Sri Lanka? Use our comments section below, or join our exclusive Facebook group and connect with the Extreme Nomads community!