Making sure you have the right-sized equipment is always an important piece of preparation before any trip.
You don't want your ski boots too tight or too loose, you want your jacket to be snug but not so small you can't layer up, and you need to make sure your ski poles are fit for the slopes.
Buying a best ski poles that are the right length for you depends on a number of factors. One of the first, and most important, is skier height. This is the determining factor of the size you will be requiring.
The second factor is what style of ski pole you will be looking to buy.
A longer pole is built for pole planting the floor and pulling your weight around moguls or pushing along flat terrain. Smaller, shorter poles are designed for park runs and deep backcountry powder.
Is It All About the Size?
Finding the correct size ski poles will help you make the most out of your equipment. A good set of poles can greatly improve your performance out there on the slopes.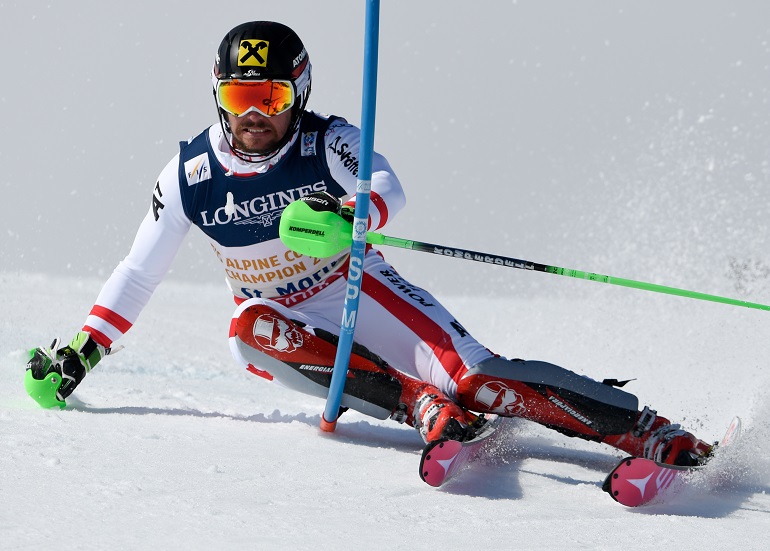 Beyond simply the length of the pole is the construction. This is another element that many skiers will forget to think about but can drastically change performance in the snow.
There are many different materials they can be made out of, such as lightweight carbon fiber and the more common and cheaper aluminum poles.
I have used a vast selection of ski poles over my years on the slopes. I use different lengths depending on what kind of day I'm planning to ski. I have also burnt through a fair few just because I've dropped the ski pole in deep snow, never to be seen again, or snapped the less durable ones.
There are many poles out there, and it can be tricky to choose the correct size. I can break down the essentials, so you know exactly what ski poles to shop for.
How to Choose The Right Ski Pole Size
Let's start at the basics: your height. You can use the ski poles size chart below to figure out what pole length is the right ski pole length for you.
You can also quickly determine the right length with a quick trick using your arms. Grab the basket of the ski pole by the tip at the end of the shaft and hold the ski pole upside down. Put the ski pole grips on the floor and your thumb on the tip. Your elbow should be a perfect 90 degrees at the elbow.
This is the ideal length for a ski pole used for backcountry, planting turns on piste and controlled downhill skiing. This will be a good fit for anyone from a beginner to an experienced rider.
You can start to mess with the length of the pair once you know what it is exactly you're going to want to be specializing in.
Specializing Your Ski Poles
When you know how you want to be skiing, you can try experimenting with a different pole size to match your skiing style. Different sticks for different tricks.
Freestyle And Park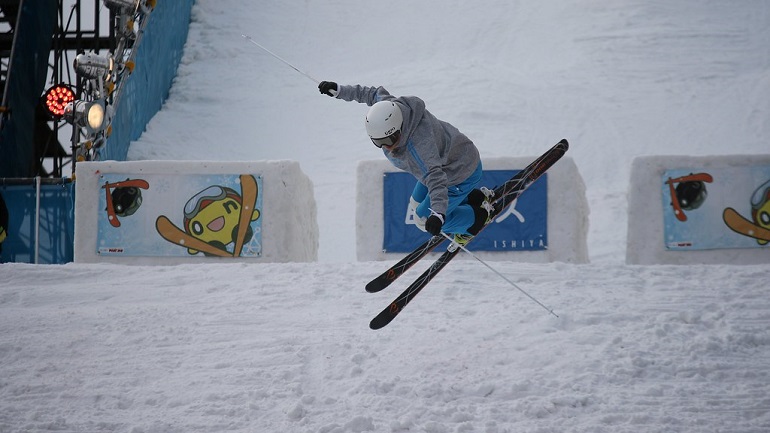 Freestyle and park skiers will usually choose to use a shorter pole length, in fact, many park riders won't use poles at all, finding that they get in the way of features. Short lightweight poles are great for keeping balance without getting in the way of tricks.
Downhill Alpine
These are the most common length of ski poles. Regular length, mass, and grips make for a simple and easy day out that help with balance and multiple types of snow.
Cross Country
Long, light poles with specialized baskets are designed to assist with pushing through flat terrain and ensure you get the most power out of every push. They're not suited to a fast descent.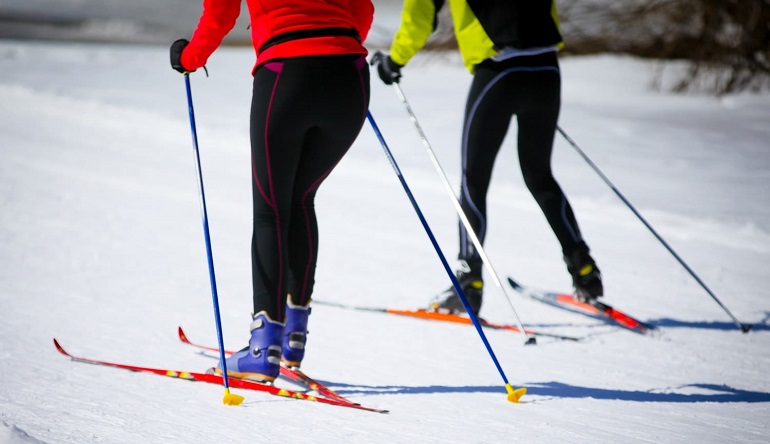 Powder And Backcountry
Deep powder runs through snow do not lend themselves to a longer pole either. I have lost a fair few planting turns on a snowy descent, losing grip under the powder for the pole never to be found again. Adjustable poles are sometimes used for packing away during mountain trekking.
Slalom And Race
These are often light, ergonomic, and designed for speed. They are bent to wrap around the body, reducing drag, and improving the racers' aerodynamics and balance. Specialist materials keep them durable and featherweight.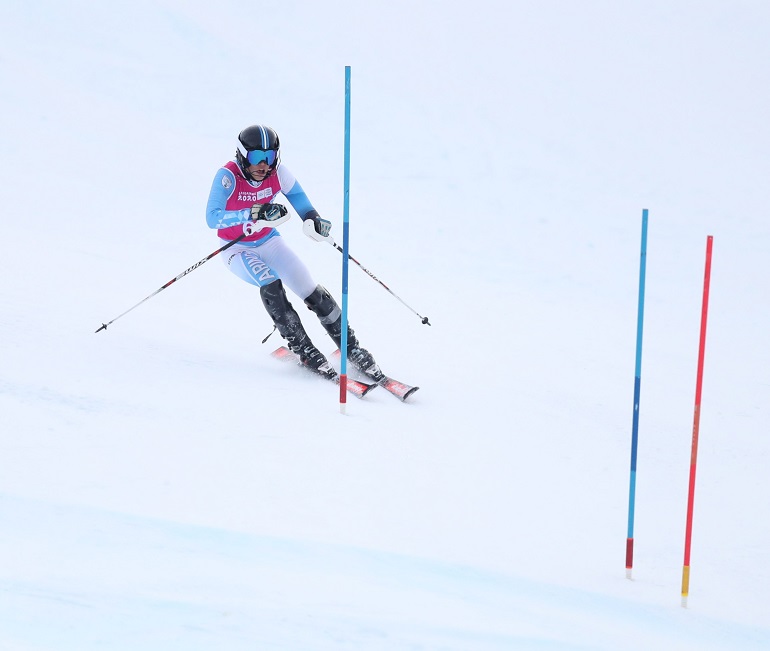 Adjustable Ski Poles
There is a range of adjustable ski poles available to grab when you shop ski poles. They're great for a number of reasons and are worth taking a look at when choosing your next pair. They're the best ski poles when you need variable ski pole sizing.
Pros
The most obvious benefit is the ability to adapt to many types of mountain riding. If you want some shorter poles for quick park runs, make them smaller. If you want to adjust them for some cross-country skiing then the options are there. All kinds of lengths are there, depending on what you prefer.
Another benefit is the ability to pack them away. Collapsing the shaft of the pole into itself means you can chuck them into your backpack. Collapsable poles also make storage for transport and end-of-season much easier.
Cons
Of course, with the versatility of being able to change your ski pole size, there are a few negatives. The weight of your pole will invariably be heavier with an adjustable ski pole. The extra parts add weight.
They can also be quite fragile, the telescopic nature adds weakness throughout the shaft and can end up with a bend that wasn't there before.
Ski Pole Grips And Straps
On a full day of tearing up the mountain, you're going to become very familiar with the grips and straps of your ski poles. Your new ski gloves can only do so much to protect your hands under such high usage.
Straps
When you fall, you're going to throw your arms out and let go of your ski poles. Keep them attached to your body with good-quality loop straps. The more expensive straps will be thicker, padded, and more durable.
It's not just about the fall either, when you pole plant into something deep that doesn't want to let go, the straps stop the ski poles from being torn from your hands.
Grips
Your gloves are obviously the main thing maintaining grip and power when you grab the grip on your pole, but the materials used on your grip will make a huge difference too.

When you shop ski poles, keep an eye out for dual materials on the handles. They make the grip much more forgiving on your hands and will keep your grip strong and true when tearing downhill.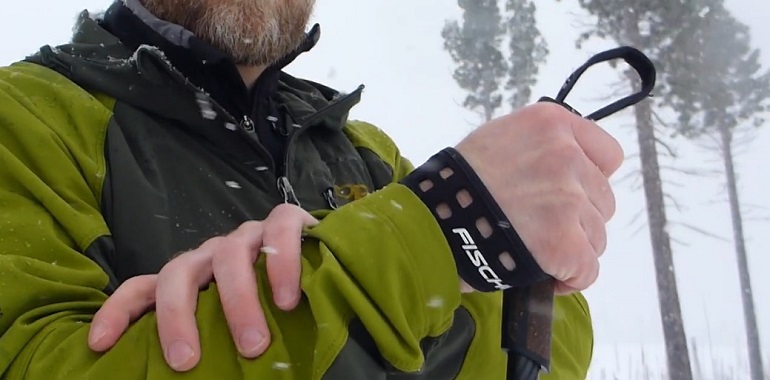 Shaft Materials
Durability, weight, style, and budget all come into consideration when choosing your next ski poles. The curve of the ski pole is also an important thing to keep in mind.
The different materials used will vary the price drastically, with the more high-end material costing a fortune but offering the best features.
Aluminum Poles
This is the most widely used and cheapest material used for ski poles. Aluminum is light, cheap, and moderately flexible. The problem with aluminum is its habit of snapping under a big bend. These are great for the beginner who may abuse their pole and put it under a lot of wear and tear.
Carbon Fiber Poles
Carbon fiber is an incredibly light and strong construction. They can be extremely thin and still maintain strong, flexible, power. Picking carbon fiber will ensure your poles won't wear out in a hurry. Don't let them out of your sight though, they're not cheap.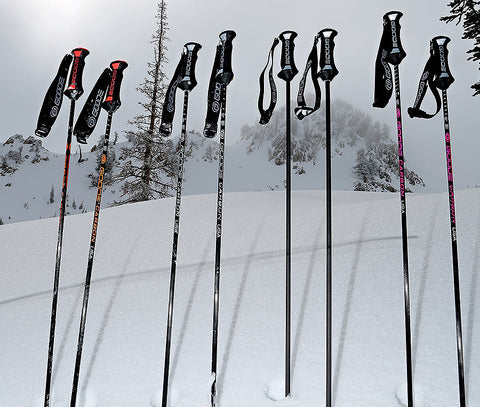 Composite Poles
A blend of reinforced plastics and metals leaves slightly heavier ski poles for skiers looking for a lot of strength on those downhill rides and deep mountain treks. The decision to buy composite poles is usually made when you know you'll be hitting big backcountry lines or on hard-packed ice.
A Last Tip For This Guide
To ensure you get the right ski pole length for your skiing style, make sure you measure it first, take it for a ride, then decide if you want to start to mess with the style.
Buy your first pair nice and cheap, or even just hire them, then get involved in buying something more specialized. Ski poles aren't like skiing boots, they come and go a lot quicker through loss and snapping so don't go crazy.

I personally like a shorter pole, I've never been a big fan of trekking, it feels too much like exercise, but that may be what you're into.

Wait until you're a little more experienced then go out and get yourself a great pair of poles to go along with your kit. You'll be amazed at how much difference it makes.