What better way to reconnect with the natural world around us and ourselves than a good weekend spent fishing, touring, and exploring on a good old kayak?
Well, maybe not an old one, these were huge, heavy, and not that convenient. Nowadays inflatable kayaks are democratizing this awesome outdoor activity all by themselves, with one huge advantage: portability.
Update June 2021: Due to persistent disruptions to supply chains worldwide regarding raw materials, in this case PVC, most retailers struggle to keep up with the rising demand. If you see a product you're interested in, and it's currently available, we advise you not to wait too long before making a purchase, as it could easily be out of stock the next day. If the product you're interested in is already out of stock, please call the retailer's customer service for more information about a potential date of availability, and see if there's a possibility to secure your product(s). Vinyl made kayaks do not currently have this issue.
Inflatable kayaks pros and cons
Inflatable kayaks are all about convenience on land, while hardshell kayaks still offer the best performance overall on the water. Hardshells typically paddle faster and are better able to hold a straight line (called tracking), thanks to a rigid structure that also adds to the stability.
They're also less prone to drifting from winds & currents especially at sea, which is one of the main cons of inflatables. But, and it's a big but, If you can't take the thing to where you want to go, then what's the point, right?

There's a simple yet very true saying I love about photography, it says the best camera you'll ever have is the one you have with you.
Because yeah, most kayaks are at least 10 ft long, up to 15 ft for 2-3 seaters, so transporting that as is on anything smaller than an RV or a trailer gets tricky. And it's not just length, the weight of an inflatable kayak vs hardshell is usually around 30% lighter as well.
A 10 ft inflatable kayak could easily go with you on a motorbike, if the storage bag has straps to be worn as a backpack.
And in the car, yes even a Prius why not, it's small enough that it doesn't take the whole trunk, so you'll be able to fit everything else you need, like paddles and PFDs (Personal Floatation Device) but maybe also camping gear, provisions or other toys like an inflatable paddleboard.

My advice is: if you want to paddle a hardshell kayak but can't carry it around, better find a spot with a local rental center and rent one, but if you want to buy your own, then get an inflatable and save yourself the trouble.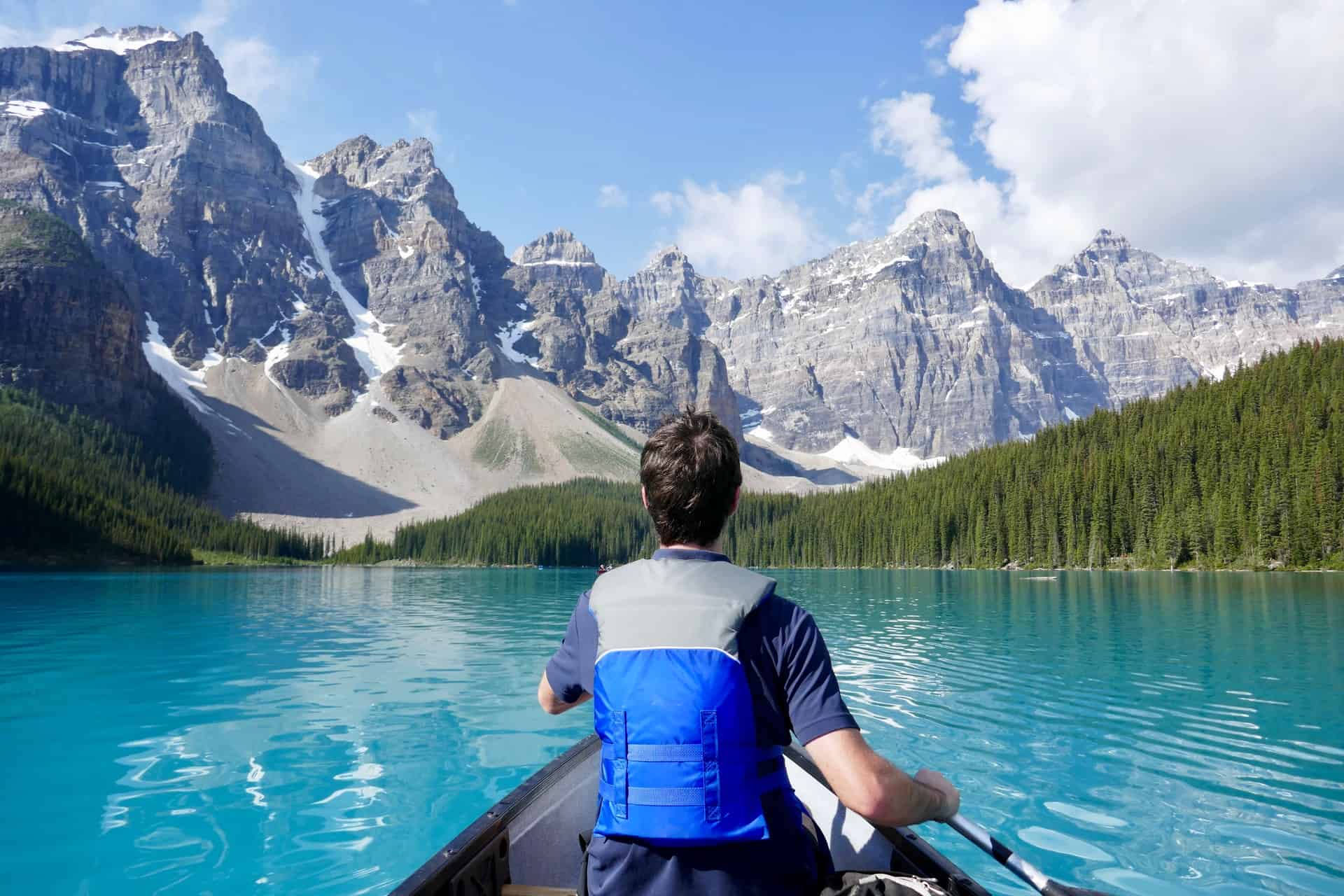 This page contains affiliate links. It means we may earn commissions from qualifying purchases, at no additional cost to you. It allows us to keep our website free of display ads while still being sustainable.
Are inflatable kayaks safe?
As inflatable kayaks for sale need to be certified for both international sales (ISO 6185) but also in the US, where the NMMA certification comes from the US Coast Guard, they certainly are as safe as they can be, as long as you respect the maximum loading capacity that comes with each boat but also adopt some good habits regarding gear maintenance and safety rules.
For example, remember to check the weather and make sure the boat is in excellent condition before each adventure, and try to plan out your route in advance and let someone know where and for how long you're going, even if it's 2 of you. And of course, wear a PFD at all times.
Just like hardshell kayaks though, inflatable kayaks can tip over in certain situations, if the user is seriously overweight, inexperienced or just fooling around trying to surf the ocean waves for example (which is so much fun btw!), but it doesn't mean they're unsafe. If you repeatedly tip over in a kayak even in the quietest flat water, then there is a problem, either the load is too heavy, or it has a real defect.
It can happen unfortunately just like any other product and in that case, you should get a replacement from Amazon or the retailer. What's important is the integrity and floatability of the boat, it should always stay afloat no matter what, and be easy to get back on with the right technique. Even a serious puncture should not threaten the integrity of these kayaks as they're all composed of separate chambers, especially for that reason.
Read next:
What to look for in an inflatable kayak?
Fishing, Touring or White Water
Technically, any kayak can be used for fishing, but having the basics like built-in rod holders and sometimes paddle holders, or large storage space, will really make a big difference in the long run if you intend to be fishing on kayaks mostly.
Fishing in kayaks is really cool, actually, it's super stealthy and you can access the most unique spots especially in white water. You get to eat your catch at the end of the day, maybe camping on the lakeside with your friend's guitar in hand. The dream, right?
In this inflatable kayaks review, I'll suggest models for both touring and fishing, as well as a few white water options for the adrenaline seekers.
While you can easily use a 10 or 12 ft kayak in a solo configuration, great for fishing space, or bringing a furry friend and occasionally another adult, a 15 ft kayak isn't really recommended if you'll mostly be by yourself.
You'll also notice that some inflatable kayaks in the entry-level range (under $400) come with paddles and pump included, while the more expensive models don't. So if you're looking for a mid-range kayak or better, don't forget you'll probably need to add an extra on top for those essentials, not forgetting the PFD(s), and then potentially fishing gear or any other equipment.
Portability
Yes, inflatable kayaks make the logistics so much easier, but it doesn't mean they're all equally easy to set up, pack down, or transport.
A bit like tents for some reason, learning how to pack an inflatable kayak in its original bag can sometimes be a bit of a mindfuck, IKEA style right? But get it right just once and you'll be set for life! Of course, getting one with clear instructions and a nice storage bag with enough straps will help. But also choosing the right weight of kayak matters, as carrying around 52 lbs (the weight of some bigger 15 ft kayaks listed here) all by yourself on long distances may not be that easy.
Durability
Inflatable kayaks nowadays are sturdy as hell, especially if you're ok with putting a bit more money upfront to pick a mid-range model over $400.
Entry-level inflatable kayaks are made of vinyl, which is cheaper and lighter, but also much less rigid and puncture-resistant, they tend to feel more like blow-up toys for kids, although they're definitely stronger than that.
Still, they can't match the sturdiness of mid and higher-range kayaks, made with UV-resistant PVC often coupled with nylon or polyester and for added durability. These kayaks are the ones that will still be used in 5 or 10 years if treated right, while vinyl will deteriorate much quicker than that.
Seating & Extras
The great thing about inflatable kayaks is how customizable they are, and in particular the seats. These have to be well placed for a comfortable position, and easily taken off in an instant. Padding should be generous and quick-drying,
You can actually swap for a whole new pair of seats on the developed third party market so don't worry if you're not a super fan of the original ones, everything can be improved, except the kayak itself, which is why leaning onto the PVC models from the get-go can be smart.
Try to see already how you'll be able to adapt your little ship to different activities, maybe you want to add some cool extras like a high-end fish finder or a small electric motor working on a battery. It's better to plan these things in advance and make sure you get the right base to build on.
Not quite related to the kayak itself but still a true essential, a good pair of polarized floating sunglasses will also make a huge difference in the quality of your experience, highly reducing glare and water reflections so you can better see where you're going but also what's happening underwater.
Read next:
Where to buy your inflatable kayak?
For entry-level models, Amazon is perfectly fine and the thousands of customer reviews can definitely help to get a better idea of each kayak's pros and cons, but dealing directly with manufacturers can often be a pain in the butt.
That's why for mid-range and high-end models, I strongly advise turning to outdoor retailers such as REI, where you'll be able to get personalized advice from real experts who are best placed to direct you to the product that's most adapted to your needs, regardless of the brand. Plus they're offering 15% off PFDs and paddles with any kayak purchase, perfect for those higher-priced models that don't include them.
In case of a problem with your purchase, you tend to get better and quicker results when going through a specialized retailer. Becoming a Rei Coop member also has many perks and is quite interesting for people who shop outdoor products all year long. Manufacturers' customer service usually isn't as inclined to help you out. A retailer is much more willing to stay impartial but also has a serious interest in keeping its customers happy.
A possible issue on inflatable kayaks, as sturdy as they can be, is leaks. Coleman for example, who makes the Sevylor models listed here, is known for refusing to sell replacement bladders, which is a shame but well, that's how it is.
Are Amazon prices cheaper for the same model? Not even. So if you can, better give your money to a good old mom-and-pop store where the staff is passionate about their work and the sports they do.
Alright let's get to it then!
Best inflatable Touring Kayaks
These are great for flat water, whether exploring the coast or the lake, or in mellow white water.
Length: 10 ft
Weight: 30 lbs
Best for: 1-2 people
Capacity: 400 lbs
Paddles and pump included: Yes
Material: Laminated Vinyl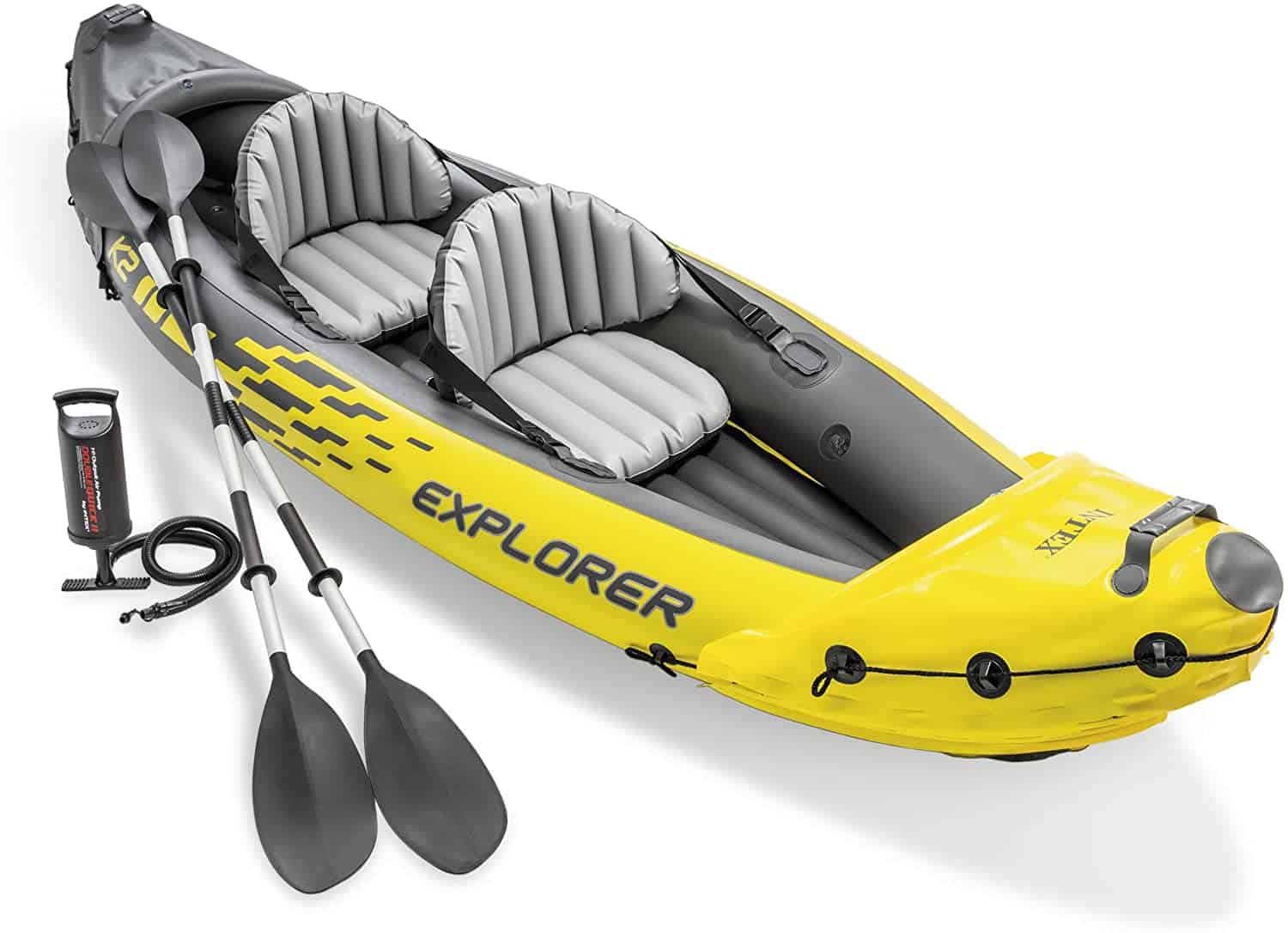 First on the list, and the only inflatable kayak made of vinyl listed here, is the flashy and affordable Intex Explorer K2. Although is it made of vinyl, the coating is still treated against UV rays and punctures so it certainly won't give up on you anytime soon, as long as you make sure it is always well rinsed and perfectly dry before storage.
This is a great choice for first-time users who aren't quite sure yet of how frequently they'll be going out and just want to make the experience as easy as possible. For less than $250 you get (almost) everything you need to go straight on the water as soon as it's delivered to your door! Paddles are included, so are the hand pump, the removable skeg, and the storage bag, you'll just have to get some PFD(s) and you'll be all set.
The flexibility and smoother surface of the vinyl are actually great for just fooling around with the kids as well, PVC is much stronger but it also has that super-rugged coating that doesn't slide on the skin easily even wet, a bit like a cat's tongue.
This might be an entry-level kayak, but that doesn't mean you get sub-par floatability or rigidity, thanks to the 3 separate air chambers ensuring the boat's integrity as well as a well-thought-out inflatable I-beam acting as a spine for a reinforced structure. Also, you get industry-standard Boston valves making inflation and deflation a quick and easy job.
These valves are also used in kitesurfing, where bladders can be huge. It's a sort of double valve system where the first valve lets the airflow only on the way in but not on the way out, making inflation seamless, while the second valve is a wide opening designed to deflate the chamber in just seconds.
The seats are fairly basic but adjustable nevertheless (remember that you can upgrade these later on), and the overall lightweight of the boat is definitely a big plus logistically. At only 30 lbs it's a breeze to carry around. Particularly appreciated for an entry-level kayak are the large grab handles both on the stern and bow, coupled with generous rigging all around. This might sound trivial but, as a professional yachtie with countless seasons behind me, I can tell you: boating is all rigging!
If you'd be interested in a PVC, fishing-ready version of this inflatable kayak still in the same price range, check out the Intex Excursion Pro further down.
If it's an even cheaper model you're looking for, the 1 person Intex Challenger kayak goes for less than 200$ but is far from ideal as these models seem to struggle with tracking and keeping a straight direction. Still, for that price, including paddles and a pump, you can't be too demanding, and if you just want to give kayaking a try to see if you like it, then it should be fine. It's actually a great choice for kids who just want to have fun playing around.
Length: 10 ft
Weight: 27 lbs
Best for: 1-2 people
Capacity: 400 lbs
Paddles and Pump included: Yes
Material: PVC + Nylon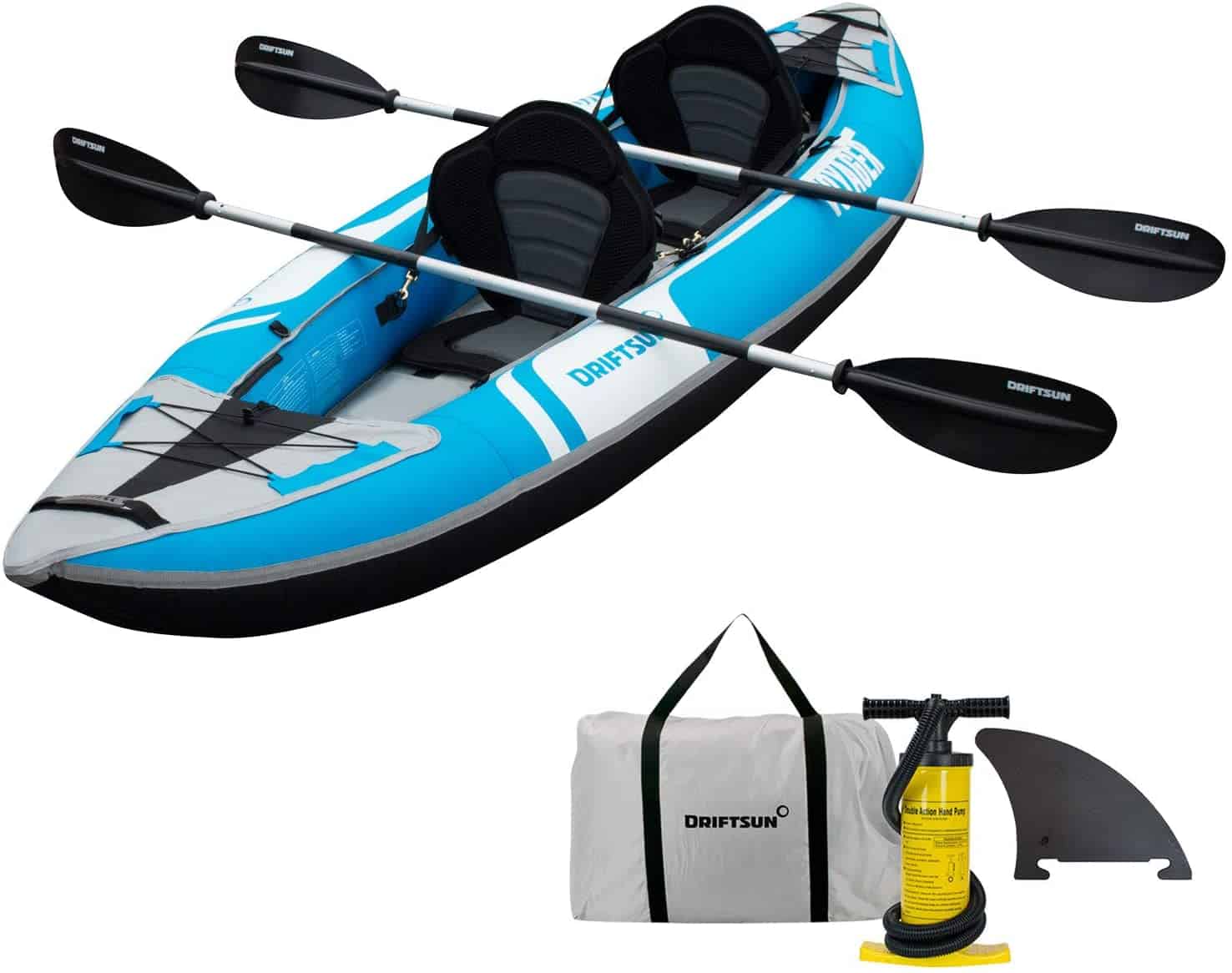 Now, this looks like it could handle some actual rock hugging without issue right? That's because it can. PVC clearly makes a huge difference in terms of robustness against rough spots and general reliability over time.
And it doesn't mean it's necessarily heavier, in fact, this Driftsun Voyager might be in a higher price range than the Intex Explorer made of vinyl, but it's actually 3 pounds lighter.
The basic features are still there, like grab handles, a removable skeg, and the same load capacity of 400 lbs, but now you get much higher quality seats adjustable in position and in recline, adjustable paddles, corrosion-resistant hardware, and best of all, a dual-action pump so inflation is twice as fast.
If you're serious about kayaking and need something reliable and performant, but still extremely convenient, this is a great choice. First, because most kayaks of this quality and in this price range aren't that lightweight, and second, because they rarely include paddles and pumps, as you'll see.
Length: 13 ft
Weight: 21 lbs
Best for: 1 person
Capacity: 400 lbs
Paddles and pump included: No
Material: Duratex Reinforced PVC

Best for solo paddlers, the Aquaglide Deschutes 130 is all about comfort and performance.
With a narrow profile and a longer skeg, it allows for excellent tracking and speed, yet with a very comfortable Core 2.0 seat featuring a thick padded cushion and a high, supportive, and breathable backrest, you can get going all day long as long as your arms hold up!
The 13 ft length also means you have ample space for storing your gear, which should be kept dry with the help of strong splash guards at both ends of the open cockpit design. Even though it's a 1 person kayak, you still get 400 lbs of capacity which is ideal for longer excursions, or to bring your furry friend with you.
The Duratex PVC's durability is really of outstanding quality, lightweight but extremely resistant, and the feather frame central bladder, right behind the seat, also reinforces the structural integrity of the boat without the weight of aluminum pieces.
Remember you will need to buy the paddle and pump separately on this model, in addition to the PFD, but if performance, reach and freedom are what you're after in kayaking, then this Aquaglide Deschutes could be your next crush.
Length: 15 ft
Weight: 52 lbs
Best for: 1-2 people
Capacity: 550 lbs
Paddles and pump included: No
Material: PVC + Polyester + Aluminium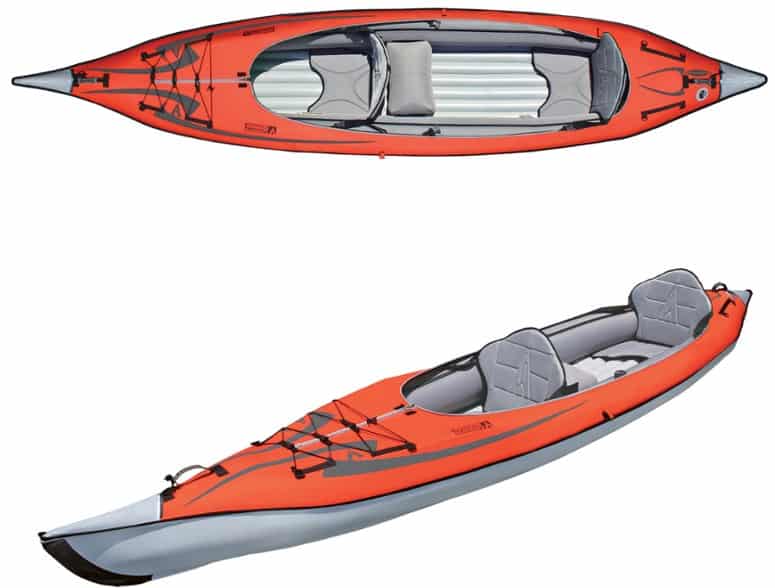 Another popular option among performance-oriented inflatable kayaks is this AdvancedFrame Elite by Advanced Elements. With a rigid bow and stern and aluminum framing, the tracking on this thing is getting seriously close to a hard shell kayak, the narrow and chop-cutting shape of the bow also plays a big part in the boat's speed and performance.
Because of the aluminum rib frames and a generous 15 ft length, this inflatable is on the heavier side at 52 lbs, but in return you get a better load capacity at 550 lbs in addition to the highly puncture-resistant 3 layers PVC coated polyester.
The seats are super comfortable and of course adjustable, the front storage area is huge and well covered against sprays thanks to a water-resistant zipper entry, and the rigging is truly class all around, with heavy-duty grab handles that are molded, not sewn, and a large bungee deck lacing on top.
Particularly appreciated are also the paddle holders allowing you to use your hands for something else, whether it's fishing or taking pictures, without losing your precious paddles, and finally, the Spring and Twistlok valves are robust as hell and even more efficient than the classic Boston valves. Setting up and packing down faster are always welcome especially on a 15 ft.

A great option as well if you want to paddle solo: you can place the single seat at the best position possible, in between where the 2 seats normally go in tandem, so you're not having weight distribution issues.
Length: 12 ft
Weight: 34 lbs
Best for: 2-3 people
Capacity: 490 lbs
Paddles and pump included: No
Material: PVC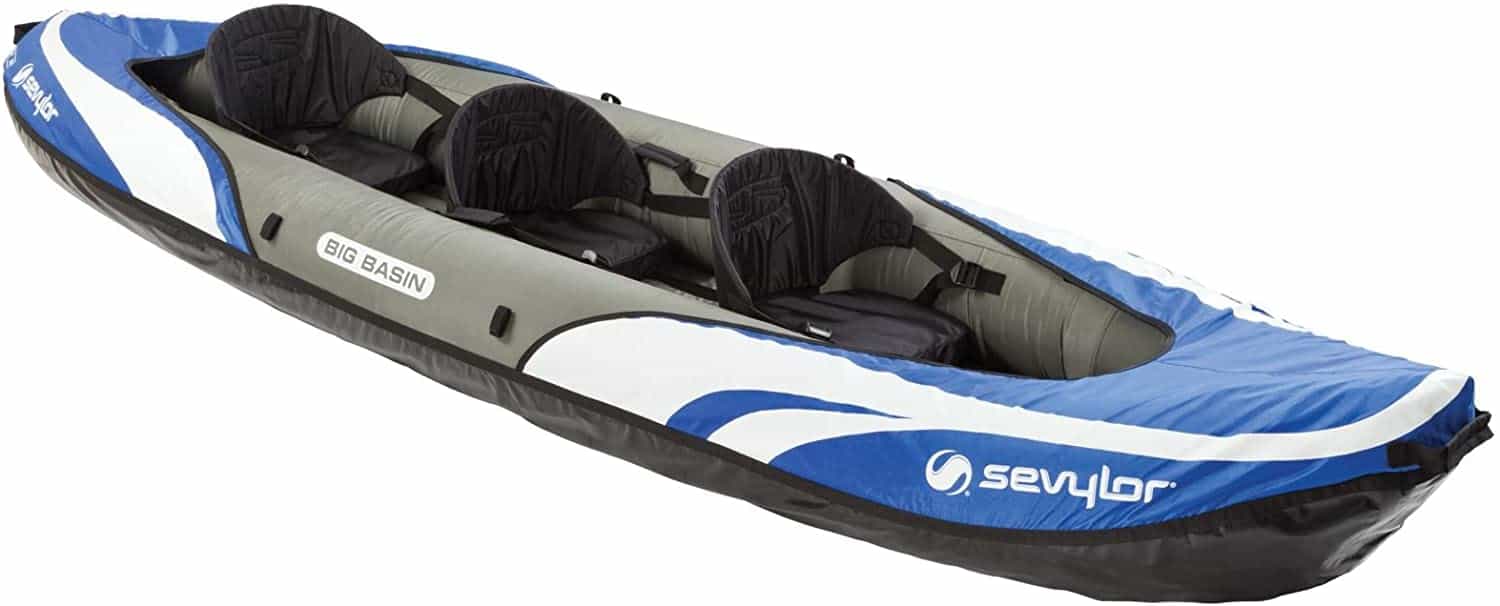 There aren't many inflatable kayaks on the market that can accommodate 3 people, so this Sevylor Big Basin might end up being your only choice. Although it is advertised for 3 people, the max capacity of 490 lbs means that it can't be 3 grown-up lumberjacks.
It really becomes ideal when you have 2 adults and one child in the middle or 3 people under 150 lbs. The advantage though is that it only weighs 32 lbs, which, once folded, is still more than manageable.
At issue though from reading a good bunch of customer reviews, is the unwillingness of the manufacturer (Coleman) to provide replacement bladders in case of leaks. Also, the seats, even though adjustable, seem to lack a little bit of back support compared to other kayaks in this price range. But if you've ever patched a bicycle tire, fixing a leak shouldn't be a problem, and if you feel like the seats aren't good enough, you can easily find quality third-party ones.
Finally, you have a drain plug at the bottom of this kayak which you should absolutely use to properly empty the boat of its water, otherwise, it can stay trapped under the seats even when flipped upside down.
Even though it has a few drawbacks, this is still considered the best 3 people inflatable kayak out there and most of the people who've tried it are satisfied overall.
Best Inflatable Fishing Kayaks
These inflatable kayaks are specifically designed to accommodate fishing equipment, from storage to rod holders or bait trays.
Length: 12 ft
Weight: 39 lbs
Best for: 1-2 people
Capacity: 400 lbs
Paddles and pump included: Yes
Material: PVC + Polyester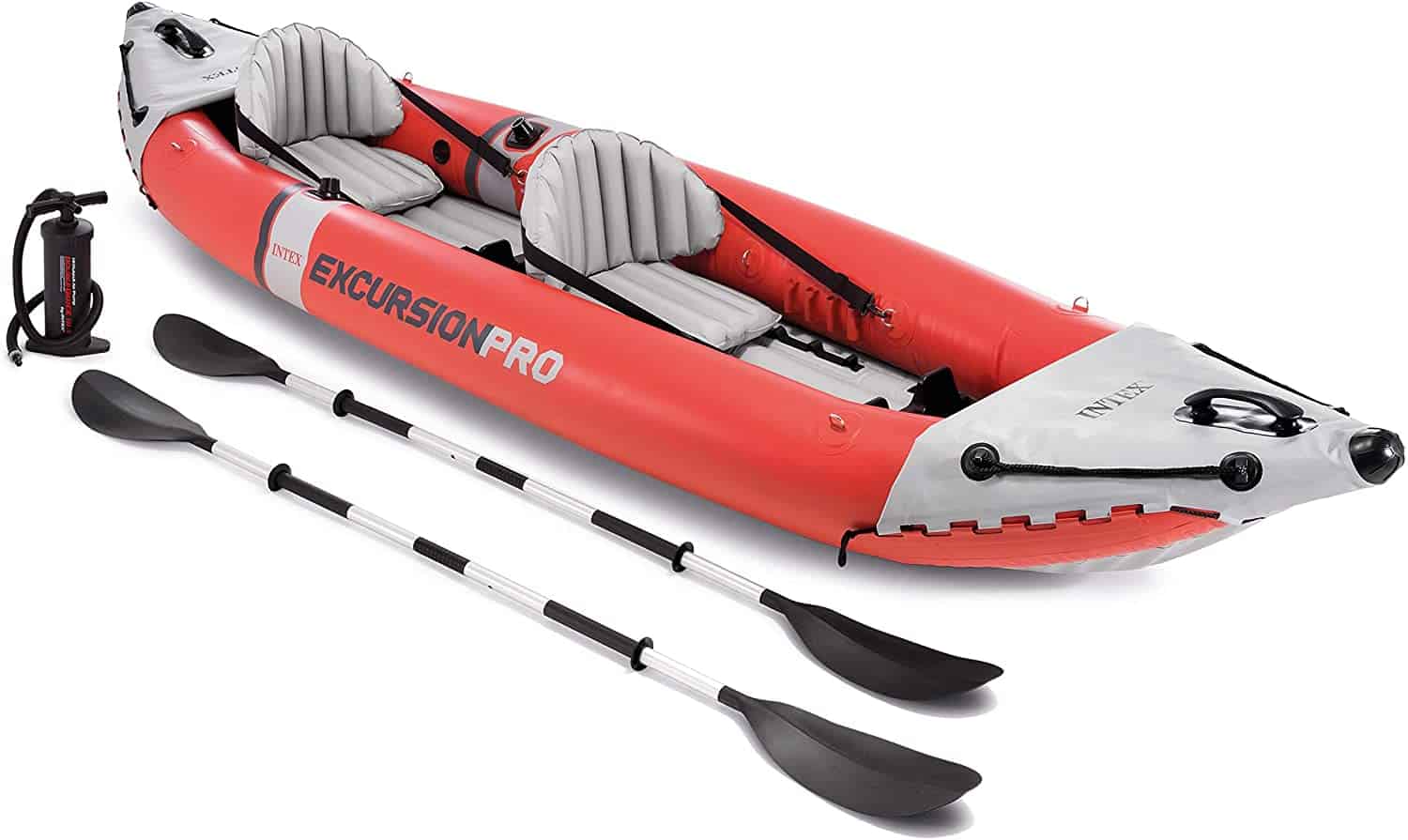 Probably the best quality/price ratio in this whole list, the Intex Excursion Pro is the cheapest PVC made inflatable on the market at the moment, and the fact that it also includes paddles and pumps makes it even more interesting.
And then you add to that all the essential fishing-ready accessories, from the built-in rod holders and D-rings on the bladders to the removable mounting brackets and adjustable footrests, you're all set for the best catch of your life.
The mounting brackets in particular are clearly the centerpiece of this inflatable kayak, as you can mount literally anything on it, whether it's an additional rod holder, a fish finder, GPS, or even simply your phone.
Much welcome as well are the 2 different sized skegs, a directional one for deep water, and a shorter one for the shallows. You even get a "seat booster", which can go under your seat for a higher-up position, as well as a pressure gauge so you know at all times the state of your bladders.
Intex proposes a really interesting product here, surprisingly sturdy and well-equipped considering the very affordable price tag. It's rigid enough to offer good tracking and speed but also easy to maneuver.
Length: 10 ft
Weight: 41 lbs
Best for: 2 people
Capacity: 470 lbs
Paddles and pump included: No
Material: PVC + Tarpaulin + Nylon
Sure, the military look of the Sevylor Colorado might add to the impression that it's tough as a commando, but it actually is, thanks to the PVC construction, Tarpaulin floor, and Nylon cover.
Even though it's just 10 ft long, it's still spacious enough for 2 due to the large cockpit design and open bow and stern. It can easily accommodate 2 grown-up adults for a max capacity of 470 lbs.
But where this Colorado really shines is definitely in its plethora of features specially made for fishing trips. The integrated Berkley rod holders are adjustable so the fishing rods can lean in or out of the kayak, unlike the Excursion Pro where they're fixed inwards. And clever enough, they're on opposite sides as to not get the lines tangled. You'll also find plenty of little mesh pockets all along the inside of the bladders, perfect to store your smaller items or drinks.
As usual, the seats are adjustable, and the fact that they sit pretty high means you'll keep your bottom dry. Particularly useful on inflatable fishing kayaks, are the paddle holders allowing you to store them safely while fishing or snacking, but also if you decide to add on the Sevylor trolling motor sold separately.
Unfortunately, the manufacturer Coleman has decided to make this Colorado compatible only with their own motor, which is a bit of a turn-off if you already have your own engine you'd like to use.
But overall, at this price tag (Actually 30% off on Amazon at the moment!), this is a really sweet deal considering how tough, spacious, and well equipped this kayak is.
Length: 13 ft
Weight: 41 lbs
Best for: 1 person
Capacity: 650 lbs
Paddles and pump included: No
Material: Duratex Reinforced PVC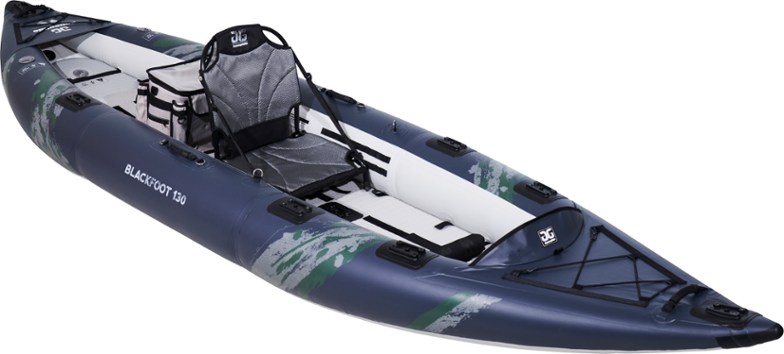 Now we're talking. Aquaglide is known for making high quality kayaks only, and the Blackfoot Angler 130 sits right in this lineage. If you're looking for the best inflatable fishing kayak on the market right now, and the price isn't an issue, you're going to love this lil' boat.
The first thing I've noticed and thought well, that's smart, is the reflective coating on the padded seat. Because yes, who has ever burned their bum to the bone boarding a kayak that's been sitting 10 mn by itself in the sun in the middle of the summer?
The second is how high this seat sits (on the seashore, now repeat that 10 times super fast!). That's great for 2 reasons, first because you get to keep yourself dry at all times, but also because it gives you ample space to move your arms around and even pivot to reach your gear at the back. And were you to need a lower position at times, you can always adjust to its lower position.
So why is this Angler so performant? There's of course the high-pressure drop stitch floor that adds considerable rigidity to the structure and allows for excellent tracking and stability. Then the side bladders are just huge and stiff as hell if properly inflated, thanks to the welded Duratex PVC eliminating the need for chambers, a bit like tubeless cycling tires. Best of all? The 4 self-bailing scupper drains that will quickly let the water onboard flow out, ideal for rough waters or mild white water.
And then you get so many little features, and not just for fishing, that really make this boat the Rolls Royce of inflatable kayaks. The bow is protected from impacts by a heavy-duty nose cone and offers a universal mount, grab handle, deck bungee storage, and high splash guard.
Talking about universal mounts, they're just everywhere! In addition to the one on the bow, you get another 6 on the bladders, 1 on the floor, and a last one at the stern. I doubt you will be using all of them at once, but it does make customization near endless! POV camera, fish finder, GPS, bait tray, cup holders, radio, first aid kit, anything goes.

There are tons of other features to talk about that just won't fit in this article, so don't hesitate to head over to Rei's product page to learn more about this magic little thing, you can even give them a call for personalized advice. They know their stuff. I'll just say one last thing: soft-cooler…
Best Inflatable White Water Kayaks
White water inflatable kayaks are self-bailing, with drain plugs strategically positioned all along the bottom of the boat so that any water coming in quickly flows out. They can usually be closed as needed, when in calm waters for example.
Length: 12.6 ft
Weight: 28 lbs
Best for: 2 people
Capacity: 600 lbs
Paddles and pump included: Yes
Material: PVC
Even more so in white water kayaking, you need a reliable boat that's sturdy enough yet easy to maneuver. It should be sufficiently rigid to handle the rapids and drain water out as quickly as it comes in.
With 8 self-bailing plugs and a super rigid drop stitch floor, the Driftsun Rover checks all these boxes, plus a few more. Although it comes at a price, the paddles and pump are included and of top quality.
Quite a feat here is that although it's very lightweight at just 28 lbs, it has a capacity of 600 lbs. There's plenty of grab handles for convenience, and it takes less than 10 mn to inflate and set up.
Well placed as well, is the action camera mount at the bow so you can capture the best parts of your session. Imagine a GoPro Max on there, shooting videos and pictures at 360º. That'd be sick!
EVA padded seats and footrests are all adjustable, the tracking fin is specifically designed for shallow waters, and the storage bag included can even be worn as a backpack.
Length: 12.5 ft
Weight: 30 lbs
Best for: 1-2 people
Capacity: 600 lbs
Paddles and pump included: No
Material: Duratex Reinforced PVC

The last Aquaglide inflatable on this list, the McKenzie 125 is actually a crossover white water/ocean swell recreational tandem kayak. Still made of Aquaglide's own Duratex PVC, it features 4 self-bailing drain plugs as well as oversize side bladders perfect to handle some rough conditions, both in the chop and the rapids.
With a 600 lbs capacity and the ability to turn the front seatback inwards so both paddlers face each other, it's ideal for a picnic break or hours-long fishing sessions.
The Evo beam floor creates a V-shaped hull at the base which improves tracking and speed, and the skeg mount is easily swappable for any other size or shape thanks to a universal mount that can be handled without any tools.
The McKenzie 125's rigging is generous and of top-notch quality, with stainless steel D-rings, webbing tie-down loops all along with the bladders, and molded grab handles for easy transport.
This is a great all-rounder able to perform nicely in all kinds of conditions and uses. Unlike the Driftsun Rover above though, which is around the same price, it doesn't include paddles and pump.
Best Inflatable Kayak Innovation
Length: 11 ft
Weight: 41 lbs
Best for: 1 person
Capacity: 600 lbs
Paddle and pump included: Pump only
Material: Drop Stitch PVC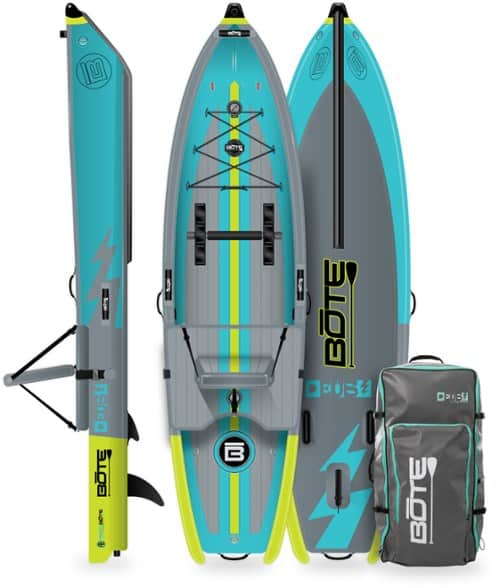 A complete UFO in the inflatable world, the Deus Aero from Bote can be paddled as a kayak or as a stand-up paddleboard. Just remove the sit-on-top seat in seconds and stand up proud and tall for better scanning of the environment and a sportier feel, or sit back down for a classic kayaking position.
With an open stern design, much like racing sailing boats, water onboard isn't an issue especially with the high rocker bow and self-draining cockpit funnels. Although the hull is flat, you do get additional side fins for improved tracking especially in SUP position.
The only unclear part is whether you'd want a kayak paddle or a SUP paddle to use with this thing. SUP paddles are designed much like Canoe paddles, with only 1 blade and a handle on the other end, while kayak paddles have blades on each side.
Because it's a sit-on-top, using a SUP paddle for both positions would work perfectly as long as it's widely adjustable, while a kayak paddle wouldn't be so practical in a SUP position. It all depends on which way you're planning to use this clever crossover.
An advantage coming from the SUP design is that the pressure needed is much higher than classic inflatable kayaks, about 13-15 PSI instead of 2-4 PSI, since it needs to stay perfectly rigid even when stood on.
That means the structure is extremely strong (also due to the bow beam running halfway down the hull), but it also means that inflating is going to be much more work. A small electric pump is highly recommended if you're not that fit and don't want to be exhausted before you even start.
What's really appreciated, apart from the great colors and design, is that awesome backpack storage bag that comes with the Deus Aero, and that really matters since it isn't that light at 41 lbs, compared to other inflatable kayaks.
Read next: