Winter fun is incomplete without a skiing trip. Winter wonderlands are nothing in front of the snowy ski resorts in Tennessee.
The Tennessee- North Carolina border provides ample options to spend winter vacations at top Tennessee ski resorts.
The great smoky mountains are home to most of these ski resorts in both states. So you get to experience double the sports and exposure in one trip.
No matter whether you're looking for a beginner-friendly or advanced terrain park, there is something for everyone.
Winter sports enthusiasts can enjoy snow tubing, skiing, snowboarding, skating, and wildlife encounter in Tennessee ski resorts.
Our Top-rated List of the Best Ski Resorts in Tennessee
To ease your planning we have shortlisted some of the best ski places in Tennessee.
 1. Ober Gatlinburg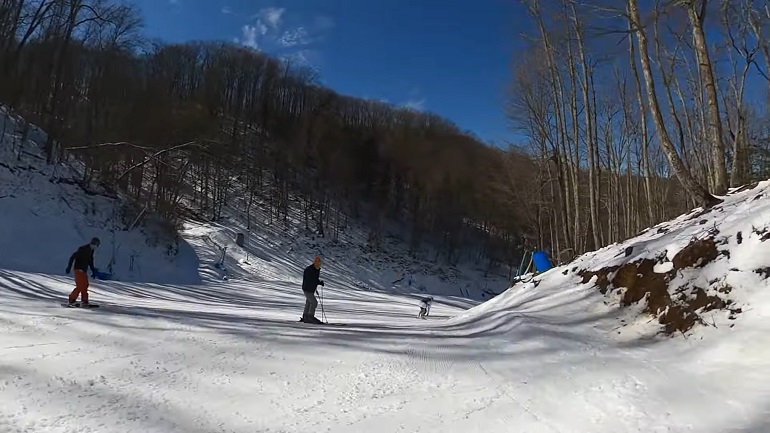 Features
Opening and closing dates: Mid December – Mid March
Famous for: Aerial tramway
Ober Gatlinburg is famous for snow activities in Tennessee ski resorts. To maintain the snow legacy, they use snowmaking machines to have constant snowy slopes. Another attraction of Ober Gatlinburg is the Great Smoky Mountains, National Park.
There are 11 ski runs for beginners and some black diamonds for advanced snowboarders. Ober ski resort also offers group or private ski lessons for first-timers.
Apart from skiing, there are multiple snow sports and activities that you can enjoy. For instance, snow tubing is great at Ober Gatlinburg, with a dedicated tubing hill. Ice skating, ice bumper cars, and many other indoor sports are awaiting at the indoor ice skating rink.
Prior to hitting the slopes, it's important to select the ideal skis for your needs. You should also understand how to ski on ice properly and develop your skiing skills to the next level.
For the lite versions of Dora the explorer, there are plenty of options around Gatlinburg. You can take a 15 minutes drive from Ober Gatlinburg and reach Pigeon forge to witness the famous tourist attractions, i.e., Dollywood.
Pros
Ski lessons
Beginner friendly
Tourist spots
Cons
Comparatively shorter ski season
 2. Cataloochee Ski Area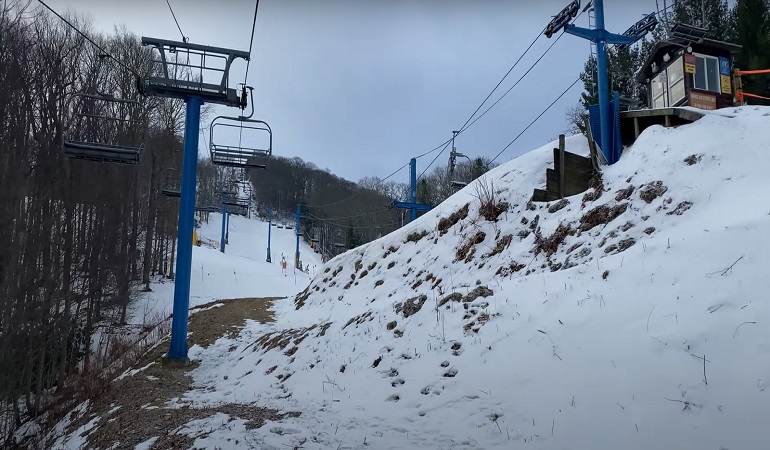 Features
Opening and closing dates: November 14, 2022 – April 23, 2023
Famous for: having an early start of ski season
Tennessee neighbors an enchanting state of natural wonders, i.e., North Carolina. It is quite famous among skiers and snowboarders due to its epic snowy smoky mountains. Cataloochee ski area is best for beginners to gain confidence in their skills.
There are 50 acres of skiable terrain with 18 slopes and a surface lift. At Cataloochee, they have designated eight snowboard trails for the newbies.
Also, they have a ski program for children aged 4-12 to teach them skiing and snowboarding.
Although this ski resort is famous for being beginner-friendly, it does not disappoint advanced skiers. It has two black diamond trails for the advanced skier to practice freeskiing.
Apart from this, there is a 22 feet terrain park for more uninterrupted fun. Thus, Cataloochee resort is a compact yet well-organized, managed, and well-served place for all skill levels.
Pros
Kids ski program
Snowmaking capability
Beautiful scenery
Cons
3. Ski Sapphire Valley Resort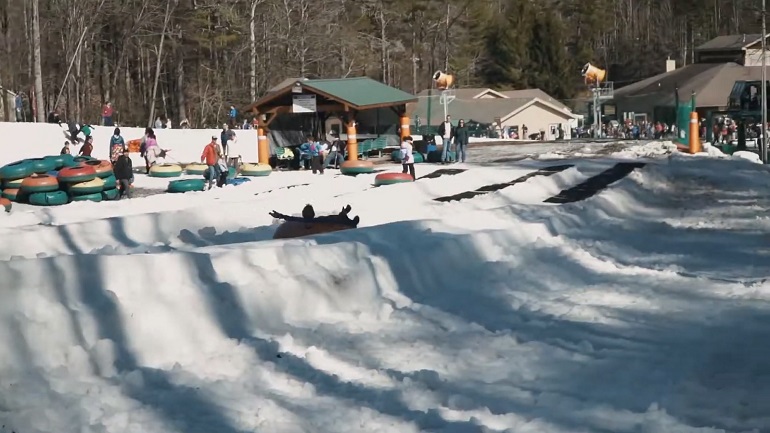 Features
Opening and closing dates: November 2022- April 2023
Famous for: four-season operation
Ski sapphire valley resort is not far away from Tennessee. this resort is popular among the locals, especially children. The area of this resort is 30 yards which is relatively small, but it is worth visiting with amusements like snow tubing and snowshoeing.
Most importantly, this place is not much crowded and has no long lift lines. So it is ideal for introverted vacationers to have an intimate experience.
Unfortunately, there is no on-site lodging, but you can find plenty of rental options in the neighborhood. You can either rent a cabin or a townhouse. Both of them are a great deal because you will be getting a picturesque view and lakefront scenery.
You can have a fresh start to the day with the scenic views and ultimate sightseeing. Moreover, it will be an exciting and chilling place in evening to relax after a skiing spree. You can warm up yourselves near the fire pit and have a gossip session.
Pros
Lakefront Scenic views
Less crowded
Cons
4. Wolf Ridge Ski Resort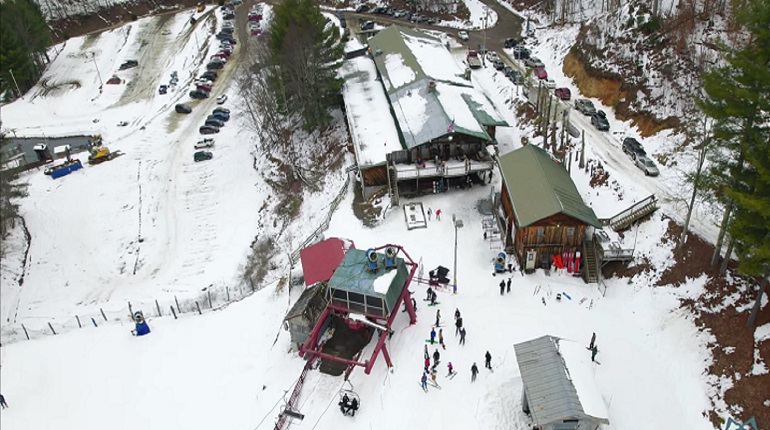 Features
Opening and closing dates: November 24, 2022 – April 26, 2023
Famous for: being the most accessible ski resort in North Carolina
Wolf Ridge ski resort is yet another resort with challenging terrains. It covers around 54 acres of blue ridge mountain and has 4700 feet of elevation.
There are 15 ski runs that are beginner and intermediate skiers friendly. While the black diamonds are for the advanced skier. Also, four lifts, magic carpet, double and quad chairlifts are there to reach the ski area of wolf ridge.
Moreover, a hill of 350 feet is dedicated to snowboarding and freestyle skiing. To extend the pleasure time, the Wolf Resort offers night snowboarding. They have installed lights on the runs to ensure that you get skiing pleasure in the snow under the stars.
The stay and ski packages are quite reasonable and can be a great choice for a family-friendly snow skiing trip. You can find rental amenities and hotels in the base area or in the nearby towns for your staycation and more exploration.
Pros
Groomed ski trails
Easily accessible
Cons
5. Sugar Mountain Resort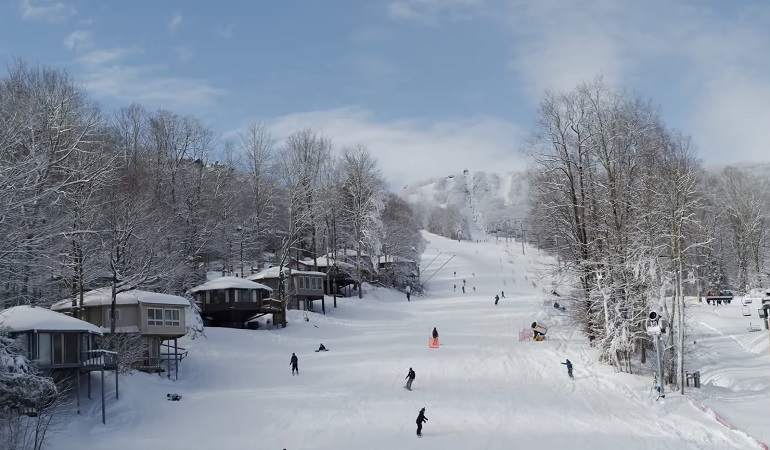 Features
Opening and closing dates: November 17, 2022 – March 26, 2023
Famous for: Having the most vertical drop
The sugar mountain resort is best suited for expert skiers as it is full of advanced slopes. There are 21 ski terrains in total, from which 13 ski slopes are designated for advanced skiers. The rest of them are for intermediate and beginner skiers.
For the funholics, the skiing game does not end with the sunset. Sugar mountain resort offers night skiing and snowboarding with installed floodlights that are lit up until 10 pm.
Also, there is a distinctive 10000 square foot outdoor ice skating rink. Moreover, you will find terrains for snow tubing and snowshoeing. However, they do not entertain Nordic or cross-country skiing.
The best part is the free tickets for children under 4. So, you can plan a family trip with these affordable ticket prices and abundant facilities at Sugar mountain resort.
Pros
Best for advanced skiers
Variety of terrains
Cons
6. Beech Mountain Resort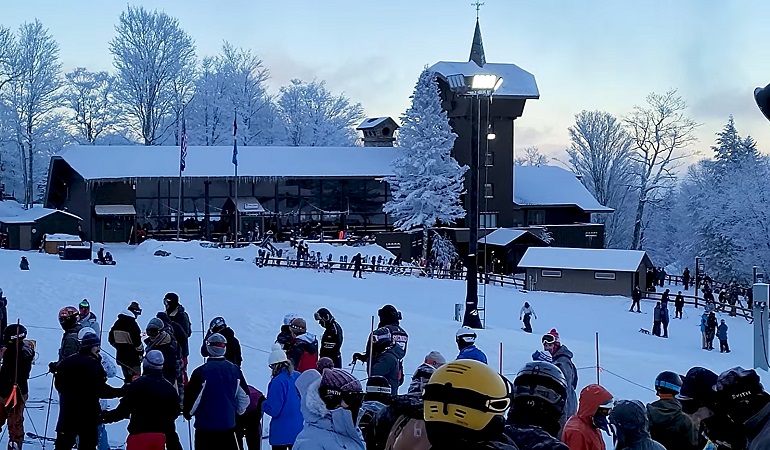 Features
Opening and closing dates: November 25, 2022 – March 18, 2023
Famous for: Highest ski resort on East Coast
Beech Mountain is full of snow fun. It has a lot to offer, from skiing to snowboarding, snow tubing, and ice skating. Plus, there are professional instructors for kids and new learners. They guide you according to your abilities and capabilities of the instructional terrains.
The Tennessee-North Carolina border has the highest ski area on the East coast with 5506 feet elevation. 95 acres of skiable terrain have 16 ski runs and 9 lifts. The LED lights on the ski trails feature night skiing and snowboarding fun.
After a tiresome day, you can relax at the resort's sky bar. With a mesmerizing view of the Blue Ridge Mountains, you can enjoy hot beverages and snacks freshly cooked and served up in the mountains.
An on-site brewery is a must-visit place for exotic drink lovers. They can try out the famous craft beer straight from the brewery plant and enjoy the richness with an enchanting view.
Pros
Mountaintop sky bar
Good quality trails
Night sports
Cons
Inconsistent weather
Short-length ski runs

7. Appalachian Ski Mountain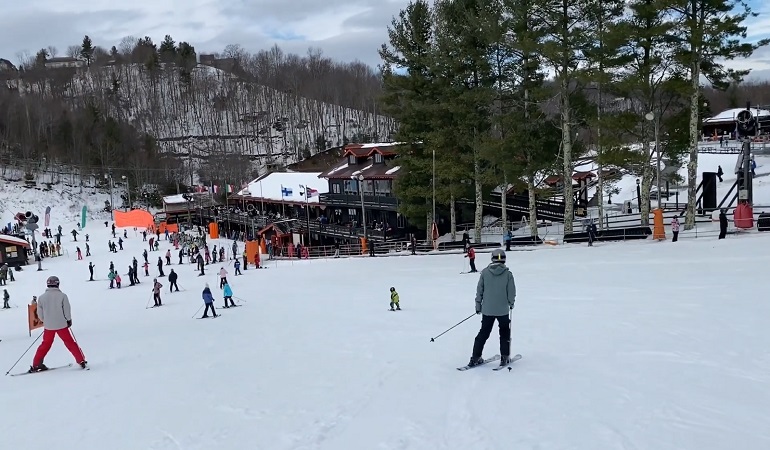 Features
Opening and closing dates: November 18, 2022 – March 19, 2023
Famous for: Family-friendly ski runs
 The Appalachian ski mountain coaster is all about adventure and experimentation. You can challenge your skill in the lap of Appalachian mountains with adventurous and challenging ski trails.
There are three terrain parks for freestyle skiing and snow tubing. Along with this, there are 9 ski runs, of which three are black diamond runs. Hence, this ski resort caters to all types of skill levels.
Appalachian is among the Tennessee ski resorts that facilitate night skiing. Moreover, they have an ice rink where you can go figure skating or hockey skating.
French-Swiss ski school is there for guided instructions from professionals. The lodging options are plentiful at the resort and the base area. However, there is dedicated parking for nomadic families or van-homers at the Appalachian ski mountain.
Pros
Reasonable prices
Closest to main markets
Cons
 My Verdict
The charming and challenging slopes of Blue ridge and the great smoky mountains are the reason behind Tennessee ski resorts being famous among vacationers and locals.
You get scenic views with state-of-the-art amenities, aesthetic cafes, and cozy rental places to spice up your ski trip to ski resorts in Tennessee.
You can book the resort of your choice, according to your budget and requirements, from the wide variety of resorts in Tennessee and North Carolina.
Related Guide: